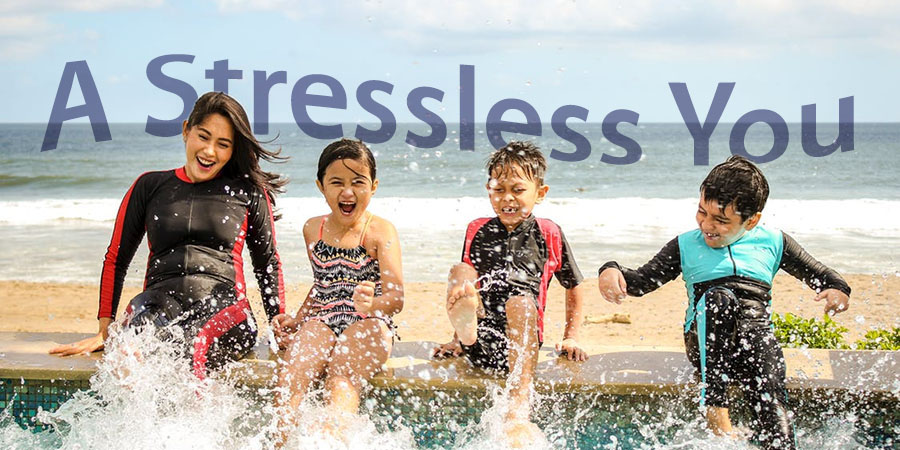 What is STRESS?
Stress is internal or external influences that disrupt an individual's normal state of well-being. These influences are capable of affecting health by causing emotional distress and leading to a variety of physiological changes.
Stress can play a part in problems such as headaches, high blood pressure, heart problems, diabetes, skin conditions, asthma, or arthritis, in addition to depression and anxiety.
DID YOU KNOW?
There are a multitude of ways to combat stress, including:
getting enough sleep on a regular schedule
walking, running, or swimming for at least 30 minutes each day
laughing more! (Hint: Did you hear about the kidnapping at school? He woke up.)
spending more time with friends and family, including the furry ones.
Videos to help you create a stressless you:
Benefits Of Exercise
Create A Great Plate
Family Time
Five Essential Habits of Healthy Teens
Johnny Junkfood In The 21st Century
Making the Most of Middle School
MyPlate And You: Learning About Nutrition, Health, And Exercise
Psychology Concepts: Managing and Coping With Stress
Smart Food, Healthy Body
The Emotion Commotion: Stress Mess
Tips and Tools for Parents
Mental Health
Behavioral Science: Abnormal Behavior and Mental Illness
Bipolar Disorder
1 hours 16 minutes 30 seconds
1 hours 16 minutes 30 seconds
Boyhood Shadows: "I Swore I'd Never Tell..."
Building Resilience
Business Essentials: The Two-Minute Mental Break
Case Closed
Childhood Depression
Common Psychological Disorders of Adolescence
Coping With An Emotional Crisis
Coping With An Emotional Crisis (Spanish)
Nutrition
10 Reasons To Get In Shape
54321+8: Countdown to Your Health
6 School Lunch Tips From the White House Chef
A Healthy Plate
A Test for Life
All About Nutrients
Anna Lappé: Crossroads
Anna Lappé: Hunger And Obesity
Bryant Terry: My Food Journey
Recently Added
Career Decisions: Dietetics/Nutrition
Home and Family
A Mother's Love: The Story of the Midnight Angel
A Sentence Apart
Raising a Visually Impaired Child: Personal Stories From Parents, Siblings, and Children With Visual Impairments
Raising a Visually Impaired Child: Personal Stories From Parents, Siblings, and Children With Visual Impairments
A Sibling Perspective
A Weekend With Wendell
Achieving Goals! Career Stories of Individuals Who Are Deaf and Hard of Hearing
Achieving Goals! Career Stories of Individuals Who Are Deaf and Hard of Hearing
Achieving Goals! Career Stories of Individuals Who Are Deaf and Hard of Hearing: Tech Savvy (Van Nguyen, Information Technology Consultant)
Africa's Child: Kenya
Africa's Child: Niger--Desert Journey
Recently Added
Against the Odds: Baby Charlotte Grows Up
Recently Added
Against the Odds: Beyond Thalidomide
Recently Added
Against the Odds: Lilly's Legs
Physical Fitness
10 Reasons To Get & Stay In Shape
10 Reasons To Get In Shape
12 Best Wall Passing Drills to Improve Touch
14 Best Speed Ladder Drills: Get Quick Fast
3 Beginner Lifts: Tutorial
5 Essential 1v1 Skill Moves: Beat Your Defender
54321+8: Countdown to Your Health
Around the World: Tutorial
Bad Weather? Basement Training Session
Holiday Lectures On Science
Holiday Lectures On Science
Balancing the Fat Equation
health