Creative Living With Sheryl Borden #6525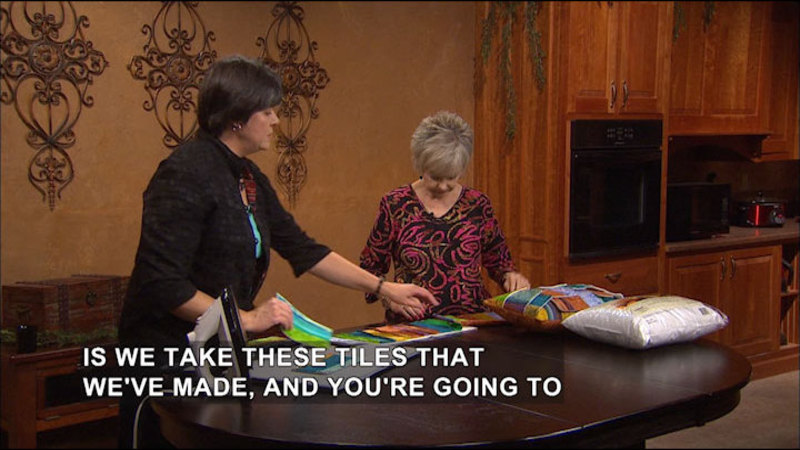 >> "CREATIVE LIVING," UTILIZING TODAY'S TECHNOLOGY WITH THE BEST OF THE PAST TO BRING YOU INNOVATIVE IDEAS AND UP-TO-DATE INFORMATION FOR CREATIVE LIFESTYLES IN TODAY'S ACTIVE WORLD, WITH YOUR HOST, SHERYL BORDEN. >> WELCOME TO "CREATIVE LIVING" TODAY. WE'RE GOING TO LEARN TO MAKE SOME BEAUTIFUL THROW PILLOWS, TALK ABOUT AN INTERESTING FITNESS AND NUTRITION PROGRAM FOR SCHOOLCHILDREN, AND DEMONSTRATE HOW TO COMBINE QUILTING AND EMBROIDERY MACHINES TO CREATE VARIOUS HOME DECOR ITEMS. ONE OF MY GUESTS IS JUDY NOVELLA, AND SHE'S WITH FAIRFIELD PROCESSING CORPORATION IN DANBURY, CONNECTICUT. JUDY'S GOING TO SHOW HOW TO USE FUSI-BOO FUSEABLE BATTING AND A PILLOW INSERT FILLED WITH POLYESTER FIBERFILL TO CREATE THE DECORATIVE TABS ON A FAST, FUN, FAN-TABULOUS PILLOW. THERE'S A NEW PROGRAM CALLED 5210 MAYOR'S CHALLENGE THAT PROMOTES HEALTHY EATING AND PHYSICAL ACTIVITY IN SCHOOLS AND AT HOME. SHANNON WOOTON IS GOING TO EXPLAIN WHAT THIS IS AND WHY IT'S IMPORTANT. IT'S AVAILABLE FOR ANY COMMUNITY, SO YOU MAY WANT TO CHECK INTO STARTING THIS PROGRAM IN YOUR AREA. SHANNON IS THE EXTENSION HOME ECONOMIST FOR CHAVES COUNTY, AND SHE LIVES IN ROSWELL, NEW MEXICO. WE'LL BEGIN THE SHOW TODAY WITH CINDY LOSEKAMP, AND SHE'S A TEACHER, AUTHOR, AND DESIGNER. CINDY'S GOING TO SHOW HOW TO COMBINE A QUILTING AND AN EMBROIDERY MACHINE TO MAKE PILLOWS, WALL HANGINGS, GARMENTS, AND OF COURSE QUILTS. HER BUSINESS IS SEW ARTFULLY YOURS, INCORPORATED, AND SHE'S FROM TRENTON, INDIANA. CINDY, THANK YOU SO MUCH FOR BEING HERE. YOU DO SO MANY PROJECTS. I JUST LOVE TO HAVE YOU COME, BECAUSE IT'S ALWAYS SOMETHING I'VE NEVER EVEN THOUGHT ABOUT DOING, AND I'M SURE THAT'S THE WAY PEOPLE WATCHING FEEL ABOUT IT. >> I ALWAYS HAVE TO KEEP BUSY. HA HA! >> AND YOU JUST COME UP. I MEAN, YOU DESIGN THINGS, YOU TRY THEM OUT, MAKE SAMPLES, AND THEN YOU TEACH THESE ALL OVER THE COUNTRY, DON'T YOU? >> I DO. I DO, AND I ENJOY IT. I MEAN, I HAVE TO SAY IT'S A PASSION. I LOVE WHAT I DO AND IT'S A LOT OF FUN, AND MY HUSBAND AND I TRAVEL ALL OVER AND HE HELPS ME. HE SEWS OUT MY DESIGNS FOR ME. >> OH, ARE YOU LUCKY. >> YES, I AM. VERY MUCH SO, SO-- >> WELL, THIS PROJECT IS CALLED HOOKED EMBROIDERY. >> RIGHT. >> OK. AND OF COURSE, THERE'S PATTERNS FOR IT, TOO, BUT LET'S JUST SHOW PEOPLE WHAT WE'RE TALKING ABOUT. WHAT MAKES THIS DIFFERENT? >> WELL, THE--PEOPLE HAVE ALWAYS BEEN QUILTING AND PIECING AND THINGS LIKE THAT, AND IT REQUIRES, YOU KNOW, SKILL, A LITTLE BIT OF SKILL, AND YOU HAVE TO SEW PRECISELY. WELL, THIS IS SOMETHING WHERE IT'S DONE WITH AN EMBROIDERY MACHINE. IT CAN, OF COURSE, BE DONE BY HAND IN YOUR REGULAR, LITTLE STRAIGHT-STITCH MACHINE, BUT OF COURSE--BUT IT'S JUST-- THIS IS EASY, AND YOU STICK IT IN A HOOP AND THE MACHINE SEWS A LITTLE PLACEMENT LINE, AND YOU PUT A PIECE OF FABRIC DOWN AND IT STITCHES IT PERFECTLY EVERY TIME, SO, IT'S MAGIC. >> WELL, THAT'S WHAT IT SOUNDS LIKE. LET'S SEE--THAT ONE WAS CALLED... >> "OH, SUSANNAH." >> OH. "OH, SUSANNAH." THIS IS CALLED "CACTUS FLOWER," AND IT'S EASY TO SEE WHY IT'S CALLED THAT. >> YOU KNOW, THIS HAS BEEN A REALLY FUN ONE TO DO. IT TOOK A LITTLE WHILE TO FIGURE OUT HOW I WANTED TO PUT IT ON. I DID-- >> NOW, WAS THIS A SWEATSHIRT? >> IT'S A SWEATSHIRT. >> I THOUGHT IT LOOKED LIKE ONE. >> PRETTY--YOU KNOW, I BOUGHT THIS FABRIC IN NEW MEXICO ABOUT TWO YEARS AGO, AND I HAD TO LET IT SEASON FOR A LITTLE WHILE, AND THEN I FOUND WHAT I COULD DO WITH IT. HA HA HA! SO... >> YEAH, YOU HAVE TO BE INSPIRED, DON'T YOU? UH-HUH. >> YOU DO, YOU DO, AND I PUT BINDING ON THE EDGES OF IT, AND THEN I LAID THE CACTUS FLOWER BLOCKS OVER TOP, AND I'VE ACTUALLY PUT A BLOCK TOGETHER AND THEN LAID A PIECE OF FABRIC OVER TOP AND STITCHED IT AND TURNED IT, AND THEN I USED A LITTLE BLANKET STITCH TO PUT IT ON. SO, WE GOT A FEW MORE ON THE BACK THERE. >> UH-HUH. YOU CAN ACTUALLY SEE IT BECAUSE IT DOESN'T DISTRACT FROM THE OTHER--THE BINDING. >> BUT IT'S...IT'S REALLY FUN. PEOPLE I'VE SHOWN IT TO HAVE BEEN ENJOYING IT, SO--AND THEN THIS IS ANOTHER ONE, AND THESE LITTLE HEARTS-- >> THIS IS A PURCHASED SHIRT, TOO. WE DON'T HAVE TO MAKE IT. >> WELL, YOU KNOW, I DO KNOW HOW TO SEW FROM SCRATCH, BUT IT'S A LOT OF FUN TO GO BUY ONE OF THESE. HA HA! >> AND THEN DO THE FUN PART. >> MODIFY IT, YES. AND SO WE'VE PUT LITTLE HEARTS ON THERE, AND A LITTLE SERIES OF 3, AND YOU KNOW, IT'S NOT FANCY, BUT IT'S A LITTLE SOMETHING, AND YOU COULD MAKE SOMETHING PRETTY FOR YOURSELF OR ANOTHER GIFT, YOU KNOW. >> AND WHEN YOU THINK ABOUT WHAT THIS WOULD COST, READY-MADE, IT WOULD BE ASTRONOMICAL. IT WOULD. >> AND I'M EMBARRASSED TO SAY THAT LITTLE SHIRT COST $5.00.
[LAUGHTER] >> I'D BE PROUD OF IT. HA HA!
>> HERE'S ANOTHER SWEATSHIRT MODIFICATION, AND THAT ONE'S CALLED--THIS ONE'S CALLED CROCUS, AND IT'S A DIFFERENT ONE, AND JUST A SIMPLE, LITTLE SWEATSHIRT MODIFICATION, AND I TOOK THE RIBBING AND EVERYTHING OFF AND THEN I ADDED A BINDING AND THEN I ADDED THESE LITTLE APPLIQUES, AND THEY'RE ACTUALLY DONE RIGHT ON THE SHIRT, SO IT'S PIECED ON THE SHIRT, AND THEN IT'S MAGIC. IT'S ALL APPLIQUED ON THE SHIRT AUTOMATICALLY. >> HOW FAST WOULD THIS BE? >> IT IS. IT'S QUICK. HA HA HA! JUST PUT ANOTHER ONE ON THE BACK, AND SO, YOU KNOW, IT'S REALLY FUN AND EASY. >> OK, LET'S JUST SEE--YOU WERE TALKING ABOUT HOW IT SHOWS YOU HOW TO LAY IT OUT. >> YES. >> WELL, LET'S LEAVE THIS HERE. SHOW ME WHAT THAT MEANS. >> FIRST OF ALL, YOU SEW THE FIRST STEP, AND WHAT WILL HAPPEN IS IT'S GOING TO SEW JUST THE OUTLINE, SO THAT YOU KIND OF GET AN IDEA ABOUT WHAT YOUR PATTERN'S GONNA LOOK LIKE. AND THEN IT'S GOING TO SEW A LITTLE RED BOX--ACTUALLY, IT'LL BE ALL THE SAME COLOR. WE USED DARK THREADS FOR THE CAMERA, BUT THE NEXT THING THAT WE'LL SEW WILL BE AN OUTLINE THAT TELLS YOU WHERE TO PLACE YOUR NEXT PIECE OF FABRIC. >> YOUR PIECE OF FABRIC, WHICH IS THIS ONE. >> AND HERE'S OUR FIRST PIECE, AND SO IT'LL STITCH IT DOWN FOR YOU, AND THEN IT'S GOING TO SEW, AND THE GREEN STITCHING REALLY IS JUST TO SHOW YOU THAT IT'S GOING TO BE A COLOR GREEN ON YOUR MACHINE, BUT YOU JUST WANT TO KEEP THE SAME COLOR IN ALL THE TIME. I WILL USE A NEUTRAL TYPE OF THREAD, A COLOR-- >> BUT THIS SHOWS YOU WHERE TO PLACE THE-- >> THAT SHOWS YOU WHERE TO PLACE IT, AND SO WE'VE PLACED IT RIGHT ALONG THE GREEN LINE THERE. >> OH, THE EDGE GOES THERE. >> MM-HMM, AND THEN WHAT HAPPENS IS THE NEXT PIECE IS STITCHED DOWN, AND THEN THERE'S YOUR NEXT PIECE. SO, THEN, WE GO ON TO THE--IT IS, AND IT'S-- AND EVEN--THIS IS A SIMPLE PATTERN, BECAUSE WE HAD TO SEW IT OUT SO MANY TIMES, BUT-- HA HA!--THE INTRICATE PIECING IS JUST THIS EASY. SO, HERE'S OUR GREEN LINE AGAIN DOWN THERE, AND THEN WE PLACED THE FABRIC AND THEN STITCHED IT. AND THEN THERE'S OUR BLOCK. AND THE VERY LAST THING THAT HAPPENS IS THAT IT WILL TOP-STITCH AROUND AND GIVE YOU YOUR OUTER PERIMETER. AND WHAT YOU'RE GONNA DO WITH THAT IS YOU'RE GOING TO LAY YOUR QUARTER-INCH MARK WITH YOUR ROTARY CUTTING RULER AND YOU'RE GONNA CUT A QUARTER-INCH ALONG THAT EDGE. >> ON THE OUTSIDE? OK. >> AND I HAVE ONE HERE THAT'S ACTUALLY A DIFFERENT COLOR, BUT IT'S THAT ONE. >> OH, YEAH, I CAN SEE THAT. >> AND YOU CAN SEE WHERE A QUARTER-INCH HAS BEEN LEFT, AND THAT'S HOW YOU WOULD PIECE THEM TOGETHER. NOW, THESE COME--THAT'S A BIG ONE, SO THESE COME IN 8 SIZES. AND SO, WE'VE GOT, YOU KNOW, THERE'S 8 DIFFERENT SIZES FOR ALL DIFFERENT KINDS OF EMBROIDERY MACHINES, NO MATTER WHAT KIND OF HOOP THEY HAVE OR WHAT SIZE HOOP THEY HAVE, WHICH IS IMPORTANT. >> SO, IT WOULD WORK ON ANY TYPE OF EMBROIDERY MACHINE. >> ANY TYPE OF MACHINE. >> I SEE. >> AND THERE'S TWO MORE TYPES OF FILES IN THERE. ONE IS JUST AN OUTLINE, SO, IF YOU WANTED TO DO, LIKE, A POSITIVE/NEGATIVE TYPE OF IMAGE OR QUILT, YOU'D HAVE A QUILTING DESIGN FOR YOUR MIDDLE BLOCK AND THEN YOU HAVE ALSO YOUR PATCHWORK. THIS IS YOUR APPLIQUE, AND THIS IS LIKE I PUT ON THE YELLOW SWEATSHIRT, WHERE IT'S SATIN-STITCHED AROUND FOR YOU, SO... >> EXCEPT BIGGER HERE, OF COURSE. >> BUT YOU GET THEM IN ALL 8 SIZES. >> AND I LIKE THE WAY THIS HAS-- YOU'VE USED THE VARIEGATED THREAD, SO IT ACTUALLY EMPHASIZES THOSE LINES. >> MM-HMM. I LOVE USING THE-- IT'S 30 WEIGHT COTTON VARIEGATED THREAD, AND IT'S JUST REALLY NICE, AND IT LOOKS, YOU KNOW, LOOKS REAL. HA HA HA! >> IT DOES. AND ALL OF THESE INSTRUCTIONS, THEN, ARE, OF COURSE, ARE ON YOUR WEB SITE OR THEY CAN GET THE PATTERNS THAT COME JUST LIKE THAT. >> NOW, I HAVE JUST A COUPLE MORE I WANT TO SHOW YOU, AND I WANT TO GIVE YOU SOME IDEAS ON WHAT YOU CAN DO. THIS IS A SINGLE BLOCK. >> UH-HUH. >> HERE'S WHAT HAPPENS WHEN YOU SEW 4 OF THEM TOGETHER. >> OH. UH-HUH. >> AND SO THEN I'VE GOT SEVERAL OF THOSE TYPE, AND HERE'S ONE. THESE ARE GOING TO BE PILLOWS OR WALL HANGINGS, AND THIS ONE IS "STARS OVER SEATTLE," AND THIS IS THE SINGLE BLOCK HERE, AND THEN WE MADE 4, TURNED THEM, ROTATED THEM, AND THEN STITCHED IT TOGETHER IN THE CENTER, WHICH GAVE A REAL PRETTY EFFECT. >> IT REALLY DID. >> HERE'S ONE YOU CAN ALSO DO, AND THIS ONE'S CALLED "DIAMOND IN A SQUARE," BUT YOU CAN GET PRETTY, LITTLE--YOU KNOW, FABRIC AND ISOLATE THAT. >> SO, THIS IS JUST A PIECE OF FABRIC. >> JUST A PIECE OF FABRIC, AND IT'S SO CUTE. THERE'S LITTLE BOYS AND LITTLE GIRLS, AND WE'LL HAVE TO PRETEND HERE. THERE WAS SUPPOSED TO BE A LITTLE QUILT MADE, BUT THAT-- THAT'S IN THE FUTURE. YES. >> THAT IS CUTE, AND IT'S VERY SIMPLE. I LIKE THAT. >> AND THEN THIS ONE'S GONNA BE A BORDER FOR GUESS WHAT? A SWEATSHIRT. AND SO, YOU CAN OPEN IT OUT AND SEE, AND WE'VE GOT-- IT'S ALL MADE UP, AND IT'S REALLY GONNA BE CALLED "NEW MEXICO SUNRISE," AND SO, BUT IF YOU LOOK AT THE BACK-- >> NOW, WILL IT GO THIS WAY OR THIS WAY? >> ACTUALLY, IT'S GOTTA GO LIKE THAT. SO, WE'VE GOT NIGHT AND THEN, YOU KNOW, AS IT GOES, AND THEN HERE'S THE BRIGHTNESS OF THE SUNRISE. >> HOW PRETTY. AND THIS WILL GO ALONG THE BOTTOM OF THE SWEATSHIRT. WILL YOU ALSO PUT IT DOWN THE CENTER FRONT? >> I'M GONNA PUT--I'VE SAVED SOME OF THESE PIECES, AND I'LL PUT A LITTLE--I'LL PATCHWORK THEM TOGETHER AND DO A LITTLE BINDING AROUND AND CARRY THE PICTURE--THE DESIGN ALL THE WAY THROUGHOUT, SO-- >> SO, BE ON THE LOOKOUT FOR THOSE SWEATSHIRTS. THEY'RE REALLY INEXPENSIVE AND CREATE FOR ONE-OF-A-KIND. >> THAT'S RIGHT. >> WELL, THANK YOU SO MUCH, CINDY. I APPRECIATE IT. I KNOW FOR PEOPLE WHO QUILT, THIS PROBABLY LOOKS VERY SIMPLE. BUT ONCE YOU'VE GOT THE PATTERN AND SEE THE STEPS INVOLVED, IT REALLY IS A MUCH SIMPLER PROCESS. >> IT IS VERY SIMPLE. AND IT'S REAL EASY AND IT'S ALWAYS REALLY PERFECT. >> WELL, I LIKE THAT. THANK YOU VERY MUCH. >> THANK YOU VERY MUCH. >> SHANNON, THANK YOU SO MUCH FOR BEING WITH US. WE BOTH KNOW HOW IMPORTANT GOOD NUTRITION IS AND WE'VE KNOWN THAT BREAKFAST IS THE MOST IMPORTANT MEAL OF THE DAY, AND THE FOOD PYRAMID AND ALL THIS, AND I'M ALWAYS SO EXCITED WHEN I HEAR ABOUT A NEW PROGRAM THAT COMES OUT THAT'S GEARED TO CHILDREN, BECAUSE THAT'S WHERE WE HAVE TO START. >> YES. YES. AND THIS IS CALLED THE 5210 PROGRAM. IT'S A PROGRAM THAT'S BEEN AROUND, BUT IT'S SOMETHING THAT IS KIND OF-- MAYBE IT WAS BACK EAST AND IT'S FINALLY GETTING HERE. AND WHAT WE DID WAS CALLED THE MAYOR'S CHALLENGE. THE MAYOR GOT ON BOARD WITH US, AND WE PRESENTED SKITS TO THE KIDS, TO ALL THIRD- GRADERS, ABOUT THE 5210 PROGRAM, AND THEY TOOK THE CHALLENGE. THEY TRIED TO DO EACH LITTLE SEGMENT IN THE 5210 PROGRAM AND--FOR 21 DAYS, SO WE COULD HAVE THAT HEALTHY HABIT... >> THAT'S CALLED BEHAVIOR MODIFICATION. >> BEHAVIOR MODIFICATION. THAT'S RIGHT. >> SO, EXPLAIN WHAT THE 5-2-1-0 STANDS FOR. >> OK. THE 5 STANDS FOR 5 OR MORE FRUITS OR VEGETABLES A DAY. THE 2 IS TWO HOURS LESS OF RECREATIONAL SCREEN TIME. THAT'S COMPUTERS, THOSE ELECTRONIC GAMES... >> TV. WHATEVER. >> TV. RIGHT. AND THEN THE 1 IS ONE HOUR OF PHYSICAL ACTIVITY A DAY, AND THE O IS FOR H2O. WE WANT THEM TO DRINK MORE WATER. >> DRINK MORE WATER. THAT'S-- OK, I WONDERED WHAT THE O STOOD FOR, BECAUSE IT'S NOT ZERO, IT'S O. >> RIGHT. RIGHT. BECAUSE WE BELIEVE ALL FOODS ARE GOOD, JUST IN MODERATION, SO WE JUST WANT TO ENCOURAGE THEM TO--LESS SUGARY DRINKS, BUT DRINK MORE WATER. DRINK MORE H2O. >> AND IF ANYONE'S REALLY INTERESTED, THEY CAN GO TO A WEB SITE THAT'S WWW.LETSGO-- L-E-T-S-G-O.ORG. >> .ORG. RIGHT. >> AND MAYBE THEY CAN START A PROGRAM IN THEIR OWN TOWN. >> YES, YES, OR EVEN JUST IN THEIR FAMILY. THIS WOULD BE A GREAT FAMILY PROJECT TO DO FOR ALL MEMBERS OF THE FAMILY TO DO THIS FOR 21 DAYS, AND EVERYBODY'S ON BOARD WITH IT, EATING FRUITS AND VEGETABLES, LOWERING THEIR SCREEN TIME TO TWO HOURS OR LESS, AND GETTING THAT PHYSICAL ACTIVITY. >> AND THAT'S WHAT THESE LITTLE COLORFUL BROCHURES ARE ALL ABOUT, EACH ONE. SO, THIS IS A GOOD WAY, LIKE YOU SAID, FOR THE WHOLE FAMILY TO LEARN. >> THAT'S RIGHT. FOR THE WHOLE FAMILY. BECAUSE, YOU KNOW, KIDS CAN ONLY DO SO MUCH IN EATING THEIR FRUITS AND VEGETABLES, BUT WE AS PARENTS, IT HAS TO BE PROVIDED FOR THEM, TO THEM, YOU KNOW. WE NEED TO HAVE THAT BOWL OF FRESH FRUIT ON THE TABLE OR KEEP TRACK OF WHAT THEY'RE EATING. AND YOU KNOW, FRUIT AND VEGETABLES COME FROZEN AND CANNED AND DRIED AND FRESH, SO, THEY'RE OUT THERE AND THEY'RE AVAILABLE. >> WELL, AND IT'S PROBABLY TEACHING THEM THINGS LIKE, LIKE YOU MENTIONED, THE FROZEN. IT'S REALLY GOOD FOR TEACHING LABEL READING, FINDING OUT HOW MUCH SUGAR IS IN ONE THING VERSUS A FRESH, FOR INSTANCE, SO--AND ONE OF THE THINGS I LIKE IS THE OLD HULA HOOP THAT I JUST LOVED PLAYING WITH WHEN I WAS YOUNGER. >> THAT'S RIGHT. WE ARE GOING INTO THE SCHOOLS, ANY KIND OF LITTLE HEALTH FAIR THAT WE'RE AT. WE'RE SHOWING THE KIDS HOW THEY CAN MAKE THEIR OWN HULA HOOP. IT'S A LOT MORE STURDY THAN THE ONES THEY BUY IN THE STORES, AND IT COSTS ABOUT-- LESS THAN $2.00 TO MAKE. >> OH. OK. >> AND WE START OUT WITH THE BLACK RUBBER TUBING, OR IT'S BLACK POLYETHYLENE TUBING. YOU CAN BUY IT AT MOST HARDWARE STORES, AND YOU CAN BUY IT BY THE FEET. SOMETIMES, THEY SELL IT IN A ROLL IF YOU'RE MAKING TWO OR 3. SO, YOU'RE GONNA DETERMINE HOW MUCH YOU NEED. LET'S SAY YOU BUY 15 FEET, AND THEN YOU'RE GOING TO MEASURE IT. IF IT'S FOR THE CHILD, IT'S GONNA BE FROM THEIR BELLY BUTTON TO THEIR SHOULDER. SOMEWHERE BETWEEN THERE. SO, YOU CAN HAVE IT AS BIG OR KIND OF AS LITTLE AS YOU WANT. THE NICE THING ABOUT THIS IS YOU CAN MAKE THIS HAVE NOISE, MAKE IT A NOISEMAKER. YOU CAN PUT CORN IN HERE. YOU CAN PUT SOME BEANS, SOME MARBLES, THINGS LIKE THAT. YOU CAN ALSO MAKE IT A WEIGHTED HULA HOOP AND ADD SAND IF YOU WANT TO. >> OH. SAND. UH-HUH. >> THAT'S RIGHT. SO, ONCE YOU GET THIS CUT--YOU'RE GONNA USE A LITTLE RUBBER TUBING CUTTER OR... >> AND THAT'S AT THE HARDWARE STORE, TOO. >> OR YOU CAN USE, LIKE, A LITTLE HACKSAW WITH, YOU KNOW, YOU WANT THE ADULT SUPERVISION THERE. BUT IT'S FAIRLY EASY TO CUT. SO, THEN YOU'RE GOING TO ALSO NEED A CONNECTOR, AND THIS TUBING IS 3/4-INCH-WIDE. YOU COULD USE HALF-INCH-WIDE IF THE CHILD IS SMALLER, BUT 3/4-INCH-WIDE WORKS WELL, SO, YOU'RE GONNA NEED THE TUBING TO FIT 3/4-INCH. AND THE THING TO DO TO CONNECT THIS, YOU WANT TO HEAT THIS UP SOME WAY, SO I JUST USED A BLOW DRYER, AND I HEATED THE RUBBER TUBING AND THEN PUT THIS IN HERE AND YOU CAN USE, LIKE, A HAMMER, RUBBER MALLET, TO PUSH THIS ON INTO HERE, AND THEN YOU'RE GONNA DO THE SAME FOR THE NEXT SIDE AND CONNECT IT IN A CIRCLE. >> OH. WELL, IT IS EASY TO MAKE. AND LIKE YOU SAY, THEY CAN--EACH ONE CAN BE PERSONALIZED, BECAUSE YOU DON'T KNOW WHAT'S GONNA BE IN IT. >> YES, YES. YOU CAN PUT MARBLES AND SAND, AND THEN YOU COULD REALLY PERSONALIZE IT BY-- YOU CAN GET THE ELECTRICAL TAPE AND YOU CAN COVER THE CONNECTOR, AND THEN YOU CAN CANDY-STRIPE IT... >> I DIDN'T REALIZE IT CAME IN SO MANY COLORS. >> ...MASKING TAPE. NO, NO, NOT THE MASKING TAPE, THE DUCT TAPE. DUCT TAPE THAT COMES IN THOSE WILD ZEBRA PRINTS, AND YOU CAN DECORATE IT AND MAKE IT AS PERSONAL AS YOU WANT. >> AND IT'S JUST LIKE WE'VE ALWAYS HEARD--IF YOU CAN MAKE EXERCISE FUN, YOU'RE MORE LIABLE TO CONTINUE TO DO IT. >> I CAN SEE HAVING CONTESTS WITH THE FAMILY MEMBERS. KIDS JUST LOVE TO GO OUTSIDE AND PICK UP THE HULA HOOP AND-- >> SO, WE'RE BRINGING BACK A, QUOTE, ANTIQUE TOY THAT SOME OF US ENJOYED USING. WELL, IT'S SO IMPORTANT FOR KIDS AT AN EARLY AGE TO LEARN ABOUT GOOD NUTRITION INSTEAD OF WAITING UNTIL WE'VE DEVELOPED SOME HABITS THAT ARE HARD TO BREAK AS AN ADULT. >> RIGHT. AND THAT'S VERY IMPORTANT, BECAUSE THAT'S-- LIKE, WE LIKE TO START WITH THE KINDERGARTENERS, THIRD-GRADERS, AND ESTABLISH THOSE GOOD, HEALTHY HABITS. >> WELL, THIS IS A GREAT PROGRAM. THE 5210 PROGRAM. >> THAT'S RIGHT. >> WELL, I APPRECIATE YOU COMING AND TELLING US ALL ABOUT IT. JUDY, THANK YOU SO MUCH FOR BEING HERE. I'M SO EXCITED BECAUSE I THINK THERE'S A RESURGENCE OF HOME SEWING. NOW, YOU KNOW WE'VE DONE QUILTING FOR A LONG TIME, AND HOME DECOR JUST CONTINUES TO GET MORE AND MORE POPULAR, BUT I DO THINK THAT ONCE PEOPLE START FEELING COMFORTABLE ABOUT SEWING, THEN THEY BRANCH OFF INTO OTHER AREAS, WHICH REALLY PLEASES ME. >> ME, TOO. YOU KNOW, YOU'RE ALWAYS GROWING. YOU KNOW, YOU LEARN SOMETHING AND THEN YOU WANT TO BE CHALLENGED INTO SOMETHING ELSE. >> APPLY IT TO SOME OTHER PROJECT. >> EXACTLY, AND THERE'S ALWAYS NEW PRODUCTS OUT THERE TO TRY, TOO, SO, YOU KNOW, IT GIVES YOU A CHANCE TO BE A LITTLE ADVENTUROUS. AND THERE'S NO PERFECT HOME DECOR OUT THERE IN THE STORES. YOU ALWAYS WANT TO MAKE IT YOUR OWN, WHETHER IT'S A COLOR SCHEME OR, YOU KNOW, THERE'S, YOU KNOW, YOU LOVE THIS PATTERN BUT YOU DON'T LIKE THAT COLOR, OR IT'S THE PERFECT COLOR BUT IT'S THE WRONG SIZE. YOU ALWAYS HAVE TO KIND OF DO IT YOURSELF. >> OH, YEAH, AND IT'S FUN WHEN YOU CAN SAY, "OH, I MADE THAT MYSELF." >> ABSOLUTELY. I THINK SO. >> AND THIS IS ONE OF THE CUTEST PILLOWS I'VE EVER SEEN. IT'S CALLED A TILE PILLOW? >> WELL, IT'S KIND OF REPRESENTATIVE OF, LIKE, ROOF TILES. >> IT IS. >> AND IT'S GOT A NICE TEXTURE, AND I THINK TEXTURE IN HOME DECOR TODAY IS SUCH A BIG THING. >> AND WHAT A GREAT WAY TO USE UP SCRAPS. THIS IS PERFECT. >> WELL, YOU KNOW, IT'S BATIK, SO, YOU KNOW, THERE'S NEVER SUCH A THING AS SCRAPS IN BATIK... >> OK. BATIK. OK, SO, LET'S SHOW HOW WE WOULD GO ABOUT THIS, BUT LIKE YOU SAID, THERE'S NEW PRODUCTS ON THE MARKET, AND THIS FUSI-BOO, I REMEMBER FROM WHEN YOU WERE HERE BEFORE, HOW GREAT THAT IS FOR QUILTING, BECAUSE YOU DON'T HAVE TO--IT STICKS ON BOTH SIDES, DOESN'T IT? >> YES, IT DOES. IT DOES. AND IT GIVES THOSE TILES A NICE WEIGHT TO THEM, SO THAT THEY'RE NOT TOO LOOSE. >> OH, I CAN FEEL IT. UH-HUH. >> YES, YOU CAN FEEL IT IN THERE, RIGHT? AND SO--LET ME SHOW YOU HOW TO MAKE IT. IT'S REALLY, REALLY SIMPLE. >> OK. >> AND THE FUSI-BOO, IF YOU RECALL, IT'S RAN FROM BAMBOO AND NATURAL COTTON, AND IT'S TREATED WITH A NON-TOXIC, WATER-SOLUBLE RESIN, AND THAT'S WHAT MAKES IT STICK, AND I'LL SHOW YOU HOW TO DO THAT WHEN... >> I JUST REMEMBERED THAT POINT. >> MM-HMM. OK, SO, WHAT WE DO IS WE START OFF WITH--IT'S BASICALLY--YOU'RE MAKING STRIPS. AND SO, WHAT I HAVE HERE IS A SET OF STRIPS, AND THEY'RE 3 1/2 INCHES WIDE AND THEY'RE 5 1/2 INCHES LONG, AND YOU MAKE 4 SETS OF--WELL, YOU MAKE 3 SETS OF 7 AND ONE SET OF 8 ACROSS. AND WHAT YOU DO THEN--AND THAT FORMS THE FOUNDATION FOR YOUR TILES. SO, RATHER THAN DOING THEM INDIVIDUALLY, YOU'RE GONNA DO THEM IN A FAST TECHNIQUE BY STRIP-PIECING THEM TOGETHER, AND THAT WAY YOU DON'T HAVE EXACTLY EVEN BREAKS, WHICH GIVES IT A LITTLE... >> WHICH YOU WANT, WHICH IS WHAT WE WANT. >> SURE. SO, ONE OF THOSE PIECES YOU'RE GOING TO USE TO FORM SORT OF THE FOUNDATION OF YOUR PILLOW. SO, HERE I HAVE THAT PRETTY COPPER FABRIC, WHICH IS REALLY THE UNDERLYING BASE HERE. >> IN THE BACK. >> YOU CAN SEE IT'S ON THE BACK. >> UH-HUH. >> AND THEN YOU'LL SEE HERE ON THE BOTTOM, TO GIVE IT THAT EFFECT, WE JUST CHEATED HERE AND WE JUST HAVE A PANEL OF STRIPS. SO, REAL SIMPLE. YOU JUST SEW THE STRIPS TO THE SOLID, AND THAT FORMS THE BASIS FOR YOUR FRONT. >> MM-HMM. QUARTER-INCH SEAM... >> QUARTER-INCH SEAMS PER NORMAL. YOU KNOW, YOU CAN, YOU KNOW, PRESS YOUR SEAMS TO, YOU KNOW, THE COPPER SIDE. I PRESSED ALL THESE SEAMS OPEN TO KEEP THEM NICE AND FLAT. >> OK. >> OK, SO, THEN, WHAT YOU'LL DO THEN IS, ONCE YOU'VE GOT THE FOUNDATION DONE FOR YOUR PILLOW, WE'RE GONNA START TO FUSI-BOO, AND WHAT WE DID IS THIS. >> AND THIS IS THE FUS-- >> THIS IS THE FUSI-BOO HERE. >> I CAN FEEL-- >> RIGHT. YOU CAN FEEL A SLIGHT, SLIGHT TACKINESS. AND BECAUSE WE'RE NOT GOING TO BE DOING LIKE WE WOULD IN QUILTING, WHERE YOU WOULD PUT BOTH SIDES TOGETHER AT THE SAME TIME AND THEN FUSE IT IN ORDER TO SAVE THE STEP OF BASTING, WE'RE GONNA DO IT A LITTLE BIT DIFFERENTLY. SO, I DO NOT WANT MY FUSI-BOO TO STICK TO MY IRONING SURFACE, SO I HAVE A NON-STICK SURFACE IN BETWEEN HERE. >> THAT'S A GOOD POINT TO BRING UP. >> AND IT'S NOT THAT YOU CAN'T PEEL IT, BUT YOU JUST DON'T-- WHY BOTHER? >> UH-HUH. >> SO, WE JUST HAVE THIS LITTLE BIT OF NON-STICK. SO, WHAT YOU DO IS YOU HAVE YOUR IRON SET TO THE WOOL SETTING WITH STEAM. AND SO, STAND BACK, BECAUSE I'M GONNA GIVE YOU A FACIAL HERE. AND WHAT YOU'LL DO IS YOU'LL JUST SET YOUR FUSI-BOO, AND IT TAKES ABOUT 5 SECONDS. SO, YOU JUST WANT TO RUN YOUR IRON OVER IT. >> I REMEMBER WHEN INTERFACING, THE FUSEABLE INTERFACINGS FIRST CAME OUT, AND YOU HAD TO SIT THERE AND COUNT TO 15, IF YOU WANTED TO MAKE SURE IT STUCK. AND NOW EVERYTHING IS JUST ALMOST INSTANT. >> SO, HERE WE HAVE IT. NOW WE'RE GONNA LET THAT COOL. LET THAT COOL A BIT. SO, WHILE THAT'S COOLING, YOU'RE GONNA TAKE ONE OF THESE OTHER STRIPS. AND WHAT YOU'RE GONNA DO IS YOU'RE GONNA LAY IT RIGHT ON TOP. SO, HERE YOU'RE GONNA SEE, THIS IS NOT QUITE SET, BUT YOU'RE GONNA SEE IT'S GOT A LITTLE BIT OF PULL HERE, THAT IT'S FUSED TOGETHER. I'M GONNA RESET THAT JUST TO MAKE SURE IT'S GOOD. SO, THEN WHAT YOU'RE GONNA DO IS YOU'RE GOING TO SEW ALONG THESE 3 EDGES, ALL ACROSS THE EDGE HERE AND UP THE SIDES. AND THEN WHAT YOU'RE GONNA DO IS YOU'RE GOING TO SEW SOME CHANNELS, AND THESE ARE GONNA BE THE CHANNELS WHERE YOU'RE GOING TO CUT YOUR TILES APART. >> OH. >> SO, IF YOU CAN SEE HERE, I HAVE IT SEWN ON ALL EDGES HERE, AND THEN I HAVE--I'VE IDENTIFIED RANDOMLY WHERE I WANTED TO MAKE MY BREAKS. SO, I'VE SEWED A HALF-INCH CHANNEL HERE AS MY CUTTING POINT. SO, I'M GONNA DO THAT IN VARIOUS LOCATIONS. YOU'RE GONNA GET 3 OR 4 TILES OUT OF THIS ONE PIECE. AND THEN YOU'RE GOING TO--AND YOU CAN SEE THE FUSI-BOO'S EXPOSED ON THE BACK. >> MM. OK. AND YOU CAN SEE THE CHANNEL WHERE YOU STITCHED. >> AND THE REASON I DID THIS IS BECAUSE I WANTED TO HAVE A FINISHED EDGE WHEN YOU TURN IT-- TURN IT OVER. SO, THAT'S WHY I DIDN'T WANT TO FUSE THE TILE. IF I WANTED A RAW EDGE LOOK TO THIS, I WOULD JUST HAVE FUSED THE TOP AND THE BOTTOM TOGETHER AND THEN DONE THE SEWING ON THE CHANNELS AND CUT IT APART AND LET IT BE WROUGHT. >> I LIKE THE FINISHED... >> I LIKE THE FINISHED, TOO. SO, NOW I'M JUST GONNA TAKE MY SCISSORS. I'M JUST GONNA-- >> THAT'S WHY IT'S A CHANNEL. YOU'RE CUTTING... >> I'M CUTTING RIGHT IN IT AND IT'S GONNA FORM BOTH--BOTH PIECES HAVE SEWN EDGES. SO, THEN ALL I HAVE TO DO IS FLIP IT RIGHT SIDE OUT. AND MY STUFFING TOOL WOULD'VE BEEN HANDY RIGHT HERE. >> AND THIS IS LIKE A LITTLE MINIATURE PILLOWCASE. >> YEAH, A VERY TINY, LITTLE PILLOWCASE. AND THEN JUST TO MAKE SURE IT'S SET NICELY, I GO AHEAD AND I RE-SET THE FUSI-BOO SO THAT IT'S FUSED ON BOTH SIDES. SO, IT'S NICE AND FLAT AND IT FORMS A GOOD TILE. >> RIGHT. BUT WITH THAT FUSI-BOO IN, IT DOES, LIKE YOU SAY, IT GIVES IT SOME BODY. >> GIVES IT A LITTLE BODY. NOT TOO FLOPPY. I DON'T WANT IT TOO FLOPPY. SO, THEN WHAT WE DO IS WE TAKE THESE TILES THAT WE'VE MADE, AND YOU'RE GOING TO LAYER THEM IN ROWS ON TOP OF YOUR BASE. >> HOWEVER YOU WANT. >> HOWEVER YOU WANT. >> EVERY PILLOW CAN BE DIFFERENT. >> AND WHILE YOU'RE MAKING ALL OF THE TILES THE SAME HEIGHT, YOU CAN STAGGER THE PLACEMENT OF THEM SO THAT THEY'RE-- YOU KNOW, THEY CAN OVERLAP SLIGHTLY, AND IMAGINE IF THIS WAS TURNED RIGHT SIDE OUT, YOU COULD HAVE THEM, YOU KNOW, LAYERED IN DIFFERENT LENGTHS. AND THEN WHAT YOU'LL DO IS YOU'LL SEW A SEAM DIRECTLY ACROSS HERE AND THEN JUST TRIM AWAY THE EXCESS, AS I DID ON THESE PILLOWS HERE. YOU COULD JUST LIFT THIS UP HERE, AND YOU CAN SEE THAT I'VE JUST--I'VE REALLY RAW-EDGE SEWN IT RIGHT ONTO THE FACE. I'VE TRIMMED AWAY THE EXCESS, BECAUSE THE NEXT LAYER ACTUALLY SITS RIGHT OVER THE TOP OF IT AND YOU DON'T EVEN SEE IT. >> WHAT A GREAT IDEA. I NEVER THOUGHT OF DOING THAT. >> AND THEN IT'S A SIMPLE ENVELOPE BACK TO FINISH IT, AND YOU'RE ABLE TO FIT IN A PILLOW. WE'VE USED THE HOME ELEGANCE PILLOW HERE, WHICH IS THE SUPER-SOFT PILLOW THAT HAS THE MICRODENIER POLYESTER FIBER IN IT. MAKES IT SUPER, SUPER SOFT. >> IT DOES. FEELS GOOD. AND WE HAVE ONE OTHER IDEA. WE'VE SAVED THE BEST FOR LAST. >> WE HAVE. WE HAVE. WE THOUGHT, YOU KNOW, YOU CAN TAKE THE SAME TILING TECHNIQUE. AND WHAT'S NICE ABOUT THIS TECHNIQUE WE SHOW HERE IS THAT YOU GET MULTIPLE COLORS IN SORT OF A SIMPLE SQUARE ARRANGEMENT. REAL SIMPLE. THIS TAKE A LITTLE BIT MORE FUSSY WORK. BUT WHAT WE HAVE HERE IS THE SAME CONCEPT. WE HAVE THESE LITTLE SCALLOPS. >> SCALLOP TILES. >> THE LITTLE SCALLOPS, AND WE'VE FINISHED THESE MORE FORMALLY. SO, YOU HAVE TO DO EACH OF THE SCALLOPS TOGETHER. BUT WHAT YOU WOULD DO IS YOU WOULD DO YOUR LAYERING, AS YOU HAD DONE IN THIS ORIGINAL HERE, WHERE YOU'D HAVE YOUR FUSI-BOO, AND THEN YOU WOULD JUST CUT YOUR SCALLOP SHAPES OUT AND DO YOUR SEWING ALL ALONG THE EDGES. SO, YOU COULD EITHER SEW THEM FIRST, YOU COULD MARK THEM AND SEW THEM, AND THEN CUT THEM OUT, AND THEN YOU'D TURN THEM RIGHT SIDE OUT WITH THE FUSI-BOO, AND THEN HERE WE DID IT SO THAT THEY'RE CHANNEL--THEY'RE STRIPPED TOGETHER WITH A PIECE IN BETWEEN, SO, IT'S NICE AND FINISHED. >> IT IS. >> JUST A LITTLE PURSE. >> WHAT A CUTE IDEA. >> ISN'T THAT CUTE? >> AND THE FACT THAT YOU CAN LAY THESE OUT, YOU COULD VARY, IF YOU DIDN'T LIKE THESE TWO COLORS TOGETHER, YOU CAN MOVE THIS. SO, IT GIVES YOU A LOT OF FLEXIBILITY IN PLANNING THE OVERALL LOOK. >> ABSOLUTELY, AND IT MAKES IT NICE, TOO, AND WE'VE PLANNED THIS TO GO--REALLY COLOR- COORDINATE WITH JEANS. >> I LIKE THAT. >> I DO, TOO. >> OK. WELL, THANK YOU SO MUCH. THESE ARE GREAT PRODUCTS. IT'S NICE TO KNOW THAT THEY'RE AVAILABLE FOR US. >> YEAH, AND THE PATTERN FOR THE PILLOW'S AVAILABLE ON THE WEB SITE. >> OK. THANK YOU VERY MUCH, JUDY. I HOPE YOU ENJOYED THE SHOW TODAY. NEXT TIME ON "CREATIVE LIVING," WE'LL LEARN TO USE RIBBON IN NEEDLEPOINT DESIGNS, WE'LL TALK ABOUT LIVING A MORE SIMPLE LIFE, OR AS MY GUEST CALLS IT, LIFE UNPLUGGED. THEN WE'LL SHOW HOW TO MAKE SOME QUICK AND EASY QUILTS FROM FLEECE FABRIC. ONE OF MY GUESTS ON THE NEXT SHOW IS GOING TO SHOW HOW TO INCORPORATE RIBBON AS EMBELLISHMENT WHEN DOING NEEDLEPOINT PROJECTS AND DESIGNS. WE'LL ALSO VISIT WITH A MOTIVATIONAL SPEAKER WHO SAYS, AND I QUOTE, "AS CRAZY AS IT SOUNDS, IT TAKES A LOT OF ENERGY TO LIVE A SIMPLE LIFE." SHE'S GOING TO EXPLAIN WHAT SHE MEANS BY THIS AND TELL US WHAT STEPS SHE SUGGESTS TO GETTING THAT LIBERATED FEELING. AND FINALLY, WE'LL MEET A SEWING INSTRUCTOR WHO SAYS THAT PIECING FLEECE TO MAKE QUILTS CAN RESULT IN VERY BULKY QUILTS. SHE'S GOING TO SHOW A NON-TRADITIONAL TECHNIQUE THAT REDUCES ALL OF THE BULK AND RESULTS IN A VERY BEAUTIFUL QUILT. FLEECE IS SO NICE TO WORK WITH BECAUSE IT DOESN'T RAVEL, SO, THAT REDUCES SOME OF THE WORK INVOLVED WHEN PIECING FABRICS TOGETHER. ALL OF THESE TOPICS WILL BE FEATURED ON THE NEXT "CREATIVE LIVING" SHOW. IF YOU EVER HAVE COMMENTS OR SUGGESTIONS OR IDEAS FOR SHOWS, YOU CAN E-MAIL ME AT SHERYL.BORDEN@ENMU.EDU. I'D ALSO LIKE TO ASK YOU TO BECOME A FAN OF "CREATIVE LIVING" ON FACEBOOK. JUST GO TO FACEBOOK.COM AND IN THE SEARCH WINDOW, TYPE IN "CREATIVE LIVING WITH SHERYL BORDEN." THANKS SO MUCH. I HOPE YOU'LL PLAN TO JOIN ME NEXT TIME FOR "CREATIVE LIVING." >> WE ARE VERY PLEASED TO OFFER A NEW BOOKLET THAT ACCOMPANIES THIS SERIES OF "CREATIVE LIVING." THIS BOOKLET IS TITLED "THE 6500 SERIES," AND IT FEATURES A WONDERFUL COLLECTION OF IDEAS AND INFORMATION, AND IT'S AVAILABLE FREE OF CHARGE ON OUR WEB SITE. POSTED AS A PDF FILE, YOU CAN SIMPLY DOWNLOAD THE ENTIRE BOOKLET OR JUST THE SEGMENTS YOU'RE MOST INTERESTED IN. AS WITH ALL OF THE "CREATIVE LIVING" BOOKLETS, YOU'LL FIND INFORMATION ON FOODS & NUTRITION, CLOTHING & FASHION, HEALTH & BEAUTY, HOME DECORATING, AND MUCH MORE. FOR YOUR COPY OF THIS BOOKLET, GO TO OUR WEB SITE AT KENW.ORG AND THEN CLICK ON "CREATIVE LIVING." SCROLL DOWN TO THE BOOKLET SECTION, AND YOU CAN CLICK ON THIS BOOKLET OR ANY OF THE OTHER BOOKLETS WE HAVE AVAILABLE ONLINE. ONCE AGAIN, JUST GO TO KENW.ORG, CLICK ON "CREATIVE LIVING," AND DOWNLOAD THE BOOKLET TITLED "THE 6500 SERIES." WE ALSO WANT TO ENCOURAGE YOU TO SIGN UP FOR OUR FREE E-NEWSLETTER. JUST CLICK ON THE "SIGN UP NOW!" BUTTON AND INPUT YOUR E-MAIL ADDRESS. THAT'S ALL THERE IS TO IT. YOU'LL ENJOY READING AN UP-TO-DATE NEWSLETTER FILLED WITH INTERESTING TOPICS AND INFORMATION. THANK YOU.
Now Playing As: Captioned (English) (change)
Home crafters teach viewers how to make throw pillows and combine quilting and embroidery techniques for home furnishings and clothes. Sheryl also highlights the 5210 fitness program for children.
Media Details
Runtime: 27 minutes