Creative Living With Sheryl Borden #6501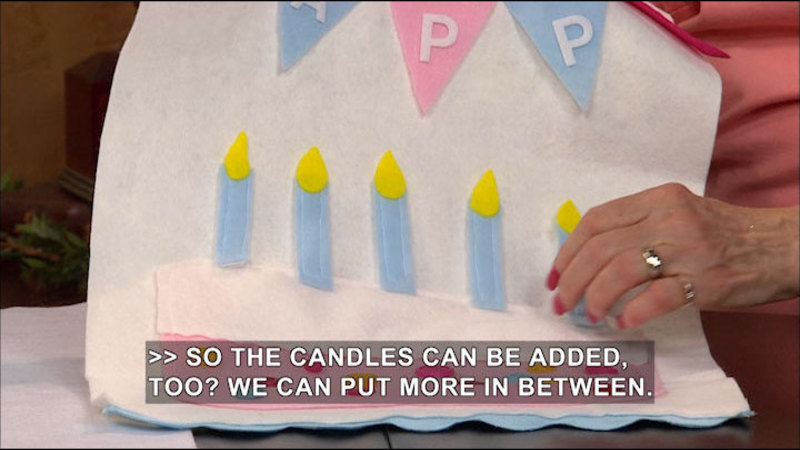 >> "CREATIVE LIVING," UTILIZING TODAY'S TECHNOLOGY WITH THE BEST OF THE PAST TO BRING YOU INNOVATIVE IDEAS AND UP-TO-DATE INFORMATION FOR CREATIVE LIFESTYLES IN TODAY'S ACTIVE WORLD. WITH YOUR HOST, SHERYL BORDEN. >> WELCOME TO "CREATIVE LIVING" TODAY. WE'RE BEGINNING A NEW SERIES OF SHOWS, AND I HOPE YOU'LL WATCH AS OFTEN AS POSSIBLE. TODAY, WE'RE GOING TO LEARN ALL ABOUT KITCHEN CUTLERY, SHOW HOW TO MAKE A BIRTHDAY BANNER, AND HOW TO USE AN EMBROIDERY MACHINE TO INSERT LACE. ONE OF MY GUESTS IS A COOKBOOK AUTHOR AND CHEF, AND HIS NAME IS JOHN VOLLERTSEN, OR MORE COMMONLY KNOWN AS CHEF JOHNNY VEE. HE'S GOING TO COMPARE THE DIFFERENT BRANDS OF KNIVES AVAILABLE IN STORES TODAY AND EXPLAIN THE PARTS OF THE KNIFE, SHOW PROPER HOLDING AND CUTTING SKILLS. HE OWNS AND OPERATES LAS COSAS COOKING SCHOOL IN SANTA FE, NEW MEXICO. ANOTHER GUEST IS DESIGNER LAURA BRAY, AND SHE'S GOING TO SHOW HOW TO MAKE A CUTE BIRTHDAY DECORATION THAT CAN BE USED YEAR AFTER YEAR. SHE'S GOING TO MAKE CANDLES WITH VELCRO BRAND FASTENERS ON THEM SO YOU CAN ADD TO IT EACH YEAR. SHE REPRESENTS VELCRO USA, INCORPORATED, AND LIVES IN ALISO VIEJO, CALIFORNIA. MY FIRST GUEST IS ALSO A DESIGNER, AS WELL AS A DIGITIZER. LAURA WATERFIELD IS THE OWNER OF LAURA'S SEWING STUDIO IN TOMBALL, TEXAS, AND SHE'S GOING TO DEMONSTRATE INSERTION LACE MACHINE EMBROIDERY, WHICH CREATES AN HEIRLOOM DESIGN THAT CAN BE DONE ON MOST FABRICS. THE SECRET TO THIS TECHNIQUE IS TO USE A WING NEEDLE. LAURA, THANK YOU SO MUCH FOR COMING. EVERY TIME YOU COME, YOU BRING A PROJECT THAT I'VE NEVER WORKED WITH BEFORE, AND I THOUGHT YOU JUST DID EMBROIDERY WORK, BUT WE'RE GOING TO TALK TODAY ABOUT INSERTION LACE. HOW DID YOU GET ONTO THAT? >> INSERTION LACE IS AN HEIRLOOM SEWING TECHNIQUE. AND NORMALLY YOU SEW LACE ONTO A PIECE OF FABRIC, AND THEN YOU CUT THE FABRIC AWAY FROM BEHIND, AND THAT WAY YOU HAVE JUST NO FABRIC BEHIND IT THAT SHOWS. AND THIS WAY, WE'RE GOING TO DO IT ON THE EMBROIDERY MACHINE, WHICH DOES ALL THE WORK FOR YOU. >> OHH! >> THIS IS ONE OF THE PROJECTS WE DID. >> THIS IS JUST BEAUTIFUL. >> YOU CAN SEE THROUGH THERE HOW IT'S CUT OUT, AND THIS IS ACTUALLY A LINGERIE BAG, BUT IT'S A VERY GOOD SIZE FOR A TRAVEL PILLOW. >> I'LL TRY TO MOVE MY HAND, YEAH. THAT WAY WE CAN SEE ALL THE WAY THROUGH. IT'S HARD TO SEE IN WHITE. THAT'S JUST EXQUISITE. >> THANKS. >> OKAY. THIS IS A LITTLE EASIER TO SEE. >> ON A KNIT FABRIC. YOU CAN DO THIS ON A KNIT FABRIC AS WELL. THAT'S A WOVEN FABRIC. THIS IS A KNIT FABRIC, AND THIS IS ON A SHIRT THAT I DID. >> IT'S SO DAINTY, SO DELICATE. >> YOU HAVE TO BE CAREFUL WHERE YOU PUT THESE ON CLOTHES SINCE YOU CAN SEE THROUGH THEM. >> [LAUGHS] YEAH. SO PLACEMENT IS VERY IMPORTANT. >> RIGHT, ON CLOTHES. AND WHAT I DO IS I HOOP A LAYER OF WATER-SOLUBLE STABILIZER. AND THIS IS WATER SOLUBLE STABILIZER. I ACTUALLY USE TWO LAYERS, AND I'LL SHOW YOU WHY IN A MINUTE. >> AND THIS IS A SPECIAL NEEDLE THAT WE NEED TO POINT OUT. >> A WING NEEDLE, AND IT'S A 120 SIZE WING NEEDLE, AND THIS NEEDLE HAS LARGE SIDES THAT BOW OUT ON EITHER SIDE OF IT SO WHEN IT PENETRATES THE FABRIC, IT CREATES A HOLE INTO THE FABRIC. >> SO IT'S PUNCHING IT IS WHAT IT'S DOING. >> RIGHT, UH-HUH, IT'S PUNCHING THE FABRIC, AND THE STITCHING, THE THREAD ACTUALLY HOLDS THE HOLES OPEN. >> OH, OKAY. >> THAT'S HOW IT WORKS. SO WHAT I DO IS I--HERE IT IS. I'VE DONE ONE HERE IN A CONTRASTING COLOR, AND I'VE GOT TWO LAYERS OF WATER-SOLUBLE AND ONE LAYER OF MY FABRIC. >> YOU WERE GOING TO TELL US WHY YOU USE TWO LAYERS. >> RIGHT, BECAUSE YOU HAVE TO CUT OUT THIS AREA THAT'S GOING TO HAVE THE LACY SPOTS, AND INVARIABLY, I ALWAYS TEND TO CUT SOME PIECE OF MY STABILIZER. >> OH, THAT'S SMART. >> YEAH, SO JUST IN CASE, I CUT SOME OF THIS OUT ALREADY. >> YOU JUST LEARN FROM EXPERIENCE. >> RIGHT, YOU JUST CUT THESE OUT. USE YOUR LITTLE CURVED SCISSORS, AND YOU CUT OUT THIS CENTER PIECE. >> AND YOU GET REAL CLOSE TO THE EDGE, DON'T YOU, BUT NOT CUT THROUGH THE STITCHING? >> DON'T CUT THE STITCHING, AND YOU DON'T WANT TO CUT YOUR STABILIZER, BUT LIKE I SAID, SOMETIMES A LITTLE PIECE WILL GET PUNCTURED, AND I LIKE TO HAVE A SECOND LAYER IN THERE IN CASE I CUT IT. AND YOU CAN SEE I DID CUT THAT A LITTLE BIT OVER THERE. SO ANYWAY, WE'RE OKAY 'CAUSE WE HAVE A SECOND LAYER. >> THAT'S GOOD. >> RIGHT, AND THAT'S JUST THE WING NEEDLE AREA, AND AFTER YOU CUT OUT YOUR FABRIC LIKE THIS, THEN YOU'LL WANT TO PUT YOUR HOOP BACK ONTO THE MACHINE AND FINISH SEWING THE DESIGN, AND IT'LL SEW THE FINISHING STITCHES AND THE LITTLE LACY AREAS THAT YOU SEE. I HAVE ONE. I HAVE ONE HERE THAT'S DONE. YOU CAN SEE IT ON THE TABLE. >> OH. WHAT YOU'RE DOING IS PUTTING THIS IN THE AREA THAT YOU CUT OUT. >> RIGHT. THE FIRST THING THAT SEWS IS YOUR WING NEEDLE AREA, AND THEN YOU STOP AND CUT THIS OUT, AND THEN YOU PUT IT BACK ON. THIS IS THE FRONT, ACTUALLY. >> OH, THAT'S PRETTY. >> AND IT SEWS ALL THESE LITTLE LACY AREAS IN HERE AND FINISHES OFF THE LITTLE SATIN STITCH EDGE OF THE FABRIC SO THE FABRIC WON'T RAVEL. >> DO YOU EVER DO CONTRASTING COLORS? >> UH-HUH, I HAVE SOME. I HAVE ONE I DONE--JUST SOME SAMPLES I'VE DONE IN PURPLE. AND YOU CAN MAKE THEM ANY COLOR YOU WANT. >> YEAH, THOSE ARE BEAUTIFUL. AND ANY SIZE I GUESS. OH, I LIKE THE WAY YOU DID THE CENTER ON THAT ONE. >> MM-HMM, A LITTLE EXTRA IN THERE. HERE'S A LITTLE HEART. >> UH-HUH. >> THAT'S DONE. I ALSO HAVE SOME... >> IT LOOKS LIKE HAND WORK. >> YEAH, IT DOES. >> MY GRANDMOTHER USED TO DO CROCHET, AND THAT'S WHAT IT LOOKS LIKE TO ME. >> DOES A LITTLE BIT. YEAH, HERE'S SOME CORNERS. WHEN YOU'RE MAKING, LIKE, TABLE LINENS, YOU WANT TO MAKE CORNERS, AND THEN IF IT'S A LONG TABLE LINEN, YOU MIGHT HAVE THESE ON THE CORNERS AND THESE ALONG THE SIDES, KIND OF MAKE IT LOOK LIKE IT GOES ALL THE WAY AROUND THE EDGE. AND THEN YOU PUT SOME OF THESE OTHER DESIGNS IN THE CENTER OF THE TABLECLOTH. >> OH, YOU COULD JUST DO AS MUCH AS YOU WANTED. I IMAGINE IT'S SORT OF ADDICTIVE, ISN'T IT, ONCE YOU GET STARTED? 'CAUSE IT'S SO PRETTY. >> MACHINE EMBROIDERY IS ANYWAY. ALSO YOU CAN ALSO WEAVE RIBBON INSIDE OF THESE AREAS, AND I PUT MY RIBBON INTO A TAPESTRY NEEDLE, AND YOU JUST WEAVE IT IN AND OUT THESE LITTLE LACY AREAS, AND IT'S REALLY EASY TO DO. >> THAT'S NICE AND FAST. HOW DO YOU FINISH IT OFF AT THE END? >> WELL, AT THE BACK, I JUST CUT THIS OFF, AND YOU WOULD HAND- STITCH THIS CLOSED. >> OKAY. PUT A LITTLE FRAY CHECK OR SOMETHING ON IT? >> FRAY CHECK WOULD BE A GOOD IDEA. HERE'S ANOTHER ONE, I DID PUT RIBBON IN THIS ONE, BUT I TIED LITTLE KNOTS AT EACH ONE OF THE CORNERS AS I DID THOSE JUST TO ADD A LITTLE MORE TEXTURE. AND THIS IS ALSO ON KNIT FABRIC, AND THESE ARE WOVEN FABRICS. YOU COULD SEW IT ON EITHER FABRIC. NOW, WHEN YOU'RE SEWING ON KNIT FABRIC, YOU CANNOT USE A WING NEEDLE, BECAUSE WING NEEDLES MAKE HOLES IN KNIT FABRIC. YOU HAVE TO USE A BALLPOINT NEEDLE IN YOUR KNIT FABRICS. >> WHEN YOU'RE DOING KNIT, BUT IF YOU'RE DOING THE OTHER FABRICS, THE LINENS OR ANYTHING ELSE, YOU USE THE WING NEEDLE. >> RIGHT, AND YOU CAN SEE IT'S JUST AS PRETTY WITHOUT THE WING NEEDLE AS IT IS WITH THE WING NEEDLE. >> I THOUGHT YOU USED THAT WITH ALL OF THEM. >> YEAH, AND THIS TOP IS THE SAME WAY. IT HAS--I DIDN'T USE THE WING NEEDLE ON THIS AROUND THE EDGES, BUT YOU CAN SEE THAT STITCHING AROUND THE OUTSIDE EDGE IS JUST AS PRETTY. >> WELL, THESE ARE JUST BEAUTIFUL. WOW. I BET PEOPLE LOVE FOR YOU TO GIVE THINGS LIKE THIS AS GIFTS TO THEM, DON'T THEY? >> YES, YES. >> WELL, THANK YOU VERY MUCH FOR SHOWING HOW EASY IT IS TO DO. >> THANKS FOR HAVING ME. >> LAURA, THANK YOU SO MUCH FOR BEING HERE TODAY. WHEN I WAS GROWING UP, MY MOTHER--THERE WERE 5 CHILDREN IN OUR FAMILY. MY MOTHER ALWAYS MADE BIRTHDAYS VERY SPECIAL FOR EACH ONE OF US, AND AS I THINK BACK, THAT'S WHAT REALLY INSPIRED ME TO WANT TO DO THE SAME THING FOR MY KIDS, SO IT'S SORT OF BEEN PASSED DOWN. HOW DID YOU COME UP WITH THIS BANNER THAT YOU'RE GOING TO SHOW US? >> WELL, I LIKE TO MAKE BIRTHDAYS SPECIAL AS WELL, AND I ALSO LIKE TO HAVE TRADITIONS. I'M VERY TRADITION-MINDED, AND I THOUGHT THIS BANNER WOULD BE A GREAT WAY, EVERY TIME IT CAME OUT MY DAUGHTER WOULD GET EXCITED ABOUT HER BIRTHDAY, AND WE--BECAUSE WE USE VELCRO TAPE, WE CAN ADD TO IT YEAR AFTER YEAR CANDLES AS SHE GROWS. >> UH-HUH. THEY DON'T STAY 5 FOREVER, THOUGH WE SOMETIMES WISH THEY WOULD. >> AND SOMETIMES WE WISH THEY WOULDN'T. >> SO THE CANDLES CAN BE ADDED, TOO? WE CAN PUT MORE IN BETWEEN. >> RIGHT. YOU CAN PUT AS MANY AS YOU WANT TO GET STARTED. >> IT'S GOT THE "HAPPY" UP HERE, AND THEN ALSO THIS TOP, YOU DID SOMETHING KIND OF UNIQUE, UM... >> I DID. USUALLY WHEN YOU'RE MAKING BANNERS LIKE THIS, A LOT OF PEOPLE WILL JUST SEW A LOOP FOR A POLE TO PULL THROUGH, BUT I WANTED THIS TO BE ABLE TO BE HUNG FROM THE BACK OF YOUR CHAIR. IF YOU WERE CELEBRATING OUTSIDE, YOU COULD HANG IT FROM A TREE LIMB, AND BY USING THE VELCRO BRAND FASTENER, YOU HAVE A LITTLE MORE WIGGLE ROOM AS TO WHERE YOU'RE GONNA HANG THIS. >> THAT'S A GOOD IDEA. I LIKE THE CHAIR. THAT'S A GOOD IDEA. OKAY. AND WE'RE USING FELT AND VELCRO AND THEN SOME EMBELLISHMENTS, AND THAT'S ABOUT IT. >> IT IS. IT'S A REALLY SIMPLE PROJECT, SO I DID CREATE A PATTERN, AND THE FIRST THING YOU WANT TO DO IS JUST CUT A 24 X 14-INCH BANNER OF WOOL FELT. YOU WANT A HEAVIER FELT FOR THE BANNER PIECE SO THAT IT HANGS NICELY. YOU CAN USE A CRAFT GRADE FELT FOR THE REST OF THE APPLIQUE PIECES. >> MM-HMM, BUT YOU WANT A LITTLE STABILITY IN THAT. I SEE. >> ONCE I HAVE THE BANNER PIECE, THEN I TAKE THE PATTERN AND I CUT THE CAKE PIECE. >> MM-HMM. WE CAN USE ANY COLOR BECAUSE THE FELT NOW COMES IN SO MANY PRETTY SHADES. >> YEAH, YOU CAN, AND PERSONALIZE IT TO YOUR CHILD'S FAVORITE COLOR. I ALWAYS DO PINK. >> YOU HAVE GIRLS. MM-HMM. >> AND YOU WANT TO STITCH THAT DOWN JUST DOING A STRAIGHT STITCH AROUND THE EDGE, OR YOU CAN GLUE IT IF YOU'RE NOT A SEW-ER. >> OH. OKAY. EVERYBODY CAN DO THIS PROJECT. >> AND THEN YOU'LL CUT OUT THE FROSTING PATTERN PIECE AND THEN SEW OR GLUE THAT ON. >> UH-HUH. AND I NOTICED YOU SORT OF MADE THE FROSTING EDGE, BUT ON THIS ONE YOU USED THOSE FANCY SCISSORS. >> I USED A WAVE ROTARY CUTTER FOR THAT, BUT YOU COULD ALSO USE RICKRACK IF YOU WANTED. YOU PERSONALIZE IT HOWEVER YOU WANT. AS YOU SEE, I ALSO ADDED SOME LARGE RICKRACK TO THE BOTTOM OF THIS BANNER. I SEWED IT ON THE BOTTOM SIDE. YOU COULD GO CRAZY AND SEW IT ON THE TOP OR HOWEVER YOU WANT IT TO LOOK. >> I LIKE THAT REALLY WIDE RICKRACK. HAS LOTS OF USES. >> YEAH, I DO, TOO. THEN YOU'LL USE THE PATTERN TO CUT A CANDLE PIECE, AND AS YOU CAN SEE, I HAVE A CANDLE AND A FLAME SEPARATELY, SO PICK WHATEVER COLOR CANDLES YOU WANT. IF YOU HAVE MULTIPLE CHILDREN, MAYBE YOU WANT TO MAKE A DIFFERENT SET. AGAIN, BECAUSE WE'RE USING THE VELCRO TAPE, YOU WOULD BE ABLE TO CHANGE THEM OUT, SO IF ONE CHILD'S BIRTHDAY, THEY HAVE BLUE AND THE OTHER CHILD'S, THEY ALWAYS GET PINK CANDLES. THEY'LL HAVE TO SHARE THE BANNER, BUT THEY'LL STILL FEEL IT'S A LITTLE PERSONALIZED FOR THEM, AND I JUST GLUED THE FLAME ONTO THE TOP EDGE. >> SURE, BUT YOU DO SUGGEST STITCHING THE VELCRO TAPE ON THESE BECAUSE THEY ARE USED A LOT. >> I DO, SO THAT WOULD BE THE NEXT PART. YOU WOULD TAKE THE HOOK PART OF THE VELCRO TAPE. >> THAT'S SORT OF THE ROUGH PART. >> THAT'S THE ROUGH PART, AND SEW THAT ONTO THE BACK SIDE OF THE CANDLE, AND, AGAIN, I DO RECOMMEND SEWING. THIS IS THE PART THAT'S GONNA TAKE A LOT OF RIPPING ON AND OFF. AND THE REASON I SAY TO USE THE HOOK SIDE IS THAT WHEN YOU'RE STORING IT OR IF IT'S JOHNNY'S BIRTHDAY, AND JANE'S PINK CANDLES ARE AROUND, YOU CAN JUST STORE THEM BY STICKING THEM ONTO THE FELT ON THE BACK, SO THAT MAKES IT-- >> SO A HOLDER THAT WAY. >> YEAH. I LIKE TO KEEP THINGS TOGETHER 'CAUSE THEY WILL GET LOST. >> UH, YEAH. THAT'S CUTE. >> SO ONCE YOU HAVE THE ROUGH SIDE SEWN TO THE BACK OF THE CANDLE, YOU'LL WANT TO GO IN AND DECIDE WHERE YOU WANT YOUR CANDLES ON YOUR CAKE AND SEW THE OTHER SIDE OF THE VELCRO. >> NOW, LIKE THIS ONLY HAS 5, BUT WOULD YOU SUGGEST GOING AHEAD AND STITCHING VELCRO? >> STICKING AS MANY AS YOU THINK YOU WANT TO GO OUT IN THE FUTURE. IT'S JUST GONNA MAKE IT EASIER FOR YOU. YOU'RE NOT GONNA HAVE TO PULL IT OFF, AND IF YOU DECIDE TO EMBELLISH LATER, WORKING AROUND THOSE EMBELLISHMENTS WHILE YOU'RE TRYING TO USE A SEWING MACHINE CAN BE CHALLENGING. >> THAT'S WHAT I WONDERED. OKAY. GOOD. >> AND THEN ONCE YOU HAVE THAT, YOU JUST MAKE--AGAIN, IN THE PATTERN, I HAVE SOME OF THESE BANNER TRIANGLES. >> "BANNER CUT 5." UH-HUH. >> AND YOU WANT--WELL, YOU WOULD WANT TO CENTER IT JUST ABOVE. AS YOU CAN SEE, IT'S JUST ABOUT 2 OR 3 INCHES ABOVE THE CANDLES. >> OH. UH-HUH. RIGHT, I SEE. >> AND I JUST BOUGHT THESE FELT LETTERS AT THE CRAFT STORE, AND THEY'RE ADHESIVE ON THE BACK. >> OH. SAVE A LOT OF TIME CUTTING THOSE OUT. >> SO IT DOESN'T GET ANY EASIER THAN THAT, AND THEN I PIN ALL OF THE BANNER. >> ALWAYS PIN FIRST. I'VE LEARNED THAT. >> I'M NOT A BIG PINNER, BUT IN THIS CASE, IT REALLY HELPS YOU. AND JUST ARRANGE IT SO IT HAS A FESTIVE LOOK. >> IT ALL FITS ON THERE, TOO. >> AND THEN, AS YOU CAN SEE, I TOOK MY SEWING MACHINE AND INSTEAD OF DRAWING OR ADDING A FELT STRING, I USED THE SEWING STITCH TO ATTACH JUST THE TOPS OF THE BANNERS. >> RIGHT. SO THEY'RE LOOSE. >> IT GIVES IT A LITTLE BIT OF MOVEMENT AND A LITTLE BIT OF FUN. >> AND I NOTICE THESE ARE WHITE LETTERS. THOSE ARE--THESE ARE PINK, SO, AGAIN, WE CAN PERSONALIZE IT. >> AND IF YOU CAN'T FIND THESE AT THE STORE, THERE'S DIE CUT MACHINES THAT YOU CAN CUT FELT LETTERS FROM. >> OH, YOU CAN CUT WITH FELT? I DIDN'T KNOW THAT. >> YES, YOUR DIE CUT WILL. I CUT WITH FELT ALL THE TIME ON MY DIE CUT MACHINE. >> OH, I'VE GOT SOMETHING TO TRY TODAY. >> SO YOU CAN DO THAT. THEN TO MAKE THE LOOP-- >> TOP. UH-HUH. >> TO THE HANGING, YOU JUST FOLD IT DOWN TO ABOUT WHERE YOUR BANNER BEGINS AND SEW--SEW SOME VELCRO ALONG THIS TOP EDGE. >> MM-HMM. RIGHT. >> SO THAT...SO THAT THEN WHEN YOU FOLD IT OVER, THE VELCRO ATTACHES FOR YOU, AND IT'S EASILY REMOVABLE. >> UH-HUH, AND THEN WE ALL HAVE LOTS OF LEFTOVER BUTTONS OR BEADS OR SOMETHING. >> I LOVE BUTTONS. THERE'S SOMETHING ABOUT BUTTONS AND FELT THEY JUST GO TOGETHER. >> THEY GO TOGETHER. >> SO YOU CAN EMBELLISH IT. IF YOU DON'T WANT TO DO THAT, DO A COUPLE LAYERS OF RICKRACK, ADD SOME EYELET LACE, WHATEVER YOU WANT TO DO TO REALLY PERSONALIZE IT. >> WELL, THIS IS SUCH A QUICK AND EASY PROJECT, AND I THINK IT WOULD BE SOMETHING THAT COULD BE PASSED DOWN YEAR AFTER YEAR. THANK YOU VERY MUCH, LAURA, FOR SHOWING US THIS. >> JOHNNY, THANK YOU SO MUCH FOR BEING HERE TODAY. IT ALWAYS SMELLS SO GOOD IN OUR KITCHEN WHEN YOU COME. >> THANK YOU FOR HAVING ME. >> BUT I KNOW YOU DO A LOT OF COOKING CLASSES AT YOUR SCHOOL, BUT YOU SAID ONE THAT'S REALLY BECOME POPULAR LATELY IS INFORMATION ABOUT KNIVES. >> YES. A KNIFE SKILLS CLASS IS WHAT WE CALL IT, AND YOU KNOW, I THINK, SHERYL, BECAUSE PEOPLE ARE WATCHING THE FOOD CHANNEL SO MUCH NOW, THEY SEE ALL THESE CELEBRITY CHEFS USING GOOD KNIVES, AND THEY'RE CURIOUS TO KNOW HOW TO USE THEM. SO WE DO AN INFORMATIONAL CLASS REGULARLY THAT INTRODUCES PEOPLE TO THE DIFFERENT TYPES OF KNIVES, TELLS YOU WHICH KNIFE TO USE WHEN, AND ALSO WE SHOW THEM HOW TO SHARPEN THEM AND TAKE CARE OF THEM. >> AND YOU SAID ONE THING THAT'S IMPORTANT IS TO KNOW THE DIFFERENT PARTS OF A KNIFE. >> YEAH, AND THE DIFFERENT PARTS OF A KNIFE--THIS IS INTERESTING. SO THIS IS OUR CHEF'S KNIFE. THIS IS PROBABLY THE KNIFE THAT YOU WOULD USE FOR MOST OF YOUR BIGGER CHORES. AND FIRST OF ALL, SHERYL, LET ME SHOW YOU HOW TO HOLD A KNIFE. I KIND OF FEEL LIKE IT'S ALMOST LIKE SHAKING SOMEBODY'S HAND. I'VE GOT MY THUMB ON ONE SIDE OF THE BLADE, MY POINTER FINGER ON THE OTHER, AND I'VE REALLY GOT A GRIP ON THAT. I DON'T HAVE MY FINGER UP HERE AT THE TOP, AND I DON'T WANT TO BE DOWN HERE AT THE BACK WHERE IT'S WOBBLING AROUND. >> SO YOU WANT TO SUPPORT THE KNIFE. >> YOU WANT TO GRAB THAT KNIFE AND GET A GOOD HOLD ON IT, AND THAT'S THE BEST WAY TO HOLD THE KNIFE. THE DIFFERENT PARTS OF A KNIFE, WE HAVE THE BLADE. THIS AREA HERE IS CALLED THE BOLSTER, AND THE BOLSTER IS ACTUALLY WHERE THAT MIDDLE FINGER GOES AND GIVES YOU THAT SUPPORT. THEN WE HAVE THE HANDLE, AND THIS PART IS CALLED THE TANG. AND THE REASON GOOD KNIVES COST SO MUCH NOW IS THE QUALITY OF THE STEEL FROM THE BLADE AND THE TANG IS THE SAME, SO THIS IS ALL ONE PIECE OF STEEL, WHICH GIVES YOU BETTER STRENGTH WHEN YOU'RE CUTTING. >> OH. UH-HUH. AND I'VE ALWAYS HEARD, I'VE HEARD YOU SAY IT, AND I'VE HEARD OTHER PEOPLE SAY THAT IT'S AN INVESTMENT. YOU WANT TO BUY THE BEST KNIVES YOU CAN AFFORD. >> YOU KNOW, AND A GOOD KNIFE LIKE THIS SHOULD LAST MY LIFETIME, AND THEN YOU COULD HOPEFULLY PASS IT DOWN TO YOUR GRANDCHILDREN. THE INEXPENSIVE KNIVES WHEN WE WERE YOUNGER, THOSE YOU EVENTUALLY DISCARDED. >> PUT THEM IN A GARAGE SALE. >> YEAH. THESE WILL LAST FOR A LONG TIME. >> WELL, LET'S START THEN WITH A PARING KNIFE. THAT'S THE ONE I GUESS EVERYBODY KNOWS. >> YEAH, AND THIS IS GOOD FOR CUTTING UP POTATOES AND SMALL THINGS, SHALLOTS AND GARLIC. YOU NOTICE THAT I'M HOLDING THAT THE SAME WAY. I'VE GOT A GOOD GRIP ON IT. THIS IS A FISH-FILLETING KNIFE. NOTICE IT'S NARROW THIS WAY, WHICH ACTUALLY KEEPS IT FROM DRAGGING ALONG THE FISH AS YOU FILLET IT, AND NOTICE HOW FLEXIBLE THAT IS, SO THIS WILL HELP YOU GET AROUND THE BONES IN A FISH, SO THAT'S A FISH-FILLETING KNIFE. THIS IS A BONING KNIFE, AND THIS IS ANOTHER KNIFE THAT PEOPLE SOMETIMES TRY TO CUT UP A CHICKEN USING A BIG KNIFE LIKE THIS. >> BUT THIS IS THE ONE WE SHOULD USE. >> THIS IS THE ONE TO USE BECAUSE IT'S NICE AND NARROW, ONCE AGAIN, HAS A VERY SHORT POINT THAT'S NICE AND SHARP, AND YOU CAN GET AROUND BONES. THIS IS A GREAT KNIFE DURING THE SUMMER FOR TOMATOES, WHEN YOU HAVE LOVELY, RIPE, JUICY TOMATOES. IF YOU TRY TO CUT THOSE WITH A STRAIGHT EDGE, MUSHY. >> NO, BUT THIS IS SERRATED. >> YES, SERRATED. GUESS WHAT THAT LITTLE FORK'S FOR? >> I DIDN'T KNOW WHAT TO USE IT FOR. >> TO MOVE YOUR LITTLE TOMATOES AROUND, SO ONCE YOU'VE SLICED THEM...THIS IS LIKE A CARVING KNIFE. THIS IS A SMALL CARVING KNIFE, BUT IF I WAS CUTTING UP A ROAST BEEF OR MAYBE A PORK LOIN OR A SMALL HAM, THIS WOULD BE GOOD. NOTICE IT'S NARROW. >> FOR SLICING. >> FOR SLICING, YEAH. SO THAT'S REALLY CALLED A SLICER. THIS IS YOUR CHEF'S KNIFE, AND THIS IS THE KNIFE THAT YOU'RE GONNA USE FOR ALL BIG CHORES--SQUASH, ANY VEGGIES THAT ARE LARGE, ONIONS SPECIFICALLY. THIS IS AN 8-INCH CHEF'S KNIFE, AND THIS IS REALLY, IF I WAS GONNA BUY ONE KNIFE TO DO MOST OF MY COOKING, THIS WOULD BE THE ONE I WOULD GET. NOW, WE HAVE EUROPEAN KNIVES. THESE ARE WUSTHOFS. AND WE ALSO NOW, THERE'S AN ASIAN INVASION OF WONDERFUL ASIAN KNIVES. THE FIRST COMPANY THAT PROBABLY REACHED THE MARKET WAS CALLED GLOBAL KNIVES, AND THESE ORIGINALLY ADVERTISED THAT THEY HELD THEIR EDGE LONGER THAN THE EUROPEAN KNIVES. >> SO DIDN'T NEED TO BE SHARPENED. >> DIDN'T NEED TO BE SHARPENED AS MUCH. YOU ALWAYS SHOULD KEEP YOUR KNIVES NICE AND SHARP. THIS IS A NEW COMPANY CALLED SHUN, AND NOTICE THE WAVES IN THE STEEL. THE WAY THAT IS MADE KEEPS THE EDGE LONGER. THIS IS ALSO BY SHUN, AND THIS IS THE TERMINATOR. >> WOW. WHAT IS THAT? >> THIS IS A CHEF'S KNIFE, AND IT'S AERODYNAMICALLY DESIGNED TO REALLY FIT INTO YOUR HAND, AND THIS IS CALLED A SHUN KEN ONION. THEY HAD A DESIGNER NAMED KEN ONION AERODYNAMICALLY DESIGN THIS TO MAKE IT ABSOLUTELY FIT IN YOUR HAND AND OPERATE WITH PERFECT, PERFECT SKILL. >> BUT YOU WERE TALKING ABOUT EVERY KNIFE WILL NEED TO BE SHARPENED OCCASIONALLY. WHAT TYPE--I NOTICE THIS IS ONE TYPE OF SHARPENER, AND THEN YOU HAVE ANOTHER ONE. IS THERE A PREFERENCE? >> YEAH, THERE IS A PREFERENCE. AND WITH ASIAN KNIVES AND GERMAN KNIVES, THERE'S A DIFFERENCE IN THE TOOL YOU USE TO SHARPEN THEM, WHICH BECOMES A LITTLE TRICKY. THIS IS REFERRED TO AS A KNIFE SHARPENER. TECHNICALLY IT'S A KNIFE STEEL, AND WHAT I TELL PEOPLE IN MY CLASS, AND IT ALWAYS SURPRISES THEM, IF YOU HAVE A DULL KNIFE, YOU COULD RUB IT ON HERE ALL DAY, AND IT WOULD NEVER BECOME SHARP. >> OH, REALLY? >> WHAT THIS DOES IS KEEP YOUR KNIFE--KEEPS YOUR KNIFE SHARP, BUT IT WILL NEVER SHARPEN IT, SO WHAT HAPPENS IN A PROFESSIONAL KITCHEN IS A CHEF USES HIS KNIFE ALL DAY. IT KIND OF KNOCKS THE EDGE OFF A LITTLE BIT, SO WHAT YOU DO, AND YOU'VE SEEN CHEFS-- YOU ACTUALLY USE THIS TO HONE THE KNIFE AND BRING IT BACK TO ITS PEAK SHARPNESS. IF YOU HAVE A DULL KNIFE, WHAT YOU WILL WANT TO DO IS TO USE A VARIETY OF DIFFERENT SHARPENERS. THIS IS ACTUALLY MADE BY THE GLOBAL COMPANY. THIS IS A HANDHELD SHARPENER, AND BASICALLY ALL YOU DO, PUT IT ON THE COUNTER. THERE'S TWO PORCELAIN WHEELS IN HERE, AND VERY SIMPLY JUST ROLL THE KNIFE BACK AND FORTH. >> OH, YOU DO GO BACK AND FORTH. >> BACK AND FORTH 10 OR 12 TIMES ON EACH WHEEL. >> WHY DO YOU NEED BOTH WHEELS? >> ONE IS A LITTLE ROUGHER AND THEN ONE'S A LITTLE BIT FINER. AND THEN TECHNICALLY FOOD SHOULD FLY OFF A KNIFE LIKE BUTTER. IF YOU FIND THAT THE KNIFE IS DRAGGING, IT DOES MEAN THAT YOU WANT TO KEEP IT SHARP AND REALIZE THAT A DULL KNIFE IS MORE DANGEROUS TO CUT WITH THAN A SHARP KNIFE. >> AND IT HURTS WORSE, TOO, IF YOU CUT YOURSELF. >> YEAH, AND PEOPLE ARE ALWAYS LIKE, "OH, THIS LOOKS TOO SHARP." I'M LIKE, NO, YOU'RE BETTER OFF. >> OKAY. >> ANOTHER GADGET THAT'S COOL FOR WHEN YOU HAVE TO DO A VARIETY OF SLICING IS CALLED A MANDOLIN. THIS IS BY A COMPANY CALLED ROSLE, AND THIS IS A MANDOLIN THAT DOES HAVE AN ADJUSTABLE BLADE. AND THE RECIPE I MADE FOR US TO SAMPLE TODAY IS ACTUALLY A FRENCH ONION SOUP. >> SO YOU HAD TO DO SOME CHOPPING, DIDN'T YOU? >> YEAH, I DID SOME, AND I COULD DO THIS WITH A KNIFE, BUT REALLY WHEN YOU NEED TO DO A LOT OF ONIONS, THIS IS THE GADGET TO USE. >> I'VE NEVER SEEN ONE OF THESE. >> THIS IS ACTUALLY A SAFETY GLOVE. >> LOOKS LIKE A CHEESE GRATER WITH WHEELS. >> YEAH, AND IT'S NICE AND SHARP. THIS IS A SAFETY GLOVE, THAT, BOY, YOU DO NOT WANT TO RUN YOUR FINGER ALONG THAT BLADE. SO TO MAKE A FRENCH ONION SOUP, YOU SLICE YOUR ONIONS AS THIN AS POSSIBLE AND THEN SLOWLY COOK THEM UNTIL THEY CARAMELIZE AND GET ALL. YOU KNOW, ALL NICE AND BROWN. AND YOU WANT TO DO YOUR ONIONS AS THIN AS POSSIBLE, SO THIS JUST A WHITE ONION. >> HALF ONION, UH-HUH. >> AND LET ME SHOW YOU HOW EASY THAT SLICES. >> OH, IT'S LIKE USING A FOOD PROCESSOR. >> IT REALLY IS, AND IT'S SO FAST, AND ANYTIME YOU NEED TO DO VEGGIES AND YOU NEED TO DO A LOT OF VEGGIES, THIS IS THE TOOL. AND LOOK AT HOW NICE. LOOK AT HOW NICE AND THIN OUR SLICES ARE THERE. SO THIS-- >> THAT SAFETY GLOVE IS IMPORTANT. >> SAFETY GLOVE'S IMPORTANT. SO EVEN IF YOU HAVE A MANDOLIN ALREADY THAT YOU MAY HAVE BOUGHT AND THOUGHT, OH, I WANT TO USE THAT, LOOK FOR A SAFETY GLOVE, BECAUSE THEY REALLY MAKE THAT JOB A LOT EASIER. SO FOR OUR ONION SOUP TODAY WHAT I DID IS I THINLY SLICED ACTUALLY ABOUT 2 POUNDS OF ONIONS AND THEN PUT THEM IN THE OVEN WITH SOME BUTTER AND COVERED THEM WITH FOIL AND ACTUALLY LET THEM COOK FOR 3 1/2 HOURS UNTIL THEY ABSOLUTELY WERE GOLDEN BROWN. >> AND THIS SPECIFIC RECIPE IS IN YOUR BOOK. I'VE SEEN IT. >> IT'S IN MY BOOK, "COOKING WITH JOHNNY VEE," AND, YOU KNOW, MY FIRST JOB WHEN I MOVED TO NEW YORK AS A KID, I WORKED IN A FRENCH RESTAURANT, AND MY FIRST PREPARATION JOB WAS MAKING FRENCH ONION SOUP, SO EVERY NIGHT, I WOULD SLICE 20 POUNDS OF ONIONS ON A MANDOLIN, THANK GOD, AND PUT THEM IN A BIG OLD ROASTING PAN, PUT THEM IN THE OVEN OVERNIGHT ON 200, AND IN THE MORNING, YOU HAD THESE GORGEOUS BROWN ONIONS, AND THEN YOU ADD BEEF STOCK, AND YOU'RE DONE. SO IF YOU LOOK AT OUR BEAUTIFUL SOUP HERE, LOOK AT THE COLOR OF THOSE ONIONS. >> MMM. CARAMELIZED, THAT'S WHAT YOU CALL THEM. >> CARAMELIZED AND SLOW-COOKED, AND THEN I ADDED JUST SOME COMMERCIAL BEEF STOCK, AND THIS WILL BE REALLY INTENSE FLAVORED. AND THEN WE'RE GOING TO, UM, GARNISH THIS WITH A CROUTON THAT I MELTED SOME GRUYERE CHEESE ON, AND IT'S SORT OF A CLASSIC TOPPING. NOW, OF COURSE, IN RESTAURANTS WHEN YOU GET FRENCH ONION SOUP, THE WHOLE BOWL'S COVERED WITH CHEESE, AND YOU HAVE TO DO THAT UNDER THE BROILER, BUT I'M ALWAYS SAYING, IF YOU'RE ENTERTAINING AT HOME AND YOU DON'T WANT TO PUT YOUR FINE CHINA UNDER THE BROILER, GO AHEAD AND MAKE THE CROUTONS IN ADVANCE AND THEN YOU CAN JUST FLOAT THEM IN YOUR SOUP. >> SO HOW DO YOU DO THAT? >> LET'S HAVE A LITTLE BOWL OF SOUP, AND THIS IS SO GOOD FOR COLD WEATHER, AS IT HAS BEEN, AND GET THAT, AND THEN WE'LL JUST GARNISH IT WITH A CROUTON. YOU WANT YOUR CROUTONS TO BE TOASTED SO THAT THEY DON'T SINK TO THE BOTTOM OF YOUR, UM... >> SO YOU PUT THE WHOLE THING RIGHT ON TOP. >> PUT THE WHOLE THING AND A LITTLE PARSLEY, AND WITH GOOD KNIFE SKILLS, YOU CAN MAKE YUMMY DISHES LIKE THIS EASILY. >> WELL, WE'LL CERTAINLY TRY THAT. I'M GLAD TO KNOW IT IS ONE OF THE RECIPES IN YOUR BOOK. THANK YOU VERY MUCH, JOHNNY. >> THANK YOU. LET'S EAT. >> I HOPE YOU ENJOYED THE SHOW TODAY. NEXT TIME ON "CREATIVE LIVING," WE'LL LEARN HOW TO GET MORE FIBER IN THE DIET, DECORATE WITH CLEAR GLASS CANDLEHOLDERS, AND ADD A PERSONAL TOUCH TO HOME ENTERTAINING. ONE OF MY NEXT GUESTS WILL SHOW HOW TO INCREASE FIBER IN THE DIET WITH WHOLE GRAIN PRODUCTS, WHICH ARE THE PRIMARY SOURCE OF FIBER. ANOTHER GUEST WILL SHOW HOW TO CHANGE DECORATIONS WITH EACH SEASON BY USING CLEAR GLASS CANDLEHOLDERS. SHE SUGGESTS STARTING WITH TIMELESS, VERSATILE ACCESSORIES THAT LEND THEMSELVES TO DIFFERENT CANDLES. AND FINALLY, WE'LL LEARN HOW TO MAKE A VERSATILE SERVING TRAY FOR ENTERTAINING, AS WELL AS CREATE A TABLE CENTERPIECE THAT CAN BE CHANGED TO COMPLIMENT YOUR DECOR OR THE SEASON. ALL OF THESE TOPICS WILL BE FEATURED ON THE NEXT "CREATIVE LIVING" SHOW. IF YOU EVER HAVE COMMENTS OR SUGGESTIONS OR IDEAS FOR SHOWS, YOU CAN E-MAIL ME AT SHERYL.BORDEN@ENMU.EDU. I'D ALSO LIKE TO ASK YOU TO BECOME A FAN OF "CREATIVE LIVING" ON FACEBOOK. JUST GO TO FACEBOOK.COM, AND IN THE SEARCH WINDOW TYPE IN "CREATIVE LIVING WITH SHERYL BORDEN." THANKS SO MUCH. I HOPE YOU'LL PLAN TO JOIN ME NEXT TIME FOR "CREATIVE LIVING." >> WE ARE VERY PLEASED TO OFFER A NEW BOOKLET THAT ACCOMPANIES THIS SERIES OF "CREATIVE LIVING." THIS BOOKLET IS TITLED "THE 6500 SERIES," AND IT FEATURES A WONDERFUL COLLECTION OF IDEAS AND INFORMATION, AND IT'S AVAILABLE FREE OF CHARGE ON OUR WEBSITE. POSTED AS A PDF FILE, YOU CAN SIMPLY DOWNLOAD THE ENTIRE BOOKLET OR JUST THE SEGMENTS YOU'RE MOST INTERESTED IN. AS WITH ALL OF THE "CREATIVE LIVING" BOOKLETS, YOU'LL FIND INFORMATION ON FOODS AND NUTRITION, CLOTHING AND FASHION, HEALTH AND BEAUTY, HOME DECORATING AND MUCH MORE. FOR YOUR COPY OF THIS BOOKLET, GO TO OUR WEBSITE AT KENW.ORG AND THEN CLICK ON CREATIVE LIVING. SCROLL DOWN TO THE BOOKLET SECTION, AND YOU CAN CLICK ON THIS BOOKLET OR ANY OF THE OTHER BOOKLETS WE HAVE AVAILABLE ONLINE. ONCE AGAIN, JUST GO TO KENW.ORG, CLICK ON CREATIVE LIVING AND DOWNLOAD THE BOOKLET TITLED "THE 6500 SERIES." WE ALSO WANT TO ENCOURAGE YOU TO SIGN UP FOR OUR FREE E-NEWSLETTER. JUST CLICK ON THE "SIGN UP NOW" BUTTON AND INPUT YOUR E-MAIL ADDRESS. THAT'S ALL THERE IS TO IT. YOU'LL ENJOY READING AN UP-TO-DATE NEWSLETTER FILLED WITH INTERESTING TOPICS AND INFORMATION. THANK YOU.
Now Playing As: Captioned (English) (change)
In this episode, Chef Johnny Vee discusses kitchen cutlery. He compares the various types of knives available for purchase as well as demonstrates knife safety. Then, Laura Bray from Velcro USA, Inc. makes a birthday banner from felt, and Laura Waterfield demonstrates techniques associated with insertion lace machine embroidery.
Media Details
Runtime: 27 minutes