Creative Living With Sheryl Borden #6503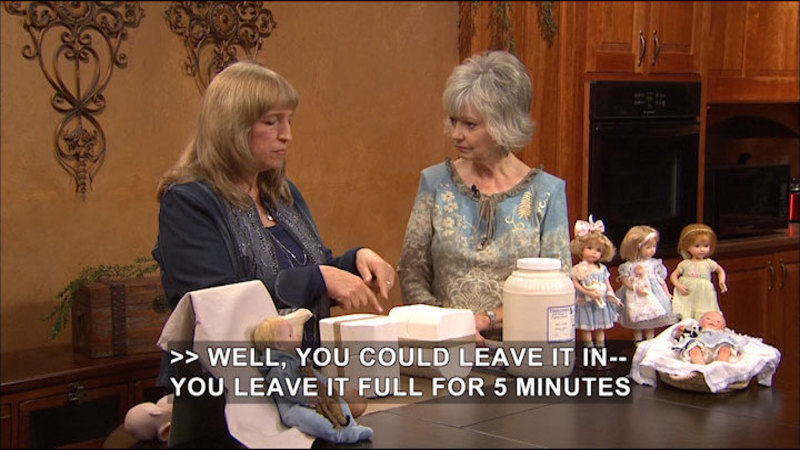 >> "CREATIVE LIVING," UTILIZING TODAY'S TECHNOLOGY WITH THE BEST OF THE PAST TO BRING YOU INNOVATIVE IDEAS AND UP-TO-DATE INFORMATION FOR CREATIVE LIFESTYLES IN TODAY'S ACTIVE WORLD WITH YOUR HOST SHERYL BORDEN. >> THANKS FOR JOINING ME TODAY FOR "CREATIVE LIVING." WE'RE GOING TO LEARN HOW TO MAKE PORCELAIN DOLLS AND EXPLAIN HOW TO CONQUER CHAOS IN OUR CLOSET. ONE OF MY GUESTS TODAY IS DIANNA EFFNER, AND SHE'S AN ARTIST AND DESIGNER, AND HER COMPANY IS EXPRESSIONS, INC., IN JAMESTOWN, MISSOURI. DIANNA IS GOING TO TALK ABOUT PORCELAIN AS A MEDIUM FOR MAKING DOLLS AND EXPLAIN THE MAGIC MOMENT WHICH OCCURS WHEN THE DOLL IS REMOVED FROM THE MOLD AND YOU ACTUALLY SEE WHAT YOU CREATED. WE'LL BEGIN THE SHOW WITH NANCY NIX-RICE, WHO IS A WARDROBE CONSULTANT AND AUTHOR FROM ST. LOUIS, MISSOURI. NANCY'S GOING TO SHOW HOW TO CONQUER CHAOS IN THE CLOSET AS WELL AS SHARE SOME ORGANIZING IDEAS FOR ACCESSORIES AND PURSES, AND SHE'LL ALSO TALK ABOUT THE BEST TYPE OF HANGERS TO USE AND WHY. HER BOOK IS TITLED "LOOKING GOOD." NANCY, THANK YOU SO MUCH FOR BEING WITH US. YOU HAVE SUCH AN INTERESTING JOB, BUT I CAN IMAGINE WHAT PEOPLE THINK WHEN THEY ASK YOU TO COME AND HELP THEM ORGANIZE THEIR CLOSET, IT'S LIKE--BUT DON'T REALLY LOOK AT IT. IT'S HORRIBLE, BUT DON'T REALLY LOOK AT IT. >> WELL, AND EVERYONE SAYS TO ME, OH, MY GOSH, IS MINE THE WORST THAT YOU'VE EVER SEEN?" AND I'M NOT SURE WHOSE WOULD EVER BE THE WORST, BUT THE FRUSTRATING THING THAT WOMEN FIND WITH THEIR CLOSETS IS THAT OVER AND OVER AND OVER I HAVE WOMEN TELL ME, "OH, MY GOSH, I HAVE ALL THIS STUFF BUT I HAVE NOTHING TO WEAR." AND THE TRUTH OF THE MATTER IS THEY HAVE GREAT THINGS TO WEAR, BUT THEY CAN'T FIND THEM WHEN THEIR CLOSET LOOKS LIKE THIS. THEY HAVE NO IDEA WHAT'S IN THERE. >> I THINK ALL OF US HERE HAVE SAID, "OH, THAT LOOKS JUST LIKE MINE." >> WE'VE HAD SOME TRUE CONFESSIONS HERE ON THE SET, I WILL CERTAINLY ACKNOWLEDGE THAT, SO THE EASIEST WAY TO GET STARTED IS JUST TO PULL EVERYTHING OUT OF THAT CLOSET, AND NOW THE RIGHT THINGS ARE GOING TO HAVE TO EARN THEIR WAY BACK IN. >> NOW, ARE THESE REALLY SOME THINGS THAT YOU FIND IN PEOPLE'S CLOSETS? >> OH, UNBELIEVABLE THE THINGS THAT YOU FIND. >> TOYS. >> TOYS, SPORTS EQUIPMENT, BROKEN VACUUM CLEANERS, OLD SHOE BOXES THAT HAVEN'T HAD SHOES IN THEM FOR 7 YEARS. >> THE LAYER OF DUST. >> ALL THAT STUFF NEEDS TO FIND NEW HOMES. YOUR CLOSET IS NOW JUST FOR YOUR CLOTHES. >> WELL, I CAN SEE WHY THIS CLOSET LOOKED EXTREMELY CROWDED. >> WELL, IT WAS DEFINITELY A MESS. >> IS THIS HER CLOSET? >> NO. THIS--NAME'S CHANGED TO PROTECT THE INNOCENT. BUT YOU ARE ABOUT TO SEE TONI'S CLOSET. THIS IS TONI, AND THIS IS THE CONTENTS THAT WE TOOK OUT OF TONI'S CLOSET. NOW, ONE OF THE GUIDELINES I ALWAYS USE IS THAT THE CONTENTS OF YOUR CLOSET SHOULD LOOK A LOT LIKE YOU. WHEN YOU LOOK AT THOSE, DO THOSE CONTENTS PARTICULARLY LOOK LIKE TONI? >> NO. I ONLY SEE A COUPLE OF THINGS THAT SHE WOULD PROBABLY WEAR. >> WELL, THIS IS WHY PEOPLE THINK THEY HAVE NOTHING TO WEAR BECAUSE THEY HAVE SO MANY WRONG THINGS IN THERE THAT IT'S CAMOUFLAGING ALL THE THINGS THAT WE SHOULD WEAR. SO LET'S TALK A LITTLE BIT ABOUT WHAT KINDS OF THINGS WE SHOULD TAKE OUT OF THIS RACK OF CLOTHING. >> OK. >> FIRST, WE SHOULD TAKE OUT ANYTHING THAT IS DECIDEDLY NOT A COLOR THAT WORKS ON TONI. NOW, SOME PEOPLE, RARE PEOPLE, HAVE JUST A GOOD INSTINCT FOR THAT RIGHT AWAY. WHAT'S HELPFUL IF YOU'RE NOT ONE OF THOSE PEOPLE IS TO SIT DOWN WITH A PROFESSIONAL COLOR CONSULTANT AND LET HER CREATE A COLOR FAN THAT OUTLINES EXACTLY WHAT THE GREAT COLORS ARE FOR YOU. THIS IS TONI'S COLOR FAN, AND IT GIVES HER AND IMMEDIATE CRITERIA TO DECIDE WHAT STAYS AND WHAT GOES. NOW, THERE'S A COST INVESTMENT TO DOING THIS, BUT WHEN YOU THINK ABOUT THE MONEY THAT WE WASTE ON CLOTHING THAT WE NEVER WEAR BECAUSE WE REALIZE AFTER WE HAVE IT HOME THAT IT DOESN'T LOOK GREAT ON US, THE COST OF DOING THIS BECOMES ALMOST INSIGNIFICANT. >> AND YOU MAY KNOW THAT YOU DON'T LIKE TO WEAR SOMETHING, BUT YOU MAY NOT KNOW WHY. >> YOU NEVER KNOW WHY. YOU PUT IT ON, YOU TAKE IT OFF. YOU WEAR IT, AND PEOPLE SAY, "ARE YOU ALL RIGHT? ARE YOU FEELING WELL?" THOSE ARE CLUES THAT MAYBE THOSE ARE NOT COLORS THAT ARE WORKING WELL FOR US. WE ALSO WANT TO ASK, DOES THIS ITEM FIT? NOW, OF COURSE PEOPLE TELL ME ALL THE TIME, "BUT I'M GOING TO LOSE 10 POUNDS." WELL, FINE, BUT NOT BEFORE YOU'RE GETTING DRESSED TOMORROW. SO IF THERE ARE GREAT PIECES THAT YOU JUST HAVE TO HANG ON TO THAT YOU DON'T FIT IN NOW, LET'S FIND ANOTHER SPOT IN YOUR HOUSE TO PUT THOSE. A BOX IN THE BASEMENT IF NECESSARY, A SPARE CLOSET SO YOU DON'T START EVERY DAY SURROUNDED BY CLOTHING THAT IS SAYING, "NYAH NYAH, YOU'RE TOO FAT." THAT'S JUST NOT A GREAT KARMA FOR STARTING YOUR DAY. ABSOLUTELY. ALSO THINGS THAT JUST AREN'T COMFORTABLE FOR WHATEVER REASON. I LOVED WHAT GILDA RADNER SAID ABOUT MAKING HER FASHION CHOICES BASED AROUND WHAT DOESN'T ITCH. >> OH, WHAT DOESN'T ITCH. I LIKE THAT. >> IF IT'S GOING TO MAKE YOU MISERABLE ALL DAY, IT NEEDS TO GO. AND DON'T WORRY IF YOU'RE GETTING RID OF A BIG PROPORTION OF YOUR CLOSET BECAUSE OUR WARDROBES REALLY ARE SUBJECT TO THAT FAMOUS 80/20 PRINCIPLE. YOU WEAR ABOUT 20% OF WHAT'S IN THERE 80% OF THE TIME. >> I KNOW THAT'S TRUE. >> AND THE OTHER 20% MOSTLY IS JUST CONFUSING US, SO YOU JUST WANT TO GET RID OF IT. NOW, THAT'S NOT TO SAY THERE ARE NEVER THINGS THAT CAN BE RESCUED. ABSOLUTELY IT'S WORTH-- ESPECIALLY WITH HIGH-QUALITY PIECES THAT WERE PRICEY. IT'S VERY WORTH RUNNING THEM TO TAILOR AND GETTING A PROFESSIONAL IDEA ABOUT WHAT COULD BE CHANGED. IT'S AMAZING TO ME HOW OFTEN JUST CHANGING OR MODIFYING BUTTONS CAN MAKE A BIG DIFFERENCE. LET ME SHOW YOU AN EXAMPLE. THIS CUTE LITTLE RED JACKET MIGHT LOOK GREAT ON YOU AS AN EXAMPLE, BUT YOU SEE HOW THAT BRIGHT SILVER BUTTON HAS ABSOLUTELY NOTHING TO DO WITH YOUR COLORING? AND IT PULLS ALL THE ATTENTION TO THAT BRIGHT SILVER BUTTON. LOOK WHAT WOULD HAPPEN IF WE SIMPLY CHANGED TO THE GOLD BUTTON. IT NOW IS ECHOING BOTH COLORS AND SHAPES FROM YOUR HAIR, AND ALL OF A SUDDEN WE'VE MADE THAT GARMENT BE ABOUT YOU INSTEAD OF ABOUT SOME RANDOM PERSON ON THE STREET. >> AND WE DIDN'T REALIZE IT WAS HANGING THERE ALL THE TIME, AND WE JUST THOUGHT MAYBE IT JUST WASN'T A GOOD FIT. >> WHATEVER IT WAS THAT WAS WRONG, IT JUST WASN'T WORKING. BACK TO POINTS OF CONNECTION. THE MORE YOU CAN REPEAT YOUR OWN CHARACTERISTICS IN YOUR CLOTHES, THE MORE EFFECTIVE YOU'LL LOOK. THERE'S ANOTHER EXAMPLE HERE OF MODIFYING A JACKET TO GIVE US A MORE FLATTERING LOOK. >> JUST A DOUBLE-BREASTED. >> THIS IS A DOUBLE-BREASTED BLAZER THAT WAS IN TONI'S CLOSET. IT'S A GREAT COLOR FOR HER, BUT THOSE BUTTONS WERE MAKING YOUR EYE MOVE SIDE TO SIDE ACROSS HER BODY AND MAKING HER LOOK ALMOST BARREL-CHESTED. WE SIMPLY SNIPPED OFF THOSE 4 BUTTONS. >> OH, IT LOOKS SO TAILORED. >> AND THEY WEREN'T CLOSING ANYTHING ANYWAY. THEY WERE JUST SEWN ONTO THE FRONT I THINK TO SAY "LOOK HOW THESE MAKE ME LOOK FAT." I CAN'T THINK OF ANY OTHER REASON. >> WELL, IT SURELY DID MAKE A TOTALLY DIFFERENT LOOK OUT OF IT. >> SO ONCE YOU'VE REFRESHED THE CONTENTS OF YOUR CLOSET, THEN YOU OUGHT TO THINK ABOUT HOW YOU'RE GOING TO PUT IT BACK IN THERE TO MAKE IT AS ACCESSIBLE AS POSSIBLE. AND BEFORE YOU EVEN START ON THAT PATH, WE NEED TO HAVE THE LITTLE LECTURE ABOUT COAT HANGERS. THESE METAL COAT HANGERS THAT COME HOME FROM THE DRY CLEANERS HAVE TO GO. THEY ARE NOT DOING YOUR CLOTHES ANY FAVORS. THEY'RE NOT SUPPORTING THEM, AND WHEN YOUR CLOTHES HANG ALL CATAWAMPUS IN THE CLOSET, THEY END UP GETTING ALL OUT OF SHAPE AND NOT LOOKING RIGHT ON YOU, SO GET RID OF THESE. AND YOU WANT TO REPLACE THEM WITH SOMETHING BETTER. NOW, AT THE MOST BUDGET-FRIENDLY END YOU COULD DO THESE TUBULAR PLASTIC ONES. YOU CAN FIND THOSE ON SALE FOR AS LITTLE AS 8 CENTS OR 10 CENTS APIECE. SO IT DOESN'T HAVE TO BE A BIG INVESTMENT. IF YOU WANT TO TAKE ANOTHER STEP UP THE LADDER, THESE WIDER PLASTIC ONES WITH THE SWIVEL HEADS ARE REALLY HANDY. THESE COME IN THE DRESS VERSION HERE AND ALSO IN CLIP ONES FOR YOUR PANTS. OR LOTS OF PEOPLE NOW ARE REALLY FOND OF THESE FLOCKED ONES BECAUSE THAT TEXTURE HOLDS YOUR CLOTHING IN PLACE. YOU WEAR THINGS MUCH MORE FREQUENTLY IF THEY'RE HANGING AND YOU CAN SEE THEM. BUT PEOPLE OFTEN ARE WORRIED ABOUT HANGING A SWEATER, FOR INSTANCE, BECAUSE WHAT IF THE SHOULDERS GET ALL STRETCHED OUT? WELL, LET ME SHOW YOU. THIS GRABS RIGHT ONTO THE FABRIC SO IT'S NOT--YOU SEE HOW I HAVE TO PULL ON IT. SO IT'S NOT GOING TO LET IT STRETCH OUT, AND YOU CAN HANG ALL YOUR SHORT-SLEEVE AND LIGHTWEIGHT SWEATERS REALLY, REALLY EASILY ON THIS KIND OF HANGER. NOW, IF IT'S A BULKIER SWEATER LIKE THE LONG-SLEEVE CARDIGAN THAT I HAVE HERE, THAT'S GOING TO BE A LOT OF WEIGHT PULLING ON THAT SHOULDER, SO IT MAY NOT HANG AS READILY, BUT THIS IS ONE OF MY VERY FAVORITE CLOSET TRICKS. WE FOLDED THIS SWEATER SO THAT IT'S IN HALVES, CENTER FRONT AND CENTER BACK, SO THERE ARE 2 SLEEVES ON TOP OF ONE ANOTHER, THE 2 BODY AREAS ON TOP OF ONE ANOTHER HERE. THEN WE'RE GOING TO PLACE OUR COAT HANGER WHAT LOOKS LIKE ALMOST BACKWARDS OR UPSIDE DOWN WITH THE HOOK COMING UP OUT OF THAT V WHERE THE SIDE SEAM AND THE UNDERARM SEAM MEET. THEN WE'RE GOING TO FOLD DOWN THE BODY OF THE SWEATER. WE'RE GOING TO FOLD DOWN THE SLEEVE OF THE SWEATER. NOW THE WHOLE THING HANGS. IT'S NEVER GOING TO STRETCH OUT OF SHAPE. BUT WHEN WE'RE HANGING IT IN OUR CLOSET, WHEN WE LOOK DOWN THE SHOULDER LINE, IT'S STILL RIGHT THERE, SO WE DON'T FORGET WE HAVE IT. >> WELL, I'VE NEVER DONE THAT. >> NOW, ONCE WE HAVE EVERYTHING HANGING AND READY TO RETURN TO OUR CLOSET, WE WANT TO SAY, "HOW AM I GOING TO ORGANIZE THIS SO I CAN FIND WHAT I WANT WHEN I WANT IT?" YOU WANT TO GROUP YOUR GARMENTS IN CATEGORIES, SO PANTS TOGETHER, SKIRTS TOGETHER, BLOUSES TOGETHER. THE SPECIFICS OF THAT CATEGORY SYSTEM ARE PERSONAL. SO FOR INSTANCE, SOME PEOPLE MIGHT CONSIDER BOTH OF THESE, THE BLOUSE AND THE LITTLE SWEATER SHELF, TO BE TOPS AND HANG THEM IN THE SAME CATEGORY. SOMEBODY ELSE MIGHT WANT TO THINK ABOUT THEIR SWEATERS SEPARATELY AND THEIR BLOUSES SEPARATELY. THERE'S NOT A RIGHT OR WRONG THERE. YOU JUST WANT TO CREATE A SYSTEM AND STICK TO IT. ABSOLUTELY. AND THEN WITHIN THOSE CATEGORIES, YOU WANT TO ORGANIZE THINGS IN RAINBOW SEQUENCE. SO YOUR DARK NEUTRALS INTO LIGHT NEUTRALS INTO REDS, ORANGES, YELLOWS, GREENS, BLUES, AND PURPLES-- ROYGBP--JUST LIKE WE LEARNED IN KINDERGARTEN, AND LIGHT TO DARK. AND LET ME SHOW YOU HOW THE CONTENTS OF TONI'S CLOSET LOOKED AFTER WE GOT RID OF ALL THE THINGS THAT DIDN'T WORK FOR HER AND ORGANIZED THEM IN THAT RAINBOW LIGHT-TO-DARK SEQUENCE. >> WELL, DID SHE HAVE TO BUY MOST OF THESE? >> EVERY SINGLE PIECE THAT YOU ARE SEEING HERE WAS IN TONI'S ORIGINAL CLOSET. >> IT WAS? >> SHE JUST COULDN'T FIND THEM. AND REMEMBER THAT I TOLD YOU THAT YOU WANT THE CONTENTS OF YOUR CLOSET TO LOOK LIKE YOU. SEE HOW MUCH NOW THOSE CONTENTS LOOK JUST LIKE TONI? AND BECAUSE THEY'RE ALL RELATED, SHE CAN PUT THEM TOGETHER INTO DOZENS AND DOZENS OF OUTFITS WITHOUT GOING OUT AND BUYING ANOTHER PIECE. >> THAT'S WHERE WE MAKE A LOT OF MISTAKES. >> NOW, NOT ONLY ARE YOUR CLOTHES BETTER HANGING, BUT TO THE GREATEST EXTENT THAT YOU POSSIBLY CAN, HANGING YOUR ACCESSORIES MAKES THEM EASY TO FIND, TOO. IN MY BOOK, DIAMONDS ARE NICE BUT CUP HOOKS ARE TRULY A GIRL'S BEST FRIEND. THESE ARE LITTLE ROUNDED HOOKS THAT SIMPLY SCREW INTO THE WALL, THE DOORFRAME, A PIECE OF TRIM MOLDING THAT YOU'RE GOING TO THEN MOUNT ON THE WALL. AND THEY ARE WONDERFUL FOR HANGING ALL SORTS OF THINGS RIGHT WHERE THEY CAN SEE THEM. YOU CAN HANG A NECKLACE FROM A CUP HOOK, AND IT'S NEVER GOING TO GET TANGLED UP IN YOUR JEWELRY BOX. YOU CAN HANG ALL YOUR NECKLACES IN CUP HOOKS IN RAINBOW ORDER, OF COURSE. >> OH, THAT'S GOOD. >> ON THE BACK OF THE DOOR MAYBE. THEY'RE WONDERFUL FOR HANGING THOSE LITTLE CAMISOLES. YOU KNOW, WHEN YOU PUT THOSE ON A REGULAR HANGER, THE STRAPS END UP GETTING ALL TANGLED UP. HANG THEM FROM CUP HOOKS. LITTLE SPAGHETTI-STRAP NIGHTIES. HANG THEM FROM CUP HOOKS. EARRINGS. YOU'VE ALREADY GOT YOUR NECKLACES HANGING. A LITTLE PILLBOX THAT'S DESIGNED FOR SENIORS TO HELP US KEEP OUR MEDICATIONS FOR THE DAY ORGANIZED ARE THE PERFECT WAY TO SECURE YOUR EARRINGS. >> AND THESE LITTLE THINGS COME OUT SO THAT--THAT'S A GREAT IDEA. I HEARD ONE LADY SAY THAT SHE TOOK AWAY HER HUSBAND'S FISHING-- >> HER TACKLE BOX. >> TACKLE BOX. >> ABSOLUTELY. SO WE NEED TO KIND OF THINK OUTSIDE THE TRADITIONAL BOX AND FIND WAYS TO STORE OUR CLOTHING AND OUR ACCESSORIES WHERE, NUMBER 1, IT'S PRETTY AND SOOTHING, AND NUMBER 2, WE CAN FIND IT RIGHT AWAY, AND THEN WE NEVER AGAIN HAVE TO SAY, "I HAVE NOTHING TO WEAR." >> WELL, SINCE YOU GET TO SEE OTHER PEOPLE'S CLOSETS, I HAD ASKED YOU, I SAID, "ARE YOU GOING TO SHOW US YOUR CLOSET?" AND SO YOU DID TAKE A PICTURE. >> I DID, AND I BROUGHT IT WITH ME, AND I DO FOLLOW EVERY SINGLE GUIDELINE THAT I TEACH ABSOLUTELY RELIGIOUSLY EXCEPT FOR ONE, AND THE ONE THAT I DON'T NECESSARILY FOLLOW AS YOU WILL PLAINLY SEE FROM THIS PICTURE IS TO HAVE FEWER CLOTHES, NOT MORE. >> HA HA! >> IT'S WELL ORGANIZED, BUT I'LL BE THE FIRST TO ADMIT THERE'S PROBABLY MORE IN THERE THAN I HAVE TIME TO WEAR. >> WELL, YOU NEED THEM FOR DOING PROGRAMS. >> ABSOLUTELY. THAT'S MY JUSTIFICATION. >> WELL, THANK YOU SO MUCH. I'VE GOT SEVERAL TIPS THAT I THINK I'VE HEARD MAYBE BEFORE, BUT I'VE SORT OF LET THEM SLIP BY, AND IT REALLY DOES MAKE SUCH A DIFFERENCE IF WE CAN GET IT ORGANIZED IN OUR CLOSET. >> WELL, AND IT ONLY HELPS WHEN WE REMEMBER TO DO IT. >> THANK YOU, NANCY. >> THANKS, SHERYL. >> DIANNA, THANK YOU SO MUCH FOR COMING. WHEN I LOOKED AT YOUR WEBSITE AND SAW THE ADORABLE FACES OF ALL THOSE DOLLS THAT YOU'VE DESIGNED THE MOLDS FOR, I JUST COULDN'T WAIT FOR YOU TO GET HERE. HOW DID YOU GET STARTED DOING THIS? >> WELL, I ALWAYS LIKED DOLLS, AND I LEARNED WHEN I WAS A YOUNG MOTHER, A STAYING-AT-HOME MOM, THAT THERE WERE PEOPLE WHO MADE PORCELAIN DOLLS AS A SORT OF AN ART FORM, AND I HAVE A BACKGROUND IN ART, AND I READ UP ON IT, AND I THOUGHT THAT I WOULD HAVE TO WAIT UNTIL MY CHILDREN WERE GROWN UP, BUT I HAD AN OPPORTUNITY TO DESIGN FOR A COMPANY IN ILLINOIS, AND THEN LATER ON I STARTED MAKING MY OWN DOLLS. I GOT A KILN AND LEARNED... >> THE FACIAL FEATURES ARE JUST PRECIOUS. SO THAT WE CAN SHOW PEOPLE, LET'S GO AHEAD AND START DOWN HERE WITH THIS LITTLE BABY. WHO COULD NOT WANT THIS LITTLE ADORABLE THING? >> WELL, THAT'S CHELSEA, AND SHE WAS MODELED AFTER ONE OF MY GRANDDAUGHTERS. >> OH, IS THAT RIGHT? >> WHO IS 17 NOW, SO IT WAS QUITE A WHILE AGO THAT I MODELED HER, AND WE STILL HAVE THE MOLD TO MAKE CHELSEA AND ALL THE OTHER DOLLS. >> AND THIS ONE? >> HER NAME IS ALLISON, AND SHE'S AN ALL-PORCELAIN DOLL. >> SOME OF THEM ARE JUST THE HANDS AND ARMS AND FACE, BUT THIS ONE'S ALL PORCELAIN. >> ALL PORCELAIN. ALL THESE 3 GIRLS ARE ALL PORCELAIN. THAT'S ALLISON. >> TURN HER AROUND SO PEOPLE CAN SEE HOW GORGEOUS SHE IS. AND THIS ONE IS ALLISON. AND SHE'S HOLDING HER OWN BABY DOLL. >> YEAH. THIS IS A PORCELAIN DOLL, TOO. THAT'S ALL PORCELAIN DOLL THAT'S STRUNG TOGETHER, AND APRIL IS HOLDING HER. >> OH, THIS IS APRIL. I'M SORRY. OK. I'LL GET THEIR NAMES RIGHT. >> I GET 'EM MIXED UP. >> WELL, THERE ARE SO MANY ON THE WEBSITE. I COULDN'T BELIEVE IT. >> YEAH, THERE'S A LOT. >> AND THIS ONE'S ALL PORCELAIN AS WELL. >> AND THAT'S LITTLE LOU, AND SHE'S HOLDING A DOLL, BUT THIS DOLL IS NOT MADE OF PORCELAIN. IT'S MADE OF ANOTHER KIND OF CLAY. >> OH, SO YOU'VE EXPERIMENTED WITH LOTS OF DIFFERENT THINGS. >> YEAH, I LIKE TO TRY DIFFERENT THINGS. >> WELL, THIS IS THE CLAY, THE MAGICAL CLAY THAT YOU USE, AND WHEN PEOPLE BUY THE MOLDS, DO THEY BUY THIS WITH THE MOLD OR DO THEY BUY THIS SEPARATELY? >> THEY BOUGHT IT SEPARATELY. WE DON'T SELL THE CLAY. WE BUY IT FROM SOMEBODY IN TEXAS HERE. >> AND SO THIS IS WHAT YOU ACTUALLY USE IN YOUR MOLDS? >> RIGHT. >> AND THIS IS THE MOLD. YOU DESIGNED THIS ONE YOURSELF? >> I DO THE SCULPTING, AND THEN WE HAVE A MOLD-MAKER THAT MAKES THE MOLDS FROM MY SCULPTURES. >> OH, MY WORD. THAT'S SO-- WITH YOUR ART BACKGROUND, I CAN SEE HOW THAT'S POSSIBLE. BUT WE MIGHT TAKE A LOOK AT THIS MOLD BEFORE WE START POURING ANYTHING IN IT. AND YOU'RE JUST GOING TO POUR THE-- >> YEAH, PEOPLE WANT TO KNOW HOW YOU MAKE A PORCELAIN DOLL, AND IT'S HARD TO REALLY EXPLAIN IT. IT'S A LITTLE COMPLICATED BECAUSE YOU TAKE LIQUID CLAY AND YOU PUT IT IN THE MOLD, AND YOU WAIT A LITTLE WHILE, AND THE PLASTER ABSORBS SOME OF THE MOISTURE. >> THIS IS THE PLASTER, YOU'RE SAYING? IT ABSORBS. >> AND IT'S VERY ABSORBENT. IT ABSORBS SOME OF THE WATER, AND THEN YOU POUR OUT THE LIQUID CENTER, AND YOU HAVE A HOLLOW SHELL. >> OK, LET'S GO AHEAD AND POUR THIS ONE. >> OK. >> DO YOU JUST POUR 'TIL IT'S, LIKE, UP TO THIS LINE I CAN SEE IN THERE?
>> YEAH, YEAH. YOU FILL THE [INDISTINCT]. SOME MOLDS YOU
HAVE TO TIP, BUT I'M JUST GONNA--THIS IS A FAIRLY EASY ONE. AND YOU HAVE TO POUR STEADILY SO YOU DON'T HIT-- >> THAT KEEPS AIR BUBBLES OUT, TOO, I WOULD GUESS. >> RIGHT. YOU ALWAYS HAVE TO WATCH FOR AIR BUBBLES, AND IT TAKES A LOT OF MIXING TO GET IT TO THE RIGHT-- >> IT'S JUST A... >> CONSISTENCY. MM-HMM. >> OK. AND THIS WOULD SET APPROXIMATELY HOW LONG? AND YOU SAID IT DEPENDS ON WEATHER AND ALL KINDS OF FACTORS, BUT APPROXIMATELY? >> WELL, YOU COULD LEAVE IT IN-- YOU LEAVE IT FULL FOR 5 MINUTES OR SO. AND THEN IF IT LOOKS LIKE IT'S GETTING THICK ENOUGH, THEN YOU POUR IT BACK INTO YOUR... >> POUR THAT LIQ--UH-HUH. WHAT'S LEFT. >> WHATEVER. AND THEN YOU LEAVE THAT SHELL IN THERE FOR A LITTLE BIT LONGER, LET IT FIRM UP MORE. >> ...WOULD BE SO HEAVY, WOULDN'T IT? >> WELL, IT'D BE SOFT, AND IT WOULDN'T SURVIVE THE OPENING. IT KIND OF DRAWS AWAY FROM THE PLASTER JUST A BIT WHEN IT'S THE RIGHT-- >> LIKE WHEN YOU'RE BAKING, IT COMES LOOSE FROM THE EDGES SO-- >> RIGHT, ABOUT LIKE THAT. THIS ONE HAS-- >> OH, AND THIS IS WHAT YOU MEANT BY POURING OUT THE EXCESS. >> RIGHT. IT'S HOLLOW. >> IT'S HOLLOW. UH-HUH. >> AND THIS HAS ACTUALLY BEEN FIRED A LITTLE BIT BECAUSE USUALLY PEOPLE DON'T LIKE TO HANDLE THEM WHEN THEY'RE SO FRAGILE, AND THEY ALSO CREATE A LOT OF DUST WHEN THEY'RE POLISHING THEM. YOU HAVE TO DO A LOT OF POLISHING BEFORE IT'S READY TO DO THE FINAL FIRE. >> AND YOU SAID THIS ONE'S BEEN FIRED ONCE? >> IT'S BEEN FIRED BRIEFLY TO A COOL TEMPERATURE OF ABOUT 1,200 DEGREES. >> FOR HOW LONG? >> ABOUT AN HOUR. IT DEPENDS ON HOW FAST YOUR KILN IS. >> AND ALSO YOU HAVE MOLDS AND FROM THE LITTLE TEENY, TINY ONES. WHAT'S THE LARGEST? >> ABOUT 30 INCHES TALL. BUT THEY'RE NOT ALL PORCELAIN. THEY'VE GOT A CLOTH BODY WITH AN ARMATURE INSIDE. >> THIS ONE'S BEEN FIRED ONCE JUST SLIGHTLY, AND THEN LET'S TAKE A LOOK AT THE NEXT-- >> NOW, THIS IS ONE THAT HAS BEEN FIRED TO THE MATURE TEMPERATURE, SO THIS IS OF COURSE--SEE HOW MUCH IT SHRINKS DURING THE FIRING? >> SO THIS WAS THE SAME SIZE AS THIS? >> RIGHT. >> OH, OK. >> IT'S FIRED TO 2,200 AND SOMETHING DEGREES. HA HA! >> OK. >> AND THAT'S WHAT IT LOOKS LIKE WHEN YOU'RE--AND THEN IT HAS TO BE POLISHED UP A BIT MORE. >> AND WHEN YOU SAY POLISHING, WHAT DO YOU USE TO POLISH? IS IT A CLOTH OR-- >> WE HAVE A SPECIAL SANDING PAD AND DIFFERENT ITEMS. >> IT'S, I GUESS, LIKE A SOFTER SANDPAPER TYPE? >> YEAH, SOMETHING LIKE THAT. >> SO YOU JUST POLISH IT ALL OVER. GOSH, IT'S JUST AS SMOOTH AS IT CAN BE. OK, AND YOU HAVE ONE THAT YOU'VE SLIGHTLY PAINTED. >> NOW, THIS ONE. CINDY WILL PAINT IT WITH CHINA PAINT. WE DO ALL THE EYES AND EVERYTHING WITH CHINA PAINT. NOW, THIS ONE HAS GOT ONE FIRING OF THE PAINT. IT USUALLY REQUIRES-- >> SO YOU PAINT AND THEN FIRE IT? >> RIGHT. IT HAS TO BE FIRED AGAIN TO AROUND 1,200 DEGREES, AND THEN YOU PUT A LITTLE BIT MORE PAINT ON. THIS IS THE CHINA PAINT, AND THERE'S A TRADITIONAL ART FORM... >> THAT GOES WITH PORCELAIN DOLLS. >> I LEARNED CHINA PAINTING BEFORE I STARTED MAKING DOLLS, SO IT REALLY HELPED. >> SO YOU ALREADY KNEW THAT PROCESS, DIDN'T YOU? >> RIGHT, UH-HUH. SO THAT'S HOW YOU DO THE CHINA PAINT. YOU HAVE TO BUILD IT UP LAYER BY LAYER. >> I SEE. >> UNTIL IT GETS THE DEPTH OF-- >> AND YOU FIRE IN BETWEEN? >> FIRE IN BETWEEN. >> OK, LET'S TAKE A LOOK AT LITTLE AARON. YOU SAID THAT WAS THE FIRST DOLL YOU CREATED, WASN'T HE? >> RIGHT. WELL, HE WAS NOT THE FIRST DOLL I CREATED, BUT IT WAS THE FIRST DOLL THAT OUR COMPANY SOLD AS A MOLD. >> OK. AND YOU SAID HE HAS A BEANBAG BODY, BUT THE HEAD AND ARMS... >> YEAH. HE'S ALL CLOTH, AND HE'S GOT A PALATE THAT WE CALL BEANS, AND EXCEPT FOR HIS HANDS AND HIS HEAD. SO HE'S KIND OF A CUDDLY LITTLE-- >> HE'S DARLING. AND YOU WERE GONNA TELL US ABOUT THE LITTLE HEAD DOWN THERE BESIDE IT. WHAT WERE YOU GONNA TALK ABOUT? >> THIS IS CHELSEA. THIS IS KIND OF THE SISTER TO THE BABY WE LOOKED AT BEFORE. I JUST WANTED TO SHOW HOW YOU CAN PAINT THE HAIR. >> OH, WELL, INSTEAD OF PUTTING THE FAKE HAIR ON. >> WITH THE--YEAH. WITH THESE LITTLE BABIES THAT WE CAN MAKE... >> MAKES 'EM LOOK NEWBORN. UH-HUH. >> AND WITH AARON, I ATTACHED THE HAIR WITH A SPECIAL TECHNIQUE THAT I'VE DEVELOPED. BUT YOU CAN ALSO BUY WIGS TO PUT ON YOUR LITTLE DOLLS. ALL THESE HAVE WIGS THAT ARE PURCHASED. >> WELL, WE CERTAINLY DON'T HAVE TIME TO GO THROUGH THE WHOLE PROCESS, BUT YOU SAID THIS IS A BOOK THAT YOU HAD FOUND VERY HELPFUL THROUGH THE YEARS. >> YEAH, THIS IS WHAT WE RECOMMEND BECAUSE IT'S GOT EVERYTHING FROM START TO FINISH ON HOW YOU MAKE PORCELAIN DOLLS. >> AND YOU CAN GET IT AT YOUR WEBSITE AND ALSO LIKE AMAZON AND BARNES & NOBLE, ALL THE MAJOR COMPANIES. AND WHEN PEOPLE BUY A MOLD, THEY ACTUALLY GET THE INSTRUCTIONS, SO THAT'S MIGHTY HELPFUL. >> WE PROVIDE INSTRUCTIONS FOR EVERYTHING THAT WE SELL. >> WELL, THANK YOU SO MUCH FOR SHOWING US WHAT A PROCESS IS INVOLVED IN MAKING THESE BEAUTIFUL DOLLS. >> WELL, THANK YOU FOR HAVING ME. >> I HOPE YOU ENJOYED THE SHOW TODAY. NEXT TIME ON "CREATIVE LIVING," WE'LL LEARN HOW TO MAKE FELTED CUTS WITH A NEW MACHINE ON THE MARKET THAT USES 12 NEEDLES AT A TIME. AND WE'LL LEARN TO MARBLEIZE FABRIC, WHICH CAN THEN BE USED FOR ALL KINDS OF CRAFTS AND SEWING-RELATED PROJECTS. ONE OF MY NEXT GUESTS IS MICHELE MUSKA, AND SHE'S WITH THE SIMPLICITY CREATIVE GROUP IN ANTIOCH, TENNESSEE. MICHELLE'S GOING TO DEMONSTRATE THE NEW SIMPLICITY 12-NEEDLE DELUXE ELECTRIC FELTING MACHINE. SHE'LL SHOW HOW TO MAKE SOME BEAUTIFUL FELTED CUTS TO WEAR AS BRACELETS OR TO ATTACH TO GARMENTS. AND THE BEST PART IS THAT THEY CAN BE MADE TO FIT PERFECTLY TO YOUR WRIST. MY GUEST WILL ALSO DISCUSS THE DIFFERENT TYPES OF FELTING INCLUDING WET, NEEDLE, FULLING, AND NEW NO FELTING. WE'LL ALSO TALK TO A CRAFTER AND DESIGNER. EVELYN WILL SHOW HOW TO USE ORDINARY SHAVING CREAM AND ACRYLIC PAINTS TO CREATE A MARBLEIZED EFFECT ON FABRIC WHICH CAN THEN BE USED FOR A VARIETY OF PROJECTS. SHE ALSO SAYS THIS IS A GREAT PROJECT FOR YOUNG CHILDREN BECAUSE THERE'S VERY LITTLE CLEAN UP. EVELYN'S COMPANY IS OZARK CRAFTS, AND SHE LIVES IN GILBERT, ARKANSAS. BOTH OF THESE TOPICS WILL BE FEATURED ON THE NEXT "CREATIVE LIVING" SHOW. IF YOU EVER HAVE COMMENTS OR SUGGESTIONS OR IDEAS FOR SHOWS, YOU CAN EMAIL ME AT SHERYL.BORDEN@ENMU.EDU. I'D ALSO LIKE TO ASK YOU TO BECOME A FAN OF "CREATIVE LIVING" ON FACEBOOK. JUST GO TO FACEBOOK.COM, AND IN THE SEARCH WINDOW, TYPE IN CREATIVE LIVING WITH SHERYL BORDEN. I ALSO WANT TO REMIND YOU TO SIGN UP FOR OUR FREE "CREATIVE LIVING" NEWSLETTER THAT COMES OUT THE FIRST PART OF EACH MONTH. JUST GO TO OUR WEBSITE AT KENW.ORG AND PROVIDE US WITH YOUR EMAIL ADDRESS. THANKS SO MUCH, AND I HOPE YOU'LL PLAN TO JOIN ME NEXT TIME FOR "CREATIVE LIVING." >> WE ARE VERY PLEASED TO OFFER A NEW BOOKLET THAT ACCOMPANIES THIS SERIES OF "CREATIVE LIVING." THIS BOOKLET IS TITLED THE 6400 SERIES, AND IT FEATURES A WONDERFUL COLLECTION OF IDEAS AND INFORMATION AND IT'S AVAILABLE FREE OF CHARGE ON OUR WEBSITE. POSTED AS A PDF FILE, YOU CAN SIMPLY DOWNLOAD THE ENTIRE BOOKLET OR JUST THE SEGMENTS YOU'RE MOST INTERESTED IN. AS WITH ALL THE "CREATIVE LIVING" BOOKLETS, YOU'LL FIND INFORMATION ON FOODS AND NUTRITION, CLOTHING AND FASHION, HEALTH AND BEAUTY, HOME DECORATING AND MUCH MORE. FOR YOUR COPY OF THIS BOOKLET, GO TO OUR WEBSITE AT KENW.ORG AND THEN CLICK ON "CREATIVE LIVING." SCROLL DOWN TO THE BOOKLET SECTION AND YOU CAN CLICK ON THIS BOOKLET OR ANY OF THE OTHER BOOKLETS WE HAVE AVAILABLE ONLINE. ONCE AGAIN, JUST GO TO KENW.ORG, CLICK ON "CREATIVE LIVING," AND DOWNLOAD THE BOOKLET, TITLED THE 6500 SERIES. WE ALSO WANT TO ENCOURAGE YOU TO SIGN UP FOR OUR FREE E-NEWSLETTER. JUST CLICK ON THE SIGN UP NOW BUTTON AND INPUT YOUR EMAIL ADDRESS. THAT'S ALL THERE IS TO IT. YOU'LL ENJOY READING AN UP-TO-DATE NEWSLETTER FILLED WITH INTERESTING TOPICS AND INFORMATION. THANK YOU.
Now Playing As: Captioned (English) (change)
In this episode, guest and author Nancy Nix-Rice stops by to help viewers organize their closets. And Dianna Effner from Expressions Inc. discusses the process of making porcelain dolls.
Media Details
Runtime: 27 minutes