Creative Living With Sheryl Borden #6507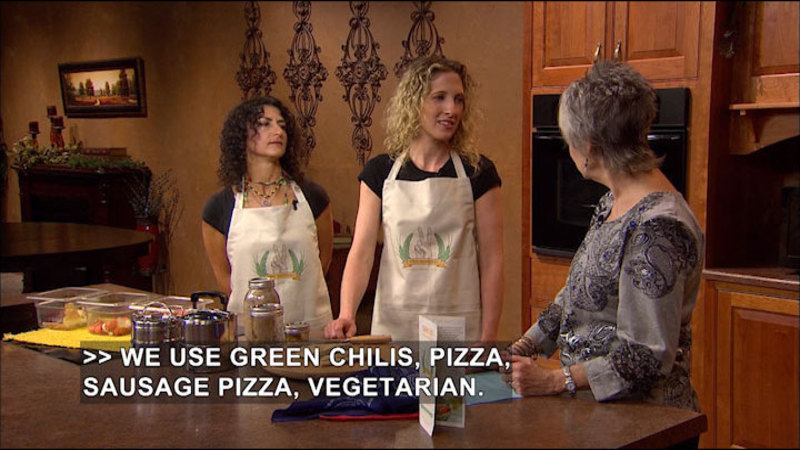 >> "CREATIVE LIVING." UTILIZING TODAY'S TECHNOLOGY WITH THE BEST OF THE PAST TO BRING YOU INNOVATIVE IDEAS AND UP-TO-DATE INFORMATION FOR CREATIVE LIFESTYLES IN TODAY'S ACTIVE WORLD. WITH YOUR HOST, SHERYL BORDEN. >> WELCOME TO "CREATIVE LIVING" TODAY. WE'RE GOING TO LEARN TO COMPOST FOODS IN ORDER TO SAVE LANDFILL SPACE. WE'LL FIND OUT HOW TO USE PUSH MOLDS FOR CRAFTING AND DISCUSS HEALTHY SCHOOL LUNCHES AND SNACKS. CHRISTY KABBANI AND NICKY POLOSKI ARE NOT ONLY FRIENDS BUT BUSINESS PARTNERS WHO FOUNDED TWO MOTHERS' FOODS IN NAPERVILLE, ILLINOIS. THEY'RE GOING TO EXPLAIN HOW THEY COMPOST ALL VEGETARIAN WASTE IN ORDER TO SAVE LANDFILL SPACE, AND THEY'LL ALSO TELL ABOUT STEPS THAT THEY TAKE TO CONTROL NUTRIENT WASTE. ANOTHER GUEST IS ANN BUTLER, AND SHE'S A CRAFTER AND DESIGNER. AND ANN WILL SHOW HOW TO TAKE A WOODEN WREATH, VARIOUS PAINTS, AND A NO-BAKE POLYMER CLAY TO CREATE A VARIETY OF SEASONAL HOME DECOR ITEMS. ANN'S COMPANY IS ANN BUTLER DESIGNS, AND SHE LIVES IN VILLARD, MINNESOTA. AND WE'LL BEGIN THE SHOW BY TALKING TO PAT BAIRD, WHO IS A REGISTERED DIETICIAN ABOUT HEALTHY SCHOOL LUNCHES AND SNACKS. AND PAT WILL ALSO DEMONSTRATE SOME QUICK AND EASY WAYS TO MAKE NUTRITIOUS LUNCHES AND SNACKS AT HOME. SHE REPRESENTS COUNTRY CROCK AND LIVES IN GREENWICH, CONNECTICUT. PAT, THANK YOU SO MUCH FOR BEING WITH US. AND I REALLY AM GLAD TO BE ABLE TO TALK TO YOU ABOUT SOMETHING THAT I THINK IS JUST A TERRIBLE EPIDEMIC IN THIS COUNTRY, AND THAT'S OBESITY, ESPECIALLY CHILDHOOD OBESITY. >> IT IS. I MEAN, THIS IS JUST-- IT WAS--IT'S THE FOCUS OF ALL EFFORTS RIGHT NOW IN HEALTH, WHETHER IT'S NUTRITION OR WHETHER IT'S MEDICINE. AND THE DIETARY GUIDELINES REALLY JUST TIME AND TIME AGAIN TALK ABOUT THIS ISSUE OF CHILDHOOD OBESITY, ESPECIALLY. AND THEN, THEY GIVE US SOME WAYS TO IMPROVE OUR HEALTH AND TO LOSE WEIGHT. >> AND WHAT IS IT? ABOUT 1 IN 3 CHILDREN? >> THAT'S THE CURRENT-- OVERWEIGHT OR OBESE. AND IT'S A REAL ISSUE. AND SO WHAT THIS HAS DONE IS TO PUT A REAL FOCUS ON SCHOOL LUNCHES. >> OH. >> AND IN THE SCHOOLS, THE NATIONAL SCHOOL LUNCH PROGRAM IS REALLY CHANGING DRAMATICALLY. WHAT THEY'RE DOING IS TRYING TO MAKE THEM HEALTHIER, BUT ALSO TO FOCUS ON 4 WHAT THEY CALL SHORTFALL NUTRIENTS-- >> SHORTFALL NUTRIENTS. >> THAT KIDS ARE NOT GETTING ENOUGH OF. THAT'S CALCIUM, VITAMIN D, FIBER, AND POTASSIUM. SO, FOR ALL THE VIEWERS AT HOME WHO HAVE KIDS WHO ARE BRINGING THEIR OWN LUNCH OR FOR HOLIDAYS AND VACATIONS, WE'RE GONNA TALK ABOUT HEALTHIER SNACKS AND LUNCHES, BUT IN TERMS OF HOW DO YOU GET MORE OF THOSE 4 NUTRIENTS. SO, CALCIUM AND VITAMIN D. NOW, CALCIUM IS A LITTLE BIT EASIER BECAUSE IT'S IN DAIRY FOODS. IT'S IN FORTIFIED CEREALS. VITAMIN D IS A LITTLE MORE TRICKY. >> THERE'S NOT TOO MANY FOODS THAT CONTAIN VITAMIN D. >> PRECISELY. SEAFOOD IS PROBABLY YOUR BEST SOURCE. WE GET SOME FROM EGGS, AND AGAIN, WE GET IT FROM FORTIFIED FOODS. SO, HOW DO WE DO THAT? WELL, INSTEAD OF JUST A GLASS OF MILK, WHICH IS WONDERFUL-- >> AND THE FLAVORED MILKS SEEM TO BE QUITE POPULAR. >> YES, AND HAPPILY FLAVORED MILK HAS SURVIVED IN THE SCHOOLS. AND EVERY ONCE IN A WHILE WE HAVE A DISCUSSION. BETTER TO HAVE A LITTLE BIT OF SUGAR AND GET ALL OF THOSE NUTRIENTS THAN TO TAKE IT OUT. BUT MAKE A YOGURT PARFAIT. SOME FRESH OR DRIED FRUITS WITH SOME GRANOLA, A GREAT WAY TO DO IT. WHEN IT COMES TO VITAMIN D, SEAFOOD--WHETHER IT'S TUNA, SALMON--THEY'RE ALL VERY GOOD SOURCES OF VITAMIN D. SALMON IS PROBABLY THE BEST. >> AND ISN'T IT TRUE THAT VITAMIN D DOESN'T WORK WITHOUT CALCIUM? >> ACTUALLY, IT'S JUST THE OTHER WAY AROUND. >> OH, IT'S THE OPPOSITE. >> VITAMIN D IS LIKE THE MASTER, AND THEY CONTROL CALCIUM AND A FEW OTHER THINGS. >> I SEE. >> THAT'S WHY WE NEED IT. CANNED SALMON IS A WONDERFUL CHOICE. IN TERMS OF KIDS, I MAKE SALMON TACOS. >> TACOS, HMM. >> AND PUT A LITTLE BIT OF YOGURT, A LITTLE BIT OF MAYONNAISE, SOME JALAPENO PEPPERS, AND A WHOLE-GRAIN TACO SHELL THAT'S AVAILABLE IN ALL THE MARKETS. GOOD WAY TO DO THAT. YOU KNOW, BEFORE WE TALK ABOUT FIBER, I JUST WANT TO SEGUE FOR A MINUTE, BECAUSE FAT IS SUCH AN IMPORTANT ISSUE. WHAT'S MOST IMPORTANT IS THAT WE HAVE HEALTHIER TYPES OF FAT. SO WE WANT TO AVOID THOSE SOLID SATURATED FATS, AND ONE OF THE EASIEST WAYS TO DO THAT IS TO REPLACE BUTTER WITH A SOFT SPREAD LIKE COUNTRY CROCK. THE REASON IS THAT IT CONTAINS NO TRANS FAT WHATSOEVER-- >> THAT'S THE REAL KEY. >> YES. NO CHOLESTEROL, AND 70% LESS SATURATED FAT BECAUSE IT'S MADE WITH SOYBEAN OIL AND CANOLA OIL. >> OH. >> SO, WHETHER YOU'RE PUTTING IT ON TOAST IN THE MORNING OR MAKING SOME MINI MUFFINS-- >> USING WHOLE WHEAT. >> AND YOU'VE GOT A GOOD COMBINATION. USE AN OIL LIKE OLIVE OIL OR CANOLA OIL FOR DRESSINGS AND SAUTEING. AND SNACKS LIKE WALNUTS, ALMONDS. ALL NUTS HAVE GOT THOSE HEALTHIER FATS. PLUS, THEY HAVE A LITTLE BIT OF PROTEIN AND THEY'VE GOT FIBER. >> AND MODERATION IS STILL THE KEY TO ALL OF THIS, ISN'T IT? >> IT ALWAYS IS. >> AND THAT'S WHY THESE MINI MUFFINS CAN BE SUCH A GREAT IDEA AND SUCH A GREAT WAY TO INTRODUCE KIDS TO COOKING TO BAKE THEM ON YOUR OWN. HOW DO WE GET FIBER? I DON'T KNOW WHY, BUT FIBER HAS A NEGATIVE CONNOTATION. >> MM-HMM. >> WE GET IT FROM PLANT FOODS-- FRUITS, VEGETABLES, WHOLE GRAINS. PEARS ARE PROBABLY KING OF FIBER. THEY'VE GOT A LOT. POPCORN IS A WONDERFUL SNACK. >> NOW, HOW IS IT THAT WE CAN HAVE HEALTHY POPCORN WHEN SOMETIMES IT'S ON THAT "DO NOT EAT" LIST? >> MAKE IT IN THE MICROWAVE. OK? NO FAT. AND YOU CAN USE ONE OF THE SOFT-SPRAY SPRAYS-- >> SPRAYS, UH-HUH. >> TO FLAVOR IT UP. WHEN YOU'RE MAKING THAT GUACAMOLE, PAIR IT WITH WHOLE GRAIN CHIPS. THEY'VE GOT MORE FIBER THAN A REGULAR CHIP. SO, FIBER CAN REALLY BE BROUGHT INTO THE DIET VERY EASILY THAT TASTES GOOD. FINALLY, POTASSIUM. >> MY FAVORITES RIGHT HERE. HA HA! >> WELL, WE NEED POTASSIUM-- MUSCLE CONTRACTION, NERVE TRANSMISSION, HEALTHY HEART. AGAIN, FRUITS AND VEGETABLES, BUT PROBABLY SOME REALLY GOOD SOURCES--SWEET POTATOES. WHY ARE THESE THE ORPHAN ON SO MANY PEOPLES' TABLE? >> THEY JUST HAVEN'T TRIED THEM YET. >> I GUESS NOT. WHETHER YOU, AGAIN, POP 'EM IN THE MICROWAVE 5 MINUTES, REALLY QUICK, MAKE BAKED SWEET POTATO FRIES. ORANGES, BANANAS. SERVE THE FRUIT WITH A PIECE OF STRING CHEESE. AGAIN, YOU BRING IN SOME CALCIUM, AND YOU BRING IN A LITTLE BIT OF PROTEIN. PERFECT COMBINATION FOR A SNACK. AND I THINK IT'S TRUE THAT IF YOU HAVE THESE THINGS ON HAND, KIDS WILL JUST AS EASILY PICK THE HEALTHY CHOICES. THEY PICK THE OTHERS WHEN THERE'S NOTHING ELSE TO PICK FROM. >> YOU ARE SO RIGHT. PLANNING IS KEY. WE WANT TO KEEP A RUNNING SHOPPING LIST, MAKING SURE--CUT THE ORANGES. >> PUT 'EM IN A PLASTIC BAGGIE OR SOMETHING. >> YES, SO THAT KIDS OPEN THE REFRIGERATOR AND SAY "OOH!" AND THEY JUST TAKE OUT 1/4 OF AN ORANGE. HAVE THE PEARS ALREADY READY TO GO. AND THAT REALLY IS THE MOST IMPORTANT THING IS THE PLANNING. >> WELL, AND I THINK WE READ ENOUGH AND HEAR ENOUGH ABOUT OBESITY BEING A PROBLEM, BUT BEING ABLE TO OFFER SOME SUGGESTIONS FOR ALL PARENTS IS VERY IMPORTANT. YOU KNOW, WE MAKE SMALL CHANGES. LOSE WEIGHT SLOWLY, AND WE CAN SOLVE THIS PROBLEM. >> AND KEEP IT OFF THAT WAY. >> YES. >> WELL, THANK YOU VERY MUCH FOR BEING WITH US, PAT. >> MY PLEASURE. >> IT'S SO NICE TO HAVE YOU HERE, ANN. REALLY, WHEN YOU WORK WITH CLAY, IT'S JUST PLAY, ISN'T IT? >> IT IS. >> IT'S JUST LIKE THOSE DAYS WHEN WE USED TO WORK WITH PLAY-DOH OR REGULAR CLAY, BUT YOU'VE SORT OF TAKEN IT TO A NEW STEP. >> YEAH, YEAH, I LIKE TO SEE HOW ELEGANT I CAN MAKE IT. >> UH-HUH. AND YOU MIGHT TELL US ABOUT WHAT'S DIFFERENT. THIS DOES NOT HAVE TO BE BAKED, AND THAT'S GOOD. >> NO. IT IS A NO-BAKE POLYMER CLAY. IT'S BY MAKIN'S, AND IT COMES OUT OF THE PACKAGE SOFT. IT'S ALREADY CONDITIONED. IT'S NOT LIKE YOU HAVE TO KNEAD IT LIKE YOU USED TO HAVE TO KNEAD POLYMER CLAY. >> I KNOW. I WAS SURPRISED. I THOUGHT YOU HAD TO KNEAD IT. >> YEAH, NO. IT'S READY TO USE. IT'S GREAT. AND THEN YOU LET IT DRY IN THE AIR. >> CAN DO LOTS OF THINGS WITH IT. YOU MADE JUST A VERY SIMPLE CLOCK. PIECE OF SCRAPBOOK PAPER, BUT THE LEAVES REPRESENT THE HOURS, AND THAT'S THE CLAY. >> YEP, MM-HMM. >> WOW. AND YOU'LL TELL US ABOUT WHY SOME ARE SHINY, WHY SOME-- DIFFERENT THINGS. >> YES. >> HALLOWEEN. EVERYONE NEEDS THEIR OWN HALLOWEEN MASK, DON'T THEY? >> YEAH, AND THAT WAS JUST-- I'VE USED LEAVES ON ALL OF THESE PROJECTS, JUST TO SHOW YOU THE DIFFERENCE. >> THINGS TO DO WITH ONE MOLD, SO YOU DON'T HAVE TO PUT OUT A BIG INVESTMENT, DO YOU? RIGHT UP IN FRONT, WE HAVE A WREATH, NICE FOR FALL. THE THING I LIKE ABOUT FALL DECORATING, IT GOES FOR SO MANY MONTHS. THIS IS REAL PRETTY. >> YEAH, AND THAT'S A 9-INCH WREATH. YOU CAN HAVE ANY SIZE. YOU CAN CUT A PIECE OF CARDBOARD AND MAKE A HUGE WREATH. >> OH, YEAH! JUST PUT MORE LEAVES ON IT. >> YEP. >> CANDLES. THESE ARE LITTLE CANDLE HOLDERS-- >> YEP. CANDLE SLEEVES. >> CANDLE SLEEVES, RIGHT. YOU SAID YOU MADE THIS FIRST ONE AND THOUGHT IT WASN'T FANCY ENOUGH, SO WHAT DID YOU LEARN BY MAKING THIS SECOND ONE? WHAT DID YOU DO DIFFERENTLY? >> WHAT I DID ON THIS, I WANTED TO MAKE IT BIGGER. AND SO, BECAUSE IT WAS GONNA GO UP HIGHER ON THE CANDLE, I TOOK AND I WRAPPED THE CANDLE WITH PAPER TOWELS AND PLASTIC WRAP-- >> OH, UH-HUH. >> SO I COULD WORK RIGHT ON THE CANDLE, 'CAUSE THE CLAY HAS SOME SHRINK. THAT GAVE IT THE THICKNESS SO I COULD WORK ON IT AND GLUE IT, PULL IT OFF, LET IT DRY, AND THEN IT STILL WENT ON AND OFF THE CANDLE. >> AND WE CAN'T FORGET OUR NAPKIN RINGS. GOSH, WITH JUST LITTLE SCRAPS, YOU CAN MAKE SO MANY DIFFERENT THINGS. >> YEAH. I MEAN, WITH ONE PACKAGE OF CLAY, YOU CAN DO THAT ENTIRE WREATH. IT DEPENDS. WHEN YOU'RE USING THE PUSH MOLDS HOW THICK... >> YOU WANT TO MAKE IT. >> RIGHT. >> AND WE'RE WORKING WITH LEAVES TODAY, BUT THIS WAS KIND OF FUN TO SHOW. THERE'S SEA ITEMS, SEASHORE ITEMS. >> FLOWERS. IT HAS THAT GREAT DETAIL IN THE FLOWERS. >> AND IT'S THICKER, SO IT LOOKS LIKE THE LEAVES AND THE FLOWER ARE A LITTLE BIT THICKER. >> AND THEY'RE JUST THE PUSH MOLDS. >> AND IN FRONT OF US, WE HAVE-- WELL, THAT'S ABOUT 10. >> YEP. >> SO, THERE'S LOTS OF MOLDS TO PICK FROM. >> LOTS TO CHOOSE FROM. >> OK, LET'S LOOK AT THE CLAY AND HOW IT COMES AND WHAT WE NEED TO KNOW ABOUT IT. >> YEP. THE CLAY COMES PACKAGED. IT COMES WITH A SOLID COLOR OR MULTI COLORS. >> OK. >> AND THEY COME DOUBLE WRAPPED, BECAUSE IT DRIES IN THE AIR. >> OH, OK. THAT MAKES SENSE. >> SO, THIS IS AFTER IT'S BEEN OPENED. AND I LIKE TO USE A NON-STICK SCISSOR, JUST BECAUSE THEN THE CLAY WON'T STICK. >> SO WE DON'T HAVE TO USE ALL OF ONE LOG AT A TIME. >> NOPE. YOU WANT TO TAKE WHAT YOU'RE GOING TO USE. LIKE, THIS IS HOW MUCH I'M GOING TO USE FOR ONE OF THE MOLDS. YOU CAN FEEL HOW SOFT THAT IS. >> OH, WOW, YOU DON'T HAVE TO-- AND THE EXTRA, YOU WANT TO KEEP IN A BAGGIE WITH A BABY WIPE. >> TO ADD MOISTURE. >> YEP. OR IF YOU'RE GOING TO BE WORKING WITH IT, YOU CAN KEEP A WET TOWEL OVER IT WHILE YOU'RE WORKING. >> OK. AND THIS IS ONE OF THE MOLDS. >> YEP. THAT'S THE LEAF MOLD. AND ALL YOU DO IS...PUSH. >> PUSH. THAT'S WHY IT'S CALLED A PUSH MOLD, ISN'T IT? >> YEP. YOU JUST PUSH IT IN. NOW, YOU CAN PUSH IT VERY FUSSY AND MAKE SURE NOTHING GOES OVER THE EDGE, BUT I JUST LIKE--I DO THINGS FAST. >> WITH YOUR FINGERS, UH-HUH. >> I PUSH IT IN...PULL IT OUT. YOU CAN SEE ALL THAT DETAIL. >> YES. >> AND THEN I JUST TAKE A SCISSOR AND CUT AROUND IT. >> NOW, WOULD YOU LET IT DRY? >> YOU CAN DO IT BEFORE OR AFTER. IT'S STILL EASY ENOUGH TO CUT AFTER. >> OK, SO WE COULD JUST MAKE A WHOLE BUNCH OF LEAVES-- >> YEP. >> NEXT MORNING COME IN AND CUT ALL OF 'EM. >> YEP. >> I SEE. >> OR YOU COULD TAKE AN X-ACTO KNIFE AND CUT THEM. YOU CAN GO THINNER TO SAVE ON CLAY IF YOU WANT. LIKE ON THE MASK, THAT IS REALLY THIN. >> BECAUSE YOU BUILT IT UP WITH LAYERS. YOU DON'T WANT EACH LAYER TO BE VERY THICK. >> SO JUST BY PUTTING THAT SAME PIECE OF CLAY IN, YOU CAN SEE HOW MUCH BIGGER THAT IS, AND THAT'S A MUCH THINNER, MORE DELICATE LEAF. >> AND IF YOU DECIDED YOU DIDN'T LIKE THAT LEAF-- >> YOU JUST DO IT AGAIN. >> PUT IT IN ANOTHER MOLD. >> LIKE IF YOU MISSED A LITTLE PIECE OF IT OR SOMETHING. >> AND HOW DO YOU GET THE SHINE AND THE COLOR, LIKE FOR INSTANCE ON THIS ONE? >> WHAT I USE IS A METALLIC POWDER. >> POWDER. OH. I THOUGHT MAYBE THEY WERE PAINTED. >> I'M GETTING IT ALL OVER MYSELF. NO, JUST THE METALLIC POWDERS, AND I CAN TAKE ONE OF THESE. >> OK. OH, YOU USE A BRUSH WITH THE POWDER. >> AND YOU JUST PUT IT ON THERE, AND THEN SUDDENLY IT GIVES IT THAT BEAUTIFUL SHINE. YOU CAN GO AS LITTLE OR AS MUCH AS YOU WANT. >> I LIKE THE WAY THE VEINS SHOW UP. >> IT MAKES THEM POP. >> AND DOES THE POWDER COME IN VARIOUS COLORS? >> IT COMES IN ASSORTED COLORS, YEP. >> OH, OK. >> IT COMES IN JUST A TON OF COLORS. >> AND I CAN SEE IT DOESN'T TAKE VERY MUCH. >> IT TAKES HARDLY NONE. BECAUSE OF SHIPPING, I THINK THIS JUST KIND OF SHOOK AROUND A LITTLE BIT, BUT I USUALLY USE JUST WHAT'S IN THE COVER. YOU KNOW, IF YOU DIP IT INTO HERE, YOU GET A TON. >> TOO MUCH. >> AND THEN YOU COVER LIKE YOU DO ON HERE. LIKE THIS, I COVERED THESE A LOT. >> UH-HUH. SO DID YOU USE THE SAME COLOR ON THE GREEN, ALL OF THEM? >> YEP, I USED ALL THE GOLD ON ALL OF IT. >> I THOUGHT MAYBE YOU HAD TO USE GREEN ON GREEN AND SO AND SO. I SEE. THAT IS AMAZING. >> THAT JUST KIND OF BROUGHT IT ALL TOGETHER. AND THEN ON THIS, ALSO, I PUT AN ECO EPOXY OVER THE TOP OF IT TO GIVE IT THAT GLOSSY SHINE. >> OH, YEAH, THIS IS SHINY, BUT THIS IS MUCH SHINIER. >> YES. >> I SEE. WELL, THIS JUST LOOKS LIKE SO MUCH FUN TO WORK WITH. THANK YOU SO MUCH FOR SHARING THIS WITH US. >> YOU'RE WELCOME. THANKS FOR HAVING ME. >> IT'S SO NICE TO HAVE BOTH OF YOU HERE TODAY. AND IN READING THE BROCHURE--AND OF COURSE, I WENT TO YOUR WEBSITE IMMEDIATELY. I JUST FIND WHAT YOU'VE DONE AMAZING. AND MAYBE I'LL START WITH NICKY. JUST TELL US REAL BRIEFLY ABOUT HOW TWO MOTHERS' FOODS STARTED. >> WE STARTED AS A FOOD PROGRAM FOR OUR SCHOOL THAT WE WERE BOTH PARENTS AT. WE MET. WE COOKED TOGETHER. WE DECIDED TO REPLACE THE CONVENTIONAL ORDERED-OUT PIZZA DAY AT OUR SCHOOL WITH HOMEMADE ORGANIC PIZZA THAT MADE NO GARBAGE. AND WE BRANCHED OUT FROM THERE TO A 5-DAY WEEK PROGRAM AT OUR SCHOOL. >> AND CHRISTY, YOU ALSO HAVE A STORE NOW WHERE NOT JUST SCHOOL PEOPLE ARE BENEFITING FROM THIS, YOUR LOCAL COMMUNITY CAN. >> YES, WE DO. WE HAVE A STORE, AND WE ALSO ARE GARBAGE-FREE BY USING TIFFIN TINS IN DIFFERENT SIZES. AND ALL OUR CARRYOUT IS IN MASON JARS IN VARYING SIZES. >> SO YOU'VE REALLY EXPANDED WHAT STARTED AS JUST HELPING YOUR KIDS OUT ON ONE DAY AT SCHOOL AND ALL OF THE KIDS. I THINK THAT'S WONDERFUL YOU DIDN'T JUST DO THIS FOR YOUR OWN KIDS. WELL, NICKY, NUTRIENT-RICH IS SOMETHING YOU REALLY TRY FOR IN EVERY MEAL. MAYBE IF YOU'LL EXPLAIN WHAT YOU MEAN BY THAT. >> IT'S ACTUALLY NUTRIENT PRESERVATION THAT WE'RE TALKING ABOUT. >> PRESERVATION. >> AND PART OF BEING A GARBAGE-FREE, WASTE-FREE RESTAURANT MEANS REALLY RESPECTING FOOD AND NOT WASTING IT. SO ONE OF THE WAYS--MOST RESTAURANTS WOULDN'T HAVE ANY OF THESE CONTAINERS, BUT WE HAVE 3. EVERY DAY WHEN PEOPLE ARE PREPPING FOOD, WE HAVE 3 CONTAINERS OUT. THIS IS A REGULAR COMPOST. WE WOULD LABEL THESE IF WE WERE AT OUR KITCHEN. THIS IS PIG AND CHICKEN FOOD, AND THIS IS BROTH TRIMMINGS. >> BROTH TRIMMINGS. >> BROTH TRIMMINGS. >> THE SOUPS. >> LET'S SAY IT'S TIME TO PREP CARROTS AND ONIONS FOR A SOUP. YOU PEEL THE CARROTS AND IF THE PEELS ARE CLEAN AND NICE, THEY GO INTO A BROTH BUCKET LIKE THIS, WHICH WE SAVE AND FREEZE OR WE IMMEDIATELY MAKE BROTH IF WE HAVE ENOUGH. WE'LL MAKE THE BROTH, THEN THE COOKED PILE OF GOOEY YUMMINESS. YOU MIGHT THROW THAT AWAY, BUT WE DON'T DO THAT. THAT GOES INTO THE PIG AND CHICKEN FOOD PILE, WHICH IS KEPT IN THE REFRIGERATOR AND EVERY THURSDAY BROUGHT TO THE FARMS. >> AND YOU DO A TRADEOUT WITH FARMERS I THINK IS KIND OF UNUSUAL. >> YES, OUR PIG FARMER HAS 2 BUCKETS. AND HE GIVES US THE EMPTY BUCKET FROM LAST WEEK, AND WE DUMP IN THE PIG FOOD FROM THIS WEEK FROM THE REFRIGERATOR. AND THE SAME THING GOES FOR OUR FLOUR GUY HAS A COUPLE OF BUCKETS. AND WE ELIMINATE THE BAG THAT NORMALLY--A 50-POUND BAG OF FLOUR WOULD COME IN A PRETTY LOT OF WASTED PAPER, AND SO WE'VE ELIMINATED THAT. AND MOST OF OUR FARMERS, WE USE GIANT CLOTH BAGS AND DUFFLE-Y BAGS. >> THAT CAN BE USED FOR OTHER THINGS. >> MM-HMM. >> AND YOU REALLY STAY AWAY FROM RECYCLING. YOUR PURPOSE IS TO TRY TO ELIMINATE AS MUCH AS POSSIBLE SO THAT YOU DON'T EVEN HAVE TO THINK RECYCLE. >> RIGHT. >> WELL, YOU STARTED TO MENTION THE CONTAINERS, AND WHY DON'T YOU TELL US, CHRISTY, HOW YOU DO THIS, WHICH STARTED AS A LUNCH PROGRAM AT THE SCHOOL. HOW DID YOU PACKAGE IT? HOW DID YOU GET IT THERE? >> WELL, FOR OUR LUNCH PROGRAM, WE HAVE THESE TIFFIN TINS, WHICH WE WOULD PUT 2 CHILDREN'S MEALS IN HERE--PASTA OR CHILI OR PASTRY, AN EGG ROLL. AND THEY WOULD BE DELIVERED TO THE CLASSROOM. THEN WE PICK THEM UP IN THERMAL-INSULATED BAGS AND WASH THEM AND THE SAME THING WOULD HAPPEN THE FOLLOWING DAY. AND THEN FOR OUR POCKETS, OUR PIZZA POCKETS, WE WOULD PACKAGE THEM IN BANDANNAS--RED FOR MEAT PRODUCTS, BLUE FOR VEGETARIAN. >> OH, SO THE KIDS KNOW WHICH ONE THEY WANT TO GET. >> GIVE YOU A LITTLE LOOK. THIS IS A BEAN-AND-CHEESE POCKET. >> THAT'S WHY IT'S IN THE BLUE. SO IT'S PACKAGED IN THIS. THIS IS HOW YOU WOULD TAKE IT TO THE SCHOOL. >> RIGHT. >> AND THEN THAT BANDANNA BECOMES BOTH THE PLATE AND THE NAPKIN FOR THE CHILD. >> OH, YEAH. ELIMINATES--AND YOU DON'T HAVE TO HAVE THE PLASTICWARE OR WHATEVER, WHICH IS THROWN AWAY, TOO. THIS IS BEAN AND CHEESE? >> BEAN AND CHEESE. >> CHILIS OR WHATEVER... >> WE USE GREEN CHILIS, PIZZA, SAUSAGE PIZZA, VEGETARIAN. >> HAM AND CHEESE. >> HAM AND CHEESE. >> AND THEN MASON JARS. YOU KNOW, WE'VE ALL GOT A CABINET FULL OF THOSE. BUT UNLESS WE ACTUALLY DO FOOD PRESERVATION, SOMETIMES THEY JUST GET PUSHED TO THE BACK. HOW DO YOU USE THESE? >> WE USE THESE TO PACKAGE OUR CARRYOUT FOOD AND ALSO WE DON'T USE PLASTIC FOR OUR COOLER AT THE RESTAURANT. WE JUST PACKAGE EVERYTHING IN THESE GLASS JARS. AND WE ALSO DO SMOOTHIES, FRESH SMOOTHIES WITH FRESH FRUIT HARVESTED. >> IN THE JARS, TOO? >> IN THE JARS. >> OH, WOULD HAVE NEVER THOUGHT OF THAT. AND YOU KEEP YOUR SPICES IN THESE LITTLE BITTY JARS. SO YOU MAKE USE OF ALL DIFFERENT SIZES. >> WE ALSO USE THOSE FOR LIKE A SAUCE THAT MIGHT COME WITH SOMETHING, A SIMOSA SAUCE. >> TO SEND WITH IT. >> IF YOU HAD BARBECUE SAUCE OR ANY SORT OF SAUCE, YOU'D PUT IT IN HERE. >> BUT DO YOU GET THESE THINGS BACK FROM THESE PEOPLE? AND KIDS? YOU GET ALL THIS STUFF BACK EACH WEEK OR... >> WE GET IT BACK AND IT'S CONSTANTLY CIRCULATING--PEOPLE TAKING AND BRINGING BACK, AND IT'S WORKING PRETTY GOOD. >> I THINK PEOPLE FEEL GOOD BRINGING IT BACK. THEY REALLY DO. >> SO THEY'RE DOING THEIR PART. >> MM-HMM. >> BUT WHAT ABOUT--YOU STARTED, JUST THE TWO OF YOU, THE TWO MOTHERS. HOW MANY ARE HELPING NOW IN THE BUSINESS? >> WE HAVE ABOUT 4 OR 5. >> IS IT HARD TO TRAIN THEM TO COOK THE WAY YOU DO AND TO SAVE THINGS, NOT THROW IT IN THE TRASH? >> THAT'S THE BIGGEST CHALLENGE. COOKING IS ONE THING, BUT REALLY MAKING PEOPLE UNDERSTAND WHAT'S THE DIFFERENCE BETWEEN WHAT YOU'D PUT IN THE COMPOST, WHAT YOU'D PUT IN THE PIG AND CHICKEN FOOD, AND WHAT YOU'D PUT IN THE BROTH, IT IS KIND OF COMPLICATED. YOU CAN'T PUT EGG SHELLS IN HERE, BUT YOU DO WANT TO PUT EGG SHELLS IN YOUR COMPOST. >> SO, DO YOU RAISE A LOT OF YOUR OWN FOOD? >> WE ACTUALLY DO HAVE A GARDEN. >> GARDEN, UH-HUH. >> AND THIS YEAR, WE DID PRETTY WELL. TOMATOES FAILED IN ILLINOIS THIS YEAR, BUT WE DID A LOT OF OUR OWN PARSLEY, PEPPERS, TOMATOES, AND A LOT OF DILL AND BASIL AND OREGANO WE GREW OURSELVES. LOTS OF SPICES. >> THINGS THAT YOU CAN'T BUY LOCALLY, HOW DO YOU GET? >> THE FIRST THING WE TRY TO DO THERE IS ELIMINATE THEM FROM OUR WORLD. SO WE TRY TO DESIGN OUR MENU IN A WAY THAT WE UTILIZE AS MUCH LOCAL STUFF AS POSSIBLE AND AS LITTLE IMPORTED STUFF AS POSSIBLE. >> SO DON'T USE IT IF POSSIBLE. BUT IF YOU DO HAVE TO GET, SAY, CHEESE OR SOMETHING FROM SOMEWHERE ELSE, WHAT MAKES YOU CHOOSE ONE COMPANY OVER ANOTHER? >> THE MOST IMPORTANT THING TO US IS, ESPECIALLY WITH AN ANIMAL PRODUCT, IS RESPECT AND HUMANE TREATMENT OF THE ANIMALS. SO THAT ENDS UP BEING A GRASS-FED, USUALLY. SO WHENEVER WE'RE LOOKING FOR AN ANIMAL PRODUCT, WHETHER IT'S MEAT, EGGS, OR DAIRY, WE'RE HOPING TO GET A GRASS-FED ANIMAL PRODUCT. THAT'S IT. >> AND CHRISTY, I UNDERSTAND BESIDES THE STORE, YOU ALSO PROVIDE MEALS FOR THE HANDICAPPED, IF THEY HAVE SPECIAL NEEDS, PEOPLE WHO ARE ILL, THE ELDERLY. HOW DOES THIS WORK? >> WELL, SOME PEOPLE HAVE SENSITIVITIES TO DAIRY AND WHEAT AND MANY OTHER THINGS. SO WE WILL ACTUALLY CUSTOMIZE THE DIET FOR OUR CUSTOMERS THAT WILL SUIT THEIR NEEDS. >> DO THEY COME IN AND YOU DO A LITTLE CONSULTATION WITH THEM? IS THAT HOW IT WORKS? >> GENERALLY, WE DO SOMETHING LIKE THAT. THEY'LL GIVE US A LIST OF THINGS THAT DON'T AGREE WITH THEM, AND WE'LL WORK WITH THEM. >> UH-HUH. AND YOU HAVE SOUPS AND SAUCES. THE BURRITOS, OR THINGS LIKE THIS...WHAT'S YOUR ALL-TIME FAVORITE FOR THE SCHOOL, RATHER? >> FOR THE SCHOOLS, I THINK PASTA PRIMAVERA, BECAUSE WE CAN USE MANY DIFFERENT VEGETABLES ACCORDING TO THE HARVEST, THE LOCAL HARVEST. >> YOU CAN VARY IT. >> IT'S COLORFUL. IT HAS GARLIC. I LIKE GARLIC. I LIKE THE FLAVOR OF IT. >> AND NICKY, WHAT ABOUT FOR YOUR CARRYOUT, FOR THE STORE? WHAT SEEMS TO JUST FLY OUT-- >> LENTIL SOUP. >> LENTIL SOUP? >> LENTIL SOUP IS OUR BIGGEST SELLER. >> YEAR ROUND? >> IT REALLY IS. YEAR ROUND. IT IS. WHEN YOU LOOK AT THE NUMBERS, THAT'S THE BIGGEST ONE, AND IT'S BECAUSE CHRISTY HAS MADE THE WORLD'S BEST LENTIL SOUP. >> HA HA! SO YOU'VE COME UP WITH YOUR OWN RECIPES MOST OF THE TIME. DO YOU EVER HAVE PEOPLE SUGGEST RECIPES TO YOU AND SAY "MY MOTHER..." OR "MY GRANDMOTHER..." AND THEN YOU TRY THEIR RECIPE? >> SURE. SOMETIMES WE TRY TO MAKE A HEALTHIER VERSION IF THEY HAVE SOMETHING THEY LIKE. >> OH, YEAH. >> 'CAUSE WE DON'T DO ANY FRYING. WE BAKE. WE JUST MADE SOME REALLY NICE BAKED APPLES STUFFED WITH RICE AND RAISINS, SPICES. >> IT SORT OF CHANGES THE WAY SOME OF US WERE BROUGHT UP TO EAT. SO WE'RE HAVING TO EDUCATE PEOPLE, AND STARTING WITH THE KIDS IS THE BEST WAY TO DO IT. GET 'EM YOUNG. TEACH 'EM. I REALLY CONGRATULATE YOU ON WHAT YOU'RE DOING. IT'S JUST WONDERFUL, AND THANK YOU FOR TELLING US ABOUT IT. >> THANK YOU. >> THANK YOU, SHERYL. >> I HOPE YOU ENJOYED THE SHOW TODAY. NEXT TIME ON "CREATIVE LIVING," WE'LL LEARN HOW TO TURN QUILT BLOCKS INTO PILLOWS AND TABLERUNNERS. WE'LL TALK ABOUT SOCIAL AND EMOTIONAL ISSUES WITH CHILDREN, AND DEMONSTRATE SOME DELICIOUS AND NUTRITIOUS FIG RECIPES. ONE OF MY NEXT GUESTS WILL SHOW HOW TO TAKE A BLOCK-OF-THE-MONTH QUILT AND ADAPT IT TO CREATE HOME DECOR ACCESSORIES, INCLUDING A FLANGED PILLOW, A LUMBAR PILLOW, AND A DECORATIVE TABLE RUNNER. ANOTHER GUEST IS AN AUTHOR WHO'S WRITTEN A CHILDREN'S BOOK, AND HE'LL DISCUSS ONE OF THE ISSUES HE ADDRESSES. IT HAS TO DO WITH ENGAGING CHILDREN AND TALKING ABOUT SOCIAL AND EMOTIONAL ISSUES AND HOW THIS CAN HELP CHILDREN DEAL WITH BULLYING BEHAVIORS IN OTHERS. AND FINALLY, WE'LL HAVE A REPRESENTATIVE FROM THE CALIFORNIA FIG ADVISORY BOARD, AND SHE'LL TALK ABOUT THE MANY NUTRITIONAL BENEFITS OF CONSUMING FRESH AND DRIED FIGS. ALL OF THESE TOPICS WILL BE FEATURED ON THE NEXT "CREATIVE LIVING" SHOW. IF YOU EVER HAVE COMMENTS OR SUGGESTIONS OR IDEAS FOR SHOWS, YOU CAN E-MAIL ME AT SHERYL.BORDEN@ENMU.EDU AND I'D ALSO LIKE TO ASK YOU TO BECOME A FAN OF "CREATIVE LIVING" ON FACEBOOK. JUST GO TO FACEBOOK.COM AND IN THE SEARCH WINDOW, TYPE IN CREATIVE LIVING WITH SHERYL BORDEN. THANKS SO MUCH, AND I HOPE YOU'LL PLAN TO JOIN ME NEXT TIME FOR "CREATIVE LIVING." >> WE ARE VERY PLEASED TO OFFER A NEW BOOKLET THAT ACCOMPANIES THIS SERIES OF "CREATIVE LIVING." THIS BOOKLET IS TITLED "THE 6500 SERIES," AND IT FEATURES A WONDERFUL COLLECTION OF IDEAS AND INFORMATION, AND IT'S AVAILABLE FREE OF CHARGE ON OUR WEBSITE. POSTED AS A "PDF" FILE, YOU CAN SIMPLY DOWNLOAD THE ENTIRE BOOKLET OR JUST THE SEGMENTS YOU'RE MOST INTERESTED IN. AS WITH ALL OF THE "CREATIVE LIVING" BOOKLETS, YOU'LL FIND INFORMATION ON FOODS AND NUTRITION, CLOTHING AND FASHION, HEALTH AND BEAUTY, HOME DECORATING, AND MUCH MORE. FOR YOUR COPY OF THIS BOOKLET, GO TO OUR WEBSITE AT kenw.org AND THEN CLICK ON "CREATIVE LIVING," SCROLL DOWN TO THE BOOKLETS SECTION, AND YOU CAN CLICK ON THIS BOOKLET OR ANY OF THE OTHER BOOKLETS WE HAVE AVAILABLE ONLINE. ONCE AGAIN, JUST GO TO kenw.org, CLICK ON "CREATIVE LIVING," AND DOWNLOAD THE BOOKLET TITLED "THE 6500 SERIES." WE ALSO WANT TO ENCOURAGE YOU TO SIGN UP FOR OUR FREE E-NEWSLETTER. JUST CLICK ON THE "SIGN UP NOW" BUTTON AND INPUT YOUR E-MAIL ADDRESS. THAT'S ALL THERE IS TO IT. YOU'LL ENJOY READING AN UP-TO-DATE NEWSLETTER FILLED WITH INTERESTING TOPICS AND INFORMATION. THANK YOU.
Now Playing As: Captioned (English) (change)
In this episode, Sheryl welcomes guests who discuss the importance of providing students with healthy school lunches. She also talks with two friends who run a waste-free, garbage-free food delivery company and composts all left over foods. Last, another guest demonstrates the use of push molds in crafting.
Media Details
Runtime: 27 minutes