Creative Living With Sheryl Borden #6508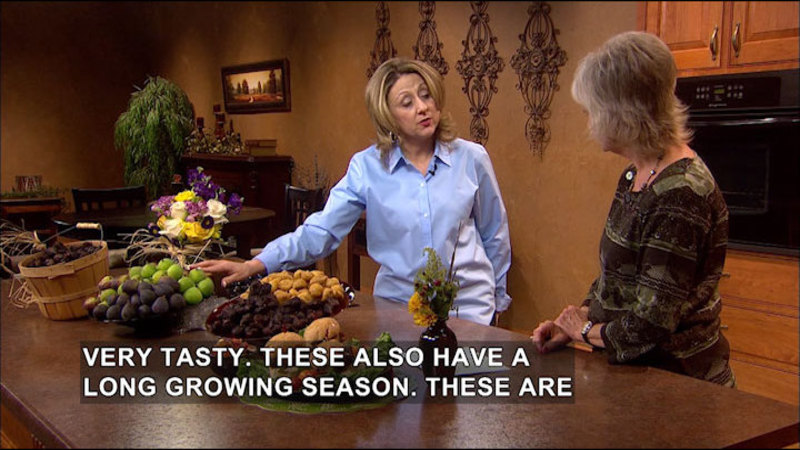 >> "CREATIVE LIVING," UTILIZING TODAY'S TECHNOLOGY WITH THE BEST OF THE PAST TO BRING YOU INNOVATIVE IDEAS AND UP-TO-DATE INFORMATION FOR CREATIVE LIFESTYLES IN TODAY'S ACTIVE WORLD, WITH YOUR HOST SHERYL BORDEN. >> I'M SO GLAD YOU JOINED ME TODAY FOR "CREATIVE LIVING." WE'RE GOING TO LEARN HOW TO TURN QUILT BLOCKS INTO PILLOWS AND TABLE RUNNERS. WE'LL TALK ABOUT SOCIAL AND EMOTIONAL ISSUES WITH CHILDREN, AND DEMONSTRATE SOME DELICIOUS AND NUTRITIOUS FIG RECIPES. ONE OF MY GUESTS TODAY IS JUDY NOVELLA, AND SHE'S WITH FAIRFIELD PROCESSING CORPORATION IN DANBURY, CONNECTICUT. JUDY WILL SHOW HOW TO TAKE A BLOCK-OF-THE-MONTH QUILT AND ADAPT IT TO CREATE HOME DECOR ACCESSORIES, INCLUDING A FLANGE PILLOW, A LUMBAR PILLOW, AND A DECORATIVE TABLE RUNNER. ANOTHER GUEST IS PETER GOODMAN, AND HE'S AN AUTHOR WHO'S WRITTEN A CHILDREN'S BOOK TITLED "WE'RE ALL DIFFERENT BUT WE'RE ALL KITTY CATS." PETER'S GOING TO DISCUSS ONE OF THE ISSUES HE COVERS IN THE BOOK, AND IT HAS TO DO WITH ENGAGING CHILDREN IN TALKING ABOUT SOCIAL AND EMOTIONAL ISSUES AND HOW THIS CAN HELP ALL CHILDREN DEAL WITH BULLYING BEHAVIOR OF OTHERS. PETER LIVES IN WASHINGTON, D.C., AND HIS COMPANY IS DREAMBIG. AND FINALLY, WE'LL MEET KARLA STOCKLI, AND SHE'S A REPRESENTATIVE FROM THE CALIFORNIA FIG ADVISORY BOARD IN FRESNO, CALIFORNIA. KARLA WILL TALK ABOUT THE MANY NUTRITIONAL BENEFITS OF CONSUMING FRESH AND DRIED FIGS AS SHE PREPARES SEVERAL RECIPES. KARLA, IT'S NICE TO HAVE YOU HERE, AND I ALWAYS THINK IT'S WONDERFUL WHEN YOU CAN EAT SOMETHING AND IT TASTES GOOD AND IT'S ALSO GOOD FOR YOU, AND THAT'S CERTAINLY WHAT THE FIGS ARE ALL ABOUT, ISN'T IT? >> IT IS. FIGS FROM CALIFORNIA-- WE ALWAYS SAY GREAT THINGS COME FROM A GREAT STATE, AND CALIFORNIA FIGS ARE AN EXCELLENT SOURCE OF DIETARY FIBER. THEY'RE THE ONLY FRUIT THAT CAN MAKE THAT CLAIM. SO AN EXCELLENT SOURCE OF DIETARY FIBER PER SERVING. THEY PROVIDE 5 GRAMS OF FIBER. FRESH AND DRIED FIGS, 3 TO 5 FIGS--THEY'RE RICH IN ANTIOXIDANTS. THE ANTIOXIDANTS ACTUALLY RANK HIGHER THAN WINE AND TEA IN FIGS. AND THEN THEY'RE SODIUM-, CHOLESTEROL-, AND POTASSIUM-FREE. >> IS THERE ANY DIFFERENCE IN THE NUTRITIONAL CONTENT OF FRESH VERSUS THE DRIED? >> NO, THERE'S NOT. WHAT YOU HAVE THE DIFFERENCE IN FRESH AND DRIED REALLY IS THE WATER CONTENT. SO FRESH CAN HAVE 10% TO 50% MORE WATER BECAUSE THEY'RE FRESH AND THEY HAVEN'T BEEN DRIED YET, BUT THE NUTRITION CONTENT IS EXACTLY THE SAME. >> WHAT ABOUT AVAILABILITY? >> FRESH FIGS ARE AVAILABLE MID-MAY THROUGH DECEMBER--SOME MARKETS IT MIGHT BE NOVEMBER-- AND DRIED FIGS, OF COURSE, ARE AVAILABLE YEAR-ROUND. SO WE ENCOURAGE CONSUMERS ENJOY YOUR FRESH, BUT ALSO MIX IN THE DRIED FIGS BECAUSE YOU'RE GETTING NUTRIENTS THROUGHOUT, AND THEN YOU CAN HAVE THEM YEAR-ROUND. >> YOU MENTIONED THE FIGS GROWN IN CALIFORNIA, BUT WHAT PERCENTAGE OF THE FIGS ARE GROWN IN CALIFORNIA? >> WELL, 100% OF THE NATION'S DRIED FIGS AND 98% OF FRESH FIGS ARE GROWN IN CALIFORNIA WITH WONDERFUL GROWING CONDITIONS, AND WE PRODUCE THE HIGHEST QUALITY IN THE WORLD. >> SO WHAT ARE THOSE GROWING CONDITIONS? IS IT A SPECIAL TYPE OF SOIL? >> WELL, IT'S--THE SOIL IS IDEAL FOR GROWING--IT'S ALMOST LIKE THE MEDITERRANEAN, IF YOU WILL-- IT'S DRY. >> WHICH IS WHERE THE FIGS ORIGINALLY CAME FROM. >> THEY ORIGINALLY CAME FROM THE MEDITERRANEAN, OR GREECE, IN THAT AREA. AND--BUT IT'S ALSO THE CULTURAL PRACTICES THAT THE FARMERS DO IN CALIFORNIA THAT MAKE IT THE HIGHEST QUALITY IN THE WORLD. >> WELL, LET'S TAKE A LOOK AT THEM, BECAUSE I HAVE TO ADMIT I'VE WORKED WITH LOTS OF DIFFERENT COMMODITIES AND FOODS, BUT THESE ARE JUST REALLY UNUSUAL. LET'S TAKE A LOOK AT THE FRESH FIGS. >> WHAT WE HAVE HERE TODAY--THIS IS THE BROWN TURKEY FIG, OK, AND BROWN TURKEYS ARE ACTUALLY THE MID-MAY THROUGH DECEMBER. THEY HAVE THE LONGEST GROWING SEASON, AND THEY TASTE ALMOST LIKE A
PINOT NOIR: VERY ROBUST. AND SO WHEN YOU THINK ABOUT WHAT YOU WANT TO EAT WITH IT, YOU REALLY WANT TO THINK OF FLAVORS. >> AND IS THAT A MATURE ONE? IS THAT THE SIZE THAT THEY GROW TO? >> THEY CAN ACTUALLY BE A LITTLE LARGER THAN THIS. THEY--A LITTLE LARGER, BUT THIS IS AN IDEAL SIZE, ALSO. >> IF YOU BUY THESE AND TAKE THEM HOME, DO YOU EVER, LIKE WITH PEARS, PUT THEM IN A BAG AND FOLD IT DOWN TO WIPE THEM? >> NEVER PUT THEM IN A BAG. NEVER. AND THE NEAT--THIS IS THE THING ABOUT FRESH FIGS. FRESH FIGS ARE PICKED RIPE OFF THE TREE, AND SO THEY'RE VERY DELICATE. AND SO WHEN THEY GET IN MARKET, THEY'RE USUALLY SHIPPED REFRIGERATED. AND WHEN YOU GET THEM HOME, YOU WANT TO REFRIGERATE THEM IMMEDIATELY. >> SO KEEP THEM REFRIGERATED. >> AND YOU WANT TO HANDLE THEM VERY CAREFULLY BECAUSE THEY BRUISE EASILY. >> OH, THEY DO? >> THEY CAN STAY IN YOUR REFRIGERATOR 3 TO 7 DAYS, AND IF YOU'RE NOT GOING TO ENJOY THEM OR EAT THEM, YOU CAN ALSO FREEZE THEM. >> CAN YOU FREEZE THEM WHOLE? >> YOU FREEZE THEM WHOLE. PUT THEM ON SOME PARCHMENT PAPER ON A COOKIE SHEET, FREEZE THEM INDIVIDUALLY, AND THEN JUST TOSS THEM INTO A ZIPLOC AND THEY'RE IN THE FREEZER FOR 6 MONTHS AND THEY'RE GOOD TO USE. >> WOW. SO THEN YOU CAN JUST ENJOY THEM--THE FRESH ONES-- YEAR-ROUND THAT WAY. NOW, THE GREEN ONES LOOK LIKE LITTLE MINIATURE PEARS. >> THEY'RE PRETTY FUN. THIS IS ACTUALLY A NEW VARIETY, AND THIS IS A SIERRA, AND IT'S A VARIETY SIMILAR TO THE CALIMYRNA. IT'S ACTUALLY A HYBRID FROM THE CALIMYRNA, AND THESE ARE ALMOST LIKE A SAUVIGNON BLANC. SO, AGAIN, THINKING THE WINE NOTES. VERY TASTY. THESE ALSO HAVE A LONG GROWING SEASON. THESE ARE JUNE 1 THROUGH NOVEMBER. AND THEN THE MISSION FIGS, WHICH SO MANY PEOPLE HAVE... >> AND THAT'S THE ONE I'VE HEARD OF. >> THIS ONE IS ONLY PRODUCED IN CALIFORNIA, AND IT'S AVAILABLE JUNE THROUGH DECEMBER, AS WELL. >> AND WHY THE NAME "MISSION"? >> WELL, IT'S BECAUSE THE SPANIARDS ACTUALLY BROUGHT FIGS TO CALIFORNIA IN THE 1600s, AND IT WASN'T UNTIL THE 1700s THAT THE MISSIONARY PRIESTS AT SAN DIEGO PLANTED FIGS. AND SO THIS FIG IS ACTUALLY NAMED AFTER MISSION SAN DIEGO, AND THAT WAS IN THE 17th CENTURY. >> AND THE INTERESTING THING I READ WAS THAT FIG TREES PRODUCE WITHIN, WHAT, JUST A YEAR OR TWO. IT'S NOT LIKE A PECAN... >> ABOUT 3 YEARS. 3 YEARS. FIRST CROP'S 3 YEARS, AND SOME OF OUR ORCHARDS ARE ACTUALLY 80 YEARS OLD. SO, AGAIN, THEY'RE VERY-- THE STAMINA'S THERE. >> AND THAT'S ONLY 3 VARIETIES, AND THERE'S ACTUALLY 5. >> CORRECT. WE DON'T HAVE THE KADOTA TODAY, AND WE DON'T HAVE THE CALIMYRNA. AND THE KADOTA AND THE CALIMYRNAS ARE BOTH ALMOST LIKE A NICE YELLOW TONE, BUTTERY TONE, AND THEY'RE BOTH FRESH AND DRIED FIGS, AS WELL. >> OK. AND THESE ARE THE DRIED ONES AND, LIKE YOU SAID, WE CAN ENJOY THOSE YEAR-ROUND. >> YES. WHAT WE HAVE HERE TODAY IS THE CALIMYRNA, DRIED CALIMYRNAS, AND THEY HAVE A BUTTERY, NUTTY, HONEY TASTE TO THEM ALMOST LIKE A CHARDONNAY... KIND OF OAKY TO IT. AND THESE ARE BEAUTIFUL IN DISHES THAT YOU WANT TO HAVE A LITTLE AROMATIC FLAVORS WITH IT--SOME LAVENDER, PINE NUTS, AND THINGS LIKE THAT. THE BLACK MISSION FIGS HERE-- AGAIN, THOSE ARE KIND OF LIKE A CABERNET. AND THEY ARE GREAT FOR, LIKE, A PINOT NOIR REDUCTION WITH A PORK LOIN, IF YOU WILL. BUT, AGAIN, YOU CAN TAKE IT TO A VERY NICE, SAVORY SIDE. >> THAT'S AN INTERESTING COMPARISON, THE WAY YOU DO THAT--OK--BRINGING US DOWN TO SOMETHING WE MIGHT LIKE TO PREPARE OURSELVES. >> CORRECT. AND THIS IS A FUN DISH THAT YOU CAN MAKE AT YOUR FAMILY, YOU CAN ENJOY IT. WHAT WE HAVE HERE ARE TURKEY SLIDERS... >> AREN'T THE SLIDERS POPULAR NOW? >> THEY'RE VERY POPULAR. BUT WE'VE TAKEN THAT POPULAR SLIDER AND WE'VE DONE A LITTLE BIT OF THINGS DIFFERENT WITH IT. THE MEAT ACTUALLY HAS BLACK MISSION DICED DRIED FIGS IN IT, AND AS YOU KNOW, TURKEY MEAT CAN BE A LITTLE DRY, NEED A LITTLE BIT MORE MOISTURE. >> SO THAT'S A PERFECT... >> SO IT ADDS MOISTURE, A LITTLE MORE FLAVOR. AND FIGS ALSO-- BECAUSE THEY ADD FLAVOR, YOU CAN REDUCE YOUR SALT, WHICH ALL OF US NEED TO REDUCE SALT IN OUR DIET. AGAIN, THEN YOU PAIR THAT WITH A BEAUTIFUL PEPPER FIG SALSA. AND ANY KIND OF FRUIT, WHETHER IT'S FRESH--YOU CAN USE RAISINS, FIGS, MANGOS, DEPENDING ON WHAT YOU LIKE... >> MAKE A NICE COMBINATION. >> AND YOU CAN MAKE THAT, AND THAT--THE SALSA SHALL BE STABLE
FOR UP TO 7 DAYS, AND YOU CAN PAIR IT WITH ANY PROTEIN: FISH, CHICKEN GRILLED THROUGHOUT THE WEEK, EVEN PORK. >> SO IT IS VERY VERSATILE. I CAN SEE WHY YOU CALL THIS A "NUTRITIONAL POWERHOUSE," SO TO SPEAK. WELL, IT'S REALLY BEEN INTERESTING. I APPRECIATE YOU COMING TODAY AND TALKING TO US ABOUT CALIFORNIA FIGS. >> THANK YOU FOR HAVING ME. >> PETER, IT'S SO NICE TO HAVE YOU HERE, AND I LOVED READING YOUR DELIGHTFUL BOOK FOR CHILDREN. AND I KNOW IN READING THERE'S BEEN A LOT WRITTEN ABOUT EMOTIONAL INTELLIGENCE IN CHILDREN. WHAT DOES THAT MEAN, AND HOW DOES THAT RELATE TO BULLYING? >> BASICALLY, EMOTIONAL AND SOCIAL--EMOTIONAL INTELLIGENCE FOCUSES AROUND THE ABILITY FOR KIDS TO INTERACT WITH OTHERS. AND, BASICALLY, THE MORE SOCIALLY AND EMOTIONALLY AWARE KIDS ARE, IT REDUCES THE INCIDENTS OF BULLYING, OR THE LIKELIHOOD THAT CHILDREN WILL ENGAGE IN BULLYING BEHAVIOR. >> OR WATCH IT AND NOT KNOW HOW TO RESPOND TO IT IF IT'S SOMEONE ELSE, I BET. HOW DO KIDS ACQUIRE THIS COMPETENCE? >> WELL, EMOTIONAL AND SOCIAL COMPETENCE SHOULD START EARLY. YOU KNOW, THE EARLIER YOU START--AT THE PRE-K LEVEL, PRESCHOOL LEVEL, YOU KNOW, FIRST-GRADE LEVEL. LEARNED BEHAVIOR REALLY STARTS EARLY, AND THE WAY TO DO THAT IS, YOU KNOW, TO USE CERTAIN TOOLS LIKE--FOR INSTANCE, IN THE BOOK, TO REALLY GIVE KIDS EXAMPLES OF GOOD BEHAVIOR. >> SO PROVIDING ROLE MODELS, OR THE BOOK AS--LIKE YOU SAY, AS A RESOURCE. BUT BESIDES--YOU SAID STARTING EARLY. DOES BULLYING REALLY START THAT EARLY, TOO? >> YEAH. IT ACTUALLY CAN START AT THE PRESCHOOL LEVEL, EVEN AT 2 OR 3. EVEN IF IT'S A YOUNG CHILD TAKING A SHOVEL OR A BUCKET FROM ANOTHER CHILD, YOU KNOW, YOU WANT CHILDREN TO... >> DEPENDING ON HOW THEY RESPOND. >> EXACTLY, AND TO SHARE WITH ONE ANOTHER. AND THE MORE THAT YOU ENCOURAGE KIDS TO HAVE THAT KIND OF COLLEAGULAR-SHARING PERSPECTIVE, ESTABLISHING THOSE TYPES OF BEHAVIOR EARLY REALLY-- ALSO RELATES TO SOCIAL AND EMOTIONAL EARNING--LEARNING BECAUSE THEY BECOME MORE ABLE TO RELATE TO ONE ANOTHER. >> SO IT ALL GOES ALONG WITH, I GUESS AS PARENTS AND TEACHERS AND CAREGIVERS, HELP EACH CHILD TO GAIN MORE SELF-ESTEEM. IS THERE A RELATIONSHIP BETWEEN IF A CHILD FEELS GOOD ABOUT THEMSELVES, THAT THERE WILL BE LESS CHANCE OF THE BULLYING PROBLEM? >> RIGHT. EXACTLY. IT'S REALLY IMPORTANT FOR KIDS TO GET SUPPORT AND ENCOURAGEMENT FROM THEIR CAREGIVERS, FROM ADULTS IN THEIR LIVES LIKE THEIR PARENTS OR THEIR TEACHERS BECAUSE THAT REALLY HELPS WITH THEIR SELF-CONFIDENCE, THEIR SELF-ESTEEM. AND BY FOCUSING ON THOSE TYPES OF SUPPORT STRUCTURES, IT ALSO REDUCES THE LIKELIHOOD OF BULLYING OCCURRING WITH THOSE TYPES OF CHILDREN. >> IN THE BOOK, IT'S ABOUT KITTY CATS--WHICH I LOVE CATS, SO I KNEW I'D LOVE THE BOOK--TELL A LITTLE BIT ABOUT WHY YOU WROTE THIS PARTICULAR BOOK AND HOW-- BECAUSE WE'RE ALL KITTY CATS BUT WE'RE ALL DIFFERENT--HOW WOULD THAT HELP CHILDREN TO LEARN HOW TO REACT OR HOW NOT TO PARTICIPATE OR... >> RIGHT. I WROTE THE BOOK INITIALLY FOR MY 18--FOR MY NEPHEW DYLAN, WHO WAS 18 MONTHS AT THE TIME, OR A YEAR AND A HALF, AND WE WERE PRETENDING TO BE MY KITTY CAT WHO COULD TALK, AND HE THOUGHT IT WAS REALLY FUNNY. SO THAT WAS THE INITIAL, YOU KNOW, CONCEPT FOR THE BOOK. >> HOW DOES THE STORY GO ALONG? >> WELL, CARLOS IS A CAT WHO'S BULLIED BECAUSE HE DOESN'T HAVE ANY FUR, AND THE WHOLE CONCEPT HERE IS THAT CARLOS' FRIENDS RALLY AROUND HIM TO HELP CARLOS SEE HIMSELF THROUGH THEIR EYES AS OPPOSED TO THE BULLY. AND THAT'S REALLY IMPORTANT BECAUSE KIDS OFTEN THINK OF THEMSELVES WHEN THEY'RE GETTING BULLIED AS THE PROBLEM. AND IT'S REALLY IMPORTANT TO GET KIDS TO REALIZE THAT IT'S NOT THEIR PROBLEM, OR THEY'RE NOT DOING ANYTHING BAD; IT'S REALLY THE BULLY IS RESPONSIBLE FOR HIS OR HER BEHAVIOR. >> AND THE FACT THAT WHEN HE GOES HOME AFTER THAT FIRST DAY AT SCHOOL AND HE'S VERY DOWN AND DEPRESSED BECAUSE HE WAS MADE FUN OF--EVEN THOUGH THE KIDS RALLIED AROUND HIM--THEN IT COMES TIME FOR HIS MOTHER, IN THIS CASE--OR WHOEVER THE FATHER COULD BE--TALKS TO HIM ABOUT HELPING HIM UNDERSTAND HIS GOOD POINTS. >> RIGHT. AND THAT'S REALLY CRITICAL, THAT YOU WANT TO BE-- YOU WANT TO ENGAGE YOUR CHILD, AND CARLOS' MOTHER ASKS HIM HOW
HE WAS FEELING: "WHAT HAPPENED, WHAT WAS THE SITUATION?" SHE DIDN'T JUST SAY, "IT'S NOT YOUR FAULT." SHE REALLY GOT CARLOS TALKING. SO CARLOS WAS ABLE TO EXPRESS HIS FEELINGS AND EMOTIONS, AND SHE WAS ALSO ABLE TO REINFORCE THE GOOD THINGS ABOUT CARLOS, WHICH HELPED HIS SELF-ESTEEM AND ULTIMATELY HIS CONFIDENCE TO GO BACK TO SCHOOL THE NEXT DAY. >> WELL, WE WON'T GIVE AWAY THE END BECAUSE THAT'S REALLY A CUTE WAY THAT HE BEGINS TO FEEL SO GOOD ABOUT HIMSELF, BUT--LIKE, YOU MENTIONED THE CONVERSATION. SOMETIMES RATHER THAN JUST APPROACH A SUBJECT, A PARENT TO A CHILD, IF A BOOK CAN BE READ OR A TOY CAN BE PLAYED WITH TOGETHER, IT OPENS THE DOORS FOR CONVERSATION THAT MIGHT BE AWKWARD TO BRING UP OTHER WAYS. >> RIGHT. AND WHAT WE DO, YOU KNOW, IN THE BOOK IS THAT THERE ABOUT 10 QUESTIONS AT THE END OF THIS BOOK AND ALL SUBSEQUENT BOOKS THAT REALLY ENGAGE PARENTS AND TEACHERS WITH THE CHILDREN TO GET THEM TALKING, TO EXPLORE THEIR EMOTIONS AND THEIR FEELINGS. AND THE MORE THEY GET THEM TALKING, IT REALLY HELPS EVERYONE TALK ABOUT DIFFICULT SITUATIONS, ESPECIALLY IN THIS CASE WITH REGARD TO BULLYING. >> WHAT ARE SOME OF THE OTHER TOPICS YOU HOPE TO EXPLORE? >> WELL, WE'RE GONNA GET INTO MANAGING EMOTIONS, MAKING FRIENDS, CHILDHOOD FEARS-- TYPICAL THINGS THAT CHILDRENS FACE--CHILDREN FACE, AND I KNOW THESE ARE THINGS THAT I EVEN WAS CONCERNED ABOUT OR WORRIED ABOUT WHEN I WAS A KID. SO A LOT OF THE TOPICS STEM FROM MY OWN FEELINGS AND MEMORIES WHEN I WAS A KID. >> YEAH. AND CURRICULUM IS AVAILABLE FOR TEACHERS? >> RIGHT. WE'RE DEVELOPING CURRICULUM THAT'S--IN THIS CASE, BECAUSE THE BOOK FOCUSES AROUND BULLYING--THAT'S FOCUSED AROUND BULLYING, IN THIS CASE, AND IT'S FOR PRE-K TO GRADE-THREE TEACHERS. >> OH. >> RIGHT. >> WELL, IT'S A CUTE BOOK. I'M ANXIOUS TO READ IT TO MY GRANDDAUGHTER BECAUSE SHE'S IN KINDERGARTEN, AND I THINK THIS WILL BE A GREAT WAY TO TALK ABOUT THINGS MAYBE THAT ARE HAPPENING AT HER SCHOOL THAT I DON'T KNOW THAT'S GOING ON. SO YOU'VE REALLY DONE LOTS OF PARENTS AND GRANDPARENTS AND TEACHERS A BIG SERVICE. I APPRECIATE YOU BEING HERE TODAY. >> WELL, THANK YOU FOR INVITING ME. >> JUDY, I'M SO GLAD TO HAVE YOU HERE. WE'VE HAD SEVERAL GUESTS, FORTUNATELY, THE LAST FEW YEARS TO TALK ABOUT QUILTING BECAUSE IT IS SO POPULAR--ALL KINDS OF SIZES AND PICKING FABRICS--BUT WE'RE NOT GONNA TALK ABOUT QUILTING, PER SE, IN THIS SEGMENT. SO HOW ARE WE GOING TO RELATE THIS TO QUILTING? >> WELL, THERE'S SO MANY BLOCKS OF THE MONTH AND BLOCK-BASED QUILTS OUT THERE. AND SOMETIMES YOU WANT TO PUT A QUILT OUT IN YOUR ROOM AND YOU'D LIKE TO ACCENT ELSEWHERE WITH IT, USE IT AS SORT OF A FOCAL PIECE, BUT THEN BRING IT INTO OTHER ELEMENTS IN YOUR HOME DECOR. SO WHAT I HAVE FOR YOU TODAY IS JUST A COUPLE OF TIPS FOR TAKING SIMPLE, TRADITIONAL-STYLE BLOCKS, AND THEN ADAPTING THEM TO KIND OF ACCESSORY PIECES THAT COORDINATE WITH IT. >> OK. THIS IS OUR QUILT, AND WE'RE GONNA START OUT WITH A TABLE RUNNER. SO WHICH PART OF THIS QUILT OF THE--BLOCK OF THE MONTH WOULD YOU BE USING? >> WE'RE GONNA USE THIS BLOCK HERE, AND IT'S CALLED THE FRIENDSHIP BLOCK. AND SO I DON'T WANT TO TEACH YOU HOW TO MAKE THE BLOCK BECAUSE I WANT TO ASSUME A SKILL LEVEL THAT SAYS, "I HAVE THE INSTRUCTIONS FOR MAKING THE BLOCK, BUT I'D LOVE TO MAKE THIS TABLE RUNNER AND I DON'T KNOW WHERE TO GET THAT PATTERN." >> AND SO IT'S THE--WHAT'D YOU CALL THIS ONE, THE FRIENDSHIP BLOCK? >> IT'S A FRIENDSHIP BLOCK. ISN'T THAT GREAT? SO WHAT WE'RE GONNA DO HERE, IN ORDER TO MAKE THIS TABLE RUNNER AND TO MAKE IT--WE'RE GONNA USE COORDINATING FABRICS TO THE QUILT. IT MIGHT EVEN BE USING SCRAPS LEFT OVER FROM YOUR QUILT, WHICH IS SOMETHING THAT COULD-- INEVITABLY, YOU HAVE TOO MUCH. SO WHAT YOU ARE GONNA DO IS WE'RE JUST GONNA CREATE SOME INSET TRIANGLES, AND THE WAY THAT WE DO THAT IS YOU'RE GONNA MAKE YOUR BLOCKS THEMSELVES. AND IF THIS IS AN 8-INCH BLOCK, IN ORDER TO SIMPLY CALCULATE HOW MUCH YOU NEED TO MAKE--WHAT SIZE YOU NEED THE TRIANGLES TO BE, WHAT YOU'RE GONNA DO IS YOU'RE GONNA MEASURE YOUR BLOCK, AND THEN YOU'RE GONNA ADD ONE INCH TO THAT BLOCK. >> ONE INCH? >> ONE INCH. AND THEN YOU'RE GONNA CUT OUT THAT SOLID ONE-INCH BLOCK, AND THEN YOU'RE GONNA CUT IT ON THE DIAGONAL AND YOU'RE GONNA CREATE THESE PIECES. IT MAKES THE TRIANGLES. >> WHICH IS OLD HAT TO QUILTERS. >> OLD HAT TO QUILTERS, BUT SOMETIMES YOU GET A LITTLE MIXED UP WITH "HOW BIG I NEED TO MAKE IT." SO IT'S BETTER TO KNOW A FORMULA. >> SO AN INCH BIGGER? >> AN INCH BIGGER, CUT IT ON THE DIAGONAL, AND YOU'VE GOT YOUR TRIANGLES. SO WHAT WE DO IS WE JUST ATTACH A TRIANGLE PIECE TO THE BLOCK, AND IN THIS CASE, THAT WOULD BE THIS COMPONENT RIGHT HERE. WE GOT THIS PIECE HERE. AND THEN YOU'RE GOING TO-- >> LET'S LAY THIS ON HERE. >> DO IT RIGHT ON THERE, EXACTLY. NOW, ON THE CENTER PIECE, WE ACTUALLY ATTACH A TRIANGLE TO EACH CENTER--EACH SIDE OF THE CENTER, AND THEN YOU LAY IT LIKE THIS. AND THEN YOU'LL DO A LAST ONE HERE... >> WHICH WILL BE JUST LIKE THE FIRST ONE. >> JUST AN EXACT OPPOSITE. >> GOT IT. >> RIGHT? SO, REAL SIMPLE. AND THEN YOU'LL--BRIGHT SIDES TOGETHER, AND YOU'LL SEW YOUR SEAMS. AND YOU'LL ATTACH THEM, SO THEY'LL BE ATTACHED. AND THEN YOU'RE SIMPLY GOING TO ADD A LITTLE BIT OF A BORDER, AND THEN YOU'LL DO THAT... >> JUST LIKE A QUILT WOULD HAVE. >> JUST LIKE YOU WOULD HAVE. SO YOU'RE GONNA DO YOUR BORDERS AND YOUR BINDING. I'M NOT SURE WHICH PIECE THIS REALLY IS. I THINK IT MIGHT BE OVER HERE. AND YOU'RE GOING TO JUST SIMPLY SEW IT TOGETHER AND BIND IT. NOW, WE'RE USING A COTTON BATTING IN HERE, AND WE'RE USING THIS AMERICAN SPIRIT BATTING. >> AND IT'S CLASSIC COTTON BATTING, 100% NATURAL COTTON. >> IT IS 100% NATURAL COTTON. >> IT'S WASHABLE. >> IT'S WASHABLE. IT MAY SHRINK A LITTLE BIT THE FIRST TIME YOU WASH IT, AS WILL YOUR FABRICS. SO--BUT WHAT'S REALLY GREAT ABOUT IT IS IT GIVES YOUR QUILTS A REALLY FLAT FINISH. SO IF YOU WERE ACTUALLY GOING TO SET SOMETHING ON TOP OF IT ON YOUR TABLE LIKE A CANDELABRA OR SOMETHING, IT WILL BE NICE AND FLAT AND STABLE FOR YOU. PLUS, IT GIVES YOU SOME NICE STITCHING DEFINITION. YOU CAN REALLY SEE THE STITCHES HERE ON THIS QUILT. THIS HAPPENS TO BE COORDINATED THREADS. BUT IF YOU USED A CONTRASTING THREAD, YOU'D REALLY BE ABLE TO SEE THAT STITCHED PATTERN. >> THAT'S PRETTY. OK. SO WE'VE GOT A TABLE RUNNER THAT WILL MATCH MAYBE THE HANGING QUILT IN OUR DINING ROOM OR SOMETHING IF WE WANTED TO USE IT FOR THAT. OK, THIS IS A PILLOW, OBVIOUSLY, WITH FLANGE EDGES. >> AND THIS IS JUST A SIMPLE SQUARE BLOCK. IT'S ONE BLOCK. THIS IS A 12-INCH BLOCK. NOW, THE TABLE RUNNER THERE WAS AN 8-INCH BLOCK, WHICH IS A GREAT SIZE FOR A TABLE RUNNER SO IT DOESN'T GROW TOO BIG. AND YOU CAN ADD MULTIPLE BLOCKS TO MAKE IT LONGER IF YOU NEEDED TO. BUT, NOW, A 12-INCH BLOCK, WHEN YOU TURN IT ON POINT LIKE THIS, IS THE PERFECT SIZE FOR AN 18-INCH PILLOW FORM. >> WHICH IS A STANDARD. >> RIGHT. THIS IS AN 18-INCH PILLOW FORM. YOU CAN GET THEM EVERYWHERE. THIS IS A POLYESTER-FILLED PILLOW--THAT'S WHAT'S IN HERE--BUT WE MADE IT LOOK BIGGER. SO IF YOU HOLD THEM UP AND YOU LOOK, YOU CAN SEE THAT THIS PILLOW LOOKS LARGER THAN THIS PILLOW FORM BECAUSE WE'VE ADDED THIS GREAT FLANGE. NOW, LET ME SHOW YOU A LITTLE BIT ABOUT THAT. THE POLYESTER BATTING IN THERE--AND THAT'S THIS ONE HERE. THIS IS THE AMERICAN SPIRIT. IT'S A MEDIUM-LOFT BONDED POLYESTER, AND WHAT IT GIVES YOU IS IF YOU FEEL THIS BATTING HERE... >> THE OTHER WAS THE PILLOW FORM, AND THIS IS THE BATTING. >> THAT'S THE SOFT PILLOW, BUT THIS IS THE BATTING, AND THIS GIVES A LOT OF BODY TO THAT FLANGE, SO IT'S NOT REAL FLOPSY. YES. SO, AGAIN, WHAT WE DID WAS WE MADE OUR BLOCK. >> IT'S JUST A STANDARD QUILT BLOCK. >> STANDARD QUILT BLOCK. AND, AGAIN, WE ADDED ONE INCH TO THE OVERALL SIZE AND CREATED SQUARES AND WE CUT THEM IN HALF, AND THAT'S WHAT GIVES US OUR CORNER PIECES. I'LL JUST MOVE THAT RIGHT OFF. SO, QUITE SIMPLY, YOU JUST ADD THESE...1/4-INCH SEAMS, RIGHT SIDES TOGETHER, VERY EASY TO DO. SO YOU THEN SEW ON THE FLANGE AROUND THE EDGE. SO YOU'LL GET THAT FLANGE PIECE JUST LIKE WE HAVE HERE--WE ACTUALLY DO THAT ON THE PIECE ITSELF. SO-- SO HERE WE'VE GOT A... >> THE BLOCK, THE 4 TRIANGLES, AND THE FLANGE IS ON. >> AND THE FLANGE. AND SO THEN YOU'RE JUST GOING TO LAYER IT TOGETHER. >> IT'S LIKE A SANDWICH TECHNIQUE. >> IT'S A SANDWICH TECHNIQUE. NOW, WHAT YOU DO IS YOU--YOU GO AHEAD AND YOU SEW THIS ALL DOWN. >> AND I NOTICED YOU CUT THE OTHER A LITTLE BIT LARGER SO YOU'VE GOT SOME WIGGLE ROOM, SOME ROOM TO WORK WITH. >> YES, A LITTLE BIT OF WIGGLE ROOM. AND YOU ACTUALLY SET YOUR FLANGE UP HERE WITH YOUR BACKING AND YOU TURN IT. AND THEN WHEN YOU GO AND YOU--WE DID AN ENVELOPE BACK. SO IF YOU TURN THAT PILLOW OVER, YOU'LL SEE THE ENVELOPE BACK, AND WHAT THAT IS, IS IT ALLOWS YOU TO SLIP IN YOUR PILLOW FORM. AND YOU CAN TAKE IT IN AND OUT, AND YOU DON'T HAVE TO FUSS WITH ZIPPERS OR ANYTHING. AND IT'S QUITE SIMPLY JUST TWO PIECES OF FABRIC WITH A HEM THAT ARE OVERLAPPED. AND SO WE OVERLAP THEM, AND THAT WAY, WHEN YOU ACTUALLY SEW THIS PILLOW DOWN--YOU JUST SEW ALONG THESE EDGES BECAUSE YOUR FLANGE IS ALREADY MADE WITH THE LINING PIECE--THEN YOU ARE JUST GOING TO HAVE YOUR BACK. AND THEN WHEN YOU TURN IT RIGHT SIDE OUT, YOU HAVE THIS SIMPLE OPENING. MM-HMM. SO JUST A REAL EASY WAY TO MAKE A PILLOW WITH A FLANGE, AND IT MAKES A BIG STATEMENT BECAUSE IT'S MUCH LARGER THAN THE ORIGINAL PILLOW FORM. AND THEN LASTLY, WE HAVE--THESE ARE REAL POPULAR, AND THEY MAKE A NICE DECOR ITEM BECAUSE THEY'RE NOT A TRADITIONAL-SHAPED PILLOW. IT'S A LITTLE BIT MORE INTERESTING. AND SO QUITE... >> BUT YOU CAN SEE THE 3 QUILT BLOCKS. THESE ARE 8-INCH AGAIN, RIGHT? >> THESE ARE NOT EVEN 8. THESE ARE 6- OR 4-INCH STUFF. I'M NOT EVEN 100% SURE. I THINK THEY STARTED OUT AS 6, AND NOW THEY'RE, YOU KNOW, 5. SO, AGAIN, WE HAVE OUR BLOCKS, AND WE JUST PUT A LITTLE SPACER BETWEEN... >> OH, YEAH, THEY'RE ABOUT 4-INCH, AREN'T THEY? >> YEAH, THEY'RE LITTLE. THEY'RE LITTLE BABIES. AND SO ALL YOU DO IS YOU JUST PUT A LITTLE SPACER BETWEEN THEM THAT WAY TO LEG THEM OUT. >> ...MAKING RECTANGLES. >> EXACTLY. AND THEN ON THE EDGE HERE, YOU CAN SEE AS WE'VE DONE. YOU KNOW, WE ADDED SPACERS IN ORDER TO CREATE THE WIDTH THAT WE NEED. AND THEN WE DID--SIMPLY ADDED THESE--A LITTLE STRIPED BORDER ONCE WE'VE GOT IT ALL PIECED OUT. SO YOU PIECE THIS ALL TOGETHER IN THE CENTER... >> I ALWAYS LOVE THE WAY FABRICS ARE CHOSEN FOR QUILTING. I JUST THINK THEY'RE BEAUTIFUL. >> I KNOW, AND YOU CAN REALLY GET AWAY WITH THINGS THAT YOU COULD NEVER WEAR. >> NO. UH-UH. HEH HEH! >> AND SO THEN WE CHOSE SOME-- AGAIN, TO BROADEN OUT THE PILLOW, A DIFFERENT BORDER. SIMPLE, SIMPLE TO EDGE IT IN. AND THEN ON THE BACK OF THIS ONE, ONCE YOU'VE GOT A PIECE TOGETHER--AGAIN, YOU LAYER IN YOUR BATTING. THIS ONE HERE, WE USED THE LUXURY BRAND. IT'S A BLEND OF COTTON AND POLYESTER-- IT'S 70% COTTON AND 30% POLYESTER. THIS HAS A SCRIM IN IT, SO IT MAKES IT REALLY STRONG TO QUILT THROUGH, AND IT ALSO, AGAIN, GIVES YOU NICE QUILTING DEFINITION. >> OH, WHEN IT'S QUILT--I SEE. >> YOU DO WANT TO QUILT IT A LITTLE BIT. SO--AND, AGAIN, WE FINISHED THIS ONE WITH AN ENVELOPE. ACTUALLY, WE FINISHED IT WITH SOME CORDING, WHICH MAKES IT REALLY NICE. YOU WANT TO DO THIS WITH A BIASED EDGE, OR A BIASED STRIP, AND THAT WAY, WHEN YOU GO TO TURN THE CORNERS, YOU GET A NICE, SMOOTH TRANSITION. SO THAT'S WHAT WE DID HERE, IS IT'S JUST SIMPLY SEW IT REALLY CLOSE WITH A ZIPPER FOOT TO WRAP THE CORD WITH THE DECORATIVE FABRIC. AND THEN YOU'LL JUST LAY THAT INTO YOUR SEAM AS YOU PUT THE BACK ON. YOU JUST LAY IT RIGHT IN, AND SO WHEN YOU TURN IT, IT'S FACED OUT. AND THEN ON THE BACKSIDE, WE PUT THE ENVELOPE ON THIS REAL EDGE BECAUSE IF YOU PUT IT IN THE CENTER, YOU'RE REALLY GONNA HAVE A HARD TIME GETTING YOUR PILLOW IN AND OUT OF IT BECAUSE IT'S SUCH AN ELONGATED SHAPE. >> I HADN'T THOUGHT ABOUT THAT. >> I KNOW. ISN'T THAT GREAT? >> YEAH. OK. >> SO IT'S PRETTY SMART. >> WELL, IT REALLY IS. AND, OF COURSE, I'VE ALWAYS SAID QUILTING'S SUCH A GREAT PROJECT BECAUSE IT USES UP ALL THOSE SEWING SCRAPS THAT WE'VE HAD FROM MAYBE GARMENTS OR CURTAINS OR WHATEVER WE'VE USED. SO YOU CAN REALLY MAKE USE--AND FOR THOSE OF USE WHO MAYBE DON'T WANT TO MAKE A WHOLE QUILT, THIS LET'S US MAKE BLOCKS, BUT TO USE THEM IN SMALLER PROJECTS. >> RIGHT. AND IF SOMEBODY GAVE YOU A BLOCK QUILT AND YOU REALLY WANTED TO ADD SOME ACCESSORIES, NOW YOU KNOW HOW TO DO IT. >> I SURE DO. WELL, THANK YOU SO MUCH, JUDY. I APPRECIATE IT. I HOPE YOU ENJOYED THE SHOW TODAY. NEXT TIME ON "CREATIVE LIVING," WE'LL LEARN HOW TO CREATE LANDSCAPE DESIGNS ON QUILTS, AND SHOW HOW TO MAKE A WALL-HANGING THAT FEATURES QUOTATIONS. ONE OF THE NEXT GUESTS IS A QUILTER AND AUTHOR, AND SHE'LL SHOW HOW TO ROTARY-CUT SEVERAL LAYERS OF FABRIC STRIPS IN A FREE-MOTION TECHNIQUE. AND AS SHE EXPLAINS, THIS CAN ACCIDENTALLY CREATE A BEACH SCENE ON A QUILT. IT'S AMAZING TO WATCH. ANOTHER GUEST ON THE NEXT SHOW IS A MIXED-MEDIA ARTIST, AND SHE'S GOING TO SHOW HOW TO MAKE DIMENSIONAL CANVASES USING A GEL MEDIUM AND A HEAVY-BODIED ACRYLIC PAINT. BY ADDING A QUOTE OR A PICTURE, YOU'LL SEE HOW IT BECOMES A GORGEOUS PIECE OF HOME DECOR. BOTH OF THESE TOPICS WILL BE FEATURED ON THE NEXT "CREATIVE LIVING" SHOW. IF YOU EVER HAVE COMMENTS OR SUGGESTIONS OR IDEAS FOR SHOWS, YOU CAN E-MAIL ME AT SHERYL.BORDEN@ENMU.EDU. I'D ALSO LIKE TO ASK YOU TO BECOME A FAN OF "CREATIVE LIVING" ON FACEBOOK. JUST GO TO FACEBOOK.COM, AND IN THE SEARCH WINDOW, TYPE IN "CREATIVE LIVING WITH SHERYL BORDEN." THANKS SO MUCH. I HOPE YOU'LL PLAN TO JOIN ME NEXT TIME FOR "CREATIVE LIVING." >> WE ARE VERY PLEASED TO OFFER A NEW BOOKLET THAT ACCOMPANIES THIS SERIES OF "CREATIVE LIVING." THIS BOOKLET IS TITLED "THE 6500 SERIES," AND IT FEATURES A WONDERFUL COLLECTION OF IDEAS AND INFORMATION, AND IT'S AVAILABLE FREE OF CHARGE ON OUR WEBSITE. POSTED AS A .PDF FILE, YOU CAN SIMPLY DOWNLOAD THE ENTIRE BOOKLET OR JUST THE SEGMENTS YOU'RE MOST INTERESTED IN. AS WITH ALL OF THE "CREATIVE LIVING" BOOKLETS, YOU'LL FIND INFORMATION ON FOODS AND NUTRITION, CLOTHING AND FASHION, HEALTH AND BEAUTY, HOME DECORATING, AND MUCH MORE. FOR YOUR COPY OF THIS BOOKLET, GO TO OUR WEBSITE AT KENW.ORG, AND THEN CLICK ON "CREATIVE LIVING." SCROLL DOWN TO THE BOOKLETS SECTION, AND YOU CAN CLICK ON THIS BOOKLET OR ANY OF THE OTHER BOOKLETS WE HAVE AVAILABLE ONLINE. ONCE AGAIN, JUST GO TO KENW.ORG, CLICK ON "CREATIVE LIVING," AND DOWNLOAD THE BOOKLET TITLED "THE 6500 SERIES." WE ALSO WANT TO ENCOURAGE YOU TO SIGN UP FOR OUR FREE E-NEWSLETTER. JUST CLICK ON THE "SIGN UP NOW" BUTTON AND INPUT YOUR E-MAIL ADDRESS. THAT'S ALL THERE IS TO IT. YOU'LL ENJOY READING AN UP-TO-DATE NEWSLETTER FILLED WITH INTERESTING TOPICS AND INFORMATION. THANK YOU.
Now Playing As: Captioned (English) (change)
In the crafting section, quilt blocks are used to create pillows and table runners. Author Peter Goodman also provides tips for talking with children about bullying. In addition, the nutritional benefits of figs are discussed.
Media Details
Runtime: 27 minutes