Creative Living With Sheryl Borden #6504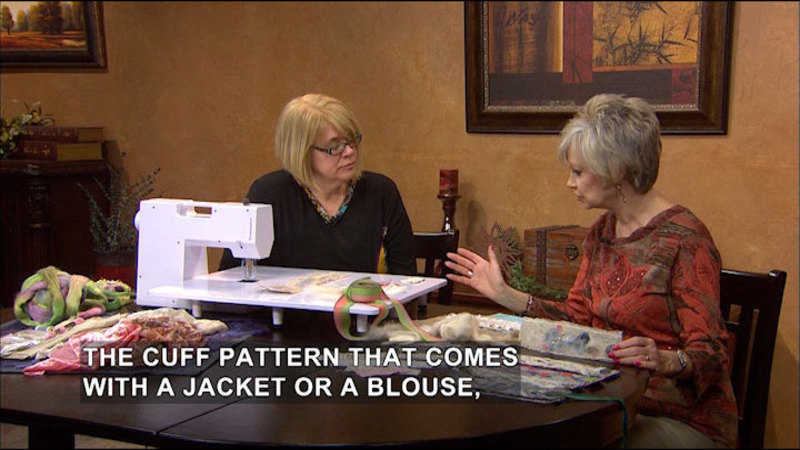 >> "CREATIVE LIVING," UTILIZING TODAY'S TECHNOLOGY WITH THE BEST OF THE PAST TO BRING YOU INNOVATIVE IDEAS AND UP-TO-DATE INFORMATION FOR CREATIVE LIFESTYLES IN TODAY'S ACTIVE WORLD, WITH YOUR HOST, SHERYL BORDEN. WELCOME TO "CREATIVE LIVING" TODAY. WE ARE GOING TO LEARN TO MAKE FELTED CUFFS WITH A NEW MACHINE ON THE MARKET THAT USES 12 NEEDLES AT A TIME, AND WE'LL LEARN TO MARBLEIZE FABRIC, WHICH CAN THEN BE USED FOR ALL KINDS OF SEWING AND CRAFT-RELATED PROJECTS. ONE OF MY GUESTS TODAY IS MICHELE MUSKA, AND SHE'S WITH THE SIMPLICITY CREATIVE GROUP IN ANTIOCH, TENNESSEE. MICHELLE IS GOING TO DEMONSTRATE THE NEW SIMPLICITY 12-NEEDLE DELUXE ELECTRIC FELTING MACHINE. SHE'LL SHOW HOW TO MAKE SOME BEAUTIFUL FELTED CUFFS TO WEAR AS BRACELETS OR TO ATTACH TO GARMENTS, AND THE BEST PART IS THAT THEY CAN BE MADE TO FIT PERFECTLY TO YOUR WRIST. WE'LL BEGIN THE SHOW TODAY WITH EVELYN TERHUNE, AND SHE'S A CRAFTER AND DESIGNER. EVELYN WILL SHOW HOW TO USE ORDINARY SHAVING CREAM AND ACRYLIC PAINTS TO CREATE A MARBLEIZED EFFECT ON FABRIC, WHICH CAN THEN BE USED FOR A VARIETY OF PROJECTS. SHE ALSO SAYS THIS IS A GREAT PROJECT FOR YOUNG CHILDREN BECAUSE THERE'S VERY LITTLE CLEAN-UP. EVELYN'S COMPANY IS OZARK CRAFTS, AND SHE LIVES IN GILBERT, ARKANSAS. EVELYN, THANK YOU SO MUCH FOR COMING. I'M ALWAYS AMAZED WHEN YOU COME, YOU SHOW US SOME PROJECT USING-- LIKE LAST TIME, I REMEMBER ONCE YOU SHOWED US ABOUT USING CRAYONS TO MAKE SOME ART. WHAT A NICE WAY TO FEATURE OUR KIDS OR GRANDKIDS. AND TODAY YOU SAID WE WERE GOING TO CREATE ART USING SHAVING CREAM? >> YES, MA'AM. I LIKE TO USE THINGS I HAVE ON HAND, AND YOU KNOW I LIVE IN THE COUNTRY, IT'S A GOOD TRIP, THREE COUNTIES TO MY NEAREST WAL-MART. >> [CHUCKLES] >> SO, WHAT I DO-- WHAT I'M GOING TO SHOW TODAY IS DIFFERENT MARBLING TECHNIQUES TO--I CAN'T ALWAYS RUN AND GET A PIECE OF FABRIC, TO BLEND TWO--OTHER FABRICS TOGETHER FOR STRIPPING OR SOME OTHER-- >> SO YOU CREATE THEM. >> SO I CAN CREATE THEM. >> THIS IS ONE EXAMPLE THAT YOU'RE GOING TO SHOW US. >> IT IS. >> AND THIS--IS THIS JUST MUSLIN? >> THIS IS-- >> SO YOU COULD USE-- >> ANY TYPE OF FABRIC YOU WANT TO, IT DOESN'T MATTER. MM-HMM. I JUST DO PRE-WASH MY FABRIC, JUST BECAUSE IT'S A HABIT, I GUESS. >> OH, THOSE ARE PRETTY! >> OK, BUT WHAT YOU DO IS JUST-- YEAH, IS JUST SPRAY A LITTLE SHAVING CREAM DOWN, AND THEN I'M GOING TO SPREAD IT OUT. ANY KIND, JUST CHEAP SHAVING CREAM. IT DOES NOT MATTER ONE BIT. >> CHEAP IS BETTER. >> WHAT YOU'VE GOT IN THE HOUSE, WHAT YOUR HUSBAND HAS IN THE HOUSE, BUT IT'S NOT WHIPPING CREAM. YOU DON'T WANT TO LICK YOUR STICK WHEN YOU GET THROUGH WITH IT. >> HA HA HA! >> OK. SO NOW, THEN I'VE GOT THAT SPREAD OUT TO MAYBE 1/4" THICK. THIS PARTICULAR ONE I'M GOING TO DO FIRST. I'M WORKING WITH ACTUAL DYES. YOU CAN USE ACRYLIC PAINTS, YOU CAN USE--I'VE HEARD YOU CAN EVEN USE KOOL-AID FOR THIS. SO USE WHAT YOU'VE GOT ON HAND. UH, I'M A BIG BELIEVER IN USING WHAT YOU HAVE ON HAND, BECAUSE SOMETIMES YOU'LL LOVE IT, AND WANT TO DO A THOUSAND OF THEM, AND OTHER TIMES YOU JUST THINK, "THAT WAS FUN ONCE."
[LAUGHING] >> THROW THAT ONE AWAY.
>> YEAH, BUT I'M JUST DOTTING A LITTLE BIT OF COLOR HERE ONTO MY SHAVING CREAM, AND I ACTUALLY GOT THIS AT THE MOTEL THIS MORNING, LITTLE SWIZZLE STICKS. MM-HMM, AND I'M JUST DOTTING A LITTLE BIT HERE AND THERE. AND THEN, YOU REMEMBER WHEN WE MADE MARBLE CAKES FOR OUR KIDS WHEN THEY WERE LITTLE? THAT'S WHAT YOU CAN DO, IS JUST SWIRL IT IN, ANY WAY YOU WANT TO GO, BLENDING THOSE COLORS. >> THAT'S PRETTY. >> ...RECAP THIS WHILE I'M DOING MY SWIRLING HERE. AND THE MORE YOU GO, THE MORE VARIATION YOU GET, OF COURSE. AND JUST SWIRL IT ANY WAY YOU WANT TO. THEN, NEXT THING I'M GOING TO DO IS... TAKE A PIECE OF MY MUSLIN. >> MM-HMM. >> PUT IT DOWN ON TOP, PAT IT A LITTLE BIT... >> SO, IF I'M UNDERSTANDING, WE COULD HAVE A WHOLE YARD OF FABRIC. >> OH, YEAH. >> WE WOULD WORK IN SECTIONS. >> MM-HMM. AND IF YOU WANTED TO DO A BORDER, YOU COULD GET MASKING TAPE AND MASK OFF A STRIP-- >> OH, MAKE A STRIPING PATTERN OR SOMETHING. >> BUT ONCE I'VE GOT IT KIND OF PATTED DOWN THERE, I JUST PULL IT OFF, AND IT DOESN'T LOOK LIKE WHAT YOU THINK IS GOING TO, EVER, SO I WILL TAKE-- AND I'M USING A TONGUE DEPRESSOR, BUT ACTUALLY I SHOULD HAVE USED MY SCRAPER, PROBABLY. AND YOU SCRAPE OFF THE EXCESS SHAVING CREAM. >> OH, IT GETS DARKER AND BRIGHTER... >> YEAH, AND YOU GET A NICE, PRETTY, DARK PATTERN. THEN I WOULD COME BACK AND BLOW IT DRY WITH MY BLOW DRYER, HEAT-SET IT BY PUTTING A PRESS CLOTH ON TOP, AND WE'RE READY TO GO. >> NOT STEAM. JUST--YOU JUST USE HEAT. >> JUST DRY IRON. I DO PUT A PRESS CLOTH. >> SURE. PROTECT YOUR IRON. >> YEAH, USUALLY, WHEN YOU BLOW IT DRY, ANY EXCESS SHAVING CREAM IS GOING TO VANISH. >> UH-HUH. WELL, HOW FUN IS THAT! >> NOW, I'VE GOT THIS LITTLE WATERCOLOR STILL HERE. I MIGHT WANT TO HAVE LIKE A PASTEL BACKGROUND ON SOMETHING, SO WHAT I'LL DO IS JUST KIND OF SWIZZLE IT AROUND, PAINT IT ON... >> OH! >> WITH MY STICK, AND I CAN SWIRL IT ANY WAY I WANT TO. SAME OLD SHAVING CREAM. >> AND THE REASON IT'S GOING TO BE MORE PASTEL IS BECAUSE THE BULK OF THE COLOR CAME OFF ON THE FIRST SET, RIGHT? >> AND IT'S JUST BLENDED TOGETHER MORE. MM-HMM. THIS TIME I THINK I WILL USE THE SCRAPER. IT'LL COME OFF A LITTLE BIT SMOOTHER FOR ME. I'M USED TO SCRAPING TOWARDS MYSELF INSTEAD OF AWAY FROM MYSELF, SO WE'LL SEE. AND THEN I'VE GOT A VERY LIGHT-- >> UH-HUH. >> A VERY, VERY LIGHT MARBLING IN THE BACKGROUND THAT I COULD APPLIQUE ON TOP OF, I CAN SPLATTER AND DO-- >> LOOKS LIKE TIE-DYE, DOESN'T IT? >> MM-HMM. YOU COULD DEFINITELY DO THAT AS WELL. >> UH-HUH. >> OK, LET ME TAKE JUST A MINUTE HERE AND CLEAR THIS OFF. >> I THINK THIS WOULD BE HARD TO STOP ONCE YOU GOT STARTED WITH THIS. >> IT IS ADDICTIVE. IT IS ADDICTIVE, BUT IT'S NOT EXPENSIVE, SO, YOU KNOW, THERE ARE WORSE ADDICTIONS, I GUARANTEE. >> I GUESS SO! IS THIS SOMETHING YOU'VE EVER-- I KNOW YOU WORK WITH 4-H'ers AND YOUTH GROUPS, IS THIS SOMETHING YOU'VE WORKED WITH THEM ON? >> I HAVEN'T YET, BUT MY DAUGHTER... MY DAUGHTER, FOR HALLOWEEN, IS DOING A SPECIAL LITTLE, UH, WALL HANGING FOR HER MOTHER-IN-LAW, NOT HER MOTHER. >> HA HA HA! >> AND WHAT SHE HAS DONE IS TAKE EACH OF THE CHILDREN'S NAMES AND... PUT THEM ON FREEZER PAPER, IRONED IT DOWN, SO IT WORKS LIKE A STENCIL AND IT REMAINS WHITE UNDERNEATH, AND SHE'S GOING TO LET EACH ONE OF THE KIDS DO THE MARBLEIZING ON TOP OF IT. >> THAT'S A GREAT IDEA, AND A GREAT WAY TO USE IT. >> MM-HMM. LET ME SHOW YOU ANOTHER THING THAT I FIND VERY, VERY USEFUL IS--LET ME FIND THE LIGHTEST COLOR, THIS RIGHT HERE. MAYBE I WANT TO DO SOMETHING WITH MORE COLOR. LIKE, THIS HAS BEEN MARBLEIZED, AND IT'S A GOOD GREEN, AND IT WOULD WORK FOR A LOT OF THINGS. BUT MAYBE I'M WORKING FOR SOMETHING SPECIAL, AND I WANT TO BLEND IT WITH SOMETHING THAT DOESN'T HAVE ANY MUSLIN IN IT WHATSOEVER. SO WHAT I'LL DO IS JUST MIX IN SOME GREEN INTO MY SHAVING CREAM UNTIL IT'S WELL BLENDED. >> MM-HMM. >> AND I'M NOT SURE WHY I PUT THIS IN THE MIDDLE OF MY PALETTE.
[LAUGHS] >> FROM WORKING ON THE OTHERS.
>> HABIT. BUT I'LL SPREAD IT OUT, LIKE WE DID THE OTHERS, AND, ACTUALLY, IF I COULD GET YOU TO CUT ONE OF THOSE STRIPS IN HALF FOR ME, I DON'T NEED TO DO THE WHOLE THING. YOU'LL GET THE IDEA WITH JUST A LITTLE BIT HERE. NOW, YOU SEE, THAT'S A PRETTY FLAT COLOR RIGHT THERE THAT I'VE GOT. AND WHAT I'M GOING TO DO IS GO BACK IN AND ADD A LITTLE MORE OF THAT COLOR, JUST IN DOTS, LIKE WE DID ON THE FIRST ONE, AND THEN I'LL ADD-- >> THAT'S THE SAME COLOR THAT WE JUST USED? OK. >> OK. >> IT'S NOT DILUTED WITH THE SHAVING CREAM. >> IT'S BARELY DARKER, BUT IT'S JUST A TAD DARKER. BUT FOR VARIATION, I'M GOING TO PUT IN SOME OTHER GREENS. LET'S SKIP IT. >> SOME OF THESE ARE METALLIC. >> YEAH. THIS ONE'S METALLIC. LET ME PUT SOME OF THAT. THAT GIVES IT A REAL FESTIVE LOOK, LIKE IF YOU WERE DOING SOMETHING FOR THE HOLIDAYS, OR MAYBE A BIRTHDAY. YEAH. I GOT A LITTLE WILD ON THAT ONE DOT, BUT THAT DOESN'T MATTER, THAT'S-- I LOVE THINGS THAT YOU CAN'T MESS UP. DON'T YOU LOVE THINGS YOU CAN'T MESS UP. >> DON'T WE ALL. >> OK. A LITTLE HUNTER GREEN, NOT MUCH OF IT. IT'S A STRONG COLOR RIGHT NOW. AND I THINK I'VE GOT ONE MORE OVER THERE THAT I HAVEN'T USED. IF YOU HAND THAT ONE TO ME. >> ...ANOTHER METALLIC ONE. >> OK. >> SO THIS IS GREEN ON GREEN. >> GREEN ON GREEN. AND YOU'LL SEE VERY QUICKLY WHAT I'M GOING TO DO WITH IT. AGAIN, I'M GOING TO TAKE AND JUST MARBLEIZE IT ALL IN. >> MARBLEIZE IT. >> MM-HMM. AND I LIKE TO GO A VARIETY OF DIRECTIONS. I DON'T MAKE IT ALL-DIRECTIONAL. YOU CERTAINLY COULD DO THAT IF THAT'S WHAT YOU WANTED TO DO, BUT I LIKE THE COLORS TO BE REALLY INTERSPERSED. >> MM-HMM. >> OK. THEN, AFTER I DO THAT, I'M GOING TO COME BACK IN WITH MY DARKEST GREEN, WHICH IS RIGHT HERE, AND I USUALLY USE A PLANT GREEN OR HUNTER GREEN FOR THIS. I'M GOING TO MAKE A FEW LONG STRIPS. MAKE THREE HERE. SEE THEY HAVE--THOSE ACTUALLY HAVE A LITTLE BIT OF SHAPE TO THEM? >> MM-HMM. >> AND THEN I'M GOING TO TAKE AND PULL THAT COLOR, LIKE THAT, OFF A LITTLE BIT. PULL THAT COLOR. LET ME TRY SOMETHING THAT'S NOT COLORED YET... OUT. >> NOW YOU'RE SORT OF INTENTIONALLY CREATING A DESIGN. >> MM-HMM. >> IT'S NOT AS RANDOM. >> RIGHT. >> LIKE LEAVES? >> MM-HMM. THAT'S WHAT IT'S GOING TO BE. GOOD GUESS! >> OH, GOOD GUESS! >> AND THIS IS ACTUALLY GOING TO MAKE THE VEINS IN MY LEAVES. LIKE THAT. THEN I'LL TAKE MY FABRIC, PAT IT DOWN JUST LIKE WE DID BEFORE. >> IT'S AMAZING HOW QUICKLY YOU CAN SEE THAT COLOR COME OUT. >> UH-HUH. WHO WOULD GUESS WHEN IT LOOKS LIKE THAT? >> THAT'S AMAZING. >> I'M GOING TO TURN THIS TO SCRAPE IT. I THINK IT'LL BE EASIER FOR ME TO GET TO. >> OK. >> AND AGAIN, I'M SCRAPING OPPOSITE THE WAY I USUALLY SCRAPE, SO EVERYBODY CAN SEE. BUT YOU CAN SEE HOW I COULD FUSSY-CUT THIS. IF YOU DON'T MIND HOLDING THAT OUT, I'M GOING TO BLOW-DRY IT.
[BLOW DRYER WHIRS] OOPS, OOPS.
IT'LL BLOW DRY US ALL. IT WON'T TAKE A MINUTE HERE. OK, YOU CAN SEE THAT GLITTER COMING THROUGH. >> OH, NOW I CAN. UH-HUH. >> THAT'S WHAT I LIKE ABOUT IT, IT'S JUST A HINT OF SPARKLE. AND IF YOU'LL HAND ME THE SCISSORS... I'M THINKING... >> OH, NOW YOU'RE GOING TO CUT SOME LIKE AN APPLIQUE TYPE. >> EXACTLY. IN FACT I'M GOING TO MAKE THIS LIKE...A HOLLY LEAF ON THIS ONE, I THINK. >> OH... THIS IS LIKE THE RORSCHACH, IT'S WHATEVER YOU SEE IN THAT DESIGN. >> YEAH. OH, I COULD--I COULD DO BROWN LEAVES. I COULD DO WHATEVER I WANT TO. AND SOMETIMES-- >> SO ONCE THIS IS DRY, THEN WE COULD ATTACH IT TO READY-TO-WEAR OR TO SOMETHING WE'VE MADE, OR-- >> AND, NORMALLY, I WOULD HEAT-SET THIS FIRST, BEFORE I CUT IT OUT, BUT FOR SPEED OF OUR DEMO, I'M JUST SHOWING HOW YOU WOULD CUT IT OUT. >> MM-HMM. OH, THAT LOOKS LIKE-- >> ISN'T IT PRETTY? YEAH. I'LL TURN IT THIS WAY. >> COULD YOU JUST LET IT, LIKE, AIR-DRY OVERNIGHT, IF YOU DIDN'T WANT TO-- >> YOU COULD, YOU CERTAINLY COULD. I'M JUST IMPATIENT. I LIKE QUICK PROJECTS. >> I LIKE TO FINISH THEM IMMEDIATELY. >> I THINK THAT'S WHY I LIKE THESE QUICK AND EASY TECHNIQUES, BECAUSE I LIKE TO SEE THE FINISHED PRODUCT. BUT THERE I COULD GRIP IT TOGETHER, PUT A LITTLE POM-POM IN THE CENTER. >> PUT YOUR HOLLY BERRY, RIGHT HERE IN THE MIDDLE. >> OR A LITTLE NUT. I COULD DO THAT. >> WELL, THIS IS REALLY FUN. I'M GOING TO TRY THIS. THANK YOU VERY MUCH, EVELYN. >> OH, THANK YOU FOR HAVING ME. >> MICHELE, IT'S SO NICE TO HAVE YOU HERE, AND I WAS REALLY EXCITED WE WERE GOING TO DO A SEGMENT ON FELTING, BUT I THOUGHT, WELL, IT'LL BE MUCH LIKE THE OTHERS THAT I'VE SEEN, YOU KNOW, WITH THE HAND, BY HAND, AND WITH ONE OR TWO NEEDLES. BUT I'VE NEVER SEEN A FELTING MACHINE. >> OH, YOU'LL BE SO EXCITED. IT'S SO MUCH FUN, AND IT'S GREAT BEING BACK. I'M SO HAPPY TO BE HERE. I STARTED FELTING WITH A SINGLE NEEDLE... >> MM-HMM. >> WHICH WAS VERY LABOR-INTENSIVE, AND BACK IN THE DAY, THAT'S PRETTY MUCH WHAT YOU HAD. YOU STILL USE A SINGLE NEEDLE IF YOU WANT TO DO SOMETHING THREE-DIMENSIONAL-- FLOWERS OR LITTLE ANIMALS OR THINGS LIKE THAT. BUT THIS MACHINE HAS 12 BARBED NEEDLES, AND IT'S JUST FAST AND FURIOUS, AND YOU GET A LOT OF THINGS DONE. >> AND EVEN THE ONE I SAW THAT WAS ON A WOODEN BLOCK THAT HAD NUMEROUS NEEDLES... >> RIGHT. >> YOUR HAND STILL GOT TIRED WORKING IT. >> AND IT'S VERY LABOR-INTENSIVE. WHEN I FIRST STARTED, I ACTUALLY, YOU KNOW, I WAS EXCITED ABOUT THE RESULTS, AND I KEPT GOING, BUT I--I--I GOT TENNIS ELBOW.
[CHUCKLES] >> YOU CAN DO THAT!
>> YOU CAN. >> WELL, MAYBE, AND--AND WE'RE GOING TO SHOW, OR YOU'RE GOING TO SHOW HOW TO MAKE A CUFF TODAY, BUT WE CAN USE SO MANY DIFFERENT FABRICS. >> WE CAN. THE NATURAL FABRICS REALLY WORK THE BEST, EXCEPT FOR COTTON. COTTON HAS VERY TIGHT FIBERS, AND THEY BREAK WITH THE BARBED NEEDLES. BUT SILKS, SILK CHIFFONS AND VELVETS, THEY ARE A LITTLE MORE "ELASTIC-Y." THEY, YOU KNOW, LEND TO BEING PUSHED AROUND A LITTLE BIT BETTER. >> AND THIS LOOKS LIKE IT HAS SOME METALLIC THREAD ON IT. >> IT ACTUALLY HAS A FABRIC THAT HAS A REAL METAL THREADED THROUGH IT. >> OH, I SEE, OK. >> AND IT'S REALLY BEAUTIFUL. >> AND THE SAME ON THIS-- >> AND THAT HAS SOME REALLY FANCY, THE--YOU KNOW, THE FANCY YARNS THAT YOU CAN USE. YOU CAN USE YARNS, YOU CAN USE ROVINGS, WHICH IS THE FIBER BEFORE YOU ACTUALLY, UM, SPIN IT INTO YARN. >> OH, UH-HUH. THIS IS REALLY BRIGHT AND COLORFUL. >> SO I USED A DUPIONI SILK ON THE BACK. >> UH-HUH. >> YOU KNOW, YOU WANT TO BACK TO LOOK AS PRETTY AS THE FRONT. >> OH, YES, OF COURSE. >> UM, EVEN THOUGH NO ONE SEES IT. AND YOU CAN SEE A LITTLE BIT OF THE FIBER EDGES. THAT GIVES A LITTLE BIT OF POP OF COLOR. BUT I USED A VERY BRIGHT-COLORED SILK, UM, FROM ITALY ON THAT. IT WAS SOME HAND-DYED VELVETS AND DUPIONI, AND IT GIVES A LOT OF TEXTURE WITH A LITTLE AMOUNT OF WORK WHEN YOU USE PRINTED SILKS. THE COLOR'S ALREADY THERE, SO EVEN THOUGH IT'S EXPENSIVE TO USE, YOU ONLY HAVE TO USE A LITTLE BIT. MM-HMM. >> THIS ONE'S-- WE'RE LEADING UP TO MY FAVORITES, BUT I--I--THIS ONE MAY BE-- >> I LIKE THAT ONE A LOT, TOO. AND ON THAT ONE, UM, I ACTUALLY DID A LITTLE FREE MOTION QUILTING ON IT AS WELL. SO ON THE FRONT OF IT, AFTER YOU'RE DONE, YOU CAN DO SOME FREE MOTION QUILTING, YOU CAN DO EMBROIDERY WITH FLOSS, OR SOME METALLIC THREADS AND THINGS, SO-- YOU CAN SEE MAYBE SOME OF THE STITCHES THERE. >> I MEAN, TALKING ABOUT EMBELLISHMENTS, THIS HAS GOT SOME CRYSTALS AND PEARLS ADDED TO IT. >> AND THAT'S A SIMPLE CUFF, AND IT COULD GO WITH A LOT OF DIFFERENT THINGS, BUT I ADDED SOME PEARLS AND SOME CLEAR CRYSTALS ON THAT THAT I--BEFORE I PUT THE BACK ON IT. >> SO, IN OTHER WORDS, YOU MAKE THE CUFF JUST LIKE USING THE CUFF PATTERN THAT COMES WITH A JACKET OR A BLOUSE, BUT THIS IS MADE SEPARATELY AND THEN PUT ONTO THE JACKET. >> OR JUST AS A BRACELET. >> OH, YOU COULD WEAR IT JUST AS A BRACELET. >> THOSE ARE ALL JUST CUFF BRACELETS, SO YOU CAN ADD THEM AS--YOU CAN USE THEM AS EMBELLISHMENTS, UM, WHEN YOU'RE MAKING A PATTERN AS A COLLAR, AS A POCKET, OR EVEN AS A CUFF, BUT I SPECIFICALLY USE THOSE AS BRACELETS. >> JUST BRACELETS. >> YEAH! >> WELL, THIS IS AN EXAMPLE OF THE THREE PIECES, THAT-- THIS IS SILK PION--DUPIONI-- >> CORRECT. THIS IS WHAT WE START WITH. I USED THE BASE AS A SILK DUPIONI, AND THEN I ALWAYS USE A WOOL FELT. THAT HAS A NICE SOLID BASE TO IT, BUT YET IT'S THIN. BUT YOU WANT SOMETHING SUBSTANTIAL. MM-HMM. AND THEN ON TOP OF THAT, I USED A NICE VELVET, A SILK VELVET. >> WOW. >> AND IT HAS A NICE SHEEN TO IT. >> UH-HUH. >> AND THEN I STARTED-- YEAH. AND THEN I JUST STARTED FELTING IT... >> OK. >> ON THE MACHINE. AND I'LL SHOW YOU THAT IN A MOMENT WITH THIS, OK? AND...THEN, UM, THESE ARE SOME OF THE MATERIALS THAT I ADD TO IT. IF YOU WANT TO FEEL THIS, THIS IS BABY ALPACA. >> OH. >> YEAH, VERY SOFT. AND THIS IS CALLED "ROVING," AND THIS IS WHAT IS A NICE USE, AS A NICE BASE FOR IT. YOU CAN ALSO USE YARNS. I JUST LOVE IT. IT'S JUST-- IT ADDS A NICE TEXTURE TO IT, AND A DEPTH, AS YOU CAN SEE. AND THEN, SOME OF THOSE OTHER, UH, LITTLE PIECES DOWN THERE ARE RIBBONS AND VELVET AND PRINTED SILKS AND SILK CHIFFONS. >> MM-HMM. >> AND THEN YOU CAN ALSO USE SOME HAND-DYED SILK RIBBONS, AND I CAN SHOW YOU SOME FUN EXAMPLES ON THAT AS WELL. >> AND THIS IS JUST A PIECE OF FABRIC. DO YOU-- >> RIGHT. THIS IS ACTUALLY, UH, A REALLY BEAUTIFUL ITALIAN SILK, AND IT'S ACTUALLY A DRESS FABRIC, AND I CUT THE MOTIFS OUT AS YOU CAN SEE OVER HERE. >> OH. SO--BUT COULD YOU USE THIS AS...THE FACE OF IT? >> RIGHT, YOU COULD. I HAPPEN TO WANT TO JUST USE THE COLORFUL PART, BECAUSE I DIDN'T WANT THE WHOLE PIECE TO BE LIKE THE DARK COLOR, AND I WANTED IT TO BE A LITTLE BIT LIGHTER, SO YOU CAN--IN QUILTING YOU CALL IT "FUSSY-CUTTING," WHEN YOU CUT AROUND A PATTERN. SO YOU WOULD JUST FUSSY-CUT AROUND THE LITTLE PIECES OF FLOWERS, AND THEN YOU CAN LAYER. >> OK. >> THE BEAUTY OF THIS IS IT'S ALL ABOUT LAYERING, AND IF YOU JUST FELT IT A LITTLE BIT FOR PLACEMENT, YOU COULD ALWAYS REMOVE IT, AND I'LL SHOW YOU HOW TO DO THAT, AND YOU CAN PUT IT SOMEWHERE ELSE. >> I SAID THE MACHINE LOOKS SO ODD BECAUSE THERE ARE NO SPOOLS OF THREAD ANYWHERE. >> NO! THERE'S ABSOLUTELY NO THREAD, OR BOBBIN. >> UH-HUH. >> IT HAS 12 NEEDLES, AND LIKE I SAID THEY ARE ALL BARBED. THEY'RE BARBED IN DIFFERENT DIRECTIONS. LITTLE NOTCHES ARE TAKEN OUT OF THE NEEDLES. SO BASICALLY WHAT IT DOES, THE NEEDLES COME DOWN THROUGH THE FIBERS, PUSH THEM DOWN BELOW, AND THEN PULL THEM BACK UP. YOU ALWAYS LEAVE THE FOOT RAISED, EXCEPT WHEN YOU'RE CHANGING THE NEEDLES. AND IF ANYBODY IS FAMILIAR WITH QUILTING, IT'S LIKE FREE MOTION QUILTING. YOU HAVE TO BE ABLE TO MOVE IT AROUND. >> SO YOU DO NEED A LEVEL WORK SURFACE. >> YOU DO. AND THIS IS A SEPARATE TABLE THAT COMES TO IT, BUT I--COMES, YOU KNOW, SEPARATELY, BUT I LIKE TO USE IT BECAUSE IT GIVES YOU A LITTLE MORE--MORE WORKING-- WORKING SPACE. AND IT DOES HAVE A PEDAL, JUST LIKE A REGULAR SEWING MACHINE, BUT IT'S NOT A SEWING MACHINE.
[BOTH CHUCKLE] AND IT ACTUALLY--IT MAKES
A LITTLE BIT OF A NOISE.
[HAMMERING SOUND] NOW, YOU HAVE TO FIND A RHYTHM
THAT WORKS GOOD FOR YOU, AND YOU--YOU'LL GET USED TO IT AS YOU--AS YOU GO. I LIKE TO KIND OF DO IT IN A ROUND MOTION, JUST WORKS FOR ME. >> AND DO YOU GO BACK AND FORTH OVER THE SAME AREA? >> YOU DO. AT THE--THE MORE YOU PENETRATE THE NEEDLES INTO THE FIBERS, THE LONGER IT'S GOING TO STAY THERE, >> OH. UH-HUH. >> SO YOU CAN SEE IT'S STARTING RIGHT HERE. SEE? I CAN STILL PULL IT APART A LITTLE BIT. >> I SEE. AND YOU CAN SEE THE LENGTH OF THE FIBERS. >> MM-HMM. SO THAT'S PUSHED OUT AND BACK UP THROUGH. AND THEN YOU CAN START SEEING THEM ON THE BACK AS WELL. >> SO IF WE WERE MAKING THIS, AND SINCE YOU'VE PULLED THAT APART AND SHOWN US, CAN WE JUST GO BACK OVER-- >> ABSOLUTELY! SO THAT I CAN JUST--SO, OH, I--I MADE THAT A LITTLE BIT CROOKED, SO I'M GOING TO FIX THAT, AND I'M GOING TO, YOU KNOW, GO OVER IT AGAIN. >> WELL... I KEEP WAITING FOR YOU TO PULL THAT OUT AND THE THREADS TO BE CUT. >> I'M GOING TO SHOW YOU THIS FUN LITTLE TRICK BEFORE WE GET STARTED, BECAUSE I THINK THIS IS PRETTY--PRETTY AMAZING. UM...YOU CAN LIFT YOUR NEEDLES UP. >> MM-HMM. >> AND YOU CAN TAKE RIBBONS, AND SO YOU CAN ALSO GET SOME THREE-DIMENSIONALITY IN HERE. AND YOU JUST GO ALONG ONE SIDE. AND THEN THE RIBBON RUFFLES UP TO THE SIDE. >> OH...I SEE WHAT YOU'RE TALKING ABOUT. UH-HUH. >> SO, I HAVE ONE STARTED HERE. THEN I START-- >> AND I SEE THOSE BLUE FLOWERS THAT YOU CUT OUT-- >> THAT I CUT OUT HERE. SO BASICALLY WHAT I LIKE TO DO IS I LIKE TO START WITH A LITTLE BIT OF THE ROVING... >> AND DO YOU BUY ROVING IN--WHERE THE THREADS ARE, OR-- >> NO, YOU HAVE TO USUALLY BUY IT EITHER...IT CAN BE IN A CRAFT STORE, UM, ONLINE OR, UM, SOME OF THE YARN SHOPS HAVE ROVING TOO. >> OH, YEAH. >> MINE ARE LOCAL. UM, THERE'S ACTUALLY A LITTLE FARM NEAR ME, AND THEY ACTUALLY PUT THE NAME OF THE ALPACA, "LOVINGLY DONATED BY SOPHIE," OR SOMEONE-- SO YOU ACTUALLY KNOW WHICH ANIMAL YOUR ROVING IS COMING FROM.
[HAMMERING SOUND] >> OH, THAT'S JUST THE SAME WAY.
>> GREAT, SO I'M JUST--YOU KNOW. >> FORCING IT INTO-- >> FORCING IT DOWN THROUGH. AND SAY, "OH, I DIDN'T REALLY WANT THAT THERE." I CAN START TO PULL IT UP, BUT YOU SEE, THE LONGER I GO, THE HARDER IT IS. SO... >> AND THE FIBERS ARE LONGER, TOO, THAT'S PARTLY WHY. >> CORRECT. RIGHT. SO I CAN SHOW YOU HOW I PUT A LITTLE MOTIF DOWN HERE. AND THIS IS GOING TO CRUNCH UP A LITTLE BIT, SO IT IS GOING TO BE A LITTLE BIT SMALLER, SO DON'T EXPECT IT TO BE QUITE AS BIG, BECAUSE WHEN IT PUNCHES IT DOWN, IT'S GOING TO PULL IN SOME OF THE FABRIC. AND THEN IF I WANTED TO SOFTEN THIS A LITTLE BIT, IF I FELT LIKE, "OH, I DON'T WANT IT TO LOOK THIS BLUE," I WOULD PUT A LITTLE BIT OF ROVING OVER THAT. >> HA HA! THERE'S REALLY NOTHING WRONG THAT YOU CAN DO. >> ABSOLUTELY, NO. UM, AND THIS IS A SILK CHIFFON. I HAVE A TENDENCY TO CUT THINGS IN CIRCLES, IN LEAVES, MORE ORGANIC SHAPES. IT'S JUST WHAT I AM DRAWN TO, AND I THINK IT JUST MAKES A NICE FLOW ONTO THE PIECES. AND THEN IF I WANT TO ADD A LITTLE BIT OF COLOR-- >> WHAT A GREAT WAY TO USE UP ALL THOSE SCRAPS I HAVE. >> OH, YEAH. IT IS GREAT. OF COURSE, YOU KNOW, I GO OUT AND-- >> AND BUY IT. >> SPECIFICALLY FOR THIS. JUST BECAUSE I WANT THIS SPECIFIC COLOR-- >> SOMETHING NEW AND DIFFERENT. >> RIGHT, AND AS YOU CAN SEE, TOO-- >> THAT'S JUST A VELVETEEN RIBBON. >> RIGHT. ON THE F--IN THE FRONT OF THE MACHINE, I HAVE SOME REALLY BEAUTIFUL HAND-DYED VELVETS, AND CRINKLED SILKS AND THINGS LIKE THAT... >> MM-HMM. >> UM, THAT I USE. >> OH, I BET YOU GO TO A FABRIC STORE AND YOU SEE THINGS IN A WHOLE DIFFERENT LIGHT. YOU DON'T LOOK AT MAKING, UH, A JACKET, FOR INSTANCE, OR PANTS. YOU LOOK AT THE EMBELLISHMENT ASPECT. >> SO HERE I ADDED A LITTLE BIT OF COLOR THAT YOU CAN SEE, RIGHT HERE. AND THEN THIS IS THE--UM, ADDS A LITTLE POP TO IT. I FOUND THIS CRINKLED FABRIC THAT ACTUALLY HAS METAL THREADS IN IT. >> OH. WAS THAT HOW YOU ACHIEVED THAT LOOK IN THE TO-- UH-HUH. IS THERE ANY TYPE OF FABRIC YOU COULDN'T USE FOR THIS STAGE OF IT, FOR THIS EMBELLISHING? >> UM, SOMETIMES THE POLYESTERS DON'T WORK AS WELL, BUT YOU CAN GIVE IT A TRY, LIKE, I WOULD SUGGEST, IF--BEFORE YOU MAKE LIKE A FINAL PIECE, YOU MIGHT WANT TO TRY A LITTLE, YOU KNOW, SAMPLE. >> UH-HUH. >> UM, TO THE SIDE. UH, COTTON DOES NOT WORK, BECAUSE THE FIBERS ARE-- >> TOO TIGHT. >> YEAH, THEY DON'T STRETCH. BUT LINEN WILL WORK FOR YOU, BECAUSE THAT HAS A LITTLE BIT MORE STRETCH TO IT. SO YOU CAN USE LINEN, WOOLS, OVERDYED WOOLS, SO THAT'S WHERE YOU CAN GET YOUR FUN PLAIDS AND POLKA DOTS AND THINGS LIKE THAT. SO, YEAH, IT'S KIND OF, YOU KNOW, REALLY LIMITLESS. >> WELL, I REALLY APPRECIATE YOU BEING HERE AND SHOWING US SO MANY IDEAS THAT WE CAN USE WITH--AND I--LIKE I SAID, I'VE NEVER SEEN A FELTING MACHINE, SO THAT WAS FUN IN AND OF ITSELF, JUST--JUST TO SEE HOW TO DO THAT. >> IF YOU WANT TO FINISH OFF THE BRACELET, WHAT I DID HERE IS JUST I ADDED SOME PEARLS IN SOME SEQUENCE, UM, AND ALSO SOME LIKE CUT GLASS, BEADS, AND I-- >> DO YOU MAKE A BUTTON HOLE OR JUST CUT IT? >> WELL, YOU CAN DO A COUPLE DIFFERENT THINGS WITH THIS. THIS ONE I JUST TOOK, I BENT IN HALF THIS WAY, I SLICED IT, AND THEN, BECAUSE IT'S FELTED, IT DOESN'T, UM...RAVEL. GREAT. AND THEN YOU CAN JUST CONNECT IT LIKE THIS. >> THE BIG BUTTONS ARE HANDY. >> RIGHT. AND THEY ADD A LITTLE BIT OF FUN TO THEM AS WELL. YOU CAN ALSO ATTACH THEM BY USING A BIG BUTTON AND RIBBONS. >> UH-HUH. OR I GUESS VELCRO, SNAPS. >> YOU COULD, MAGNETICS--UM, SNAPS THAT YOU USE ON POCKETBOOKS AND THINGS LIKE THAT. YOU CAN MAKE LITTLE LOOPS ON THE END, AND PUT LITTLE BALL BUTTONS ON THE END, SO YOU CAN DO A LOT OF DIFFERENT THINGS. >> WELL, WE'LL LET YOU FINISH THE CUFF AND WE'LL WATCH. THANK YOU VERY MUCH FOR BEING WITH US TODAY. >> YOU'RE VERY WELCOME! IT WAS GREAT, FUN. >> I HOPE YOU ENJOYED THE SHOW TODAY. NEXT TIME ON "CREATIVE LIVING," WE'LL LEARN HOW TO CREATE NAPKINS USING A NEW TYPE OF PRESSER FOOT, WE'LL TALK ABOUT BUYING QUALITY CANDLES, AND SHARE SOME GREAT STRAWBERRY RECIPES WITH YOU. ONE OF MY NEXT GUESTS IS GOING TO SHOW HOW TO MAKE NAPKINS USING A SATINEDGE PRESSER FOOT THAT SHE INVENTED FOR A BLIND AND DEAF SEWER IN 1986. AND SINCE THIS PRESSER FOOT GUIDES THE FABRIC ITSELF, EVEN CHILDREN OR ADULTS WITH PHYSICAL OR VISUAL CHALLENGES CAN ENJOY SEWING. WE ALL KNOW THAT THERE'S A LOT TO CONSIDER WHEN BUYING CANDLES, AND ANOTHER GUEST IS GOING TO TALK ABOUT WHAT TO LOOK FOR AND HOW TO GET THE MOST FROM THE CANDLES YOU BUY. AND ANOTHER GUEST ON THE NEXT SHOW WILL TALK ABOUT FLORIDA STRAWBERRIES. THIS INCLUDES THE GROWING SEASON, THE SELECTION, STORAGE, AND MUCH MORE, AS SHE PREPARES A STRAWBERRY-BANANA SMOOTHIE FOR A QUICK AND HEALTHY BREAKFAST OR ANY OTHER TIME YOU WANT ONE. ALL OF THESE TOPICS WILL BE FEATURED ON THE NEXT "CREATIVE LIVING" SHOW. IF YOU EVER HAVE COMMENTS OR SUGGESTIONS OR IDEAS FOR SHOWS, YOU CAN E-MAIL ME AT SHERYL.BORDEN@ENMU.EDU I'D ALSO LIKE TO ASK YOU TO BECOME A FAN OF "CREATIVE LIVING" ON FACEBOOK. JUST GO TO FACEBOOK.COM, AND IN THE SEARCH WINDOW, TYPE IN "CREATIVE LIVING WITH SHERYL BORDEN." THANKS SO MUCH, AND I HOPE YOU PLAN TO JOIN ME NEXT TIME FOR "CREATIVE LIVING." >> WE ARE VERY PLEASED TO OFFER A NEW BOOKLET THAT ACCOMPANIES THIS SERIES OF "CREATIVE LIVING." THIS BOOKLET IS TITLED "THE 6500 SERIES," AND IT FEATURES A WONDERFUL COLLECTION OF IDEAS AND INFORMATION, AND IT'S AVAILABLE FREE OF CHARGE ON OUR WEBSITE. POSTED AS A PDF FILE, YOU CAN SIMPLY DOWNLOAD THE ENTIRE BOOKLET, OR JUST THE SEGMENTS YOU'RE MOST INTERESTED IN. AS WITH ALL OF THE "CREATIVE LIVING" BOOKLETS, YOU'LL FIND INFORMATION ON FOODS AND NUTRITION, CLOTHING AND FASHION, HEALTH AND BEAUTY, HOME DECORATING, AND MUCH MORE! FOR YOUR COPY OF THIS BOOKLET, GO TO OUR WEBSITE AT KENW.ORG, AND THEN CLICK ON "CREATIVE LIVING." SCROLL DOWN TO THE BOOKLETS SECTION, AND YOU CAN CLICK ON THIS BOOKLET OR ANY OF THE OTHER BOOKLETS WE HAVE AVAILABLE ONLINE. ONCE AGAIN, JUST GO TO KENW.ORG, CLICK ON "CREATIVE LIVING," AND DOWNLOAD THE BOOKLET TITLED "THE 6500 SERIES." WE ALSO WANT TO ENCOURAGE YOU TO SIGN UP FOR OUR FREE E-NEWSLETTER. JUST CLICK ON THE "SIGN UP NOW" BUTTON AND INPUT YOUR E-MAIL ADDRESS. THAT'S ALL THERE IS TO IT. YOU'LL ENJOY READING AN UP-TO-DATE NEWSLETTER FILLED WITH INTERESTING TOPICS AND INFORMATION. THANK YOU.
Now Playing As: Captioned (English) (change)
A representative from Simplicity Created Group creates felted cuffs and demonstrates how to use the new Simplicity Twelve Needle Deluxe felting machine. Viewers also learn how to use shaving cream and acrylic paints to marbleize fabrics.
Media Details
Runtime: 27 minutes