Creative Living With Sheryl Borden #6506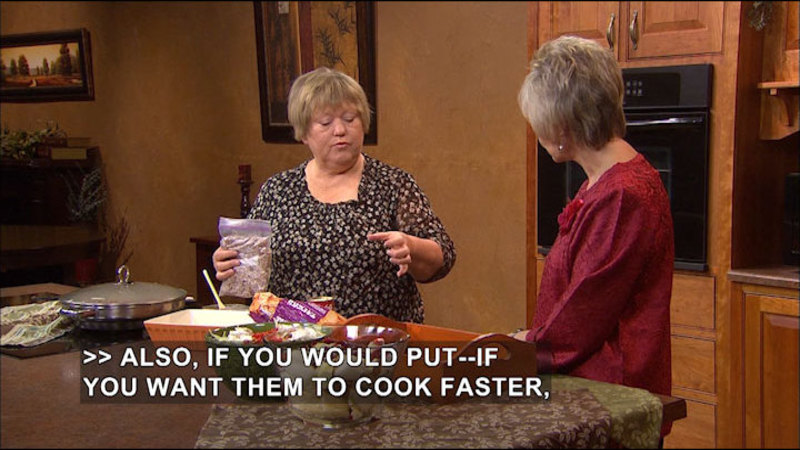 >> "CREATIVE LIVING." UTILIZING TODAY'S TECHNOLOGY WITH THE BEST OF THE PAST TO BRING YOU INNOVATIVE IDEAS AND UP-TO-DATE INFORMATION FOR CREATIVE LIFESTYLES IN TODAY'S ACTIVE WORLD. WITH YOUR HOST, SHERYL BORDEN. >> THANKS FOR JOINING ME TODAY FOR "CREATIVE LIVING." WE'RE GOING TO LEARN TO USE SOME TIMESAVING TECHNIQUES WHEN MAKING AND PIECING A QUILT, AND WE'LL DEMONSTRATE SOME HOMESTYLE RECIPES THAT HAVE THEIR OWN SHORTCUTS. ONE OF MY GUESTS TODAY IS MERYL ANN BUTLER, AND SHE'S WRITTEN A BOOK ON MAKING A QUILT IN 90 MINUTES. SHE'S GOING TO SHARE SOME TIMESAVING TECHNIQUES FOR QUILTING BASED ON THE CONCEPTS IN THIS BOOK. AND SHE'LL ALSO SHOW SEVERAL FINISHED QUILTS MADE WITH THESE TECHNIQUES. SHE LIVES IN NORFOLK, VIRGINIA. MY FIRST GUEST IS CONNIE MOYERS, AND SHE'S WITH THE NEW MEXICO COOPERATIVE EXTENSION SERVICE. CONNIE WILL DEMONSTRATE HOMESTYLE IN A HURRY. SHE EXPLAINS THAT HOMESTYLE MEANS COOKING LIKE YOUR MOTHER OR YOUR GRANDMOTHER USED TO DO, BUT WITH NEW SHORTCUTS, IT CAN BE DONE MUCH QUICKER AND EASIER. CONNIE LIVES IN CLOVIS, NEW MEXICO. CONNIE, THANK YOU SO MUCH FOR COMING. YOU KNOW, SOME OF THE RECIPES I HAVE USED OVER AND OVER AND OVER AGAIN COME FROM WAY BACK WHEN YOU WERE FIRST DEMONSTRATING MICROWAVE COOKING AND USING THE BLENDER OR THE FOOD PROCESSOR. THERE ARE JUST SOME OF THOSE THAT I STILL FEEL ARE LIKE MY REAL TRIBUTE TO HOME COOKING. >> AND SOME OF THESE ARE, TOO. YOU KNOW, WE LIKE HOME COOKED OR HOMESTYLE MEALS, BUT MOST OF US DON'T WANT TO SPEND THE TIME. EITHER WE DON'T HAVE IT, OR DON'T WANT TO SPEND IT IN THE KITCHEN TO DO SOME OF THOSE ANYMORE, BUT WITH THE CONVENIENCE FOODS THAT ARE AVAILABLE, UM, THIS LETS US EAT AT HOME MORE OFTEN THAN EAT IN A RESTAURANT, CONTROL WHAT WE'RE EATING MAYBE, AND HAVE A LITTLE BIT BETTER THINGS. I'M GONNA GIVE YOU SOME GOOD TIPS, I HOPE, TODAY. AND THIS RECIPE, PEACHY PORK PICANTE IS ONE OF MY FAVORITE ALL-TIME RECIPES. I'VE MADE IT FOR YEARS AND YEARS. AND WHAT I DID IS I WENT AHEAD AND BROWNED THE CHUNKS OF PORK LOIN, AND WE'RE JUST GONNA ADD THE OTHER INGREDIENTS REAL FAST. >> THAT'S ALL? >> IT TAKES A LOT OF INGREDIENTS. IT'S A CAN OF PICANTE SAUCE OF 16 OUNCES. AND ABOUT 2/3 A CUP OF PEACH PRESERVES. >> PEACH PRESERVES. >> I HAD ALREADY COATED THE PORK WITH THE TACO SEASONING AHEAD OF TIME. >> OH, I KNEW I SMELLED THAT. >> MM-HMM. AND SO THAT'S WHAT REALLY GIVES IT THAT GOOD FLAVOR, BUT THIS IS SUCH AN EASY-- >> SORT OF A SWEET AND SOUR DISH. >> MM-HMM. SUCH AN EASY RECIPE. WE'LL JUST LET IT SIMMER FOR ABOUT 20 MINUTES, AND THAT RECIPE'S DONE. >> AND YOU CAN SERVE IT RIGHT OUT OF THAT SKILLET BECAUSE IT'S AN ELECTRIC SKILLET, SO THE CLEANUP IS EVEN REALLY MINIMAL. >> AND YOU KNOW, MY DAUGHTER-IN-LAW ASKED ME ONE DAY, "WHY ARE YOU COOKING IN A SKILLET LIKE THAT?" SHE'D NEVER SEEN ONE, BUT YOU KNOW, I'VE USED ELECTRIC SKILLETS FOR A LONG TIME, AND THEY'RE JUST SO HANDY TO USE, TO SERVE OUT OF, AND WHEN YOU HAVE ONE THAT LOOKS AS NICE AS THIS ONE, IT'S REALLY EASY. >> WHY NOT? >> ANOTHER THING I WANT TO REMIND YOU IS THAT YOU COULD GO AHEAD AND CUBE YOUR PORK. LET'S SAY YOU BOUGHT A WHOLE PORK LOIN, YOU DON'T NEED IT, OR THEY'RE ON SALE THIS TIME. JUST CUT THEM UP IN CUBES, AND PUT THEM IN THE FREEZER AND THEN TAKE THEM OUT. AND YOU CAN EVEN GO AHEAD AND HAVE THE TACO SEASONING ON THERE. >> YOU COULD AND FREEZE IT? >> IF THAT WAS THE RECIPE YOU WERE GONNA USE. >> HOW EASY WOULD THAT BE? >> EASY WAY TO KEEP THINGS IN THE FREEZER, OR IT'S A CONVENIENCE THAT YOU'VE MADE FOR YOURSELF READY FOR WHENEVER YOU'RE GONNA DO IT, SO I REALLY LIKE TO BE ABLE TO DO THAT, UM, WHEN I DO THINGS. THIS RECIPE IS A KIND OF A TRUFFLE-TYPE THING-- >> MY FAVORITE. >> I THINK IT'S SOME LEMON CUSTARD TRUFFLE. I DON'T EVEN REMEMBER THE NAME OF IT. IT'S JUST SO EASY, AND YOU CAN ADJUST IT WITH WHATEVER YOU HAVE, WHATEVER YOU LIKE. UM, YOU CAN BUY A LOT OF TIMES A PRE=PREPARED ANGEL FOOD CAKE, OR POUND CAKE WOULD WORK HERE AS WELL, OR EVEN A YELLOW CAKE. BUT YOU KNOW, ANGEL FOOD CAKES ARE SO EASY TO MAKE WHEN YOU USE THE BOX, AND YOU ADD WATER TO IT, BEAT IT, AND COOK IT. >> THAT'S IT. >> THE HARDEST PART IS CLEANING THE PAN WHEN YOU'RE DONE. BUT WE'RE GONNA USE THAT IN A MINUTE. BUT WHAT WE'RE GONNA PUT HERE FOR PART OF THE FILLING IS GONNA BE A CUP AND A HALF OF MILK. >> LOW FAT IF WE WANT TO DO THAT. >> THAT'S RIGHT. WE CAN ALWAYS CHANGE THIS AND SOUR CREAM. WE COULD MAKE THE LIGHT SOUR CREAM IF WE WANTED TO, OR THE LOWER FAT. >> MM-HMM. >> WE'LL MIX THOSE WITH SOME INSTANT PUDDING LEMON. INSTANT PUDDING. BUT YOU COULD USE THE FAT FREE--OR NOT THE FAT FREE, BUT THE SUGAR-FREE. >> THE LIGHT. >> IF YOU WERE TRYING TO CUT DOWN THERE ON THAT. WE'LL JUST GO AHEAD AND OPEN THAT UP A LITTLE MORE AND STIR THIS TOGETHER. >> THAT'S THE INSTANT PUDDING. >> MM-HMM. IT'S JUST THE INSTANT. I'M GONNA GET THAT KIND OF STARTED, AND THEN USE MY WHISK TO WHISK IT, AND THEN WE'LL USE THIS IN JUST A SECOND, BUT, UM...WE'RE JUST GONNA HAVE TO MIX THIS UP ENOUGH. AND I SAVED CUTTING UP THE ANGEL FOOD CAKE BECAUSE IT'S REALLY FUN TO SEE HOW EASY IT IS WITH AN ELECTRIC KNIFE, BECAUSE A LOT OF PEOPLE HAVE TROUBLE CUTTING UP AN ANGEL FOOD CAKE. >> OH... >> MAN, AN ELECTRIC KNIFE AND IN JUST A FEW SECONDS WE CAN HAVE CUBES THERE AND BE READY TO GO. SO WE JUST NEED TO WHISK THIS ENOUGH THAT IT STARTS TO THICKEN, AND WHILE WE'RE CUTTING THAT CAKE UP, I THINK IT'LL THICKEN UP A LITTLE BIT MORE, AND WE'LL BE READY FOR THAT. SO LET'S CUT THIS CAKE UP WITH THIS. AND I LIKE TO JUST START CUTTING... [WHIRRING] WE'LL EVEN GO THROUGH... >> HA HA. >> AND THEN JUST CROSS IT. >> YOU DON'T HAVE TO MEASURE. THERE'S NO RIGHT OR WRONG, RIGHT? [CHUCKLES]
[WHIRRING]
>> SO THAT WAS A PRETTY EASY WAY TO GET-- >> THAT CERTAINLY WAS FAST. >> WE'LL JUST SET IT OVER HERE AND PUT A FEW OF THESE-- >> AND YOU KNOW, ONE OF THE THINGS ABOUT MAKING A TRUFFLE IS THE BOWL, BECAUSE YOU WANT TO BE ABLE TO SEE THE DIFFERENT LAYERS, SO FIND AN INEXPENSIVE BOWL, AND USE IT. DON'T USE A SOLID. >> JUST A SALAD BOWL. THIS IS NOTHING REALLY SPECIAL AT ALL. >> OOH, IT DID GET THICKENED. >> YOU DOUBTED ME, SHERYL. >> WELL, YOU JUST CUT THE CAKE UP SO FAST, I DIDN'T THINK IT HAD TIME ACTUALLY. >> AND WE'LL PUT A LITTLE BIT OF THIS CHERRY PIE FILLING. YOU KNOW, BLUEBERRY PIE FILLING. YOU KNOW, THERE'D BE SOME OTHER ONES THAT'D BE GOOD WITH THIS, TOO, WOULDN'T THERE? JUST LIKE THAT. >> WE'RE JUST GONNA KEEP LAYERING. MM-HMM. >> SO, UM, YOU KNOW, I MADE THIS CAKE LAST NIGHT, AND IT WAS JUST REALLY EASY TO PUT TOGETHER AND HAVE SITTING, YOU KNOW, READY TO TAKE OUT THIS MORNING. AND NOW, ALL WE HAVE TO DO IS PUT THIS TOGETHER IN A FEW MINUTES. IF YOU WERE FIXING TO HAVE COMPANY, THAT WOULD BE SO EASY TO DO. I'M GONNA LET YOU PUT THIS... >> I'LL FINISH HERE. >> ON TOP OF THERE, AND I'LL MOVE THESE THINGS OUT OF THE WAY. >> AND YOU KNOW, I'VE HAD BOTH THE PREPARED ANGEL FOOD CAKES, AND THEY DON'T TASTE ANY DIFFERENT. YOU KNOW, SOMETIMES WE THINK THAT THE ONES THAT WE MIGHT GO TO A LOT OF TROUBLE AND MAKE, AND 12 EGGS OR WHATEVER. SO IF YOU'RE IN A HURRY, JUST TAKE ADVANTAGE OF IT. IT'S GOING TO BE GOOD. >> THOSE MIXES WORK REALLY WELL, 'CAUSE LIKE I SAY, ALL YOU HAVE TO ADD IS SOME WATER TO IT, AND THEN YOU'RE READY TO GO. >> I JUST THINK THESE ARE SO PRETTY. AND THEY'RE VERY IMPRESSIVE. NOBODY WOULD EVER STOP AND SAY, "NOW, HOW LONG DID THAT ONE TAKE TO MAKE?" >> THEY'RE JUST GONNA BE READY TO TASTE IT. THAT'S WHAT THEY'RE GONNA BE ANXIOUS TO DO. >> OH, THAT'S PRETTY. >> AND THE NEXT THING WE'RE GONNA DO IS A REAL QUICK COLESLAW. AND IT'S A LITTLE BIT UNUSUAL. YOU KNOW, THE NICE THING ABOUT HAVING THESE PRE-PREPARED THINGS IS YOU DON'T HAVE A LOT OF WASTE, AND IT'S ALREADY READY. ALL THE DIFFERENT SALADS AND THINGS LIKE THAT THAT WE CAN BUY. >> AND I REMEMBER, THOUGH, WHEN YOU FIRST DEMONSTRATED SOME OF THESE, WE WERE ALL SO EXCITED THAT WE CAN NOW SHRED CABBAGE IN OUR BLENDERS. SO WOW, NOW THIS IS EVEN EASIER. >> AND IN OUR FOOD PROCESSOR. AND YOU KNOW WHAT? THIS ALSO WORKS GOOD FOR STIR-FRIES IN YOUR SKILLET. >> OH, IT WOULD? >> SO THAT'S ANOTHER GOOD THING TO REMEMBER. NOW, KIND OF THE SECRET INGREDIENT IN THIS IS SOME PICKLED OKRA. SO WE PUT THOSE SLICES IN THERE AND THEN ADD SOME COLOR WITH SOME PIMENTOS THAT HAVE BEEN DRAINED AND PUT THEM AROUND ON IT. AND OUR DRESSING FOR THIS IS JUST SIMPLY A LITTLE BIT OF SOUR CREAM, A LITTLE BIT OF SUGAR, SALT, AND PEPPER. AND SO WE'LL JUST STIR THOSE UP. >> WELL, AND I THINK YOU'RE SO RIGHT ABOUT BUYING THE PACKAGE, BECAUSE WHEN I USED TO MAKE COLESLAW FROM SCRATCH, YOU KNOW, YOU'D BUY EVEN A SMALL HEAD OF THE RED CABBAGE AND IT TAKES SO LITTLE WHEN YOU SHRED IT. AND THEN YOU'D HAVE IT LEFTOVER. >> AND RIGHT NOW I HAVE HALF A CABBAGE IN MY REFRIGERATOR AND YOU KNOW, I'M NOT REAL SURE WHEN I'M GONNA USE IT, BUT I NEEDED THE FIRST HALF, YOU KNOW, FOR A RECIPE THAT I WANTED TO MAKE ONE NIGHT. SO THIS WILL JUST, YOU KNOW, MIX UP AND TOSS WHEN YOU'RE READY TO SERVE, BUT RIGHT NOW WE CAN JUST ADD IT IN. >> THAT IS SO COLORFUL, AND I WOULDN'T HAVE EVER THOUGHT ABOUT PICKLED OKRA. >> WELL, IT'S JUST KIND OF A SURPRISE INGREDIENT, ISN'T IT? >> IT IS! OK. >> AND LAST, BUT CERTAINLY NOT LEAST, IS JUST THIS SIMPLE CASSEROLE. UM, YOU KNOW, A LOT OF TIMES WHEN YOU LOOK AT A CASSEROLE RECIPE WHEN YOU GET HOME, AND YOU THINK, THAT TAKES AN HOUR TO COOK. AND I DON'T WANT TO WAIT AN HOUR. BUT THIS ONE I CAN PUT TOGETHER REAL QUICK, AND YOU CAN ADAPT ALMOST EVERY CASSEROLE TO THE MICROWAVE. >> OH! EVEN IF THE RECIPE DOESN'T CALL FOR THE MICROWAVE VERSION. >> THAT'S RIGHT. SO WE'LL EASILY PUT THIS TOGETHER HERE. ONE OF THE THINGS I DID AND I LIKE TO DO...LET'S SAY HAMBURGER MEAT, 5 POUNDS OF IT AT A TIME, IS ON SALE THIS WEEK. SO BUY 5 POUNDS, COOK IT UP. PUT IT IN THE FREEZER IN A MICROWAVE SAFE BAG, OR, LIKE, IF YOU KNOW YOU'RE GOING TO USE SEVERAL TIMES THAT WEEK, JUST PUT IT IN THE REFRIGERATOR. YOU ALREADY HAVE IT COOKED. ANOTHER THING I DO WITH MY GROUND BEEF WHEN I BUY IT LIKE THAT, SAY IF I WANT TO MAKE MEATLOAF, I MIGHT MAKE IT 2 OR 3 OR 4, HOWEVER BIG I WANT TO MAKE THEM, ALL AT ONE TIME. YOU ONLY DIRTY THE BOWL ONCE. YOU ONLY CHOP YOUR ONIONS ONCE. YOU ONLY DO ALL OF THOSE THINGS, AND THEN PUT IT IN DIFFERENT CONTAINERS AND FREEZE IT. >> WOW. >> ALSO, IF YOU WOULD PUT--IF YOU WANT THEM TO COOK FASTER, PUT THEM IN MUFFIN CUPS OR LITTLE RAMEKINS, INDIVIDUAL ONES, AND THAT WAY IF YOU NEED ONE OR TWO OR WHATEVER, YOU JUST TAKE THAT OUT AND COOK IT. >> THAT'S A REAL TIMESAVER. >> IT COOKS A LOT FASTER THAT WAY. >> I LOVE--I THINK YOU WERE THE ONE THAT TALKED, OR I'D SEEN ONE OF YOUR PROGRAMS, AND I ALWAYS KEEP GROUND BEEF IN THE FREEZER BECAUSE THE COOKING IS WHAT TAKES THE TIME. MOST OF THE TIME, YOU JUST STIR AND DUMP. >> AND AGAIN, IT'S ONE MESS, ONE COOK, YOU KNOW, THE WHOLE THING. AND SO IT'S REALLY GREAT. THIS IS CREAM OF CELERY SOUP. WE'LL PUT IT ON THE TOP OF THIS. >> THAT WAS A POUND OF GROUND BEEF? >> YES, IT WAS. A POUND, AND WE'LL JUST KIND OF MIX THIS IN JUST A LITTLE BIT TO THIS. AND THEN WE'RE GONNA USE SOME THAWED TATER TOTS, OR... >> OH, REALLY? >> TO PUT ON TOP OF IT. >> UH-HUH. SHREDDED, SEASONED TATERS. SO FOR SOMEONE WHO LIKES THEIR MEAT AND POTATOES FOR A MEAL, THIS JUST FITS THE BILL, DOESN'T IT? >> YOU JUST NEED A PRE-PACKAGED SALAD OR COLESLAW TO GO WITH THIS. >> YEAH, COLESLAW WOULD BE GREAT WITH THIS. >> YOU HAVE IT MADE. >> UH-HUH. >> IF WE WERE COOKING THIS IN THE OVEN, IT WOULD TELL US ABOUT 40 MINUTES AT LEAST. ALL WE'RE DOING IS BLENDING THE FLAVORS AND GETTING THE TATER TOTS COOKED. >> 'CAUSE EVERYTHING'S ALREADY COOKED. >> IT'S ALREADY COOKED, BUT IN THE MICROWAVE WE CAN COOK THIS ABOUT 6 MINUTES. >> 6 MINUTES? WOW! THAT WILL SOUND A LOT BETTER THAN 40. >> OF COURSE YOU KNOW, WE ALWAYS LIKE A LITTLE CHEESE ON TOP OF IT, SO WE'LL PUT A CUP OF CHEESE. AGAIN, IT WAS PRE-SHREDDED. OR IF I WANTED TO SAVE A LITTLE MONEY, I COULD BUY A CHUNK OF CHEESE, SHRED IT IN MY FOOD PROCESSOR, AND FREEZE THE INDIVIDUAL... >> PACKAGES. AND YOU KNOW THE FROZEN CHEESE WORKS GREAT. AND I'VE LEARNED THAT, I THINK FROM YOU, SO WE'LL PUT THIS IN THE MICROWAVE, COOK IT FOR 6 MINUTES. THE PORK'S READY, SO... >> IT'S HERE SIMMERING, AND IT'S GOOD, SO WE HAVE SEVERAL MEALS REAL FAST. >> WELL, THANK YOU SO MUCH. THESE ARE EASY RECIPES, BUT I THINK OUR FAMILY WOULD BE SO APPRECIATIVE OF. THANK YOU. >> THANK YOU. >> MERYL ANN, THANK YOU SO MUCH FOR BEING HERE TODAY. I REALLY HAVE ENJOYED LOOKING AT THE WEBSITE, AND ESPECIALLY LOOKING THROUGH THE COPIES OF THE BOOK, THE "90-MINUTE QUILT" THAT YOU SENT ME EARLIER. BUT THEN WHEN YOU SAID WE'RE GOING TO DO A SEGMENT ON SHORTCUTS, I THOUGHT, HOW MUCH SHORTER CAN IT GET? >> HA HA! >> SO WHAT MADE YOU COME UP WITH THESE SHORTCUT IDEAS? >> WELL, I'M ALWAYS LOOKING FOR A WAY TO DO SOMETHING FASTER AND EASIER TO DO, SO THE SCOTTIES--THIS SCOTTY WAS INSPIRED--AS A LITTLE GIRL I HAD THESE LITTLE SCOTTY MAGNETIC DOGS, THE WHITE AND THE BLACK, AND A LOT OF PEOPLE MY AGE HAD. AND SO I DESIGNED THE SCOTTY QUILT TO COMMEMORATE THAT. >> SORT OF TO COMMEMORATE IT. >> YES. AND I'M GONNA SHOW YOU HOW I DO A-- >> THAT'S A BASIC 90-MINUTE QUILT. IT JUST LOOKS DIFFERENT. >> PRETTY MUCH. YEAH, THE ONES WITH TRIANGLES TAKE A LITTLE BIT LONGER. >> OH, OK. >> SO THE BASIC 90-MINUTE QUILT HAS NO TRIANGLES. BUT THIS MAY ADD AN EXTRA HALF HOUR. >> OH, OK. WELL, I CAN HANDLE THAT. >> SO THIS IS CALLED THE HALF SQUARE TRIANGLE UNIT. AND MOST QUILTERS PUT THIS TOGETHER BY CUTTING TWO TRIANGLES AND TRYING TO SEW THEM. AND WHAT HAPPENS IS THE EDGES GET ALL CRUMPLY... >> YOU NEED TO GO BACK TO RE-SEW IT. >> THAT'S RIGHT. SO I FIGURED OUT A QUICKER WAY TO DO THAT. AND THAT IS TO CUT TWO SQUARES A LITTLE BIT LARGER THAN YOU NEED, AND WE PUT THE RIGHT SIDES TOGETHER. AND THEN I TAKE THE CHALK MARKER. I LOVE THESE CLOVER CHALK MARKERS 'CAUSE THEY GIVE A NICE, THIN LINE. AND I DRAW A DIAGONAL LINE, AND THEN YOU STITCH A QUARTER OF AN INCH ON EITHER SIDE OF THAT DIAGONAL LINE. AND THEN YOU TAKE YOUR ROTARY CUTTER AND CUT-- >> THEREFORE, IT'S EXACTLY--THE CORNERS ARE EXACT. THAT'S A GREAT IDEA. >> YEAH. AND THEN WHAT I'LL DO IS I WILL TAKE--IF I--DEPENDING ON IF THE SIZE MATCHES OR NOT. I CAN TAKE THE RULER, THE SIZE I NEED, AND RUN THE DIAGONAL RIGHT ALONG THAT SEAM LINE AND CUT OUT THE PERFECT SIZE THAT I NEED. >> THAT'S WHY YOU SAY YOU START WITH SQUARES THAT ARE... >> A LITTLE BIT BIGGER. >> ABOUT AN INCH LARGER, OR WHATEVER. OK. >> NOW THIS ONE--THERE'S ANOTHER WAY TO DO THIS THAT'S EVEN QUICKER, IF YOU CAN BELIEVE THAT. AND THAT IS TO START WITH TWO SQUARES EXACTLY THE SAME SIZE, AND THEN YOU PRESS THIS ONE-- >> JUST ONE. >> JUST ONE ACROSS THE DIAGONAL, WRONG SIDES TOGETHER, AND ALL YOU DO IS PIN IT ON THAT, AND WHEN YOU STITCH THIS IN, YOU'VE GOT THE HALF SQUARE TRIANGLE LOOK. IT MAKES A LITTLE POCKET. >> SO WHEN YOU STITCH IT, WHERE ARE YOU SAYING WE STITCH IT? OPEN THIS UP? >> NO, YOU JUST-- >> WE STITCH IT ON TOP? >> NO, YOU JUST--WHEN YOU STITCH THIS TO THE NEXT SQUARE. >> OH, OK. >> YOU DON'T DO ANYTHING EXTRA. >> OK. JUST LAY IT THERE FOR RIGHT NOW. OH, THAT IS FAST. >> AND THIS IS...LET'S SEE, HERE IS HIS TAIL. >> UH-HUH. I SEE. >> IT'S ONE OF THE... >> SORT OF THREE-DIMENSIONAL LEVEL. >> IT IS THREE-DIMENSIONAL. IT MAKES A LITTLE POCKET. THE OTHER PIECE THAT'S TRICKY TO DO ON THIS ONE IS THE ONE SQUARE THAT HAS 3 TRIANGLES. SO...AND THAT'S EVEN HARDER TO STITCH TOGETHER. SO WHAT I DID WAS, FIRST I MADE THIS HALF SQUARE TRIANGLE UNIT, AND THEN I PRESSED AND FOLDED THE PINK, FOR THE BOW, AND PLACED THAT ON TOP, AND THAT'S WHAT CREATED... >> OH, NOW I CAN SEE IT. IT'S ALMOST LIKE MAGIC. >> YES, IT IS! IT IS. >> SO THAT'S 3 OF THE TRIANGLES. >> 3 DIFFERENT WAYS, YEAH. AND 3 DIFFERENT WAYS TO DO IT. NOW, THE EYE OF THE LITTLE SCOTTY DOG WAS SOMETHING I FIGURED OUT WITH THE FABRIC THAT I USED FOR THE GRASS. THIS IS, LIKE, THE GRASS OF THE GROUND. > OH, OK. >> AND SEE HOW THIS FABRIC HAS A FLOWER? OK, SO WHAT I DID WAS I TOOK STEAM-A-SEAM-2. YOU KNOW, THAT'S A FUSIBLE WEB, AND YOU PEEL OFF ONE OF THE PAPERS AND YOU PUT IT ON THE BACK. >> IT'S STICKY. IT'S ADHESIVE. >> YEAH, IT'LL HOLD--IT'LL STAY ON THERE BY TOUCHING. AND THEN I PUT A QUARTER ON THERE AND DREW A LINE AROUND IT. AND WHAT I ENDED UP WITH AFTER I CUT WAS THIS EYE. AND YOU JUST PUT IT UP THERE, AND YOU'VE GOT AN EYE. >> GREAT IDEA. >> THIS IS THE STEAM-A-SEAM-2, BY THE WAY. THAT'S THE PRODUCT THAT YOU USE ON THE BACK. AND IT'S NICE BECAUSE YOU CAN PUT IT WHERE YOU WANT IT, AND IF YOU WANT TO CHANGE YOUR MIND, NO COMMITMENT. YOU CAN PEEL IT OFF AND MOVE IT AGAIN BEFORE YOU DO ANYTHING ELSE. >> THEY HAVE SO MANY PRODUCTS NOW THAT MAKE ALL OF THIS SO MUCH EASIER. >> I KNOW. >> THEY'RE TIMESAVERS IN THEMSELVES. >> IT IS. AND IN THIS DAY AND AGE WHERE MICROWAVE DINNER TAKES 3 1/2 MINUTES, YOU CAN'T SPEND TOO MUCH TIME. WELL, THE NEXT ONE IS CALLED FLORALIA, AND THAT'S A TABLE CLOTH. AND IT'S...THERE'S A PICTURE HERE MADE BY--THE FABRIC IS CALLED ELIZABETH ANNE BY ALEX ANDERSON. P&B TEXTILES MAKES IT. AND YOU NOTICE IN THE PICTURE, THERE'S A DIFFERENT KIND OF HALF SQUARE TRIANGLE. THERE'S A HALF SQUARE TRIANGLE THAT HAS A STRIPE IN IT. >> IT HAS A BOARDER. >> YEAH. AND HERE IT IS. AND IT GIVES A LITTLE EXTRA INTEREST TO THE CENTER. SO THE WAY THAT YOU MAKE THIS IS REALLY EASY. YOU TAKE TWO STRIPS. >> TWO RECTANGLES. >> YES. YOU JUST SEW THIS TO HERE, SEW THAT TO THERE, SEW THAT TOGETHER. AND YOU'LL END UP WITH THIS. >> AND AGAIN, WE'RE USING QUARTER-INCH SEAMS. >> WE ARE. YEAH, ALWAYS QUARTER INCH. THAT'S RIGHT. AND HERE'S THE 6-INCH SQUARE. YOU JUST LINE THIS UP THE DIAGONAL LINE ON THE CENTER SEAM. >> WHICHEVER WAY. IF YOU WANTED IT THIS WAY OR THIS WAY. >> THAT'S RIGHT. AND YOU JUST CUT AROUND THE EDGE, AND YOU'VE GOT A PERFECT HALF SQUARE TRIANGLE WITH A STRIPE IN IT. >> UH-HUH. IT'S A LOT EASIER THAN IT LOOKS IN THE PICTURES. HA HA. >> YES. IN THE PICTURE IT LOOKS COMPLEX. THAT'S RIGHT. AND THE NEXT ONE WE HAVE IS THE FENG SHUI GOOD LUCK QUILT, AND THAT'S EASY. IT'S GOT A GREAT LOOK. IF YOU WANT TO DO A FENG SHUI, UM, IDEA, THE KANJI SYMBOL IN THE CENTER MEANS GOOD LUCK. AND THAT'S MADE BY INDOBATIKS, AND THEN THE KONA BAY FABRICS ARE THE REST OF THE FABRICS. AND IT JUST HAS 4 HALF SQUARE TRIANGLES IN IT. THAT'S HOW YOU GET THAT COMPLEX LOOK. >> THAT COMPLEX LOOK IS RIGHT. >> AND THAT'S ALSO IN THE NEW BOOK. THE NEXT ONE IS CALLED MAKE IT GREEN FOR BABY. AND THIS ONE'S A WONDERFUL QUILT. IT'S COMPLETELY ORGANIC. EVEN THE THREAD IS 100% ORGANIC, AND THE BACKING IS ORGANIC FLEECE. >> SO THEY'RE MAKING SEWING NOTIONS AND THINGS THAT ARE ORGANIC. >> THAT'S RIGHT, YEAH. AND I GOT ALL OF IT FROM NEAR SEA NATURALS. AND IF YOU HAVE--IF THERE'S A BABY WITH ALLERGIES... YOU KNOW, SOME BABIES ARE ESPECIALLY SENSITIVE, IT'S NICE TO KNOW THAT YOU CAN MAKE THEM A QUILT, TOO. >> WHAT A GREAT GIFT TO MAKE THAT FOR SOMEONE. >> YEAH! AND THIS ONE ONLY USES 4 HALF SQUARE TRIANGLE UNITS. I'M SORRY, 8. THERE'S 4 IN THE CENTER THAT MAKE A 4-POINTED STAR, AND THEN THERE'S 4 ON THE OUTSIDE. THEN NEXT, WE HAVE THE GARDEN TRELLIS QUILT AND IN TRAINING QUILT. AND WHEN YOU LOOK AT THEM SIDE BY SIDE, THEY LOOK LIKE DIFFERENT QUILTS, BUT THEY'RE ACTUALLY THE EXACT SAME QUILT. >> UH-HUH. >> THE TRIANGLES IN GARDEN TRELLIS ARE WHITE, AND THE ONES IN THE IN TRAINING ARE BLACK. SO THE GARDEN TRELLIS ONE--I WAS JUST LOOKING FOR A WAY TO USE THESE BEAUTIFUL FABRICS. BENARTEX CAME OUT WITH THESE GREAT FLOWER MARKET FABRICS THAT WERE BEAUTIFUL. >> THEY'RE ALMOST SPRING THEY'RE SO BEAUTIFUL. >> I KEPT FINDING THEM AND NOT KNOWING WHAT TO DO WITH THEM, AND IT TURNED OUT TO BE PERFECT TO MAKE THIS QUILT WITH THESE CUT. AND THESE ALSO, THE HALF SQUARE TRIANGLE UNITS, ARE MADE VERY SIMILARLY. WE START WITH THE TWO STRIPS AND SEW THEM TOGETHER. >> MM-HMM. >> AND HERE IT IS SEWN TOGETHER. >> OK. >> AND THEN, WHEN WE-- >> I CAN SEE THAT HERE. >> YEAH. >> MM-HMM. GOT IT. >> SO YOU JUST PUT THIS LINE ON THE SEAM LINE AND CUT IT OUT, AND YOU'VE GOT ANOTHER-- >> THESE LITTLE ROTORS ARE SUCH A BLESSING. >> OH, THEY'RE THE BEST. >> AREN'T THEY? WITH ALL THE LINES ALREADY ON THEM. >> AND THE SQUARES COME IN ALL DIFFERENT SIZES. I HAVE A CHART IN THE BACK OF MY BOOK THAT LISTS WHICH COMPANY MAKES WHICH SIZE SQUARE. SOME OF THEM, LIKE A 7-INCH, YOU CAN ONLY GET FROM ONE PLACE. SO IT'S GOOD TO KNOW. THAT'S A GOOD, LITTLE CHART. YES. SO, NEXT WE HAVE AN OPTICAL ILLUSION. AND I JUST WANTED TO MENTION SOMETHING ABOUT VALUES HERE. MOST QUILTERS THINK THAT COLOR'S THE MOST IMPORTANT THING. I'M GONNA PUT THIS ON THE PINK SO WE CAN SEE THE BLACK ON THIS TABLE. BUT IT'S ACTUALLY VALUE. AND IF YOU TAKE A LOOK AT THESE TWO GREENS, ONE ON THE WHITE AND ONE ON THE BLACK. YEAH, YOU JUST SAW ME TAKE THOSE TWO THE SAME COLOR. BUT WHEN YOU LOOK AT THEM LIKE THIS, THIS LOOKS A LOT LIGHTER AND THAT LOOKS DARKER. SO IT'S IMPORTANT TO THINK ABOUT VALUE IN QUILT, NOT JUST COLOR. >> THE BACKGROUND AND THE ACCENT PIECE. >> THAT'S RIGHT. HOW EVERYTHING IN THE QUILT, ALL THE OTHER FABRICS WILL CONTRIBUTE TO THAT. SO AS A RESULT, IN MY BOOK WE TALK ABOUT THE VALUES. THIS IS A VALUE CARD THAT SHOWS HOW TO MATCH VALUES. YOU JUST SQUINT YOUR EYES...YES. AND SO... >> THAT DOES GIVE YOU SOMETHING ELSE TO LOOK AT. THERE'S ALSO SEVERAL OTHER PICTURES IN THE BOOK OF BEAUTIFUL QUILTS, BUT TELL US ABOUT THIS ONE. >> WELL, THIS ONE IS CALLED CELEBRATE. IT'S A CANDLE, AND IT ALSO HAS THE VALUES FROM DARK TO LIGHT. AND WE HAVE A PICTURE THAT SHOWS HOW THE VALUES LOOK IN THE BOOK. THIS SHOWS VALUES, TOO. THIS IS CHERRYWOOD FABRIC, SO WHEN YOU'RE WORKING WITH VALUES LIGHT TO DARK, IT'S IMPORTANT TO KEEP IN MIND WHAT'S LIGHT AND WHAT'S DARK. SAIL AWAY MONET IS ANOTHER ONE IN MY BOOK. THE SKY IS DARK VALUES AT THE TOP, LIGHTER AT THE BOTTOM, AND ARIATNI'S THREADS ALSO SHOWS LIGHT AND DARK. SO IF PEOPLE START--IF QUILTERS START THINKING OF LIGHT AND DARK, RATHER THAN JUST COLOR, THEY'LL COME UP WITH A PUNCHIER DESIGN. >> WELL, THAT'S VERY INTERESTING. I NEVER THOUGHT ABOUT THAT. I JUST ALWAYS THINK ABOUT THE PATTERN IN THE FABRIC. >> RIGHT. RIGHT. >> WELL, THANK YOU VERY MUCH, MERYL ANN. >> THANK YOU. >> I HOPE YOU ENJOYED THE SHOW TODAY. NEXT TIME ON "CREATIVE LIVING," WE'LL LEARN HOW TO COMPOST FOODS IN ORDER TO SAVE LANDFILL SPACE. WE'LL FIND OUT HOW TO USE PUSH MOLDS FOR CRAFTING AND DISCUSS HEALTHY SCHOOL LUNCHES AND SNACKS. TWO OF MY NEXT GUESTS ARE BUSINESS PARTNERS AND FRIENDS, AND THEY'RE GOING TO EXPLAIN THE CONCEPT THEY BUILT THEIR COMPANY ON. THEY'LL TELL US HOW THEY COMPOST ALL VEGETARIAN WASTE IN ORDER TO SAVE LANDFILL SPACE, AND THEY'LL TALK ABOUT STEPS THEY TAKE TO CONTROL NUTRIENT WASTE AS WELL. ANOTHER GUEST WILL SHOW HOW TO TAKE A WOODEN WREATH, VARIOUS PAINTS, AND A NO-BAKE POLYMER CLAY TO CREATE A VARIETY OF SEASONAL HOME DECOR ITEMS. SHE USES A PUSH MOLD TO CREATE THE LEAVES AND THEN ADDS METALLIC SHIMMERS FOR THAT EXTRA SPECIAL TOUCH. AND FINALLY, WE'LL TALK TO A REGISTERED DIETICIAN ABOUT HEALTHY SCHOOL LUNCHES AND SNACKS, AND LOOK AT SOME QUICK AND EASY WAYS TO MAKE NUTRITIOUS SNACKS AND LUNCHES AT HOME. ALL OF THESE TOPICS WILL BE FEATURED ON THE NEXT "CREATIVE LIVING" SHOW. IF YOU EVER HAVE COMMENTS OR SUGGESTIONS OR IDEAS FOR SHOWS, YOU CAN E-MAIL ME AT sheryl.borden@enmu.edu. AND I'D ALSO LIKE TO ASK YOU TO BECOME A FAN OF "CREATIVE LIVING" ON FACEBOOK. JUST GO TO facebook.com, AND IN THE SEARCH WINDOW, TYPE IN "CREATIVE LIVING WITH SHERYL BORDEN." THANKS SO MUCH, AND I HOPE YOU'LL PLAN TO JOIN ME NEXT TIME FOR "CREATIVE LIVING." >> WE ARE VERY PLEASED TO OFFER A NEW BOOKLET THAT ACCOMPANIES THIS SERIES OF "CREATIVE LIVING." THIS BOOKLET IS TITLED "THE 6500 SERIES," AND IT FEATURES A WONDERFUL COLLECTION OF IDEAS AND INFORMATION, AND IT'S AVAILABLE FREE OF CHARGE ON OUR WEBSITE. POSTED AS A "PDF" FILE, YOU CAN SIMPLY DOWNLOAD THE ENTIRE BOOKLET OR JUST THE SEGMENTS YOU'RE MOST INTERESTED IN. AS WITH ALL OF THE "CREATIVE LIVING" BOOKLETS, YOU'LL FIND INFORMATION ON FOODS AND NUTRITION, CLOTHING AND FASHION, HEALTH AND BEAUTY, HOME DECORATING, AND MUCH MORE. FOR YOUR COPY OF THIS BOOKLET, GO TO OUR WEBSITE AT kenw.org AND THEN CLICK ON "CREATIVE LIVING," SCROLL DOWN TO THE BOOKLETS SECTION, AND YOU CAN CLICK ON THIS BOOKLET OR ANY OF THE OTHER BOOKLETS WE HAVE AVAILABLE ONLINE. ONCE AGAIN, JUST GO TO kenw.org, CLICK ON "CREATIVE LIVING," AND DOWNLOAD THE BOOKLET TITLED "THE 6500 SERIES." WE ALSO WANT TO ENCOURAGE YOU TO SIGN UP FOR OUR FREE E-NEWSLETTER. JUST CLICK ON THE "SIGN UP NOW" BUTTON AND INPUT YOUR E-MAIL ADDRESS. THAT'S ALL THERE IS TO IT. YOU'LL ENJOY READING AN UP-TO-DATE NEWSLETTER FILLED WITH INTERESTING TOPICS AND INFORMATION. THANK YOU.
Now Playing As: Captioned (English) (change)
This episode provides time saving techniques for making and piecing a quilt as well as quick cooking methods for home cooked meals.
Media Details
Runtime: 27 minutes