Creative Living With Sheryl Borden #6510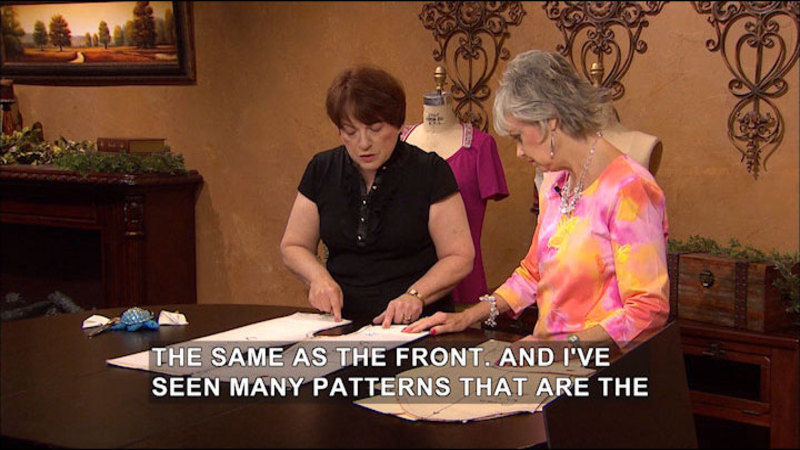 >> "CREATIVE LIVING," UTILIZING TODAY'S TECHNOLOGY WITH THE BEST OF THE PAST TO BRING YOU INNOVATIVE IDEAS AND UP-TO-DATE INFORMATION FOR CREATIVE LIFESTYLES IN TODAY'S ACTIVE WORLD, WITH YOUR HOST SHERYL BORDEN. >> WELCOME TO "CREATIVE LIVING" TODAY. WE'RE GOING TO LEARN HOW TO DRESS TO LOOK 10 POUNDS THINNER. WE'LL DEMONSTRATE MAKING A DELICIOUS TOFFEE, AND TALK ABOUT FITTING AND DESIGNING KNITS. MOST WOMEN ARE LOOKING FOR WAYS TO LOOK 10 POUNDS THINNER, AND ONE OF MY GUESTS TODAY IS NANCY NIX-RICE, AND SHE'S A WARDROBE CONSULTANT AND AUTHOR FROM ST. LOUIS, MISSOURI. NANCY'S GOING TO DEMONSTRATE ON HERSELF HOW TO MAKE GARMENT AND ACCESSORY CHANGES THAT WILL RESULT IN A SLIMMER AND MORE FLATTERING LOOK. MY NEXT TWO GUESTS ARE KIMBERLY REINER AND JENNA SANZ-AGERO, AND THEY'RE COOKBOOK AUTHORS WHO LIVE IN TARZANA, CALIFORNIA. THESE GALS ARE GOING TO DEMONSTRATE MAKING A DELICIOUS SEASIDE TOFFEE. EACH RECIPE IN THEIR COOKBOOK HAS A WONDERFUL STORY BEHIND IT, AND WE'LL HEAR THE STORY ABOUT THIS TOFFEE AS IT'S BEING MADE. KIMBERLY AND JENNA ARE OFTEN REFERRED TO AS THE "SUGAR MOMMAS," AND THEIR COOKBOOK IS TITLED "SUGAR, SUGAR: EVERY RECIPE HAS A STORY." AND WE'LL BEGIN THE SHOW WITH CONNIE CRAWFORD, AND SHE'S A PATTERN DESIGNER WHO OWNS HER OWN COMPANY CALLED FASHION PATTERNS BY CONI. SHE'S GOING TO TALK ABOUT HOW TO FIT AND DESIGN KNIT GARMENTS. CONNIE WILL ALSO SHOW SKETCHES OF KNIT DESIGNS THAT ILLUSTRATE THE VARIOUS KNIT FABRICS AND THE STRETCH ELEMENTS IN EACH ONE. SHE LIVES IN HANSVILLE, WASHINGTON. CONNIE, THANK YOU SO MUCH FOR BEING HERE TODAY. I KNOW YOU'VE SPENT YOUR LIFE--YOUR ADULT LIFE, ANYWAY--DESIGNING VARIOUS PATTERNS, GOWNS AND THINGS. BUT WHEN YOU SAID WE WERE GOING TO TALK ABOUT KNITS, I DIDN'T REALLY THINK ABOUT WHAT TYPE OF DESIGNING GOES INTO KNITS. >> YES, WELL, DESIGNING KNITS HAS BEEN A VERY FUN PART, ESPECIALLY SINCE KNITS ARE SO POPULAR NOWADAYS. A LOT OF PEOPLE JUST SEE THE WALMART KNIT, BUT A LOT OF KNITS ARE DEVELOPED FOR CASUAL WEAR AND-- ALL THE WAY THROUGH EVENING WEAR, AND THEY'RE DONE IN JACKETS AND STUFF. AND WE'RE TALKING HERE TODAY ABOUT SEWING KNITS SO THAT YOU'RE NOT TALKING ABOUT THE KNITTED KNITS THAT YOU WOULD DO WITH NEEDLES. SO IN THIS CASE, WE'RE LOOKING TODAY AT THE KNIT WEIGHT BECAUSE THAT CHANGES THE ACTUAL DRAPE OF THE DESIGN. SO EACH KNIT HAS TO BE DRAPED INDIVIDUALLY. AND THEN THE DRAPE STRETCH IS SHOWN IN MY DRAPING BOOK, TOO, YEAH, SO THAT YOU UNDERSTAND THAT. UH-HUH. >> AND THEN WE'LL TAKE A LOOK AT SOME ACTUAL PICTURES. >> THEY'RE TO SHOW YOU A LITTLE BIT ABOUT ALL THE VARIOUS STYLES. YOU COULD HAVE JACKETS. YOU CAN HAVE TOPS. YOU CAN HAVE LONGER JACKETS. YOU CAN HAVE TEE TOPS IN VARIOUS STYLES. AND YOU CAN HAVE DRESSES, AND YOU CAN--THIS IS A REAL DRAPED KNIT. THAT'S A REAL DRAPED KNIT THAT REALLY TAKES A LOT OF DRAPING. ONCE YOU HAVE A MASTER PATTERN, THOUGH--WHICH I'M GONNA SHOW YOU NOW, IS HOW TO MAKE A MASTER PATTERN DRAPE--AND THEN ONCE THAT'S DONE, THEN YOU CAN DESIGN FROM THAT ACTUAL DRAPE SO THAT YOU'RE NOT REDOING AND STARTING FROM SCRATCH EACH TIME. >> THAT'S THE KEY, IS TO HAVE THAT MASTER PATTERN THAT FITS YOU. >> FOR TIME'S SAKE, I'VE STARTED IT BY PINNING A KNIT FABRIC RIGHT INTO THE DRESS FORM, AND THEN DRAPING THE CROSS-GRAIN AT THE BUSTLINE LEVEL SO WE HAVE FULL BUST AMOUNT FIRST, AND THEN DRAPING OUR SIDE SEAM SO THAT EVERYTHING IS STRAIGHT UP AND DOWN ALL THE WAY THROUGH HERE. ONCE YOU HAVE THIS, THEN YOU'RE GOING TO TRIM YOUR NECKLINE. >> WE'RE NOT MEASURING. RIGHT NOW WE'RE JUST GETTING RID OF... >> NO MEASURING IN DRAPING--THAT IS WHAT THE NICE PART ABOUT DRAPING IS. >> THAT IS NICE. >> AND THEN YOU'RE GOING TO LOOK AND SEE, "OH, IF I WAS DOING A WOVEN, I'D END UP HAVING A DART HERE." WELL, IN THIS CASE, HOW YOU TAKE CARE OF THAT--WATCH THIS, IT'S A REAL TRICK--IS THAT YOU JUST PULL IT UP AND OUT, AND IT'S GONE. IT'S JUST GONE. AND SO THAT'S WHY YOU DRAPE-KNIT. SO YOU CANNOT FLAT-PATTERN A KNIT. ONCE YOU HAVE THIS KNIT, THEN YOU CAN TAKE YOUR CHALK AND YOU CAN ACTUALLY JUST DRAW IN YOUR SHOULDER SEAM AND DRAW IN THE SIDE SEAM. AND THEN THERE'S ONE LITTLE TRICK I WANT TO SHOW YOU, IS THAT WHEN YOU START AN ARM HOLE HERE, YOU HAVE THE TOP, THE MIDDLE, AND THE BOTTOM AT THE PLAIT. BUT THE TRICK IS AS SOON AS I CUT THIS AWAY...YOU'RE GONNA HAVE GAPOSIS IN YOUR ARMHOLE ITSELF. >> AND I THINK WE ALL HAVE EXPERIENCED HAVING SOMETHING THAT THAT HAPPENS TO. >> AND SO THE TRICK IS--AND I LEARNED THIS YEARS AGO IN THE INDUSTRY--IS YOU COME IN 1/4 OF AN INCH AND BLEND IT TO NOTHING AT THAT CROSS-GRAIN. THEN AS YOU RE-DRAPE THIS... >> ON THE FRONT SIDE. >> RIGHT. IT'LL BE ON THE BACK, TOO. AND WE'RE NOT GONNA SHOW YOU THE BACK, BUT WE'LL SHOW YOU THE FINISH OF A BACK. >> OH, AND THEN YOU'RE PULLING THAT OVER. >> AND ALL OF A SUDDEN, EVERYTHING IS FLAT AS CAN BE. SO IT ACTUALLY CURVES A LITTLE, AND THAT'S HOW YOU CAN TELL WHETHER THE PATTERN IS CORRECT OR NOT. THEN YOU CONTINUE MARKING THE CORNERS SO THAT YOU CAN TAKE IT OFF OF THE DRESS FORM. AND THEN YOU DO THE SAME THING TO THE BACK, AND THEN WE'LL... >> THIS BECOMES YOUR PATTERN, WHICH IS WHERE WE'RE GOING TO NOW. >> ...BECOME YOUR PATTERN. SO NOW WE'RE GONNA SHOW YOU THE PATTERN ITSELF. SO AS WE HAVE THIS HERE--WE HAVE THE FRONT AND THE BACK, AND YOU ACTUALLY... >> AND THIS IS THAT FABRIC. >> RIGHT. AND THEN YOU'RE GOING TO HAVE IT "TRUED UP," IT'S CALLED. AND YOU CAN SEE HOW-- THIS IS WHAT YOU STAPLE IT TO, MANILA PAPER, IS BECAUSE IT STARTS TO JUST MANIPULATE ON ITS OWN. SO... >> BECAUSE KNITS ARE SOFT. >> RIGHT. AND SO THEY START TO CURL AND EVERYTHING. SO ONCE YOU HAVE THIS--YOU'VE TRUED UP YOUR FRONT AND YOUR BACK--YOU'LL NOTICE THAT THE BACK IS LONGER THAN THE FRONT, AND IT IS NOT THE SAME AS THE FRONT. AND I'VE SEEN MANY PATTERNS THAT ARE THE SAME, AND YOU DON'T WANT THAT. YOU REALLY WANT TO BE ABLE TO HAVE A FULLY DRAPED ONE, NOT A FLAT-PATTERNED ONE. ONCE YOU CHECK IT, THEN YOU PUT IT TOGETHER HERE, AND YOU MAKE SURE THAT THE SIDE SEAMS ARE EXACTLY THE SAME SHAPE AND THAT THE FRONT IS ACTUALLY BIGGER THAN THE BACK... >> THE FRONT'S BIGGER TO ALLOW FOR THE BUST AREA. >> ACROSS HERE. AND THEN--BUT THE SHOULDERS ARE LONGER IN THE BACK, AND THAT'S HOW YOU CAN TELL A FULLY BALANCED PATTERN, AND THAT THE ARMHOLES ARE ALSO BALANCED SO THE BACK ARMHOLE IS 1/2-INCH LONGER THAN THE FRONT ARMHOLE. AND ONCE THAT'S DONE, YOU CAN MAKE VARIOUS SLEEVES, AND THE SLEEVE DRAFTS--AND YOU CAN DRAFT THAT, BUT YOU STILL DRAPE THE... >> SHORT SLEEVE, LONG SLEEVE-- WHATEVER TYPE YOU WANT. >> ONCE YOU HAVE THAT, THEN YOU CAN ACTUALLY MAKE IT A LITTLE BIT BIGGER JUST BY ADDING ANOTHER INCH TO THE SIDE SEAMS, MAYBE ANOTHER INCH TO THE-- 1/2 INCH TO THE ARMHOLE AND THE SHOULDER AND RE-DRAPE IT. SO YOU'RE NOT STARTING FROM SCRATCH EACH TIME, AND THEN YOU HAVE A LOOSER FIT. >> SO YOU'D KEEP THESE MASTER PATTERNS? >> RIGHT. AND THEN YOU MAINTAIN YOUR CURVATURE, YOU MAINTAIN YOUR BALANCE, AND IT'S JUST MUCH FASTER TO DO IT THAT WAY. >> AND WHEN YOU'RE WORKING WITH KNITS, DO YOU ALLOW A TYPICAL 5/8ths-INCH SEAM ALLOWANCE? >> IT'S WHATEVER. IF YOU'RE IN THE INDUSTRY, YOU'LL BE A 1/2 INCH, AND IF YOU'RE IN THE, UH, HOME SEWING, MANY TIMES YOU'LL BE A 5/8ths INCH. HOWEVER, IN THE INDUSTRY, I'VE ALWAYS SEEN 1/4-INCH SEAM ALLOWANCES, BUT YOU HAVE TO MAKE SURE THAT IT'S FROM THE STITCH LINE. DON'T SEW A 1/4-INCH SEAM ALLOWANCE WHEN THE PATTERN ALREADY GIVES YOU A 5/8ths-INCH SEAM ALLOWANCE. >> THAT'S IMPORTANT TO KNOW. >> VERY IMPORTANT. I'VE SEEN PEOPLE DO THAT, AND IT CHANGES THE ACTUAL FIT OF IT. >> OH, SURE, IT WOULD. >> SO IN THIS CASE, YOU WOULD HAVE A LITTLE LARGER SLEEVE AND A SEMI-FITTED SLEEVE ALSO FOR IT, AND YOU STILL HAVE THE SAME BALANCE ON HERE. YOU ALWAYS CHECK YOUR BALANCES, THAT THE SIDE SEAMS ARE ALWAYS THE SAME SHAPE AND LENGTH AND THAT YOUR FRONT IS BIGGER THAN THE BACK. AND THEN YOU TURN IT OVER, AND YOU HAVE YOUR LONGER BACK HERE. OK? SO AS YOU HAVE THAT, THEN YOU CAN START DESIGNING. SO IN THIS CASE, WE'RE SHOWING YOU HERE A NICELY--SWEETHEART NECKLINE THAT HAS ALSO ADDED SOME TRIM TO IT, AND WE JUST USED SIMPLE BIAS BINDING. THAT'S YOUR... >> IN A SHORT SLEEVE, VERY SIMPLE. >> AS YOU SAW ON OUR BOARD EARLIER, YOU CAN DO VARIOUS NECKLINES. YOU CAN DO VARIOUS DRESSES. BUT YOU CAN ALWAYS START WITH THAT MASTER PATTERN, AND THEN START MANIPULATING THE KNIT DIFFERENTLY. >> WELL, I NEVER KNEW THAT DRAPING WAS SO IMPORTANT IN KNIT. I KNEW IT WAS IN VERY FITTED LIKE EVENING GOWNS, BUT-- SO I'VE LEARNED A LOT. THANK YOU VERY MUCH. I APPRECIATE IT. >> THANK YOU. >> I'M VERY PLEASED TO HAVE THE ORIGINAL SUGAR MOMMAS HERE
TODAY: JENNA AND KIMBERLY. >> THANK YOU. >> AND I THOROUGHLY ENJOYED THE COOKBOOK. I READ EVERY PAGE. I DIDN'T READ ALL THE INGREDIENTS, OF COURSE, BUT I READ THE STORIES, BECAUSE THAT'S WHAT'S UNIQUE ABOUT YOUR COOKBOOK, ISN'T IT, KIMBERLY? >> ABSOLUTELY. EVERY ONE OF OUR RECIPES COMES WITH A STORY ABOUT THE PERSON THAT CREATED THE RECIPE AND ABOUT THE FAMILY. AND ALL THESE FOODS REALLY ARE EMOTIONAL TRIGGERS FOR US ABOUT GROWING UP AND WHAT WE LOVED ABOUT OUR FAMILIES. SO THAT IS WHAT WE FOUND SO UNIQUE AND SPECIAL ABOUT ALL THESE RECIPES. >> AND, JENNA, YOU SAID YOU MET SOME REALLY WONDERFUL PEOPLE AS YOU WERE GETTING THE STORIES. >> AND FROM ALL OVER THE COUNTRY, SO THEIR STORIES ARE VERY DIFFERENT. YOU KNOW, IT'S VERY REGIONAL. IN THE SOUTH, YOU'LL HEAR SOME OF THE SIMILAR THINGS, AND THEY'LL BE COMPLETELY DIFFERENT FROM WHAT WE HEARD IN THE NORTHEAST. >> OH, I BET THAT'S RIGHT. WELL, YOU COULDN'T HAVE PICKED A BETTER RECIPE HERE, TOFFEE, AND I ALWAYS MAKE IT DURING THE HOLIDAYS, BUT SOMETIMES I THINK, "WHY NOT MAKE IT YEAR-ROUND FOR EVERY OCCASION?" WHAT WAS SO UNIQUE ABOUT THIS RECIPE? >> WELL, THIS RECIPE IS ABOUT A MOTHER AND A DAUGHTER, NOW BOTH GROWN WOMEN, AND THEY GET TOGETHER AND MAKE THIS RECIPE TOGETHER. >> STILL DO? >> THEY STILL DO EVERY YEAR. THEY LIVE BY THE SEASIDE, SO WE CALL IT SEASIDE TOFFEE. AND IT JUST EVOKES THAT MOTHER AND DAUGHTER HOLIDAY GET-TOGETHER, AND THEY GET TOGETHER AND CREATE THIS AND THEY GIVE IT OUT FOR THE HOLIDAYS TO THEIR FRIENDS, THEIR NEIGHBORS, THEIR COLLEAGUES, THEIR COWORKERS. >> THEY SAID THEY HAVE TO MAKE EXTRA EVERY YEAR TO MAKE SURE THERE ARE NO FIGHTS... >> NO FIGHTS. >> FROM PEOPLE SAYING, "YOU GOT MORE THAN ME." >> AND REMEMBER, I'M YOUR NEWEST FRIEND, RIGHT? >> THAT'S RIGHT. THAT'S RIGHT. >> SO YOU'VE ALREADY STARTED A LITTLE BIT, JENNA. WHAT HAVE YOU DONE? >> RIGHT HERE, WHAT I HAVE IN THE PAN IS TWO CUPS OF BUTTER-- WHICH IS 4 STICKS OF BUTTER--TWO CUPS OF SUGAR, AND 3 TABLESPOONS OF WATER. AND YOU JUST LET THAT GO AND BRING IT UP TO WHAT WE CALL HARD-CRACK STAGE, WHICH IS ABOUT 300 DEGREES ON A CANDY THERMOMETER, SO YOU JUST POP THAT IN THERE. >> THAT BRINGS UP A POINT. I THINK SOMETIMES PEOPLE THINK THAT CANDY--COOKIE MAKING, YOU THINK, "OH, ANYBODY CAN DO THAT, MAYBE." BUT CANDY MAKING IS SORT OF A SCIENCE, AND THAT HARD-CRACK OR SOFT-CRACK OR... >> WE LOVE TO TALK ABOUT THAT. >> WELL, THIS IS MY LITTLE LAB, THEN, AND SCIENCE--BAKING IS A SCIENCE, BUT IT'S NOT ROCKET SCIENCE. >> NO, NOT ROCKET SCIENCE. >> SO WE SAY THAT ALL THE TIME, AND I HAVE NEVER MADE CANDY BEFORE WE STARTED TESTING RECIPES FOR THE BOOK. I'VE BEEN BAKING FOR MY WHOLE LIFE, BUT THAT'S WHY WE DECIDED TO SHOW YOU THIS RECIPE TODAY. BECAUSE IT'S SO EASY, AND WE WANT YOUR VIEWERS TO SEE THAT THEY DON'T HAVE TO BE AFRAID OF IT. >> AND THEY CAN DO IT? OK. GOOD. >> SO YOU'RE GONNA START WITH-- YOU'LL TOAST SOME ALMONDS AND CHOP THEM. >> AND, YOU KNOW, THAT SOUNDS LIKE A LITTLE EXTRA TROUBLE, BUT, BOY, IS IT WORTH IT. >> IT IS. AND ALL YOU DO IS THROW THEM ON A BAKING SHEET, POP THEM IN THE OVEN FOR 5 TO 10 MINUTES UNTIL YOU START TO SMELL IT, PULL THEM OUT, AND THEY'RE READY. >> THE AROMA--THAT'S WHEN YOU KNOW IT'S READY. >> AND PECANS ARE GOOD THAT WAY. >> ABSOLUTELY. ANY KIND OF NUT, IT'S FABULOUS. SO THESE ARE ALMONDS, AND WE'RE JUST GONNA TAKE ABOUT 1/2 A CUP AND SPRINKLE IT AROUND. >> AND, NO, WE DON'T NEED TO SPRAY THAT. >> NOPE, WE DON'T SPRAY IT. >> IT'S READY TO GO. >> YEP, READY TO GO. THERE'S ENOUGH BUTTER IN THE CARAMEL TO DO US JUSTICE. >> SO YOU JUST SPREAD IT AROUND, AND THEN YOU'RE GONNA TAKE TWO CUPS--THIS IS 4 CUPS OF CHOCOLATE CHIPS, SO WE'RE GONNA TAKE ABOUT HALF OF IT, AND YOU'RE GONNA ALSO JUST SPREAD IT AROUND YOUR TRAY. REALLY EASY. I MEAN, YOU CAN GET THE KIDS INVOLVED IN THIS. I MEAN, YOU KNOW, IF THEY STEAL A FEW CHOCOLATE CHIPS... >> WE ALREADY HAVE. >> WE'VE BEEN DOING IT, EXACTLY. SO THEY SHOULD HAVE THEIR FUN, TOO. >> YOU CAN'T REALLY MESS IT UP. IT'S LAYERING WITH SOME CARAMEL IN THE MIDDLE. SO A LITTLE EXTRA CHOCOLATE CHIPS HERE, A LITTLE NUTS--YOU DON'T HAVE TO BE SO SPECIFIC. >> SO THE TRICKY PART IS NOT THAT TRICKY AT ALL. YOU GOT YOUR BUTTER AND YOUR SUGAR CARAMELIZING HERE, AND ONCE IT GETS TO A NICE CARAMELLY PEANUT BUTTER COLOR, WHICH IS KIND OF A NICE BROWN-LIKE... >> WHAT WE TEND TO THINK OF AS CARAMEL COLOR. >> DOESN'T IT SMELL DELICIOUS? >> SMELLS FABULOUS. AND THEN YOU'RE GONNA TAKE IT AND YOU'RE JUST GONNA POUR IT RIGHT OVER THE TOP HERE. ACTUALLY, I LIED. FIRST, YOU'RE GONNA MIX IN ANOTHER 1/2 A CUP OF YOUR ALMONDS. SO YOU JUST POUR THAT RIGHT IN AND STIR. >> HOW MUCH VANILLA DO YOU NEED? >> YOU GOT ONE TABLESPOON OF VANILLA. THANK YOU, KIMBERLY. AND WE'LL STIR THAT IN AS WELL, AND THE ALMONDS ARE JUST DELICIOUS. >> YES. AND IF I EVER DUMP EXTRA, I JUST SAY.. >> THAT'S RIGHT. >> I ALWAYS ERR ON THE SIDE OF GENEROUS. >> I LIKE VANILLA FLAVOR, SO I ALWAYS JUST DROP A FEW EXTRA DRIBBLES IN THERE. >> MEASURE IT OVER THE POT SO IT'LL DRIBBLE ON IT. >> NOW YOU JUST TAKE IT--I'LL USE MY LITTLE OVEN MIT HERE-- POUR IT RIGHT OVER THE TOP OF YOUR... >> THE COLOR IS SO BEAUTIFUL. >> OF YOUR CHOCOLATE AND ALMONDS. >> I'VE BEEN NIBBLING AS WE WERE GETTING READY FOR THIS, AND I HAVE TO SAY THERE'S A MAN LOCALLY HERE THAT MAKES SUCH WONDERFUL TOFFEE. AND HIS IS EXCELLENT, AND THIS IS REALLY GOOD--MAYBE EVEN BETTER. BUT IT'S THAT CREAMY. I DON'T LIKE TOFFEE THAT'S SO HARD THAT IT MAKES ME WONDER ABOUT MY TEETH. >> EXACTLY. >> IF YOU'RE GONNA CHIP A TOOTH. >> SO THIS IS FABULOUS. SO THEN WE'RE GONNA JUST LET THAT SET FOR A FEW MINUTES, AND WHILE WE DO THAT... >> THIS IS WHAT IT LOOKS LIKE, RIGHT? >> SO OUR CONTRIBUTOR JILL--I HAD HER MAKE THE RECIPE FOR US AND VIDEOTAPED HER, AND WHAT WE LIKE TO SAY IS WHEN YOU GET PEOPLE IN THE KITCHEN MAKING THEIR OWN RECIPE, THEY TELL YOU--A LOT MORE INFORMATION COMES OUT. >> I BET THAT'S TRUE. >> SO WHEN SHE WAS MAKING IT, SHE SAID--SHE HAD THE BEST IDEA. SHE SAID ALL THESE LITTLE--THESE EXTRA LITTLE PIECES--BECAUSE EVERYONE WANTS TO TAKE THE BIG CHUCKS... >> OH, SURE. >> SHE LIKES TO MAKE THOSE INTO ICE CREAM TOPPERS. SO WE HAVE SOME GIFT GIVING IDEAS. >> MEANWHILE, OVER HERE, I'M JUST GONNA SPRINKLE THE BALANCE OF THE CHOCOLATE CHIPS OVER THE TOP HERE AND LET THOSE SOAK INTO MY... >> I THOUGHT YOU WERE GONNA SAY, "THESE ARE JUST FOR THE COOK TO EAT," BUT... >> WELL, THAT, TOO. SO ISN'T THAT A WONDERFUL IDEA? SO YOU CAN PACK YOUR BIG PIECES OF TOFFEE, AND THEN ALL THE LITTLE EXTRA PIECES--WELL, YOU AND I WOULD PROBABLY EAT THEM. BUT IF YOU HAD ENOUGH SELF-CONTROL, YOU CAN PUT THEM IN SOME JARS AND MAKE THEM AS GIFTS. SO, AGAIN, EVERYTHING GETS USED. NOTHING GOES TO WASTE. >> I DON'T THINK WE'D EVER HAVE TO WORRY ABOUT THIS RECIPE GOING TO WASTE. >> NOPE. AND YOU SPRINKLED THE REST OF YOUR CHOCOLATE CHIPS OVER THE TOP. AS IT STARTS TO MELT, YOU JUST SORT OF SPREAD IT OUT IN THE PAN. TAKE THE REST OF YOUR ALMONDS, SPRINKLE THEM RIGHT OVER THE TOP. AGAIN, YOU CAN GET THE KIDS INVOLVED IF YOU WANT TO. >> AND ANOTHER GOOD THING IS I'M THINKING, IN THE KITCHEN, A LOT OF TIMES I DON'T HAVE A DOUBLE OVEN--WHICH I WOULD LOVE BUT ONLY WOULD USE IT ONCE OR TWICE. BUT SOMETIMES YOU'RE BUSY COOKING THINGS. THIS IS A GREAT RECIPE BECAUSE IT'S MADE ON THE STOVE TOP. YOU CAN HAVE SOMETHING ELSE GOING ON THE OVEN WHILE YOU'RE MAKING THIS. >> AND SO THAT JUST SET IT. YOU SET IT ASIDE. >> HOW LONG DOES IT HAVE TO SET UP? >> IT HAS TO SET OVERNIGHT. AND SO THIS IS WHAT IT LOOKS LIKE. SO THIS HAS BEEN... >> SET OVERNIGHT. AND THEN WE JUST TAKE SOME TYPE OF--NOW, WE WERE LAUGHING. IF IT WERE US, WE'D, YOU KNOW, TAKE A BOOT. BUT IF YOU DON'T HAVE A BOOT, SOMETHING SHARP, OR EVEN LIKE A MEAT MALLET OR--YOU KNOW, I LIKE TO KEEP A HAMMER JUST FOR COOKING PURPOSES. AND YOU JUST CAN BREAK THAT UP INTO PIECES AND IT LOOKS LIKE THIS. >> AND THEN PACKAGE IT AS GIFTS... >> OR EAT IT AT HOME. >> YOU BET. BUT THIS WOULD BE SOMETHING BECAUSE IT DOES MAKE A LOT THAT YOU COULD DO AS GIFTS. SOMETIMES YOU HAVE TO DO A WHOLE RECIPE FOR ONE GIFT, SO THIS WOULD MAKE SEVERAL. >> OR SOMETHING UNIQUE FOR A BAKE SALE. INSTEAD OF BRINGING COOKIES, YOU COULD TAKE--PUT THEM IN LITTLE BAGGIES THAT CAN BE SOLD INDIVIDUALLY. >> AS YOUR ICE CREAM TOPPER: DELICIOUS. >> IT WOULD BE. AND WHAT A CUTE WAY TO USE UP LITTLE OLD JARS THAT YOU HAVE LEFT FROM JAMS OR JELLIES. >> AND YOUR RIBBONS AND YOUR PAPERS AND ALL THOSE LITTLE EXTRA ODDS AND ENDS. >> WELL, THANK YOU BOTH FOR SHARING SUCH A GREAT RECIPE, AND THE STORY IS SO NICE. I CAN SEE WHY MOTHER AND DAUGHTER ENJOY DOING THIS TOGETHER EVERY YEAR. >> ABSOLUTELY. >> THANKS, SHERYL. >> THANK YOU. >> NANCY, THANK YOU SO MUCH FOR BEING HERE. WE'RE GOING TO COVER LOTS OF THINGS TODAY, AND I'VE SEEN YOU DRESS TO THE HILT, AND I HAVE TO ADMIT THIS SEGMENT IS GOING TO BE ON HOW TO LOOK 10 POUNDS THINNER. SO IS THIS THE AFTER OR THE BEFORE? >> WELL, THIS IS DEFINITELY THE BEFORE. AND I WANTED TO START WITH 3 REALLY CLASSIC PIECES--THE BASIC LITTLE SLIM SKIRT, A PLAIN SHELL UNDERNEATH, AND AN EASY CARDIGAN--THINGS THAT EVERY WOMAN PROBABLY HAS IN HER WARDROBE AND THAT ARE PERFECTLY FINE PIECES. BUT I WANT TO SHOW YOU HOW SOME LITTLE CHANGES CAN MAKE A HUGE DIFFERENCE IN NOT ONLY HOW POLISHED BUT ALSO HOW POUNDS-OFF A PERSON CAN LOOK. >> OK. WELL, LET'S SEE YOU WORK YOUR MAGIC. >> WELL, LET'S START FROM THE BOTTOM UP. WE'VE STARTED OUT WITH A REALLY COMFORTABLE LITTLE LOAFER, A PERFECTLY NICE SHOE, BUT THE DOWNSIDE OF IT ISN'T REALLY JUST THE FACT THAT IT'S A LOW HEEL, THAT IT'S FLAT, BUT THAT IT'S WHAT WE CALL A HIGH VAMP, WHICH MEANS THAT THE TONGUE ON THE FRONT OF THAT SHOE COVERS ALMOST HALF MY FOOT. LOOK AT THE DIFFERENCE WHEN WE SLIDE INTO A LOW VAMP SHOE THAT EXPOSES MORE FOOT, AND ALL OF A SUDDEN YOUR LEGS LOOK 2 TO 3 INCHES LONGER. WHAT WOULD WE GIVE FOR 2 TO 3 INCHES OF EXTRA HEIGHT? SO THAT'S A GREAT STARTING POINT. >> SO THINK FROM THE BOTTOM UP. >> WE'RE GONNA WORK RIGHT FROM THE BOTTOM UP. THE NEXT THING WE'RE GOING TO LOOK AT IS OUR SLIM SKIRT. LIKE THE MAJORITY OF SLIM SKIRTS IN THE WORLD, IT FITS OUT OVER MY HIPS AND FALLS STRAIGHT. BUT LOOK HOW MUCH SLEEKER THE LOOK BECOMES WHEN I PRETEND THAT WE'VE TAPERED THE SIDE SEAM. NOW, YOU AND I BOTH KNOW THAT I AM ACTUALLY HOLDING THE BACK OF THE SKIRT, AND THAT'S NOT WHAT WE'RE SUGGESTING. BUT IF A PERSON WHO SEWS HERSELF OR SOMEONE WHO DOESN'T CAN HAVE HER DRESSMAKER ANGLE THOSE SIDE SEAMS JUST SLIGHTLY, AND ALL OF A SUDDEN AGAIN YOUR WHOLE LOWER BODY LOOKS SLEEKER. NOW, I CAN'T DO THE REST OF THIS SEGMENT HOLDING MY SKIRT BEHIND MY BACK, SO I'M GONNA LET YOU CLIP THAT FOR ME REAL QUICKLY SO IT'LL STAY IN THAT POSITION. AND WHILE YOU'RE DOING THAT, I'M ALSO GOING TO LOSE THE WIDE WAISTBAND ON THIS SKIRT. THIS ONE HAPPENS TO BE A FAKE, BUT WHAT IT DOES IS SHORTEN UP YOUR UPPER TORSO. LOOK HOW MUCH BETTER WHEN WE CONVERT TO A SKIRT WITH A NARROW WAISTBAND OR NO WAISTBAND AT ALL, SO NOW YOU HAVE MORE LENGTH THROUGH THAT MIDDLE PART OF YOUR BODY. I'LL LET YOU HAVE A WAISTBAND. >> DISREGARD THAT. >> ANOTHER SNEAKY LITTLE TRICK IS JUST TO PUSH UP THE SLEEVES ON THAT SWEATER. BY EXPOSING MORE SKIN HERE, AGAIN, YOUR WHOLE BODY LOOKS TALLER AND TRIMMER. NOW, THESE SLEEVES ARE STAYING PUSHED UP REALLY COMFORTABLY, BUT THAT'S NOT ALWAYS THE CASE. THAT'S WHY I LOVE THESE LITTLE SWEATER SLEEVE BANDS. THEY'RE LIKE GARTERS FOR YOUR SLEEVES, AND THEY SIMPLY SLIDE RIGHT UP JUST ABOVE YOUR ELBOW, AND THEN THE EXCESS FABRIC FROM WHERE YOU PUSHED IT UP SLIDES DOWN, COMPLETELY COVERS THE BAND, AND YOU CAN STAY COMFORTABLY AND FLATTERINGLY PUSHED UP ALL DAY LONG. >> WELL, I NEVER THOUGHT ABOUT THE FACT THAT IT DOES MAKE YOU LOOK SLIMMER. >> IT JUST ELONGATES THE WHOLE LOOK, DOESN'T IT? >> I THINK IF YOU HAVE SHORT ARMS, IT'S JUST AN AWKWARD LENGTH IF THEY'RE LONG AND THEY COME DOWN TOO LONG, SO I ALWAYS TEND TO PUSH THEM UP. >> AND ANY SLEEVE THAT'S TOO LONG AND COMES DOWN OVER YOUR HAND PULLS PEOPLE'S FOCUS DOWNWARD ON YOUR BODY. YOU ALWAYS WANT THE FOCUS FLOWING UPWARD, PARTLY TO FOCUS ON YOUR FACE AND PARTLY BECAUSE IT ELONGATES EVERY BIT OF YOU. NOW, ANOTHER REALLY SNEAKY TRICK FOR LOOKING TALLER AND TRIMMER IS SHOULDER PADS. NOW, YOU MAY HAVE HEARD--AND MANY PEOPLE HAVE--THAT SHOULDER PADS ARE SUPPOSEDLY "OUT." WHAT THAT MEANS IS THAT IN CURRENT FASHION, WHEN YOU BUY A TAILORED JACKET, IT DOESN'T HAVE THOSE GIGANTIC, OVERSIZED SHOULDER PADS THAT LOOK LIKE SOMETHING OFF THAT "DYNASTY" TV SHOW. WHAT WE'RE TALKING ABOUT IS A LITTLE SUBTLE SHOULDER SUPPORT THAT'S REALLY A SILHOUETTE BALANCING TOOL. THESE ARE... >> NOW, WOULD YOU PUT THIS UNDER THE CARDIGAN OR UNDER YOUR-- OK, EXCUSE ME. >> EXCELLENT QUESTION. IT DEPENDS. IF YOU'RE GOING TO LEAVE THE CARDIGAN ON ALL DAY, YOU GET THE ABSOLUTE BEST "STICKUM" BY HAVING FABRIC ON BOTH SIDES OF THE SHOULDER PADS. BUT THE TEXTURE OF THESE IS SIMILAR, REALLY, TO VELCRO, SO IT ADHERES TO FABRIC. SO IF I WANTED TO BE ABLE TO TAKE MY CARDIGAN OFF--LET'S SAY JUST, OH, FOR INSTANCE, THAT I WAS GOING THROUGH SECURITY AT THE AIRPORT, AND I DIDN'T WANT TO WHIP OFF MY CARDIGAN AND HAVE TWO SHOULDER PADS FLYING ACROSS THE SECURITY CHECKPOINT--I CERTAINLY COULD ANCHOR THEM UNDER THAT UNDERLAYER SWEATER, AS WELL. ABSOLUTELY. >> THAT IS AMAZING, WHAT IT DOES TO YOU. AND FOR THOSE OF US WHO DO NEED THAT LITTLE EXTRA WIDTH, I CAN SEE HOW THAT MAKES--IT CREATES THAT LINE COMING DOWN. >> ABSOLUTELY. SO MANY WOMEN ARE REALLY UNDER THE MISTAKEN BELIEF THAT THEY ALREADY HAVE THESE HUGE SHOULDERS AND THEY WANT TO MINIMIZE THEM. LOOK AT ANY SUPERMODEL ON THE RUNWAY--THAT SILHOUETTE IS ALL ABOUT THIS WONDERFUL SQUARED SHOULDER. NOW, YOU DON'T WANT TO LOOK LIKE A FULLBACK, BUT THESE GIVE YOU A REALLY NATURAL CURVE AND JUST LIFT AND BALANCE THE SILHOUETTE, DON'T THEY? I THINK THEY'RE ONE OF THOSE "DON'T LEAVE HOME WITHOUT THEM" ITEMS. >> I DO, TOO! >> NOW, IF WE REALLY WANT TO ANCHOR THE FOCUS UP HIGH AROUND OUR FACE, EITHER A GREAT NECKLACE OR A GREAT SCARF IS A TERRIFIC WAY TO DO THAT. I HAVE A SCARF HANDY TODAY. >> THIS IS, WHAT, ABOUT 60 INCHES? >> THIS IS A 60-INCH RECTANGLE, AND I'M JUST GONNA TWIST IT A LITTLE BIT, TUCK THE ENDS THROUGH. NOW DO YOU SEE HOW MUCH MORE FORCEFULLY ALL YOUR ATTENTION ENDS UP? >> IT GOES UP TO THE FACE. >> AT THE TOP. AND WE WANT TO PUNCTUATE THAT WITH A PAIR OF STATEMENT EARRINGS, WHICH SIMPLY MEANS AN EARRING THAT IS BOLD ENOUGH THAT IT COMMANDS FOCUS. THEY DON'T HAVE TO BE THE SIZE OF A HUBCAP, BUT YOU WANT THEM TO BE VISUALLY DOMINANT WITHIN THE LOOK. SO NOW ALL THE FOCUS IS LANDING UP HERE, ALL OF THIS IS SLEEKED DOWN, AND I'M HOPING THAT YOU'LL FEEL--THAT I LOOK AT LEAST 10 POUNDS THINNER, RIGHT, AND A LITTLE BIT MORE CHIC, AS WELL. >> I HEARD A LADY SAY ONE TIME-- AND OF COURSE THIS WAS BACK WHEN SHOULDER PADS WERE REALLY IN AND THEY WERE THE BIGGER ONES. SHE SAID, "FOR EVERY PAIR OF SHOULDER PADS YOU WEAR, IT TAKES 5 POUNDS OFF." >> IT DOES MAKE A HUGE DIFFERENCE. IT REALLY, REALLY DOES. SO I HOPE PEOPLE WILL GET OVER THAT MISTAKEN BELIEF THAT THEY'RE SOMEHOW EIGHTIES AND NOT WHAT YOU WANT TO DO. YOU ONLY WANT TO DO SHOULDER PADS IF YOU HAVE ANY ISSUE ABOUT YOUR BODY FROM THE SHOULDERS DOWN. IF THERE'S ANYTHING IN HERE THAT YOU WISH YOU HAD A LITTLE LESS OF--OR, HONESTLY, THAT YOU WISH WAS BACK UP WHERE IT USED TO BE--SHOULDER PADS WILL DO IT EVERY TIME. >> THAT'S GREAT. THOSE ARE GREAT TIPS, AND THOSE ARE JUST SOME OF THE TIPS THAT ARE IN YOUR BOOK, "LOOKING GOOD," AND THAT'S WHAT WE ALL STRIVE TO DO, IS LOOKING GOOD AT WORK OR AT HOME OR PLEASURE OR WHATEVER. THANK YOU VERY MUCH, NANCY. >> IT WAS MY PLEASURE. >> I HOPE YOU ENJOYED THE SHOW TODAY. NEXT TIME ON "CREATIVE LIVING," WE'LL LEARN HOW TO CREATE OUR OWN QUILT BACKGROUND, AND WE'LL SHARE SOME BEAUTY INDUSTRY DIRTY SECRETS. ONE OF MY NEXT GUESTS IS A QUILTER AND A DESIGNER, AND SHE'S GOING TO DEMONSTRATE WHAT SHE CALLS "PLAYING IN THE GRID." SHE'LL SHOW HOW TO USE A PAINT STICK PRIMER ON THE BACKGROUND FABRIC, AND THEN USE THE GRID AS A GUIDE FOR YOUR OWN INDIVIDUAL QUILTED CREATION. WE'LL ALSO TALK TO A SKIN-CARE SPECIALIST WHO OWNS HER OWN LINE OF ORGANIC PRODUCTS. SHE'S GOING TO TALK ABOUT SOME OF THE ACTUAL CHEMICALS USED IN SKIN-CARE PRODUCTS AND EXPLAIN HOW THEY MAY BE CONTRIBUTING TO SERIOUS HEALTH PROBLEMS. I THINK YOU'LL FIND THIS VERY INTERESTING. BOTH OF THESE TOPICS WILL BE FEATURED ON THE NEXT "CREATIVE LIVING" SHOW. IF YOU EVER HAVE COMMENTS OR SUGGESTIONS OR IDEAS FOR SHOWS, YOU CAN E-MAIL ME AT SHERYL.BORDEN@ENMU.EDU. AND I'D ALSO LIKE TO ASK YOU TO BECOME A FAN OF "CREATIVE LIVING" ON FACEBOOK. JUST GO TO FACEBOOK.COM, AND IN THE SEARCH WINDOW, TYPE IN "CREATIVE LIVING WITH SHERYL BORDEN." THANKS SO MUCH, AND I HOPE YOU'LL PLAN TO JOIN ME NEXT TIME FOR "CREATIVE LIVING." >> WE ARE VERY PLEASED TO OFFER A NEW BOOKLET THAT ACCOMPANIES THIS SERIES OF "CREATIVE LIVING." THIS BOOKLET IS TITLED "THE 6500 SERIES," AND IT FEATURES A WONDERFUL COLLECTION OF IDEAS AND INFORMATION, AND IT'S AVAILABLE FREE OF CHARGE ON OUR WEBSITE. POSTED AS A .PDF FILE, YOU CAN SIMPLY DOWNLOAD THE ENTIRE BOOKLET OR JUST THE SEGMENTS YOU'RE MOST INTERESTED IN. AS WITH ALL OF THE "CREATIVE LIVING" BOOKLETS, YOU'LL FIND INFORMATION ON FOODS AND NUTRITION, CLOTHING AND FASHION, HEALTH AND BEAUTY, HOME DECORATING, AND MUCH MORE. FOR YOUR COPY OF THIS BOOKLET, GO TO OUR WEBSITE AT KENW.ORG, AND THEN CLICK ON "CREATIVE LIVING." SCROLL DOWN TO THE BOOKLETS SECTION, AND YOU CAN CLICK ON THIS BOOKLET OR ANY OF THE OTHER BOOKLETS WE HAVE AVAILABLE ONLINE. ONCE AGAIN, JUST GO TO KENW.ORG, CLICK ON "CREATIVE LIVING," AND DOWNLOAD THE BOOKLET TITLED "THE 6500 SERIES." WE ALSO WANT TO ENCOURAGE YOU TO SIGN UP FOR OUR FREE E-NEWSLETTER. JUST CLICK ON THE "SIGN UP NOW" BUTTON AND INPUT YOUR E-MAIL ADDRESS. THAT'S ALL THERE IS TO IT. YOU'LL ENJOY READING AN UP-TO-DATE NEWSLETTER FILLED WITH INTERESTING TOPICS AND INFORMATION. THANK YOU.
Now Playing As: Captioned (English) (change)
This episode takes a look at knit garment design and provides fashion tips from a wardrobe consultant. The recipe featured in this episode is sea side toffee.
Media Details
Runtime: 27 minutes