Creative Living With Sheryl Borden #6505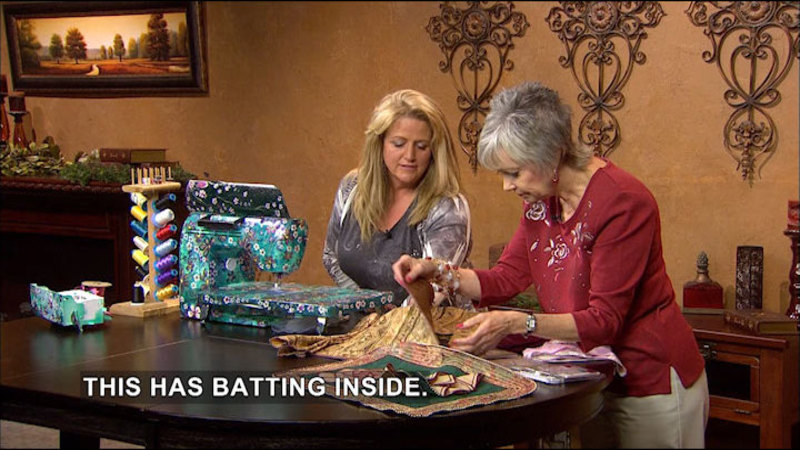 >> "CREATIVE LIVING," UTILIZING TODAY'S TECHNOLOGY WITH THE BEST OF THE PAST TO BRING YOU INNOVATIVE IDEAS AND UP-TO-DATE INFORMATION FOR CREATIVE LIFESTYLES IN TODAY'S ACTIVE WORLD, WITH YOUR HOST, SHERYL BORDEN. >> I'M SO GLAD YOU JOINED ME TODAY FOR "CREATIVE LIVING." WE'RE GOING TO SHOW HOW TO MAKE NAPKINS USING A NEW TYPE OF PRESSER FOOT. WE'LL TALK ABOUT BUYING QUALITY CANDLES AND SHARE SOME GREAT STRAWBERRY RECIPES WITH YOU. ONE OF MY GUESTS IS CLARE ROWLEY, AND SHE'S AN INVENTOR AND THE OWNER OF "CREATIVE FEET" IN PRESCOTT VALLEY, ARIZONA. CLARE IS GOING TO SHOW HOW TO MAKE NAPKINS USING A SATIN-EDGE PRESSER FOOT THAT SHE INVENTED FOR A BLIND AND DEAF SEWER IN 1986. AND SINCE THIS PRESSER FOOT GUIDES THE FABRIC ITSELF, EVEN CHILDREN OR ADULTS WITH PHYSICAL OR VISUAL CHALLENGES CAN ENJOY SEWING. WE ALL KNOW THAT THERE'S A LOT TO CONSIDER WHEN BUYING CANDLES. ANOTHER GUEST IS MELANIE THAYN, AND SHE'S AN INDEPENDENT CONSULTANT FOR PARTYLITE IN PLYMOUTH, MASSACHUSETTS. MELANIE IS GOING TO TALK ABOUT WHAT TO LOOK FOR AND HOW TO GET THE MOST FROM THE CANDLES YOU BUY. SHE'LL ALSO DISCUSS FRAGRANCES, TRIMMING THE WICKS, AND SAFETY CONCERNS, TOO. MY FIRST GUEST ON THE SHOW TODAY IS SUE HARRELL, AND SHE REPRESENTS THE FLORIDA STRAWBERRY GROWERS ASSOCIATION AND LIVES IN PLANT CITY, FLORIDA. SUE WILL TALK ABOUT THE GROWING SEASON FOR FLORIDA STRAWBERRIES, THE SELECTION, STORAGE, AND MUCH MORE AS SHE PREPARES A STRAWBERRY BANANA SMOOTHIE FOR A QUICK AND HEALTHY BREAKFAST OR FOR ANY OTHER TIME YOU WANT ONE. SUE, IT'S SO NICE TO HAVE YOU HERE, AND WHEN YOU BROUGHT ALL THESE WONDERFUL STRAWBERRIES IN, I JUST KNEW THIS WAS GOING TO BE FUN TODAY. I LOVE STRAWBERRIES. BUT I HAVE TO ADMIT, WHEN I WAS READING THROUGH THE MATERIAL YOU SENT, I LEARNED A LOT. I THINK STRAWBERRIES ARE KIND OF UNDERRATED IN TERMS OF HOW NUTRITIOUS THEY ARE AND ALL THE HEALTH BENEFITS. >> YES, THEY REALLY ARE. THEY'RE GOOD FOR YOU, AND, UM... THEY'RE RED, JUICY, BEAUTIFUL, AND, UM, VERY EASY TO EAT AS A SNACK. YOU DON'T EVEN HAVE TO REALLY MAKE ANYTHING OUT OF THEM. YOU JUST EAT THEM FRESH. AND I'M VERY EXCITED TO BE HERE TODAY TO TELL YOU ALL ABOUT STRAWBERRIES. >> WELL, WHAT DOES IT MEAN WHEN WE TALK ABOUT FLORIDA WINTER STRAWBERRIES? I THOUGHT THEY WERE ALL STRAWBERRIES. >> WELL, OUR STRAWBERRY SEASON RUNS FROM THANKSGIVING THROUGH EASTER, AND WE GROW BERRIES IN THE WINTER MONTHS. WHEN EVERYBODY IS COVERED WITH SNOW, WE'VE ACTUALLY GOT CROPS GROWING IN FLORIDA. SO WE'RE ABLE TO PRODUCE STRAWBERRIES AND SHIP TO THE NORTHEAST MARKETS, AND SO THEY CAN HAVE A LITTLE BIT OF FLORIDA SUNSHINE DURING THEIR DREARY WINTER MONTHS. >> THE DEAD OF WINTER. >> EXACTLY. AND WE'RE AVAILABLE DURING THE HOLIDAYS-- CHRISTMAS, VALENTINE'S AND EASTER AND MOTHER'S DAY. SOMETIMES WE GO INTO A LITTLE BIT OF THAT TIME OF THE YEAR. >> ALL THOSE TIMES WE THINK OF CHOCOLATE-COVERED STRAWBERRIES AND WONDERFUL GIFTS AND THINGS. WELL, ONE THING I LEARNED WAS ABOUT STRAWBERRIES AND SEEDS, AND I HAVE TO ADMIT, I PLANTED STRAWBERRIES BEFORE IN MY GARDEN, BUT I NEVER THOUGHT ABOUT WHERE ARE THE SEEDS? >> WELL, THE SEEDS ARE ON THE OUTSIDE. STRAWBERRIES ARE THE ONLY FRUIT WITH SEEDS ACTUALLY ON THE OUTSIDE. AND, UM, WE ACTUALLY DON'T GROW STRAWBERRIES FROM SEEDS IN FLORIDA. WE USE THE RUNNERS, WHICH IS THE SMALL PLANTS. >> AND IF YOU GROW THEM, THEY JUST SORT OF SPRING ALONG. >> RIGHT. YOU WOULDN'T WANT THAT IN YOUR GARDEN, BUT TO GROW COMMERCIALLY, WE ACTUALLY PLANT A PLANT AND KEEP THE RUNNERS CUT OFF SO THEY KEEP PRODUCING FRUIT. >> AND IT'S ALL DONE BY HAND. >> YES, IT IS. ALL PLANTED AND HARVESTED BY HAND. >> WELL, HOW DO WE KNOW WHEN THEY'RE READY? IT'S NOT LIKE PEARS. YOU CAN BUY THEM KIND OF UNRIPENED, AND THEY RIPEN IN A BROWN BAG. HOW DO YOU CHOOSE STRAWBERRIES? >> WELL, STRAWBERRIES ARE PICKED WHEN THEY'RE RIPE, FULLY RIPE. THEY DO NOT RIPEN IN A PAPER BAG. THEY'RE HIGHLY PERISHABLE. SO WE PICK THEM FRESH FROM THE FIELD, SHIP THEM TO THE MARKET, AND FOR YOU TO KEEP THEM FRESH, YOU NEED TO NOT WASH YOUR BERRIES, LEAVE THE CAPS ON, AND KEEP THEM REFRIGERATED UNTIL YOU'RE READY TO USE THEM. SET THEM OUT AT ROOM TEMPERATURE BECAUSE THEY HAVE SUCH A GOOD FLAVOR WHEN THEY'RE AT ROOM TEMPERATURE. AND RINSE THEM OFF AND THEN REMOVE THE GREEN CAP, BECAUSE THEY'LL FILL WITH WATER, AND THEY WON'T BE AS FLAVORFUL. >> AND HOW LONG CAN WE KEEP THEM IN THE REFRIGERATOR IF WE DIDN'T EAT THEM THE FIRST DAY? >> UH, MAYBE A WEEK. THEY'RE ACTUALLY-- THE FLORIDA BERRIES UP INTO THE NORTHEAST MARKETS, THEY'RE PICKED THAT DAY AND SHIPPED OUT EITHER THAT DAY OR THE NEXT MORNING. SO THEY'RE PRETTY FRESH WHEN YOU GET THEM. >> BUT THEY ARE PERISHABLE, AND WE WANT PEOPLE TO KNOW TO PICK THEM WHEN THEY'RE BRIGHT RED, NOT BRUISED, AND SO THERE ARE CERTAIN THINGS TO LOOK FOR, AND THEY DON'T WANT TO BE SOFT. THEY WANT TO BE FIRM. >> FIRM BERRIES. AND ALSO THE CALYX, WHICH IS THE GREEN TOPS OF A BERRY, THAT NEEDS TO BE FRESH-LOOKING AND BRIGHT GREEN. >> NOT WILTED-LOOKING. >> EXACTLY. >> WELL, YOU PROBABLY HAVE HEARD THIS AS MUCH AS I HAVE, THAT "I CAN'T EAT BREAKFAST. "I DON'T HAVE TIME. IT JUST TAKES TOO LONG TO PREPARE." BUT YOU'VE GOT A STRAWBERRY SMOOTHIE THAT CAN BE PREPARED, AND WE CAN EAT IT ON THE GO, CAN'T WE? >> IT'S SOMETHING VERY SIMPLE, AND YOUR CHILDREN WILL LOVE IT. THEY CAN ACTUALLY HELP YOU PREPARE IT IN THE MORNINGS. SO WE'RE GONNA GO AHEAD AND, UM, ADD SOME ICE. >> MM-HMM. AND WE COULD USE CRUSHED ICE. >> CRUSHED ICE WILL ACTUALLY WORK BETTER THAN THE CUBES. AND I LIKE TO PUT THE LIQUID IN. >> AND WHAT IS THIS? >> THIS IS POMEGRANATE JUICE. YOU CAN USE ORANGE JUICE, OR YOU CAN USE POMEGRANATE JUICE JUST TO GIVE IT AN EXTRA FLAVOR, AND IT'S FULL OF ANTIOXIDANTS, AND ALONG WITH STRAWBERRIES. THEY'RE ACTUALLY VERY GOOD FOR YOU. THEY-- 8 MEDIUM STRAWBERRIES CONTAIN YOUR DAILY REQUIREMENT OF VITAMIN C. A LOT OF PEOPLE DON'T KNOW THAT. >> SO JUST 8 STRAWBERRIES? >> 8 STRAWBERRIES EQUAL ONE CUP, YOUR DAILY REQUIREMENT OF VITAMIN C. ALSO, STRAWBERRIES CONTAIN POTASSIUM, WHICH IS ALSO IN BANANAS. SO A LOT OF PEOPLE ARE USED TO EATING BANANAS FOR THE POTASSIUM, BUT YOU CAN ACTUALLY EAT STRAWBERRIES. >> IS THIS YOGURT? >> THIS IS A HALF A CUP OF YOGURT. YOU CAN USE NONFAT YOGURT. WE CAN--I ACTUALLY USE SPLENDA, BUT THIS IS SUGAR. YOU CAN USE A VERY LOW-FAT RECIPE IF YOU LIKE. >> THIS MAKES HOW MANY? TWO SMOOTHIES OR... >> THIS ACTUALLY MAKES 4. 4 CUPS. SO WE'RE GONNA GO AHEAD AND PUT THE LID ON AND BLEND IT UP. GET IT GOING HERE. GONNA BE A LITTLE LOUD.
[BLENDER WHIRRING]
YOU CAN ACTUALLY-- >> EVERYBODY HAS TIME FOR THAT. >> YES, THEY DO. AND A LITTLE TRICK ALSO IS IF YOU FREEZE YOUR STRAWBERRIES AND KEEP JUST A FEW IN THE FREEZER IN A ZIPLOC BAG. YOU CAN ACTUALLY RINSE THEM OFF, TAKE THE CAP OFF, AND PUT THEM IN A PLASTIC BAG. LEAVE THEM WHOLE. THEY'LL ACTUALLY HELP, UM... >> THICKEN IT? WOULD YOU, IN THAT INSTANCE, USE LESS ICE BECAUSE THE STRAWBERRIES THEMSELVES WOULD BE KIND OF ICY? >> ACTUALLY, YOU CAN MAKE A REAL SMOOTH ONE BY OMITTING THE ICE, USING THE FROZEN STRAWBERRIES. >> WOW. >> BUT THIS IS VERY GOOD, EVEN WHEN YOU USE ORANGE JUICE. SO... >> I LIKE THAT POMEGRANATE, THOUGH. IT GIVES IT SUCH A-- >> AND IT'S A TANG. IT'S ACTUALLY A VERY GOOD FLAVOR MIXED WITH THE BANANA AND THE STRAWBERRIES. >> SO WE HAVE ONE READY TO GO, AND WE TALKED ABOUT THE GROWING AND THE HARVESTING AND ESPECIALLY HOW TO STORE THEM. AND I THOUGHT IT WAS INTERESTING TO KNOW THAT REALLY EATING STRAWBERRIES AT ROOM TEMPERATURE IS MUCH BETTER THAN... >> IT IS. >> HAVING THEM COLD. THAT JUST SORT OF ENHANCES THE FLAVOR? >> FULL FLAVOR AND THE AROMA. YOUR WHOLE KITCHEN WILL SMELL GREAT. >> MMM. WELL, THANK YOU SO MUCH FOR BEING HERE AND SHARING WITH US SOME INFORMATION ABOUT FLORIDA WINTER STRAWBERRIES. >> THANK YOU. AND ENJOY. >> THANK YOU. >> MELANIE, THANK YOU SO MUCH FOR COMING TODAY AND BRINGING ALL OF THESE BEAUTIFUL CANDLES. I'M ANXIOUS TO TALK TO YOU ABOUT EACH...EACH SET, BUT MAYBE LET'S START BY TALKING ABOUT WHAT MAKES A QUALITY CANDLE. >> YES. A LOT OF PEOPLE OFTENTIMES BUY CANDLES BASED SIMPLY ON FRAGRANCE. >> I'VE DONE THAT. >> BUT THEY DON'T REALIZE THAT THERE'S SO MANY FACTORS TO TAKE INTO CONSIDERATION, ESPECIALLY WHEN IT COMES TO THE HEALTH AND SAFETY OF YOUR HOME AND YOUR FAMILY. UM, SO ONE OF THE THINGS THAT I ALWAYS ENCOURAGE PEOPLE TO LOOK FOR ARE WAX THAT IS COLORED COMPLETELY THROUGH, SCENTED COMPLETELY THROUGH. A LOT OF TIMES... A LOT OF TIMES CANDLES OUT THERE ARE JUST SCENTED AND COLORED ON THE OUTSIDE, AND YOU'RE NOT GETTING THE BEST FOR YOUR MONEY. >> SO WHEN YOU START BURNING IT, PRETTY SOON IT'S WHITE. >> EXACTLY. EXACTLY. AND IT DOESN'T BURN AS NICELY AND AS PRETTY. UH, WITH...YOU'LL SEE HERE WITH THESE CANDLES THAT THEY'RE LIQUEFYING. THAT'S A REALLY IMPORTANT FACTOR TO SEE, IS THAT THEY'RE LIQUEFYING COMPLETELY ACROSS THE TOP. AND I LOVE THAT WE HAVE THE PRODUCT THAT IS GOING TO BURN DOWN COMPLETELY, DOWN TO NOTHING, WHICH IS ANOTHER FACTOR, THAT IT CONSUMES ITSELF COMPLETELY, THAT THERE'S NO WAX LEFT IN THE HOLDER WHEN IT'S DONE BURNING. >> SO THERE'S NO WASTE. >> EXACTLY. ALSO, YOUR WICKS. THERE ARE OVER 100 WICKS THAT ARE CHOSEN FOR THE DIFFERENT PRODUCTS THAT WE HAVE HERE. >> IS THAT RIGHT? >> BASED ON COLOR, FRAGRANCE, THE STYLE OF THE CANDLE. SO ALL OF THOSE THINGS REALLY PLAY A FACTOR IN HOW THE QUALITY OF THE BURN IS. ALSO, WICKS THAT ARE MADE OF UNBLEACHED COTTON DO NOT SMOKE, OR THEY HAVE VERY LITTLE SOOT. AND THAT IS SO, SO IMPORTANT, BECAUSE THAT RUINS YOUR WALLS, YOUR AIR-CONDITIONING SYSTEM, ALL OF THOSE THINGS. SO SMOKING CANDLES CAN BE VERY DAMAGING. >> AND WHEN YOU MENTION WICKS, WHEN I'VE BOUGHT THEM SOMETIMES, THEY'RE MAYBE AN INCH LONG. SO HOW SHOULD WE CUT THOSE OR TRIM THEM? >> IT'S REALLY IMPORTANT TO NOTE THAT FOR YOUR CANDLES, TRADITIONALLY YOU'RE GOING TO TRIM THEM TO A QUARTER OF AN INCH EVERY SINGLE TIME YOU LIGHT THE CANDLE, NOT JUST THE FIRST TIME, WHICH IS A REALLY COMMON MISTAKE, EXCEPT ON THE SMALLEST CANDLE AND THE LARGEST CANDLE THAT WE CARRY, AND THAT IS THE TEA LIGHT AND THE 3-WICK. THOSE CANDLES' WICKS DO NOT NEED TO BE TRIMMED, WHEREAS EVERYTHING IN BETWEEN DOES. >> BUT LIKE THE PILLARS AND THINGS LIKE THAT? >> ABSOLUTELY. >> WELL, LET'S TAKE A LOOK. NOW, THERE'S SOMETHING REALLY UNIQUE ABOUT THE TWO SETS OF TRIO CANDLES ON EACH SIDE. THIS WAS TOTALLY NEW TO ME. TELL US ABOUT THIS. >> WELL, THIS IS REALLY ONE OF MY FAVORITE NEW COLORS THAT WE HAVE COME UP WITH-- GLOWLITE BY PARTYLITE. AND WHAT MAKES THEM SO UNIQUE IS THAT THE MINUTE THAT THE CANDLE IS LIT, IT ILLUMINATES COMPLETELY FROM TOP TO BOTTOM. >> AND WE CAN'T SEE IT RIGHT HERE, BUT IF THE LIGHTS WERE DIMMED-- AND YOU SHOWED US A LITTLE WHILE AGO-- IT WAS JUST TOTAL LIGHT ALL THE WAY DOWN. >> ABSOLUTELY. AND WHAT I LOVE ABOUT THAT IS WHENEVER YOU'RE USING THEM IN HOLDERS, IT GIVES OFF SO MUCH LIGHT. IN A HURRICANE, FOR INSTANCE, YOU'RE NOT JUST GETTING FLAME ON TOP AND LIGHT ON TOP, YOU'RE GETTING IT ALL THE WAY DOWN. MM-HMM. >> AND ONE SET IS WHITE, AND ONE IS KIND OF AN IVORY. >> MM-HMM. >> THOSE ARE BEAUTIFUL. >> IT'S IMPORTANT TO NOTE IN THE GLOWLITES THAT WE HAVE TO USE PALE COLORS IN ORDER FOR... >> TO SEE THE LIGHT. >> EXACTLY. >> AND THEN WE GO TO TRIOS. WE HAVE A BLUE ON THIS SIDE AND KIND OF AN ORANGISH UMBER... AMBER ON THIS SIDE. >> CORRECT. >> BUT THEY'RE ALL DIFFERENT SIZES, AND THEY'RE SLIGHTLY DIFFERENT COLORS. >> RIGHT. ONE OF THE THINGS THAT YOU WANT TO LOOK FOR WHENEVER YOU'RE DECORATING WITH PILLAR CANDLES IS THAT YOU HAVE DIFFERENT HEIGHTS, BECAUSE THAT IS MORE APPEALING TO THE EYE IN DECORATING. SO CANDLE GARDENS ARE OFTEN GROUPED TOGETHER IN THIS WAY, ODD NUMBERS AS WELL. YOU ALSO WANT TO MAKE SURE THAT YOU NOTE THAT WHEN YOU ARE DOING A CANDLE GARDEN THAT YOU KEEP ABOUT AN INCH AND A HALF OR AN INCH BETWEEN EACH CANDLE SO THEY DON'T MELT TO EACH OTHER, THEY DON'T MELT THEIR FRIEND. UM...AND BURNING PILLARS, ONE FACTOR TO KEEP IN MIND IS A LOT OF PEOPLE ASK, WHY DOES IT TUNNEL? WHY DO YOU HAVE ALL THIS WAX LEFT? AND YOU REALLY HAVE TO BURN A CANDLE LONG ENOUGH. PILLARS ARE BURNED ONE HOUR PER INCH OF THE CANDLE'S DIAMETER. >> LIKE THAT'S WHAT? 3 INCHES? >> IT'S 3 INCHES ACROSS. >> SO IT WOULD BURN 3 HOURS AT A TIME. >> A MINIMUM OF 3 HOURS. AND THAT ALLOWS THE WAX TO LIQUEFY COMPLETELY TO THE EDGE. >> WOW. YOU'VE USED EVERY BIT OF THIS CANDLE. >> YES. YES. AND IT WILL LIQUEFY COMPLETELY TO THE EDGE. AND YOU JUST GENTLY CUP YOUR HANDS AROUND THE SIDES OF THE WAX TO KEEP IT MOLDED TOWARDS THE CENTER. WE CALL THAT HUGGING. >> HUGGING THE CANDLE. >> YES. HUG YOUR CANDLE. SO...AND YOU WILL GET A BEAUTIFUL BURN ALL THE WAY DOWN TO THE END. >> NOW, THIS IS A WARMER, AND IT'S A LITTLE BIT DIFFERENT. I HAVE ONE, BUT IT HAS A LIGHT BULB IN THE BOTTOM. THIS I LIKE BETTER. >> RIGHT. THIS IS A DESIGN THAT WE CAME UP WITH THAT MAKES IT, AGAIN, MORE SAFE FOR YOUR FAMILY. AND THE BASE OF THIS IS AN L.E.D. LIGHT RATHER THAN A LIGHT BULB, WHICH ALSO MAKES IT MORE GREEN FOR OUR ENERGY-EFFICIENT FRIENDS. AND BELOW THIS, WHERE THE WAX MELTS, IS A WARMING PLATE. SO IT JUST GETS HOT ENOUGH TO MELT OUR WAX, WHICH MELTS AT ONLY 108 DEGREES. >> SO IT'S SAFE. >> UH-HUH. AND BECAUSE THIS IS AN L.E.D. LIGHT AND THE WARMING PLATE IS HERE, THIS WHOLE THING WILL NOT GET HOT. >> I SEE. >> WHICH IS A REALLY IMPORTANT FACTOR. >> YOU COULD PICK IT UP AND MOVE IT IF YOU NEEDED TO. >> YES. AND WITH A LIGHT BULB, YOU'RE NOT GOING TO GET THAT. >> AND YOU WERE TALKING ABOUT 3-WICKS, AND THEY COME IN DIFFERENT SIZES, TOO. YOU CAN CERTAINLY SEE THE LIQUEFYING HERE. >> MM-HMM. YES. AND I LOVE THE WAY THESE BURN. THESE ARE REALLY MORE FOR PEOPLE WHO DON'T HAVE THE OPPORTUNITY TO MONITOR OR THEY CAN'T BURN THEM QUITE AS LONG AS OUR REGULAR 3-WICK, WHICH TAKES 6 HOURS. THESE WILL LIQUEFY FASTER. SO YOU DON'T HAVE THAT INVESTMENT OF TIME. >> PLUS THEY'RE IN A CONTAINER. THAT'S SAFE. >> EXACTLY. SO YOU DON'T HAVE TO WORRY ABOUT MONITORING WHERE THEY'RE PLACED. AND I HAVE ONE HERE THAT I WAS BURNING DOWN. AND YOU CAN SEE HOW CLEANLY THEY BURN DOWN. >> AND EVENLY. >> AND EVENLY. THERE IS NO WAX LEFT UP ON THE SIDES OF THE HOLDER WHEN YOU BURN THEM LONG ENOUGH, AGAIN WITH THAT LAYER OF LIQUEFIED WAX ACROSS THE TOP. >> OK. AND LIKE I MENTIONED, THERE ARE DIFFERENT SIZES. THE LITTLE VOTIVES IN THE SILVER TRAY AT THE FRONT, THOSE ARE THE SMALLEST. THAT'S WHAT YOU CALL THE VERY SMALLEST-- THE TEA LIGHTS. EXCUSE ME. AND THEN THE 3-WICK IS THE LARGEST CANDLE. >> EXACTLY. AND THEN WE HAVE OUR VOTIVES HERE OFF TO THE SIDE. AND AN IMPORTANT FACTOR TO KNOW ABOUT OUR VOTIVES IS THAT THE BELL SHAPE ON THE TOP IS WHAT ACTUALLY GIVES IT A REALLY PRETTY BURN AND GIVES THAT LAYER OF LIQUEFIED WAX AND ALLOWS IT TO BURN MORE PRETTY AND CONSUME COMPLETELY. SO, YEAH. >> AND THEN WE, LAST BUT NOT LEAST, WE HAVE THESE, AND YOU CAN SEE, THESE HAVE LIQUEFIED, BUT THEY'RE STILL BURNING. >> EXACTLY. AND AGAIN, THEY'LL CONSUME THEMSELVES COMPLETELY TILL THERE'S NOTHING LEFT BUT THE LITTLE SUSTAINER THAT'S AT THE BOTTOM OF THE WICK. >> GOSH. AND WHAT VERSATILITY, BECAUSE YOU CAN THINK ABOUT PUTTING DIFFERENT COLORS OF CANDLES IN HERE, CHANGING OUT THE ROSE, MAYBE PUTTING A RED, WHITE, AND BLUE, A LITTLE FLAG, OR WHATEVER. SO THE CANDLE HOLDERS THEMSELVES LEND THEMSELVES TO LOTS OF USE. >> YES. ABSOLUTELY. >> WELL, THANK YOU SO MUCH. I'VE LEARNED A LOT TODAY. >> THANK YOU. >> THANK YOU. CLARE, THANK YOU SO MUCH FOR BEING WITH US TODAY. I WAS GLAD WE WERE GOING TO DO A SEGMENT ON MAKING NAPKINS AND PLACEMATS, BECAUSE THEY'RE REALLY EXPENSIVE WHEN YOU BUY THEM, AND ESPECIALLY WITH YOUR NEW PRESSER FEET, THEY CAN BE MADE FOR ALMOST NOTHING. >> AND REALLY VERSATILE. YOU CAN MATCH YOUR WALLPAPER. >> AND YOUR DISHES. >> RIGHT. IT'S A LOT OF FUN. >> AND FOR SOMETHING JUST SIMPLE LIKE THIS, YOU SAID THIS LITTLE PLACEMAT WAS 5 BUCKS. >> YEAH. FOR ONE. >> AND YOU ALWAYS NEED AT LEAST 4. >> NOT EVEN A NAPKIN. >> YEAH. AND NO NAPKIN. >> AND IT'S ONLY GOT A STRAIGHT STITCH. AND THEN AFTER YOU WASH IT, IT KIND OF CURLS UP. IT DOESN'T REALLY LAY FLAT. THERE'S REALLY NO BODY TO IT. >> AND THIS IS WHAT WE'RE GOING TO LOOK AT, AND THIS, OF COURSE, YOU'VE MADE. SEVERAL TECHNIQUES INVOLVED. YOU DON'T HAVE TO HAVE AN OVERLOCK MACHINE OR SERGER. BUT THIS LOOKS LIKE A SERGED... >> IT IS ACTUALLY THE ONLY FOOT THAT ALLOWS YOU TO SEW RIGHT ON THE RAW EDGE OF THE FABRIC WITHOUT HAVING TO CUT AFTER YOU STITCH. >> YEAH, THAT'S WHAT I THOUGHT YOU TOLD ME. >> AND WHERE THE OVERLOCK MACHINE HAS KNIVES THAT CUT, AND WE DON'T ALWAYS CUT STRAIGHT. >> AND HERE YOU'VE SEWN OVER A LITTLE CORD OR RIBBON? >> RIGHT. THAT'S DONE WITH THE PEARLS AND PIPING FOOT, ANOTHER PRODUCT THAT WE HAVE. THIS IS THE SATIN EDGE FOOT, AND I DESIGNED IT FOR A WOMAN WHO WAS BLIND SO THAT SHE COULD MAKE NAPKINS 27 YEARS AGO. >> WOW. AND IT ALSO DOES THE APPLIQUE RIGHT HERE. >> OH, I LOVE THIS. THIS IS SO PRETTY. >> BACK TO THIS FOR A SECOND. THIS HAS BATTING INSIDE. SO IT WILL ALLOW YOU TO PUT A REALLY HOT PLATE ON IT WITHOUT HAVING TO WORRY ABOUT YOUR FINISH ON YOUR TABLE. >> AND THIS MUST HAVE THE PEARLS AND PIPING FOOT OBVIOUSLY.. THIS IS THE FIRST TIME I USED A SATIN STITCH WITH THE BEADS. SO THE SPACE BETWEEN THE BEADS HAS A COLOR ACCENT THAT... >> IT DOES. >> MAKES IT BLEND REAL NICE WITH THE REST OF IT. >> THAT IS PRETTY. I JUST NOW NOTICED THAT. AND THIS WAS A PIECE OF THIS FABRIC BUT CUT OUT MADE INTO AN APPLIQUE. >> IF YOU LOOK AT THE BACK, YOU'LL SEE THAT YOU JUST CUT THE ONE PIECE, AND THEN I CUT OUT THAT PATTERN, AND THEN USING STITCH WITCHERY, FUSED THAT ON TO THE TOP. >> AND THIS... THIS IS A LITTLE NAPKIN RING. AND YOU SAID YOU GATHERED THE CENTER OF IT FIRST. >> THAT WAS ACTUALLY DONE WITH THE SEQUINS AND RIBBON FOOT, SEWING ELASTIC. SO YOU DON'T HAVE TO STRETCH THE ELASTIC FROM BEHIND THE FOOT WITH-- >> IT HAS A LOT OF GIVE TO IT. >> AND IT WORKS WITH EVERY SIZE OF ELASTIC. >> AND AGAIN, IT LOOKS LIKE YOU USED TWO DIFFERENT WIDTHS TO DO THE SATIN STITCHES. >> THE SATIN STITCH HELPS YOU GUIDE OFF THE EDGE OF A RAW, OFF THE EDGE OF A FOLD, OFF THE EDGE OF A RAW ON A PIECE, AND OFF THE EDGE OF A FOLD ON A PIECE. SO... >> IT DOES JUST ABOUT EVERYTHING, HUH? >> YOU CAN GUIDE WITHOUT HAVING GOOD EYESIGHT. >> OK. WELL, LET'S SEE HOW WE START. >> I NEED TO GET THE FOOT OUT OF THE PACKAGE OR OUT OF THE MACHINE. >> IS IT ONE OF THESE? >> YEAH, WE HAVE THE PRESSER FOOT. >> I'LL GO AHEAD AND BE SHOWING THESE WHILE YOU GET THIS ONE SET UP. >> AND THERE'S THE FOOT RIGHT HERE. >> AND LET'S SEE. WE'VE GOT THE PEARLS AND PIPING. WE'VE GOT THE SATIN EDGE THAT YOU TOLD ABOUT. AND ALSO THE SEQUINS AND RIBBON. >> CORRECT. AND THE SATIN EDGE FOOT DOES 27 DIFFERENT SEWING TECHNIQUES. SO YOU PRETTY MUCH WILL BE ABLE TO LEAVE THIS ON 80% OF THE TIME ON YOUR SEWING MACHINE. >> WOW. >> IT ATTACHES WITH OUR ADAPTERS OR YOUR MACHINE'S SNAP-ON ADAPTER. >> AND WE MIGHT POINT OUT, THESE ARE DESIGNED WITH THESE ADAPTERS TO WORK ON ANY BRAND OF SEWING MACHINE. >> THE ADAPTERS ARE INCLUDED, SO YOU DON'T HAVE AN EXTRA COST. AND YOU CAN TAKE AND SWITCH EACH OF OUR FEET WITHOUT HAVING TO CHANGE THE ADAPTER. >> OH, THAT'S HANDY. >> SO THEY ALSO ARE SOLD AS A SET, SO THAT YOU ONLY HAVE ONE SET OF ADAPTERS. >> WELL, THAT'S NICE. >> WE TRY TO ACCOMMODATE EVERYBODY'S NEEDS. >> AND YOU'VE BEEN DESIGNING THESE SPECIALTY FEET FOR A LONG TIME, LIKE YOU SAID, TO HELP PEOPLE WITH CERTAIN NEEDS. >> CORRECT. MY FAMILY HAS A HISTORY OF INVENTORS, GOING WAY BACK TO THE TOILET PAPER ROLL, SOMETHING TO DO WITH THAT. SO THIS IS MY FIRST INVENTION, AND IT WAS TO, LIKE I SAID, TO GUIDE THE FABRIC RIGHT ON THE EDGE FOR SOMEONE WHO HAD ABSOLUTELY NO SIGHT. SHE WOULD HOLD HER FINGER IN FRONT OF THE FOOT AND FEEL THAT IT WAS RIGHT UP AGAINST THE GUIDE. >> THAT'S HOW SHE COULD DETERMINE... >> AND THEN WE STARTED SELLING THEM, AND THE CUSTOMERS STARTED TELLING THEIR FRIENDS ABOUT IT, AND I STARTED MAKING-- AND IT WAS AN HOUR TO MAKE EACH FOOT. >> OH, REALLY? >> SO I HAD TO COME IN AND MAKE THEM ADJUSTABLE IN ORDER TO FIT ALL MACHINES. >> UH-HUH. YEAH. >> WHEN WE MAKE A NAPKIN, IF YOU WANT TO MAKE A DOUBLE-SIDED NAPKIN LIKE THIS, WHICH ADDS A LOT OF FLAVOR, THIS, WE CROSS THE GRAINS, AND THAT'S WHY I HAVE THIS NOT FINISHED, NOT CUT ALL THE WAY. THIS IS THE SALVAGE ON THIS PIECE. AND THEN YOU'LL SEE THE SALVAGE ON THIS SIDE OF THE... >> OH, YEAH. >> SO YOU'VE GOT YOUR BOTTOM PIECE SALVAGE GOING, CROSSING WITH THE SALVAGE ON THE TOP. AND THEN YOU CUT YOUR NAPKIN SHAPE OUT AFTER. AND I USE SPRAY ADHESIVE. I LIKE 3M PHOTO MOUNT SPRAY MOUNT. AND NOW WE'RE GONNA GO AHEAD AND STITCH ON THIS, AND I'LL SHOW YOU HOW THIS WORKS. >> AND THIS IS THE WHICH... WHICH PRESSER FOOT? >> SATIN EDGE. >> OK. AND THIS IS WHAT RESEMBLES THE SERGER. >> CORRECT. >> UH-HUH. IT STITCHES RIGHT ON THE EDGE. >> IT DOES THIS WITH A SIMILAR METHOD. IT HAS A STITCH FINGER THAT YOU CAN CHANGE ITS POSITION. SO YOU CAN SELECT THE ZIGZAG WIDTH THAT YOU LIKE. >> I NOTICED ON THOSE NAPKINS YOU HAD DIFFERENT SIZES AND DIFFERENT WIDTHS. AND THEN YOU BRING THE NEEDLE DOWN IN THE OUTSIDE SWING, WHICH IS THE RIGHT SWING. >> WHAT DOES THAT DO, WHEN YOU TIGHTEN OR LOOSEN THAT SCREW? >> SO I LOWERED THE NEEDLE AND THEN MOVED THE WIRE OVER TO THE NEEDLE. LEFT SWING IS GONNA GO ON THE NAPKIN, AND RIGHT SWING GOES OVER THE WIRE. THE WIRE WON'T ALLOW THE FABRIC TO CRUNCH IN. IF YOU'VE EVER TRIED DOING A ZIGZAG ON THE EDGE, YOU KNOW IT DOESN'T USUALLY STAY. >> IT JUST WADS UP. >> AND WE USUALLY HAVE TO GUIDE EVERYTHING, USUALLY LEAN DOWN AND WATCHING THE NEEDLE. >> YOUR BACK'S HURTING. >> SO THERE'S NO WATCHING THE SEWING MACHINE NEEDLE. AND YOUR HANDS AREN'T GOING TO GET SORE BECAUSE YOU'RE LITERALLY NOT SUPPOSED TO HOLD THE FABRIC. >> YOU DON'T? OH, OK. >> WE'RE GOING TO ADJUST THE STITCH LENGTH WHILE SEWING WITHOUT TOUCHING. IF WE'RE TOUCHING WHEN WE ADJUST THE STITCH LENGTH, WE DON'T KNOW WHAT THE MACHINE'S STITCH LENGTH IS, BECAUSE WE'RE STOPPING IT FROM GETTING... SO THAT ONCE YOU HAVE IT SET TO YOUR LIKING-- >> AND YOU, OF COURSE, WOULD DO THIS ON A LITTLE SCRAP PIECE. >> RIGHT. ACTUALLY, I LIKE YOU TO DO IT ON EXACTLY THE SAME SETUP, SO IF YOU'RE GONNA USE A SCRAP, MAKE SURE YOU PREPARE IT THE SAME WAY. >> I UNDERSTAND. >> SO WHILE WE ARE SEWING THIS, INSTEAD OF HOLDING DOWN, YOU PUT YOUR HAND UNDERNEATH AND CRADLE IT, NEVER FOCUSING ON THE SEWING MACHINE BUT RATHER IN FRONT OF THE FOOT. >> THAT TAKES SOME GETTING USED TO. >> IT TAKES A LITTLE PRACTICE, YEAH. EVENTUALLY, YOU START WANTING TO HAVE SOMETHING ELSE TO DO, LIKE YOUR CELL PHONE TO TEXT-MESSAGE OR.... TELEVISION TO WATCH. >> THAT'S CALLED MULTITASKING, ISN'T IT? >> SO YOU SEE, I HAVE THE CONFIDENCE TO NOT WATCH, BECAUSE I KNOW THAT IT WORKS. IN THE BEGINNING, YOU'LL FEEL A LITTLE APPREHENSIVE. SO ALL THE WAY TO THE END, AND STOP WITH THE NEEDLE ALWAYS UP, BECAUSE WE HAVE TO PULL THE FABRIC OFF THE STITCH FINGER, AND THEN MOVE THE FABRIC AROUND. >> AND I NOTICED YOU KIND OF CUT THIS IN SOME SCALLOPS AROUND THE EDGE HERE. >> RIGHT, TO SHOW WHAT YOU CAN'T DO WITH AN OVERLOCK MACHINE. SO IF YOU WANT TO DO CUTWORK DESIGNS, YOU CAN. AS LONG AS YOU CROSS THE GRAINS, IT TAKES ALL THE BIAS OUT OF THE FABRIC. AND ON ALL CORNERS, THE FOOT IS GONNA HAVE A HARD TIME FEEDING, SO INCREASE STITCH LENGTH ONE FULL STITCH NUMBER. >> WHEN YOU'RE GOING AROUND CORNERS? >> SO THE STITCH LENGTH IS GOING TO PULL UP AND OVER THAT SATIN STITCH, WHERE NORMALLY IT WOULD WANT-- IT WOULD JUST SIT THERE, AND SOMETIMES THE SEWING MACHINE WILL SWALLOW UP THE FABRIC ON ANY OTHER FOOT, BUT WITH THIS FOOT, IT'S GONNA TAKE IT RIGHT THROUGH WITH JUST A FEW STITCHES. AND THEN SHORTEN IT BACK DOWN TO THE SETTING THAT YOU LIKED IN THE FIRST PLACE. SO YOU WANT TO PAY ATTENTION TO WHAT IT WAS BEFORE. LOOKING AT THE FRONT OF THE FOOT, YOU CAN SEE THE FABRIC IS COMING AWAY FROM THE GUIDE BECAUSE OF ITS SHAPE. IF WE'RE WATCHING IN THE NEEDLE, WE WON'T SEE THAT. SO WE'RE ALWAYS LOOKING IN FRONT OF THE FOOT, WHICH MEANS...MAKES IT SO YOU ACTUALLY CAN'T LEAN FORWARD. >> I SEE. >> YOU HAVE TO SIT UPRIGHT. >> IT'S A WHOLE DIFFERENT CONCEPT. >> RIGHT. AND THE DISTANCE THE NEEDLE SHOULD BE AWAY FROM YOU IS THE DISTANCE IT TAKES FOR YOU TO FOCUS TO READ A BOOK. >> OH, OK. >> SO IF YOU'RE SITTING WITH YOUR NOSE RIGHT UP ON THE NEEDLE-- >> YOU'RE TOO CLOSE. >> AND YOU CAN'T READ YOUR BOOK WITH YOUR NOSE UP ON THE PAGE, THEN YOU'RE SITTING TOO CLOSE. AND THIS IS HOW IT WORKS FOR YOUR SATIN STITCHING ON THE EDGE. >> AND YOU DON'T LIFT IT UP AGAIN, ONCE YOU GET AROUND THAT CORNER? >> WE'RE GONNA GO ALL THE WAY IN, UNTIL WE ARE SEWING PAST THE EDGE. STOP WITH THE NEEDLE UP, PUSH OFF THE PIN, TURN, PLACE THE WIRE SO IT SITS OFF THE FABRIC'S EDGE. I WANT TO PUSH THE FABRIC, SO I KNOW NOT TO. I LENGTHEN THE STITCH LENGTH. AND THEN SEW A COUPLE STITCHES AND THEN SHORTEN IT BACK DOWN. AND YOU'LL NEVER GET STUCK ON ANY INSIDE OR OUTSIDE CORNER EVER AGAIN ON ANY SEWING MACHINE, EVEN OVERLOCK MACHINES. >> AND WE MIGHT TAKE A LOOK AT THIS, BECAUSE IF ANYONE WONDERED IF THIS SATIN EDGE WORKED AS WELL AS A SERGER, YOU CAN SEE IT'S JUST AS TIGHT AND CLOSE. >> LOOK AT HOW DENSE THIS STITCH IS AND HOW SHINY IT IS COMPARED TO THAT. AND THIS TAKES 3 SPOOLS OF THREAD. THIS TAKES ONE. >> YOU KNOW, THAT'S ALWAYS BEEN A NEGATIVE ABOUT THE SERGERS-- THEY USE SO MUCH THREAD. >> AND HERE WE HAVE SEWN A COUPLE LOOPS ON WITH THE PEARLS AND PIPING FOOT, AND THIS NAPKIN JUST COMES RIGHT OUT OF THERE. AND IT'S REALLY NICE BECAUSE YOU CAN DO, INSTEAD OF JUST STRAIGHT EDGES, THIS ADDS A SOUTHWESTERN FEEL TO THIS. >> HOW PRETTY. OK. BOY, IT'S ALL IN THE FEET, ISN'T IT? >> IT IS. THE TOOLS. >> THE TOOLS. WELL, THANK YOU SO MUCH. I'VE ENJOYED LEARNING ABOUT THIS. >> IT WAS A PLEASURE TO BE HERE. >> I HOPE YOU ENJOYED THE SHOW TODAY. NEXT TIME ON "CREATIVE LIVING," WE'LL LEARN HOW TO USE SOME TIME-SAVING TECHNIQUES WHEN MAKING AND PIECING A QUILT, AND WE'LL DEMONSTRATE SOME HOMESTYLE RECIPES THAT HAVE THEIR OWN SHORTCUTS. ONE OF THE GUESTS ON THE NEXT SHOW HAS WRITTEN A BOOK ON MAKING A QUILT IN 90 MINUTES. SHE'S GOING TO SHARE SOME TIME-SAVING TECHNIQUES FOR QUILTING BASED ON THE CONCEPTS IN THIS BOOK, AND SHE'LL ALSO SHOW SEVERAL FINISHED QUILTS MADE WITH THESE TECHNIQUES. ANOTHER GUEST WILL DEMONSTRATE HOMESTYLE IN A HURRY, AND SHE EXPLAINS THAT HOMESTYLE MEANS COOKING LIKE YOUR MOTHER OR YOUR GRANDMOTHER USED TO DO, BUT WITH NEW SHORTCUTS, IT CAN BE DONE MUCH QUICKER AND EASIER. BOTH OF THESE TOPICS WILL BE FEATURED ON THE NEXT "CREATIVE LIVING" SHOW. IF YOU EVER HAVE COMMENTS OR SUGGESTIONS OR IDEAS FOR SHOWS, YOU CAN E-MAIL ME AT sheryl.borden@enmu.edu. AND I'D ALSO LIKE TO ASK YOU TO BECOME A FAN OF "CREATIVE LIVING" ON FACEBOOK. JUST GO TO facebook.com, AND IN THE SEARCH WINDOW, TYPE IN "CREATIVE LIVING WITH SHERYL BORDEN." THANKS SO MUCH, AND I HOPE YOU'LL PLAN TO JOIN ME NEXT TIME FOR "CREATIVE LIVING." >> WE ARE VERY PLEASED TO OFFER A NEW BOOKLET THAT ACCOMPANIES THIS SERIES OF "CREATIVE LIVING." THIS BOOKLET IS TITLED "THE 6500 SERIES," AND IT FEATURES A WONDERFUL COLLECTION OF IDEAS AND INFORMATION, AND IT'S AVAILABLE FREE OF CHARGE ON OUR WEBSITE. POSTED AS A "PDF" FILE, YOU CAN SIMPLY DOWNLOAD THE ENTIRE BOOKLET OR JUST THE SEGMENTS YOU'RE MOST INTERESTED IN. AS WITH ALL OF THE "CREATIVE LIVING" BOOKLETS, YOU'LL FIND INFORMATION ON FOODS AND NUTRITION, CLOTHING AND FASHION, HEALTH AND BEAUTY, HOME DECORATING, AND MUCH MORE. FOR YOUR COPY OF THIS BOOKLET, GO TO OUR WEBSITE AT kenw.org AND THEN CLICK ON "CREATIVE LIVING," SCROLL DOWN TO THE BOOKLETS SECTION, AND YOU CAN CLICK ON THIS BOOKLET OR ANY OF THE OTHER BOOKLETS WE HAVE AVAILABLE ONLINE. ONCE AGAIN, JUST GO TO kenw.org, CLICK ON "CREATIVE LIVING," AND DOWNLOAD THE BOOKLET TITLED "THE 6500 SERIES." WE ALSO WANT TO ENCOURAGE YOU TO SIGN UP FOR OUR FREE E-NEWSLETTER. JUST CLICK ON THE "SIGN UP NOW" BUTTON AND INPUT YOUR E-MAIL ADDRESS. THAT'S ALL THERE IS TO IT. YOU'LL ENJOY READING AN UP-TO-DATE NEWSLETTER FILLED WITH INTERESTING TOPICS AND INFORMATION. THANK YOU.
Now Playing As: Captioned (English) (change)
Inventor Clare Rowley demonstrates how to make napkins with her sewing machine presser foot that she invented for a blind sewer. There is also a segment on what to look for when purchasing candles. Some of the discussion includes fragrance, wick trimming, and safety. Finally, a guest from the Florida Strawberry Association shares a recipe for a strawberry banana smoothie.
Media Details
Runtime: 27 minutes