Creative Living With Sheryl Borden #6726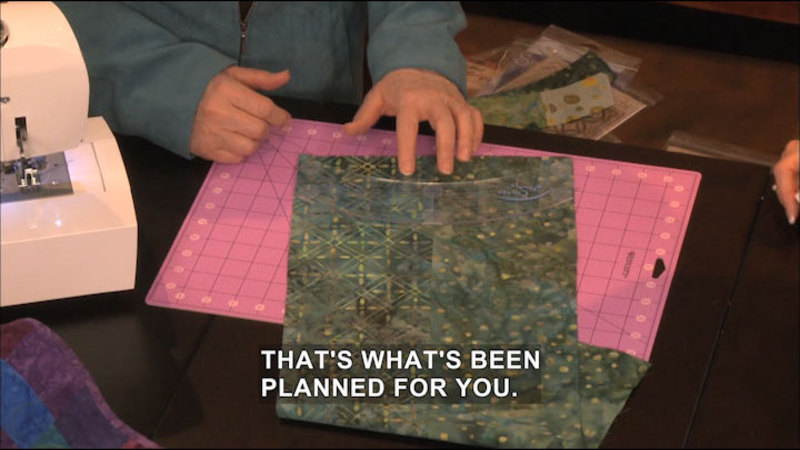 >> "CREATIVE LIVING," UTILIZING TODAY'S TECHNOLOGY WITH THE BEST OF THE PAST TO BRING YOU INNOVATIVE IDEAS AND UP-TO-DATE INFORMATION FOR CREATIVE LIFESTYLES IN TODAY'S ACTIVE WORLD, WITH YOUR HOST, SHERYL BORDEN. >> THANKS SO MUCH FOR JOINING ME TODAY FOR "CREATIVE LIVING." WE'RE GOING TO LEARN HOW TO TEACH CHILDREN ABOUT PETS, WE'LL SHOW HOW TO MAKE AN ELEGANT RUFFLE CAKE, AND WE'LL ALSO DEMONSTRATE MAKING A TABLE RUNNER. ONE OF MY GUEST'S TODAY IS MATTHEW FESTA, AND HE'S WITH AN ORGANIZATION CALLED GUARDIANS OF RESCUE. MATTHEW BELIEVES ALL CHILDREN SHOULD BE TAUGHT HUMANE EDUCATION AND IT'S NEVER TOO EARLY TO START. THIS IS A PROCESS OF TEACHING RESPECT AND COMPASSION FOR ANIMALS, HOW TO CARE FOR ANIMALS, AND HOW TO RECOGNIZE SIGNS OF ABUSE AND NEGLECT AND HOW TO REPORT IT IN THE PROPER MANNER. HE LIVES IN SMITHTOWN, NEW YORK. IF YOU REALLY WANT TO IMPRESS YOUR FRIENDS AND FAMILY, WATCH CAREFULLY AS NANCY SILER DEMONSTRATES MAKING A REGAL RAINBOW RUFFLE CAKE. NANCY REPRESENTS WILTON BRANDS IN WOODRIDGE, ILLINOIS. AND WE'LL BEGIN THE SHOW TODAY WITH CHERYL PHILLIPS, WHO WILL DEMONSTRATE HOW TO USE THE SIMPLE CURVES TOOL TO CREATE CURVED FABRIC PIECES WHICH ACTUALLY LOOK LIKE WAVES WHEN THEY'RE SEWN TOGETHER AS A TABLE RUNNER. HER COMPANY IS PHILLIPS FIBER ART, AND SHE LIVES IN DELTA, COLORADO. CHERYL, THANK YOU SO MUCH FOR BEING HERE. I LOVE FABRIC, AND I LOVE NEW SEWING NOTIONS, AND I ALWAYS ENJOY LEARNING A NEW TECHNIQUE. I DON'T ALWAYS HAVE TIME TO PRACTICE IT AS LONG AS IT'S OBVIOUS YOU DID, BUT HOW DID YOU GET INVOLVED IN SEWING, QUILTING, THIS LINE? >> I WAS BLESSED WITH A WONDERFUL MOTHER WHO LET ME SIT DOWN AND JUST PLAY ON HER SEWING MACHINE WHEN I WAS IN THIRD GRADE, AND I LOVE MACHINES, AND I JUST HAVE BEEN SEWING EVER SINCE. AND I LOVE FABRIC, TOO. >> WELL, I KIND OF HAD THE SAME...SAME EXPERIENCE. AREN'T WE LUCKY? >> YEAH. VERY. VERY FORTUNATE. >> AND THERE ARE SO MANY NEW NOTIONS, NEW MACHINES ON THE MARKET TODAY THAT MAKING ANYTHING SEEMS... IS JUST FASCINATING. AND WHAT YOU'RE GOING TO SHOW US--AND I HAVE TO ADMIT THIS LOOKS EXTREMELY DIFFICULT TO ME. I'M NOT A QUILTER. I ENJOY THE PROCESS, BUT I DO LOVE THE FABRIC SELECTION PART OF IT. SO TELL US A LITTLE ABOUT THIS AND HOW YOU CREATED IT. >> WELL, THE THING THAT CHALLENGES ME IN WHAT I DO IS I LIKE TO MAKE THINGS THAT ARE COMPLEX-LOOKING, BUT THE FUN PART IS HOW TO MAKE THAT SO THAT, YOU KNOW... I LIKE TO MAKE TOOLS, INNOVATIVE TOOLS FOR THE CREATIVE QUILTER. AND SO I TRY TO MAKE SOMETHING LIKE THIS, BUT I WANT TO SHOW YOU JUST HOW EASY IT IS. >> IT'S JUST BEAUTIFUL. THIS IS A TABLE RUNNER OBVIOUSLY. >> IT'S A TABLE RUNNER. >> WELL, THE KEY TO IT IS THIS SPECIAL TOOL. AND THIS IS CALLED A...SIMPLE CURVES? >> THAT'S RIGHT. SIMPLE CURVES. >> AND IT'S JUST A CUTTING TOOL. THE FRONT OF THE BOOKLET SHOWS US SOME OF THE THINGS. IN FACT, THIS IS YOUR DESIGN RIGHT HERE ON THE FRONT. >> THAT'S RIGHT. >> AND, UH... REALLY, IT'S ABC AND 123 ALL THE WAY THROUGH. >> ABSOLUTELY. SO YOU GET THE PATTERN WHEN YOU BUY THE TOOL. YOU GET THE PATTERN FOR THAT. >> SO YOU'VE DONE THE HARD WORK FOR US. I'M HOPING ANYWAY. AND SO TELL US HOW TO SELECT FABRIC. THAT'S ALWAYS FASCINATING, I THINK. >> THAT'S PROBABLY MY WEAKEST AREA. I LOVE IT ALL. SO IT'S HARD TO DECIDE WHICH ONES I...WHICH ONES I WANT TO PUT IN THERE. YOU CAN SEE ON THE SELECTION I'VE MADE HERE, I'M WORKING BASICALLY WITH GREENS, BUT I HAVE 3 DIFFERENT VALUES HERE. AND THEY'RE NOT A STRONG CONTRAST, BUT A SUBTLE CONTRAST SO THAT I CAN GET THAT UNDULATING WAVE I WANT THERE. >> YES, I CAN SEE HOW, ESPECIALLY IN THE ONE THAT YOU HAVE MADE, THIS... NOT A SOLID. OF COURSE, THERE'S NO SOLIDS IN IT, BUT YOU'RE RIGHT. THE DIFFERENT PATTERNS OF THE SAME COLOR FAMILY. OK. SO PICK 5? >> PICK 5. >> THAT'S WHAT WE WANT TO WORK WITH. >> SO WE TAKE 2 OF OUR 5, AND WE SEW THESE TOGETHER. >> OH, JUST SIDE BY SIDE, JUST LIKE WE WOULD DO IN QUILTING. QUARTER-INCH SEAM? >> QUARTER-INCH SEAMS. >> PRESS IT OPEN. >> UH-HUH. >> OK. >> OK. AND THEN WE'RE GOING TO CUT A, UM... A PIECE OUT OF THERE. AND THIS IS THE TOOL. YOU NOTICE I PUT LITTLE STICKY DOTS ON THE BACK. THAT HELPS IT FROM SLIPPING. >> OH. NOW, ARE THESE AVAILABLE IN A...IN A SEWING STORE? >> IN A NOTIONS STORE. THERE ARE SEVERAL DIFFERENT TYPES, BUT THEY'RE WONDERFUL. THEY'RE WONDERFUL. YOU NOTICE THAT THE STRIP SETS ARE EXACTLY THE WIDTH OF THE TOOL. THAT'S WHAT'S BEEN PLANNED FOR YOU. THE WAY I HOLD MY HANDS WHEN I CUT IT IS TO GIVE EQUAL PRESSURE AND THEN JUST SLIDE IT AROUND. IT'S A VERY GENTLE CURVE, SO IT'S EASY TO CUT AND EASY TO SEW. NOW, IN MY SEWING STUDIO, I CAN MOVE SIDE TO SIDE, SO I GET KIND OF AEROBIC CUTTING THERE. AND THEN YOU'RE JUST GONNA CUT THE OTHER SIDE OF THE ARC. >> AND FOR PEOPLE WHO MIGHT BE NEW TO ROTARY CUTTING, YOU DO USE A SPECIAL MAT, AND YOU DO USE A SPECIAL CUTTER, NOT YOUR DINING ROOM TABLE. >> NO. THAT WOULDN'T BE A GOOD IDEA. >> THAT'S RIGHT. >> OK. AND THEN WE SEW ANOTHER STRIP SET TOGETHER, WHICH ARE THE OTHER REMAINING 3, AND WE'RE GOING TO CUT AN ARC RIGHT THERE. >> AND AGAIN IT'S THE SAME. PERFECT. >> AND YOU NOTICE WE'VE GOT ONE CUT HERE. AND HERE'S OUR FIRST ONE. >> OK. AND YOU'VE CUT BOTH. AND YOU JUST GO THROUGH AND CUT AS MANY AS THE INSTRUCTIONS TELL YOU. GOT IT. >> MM-HMM. NOW WE'RE GONNA TAKE THE ONE THAT HAS 3 PIECES. WE'RE GONNA FOLD IT IN HALF, AND JUST GIVE IT A LITTLE PINCH. THAT LETS US KNOW WHERE THAT CENTER... AND YOU'LL NOTICE WHEN YOU AND I ARE LOOKING AT THESE, THESE ARE BOTH FROWNING. WE'RE GONNA TURN THE TOP ONE OVER SO IT SMILES AT US AND MATCH THE CENTER AND CENTER. AND WE'LL PUT A PIN IN THERE. WE'LL BRING THIS CORNER DOWN. THEY MATCH EXACTLY. >> NOW, THIS REMINDS ME OF WHEN I LEARNED TO SEW AND WE ALWAYS HAD TO RUN THAT BASTING STITCH AROUND THE SLEEVE TO MAKE IT FIT. BUT THIS IS NOT GOING... >> YOU KNOW, OUR BODIES ARE CURVED. WE'RE TRYING TO GET IT TO LAY FLAT. >> SO THAT SHOULD BE EASIER. >> IT'S MUCH EASIER, MUCH EASIER. AFTER YEARS OF SETTING IN SLEEVES ON BARBIE DOLL CLOTHES, I DECIDED I'D RATHER QUILT AND WORK ON FLAT-- >> I JUST FINISHED DOING THAT. I CAN RELATE TO THAT. >> OK. SO NOW I HAVE MY PIECE. AND LOOK HOW FUNNY THAT LOOKS. HOW COULD THIS POSSIBLY WORK? BUT IT DOES, BECAUSE IT WAS DESIGNED SO THAT THE DISTANCE A QUARTER OF AN INCH IN ON BOTH PIECES--EXACTLY THE SAME. WHEN I SEW, ALL I HAVE TO FOCUS IS SEWING BETWEEN THE TWO PINS. >> UH-HUH. >> SO I DROP MY PRESSER FOOT AND ADJUST IT FOR EXACT QUARTER-INCH SEAMS, AND NOTICE I JUST TAKE THIS HAND... >> YOU'RE NOT REALLY STRETCHING ANYTHING. YOU'RE JUST HOLDING IT TAUT. >> YEAH. YOU'RE JUST BRINGING THOSE TWO RAW EDGES TOGETHER. CORRECT. BY DOING THIS...
[SEWING MACHINE WHIRRING] >> AND HOLD IT ALL THE WAY.
OK. >> YOU'LL GO AROUND THERE. OK. I DO HAVE ONE THAT'S ALREADY BEEN SEWN... RIGHT HERE. >> OH, IT DOES LIE FLAT. NOW, THIS--YOU'RE NOT PRESSING-- OH, I SEE. YOU'RE PRESSING IT-- >> THOSE ALL GO...PRESSED-- >> ARE ONE DIRECTION. >> THAT FABRIC IS GONNA TELL YOU WHICH WAY IT WANTS TO GO. DON'T FIGHT WITH IT. >> I WOULD ASSUME IT--YEAH. YOU COULDN'T GO THIS WAY BECAUSE THERE'S EXTRA FABRIC. >> YEAH. IT JUST WANTS TO GO THAT DIRECTION. AND YOU'RE JUST GONNA CONTINUE TO MAKE PAIRS AND SEW YOUR PAIRS TOGETHER. KEEP SEWING THEM TOGETHER UNTIL YOU HAVE A COLUMN LIKE THIS, AND THEN WE'LL MAKE A SECOND ONE. HERE'S OUR TWO COLUMNS. NOW, YOU COULD MAKE A DESIGN LIKE THIS, BUT I FIND IT MORE INTERESTING TO FLIP IT AROUND TO GET THE WAVE. >> I SEE. UH-HUH. >> AND YOU'LL NOTICE THAT OUR COLORS, WHEN THEY COME TOGETHER, OUR FABRICS, ARE DIFFERENT. WE DO THAT BACK IN THE STRIP SETTING, STRIP-SET SEWING. WE'RE GOING TO GO IN OPPOSITE DIRECTIONS, SO WE GET MIRROR IMAGES. >> THAT'S HOW YOU DID IT. OK. SO THIS WILL JUST BE A QUARTER-INCH SEAM. WE'LL SEW THIS SIDE, AND THEN THE...THIS... THIS, WHAT WE'RE LOOKING AT RIGHT NOW, IS THE EXACT SIZE OF WHAT YOU MADE HERE IN THIS TABLE RUNNER. >> IT SURE IS. >> OK. >> WHEN WE...WE JUST CAN CONTINUE TO ADD THESE COLUMNS ON AS LONG AS YOU WANT. IT CAN BE A TABLE RUNNER, BUT IT COULD ALSO BE A BED RUNNER. SO YOU CAN MAKE IT LONGER IF YOU'D LIKE, WHATEVER YOU'D LIKE TO DO. THEN YOU'RE JUST GOING TO TAKE YOUR TOP AND LAYER IT WITH BATTING AND BACKING AND BIND IT WITH A BIAS STRIP. >> AND THE BIAS STRIP WILL WORK BEAUTIFULLY ALONG THESE CURVED EDGES. >> YEAH. IT'LL JUST BLEND RIGHT IN THERE. >> AND THEN DID YOU DO THIS? THIS IS ALL DONE BY MACHINE, ISN'T IT? >> YES. UH-HUH. I DO FREE-MOTION QUILTING. GOT SOME FLORAL DESIGNS IN THERE. >> SO YOU MENTIONED THE BED RUNNER, A TABLE RUNNER. WHAT ARE SOME OF THE OTHER THINGS WE COULD DO WITH THIS? >> OH, THERE ARE SO MANY THINGS YOU CAN DO WITH THIS TOOL. IT'S REALLY FUN. I HAVE MADE DOUBLE WEDDING RING QUILTS, AND I'VE ALSO BROUGHT A QUILT TO SHOW YOU. >> THIS WAS MADE WITH THE SAME PATTERN? >> IT WAS MADE WITH THE SAME TOOL. >> WOW. OH, UH-HUH. WHICH IS...THIS ONE'S CALLED SIMPLE HARMONY. >> YES, AND IT'S CALLED SIMPLE HARMONY BECAUSE WE'RE GOING TO MAKE ONE SQUARE, AND BY THE WAY WE SLICE IT, WE END UP WITH TWO TOTALLY DIFFERENT BLOCKS. SO ALL THE COLORS COORDINATE, BUT THE BLOCKS LOOK DIFFERENT. >> THEY LOOK TOTALLY DIFFERENT. AND THEN THIS HAS TONS OF MACHINE QUILTING ON THIS. IT PROBABLY TOOK A WHILE TO DO, DIDN'T IT? >> YEAH. MY FRIEND BECKY QUILTED THAT ONE FOR ME. >> WELL, THIS IS AMAZING, AND TO THINK IT ALL STARTS WITH THE SIMPLE CURVES, SOMETHING THAT I MAY HAVE SEEN IN THE STORE AND NOT KNOWN WHAT TO DO WITH IT, SO... >> YOU JUST LOOK AT IT, YOU DON'T KNOW WHAT IT IS. IT'S JUST KIND OF A SECRET. KEEP THAT SECRET. >> IT'S A GREAT SECRET. WELL, THANK YOU VERY MUCH, CHERYL. I REALLY APPRECIATE YOU BEING HERE TODAY. >> THANK YOU, CHERYL. >> NANCY, THANK YOU SO MUCH FOR BEING WITH US. EVERY TIME YOU'RE ON THE SHOW, I GET LOTS OF E-MAILS SAYING, "I JUST WISH SHE'D SHOW US HOW TO DO SOMETHING REAL SIMPLE." SO FOR THOSE PEOPLE WHO MAYBE HAVEN'T EXPERIENCED CAKE DECORATING OR WORKING WITH THE BUTTERCREAM ICINGS, WHICH I THINK IS THE BEST ICING OF ALL, THAT'S KIND OF WHAT YOU'RE GOING TO COVER TODAY. >> I AM. ONE TECHNIQUE. NOW, IT DOES USE A RUFFLE OR A PETAL TIP, SO SOME PEOPLE MAY BE THREATENED BY THAT, BUT HOPEFULLY AFTER YOU SEE ME DO IT, YOU'RE NOT GOING TO WORRY ABOUT IT. AND IT MAKES A VERY IMPACTFUL DECORATION, YOU KNOW, WHETHER YOU'RE USING IT AS A RUFFLE OR A BOW OR, YOU KNOW, YOU'RE USING IT FOR JUST A SIMPLE FLOWER. >> MM-HMM. WELL, LET'S TAKE A LOOK AT THE FINISHED CAKE. AND THAT IS JUST SO PRETTY. TO ME, IT JUST SAYS EITHER A LITTLE GIRL'S BIRTHDAY PARTY OR A WOMEN'S TEA OR SOMETHING SPECIAL. MAYBE IT'S BECAUSE THE COLORS YOU PICKED. >> YEAH, AND YOU CAN OBVIOUSLY DO THIS IN ANY COLOR THAT YOU WANT, BUT I WAS KIND OF DOING A TAKE-OFF OF THE OMBRE. YOU KNOW, YOU HAVE THE GRADUATION OF THE COLORS. USUALLY IT'S A SINGLE COLOR. AND I'M JUST--I LIKE ALL SORTS OF COLORS, SO I JUST DID A LITTLE BIT OF EVERY COLOR. BUT, YOU KNOW, YOU COULD DO GRADUATED SHADES OF PINK OR BLUE OR LAVENDER OR, YOU KNOW, ANY OF THE COLORS THAT WE HAVE THERE, AND YOU COULD HAVE THAT MONOCHROMATIC LOOK BUT YET WITH A LITTLE BIT OF PIZZAZZ. >> UH-HUH. A LITTLE TWIST TO IT. >> AND BUTTERCREAM... YOU KNOW, FONDANT HAS BEEN HUGE IN ICING BECAUSE IT HAS A VERY SMOOTH LOOK. YOU CAN USE IT LIKE MODELING CLAY. SO, YOU KNOW, THERE'S SO MANY THINGS THAT YOU CAN DO WITH FONDANT, AND PEOPLE RELATE TO IT BECAUSE THEY GREW UP WITH MODELING CLAY AS A CHILD. BUT BUTTERCREAM IS REALLY THE NUMBER-ONE ICING CHOICE IN AMERICA BECAUSE OF THAT SWEET FLAVOR. IT'S A CONFECTIONERS SUGAR BASE, YOU KNOW, WITH SOME BUTTER AND SOME SHORTENING AND THEN JUST A LITTLE BIT OF FLAVORING AND VANILLA EXTRACT, OR YOU COULD USE LEMON OR ALMOND EXTRACT IN IT. SO IT'S A VERY BASIC RECIPE. >> AND YOU CAN GET IT SMOOTH. IT JUST TAKES A LITTLE MORE WORK THAN WHEN YOU'RE WORKING WITH FONDANT. BUT I STILL... IT'S MY FAVORITE, I'LL ADMIT IT. >> AND YOU DON'T REALLY HAVE TO WORRY ABOUT ICING THE CAKE SMOOTH. LET ME TALK ABOUT THE CAKE, TOO. NOW, THIS IS A 6-INCH CAKE. AND I DID THIS FOR A REASON-- SO THAT I COULD GET MORE LAYERS OF THE RUFFLES. AND SO THIS IS THREE 6-INCH ROUND LAYERS. NOW, DEPENDING ON HOW MANY PEOPLE YOU'RE GONNA SERVE, WHEN YOU CUT THIS, YOU'RE GONNA WANT TO MAKE SURE THAT YOU HAVE, YOU KNOW, A GOOD-SIZED SPATULA SO THAT WHEN YOU TAKE IT OUT, YOU CAN, YOU KNOW, LAY IT DOWN. BUT I JUST THINK THE IMPACT WITH THE HEIGHT--SO THIS IS ABOUT A 6-INCH TALL CAKE. SO IT'S 3 LAYERS, AND THEN YOU'VE GOT FILLING IN BETWEEN. >> OK. SO IT MAKES IT, WHAT, A GOOD 7, 8 INCHES, SOMETHING? >> YEAH, A GOOD 6, 6 1/2, 7 INCHES. YOU'RE GONNA, YOU KNOW, FLATTEN IT DOWN SOMEWHAT, AND...BUT IT JUST-- I THINK IT LOOKS REALLY GOOD. AND ANOTHER WAY YOU CAN USE THIS CAKE, TOO, IS JUST BASICALLY ICING IT AND SEE, I'VE GOT JUST A PLAIN ICING HERE. NOW, THIS IS PRETTY SMOOTH, BUT YOU DON'T HAVE TO WORRY ABOUT IT BEING SMOOTH BECAUSE YOU'RE GOING TO COVER IT UP WITH THE TECHNIQUE. YOU JUST KIND OF WANT THE BASE COLOR. I PROBABLY COULD JUST HAVE ICED THE TOP AND THEN, YOU KNOW, GONE ALL THE WAY AROUND. SO WHAT I'VE GOT IS I'VE GOT A PETAL TIP. AND I'M GONNA SHOW YOU ON THIS ONE. THERE'S A FAT END AND A SKINNY END, AND THE FAT END IS THE ONE THAT WE'RE GONNA HAVE TOUCH THE CAKE AS WE GO AROUND. >> IT'S CALLED A PETAL TIP. >> IT'S A PETAL TIP. THIS PARTICULAR ONE IS A TIP 104. WHEN YOU'RE DOING ROSES, YOU CAN GO 102, 103, 104. AND THEN I GO TO 124, 5, 6, AND 127. SO YOU CAN HAVE DIFFERENT SIZES. YOU DON'T NOTICE IT AS MUCH ON THE CAKE, BUT, UM, THAT'S ACTUALLY WHAT I DID. SO I'M TAKING THE FAT EDGE... >> AND YOU'RE STARTING WITH WITH THE SMALLER TIP TO DO THIS TOP LAYER. >> YEAH. AND THEN I'M JUST MAKING SURE IT TOUCHES THE CAKE. AND YOU CAN SEE MY WHOLE ARM IS THE ONE THAT'S GOING UP AND DOWN. AND I'VE GOT IT A LITTLE HIGHER BECAUSE WHAT I MIGHT DO IS PUT SOME CHOPPED NUTS ON TOP. WE DIDN'T PUT ANYTHING ON TOP OF THE CAKE, BECAUSE WE JUST THOUGHT, WELL, OK, THAT'S KIND OF, YOU KNOW, FINE, SIMPLE, AND ELEGANT. SO YOU CAN DO IT REALLY TIGHT, OR YOU CAN DO IT... AND I'VE GOT IT ON A TURNTABLE SO YOU CAN SEE... AND I KIND OF MESSED THAT UP, SO I WOULD JUST... >> I WOULD EAT THAT AND THEN START OVER. >> NO, YOU JUST GO OVER IT AND KIND OF, YOU KNOW, PULL IT IN. AND THEN YOU JUST COME DOWN WITH, AGAIN, THE FAT TIP RIGHT UNDERNEATH IT... >> ARE YOU GOING TO OVERLAP? YES. OVERLAP IT JUST A LITTLE BIT. >> AND YOU CAN SEE THAT THIS IS A BASIC TECHNIQUE. AND WHAT I LIKE TO DO IS MAKE SURE I HAVE ENOUGH IN THE BAG SO I GET ALL THE WAY AROUND BEFORE I HAVE TO REDO IT, YOU KNOW, REFILL THE BAG. SO YOU CAN SEE IT'S JUST... IT'S KIND OF MONOTONOUS WHEN YOU GET AROUND TO IT. AND LET ME JUST DO ONE MORE. >> AGAIN, THIS IS WITH THE BIGGER TIP. >> YEAH. MY ICING IS EXCEPTIONALLY SOFT UNDER THESE LIGHTS. SO... >> IT SURE MAKES PRETTY RUFFLES WHEN IT COMES OUT SOFT. >> YOU WANT A MEDIUM CONSISTENCY ICING. THIS IS A LITTLE BIT SOFTER THAN MEDIUM CONSISTENCY. BUT THAT WAY, YOU CAN GET A GOOD DEFINITION. >> WHAT DOES A PERSON DO IF THEY'RE MAKING THE ICING AND IT IS A LITTLE SOFT? >> ADD SOME MORE CONFECTIONERS SUGAR. >> JUST CONFECTIONERS SUGAR. >> IT'S, YOU KNOW, REALLY NOT THAT MUCH OF A PROBLEM. SO I'M JUST GONNA STOP THERE. AND YOU CAN SEE IT'S BEGINNING TO TAKE SHAPE. YOU CAN DO MORE LAYERS. YOU COULD DO LESS LAYERS. AND THEN YOU JUST KEEP GOING. AND AS YOU CAN SEE, I HAVE THE GRADUATED COLORS AND THE DIFFERENT-SIZED TIPS. >> WELL, THAT'S CERTAINLY EASY ENOUGH TO DO, AND LIKE YOU SAY, IT JUST IMMEDIATELY LOOKS VERY ELEGANT. YOU COULD PUT MAYBE CUT STRAWBERRIES ON TOP OR SOME WHIPPED CREAM WITH EVEN CHERRIES IN THAT. >> SOME NUTS. YEAH, YOU COULD PUT SOME FRESH FLOWERS. JUST MAKE SURE THAT YOU PUT SOME WAXED PAPER OR SOME PLASTIC WRAP UNDERNEATH SO THAT THEY'RE NOT TOUCHING THE CAKE. >> OH, THAT'S A GOOD IDEA. WELL, THANK YOU SO MUCH. YOU JUST MAKE IT LOOK SO EASY EVERY TIME. MATTHEW, I'M SO GLAD YOU'RE HERE TODAY. AND I HAVE TO ADMIT, I HAD NOT EVER HEARD OF YOUR ORGANIZATION, GUARDIANS OF RESCUE, AND IF ANYBODY ELSE IS THINKING, "WELL, I HAVEN'T EITHER," THEY COULD GO TO THE WEBSITE, WHICH IS guardiansofrescue.org AND FIND OUT MORE ABOUT IT. BUT HOW LONG HAS THIS GROUP BEEN AROUND? >> UH...2010 WE FORMED UP, AND WE'VE BEEN HELPING ANIMALS AND FAMILIES EVER SINCE. >> MM-HMM. AND WE UNDERSTAND THAT YOU RESCUE DOGS AND CATS FROM...WELL, LIKE, WHEN THERE'S BEEN STORMS OR TRAUMATIC WEATHER SITUATIONS, YOU RESCUE THOSE PEOPLE. BUT SOMETIMES PEOPLE JUST LEAVE ANIMALS. THEY JUST GO OFF AND LEAVE THEM, UNFORTUNATELY. MAYBE IT'S ECONOMICS, OR MAYBE THE LANDLORD SAID NO MORE PETS IN THE PLACE OR WHATEVER. SO YOU WORK WITH JUST WHATEVER PEOPLE GIVE YOU OR THAT YOU FIND, DON'T YOU? >> CERTAINLY. CERTAINLY. WE DO A LOT OF WORK IN THE SHELTERS. WE TRY AND KEEP ANIMALS OUT OF THEM AS MUCH AS POSSIBLE. IT'S NOT AN ENVIRONMENT THAT'S CONDUCIVE TO THEIR MENTAL HEALTH. AND WHEN THEY START TO COME UNSPOOLED LIKE THAT, THEY'RE NOT GOING TO BE ADOPTED. SO WE DO OUR BEST TO BRING THEM TO A NURTURING ENVIRONMENT, HOMES, FOSTER HOMES. I HAVE 6 DOGS IN MY HOUSE RIGHT NOW. >> THAT'S ONE OF THE FOSTER HOMES, HUH? >> YES. YES. >> YOU AND YOUR WIFE BOTH ARE INVOLVED IN THIS. SO IT'S REALLY LOTS OF VOLUNTEERS DOING LOTS OF COMPASSIONATE THINGS FOR ANIMALS. >> ABSOLUTELY. ABSOLUTELY. >> WELL, WHAT I'D LIKE TO TALK TO YOU ABOUT IS HOW PETS AND CHILDREN INTERACT. NOW, I GREW UP ON A FARM. SO WE ALWAYS HAD THE LASSIE DOG AND OTHER PETS. SOME STAYED IN THE HOUSE. SOME WERE THE OUTSIDE DOGS. AND MY PARENTS TAUGHT ME EARLY ON NOT TO RUN UP TO A DOG OR NOT TO SCARE IT, ESPECIALLY IF THEY'RE SLEEPING. LET SLEEPING DOGS LIE, YOU KNOW. BUT YOU HAVE A PROGRAM, THROUGH THE GUARDIANS OF RESCUE. WOULD YOU TELL ABOUT THAT AND HOW YOU TEACH HUMANE EDUCATION? >> YEAH. WE'LL GO INTO SCHOOLS. THE JUNIOR GUARDIANS OF RESCUE, WE'LL GO INTO SCHOOLS, AND WE KIND OF TAILOR IT TO WHAT GRADE WE'RE SPEAKING TO. UM, TRY AND TEACH KIDS TO LOOK FOR SIGNS OF ABUSE, HOW TO APPROACH ANIMALS, HOW TO GO ABOUT INTERACTING WITH THEM, WHAT TO LOOK FOR IF YOUR DOG'S NOT FEELING WELL, IF YOUR ANIMAL'S SICK, IF YOU THINK YOUR NEIGHBOR IS NOT TREATING HIS DOG WELL, WHAT TO DO ABOUT IT, HOW TO GO ABOUT, YOU KNOW, ACTUALLY AFFECTING A POSITIVE DIFFERENCE. >> WELL, IF IT'S... TELL ME WHAT YOU DO, LIKE SAY, FOR KINDERGARTEN AGE THAT DIFFERS FROM, SAY, JUNIOR HIGH? >> WELL, IN KINDERGARTEN, WE'LL TEACH THE KIDS-- WE HAVE DOGS, THERAPY DOGS. >> AND YOU TAKE THE DOGS ACTUALLY INTO THE SCHOOL? >> YES. AND THEY'RE ACTUALLY RESCUED DOGS THAT WE SPRUNG FROM SHELTERS. BUT WE'LL TEACH THEM HOW TO... YOU KNOW, YOU DON'T MAKE DIRECT EYE CONTACT WITH THE DOG. YOU KNOW, YOUR BODY LANGUAGE AND WAYS TO GO ABOUT APPROACHING A DOG, HOW TO LET THE DOG SNIFF YOUR HAND, AND YOU KNOW, WHEN WE GET UP TO, YOU KNOW, SIXTH-, SEVENTH-GRADERS, WE'LL TELL KIDS WHAT TO LOOK FOR-- YOU KNOW, A SCAR FROM FIGHTING OR, YOU KNOW, A... YOU KNOW, WE ACTUALLY GET INTO MEDICAL TREATMENT, YOU KNOW, CURSORY...HOW TO, YOU KNOW, FIRST-AID TREAT A DOG IF IT'S NOT FEELING WELL, IF IT'S TOO HOT, WHAT TO DO IF YOU SEE YOUR DOG LAYING OUT WITH HIS TONGUE ON THE GROUND IN THE HEAT, AND YOU KNOW, IF YOUR NEIGHBOR HAS LEFT HIS DOG OUT WITHOUT A BOWL OF WATER OR, YOU KNOW, HOW TO GO ABOUT APPROACHING THAT AND... >> IT'S TEACHING THEM TO BE VERY COMPASSIONATE, TO LOOK OUT FOR OTHERS, NOT JUST OTHER PEOPLE BUT TO ANIMALS. AND I THINK SOMETIMES WE OVERLOOK THAT PART OF IT. HAVE YOU EVER...OR HOW DO YOU TEACH A CHILD, MAYBE SOMEONE THAT EARLY ON, THEY WERE EITHER... THEY BOMBARDED A DOG OR SOMETHING AND MAYBE GOT NIPPED AT OR BITTEN, AND SO NOW THEY'RE JUST TOTALLY AFRAID OF ALL ANIMALS. HOW DO YOU GET THEM OVER THAT? >> WE HAVE...WE HAVE... THROUGH TEMPERAMENT TESTING AND WORKING WITH THE ANIMALS, I KNOW SPECIFICALLY MY BOY OTIS THAT I BRING INTO SCHOOLS ALL THE TIME, HE IS JUST IMMUNE TO CHILDREN. YOU CAN STAND ON HIM IF YOU'RE A CHILD. HE ACTUALLY, HE PULLS ON THE LEASH FOR ME. BUT I CAN GIVE HIM TO A 2-YEAR-OLD, AND THE LEASH HAS ALWAYS GOT SLACK IN IT. SO WE'LL BRING THAT DOG THAT WE KNOW JUST HAS NO DARK CORNERS AND JUST WORK IT THROUGH WITH THE CHILD AND SHOW THE KID THAT IT'S OK, AND ONCE THEY GET THAT BOND, ONCE THEY FEEL THAT LOVE FROM THE ANIMAL, IT'S... USUALLY IT MELTS IT RIGHT AWAY. >> HOW IS IT DIFFERENT WITH DOGS AND CATS? HOW DO YOU...HOW DO YOU... AND I ASSUME YOU HAVE TO CHECK THEIR TEMPERAMENT, AS YOU SAY, TEMPERAMENT TESTING. HOW DO YOU DO THAT WITH DOGS OR CATS? >> YOU PUT THEM IN SCENARIOS. YOU KNOW, I FIND... WE DO A LOT OF REHABBING OF ABUSED ANIMALS. SO THE FIRST THING YOU DO IS YOU REACH FOR THE DOG, AND IF IT FLINCHES, YOU KNOW, OK, SO NOW I'M GONNA COME AT YOU SIDEWAYS, AND IF THE DOG IS REAL HIGH-ENERGY, YOU KNOW-- >> HYPER. >> YEAH, YEAH. YOU PLAY WITH THE BALL A LOT. YOU JUST CUSTOM-TAILOR WHAT YOU'RE GONNA DO WITH THE ANIMAL. BUT THEY WANT TO SHOW YOU. THEY WANT TO SHOW YOU WHAT YOU ARE. A CAT, IT'LL WANT TO LET YOU KNOW, "HEY, YOU KNOW, "I JUST WANT TO LAY HERE. "I DON'T WANT TO BE MESSED "AROUND, OR I WANT TO CHASE THIS THING ALL THE TIME." AND YOU CAN, YOU KNOW, IF YOU JUST PAY A LITTLE ATTENTION AND YOU DO A LITTLE ACTIVITY WITH THE ANIMAL, YOU CAN SEE THEIR TEMPERAMENT COMES OUT PRETTY QUICKLY. >> AND YOU MENTIONED SOMETHING ELSE I THINK THAT'S VERY IMPORTANT, IS RECOGNIZING ABUSE AND THEN HELPING CHILDREN KNOW WHAT TO DO. MAYBE YOU DON'T PICK UP THE PHONE RIGHT THEN AND CALL 911. MAYBE YOU'VE GOT TO FEEL COMFORTABLE TALKING TO THEIR PARENTS, AND THEN THE PARENT HAS TO KNOW HOW TO DEAL WITH THE NEXT-DOOR NEIGHBOR BECAUSE THIS CAN ALSO CAUSE PROBLEMS IF IT'S NOT DONE RIGHT. >> AND THAT'S WHERE WE COME IN. WE DON'T HAVE BADGES. WE'RE NOT MAKING REPORTS. THIS IS NOT GONNA BE AN ISSUE FOR YOUR INSURANCE. WE'RE GONNA SPEAK TO YOU COMPASSIONATELY. I FIND 90% OF THE CRUELTY INVESTIGATIONS THAT GO ON, PEOPLE AREN'T BEATING THEIR DOGS BECAUSE THEY WANT TO BEAT THEIR DOG. THEY'RE FRUSTRATED. THEY TRIED TO TRAIN THEIR DOG. THEY'RE AT THEIR WIT'S END. THEY DON'T KNOW WHAT TO DO. IN THE FIFTIES, YOU SMACK A DOG IN THE FACE WITH A NEWSPAPER, IT WAS TRAINING. YOU KNOW, NOW WE KNOW PACK DYNAMICS. THERE'S A WHOLE DIFFERENT WAY TO ACTUALLY TRAIN THE DOG, TO TEACH THE DOG. >> NOW, WHAT DO YOU MEAN "PACK DYNAMICS"? >> WELL, MOM WOLF... IN THEIR DNA, THEY HAVE TO HAVE A WAY-- MOM WOLF HAS TO HAVE A WAY TO TELL HER PUPS TO BE QUIET OR IF THEY'VE DONE SOMETHING WRONG. OTHERWISE, THEY'LL GET EATEN IN THE DEN. AND THAT'S WHERE A SCRUFF TO THE NECK OR A LITTLE NIP TO THE BUTT. IF YOU SPEAK THE DOG'S LANGUAGE, THEY UNDERSTAND. SO BY TEACHING SOMEONE HOW TO TEACH THEIR ANIMAL-- IF I JUST GO IN THERE GANGBUSTERS AND I PULL THE DOG AND I CALL THE COPS, IT'S A DOG THAT'S UNHAPPY IN THE SHELTER, THAT WASN'T DOING WELL TO BEGIN WITH. THERE'S A KID WHO DOESN'T HAVE HIS DOG ANYMORE. IF I CAN TEACH THAT GUY HOW TO TEACH HIS DOG, I'LL HAVE A FAMILY UNIT, I'LL HAVE AN INTACT DYNAMIC. >> HOW MANY TIMES IN THE YEARS YOU'VE WORKED WITH THIS ORGANIZATION HAS THE PLACEMENT JUST NOT WORKED? >> IT DOES. IT HAPPENS. AND I FIND THE X-FACTOR ALMOST 100% OF THE TIME IS THE PEOPLE. I WILL TELL SOMEBODY, YOU KNOW, "THIS IS A HIGH-ENERGY DOG. "YOU SURE YOU WANT THIS DOG? "WELL, YOU'RE GONNA HAVE TO "RUN IT 3 TIMES A DAY. "YOU KNOW, YOU'RE GONNA HAVE TO DO THIS." AND THEY DON'T DO IT. >> A LOT MORE WORK THAN THEY THOUGHT. >> YOU KNOW. >> OR MAYBE THEY'RE AT WORK ALL DAY LONG. >> AND THEY COME HOME, AND THINGS ARE CHEWED UP. THE DOG NEEDS A JOB. IT NEEDS SOMETHING TO DO, AND IT'S FULL OF ANGST, SO IT'S JUST GONNA TRY AND DO SOMETHING. SO...AND WE-- AND AGAIN, WE WILL TAKE THE DOG BACK. WE WILL... YOU KNOW, NO JUDGMENT. I UNDERSTAND IT DIDN'T WORK. AND WE WILL FIND THE PROPER HOME FOR THE DOG. BUT WE DO A SERIOUS VETTING PROCESS. WE'LL CALL YOUR NEIGHBORS. WE'LL CALL YOUR LANDLORD. WE'LL CALL YOUR MOTHER. WE'LL CALL YOUR VET. WE WANT TO MAKE SURE. AND WE'LL CALL YOU AGAIN AFTER YOU'VE ADOPTED THE DOG JUST TO MAKE SURE EVERYTHING IS GOING OK. >> UM...[AHEM] WHAT ABOUT IF IT'S... IF SOMEBODY, SAY, LIKE RIGHT WHERE I LIVE, WANTED TO GO INTO THE SCHOOLS AND DO THIS HUMANE EDUCATION, HOW WOULD A PERSON GO ABOUT STARTING? >> WELL, I WOULD SUGGEST THAT THEY START DOING WORK WITH THE SHELTERS AND THEIR LOCAL ANIMAL RESCUE, THEIR LOCAL GUARDIANS OF RESCUE RANCH. WE'LL SHOW YOU HOW TO GO ABOUT DOING IT, BUT IT TAKES QUITE A BIT OF EDUCATION, NOTHING RIDICULOUS, BUT TO LEARN THE DYNAMIC OF A PACK AND HOW PEOPLE INTERACT WITH ANIMALS AND WHAT THE ISSUES ARE. 6 MONTHS IN THE SHELTER CIRCUIT, AND YOU'LL HAVE SEEN PLENTY AND KNOW ENOUGH TO TEACH OTHERS. >> WELL, AND I NOTICED ON THE WEBSITE THERE'S A LINK FOR THE--AND IT'S CALLED THE JUNIOR... YEAH, JUNIOR GUARDIANS. SO IF SOMEBODY REALLY WAS COMPELLED TO DO THIS, THEY COULD GO THERE, READ, STUDY, LEARN, AND THEN LET YOU ALL HELP... >> ABSOLUTELY. CONTACT US. >> FIGURE OUT THE CURRICULUM. >> AND YEAH, WE'D BE DELIGHTED TO WALK YOU THROUGH IT AND HELP YOU AND GIVE YOU THE RESOURCES TO LEARN SO YOU COULD SPREAD THE COMPASSIONATE WORD OF EDUCATION AND HUMANE TREATMENT. >> WELL, THERE'S SO MUCH KIDS CAN LEARN FROM PETS, AND VICE VERSA, TOO. AND WHAT A GREAT WAY TO LEARN COMPASSION THAT YOU DON'T-- IF YOU GET TIRED OF AN ANIMAL, YOU DON'T JUST THROW IT AWAY LIKE YOU WOULD A PIECE OF TRASH. THEY HAVE A RIGHT, TOO. >> ABSOLUTELY. >> WELL, THANK YOU SO MUCH, MATTHEW. I ENJOYED FINDING OUT MORE ABOUT THE GUARDIANS OF RESCUE. I HOPE YOU ENJOYED THE SHOW TODAY. NEXT TIME ON "CREATIVE LIVING," WE'LL BEGIN A NEW SERIES OF SHOWS FEATURING LOTS OF INTERESTING GUESTS WHO ARE EXPERTS IN DIFFERENT AREAS. I ALSO WANT TO REMIND YOU TO SIGN UP FOR OUR FREE "CREATIVE LIVING" NEWSLETTER THAT COMES OUT THE FIRST PART OF EACH MONTH. JUST GO TO OUR WEBSITE AT kenw.org AND TYPE IN YOUR E-MAIL ADDRESS. I DO WANT TO THANK YOU FOR LETTING US BE A PART OF YOUR TELEVISION VIEWING THESE LAST FEW MONTHS, AND REMEMBER TO LET YOUR LOCAL PUBLIC TELEVISION STATION KNOW THAT YOU APPRECIATE THEM CARRYING "CREATIVE LIVING." AND JUST A QUICK REMINDER THAT YOU CAN GET ALL OF THE INSTRUCTIONS, PATTERNS, AND RECIPES FOR MOST OF THE GUESTS WHO HAVE BEEN ON THIS SERIES BY GOING TO OUR WEBSITE AND CLICKING ON THE "BOOKLETS" SECTION. YOU CAN DOWNLOAD THE ENTIRE "6700 SERIES" BOOKLET OR JUST THE SECTIONS YOU'RE MOST INTERESTED IN. AND FINALLY, IF YOU EVER HAVE COMMENTS OR SUGGESTIONS OR IDEAS FOR SHOWS, YOU CAN E-MAIL ME AT sheryl.borden@enmu.edu. I'D ALSO LIKE TO ASK YOU TO BECOME A FAN OF "CREATIVE LIVING" ON FACEBOOK. JUST GO TO facebook.com AND IN THE SEARCH WINDOW TYPE IN "CREATIVE LIVING WITH SHERYL BORDEN." I HOPE YOU'LL PLAN TO JOIN ME NEXT TIME FOR "CREATIVE LIVING." >> WE ARE VERY PLEASED TO OFFER A NEW BOOKLET THAT ACCOMPANIES THIS SERIES OF "CREATIVE LIVING." THIS BOOKLET IS TITLED THE "6700 SERIES," AND IT FEATURES A WONDERFUL COLLECTION OF IDEAS AND INFORMATION, AND IT'S AVAILABLE FREE OF CHARGE ON OUR WEBSITE. POSTED AS A "PDF" FILE, YOU CAN SIMPLY DOWNLOAD THE ENTIRE BOOKLET OR JUST THE SEGMENTS YOU'RE MOST INTERESTED IN. YOU'LL FIND INFORMATION ON FOODS, NUTRITION, CLOTHING, FASHION, HEALTH AND BEAUTY, HOME DECORATING, AND MUCH MORE. FOR YOUR COPY OF THIS NEW BOOKLET, GO TO OUR WEBSITE AT kenw.org AND THEN CLICK ON "CREATIVE LIVING," SCROLL DOWN TO THE "BOOKLETS" SECTION, AND YOU CAN CLICK ON THIS BOOKLET OR ON ANY OF THE OTHER BOOKLETS WE HAVE AVAILABLE ONLINE. JUST GO TO kenw.org, CLICK ON "CREATIVE LIVING," AND DOWNLOAD THE BOOKLET TITLED THE "6700 SERIES." WE ALSO INVITE YOU TO SIGN UP FOR OUR FREE E-NEWSLETTER. JUST GO TO kenw.org AND CLICK ON THE "SIGN UP NOW" BUTTON AND INPUT YOUR E-MAIL ADDRESS. THAT'S ALL THERE IS TO IT. YOU'LL ENJOY READING AND UP-TO-DATE NEWSLETTER FILLED WITH INTERESTING TOPICS AND INFORMATION. THANK YOU.
Now Playing As: Captioned (English) (change)
Representatives from Guardians of Rescue discuss the importance of teaching children about proper pet care. While Nancy Silver makes a regal ruffled rainbow cake, and Cheryl Phillips demonstrates a tool used to create curves in fabric.
Media Details
Runtime: 27 minutes