Creative Living With Sheryl Borden #6724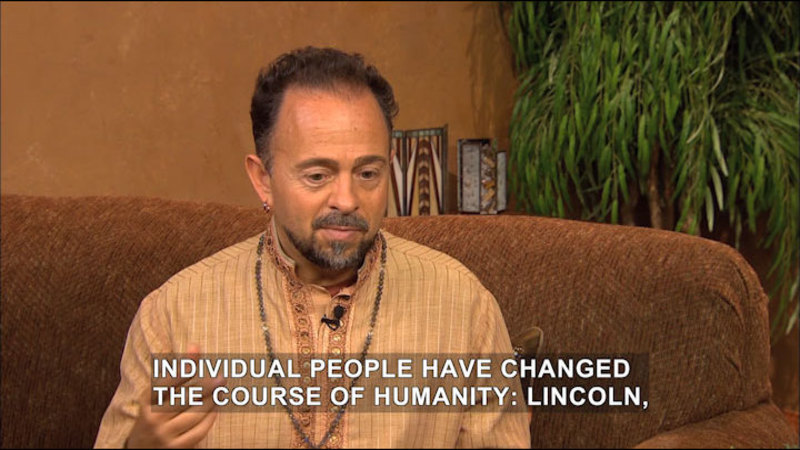 >> "CREATIVE LIVING," UTILIZING TODAY'S TECHNOLOGY WITH THE BEST OF THE PAST TO BRING YOU INNOVATIVE IDEAS AND UP-TO-DATE INFORMATION FOR CREATIVE LIFESTYLES IN TODAY'S ACTIVE WORLD, WITH YOUR HOST, SHERYL BORDEN. >> I'M SO GLAD YOU JOINED ME TODAY FOR "CREATIVE LIVING." WE'RE GOING TO LEARN HOW TO SELECT JEANS FOR DIFFERENT BODY SHAPES AND STYLES, AND WE'LL DISCUSS WHAT WE MEAN BY "SUSTAINABLE LIVING." FOR MANY WOMEN, THE SELECTION OF A PAIR OF JEANS IS DIFFICULT. ONE OF MY GUESTS TODAY IS NANCY NIX-RICE, AND SHE'S A WARDROBE CONSULTANT AND AUTHOR. NANCY WILL SHARE SOME CONCEPTS THAT CAN GUIDE EACH WOMAN TO HER IDEAL CHOICE. WE'LL DISCUSS COLOR, FABRIC, LEG CUT, AND STYLE DESIGNS, AS WELL AS FIT. HER BOOK IS TITLED "LOOKING GOOD," AND IT'S A WEALTH OF INFORMATION ON HOW TO MAKE THE MOST OF YOUR BODY. SHE LISTS SPECIFIC GUIDELINES FOR APPLYING CERTAIN CONCEPTS TO FIGURE CHALLENGES THAT MANY WOMEN FACE. NANCY LIVES IN ST. LOUIS, MISSOURI. WE'LL BEGIN THE SHOW TODAY WITH LOUIX DOR DEMPRIEY, WHO IS A SPIRITUAL MASTER ABOUT SUSTAINABLE LIVING, AND WHY ECO OR SUSTAINABLE LIVING IS SO IMPORTANT. HE BELIEVES WE SHOULD LEAVE EVERY PLACE MORE BEAUTIFUL THAN WE FOUND IT. HE'LL DISCUSS NATURAL PRODUCTS AND RENEWABLE PRODUCTS AS OPPOSED TO BUYING SYNTHETICS, AND HE SUGGESTS WE SHOULD TAKE STEPS TOWARD A VEGAN LIFESTYLE. HE'S PRESIDENT AND CEO OF LOUIX DOR DEMPRIEY FOUNDATION IN LAGUNA HILLS, CALIFORNIA. LOUIX, THANK YOU SO MUCH FOR BEING WITH US. I'VE NEVER HAD A SPIRITUAL MASTER ON THE SHOW. I DIDN'T EVEN KNOW WHAT ONE DID, AND EVIDENTLY, JUST VISITING WITH YOU, YOU'VE HAD SPIRITUAL MASTERS IN YOUR LIFE, SO IS THAT HOW ONE STARTS? >> AH, USUALLY. USUALLY, YOU KNOW. >> YOU WERE JUST DRAWN TO A SEMINAR, A WORKSHOP, OR HOW DID IT START? >> OH, FOR ME, WELL, I HAD A--THAT'S A HARD ONE TO ANSWER, BECAUSE THERE WERE SIGNS AND GUIDEPOSTS ALL ALONG THE WAY IN MY LIFE, THE TURNING POINTS THAT HAPPENED. >> I SEE. >> BUT I HAD A MAJOR SPIRITUAL AWAKENING IN 1990. MY CROWN OPENED, AND I WENT INTO THIS FULLY GOD-MERGED STATE WHICH IS CALLED "SAMADHI," WHERE I HAD AN EXPERIENCE OF TOTAL OMNISCIENCE. I COULD SEE AND HEAR EVERYTHING, AND I DIDN'T SLEEP A WINK FOR 9 DAYS OR EAT A MORSEL OF FOOD. THERE WAS SO MUCH CURRENT COMING THROUGH MY BODY, AND I COULD SEE EVERYTHING, AND FAITH HEALING AWAKENED IN MY HANDS. I COULD TOUCH PEOPLE'S BODIES AND SEE DISEASES IN THEM, AND HEALINGS WERE HAPPENING, AND I STARTED GIVING PEOPLE I GUESS WHAT YOU WOULD CALL PSYCHIC READINGS. THEY'D ASK ME QUESTIONS. I COULD JUST SEE AND HEAR STUFF, AND THEN I JUST STARTED HAVING A LOT OF-- >> DID IT SCARE YOU? >> NO, IT WAS AWESOME! >> UH-HUH. >> AND THEN I STARTED HAVING THESE--MANY MYSTICAL EXPERIENCES, ENCOUNTERS WITH ANGELS AND ASCENDED MASTERS, AND ETs, AND COOL STUFF WAS HAPPENING, BUT THEN I STARTED GETTING CURIOUS. WHAT'S HAPPENING TO ME? WHAT'S HAPPENING TO ME? AND I KEPT-- >> WHAT DO I DO WITH IT? >> I MEAN, I WAS RAISED A CATHOLIC, BUT I LEFT THE CHURCH AT 13 BECAUSE OF CONFLICTS AND BELIEFS, AND SO I WAS ON MY OWN ALL THOSE YEARS, AND THIS AWAKENING HAPPENED AROUND 29, 30 YEARS OLD. I'M 51 NOW, AND, UH...SO I JUST STARTED PRAYING AT NIGHT. ALL I KNEW AT THAT TIME, 20, 30 YEARS AGO, WAS GOD, JESUS, MARY, ANGELS, SAINTS, SO I JUST STARTED PRAYING TO THEM, SAYING, "PLEASE, SEND ME SOMEONE WHO CAN TELL ME WHAT'S GOING ON." AND I PRAYED EVERY, EVERY NIGHT, AND THEN EVENTUALLY I FOUND A TEACHER AND THEN, YOU KNOW, I WON'T GET INTO THE WHOLE STORY, BUT EVENTUALLY I GOT MYSELF TO THE FEET OF MASTERS WHO TRAINED ME, AND NOW I TRAIN OTHER PEOPLE TO FIND THEIR OWN SELF-MASTERY IN WHATEVER FIELDS. NOT JUST ENLIGHTENMENT, BUT I HELP PEOPLE BECOME MASTERFUL IN ANY AREA OF THEIR LIFE; HELP THEM BE THE BEST DENTIST THEY CAN BE, THE BEST PSYCHOLOGIST, THE BEST PAINTER, THE BEST ATHLETE, BECAUSE WHAT I TEACH IS SELF-PURIFICATION. I TEACH PEOPLE HOW TO FIND INNER PEACE, HEAL ALL THEIR DEMONS AND WOUNDS, AND JUST, AND FIND HAPPINESS IN LIFE TO BE THE BEST THEY CAN BE. >> WELL, THEN, HOW DID YOU GET INTO TALKING TO GROUPS ABOUT SUSTAINABLE LIVING? THAT SOUNDS SO FAR-FETCHED. >> WELL, I GUESS IT WOULD BE--NOT I GUESS. IT HAPPENED AS PART OF THE EVOLUTION OF MY OWN PERSONAL LIFE, LIVING IN CALIFORNIA, WHICH IS, YOU KNOW, THE HEALTH AND FITNESS AND NUTRITION CAPITAL OF THE WHOLE WESTERN HEMISPHERE, AND LIVING THERE, YOU KNOW, THAT'S WHERE IT HAPPENED FIRST. THAT'S WHERE THE RAW MOVEMENT BEGAN. THAT'S WHERE A LOT OF THIS STUFF BEGAN, SO IT JUST BECAME PART OF MY LIFE SEEING IT THERE, AND IT RESONATED WITH ME. IT JUST MAKES SENSE TO HELP THE EARTH BECOME GREEN AND STOP POLLUTING AND BE SUSTAINABLE. YOU KNOW, USE, HELP PRESERVE THE RESOURCES OF THE PLANET WHILE DECREASING POLLUTION IN THE BODY AND ON THE EARTH AS WELL, AND IT'S JUST, IT'S AWESOME. AND WE REALLY NEED TO. WE HAVE 7 BILLION PEOPLE ON THIS LITTLE BALL OF DIRT RIGHT NOW, AND AT THE RATE OF GREED AND SELFISHNESS AND WASTE AND CORRUPTION THAT'S HAPPENING, IT'S JUST, YOU KNOW, THE EARTH IS NOT BUILT TO SUSTAIN THAT, SO, CONTRARY TO WHAT MANY PEOPLE THINK, THAT THE EARTH WOULD DIE, THE EARTH'S A LIVING BEING. SHE WOULD JUST--THE EARTH COULD SHAKE HUMANITY OFF HER LIKE A COW SWATS A FLY ON ITS BACK. SO MOTHER EARTH IS REALLY JUST TOLERATING THIS HUMANITY'S AWAKENING PROCESS INTO BECOMING SUSTAINABLE. >> SUSTAINABLE. SO I'M ASSUMING YOU REALLY TRULY BELIEVE IN, LIKE, NATURAL FOODS, ORGANIC FOODS. >> ABSOLUTELY, YEAH. NOT USING PESTICIDES AND POISONS AND USING NATURAL PRODUCTS, DECREASING THE USE OF PLASTICS, WHICH NEVER BREAK DOWN. I MEAN, THEY SAY PLASTIC TAKES A THOUSAND YEARS TO DECOMPOSE, BUT IT ACTUALLY ONLY BREAKS INTO SMALLER PIECES. IT NEVER ROTS. >> TOTALLY. >> IT'S NOT COMPOSTABLE, WHICH IS AN INTERESTING POINT, TOO. I LIKE TO RECOMMEND TO PEOPLE, WHEN THEY SAY BUY RECYCLABLE PRODUCTS, I TEND TO ASK PEOPLE TO GO ONE STEP FURTHER. LOOK FOR THE WORD "COMPOSTABLE," BECAUSE "RECYCLABLE" IS ACTUALLY A BIT OF A EUPHEMISM. IF SOMETHING CAN BREAK INTO SMALLER PIECES, THEY'LL SAY IT'S RECYCLABLE, BUT COMPOSTABLE MEANS IT WILL GO BACK TO THE EARTH, BACK TO DIRT. >> AND SOMETIMES THOSE ARE USED INTERCHANGEABLY. >> THEY'RE USED SYNONYMOUSLY, AND THEY'RE NOT. "COMPOSTABLE" IS ACTUALLY--"RECYCLABLE" IS GOOD; "COMPOSTABLE" IS EVEN BETTER. BUT "RECYCLABLE" IS BETTER THAN WASTE, BECAUSE THEY CAN ALSO GO TO RECYCLING PLANTS TO BE MELTED DOWN AND CLEANSED AND MADE INTO NEW PRODUCTS. >> UH-HUH. >> AND THERE ARE A LOT OF SUSTAINABLE PRODUCTS WE CAN USE--GRASSES AND BAMBOO, WHICH IS A GRASS THAT GROWS SO FAST AND IT MAKES GREAT WOOD AND GREAT PRODUCTS, AND YOU DON'T HAVE TO CUT DOWN A 500-YEAR-OLD TREE. BAMBOO GROWS AT THE SPEED OF LIGHT; I MEAN, IT'S JUST SO FAST. RATHER THAN CUTTING DOWN A 3,000-- >> SO THAT GOES INTO HOME FURNISHINGS. I WAS THINKING JUST A GARDEN OUT THERE TO GROW YOUR OWN FOOD. >> YOU KNOW, A REDWOOD TREE IS OLDER THAN JESUS, SO THEY'RE 3,000 OR 4,000 YEARS OLD, SO WHY MAKE A PICNIC TABLE OUT OF A 3,000-YEAR-OLD TREE WHEN YOU CAN MAKE ONE OUT OF SOMETHING ELSE--PINE OR BAMBOO OR WHATEVER? >> CAN BE REPLENISHED. >> AGAIN, IT GETS BACK TO--WE TALKED IN SOME OF THE OTHER SEGMENTS WHEN YOU HAD ME ON ABOUT DOING THINGS THAT MOVE IN THE DIRECTION OF, YOU KNOW, OF BETTER LIVING, OF HIGHER LIVING. SO IF YOU DON'T WANT TO GIVE UP CERTAIN PRODUCTS, AT LEAST FIND BETTER CHOICES FOR THOSE ONES SO THAT YOU MAKE A CONTRIBUTION TO THE WORLD AND HELP DECREASE POLLUTION, INCREASE SUSTAINABILITY AND PRESERVE THE RESOURCES OF THE PLANET. THERE ARE SO MANY WAYS TO DO THAT THAT ARE SO, SO EASY. >> UH-HUH. >> AND REDUCTION, REDUCING THE AMOUNT OF PLASTIC WE USE AS MUCH AS WE CAN. >> WHICH GOES INTO ALSO REDUCING ENERGY USAGE, TOO. >> YEAH. >> WHICH IS EASY TO DO. >> YOU KNOW, KEEP BAGS AT HOME TO GO TO THE STORE, YOU KNOW. I KEEP--WE KEEP CANVAS BAGS AND PAPER BAGS AND USE PAPER BAGS IN YOUR TRASH BIN INSTEAD OF PLASTIC. HOW DIFFICULT IS THAT? IT'S SO MUCH EASIER. >> AND I THINK PEOPLE WHO LIVE IN THE BIGGER CITIES ARE MORE AWARE OF THAT THAN THOSE OF US IN THE SMALL TOWNS. >> POSSIBLY. MAYBE YOU SEE IT MORE IN THE CITIES, BUT ANY TIME YOU DRIVE BY A DUMP YOU SEE IT FOR SURE. >> UH-HUH. >> I KNOW THAT THE CITY OF SAN FRANCISCO JUST ABOLISHED THE USE OF ALL PLASTIC BAGS ABOUT A YEAR OR TWO AGO. >> IS THAT RIGHT? AND ARE THEY FINED? I KNOW SOME PLACES THEY'RE FINED. >> THEY MIGHT BE. I DON'T KNOW THE DETAILS OF IT, BUT I JUST THINK THAT'S A PHENOMENAL HISTORICAL TURNING POINT, AND I THINK A COUPLE OF CITIES HAVE ALREADY FOLLOWED SUIT SINCE THEN. BUT THAT'S REALLY GOOD STUFF. >> UH-HUH. >> BUT AGAIN, YOU CAN TAKE STEPS BY HAVING--NOT USING PLASTIC BAGS IN YOUR BIN. USE PAPER. HAVE SHOPPING BAGS YOU TAKE RATHER THAN GETTING ONES THERE. >> REUSABLE. >> THERE ARE STEPS THAT YOU CAN TAKE THAT MAKE A HUGE, HUGE IMPACT. WE HAVE IN THIS COUNTRY ALONE, I BELIEVE, UH, LAST FIGURE I READ A COUPLE OF YEARS AGO WAS 86 BILLION PLASTIC BOTTLES GO TO LANDFILL, JUST IN THE U.S. >> WOW! >> YOU KNOW? >> UH-HUH. AND IT REALLY, IT'S UP TO EACH ONE OF US TO BE THE EXAMPLE. WE DON'T HAVE TO SAY, WELL, WAIT UNTIL WE'RE FINED, OR WAIT UNTIL THE NEIGHBOR STARTS DOING THIS. WE CAN BE THE EXAMPLE. >> YEAH, YOU HAVE TO ADOPT THE "IT'S ALL UP TO ME," YOU KNOW, THE POWER OF ONE. LOOK AT OVER TIME IN HISTORY HOW MANY
INDIVIDUAL PEOPLE HAVE CHANGED THE COURSE OF HUMANITY: LINCOLN, MARTIN LUTHER KING, GANDHI, JESUS, BUDDHA. I MEAN, ONE PERSON HAS THE POWER TO AFFECT THE WHOLE PLANET. MOTHER TERESA. WE ALL DO, WE ALL DO. SO IT'S BETTER TO THINK "IT'S ALL UP TO ME" RATHER THAN "WE ALL NEED TO" OR WAITING FOR SOME POLITICIAN TO PASS SOMETHING. >> UH-HUH. >> EVERYONE MAKES A DIFFERENCE, BECAUSE WE'RE ALL INTERCONNECTED. I ALWAYS SAY THERE'S REALLY ONLY ONE PERSON ON THE PLANET FRAGMENTED INTO 7 BILLION PARTS. EVERYTHING WE DO AFFECTS EVERYONE EVERYWHERE ELSE, WHETHER WE KNOW IT OR THINK IT. AND IN THAT ONENESS PRINCIPLE--THIS MIGHT BE A LITTLE FAR-FETCHED FOR SOME PEOPLE, BUT I'M GOING TO SAY IT ANYWAY--YOU KNOW, IF SOMEONE DUMPS--YOU KNOW, IS DRIVING DOWN THE STREET AND DUMPS THEIR ASHTRAY, THEIR CIGARETTE BUTTS OUT ONTO THE STREET, SOMEWHERE ON ANOTHER PART OF THE WORLD AN OIL TANKER MIGHT HAVE RUN AGROUND THAT WAS CAUSED BY THAT TO SOME DEGREE. YOU KNOW, AND EVERYTHING WE DO AFFECTS EVERYTHING ELSE, SO THE CONVERSE IS TRUE, TOO. WE HAVE-- ONE OF OUR INITIATIVES WE STARTED IS A GLOBAL CLEANUP, WHERE WE HAVE TRASH PICKUPS ALL OVER THE WORLD, AND WHEN YOU PICK UP TRASH, YOU JUST MIGHT HAVE AVERTED AN OIL SPILL SOMEWHERE ELSE, OR YOU MIGHT HAVE AVERTED A CAR ACCIDENT SOMEWHERE ELSE. YOU KNOW, LIKE WHEN PEOPLE STOP HITTING THEIR CHILDREN, SOMEWHERE ELSE IN THE WORLD SOME MAN WILL NO LONGER BEAT HIS WIFE BECAUSE YOU STOPPED HITTING YOUR CHILDREN. SO EVERYTHING WE DO GOES INTO THE COLLECTIVE. HAVE YOU HEARD OF THE 100th MONKEY PRINCIPLE? >> NO. >> IT'S AN ACTUAL, STATISTICAL, BEHAVIORAL PSYCHOLOGICAL STUDY THAT WAS DONE THAT IF A MONKEY IS TAUGHT TO DO A CERTAIN BEHAVIOR--LET'S SAY, YOU KNOW, SCRATCHING ITS HEAD THIS WAY OR SOMETHING--I'M JUST MAKING ONE UP--ANOTHER MONKEY WILL SEE IT AND START IMITATING. ANOTHER MONKEY WILL SEE IT. ONCE 100 MONKEYS ARE DOING IT--AND THIS IS STATISTICALLY TESTED AND PROVEN--ALL OF A SUDDEN, MONKEYS ALL OVER THE WORLD ARE DOING IT WHO DID NOT WITNESS THAT AND WERE NEVER TAUGHT OR SHOWN THAT, WHICH PROVES THE POWER OF ONE. >> UH-HUH. >> SO THAT IF ONE PERSON MAKES A DIFFERENCE AND SAYS, "I'LL BE THE MODEL. I'LL BE THE EXAMPLE," PEOPLE WILL START TAKING IT ON. LIKE WHEN WE GO ON OUR TRASH PICKUPS, SOMETIMES STRANGERS WILL JUST JOIN IN. OR THEY'LL COME AND SAY, "THAT'S SO BEAUTIFUL," AND DA DA DA DA DA. AND THEN PEOPLE START DOING IT, AND THEN WHAT HAPPENS IS POLLUTION STARTS GOING DOWN AND OTHER PEOPLE STOP LITTERING, AND OTHER PEOPLE START PICKING UP TRASH. THEY WAKE UP ONE DAY AND IT'S, "YOU KNOW WHAT? I'M GOING TO PICK UP TRASH." OR THEY DO IT UNCONSCIOUSLY. THEY WALK DOWN THE STREET, AND THEY SEE SOMETHING, THEY SAY, "OH, THERE'S AN EMPTY BOTTLE THERE." AND WHERE THEY NORMALLY WOULD HAVE WALKED OVER IT, THEY'LL PICK IT UP AND PUT IT IN A BIN. >> UH-HUH. I'VE SEEN THAT HAPPEN. >> THAT'S THE 100th MONKEY PRINCIPLE. BECAUSE WE'RE ALL INTERCONNECTED IN EVERYTHING WE SAY, DO, THINK, AND FEEL, WHICH ARE THE 4 LEVELS ON WHICH WE CREATE, AFFECTS EVERYONE ELSE ON THE PLANET. >> IT MAKES SENSE. >> AND THAT'S WHY THE TINIEST CHANGES FOR IMPROVEMENT, SELF-IMPROVEMENT, HAVE SUCH A HUGE IMPACT ON THE WORLD. >> BUT IT ALL BEGINS WITH ONE. >> IT ALL BEGINS WITH ME. "IT'S ALL UP TO ME" IS THE WAY TO LIVE AND NOT WAIT FOR EVERYBODY ELSE. >> THAT'S RIGHT. THANK YOU SO MUCH. I APPRECIATE GETTING A CHANCE TO TALK TO YOU. >> THANK YOU. THANK YOU FOR HAVING ME. >> NANCY, THANK YOU SO MUCH FOR BEING WITH US, AND I'M SO EXCITED WHEN YOU SAID WE WERE GOING TO TALK ABOUT JEANS, BECAUSE I CAN'T IMAGINE HOW WE EVER LIVED BEFORE DENIM AND JEANS CAME INTO THE WORLD OF FASHION. >> WELL, THEY CERTAINLY ARE A STAPLE IN EVERYONE'S WARDROBE, BUT AS YOU KNOW IF YOU'VE EVER PEOPLE-WATCHED AT THE MALL, THERE ARE PEOPLE DOING IT REALLY WELL AND PEOPLE DOING IT REALLY NOT WELL AT ALL. SO PEOPLE CONSTANTLY ASK ME, WHAT'S THE PERFECT JEAN? >> SURE. >> AND THE BAD NEWS IS I CAN'T GIVE THEM ONE ANSWER, BECAUSE THE PERFECT JEAN FOR SUSIE MAY NOT BE THE PERFECT JEAN FOR HER NEXT-DOOR NEIGHBOR. BUT WHAT WE CAN TALK ABOUT IS, WHAT ARE THE DIFFERENT COMPONENTS THAT GO INTO CHOOSING GREAT JEANS FOR ANY INDIVIDUAL? >> AND THEN WHEN WE'RE LOOKING AND TRYING ON, WE CAN KEEP THOSE CONCEPTS IN MIND. >> ABSOLUTELY. YOU CAN ELIMINATE 95% OF THE JEANS THAT YOU KNOW AREN'T GOING TO WORK ON YOU, AND IT CERTAINLY MAKES THE HUNT A LOT EASIER. >> OK, GOOD. >> SO THE FIRST FACTOR WE WANT TO TALK ABOUT IS THE COLOR OF THE JEANS, OR WHAT IN JEANS LINGO WE CALL THE "WASH" OF THE JEAN, AND I BROUGHT SEVERAL EXAMPLES. THEY'RE ALL IN THE DARKER CATEGORY, BUT DO YOU SEE HOW, OF THE GROUP, THIS ONE IS A SLIGHTLY LIGHTER WASH, AND IT'S NOT ONLY A SLIGHTLY FADED WASH, BUT IT'S ALSO A FINISH THAT'S BEEN HAND-SANDED. SO DO YOU SEE HOW HERE AT THE CENTER OF THE LEG AND HERE AT THE LITTLE SIT-DOWN LINES, IT'S BEEN MECHANICALLY TREATED TO GIVE IT THE LOOK AS IF IT'S BEEN WORN AND LOVED IN SOMEONE'S WARDROBE FOR A LONG TIME. >> AND IT'S SOFTER SOMETIMES. >> AND IT'S SOFTER IN THE FABRIC AS WELL. AND SO THIS IS A MORE RELAXED KIND OF A JEAN LOOK. IT'S MORE CASUAL. IT'S MAYBE KICK-AROUND-ON-THE-WEEKEND KIND OF LOOK. THERE'S A NEAT LITTLE TRICK ABOUT THIS HAND SANDING, THOUGH. BECAUSE IT BRINGS THE WEAR HERE ON THE CENTER PART OF THE THIGH, DO YOU SEE HOW THE COLOR FADES JUST A LITTLE DARKER TO THE OUTSIDE AND THE INSIDE OF THE LEG? WHEN YOU PUT THAT ON, IT MAKES YOUR LEGS LOOK THINNER AND LONGER, AND WHO DOESN'T WANT A LITTLE LESS MEAT ON OUR THIGHS, FOR GOODNESS'S SAKE? SO THIS IS THE MORE CASUAL END OF DENIM. >> EVEN THOUGH IT IS A SLIM FIT, IT WOULD STILL BE CONSIDERED A MORE CASUAL JEAN. >> ABSOLUTELY. >> OK. >> THEN WE'LL LOOK AT ONE THAT'S JUST A DARKER WASH. SO THIS STARTED OUT AS A DARKER COLOR. IT'S HAND-SANDED, BUT A LITTLE BIT LESS SO, AND THAT GIVES IT A DRESSIER PROFILE THAN THE FIRST ONE WE LOOKED AT. WHAT KEEPS THIS ONE IN STILL A RELATIVELY CASUAL RANGE IS THE CONTRASTING TOP STITCHING. >> AND SOMETIMES WE MIGHT WANT THAT, OR SOME BODY STYLES AND SOME MIGHT NOT. >> ABSOLUTELY. SO OUR NEXT EXAMPLE IS A REALLY DARK BLUE INDIGO WASH, A REALLY DARK NAVY ALMOST TO BLACK, AND YOU'LL NOTICE THAT ON THIS ONE THE TOP STITCHING IS NOT A CONTRAST. IT'S ACTUALLY THE SAME COLOR AS THE JEANS THEMSELVES, WHICH ELEVATES IT ALMOST INTO A CASUAL TROUSER AS OPPOSED TO A DRESSIER JEAN. SO IT STILL GIVES YOU JEAN FIT, JEAN COMFORT, SORT OF THAT JEAN VIBE, BUT AT THE HIGH END OF THE SPECTRUM BECAUSE OF THE MATCHING TOP STITCHING. NOW, ONE THING TO KNOW ABOUT THIS SUPER-DARK WASH IS THAT IT'S VERY HARD FOR ANY FABRIC TO RETAIN THAT SUPER-DARK COLOR, SO YOU WANT TO THINK ABOUT WASHING THESE ALWAYS TURNED INSIDE OUT SO THE RIGHT SIDE OF THE FABRIC ISN'T GETTING ANY ABRASION, AND YOU ALWAYS WANT TO WASH THEM IN COLD WATER. AND THEN, IF AFTER MONTHS OR YEARS OF WEARING, THE COLOR STARTS TO DIMINISH, JUST A LITTLE PACKAGE OF NAVY BLUE DYE THAT YOU CAN BUY AT YOUR CRAFT STORE, AND YOU CAN DYE IT RIGHT BACK TO THAT DARKEST COLOR EASIER THAN MOST PEOPLE WOULD IMAGINE. >> AND WHEN I FIRST SAW THIS, I REALLY DID THINK THIS WAS A TROUSER, AND YOU WERE GOING TO--BECAUSE WITH A BLAZER AND SOME NICE JEWELRY, THIS COULD REALLY BE DRESSED UP. >> OH, IT COULD BE A VERY DRESSED-UP LOOK, AND IN MANY, MANY WORKPLACES THESE DAYS, ESPECIALLY IN CREATIVE FIELDS, JEANS AT WORK, AS LONG AS THEY'RE NICE ONES, ARE PERFECTLY APPROPRIATE. NOW, ANOTHER DIRECTION IN FASHION RIGHT NOW IN JEANS... >> I LIKE THOSE. >> IS DOING JEANS IN FUN COLORS, SO I BROUGHT THESE LITTLE CRIMSON CORDS TO TALK ABOUT. THIS IS A SUPER BABY WALE CORDUROY. FABRIC DOESN'T HAVE TO BE DENIM FOR PANTS TO BE JEANS. THE JEANS IS DEFINED REALLY BY THE CONSTRUCTION OF THE GARMENT. BUT AN IMPORTANT THING TO KNOW ABOUT THESE BRIGHT COLORS ON THE BOTTOM OF OUR BODY, BECAUSE THEY'RE VERY ATTENTION-GRABBING AND BECAUSE USUALLY OUR BACKSIDE IS NOT, HONESTLY, THE PART OF OUR ANATOMY THAT WE WANT TO BE THE MOST OF A FOCAL POINT, IF YOU STICK TO VERSIONS OF THOSE BRIGHT COLORS THAT ARE TONED DOWN JUST A LITTLE BIT, THE EFFECT WILL BE MUCH MORE FLATTERING. SO, YES, THESE ARE RED, BUT CAN YOU SEE HOW THEY'RE A MORE MUTED, SUBDUED RED AND NOT THAT-- >> CHRISTMAS RED. >> CHRISTMAS RED OR FIRE-TRUCK RED, SO THE MORE SUBTLE COLOR OF THE BRIGHT COLOR IS REALLY THE WAY TO GO. >> AND I NOTICED THESE HAVE SOME STRETCH IN THESE. I WAS THINKING THAT WOULD BE GREAT. >> THE NEXT COMPONENT I WANTED TO TALK ABOUT WAS THE FIBER CONTENT IN THE JEANS THAT WE CHOOSE. BECAUSE MOST JEANS ARE, AS THEIR BASE FIBER, MADE FROM COTTON, WHICH IS WONDERFUL. IT'S ABSORBENT, IT'S BREATHABLE, IT'S DURABLE, BUT WHEN YOU ADD A LITTLE COMPONENT OF SPANDEX, ABOUT 5% OF SPANDEX OR ANY OTHER STRETCHABLE FIBER, YOU START TO GET THAT FLEX TO THE FABRIC. >> OH, I DIDN'T EVEN THINK ABOUT THAT ONE. >> EVERY SINGLE PAIR OF THESE HAS THAT. >> SO LOOK ON THE LABEL. >> A LITTLE BIT OF FLEX. SO CHECK THE LABEL AND GIVE IT A LITTLE CROSS-WISE TUG, BECAUSE THE SPANDEX IS IMPORTANT WHEN WE START TO GET THAT TRUE JEAN FIT. WHEN IN THE NAME OF COMFORT WE WEAR JEANS THAT ARE A LITTLE BIT BAGGY, UNFORTUNATELY THE LOOK IS A LITTLE DOWDY AND A LITTLE MATRONLY, AND NOT REALLY THE KIND OF HIP, WITH-IT LOOK THAT JEANS ARE ALL ABOUT. WITH THE SPANDEX YOU CAN GET THAT MUCH MORE BODY-CONSCIOUS FIT AND STILL HAVE IT BE PERFECTLY COMFORTABLE. YOU CAN BEND OVER, YOU CAN SIT DOWN. YOU DO WANT TO CAP THAT SPANDEX AT ABOUT 5%, THOUGH, BECAUSE IF YOU GET MUCH MORE THAN THAT, WHAT HAPPENS THEN WITH WEAR, THE FABRIC STARTS TO RELAX, AND RELAX A LITTLE MORE... >> SAGGY AND SAGGING. >> AND IT GOES FROM KIND OF HIP AND SEXY TO KIND OF SLOUCHY AND THEN ALL THE WAY TO SLOPPY, SO SPANDEX IS GOOD, BUT IT'S NOT ONE OF THOSE CASES WHERE IF A LITTLE IS GOOD, A LOT IS EVEN BETTER. THEN THE OTHER CRITICAL COMPONENT ABOUT A PAIR OF JEANS IS THE FIT, ESPECIALLY THROUGH THE LEG. JEANS ARE DESIGNED TO FIT SO THAT THEY SKIM YOUR THIGHS, PRETTY SLEEK, AND UNLIKE A CLASSIC TROUSER THAT'S GEARED TO FIT OUT OVER THE CURVE OF YOUR DERRIERE AND THEN FALL RELATIVELY STRAIGHT, JEANS ARE DESIGNED TO HUG IN UNDER, SO THEY SHOULD BE CARESSING THE BACK OF YOUR THIGHS. HOW'S THAT? >> THAT SOUNDS GOOD. >> AND THAT'S GOING TO GIVE YOU A LONGER, LEANER LOOK. THEN, WHEN YOU GET FROM THE KNEE DOWN, YOU HAVE TWO DIFFERENT OPTIONS. THE FIRST IS-- >> OH, THOSE SKINNY-- >> A SKINNY JEAN, A STYLE THAT CONTINUES TO NARROW ALL THE WAY DOWN TO THE ANKLE. NOW, SO MANY WOMEN THAT I WORK WITH IN MY IMAGE PRACTICE ARE REALLY SCARED TO DO SKINNY JEANS AND THEY WON'T EVEN TRY THEM ON, BECAUSE THEY'RE SURE THAT IT'S GOING TO MAKE THEIR HIPS LOOK WIDER. I'M HERE TO SAY DON'T KNOCK IT IF YOU HAVEN'T TRIED IT. WE ARE SO GEARED TO BE OVERLY CRITICAL OF OUR HIPS, AND FOR MANY, MANY, MANY WOMEN OF EVERY AGE AND EVERY BODY TYPE, SKINNY JEANS OFTEN HAVE THE POTENTIAL TO REALLY NARROW AND ELONGATE YOUR LEGS, WHICH IS VERY FLATTERING. SO DON'T DECIDE WITHOUT TRYING THAT YOU CAN'T WEAR SKINNY JEANS. ANOTHER GREAT ASPECT OF SKINNY JEANS IS THAT BECAUSE THEY TAPER TO THE ANKLE, THEY HAVE TO END AT THE ANKLE. YOU'RE NOT TRYING TO BRING THEM DOWN OVER YOUR FOOT, SO THAT MEANS THE VERY SAME PAIR OF SKINNY JEANS CAN BE THE RIGHT LENGTH TO WEAR WITH FLATS OR THE RIGHT LENGTH TO WEAR WITH LITTLE DRESSIER HEELS, OR THE RIGHT LENGTH TO WEAR WITH A TALLER, LITTLE SHORT BOOTIE THAT ARE SO POPULAR RIGHT NOW, WITHOUT HAVING TO HAVE MULTIPLE PAIRS OR RE-HEM THEM. >> AND YOU CAN ALMOST PICTURE GOING FROM CASUAL, MAYBE WORK, AND EVEN DRESSIER, SO THE HIGHER THE HEEL, THE DRESSIER THAT JEAN BECOMES. >> ABSOLUTELY. AND THE OTHER OPTION IS A BOOT-CUT JEAN, AND YOU HEAR REALLY WIDELY IN JEAN LITERATURE THAT BOOT CUTS ARE WONDERFUL BECAUSE THAT FLARE AT THE BOTTOM BALANCES OUT FULLNESS AT YOUR HIPS. AND THAT'S TRUE, BUT WITH A LITTLE DISCLAIMER THAT YOU DON'T HEAR SO OFTEN AND THAT IS THAT AS A BOOT CUT GETS WIDER AND WIDER, IT PULLS DOWN ON THE WHOLE LOOK AND THAT WIDTH AT THE BOTTOM CAUSES YOUR LEGS TO LOOK SHORTER. NOW, IT'S HARD FOR YOUR WHOLE LOWER BODY TO LOOK TRIM IF YOUR LEGS ARE LOSING LENGTH, SO WHEN YOU'RE CHOOSING BOOT-CUT JEANS, YOU WANT TO LOOK FOR ONES LIKE THIS THAT KICK OUT THERE NEAR THE ANKLE, BUT ONLY SLIGHTLY. WHEN A BOOT CUT GETS TOO WIDE, IT'S REALLY A PROBLEM CHILD. >> BECOMES THOSE BELL-BOTTOMS THAT WERE POPULAR 50 YEARS AGO. >> THAT ARE NOT REALLY SO FLATTERING. THE OTHER THING TO KNOW IS WHEN YOU FIND THAT PERFECT PAIR OF BOOT-CUT JEANS, THEN YOU PROBABLY WANT TO BUY TWO OF THEM BECAUSE YOU'LL WANT TO HEM A PAIR A LITTLE BIT SHORTER TO WEAR WITH FLAT SHOES... >> FOR THE CASUAL, UH-HUH. >> BUT BECAUSE IT'S SUPPOSED TO FIT DOWN OVER YOUR SHOE AND END ABOUT 3/4 OF AN INCH FROM THE GROUND, YOU'RE GOING TO NEED A LONGER PAIR OF THE SAME JEAN WHEN YOU WANT TO WEAR IT WITH THAT TALLER SHOE. >> THAT'S RIGHT.
>> SO LOTS OF LITTLE TIPS TO THINK ABOUT: THE WASH, THE FIBER CONTENT, THE LEG WIDTH, AND ONE MORE SNEAKY, SNEAKY TRICK. THE VERY BEST JEANS--AND YOU CAN SEE IT A LITTLE BIT IN THIS PAIR ON THE HANGER--ARE CUT HIGHER IN THE BACK AND SCOOPED A LITTLE LOWER IN THE FRONT. >> I NEVER NOTICED THAT. >> LET ME SHOW YOU WHY. WHEN YOU LOOK AT THE BACK OF JEANS OR AT THE BACK OF US, WE PERCEIVE THE WIDTH OF OUR HIP AREA PROPORTIONALLY TO THE LENGTH OF OUR HIP AREA. SO THE LOWER THE RISE BECOMES--LET ME FLIP THIS DOWN SO YOU CAN SEE IT. AS IT GETS LOWER, DO YOU SEE HOW IT LOOKS LIKE YOU'RE GETTING WIDER? >> UH-HUH. AND WE'RE GETTING SHORTER. >> SO BRINGING THAT WAISTBAND ALL THE WAY UP TO YOUR WAIST IN THE BACK GIVES YOU A MUCH MORE NARROW BACK VIEW. BUT IT WORKS JUST THE OPPOSITE IN THE FRONT. BY HAVING THE FRONT SCOOPED A LITTLE LOWER, IT EXPOSES MORE OF YOUR TORSO AND GIVES YOU A LONGER LOOK THROUGH HERE, SO NOW YOU LOOK SKINNIER LEAVING... >> AND COMING. >> AND SKINNIER COMING INTO THE ROOM. >> ANN, THAT'S AMAZING. >> WELL, THERE'S ONE MORE AMAZING TRICK ABOUT THIS. WHEN YOU PUT THESE ON YOUR BODY, DO YOU SEE HOW THE WAIST IS GOING TO FIT DIAGONALLY ACROSS YOUR BODY? SO ALL THOSE FITTING PROBLEMS THAT ARISE FROM THE DIFFERENCE BETWEEN YOUR HIP MEASUREMENT AND YOUR WAIST MEASUREMENT, CURVY GALS WHO GET A GAP AT THE BACK OF THE WAIST, OR STRAIGHTER-BUILT GALS WHO HAVE THE WAISTBAND BE TOO TIGHT, BOTH OF THOSE PROBLEMS ARE SOLVED BY THIS DIAGONAL FALL OF THE WAISTBAND AND ALL OF A SUDDEN YOUR FIT IS EASIER AND MORE COMFORTABLE AS WELL. >> AND THE ONLY WAY WE WOULD KNOW THIS--SOMETIMES IT'S OBVIOUS BY LOOKING--WOULD BE TO TRY THEM ON AND SEE. >> WELL, TRYING THEM ON IS GOING TO LET YOU REALLY APPRECIATE THE DIFFERENCE, BUT IF YOU HOLD THEM UP FROM THE SIDE SEAMS, IT'LL BE VERY APPARENT THAT THEY'RE SCOOPED LOWER IN THE FRONT. WHO KNEW? SO HOPEFULLY WE PUT LOTS OF LADIES ON AT LEAST THE RIGHT PATH FOR THAT INEVITABLE SEARCH FOR THE PERFECT PAIR OF JEANS. >> WELL, AND THEY'RE SO COMFORTABLE AND WE LIKE TO WEAR THEM, AND THEY DO LEND THEMSELVES TO GOING FROM CASUAL TO WORK, ESPECIALLY IF IT'S A CASUAL DAY AT WORK. AND I DO WANT TO MENTION TOO, I ENJOYED READING THE BOOK, YOUR BOOK. IT'S CALLED "LOOKING GOOD." THAT'S WHAT WE ALL TRY TO DO. >> THAT'S WHERE WE'RE HEADED. >> THE BEST WE CAN. AND JUST THOSE LITTLE TIPS LIKE YOU MENTIONED, ABOUT THE RISE IN THE BACK AND THE FRONT, AND MANY, MANY, MANY, MANY OTHER TIPS ARE INCLUDED. >> RIGHT. >> THANK YOU VERY MUCH, NANCY. >> THANKS, SHERYL. >> I HOPE YOU ENJOYED THE SHOW TODAY. NEXT TIME ON "CREATIVE LIVING," WE'LL LEARN HOW TO USE RUBBER STAMPS ON VELVET TO MAKE A PHOTO BOOK. WE'LL LEARN HOW TO MAKE SOME CUTE FONDANT ANIMALS AND SHOW SOME HOME DECOR ITEMS FEATURING LOTS OF GLITZ AND GLITTER. ONE OF MY NEXT GUESTS IS A MIXED-MEDIA ARTIST AND DESIGNER, AND SHE'S GOING TO SHOW HOW TO MAKE A BEAUTIFUL VELVET-STAMPED PHOTO BOOK. WHO KNEW YOU COULD STAMP ON ELEGANT FABRIC WITHOUT RUINING IT? ANOTHER GUEST IS A SELF-TAUGHT CAKE DECORATING WONDER. SHE'S GOING TO DEMONSTRATE USING FONDANT TO MAKE A VARIETY OF ANIMALS, INCLUDING PIGS. SHE'LL SHOW HOW TO FORM THE BODY PARTS, ATTACH THEM, AND USE EDIBLE MARKERS FOR DETAIL WORK. AND FINALLY, ANOTHER GUEST WILL SHOW HOW TO USE VARIOUS GLITTER PRODUCTS TO DECORATE PLATES, ORNAMENTS, BOOKS, CANDLES, CANDLE HOLDERS, AND EVEN TISSUE BOXES. ALL OF THESE TOPICS WILL BE FEATURED ON THE NEXT "CREATIVE LIVING" SHOW. IF YOU EVER HAVE COMMENTS OR SUGGESTIONS OR IDEAS FOR SHOWS, YOU CAN E-MAIL ME AT SHERYL.BORDEN@ENMU.EDU. I HOPE YOU'LL PLAN TO JOIN ME NEXT TIME FOR "CREATIVE LIVING." >> WE ARE VERY PLEASED TO OFFER A NEW BOOKLET THAT ACCOMPANIES THIS SERIES OF "CREATIVE LIVING." THIS BOOKLET IS TITLED "THE 6700 SERIES" AND IT FEATURES A WONDERFUL COLLECTION OF IDEAS AND INFORMATION, AND IT'S AVAILABLE FREE OF CHARGE ON OUR WEBSITE POSTED AS A PDF FILE. YOU CAN SIMPLY DOWNLOAD THE ENTIRE BOOKLET OR JUST THE SEGMENTS YOU'RE MOST INTERESTED IN. YOU'LL FIND INFORMATION ON FOODS, NUTRITION, CLOTHING, FASHION, HEALTH AND BEAUTY, HOME DECORATING, AND MUCH MORE. FOR YOUR COPY OF THIS NEW BOOKLET, GO TO OUR WEBSITE AT KENW.ORG, AND THEN CLICK ON CREATIVE LIVING. SCROLL DOWN TO THE BOOKLET SECTION AND YOU CAN CLICK ON THIS BOOKLET OR ON ANY OF THE OTHER BOOKLETS WE HAVE AVAILABLE ONLINE. JUST GO TO KENW.ORG, CLICK ON "CREATIVE LIVING," AND DOWNLOAD THE BOOKLET TITLED "THE 6700 SERIES." WE ALSO INVITE YOU TO SIGN UP FOR OUR FREE E-NEWSLETTER. JUST GO TO KENW.ORG AND CLICK ON THE SIGN UP NOW BUTTON AND INPUT YOUR E-MAIL ADDRESS. THAT'S ALL THERE IS TO IT. YOU'LL ENJOY READING AN UP-TO-DATE NEWSLETTER FILLED WITH INTERESTING TOPICS AND INFORMATION. THANK YOU.
Now Playing As: Captioned (English) (change)
Stylist Nancy Nix shows viewers how to select the right jeans for one's body type. Also Loix Dor Dempriey discusses the benefits of sustainable living.
Media Details
Runtime: 27 minutes