Creative Living With Sheryl Borden #6723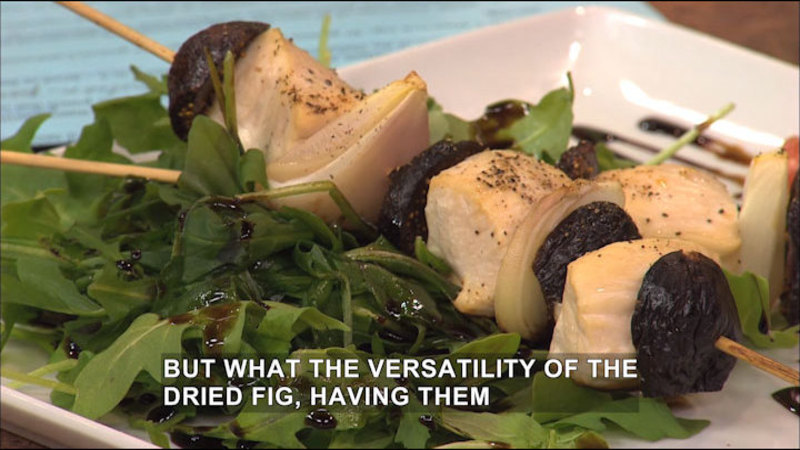 >> "CREATIVE LIVING." UTILIZING TODAY'S TECHNOLOGY WITH THE BEST OF THE PAST TO BRING YOU INNOVATIVE IDEAS AND UP-TO-DATE INFORMATION FOR A CREATIVE LIFESTYLE IN TODAY'S ACTIVE WORLD, WITH YOUR HOST SHERYL BORDEN. >> THANKS SO MUCH FOR JOINING ME TODAY FOR "CREATIVE LIVING." WE ARE GOING TO LEARN HOW TO MAKE KID-FRIENDLY FREEKEH MEALS, WE'LL DISCUSS THE FACTS ABOUT RAYON MADE FROM BAMBOO, AND WE'LL DEMONSTRATE COOKING WITH FRESH AND DRIED FIGS. ONE OF MY GUESTS TODAY IS BONNIE MATTHEWS, AND SHE IS THE CO-FOUNDER OF FREEKEH FOODS. BONNIE SAYS PARENTS LOVE FREEKEH BECAUSE IT PROVIDES CHILDREN WITH ESSENTIAL NUTRIENTS AND KIDS LOVE THE FUNNY NAME AND THE FLAVOR. SHE'LL DEMONSTRATE SEVERAL WAYS TO INCORPORATE FREEKEH GRAINS INTO OTHER RECIPES. SHE IS FROM MINNEAPOLIS, MINNESOTA. ANOTHER GUEST IS JUDY NOVELLA AND SHE IS WITH FAIRFIELD PROCESSING CORPORATION, AND SHE'LL TALK ABOUT THE STRICT REQUIREMENTS REGARDING RAYON THAT'S MADE FROM BAMBOO. SHE'LL EXPLAIN HOW ALL PRODUCTS MADE FROM BAMBOO ARE UNDER CLOSE SCRUTINY BY THE FTC DUE TO DECEPTIVE CLAIMS ABOUT THE PRODUCT. JUDY IS FROM DANBURY, CONNECTICUT. MY FIRST GUEST TODAY IS KARLA STOCKLI, AND SHE IS THE CEO FOR THE CALIFORNIA FIG ADVISORY BOARD. SHE IS GOING TO TALK ABOUT THE MANY NUTRITIONAL BENEFITS OF CONSUMING FRESH AND DRIED FIGS. OUNCE FOR OUNCE, FIGS PROVIDE A NUTRITIONAL PUNCH THAT'S HARD TO MATCH BY ANY OTHER FRUIT. KARLA IS FROM FRESNO, CALIFORNIA. KARLA, IT IS SO NICE TO HAVE YOU HERE. I BELIEVE YOU KNOW MORE ABOUT FIGS THAN ANYBODY I'VE EVER KNOWN. >> WELL, THANK YOU. >> AND THAT'S WHY WE BROUGHT YOU HERE FOR, BECAUSE WE WANT TO TALK ABOUT FIGS. THE VERSATILITY, THE HISTORY IS SO INTERESTING ABOUT FIGS. MAYBE THAT'S WHERE WE SHOULD START. >> EXCELLENT. IT IS A REALLY-- IT'S VERY INTERESTING. FIGS HAVE BEEN AROUND SINCE THE GARDEN OF EDEN, SO THEY REALLY WERE PERHAPS THAT FORBIDDEN FRUIT IN THE GARDEN OF EDEN. BUT TODAY, WHAT'S REALLY EXCITING IS CHEFS, CONSUMERS, FOOD PROFESSIONALS, THEY ARE ALL CHOOSING FRESH AND DRIED FIGS AS INGREDIENTS IN SOME OF THEIR RECIPES. >> SO THAT'S WHY IT HAS BECOME SO POPULAR IN THE LAST SEVERAL YEARS. >> EXACTLY. THESE LEADING PROFESSIONALS REALLY ARE IMPACTING WHAT WE THE CONSUMERS SEE EVERY DAY. AND WHEN WE THINK OF THE HISTORY THAT KIND OF WE BRING IT FORWARD, CALIFORNIA ACTUALLY PRODUCES 100% OF DRIED FIGS AND 98% OF FRESH FIGS. >> WOW! >> AND SO WE LIKE TO THINK, "WHEN YOU THINK FIGS, THINK CALIFORNIA," AND YOU CAN HAVE DRIED FIGS YEAR-ROUND, BUT YOU CAN HAVE FRESH FIGS FROM MID-MAY THROUGH DECEMBER. AND WE HAVE A LOT OF DIFFERENT VARIETIES THAT HAVE THOSE WONDERFULLY UNIQUE FLAVORS THAT REALLY COMPLEMENT MANY, MANY DIFFERENT DISHES. >> WELL, AND I LEARNED WHEN YOU WERE HERE BEFORE, THAT WE CAN ALSO FREEZE THEM. SO REALLY, WE CAN HAVE THEM YEAR-ROUND. >> ABSOLUTELY, YES. >> AND IS THERE ANY DISH, I GUESS, THAT YOU COULDN'T INCORPORATE FIGS WITH? >> I'D SAY NO. ABSOLUTELY NOT. AND THEY'RE PERFECT OUT-OF-HAND SNACKING. AND ONE OF THE THINGS, FIGS REALLY ARE THAT NUTRITION POWERHOUSE. 3 TO 5 FIGS ARE A SERVING OF FRUIT, AND THEY PROVIDE AN EXCELLENT SOURCE OF DIETARY FIBER, AND WE'RE ALL TRYING TO GET MORE FRUIT AND VEGETABLES EVERY DAY. THEY ALSO PROVIDE A GOOD SOURCE OF POTASSIUM AND CALCIUM. THINGS THAT MOST PEOPLE ARE DEFICIENT IN. THEY ARE FAT- AND CHOLESTEROL-FREE, THEY'RE SODIUM-FREE, AND THEY ALSO ARE GOING TO PROVIDE SOME MUCH-NEEDED ANTIOXIDANTS TO HELP BUILD OUR IMMUNE SYSTEMS. >> AND THAT'S WHAT PEOPLE ARE REALLY INTERESTED IN, BECAUSE WE WANT TO EAT SOMETHING THAT TASTES GOOD, FIRST OF ALL, AND FIGS DO. BUT SECOND, THAT'S GOOD FOR US, AND IT'S NOT ALWAYS THE SAME THING THAT FALLS INTO THOSE CATEGORIES. SO FIGS REALLY DO FIT THE BILL. >> YES, AND ONE OF THE THINGS, AS YOU SAID, IT'S ALL ABOUT FLAVOR, AND IT'S A BONUS THAT THIS PARTICULAR FRUIT IS NUTRITIOUS AS WELL. >> AND WHAT I LIKE IS THE RECIPES THAT YOU'VE SENT ME. WE CAN SERVE IT AS A SIDE DISH. >> YES. >> AS IN THIS CASE, THE FIGS BECOME PART OF THE MAIN DISH BECAUSE YOU'VE MADE CHICKEN SHISH KABOBS. >> YES, AND ONE OF THE THINGS THAT WE DID HERE, AND AGAIN, YOU CAN USE YOUR FRESH FIGS THROUGHOUT THE SEASON, YOU CAN FREEZE THEM AND USE THEM IN YOUR SALSAS AND THINGS LIKE THAT. BUT WHAT THE VERSATILITY OF THE DRIED FIG, HAVING THEM YEAR-ROUND, THAT'S WHAT CHEFS AND COOKS LOVE. IT REALLY PROVIDES A NICE RICH MEATY FLAVOR THAT'S GOING TO PROVIDE SOME SWEETNESS THAT BALANCES WITH YOUR SALT, YOUR PEPPER AND SOME OTHER THINGS. AND WHAT WE HAVE HERE IS, IT'S A MISSION FIG AND IT PAIRS PERFECTLY WITH THE FENNEL AND THE CHICKEN. SO FENNEL HAS THAT LICORICE-Y FLAVOR, IT'S GOING TO WORK WELL WITH THE MISSION FIGS. AND ALL YOU DO IS YOU PUT THEM ON A SKEWER. YOU CAN ALSO ADD PEPPERS TO THAT. AND AGAIN, THINKING OF HOW YOU WANT TO DO YOUR SHISH KABOB, BUT THE FRUIT ADDS A NICE BOUNCE OF FLAVOR THERE. AND THEN A NICE MICRO-GRAIN SALAD, YOU CAN DO THAT ON THE SIDE. WE DRIZZLE IT WITH SOME NICE BALSAMIC GLAZE, AND THEN WE ALSO DID A FIG SALSA. THIS IS A FIG AVOCADO PEPPER SALSA. AND WHAT'S NICE ABOUT THAT, YOU CAN HAVE SALSA ALL WEEK, BUT YOU CAN PAIR IT WITH DIFFERENT PROTEINS. TODAY WE PAIRED IT WITH THE CHICKEN KABOBS AND MISSION FIGS. BUT YOU CAN HAVE IT AS AN APPETIZER. TOMORROW, YOU CAN GRILL IT WITH SOME PORK CHOPS. YOU CAN ALSO PAIR IT WITH QUAIL OR ANYTHING ELSE TO KIND OF EXTEND IT THROUGH THE WEEK. SOME MORE TIME SPENT WITH THE FAMILY. >> SO MAKE A BIG SERVING. >> YES, MORE TIME SPENT WITH FAMILY AND FRIENDS, INSTEAD OF IN THE KITCHEN, AND THAT'S WHAT WE ALL WANT TO ACCOMPLISH. >> WELL, AND YOU SAID SOME OF THE CHEFS THAT YOU'VE WORKED WITH, WHAT OTHER TYPES OF MEATS HAVE THEY PAIRED LIKE THIS? >> WELL, WHAT WORKS REALLY WELL WITH THE MISSION FIG IS GOING TO BE QUAIL. IT'S GOING TO BE YOUR DARKER MEAT. SO YOU'VE GOT QUAIL, DUCK. IT ALSO REALLY PAIRS PERFECTLY. BUT THEN YOU CAN USE, YOU KNOW, STEAK WORKS WELL, YOU KNOW, RED MEATS AS WELL, PORK. I USUALLY LOOK AT WHAT'S IN MY FREEZER AND THEN I GO FROM THERE. >> AND I THINK YOU'VE TOLD ME BEFORE WE CAN REALLY SUBSTITUTE ANY OF THE FIGS IF WE ONLY HAVE THE SIERRA ON HAND. >> ABSOLUTELY. >> GO WITH IT OR IF WE HAVE THE MISSION FIGS, AND THEN, LIKE YOU SAY, THE DRIED ONES GIVE US SO MANY OPPORTUNITIES. IT IS AVAILABLE FOREVER. >> AND IT'S THE CONCENTRATION IN THE DRIED ONES REALLY KIND OF GIVES--IT'S GOING TO GIVE YOU A DIFFERENT LAYER AND A BETTER PAIRING FOR SOME OF THESE INGREDIENTS. >> MORE INTENSE. >> MORE INTENSE. WHEN WE THINK OF MISSION FIGS AND FLAVOR, YOU REALLY THINK OF A CABERNET OR TONIC PORT. AND THEN AGAIN, SO WE'VE GOT IN OUR SALSA, WE HAVE FRESH MISSION FIGS WHICH AREN'T QUITE AS INTENSE AS THE DRIED MISSION FIGS. AND THE SIERRAS, WHICH ARE THE WHITE FIGS, ARE GOING TO DELIVER LIKE A RIESLING FLAVOR. SO AGAIN IT JUST DEPENDS ON WHAT YOU WANT TO DELIVER TO THAT DISH, AND MAYBE YOU ARE LACKING A LITTLE MORE OF THE BERRY NOTES, SO YOU MIGHT WANT TO USE ONE OF THE LIGHTER FIGS, WHICH WE CALL GOLDEN FIGS. >> GOLDEN. AND WHAT I LIKE, TOO, AND IT PROBABLY WAS A SILLY QUESTION, BUT, HOPEFULLY, YOU'VE BEEN ASKED BEFORE, YOU DON'T HAVE TO PEEL FIGS. >> ABSOLUTELY NOT. >> THAT'S THE NICE THING. >> AND WHEN WE ARE TALKING ABOUT NUTRITION, YOU REALLY DON'T WANT TO BECAUSE THE SKIN HAS A LOT OF THOSE WONDERFUL ANTIOXIDANTS, THE FENNELS AS WELL, AND YOU LOSE FLAVOR AND ALSO TIME. WHY DO YOU PEEL AN APPLE IF YOU CAN EAT AN APPLE RIGHT OUT OF THE HAND AS WELL? >> WELL, IT'S REALLY INTERESTING THINGS AND I THINK WE JUST NEED TO GET SOME, MAYBE 2 OR 3 DIFFERENT VARIETIES, FRESH IF IT'S AVAILABLE AND THEN THE DRIED. AND JUST LIKE A CHEESEBOARD, THAT'S A GREAT WAY TO USE SOME OF THE DIFFERENT VARIETIES AND JUST LET PEOPLE SAMPLE AND SEE WHO LIKES WHAT. >> ABSOLUTELY. AND ONE OF THE THINGS WITH YOUR CHEESE IS YOU CAN EVEN GET THE KIDS LIKE LAUGHING COW CHEESE INCORPORATED IN THE WHOLE PROCESS, THINGS THAT KIDS LIKE SO THEY START EATING MORE FRUIT AND VEGETABLES BECAUSE WE REALLY WANT PEOPLE TO CONSUME MORE FRUIT LIKE CALIFORNIA FIGS, BUT ALSO, YOU KNOW, ALL DRIED FRUIT AND FRESH. >> GREAT, GREAT TIPS, GREAT IDEAS. WELL, THANK YOU SO MUCH, KARLA. I APPRECIATE YOU BEING HERE. >> THANK YOU FOR HAVING ME. >> JUDY, IT'S NICE TO HAVE YOU HERE. HOWEVER, USUALLY YOU ARE SHOWING US HOW TO MAKE SOME WONDERFUL PROJECT OR TELLING US ABOUT NEW PRODUCTS, AND, WELL, IN A WAY THAT'S WHAT WE ARE GOING TO TALK ABOUT, BECAUSE I NOTICED ON SOME OF YOUR PRODUCTS, THE WORD BAMBOO, IT STANDS OUT. BUT I UNDERSTAND THAT THE FTC IS REALLY LOOKING AT THIS WORDING. WHY? >> WELL, THE FTC IS TAKING A CLOSE LOOK AT ANYBODY WHO IS PUTTING A PRODUCT OUT ON THE MARKETPLACE THAT SAYS BAMBOO. AND THERE HAVE BEEN SOME COMPANIES THAT HAVE BEEN CITED FOR SOME DECEPTIVE PRACTICES. MOST OF THOSE ARE VERY BIG COMPANIES DOING DIFFERENT PRODUCTS THAN IN THE CRAFT INDUSTRY. HOWEVER, THE IMPLICATIONS THAT THE FTC IMPOSES ON THOSE TRICKLE DOWN TO EVERYBODY USING THE TERM. SO, THE BAMBOO IS BEING CRITICIZED BECAUSE THE IMPLICATION IS THAT THE BAMBOO IS THE NATURAL FORM OF THE FIBER, WHEN IN FACT, THE TEXTILES VERSION OF THE FIBER IS A RAYON FIBER THAT IS MADE FROM BAMBOO, SO IT'S REALLY A MAN-MADE FIBER. >> AND ACTUALLY, YOU SAID RAYON CAN COME FROM OTHER SOURCES BESIDES BAMBOO. IS THAT RIGHT? >> IT CAN COME FROM OTHER SOURCES. >> PLANTS. >> THE FACT THAT IT'S COMING SPECIFICALLY FROM BAMBOO, A PLANT THAT IS A VERY PROLIFIC GROWER, IS WHAT SETS THIS BAMBOO RAYON APART FROM SOME OF THE OTHER RAYONS. IT'S NOT THE CHARACTERISTICS OF THE PRODUCT BUT THE SOURCE. >> THE SOURCE. AND I DON'T KNOW HOW YOU ARE, BUT WHEN I GO TO THE STORE TO BUY THINGS, I DON'T READ THAT MUCH, I JUST LOOK FOR MY FAVORITE PACKAGING BECAUSE THEN I KNOW WHAT IT IS. AND I THOUGHT IT MIGHT BE INTERESTING, IF PEOPLE DO DO CRAFTS, THEY ARE USED TO LOOKING FOR THE BATTING, MAYBE PILLOW FORMS, THINGS LIKE THIS THAT THEY, YOU KNOW, JUST GO TO THE STORE AND RECOGNIZE, AND OF COURSE YOU CAN SEE THE BAMBOO IS VERY PROMINENT IN THE WORDING, BUT JUST SO THAT THEY'LL KNOW THAT THEY ARE GETTING THE SAME GREAT PRODUCTS, AND ACTUALLY IMPROVED BECAUSE IT'S GOING TO HAVE THIS NATURE-FIL, FOR INSTANCE, BATTING UP HERE. SO I THINK THAT'S GOOD BECAUSE MANY OF US JUST SHOP FOR WHAT WE ARE USED TO SHOPPING FOR. >> RIGHT, AND YOU DON'T UNDERSTAND WHY THINGS ARE CHANGING, AND MAYBE YOU DON'T NEED TO. I THINK THERE ARE A LOT OF PEOPLE WHO, LIKE ME AND MAYBE LIKE YOU, WHO SHOP BASED ON THE PERFORMANCE CHARACTERISTICS OF THE PRODUCT. SO REST ASSURED THAT THE PRODUCTS THAT YOU ARE GETTING ARE GOING TO HAVE THE SAME OR BETTER PERFORMANCE CHARACTERISTICS THAN THEY DO TODAY, SUCH AS THE BATTING, WHICH HAS GONE REALLY WELL IN THE MARKETPLACE. IT'S BEEN VERY WELL RECEIVED. IT'S VERY SOFT, AND SUPPLE, AND IT CAN REALLY HOLD UP WELL, ESPECIALLY IF YOU HEAVILY QUILT ON IT. SO IT DOESN'T GET STIFF LIKE SOME COTTONS CAN GET. ONE OF THE PRODUCT IMPROVEMENTS WE ARE MAKING IS THAT IT'S MADE WITH A BLEND OF THE 50% RAYON FROM BAMBOO AND IT'S MADE WITH 50% CERTIFIED ORGANIC COTTON. SO THAT'S AN IMPROVEMENT OVER THE GENERATION BEFORE. >> SO WE MAY SEE LOFTIER BAGS, SO TO SPEAK. >> RIGHT, AND WHAT WE ARE GOING--ACTUALLY, WE ARE PLANNING TO DO A BLEND WITH SOME POLYESTER ADDED TO THE BAMBOO RAYON FIBER BECAUSE THAT FIBER IS ACTUALLY ONE THAT--IT PACKS VERY DENSELY, SO IT'S A CHARACTERISTIC THAT TEDDY BEAR MAKERS AND DOLL MAKERS REALLY LIKE FOR THOSE-- >> THAT FIRMNESS. >> THEY'RE REAL FIRM. THOSE DOLLS THAT ARE REALLY SCULPTURES. THEY WANT THE FIRMNESS, BUT SOME OTHERS WANT TO HAVE THE SAME OPTION OF USING THAT FIBER, WANT A LITTLE SOFTER FEELING, AND SAME WITH YOUR PILLOWS. YOU WANT THEM TO REMAIN RESILIENT. ADDING THAT POLYESTER COMPONENT WILL REALLY BOOST THAT RESILIENCY A BIT. >> I SEE. DO PRODUCTS THAT ARE MADE FROM BAMBOO TYPICALLY COST MORE? >> THEY DO COST A LITTLE BIT MORE, NOT SIGNIFICANTLY MORE THAN, SAY, A COTTON OR A WOOL, BUT THEY'LL COST A LITTLE BIT MORE BECAUSE IT'S JUST A LITTLE BIT MORE COSTLY TO PRODUCE THE FIBER. >> WHY DOES YOUR COMPANY AND OTHER COMPANIES LIKE USING THAT RAYON FROM BAMBOO IN CRAFTING? >> WELL, IT OFFERS A LOT OF BENEFITS. IT'S A VERY SOFT AND SUPPLE AND SILKY TEXTURE, WHICH IS REALLY ABOUT THE PERFORMANCE. SO--AND IT'S ALSO GREAT THAT BAMBOO IS A NATURAL RESOURCE, AND IT'S A RESOURCE THAT GROWS ANYWHERE, EXCEPT ANTARCTICA, SO IT'S REALLY A POTENTIAL CROP SOURCE ANYWHERE IN THE WORLD, SO THAT'S NUMBER ONE. IT ALSO GROWS WITHOUT THE USE OF PESTICIDES OR FERTILIZERS. SO, AS AN ENVIRONMENTAL GROWER, HAS THAT BENEFIT TO IT. IT'S BEEN USED IN WATERSHED AREAS, IT ABSORBS NITROGEN, WHICH IS A COMMON WATER POLLUTANT. >> HOLDS THE SOIL FROM ERODING. >> IT DOES. THE ROOT SYSTEM IS INCREDIBLE. IF YOU'VE EVER PLANTED ANY IN YOUR GARDEN, YOU MIGHT KNOW THAT.
[LAUGHTER] SO ANYWAY, THE UPSHOT IS THAT IT
GROWS VERY PROLIFICALLY AND IT DOESN'T REQUIRE A LOT TO GET IT TO GROW WELL. SO THAT'S WHAT MAKES IT A GREAT SOURCE. >> WELL, AND I WAS GOING TO ASK YOU ABOUT THE ENVIRONMENT BECAUSE WE ARE ALL INTERESTED IN DOING WHATEVER WE CAN TO SAVE THE PLANET, SO TO SPEAK. SO THOSE ARE GOOD POINTS TO BRING OUT, TOO. ARE THE BAMBOO PRODUCTS ANTIBACTERIAL? >> WELL, THE BAMBOO PLANT ITSELF IS ANTIBACTERIAL. IT HAS AN AGENT IN IT THAT MAKES IT NATURALLY RESISTANT TO PESTS AND BACTERIA. THE FIBER ITSELF, AFTER PROCESSING, IT'S BEEN DETERMINED NOW AND IT'S BEEN LATE IN THE DETERMINATIONING TIME FRAME THAT THE PROCESSED RAYON FIBERS FROM BAMBOO DO NOT RETAIN THE ANTIBACTERIAL CLAIM. SO THAT IS BEING REMOVED FROM PACKAGING. ON A GO FORWARD. >> SO, THAT'S IMPORTANT FOR CONSUMERS TO KNOW. >> CORRECT. HOWEVER, IT'S HIGHLY WASHABLE AND IT COULD BE DRY-CLEANED, SO THERE IS NOTHING IN IT THAT'S ANY LESS SAFE TO USE. >> AND IT'S STILL NON-ALLERGENIC TOO. >> WELL, I DON'T KNOW SO MUCH ABOUT NON-ALLERGENIC, BUT IT'S DEFINITELY NOT SOMETHING THAT'S KNOWN TO BE A HIGHLY ALLERGENIC PRODUCT, SO, AND IT'S ALSO, YOU KNOW, PROCESSED CAREFULLY, LIKE WE USE A FARM--EXCUSE ME, IT'S A CROP-BASED PLANTATION-GROWN BAMBOO THAT'S GROWN TO MEET INTERNATIONAL ORGANIC STANDARDS. SO, THE PROCESS OF GROWING THAT FIBER HAS BEEN REALLY SCRUTINIZED. WE DON'T WANT TO BE ENVIRONMENTALLY INVASIVE WITH THE PRODUCTS. >> WELL, IT SOUNDS LIKE, LIKE YOU SAY, IT'S TRICKLED DOWN TO THE CRAFT INDUSTRY. EVEN THOUGH THAT MAY BE A SMALLER USER OF THE RAYON FROM BAMBOO. BUT I THINK IT'S INTERESTING TO FIND OUT WHAT COMPANIES ARE FACED WITH, WHAT YOUR COMPANY, FOR INSTANCE, HAS DONE TO HELP CONSUMERS TO KNOW EXACTLY WHAT THEY ARE GETTING WHEN THEY BUY THE PRODUCTS. >> RIGHT. >> WELL, THANK YOU SO MUCH. THIS HAS BEEN INTERESTING. >> THANK YOU. >> BONNIE, IT'S REALLY NICE TO HAVE YOU HERE, AND I THOUGHT WE MIGHT START WITH TALKING ABOUT HOW YOU HAVE REALLY DEVELOPED THIS COOKING BUSINESS IN GROCERY STORES, AND YOU YOURSELF ARE A LIVING EXAMPLE OF HOW EATING RIGHT AND EATING HEALTHY CAN REALLY BENEFIT YOU. TELL US ABOUT YOUR STORY. >> SHERYL, WELL, YOU KNOW, I'M OLDER, I'M 49, AND WHEN I WAS ABOUT 43 AND HALF, I WAS REALLY HEAVY. I WAS ABOUT 280 POUNDS. YOU KNOW, I WAS AN ARTIST AND HAD A VERY SEDENTARY LIFESTYLE JUST BECAUSE I WAS SITTING PAINTING CHILDREN'S BOOKS EVERY DAY, AND MY DAD WAS A GREAT SOUTHERN COOK, SO THOSE KIND OF RECIPES ARE WHAT I USED TO EAT ALL THE TIME, AND WHEN I WAS ABOUT 43 AND A HALF, I REALIZED, "YOU KNOW, I REALLY BETTER." I GOT SOME SCARES AT THE DOCTOR AND THEY WERE LIKE, YOU KNOW, "IF YOU DON'T LOSE WEIGHT AND START EATING HEALTHIER, WHOLE FOODS AND STUFF, YOU KNOW, YOU COULD BE ON MEDICINE THE REST OF YOUR LIFE," SO I JUST DECIDED, "ALL RIGHT, WELL, I'LL JUST START WORKING OUT, AND WALKING, AND CUTTING OUT A FEW THINGS THAT I KNOW ARE BAD FOR ME LIKE ICE CREAM, CHEESE AND PIZZA, AND REPLACE THEM WITH FRESH LOW-FAT INGREDIENTS," AND SO I KIND OF TAUGHT MYSELF HOW TO COOK BETTER, PARTIALLY BECAUSE I NEEDED TO SAVE MY LIFE, AND SO OVER THE COURSE OF TWO YEARS, I STARTED WORKING OUT, AND I LOST ABOUT 120 POUNDS, AND STARTED GETTING MY WHOLE COMMUNITY COOKING LIKE I DID, BECAUSE I WORKED AT A GROCERY STORE DOING FOOD DEMO AND STUFF. SO IT WAS REALLY FUN BECAUSE I WAS--I HAD A WHOLE PLAYGROUND TO PLAY WITH AT THE STORE TO PLAY WITH INGREDIENTS AND LEARNING HOW TO MAKE STUFF, YEAH. >> I JUST THINK THAT'S AMAZING. >> IT WAS FUN. >> CONGRATULATIONS. YOU ARE AN INSPIRATION TO ALL OF US. AND YOU ALSO DEVELOP--SORT OF DISCOVERED A PRODUCT CALLED FREEKEH, WHICH IS A WHOLE GRAIN. >> IT IS. IT'S A REALLY AWESOME ALTERNATIVE TO BROWN RICE. IT'S GOT 8 GRAMS OF PROTEIN AND 4 GRAMS OF FIBER PER SERVING, SO FOR MYSELF, YOU KNOW, SINCE I'M TRYING TO STAY HEALTHY, I CAN'T EAT A LOT OF RICE AND COUSCOUS AND THAT KIND OF THING BECAUSE IT'S NOT A COMPLEX CARB. COMPLEX CARBS HELP YOU BURN ENERGY OVER A SUSTAINED PERIOD OF TIME AND IT HAS MORE PROTEIN, SO THE FREEKEH WAS SUCH A GREAT THING FOR ME TO DISCOVER BECAUSE IT HAS 3 TIMES AS MUCH FIBER AND PROTEIN AS EVEN BROWN RICE. AND IT'S SO VERSATILE IN COOKING, LIKE, IN COLD RECIPES, LIKE FOR SALADS LIKE A TABBOULEH. IT'S GREAT MIXED IN SOUPS, AND SALADS, AND ALL KINDS OF STUFF. >> YOU PUT TOGETHER A COOKBOOK. >> YEAH. >> "30 WAYS TO FREEKEH COOK," AND I LOOKED THROUGH IT, AND THE PHOTOGRAPHY IS WONDERFUL, THE RECIPES, SOME OF THEM HAVE FEW INGREDIENTS. THOSE, I TOLD YOU EARLIER, THOSE ARE THE ONES I LIKE TO COOK. AND THEN SOME OF THEM ARE MORE COMPLICATED, SO PEOPLE CAN CHOOSE WHATEVER TYPE OF COOKING THEY LIKE TO DO. BUT FREEKEH COMES ABOUT BECAUSE SORT OF AN ACCIDENT BACK 2 OR 3 THOUSAND YEARS AGO, RIGHT? >> YEAH, IT'S FROM THE MIDDLE EAST ORIGINALLY, AND ACTUALLY "FREEKEH" MEANS "TO RUB." IT'S ACTUALLY A PROCESS OF ROASTING AN IMMATURE GREEN WHEAT. AND TRADITIONALLY IT'S BEEN MADE WITH DURUM WHEAT, AND IN THE MIDDLE EAST, THESE TWO VILLAGES HAD A CONFLICT, AND ONE OF THEM BURNED THE OTHER GUY'S IMMATURE GREEN WHEAT FIELDS, IT WAS LIKE IN SPRING, AND HE'S LIKE, "WELL, WHAT AM I GOING TO DO?" AND HE HAD ALL THESE CHARRED GRAINS IN HIS FIELD, SO THEY STARTED TO RUB THE HUSK OFF, AND THEY DECIDED TO GO AHEAD AND COOK THE GRAIN LIKE RICE, AND THEY ARE LIKE, "HEY, THIS IS DELICIOUS." SO EVEN TODAY, THEY STILL USE IT, AND IT'S LIKE A FIRST OFFERING OF THE FIELD, KIND OF A TRADITIONAL FOOD. >> SO IT'S ARABIC AND IT MEANS "TO RUB." THAT IS INTERESTING. >> SO IT'S KIND OF A FUN NAME. THE KIDS LOVE IT, YOU KNOW, THEY ARE LIKE, "WHAT'S FREEKEH?" YOU KNOW. >> I THOUGHT WE WERE GOING TO TALK ABOUT WAYS TO GET KIDS TO TRY NEW THINGS, LIKE YOU SAY, THE FUNNY NAME. IT'S A GRAIN WITH A FUNNY NAME. BUT THEN SOMETIMES, IF YOU JUST GET KIDS INVOLVED IN MAKING A RECIPE, THEY'LL TRY IT. >> ABSOLUTELY, AND IT'S GREAT, TOO, BECAUSE, YOU KNOW, WITH ALL THE NEW SCHOOL CURRICULUMS ARE ALL ADDING WHOLE GRAINS INTO THE LUNCH PROGRAMS AND STUFF. YOU KNOW, THE MORE THEY LEARN ABOUT THIS STUFF AT HOME, IT'LL BE AWESOME AND THEY'LL BE LIKE, "OH, YEAH, WE JUST HAD THAT AT SCHOOL YESTERDAY." SO THE TWO RECIPES I AM GOING TO SHOW YOU TODAY ARE SUPER FUN FOR THE KIDS. THIS ONE--AND IT'S ALSO GREAT FOR THE BUDGET, YOU KNOW, BECAUSE FAMILIES TODAY, THEY ARE LEARNING HOW TO, YOU KNOW, FIGURE OUT HOW TO STRETCH THEIR DOLLAR. WELL, THIS RECIPE, I ACTUALLY USE A POUND OF GROUND TURKEY, WHICH IS ABOUT 7 BUCKS. YOU COULD USE GROUND CHICKEN, WHICH IS MORE LIKE 5, OR GROUND LEAN BEEF, AND WHAT I DO FOR THIS IS JUST ADD IN SOME DICED-UP ONION AND A WHOLE BAG OF THE DRY FREEKEH. >> SO YOU DON'T COOK IT FIRST. >> THIS ONE I DON'T, YEAH. I ADD IT ALL DRY IN THE BOWL AND KIND OF MIX IT ALL TOGETHER WITH SOME HERBS, SOME OREGANO, AND SOME SEASONING AND STUFF, AND THEN GET THE KIDS TO HELP YOU TO FORM THEM. THEY ARE ALL GOING TO MAKE THEM IN ALL DIFFERENT SIZES, YOU KNOW. BUT WHAT'S GREAT ABOUT THIS IS SO EASY, ONCE YOU ROLL THEM UP, THEN YOU JUST TAKE WHATEVER MARINARA SAUCE OR PASTA SAUCE THAT YOU LIKE AND JUST POUR IT OVER THE TOP OF THE WHOLE THING AND THEN-- >> SO IS THAT--BY COOKING IT IN THE OVEN AND HAVING THE LIQUID FROM THE SAUCE, THAT'S WHAT COOKS THE FREEKEH? >> EXACTLY. WHAT I'LL DO IS I'LL ADD JUST A LITTLE BIT MORE WATER IN THIS AND COVER IT WITH TIN FOIL SO IT KIND OF POACHES THEM, AND COOK IT IN THE OVEN FOR ABOUT HALF AN HOUR, AND THE FREEKEH EXPANDS IN THERE. IT SORT OF STEAMS THEM AND THEY ARE DELICIOUS. >> WELL, THAT'S INTERESTING. I DIDN'T CATCH THAT RECIPE BECAUSE I HAD THOUGHT WE WOULD, YOU KNOW, COOK ALL OF THE FREEKEH, AND YOU DO HAVE IT IN A PAN OVER THERE. DO YOU MIND, TELL US HOW YOU DO COOK THE FREEKEH? >> YEAH, NORMALLY, LIKE, FOR THIS RECIPE. OH, BY THE WAY, YOU CAN ALSO BROWN THESE FIRST IF YOU LIKE, BUT YOU DON'T HAVE TO. BUT YOU CAN BROWN THEM WITH A SKILLET, A LITTLE OLIVE OIL, IF YOU'D LIKE. BUT, YEAH, IF YOU ARE COOKING FREEKEH, YOU KNOW, THE REGULAR WAY, WHAT YOU DO IS YOU DO IT JUST LIKE RICE, YOU USE TWO AND A HALF CUPS OF WATER OR BROTH AND I'LL JUST POUR IT IN A SAUCE PAN, AND THEN POUR YOUR DRY FREEKEH IN, THE WHOLE BAG, IT'S ONE CUP PER BAG, AND THEN YOU JUST BRING IT TO A BOIL AND THEN REDUCE IT DOWN. YOU CAN COVER IT IF YOU'D LIKE AND JUST LET IT SIMMER FOR ABOUT 20-25 MINUTES UNTIL IT'S TENDER, AND IT'S GOOD TO GO. >> THAT'S FAST. >> YEAH, AND THIS RECIPE, I'M DOING SOME MEXICAN TACOS THAT ARE VEGETARIAN AND, YOU KNOW, YOU CERTAINLY DON'T HAVE TO MAKE THEM VEGETARIAN, BUT THESE ARE REALLY GOOD AND IF YOU ARE TRYING TO SAVE A LITTLE BIT OF CASH AND, YOU KNOW, YOU ARE TRYING TO BUDGET A LITTLE BIT, BEANS ARE SUCH A GREAT OPTION FOR PROTEIN AND FOR KIDS, YOU KNOW, THE KIDS LOVE BEANS. >> WELL, AND YOU MENTIONED THAT THE FREEKEH IS VERY HIGH IN PROTEIN. >> EXACTLY. >> 8 GRAMS A SERVING, AND THEN IF YOU ADD THE BEANS, IT'S REALLY GOING TO BE A HEALTHY MEAL. >> SO THIS IS THE COOKED FREEKEH, AND I ACTUALLY COOKED-- >> IT'S JUST A NICE BROWN COLOR. IT LOOKS REALLY PRETTY. >> I COOKED THIS WITH A LITTLE BIT OF TOMATO PASTE MIXED IN, ACTUALLY. AND THEN I SAUTEED SOME ADZUKI BEANS, WHICH HAVE 7 GRAMS OF PROTEIN, SO THIS IS... THAT WITH THE FREEKEH, THAT'S 14 GRAMS OF PROTEIN PER SERVING, WHICH IS AWESOME. >> WELL, IT'S CERTAINLY SOMETHING THAT TELLS US WE NEED TO REALLY BE CAREFUL ABOUT READING LABELS AND NOT JUST BUY THE SAME THINGS THAT WE'VE ALWAYS BOUGHT FOREVER. AND I'VE ALREADY LEARNED ABOUT DIFFERENT TYPES OF BEANS THAT I'VE NOT TRIED BEFORE. >> AND THE ADZUKI BEANS ARE AWESOME. IT'S JUST A FUN LITTLE BEAN. IT'S REALLY SWEET. TO ME, THEY ARE A LITTLE BIT LESS STARCHY THAN, LIKE, A BLACK BEAN, WHICH I LOVE BLACK BEANS AND PINTO BEANS, TOO. AND THIS RECIPE, I ACTUALLY LOVE FAJITA SEASONING. SOME OF THEM ARE VERY LOW SODIUM AND THEY'RE REALLY FLAVORFUL COMPARED TO SOME OF THE STORE-BOUGHT TACO SEASONINGS. SO I PUT A LITTLE BIT OF THAT IN THERE, TOO. >> SO YOU ARE NOT USING THE TACO SEASONING IN IT, SINCE IT'S A VEGETARIAN, UH-HUH. >> AND THEN ALL YOU GOT TO DO IS JUST MIX IT UP A LITTLE BIT AND THEN GET THE KIDS TO STUFF THEIR OWN--YOU KNOW, PUT IN THEIR OWN, AND THEN YOU CAN TOP IT, OF COURSE, WITH ANY KIND OF TOPPING YOU LIKE, YOU KNOW. >> AND THAT'S KIND OF GOOD TO HAVE IT ALL SET OUT, AND THE KIDS WILL TRY THINGS MAYBE THAT THEY HAVEN'T THOUGHT THEY LIKE JUST BECAUSE THEIR FRIENDS ARE PUTTING THEM ON THEIRS. >> ABSOLUTELY. GET THEM TO HELP YOU CHOP. YOU KNOW, ALL THOSE KIDS, THEY LOVE ALL THAT STUFF. LITTLE SOUS CHEFS IN THE MAKING, YOU KNOW. SO, YEAH, THEN YOU CAN TOP THEM WITH SOME AVOCADO, AND YOUR FAVORITE SALSA, OR HOT SAUCE. AND, YOU KNOW, I DON'T KNOW IF YOU EVER DO THIS, BUT I USE THIS NON-FAT GREEK STYLE YOGURT. IT'S A LITTLE BIT THICKER THAN REGULAR YOGURT, AND I USE THAT AS AN OPTION FOR SOUR CREAM BECAUSE IT GIVES YOU THE CREAMINESS AND IT GIVES YOU THAT NICE CREAMY TO CUT THE HEAT FROM THE JALAPEÑOS AND EVERYTHING. AND IT'S GREAT, BUT YOU COULD ALSO USE REGULAR CHEESE, TOO, IF YOU LIKE. BUT THAT'S REALLY NICE, THAT WAY. >> AND THE FREEKEH NOW, WE WOULD FIND IT IN THE GROCERY STORE, JUST CLOSE TO RICE, COUSCOUS, ALL THOSE? >> YEAH, IT'S IN THAT SAME GROCERY AISLE, YEP. AND IT COMES IN 3 FLAVORS, ACTUALLY. >> TELL US ABOUT EACH ONE OF THESE. >> SO THE ROSEMARY SAGE ONE IS AWESOME. THAT ONE IS REALLY GOOD, LIKE, WITH RICE. EXCUSE ME, NOT WITH RICE, IT'S REALLY GOOD WITH CHICKEN AND PORK, THAT KIND OF THING. IT'S ALSO REALLY GOOD COOKED UP AND THEN CHILLED FOR COLD SALADS, LIKE, IF YOU WANT TO PUT SUMMER VEGETABLES WITH IT AND THAT KIND OF THING WITH A LITTLE APPLE CIDER VINEGAR. THE TAMARI ONE IS GREAT FOR, LIKE, A FAST STIR-FRY. INSTEAD OF USING RICE, YOU CAN COOK THAT UP AND STUFF. AND THEN THE ORIGINAL ONE HAS NO SEASONING IN IT. IT'S JUST THE NICE DELICIOUS ROASTED GRAIN. SO YOU CAN USE THAT IN SOUPS OR THINGS WHERE YOU ARE GOING TO ADD SOME OTHER SEASONINGS TO IT. >> UH-HUH, AND THAT'S WHY YOU CHOSE IT FOR THIS AND YOU ADDED-- >> EXACTLY. >> SEASONING OR WE COULD ADD OUR TACO SEASONING. >> EXACTLY. AND IT'S JUST REALLY FUN TO PLAY WITH. THE KIDS ARE GOING TO LOVE IT. >> WELL, AND LIKE YOU--IT'S ALWAYS PRESENTED AS THE GRAIN WITH THE FUNNY NAME SO THEY'LL REMEMBER IT. AND IT'S REALLY NICE FOR PARENTS TO APPROVE OF SOME OF THE RECIPES OR THE DISHES THAT THEIR KIDS ARE GOING TO WANT TO EAT. >> ABSOLUTELY. >> IT'S GOOD FOR EVERYBODY. WELL, THANK YOU SO MUCH. >> THANK YOU. I APPRECIATE IT. >> I HOPE YOU ENJOYED THE SHOW TODAY. NEXT TIME ON "CREATIVE LIVING," WE'LL LEARN HOW TO SELECT JEANS FOR DIFFERENT BODY SHAPES AND STYLES, AND WE'LL DISCUSS WHAT WE MEAN BY SUSTAINABLE LIVING. FOR MANY WOMEN, THE SELECTION OF A PAIR OF JEANS IS DIFFICULT. ONE OF MY GUESTS NEXT TIME IS A WARDROBE CONSULTANT AND AUTHOR, AND SHE'LL SHARE SOME CONCEPTS THAT CAN GUIDE EACH WOMAN TO HER IDEAL CHOICE. WE'LL DISCUSS COLOR, FABRIC, LEG CUT, AND STYLE DETAILS AS WELL. WE'LL ALSO TALK TO A SPIRITUAL MASTER ABOUT SUSTAINABLE LIVING AND WHY ECO OR SUSTAINABLE LIVING IS SO IMPORTANT. HE BELIEVES WE SHOULD LEAVE EVERY PLACE MORE BEAUTIFUL THAN WHEN WE FOUND IT. HE'LL DISCUSS NATURAL PRODUCTS AND RENEWABLE PRODUCTS AS OPPOSED TO SYNTHETICS AND SUGGEST WHY WE SHOULD TAKE STEPS TOWARD A VEGAN LIFESTYLE. BOTH OF THESE TOPICS WILL BE FEATURED ON THE NEXT "CREATIVE LIVING" SHOW. IF YOU EVER HAVE COMMENTS OR SUGGESTIONS OR IDEAS FOR SHOWS, YOU CAN E-MAIL ME AT SHERYL.BORDEN@ENMU.EDU. I HOPE YOU ARE PLANNING TO JOIN ME NEXT TIME FOR "CREATIVE LIVING." >> WE ARE VERY PLEASED TO OFFER A NEW BOOKLET THAT ACCOMPANIES THIS SERIES OF "CREATIVE LIVING." THIS BOOKLET IS TITLED "THE 6700 SERIES" AND IT FEATURES A WONDERFUL COLLECTION OF IDEAS AND INFORMATION, AND IT'S AVAILABLE FREE OF CHARGE ON OUR WEBSITE POSTED AS A PDF FILE. YOU CAN SIMPLY DOWNLOAD THE ENTIRE BOOKLET OR JUST THE SEGMENTS YOU ARE MOST INTERESTED IN. YOU'LL FIND INFORMATION ON FOODS, NUTRITION, CLOTHING, FASHION, HEALTH, AND BEAUTY, HOME DECORATING, AND MUCH MORE. FOR YOUR COPY OF THIS NEW BOOKLET, GO TO OUR WEBSITE AT KENW.ORG, AND THEN CLICK ON CREATIVE LIVING. SCROLL DOWN TO THE BOOKLET SECTION AND YOU CAN CLICK ON THIS BOOKLET OR ON ANY OF THE OTHER BOOKLETS WE HAVE AVAILABLE ONLINE. JUST GO TO KENW.ORG, CLICK ON "CREATIVE LIVING," AND DOWNLOAD THE BOOKLET TITLED "THE 6700 SERIES." WE ALSO INVITE YOU TO SIGN UP FOR OUR FREE E-NEWSLETTER. JUST GO TO KENW.ORG AND CLICK ON THE SIGN UP NOW BUTTON AND INPUT YOUR E-MAIL ADDRESS. THAT'S ALL THERE IS TO IT. YOU'LL ENJOY READING AN UP-TO-DATE NEWSLETTER FILLED WITH INTERESTING TOPICS AND INFORMATION. THANK YOU.
Now Playing As: Captioned (English) (change)
In this episode, viewers learn how to create kid-friendly meals from the ancient grain freekeh. They also learn about the strict regulations regarding bamboo products and false claims being made about bamboo products. Also a representative from California Fig Advisory Board discusses the differences between dried and fresh figs.
Media Details
Runtime: 27 minutes