Creative Living With Sheryl Borden #6722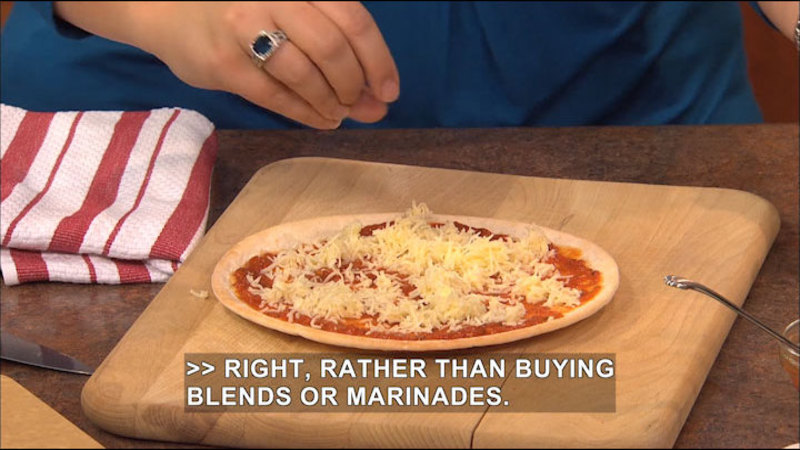 >> "CREATIVE LIVING" UTILIZING TODAY'S TECHNOLOGY WITH THE BEST OF THE PAST TO BRING YOU INNOVATIVE IDEAS AND UP-TO-DATE INFORMATION FOR CREATIVE LIFESTYLES IN TODAY'S ACTIVE WORLD. WITH YOUR HOST SHERYL BORDEN. >> WELCOME TO "CREATIVE LIVING" TODAY. WE'RE GOING TO LEARN HOW TO LIVE DELICIOUSLY GLUTEN-FREE, WE'LL TALK ABOUT 5 TOOLS TO HELP SHAPE SMALL BUSINESSES, AND WE'LL EXPLAIN WHAT WE MEAN BY AN AROMATIC KITCHEN. ONE OF MY GUESTS TODAY IS K.C. POMERING AND SHE'S THE FOUNDER OF G-FREE FOODIE. K.C. WILL TELL ABOUT HER ONLINE RESOURCE FOR HELPING PEOPLE LIVE DELICIOUSLY GLUTEN-FREE, AS WELL AS EXPLAIN WHY OTHER PEOPLE MAY WANT TO CONSIDER A GLUTEN-FREE DIET WHETHER THEY'RE GLUTEN INTOLERANT OR NOT. K.C. IS FROM MADERA, CALIFORNIA. ANOTHER GUEST IS GARY BARNES, AND GARY IS GOING TO DISCUSS SOME TOOLS TO HELP SHAPE SMALL BUSINESSES AS HE HIGHLIGHTS THE IMPACT SMALL BUSINESSES HAVE ON THIS COUNTRY. HIS COMPANY IS GARY BARNES INTERNATIONAL AND HE'S FROM DENVER, COLORADO. WE'LL START THE SHOW TODAY WITH KRIS WREDE, WHO IS AN AROMATIC ALCHEMIST AND A NATURAL PERFUMER. HER BUSINESS IS KISMET POTIONS. IN THE AROMATIC KITCHEN, KRIS WILL SHOW HOW TO PREPARE UNUSUAL RECIPES USING ESSENTIAL OILS TO MAKE LIFE MORE SENSUAL AND TO HELP ONE APPRECIATE THE VIBRANCY OF FOOD. SHE LIVES IN ALBUQUERQUE, NEW MEXICO. KRIS, I REMEMBER WHEN WE FIRST TALKED AND YOU WERE GOING TO COME AND DO SOME SEGMENTS ON USING ESSENTIAL OILS TO MAKE PERFUME, WE WERE GOING TO TALK ABOUT THE MEDICINAL PURPOSES OF ESSENTIAL OILS, AND THEN YOU SAID YOU WANTED TO DO ONE ON COOKING WITH ESSENTIAL OILS. I DIDN'T EVEN KNOW YOU COULD DO THAT. >> [LAUGHS] WELL, ABOUT 15 YEARS AGO, I WAS LIVING IN CHICAGO AND I WAS MAKING SOME SUN TEAS, I HAD A BEAUTIFUL HERB GARDEN WITH LEMON VERBENA AND LAVENDER AND CHAMOMILE AND BEE BALM, WHICH IS MELISSA, AND SO I WAS MAKING ALL THESE BEAUTIFUL TEAS AND PUTTING THEM ON THE BACK PORCH AND PUTTING HONEY IN THE BOTTOM AND SO, I THOUGHT, "WELL, I COULD ADD SOME ESSENTIAL OILS TO THAT." AND SO I INITIALLY JUST ADDED ESSENTIAL OILS AND THEY ALL CAME TO THE TOP AND I THOUGHT, "WELL MAYBE IF I--" BECAUSE THEY'RE OILS, SO I THOUGHT IF I MIX THEM IN WITH THE HONEY, MAYBE THAT'LL HELP. WELL, THEY WERE DELICIOUS AND PEOPLE JUST LOVED THEM. AND THEN I HIRED SOMEONE WHO HAD JUST GRADUATED FROM COOKING SCHOOL, AND SO SHE HELPED ME DEVELOP ALL SORTS OF INITIAL RECIPES, AND MY MOTHER WAS A HOME ECONOMIST, SO, OF COURSE-- >> IT COMES NATURAL. >> CAME NATURALLY, SO, OVER THE LAST 15 YEARS I'VE EXPERIMENTED AND IT'S GROWN TO BE SO MANY DIFFERENT THINGS, NOT JUST DRINKS, BUT FOOD AND, YOU KNOW, EVEN IN CHICKEN AND THINGS LIKE THAT. WHAT YOU HAVE TO BE CAREFUL OF, THOUGH, IS YOU DON'T WANT TO MAKE A SANDALWOOD SOUFFLE, YOU DON'T WANT TO MAKE A FRANKINCENSE FONDUE. I MEAN, YOU KNOW, THOSE-- THOSE WOULD NOT BE GOOD. SO, CONCENTRATE ON THE OILS THAT ARE OILS THAT YOU WOULD USE NORMALLY IN COOKING, SO, LEMON, ORANGE, CINNAMON, BASIL, THYME, OREGANO, ROSEMARY, ALL THE THINGS THAT YOU NORMALLY WOULD USE IN COOKING. THE THING ABOUT IT IS, IS YOU'RE ONLY GOING TO USE ABOUT, MAYBE, 1/10 OR 1/20 OF WHAT YOU WOULD NORMALLY USE. >> BECAUSE IT'S SO CONCENTRATED. >> SO CONCENTRATED, SO HERE'S SOME LEMON ESSENTIAL OIL, AND ACTUALLY, IN THIS RECIPE IT'S CALLED SPICED FIGS, AND SO, WHAT I DID WAS PUT SOME RUM IN HERE, ABOUT A CUP OF CAPTAIN MORGAN'S SPICED RUM, AND ACTUALLY, I THINK I DID A DOUBLE RECIPE IN HERE BECAUSE WE'RE USING SOME FOR THIS, AND THEN I TOOK ABOUT 1/2 A CUP OR MORE, ACTUALLY, I THINK I ENDED UP PUTTING MORE HONEY IN THERE. I PUT 20 DROPS OF LEMON ESSENTIAL OIL, 10 DROPS OF CARDAMOM ESSENTIAL OIL, AND 5 DROPS OF GINGER ESSENTIAL OIL, BUT I MIXED IT IN WITH A TOOTHPICK OR A LITTLE SPOON IN SOMETHING GLASS, OKAY, FIRST, BEFORE I PUT IT IN HERE, AND THAT IS ONE OF THE KEYS OF COOKING WITH ESSENTIAL OILS. SO, LET'S SAY, FOR EXAMPLE, I'M GOING TO ADD SOME OF THE LEMON INTO THIS MIX WHICH I ALREADY HAVE IN THERE. I'M GOING TO TAKE THE LEMON ESSENTIAL OIL. >> THIS, AND WHAT IS THIS? >> THAT'S OLIVE OIL. OKAY, SO, WHEN YOU'RE COOKING WITH ESSENTIAL OILS, ANY KIND OF FAT, OKAY, SO EVEN LIQUOR, YOU KNOW, SO THE RUM IN HERE, BUT YOU STILL NEED A LITTLE BIT MORE, SO, IN HERE I'VE GOT HONEY, AGAVE NECTAR, WHICH IS A NATURAL SWEETENER, OLIVE OIL, BUTTER, ANYTHING THAT'S A FAT, OKAY? SO, NOW YOU'RE GOING TO SEE THAT, YOU KNOW, IT'S PRETTY MUCH MIXED ALREADY. >> AT FIRST, IT SEPARATED. >> YEAH, IT SEPARATED A LITTLE BIT, BUT IT'S A FAT TO A FAT BECAUSE THE ESSENTIAL OIL IS A FATTY OR A LIPID SUBSTANCE. SO THAT'S BASICALLY HOW YOU MAKE THE--HOW YOU MAKE THE SPICED FIGS. AND THEN YOU SHAKE IT, YOU KNOW, EVERY, YOU KNOW, 3-4 TIMES A DAY, YOU LET IT SIT FOR, UH, PROBABLY 3 DAYS. THESE ARE MISSION FIGS, THEY'RE BLACK MISSION FIGS. AND SO, WHAT I DID THEN IS I CUT UP, AS YOU CAN SEE, I CUT UP SOME OF THE FIGS, I PUT A QUARTER CUP OF PECANS, I PUT ABOUT 8 OF THE FIGS SLICED UP, I PUT A COUPLE OF SPRIGS OF ROSEMARY IN THERE. AND THEN A TABLESPOON OF OLIVE OIL AND THEN I PUT 10 DROPS OF THE LEMON ESSENTIAL OIL. AND THEN YOU JUST KIND OF LET IT SIMMER, UM, OVER LOW HEAT FOR ABOUT, YOU KNOW, ABOUT 10 MINUTES, AND THEN YOU-- >> IT JUST SORT OF MARINATES THE FLAVORS, DOESN'T IT? >> AND THEN YOU TAKE SOME OF THAT RUM JUICE IN THERE, MM-MM-MM.
[GIGGLES] SO...
IT SMELLS DELICIOUS AND WHAT IT DOES TO FOOD IS IT JUST ADDS THIS AMAZING FLAVOR TO IT. >> NOW, THIS IS JUST A SIMPLE SALAD WITH SOME GOAT CHEESE AND THAT'S ALL. >> VERY SIMPLE, IT'S JUST GOAT CHEESE AND A LITTLE SALAD, SO YOU ADD THAT ON THERE. AND ANOTHER THING YOU CAN DO WITH THIS IS YOU CAN PUT IT ON-- THE SPICED FIGS, YOU CAN PUT IT ON POUND CAKE. IT TASTES DELICIOUS OVER SQUASH, ANY KIND OF SQUASH. >> I BET IT WOULD BE GOOD OVER CHICKEN, TOO, WOULDN'T IT? >> YOU KNOW WHAT, ACTUALLY, THAT WOULD GIVE IT, LIKE, A MOROCCAN SORT OF FLAIR. UM, YES, THAT'S A GREAT IDEA, THANK YOU. >> SOUNDS GOOD TO ME. >> AND THEN YOU CAN, YEAH, POUND CAKE, FROZEN YOGURT, YOU CAN PUT IT IN FRUIT CAKES, THE UBIQUITOUS HOLIDAY FRUIT CAKE, BUT YOU DON'T, YOU KNOW-- BUT THIS WOULD MAKE IT KIND OF LIKE A-- >> YOU'D LIKE IT. >> YEAH--YEAH, YOU'D LIKE IT, YOU'D LIKE IT. >> AND THEN HOW LONG WOULD THIS, SAY--SO IF WE MADE THIS ENTIRE, OR DOUBLE RECIPE, WOULD WE JUST KEEP IT IN THE REFRIGERATOR, OUT ON THE COUNTER? HOW DO YOU STORE IT? >> BECAUSE OF THE RUM, YOU REALLY DON'T NEED TO. I MEAN, YOU KNOW, IF YOU'RE GOING TO KEEP IT FOR A LONG TIME YOU COULD DEFINITELY KEEP IT IN THE FRIDGE, BUT YEAH, IT'LL LAST, YOU KNOW, IT'LL LAST FOR A LONG TIME, IT'S PRESERVED, IT'S LIKE PRESERVES, BUT YEAH, TO BE SAFE I SUPPOSE I WOULD KEEP IT IN THE FRIDGE, SO. I GO THROUGH IT SO FAST WHEN I MAKE IT THAT I NEVER HAVE TO WORRY ABOUT THAT. >> YOU NEVER HAVE TO SAVE ANY. >> EXACTLY, EXACTLY, SO... >> WELL, THANK YOU SO MUCH. I JUST REALLY DIDN'T REALIZE HOW YOU COULD--HOW EASILY IT WOULD BE TO COOK WITH ESSENTIAL OILS, TOO. THANK YOU. >> YOU'RE WELCOME. >> GARY, THANK YOU SO MUCH FOR BEING WITH US TODAY. I'VE ENJOYED READING YOUR BOOKS AND IT'S SO NICE TO HAVE SOMEONE HERE WHERE I CAN PICK YOUR BRAIN AND ASK ALL THE QUESTIONS THAT I PERSONALLY WANT TO KNOW, AND HOPEFULLY SOMEBODY LISTENING WILL FEEL THE SAME WAY. BUT WE'RE GOING TO TALK ABOUT SMALL BUSINESSES. I READ IN THE SMALL BUSINESS ADMINISTRATION THERE'S ABOUT 27 MILLION SMALL BUSINESSES IN THE UNITED STATES, SO WE'RE NOT TALKING ABOUT THE BIG CORPORATIONS AND THINGS. >> AND IT'S GROWING. >> AND IT'S GROWING? >> YES. >> OKAY. SO, LET'S TALK ABOUT SOME THINGS THAT WOULD HELP, YOU KNOW, THE MOM AND POPS AND THE SLIGHTLY SMALLER BUSINESSES IN THAT, AND ONE THING YOU MENTIONED IN YOUR BOOK IS TO CREATE A ROAD MAP. >> OH, AND IT'S SO CRITICAL BECAUSE A LOT OF PEOPLE THAT ARE GETTING INTO BUSINESS TODAY HAVE NO BUSINESS BACKGROUND. THEY'VE BEEN W-2 EMPLOYEES, THEY'VE COME OUT OF A SITUATION WHERE THEY PRETTY MUCH HAD BEEN TOLD WHAT TO DO, WHEN TO DO IT, AND THEY GO INTO IT WITHOUT A ROAD MAP, THEY DON'T HAVE A PLAN OF ACTION, AND SO BECAUSE OF THAT, THAT'S WHERE THE STATISTIC THAT A LOT OF BUSINESSES, ENTREPRENEURS, GO OUT OF BUSINESS WITHIN 3 TO 5 YEARS. BECAUSE THEY JUST DON'T KNOW WHERE THEY'RE GOING OR WHY THEY'RE GOING THERE AND THAT'S EVEN A BIGGER QUESTION. >> AND THEY CAN'T AFFORD TO HIRE THE PROFESSIONALS AT THAT POINT, THEY FEEL. >> RIGHT. RIGHT, THEY GO IN AND THE BIGGEST REASON THAT BUSINESSES GO UNDER TODAY IS CALLED UNDERCAPITALIZATION. THEY DON'T HAVE THE RESOURCES TO SUSTAIN THE BUSINESS FOR THEM TO RECEIVE THE RESULTS. >> THAT BUSINESS PLAN OR ROAD MAP THAT YOU CALL IT. >> AND SO THEY--THEY WILL LOOK AT WAYS TO CREATE A RESULT, BUT THEY DON'T KNOW WHY SO THEY'RE KIND OF FLAILING OUT THERE AND THEY GET HAPHAZARD RESULTS, AND SOMETIMES IT JUST DOESN'T SUSTAIN IT. >> WELL, AND I THINK THE SENSE OF FEAR, THEY KNOW DEEP DOWN THAT THEY DON'T REALLY KNOW WHAT THEY'RE DOING, BUT THEY'VE ALREADY COMMITTED, SO THEY'RE DOING THE BEST THEY CAN, BUT FEAR HAS TO BE FOREMOST IN THEIR MIND. >> IT IS, YOU KNOW, AND PEOPLE THINK THAT FEAR IS BAD, AND I DON'T, I THINK FEAR IS ACTUALLY GOOD BECAUSE IT MAKES US MORE ACUTELY AWARE OF OUR SURROUNDINGS, THE OPPORTUNITIES, AND IT'S WHEN THE FEAR IS IM--IMM, UH... >> MAKES YOU IMMOBILE. >> YEAH, WHEN FEAR IS IMMOBILIZING, IT IS A DEER IN THE HEADLIGHTS SITUATION OR WE START FLAILING, WE--WE JUST WILL GRAB AT ANYTHING THAT WE THINK IS SUBSTANCE, THAT'S GOING TO GIVE IT A RESULT THAT WE NEED OR WANT IN OUR BUSINESS. AND SO, BUT IF WE LOOK AT FEAR AS NORMAL, THEN WE CAN... >> MAKE IT A POSITIVE. >> MAKE IT A POSITIVE. AND THEN WE CAN ASK THE QUESTION, "WHAT AM I AFRAID OF?" ONCE WE IDENTIFY THAT, WE'LL KNOW WHAT TO DEAL WITH AND HOW TO DEAL WITH IT. >> WELL, AND AGAIN, TO GET RID OF THE ANXIETY, YOU CAN'T RUN A BUSINESS IF YOU'RE ANXIOUS OR AFRAID ALL THE TIME, TOO. WHAT ABOUT--I'M A REAL BELIEVER IN TIME MANAGEMENT, I THINK I WAS IN TIME MANAGEMENT MODE BEFORE IT WAS EVER POPULAR, BUT YOU TALK A LITTLE BIT ABOUT TIME CONTROL. I ASSUME THAT'S THE SAME THING AS TIME MANAGEMENT. >> IT IS, BUT IT'S A LITTLE BIT DIFFERENT, IT'S A LITTLE BIT OF A MINDSHARE, BECAUSE I DON'T BELIEVE THAT WE CAN MANAGE TIME. TIME IS GOING TO HAPPEN NO MATTER WHAT. >> SAME 24 HOURS IN A DAY. >> YOU GOING TO STOP A CLOCK? YOU KNOW, WE CAN'T DO IT. AND SO, WHAT I DID WAS I STARTED LOOKING AT WHAT IS THE RESULT ON THE INVESTMENT THAT I'M DOING WITH TIME. NOT SPENDING TIME, BUT WHEN I INVEST MY TIME, WHAT IS THE RETURN ON THAT INVESTMENT. AND I THINK IT'S A DIFFERENT WAY OF LOOKING AT IT. AND I ACTUALLY CREATED A DIFFERENT TIME MODEL THAT WAS BASED NOT IN ACTIVITY, BUT IN VALUE, SO THERE'S A HIGH AND LOW VALUE, BUT IS A PRODUCTIVE TIME, SOMETHING THAT'S GOING TO GIVE US A DIRECT RESULT IN OUR BUSINESS, OR IS IT GOING TO BE SOMETHING THAT'S INDIRECTLY, SOMETHING THAT LEADS TO THAT, OR, IN MOST CASES, A LOT OF THE THINGS WE DO IN LIFE ARE NON-PRODUCTIVE. I DON'T KNOW ABOUT YOU-- >> I CAN THINK OF A LOT OF THINGS I DO THAT'S VERY NON-PRODUCTIVE. >> OH, BUT, HAVE YOU EVER BEEN ON VACATION, THINK ABOUT WORK AND YOU'RE AT WORK AND THINKING ABOUT VACATION, OR YOU'RE AT ONE OF YOUR CHILDREN'S PROGRAMS--WE'RE NEVER PRESENT. BUT IT COULD BE NON-PRODUCTIVE, BUT HIGH VALUE, AND SO, IT'S ABOUT REALLY MAKING A CONSCIOUS CHOICE OF WHERE WE'RE GOING TO INVEST THAT TIME FOR WHAT SPECIFIC RESULT THAT WE WOULD LIKE. >> IT KIND OF SOUNDS LIKE IT'S WHAT WE DO, IN THE WORK THAT I'M IN, WE'RE ASKED TO--TO IDENTIFY OUR STRENGTHS, OUR WEAKNESSES, OPPORTUNITIES AND THREATS, AND THAT'S REALLY, I GUESS, A LITTLE BIT OF THAT, IF THAT'S--IF NOT ENOUGH TIME TO DO IT, THAT COULD BE ONE OF YOUR OPPORTUNITIES. >> ABSOLUTELY. AND, YOU KNOW, THE STRENGTHS AND WEAKNESSES IS REALLY A KEY POINT BECAUSE, AGAIN, WHEN WE LOOK AT, YOU KNOW, "WHERE DO WE EXCEL?" IF I'M NOT HIRING A BILL KEEPER AND I REALLY SHOULD, BUT I'M GOING TO DO IT TO SAVE MONEY, IT MAY TAKE ME 3-4 TIMES AS LONG AND I'M NOT DOING THE THINGS THAT ARE GOING TO GENERATE REVENUE FOR THE BUSINESS. >> AND IT MAY ALSO COST MORE IN THE END BECAUSE YOU DIDN'T HOLD OUT THE RIGHT TAXES, OR TAKE CARE OF THINGS. RIGHT, YOU'LL BE IN TROUBLE. MANAGE YOUR CASH FLOW. THIS ALL GOES BACK TO WHAT WE WOULD THINK THAT PEOPLE-- IF THEY'VE HAD A CHANCE TO GO TO BUSINESS SCHOOL, BUT THEY DON'T TEACH US EVERYTHING WE NEED TO KNOW. >> WELL, ONE OF THE THINGS THAT I DO WHEN I WORK WITH CLIENTS AS A BUSINESS COACH IS I ASK THEM WHAT THE END RESULT AT THE END OF A PERIOD OF TIME DO THEY WANT IN THEIR BUSINESS. AND THEY USUALLY WOULD GIVE ME ONE NUMBER, AND THAT NUMBER IS ALWAYS THE GROSS NUMBER, AND I GO, "WELL, HOW MUCH DO YOU WANT TO SPEND?" IF YOU HAVE THIS ONE NUMBER, BUT THERE'S ANOTHER NUMBER CALLED THE NET, SO, AFTER THE COST OF CREATING THAT, PLUS, ALSO YOUR TAXES AND ALL THE THINGS THAT GO ALONG WITH, YOU KNOW, ACHIEVING THAT NUMBER. AND THAT'S WHY SO MANY PEOPLE, THEY'LL SAY THAT THEY NEED "X" NUMBER OF DOLLARS AND THEY ACHIEVE IT. BUT IT'S NOT ENOUGH BECAUSE THEY DIDN'T FIGURE IN THESE OTHER VARIABLES. >> THE RENT AND THE LABOR AND THE CLEANING SERVICE, OR ALL OF THOSE THINGS. >> AND SO THE CASH FLOW REALLY COMES DOWN TO--YOU MIGHT GET A VERY BIG CONTRACT OR SOMETHING THAT HAPPENS WHERE YOU HAVE A LOT OF CASH FLOW, AND YOU THINK IT'S GOING TO CONTINUE FOREVER, JUST LIKE THAT. YOU SPEND THE MONEY AND THEN THERE COMES A POINT WHERE THERE MIGHT BE A LULL, AND IT POSES A PROBLEM BECAUSE WITHOUT CASH IT'S LIKE RUNNING AN ENGINE WITHOUT OIL. IT WILL SEIZE UP AND STOP WORKING. >> AND STOP WORKING. WHEN YOU'RE DOING YOUR SPEECHES ALL OVER THE WORLD AND TALKING TO PEOPLE ABOUT STARTING BUSINESSES, WHAT'S THE QUESTION THAT WHEN, EITHER AFTER THE PRESENTATION OR IF THEY RAISE THEIR HAND, WHAT DO YOU GET ASKED THE MOST? >> YOU KNOW, IT'S ABOUT PERMISSION OF ACTUALLY BEING ABLE TO DO IT. IT'S REALLY A-- THERE'S A CONCEPT OF NOT DESERVING, PARTICULARLY IN NORTH AMERICA, AND WHERE THEY HAVE A DESIRE, BUT THEY ARE ASKING REALLY FOR PERMISSION TO GO OUT AND BECOME AND DO THE THINGS THAT THEY ARE REALLY STIMULATED TO DO, WHICH SEEMS, YOU KNOW, NOT AS--IT'S NOT A LOGICAL QUESTION, IT'S MORE OF AN EMOTIONAL QUESTION. AND THEY ALSO ASK, "HOW LONG WILL IT TAKE FOR ME TO SUCCEED?" >> YES, THAT'S WHAT I WOULD ASK. >> THEY ALWAYS WANT IT REALLY QUICK, BECAUSE THEY HAVE THESE PLANS OF, YOU KNOW, GOING TO THE VERY TOP, OR, YOU KNOW, TAKING A VACATION OR DOING SOMETHING, AND THEY JUST WANT TO KNOW WHEN THEY CAN GO TO THE BAY. >> THAT'S IMPORTANT, TOO, BUT... >> THOSE ARE THE TWO THAT I GET ASKED THE MOST. >> THIS MAY PUT YOU ON THE SPOT, AND YOU MAY NOT EVEN WANT TO ANSWER, WOMEN--BUSIN-- WOMEN STARTING BUSINESSES VERSUS MEN STARTING SMALL BUSINESSES, WHAT'S THE DIFFERENCE IN THE WAY THAT THEY APPROACH IT? >> YOU KNOW, THAT'S A GREAT QUESTION. I MEAN, I HAVE NOT BEEN ASKED THAT BEFORE, SO, THANK YOU SO MUCH. MEN HAVE A TENDENCY TO NOT WANT TO HAVE INSTRUCTION. THEY'RE GOING TO FIND OUT THE HARD WAY, THEY'RE GOING TO THE SCHOOL OF HARD KNOCKS. I REALLY--85% OF MY CLIENTS, AS A BUSINESS COACH, ARE WOMEN. >> IS THAT RIGHT? >> AND IT'S REALLY FUN BECAUSE WHAT I HAVE FOUND WITHIN WOMEN IS THAT THEY'RE MORE OPEN FOR SUGGESTION, THEY'RE MORE-- THEY LOOK FOR A DIFFERENT WAY, THEY COME TO A ROAD BLOCK, THEY LOOK FOR A WAY AROUND IT INSTEAD OF STOPPING. AND THEY'RE MORE INTUITIVE, NOT THAT MEN ARE NOT INTUITIVE, BUT I THINK WOMEN HAVE A CLOSER SENSE TO THAT INTUITION. NOW, THE CHALLENGE THERE IS SOMETIMES WOMEN DON'T LISTEN TO THAT INTUITION. >> [CHUCKLES] >> AND SO, THEY CAN GET IN TROUBLE THAT WAY, BUT IT'S-- I DON'T THINK THAT ONE IS BETTER THAN THE OTHER AND FRANKLY, THERE'S MORE WOMEN GOING INTO BUSINESS TODAY THAN EVER BEFORE. >> WELL, I'VE HEARD RESEARCH BASED ON THAT, SO I GUESS IT IS TRUE. WELL, GARY, YOUR BOOKS ARE GREAT, THEY'D BE GOOD FOR ANYONE THINKING ABOUT GOING INTO BUSINESS, AND IT CERTAINLY WOULD HELP A LOT OF THOSE PITFALLS AND AVOID THINGS LIKE THAT. BUT IT'S BEEN A REAL PLEASURE TO TALK TO YOU. THANK YOU. >> OH, THANK YOU FOR HAVING ME. IT'S BEEN A PLEASURE TO BE HERE. >> K.C., THANK YOU SO MUCH FOR BEING WITH US TODAY. I KNOW THAT YOU HAVE A GLUTEN-FREE WEBSITE, NOT THAT THE WEBSITE'S GLUTEN-FREE, BUT I MEAN IT DEALS WITH GLUTEN INTOLERANCE, CELIAC DISEASE. HOW DID YOU GET INVOLVED IN DOING THAT? >> YOU KNOW, I AM THE FIFTH GENERATION OF A CALIFORNIA FARMING FAMILY, AND SO, I HAVE SPENT MY ENTIRE LIFE IN FOOD AND WINE, AND MY CAREER IN FOOD AND WINE, AND I WAS TRAVELING ALL THE TIME AND I WAS CONSTANTLY ILL. >> OH. >> AND SO, I WAS TESTED FOR ALL KINDS OF THINGS, AND HAD ALL KINDS OF GI ISSUES, IBS, AND ALL KINDS OF STUFF WE DON'T WANT TO TALK ABOUT ON TV.
[LAUGHS] AND IT TURNED OUT
THAT I HAD CELIAC DISEASE. >> AND HOW WERE YOU TESTED? IS IT A BLOOD TEST? >> YOU KNOW, THERE IS A BLOOD TEST, BUT A LOT OF TIMES PEOPLE HAVE A FALSE NEGATIVE ON THE BLOOD TEST. SO, YOU CAN BE TESTED FOR THE GENE THAT SHOWS YOU HAVE CELIAC DISEASE, OR USUALLY, YOU NEED TO HAVE A SCOPE AND BIOPSIES. >> I SEE, AND THAT'S HOW IT'S DETERMINED? >> EXACTLY. >> WELL, I HAD ASKED YOU EARLIER IF YOU KNEW BETTE HAGMAN, WHO'S NOW DECEASED, AND EVERYONE I'VE EVER TALKED TO CONSIDERED HER SORT OF THE PIONEER OF GLUTEN COOKING BECAUSE SHE WENT THROUGH-- SHE TOLD ME ABOUT THE SAME THING AND SHE HAD SEEN PSYCHIATRISTS AND PSYCHOLOGISTS, AND THEY'D SAY, "NO, YOU'RE NOT REALLY SICK, IT'S ALL IN YOUR HEAD," AND DIFFERENT THINGS. SO, IT'S A TOUGH DISEASE TO DIAGNOSE, EVIDENTLY. >> IT IS, AND BECAUSE IT HAS SO MANY DIFFERENT SYMPTOMS, SO, THE GOOD ESTIMATES ARE THAT ONE IN EVERY 133, SO ONE IN EVERY ROUGHLY 7 PEOPLE IN AMERICA-- OH, NO, ONE IN EVERY 7 PEOPLE HAS GLUTEN INTOLERANCE, AND ONE IN EVERY 133 PEOPLE IN AMERICA HAS CELIAC DISEASE. >> WHICH IS THE ULTIMATE-- >> WHICH IS AN AUTOIMMUNE DISEASE THAT--THAT CAUSES YOUR BODY TO REACT NEGATIVELY TO GLUTEN, BUT THE INTOLERANCE CAN HAPPEN BECAUSE YOU HAVE OTHER AUTOIMMUNE ISSUES, OR BECAUSE YOU'RE HAVING ANY KIND OF PHYSICAL CHALLENGE, BUT THERE ARE CERTAINLY GI ISSUES THAT PEOPLE COMPLAIN OF, NAUSEA, OR, YOU KNOW, OTHER ISSUES. BUT FATIGUE, THERE CAN BE SKIN DISORDERS, THERE ARE SO MANY DIFFERENT KIND OF BRAIN FOG THAT THIS DISEASE CAUSES THAT IT'S HARD TO DIAGNOSE BECAUSE THE ISSUES ARE ALL OVER THE SPECTRUM. >> WELL, I THINK WHAT I REALLY LIKED ABOUT YOUR WEBSITE-- AND WHAT IS IT, BY THE WAY, WWW... >> GFREEFOODIE.COM. SO, G F-R-E-E F-O-O-D-I-E .COM. I WAS A FOODIE FIRST, AND NOW I'M G-FREE. >> OKAY, THAT'S EASY ENOUGH TO REMEMBER. BUT THE FIRST SENTENCE ON THERE IS WHAT REALLY IMPRESSED ME. WHERE IT SAID, YOU KNOW, IF YOU FIND OUT THAT YOU'RE GLUTEN INTOLERANT OR YOU WANT TO EAT GLUTEN-FREE, WHERE DO YOU GO? IT IS OVERWHELMING, AND SO MANY PEOPLE ARE DEALING WITH THAT NOW. AND I'M GLAD TO KNOW THAT THERE'S A RESOURCE LIKE YOUR WEBSITE WITH WONDERFUL RECIPES THAT PEOPLE CAN START WITH, ANYWAY. >> RECIPES, LISTS FOR THE NAMES FOR GLUTEN BECAUSE IT WON'T JUST SAY GLUTEN ON THE PACKAGE, HOW TO TAKE A TAX DEDUCTION FOR THE GLUTEN-FREE DIET, ALL THAT KIND OF INFORMATION. SO, YOU'RE RIGHT, WE HAVE A GET-STARTED KIT, WE HAVE 25 CONTRIBUTORS THAT WRITE TO OUR SITES, SO, FOOD BLOGGERS, DOCTORS, NURSES, AND THE BIG CELIAC FOUNDATIONS ALL CONTRIBUTE TO OUR WEBSITE, SO WE REALLY ARE A SOURCE FOR-- >> IT'S UP-TO-DATE. >> EXACTLY, LIVING DELICIOUSLY GLUTEN-FREE. AND HELPING YOU GET STARTED, HELPING YOU TO FIGURE OUT HOW TO ENJOY YOUR LIFE AND NAVIGATE IT. >> WELL, YOU BROUGHT SOME DELICIOUS THINGS HERE TO LOOK AT AND I THINK THE POINT IS, IS THAT A GLUTEN-FREE DIET IS GOOD FOR EVERYBODY. WHETHER THERE'S ONLY ONE PERSON IN THE FAMILY WHO NEEDS TO REALLY BE CAREFUL ABOUT WHAT THEY EAT, IT'S GOOD. >> THAT'S RIGHT. THE FOOD CAN BE DELICIOUS, AND I THINK THAT'S THE BIGGEST CHALLENGE, AS PEOPLE SAY, "OH, MY GOSH," YOU KNOW... >> "WHAT CAN I EAT?" >> "WHAT CAN I EAT?" OR, "HOW AM I GOING TO DO THIS?" OR, "I'LL NEVER HAVE BIRTHDAY CAKE AGAIN," AND THAT'S JUST NOT THE CASE, SO. THERE ARE AMAZING RECIPES ON MY SITE LIKE THESE. THIS IS A FIG LAYER BAR THAT I MADE WITH GLUTEN-FREE OATS AND A GLUTEN-FREE FLOUR BLEND. WE HAVE 3 OR 4 BROWNIE RECIPES. THIS IS MY FAVORITE FUDGY BROWNIES, AND IF YOU'RE NOT A BAKER, IF YOU'RE NOT SOMEONE THAT WANTS TO MAKE ALL THOSE THINGS, YOU JUST WANT TO BUY IT, LIKE YOU USED TO, OR JUST WHEN YOU'RE GETTING STARTED, THIS IS A GLUTEN-FREE CINNAMON ROLL FROM THE FREEZER SECTION OF YOUR LOCAL GROCERY STORE, AND THEY'RE DELICIOUS. AND THIS IS A GLUTEN-FREE PIZZA SKIN, SO, YOU WANT TO DO QUICK DINNERS AND YOU'RE STILL TRYING TO FIGURE OUT WHAT YOU CAN DO. I BUY PIZZA SKINS ALL THE TIME. SOMETIMES I'LL MAKE DOUGH FROM THE RECIPE ON G-FREE FOODIE, BUT IT'S SO EASY AND THESE SKINS ARE SO GOOD YOU CAN'T EVEN TELL THE DIFFERENCE. >> OKAY. AND DO THEY COME IN VARIOUS SIZES OR IS THIS THE PROMINENT SIZE THAT THEY COME IN? >> ACTUALLY, THEY COME IN DIFFERENT SIZES, AND WE CAN BUILD A PIZZA IF YOU'D LIKE. AND SO THIS IS A PIZZA SAUCE. I ACTUALLY MAKE MY OWN BECAUSE I'M ITALIAN AND, YOU KNOW, IT'S THE WAY--IT'S THE WAY WE ROLL WITH SAUCES. BUT YOU CAN BUY COMMERCIALLY-MADE SAUCE, BUT YOU WANT TO CHECK AND MAKE SURE THE SPICES ARE GLUTEN-FREE. >> SO, I WAS GOING TO ASK YOU, ARE THERE--REALLY WITH EVERYTHING A PERSON PURCHASES YOU NEED TO START READING THE LABEL VERY CAREFULLY. >> YOU DO. EVERYTHING FROM--IT SEEMS JUST LIKE--SINCE GLUTEN IS A PROTEIN THAT'S FOUND IN WHEAT, BARLEY, AND RYE, IT SEEMS LIKE IT WOULD JUST BE IN BREAD, PASTA, AND BEER, RIGHT? BUT IT'S IN SOY SAUCE, IT'S IN COMMERCIALLY-MADE DRESSINGS, IT CAN BE IN LUNCH MEAT, IT CAN HIDE IN LOTS OF DIFFERENT PLACES, SO YOU NEED TO READ THE INGREDIENTS, BUT ON SOMETHING LIKE A PIZZA SAUCE OR A PASTA SAUCE. REGULAR CHEESE, GLUTEN-FREE. >> GLUTEN-FREE, WOW. >> AND THEN, SPICE BLENDS SOMETIMES HAVE GLUTEN, BUT INDIVIDUAL SPICES ARE GLUTEN-FREE, SO-- >> SO, IT MAY BE BETTER TO BUY THE INDIVIDUAL, IF YOU'RE REALLY WANTING TO WATCH. >> RIGHT, RATHER THAN BUYING BLENDS OR MARINADES. AND THEN I--SO, WE HAVE SOME FRESH BASIL HERE, WHICH I THINK IS PERFECT. >> I KNEW I SMELLED BASIL. >> RIGHT? >> I LOVE IT. >> I THINK THAT--MY DAUGHTER THINKS THAT I ALWAYS PROBABLY SMELL LIKE BASIL OR GARLIC, AND THAT'S PROBABLY TRUE. AND THEN THIS IS SOME FRESH MOZZARELLA. >> AND THAT'S--WE DON'T-- ALL CHEESES ARE GLUTEN-FREE? >> ALL CHEESES, UNLESS THEY'RE FLAVORED. >> OH, OKAY. >> AND, THE OTHER THING IS, BLEU CHEESE. THERE ARE A FEW BRANDS, AND YOU CAN CHECK OUT G-FREE FOODIE BECAUSE THE MOLD ON BLEU CHEESE IS INTRODUCED ON BREAD CRUMBS. ON WHEAT BASE THEY MAKE THE MOLD AND THEN THEY INJECT THE CHEESE. SO, BLEU CHEESE IS ONE OF THE TRICKY ONES, AND THIS IS PROSCIUTTO. THE LESS PROCESSED A LUNCH MEAT IS, THE BETTER THE CHANCE THAT IT'S GLUTEN-FREE, SO, PROSCIUTTO IS JUST ITALIAN CURED HAM. >> MM-HMM. >> BUT IF YOUR--THERE ARE LOTS OF BRANDS THAT ARE LABELED GLUTEN-FREE NOW. >> THANK GOODNESS. >> EXACTLY. IT'S THE LOWER-END BRANDS THAT USUALLY CONTAIN GLUTEN BECAUSE THEY CONTAIN FILLERS. >> OH. >> SO, WHEAT GLUTEN IS STICKY, RIGHT, SO, PEOPLE USE IT TO HOLD THINGS TOGETHER. SO, THE GOOD NEWS IS, YOU GET TO EAT THE GOOD HOT DOGS NOW.
[LAUGHS] >> AND NOT FEEL GUILTY.
>> EXACTLY. AND THEN OLIVES ARE GLUTEN-FREE, BUT YOU'LL WANT TO CHECK-- SOME PIZZA CHAINS EVEN HAVE GLUTEN-FREE PIZZA NOW, BUT YOU WANT TO MAKE SURE THAT ALL THE TOPPINGS ARE, BECAUSE SOMETIMES THE SAUSAGE OR THE MEATBALLS OR SOMETHING LIKE THAT AREN'T GLUTEN-FREE, SO. EVEN WHEN I'M DEALING WITH A CHAIN WHEN I'M DINING OUT, I ALWAYS TRIPLE CHECK. AND THE RULE AT G-FREE FOODIE IS, IF YOU DON'T KNOW THAT IT'S GLUTEN-FREE, THEN NO, DON'T EAT IT BECAUSE IT'S NOT WORTH GETTING SICK. >> AND LIKE YOU SAID, YOU USED TO TRAVEL, WELL, YOU STILL TRAVEL A LOT, BUT THAT WAS WHEN YOU WOULD GET SICK. >> EXACTLY. >> BECAUSE EATING OUT YOU DIDN'T REALLY KNOW WHAT THE FOOD CONTAINED. >> I DIDN'T REALLY KNOW, AND SO, THAT'S WHY WE STARTED G-FREE FOODIE. IT WAS TO HELP ME AND OTHER PEOPLE NAVIGATE THE WORLD. >> IT'S A GREAT WEBSITE. I KNOW A LOT OF PEOPLE ARE GOING TO WANT TO GO TO IT. SO, THIS IS BAKED HOW LONG? >> THIS IS THIS, BAKED JUST LIKE THIS, 9 MINUTES. >> OH, OKAY-- >> SO, IF YOU WANT TO MAKE A QUICK DINNER, YOU CAN GRAB SOME PIZZA SKINS. THERE'S LOTS OF GREAT WAYS TO COPE GLUTEN-FREE. >> AND FRESH SALADS. IS EVERYTHING--TYPICALLY THAT GOES IN A SALAD-- NOT COUNTING THE DRESSING? >> NOT COUNTING THE DRESSING AND CERTAINLY NOT COUNTING CROUTONS AND STUFF LIKE THAT. >> NO, YOU WOULDN'T WANT THAT. >> RIGHT, AND BACON YOU NEED TO WATCH. YOU NEED THE SAME-- BACON IS THE SAME AS LUNCH MEAT. YOU NEED TO MAKE SURE THE SPICES--RIGHT, ARE-- DON'T CONTAIN GLUTEN, BUT OTHER THAN THAT, YEAH, SALAD IT UP. >> I THINK THE HELP ON YOUR WEBSITE IS JUST PHENOMENAL. I REALLY APPRECIATE YOU BEING HERE AND TELLING US ABOUT THAT BECAUSE THIS WILL HELP SO MANY PEOPLE. >> THANK YOU SO MUCH FOR HAVING ME. I'M THRILLED TO BE HERE. >> THANK YOU. I HOPE YOU ENJOYED THE SHOW TODAY. NEXT TIME ON "CREATIVE LIVING," WE'LL LEARN HOW TO MAKE KID-FRIENDLY FREEKEH MEALS, WE'LL DISCUSS THE FACTS ABOUT RAYON FROM BAMBOO, AND WE'LL DEMONSTRATE FRESH AND DRIED FIGS. ONE OF MY GUESTS IS THE CO-FOUNDER OF FREEKEH FOODS AND SHE SAYS PARENTS LOVE FREEKEH BECAUSE IT PROVIDES CHILDREN WITH ESSENTIAL NUTRIENTS AND KIDS LOVE THE FUNNY NAME AND THE FLAVOR. SHE'LL DEMONSTRATE SEVERAL WAYS TO INCORPORATE FREEKEH GRAINS INTO OTHER RECIPES. ANOTHER GUEST WILL TALK ABOUT THE STRICT REQUIREMENTS REGARDING RAYON MADE FROM BAMBOO. IN FACT, SHE SAYS THAT ALL PRODUCTS MADE FROM BAMBOO ARE UNDER CLOSE SCRUTINY BY THE FTC DUE TO DECEPTIVE CLAIMS ABOUT THE PRODUCT. AND FINALLY, WE'LL LEARN ABOUT THE MANY NUTRITIONAL BENEFITS OF CONSUMING FRESH AND DRIED FIGS. OUNCE FOR OUNCE, FIGS PROVIDE A NUTRITIONAL PUNCH THAT'S HARD TO MATCH BY ANY OTHER FRUIT. ALL OF THESE TOPICS WILL BE FEATURED ON THE NEXT "CREATIVE LIVING" SHOW. IF YOU EVER HAVE COMMENTS, OR SUGGESTIONS, OR IDEAS FOR SHOWS, YOU CAN E-MAIL ME AT SHERYL.BORDEN@ENMU.EDU. I HOPE YOU'LL PLAN TO JOIN ME NEXT TIME FOR "CREATIVE LIVING." >> WE ARE VERY PLEASED TO OFFER A NEW BOOKLET THAT ACCOMPANIES THIS SERIES OF "CREATIVE LIVING." THIS BOOKLET IS TITLED, "THE 6700 SERIES" AND IT FEATURES A WONDERFUL COLLECTION OF IDEAS AND INFORMATION, AND IT'S AVAILABLE FREE OF CHARGE ON OUR WEBSITE. POSTED AS A PDF FILE, YOU CAN SIMPLY DOWNLOAD THE ENTIRE BOOKLET OR JUST THE SEGMENTS YOU'RE MOST INTERESTED IN. YOU'LL FIND INFORMATION ON FOODS, NUTRITION, CLOTHING, FASHION, HEALTH AND BEAUTY, HOME DECORATING, AND MUCH MORE. FOR YOUR COPY OF THIS NEW BOOKLET, GO TO OUR WEBSITE AT KENW.ORG, AND THEN CLICK ON "CREATIVE LIVING." SCROLL DOWN TO THE BOOKLET SECTION, AND YOU CAN CLICK ON THIS BOOKLET OR ON ANY OF THE OTHER BOOKLETS WE HAVE AVAILABLE ONLINE. JUST GO TO KENW.ORG, CLICK ON "CREATIVE LIVING" AND DOWNLOAD THE BOOKLET TITLED "THE 6700 SERIES." WE ALSO INVITE YOU TO SIGN UP FOR OUR FREE E-NEWSLETTER. JUST GO TO KENW.ORG AND CLICK ON THE "SIGN UP NOW" BUTTON AND INPUT YOUR E-MAIL ADDRESS. THAT'S ALL THERE IS TO IT. YOU'LL ENJOY READING AN UP-TO-DATE NEWSLETTER FILLED WITH INTERESTING TOPICS AND INFORMATION. THANK YOU.
Now Playing As: Captioned (English) (change)
A representative from G-Free Foodie discusses way to live gluten free, and Gary Barnes provides tools to help shape successful businesses. And Kris Wrede uses essential oils and food to create natural perfumes.
Media Details
Runtime: 27 minutes