Creative Living With Sheryl Borden #6721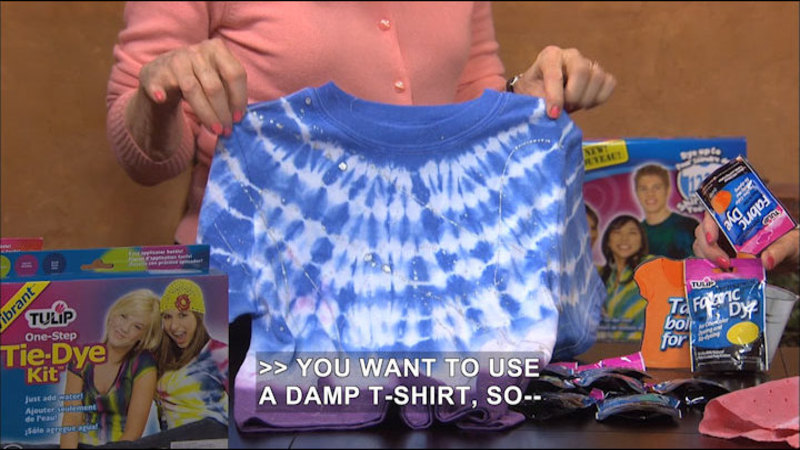 >> "CREATIVE LIVING," UTILIZING TODAY'S TECHNOLOGY WITH THE BEST OF THE PAST TO BRING YOU INNOVATIVE IDEAS AND UP-TO-DATE INFORMATION FOR CREATIVE LIFESTYLES IN TODAY'S ACTIVE WORLD, WITH YOUR HOST SHERYL BORDEN. >> I'M SO GLAD YOU JOINED ME TODAY FOR "CREATIVE LIVING." WE'RE GOING TO LEARN ABOUT SOME LOW-COST WAYS TO PERK UP OUR HOMES, WE'LL SHOW YOU HOW YOU CAN HAVE INSTANT HEIRLOOM FURNITURE, AND WE'LL DEMONSTRATE 3 DIFFERENT WAYS TO DYE FABRIC. ONE OF MY GUESTS TODAY IS INTERIOR DESIGNER BETH SECOSKY, AND SHE'S GOING TO SHOW SOME LOW-COST WAYS TO PERK UP YOUR HOME. HER DISCUSSION WILL FOCUS ON BOOKCASES, COFFEE TABLES, PILLOWS, AND FRAMES AS WELL AS UPCYCLING OLD FURNITURE. HER BUSINESS IS "EASYDESIGNS," AND SHE LIVES IN CHERRY HILL, NEW JERSEY. ANOTHER GUEST IS BRUCE JOHNSON, AND HE'S A SPOKESPERSON FOR MINWAX IN UPPER SADDLE RIVER, NEW JERSEY. BRUCE IS GOING TO SHOW HOW TO CREATE YOUR OWN INSTANT HEIRLOOMS USING UNFINISHED FURNITURE. HE'LL SHOW HOW TO DISTRESS WOOD, STAIN IT, AND ADD WAX TO PROVIDE PROTECTION AND A TIMELESS FINISH. AND WE'LL BEGIN THE SHOW TODAY WITH JANN JOHNSON, WHO IS A DESIGNER AND CRAFTER. JANN WILL SHOW HOW TO USE LIQUID DYE FOR 3 DIFFERENT DYEING TECHNIQUES. SHE REPRESENTS ILOVETOCREATE.COM, AND SHE LIVES IN NEW YORK CITY. JANN, THANK YOU SO MUCH FOR COMING. IT'S ALWAYS NICE TO HAVE YOU HERE. AND WHEN I SAW YOUR PROPS AND THINGS, I THOUGHT, "OH, TIE-DYE, JUST LIKE BACK IN THE SIXTIES AND SEVENTIES." BUT IT'S A LITTLE EASIER TODAY, ISN'T IT? >> IT'S A LOT EASIER. NOW THERE'S A COLD-WATER METHOD, AND YOU CAN USE A TABLETOP INDOORS OR OUTDOORS, AND IT'S LOTS OF FUN. AND A 6-YEAR-OLD CAN DO IT. >> NOT NEARLY AS MESSY AS IT USED TO BE, HUH? >> RIGHT. TOTALLY DIFFERENT. AND THERE'S A COUPLE OF OTHER PRODUCTS TOO. >> AND THIS ONE--WE'LL START WITH THIS BECAUSE THIS IS A GREAT PRODUCT TO USE IF YOU WANT TO DYE CURTAINS OR SHEETS, BEDSPREADS-- BIG PIECES OF FABRIC. >> THAT'S RIGHT--ABOUT TWO POUNDS OF FABRIC. IT NEEDS A TOP-LOADING WASHING MACHINE, AND YOU NEED TO USE WATER THAT'S THE HOTTEST THE FABRIC CAN TAKE. >> AND WHAT ABOUT DIFFERENT TYPES OF FABRICS? >> THEY RECOMMEND NATURAL FIBERS--COTTON, WOOL, SILK. RAYON IS CONSIDERED A NATURAL FIBER IN THIS GROUP. AND SEE? WE HAVE A DRESS HERE, AND THIS WAS DONE BY THE STUDIO-- THE [INDISTINCT] STUDIO. >> UH-HUH. >> AND EVEN THOUGH IT'S ONE COLOR, THEY DID PUT A DESIGN ELEMENT IN HERE BY PULLING UP ONE CORNER AND PUTTING A RUBBER BAND, SO IT IS A TIE-DYE TECHNIQUE... >> I REMEMBER DOING THAT. >> EVEN IF IT IS ONLY ONE COLOR. AND YOU CAN REVIVE COLORS, LIKE THINGS THAT HAVE FADED, OR OVERDYE SOMETHING--WHICH MEANS SOMETHING HAS ALREADY BEEN DYED AND YOU WANT TO CHANGE THE COLOR. >> OR IF IT JUST LOOKS KIND OF BLAH. >> EXACTLY. IT'S INEXPENSIVE, AND IT'S JUST A GREAT WAY TO MAKE A MAJOR CHANGE. >> SO WE GO FROM THE WASHING MACHINE AND THE HOTTEST WATER POSSIBLE TO... >> TO ABOUT 150 DEGREES FAHRENHEIT. THIS IS TABLETOP, MEANING YOU CAN... >> OH, LIKE IN A BIG PAN OR A BUCKET OR SOMETHING. >> RIGHT. ANY KIND OF BUCKET, LIKE AT LEAST ONE GALLON OF WATER; ANY KIND OF BUCKET THAT CAN HOLD THE HEAT. >> OK. >> SO WHATEVER THAT IS. YOU DON'T HAVE TO BE TOO-- TOO WORRIED ABOUT THAT. AND IT'S FOR DYEING--DIPPING. IT'S A DIP METHOD. >> UH-HUH. >> AND THIS THEY MADE-- THEY USED TWO COLORS. >> OOH, THAT'S PRETTY. >> YOU WANT TO USE A DAMP T-SHIRT, SO-- >> SO THIS WAS A WHITE T-SHIRT TO START WITH. >> THAT'S RIGHT. AND WHEN YOU USE A DAMP T-SHIRT, IT KIND OF STRIATES OR FADES OUT THE EDGE, WHICH I THINK IS REALLY BEAUTIFUL. AND THE DYE, UM, REACTS MORE EVENLY TO FABRIC THAT'S ALREADY WET. >> NOW, HOW DID THEY GET THE GLITTERY? >> WHAT THEY--THE GLITTERY WAS PAINT THEY DID AFTER THEY DYED IT. >> OH, PAINTED IT AFTERWARDS. >> AND THIS IS USING--IT'S THE RUBBER BAND TECHNIQUE. >> UH-HUH. >> YOU CAN ALSO FOLD THE T-SHIRT OR WHATEVER YOU'D LIKE TO DO; CRUMPLE IT UP; YOU KNOW, DIFFERENT METHODS. >> THERE'S NEVER TWO ALIKE, EVER. >> NEVER TWO ALIKE. THAT'S PART OF THE FUN ABOUT DYEING, IS THAT IT'S A SURPRISE. >> NOW THIS SAYS ON HERE, UH, "ONE COLOR DYEING." BUT WE CAN-- LIKE THIS EXAMPLE SHOWS, WE CAN USE MULTIPLE COLORS ON THE SAME GARMENT. >> RIGHT. THAT'S CORRECT. AND YOU CAN ALSO MIX THE COLORS TO DO YOUR OWN CUSTOM DYEING. >> LIKE YELLOW AND RED WOULD MAKE IT A LITTLE ORANGEY. >> PERFECT. AND WHAT I WOULD USE THAT FOR IS OVERDYEING FABRIC-- LIKE IF YOU GET A YARD OF GINGHAM AND CUT IT INTO PIECES AND DO EACH ONE A DIFFERENT COLOR, THEN YOU MIGHT MAKE A PATCHWORK QUILT WITH IT OR A PROJECT OR, YOU KNOW, LOTS OF IDEAS. >> WELL, GREAT IDEA. SO WE GO TO THIS ONE, WHICH IS TABLETOP, AND THE FINAL ONE IS ALSO A TABLETOP TOO, ISN'T IT? >> ALSO TABLETOP. >> OOH, WHAT GORGEOUS COLORS. >> AND THE DYE COMES IN THE BOTTLE. IT'S ALREADY THE POWDER DYE. YOU JUST ADD TAP WATER. >> UH-HUH. >> AND YOU DECIDE WHAT METHOD YOU WOULD LIKE TO USE. THIS LOOKS LIKE TIE-DYE TO ME. AND IT'S BEEN CRUMPLED TOGETHER AND THEN A RUBBER BAND HERE AND A RUBBER BAND HERE. AND THEN TAKE THE DYE AND JUST PUT IT IN THE AREAS--SQUEEZE IT. >> AND IT'S JUST HOT WATER. >> IT'S JUST TAP WATER. >> OH, TAP WATER. >> YEAH, COLD WATER. YEAH. >> IS THAT RIGHT? >> RIGHT. IT JUST COULD NOT BE EASIER. >> UH-HUH. >> AND PUT IT ON A DAMP T-SHIRT ALSO. >> DO YOU RECOMMEND WASHING A T-SHIRT FIRST TO GET THE SIZING OUT, OR DOES THAT MATTER? >> I DO. ALWAYS A GOOD IDEA. AND NATURAL FIBERS, AGAIN, TAKE THE DYE THE BEST. AND WHAT'S SO GOOD ABOUT THIS IS THAT THE FIBERS ARE ACTUALLY DYED, SO IT'S NOT JUST A SURFACE TECHNIQUE. >> IT'S NOT GONNA WASH OFF. >> THE DYE ITSELF GOES ALL THE WAY THROUGH, SO IT'S A SUPER PERMANENT, BEAUTIFUL--AND THIS IS A MULTICOLOR EFFECT, SO... >> AND WHAT'S REALLY NICE IS NOW IT COMES IN KITS, SO EVERYTHING'S TOGETHER. YOU CAN BUY--WHAT ARE THOSE? 3 COLORS OR SOMETHING, AND THIS ONE HAS, UM... >> 12 COLORS. >> GOSH, YOU CAN DO 12 TO 24 T-SHIRTS, SO THAT MAKES IT REALLY NICE. AND WHAT GREAT GIFTS THESE WOULD BE, TOO. >> SUPER GIFTS. AND WHAT FUN FOR KIDS--LIKE ANY KIND OF GROUP. IMAGINE, 6 YEARS AND UP, YOU CAN HAVE--YOU KNOW, YOU CAN BE... >> A TIE-DYEING PARTY, JUST LIKE WE USED TO HAVE. >> THAT'S RIGHT. AND RUBBER GLOVES AND RUBBER BANDS COME IN THERE, SO YOU'RE JUST ALL GOOD TO GO. ALL YOU NEED IS SOMETHING TO--SOMETHING TO DYE. >> AND YOU COULD EVEN HAVE EVERYONE BRING A T-SHIRT, OR THAT COULD BE THE PARTY FAVOR THAT DAY AND GIVE EVERYONE A WHITE T-SHIRT TO START WITH. >> THAT'S RIGHT. AND WHAT I'M GONNA DO IS THERMAL UNDERWEAR FOR WHEN I SKI. >> OH, HOW CUTE! >> IT'LL BE FUN TO HAVE SOMETHING WILD AND CRAZY UNDERNEATH. >> AND THAT'S BRIGHT ENOUGH THAT IF YOU GET LOST, SOMEBODY CAN FIND YOU. >> I CAN JUST SHOW MY THERMAL UNDERWEAR. >> WELL, THANK YOU VERY MUCH. I DIDN'T REALIZE THIS WAS ALL AVAILABLE. THANK YOU. >> IT IS. IT'S CHEAP AND LOTS OF FUN. >> BRUCE, THANK YOU SO MUCH FOR BEING HERE. I NOTICED THAT WE'RE GOING TO TALK ABOUT ANTIQUES, AND I THINK WE ALL SORT OF LIVE AND DREAM THAT MAYBE SOMEDAY WE'LL HAVE SOME ACTUAL ANTIQUES IN OUR HOME, BUT MOST OF US PROBABLY WILL NEVER BE ABLE TO AFFORD IT. >> WELL, YOU KNOW, THERE ARE ALWAYS FAMILY HEIRLOOMS THAT YOU MIGHT INHERIT. AND, YOU KNOW, ANTIQUES AREN'T ALWAYS EXPENSIVE, BUT THEY ARE SOMETHING-- THEY'RE A RESPONSIBILITY. IF YOU HAVE ANTIQUES IN YOUR HOUSE, YOU ALSO HAVE TO KEEP IN MIND THAT YOU DON'T WANT THEM TO GET DAMAGED, YOU KNOW, AND YOU'VE GOT PETS AND KIDS. AND, YOU KNOW, MY THEORY IS AS LONG AS THERE HAVE BEEN ANTIQUES, THERE HAVE BEEN REPRODUCTIONS. >> OH. >> AND WHAT WE'RE GONNA DO TODAY IS HOW TO CREATE AN ANTIQUE REPRODUCTION... >> OH, OK. >> SO YOU CAN HAVE THE LOOK AND FEEL OF ANTIQUES WITHOUT THE RESPONSIBILITY. >> AND STILL KEEP YOUR KIDS AND PETS. >> YEAH. YEAH. AND WHAT YOU WANT TO DO IS, WHATEVER STYLE OF ANTIQUE YOU'RE WANTING TO IMITATE, DO A LITTLE BIT OF RESEARCH FIRST SO YOU CAN GET AN IDEA OF WHAT THEY'RE SUPPOSED TO LOOK LIKE. >> GOOD IDEA. >> YOU KNOW, ONE OF THEM IS SPONGE PAINTING. THAT WAS DONE, YOU KNOW, IN PENNSYLVANIA, AND THE EARLY DUTCH COLONISTS BROUGHT THAT IDEA OVER WITH THEM. SO IF YOU'RE WANTING TO DO THAT, GET A BOOK ON IT, STUDY IT SO YOU KNOW EXACTLY WHAT YOU'RE IMITATING. >> RIGHT. >> AND MY OTHER--GO AHEAD. >> IT'S MUCH LIKE FAUX PAINTING. YOU WANT TO LEARN WHAT ALL THOSE LAYERS ARE ABOUT BEFORE YOU START PUTTING THEM ON. >> RIGHT. AND THEN MY OTHER PIECE OF ADVICE IS, START WITH A SMALL PROJECT FIRST. YEAH. THESE INEXPENSIVE PINE STOOLS LIKE THIS ARE GREAT BECAUSE IF YOU MESS UP, YOU HAVEN'T GOT MUCH INVESTED. >> THAT'S TRUE. GOOD POINT. >> AND YOU CAN ALWAYS SAVE IT. NOW, WE WANT TO START BY DOING A LITTLE BIT OF PREPARATION ON THIS. AS ALWAYS, I ALWAYS LIKE TO GIVE IT A LIGHT SANDING-- MEDIUM-GRIT SANDPAPER, ALWAYS GOING IN THE DIRECTION OF THE GRAIN OF THE WOOD. THAT WAY, WE DON'T HAVE ANY UNNECESSARY SCRATCHES. AND THEN WE WANT TO MAKE SURE THAT IT'S NOT GONNA TURN BLOTCHY, SO WE WANT TO PUT WOOD CONDITIONER ON IT. >> MM-HMM. >> NOW, I'VE ALREADY PUT THE WOOD CONDITIONER ON THAT ONE, BUT I'LL SHOW YOU ON THIS BOARD WHAT THE MINWAX-- THIS IS CALLED MINWAX PRE-STAIN WOOD CONDITIONER. YOU JUST BRUSH IT ON. >> NOW, IS IT OIL-BASED, WATER-BASED... >> THIS IS OIL-BASED. IT'S AVAILABLE BOTH IN OIL AND WATER, AND THIS IS THE OIL-BASED VERSION. >> UH-HUH. >> AND WE'LL LET THAT DRY ABOUT 15 MINUTES TO TWO HOURS BEFORE WE PUT ON OUR STAIN. >> IT DEPENDS ON HUMIDITY AND WEATHER AND... >> EXACTLY. NOW, THIS ONE, I'VE ALREADY GOT MY PRE-STAIN CONDITIONER ON THERE, BUT BEFORE WE STAIN IT, THOUGH, WE'RE GONNA DO A LITTLE DISTRESSING ON HERE, ALL RIGHT? >> I'VE ALWAYS THOUGHT THAT SEEMED SO...MEAN TO DO THAT TO FURNITURE. >> WELL, THIS IS EVEN WORSE. WE'RE GONNA DO SOME WORMHOLES HERE. SO WE'RE GONNA ACTUALLY TAKE OUR HAMMER AND NAIL--AND IF YOU'VE EVER SEEN A REAL ANTIQUE, YOU KNOW THAT THE WORMHOLES ARE GENERALLY CLUSTERED AROUND EACH OTHER, AND SO WE'LL PUT A FEW OF THEM IN THERE. >> UH-HUH. >> WHILE WE'VE GOT OUR HAMMER, LET'S GIVE IT-- >> GET READY. >> LET'S GIVE IT A FEW DENTS. YOU KNOW--AND PAY ATTENTION TO WHAT YOU'RE DOING. YOU DON'T WANT TO OVERDO IT. >> UH-HUH. >> YOU KNOW, WE USED TO MAKE THE JOKE ABOUT TAKING THE CHAIN AND BEATING IT WITH IT. WELL, THE CHAIN'S OK, BUT WHAT I PREFER TO DO IS TO DO MORE OF THE--THE MORE CONTROLLED. >> CONTROLLED. >> YEAH, MORE CONTROLLED. SO WE'RE PUTTING SOME WEAR IN THERE. AND THEN ALSO WE WOULD TAKE A FILE AND FILE OFF SOME OF OUR EDGES, YOU KNOW, BECAUSE OVER THE COURSE OF A COUPLE OF HUNDRED YEARS... >> OH! IT'S WORN. >> IT'S WORN. >> I SEE. >> SO THE EDGES ARE GONNA... SO WE'LL DO THIS AFTER WE PUT ON OUR WOOD CONDITIONER BUT BEFORE WE PUT ON OUR STAIN. >> OK. >> IN THIS CASE, I'M GONNA USE A STAIN CALLED "GUNSTOCK." AND I'LL TAKE--WELL, I'LL JUST USE OUR BRUSH HERE. >> SO YOU COULD USE A CLOTH. >> YES. YEAH. AND WITH A STAIN LIKE THIS, YOU BRUSH IT ON, AND THE LONGER YOU LET IT SIT IN, THE RICHER, THE DEEPER THE COLOR'S GONNA BE. >> RIGHT. >> AND I'LL JUST SPREAD THAT ACROSS HERE; SEE IF I CAN DO SOME ON THE FRONT HERE. >> IT'S INTERESTING TO SEE WHAT'S GOING ON WITH THE DENTS. >> OH, YEAH. NOW WE'RE GONNA SEE--BECAUSE BEFORE, YOU COULDN'T SEE IT, AND THAT'S WHY I SAY YOU WANT TO BE A LITTLE CAREFUL ABOUT NOT OVERDOING IT. >> YEAH. >> BECAUSE THEN WHEN YOU WIPE YOUR STAIN OFF, YOU'RE GONNA SEE THAT THOSE--THE WORMHOLES WE MADE AND THOSE DENTS, THEY SHOW UP EVEN BETTER BECAUSE THEY SOAK IN EXTRA STAIN. >> EXTRA, AND THEY'RE A LITTLE DARKER, YEAH. SO IS THAT REALLY HOW--DID WORMS REALLY CREATE THE FIRST WORMHOLES? >> ABSOLUTELY. YEAH, WORMHOLES WERE FROM WORMS THAT WOULD CRAWL IN THE WOOD AND EAT THEIR WAY THROUGH IT--TERMITES AND THAT SORT OF THING. AND SO THIS IS THE WAY WE CAN DUPLICATE THAT LOOK. >> OK. >> NOW, WE'VE GOT ONE THERE THAT'S, YOU KNOW, A LITTLE BIT MORE COMPLETED. AND IN A CASE LIKE THIS, UM, WE'VE GOT OUR STAIN ON HERE, WE'VE DONE OUR DISTRESSING, BUT WE'RE GONNA PUT A FINISH ON HERE. >> UH-HUH. >> NOW, WHAT WE WOULDN'T DO ON THIS IS TO PUT, YOU KNOW, A GLOSSY POLYURETHANE. WE WANT SOMETHING THAT'S GONNA-- >> AUTHENTIC. >> AUTHENTIC, YOU KNOW. AND IN THE COLONIAL ERA, THEY WOULD HAVE BEEN MORE APT TO BE USING, LIKE, AN OIL FINISH. >> OH, YEAH. >> SO WE'RE GONNA USE A PRODUCT THAT'S ACTUALLY CALLED "MINWAX ANTIQUE OIL." >> OH, THAT'S HANDY. >> AND AGAIN, EASY TO APPLY. ONE OF MY FAVORITE FINISHES, BECAUSE IT'S GONNA SEAL AND PROTECT THE WOOD. BECAUSE REMEMBER, WE'RE GONNA USE THIS PIECE OF FURNITURE. WE'RE NOT JUST GONNA LOOK AT IT. BUT AS YOU CAN TELL, IT'S-- THE ANTIQUE OIL IS SOAKING INTO THE WOOD RATHER THAN LAYING ON TOP OF THE WOOD. >> UH-HUH. >> SO WE GET MORE OF THE ANTIQUE EFFECT THAT WE WOULD HAVE FOUND ON A TRUE COLONIAL PIECE OF FURNITURE. >> SURE. NOW, IN CASE WE'RE WORKING ON OTHER PROJECTS, IS THIS PROJECT OK TO USE ON OTHER STAINED ITEMS? >> ABSOLUTELY. OH, YEAH. YEAH. THE ANTIQUE OIL IS BASED ON THAT EARLY FORMULA OF THE PENETRATING LINSEED OIL TYPE FINISHES, BUT IT'S DESIGNED TO DRY FASTER AND... >> I SEE WHERE YOU JUST... >> GAVE IT SOME EXTRA DISTRESSING. YOU KNOW, THAT'S OK. YOU CAN ALWAYS GIVE IT THAT EXTRA DISTRESSING. YOU CAN COME ALONG LATER. AND IN FACT, JUST TAKE A LOOK AT THIS--WHAT I CALL A SHAKER STYLE OVER HERE. YOU KNOW, THE SHAKERS OFTENTIMES PUT A PAINT OR A HEAVY STAIN ON THE BOTTOM AND THEN LEFT THE TOP NATURAL. AND WHAT I'VE DONE ON THIS ONE IS, I USED THE MINWAX EXPRESS COLOR--THIS IS THAT WATER-BASED STAIN THAT WE'VE TALKED ABOUT BEFORE--TO GET MY--THE DARK GREEN COLOR I LIKE ON HERE. AND THEN, AS YOU CAN SEE, I TOOK THE FILE, BUT NOTICE... >> IT LOOKS WORN. >> I TOOK IT OFF JUST IN THE PLACES THAT IT WOULD WEAR OFF. >> UH-HUH. >> YOU KNOW, THAT WOULD BE WHERE YOUR HEELS WOULD HOOK OVER IT, AND THEN ESPECIALLY DOWN AT THE BOTTOM OF THE FEET, YOU KNOW, WHERE YOU WOULD HAVE SOME EXTRA WEAR DOWN THERE. SO ACTUALLY, YOU START BY PUTTING YOUR STAIN ON, AND THEN YOU START TAKING SOME OF IT OFF WITH YOUR SANDPAPER AND YOUR FILE TO GIVE YOU SOMETHING THAT'S FAR MORE REALISTIC AND ANTIQUE-LOOKING. >> I SEE. UH-HUH. >> YEAH. AND FINALLY, YOU KNOW, WE TALKED ABOUT FLYSPECKS. >> MM-HMM. OH, YEAH. >> ONE OF THE THINGS I LIKE TO DO IS, I TAKE SOME OF THE-- IN THIS CASE, IT IS A WATER-BASED STAIN. THIS IS THE INDIGO STAIN. AND I TAKE A TOOTHBRUSH-- NOW, YOU WANT TO DO SOME EXPERIMENTING WITH THIS AT FIRST. YOU TAKE THE TOOTHBRUSH, AND THEN YOU JUST PULL A SCREWDRIVER OR A BOARD THROUGH IT. >> OH, I SEE. UH-HUH. >> AND WHAT WE'VE DONE IS, WE'VE CREATED FLYSPECKS. >> UH-HUH. >> AND YOU COULDN'T DO THAT VERY EASILY ONE AT A TIME, BUT IF YOU USE THE TOOTHBRUSH AND THE STAIN--AND AGAIN, JUST DAB A LITTLE BIT OF STAIN ON THERE, PULL IT ACROSS, AND IT WILL CREATE THOSE FLECKS. >> YEAH. THAT MAKES--SOME ARE BIGGER, SOME ARE SMALLER... >> EXACTLY. YEAH. AND MORE REALISTIC. AND THIS IS SOMETHING YOU WOULD... >> NOW, AT WHAT POINT WOULD YOU DO THIS? >> AFTERWARD. THAT WOULD BE ONE OF YOUR LAST STEPS. >> OH, THAT'S THE LAST STEPS. >> YEAH, ONE OF YOUR LAST STEPS, BECAUSE IF YOU DID IT TOO EARLY, YOU'D ACTUALLY BE TAKING SOME OF IT OFF. >> OH, OK. >> SO AGAIN, THE IDEA HERE IS, DO SOME RESEARCH, FIGURE OUT WHAT SORT OF A LOOK YOU WANT, EXPERIMENT WITH SOMETHING THAT'S NOT... >> TOO EXPENSIVE. >> CRITICAL IMPORTANCE, YEAH. AND THEN GO THROUGH THESE STEPS, BECAUSE THAT WAY, YOU'RE GOING TO GET THE DISTRESSING, BUT YET YOU'RE GONNA GET A GOOD, DURABLE FINISH ON THERE AS WELL. AND HAVE FUN WITH IT. >> WOW. AND I LIKE YOUR IDEA, BECAUSE I HAVE SEEN THESE. AND IT'S AMAZING HOW YOU CAN FIND SOMETHING AND RE-CREATE EXACTLY LIKE THAT, AND YOU WOULDN'T THINK YOU WERE-- I WAS CAPABLE OF DOING THAT. >> BUT THEY'RE SIMPLE STEPS. ANYTHING YOU BREAK DOWN INTO STEPS BECOMES MUCH EASIER. AND THEN AGAIN, UNLIKE THE TRUE ANTIQUES, WE DON'T HAVE THAT RESPONSIBILITY OF WORRYING ABOUT SOMETHING HAPPENING TO THEM. >> THAT'S GREAT. WELL, THANK YOU SO MUCH FOR SHOWING US HOW TO DO THIS. >> OH, IT WAS GREAT FUN. >> IT'S REALLY NICE TO HAVE YOU HERE, BETH. I HAD THE OPPORTUNITY TO MEET A BOOK AUTHOR SEVERAL YEARS AGO, AND I LOVED IT BECAUSE HER BOOK WAS ON DECLUTTERING YOUR LIFE, YOUR HOUSE, YOUR OFFICE, WHATEVER, AND I FOUND, AFTER READING THAT, I REALLY DO FALL INTO THAT CATEGORY WITH MY HOME. IT'S VERY HARD FOR ME TO GET RID OF THINGS. EVEN IF I FIND A NEW ITEM THAT I WANT TO BUY AND ADD TO A ROOM, I DON'T GET RID OF ANYTHING ELSE IN THERE. >> RIGHT. RIGHT. >> HOW IMPORTANT A ROLE IS DECLUTTERING IN YOUR LINE OF WORK? >> OH, IT'S EXTREMELY IMPORTANT, ESPECIALLY WITH REAL-ESTATE STAGING, WHICH I ALSO DO. >> OH. >> I FIND THAT WHEN I WALK THROUGH A HOME, THAT ALMOST EVERYONE HAS TOO MUCH CLUTTER. >> UH-HUH. >> BUT IN DESIGN AS WELL. I MEAN, YOU WANT YOUR HOME TO LOOK BEAUTIFUL, AND THE LAST THING THAT YOU WANT IS TO SEE CLUTTER ALL OVER THE PLACE, SO... >> BUT EVEN THOUGH IN THIS BOOK IT SORT OF GAVE ME PERMISSION TO, YOU KNOW, GET RID OF THINGS, EVEN THINGS--OR PUT THEM UP, MAYBE--THINGS THAT ARE HEIRLOOMS OR MEANT SOMETHING TO ME, BUT IT'S STILL HARD TO--FOR ME TO KNOW HOW TO DECLUTTER, SO WE'RE GOING TO TALK ABOUT SOME SPECIFIC EXAMPLES, STARTING WITH A BOOKCASE, WHICH IS A GOOD PLACE TO JUST PUT EVERYTHING. >> RIGHT. RIGHT. WE ARE. UM, IT'S INTERESTING. BOOKCASES ARE A CHALLENGE, BECAUSE ONE OF THE MOST COMMON MISTAKES PEOPLE MAKE WITH THEM IS THE ONLY THING THEY PUT IN THEM IS BOOKS. THAT'S RIGHT. AND WHAT ENDS UP HAPPENING IS THAT IT BEGINS TO LOOK VERY, VERY CLUTTERED--MORE AND MORE BOOKS. AND ONE OF THE THINGS I OFTEN SAY TO A CLIENT, WHEN THEY HAVE SO MANY BOOKS, IS, "HOW OFTEN DO YOU LOOK AT THESE BOOKS?" ONCE YOU'VE READ THEM, ODDS ARE YOU RARELY PICK UP THE BOOK AGAIN. SO, UM, WHAT I'D LIKE TO DO IS TO TALK A LITTLE BIT ABOUT HOW YOU CAN MAKE BEAUTIFUL ARRANGEMENTS WITH YOUR BOOKSHELVES BY USING BOOKS, BUT ALSO USING SOME OTHER DECORATIVE ITEMS THAT WILL REALLY CREATE A BEAUTIFUL SPACE THAT SOMEONE WILL BE DRAWN TO RATHER THAN HIDE FROM. >> UH-HUH. EVEN SOME OF THE SMALL ITEMS THAT WE HAVE HERE ON THE TABLE. >> YES. >> I NOTICED YOU'VE WORKED SOME OF THOSE IN. >> I HAVE, YES. SO THE KEY IS, IS WHEN WE'RE TALKING ABOUT ARRANGING A BOOKCASE, WE CERTAINLY WANT TO USE BOOKS, BUT WE ALSO WANT TO ADD ART, PHOTOGRAPHS, AND SMALL DECOR ITEMS SUCH AS SOME OF THE ITEMS THAT WE HAVE HERE. AND YOU CAN FIND THOSE VERY, VERY INEXPENSIVELY IN A LOT OF DIFFERENT PLACES, SO... >> AND BOOKS DON'T HAVE TO ALL GO THE SAME DIRECTION, I LEARNED. >> THAT'S CORRECT. I LIKE TO RECOMMEND THAT YOU ONLY USE HARDBACK BOOKS, AND WHEN YOU DO THAT, YOU WANT TO MAKE SURE THAT YOU'RE REMOVING THE JACKETS FROM THOSE BOOKS, BECAUSE WHAT YOU'LL FIND IS BEAUTIFUL LEATHER-BOUND BOOKS IN A VARIETY OF DIFFERENT COLORS. AND SO THE COLORS NOT ONLY PROVIDE INTEREST, BUT ALSO POPS OF COLOR THROUGHOUT THE BOOKSHELF. SO THE ONE THAT WE'RE LOOKING AT HERE, YOU CAN SEE THAT WE'RE STACKING, UM, BOTH VERTICALLY AND HORIZONTALLY. >> MM-HMM. >> AND THEN ONCE WE'VE DONE THAT, WE'RE ALSO ADDING LITTLE FINIALS AND PIECES OF ART AND PHOTOGRAPHS, AND WHAT YOU END UP CREATING IS A BEAUTIFUL LITTLE SPACE. >> IT'S VERY PRETTY. >> YEAH. MM-HMM. >> OK, AND THIS IS THE SAME BOOKSHELF, BUT WE CAN SEE IT-- >> THE OPPOSITE SIDE, YEAH. >> THE OPPOSITE SIDE, AND YOU CAN SEE IN GREATER DETAIL... >> THAT'S RIGHT. THAT'S RIGHT. AND THERE'S PLENTY OF LITTLE THINGS YOU CAN ADD AT NO COST. FOR EXAMPLE, THERE IS A WICKER BASKET SITTING RIGHT IN THE MIDDLE USED AS A BOOKEND, AND WE PURCHASED THAT FOR PROBABLY $2.00 AND SPRAY-PAINTED IT RED BECAUSE THERE WERE RED ACCENTS IN THE ROOM, AND THERE IT IS. >> AND THE NEXT PART OF A ROOM-- AND I FIND THIS MORE SO NOW THAT WE HAVE SO MANY ELECTRONIC GADGETS--IS THE COFFEE TABLE USED TO HAVE ONE NICE CENTERPIECE IN THE MIDDLE OF IT, AND NOW IT HAS A CENTERPIECE OR MAYBE TWO CENTERPIECES AND THEN EVERY REMOTE CONTROL IN THE HOUSE. >> THAT'S RIGHT. AND COASTERS, BECAUSE YOU--YEAH. >> UH-HUH. YEAH. >> SO ONE OF THE GREAT THINGS TO DECLUTTER WITH IS WHAT WE HAVE HERE--IS A FAUX BOOK. AND I'M SURE MOST OF YOU HAVE SEEN THEM, BUT I THINK THEY'RE ONE OF THE GREATEST INVENTIONS IN THE LAST 5 OR 6 YEARS. THIS IS A SMALL ONE, AND AS YOU CAN SEE, IT OPENS UP AND HAS A LITTLE COMPARTMENT. BUT THEY COME IN VARIOUS SIZES, AND I THINK IF YOU WERE TO PURCHASE ONE THAT WAS ABOUT TWICE THIS SIZE, YOU COULD PUT 2 OR 3 REMOTES AND ALL THOSE COASTERS, AND YOU'LL REALLY DECLUTTER YOUR COFFEE TABLE. >> GOOD IDEA. AND THEY'RE VERY ATTRACTIVE, SO THEY COULD BE USED IN OTHER PLACES AS WELL. >> YEAH. >> I'LL PUT THIS HERE. OK, THE OLD HEADBOARD. NOW, WHAT'S THE RULE? WHEN YOU WALK INTO A BEDROOM, THE FIRST THING YOU SHOULD SEE IS... >> IS THE BED. IT'S THE FOCAL POINT OF A ROOM, GENERALLY--OF THE BEDROOM. AND I'M SURPRISED HOW OFTEN MY CLIENTS DO NOT HAVE ANY HEADBOARD AT ALL. >> HMM. >> SO THIS NEXT SET OF PICTURES SIMPLY SHOWS, UM, A BED THAT DOESN'T HAVE-- >> KIND OF BLAH WHEN YOU... >> YEAH, VERY, VERY BLAH. AND GIVE YOU A COUPLE OF IDEAS OF HOW YOU CAN CREATE AN INEXPENSIVE HEADBOARD. UH, THE FIRST ONE IS USING BIFOLD DOORS WITH MOLDING AROUND IT. WE'VE PAINTED THAT AND MOUNTED IT, AND IT CREATED A NICE COTTAGE LOOK AND A VERY PRETTY FOCAL POINT. >> AND THE WALL'S STILL THE SAME, SO IT'S THAT CONTRAST WITH THE LIGHT AGAINST THE DARK WALLS. REALLY DOES MAKE IT STAND OUT. >> ANOTHER APPROACH THAT IS RELATIVELY INEXPENSIVE, PARTICULARLY IF YOU'RE HANDY, IS AN UPHOLSTERED HEADBOARD. >> UH-HUH. I LIKE THAT LOOK. >> AND REALLY ALL YOU NEED ARE A FEW 2X4s, SOME PLYWOOD, AND A LOT OF BATTING AND THEN WHATEVER FABRIC YOU'D LIKE TO USE. AND YOU PUT IT ALL TOGETHER, AND YOU'VE CREATED A BEAUTIFUL HEADBOARD. >> AND IT'S A SOFTER LOOK, I THINK, WHEN IT'S AN UPHOLSTERED... >> MM-HMM. A LITTLE MORE TAILORED. >> UH-HUH. OH, THIS IS PRETTY. >> YEP. ANOTHER SAMPLE. AND THEN A THIRD SAMPLE OF A-- OF AN UPHOLSTERED HEADBOARD. >> OH, OK. AND JUST THE FABRIC IS WHAT REALLY DOES DETERMINE IF IT'S A TAILORED LOOK OR IF IT'S A FLUFFY, FROUFROU LOOK-- MORE FEMININE OR MORE MASCULINE. >> EXACTLY. IF YOU WERE DECORATING A LITTLE--A CHILD'S ROOM, YOU COULD USE SOMETHING THAT'S BRIGHT AND FUN. >> NOW, I'M ASSUMING YOU DIDN'T USE THIS IN ONE OF THE FINISHED ROOMS. WHAT DOES THIS REPRESENT? >> THIS IS MY THRIFTY FIND THAT I--ONE OF MY FAVORITE THINGS TO DO WHEN I DECORATE IS TO FIND OLD PIECES THAT WE CAN UPCYCLE; TRY TO REFRESH, AS I MENTIONED BEFORE. >> OH, LIKE WE WERE TALKING EARLIER. >> YES. AND THIS PARTICULAR CHAIR WAS SO COMFORTABLE AND-- BUT, OF COURSE, IT WAS IN GREAT NEED OF REUPHOLSTERY, AND IT NEEDED ITS LITTLE ARM PUT BACK. AND IT WAS $35 AT A SECONDHAND STORE, SO... >> I LIKE THE TUFTING ON THE BACK. THAT'S VERY PRETTY. >> IT'S GORGEOUS. IT'S GORGEOUS. >> AND THIS IS WHAT IT TURNED OUT TO BE. I LOVE THIS. >> IT'S GORGEOUS. WE USED A GREEN FLORAL CHINTZ, AND WE REUPHOLSTERED IT AND ADDED THE FOOTSTOOL. AND SO FOR THE COST OF--DEPENDING ON IF YOU CAN REUPHOLSTER OR NOT--FOR THE COST OF ABOUT $200-$400, YOU'VE GOT A GORGEOUS CHAIR. AND I HAVE TO MENTION THAT EVERY FAMILY MEMBER IN THIS PARTICULAR HOUSEHOLD LOVES THIS CHAIR. >> FIGHTS OVER THE CHAIR. YEAH. OK. >> SO... >> THIS IS A NICE SOFA, BUT IT'S KIND OF BLAH. >> IT IS INDEED. THAT'S A NICE, BRAND-NEW SOFA THAT IS REALLY VERY BORING. IT HAS A FEW PILLOWS ON IT, AND WHAT WE'D LIKE TO DO--AGAIN, VERY INEXPENSIVE FIX--IS TO ADD A LOT OF POPS OF COLOR WITH PILLOWS. >> LET'S JUST SHOW HOW-- WHAT YOU'VE DONE. >> YEAH. SO WE'VE ADDED A VARIETY OF PILLOWS THAT COST ANYWHERE FROM $9-$10 TO SOME CUSTOM PILLOWS THAT WERE $40 OR $50. BUT THE END RESULT CREATES A BEAUTIFUL AND WELCOMING SOFA. >> AND IF YOU CAN SEW, PILLOWS ARE THE EASIEST THING TO MAKE. >> THEY ARE INDEED, YEAH. >> SO YOU CAN REALLY SAVE A LOT OF MONEY THERE TOO. >> THAT'S RIGHT. >> NOW, I THOUGHT THIS LOOKED PRETTY GOOD UNTIL YOU TOLD ME SOMETHING WAS MISSING. >> IT DOES LOOK VERY NICE, BUT IF YOU LOOK, IT DOES HAVE A SENSE THAT SOMETHING IS MISSING. IT SEEMS TO NEED SOME HEIGHT AND SOME WARMTH, IN MY OPINION. SO WHAT WE DID WAS, WE ADDED A SILK TREE TO THE CORNER, AND AS YOU CAN SEE, NOW IT REALLY DOES HAVE... >> THIS CAUSES YOUR EYE... >> IT DRAWS YOUR EYE UPWARD; CREATES A LITTLE BIT OF WARMTH AND COLOR IN THE ROOM. >> WELL, THIS REALLY HIT HOME, BECAUSE I HAVE THIS SORT OF THING IN MY BATHROOM, AND IT'S--IT'S BEEN BROWN. THE FRAMES, I'M TALKING ABOUT, HAVE BEEN BROWN. THEN WHEN I LIGHTENED THE ROOM TO WHITE, THEY WERE SO EASY TO CHANGE, AND THEY WERE VERY INEXPENSIVE WHEN I GOT THEM. >> RIGHT. RIGHT. YEAH, FINDING OLD FRAMES IN ANTIQUE STORES AND YARD SALES AND GARAGE SALES IS EASY, AND IT'S INEXPENSIVE, AND YOU CAN CREATE SOME BEAUTIFUL, BEAUTIFUL, UM... MIRRORS OR... >> YOU REPLACED A MEDICINE CABINET, DIDN'T YOU? >> WE DID. WE REPLACED A MEDICINE CABINET IN A POWDER ROOM AND ADDED THAT AS THE MIRROR, AND IT IS THE FOCAL POINT. >> I LOVE THIS MIRROR. NO, THIS IS A FRAME, BUT IT'S WITH A BULLETIN BOARD OR SOMETHING. >> RIGHT. IT'S AN INSPIRATION BOARD, YES, THAT--WE PUT THAT IN SOMEONE'S OFFICE AND JUST USED CORKBOARD WITH SOME BATTING AND SOME FABRIC. >> UH-HUH. AND WHEN YOU GOT TIRED OF IT, YOU COULD--IT'S SO MUCH EASIER TO CHANGE THAN... >> THAT'S RIGHT. THAT'S RIGHT. AND THEN FINALLY, YEAH, THIS ONE WAS A $15 FIND THAT NEEDED CLEANED UP AND RESTAINED, AND WE ADDED A BEVELED MIRROR, AND NOW WE HAVE A BEAUTIFUL ADDITION TO THE ENTRY HALL IN THIS PARTICULAR HOME. >> AND IT LOOKED LIKE ALL OF-- THE CHAIR AND THE END TABLE AND THE MIRROR WERE ALL BOUGHT TOGETHER. THEY LOOK LIKE THE SAME LINE OF FURNITURE. >> I TRY TO KEEP AN EYE OUT FOR THINGS LIKE THAT. >> OH, I GUESS YOU DO. ALL RIGHT, WELL, WE KNOW WHAT TO DO ON THE WEEKENDS--GO TO THE FLEA MARKETS OR THE GARAGE SALES, BECAUSE YOU REALLY CAN PICK UP SOME THINGS SOMETIMES. >> ABSOLUTELY. >> THANK YOU SO MUCH. I APPRECIATE YOU SHARING ALL THESE IDEAS WITH US. >> MY PLEASURE. THANK YOU, SHERYL. >> I HOPE YOU ENJOYED THE SHOW TODAY. NEXT TIME ON "CREATIVE LIVING," WE'LL LEARN HOW TO LIVE DELICIOUSLY GLUTEN-FREE, WE'LL TALK ABOUT 5 TOOLS TO HELP SHAPE SMALL BUSINESSES, AND WE'LL EXPLAIN WHAT WE MEAN BY AN AROMATIC KITCHEN. ONE OF MY NEXT GUESTS IS THE FOUNDER OF AN ONLINE RESOURCE FOR HELPING PEOPLE LIVE DELICIOUSLY GLUTEN-FREE. SHE WILL ALSO EXPLAIN WHY OTHER PEOPLE MAY WANT TO CONSIDER A GLUTEN-FREE DIET WHETHER THEY'RE GLUTEN-INTOLERANT OR NOT. ANOTHER GUEST IS GOING TO DISCUSS SOME TOOLS TO HELP SHAPE SMALL BUSINESSES AS HE HIGHLIGHTS THE IMPACT SMALL BUSINESSES HAVE ON THIS COUNTRY. AND FINALLY, WE'LL TALK TO A WOMAN WHO IS AN AROMATIC ALCHEMIST AND A NATURAL PERFUMER ABOUT WHAT IT MEANS TO HAVE AN AROMATIC KITCHEN. SHE'LL ALSO SHOW HOW TO PREPARE UNUSUAL RECIPES USING ESSENTIAL OILS TO MAKE LIFE MORE SENSUAL AND TO HELP ONE APPRECIATE THE VIBRANCY OF FOOD. ALL OF THESE TOPICS WILL BE FEATURED ON THE NEXT "CREATIVE LIVING" SHOW. IF YOU EVER HAVE COMMENTS OR SUGGESTIONS OR IDEAS FOR SHOWS, YOU CAN E-MAIL ME AT SHERYL.BORDEN@ENMU.EDU. I'D ALSO LIKE TO ASK YOU TO BECOME A FAN OF "CREATIVE LIVING" ON FACEBOOK. JUST GO TO FACEBOOK.COM, AND IN THE SEARCH WINDOW, TYPE IN "CREATIVE LIVING WITH SHERYL BORDEN." I HOPE YOU'LL PLAN TO JOIN ME NEXT TIME FOR "CREATIVE LIVING." >> WE ARE VERY PLEASED TO OFFER A NEW BOOKLET THAT ACCOMPANIES THIS SERIES OF "CREATIVE LIVING." THIS BOOKLET IS TITLED "THE 6700 SERIES," AND IT FEATURES A WONDERFUL COLLECTION OF IDEAS AND INFORMATION, AND IT'S AVAILABLE FREE OF CHARGE ON OUR WEB SITE. POSTED AS A PDF FILE, YOU CAN SIMPLY DOWNLOAD THE ENTIRE BOOKLET OR JUST THE SEGMENTS YOU'RE MOST INTERESTED IN. YOU'LL FIND INFORMATION ON FOODS, NUTRITION, CLOTHING, FASHION, HEALTH & BEAUTY, HOME DECORATING, AND MUCH MORE. FOR YOUR COPY OF THIS NEW BOOKLET, GO TO OUR WEB SITE AT KENW.ORG AND THEN CLICK ON "CREATIVE LIVING." SCROLL DOWN TO THE BOOKLET SECTION, AND YOU CAN CLICK ON THIS BOOKLET OR ON ANY OF THE OTHER BOOKLETS WE HAVE AVAILABLE ONLINE. JUST GO TO KENW.ORG, CLICK ON "CREATIVE LIVING," AND DOWNLOAD THE BOOKLET TITLED "THE 6700 SERIES." WE ALSO INVITE YOU TO SIGN UP FOR OUR FREE E-NEWSLETTER. JUST GO TO KENW.ORG AND CLICK ON THE "SIGN UP NOW!" BUTTON AND INPUT YOUR E-MAIL ADDRESS. THAT'S ALL THERE IS TO IT. YOU'LL ENJOY READING AN UP-TO-DATE NEWSLETTER FILLED WITH INTERESTING TOPICS AND INFORMATION. THANK YOU.
Now Playing As: Captioned (English) (change)
In this episode, viewers learn ways to perk up a home with easy design ideas. Sheryl also welcomes Bruce Johnson, and he demonstrates how to use unfinished furniture to create heirlooms. Jan Johnson also presents various uses for liquid dye.
Media Details
Runtime: 27 minutes