Creative Living With Sheryl Borden #6720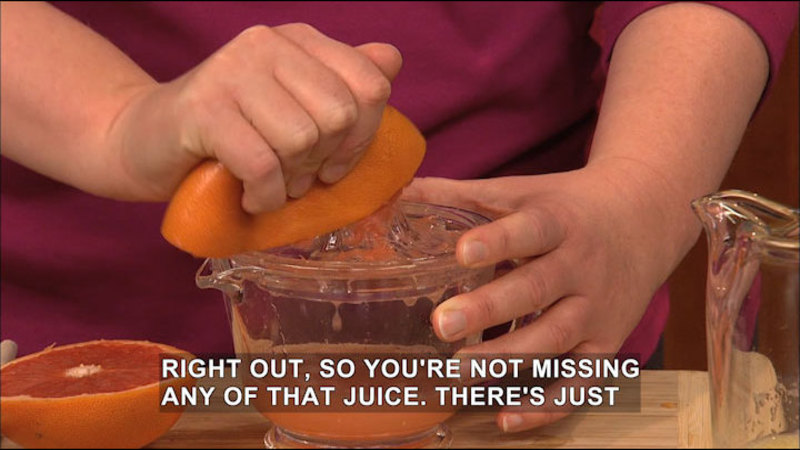 >> "CREATIVE LIVING," UTILIZING TODAY'S TECHNOLOGY WITH THE BEST OF THE PAST TO BRING YOU INNOVATIVE IDEAS AND UP-TO-DATE INFORMATION FOR CREATIVE LIFESTYLES IN TODAY'S ACTIVE WORLD, WITH YOUR HOST SHERYL BORDEN. >> THANKS FOR JOINING ME TODAY FOR "CREATIVE LIVING." WE'RE GOING TO LEARN HOW TO RELIEVE PAIN IN 3 SECONDS, SHOW LOTS OF DIFFERENT WAYS TO USE GRAPEFRUIT JUICE, AND TALK ABOUT CABINET DESIGN FOR BATHROOMS. ONE OF MY GUESTS TODAY IS DR. DANIEL MAREZ, AND HE'S A DOCTOR OF ORIENTAL MEDICINE, AND HE'S WRITTEN A BOOK ON RELIEVING PAIN IN 3 SECONDS. HE'S GOING TO DEMONSTRATE SEVERAL TECHNIQUES FOR DEALING WITH VARIOUS TYPES OF PAIN, INCLUDING ASTHMA, ALLERGIES, FIBROMYALGIA, AND POSTSURGERY. DR. MAREZ IS FROM RATON, NEW MEXICO. ANOTHER GUEST IS ELISA ENSIGN, AND SHE'S THE EXECUTIVE DIRECTOR OF TEXASWEET CITRUS MARKETING, INCORPORATED IN MISSION, TEXAS. ELISA WILL EXPLAIN ALL OF THE INTERESTING FACTS ABOUT GRAPEFRUIT JUICE, INCLUDING THE BEST WAY TO SQUEEZE THE GRAPEFRUIT, DIFFERENT JUICING DEVICES, AND SHE'LL SHARE SOME FUN THINGS YOU CAN DO WITH GRAPEFRUIT JUICE THAT YOU MIGHT NOT HAVE EVER THOUGHT OF. DID YOU KNOW THAT BATHROOMS ARE THE SECOND MOST COMMONLY REMODELED ROOMS IN THE HOUSE? MY FIRST GUEST TODAY IS ANDY WELLS, AND HE'S THE VICE PRESIDENT OF PRODUCT DESIGN FOR MASTERBRAND CABINETS IN JASPER, INDIANA. ANDY WILL SHARE SOME TIPS FOR HOMEOWNERS WHO ARE CONSIDERING A BATH REMODEL. ANDY, THANK YOU SO MUCH FOR BEING WITH US TODAY. WE'RE GOING TO TALK ABOUT REMODELING A BATHROOM, BUT BEFORE WE START, HOW DID YOU GET INTERESTED IN DOING CABINETRY, AND WHY? >> COMPLETELY BY ACCIDENT. I ACTUALLY WENT FOR AN INTERVIEW ON MY MOTHER'S RECOMMENDATION. >> OH. UH-HUH. >> I WAS SUPPOSED TO GO IN THE ROYAL NAVY. THAT DIDN'T HAPPEN, AND MY MOTHER SENT ME FOR AN INTERVIEW AS A JUNIOR FURNITURE DESIGNER. >> UH-HUH. SEE? MOTHERS DO KNOW BEST. >> MOTHERS DO. MINE DID. >> I'VE ALWAYS HEARD THAT REMODELING A KITCHEN AND A BATHROOM ARE THE TWO MOST EXPENSIVE ROOMS IN A HOME. IS THAT TRUE? >> THEY CAN BE, BUT IF THEY'RE PLANNED WELL, WHEN THE HOUSE IS SOLD AGAIN, THEN THAT CAN GENERATE REVENUE. >> OH, BECAUSE YOU DO WANT THOSE TWO ROOMS UPDATED FOR SURE, DON'T YOU? >> ABSOLUTELY. YEAH. >> WELL, LET'S FOCUS ON BATHROOMS, AND, UH, MAYBE YOU CAN SHARE SOME TIPS ON THINGS THAT WE, LIKE YOU SAY, SHOULD DO AHEAD OF TIME AND NOT JUST JUMP IN THERE AND BUY THE FIRST THING WE SEE. >> ABSOLUTELY. IT'S ALL ABOUT PLANNING. EVERY HOUSE HAS A BATHROOM IN IT, BUT IT'S NOT ALWAYS USED IN THE SAME WAY. WE HAVE TO CONSIDER WHO'S IN THAT ROOM. ARE THERE CHILDREN IN THE ROOM? ARE THERE GRANDPARENTS IN THE ROOM? HOW IS IT GONNA BE ACTUALLY USED? >> MASTER BATH VERSUS THE JACK AND JILL, FOR INSTANCE. >> YEAH, OR THE POWDER ROOM. THEY'VE ALL GOT A DIFFERENT PURPOSE, SO IT'S IMPORTANT TO HAVE CAREFUL PLANNING ABOUT USE. AND PLANNING THE SPACE IS EQUALLY IMPORTANT, AS WE ALL LIKE TO GET VERY WELL ORGANIZED. MASTERBRAND SPENDS A LOT OF TIME AND ENERGY ON VERY, VERY WELL THOUGHT-OUT ORGANIZATION SOLUTIONS, BOTH IN THE KITCHEN AND IN THE BATH. >> SO THAT HELPS THE HOMEOWNER FOR SURE. >> ABSOLUTELY. >> WHAT--CAN YOU EXPLAIN THE DIFFERENCE BETWEEN A TRANSITIONAL DESIGN AND A TRADITIONAL DESIGN? >> YEAH. IT'S VERY SIMPLE. TRANSITION IS WHAT IT IS. IT'S A DESIGN THAT WILL TRANSCEND TIME. TRADITIONAL--WE WOULD TEND TO REFER TO SOMETHING THAT WAS DESIGNED SPECIFICALLY ABOUT A PERIOD IN TIME. WHEN WE DISCUSS TRANSITIONAL, WE'RE TALKING ABOUT A SHAPE OR A STYLE OR A FORM THAT CAN BE USED IN MANY DIFFERENT WAYS WHEN DECORATING A DIFFERENT ROOM, SO IT TRANSCENDS ANY DEFINITION, REALLY, OR TRANSCENDS ANY REAL TIME. WE DON'T LIKE TO DATE-STAMP OUR PRODUCTS, SO THAT THEY STAY CURRENT, AND THAT GIVES THE CONSUMER CONFIDENCE. >> WELL, AND I IMAGINE THAT WOULD BE TRUE ESPECIALLY IF YOU'RE ONLY, SAY, REDESIGNING THE BATHROOM, FOR INSTANCE, OR JUST THE KITCHEN. YOU WANT THE WHOLE HOUSE TO BLEND TOGETHER, BECAUSE OTHERWISE SOMEBODY'S GONNA WALK IN AND SAY, "OH, THIS IS A 40-YEAR-OLD HOME WITH A CURRENT BATHROOM." IT DOESN'T FEEL RIGHT. >> YEAH. BLENDING IS REALLY, REALLY IMPORTANT, SHERYL. IT'S SO EASY TO ALIENATE ONE ROOM DESIGN FROM THE REST OF THE HOUSE. SO WHAT I ALWAYS GUIDE PEOPLE TO, WHEN THEY'RE SAYING "OH, I'M REMODELING MY HOUSE. WHAT SHOULD I DO?" I SAY, "THINK ABOUT THE USE. THINK ABOUT HOW THE TRAFFIC'S GONNA BE. WHAT IS THE MOOD? WHAT IS THE TONE OF VOICE? WHAT DO YOU WANT THE HOUSE TO FEEL LIKE?" SO THAT IT ALL WORKS TOGETHER AND IS VERY, VERY COHESIVE. >> AND I CAN CERTAINLY AGREE WITH ALL OF THAT, BUT I NEVER REALLY APPLIED IT TO THE BATHROOM. I'LL BE REAL HONEST. >> THE BATHROOM HAS BEEN A SECONDARY THOUGHT FOR A LOT OF PEOPLE, BUT TODAY, IT'S BECOME PROBABLY AS IMPORTANT AS THE KITCHEN AS THE SHAPES AND SIZES OF BATHROOMS ARE GETTING BIGGER, WALLS AND PARTITIONS ARE DISAPPEARING FOR A MORE OPEN-PLAN FEEL, SPECIALIST TUBS ARE APPEARING THAT SIT IN THE MIDDLE OF THE ROOM, AND WE'VE ALL SEEN THE VESSEL BASINS. BUT THE BATHROOM CAN BE JUST AS THEMATIC AND LOVELY AS THE KITCHEN CAN BE. >> WELL, AND I ASSUME THAT'S WHAT YOU'RE CALLING THE OPEN CONCEPT. >> ABSOLUTELY IS, YEAH. >> WELL, I WOULD THINK THAT WOULD EVEN BE HARDER TO DESIGN. YOU'D REALLY HAVE TO PLAN WHAT'S GOING WHERE. >> YOU REALLY HAVE TO PLAN. A LOT OF OLDER PROPERTIES HAVE KNEE WALLS AND PARTITION WALLS THAT MAY NEED REMOVING, BUT THE NET GAIN IS, YOU'VE GOT MORE SPACE, MORE ORGANIZATION CAPABILITY WITH THE CABINETRY. AND THEN OFTENTIMES THE SOLUTION IS TO HAVE A WALK-IN SHOWER. THAT NEEDS A BIGGER FOOTPRINT THAN THE TRADITIONAL SHOWER, SO GETTING RID OF THOSE OLD PARTITIONS AND THOSE OLD KNEE WALLS IS REALLY IMPORTANT. >> I CAN SEE HOW IT WOULD BE. GOING--I'D LIKE TO GET INTO SOME OF THE PROPS THAT YOU BROUGHT SHOWING US SOME OF THE BEAUTIFUL FINISHES. WHAT ABOUT GRAY IN A BATHROOM? IT SEEMS LIKE THE MAGAZINES THAT I LOOK AT WHEN I GO ONLINE AND LOOK AT DECORATING AND THINGS, YOU SEE A LOT OF GRAY. IS IT BECAUSE MORE OTHER COLORS GO WITH GRAY, OR WHAT? >> GRAY WORKS WITH A LOT OF THINGS, BUT IT'S REALLY ABOUT MOOD, AND THE MOOD OF THE CONSUMER TODAY IS ALL ABOUT AUTHENTICITY. WE'VE SPENT A LOT OF TIME AND ENERGY COVERING UP THE BEAUTY OF NATURE, AND IF YOU LOOK AT NATURE, WE SEE A LOT OF GRAY THERE. GRAY DOESN'T MEAN DARK AND GLOOMY. >> OR AN OLD DEAD TREE. >> RIGHT. IT REALLY DOESN'T. IF YOU LOOK AT AN OLD BARN, FOR EXAMPLE, IN THE MIDWEST, BECAUSE IT MAY BE WEATHERED GRAY, IT'S STILL BEAUTIFUL. >> HMM. AND--WELL, LET'S JUST LEAD INTO COLOR, THEN. HOW DO YOU HELP PEOPLE SEE AHEAD OF TIME, MAYBE INSTEAD OF HAVING TO GO OUT AND BUY EVERYTHING NEW--BECAUSE IT IS EXPENSIVE TO REMODEL--HOW DO YOU HELP THEM SORT OF DEVELOP THEIR OWN COLOR CONFIDENCE? >> WE TRY TO TALK TO THEM FIRST AND FOREMOST ABOUT THEIR OWN MOOD AND THEIR OWN LIFESTYLE. WE TALK TO THEM ABOUT THE BUILDING THAT THEY'RE IN AND THE PROJECT THAT THEY MAY BE DOING IN REMODELING TO GUIDE THEM TO A PALETTE THAT IS IN SYNC WITH THE REST OF THEIR LIVES. THERE'S A WHITE CABINET DOOR HERE ON THE TABLE-- >> I NOTICED. NOW THAT, TO ME, LOOKS KIND OF OLD-FASHIONED. >> WELL, WHITE IS ALWAYS THERE, BLACK IS ALWAYS THERE, BUT WHAT WE SEE IS THE SOFTENING OF THE EDGES. SO FOR YEARS AND YEARS, WE WERE MAKING BATH VANITIES IN WHITE, BUT NOW WE'RE SEEING COMPLEMENTARY COLORS STARTING TO APPEAR WITH IT. >> HMM. AND KNOWING, UM, BESIDES JUST THE FACT THAT WE MIGHT WANT TO BE KEEPING UP WITH THE JONESES, SO TO SPEAK, AND HAVING--AS AN EXAMPLE--GRANITE CABINET TOPS BECAUSE EVERYBODY ELSE DOES, HOW DO WE AS HOMEOWNERS FIND OUT WHAT IS THE BEST TYPE OF WOOD TO USE IN OUR BATHROOM OR KITCHEN? >> IT'S REALLY ABOUT STORYBOARDING AND CONSULTING WITH A DEALER TO TALK ABOUT HOW TO PUT THINGS TOGETHER. >> AND YOU SAY "TALKING TO A DEALER." IT'S NOT AN INTERIOR DESIGNER. WE CAN--THESE PEOPLE ACTUALLY GET THESE PRODUCTS MADE, SO THEY'RE PRETTY FAMILIAR WITH IT. >> WELL, MOST DEALERS HAVE AN INTERIOR DESIGNER ON STAFF. >> I SEE. >> AT MASTERBRAND, WE HAVE MANY INTERIOR DESIGNERS--VERY QUALIFIED PEOPLE--THAT ARE CAPABLE OF CREATING BEAUTIFUL STORYBOARDS. I THINK ONE OF THE BIGGEST THINGS FOR A CONSUMER, WHEN THEY GO AND VISIT A DEALER, IS GET A GOOD DESIGNER TO HELP YOU PUT THAT STORY TOGETHER, BUILD YOUR CONFIDENCE BEFORE YOU WRITE THE CHECK. >> WELL, YEAH, THAT CERTAINLY DOES MAKE SENSE. WE TALKED ABOUT THE OPEN CONCEPT, BUT IN TERMS OF THESE NEW APPLIANCES, PEOPLE MAY HAVE--THEIR EYES MAY BE BIGGER THAN THE ROOM THAT THEY HAVE, BECAUSE SOMETIMES, ESPECIALLY IN OLD HOMES, IT JUST MAY BE A 4X4 SQUARE THAT YOU'VE GOT AVAILABLE TO WORK IN, OR MAYBE 6X6 OR SOMETHING. LET THEM HAVE EVERYTHING THEY WANT, BUT THERE'S GOT TO BE CONCESSIONS. SO IS THAT IN THAT PLANNING STAGE AS WELL? >> IT'S VERY MUCH IN THE PLANNING STAGE, AND WHAT CONSUMERS WILL FIND IS THAT OUR CABINET LINES HAVE MANY, MANY DIFFERENT SIZES TO ACCOMMODATE DIFFERENT PROPOSITIONS IN THE ROOM. THE APPLIANCE MANUFACTURERS, THE BATHROOM FAUCET MANUFACTURERS, THE BASIN MANUFACTURERS HAVE MANY, MANY DIFFERENT VARIETIES THAT CAN ACCOMMODATE SMALL SPACES AND LARGER SPACES. BUT PLANNING'S IMPORTANT. >> I CAN SEE THAT IT WOULD BE. AND LAST, SOMETHING WE HAVEN'T MENTIONED IS THE FACT THAT SO MANY PEOPLE ARE HAVING NOT ONLY THEIR CHILDREN LIVING WITH THEM, BUT THE PARENTS, THE GRANDPARENTS, AND ESPECIALLY FOR HANDICAPPED ACCESSIBILITY. >> IT'S INCREDIBLY IMPORTANT. OUR CABINET LINES ARE VERY, VERY COHESIVE WITH THE DESIGN FOR HANDICAPPED PEOPLE, FOR AGING PEOPLE, AND FOR THE YOUNG GUYS WALKING IN THERE. IT'S IMPORTANT TO UNDERSTAND THE USE. SOMEBODY MAY BE IN A WHEELCHAIR, SO THEY NEED TO BE ABLE TO GET UP TO THE SHOWER. SHOWERS ARE BECOMING MORE OPEN-PLAN, IF YOU LIKE, SO YOU DON'T HAVE A LIP THAT YOU HAVE TO STAND OVER. YOU CAN WALK RIGHT IN. SO ALL OF THESE CONSIDERATIONS ARE IN THE PLANNING STAGE. AND FOR US AS CABINET MANUFACTURERS, OUR PRODUCT LINES HAVE CHANGED DRAMATICALLY OVER THE YEARS TO TAKE INTO CONSIDERATION EVERY INDIVIDUAL'S NEED. >> IT DOESN'T LOOK LIKE AN INSTITUTION ANYMORE. A HOME CAN STILL LOOK BEAUTIFUL REGARDLESS OF WHAT AGE GROUPS, AND THERE'S BECOMING MANY AND MANY LIVING TOGETHER ANYMORE. >> ABSOLUTELY. ALL AGE GROUPS ARE CONSIDERED. WE DON'T WANT TO ALIENATE ANYBODY. THEY'RE ALL IMPORTANT. >> WELL, IT'S REALLY INTERESTING TO HEAR ABOUT THIS AND THINGS-- LIKE I SAY, I'VE THOUGHT ABOUT A LOT OF THESE POINTS IN DESIGNING OTHER ROOMS IN THE HOUSE, BUT I HADN'T THOUGHT ABOUT PUTTING THAT MUCH THOUGHT INTO THE BATHROOM. >> IT'S IMPORTANT. IT'S JUST AS IMPORTANT AS THE KITCHEN, AS THE LIVING ROOM, AND WE'RE STARTING TO SEE CABINETRY PROLIFERATE THROUGHOUT THE HOUSE. >> THROUGHOUT. WELL, THANK YOU VERY MUCH FOR BEING HERE TODAY, ANDY. >> YOU'RE VERY WELCOME. >> ELISA, I'M SO GLAD YOU'RE HERE TODAY. ALL THE TIME GROWING UP, AND WITH MY FAMILY NOW, WE ALWAYS HAVE GRAPEFRUIT FOR SUNDAY BREAKFAST. >> WONDERFUL. >> BUT THAT'S ABOUT ALL WE DO WITH IT, AND THERE'S LOTS OF THINGS YOU CAN DO, RIGHT? >> THERE'S SO MANY THINGS YOU CAN DO. AND SPECIFICALLY, WE'RE TALKING ABOUT THE TEXAS RIO STAR GRAPEFRUIT. IT'S A VERY RED, SWEET VARIETY OF GRAPEFRUIT, WHICH ACTUALLY MAKES IT SO VERSATILE. SO YOU CAN USE IT-- >> BUT HOW DO YOU KNOW IN A STORE IF, UH--IT HAS THE NAME ON IT, BUT HOW DO YOU KNOW IF YOU'RE PICKING A GOOD GRAPEFRUIT? >> NO PROBLEM. YEAH, IT'LL HAVE THE NAME ON IT OR ON THE BAG, BUT YOU'LL KNOW YOU'RE PICKING GOOD GRAPEFRUIT--YOU WANT TO FIND ONE THAT'S HEAVY FOR ITS SIZE. YOU CAN FEEL IT. IT FEELS KIND OF HEAVY. THAT MEANS THERE'S LOTS OF JUICE. AND THAT'S ACTUALLY WHAT WE'RE GOING TO TALK ABOUT TODAY, IS DIFFERENT WAYS YOU CAN USE THE JUICE. >> THE JUICE? OH, OK. >> EXACTLY. AND THEN ALSO, YOU WANT IT TO BE FIRM, BUT NOT HARD. SO YOU CAN PUSH IN-- IT'S FIRM, BUT NOT HARD. >> I CAN TELL THAT'S JUICY. >> YEAH, EXACTLY. AND ALSO, YOU DON'T WANT IT TO BE SQUISHY, BECAUSE IF IT'S REAL SQUISHY, IT'S A LITTLE OLDER. >> OH, OK. >> BUT THEY'LL LAST ABOUT 6 WEEKS IN YOUR REFRIGERATOR AND ABOUT TWO WEEKS ON YOUR COUNTERTOP, SO... >> AND YOU CAN BUY THEM MOST YEAR-ROUND, CAN'T YOU? >> WELL, THEY'RE ACTUALLY SEASONAL. THEY'RE A WINTER FRUIT. >> OH, THEY'RE WINTER. >> YEAH. YOU CAN BUY GRAPEFRUIT PRETTY MUCH YEAR-ROUND FROM DIFFERENT REGIONS, BUT THE TEXAS GRAPEFRUIT IS FROM OCTOBER TO MAY, SO IT'S TRADITIONALLY A WINTER FRUIT. I KNOW IN OLDEN TIMES, THEY WOULD HAVE CITRUS OR GRAPEFRUIT, ORANGES IN THEIR CHRISTMAS STOCKINGS. >> YEAH. UH-HUH. >> YEAH. SO THAT'S A GOOD WAY I ALWAYS TRY TO REMEMBER IT, IS A SPECIAL TREAT AT CHRISTMAS. >> SO IT'S A SEASONAL FRUIT. >> MM-HMM. AND IT'S THE SWEETEST DECEMBER, JANUARY, AND FEBRUARY. THAT'S THE PEAK OF THE SEASON. >> MM-HMM. OK. >> YEAH. >> SO WE KNOW HOW TO SELECT IT. SHOULD WE STORE IT IN THE REFRIGERATOR OR JUST ON THE SHELF? >> IT'S A PREFERENCE, YEAH. YOU CAN EITHER PUT IT IN THE REFRIGERATOR-- IT LASTS A LITTLE BIT LONGER, AND I LIKE MINE COLD, SO... >> I DO TOO. >> YEAH. IT'S EASIER THERE. AND SO IT'S JUST A REALLY VERSATILE PIECE OF FRUIT. AND SO TO TALK ABOUT THE JUICE A LITTLE BIT, TYPICALLY YOU JUST JUICE IT AND DRINK IT FOR BREAKFAST, AND FRESH GRAPEFRUIT JUICE IS SO HEALTHY. IT HAS VITAMIN C AND VITAMIN A. IT'S REALLY GOOD FOR YOU. BUT I'D LIKE TO SHOW YOU A DIFFERENT WAY TO USE GRAPEFRUIT JUICE. >> OH, OK. >> OK. SO FIRST I WANT TO JUICE ONE. THERE'S A COUPLE OF DIFFERENT WAYS THAT YOU CAN JUICE A GRAPEFRUIT. I ACTUALLY PREFER THE OLD-FASHIONED HANDHELD JUICER. >> MM-HMM. I THINK EVERY HOUSEHOLD HAS ONE OF THESE. >> YEAH. AND ALSO--AND YOU JUST CUT IT IN HALF, REALLY SIMPLE, AND YOU JUST START RUNNING IT ALONG THE REAMER THERE. AND I ACTUALLY THINK THAT YOU GET MORE JUICE THIS WAY THAN YOU DO OUT OF THE OTHER MECHANICAL TYPES, AND I THINK THAT BECAUSE I'VE TESTED IT. >> WELL, AND I THINK IF YOU BUY THE RIGHT PRODUCT TO START WITH--AND WE COULD TELL THAT WAS GOING TO BE VERY JUICY--IT SURE DOES MAKE IT EASIER, THEN, WHEN YOU'RE JUICING IT. >> EXACTLY. AND SEE? IT'S REALLY SIMPLE. AND WHAT I LOVE, YOU CAN SQUEEZE IT AND THEN RUN THAT ALONG--SEE, ALL THAT JUICE COMES RIGHT OUT, SO YOU'RE NOT MISSING ANY OF THAT JUICE. THERE'S JUST SO MUCH JUICE. AND IT'S REALLY EASY TO DO, AND YOU CAN ADD THE PULP IN OR STRAIN IT IF YOU WANT TO GET THE PULP OUT OF IT. >> HOW MUCH JUICE DO YOU GET, SAY, FROM A TYPICAL GRAPEFRUIT? >> YOU GET ALMOST A CUP. >> OH, WOW. >> IT'S ALMOST 8 OUNCES. >> THAT'S A LOT. >> YEAH, IT'S A LOT OF GRAPEFRUIT, AND YOU GET 100% OF YOUR VITAMIN C IN THIS ONE GRAPEFRUIT FROM JUICING IT. >> WOW. >> YEAH. IT'S SUPER GOOD FOR YOU. >> GOOD WAY TO GET OUR FRUITS AND VEGETABLES IN, STARTING IN THE MORNING. >> EXACTLY. SO WHAT I'D LIKE TO MAKE IS A LEMONADE WITH GRAPEFRUIT JUICE AND LEMONS, SO IT'S A LITTLE BIT DIFFERENT. SO WHAT WE'LL START OFF WITH IS, I MADE SOME SIMPLE SYRUP. AND YOU JUST TAKE ONE CUP OF SUGAR AND TWO CUPS OF WATER, AND YOU BRING IT TO A BOIL AND BOIL IT FOR ABOUT 10 MINUTES, AND THEN YOU JUST LET IT COOL. YOU CAN PUT IT IN AN ICE BATH IF YOU WANT TO GO AHEAD AND SERVE IT SOONER. >> SOONER. UH-HUH. >> MM-HMM. SO WE'RE STARTING OFF WITH THAT, AND I'M GOING TO ADD IN MY GRAPEFRUIT JUICE I JUST DID-- >> IT IS ABOUT A CUP. WOW. >> YEAH, IT'S ABOUT A CUP, AND IT'S GOT--I LIKE THE PULP BECAUSE YOU GET SOME OF THAT FIBER THAT'S NECESSARY. AND I'M GOING TO ADD A COUPLE MORE CUPS HERE OF GRAPEFRUIT JUICE. >> SO PROBABLY A TOTAL OF 3 GRAPEFRUIT WAS ALL WE NEEDED. >> YEAH, ABOUT 3 GRAPEFRUIT. MM-HMM. AND THEN I'D ALSO LIKE TO ADD IN--IT'S ABOUT TWO CUPS OF LEMON JUICE. >> AND WAS THIS FRESHLY SQUEEZED? >> FRESHLY SQUEEZED. >> I CAN SEE THE PULP IN THAT. >> UH-HUH. I DID IT ALL MYSELF. AND THEN YOU JUST STIR THAT UP. AND SO IT'S A DIFFERENT WAY-- YOU'RE ADDING A LITTLE BIT OF A TARTNESS, BUT YOU HAVE THE SUGAR THAT YOU ADD IN, SO YOU'RE MAKING IT INTO THIS REALLY LOVELY LEMONADE, AND SO... LET ME GET US A GLASS HERE AND POUR THAT IN. AND I'M GONNA ADD SOME ICE. WE CAN USE TRADITIONAL ICE, BUT WHAT I ACTUALLY PREPARED HERE FOR US IS GRAPEFRUIT JUICE CUBES OF ICE. >> AND THESE WERE JUST THE-- WHAT YOU SQUEEZED. >> UH-HUH. >> OH, THAT'S GOOD. >> POURED IT INTO AN ICE CUBE TRAY AND FREEZE IT A FEW HOURS, AND HERE YOU GO. SO YOU CAN ADD IN SOME EXTRA JUICE BUT ALSO HAVE YOUR FROZEN TEXTURE THAT YOU WANT. AND YOU JUST POUR THAT IN. >> IT KEEPS IT FROM GETTING WATERED DOWN... >> EXACTLY. >> IF YOU DON'T DRINK IT IMMEDIATELY. >> YOU GET ALL OF THE BEAUTIFUL COLOR AND FLAVOR AND VITAMINS. AND THEN YOU CAN TOP IT WITH A GRAPEFRUIT WEDGE. >> THERE YOU GO. >> AND IT'S SUPER DELICIOUS. WOULD YOU LIKE TO TRY SOME? >> SURE. >> WONDERFUL. YEAH. I LOVE GRAPEFRUIT JUICE. AND YOU CAN ALSO USE IT IN SALAD DRESSINGS. >> OH, THAT IS GOOD. >> OH, I'M GLAD YOU LIKE IT. YEAH, YOU CAN USE IT IN SALAD DRESSINGS--MIX IT WITH A LITTLE OLIVE OIL AND SOME SEASONING. GRAPEFRUIT JUICE KIND OF CUTS THE OIL A LITTLE BIT. AND IT'S SUPER DELICIOUS. >> WHAT A GREAT IDEA. AND HERE I'VE JUST EATEN THEM FOR BREAKFAST ALL THESE YEARS. I'LL TRY SOME NEW RECIPES WITH IT. >> OH, GOOD. >> THANK YOU VERY MUCH. >> THANK YOU. >> DR. MAREZ, IT'S A REAL PLEASURE TO HAVE YOU ON THE SHOW TODAY. AND I'VE ALWAYS WANTED TO TALK TO SOMEONE ABOUT ACUPUNCTURE SIMPLY BECAUSE BEFORE I WENT--AND I HAVE HAD SOME TREATMENTS--IT WAS REALLY PRETTY MUCH, UM, A MYSTERY. I WAS REALLY AFRAID THE NEEDLES WERE GOING TO HURT, AND I DON'T KNOW THAT I REALLY BELIEVED IT. I THOUGHT--YOU KNOW, THIS IS KIND OF LIKE WITCHERY OR SOMETHING. BUT, UH, IT'S AN ANCIENT ART. >> YES. IT'S BEEN AROUND SINCE THE STONE AGE, ACTUALLY, BUT THE EXACT DATE IT STARTED, I DON'T THINK ANYBODY REALLY KNOWS. BUT IT'S BEEN AROUND FOR A LONG TIME, AND RIGHT NOW, IT'S--IT'S BECOMING MORE AND MORE CREDIBLE. THE INSURANCE COMPANIES ARE PAYING FOR IT. THE DOCTORS AT THE MAYO CLINIC IN MINNESOTA ARE USING ACUPUNCTURE. THE DOCTORS ARE DOING ACUPUNCTURE THEMSELVES. >> OH, IS THAT RIGHT? >> YES. >> HOW DOES A PERSON BECOME TRAINED TO BE A ACUPUNCTURIST? >> WELL, DIFFERENT SCHOOLS REQUIRE DIFFERENT REQUIREMENTS, SO RIGHT NOW--IT USED TO BE TWO YEARS OF SCHOOLING, AND NOW CALIFORNIA HAS PASSED A LAW WHERE IT'S 9 YEARS OF COLLEGE TO BECOME AN ACUPUNCTURIST. >> 9? >> YES. >> SO IF IT'S THAT MUCH LONGER, DOES THAT JUST MEAN THERE'S MORE THAT THEY GO OUT AND PRACTICE MORE-- USE ACTUAL CLINICAL PRACTICE? >> ACTUALLY, THE MORE--THE MOST OF THE YEARS THEY'RE PUTTING INTO EDUCATION NOW IS WESTERN MEDICINE, SO THEY REQUIRE ACUPUNCTURISTS NOW TO HAVE, UH, PREMED MAJORS, SCIENCE MAJORS. BEFORE, IT USED TO BE ART MAJORS. ANYBODY COULD BE. BUT NOW THEY'RE TIGHTENING UP, AND THEY'RE GETTING MORE PEOPLE INTO ACUPUNCTURE, SO THEY CAN BE MORE SELECTIVE IN WHO THEY CHOOSE TO BECOME IN THEIR FIELD. >> MAY BE HARDER AND HARDER TO GET IN. WHAT ARE SOME OF THE TYPES OF AILMENTS, PAIN, THAT ACUPUNCTURE WOULD TREAT THAT MAYBE WOULD SURPRISE US? >> WELL, WE ALREADY KNOW HEADACHES AND NECK PAIN, SHOULDER PAIN, HIP PAIN, BACK PAIN. I USE ACUPUNCTURE NOW FOR SIDE EFFECTS OF CHEMO AND RADIATION THERAPY. RIGHT NOW, THAT'S--CHEMO AND RADIATION ARE--CANCER'S JUST GONNA TAKE OFF PRETTY SOON. BUT RIGHT NOW, I HAVE PATIENTS THAT ARE DOING CHEMO AND RADIATION, AND THE DOCTORS ARE JUST AMAZED THAT THEY'RE NOT LOSING THEIR HAIR, THEY'RE NOT GETTING SICK. >> AT WHAT POINT DO THEY TRY THE ACUPUNCTURE? >> USUALLY THESE ARE PATIENTS OF--THEY MIGHT CALL ME. AND THAT'S WHAT I'D PROBABLY RECOMMEND FOR OTHER PEOPLE TOO, IS IF YOU'RE NOT SURE IF AN ACUPUNCTURIST CAN HELP YOU, JUST CALL AND ASK HIM. "I HAVE THIS, THIS, AND THIS. CAN YOU HELP ME?" AND YOU'LL FIND SOMEBODY. >> SO MAYBE BEFORE THEY STARTED THE RADIATION AND CHEMO? >> YES. YES. AND ACTUALLY, I DO--THERE IS A TREATMENT TO BOOST YOUR IMMUNE SYSTEM SO WHEN YOU START THE CHEMO AND RADIATION, YOU'RE MORE PREPARED FOR IT. >> OH, THAT'S GOOD. WHAT ABOUT SOMEONE WHO'S HAD A STROKE? >> ACTUALLY, I JUST HAD A PATIENT WHO HAD A STROKE. AND WHAT'S INTERESTING, AFTER THE STROKE, THE PATIENT'S BLOOD PRESSURE IS JUST ALL OVER THE PLACE, AND THEY'RE USING ALL THESE BLOOD PRESSURE MEDICINES, AND THEY CAN'T FIGURE OUT HOW TO STABILIZE IT. ONE ACUPUNCTURE TREATMENT, AND NOW HIS BLOOD PRESSURE'S 120 OVER 80; 120 OVER 80. >> AND DO YOU THINK THAT WOULD BE TRUE OF EVERYONE? DOES IT WORK THAT FAST ON MOST PEOPLE? >> EVERYBODY IS DIFFERENT, AND EVERY ACUPUNCTURIST IS DIFFERENT TOO, SO THERE MIGHT--THEY MIGHT USE A DIFFERENT TREATMENT FOR A STROKE. BUT ONE OF THE POINTS I USE FOR A STROKE IS RIGHT BELOW THE KNUCKLE BELOW THE MIDDLE FINGER. THIS IS AN EXCELLENT POINT TO TREAT A STROKE, PREVENT A STROKE. BUT IT'S ALSO NEAR THE NECK POINT, AND SO MANY PEOPLE WITH STROKES HAVE NECK PROBLEMS. >> SO WOULD THIS WORK FOR SOMEONE WHO HAD AN ANEURYSM, OR IS THAT DIFFERENT? >> YES. I HAD A PATIENT THIS WEEK WHO HAD AN ANEURYSM, AND SHE ACTUALLY HAD TWO SURGERIES. THE SECOND SURGERY WAS TO CLEAN OUT WHATEVER RESIDUAL WAS LEFT FROM THE FIRST SURGERY. BUT SINCE THE SURGERY, SHE'S HAD TREMENDOUS NECK PAIN AND HEADACHES. >> I BET. >> AND AFTER ONE TREATMENT, SHE SAID SHE HASN'T FELT LIKE THIS IN OVER A YEAR AND A HALF. HER NECK IS NOT STIFF NO MORE. SHE CAN'T BELIEVE THAT, UH, HER HEADACHE WAS GONE. AND ACTUALLY, I'M TREATING SOMEBODY WHO HAD A--THEY DID-- THEY FOUND A TUMOR HERE, AND THEY TOOK IT OUT, BUT SINCE THEY TOOK IT OUT, HE LOST HIS VISION PARTIALLY HERE, AND NOW THIS WHOLE AREA'S NUMB. WELL, HE CAME IN LAST WEEK, AND HE WAS SO HAPPY BECAUSE HE HAD A HEADACHE. HE SAID THE AREA'S NOT NUMB, AND HE WAS HAPPY. AND I SAID, "WELL, WE'LL GET RID OF THE HEADACHE." >> UH-HUH. >> BUT YOU CAN DO REALLY AMAZING THINGS WITH ACUPUNCTURE. >> WELL--AND I'M SURPRISED IN TALKING ABOUT SOME OF THESE THAT IT ACTUALLY WORKS. WHAT ABOUT SOMETHING LIKE ASTHMA, ALLERGIES? >> ASTHMA'S A GREAT EXAMPLE TO USE THE DIFFERENCE BETWEEN HOW WESTERN MEDICINE TREATS A CONDITION AND HOW CHINESE MEDICINE TREATS IT. WITH ASTHMA, THERE'S STRESS-INDUCED ASTHMA, COLD-INDUCED ASTHMA, EXERCISE-INDUCED ASTHMA, ALLERGY-INDUCED ASTHMA, HEAT-INDUCED ASTHMA. ALL OF THEM ARE A DIFFERENT TREATMENT. >> OH. >> ALL OF THEM ARE A DIFFERENT MEDICINAL FORMULA, AND ALSO ALL OF THEM WILL HAVE DIFFERENT NUTRITIONAL INFORMATION, SO WHEN YOU GO TO THE DOCTOR FOR ASTHMA, YOU'RE JUST GETTING TREATED FOR ASTHMA, BUT I LOOK AT IT AS, WE WANT A FINER DIAGNOSIS FOR ASTHMA. >> FIND OUT WHAT'S REALLY CAUSING IT. >> YES. I RECENTLY SAW A 9-YEAR-OLD GIRL, AND SHE HAD EXERCISE-INDUCED ASTHMA, SO SHE COULDN'T BE IN THE PLAYGROUND. SHE WAS TAKING THE INHALER AND THE MEDICATION ALL HER LIFE. BY FOURTH OR FIFTH TREATMENT, SHE'S OFF OF HER MEDICATION. HER MOTHER CALLED ME ABOUT 6 MONTHS LATER, AND SHE SAID HER DAUGHTER'S ON THE BASKETBALL TEAM. >> WOW. THAT'S WONDERFUL. UM, AND ANOTHER--SOMETHING THAT WE HEAR A LOT ABOUT IS FIBROMYALGIA, AND A LOT OF TIMES, DOCTORS WILL SAY, "WELL, THERE'S NO TREATMENT FOR THAT." DO YOU WORK WITH PEOPLE THAT HAVE THAT? >> YES. ACTUALLY, I HAD A-- PATIENTS GOT HOLD OF ME ON THE INTERNET, AND WE MET AT A BUILDING IN RATON, AND WE SPENT ABOUT 3 HOURS. AND EVERYBODY'S FIBROMYALGIA WAS DIFFERENT, SO EACH ONE GOT A DIFFERENT TREATMENT; DIFFERENT INFORMATION. BUT WITH FIBROMYALGIA, I JUST GO RIGHT DOWN THE LINE. "WRITE DOWN YOUR WORST PAIN. LET'S GET RID OF IT. WHAT'S THE NEXT PAIN? LET'S GET RID OF IT. WHAT'S THE NEXT PAIN?" BUT WITH FIBROMYALGIA, I DO SEE A PATTERN, AND IT'S USUALLY FOR OLDER WOMEN, AND A LOT OF THEM ARE A LITTLE--ABOUT 30, 40 POUNDS OVERWEIGHT. BUT I ALWAYS LOOK FOR PATTERNS WITH EVERY CONDITION. >> MM-HMM. SO THAT MIGHT BE A WAY THAT WE WOULD CHOOSE THE ACUPUNCTURE DOCTOR THAT WE'D WANT TO GO TO, IS FIND A-- INSTEAD OF BEING TREATED JUST LIKE EVERYBODY ELSE, IT CAN BE MORE INDIVIDUALIZED, WHICH IS WHAT YOU DO. >> YES. ALL OF MY TREATMENTS ARE CUSTOM, AND WITH MOST ACUPUNCTURISTS, THE TREATMENTS ARE GONNA BE CUSTOM. BUT LIKE I SAY, FOR EXAMPLE, LIKE ASTHMA, ASTHMA'S A LUNG PROBLEM, SO I LOOK AT THE LUNGS. I DON'T LOOK AT THE DIAGNOSIS. I THINK, "WHAT'S AFFECTING THE LUNGS? IS IT COLD WEATHER? IS IT THE EXERCISE? IS IT THE HOT WEATHER?" SO DIFFERENT TREATMENTS FOR DIFFERENT CONDITIONS. >> SO WOULD THAT MAYBE BE WHY YOU CAME UP WITH THIS BOOK THAT YOU WROTE, SO-- SINCE EVERYBODY'S TREATMENT IS SO TOTALLY DIFFERENT? >> YES. WELL, IT WAS A NATIVE AMERICAN NURSE WHO GOT ME INVOLVED WITH THE BOOK. I TREATED A TRIBAL CHIEF'S MOTHER FOR KNEE PAIN, AND THEN I SAW HER ABOUT A COUPLE OF WEEKS LATER, AND THE NURSE SAID, "SHE HASN'T COMPLAINED OF PAIN. SHE HASN'T TAKEN ANY PAIN MEDS." AND SO THE NURSE SAID, "I WOULD LIKE TO LEARN THIS." SO I SAID, "LET ME COME UP WITH SOMETHING THAT'S EASY FOR YOU TO LEARN." AND EVERY WEEK, I GET CALLS FROM NURSES OR PATIENTS. THEY'LL SAY, "I HAD A HEADACHE. I USED YOUR POINT, AND THE PAIN WENT AWAY." THEY'RE ACTING LIKE THEY'RE SURPRISED, BUT I'M NOT SURPRISED. >> SO ANYONE CAN USE THIS BOOK. >> YES. >> WHAT ABOUT WOMEN WHO ARE PREGNANT OR THINKING ABOUT BECOMING PREGNANT? >> I DON'T USE ACUPUNCTURE-- OTHER THAN MORNING SICKNESS, AFTER THAT, I DON'T USE ACUPUNCTURE. >> OH, OK. >> IT'S NOT REALLY-- YOU WANT TO BE SAFE, SO... >> AND WHAT DO YOU HOPE TO ACCOMPLISH WITH THE BOOK? >> WELL, THE UNIVERSITY OF NEW MEXICO, THEY JUST DID A STUDY ON MY BOOK AND PHONE APP, AND THEY SAID THE MARKETING FOR THESE TWO WOULD BE THE MILITARY AND THE NATIVE AMERICAN TRIBES. >> NOW WHY? >> WELL, WITH THE MILITARY, SAY SOME GUY'S IN A FOXHOLE IN AFGHANISTAN, AND HE'S GOT A HEADACHE. WELL, WE CAN'T GIVE HIM PAIN MEDS. >> NO. UH-UH. >> BUT WE'D BE ABLE TO, THROUGH TELEMEDICINE OR--ACTUALLY, IF YOU'VE HEARD OF TELEMEDICINE, THIS IS TELETREATMENTS, SO YOU COULD SEND HIM THE POINTS OVER THE PHONE ON WHERE TO PRESS TO GET RID OF HIS HEADACHE. >> UH-HUH. OR IF THEY HAD STUDIED THE BOOK BEFORE THEY GO. >> YES. AND WITH NATIVE AMERICANS, THEIR PHILOSOPHY IS LIVING WITHIN NATURE, SO I THINK THEY HAVE A PROBLEM SOMETIMES WITH MEDICATIONS AND ALL THIS, SO THEY'RE LOOKING FOR SOMETHING THAT'S NATURAL AND, UH, IT'S EASY TO USE, AND THE RESULTS ARE INSTANT. >> WELL, I THINK ALL OF US WOULD LIKE THAT. WE'D LIKE TO BE CURED OF WHATEVER'S HURTING US IMMEDIATELY. WELL, CONGRATULATIONS ON THE BOOK, AND THANK YOU AGAIN FOR BEING HERE ON THE SHOW TODAY. >> THANK YOU FOR HAVING ME. >> I HOPE YOU ENJOYED THE SHOW TODAY. NEXT TIME ON "CREATIVE LIVING," WE'LL LEARN ABOUT SOME LOW-COST WAYS TO PERK UP OUR HOMES, WE'LL SHOW YOU HOW YOU CAN HAVE INSTANT HEIRLOOM FURNITURE, AND WE'LL DEMONSTRATE 3 DIFFERENT WAYS TO DYE FABRIC. ONE OF MY NEXT GUESTS IS AN INTERIOR DESIGNER, AND SHE'S GOING TO SHOW SOME LOW-COST WAYS TO PERK UP YOUR HOME. HER DISCUSSION WILL INCLUDE BOOKCASES, COFFEE TABLES, PILLOWS, AND FRAMES AS WELL AS UPCYCLING OLD FURNITURE. ANOTHER GUEST IS GOING TO SHOW HOW TO CREATE YOUR OWN INSTANT HEIRLOOMS USING UNFINISHED FURNITURE. HE'LL SHOW HOW TO DISTRESS WOOD, STAIN IT, AND ADD WAX TO PROVIDE PROTECTION AND A TIMELESS FINISH. WE'LL ALSO MEET A DESIGNER AND CRAFTER WHO WILL SHOW HOW TO USE LIQUID DYE FOR 3 DIFFERENT DYEING TECHNIQUES. ALL OF THESE TOPICS WILL BE FEATURED ON THE NEXT "CREATIVE LIVING" SHOW. IF YOU EVER HAVE COMMENTS OR SUGGESTIONS OR IDEAS FOR SHOWS, YOU CAN E-MAIL ME AT SHERYL.BORDEN@ENMU.EDU. I'D ALSO LIKE TO ASK YOU TO BECOME A FAN OF "CREATIVE LIVING" ON FACEBOOK. JUST GO TO FACEBOOK.COM, AND IN THE SEARCH WINDOW, TYPE IN "CREATIVE LIVING WITH SHERYL BORDEN." I HOPE YOU'LL PLAN TO JOIN ME NEXT TIME FOR "CREATIVE LIVING." >> WE ARE VERY PLEASED TO OFFER A NEW BOOKLET THAT ACCOMPANIES THIS SERIES OF "CREATIVE LIVING." THIS BOOKLET IS TITLED "THE 6700 SERIES," AND IT FEATURES A WONDERFUL COLLECTION OF IDEAS AND INFORMATION, AND IT'S AVAILABLE FREE OF CHARGE ON OUR WEB SITE. POSTED AS A PDF FILE, YOU CAN SIMPLY DOWNLOAD THE ENTIRE BOOKLET OR JUST THE SEGMENTS YOU'RE MOST INTERESTED IN. YOU'LL FIND INFORMATION ON FOODS, NUTRITION, CLOTHING, FASHION, HEALTH & BEAUTY, HOME DECORATING, AND MUCH MORE. FOR YOUR COPY OF THIS NEW BOOKLET, GO TO OUR WEB SITE AT KENW.ORG AND THEN CLICK ON "CREATIVE LIVING." SCROLL DOWN TO THE BOOKLET SECTION, AND YOU CAN CLICK ON THIS BOOKLET OR ON ANY OF THE OTHER BOOKLETS WE HAVE AVAILABLE ONLINE. JUST GO TO KENW.ORG, CLICK ON "CREATIVE LIVING," AND DOWNLOAD THE BOOKLET TITLED "THE 6700 SERIES." WE ALSO INVITE YOU TO SIGN UP FOR OUR FREE E-NEWSLETTER. JUST GO TO KENW.ORG AND CLICK ON THE "SIGN UP NOW!" BUTTON AND INPUT YOUR E-MAIL ADDRESS. THAT'S ALL THERE IS TO IT. YOU'LL ENJOY READING AN UP-TO-DATE NEWSLETTER FILLED WITH INTERESTING TOPICS AND INFORMATION. THANK YOU.
Now Playing As: Captioned (English) (change)
Sheryl and her guest discuss ways to relieve pain in three seconds, while Andy Wells from Master Brand Cabinets discusses ways to remodel a bathroom. Sheryl also welcomes the Executive Director of Texas Sweet Citrus as they highlight the uses of grapefruit juice.
Media Details
Runtime: 27 minutes