Creative Living With Sheryl Borden #6719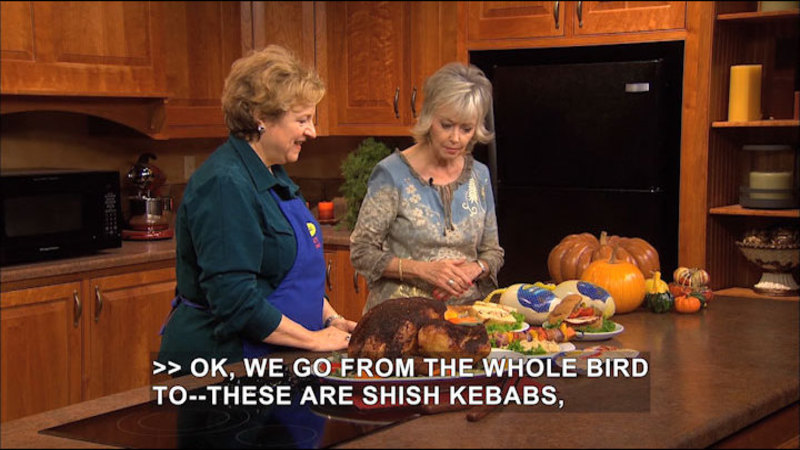 >> "CREATIVE LIVING," UTILIZING TODAY'S TECHNOLOGY WITH THE BEST OF THE PAST TO BRING YOU INNOVATIVE IDEAS AND UP-TO-DATE INFORMATION FOR CREATIVE LIFESTYLES IN TODAY'S ACTIVE WORLD, WITH YOUR HOST SHERYL BORDEN. >> WELCOME TO "CREATIVE LIVING" TODAY. WE'RE GOING TO LEARN HOW TO USE HUMOR TO RELIEVE STRESS, WE'LL LEARN HOW TO STAMP A QUILT, AND FEATURE SOME GREAT TURKEY RECIPES FOR YEAR-ROUND DINING. ONE OF MY GUESTS IS SUE HANSEN, AND SHE'S A MOTIVATIONAL SPEAKER. SUE'S GOING TO TALK ABOUT HUMOR AND STRESS. AND STRESS IS INEVITABLE IN TODAY'S ENVIRONMENT, AND SOME PEOPLE WEATHER THE STRAIN BETTER THAN OTHERS. SUE'S FROM MONTROSE, COLORADO, AND HER COMPANY IS "SUE HANSEN SPEAKS." ANOTHER GUEST IS ANN BUTLER, AND SHE'S A DESIGNER AND CRAFTER. AND SHE'S GOING TO SHOW HOW TO USE SPECIALTY STAMPS TO STAMP OUT A REAL QUILT. THE STAMPS ARE CREATED WITHOUT A LIP, SO YOU CAN EASILY PLACE THEM NEXT TO EACH OTHER TO CREATE YOUR ARTWORK. ANN'S BUSINESS IS "ANN BUTLER DESIGNS," AND SHE'S FROM VILLARD, MINNESOTA. AND WE'LL BEGIN THE SHOW TODAY WITH MARTY VAN NESS, WHO IS A SPOKESPERSON AND HOME ECONOMIST WITH BUTTERBALL IN CHICAGO, ILLINOIS. MARTY'S GOING TO TELL HOW TO ENJOY TURKEY THROUGHOUT THE YEAR, NOT JUST DURING THE HOLIDAYS. SHE'LL DEMONSTRATE TRADITIONAL TURKEY RECIPE IDEAS WITH A MORE CONTEMPORARY TWIST. MARTY, WHEN WE SAY WE'RE GOING TO TALK TURKEY, WE MEAN IT TODAY, DON'T WE? >> OH, YES. >> AND THERE ARE A LOT OF NEW PRODUCTS ON THE MARKET THAT IF SOMEONE'S THINKING, "WELL, IT'S A WHOLE BIRD, AND THAT'S THE ONLY THING THERE IS TO COOK," WE'RE GONNA SHOW THEM SOME NEW PRODUCTS THAT WILL REALLY MAKE COOKING TURKEY A REAL CHALLENGE AND FUN. >> OH, WELL, IT'S GONNA BE SO EASY, AND IT CAN BE USED YEAR-ROUND. TURKEY ISN'T JUST FOR THANKSGIVING. WE USE TURKEY PRODUCTS IN LOTS OF DIFFERENT RECIPES EVERY DAY OF THE YEAR. >> AND ISN'T IT FUNNY? WE TEND TO THINK OF IT ONLY AT HOLIDAY TIMES. AND I ALWAYS SAY, "WHY DON'T I DO THIS MORE OFTEN?" >> WELL, WE'VE TAKEN CARE OF THIS BY ADDING A LOT OF OTHER PRODUCTS TO THE LINE. >> LET'S START WITH THE BIG BIRD WE'VE GOT RIGHT NOW. >> OK. YEAH. >> THIS IS A--TELL US WHAT'S UNIQUE ABOUT THE WHOLE TURKEY. >> OK. THIS TURKEY HAS BEEN CALLED--RECEIVED A DRY BRINE, WHICH MEANS IT WAS RUBBED WITH A SPICE MIXTURE. >> IS THAT WHAT GIVES IT THE COLOR? >> RIGHT. THERE'S A CHILI POWDER THAT'S INCORPORATED INTO THE OTHER SPICES, AND THIS PARTICULAR TURKEY LOOKS A LITTLE DARKER THAN USUAL BECAUSE WE USED A SPECIAL CHILI FROM CHIMAYO--THE CHIMAYO CHILI, WHICH TENDS TO BE A LITTLE DARKER. BUT WHATEVER CHILIS THAT YOU LIKE... >> LOOKS GOOD TO ME. >> IN YOUR PART OF THE COUNTRY, YOU CERTAINLY CAN USE THAT. AND THEN EACH SLICE WOULD HAVE THAT LITTLE BIT OF FLAVOR THAT REALLY SPICES IT UP. WE'VE FOUND THAT A LOT OF TRADITIONS ARE GREAT, BUT PEOPLE WANT TO BE CROSS-GENERATIONAL, AND THE YOUNGER PEOPLE LIKE IT A LITTLE BIT SPICIER, AND THEY WANT TO ADD SOMETHING THAT'S GONNA REALLY KICK IT UP A NOTCH. SO THE SPICE-RUBBED TURKEY IS ALL PREPARED THE DAY AHEAD OF TIME, WHICH IS WONDERFUL. YOU DON'T HAVE TO WAIT TILL THE LAST MINUTE TO COOK YOUR TURKEY WHETHER IT'S FOR THANKSGIVING OR JUST MOTHER'S DAY OR ANY DAY OF THE YEAR. YOU DO THE RUB THE DAY BEFORE, COVER IT TOTALLY, AND PUT IT IN THE REFRIGERATOR. AND IT'S A DRY BRINE BECAUSE THERE'S NO WATER, BUT THERE IS SALT AND OTHER SPICES AND INGREDIENTS THAT HELP TO COAT AND GIVE FLAVOR TO THE TURKEY. THEN THE NEXT DAY, YOU TAKE IT OUT, ROAST IT ACCORDING TO PACKAGE DIRECTIONS. IT COULDN'T BE EASIER. >> WHICH IS BY POUNDS AND THAT SORT OF THING. AND THAT'S WHAT I LIKE ABOUT THE PACKAGING. YOU CAN READ ON THERE, AND IF YOU'VE NEVER COOKED ONE BEFORE, YOU CAN COOK IT SUCCESSFULLY. >> ABSOLUTELY. EVERY SINGLE TIME. >> OK, WE GO FROM THE WHOLE BIRD TO--THESE ARE SHISH KEBABS, BUT WHAT'S DIFFERENT? >> WELL, THE SPECIAL THING ABOUT THESE TURKEY SHISH KEBABS ARE, THEY USE A SMOKED TURKEY. AND WE MAKE A FABULOUS SMOKED TURKEY SAUSAGE, AND THE SMOKED TURKEY SAUSAGE GETS CUT INTO LITTLE SEGMENTS, LITTLE PIECES. >> IS IT ALREADY PRECOOKED? >> IT IS, BUT YOU WOULD WANT TO WARM IT. >> SURE. BUT THAT REALLY DOES CUT DOWN THE PREPARATION AND THE COOKING TIME. >> RIGHT. AND WHAT I LIKE TO DO AS A TRICK FOR ANY OF THESE RECIPE METHODS--ANY SLICING, DICING, I LIKE TO DO THE DAY BEFORE. MAYBE WHILE THE DINNER THE NIGHT BEFORE IS COOKING, I CAN--IF I'M ORGANIZED, YOU KNOW, IF I CAN GET TO THAT STAGE A FEW DAYS A WEEK; HAVE, YOU KNOW, THE PEPPERS READY AND THE ONIONS SLICED THE DAY BEFORE. YOU CAN EVEN SLICE UP THE SAUSAGE THE DAY BEFORE, PUT IT IN A BAGGIE, REFRIGERATE IT, THEN RIGHT BEFORE DINNER, THREAD THEM ONTO THE SKEWERS, AND YOU CAN ROAST THIS OR GRILL THIS IN JUST A FEW MINUTES. AND ALL THE RECIPES, BY THE WAY, FOR TODAY'S FOODS ARE AVAILABLE AT BUTTERBALL.COM. >> OH, SO IF WE FORGET A FEW THINGS, WE CAN GO BACK AND CHECK. >> ABSOLUTELY. >> OK. AND HERE WE HAVE SOMETHING THAT'S MADE WITH-- THIS IS THE DARK MEAT; LIGHT AND DARK MEAT THERE. >> RIGHT. THIS IS OUR 3-POUND ROAST, AND IT'S A TURKEY ROAST. IT COMES ALL BREAST OR BREAST AND THIGH, SO YOU CAN USE EITHER ONE THAT YOU LIKE. YOU FOLLOW THE PACKAGE DIRECTIONS FOR THIS AND THEN SLICE THE MEAT INTO THIN SLICES, AND WHAT WE'RE MAKING HERE ARE THE CUBAN SANDWICHES, AND THEY'RE GRILLED. SO THE--IT'S LAYERED WITH TURKEY AND HAM AND SWISS CHEESE AND SOME OTHER INGREDIENTS--SOME VEGETABLES--AND THEN YOU WRAP IT IN FOIL. AND YOU'VE ALREADY PREHEATED YOUR GRILL, AND THEN THE FOIL PACKETS ARE SET ON THE GRILL--I THINK IT'S A MEDIUM TEMPERATURE--AND THEN YOU PUT SOMETHING HEAVY ON THIS TO PRESS IT. IT'S KIND OF LIKE BEFORE PANINI MACHINES. >> OH, I SEE. >> YOU PUT EITHER A BIG CAST-IRON SKILLET ON TOP OF THE FOIL-WRAPPED SANDWICH ON THE GRILL-- >> BECAUSE YOU WANT THE GRILL MARKS. THAT'S TRADITIONAL. >> YES, THE GRILL MARKS THAT WE HAVE TODAY. OR I SOMETIMES WILL WRAP A HEAVY BRICK IN FOIL AND USE THAT. AND THIS IS GREAT FOR A SMALL GROUP, A FAMILY OF 4, OR IF YOU WANT TO DOUBLE THE RECIPE, JUST USE MORE BRICKS OR MORE CAST-IRON SKILLETS. >> OR I JUST LOVE WAYS TO USE LEFTOVERS, AND THIS WOULD BE A GREAT WAY TO. AND I WAS LOOKING--WHILE YOU WERE TALKING, I WAS LOOKING ON HERE. THEY EVEN HAVE A CROCK-POT METHOD, AND, YOU KNOW, IT SEEMS LIKE CROCK-POT COOKERY IS REALLY BECOMING POPULAR AGAIN. >> RIGHT. YOU CAN HAVE EVERYTHING SET UP THE NIGHT BEFORE. BEFORE YOU GO TO WORK, PUT THIS IN THE CROCK POT WITH THE INGREDIENTS AND SET IT ON THE PROPER TEMPERATURE, AND IT'S READY FOR DINNER. >> I LOVE THAT. >> YEAH. >> AND I ALSO LOVE CAJUN FLAVORING, SO THIS JUST FITS THE BILL RIGHT HERE. >> NOW, THIS IS THE SAME PRODUCT AS THIS ONE, EXCEPT IT HAS A CAJUN FLAVORING TO IT, SO YOU GET THAT LITTLE EXTRA SPICE TO IT. AND THAT'S WHAT YOU SEE AROUND THE RIM OF THIS SLICE ON THIS SANDWICH. >> OH, KIND OF LIKE THE RUB. GIVES YOU THE SAME EFFECT. >> YES, A SIMILAR EFFECT. AND THAT HAS GRILLED VEGETABLES, AND IT'S ON A KAISER ROLL, AND IT HAS A WONDERFUL KIND OF A BACON MAYONNAISE SPREAD THAT YOU PUT ON--LIKE A BACON RANCH SPREAD THAT YOU PUT ON THE BUN. JUST DELICIOUS. >> WELL, AND WITH EACH ONE OF THESE RECIPES, I WAS JUST THINKING, LIKE WHEN YOU TALKED ABOUT THE CHEESE AND THE SLICES AND THINGS, THESE ARE SO GOOD, BECAUSE YOU CAN JUST CUSTOM-MAKE THEM OR LET PEOPLE BUILD THEIR OWN IF THEY'RE EATING WITH YOU. >> ABSOLUTELY. YOU CAN MAKE THIS KIND OF AN OPTIONAL--YOU COULD EVEN OFFER BOTH OF THESE TYPES OF SANDWICHES IF YOU'RE HAVING A FOOTBALL PARTY OR, YOU KNOW, PEOPLE OVER FOR THE FOURTH OF JULY, EVEN. THIS IS KIND OF A LITTLE TWIST ON THAT. >> WELL, AND ESPECIALLY WITH THE GRILLING. I THINK WE ALWAYS LIKE TO GRILL IN THE SUMMER. >> OH, IT'S FUN. >> I CAN MAKE MY HUSBAND DO THAT. WELL, MARTY, THANK YOU SO MUCH. IT'S NICE TO KNOW WHAT SOME OF THE NEW PRODUCTS ARE. AND IT'S JUST SO EASY AND, LIKE YOU SAY, CALL THAT BUTTERBALL TALK LINE AND ASK QUESTIONS RIGHT IN THE MIDDLE OF HOW YOU'RE STUFFING THE TURKEY. >> YEAH. BUTTERBALL.COM IS OPEN ALL YEAR ROUND. THE TALK LINE'S SEASONAL WITH NOVEMBER AND DECEMBER, BUT BUTTERBALL.COM-- >> THAT'S THE ONE TO GO TO YEAR-ROUND FOR HELP. >> YES, THAT'S CORRECT. >> WELL, THANK YOU SO MUCH FOR BEING WITH US TODAY. >> HAPPY TO BE HERE. >> ANN, I'VE BEEN SO EXCITED FOR YOU TO COME, BECAUSE YOU ALWAYS DO SOMETHING NEW AND EXCITING AND BRIGHT COLORS AND INTERESTING THINGS TO DO, BUT THEY'RE ALWAYS EASY, AND THAT'S WHAT I LOVE. >> YEAH, QUICK AND EASY. >> WELL, QUILTING IS SO POPULAR--CONTINUES TO BE. STAMPING IS JUST, UH, BEYOND POPULAR. YOU'VE COMBINED THOSE. HOW DID YOU DO THIS? >> I HAVE. I'VE COME UP WITH A CONCEPT FOR FAUX QUILTING SO YOU CAN STAMP OUT YOUR QUILT, BECAUSE EVERYBODY CAN'T GO AND BUY ALL THOSE FABRICS THEY WANT, SO WITH THE STAMPS, THEY CAN HAVE A SET OF STAMPS AND USE ANY COLOR COMBINATION THEY HAVE OF INKS AND COME UP WITH ENDLESS POSSIBILITIES, AND IT'S QUICK. >> AND IT'S QUICK. WELL, WE'VE JUST GOT TO SHOW PEOPLE, BECAUSE I HAD NO IDEA, REALLY, WHAT YOU--WHEN IT SAID "FAUX QUILTING." THIS IS AN EXAMPLE OF A LITTLE PILLOW TOP THAT NORMALLY WE WOULD HAVE QUILTED AND HAD TO HAVE BOUGHT ALL THESE DIFFERENT LITTLE FABRICS OR THE--WHAT DO THEY CALL THEM?--THE QUARTER YARDS. >> FAT QUARTERS. >> FAT QUARTERS, UH-HUH. BUT THESE ARE ALL STAMPED. >> YEP. >> UNBELIEVABLE. HERE IT IS IN A LITTLE BIT BIGGER SAMPLE--MIGHT BE A LITTLE EASIER TO SEE. AGAIN, THIS IS A LITTLE TABLE RUNNER OR SOMETHING. >> YEP. >> AND, UH, IT'S JUST-- I MEAN, YOU HAVE TO... IT'S JUST HARD TO BELIEVE THAT THESE ARE STAMPED ON. >> AND IT TOOK, LIKE, TWO HOURS TO DO THAT WHOLE THING. >> DO THE WHOLE THING? >> YEP. >> OH! OK. AND WE'LL SAVE THE BEST FOR LAST AFTER YOU SHOW US HOW TO DO IT. BUT, OF COURSE, WE NEED STAMPS, AND THAT'S WHAT YOU HAVE COME UP WITH. YOU CAME UP WITH THE CONCEPT OF QUILT-LOOKING STAMPS. >> YEP. >> SO WE CAN SEE SOME. YOU JUST HAVE ZILLIONS OF THESE. >> YEAH, AND THERE'S MORE COMING OUT, SO IT--THEY'RE IN CLEAR AND RED RUBBER. >> OH, THAT'S RIGHT. >> SO SOME PEOPLE HAVE PREFERENCE OVER ONE OR THE OTHER. >> UH-HUH. SOMETIMES ONE'S EASIER TO SEE, ESPECIALLY WHEN YOU PUT THEM ON THOSE BLOCKS WHEN YOU STAMP THEM, SO THAT'S GOOD. AND I LOVE THE BRIGHT COLORS, BUT, OF COURSE, YOU CAN--THESE ARE MORE PASTEL, SO IT DOESN'T HAVE TO BE ALL BRIGHTS. >> RIGHT. YOU KNOW, IT'S JUST WHAT YOUR PREFERENCE IS. >> MM-HMM. AND WHAT I LIKE IS, YOU SAID YOU SORT OF MAKE A QUILT BLOCK FIRST ON PAPER. >> I LIKE TO TRY IT OUT ON PAPER BECAUSE YOU CAN TRY DIFFERENT COMBINATIONS AND JUST SEE WHAT YOU REALLY LIKE AND THEN GO ON YOUR FABRIC. >> THAT'S A GOOD IDEA. YOU DON'T WANT TO INVEST--LIKE IN QUILTING SOMETIMES, YOU KNOW, IF YOU'VE MADE A MISTAKE, YOU'VE GOT TO MAKE THE WHOLE BLOCK OVER IF YOU'VE MADE A MISTAKE WITH ONE OF THE LITTLE SECTIONS, SO... OK, WE'VE SHOWED THE STAMPS, THE INK, AND THE PATTERNS, AND SO NOW WE'RE GOING TO FIRST PREPARE ONE ON PAPER. >> OK, SO YOU'RE ABLE TO EASILY--THESE ARE PATENT PENDING, SO WHAT THEY ARE, THEY DON'T HAVE ANY LIP ON THEM. >> UH-HUH. >> SO YOU'RE ABLE TO BUTT THEM RIGHT UP NEXT TO EACH OTHER, AND YOU CAN STAMP IT ALL OUT TOGETHER. SO YOU CAN MAKE A BLOCK AND PUT ALL YOUR LITTLE PIECES TOGETHER. >> BUT NOW THIS WILL MEAN THAT WE'RE GOING TO STAMP THIS WHOLE THING IN ONE COLOR. >> YOU CAN, YES. OTHERWISE-- >> THE DIFFERENT PIECES MAKE IT LOOK LIKE INDIVIDUAL TRIANGLES. I SEE. >> YEP, AND--OR YOU COULD TAKE AND INK HALF OF IT WITH ONE COLOR AND INK THE OTHER HALF WITH ANOTHER COLOR IF YOU WANTED DIFFERENT COLORS. >> BUT NOT HAVING THAT LIP ON IT IS THE KEY, BECAUSE YOU CAN GET IT RIGHT UP THERE NEXT TO IT. >> RIGHT, SO YOU'RE ABLE TO JUST PUT THEM ALL RIGHT NEXT TO EACH OTHER. AND THEN YOU JUST... THESE INKS ARE REALLY JUICY. >> AND THAT'S--THAT'S WHAT YOU NEED FOR COMPLETE COVERAGE. SOMETIMES I'VE USED THEM AND, YOU KNOW, IT'LL STAMP OUT NICELY ON SOMETHING, BUT IT'S NOT COVERED. >> RIGHT. SO YOU JUST--I'M GONNA WIPE THAT OFF RIGHT THERE. >> UH-HUH. >> AND YOU'RE ABLE TO JUST LAY IT RIGHT DOWN, AND I LIKE TO GIVE IT A GOOD PRESS. >> MM-HMM. OH, GOSH. >> OK, SO I GOT A LITTLE BIT TOO MUCH INK THERE. >> OH, BECAUSE IT GOT DOWN ON THE EDGE. >> RIGHT, BECAUSE IT'S SUCH A NEW STAMP OR, YOU KNOW, INK PAD. >> UH-HUH. >> SO YOU CAN DO IT AGAIN. BUT THE KEY IS, SOME PEOPLE CAN'T GET THINGS STRAIGHT... >> MM-HMM. YEAH. >> SO THIS IS A LASER SQUARE, SO YOU'RE ABLE TO PUT IT EXACTLY--YOU KNOW, YOU MAKE YOUR FIRST IMPRESSION, AND YOU LINE IT UP... >> I DON'T KNOW IF THEY CAN SEE IT, BUT THAT'S A RED LASER LINE THAT YOU CAN PUT RIGHT AT THE VERY BOTTOM OF THE FIRST BLOCK. >> OF THE FIRST BLOCK. AND THEN YOU'RE ABLE TO TURN YOUR BLOCK WHICHEVER WAY YOU WANT. >> MM-HMM. >> AND YOU CAN LINE IT UP, BECAUSE THE ACRYLIC BLOCKS ARE CLEAR... >> UH-HUH. >> AND YOU CAN MAKE YOUR SECOND IMPRESSION, AND THEN THEY'RE NICE AND STRAIGHT. >> OH, HOW NEAT! THAT IS REALLY SOMETHING. MAYBE THE LASER SHOWS A LITTLE BETTER LIKE THAT. >> RIGHT. >> UH-HUH. >> SO WHAT YOU WANT TO DO WHEN YOU GO TO FABRIC... >> MM-HMM. >> IS, YOU NEED TO HAVE INK-- THIS INK IS FROM CLEARSNAP, AND IT'S CRAFTER'S INK, SO IT IS FABRIC-SAFE. >> OH, OK. DO THEY USUALLY SAY ON THERE IF IT--YEAH, IT SAYS "FOR FABRIC, WOOD, AND MORE." >> RIGHT. SO THIS ONE WAS ALREADY DONE EARLIER, AND YOU CAN DO IT ON COLOR FABRIC. >> SURE. UH-HUH. >> SO THIS IS BLACK INK ON COLORED FABRIC TO GIVE YOU A WHOLE NEW LOOK. >> YEAH. BECAUSE THIS, THEN, LOOKS LIKE AN ADDITIONAL LITTLE BLOCK THAT YOU PIECED IN THERE. >> YEAH. >> CUTE. >> AND WHAT YOU NEED TO DO IS, YOU ALWAYS NEED TO COME OVER AND HEAT-SET IT. >> OH, THE INK. >> I JUST DO THAT WITH AN IRON. >> UH-HUH. ON DRY OR... >> YEAH, I HAVE IT ON DRY. >> OK. >> AND I JUST DO IT FOR A FEW SECONDS, AND THAT'S IT. AND THEN YOU CAN GO THROUGH A WASHING MACHINE WITH IT AND EVERYTHING, SO, I MEAN, IT'S THAT EASY. AND THEN YOU TAKE... ONCE YOU HAVE A WHOLE QUILT DONE... >> MM-HMM. >> YOU TAKE YOUR FABRIC AND YOUR BATTING... >> JUST LIKE YOU DO IN REGULAR SEWING QUILTING. >> RIGHT. AND WHATEVER BACKING FABRIC YOU'RE GONNA USE, AND YOU TAKE IT TO YOUR SEWING MACHINE AND DECIDE HOW YOU'RE GONNA QUILT IT. >> HA HA HA! >> IT'S THAT EASY. I MEAN, YOU CAN FOLLOW THE LINES, OR YOU CAN DO CRISSCROSS OR, YOU KNOW, IF YOU KNOW HOW TO MEANDER... >> UH-HUH, WITH A FREE MOTION. >> SO THEN IN THE END--YEAH. >> THIS--THIS IS A WHOLE QUILT. IT'S JUST AMAZING TO THINK THAT THIS HAS BEEN STAMPED. EACH ONE OF THESE BLOCKS HAS BEEN STAMPED. >> YEP, STAMPED AND THEN I USED THE LASER SQUARE TO HELP GET THOSE STRAIGHT, YOU KNOW. >> AND YOU CAN SEE ON--YOU CAN FEEL THE BATTING INSIDE, SO IT GIVES IT THAT SOFT BASE. THIS IS JUST--AND YOU'LL PUT A BORDER... >> I'LL PUT A BINDING ON IT. I HAVEN'T DECIDED IF I WANT TO STAMP OUT A BINDING YET OR USE, YOU KNOW, A COLOR. YEAH, SO... >> AND THIS IS JUST-- ON THIS CASE, IT'S JUST STRAIGHT STITCHING, SO ANY MACHINE DOES THAT. >> YEP. I JUST WENT IN BETWEEN THE BLOCKS. THAT'S ALL I DID. >> UH-HUH. WELL, HOW FAST IS THAT? I CAN DO THIS. >> YEAH. QUICK AND EASY. AND THE RESULT--YOU WOULDN'T KNOW IT WAS STAMPED. >> NO. UH-UH. I THOUGHT IT WAS A SEWING QUILTED ONE. WELL, THANK YOU SO MUCH, ANN, AND CONGRATULATIONS ON ALL YOUR NEW PRODUCTS. THAT HAS TO BE A REAL--A REAL SOMETHING THAT YOU'RE PROUD OF. >> YEAH. IT'S EXCITING, YOU KNOW, BECAUSE YOU THINK ABOUT IT, AND THEN WHEN IT COMES TO MARKET, IT'S REALLY FUN. >> YEAH. WHEN YOU GO IN THE STORE AND SEE YOUR NAME, I THINK THAT WOULD BE WONDERFUL. >> YEAH. >> WELL, THANK YOU SO MUCH FOR SHOWING US HOW TO DO THIS STAMPED QUILTING. >> THANK YOU. >> SUE, IT'S REALLY NICE TO HAVE YOU HERE. AND WHEN I FIRST HEARD YOU SPEAK AT A CONFERENCE I WAS ATTENDING, UM, I THOUGHT, "WELL, SHE WOULD BE AN INTERESTING GUEST." AND THEN WHEN I REALIZED AFTER TALKING TO YOU YOUR BUSY SCHEDULE, I THOUGHT, "LET'S DO A SEGMENT ON STRESS," BECAUSE I--IF ANYONE EXPERIENCES THAT, IT WOULD BE YOU. AND YET I THINK WE ALL DO, INCLUDING OUR KIDS AND GRANDKIDS. BUT I LIKE YOUR IDEA OF JUST HAVING FUN, IF WE COULD ALL LEARN TO DO THAT. >> MM-HMM. WELL, YOU KNOW, WE LIVE IN A BUSY WORLD, AND THE TRUTH IS, WE GET STRESSED OUT. AND SOME OF IT'S SELF-INDUCED, AND SOME OF IT IS EXTERNAL. WE CAN'T DO ANYTHING ABOUT IT. SO MY THEORY IS THAT YOU NEED TO UNDERSTAND WHAT'S HAPPENING TO YOU, AND THERE'S DIFFERENT LEVELS OF STRESS, AND THEN YOU NEED TO BE ABLE TO REMEDY THAT. SO, YOU KNOW, IF YOU THINK ABOUT IT, YOU KNOW, THE OLD "FIGHT OR FLIGHT" SYNDROME, SO, YOU KNOW, WITH THE STRESS RESPONSE. SOME OF US STAND THERE AND FIGHT, AND SOME OF US JUST RUN. >> MM-HMM. >> WELL, YOU KNOW, NORMAL STRESS IS SOMETHING THAT'S TRANSITORY, AND IT COMES FOR A LITTLE WHILE, AND IT GOES AWAY. YOU KNOW, YOU HAVE A TEST, MAYBE, YOU HAVE TO TAKE IN SCHOOL OR SOMETHING LIKE THAT, SO YOU GET STRESSED OUT. YOUR BLOOD PRESSURE GOES UP WHEN YOU TAKE A TEST. >> MM-HMM. >> THEN YOUR BODY GOES BACK TO NORMAL. WELL, WHAT'S HAPPENING IN OUR CULTURE BECAUSE WE'RE SO BUSY IS THAT, UM, WE ARE UNDER STRESS FOR TOO LONG A PERIOD OF TIME, AND OUR BODIES ARE NOT-- >> WITHOUT COMING DOWN. >> RIGHT. EXACTLY. SO OUR BODIES ARE REALLY NOT DESIGNED FOR THAT. AND OF COURSE, THE SCIENTISTS CALL IT HYPER STRESS. SO, YOU KNOW, NORMAL STRESS IS, YOU KNOW, I'M GETTING READY TO JUMP OFF THE SKI SLOPE. I'M SCARED, BUT I'M READY AND... >> THE ADRENALINE. >> PERFORMANCE. RIGHT. SO IT'S A PERFORMANCE-ENHANCING PIECE. BUT WHEN IT GETS TO BE TOO MUCH AND OVER TOO MUCH TIME, IT CAN BE DAMAGING TO YOUR BODY. AND SO WE'RE REALLY SEEING SOME PRETTY ASTOUNDING NUMBERS IN TERMS OF HEALTH AND STRESS IN OUR SOCIETY, AND WE'RE SEEING IT, OF COURSE, AT THE DOCTOR'S OFFICE. I THINK, LIKE, 3 OUT OF 5 VISITS ARE SOMETHING LIKE STRESS-RELATED. SO IT'S SIGNIFICANT. >> BUT IT SOUNDS EASY, AND THEY WOULD PROBABLY SAY, "YOU'VE GOT TO ELIMINATE STRESS." WELL, WE CAN'T ELIMINATE IT ALL, LIKE YOU MENTIONED. WHAT ARE SOME THINGS THAT WE CAN DO, THAT WE CAN CONTROL? >> YOU NEED TO UNDERSTAND WHAT YOU'RE DOING TO CAUSE YOUR OWN STRESS, YOU KNOW. I MEAN, ARE YOU--DO YOU HAVE TO HAVE A CLEAN HOUSE EVERY TUESDAY? YOU KNOW, I HAVE FRIENDS THAT, YOU KNOW, YOU HAVE TO CLEAN IT EVERY TUESDAY. I JUST CLEAN IT WHEN I INVITE PEOPLE OVER. SO, YOU KNOW, YOU HAVE TO PUT THINGS INTO YOUR LIFE THAT ACTUALLY HELP ALLEVIATE THE STRESS. SO SOME THINGS THAT YOU CAN DO ARE, OF COURSE, THE SAME OLD THINGS THAT EVERYBODY TALKS ABOUT--IS, YOU KNOW, HAVE AN EXERCISE PROGRAM. I JUST SAY, "THINK ABOUT EXERCISE" BECAUSE, YOU KNOW, EXERCISE IS ONE OF THOSE THINGS THAT'S... >> THAT'S STRESSFUL FOR ME. >> I READ AN ARTICLE ONE TIME THAT SAID THAT BASKETBALL PLAYERS--IF THEY SPEND AN HOUR VISUALIZING THEMSELVES IN THE GAME, THEY HAD AS GOOD A CHANCE AS SOMEBODY WHO PRACTICED EVERY DAY, SO I THINK VISUALIZING MIGHT BE A REALLY GOOD THING TO DO. BUT EXERCISE IS GOOD. ALL KIDDING ASIDE, WE NEED TO BE ACTIVE, AND AS A SOCIETY, WE'RE NOT DOING THAT. AND OF COURSE, OBESITY IS ONE OF THE THINGS THAT IS A BYPRODUCT OF SOME OF THE STRESS, AND THAT COSTS HEALTH CARE A LOT OF MONEY. SO, YOU KNOW, YOU STAY CONNECTED TO THAT KIND OF AN EXERCISE PROGRAM. I THINK YOU NEED TO PUT THINGS IN PERSPECTIVE--LIKE, MAKE BETTER CHOICES SO THAT YOU ARE NOT STRESSING YOURSELF OUT. >> AND MAYBE PRIORITIZING, TOO. >> WELL, AND ALSO, YOU KNOW, IF YOU'VE MADE THESE INTERNAL RULES ABOUT WHAT YOU NEED TO DO WHEN, YOU HAVE TO LOOK AND SEE, "ARE THEY REALLY NECESSARY, OR ARE THEY THINGS THAT I'M IMPOSING UPON MYSELF?" I THINK WE DO THAT A LOT, IS WE IMPOSE OUR OWN STRESS. SO YOU CONTROL THE THINGS THAT YOU CAN CONTROL, AND THEN THE OTHER THINGS--LIFE HAPPENS, AND IT'S UNEXPECTED, AND WE DON'T REALLY KNOW WHAT'S GONNA COME, SO YOU NEED TO BE PREPARED FOR THAT--THE INEVENTUALITIES OF YOU CAN'T PLAN EVERY SINGLE THING. AND, YOU KNOW, YOU'VE SEEN SOME OF THESE PEOPLE THAT ARE JUST-- YOU KNOW, THEY HAVE TO HAVE SUCH TIGHT CONTROL OVER EVERYTHING. >> EVERYTHING. MM-HMM. >> SO I THINK YOU HAVE TO TAKE-- YOU HAVE TO REALLY THINK THROUGH WHAT IS STRESSING YOU OUT. I THINK YOU HAVE TO STAY CONNECTED TO SOME KIND OF EXERCISE PROGRAM, WHETHER THAT IS STRENUOUS, OR WHETHER IT'S JUST WALKING. YOU HAVE TO DO SOMETHING. AND I THINK YOU HAVE TO HAVE A SENSE OF HUMOR, AND I THINK THAT'S A BIG ISSUE. >> WELL, IT CERTAINLY HELPS. BACKING UP JUST A LITTLE BIT, DO YOU THINK TODAY'S YOUTH ARE-- I KNOW YOU MENTIONED THE OBESITY PROBLEM, AND WE'RE SEEING THAT IN YOUNG PEOPLE, TOO. DO YOU THINK PARENTS ARE PUTTING SO MANY, UH, RULES AND REGULATIONS ON KIDS AND THE ACTIVITIES THAT THEY'RE IN-- ARE TODAY'S KIDS UNDER MORE STRESS THAN MAYBE WHEN WE WERE... >> WITHOUT A DOUBT. KIDS HAVE A WHOLE DIFFERENT LIFESTYLE THAN WE DID WHEN WE WERE KIDS. AND THEY WERE DOING A STUDY IN L.A. OF ONE FAMILY THAT ACTUALLY--I THINK THEY HAD, ACTUALLY, 8 FAMILIES, AND THEY WERE TRACKING THESE FAMILIES OVER A PERIOD OF TIME, AND THEY WATCHED HOW THEY--I MEAN, KIDS WERE IN THE VAN. THEY HAD A REFRIGERATOR IN THE VAN WHERE THEY WOULD STOCK SNACKS. THEY WOULD DO THEIR HOMEWORK ON THE WAY FROM SCHOOL TO THEIR SPORTING ACTIVITIES AND THINGS LIKE THAT, YOU KNOW. AND I WAS JUST SPEAKING TO A GROUP OF PEOPLE RECENTLY, AND I SAID, "YOU KNOW, I PLAYED SPORTS IN SCHOOL TOO. MY PARENTS DIDN'T COME REGULARLY TO MY GAMES, YOU KNOW? IT WAS A DIFFERENT KIND OF EXPECTATION." SO SOME OF THE RESEARCH WE'RE TALKING ABOUT, WE HAVE BECOME A CHILD-DOMINANT SOCIETY. WHATEVER OUR KIDS WANT TO DO IS REALLY IMPORTANT, SO WE'RE PUTTING ALL THIS STRESS ON OUR KIDS FOR PERFORMANCE, GRADES, GETTING INTO SCHOOL, SATs... SO I DON'T--YOU KNOW, THE VERDICT'S OUT WHAT'S GONNA HAPPEN TO THEM WHEN THEY GROW UP. >> THAT'LL BE INTERESTING. >> WE SURE KNOW WHAT THE IMPACT IS FOR US. WE KNOW WHAT THE IMPACT OF STRESS IS FOR US. >> WELL, YOU MENTIONED HUMOR, AND YOU'VE BROUGHT SOME THINGS. LET'S GO THROUGH THESE. >> I DID, BECAUSE I THINK THAT-- I THINK YOU OUGHT TO TAKE LIFE LIGHTLY, AND SOME OF THE RESEARCH INDICATES THAT, ACTUALLY, LAUGHTER CAN HELP ALLEVIATE STRESS AND ALSO ALLEVIATE HEART DISEASE. SO WE'RE REALLY SEEING FOR THE FIRST TIME THAT THERE'S BEEN A POSITIVE EFFECT. I MEAN, PEOPLE HAVE TALKED ABOUT IT A LONG TIME, BUT LAUGHTER DOES-- EITHER THE DROP IN STRESS IS DUE TO THE ENDORPHINS THAT KICK IN OR IT'S THAT IT CONSTRICTS-- OPENS UP THE BLOOD VESSELS. >> TAKES YOUR MIND OFF, MAYBE, WHAT YOU WERE SO STRESSED ABOUT. >> MAYBE THAT'S IT. SO I HAVE DEVELOPED THE "ROAD RAGE SURVIVAL KIT," BECAUSE ROAD RAGE IS ONE OF THOSE THINGS, YOU KNOW, UM... I WAS DRIVING TO ASPEN ONE TIME--ASPEN, COLORADO--AND OUTSIDE OF THE TOWN, THERE WAS, LIKE, A HIGHWAY SIGN THAT SAID, "FOR ROAD RAGE, DIAL 611" OR SOMETHING LIKE THAT. AND AS I WAS DRIVING THROUGH, I THOUGHT, "WELL, IS THAT LIKE-- DO I CALL THEM? DO I REPORT THEM, OR DO I REPORT MYSELF?" LIKE AAH! YOU KNOW? "THIS IS IT!" I WASN'T QUITE SURE. SO THEN I THOUGHT, "YOU KNOW, MAYBE A ROAD RAGE BOX WOULD HELP." SO I CAME UP WITH THIS THING, AND I HAVE PUT FUNNY THINGS IN THERE, BECAUSE AS YOU KNOW, YOU'RE DRIVING ALONG THE ROAD, AND, UM... NOW, YOU MAY NOT BE ABLE TO GET INSURANCE IF YOU HAVE ALL THESE THINGS, BUT WHEN YOU DRIVE BY, AND PEOPLE ARE UPSET--IF YOU DRIVE THE SPEED LIMIT, PEOPLE ARE JUST UPSET AT YOU, SO YOU CAN ACTUALLY SMILE AND USE THIS AS--YOU KNOW, LIGHTEN IT UP FOR PEOPLE. IT'S KIND OF FUN. AND I ALSO KIND OF--NOW, I'M-- MY MOTHER...I WAS RAISED IN A VERY PRIM AND PROPER HOUSEHOLD, AND SHE WAS FROM THE EAST COAST, AND WE--YOU KNOW, THERE WAS NO WHITE AFTER LABOR DAY; ALL THE KINDS OF RULES THAT... >> MM-HMM. >> AND SO I WOULD NEVER, EVER, LIKE, FLIP THE BIRD AT SOMEBODY, LIKE, AS I'M DRIVING IN THE CAR. BUT THEN I THOUGHT, "WELL, YOU KNOW," BECAUSE THEN SOMEBODY MIGHT SHOOT YOU, WHICH WOULD REALLY KIND OF DROP THE STRESS LEVEL A LOT IF YOU WERE DEAD. BUT, YOU KNOW... BUT ANYWAY, I THOUGHT, "WELL, IF I HAVE A BIRD--IF I HAVE THIS BIRD ON A STICK AND THEN SOMEONE DOES SOMETHING MEAN TO ME, IF I JUST HAND THIS..." YOU DON'T HAVE TO BE ACTIVE AT ALL. YOU DON'T HAVE TO LOOK AT THEM. YOU DON'T HAVE TO STICK YOUR TONGUE OUT--NOTHING. YOU JUST HOLD THIS BIRD UP. THEY EVENTUALLY GET IT, BUT THEY'RE 5 MILES DOWN THE ROAD BEFORE THEY REALIZE THAT THEY... AND THEY'RE LIKE, "WAS THAT THE BIRD?" >> AND THEN YOU PASS THEM, AND THEY'RE LAUGHING. >> WELL, MAYBE. MAYBE. NOT ALWAYS. NOT ALWAYS. BUT, YOU KNOW, YOU HAVE TO HAVE FUN, AND I THINK THAT LIFE HAS GOTTEN SO SERIOUS AND WE TAKE OURSELVES SO SERIOUSLY THAT I THINK IT'S RIDICULOUS, SO I HAVE TRIED TO, YOU KNOW, DO SOME SHOPPING SO THAT I FIND THINGS. ONE OF MY BIG ISSUES ARE CELL PHONES. >> UH-HUH. >> I THINK WE ARE WAY TOO CONNECTED, AND SO--AND I JUST KIND OF EVEN HATE MY CELL PHONE, BECAUSE I--IT'S NEVER QUITE THE RIGHT THING, SO I FOUND THIS. AND NOW I CAN JUST WALK AROUND THE GROCERY STORE, AND I USE MY PHONE, AND MY GRANDKIDS LOVE IT. SO IF YOU'RE DRIVING IN THE CAR, AND YOU'RE LIKE THIS, IT'S REALLY FUNNY, BECAUSE THEY THINK, "OH, MY GOSH, SHE'S ON A LANDLINE." SO, YOU KNOW, THE WHOLE IDEA IS THAT YOU CAN CONTROL THE STRESS THAT YOU'RE UNDER, AND THERE ARE THINGS THAT YOU CAN'T CONTROL, BUT THE THINGS THAT YOU CAN CONTROL, YOU SHOULD REALLY LIGHTEN UP A LITTLE BIT ABOUT IT AND HAVE SOME FUN WITH IT. >> WELL, I AGREE. I THINK HUMOR--WHETHER YOU'VE HAD SURGERY AND YOU CAN LOOK AT THE FUN THINGS THAT HAVE HAPPENED, IT MAKES YOUR HEALING GO FASTER. AND IT'S SOMETHING IMPORTANT TO TEACH KIDS AT AN EARLY AGE... >> IT IS. >> TO NOT TAKE OURSELVES SO SERIOUSLY. >> RIGHT. AND YOU KNOW WHAT IT'S NOT? IT'S NOT--UM, I'M NOT TAKING STRESS LIGHTLY. I WANT TO BE CLEAR THAT IT'S--IT IS IMPORTANT, AND WE HAVE IT, AND IT IS CAUSING HEALTH PROBLEMS, AND NOT EVERYTHING CAN BE SOLVED BY A ROAD WARRIOR KIT OR A BIRD OR A CLOWN NOSE, BUT YOU DO NEED TO PUT LIFE IN PERSPECTIVE. AND YOU HAVE CONTROL OVER THAT PIECE OF IT, SO I THINK THAT'S THE ONLY WAY THAT WE'RE GONNA CONQUER THIS STRESS MONSTER, IS TO MAKE SOME BETTER CHOICES FOR OURSELVES. >> GOOD POINTS. WELL, THANK YOU SO MUCH. I ENJOYED VISITING WITH YOU. >> THANK YOU. >> I HOPE YOU ENJOYED THE SHOW TODAY. NEXT TIME ON "CREATIVE LIVING," WE'LL LEARN HOW TO RELIEVE PAIN IN 3 SECONDS, SHOW LOTS OF DIFFERENT WAYS TO USE GRAPEFRUIT JUICE, AND WE'LL TALK ABOUT CABINET DESIGN FOR BATHROOMS. ONE OF MY NEXT GUESTS IS A DOCTOR OF ORIENTAL MEDICINE, AND HE'S ALSO WRITTEN A BOOK ON RELIEVING PAIN IN 3 SECONDS. HE'S GOING TO DEMONSTRATE SEVERAL TECHNIQUES FOR DEALING WITH VARIOUS TYPES OF PAIN, INCLUDING ASTHMA, ALLERGIES, FIBROMYALGIA, AND POSTSURGERY. ANOTHER GUEST, WHO WORKS FOR TEXASWEET CITRUS MARKETING, INCORPORATED, WILL EXPLAIN ALL OF THE INTERESTING FACTS ABOUT GRAPEFRUIT JUICE, INCLUDING THE BEST WAY TO SQUEEZE THE GRAPEFRUIT, DIFFERENT JUICING DEVICES, AND SHE'LL SHARE SOME FUN THINGS YOU CAN DO WITH GRAPEFRUIT JUICE. AND DID YOU KNOW THAT BATHROOMS ARE THE SECOND MOST COMMONLY REMODELED ROOMS IN THE HOUSE? ANOTHER GUEST WILL SHARE SOME TIPS FOR HOMEOWNERS WHO ARE CONSIDERING A BATH REMODEL. ALL OF THESE TOPICS WILL BE FEATURED ON THE NEXT "CREATIVE LIVING" SHOW. IF YOU EVER HAVE COMMENTS OR SUGGESTIONS OR IDEAS FOR SHOWS, YOU CAN E-MAIL ME AT SHERYL.BORDEN@ENMU.EDU. I'D ALSO LIKE TO ASK YOU TO BECOME A FAN OF "CREATIVE LIVING" ON FACEBOOK. JUST GO TO FACEBOOK.COM, AND IN THE SEARCH WINDOW, TYPE IN "CREATIVE LIVING WITH SHERYL BORDEN." I HOPE YOU'LL PLAN TO JOIN ME NEXT TIME FOR "CREATIVE LIVING." >> WE ARE VERY PLEASED TO OFFER A NEW BOOKLET THAT ACCOMPANIES THIS SERIES OF "CREATIVE LIVING." THIS BOOKLET IS TITLED "THE 6700 SERIES," AND IT FEATURES A WONDERFUL COLLECTION OF IDEAS AND INFORMATION, AND IT'S AVAILABLE FREE OF CHARGE ON OUR WEB SITE. POSTED AS A PDF FILE, YOU CAN SIMPLY DOWNLOAD THE ENTIRE BOOKLET OR JUST THE SEGMENTS YOU'RE MOST INTERESTED IN. YOU'LL FIND INFORMATION ON FOODS, NUTRITION, CLOTHING, FASHION, HEALTH & BEAUTY, HOME DECORATING, AND MUCH MORE. FOR YOUR COPY OF THIS NEW BOOKLET, GO TO OUR WEB SITE AT KENW.ORG AND THEN CLICK ON "CREATIVE LIVING." SCROLL DOWN TO THE BOOKLET SECTION, AND YOU CAN CLICK ON THIS BOOKLET OR ON ANY OF THE OTHER BOOKLETS WE HAVE AVAILABLE ONLINE. JUST GO TO KENW.ORG, CLICK ON "CREATIVE LIVING," AND DOWNLOAD THE BOOKLET TITLED "THE 6700 SERIES." WE ALSO INVITE YOU TO SIGN UP FOR OUR FREE E-NEWSLETTER. JUST GO TO KENW.ORG AND CLICK ON THE "SIGN UP NOW!" BUTTON AND INPUT YOUR E-MAIL ADDRESS. THAT'S ALL THERE IS TO IT. YOU'LL ENJOY READING AN UP-TO-DATE NEWSLETTER FILLED WITH INTERESTING TOPICS AND INFORMATION. THANK YOU.
Now Playing As: Captioned (English) (change)
Motivational speaker Sue Hanson provides ways to relieve stress, and crafter Ann Butler stops by and demonstrates how to stamp out a quilt. Also a representative from Butterball offers suggestions on how to enjoy turkey all year.
Media Details
Runtime: 27 minutes