Creative Living With Sheryl Borden #6718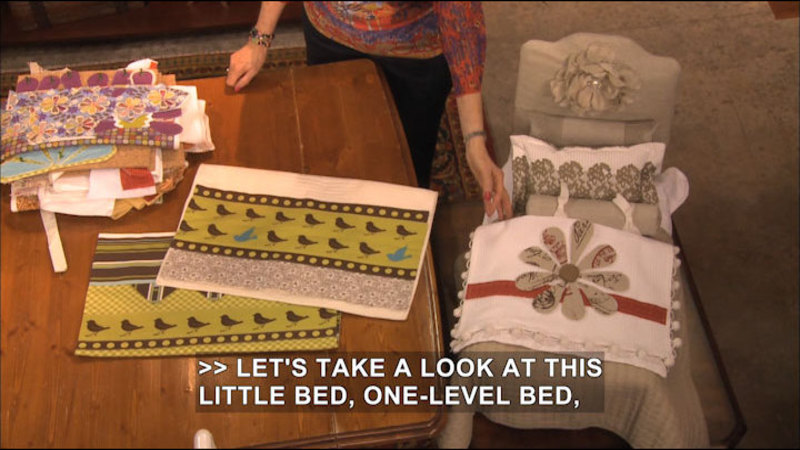 >> "CREATIVE LIVING," UTILIZING TODAY'S TECHNOLOGY WITH THE BEST OF THE PAST TO BRING YOU INNOVATIVE IDEAS AND UP-TO-DATE INFORMATION FOR CREATIVE LIFESTYLES IN TODAY'S ACTIVE WORLD WITH YOUR HOST--SHERYL BORDEN. >> I'M SO GLAD YOU JOINED ME TODAY FOR "CREATIVE LIVING." WE'RE GOING TO LEARN HOW TO OPTIMIZE OUR NUTRITION TO GET THE MOST OUT OF WHAT WE EAT, AND WE'LL DEMONSTRATE SOME EASY APPLIQUE TECHNIQUES TO USE ON DOLL FURNISHINGS. ONE OF MY GUESTS TODAY IS LOUIX DOR DEMPRIEY, AND HE'S A SPIRITUAL MASTER, AND HE'S GOING TO TALK ABOUT OPTIMIZING NUTRITION. HE SAYS IT'S BETTER TO CREATE A HEALTHY WAY OF EATING AND TO SIMPLY LIVE THAT ALL THE TIME. HE BELIEVES THAT MODERATION AND TEMPERANCE ARE MUCH MORE SUCCESSFUL THAN OBSESSIVE-COMPULSIVE DIETS. HE'S THE PRESIDENT AND CEO OF LOUIX DOR DEMPRIEY FOUNDATION IN LAGUNA HILLS, CALIFORNIA. AND MY FIRST GUEST IS JANA BEUS, AND SHE'S A DESIGNER WHO SAYS YOU'RE NEVER TOO OLD TO PLAY WITH DOLLS. SHE'S DESIGNED A LINE OF DOLL FURNITURE AND ACCESSORIES AND WILL SHOW HOW TO EMBELLISH THESE ITEMS WITH EASY APPLIQUE TECHNIQUES. I KNOW YOU'LL ENJOY SEEING THE FURNITURE SHE'S CREATED WITH PVC PIPE, SOME PIPE INSULATION, AND A FEW OTHER ODDS AND ENDS. HER BUSINESS IS DOLL STUFF BY JANA, AND SHE LIVES IN OGDEN, UTAH. JANA, THANK YOU SO MUCH FOR BEING WITH US TODAY. IT'S BEEN A LONG TIME SINCE YOU WERE HERE, AND AT THAT TIME YOU WERE SHOWING DRAPERIES AND BEAUTIFUL TOPPERS, AND I STILL USE A LOT OF YOUR PATTERNS, BY THE WAY. HOW DID YOU GET INTO GOING FROM THAT TO DOLL FURNITURE AND DOLL FURNITURE ACCESSORIES? >> I LIVE CLOSE TO GRANDDAUGHTERS NOW AND FOUND OUT THAT THEY NEED THEM. >> THEY NEED THEM. AND THEIR DOLLS NEED THEM, TOO, DON'T THEY? >> YES, THEY DO. >> WELL, I THINK THAT'S AN INTERESTING STORY, AND WE'LL FIND OUT MORE ABOUT THAT LATER, BUT I DO WANT US TO GO AHEAD AND SHOW EVERYTHING THAT YOU BROUGHT. WE HAVE A 3-TIER BUNK BED. WHY 3-TIERED? >> WELL, THEY HAVE MORE THAN ONE DOLL. >> OH, I SEE. SO, THEY EACH NEED THEIR OWN BED. YOU'VE DONE LOTS OF APPLIQUE, AND THAT'S REALLY WHAT WE'RE GOING TO SHOW TODAY IS HOW TO EMBELLISH A LOT OF THE STANDARD ACCESSORIES. >> AND EASILY. >> AND EASILY. I LIKE THAT. IN FACT, YOU SAID A LOT OF TIMES WHEN YOU MAKE SOMETHING, YOU GO BACK AND REDO IT AND EITHER MAKE IT MORE SIMPLE OR MORE ECONOMICAL. >> OH, YES. >> WELL, THAT-THAT'S GREAT. AND FOR PEOPLE WHO DON'T SEW, THERE'S--THEY CAN STILL PARTICIPATE. >> YES. >> LET'S TAKE A LOOK AT THIS LITTLE BED, ONE-LEVEL BED, AND YOU--WHAT IS THIS LITTLE COVERLET MADE FROM? >> IT'S JUST A KITCHEN TOWEL, AND IT'S GOT THE APPLIQUE IRONED ON. >> UH-HUH. AND YOU'VE GOT SEVERAL PRODUCTS YOU'LL TALK TO US ABOUT WHAT WORKS WITH VARIOUS TYPES OF FABRICS. >> YES. >> LITTLE PILLOW SHAMS. LOTS OF DECORATIVE THINGS THAT WE CAN MAKE WITH JUST SMALL, LITTLE PIECES OF FABRIC. >> YES. >> OKAY, WHAT ABOUT THIS? >> HERE AGAIN, IT'S THE APPLIQUE THAT WE'RE SHOWING. WE'RE JUST USING A PIECE OF THAT YARDAGE. >> UH-HUH. >> AND THE FABRIC IS ACTUALLY A STRIPE, BUT WE'VE CUT IT TO BE JUST ONE LONG DOT. >> I SEE. AND, AGAIN, THIS IS A LITTLE COVERLET, LITTLE BLANKET TYPE THING. >> IT'S JUST A PILLOW SHAM. >> BUT FOR THE BED. >> OH, DEFINITELY. IT'S THEIR BEDSPREAD. >> UH-HUH. OH, AND THIS IS BEAUTIFUL. THE SAME FABRIC, BUT DONE VERY DIFFERENT. >> YES. IT JUST HAS THE FABRIC, SO IF YOU'RE SEWING IT, YOU CAN MAKE THIS SQUARE, AND THEN YOU CAN MAKE ANY SIZE YOU WANT, ADD ANYTHING YOU WANT TO IT. BUT IT'S ALL SIMPLE STEPS. >> UH-HUH. VERY PRETTY COLORS. I LIKE THE BRIGHT COLORS. OKAY, LET'S GO TO THIS BED. I LIKE THAT HEADBOARD. >> 2 PLACEMATS. >> EITHER MAKE THEM OR BUY THEM, UH-HUH. >> YEAH, AND WE'VE GOT THE PILLOW SHAM AGAIN, WE'VE GOT SOME CUTE LITTLE BLANKETS AND APPLIQUE, AND EVEN APPLIQUE ON THE OTHER SIDE IF YOU JUST DO IT THAT WAY. >> THIS WOULD ENTERTAIN YOUNG LADIES FOR A LONG TIME, CHANGING OUT ALL THIS BEDDING. >> THEY LOVE TO HAVE EXTRA BEDDING AND MAKE THEM DIFFERENT EVERY TIME. IN FACT, THE BUNK BED'S A REALLY GOOD ONE FOR THAT. >> WELL, I BET IT WOULD BE. OKAY, WELL, WE NEED A LITTLE INSTRUCTION IN HOW TO DO APPLIQUE. SOME PEOPLE MAY BE OLD HANDS AT IT, BUT IN CASE THEY HAVEN'T DONE IT, THEN LET'S SHOW THEM WHAT WE NEED TO DO. >> THIS IS YOUR SIMPLE WAY, SHERYL. >> UH-HUH. >> IT'S NOT YOUR HEAVY MACHINE APPLIQUE. WE ARE IRONING ON A FUSIBLE WEB TO THE BACK OF THE FABRIC FIRST. WE CUT IT OUT. WE CUT OUT STRAIGHT. WE COULD CUT IT WITH PINKING SHEARS. WE CAN CUT IT OUT--WE CAN PUT A FLEECE BACKING ON, BECAUSE THE ONE PILLOW-- >> ...DIMENSION, UH-HUH. >> SO IT CAN BE DIMENSIONAL. AND IF IT'S GONNA SHOW UP FROM THE OTHER SIDE, WE WANT TO PUT IT ON BOTH SIDES. >> FACE IT, UH-HUH. >> WE CAN TOP-STITCH IT, WE CAN PUT A MUSLIN ON THE OUTSIDE AND FRAY IT. THAT'S EVERYTHING THAT'S DONE. >> UH-HUH. >> AND USUALLY JUST, YOU KNOW, THE PLAIN AND MAYBE THE FLEECE. >> AND YOU WERE TALKING ABOUT THE IRON-ON. I GUESS ARE THERE LOTS OF DIFFERENT IRON-ON INTERFACINGS AVAILABLE? >> THERE ARE. AND THEY'RE ALL WORKABLE. I DO LIKE SOME OF THE HEAVIER... >> OH. >> ...BECAUSE I DEFINITELY WANT IT TO GRAB INTO IT. IF YOU'RE GOING TO DO THE REVERSIBLE ONE ON BOTH SIDES, YOU MIGHT WANT SOME LIGHTER. >> OH, WELL, THAT'S SOMETHING, YEAH, TO KEEP IN MIND. THIS IS VERY DIMENSIONAL. >> YES, AND IT'S JUST AN IRON-- YOU CAN GET THE BACKING... >> MM-HMM. >> ...EITHER FUSED WITH THE WEBBING OR JUST GET YOU A NICE FLANNEL-TYPE BACKING. >> MM-HMM. AND I WAS TELLING YOU--AND OTHER PEOPLE MAY RELATE TO THIS, TOO--I DON'T--A LOT OF TIMES DON'T GO IN TO SEE WHAT'S NEW. I TEND TO USE THE SAME TYPES OF INTERFACING, BACKINGS THAT I'VE ALWAYS USED. SO, WE NEED TO BE A LITTLE ADVENTUROUS AND KIND OF TRY SOME OF THE NEW ONES. >> THEY'VE GOT SOME NEW STUFF THAT WORKS BEAUTIFULLY. >> BEAUTIFULLY. GREAT. OKAY. HERE WE GO. THIS IS THE SAME FABRIC AS THE APPLIQUE ON THE OTHER BED. >> I HAVE A CHAIR AND SOME OTHER THINGS MADE FROM THIS FABRIC, AND THIS LITTLE SCRAP YOU THINK ISN'T VERY GOOD, BUT IT WORKS GREAT FOR THE SAMPLE. >> JUST TO MAKE THE-THE PETALS. >> I--AND IF YOU DON'T WANT THE WRITING ON IT, THE BACKSIDE'S PLAIN. >> HUH. >> ALTHOUGH I'VE ALREADY PUT THE GLUE ON IT. >> RIGHT. IT'S LIKE A GOOD WAY TO USE LOTS OF LITTLE SCRAPS THAT WE ALL HAVE. >> ABSOLUTELY. IT'S A GOOD WAY FOR THE GIRLS TO PARTICIPATE... >> OH, I LIKE THIS. >> ...AND HAVE THEM PICK STUFF. >> ANOTHER LITTLE KITCHEN TOWEL, I ASSUME. >> IT IS, AND THIS ONE, I'VE TAKE THESE STARS AND CUT OUT ONE, BUT I'VE DONE THE FUSIBLE ONE FROM THE BACKSIDE TO MAKE IT LOOK A LITTLE BIT BIGGER AND DIMENSIONAL. >> CUTE. LOTS OF CUTE FABRICS AVAILABLE. ARE THERE CERTAIN FABRICS THAT WE SHOULD USE OR SHOULDN'T USE? >> YOU KNOW, MOST OF THESE ARE A COTTON, JUST BECAUSE THERE ARE SO MANY CUTE ONES IN THE QUILTING-TYPE AREA, AND I LOVE TO TAKE A FABRIC AND CUT IT APART AND USE IT IN DIFFERENT WAYS. >> JUST LIKE SCRAPBOOKING OR CARD-MAKING, ISN'T IT? >> SO, AT FIRST I WAS GONNA USE IT JUST AS A BAND AND STITCH IT ON. >> UH-HUH. >> BUT THEN I DECIDED I WOULD CUT SOME OUT AND MAKE THE CIRCLE OF FRIENDS. BUT AS YOU CAN SEE, ON THE BOTTOM... >> THEY WERE KIND OF CUT OFF. >> THEY WERE CUT OFF, SO WE JUST USED THE HEADS. SO WHEN YOU PUT IT ON, YOU FLIP IT BACK AND SEE THE LITTLE HEADS. >> GREAT IDEA. MM. THIS IS PRETTY. I LOVE THE WAY YOU'RE USING ALL THESE TOWELS. >> ISN'T THAT FUN? >> UH-HUH. >> AND YOU DON'T HAVE TO USE THEM ON THE BEDS. I MEAN, YOU CAN USE THEM, TOO. FOR OTHER THINGS. >> YEAH, THAT'S TRUE. I FORGET ABOUT THAT. >> SOME CUTE LITTLE FLOWERS, AND BY PUTTING ONE ON TOP OF THE OTHER, YOU'VE MADE IT DIMENSIONAL. >> AND YOU CUT OUT SOME INDIVIDUAL FLOWERS DOWN HERE. >> I DID. AND THEY'VE GOT THE FUSIBLE ON THEM, AND THERE'S ONE ROW OF STITCHES. THAT'S ALL YOU DO. >> THAT'S ALL? OKAY. I LOVE TO LOOK AT THESE DIFFERENT FABRICS. >> THE FABRICS ARE SO CUTE OUT THERE. SO NOW IF YOU'VE GOT A PET LOVER, WE CAN DO THE CATS. A LITTLE PRAIRIE POINTS ON THERE. BUT VERY SIMPLE. AGAIN, IT'S A TOWEL, AND IT'S FUSED ON. VERY LITTLE-- VERY LITTLE STITCHES. >> VERY LITTLE SEWING, UH-HUH. OH, SOME MONKEYS? >> MONKEYS. MONKEY BUSINESS HERE. JUST A TOUCH. WE DON'T WANT A... >> AND, AGAIN, THAT'S A BAND. YOU DIDN'T CUT THOSE OUT. >> YEAH, JUST A BAND. >> AND LAST BUT NOT LEAST, YOU USE EVERY LITTLE PIECE OF FABRIC YOU'VE GOT AVAILABLE, DON'T YOU? >> AND I MAKE THIS INTO A TRIM. AND THE COST OF A TRIM THAT YOU PURCHASE CAN BE EXPENSIVE. >> IT CAN BE. >> WHEN IT'S JUST A PIECE OF THE FABRIC--INEXPENSIVE. AND YOU CAN USE IT LOTS OF DIFFERENT WAYS. >> WE'VE SHOWED LOTS OF THINGS TO DO WITH BEDS, BUT IT'S TIME TO GO TO THE DINETTE. [LAUGHS] AND WE HAVE THIS LITTLE DINETTE SET, WHICH IS ALSO MADE WITH THE PVC PIPE JUST LIKE THE BEDS ARE DONE. WHAT DID YOU WANT TO SHOW US ABOUT THIS? THESE LOOK LIKE PLACEMATS TO ME. >> THEY ARE. THEY'RE PLACEMATS. THEY--IN FACT, THE TIES ARE ACTUALLY GLUED ON. >> WOW. >> AND HERE--THIS ONE ACTUALLY HAS ELASTIC SO IT SLIPS RIGHT OUT, BUT THERE IS ANOTHER ONE. WE'LL JUST SHOW THE BACK OF THIS ONE. IT JUST FLIPS DOWN. >> OH, THAT WAS THE FABRIC. >> YEAH. AND WHEN YOU GET A FABRIC SOMETIMES THAT'S MORE EXPENSIVE, YOU KIND OF CRY WHEN YOU SEE THE CUT-OFF ONES. >> UH-HUH. >> NO. USE THEM. >> JUST USE IT. PUT IT ON AN EDGE. IT LOOKS LIKE YOU MEANT FOR IT TO BE GOING OFF THAT EDGE. >> THEY LOOK CUTE ON A BLANKET. YOU CAN JUST USE HALF AND IT WORKS OUT GREAT. >> WELL, AND THIS IS ANOTHER PIECE THAT YOU DID AN APPLIQUE ON. IT'S A LITTLE APRON, MM-HMM. THEY CAN PLAY DINETTE. >> SO IT GIVES SOME DETAILS THAT ARE INEXPENSIVE. >> WELL, WE'VE SORT OF SAVED THE BEST FOR LAST. YOUR GRANDDAUGHTER IS KYLIE DAVIS. KYLIE, COME ON IN. SHE IS--HOW OLD ARE YOU, KYLIE? >> I'M 9. >> YOU'RE 9 YEARS OLD, AND HOW DID YOU GET INVOLVED IN ALL THIS PROJECT WITH YOUR GRANDMOTHER? >> FINDING DOLLS AND SEEING WHAT THEY NEED TO DO. >> YEAH, YOU DON'T WANT THEM TO JUST LAY AROUND AND BE BORED, DO YOU? >> NO. >> THAT'S A GOOD POINT. WELL, THIS IS SOMETHING YOU MADE AND THOUGHT ABOUT THE FABRIC AND EVERYTHING. TELL US ABOUT YOUR DESIGN. >> WELL, I JUST KIND OF DID IT, LIKE, ON WHAT I LIKED. LIKE, I LIKE ALL THE POLKA DOTS AND THESE ARE JUST, LIKE, JUST STUFF AND YOU-YOU-- >> I BET YOU LIKE BRIGHT COLORS, AM I RIGHT? >> YES. >> ME TOO. I LIKE BRIGHT COLORS. BUT NOW--OH, YOU ADDED MONKEYS TO IT. I SEE. >> YES, IT'S JUST THIS FABRIC RIGHT HERE. THIS ONE IS THIS ONE RIGHT HERE. IT'S JUST--THIS-- >> MM-HMM. >> IT'S JUST, LIKE, THE POP. LIKE A FAMILY OF MONKEYS, AND THEN THERE'S... >> THIS LOOKS LIKE THE MOTHER, IS THAT RIGHT? >> UH-HUH. YOU JUST CUT IT OUT, AND THEN-- >> OH, YOU DIDN'T LIKE THIS LITTLE PLAIN TOPKNOT, DID YOU? >> NO. SO YOU ADD A-- I CUT IT OUT RIGHT HERE AND PUT IT ON THE TOP. >> I LIKE THAT BETTER, TOO. I LIKE THE PINK ADDED TO IT. SO, DO YOU LIKE CUTTING THINGS OUT? >> UM, SORT OF. >> SEE, I LIKE THE CUTTING PART. I ALWAYS PLAYED WITH PAPER DOLLS, BUT I JUST LIKE TO CUT THEM OUT. I NEVER LIKED TO PLAY WITH THE DOLLS. SO, YOU'RE MAKING THINGS--OH, LET'S SHOW THEM ABOUT YOUR PILLOW. >> MY PILLOW, IT'S JUST THE STRIPES THAT KIND OF MATCHES, LIKE, RIGHT HERE AND THE POLKA DOTS JUST MATCH EVERYTHING. >> SO, WHEN THIS IS MADE OUT ONTO YOUR DOLL'S BED, SHE'S EVEN GOT A LITTLE--OH. >> A SURPRISE MONKEY. >> A SURPRISE MONKEY. I HADN'T SEEN THAT YET. HA HA. DO YOU KIND OF PUT A SURPRISE ON EVERYTHING YOU DO? >> I LIKE TO. >> I THINK THAT'S A GREAT IDEA. WELL, YOU'RE VERY CLEVER. ARE YOU GOING TO CONTINUE DOING THIS FOR YEARS? >> I DON'T KNOW YET. >> I DON'T KNOW YET. WELL, I THINK YOU'RE JUST AMAZING, AND YOU'VE INSPIRED YOUR GRANDMOTHER TO DO SOMETHING SHE NEVER WOULD HAVE TRIED. WELL, THANK YOU BOTH FOR BEING WITH US TODAY. I REALLY HAVE ENJOYED SEEING ALL OF THESE BEAUTIFUL SAMPLES. YOU'RE BOTH VERY TALENTED. >> THANKS. >> LOUIX, IT'S SO NICE TO HAVE YOU HERE ON THE SHOW. I'VE ENJOYED TALKING TO YOU BEFORE WE SAT DOWN HERE, AND YOU CERTAINLY HAVE HAD AN INTERESTING LIFE AND CONTINUE TO HAVE AN INTERESTING LIFE. I WAS NOT AWARE OF WHAT A SPIRITUAL MASTER WAS AND WHAT YOUR JOB INVOLVED, BUT I DID WANT TO TALK TO YOU ABOUT NUTRITION, BECAUSE THAT SURPRISED ME THAT THAT WAS AN INTEGRAL PART OF THE LIFE YOU LIVE AND THE WORKSHOPS AND THINGS THAT YOU DO. WE ALL KNOW FAD DIETS AREN'T GOOD FOR US, BUT HOW DO YOU FEEL ABOUT THE WAY PEOPLE SHOULD EAT, MODERATION, TEMPERANCE? HOW DO YOU FEEL ABOUT THAT? >> WELL, PERSONALLY FOR MYSELF AND HOW I TEACH, I'M--I LIKE TO CREATE, HELP PEOPLE CREATE FIRST OF ALL SOMETHING THAT IS ATTAINABLE AND DOABLE. SO IN THAT REGARD, I TEND TO-- I'LL BRING FORTH A BODY OF KNOWLEDGE, A BODY OF TEACHING ON ANY GIVEN SUBJECT, BUT I ALWAYS WANT TO MAKE IT SOMETHING THAT PEOPLE CAN LATCH ON TO AND FIND SUCCESS IN, SO IN THAT REGARD, I TEND TO TELL PEOPLE THAT DON'T NECESSARILY PUSH YOURSELF TO BE FANATIC OR SO METICULOUS ABOUT IT THAT-THAT YOU SET YOURSELF UP TO FAIL. >> UH-HUH. >> SO I LIKE TO CREATE SOMETHING YOU CAN WORK WITH THAT'S DOABLE, AND IN TERMS OF EATING, I MEAN, SO MANY DIRECTIONS WE CAN GO WITH IT. >> SO, WHEN PEOPLE COME TO A WORKSHOP--I LIKE THE FACT THAT YOU SAY YOU DO IT IN-- SLOWLY. THEY DON'T HAVE TO GO HOME AND THROW OUT ALL THE SUGAR AND ALL THE FLOUR AND EVERYTHING THAT'S WHITE, BUT THAT IS AN ISSUE THAT YOU TALK ABOUT. >> YEAH. I GIVE THEM GOALS TO WORK TOWARD, LIKE FOR INSTANCE--FOR INSTANCE, LIKE ONE OF THE FOODS THAT-- I GIVE PEOPLE CATEGORIES, AND I SAY, "HERE ARE CATEGORIES THAT YOU SHOULD STRIVE TO--" I USE WORDS LIKE "STRIVE TO" AND "BEGIN TO DEVELOP TO," "LEAN AWAY FROM," "MOVE AWAY FROM." >> "BE AWARE OF." >> YEAH, LIKE TO DECREASE THE USE OF WHAT NUTRITIONISTS OFTEN CALL "WHITE DEATH"-- WHITE SUGAR... >> I HAD NOT HEARD IT CALLED THAT. THAT'S SCARY. >> WHITE SUGAR, WHITE FLOUR, WHITE RICE, BECAUSE WHAT HAPPENS IS IF YOU--ARE YOU FAMILIAR WITH KINESIOLOGY, MUSCLE TESTING? >> YES, UH-HUH. >> IF YOU PUT, LIKE, A PACKET OF WHITE SUGAR ON YOUR CHEST AND THEN YOU GO TO MUSCLE TEST, YOUR ENTIRE BODY GOES WEAK. YOU CAN'T GET A POSITIVE RESPONSE IN ANY MUSCLE IN YOUR WHOLE BODY. >> I DIDN'T KNOW THAT. >> IT'S VERY, VERY TOXIC TO THE BODY, SO I TELL PEOPLE START TO STEER AWAY FROM REFINED SUGAR AND GO INTO NATURAL SWEETENERS, AND THERE ARE SO MANY OF THEM THAT HAVE MANY DIFFERENT FLAVORS, AND THEY'RE NOT ANY MORE EXPENSIVE, SO PEOPLE CAN MAKE CHANGES AND THEY CAN MAKE THEM GRADUALLY WITHOUT FEELING THEY HAVE TO BE FANATIC--FANATICAL ABOUT IT. >> THAT'S THE WHITE DEATH, THE ITEMS THAT YOU TALKED ABOUT. WHAT ABOUT JUST JUNK FOODS, PROCESSED FOODS? >> JUNK FOODS, TOO. >> THAT'S HARD TO GIVE UP. >> WELL, AGAIN, THAT'S WHY I TELL PEOPLE START REDUCING, AND I GIVE PEOPLE GENERAL GUIDELINES ABOUT NUTRITION THAT ARE NOT ABOUT SPECIFIC FOODS, TOO, LIKE FOR INSTANCE, IT'S MUCH HEALTHIER TO EAT SMALLER AND SMALLER PORTIONS MORE TIMES THROUGHOUT THE DAY. IT'S HEALTHIER TO HAVE A LITTLE SNACK OF SOMETHING THAN TO HAVE 3 GIANT MEALS. AND WE GREW UP-- MY GENERATION, YOUR GENERATION, EAT 3 HUGE MEALS. GET YOUR BODY FUEL. STOCK UP IN THE MORNING. IT'S THE WORST THING FOR YOUR BODY. IT'S BEST FOR WHEN YOU FEEL A LITTLE BIT OF HUNGER, YOU HAVE A LITTLE BIT OF FOOD AND YOU PROCESS IT. BECAUSE IF YOU THINK ABOUT YOUR STOMACH, YOUR STOMACH IS THIS SAC THAT EXPANDS, AND WHEN YOU FILL IT TO CAPACITY AND EXPAND IT, IT HAS ELASTICITY, AND IF YOU KEEP PUSHING IT AND PUSHING IT, IT WILL STAY LARGER, AND THEN IT WILL TAKE MORE FOOD TO FEEL FULL. >> I SEE. >> AND THEN WHAT HAPPENS IS YOU'LL FILL IT TO CAPACITY AND YOU KEEP INCREASING IT AND THAT MAKES YOU START TO GROW. >> I SEE. >> SO, THAT'S ONE OF THE FUNDAMENTALS OF GOOD NUTRITION IS REDUCING THE AMOUNT YOU EAT. >> HOW LONG DOES IT TAKE THE BODY, THE STOMACH, TO START SHRINKING IF YOU'RE CUTTING BACK ON EATING THE 3 BIG MEALS? >> OH, IT'S IMMEDIATE. >> IS IT, REALLY? >> IT'S IMMEDIATE, YEAH. LIKE, WITHIN A DAY OR 2 YOU'D SEE A DIFFERENCE. LET'S SAY CONSERVATIVELY A WEEK, YOU WOULD START TO REALLY FEEL A DIFFERENCE, BUT IF YOU'RE VERY SENSITIVE TO FOODS AND YOU'RE REALLY IN TUNE WITH YOUR BODY, YOU'D FEEL IT WITHIN A COUPLE DAYS. >> I DIDN'T REALIZE THAT. >> YEAH. LIKE, FOR INSTANCE, I DO A LOT OF FASTING, AND I TEACH PEOPLE HOW TO FAST AS WELL, AND I OFTEN-- THERE ARE ONE-DAY FASTS AND 3-DAY FASTS, AND A GOOD-- A STRONG FAST IS ABOUT 7 TO 10 DAYS, WHERE--SOME PEOPLE DO REALLY, REALLY LONG ONES. LIKE, I'VE DONE 21'S AND LAST YEAR--2 YEARS AGO, I DID MY FIRST 40-DAY FAST WITHOUT FOOD, BUT ON A 7- TO 10-DAY FAST, WHEN YOU HAVE THAT FIRST MEAL, YOU CAN ONLY EAT A LITTLE HANDFUL OF FOOD. I MEAN, YOU PHYSICALLY CAN'T GET IT IN BECAUSE YOUR STOMACH HAS SHRUNK AND YOUR TA-- YOUR PALATE HAS CHANGED AND YOUR TASTE FOR FOOD HAS CHANGED, AND SO THAT'S A HUGE-- AN EGREGIOUS EXAMPLE, BUT THE PRINCIPLE'S THE SAME. WHEN YOU START EATING LESS, YOUR STOMACH WILL NATURALLY SHRINK, SO THAT'S ONE FUNDAMENTAL, A CORE PRINCIPLE OF OPTIMAL NUTRITION. ANOTHER ONE IS NOT EATING LATE AT NIGHT. I OFTEN TELL PEOPLE, "DON'T HAVE A MAJOR MEAL AFTER 6 OR 7 IF YOU CAN HELP IT." BUT, AGAIN, BACK TO THE "DON'T BE FANATICAL," IF YOUR FRIEND, YOUR COUSIN, YOUR SISTER'S IN TOWN AND YOU'RE GOING OUT TO A BIG RESTAURANT, SAY, "OH, I CAN'T EAT AFTER 6. WE'RE NOT GOING OUT. TELL ALL THE KIDS SORRY I CAN'T SEE THEM." YOU GO OUT AND YOU ENJOY YOURSELF AND DON'T FEEL GUILTY ABOUT IT. BUT AS A WAY OF LIFE, STRIVE TO HAVE YOUR LAST MEAL BY LATE AFTERNOON, AND THEN JUST HAVE SOMETHING LIGHT IN THE EVENING LIKE FRUITS OR SOMETHING THAT YOU CAN DIGEST. FRUIT DIGESTS IN UNDER AN HOUR. >> OH, UH-HUH. >> THINGS LIKE THAT. AND IN THE MORNING, I ALWAYS HAVE FRUIT IN THE MORNING--WITH THE EXCEPTION OF THIS MORNING HERE IN NEW MEXICO, WANT TO HAVE A COUNTRY BREAKFAST-- BUT I HAVE FRUIT IN THE MORNING ALMOST EVERY DAY OF MY LIFE. YOUR BODY--YOU'VE SLEPT FOR 6 TO 8 HOURS, SO YOUR BODY'S DEHYDRATED, AND FRUIT IS 90 TO 100% WATER, SO YOU HYDRATE YOUR BODY, AND YOU GET ALL YOUR VITAMINS AND MINERALS. YOUR MORNING IS ALSO YOUR ELIMINATION PERIOD, WHEN YOUR BODY FLUSHES OUT, SO YOU'RE FLUSHING YOUR BODY WITH WATER. YOU'RE GETTING STRUCTURED WATER. YOU'RE GETTING VITAMINS, MINERALS, HYDRATION, AND YOU'RE ASSISTING THE ELIMINATION, THE CLEANING OUT OF YOUR BODY. YOU FEEL AMAZING. A LOT OF PEOPLE SAY, "WELL, I DON'T FEEL SOURCED IF I DON'T HAVE A BIG HEAVY BREAKFAST," BUT THEN WHAT DO ALMOST EVERY-- WHAT DOES ALMOST EVERYONE HAVE AFTER A BIG HEAVY BREAKFAST? SEVERAL CUPS OF COFFEE. >> UH-HUH. >> BECAUSE THE BIG HEAVY BREAKFAST ACTUALLY SHUTS YOU DOWN AND MAKES YOU TIRED. >> I SEE. SO WE'RE DEFEATING THE PURPOSE OF STARTING THE DAY WITH A GOOD BREAKFAST. >> WELL, GOOD IS RELATIVE. >> RIGHT. >> A BOWL FULL OF FRUIT IS GREAT, AND THEN IF YOU'VE-- AND, AGAIN, YOU HAVE TO TEMPER IT TO WHAT YOUR TASTES AND CUSTOMS AND PREFERENCES ARE. THERE ARE SOME PEOPLE SAY, "WELL, I NEED A GOOD BREAKFAST," SO I'LL TELL THEM, "OKAY, THEN GET UP IN THE MORNING AND HAVE YOUR FRUIT AND THEN AN HOUR LATER, THEN HAVE YOUR EGGS AND TOAST AND PANCAKES, WAFFLES, WHATEVER YOU WANT, BUT GIVE YOUR BODY THE GIFT OF GETTING REHYDRATED AND FLUSHING OUT, AND YOU'LL FEEL SO MUCH BETTER." >> MM-HMM. AND I'M CURIOUS ABOUT YOU MENTIONED THE FASTING. IS THAT SIMPLY TO GET RID OF TOXINS AND POISONS IN THE BODY? IS THAT THE PURPOSE OF FASTING? >> THERE ARE MANY, MANY PURPOSES. THAT IS ONE OF THE PRIMARIES. THERE ARE CERTAIN TOXINS THAT GET HELD OR TRAPPED IN THE BODY THAT CANNOT BE REMOVED BY ANY OTHER MEANS BUT FASTING. A LOT OF PEOPLE DON'T KNOW THAT. >> NO. >> BUT FASTING ALSO IS REALLY GOOD--AND NOT NECESSARILY ON A LARGE BASIS, LIKE A 7- TO 10-DAY--BUT I HAVE A PRACTICE AND A PRINCIPLE I SHARE WITH PEOPLE ABOUT TAKING ONE DAY A WEEK JUST TO FAST, BECAUSE WHAT HAPPENS IS IT HELPS YOU REGULATE YOUR APPETITE. BECAUSE REMEMBER HOW I TALKED ABOUT WHEN YOU EAT MORE, YOUR STOMACH EXPANDS? BUT ALSO PSYCHOLOGICALLY AND EMOTIONALLY, WHEN YOU EAT MORE, YOU WANT MORE, AND THIS ADDICTION-TYPE BEHAVIOR STARTS GROWING. AND WHEN YOU FAST EVERY NOW AND THEN, EVEN IF IT'S ONE DAY, YOUR--YOU KEEP YOUR PALATE AND YOUR APPETITE IN CHECK, AND YOU DON'T-- IT BREAKS THAT TENDENCY TO KEEP BUILDING, BUILDING, BUILDING, BUILDING, AND THAT ADDICTION TO FOOD, KEEPS IT IN CHECK, AND IT HELPS OFFSET THAT, SO IT'S VERY HEALTHY IN THAT WAY AS WELL. >> WELL, THAT MAKES SENSE. BUT IF YOU'VE NEVER FASTED BEFORE, I KNOW WHEN I MISS A MEAL OR 2, I'M REALLY HUNGRY. >> YEAH. >> AND I JUST THINK, "OH, I'VE GOT TO EAT." I'LL PASS THAT ON. >> I REMEMBER WHEN I DID MY 40-DAY FAST, I LIVE ON THE OPPOSITE SIDE OF THE COUNTRY FROM MY PARENTS, AND WE MET-- THEY'RE IN BOSTON, I'M IN CALIFORNIA--AND WE MET DOWN IN FLORIDA, AND AT THAT TIME, I HADN'T EATEN FOR 18 DAYS, AND MY MOM AND DAD TOOK ME OUT TO THIS GORGEOUS ITALIAN RESTAURANT WHERE THEY SERVE FOOD ON THESE HUGE PLATTERS, JUST MOUNTAINS OF FOOD, AND MY DAD SAID, "I FEEL SO BAD I'M EATING IN FRONT OF YOU," AND HE SAYS, "HOW LONG HAVE YOU NOT EATEN?" AND I SAID, "18 DAYS," AND HE SAID, "I CAN'T GO 18 MINUTES WITHOUT EATING," AND THAT'S WHAT MOST PEOPLE SAY TO ME. >> I AGREE WITH HIM. >> BUT AGAIN, WHEN YOU SAID PEOPLE WHO'VE NEVER FASTED, ONCE AGAIN, I WOULD TEMPER THAT. IF I GAVE SOMEONE A FAST, I WOULD LOOK AT THEIR DIET, I WOULD LOOK AT THEIR NUTRITION, LOOK AT THEIR LIFE HABITS AND TAILOR IT TO WHAT WORKS FOR THEM. LIKE I KNOW ONE-- I HAVE ONE FRIEND WHO'S VERY, VERY--I'LL USE THE WORD ADDICTED TO FOOD AND EATS A LOT OF IT, AND THIS INDIVIDUAL SAID, "THERE'S NO WAY I COULD FAST. I JUST--I'M NOT GOING TO, AND IF YOU TELL ME, THEN I'M NOT GOING TO TALK TO YOU." I SAID, "THEN MAKE AN EFFORT IN THAT DIRECTION. LET'S SAY YOUR FAST COULD BE "I'LL ONLY EAT FRUITS AND FRUIT JUICES FOR A DAY."" BECAUSE THEN YOU'RE STILL HELPING YOUR BODY IN SOME WAY RATHER THAN NO FOOD OR JUST WATER, SO THERE'S DIFFERENT TYPES OF FASTS. >> SO, WHEN YOU FAST, YOU CAN HAVE WATER? >> YEAH, YOU--WELL, THERE ARE MANY DIFFERENT TYPES OF FASTS. SOME PEOPLE HAVE WATER ONLY. SOME PEOPLE DO WHAT'S CALLED A MASTER CLEANSE, WHICH IS LEMON JUICE AND A LITTLE MAPLE SYRUP AND CAYENNE PEPPER AND A GLASS OF WATER. SOME PEOPLE JUST DRINK THAT, BECAUSE THEN YOU STILL HAVE A GLUCOSE STREAM GOING INTO YOUR BODY, AND THEY DON'T GET-- YOUR SUGAR LEVELS GET MAINTAINED. AND THEN YOU HAVE PEOPLE WHO HAVE HYPO- OR HYPERGLYCEMIA, SO THEY HAVE TO--YOU HAVE TO MODERATE FASTS FOR DIFFERENT PEOPLE. >> YEAH. I THOUGHT FAST WAS FAST. I DIDN'T REALIZE THAT. >> A LOT OF PEOPLE DO. THEY THINK IT MEANS NO FOOD, BUT THERE ARE DIFFERENT TYPES YOU CAN DO. AND SOME PEOPLE WILL SAY, "OH, I'LL JUST GIVE UP MEAT OR I'LL GIVE UP--I'LL JUST DO FRUIT AND VEGETABLES," BECAUSE THAT'S VERY LIGHT FOOD, AND THEN THEY'LL FEEL A HUGE DIFFERENCE IN THEIR BODY. >> I SEE. WELL, YOU MENTIONED FRUITS AND VEGETABLES. ARE YOU A PROPONENT OF VEGANS EATING JUST THE--ELIMINATING MEAT? >> I DO TEACH VEGAN LIVING AND VEGANISM, AND MY ASHRAMS, MY CENTERS AROUND THE WORLD, ARE ALL COMPLETELY VEGAN. I'M NOT 100% RIGHT NOW IN MY LIFE. I WENT THROUGH SOME CHANGES IN DIFFERENT WAYS-- I DON'T WANT TO GET INTO THE STORY OF IT ALL, BUT I'M MOSTLY VEGAN AND I'M ALSO--I EAT AT LEAST--I TEACH RAW LIVING, TOO, SO ABOUT 70 TO 80% OF MY FOOD IS FRUITS AND VEGETABLES, AND AT LEAST 50% OF WHAT I EAT IS RAW, BECAUSE THE RAW FOOD, YOU GET YOUR STRUCTURED WATER, YOU GET YOUR LIVE ENZYMES AND YOUR NUTRIENTS IN THEIR PUREST FORM, AND WHEN YOU EAT LIVE RAW FOOD AND MOSTLY ORGANIC, YOU NEED WAY LESS FOOD AND YOU HAVE WAY MORE ENERGY AND YOU NEED WAY LESS SLEEP, SO IT'S REALLY SYNERGIZING-- >> THAT'S SO INTERESTING. >> IT'S VERY, VERY FASCINATING. IT'S AMAZING HOW MUCH LESS SLEEP YOU NEED AND HOW MUCH LESS FOOD YOU NEED, BECAUSE THIS IS ALSO ONE OF THE REASONS WHY PEOPLE EAT A LOT OF FOOD--BECAUSE YOUR BRAIN IS SAYING, "I HAVEN'T BEEN FED." BECAUSE IF YOU'VE KILLED ALL YOUR FOOD, YOU'VE KILLED ALL THE NUTRIENTS IN IT. YOU COOK IT TO DEATH AND YOU'VE KILLED ALL THE NUTRIENTS, AND SO... >> YOU'RE JUST FILLING UP. >> SO YOU'RE EATING VOLUME, BUT YOUR BRAIN IS STILL SAYING, "I HAVEN'T BEEN NOURISHED YET," SO THAT'S WHY PEOPLE WANT TO EAT MORE AND MORE AND MORE, AND THEN THEY SAY, "NOW I FEEL FULL." BUT IF YOU'RE EATING MORE AND MORE LIVE FOOD, FRESH FRUITS AND VEGETABLES, YOU DON'T NEED AS MUCH FOOD, AND YOU'LL FEEL THE ENERGY. >> YOU'LL FEEL IT. >> YOU'LL REALLY, REALLY FEEL IT. >> YOU'VE INSPIRED ME. THIS IS VERY INTERESTING. THANK YOU. >> SO, THERE ARE LITTLE STEPS YOU CAN MAKE. LIKE, FOR INSTANCE, I KNOW WE'RE IN A BIG DAIRY AND CATTLE REGION HERE, SO I DON'T WANT TO OFFEND ANYONE, BUT AGAIN, PEOPLE SAY, "WELL, I'LL NEVER GIVE UP MEAT," AND THEN I SAY TO THEM, "WELL, YOU COULD GIVE UP MEAT MAYBE ONE DAY A WEEK..." >> OH, MM-HMM. >> "AND THINK..." >> MODERATION. >> YEAH, SO YOU CAN MAKE CHANGES THAT HELP THE EARTH AND HELP YOURSELF, HELP YOUR BODY, HELP ANIMALS--MORE ANIMALS WILL LIVE--AND THERE ARE THINGS YOU CAN DO. IT DOESN'T HAVE TO BE ALL OR NOTHING. >> UH-HUH. >> AND I FIND THAT THAT INGRATIATES MORE PEOPLE INTO MAKING CHANGES IN THEIR LIVES WHEN THEY DON'T FEEL LIKE "I COULD NEVER DO THAT" OR "I WOULD NEVER WANT TO DO THAT." THEN PEOPLE SAY-- >> THAT SETS YOU UP FOR FAILURE. >> IT DOES, AND THEN YOU GET IRRITATED, AND THEN YOU RESENT THE PERSON OFFERING THE HELP, SO I SAY, WELL, LET'S FIND A HAPPY MEDIUM HERE, AND THEN PEOPLE FEEL LIKE THEY GET A LEG UP AND THEY SAY, "I FEEL SOME SUCCESS IN THIS. I'M MAKING A CONTRIBUTION. I'M IMPROVING MY WAY OF LIFE AND YET I DON'T FEEL LIKE I'VE MADE SUCH HUGE SACRIFICES THAT I HAVE TO BE MISERABLE TO BE HEALTHY." >> [LAUGHS] YEAH. LIFE'S TOO SHORT, AS THEY SAY. >> EXACTLY. AND THEN WHEN YOU START HAVING THESE LITTLE SUCCESSES, THE INSPIRATION GROWS INSIDE ONE'S SELF TO INCREASE, AND YOU DON'T HAVE TO BE PUSHED OR COERCED OR DO SOME FANATICAL FAD DIET THAT'S ONLY GOING TO PUT YOU IN A HOSPITAL ANYWAY. OR IF IT DOESN'T, YOU'RE GOING TO GAIN BACK EVERYTHING YOU'VE LOST. >> AND SO MANY PEOPLE DO THAT YO-YO DIETING. >> OH, YEAH. YOU'LL LOSE 20 OR 30 AND THEN GAIN 40 6 MONTHS LATER. >> WELL, THANK YOU SO MUCH FOR SHARING THIS. IT'S REALLY INSPIRING. I APPRECIATE GETTING TO TALK TO YOU TODAY. >> OH, YOU'RE WELCOME. THERE'S SO MUCH MORE. IT'S A BIG SUBJECT, SO. [LAUGHS] >> I HOPE YOU ENJOYED THE SHOW TODAY. NEXT TIME ON "CREATIVE LIVING," WE'LL LEARN HOW HUMOR CAN RELIEVE STRESS, WE'LL LEARN HOW TO STAMP A QUILT, AND DEMONSTRATE SOME GREAT TURKEY RECIPES FOR YEAR-ROUND DINING. ONE OF MY NEXT GUESTS IS A MOTIVATIONAL SPEAKER, AND SHE'S GOING TO TALK ABOUT HOW HUMOR CAN HELP RELIEVE STRESS. WE KNOW STRESS IS INEVITABLE IN TODAY'S ENVIRONMENT AND SOME PEOPLE WEATHER THE STRAIN BETTER THAN OTHERS. MANY ACCOMPLISH THIS THROUGH HUMOR. ANOTHER GUEST IS A DESIGNER AND CRAFTER, AND SHE'S GOING TO SHOW HOW TO USE SPECIALTY STAMPS TO STAMP OUT A REAL QUILT. THE STAMPS ARE CREATED WITHOUT A LIP SO YOU CAN EASILY PLACE THEM NEXT TO EACH OTHER TO CREATE AWESOME ART, MIXED MEDIA PIECES, BACKGROUNDS AND MUCH MORE. AND WE'LL ALSO MEET A SPOKESPERSON AND HOME ECONOMIST FOR BUTTERBALL, AND SHE'S GOING TO TELL HOW TO ENJOY TURKEY THROUGHOUT THE YEAR, NOT JUST DURING THE HOLIDAYS. SHE'LL DEMONSTRATE TRADITIONAL TURKEY IDEAS WITH A MORE CONTEMPORARY TWIST. ALL OF THESE TOPICS WILL BE FEATURED ON THE NEXT "CREATIVE LIVING" SHOW. IF YOU EVER HAVE COMMENTS OR SUGGESTIONS OR IDEAS FOR SHOWS, YOU CAN E-MAIL ME AT SHERYL.BORDEN@ENMU.EDU. I HOPE YOU'LL PLAN TO JOIN ME NEXT TIME FOR "CREATIVE LIVING." >> WE ARE VERY PLEASED TO OFFER A NEW BOOKLET THAT ACCOMPANIES THIS SERIES OF "CREATIVE LIVING." THIS BOOKLET IS TITLED "THE 6700 SERIES," AND IT FEATURES A WONDERFUL COLLECTION OF IDEAS AND INFORMATION, AND IT'S AVAILABLE FREE OF CHARGE ON OUR WEBSITE. POSTED AS A PDF FILE, YOU CAN SIMPLY DOWNLOAD THE ENTIRE BOOKLET OR JUST THE SEGMENTS YOU'RE MOST INTERESTED IN. YOU'LL FIND INFORMATION ON FOODS, NUTRITION, CLOTHING, FASHION, HEALTH AND BEAUTY, HOME DECORATING AND MUCH MORE. FOR YOUR COPY OF THIS NEW BOOKLET, GO TO OUR WEBSITE AT KENW.ORG AND THEN CLICK ON CREATIVE LIVING. SCROLL DOWN TO THE BOOKLET SECTION, AND YOU CAN CLICK ON THIS BOOKLET OR ON ANY OF THE OTHER BOOKLETS WE HAVE AVAILABLE ONLINE. JUST GO TO KENW.ORG, CLICK ON CREATIVE LIVING AND DOWNLOAD THE BOOKLET TITLED, "THE 6700 SERIES." WE ALSO INVITE YOU TO SIGN UP FOR OUR FREE E-NEWSLETTER. JUST GO TO KENW.ORG AND CLICK ON THE "SIGN UP NOW" BUTTON AND INPUT YOUR E-MAIL ADDRESS. THAT'S ALL THERE IS TO IT. YOU'LL ENJOY READING AN UP-TO-DATE NEWSLETTER FILLED WITH INTERESTING TOPICS AND INFORMATION. THANK YOU.
Now Playing As: Captioned (English) (change)
Spiritual leader Louix Dor Dempriey offers ways to optimize nutrition, and Jana Beus discusses her doll furniture business.
Media Details
Runtime: 27 minutes