Creative Living With Sheryl Borden #6716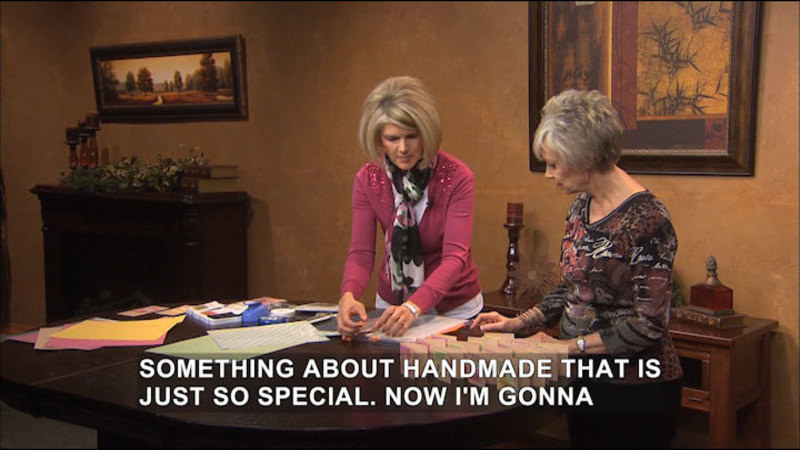 >> "CREATIVE LIVING," UTILIZING TODAY'S TECHNOLOGY WITH THE BEST OF THE PAST TO BRING YOU INNOVATIVE IDEAS AND UP-TO-DATE INFORMATION FOR CREATIVE LIFESTYLES IN TODAY'S ACTIVE WORLD, WITH YOUR HOST SHERYL BORDEN. >> WELCOME TO "CREATIVE LIVING" TODAY. WE'RE GOING TO LEARN HOW TO MAKE 16 HANDCRAFTED CARDS IN UNDER AN HOUR, WE'LL TALK TO THE EDITORS OF "BELLA CRAFTS QUARTERLY," AND WE'LL DEMONSTRATE SOME EASY ONE-STEP FURNITURE MAKEOVERS. ONE OF MY GUESTS TODAY IS KRISTINE WIDTFELDT, AND SHE'S THE VICE PRESIDENT OF CLOSE TO MY HEART. KRISTINE IS GOING TO SHOW HOW TO MAKE 16 CARDS IN ABOUT AN HOUR. THESE MINI CARDS ARE PERFECT FOR ADDING TO A GIFT OR AS A NOTE TO A FRIEND, AND MAKING THEM IN ADVANCE WILL ENSURE YOU HAVE YOUR SUPPLY ALL READY TO GO WHEN THE OCCASION ARISES. KRISTINE IS FROM PLEASANT GROVE, UTAH. MY NEXT TWO GUESTS ARE ANN BUTLER AND LISA ROJAS, AND THEY'VE CREATED THE FIRST COMPLETELY FREE ONLINE MAGAZINE DEALING WITH ALL AREAS OF CRAFTS AND RELATED PROJECTS. THEY'LL DISCUSS HOW THE MAGAZINE CAME TO BE, WHO CONTRIBUTES TO IT, AND HOW TO USE IT. THE MAGAZINE IS "BELLA CRAFTS QUARTERLY." ANN LIVES IN VILLARD, MINNESOTA, AND LISA'S FROM VICTORVILLE, CALIFORNIA. AND WE'LL BEGIN THE SHOW TODAY WITH BRUCE JOHNSON, WHO IS THE SPOKESPERSON FOR MINWAX, WHICH IS HEADQUARTERED IN UPPER SADDLE RIVER, NEW JERSEY. BRUCE IS GOING TO SHOW HOW TO MAKE SOME QUICK AND EASY FURNITURE MAKEOVERS FOR PEOPLE WHO DON'T HAVE A LOT OF TIME AND WHO WANT TO START AND FINISH A PROJECT IN ONE DAY. BRUCE, THANK YOU SO MUCH FOR BEING HERE. WE ALL HAVE A HOUSE FULL OF FURNITURE THAT USUALLY NEEDS CLEANING AT SOME POINT OR THE OTHER, BUT I HAVE TO ADMIT, I DON'T USUALLY LET MINE GET QUITE THIS BAD. SO, WHAT'S THE POINT TODAY? >> HA HA! WELL, YOU KNOW, MY SHOP, I'M ALWAYS KEEPING ODD PIECES OF FURNITURE AROUND. I'M THE GUY THAT PICKS UP FURNITURE OFF THE CURB AS I'M DRIVING DOWN, BECAUSE IT'S GREAT FOR ME TO EXPERIMENT WITH, WITH DIFFERENT PRODUCTS, DIFFERENT WAYS OF APPROACHING IT, AND THE ONE THING THAT PEOPLE ARE LOOKING FOR TODAY IS QUICK AND EASY. I DON'T CARE WHAT IT IS. >> I DON'T WANT TO SAND IT AND STRIP IT AND SCRAPE IT AND ALL THAT. >> NO, BUT LIKE YOU SAY, WE'VE GOT LOTS OF FURNITURE IN OUR HOUSE, AND NONE OF IT EVER LOOKS AS GOOD NOW AS IT DID THE DAY WE BOUGHT IT. YEAH. BUT A LOT OF TIMES, WE DON'T KNOW WHAT TO DO, AND LIKE YOU SAID, A LOT OF TIMES, PEOPLE THINK, "OH, I'VE GOT TO EITHER STRIP OR REFINISH IT, OR PAY SOMEBODY ELSE TO DO IT." SO. THE CHALLENGE I GAVE MYSELF TODAY WAS FIND PRODUCTS THAT COULD CLEAN AND RESTORE A PIECE IN ONE STEP. >> OH. I LIKE THAT. >> ALL RIGHT. ONE STEP. SO, THAT WAS MY CHALLENGE TODAY. SO, WE'RE GONNA START WITH--THIS IS A CHAIR FROM THE 1930s. AGAIN, IT WAS ONE OF MY CURBSIDE PICKUPS. A GOOD CHAIR, THOUGH. GOOD WOOD, WORTH KEEPING, BUT IT'S DIRTY, YOU KNOW, AND THAT'S--SO, AGAIN, WE'RE JUST GOING TO TAKE A--WE'RE GONNA USE THE MINWAX WOOD CLEANER. >> BECAUSE YOU DON'T WANT TO PUT WATER ON IT. >> NO, NO. IF YOU WANT TO TAKE THAT AND GO AHEAD--I'LL HOLD ON TO IT AND YOU WORK ON IT. AND WE DON'T WANT TO USE HOMEMADE FORMULAS. YOU KNOW, THINGS MY GRANDMOTHER USED TO USE, THE TSB, AND THE AMMONIA AND THAT SORT OF THING WE DON'T WANT TO USE ANYMORE, BUT YOU CAN SEE HOW EASILY IT IS TO CLEAN UP. >> DO YOU GO IN CIRCLES? >> I GO IN CIRCLES AND THEN I ALWAYS FINISH IN THE DIRECTION OF THE GRAIN OF THE WOOD. DO A LITTLE BIT MORE DOWN THERE. >> SEE, I'VE PAID ATTENTION TO YOU THROUGH THE YEARS. >> YEAH. WE JUST GOTTA MAKE SURE IT LOOKS--THAT WHOLE MIDDLE
SPLAT LOOKS GOOD. AND [INDISTINCT] WE'RE NOT
REFINISHING HERE, SO THIS ISN'T GONNA TAKE CARE OF EVERY LITTLE SCRATCH, OR THERE MIGHT BE A PAINT SPLATTER ON THERE, BUT THIS GETS IT--GETS AWAY FROM THE DIRT. YEAH, LOOK AT ALL THE DIRT YOU PICKED UP THERE. YEAH. AND NOW WE CAN SEE WE'VE GOT A NICE WOOD HERE, AND IT MAY BE THAT YOUR PIECE OF FURNITURE MAY FIRST OF ALL JUST NEED TO BE CLEANED, OK? ALL RIGHT. >> ESPECIALLY OLDER PIECES OR CABINET DOORS THAT--UH-HUH. >> CABINET DOORS ESPECIALLY, YEAH. THEY PICK UP ALL THOSE COOKING OILS AND GREASES. OUR SECOND PROJECT HERE, THIS IS A LITTLE DROP-LEAF TABLE, AN ANTIQUE TABLE. THIS IS MADE OF WALNUT. AND THIS IS A CASE WHERE I'VE CLEANED IT, BUT I CAN STILL SEE NOW THAT THERE REALLY ISN'T MUCH FINISH ON THERE. SO, CLEANING IT AGAIN ISN'T GONNA... >> SO, YOU STARTED WITH CLEANING. >> YEAH. CLEANED IT FIRST. ALWAYS WANT TO CLEAN IT FIRST. SO, HERE I'M GONNA TAKE WIPE-ON POLY. THIS IS NOT-- >> POLYURETHANE. >> POLYURETHANE, YEAH. WE CALL IT BY ITS NICKNAME HERE. AND AGAIN, THIS IS NOW GONNA BE OUR ONE-STEP, AND THE NICE THING ABOUT THIS IS, WE DON'T EVEN NEED TO USE A BRUSH. WE'RE GONNA TAKE A HEAVY-DUTY PAPER TOWEL AND WE'RE GONNA RUB IT IN, AND THIS ISN'T A POLISH. AND LIKE YOU MENTIONED, WE'VE ALREADY CLEANED IT. WHAT WE'RE DOING HERE IS WE'RE ADDING ANOTHER LAYER OF PROTECTION. AND IT'S GOING TO BRING OUT-- >> BRINGING OUT THE GRAIN AND IT'S A BEAUTIFUL PIECE OF WOOD, ISN'T IT? >> RIGHT. AND THE NICE THING ABOUT THIS, YOU REALLY CAN'T MESS IT UP, BECAUSE YOU JUST POUR IT ON, AND THEN YOU JUST USE YOUR RAG AND KEEP MOVING AROUND AND WIPING IT UNTIL IT'S ALL ABSORBED BY THE WOOD. >> JUST ONE COAT? >> ONE COAT. THAT'S ALL WE NEED. WE'RE LOOKING FOR--THIS IS OUR ONE-STEP SEGMENT. REMEMBER, HERE WE'RE JUST GONNA DO IT IN ONE COAT, AND MORE OFTEN THAN NOT, THAT'LL TAKE CARE OF ALL THOSE LITTLE MINOR NICKS AND SCRATCHES AND WILL ACTUALLY BRING THAT GRAIN BACK OUT, SO, YOU CAN SEE... >> IT DOES LOOK A LOT BETTER. >> NOW WE MOVE DOWN TO ANOTHER PIECE OF FURNITURE FROM THAT SAME TIME PERIOD, BUT NOW WE'VE GOT A CASE THAT IT'S PRETTY BEAT-UP. >> IT'S PRETTY SCRATCHED-UP... >> PRETTY SCRATCHED-UP. YEAH. SO, EVEN THOUGH WE'VE CLEANED IT, IT'S STILL GOT A LOT OF PROBLEMS. NOW, TYPICALLY YOU MIGHT THINK THAT I WAS GONNA GET OUT MY STAIN MARKER AND GO THROUGH HERE AND TOUCH UP EVERY ONE OF THESE. >> YOU'D HAVE A LOT OF TOUCHING UP. >> TOO MUCH. WHAT I'M GONNA DO HERE IS I'M GONNA USE WOOD SHEEN. WOOD SHEEN IS A STAIN AND AN OIL FINISH IN ONE, AND YOU SEE IT'S GOT SOME COLOR THERE TO IT. >> AND IT'S A LITTLE THICKER, TOO... >> YEAH. THIS IS ROSEWOOD. SO, IT'S STAIN AND FINISH, AND YOU CAN TAKE THIS AND GO OVER THE ENTIRE PIECE AND TOUCH UP. IT'S GONNA MAKE A LOT OF THOSE LITTLE NICKS AND SCRATCHES DISAPPEAR, BECAUSE UNLIKE THE WIPE-ON POLY, WHICH WAS JUST CLEAR, THIS IS ACTUALLY GONNA ADD SOME COLOR, AND IT'S GONNA TOUCH UP ALL THOSE LITTLE NICKS AND SCRATCHES. >> YEAH, I CAN'T EVEN SEE THOSE. THERE WERE SOME REALLY BAD ONES. >> YEAH. DOESN'T THAT LOOK NICE NOW? YEAH. SO, THAT'S THE WOOD SHEEN. AGAIN, ONE STEP, BECAUSE WE'RE PUTTING ON STAIN AND FINISH, AND THE NICE THING ABOUT THE WOOD SHEEN IS, IT'S GREAT FOR SMALL PROJECTS. YOU COULD USE THAT ON UNFINISHED FURNITURE AS WELL. >> OH, OK. AND, LIKE, IF WE HAD A TABLE LEG OR SOMETHING--I HAVE SOME OF THOSE AT HOME, SO I KNEW WHAT TO LOOK FOR. >> YOU COULD TAKE THE WOOD SHEEN, AND SEE HOW EASY THAT TOUCHES UP? SO, IT DOES--AND LIKE I SAY, IT'S GOING TO GIVE A LITTLE BIT MORE GLOSS AS WELL. SO. NOW, IF YOU HAVE A PIECE OF FURNITURE AND YOU REALLY WANT TO CHANGE IT, MAKE A DRAMATIC CHANGE TO IT, YOU CAN USE POLYSHADES. POLYSHADES, LIKE THE NAME IMPLIES, IS POLYURETHANE AND COLOR COMBINED. >> OH. ONE STEP AGAIN. >> ONE STEP. WE'RE GOING WITH OUR THEME OF ONE STEP HERE TODAY. NOW, WITH THE POLYSHADES, YOU ALWAYS WANT TO MAKE SURE YOU'RE USING A GOOD-QUALITY BRISTLE BRUSH. NO FOAM BRUSHES FOR THIS. YEAH. AND DOESN'T TAKE VERY MUCH. I'LL GET STARTED HERE. >> YOU PUT ABOUT A HALF-INCH. LOOKS LIKE... >> ABOUT A HALF-INCH, I DIP IT IN THERE, AND THE POLYSHADES IS GREAT FOR WHEN YOU'VE GOT A LIGHT-COLORED PIECE OF WOOD AND YOU WANT TO, IN ONE STEP... >> GO DARKER. >> GO DARKER. AND SO-- AND YOU JUST WORK IT IN THERE. >> NOW, IF WE WANTED TO GO LIGHTER, WE WOULD HAVE TO PAINT. THAT WOULD PROBABLY BE THE OPTION. >> OR I'D BE MORE APT JUST TO DO A SANDING, DO A LIGHT SANDING. MANY TIMES, THE DARKER COLORS APPEAR OVER TIME JUST AS THE PIECE AGES. SO, WITH THIS, WE JUST WORK IT IN, AND LIKE I SAY, WITH THE POLYSHADES, TAKE JUST A TIP TO YOUR BRUSH AND KEEP WORKING IT BACK AND FORTH UNTIL IT'S NICE AND EVEN. >> AND ALWAYS GO WITH THE GRAIN. >> ALWAYS GO WITH THE GRAIN. AND THEN YOU'LL LET THAT DRY. AND THE COMBINATION, AGAIN, THE STAIN IS MIXED IN WITH THE POLYURETHANE, SO, WE'RE ADDING COLOR AND PROTECTION AT THE SAME TIME IN OUR ONE STEP. >> THAT'S AMAZING. >> SO, YOU'VE GOT YOUR POLYSHADES FOR, LIKE I SAY, A PIECE OF FURNITURE. KITCHEN CABINETS WOULD WORK AS WELL. AND YOU COULD USE YOUR WOOD SHEEN ON SMALLER PIECES OF FURNITURE, THAT YOU NEED TO TOUCH UP YOUR NICKS AND SCRATCHES. AND OF COURSE, YOUR WIPE-ON POLY. >> THAT DID A WORLD OF DIFFERENCE ON THAT. >> YEAH, WHEN YOU JUST REALLY WANT TO ADD ANOTHER COAT OF FINISH WITHOUT CHANGING THE COLOR DRAMATICALLY. >> BUT ALWAYS START WITH JUST CLEANING. >> ALWAYS STARTS WITH CLEAN. YEAH. CLEAN SURFACE, EVERYTHING ELSE WILL WORK BETTER. >> OK. THANK YOU VERY MUCH, BRUCE. GOOD IDEAS. IT'S SO NICE TO HAVE BOTH OF YOU HERE AT ONE TIME. USUALLY, I'M GETTING TO INTERVIEW ONE OF YOU ABOUT SOME REMARKABLE CRAFT OR THE OTHER ONE TELLING ABOUT SOMETHING THAT THEY'VE JUST CREATED, BUT ANN AND LISA, IT'S REALLY NICE TO HAVE YOU BOTH HERE, AND WHAT WE WANT TO DO IS TALK ABOUT SOMETHING TOTALLY DIFFERENT THAT YOU CREATED. AND ANN, I UNDERSTAND IT WAS KIND OF YOUR BRAINCHILD, SO, TELL US ABOUT YOUR MAGAZINE. >> WELL, ME AND CAROL HEPPNER, THERE'S 4 OF US, WE WERE SKYPING ONE DAY. YOU KNOW, WORKING IN YOUR STUDIO ALL THE TIME, IT'S GOOD TO BE ABLE TO TALK WITH OTHER CREATIVES, SO, WE SKYPE OR WE GOOGLE PLUS, AND WE CAN SEE EACH OTHER AND SHOW EACH OTHER OUR STUFF, AND I WAS JUST SAYING, "YOU KNOW, I'M JUST SO TIRED OF CREATING A PROJECT, HAVING IT IN A MAGAZINE, AND THEY NEVER LIST THE PRODUCTS." OR THEY'LL PUT GLUE. >> GLUE. >> SOMETIMES YOU NEED A SPECIFIC GLUE. YOU NEED A NON-STICK SCISSOR. I MEAN, YOU NEED WHAT WE PUT. AND I SAID, "WE SHOULD JUST CREATE OUR OWN MAGAZINE." AND CAROL'S LIKE, "WE CAN." AND I'M LIKE, "NO, CAROL. OUR OWN MAGAZINE." AND SHE'S LIKE, "WE CAN." AND I'M LIKE, "OH, WE COULD." AND I SAID, "BUT IT HAS TO BE FREE." IT'S ONLINE AND IT'S FREE. >> WOW. SO, YOU WANTED IT TO BE AVAILABLE. >> WE WANTED IT AVAILABLE FOR EVERYBODY, BECAUSE WE BELIEVE CREATIVITY IS VERY IMPORTANT. SO... >> AND YOU FOUND ANOTHER CREATIVE PARTNER IN LISA. >> YUP. WE-- >> AND THEN THERESA CIFALI, WHO I HAPPEN TO KNOW AS WELL. SO, YOU 4 LOVELY LADIES HAVE CREATED WHAT'S CALLED "BELLA CRAFT QUARTERLY." >> RIGHT. >> AND "CRAFTS." EXCUSE ME. HERE'S YOUR PICTURES. AND YOU ALL EVIDENTLY ARE LONGTIME FRIENDS. YOU WORK WELL TOGETHER. YOU'RE ALL--WHAT WOULD THAT BE-- TYPE B PERSONALITIES. IS THAT THE ONE THAT'S SO CREATIVE? HA HA! BUT YOU HAVE TO BE TYPE A, TOO, BECAUSE YOU ALL DO EVERYTHING. YOU COME UP WITH THE CONTENT, YOU PROOF, YOU WRITE, YOU EDIT, YOU TAKE PICTURES. IT'S NOT JUST A ONE-MAN SHOP BUT IT ALMOST IS, AND YOU ALL 4 LIVE IN 4 DIFFERENT COUNTRY--4 DIFFERENT STATES. >> YES. >> HOW DO YOU WORK TOGETHER WHEN YOU DON'T EVEN SEE EACH OTHER THAT OFTEN? >> WE DO WEEKLY MEETINGS ON GOOGLE PLUS, AND THAT'S WHERE WE DISCUSS ALL OF OUR IDEAS, WHAT WE'RE GONNA DO WITH OUR NEXT PROJECTS, WHAT THE THEME FOR THE NEXT MAGAZINE'S GONNA BE, AND THEN WE JUST WORK IT OUT THROUGH THERE, AND THEN THAT WAY, WHEN WE GET READY TO DO THE PROJECTS AND WE FINISH THEM, THEN WE CAN LOOK AT THEM AND SAY, "OK, YOU KNOW, YEAH, THAT'LL LOOK GREAT" OR "YOU KNOW, MAYBE WE SHOULD CHANGE THIS," BUT WE DO EVERYTHING WITH THE MAGAZINE. >> YOU DO ALL OF THE CRAFTS. >> ALL OF THE CRAFTS, ALL OF THE WRITING, THE PHOTOGRAPHY. WE PUT IT ALL TOGETHER. EVERYTHING. WE DO IT ALL. >> BUT AS I WAS TELLING YOU EARLIER, ANN, I LOVE TO--AND I AM A SUBSCRIBER, AND IT'S A FREE PUBLICATION, BUT YOU DO HAVE TO GO ON AND PUT YOUR E-MAIL ADDRESS, OF COURSE, BUT I LOVE LOOKING DOWN THE LIST OF-- MAYBE--IS IT CONTRIBUTING DESIGNERS THAT YOU HAVE, AND THEY'LL PRESENT SOMETHING OCCASIONALLY, TOO. SO, IT'S NOT JUST THE 4 OF YOU SHARING YOUR IDEAS. >> BECAUSE WE KNOW SO MANY CREATIVES. YOU KNOW, BECAUSE WE'VE BEEN IN THIS INDUSTRY FOR OVER 20 YEARS EACH, YOU KNOW, SO, WE RELY ON A LOT OF OUR CREATIVE FRIENDS, YOU KNOW, AND ASK THEM FOR CONTENT OF, YOU KNOW, WHETHER IT'S AN ARTIST TO ARTIST COLUMN, WHERE WE'RE INTERVIEWING ONE OF THEM, OR WE'RE ASKING THEM ON TRENDS FOR THE UPCOMING SEASON. >> OH, I SEE. YOU KNOW, I HADN'T THOUGHT ABOUT TRENDS IN CRAFTS, BUT THAT'S JUST LIKE HOME FURNISHINGS OR CLOTHING OR ANYTHING ELSE, ISN'T IT? >> DEFINITELY. >> THAT'S AMAZING. NOW, YOU MAY SAY, "OK, WELL, IT'S AN ONLINE MAGAZINE, BUT WHY DO YOU HAVE THESE BEAUTIFUL COVERS HERE?" WELL, MAGAZINES WITH BEAUTIFUL COVERS HERE. >> YOU CAN ALSO PURCHASE IT. WE OFFER IT FREE, AND IT'S FREE TO DOWNLOAD AND YOU CAN USE IT ON YOUR TABLET, YOU KNOW, YOUR COMPUTER, BUT YOU CAN ALSO PURCHASE IT. BUT THE MONEY GOES RIGHT TO [INDISTINCT], THE PRINTER. WE STILL DON'T CHARGE. WE COULD PUT AN UPCHARGE ON THERE, BUT WE STILL WANT TO HAVE IT. SO, YOU'RE JUST PAYING FOR THE PRINTING. SO, YOU CAN GET--AND THE QUALITY. I MEAN, IT'S BEAUTIFUL PAPER. MM-HMM. >> THE PHOTOGRAPHY-- YOU ALL DO A GREAT JOB. HA HA! >> CAROL HAS WORKED WITH US VERY LONG AND HARD. >> YES. CAROL IS OUR PHOTOGRAPHY EXPERT. >> IT'S AN ART IN AND OF ITSELF. BUT YOU KNOW, I WAS TELLING EACH OF YOU EARLIER, I'M SO GLAD I KNOW PEOPLE LIKE YOU, BECAUSE I CAN COPY ALMOST ANYTHING, BUT IT'S YOUR CREATIVE MINDS THAT COME UP WITH THE PROJECTS, THE IDEAS, THE WORKSHEETS, THE-- AND YOU KNOW THE INDUSTRY SO WELL BECAUSE YOU KNOW WHICH COMPANY MAKES WHICH KINDS OF PAPERS THAT WOULD WORK. >> WE HAVE A LOT OF MANUFACTURERS THAT WORK WITH US, OR WE WORK WITH THEM, I SHOULD SAY, AND YOU KNOW, THEY HELP OUT WITH THE MAGAZINE WITH PRODUCTS AND STUFF LIKE THAT, AND WE DO SPONSORED PRODUCTS FOR SOME OF THE MANUFACTURERS IN THE MAGAZINE, SO-- >> DO YOU GET TO BE GUINEA PIGS FOR MANY OF THE NEW PRODUCTS THAT COME OUT, LIKE AT YOUR-- >> PRODUCT TESTING? >> YEAH. PRODUCT TESTING.
[LAUGHS] >> YES.
>> AND SO, YOU GET TO DO SOME OF THAT, TOO. >> YEAH. WE'VE DEFINITELY DONE A LOT OF THAT THROUGH THE YEARS. >> WELL, YOU BOTH PARTICIPATE IN CHA, AND THAT'S WHAT--CRAFT-- WHAT IS IT-- >> CRAFT AND HOBBY ASSOCIATION. >> CRAFT AND HOBBY ASSOCIATION. DO YOU FIND PEOPLE COME UP TO YOU AND THEY WANT TO KNOW WHERE YOU HAVE THESE MAGAZINES, AND ARE THEY SHOCKED THAT IT'S A FREE SUBSCRIPTION? >> THEY ARE AMAZED THAT-- AND AMAZINGLY ENOUGH, THE DOWNLOADS. I MEAN, WE STARTED AND WITHIN OUR FIRST YEAR, WE HAD 50,000 DOWNLOADS FOR THE QUARTERLY ISSUES. THAT'S OUR AVERAGE. >> UH-HUH. AND YOU DO IT QUARTERLY, THAT'S WHY IT'S CALLED "QUARTERLY," BUT THEN YOU DO SPECIAL ISSUES, LIKE, THIS ONE'S ON HALLOWEEN AND THIS ONE'S ON CHRISTMAS, SO-- >> WELL, THIS ONE'S VALENTINE'S. >> OH, VALENTINE'S. I CAN SEE IT'S RED, YEAH. SO, YOU-- WHO DECIDES WHEN THERE'S GOING TO BE A SPECIAL COME OUT? >> WELL, WE DEFINITELY ALWAYS HAVE THE QUARTERLY, AND WE HAVE THAT ON A SET SCHEDULE. AND THE SPECIAL EDITIONS, SOMETIMES WE JUST KNOW THERE NEEDS TO BE AN EXTRA PUSH, AND MAYBE WE HAVE A LOT OF CREATIVENESS GOING ON AND THINK--IN A SPECIAL EDITION, LIKE, IN THE QUARTERLIES, THERE ARE COLUMNS, AND THERE ARE BUSINESS SECTIONS FOR OTHER CRAFTERS TO LEARN. BUT THE SPECIAL EDITIONS JUST HAVE CRAFTS. >> JUST CRAFTS. OK. WELL, I'VE DOWNLOADED JUST SPECIFIC PROJECTS, AND I THINK THAT'S WHAT'S NICE ABOUT IT BEING ONLINE. MAYBE I DON'T WANT TO DOWNLOAD A WHOLE MAGAZINE, OR MAYBE I'M NOT EVEN INTERESTED IN EVERYTHING IN IT, BUT GOSH, WHEN YOU CAN DOWNLOAD IT AND GET YOUR INSTRUCTIONS AND THE BRANDS YOU NEED AND ALL OF THAT SORT OF STUFF, IT'S JUST GREAT. >> IT'S NICE, ALSO, TOO, BECAUSE IT'S ALWAYS ONLINE. SO, IF YOU WANT TO GO BACK FROM, YOU KNOW, OUR FIRST ISSUE WITH THE HALLOWEEN, YOU KNOW, WITH THIS HALLOWEEN, THEN YOU CAN GO BACK. IT'S ALWAYS THERE. >> ALWAYS AVAILABLE. >> YEAH, IT'S ALWAYS AVAILABLE. >> WELL, I REALLY CONGRATULATE ALL 4 OF YOU, AND IT'S ESPECIALLY NICE TO HAVE BOTH OF YOU HERE TO TELL ABOUT IT, AND I HOPE EVERYONE WILL SUBSCRIBE BECAUSE IT'S REALLY SUCH A NICE RESOURCE IF YOU ENJOY CRAFTING OR SCRAPBOOKING OR QUILTING. JUST A VARIETY OF CRAFTS. >> RIGHT, AND IT'S WWW. BELLACRAFTSQUARTERLY.COM. >> OKEY-DOKE. WELL, WE'LL PUT THAT UP SO THAT EVERYONE CAN SEE IT. THANK YOU SO MUCH. I APPRECIATE IT. >> THANK YOU. >> KRISTINE, THANK YOU SO MUCH FOR BEING HERE TODAY, AND I WAS SO EXCITED WHEN YOU SAID YOU WERE GOING TO TEACH CARD MAKING, AND I THOUGHT, "OH, I LOVE TO MAKE CARDS." BUT THEN I READ ON AND SAID--IT SAID YOU WERE GOING TO TEACH US HOW TO MAKE 16 CARDS IN AN HOUR? >> BREATHE DEEPLY. YOU CAN DO THIS. YOU CAN DO THIS BECAUSE THESE ARE THESE FUN MINI CARDS. WE ALL NEED A CARD STASH ON HAND. FOR A QUICK THANK-YOU OR TO INSERT IN A BIRTHDAY GIFT BAG. THE 3 X 3 SIZE IS PERFECT. YOU DON'T HAVE TO WRITE A BIG, LONG NOVEL. YOU CAN JUST WRITE A QUICK, LITTLE NOTE. AND THIS IS WHAT I LIKE TO CALL A CARD WORKSHOP FOR ONE. BECAUSE YOU CAN DO IT ONE PERSON IN ABOUT AN HOUR WITH VERY, VERY MINIMAL SUPPLIES. >> GOSH, AND THEY'RE ALL-- THEY ALL LOOK DIFFERENT. >> YES, THEY DO, AND THAT'S PART OF THE--THAT'S PART OF THE FUN. SO, IT BOILS DOWN TO TWO THINGS. ONE, HAVING SOME GREAT DIMENSIONS AND A REALLY TRUSTY PAPER TRIMMER, AND THEN STARTING WITH THE RIGHT PAPER. >> THOSE ARE BEAUTIFUL... >> AREN'T THOSE LOVELY? YES, BECAUSE THEY ARE--THEY'RE CALLED A LEVEL TWO PAPER PACK, PROVIDED BY CLOSE TO MY HEART, AND THE IDEA IS THAT ALL THE THINKING'S BEEN DONE FOR YOU. NO MATTER HOW YOU MIX AND MATCH THESE PAPERS TOGETHER, YOU'RE GONNA GET SOMETHING UNIQUE BUT STILL TOTALLY COORDINATED. SO-- >> AND TOTALLY INDIVIDUAL. >> EXACTLY RIGHT. THEN I WOULD-- AND YET WE STILL CAN'T MESS IT UP. HOW FUN IS THAT? SO, FOR THIS PARTICULAR CARD WORKSHOP, WE'RE GONNA TAKE OUT TWO OF THE 6 CARD STOCKS. WE WANT TO WORK WITH OUR NEUTRALS--EXACTLY RIGHT--FOR THE BASES. I'M ALSO GOING TO TAKE MY BUTTERCUP AND MY COTTON CANDY FOR THE FUN POP OF COLOR. I KNOW. THE NAMES ARE AS MUCH FUN AS ANYTHING. AND I'M GONNA BE ABLE TO SAVE THESE TWO SHEETS OF TWILIGHT FOR ANOTHER PROJECT, AND THEN I'M JUST GOING TO PICK AND PULL 3 SHEETS OF THE BACKGROUND AND TEXTURE PAPER, AND BECAUSE THEY ARE... >> OH, WONDERFUL. >> DOUBLE-SIDED, IT GIVES ME ALL THESE GREAT OPTIONS. SO-- AND THEN I CAN SAVE THESE 3 FOR ANOTHER PROJECT. SO, AGAIN, VERY ECONOMICAL. NOT EVEN GONNA CUT INTO THOSE PAPERS THAT COME IN THE PAPER PACK. NOW. FIRST LET'S START BY CUTTING OUT OUR CARD BASES. BECAUSE THESE ARE 3 X 3 CARDS, I'M GONNA TAKE ALL OF MY--WELL, BOTH OF MY NEUTRAL CARD STOCKS. >> NOW, ARE YOU SAYING WE'RE GOING TO MAKE 16 CARDS OUT OF JUST THESE-- >> THAT'S RIGHT. >> OH. HUH. >> THAT'S EXACTLY RIGHT. I'M GONNA CUT EACH ONE OF MY NEUTRAL CARD STOCKS INTO 3-INCH STRIPS. >> 3. OK. >> 3-INCH STRIPS. >> THIS IS 12-INCH PAPER, ISN'T IT? >> THAT'S 12-INCH PAPER. YUP. IT'S A VERY, VERY STANDARD SIZE. EXACTLY RIGHT. YOU'RE GONNA GET 4 STRIPS. AND YOU'RE GONNA DO THAT WITH BOTH SHEETS. I WON'T DO THAT NOW, JUST IN THE INTEREST OF TIME, BUT YOU GET WHERE I'M GOING. NOW WE'RE GONNA TAKE EACH ONE OF THESE STRIPS AND CUT IT INTO 6-INCH LENGTHS. AND NOW I'VE GOT MY BASE. SO, I'M GONNA FOLD THOSE IN HALF. I REALLY, REALLY, REALLY RECOMMEND A BONE FOLDER. IT HELPS YOUR PAPER CREASE VERY, VERY NICELY. >> AND IT DOESN'T BREAK IT OR CRACK IT... >> WON'T REALLY CRACK IT. IT'LL MAINTAIN YOUR BONE--OR YOUR SCORING FOLD REALLY, REALLY NICELY. AND SO, YOU'RE GOING TO CREATE YOUR 16 BASES. THAT'S ONLY GONNA TAKE YOU A MINUTE OR TWO. RIGHT? SO, WE'RE GONNA CUT DOWN ALL OF OUR 16 BASES. THE NEXT THING THAT I'M GONNA HAVE YOU DO IS CUT DOWN A COUPLE SHEETS OF CARD STOCK... >> BECAUSE YOU'VE GOT THESE LAYERS. THAT'S WHAT YOU'RE DOING NOW, THE CENTER PARTS. >> YUP. >> UH-HUH. OH, AND JUST ANY COLOR WE WANT OR WHATEVER STRIKES OUR FANCY. >> LIKE I SAID, YOU CANNOT MESS THIS UP. WHEN YOU'RE WORKING WITH A LEVEL TWO PAPER PACK, ALL THE PIECES ARE COORDINATED. NOW, I'M GONNA CUT THESE STRIPS INTO 2 3/4... >> 2 3/4. >> LITTLE BIT OF A TRICKIER MEASUREMENT. BY 2 1/4. SO, I'M GONNA MAKE A LITTLE RECTANGLE, OK? >> THAT'S THIS. THE BIGGER ONE. >> AND I'LL BE ABLE TO DO THAT IN JUST A COUPLE STRIPS OF THIS. SO, I WON'T USE MY WHOLE SHEET. OK, SO, I'M GONNA CUT OUT 8 IN THE YELLOW, AND THEN I WILL ALSO CUT OUT 8 IN THE PINK. >> OK. >> AND THEN I'LL HAVE 2/3 OF THOSE SHEETS LEFT OVER FOR ANOTHER PROJECT. SAVE--LOTS OF PAPER FOR ANOTHER PROJECT. SO... >> AND IT IS IMPORTANT, THE PAPER'S SO IMPORTANT, BUT IT CAN BE KIND OF PRICEY, SO, IF YOU CAN SAVE EVERY LITTLE INCH OR QUARTER-INCH OF IT, THAT'S WHAT YOU WANT TO DO. >> THESE CARDS WILL LITERALLY COST PENNIES. LITERALLY COST PENNIES WHEN THEY'RE DONE. >> AND IF ANYONE'S PRICED CARDS LATELY, YOU KNOW WHAT A--HOW MUCH YOU CAN SPEND ON IT. >> ...$4.00 OR $5.00 FOR A SINGLE CARD, AND THERE'S SOMETHING ABOUT HANDMADE THAT IS JUST SO SPECIAL. NOW I'M GONNA CUT MY PATTERN PAPERS. I'M GONNA NEED 16, SO, I WANT 8 OUT OF ONE SHEET. >> OH, AND 8 OUT OF ANOTHER. >> AND 8 OUT OF ANOTHER SHEET. EXACTLY RIGHT. BECAUSE I CAN... >> AND WHAT WAS THIS PACK CALLED? I LOVE THESE COLORS. >> THIS ONE'S CALLED CHANTILLY. IT'S THE CHANTILLY PAPER PACK. >> I LIKE THAT. >> SO, NOW I'VE GOT A 2 X 2 SQUARE, AND NOW I WILL HAVE ONE SHEET LEFT, AND THAT IS FOR THIS FUN, LITTLE DOVETAIL PIECE. >> OH, OK. >> OK? AND-- >> WHAT'S THAT--ABOUT 3/4 OF AN INCH... >> IT IS EXACTLY. YOU ARE GOOD. THAT IS WHAT I CALL A PRO. 2 3/4 BY 3/4. NOW, YOU'LL NOTICE THAT MOST PAPER TRIMMERS, WHEN YOU'RE CUTTING REALLY SMALL LENGTHS, HAVE SMALL MEASUREMENTS ON THE RIGHT SIDE OF THE BLADE, AND THAT'S GONNA MAKE IT A LOT EASIER FOR YOU TO FIND THAT RIGHT MEASUREMENT RATHER THAN DOING IT SO SMALL. SO, I'M ALSO GONNA CUT 16 OF THOSE. >> ...THE PROJECT'S READY TO GO, PRACTICALLY. >> 90% OF THIS PROJECT IS CUTTING, AND YOU CAN DO IT IN ABOUT 10 MINUTES. SO, LET ME REVIEW THE SIZES THAT YOU'RE GONNA WANT TO CUT, JUST TO MAKE SURE YOU'VE GOT THEM. YOU'RE GONNA HAVE 16 OF EACH PIECE. 16 3 X 6 CARD BASES. 2 1/4 BY 2 3/4 CARD STOCK. 2 X 2 PATTERNED PAPER. IT'S GONNA GO RIGHT THERE. >> COORDINATES BEAUTIFULLY. >> AND 2 3/4 BY 3/4 PIECE THAT I'M GONNA JUST CUT A LITTLE DOVETAIL NOTCH IN WITH MY MICROTIP SCISSORS. YEAH. IT EXACTLY DOES. AND THEN I'M GOING TO--USING MY SCRAPS, I'M GONNA TAKE A 1 1/4-INCH CIRCLE PUNCH AND I'M JUST GONNA PUNCH MYSELF 16 CIRCLES. >> OH. OK. >> OK? NOW, THIS IS YOUR CARD TO PUT TOGETHER, AND I'M GONNA PUT TOGETHER A PINK ONE, SHALL WE? SO, LITERALLY, ALL MY CUTTING IS DONE IN 10 MINUTES, AND THEN IT'S JUST ABOUT EMBELLISHING. I'VE PICKED THE HAPPY BIRTHDAY STAMP SET, JUST BECAUSE I THINK IT'S SO SUPER FUN, AND HERE'S A FUN, LITTLE CIRCLE STAMP THAT IS DESIGNED TO GO RIGHT IN THAT 1 1/4 CIRCLE. THAT'S A GREAT THING ABOUT OUR STAMP SET. >> IT'S PARTY TIME. >> IT IS PARTY TIME. NOW, LET ME SEE. ON YOUR CARD, I THINK YOU ARE DOING--YES--A NICE OLIVE CENTER, AND YOU'LL WANT TO STAMP AGAIN ON THIS FOAM CUSHION. >> AND THAT WAS SOMETHING NEW. I HAD NOT HEARD ABOUT DOING THAT, BUT I DO SEE NOW WHY SOMETIMES I STAMP AND IT-- IT DOESN'T COVER REALLY WELL. >> YES. IF YOU WANT GOOD, EVEN INK COVERAGE, AND AGAIN, YOU CAN ALWAYS SEE THROUGH THOSE CLEAR BLOCKS, JUST TO MAKE SURE YOU'VE GOT THE RIGHT AMOUNT OF INK. >> I ALMOST MESSED UP. >> OH, NO! GOOD SAVE, SHERYL. GOOD SAVE. YUP, AND IT'LL OFTEN STICK RIGHT TO IT. YOU CAN JUST PEEL IT OFF. AND THERE YOU GO. LOOK HOW CUTE THAT IS. NOW IN TWO SHAKES OF A TOMBOW ADHESIVE... THAT COMES TOGETHER REALLY, REALLY EASILY. AND YOU CAN MAKE SUCH A FUN, UNIQUE CARD. AND LIKE YOU SAID, ALL OF THEM ARE DIFFERENT, JUST BASED ON THE WAY THAT WE CHOOSE TO FLIP AROUND THE PAPERS. BECAUSE THEY'RE DOUBLE-SIDED, IF YOU THINK, "OH, DEAR, I GOT MY ADHESIVE ON THE WRONG SIDE," YOU HAVEN'T. YOU HAVEN'T AT ALL. >> ...A NEW PLAN... >> AND LET'S ADD A LITTLE BIT OF FOAM TAPE TO OUR CIRCLES. JUST TO POP THEM UP AND GIVE THEM A LITTLE BIT OF EXTRA DIMENSION. >> I THINK WE'RE OUT OF TAPE ON THIS. >> NO PROBLEM.
[BOTH TALKING AT ONCE] >> ...TURNED THE WRONG WAY.
>> I MIGHT HAVE BEEN A LITTLE BIT OVERLY EXCITED ABOUT MY TAPE. OK. AND I'M GONNA POP MY LITTLE CIRCLE. I FEEL LIKE I'M RACING YOU. >> NO. >> I DON'T MEAN TO RACE, BUT IN ABOUT WHAT, TWO, 3 MINUTES AFTER WE FINISH OUR CUTTING, WE CAN START TO CREATE CARDS THAT ARE UNIQUELY OUR OWN. >> AND THAT'S THE FUN PART, IS... >> IT IS. AND THEN IN A COUPLE MORE MINUTES, WE CAN ADD SOME OF THESE FUN SPARKLES OR A LITTLE BIT OF BAKER'S TWINE, JUST LIKE I'VE DONE IN OUR SAMPLES HERE. SO, SEE, WAS THAT TOO SCARY? >> NO. I LOVED IT. >> IT WASN'T AT ALL, WAS IT? >> THAT WAS A LOT OF FUN. THANK YOU SO MUCH. I APPRECIATE YOU SHOWING ME SOME NEW TIPS. >> HAPPY TO. >> I HOPE YOU ENJOYED THE SHOW TODAY. NEXT TIME ON "CREATIVE LIVING," WE'LL LEARN HOW TO RESHAPE YOUR ROOM SIZE, WE'LL DEMONSTRATE HOW TO MAKE A T-SHIRT SCARF, AND SEE HOW TO DO INSERTION-LACED MACHINE EMBROIDERY. ONE OF MY NEXT GUESTS IS AN INTERIOR DESIGNER AND SHE'S GOING TO EXPLAIN THE TOOLS YOU CAN USE TO CHANGE HOW YOU PERCEIVE THE SHAPE OF A ROOM'S INTERIOR AS WELL AS CHANGE LIGHTING, PATTERN, AND COLOR. ANOTHER GUEST IS A DESIGNER AND EVENTS COORDINATOR, AND SHE'S GOING TO DEMONSTRATE HOW TO CREATE A QUICK AND EASY T-SHIRT SCARF USING VARIOUS CUTTING TOOLS. THE SCARF CAN BE EMBELLISHED AND CUSTOMIZED IN SEVERAL WAYS. AND FINALLY, WE'LL HAVE A DESIGNER AND DIGITIZER ON THE NEXT SHOW WHO'S GOING TO DEMONSTRATE INSERTION-LACED MACHINE EMBROIDERY. AS YOU'LL SEE, THIS CREATES AN HEIRLOOM DESIGN THAT CAN BE DONE ON MOST FABRICS. ALL OF THESE TOPICS WILL BE FEATURED ON THE NEXT "CREATIVE LIVING" SHOW. IF YOU EVER HAVE COMMENTS OR SUGGESTIONS OR IDEAS FOR SHOWS, YOU CAN E-MAIL ME AT SHERYL.BORDEN@ENMU.EDU. I'D ALSO LIKE TO ASK YOU TO BECOME A FAN OF "CREATIVE LIVING" ON FACEBOOK. JUST GO TO FACEBOOK.COM, AND IN THE SEARCH WINDOW, TYPE IN "CREATIVE LIVING WITH SHERYL BORDEN." I HOPE YOU'LL PLAN TO JOIN ME NEXT TIME FOR "CREATIVE LIVING." >> WE ARE VERY PLEASED TO OFFER A NEW BOOKLET THAT ACCOMPANIES THIS SERIES OF "CREATIVE LIVING." THIS BOOKLET IS TITLED "THE 6700 SERIES," AND IT FEATURES A WONDERFUL COLLECTION OF IDEAS AND INFORMATION, AND IT'S AVAILABLE FREE OF CHARGE ON OUR WEB SITE. POSTED AS A PDF FILE, YOU CAN SIMPLY DOWNLOAD THE ENTIRE BOOKLET OR JUST THE SEGMENTS YOU'RE MOST INTERESTED IN. YOU'LL FIND INFORMATION ON FOODS, NUTRITION, CLOTHING, FASHION, HEALTH & BEAUTY, HOME DECORATING, AND MUCH MORE. FOR YOUR COPY OF THIS NEW BOOKLET, GO TO OUR WEB SITE AT KENW.ORG AND THEN CLICK ON "CREATIVE LIVING." SCROLL DOWN TO THE BOOKLET SECTION, AND YOU CAN CLICK ON THIS BOOKLET OR ON ANY OF THE OTHER BOOKLETS WE HAVE AVAILABLE ONLINE. JUST GO TO KENW.ORG, CLICK ON "CREATIVE LIVING," AND DOWNLOAD THE BOOKLET TITLED "THE 6700 SERIES." WE ALSO INVITE YOU TO SIGN UP FOR OUR FREE E-NEWSLETTER. JUST GO TO KENW.ORG AND CLICK ON THE "SIGN UP NOW!" BUTTON AND INPUT YOUR E-MAIL ADDRESS. THAT'S ALL THERE IS TO IT. YOU'LL ENJOY READING AN UP-TO-DATE NEWSLETTER FILLED WITH INTERESTING TOPICS AND INFORMATION. THANK YOU.
Now Playing As: Captioned (English) (change)
Sheryl learns how to create handcrafted mini-cards and promotes the free craft magazine Bella Crafts Quarterly. Bruce Johnson also stops by and shows quick furniture makeovers.
Media Details
Runtime: 27 minutes