Creative Living With Sheryl Borden #6715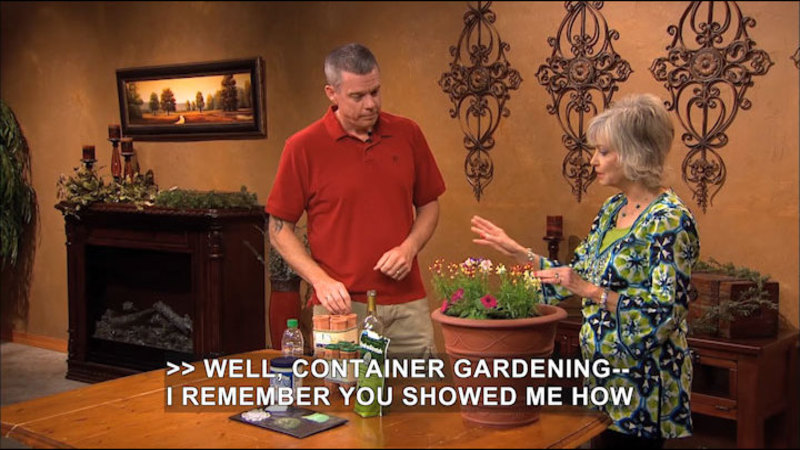 >> "CREATIVE LIVING," UTILIZING TODAY'S TECHNOLOGY WITH THE BEST OF THE PAST TO BRING YOU INNOVATIVE IDEAS AND UP-TO-DATE INFORMATION FOR CREATIVE LIFESTYLES IN TODAY'S ACTIVE WORLD, WITH YOUR HOST, SHERYL BORDEN. >> I'M SO GLAD YOU JOINED ME TODAY FOR "CREATIVE LIVING." WE'RE GOING TO LEARN HOW ANIMALS CAN HELP PATIENTS WITH PTSD, WE'LL LEARN HOW TO PRESERVE FRESH HERBS, AND ALSO TALK ABOUT WATER-RETAINING PLANTS. ONE OF MY GUESTS TODAY IS MATTHEW FESTA AND HE'S WITH AN ORGANIZATION CALLED GUARDIANS OF RESCUE. MATTHEW'S GOING TO EXPLAIN HOW ANIMALS WHO HAVE BEEN TRAINED THROUGH A PROGRAM CALLED ANIMALS HELPING PEOPLE CAN HELP ANYONE WITH POSTTRAUMATIC STRESS DISORDER, ESPECIALLY MILITARY PERSONNEL. HE LIVES IN SMITHTOWN, NEW YORK. ANOTHER GUEST IS CAROL FENSTER AND SHE'S A COOKBOOK AUTHOR AND DIETICIAN FROM CENTENNIAL, COLORADO. CAROL WILL DISCUSS HOW TO GROW AND HARVEST YOUR OWN HERBS, SHOW HOW TO STORE THEM, AND ALSO EXPLAIN SOME WAYS TO PRESERVE FRESH HERBS. HER COMPANY IS SAVORY PALATE, INCORPORATED. AND WE'LL BEGIN THE SHOW WITH CURT JAYNES, WHO WILL SHOW SOME NEW PRODUCTS ON THE MARKET FOR WATER-RETAINING PLANTS, INCLUDING A POLYMER THAT'S ALSO GOOD FOR GARDENS, LAWNS, TREES, AND SHRUBS. CURT'S BUSINESS IS GARDEN SOURCE NURSERY AND LANDSCAPING AND HE LIVES IN PORTALES, NEW MEXICO. CURT, THANK YOU SO MUCH FOR BEING HERE TODAY. I RECENTLY HEARD YOU DO A PROGRAM ON GARDENING AND LANDSCAPING AND PREPARING THE YARD AND THE FLOWER BEDS AND I THOUGHT, "OH, MY GOODNESS, IT IS THAT TIME OF THE YEAR." SO I WANTED YOU TO TELL US SOME OF THE THINGS THAT WE NEED TO BE DOING RIGHT NOW. >> OK, SHERYL. THANKS FOR HAVING ME. SINCE SPRINGTIME IS THE TIME THAT PEOPLE WANT TO PLANT THEIR CONTAINERS, IT'S NICE TO BE ABLE TO SAVE WATER. BECAUSE SOMETIMES IF YOU WATER YOUR CONTAINER IN THE MORNING, BY THE TIME YOU GET HOME IN THE AFTERNOON, IT'S DROOPY AND NEEDS A DRINK OF WATER. BUT WHAT I BROUGHT IN TODAY ARE SOME WAYS THAT THEY CAN KEEP THOSE CONTAINERS FRESH, EVEN WHILE THEY'RE ON VACATION. >> AND IT CONSERVES WATER BECAUSE WE'RE NOT WASTING IT. >> ABSOLUTELY, AND THAT'S IMPORTANT THESE DAYS. >> WELL, CONTAINER GARDENING-- I REMEMBER YOU SHOWED ME HOW TO MAKE ONE ONE TIME IN ANOTHER CLASS OF YOURS THAT I WENT TO, AND WHAT'S SO SPECIAL ABOUT CONTAINER GARDENS? >> CONTAINER GARDENS ARE IMPORTANT--NOT IMPORTANT, BUT THEY'RE... >> FUN? >> FUN BECAUSE YOU CAN MOVE THEM AROUND THE YARD, ON THE PATIO. AND IF YOU DON'T LIKE IT IN THIS SPOT, YOU CAN MOVE IT TO ANOTHER TO ACCENT A DIFFERENT PART OF YOUR YARD, AND THAT'S WHAT'S NICE ABOUT CONTAINERS. AND THEN YOU CAN ROTATE THEM, YOU CAN TURN THEM. BUT WHAT I HAVE HERE TODAY ARE SOME WAYS THAT WE CAN MAKE THE POT LOOK BETTER AND CONTINUALLY WATER IT NO MATTER WHERE YOU PUT IT. >> OK. I LIKE THAT. I NEED THAT HELP. >> WELL, GOOD. ONCE YOUR CONTAINER--OR BEFORE YOUR CONTAINER'S PLANTED, ACTUALLY, I BROUGHT IN A WATER-RETAINING POLYMER. THAT SOUNDS LIKE A BIG NAME, BUT BASICALLY WHAT IT IS-- AND I BROUGHT AN EXAMPLE TODAY-- IS A LITTLE CRYSTAL THAT ONCE YOU ADD WATER TO, IT EXPANDS TO UP TO 50 TIMES ITS SIZE. >> YEAH, IT'S JUST REAL FINE. LOOKS LIKE SALT, ACTUALLY, DOESN'T IT? >> IT IS VERY FINE AND SMALL. SO ONCE WATER IS ADDED TO IT OR WHEN YOU WATER YOUR CONTAINER, IT EXPANDS SO THAT WAY WHEN THE SOIL DRIES OUT, IT RELEASES THE WATER BACK OUT INTO THE POT. >> AND IS THAT WHAT THIS IS? >> THAT IS EXACTLY IT. SO THIS IS THE BEFORE AND AFTER. >> WOW. >> AND IF YOU ARE PLANTING TREES OR PUTTING DOWN NEW SOD IN YOUR LAWN, THIS ONE RIGHT HERE IS A FINER POWDER. BUT YOU CAN SEE THAT IT ALSO HOLDS WATER, AND THAT'S IMPORTANT THESE DAYS-- TO CONSERVE AS MUCH WATER AS POSSIBLE. SO WHENEVER YOU ARE PLANTING YOUR CONTAINER, THE PRODUCT THAT YOU PURCHASE WILL TELL YOU ON THE BACK HOW MUCH TO USE PER CONTAINER. SO A CONTAINER THIS SIZE WILL NEED ABOUT PROBABLY A TABLESPOON... >> AND THAT'S ALL? >> THAT'S EXACTLY RIGHT. YOU JUST SIMPLY PUT IT INTO THE SOIL, AND THEN GO AHEAD AND PLANT YOUR PLANTS, AND THEN YOU'RE ALL SET BECAUSE IT'LL JUST TAKE CARE OF ITSELF. THESE PRODUCTS ALSO COME WITH A SLOW-RELEASE FERTILIZER IN THEM, AS WELL. SO IF YOU WANT SOMETHING THAT'S GONNA CONTINUALLY FERTILIZE AND CONTINUALLY HELP YOU WITH YOUR WATER CONSERVATION, THEN THAT'S YOUR PRODUCT. >> AND ONE THING--AND I WAS BAD ABOUT DOING THIS, AND I STILL DON'T DO IT ALL THE TIME--BUT YOU ALWAYS SAID TO CHANGE OUT YOUR SOIL EACH YEAR. >> ABSOLUTELY. IT'S IMPORTANT TO START WITH FRESH SOIL EVERY YEAR. THAT WAY, YOU START WHERE THERE'S NO BUGS IN THE SOIL, AND ALL THE NUTRIENTS CAN BE REPLENISHED BY PUTTING IN FRESH SOIL. >> AND THEN WORKING THAT WATER RETAINER IN WOULD DO A LOT MORE GOOD. >> ABSOLUTELY. AND A CONTAINER THIS SIZE WILL LAST YOU A COUPLE OF YEARS. >> OH, YEAH, IT WOULD. >> YES. SO YOU HAVE YOUR WATER-RETAINING POLYMER IN THERE AND YOU TAKE OFF AND WATER IT, AND NOW YOU'RE ALL SET FOR A COUPLE OF DAYS. BUT LET'S SAY YOU'RE GONNA GO ON VACATION OR YOU JUST DON'T WANT TO GO OUT THERE AND WATER EVERY DAY. I BROUGHT IN SOME PRODUCTS THAT ARE FAIRLY NEW ON THE MARKET. THEY'RE MADE OF TERRA COTTA, BUT THE NICE THING ABOUT THEM IS IT'LL HELP ENHANCE YOUR CONTAINER. SAY YOU TAKE YOUR FAVORITE BOTTLE OF WINE--I HAPPENED TO BRING IN A CLEAR ONE TODAY. BUT IF YOU HAVE ONE THAT'S BLUE OR BROWN OR--IT DOESN'T EVEN HAVE TO BE A WINE BOTTLE; IT CAN BE ANY TYPE OF BOTTLE THAT WILL FIT DOWN INTO THIS... >> THOSE LOOK LIKE ICE CREAM CONES. >> THEY DO, DON'T THEY? BUT, SEE, THEY'RE HOLLOW INSIDE. AND THEN YOU'LL FILL UP YOUR BOTTLE WITH WATER, AND THEN YOU PUT IT DOWN INTO THIS, AND THEN IT SETS DOWN INSIDE THE CONTAINER. >> OH. >> JUST STICK IT DOWN IN THERE. >> ENOUGH THAT IT'LL HOLD IT? >> YES. AND THEN WHAT HAPPENS IS THE WATER WILL SEEP OUT AND TAKE UP AS MUCH WATER AS IT NEEDS. >> BECAUSE OF THE TERRA COTTA-- THAT'S THE SECRET RIGHT THERE. AND YOU SAID YOU COULD ALSO DO A LITTLE WATER BOTTLE ON IT OR WHATEVER? >> YES, YOU SURE CAN. JUST TAKE A SIMPLE WATER BOTTLE--AND THIS ONE HERE THAT I BROUGHT IN AS AN EXAMPLE--AND YOU WOULD FILL IT WITH WATER, AND IT HAS A SCREW CAP ON TOP. >> SO THAT'S WHAT MAKES IT WORK ON THAT? >> ABSOLUTELY. YOU TAKE THE TOP OF THE BOTTLE OFF, AND THEN IT SIMPLY SCREWS IN THERE. OBVIOUSLY, YOU PUT WATER IN IT, AND THEN YOU SET IT BACK DOWN IN THERE, AND THEN IT GOES BACK--IT GOES IN THE CONTAINER, AS WELL. AND THEN WHENEVER YOU NEED TO REFILL IT, YOU JUST SIMPLY UNSCREW IT OR PULL THIS OUT, FILL IT WITH WATER, AND PUT IT BACK IN. >> AND I SEE WHAT YOU MEAN ABOUT IF WE HAD COLORED BOTTLES OR SOMETHING. IT WOULD REALLY BE VERY PRETTY. >> IT WOULD MAKE A CONVERSATION PIECE FOR YOUR CONTAINER, AS WELL. >> IT CERTAINLY WOULD. ANY OTHER TIPS THAT YOU HAVE FOR US FOR SAVING WATER AND RESOURCES? >> ANYTIME YOU ARE GOING TO WATER, SAY, EITHER A LAWN OR YOUR CONTAINER, YOU SHOULD DEEP-WATER IT LESS OFTEN. THAT WAY, IT BRINGS THE ROOTS DOWN FURTHER, AND IT'LL HELP-- >> DEEP-WATER IT LESS OFTEN? >> THAT'S EXACTLY RIGHT. AND THAT RIGHT THERE WILL HELP CONSERVE WATER. THAT'S WITH TREES AND SHRUBS, CONTAINERS-- ANYTHING THAT YOU WATER. >> AND I KNOW YOU EXPLAINED IT AT THIS MEETING THAT I HEARD
ABOUT: XERISCAPING. SOME PEOPLE THINK THAT'S JUST ROCKS. >> THEY THINK IT'S "ZEROSCAPING," BUT IT'S NOT. >> THAT'S RIGHT. >> THERE ARE A LOT OF COLORFUL PLANTS THAT YOU CAN USE. YOU CAN USE SUCCULENTS. THERE'S RUSSIAN SAGE. THERE'S A LOT OF DIFFERENT THINGS THAT WILL KEEP YOUR WATER BILL IN CHECK AND ALSO GIVE YOU A BEAUTIFUL YARD. >> WELL, THANK YOU SO MUCH. I ALWAYS LEARN SO MUCH WHEN YOU COME. THANK YOU. >> YES, THANK YOU. >> CAROL, THANK YOU SO MUCH FOR BEING WITH US AGAIN. I ALWAYS LOVE WHEN YOU COME BECAUSE I TEND TO LEARN SO MUCH WHEN YOU'RE HERE. WE USUALLY TALK ABOUT MAYBE GLUTEN-FREE COOKING OR CELIAC DISEASE BECAUSE YOU ARE A KNOWN EXPERT IN THE FIELD OF GLUTEN-FREE RECIPES. IN FACT, YOUR BOOK, WHICH YOU DON'T HAVE TO HAVE CELIAC OR ANYTHING--I LOVE THE RECIPES IN THERE--BUT YOU SAID WE'RE GONNA TALK ABOUT HERBS. NOW, WHAT MADE YOU THINK OF THAT? >> WELL, HERBS TO ME ARE THIS WONDERFUL GIFT OF NATURE TO US THAT MAKE OUR LIVES SO MUCH MORE WONDERFUL. FIRST OF ALL, THEY'RE JUST BEAUTIFUL TO LOOK AT. I'VE EVEN SEEN THEM USED IN FLORAL ARRANGEMENTS BECAUSE THEY'RE JUST PRETTY, BUT THEY'RE ALSO USED MEDICINALLY. FOR EXAMPLE, THIS MINT PLANT YOU MIGHT PINCH OFF AND BREW A CUP OF PEPPERMINT TEA, WHICH WOULD HELP DIGESTION. SAGE IS SOMETIMES USED FOR SORE THROATS. WE HAVE THYME, WE HAVE ROSEMARY, WE HAVE BASIL, AND WE HAVE PARSLEY. AND WHILE WE USE THEM FOR BEAUTY AND FOR MEDICINAL PURPOSES, I THINK THE THING THAT WE ENJOY HERBS THE MOST FOR IS EATING AND COOKING. YOU KNOW, THEY BRING SUCH WONDERFUL FLAVOR. AND THE AROMA OF SOMETHING COOKING WITH AN HERB IN IT-- >> I CAN SMELL THE MINT ALREADY. >> I KNOW, I KNOW. IT'S JUST SO WONDERFUL. BUT HOW MANY TIMES HAS THIS HAPPENED TO YOU? YOU GET A RECIPE YOU WANT TO TRY, AND YOU GO TO THE STORE AND YOU BUY THE HERBS. >> AND WHAT IS THIS? $2.00 OR $3.00 AT LEAST. >> THIS IS--A 3.00 IS THE LEAST, UNLESS THEY'RE ON SALE. I'VE SEEN THEM AS HIGH AS 4.00. THIS IS ROSEMARY. LET'S SAY THE RECIPE CALLS FOR MAYBE JUST ONE OF THESE. >> ONE SPRIG. >> ONE SPRIG--IT DEPENDS ON WHAT YOU'RE DOING. YOU PUT THE REST BACK IN THE FRIDGE, AND THEN GUESS WHAT--YOU FORGET ABOUT IT. AND IT LANGUISHES BACK THERE, AND THEN YOU DON'T KNOW IT'S THERE. AND THEN YOU FIND IT-- >> AND YOU THROW IT AWAY. SO THAT'S TWO BUCKS. >> SO IT'S TWO BUCKS A POP. AND IF YOU DO THAT EVERY MONTH-- I MEAN, IT'S $24 A YEAR IF YOU BUY OTHER HERBS. SO WHAT I WANT TO TALK ABOUT TODAY IS HOW YOU CAN PROTECT YOUR INVESTMENT WHETHER YOU BUY THE HERBS OR IF YOU'RE LUCKY TO HAVE POTS GROWING OUTSIDE YOUR KITCHEN LIKE I DO. IN THE SUMMER, I JUST LOVE GOING OUT AND CUTTING FRESH HERBS AND THEN BRINGING THEM IN AND COOKING WITH THEM, AND IT'S SUCH A JOY. BUT I WANTED TO TALK ABOUT STORING. SO THIS IS BIG, FLAT-LEAF PARSLEY. >> AND THAT'S ABOUT A HALF OF A BUNCH, RIGHT? >> THIS IS A HALF. IT'S WAY TOO MUCH EVEN FOR ME TO USE, AND I COOK EVERY DAY. BUT I WANTED TO SHOW YOU THAT ONE WAY TO PROTECT YOUR INVESTMENT, WHETHER YOU BOUGHT THESE IN THE STORE AS A BUNCH OR WERE LUCKY ENOUGH TO HAVE A POT OF PARSLEY IN YOUR PATIO, IS TO CUT OFF THE STEMS A LITTLE... >> LIKE FLOWERS. >> JUST LIKE FLOWERS, YEAH. STICK THEM IN A GLASS OF WATER AND PUT THEM IN THE REFRIGERATOR, AND I'VE KEPT THEM FOR SEVERAL DAYS THAT WAY. IF YOU WANT, YOU CAN TAKE A BIG PLASTIC BAG AND DRAPE IT OVER THE TOP TO PROTECT AND HOLD IN MOISTURE, TOO. BUT-- >> THAT'LL EXTEND IT A DAY OR TWO? >> OR SO. BUT THE WAY I'VE BEEN DOING IT LATELY A LOT IS TO WRAP THE BUNCH--AND THIS IS THE OTHER HALF OF THIS BUNCH, SO YOU CAN SEE WAY MORE PARSLEY THAN MOST PEOPLE ARE GOING TO EAT--IS TO WRAP IT IN A DAMP--FIRST OF ALL, I WASH IT FIRST SO THAT I CAN JUST REACH IN THE REFRIGERATOR AND PULL OUT A FEW SPRINGS AND GO ON MY WAY TO COOKING AS OPPOSED TO STOPPING AND WASHING IT. AND YOU DON'T WANT THIS TOWEL TOO WET, BUT THEN I PUT IT JUST IN A ZIP-TOP PAPER--OR PLASTIC BAG, PUT IT IN MY CRISPER--SOMEPLACE WHERE IT WON'T CRUSH. AND THEN I CLOSE IT BUT NOT ALL THE WAY JUST SO THERE'S A LITTLE BIT OF AIR CIRCULATION, AND I'VE KEPT PARSLEY FOR OVER A WEEK THIS WAY AND IT'S JUST AS FRESH AS CAN BE. AND THE OTHER THING I DO IS I MAKE SURE TO PULL OFF ANY--IF I SEE THEM, ANY YELLOWING OR DECAYING BROWN BECAUSE THAT'S GONNA AFFECT ALL THE REST OF WHAT'S IN THERE. NOW, THAT'S HOW TO STORE IT, BUT LET'S SAY THAT YOU'VE GOT MORE THAN YOU CAN HANDLE, OR YOU REALIZE YOU'VE GOT THIS ROSEMARY LANGUISHING IN THE REFRIGERATOR AND YOU WANT TO USE IT UP, SO HERE'S ONE METHOD I USE. THIS IS JUST A PLAIN OLD PAPER BAG--AND THIS IS ONE OF MY CRUDER METHODS, BUT IT WORKS--IS I JUST TAKE AND DROP--THIS IS FRESH SAGE, AND I JUST DROP IT IN THE BAG AND THEN CLIP IT SHUT AND MAYBE PUT IT IN MY GARAGE, SOMEWHERE WHERE NOBODY'S GONNA BUMP IT OR NOTHING'S GONNA GET INTO IT. THIS KEEPS IT CLEAN. BUT ANOTHER WAY IS IF YOU WANT YOUR SPRIGS TO DRY NICE AND STRAIGHT--MAYBE YOU DO, I DON'T KNOW--THEN I CUT A LITTLE HOLE IN THIS AND TUCK THE CLOTHESPIN OUT. >> THAT'S A GREAT IDEA. >> AND THEN WHAT'S HAPPENING IS THAT--AND YOU CAN SET IT SOMEWHERE. WHAT I'VE DONE IS I FOLDED THE BOTTOMS UP SO IT'S STABLE. >> KEEPS BUGS AND WHATEVER OFF OF IT. >> DO YOU KNOW--I LEARNED THIS A WHILE BACK AND IT JUST AMAZED ME. THEY SAID THAT HERBS ARE ONE OF THE DIRTIEST THINGS THAT YOU BUY BECAUSE--THE DRIED KIND-- BECAUSE THEY COLLECT DUST. THAT'S WHAT THINGS DO WHEN THEY'RE GROWING IN NATURE, AND IT'S REALLY HARD TO GET THE DUST OFF OF THEM. SO THAT'S ONE WAY OF DRYING. MY FAVORITE WAY OF DRYING, THOUGH, IS THIS, IS TO TAKE THE FRESH HERBS--AND I'VE SHOWN YOU A BUNCH OF THEM HERE, HOW I'VE DONE IT--AND LAY THEM ON A PAPER TOWEL, WHICH I'M NOT SHOWING HERE, BUT YOU CAN IMAGINE. TAKE THE PLATE, LAY A POWER TOWEL, WASH YOUR HERBS AND PAT THEM PRETTY WELL DRY, AND THEN LAY THEM--AND I WOULD ONLY DO ONE HERB AT A TIME... >> ONE TYPE. >> RIGHT, ONE TYPE. I'VE GOT A BUNCH HERE SO WE CAN BE REALLY EFFICIENT WITH SPACE, BUT THIS IS FRESH OREGANO. THIS IS DRIED OREGANO. THIS IS FRESH SAGE. THIS IS DRIED SAGE. THIS IS FRESH ROSEMARY, DRIED ROSEMARY. OVER HERE IS OREGANO FRESH AND DRIED, AND THE WAY I DO THAT IS I PUT THEM ON THE PLATE, ON THE PAPER TOWEL, AND PUT IT IN THE MICROWAVE OVEN FOR JUST ABOUT ONE MINUTE, AND THEN SEE HOW IT LOOKS. THEN TAKE IT OUT, LOOK AT IT, POP IT BACK--AND YOU DO THIS IN ONE-MINUTE INCREMENTS, AND YOU WATCH IT CLOSELY BECAUSE YOU'RE PROBABLY GONNA ONLY TAKE TWO OR THREE MINUTES, AND YOUR HERBS ARE DRY. IT'S THAT QUICK. AND IF YOU NOTICE, I THINK THE COLORS STAY A LITTLE FRESHER-LOOKING. LIKE, YOU CAN BARELY TELL... >> THERE'S NOT MUCH DIFFERENCE IN SOME. >> THERE'S NOT MUCH DIFFERENCE, NO, BUT YET THESE ARE CRUMBLY. THEY'LL CRUMBLE LIKE THAT. >> WHICH IS LIKE YOU'D WANT TO PUT IT IN YOUR STEW... >> EXACTLY. AND SO THEN WHAT I DO IS I--AND YOU WANT TO DO THIS IN A PLACE WHERE YOU HAVE LOTS OF ROOM TO MAKE A MESS. IT'S NOT ALL THAT MESSY. LET'S JUST TAKE THE ROSEMARY AS AN EXAMPLE, AND YOU CAN DO IT THIS WAY, AND THEN MOVE YOUR FINGERS DOWN THE STEM, AND THERE YOU ARE. >> IT STILL SMELLS GOOD. YOU HAVE ALL THE FRAGRANCE OF IT. >> THE DRYING WILL NOT DISRUPT THE FLAVOR AT ALL--IT ACTUALLY, I THINK IN A WAY, INTENSIFIES IT--ALTHOUGH THERE'S NOTHING THAT CAN BEAT FRESH HERBS. AND THEN I PUT THEM IN THERE, AND THEN I USE A FUNNEL TO GET THEM INTO HERE. IT'S KIND OF HARD TO TRANSFER... >> JUST WAX PAPER... >> YEAH, WAX PAPER FUNNEL OR A LITTLE, TINY FUNNEL. AND SO SAVE YOUR OLD SPICE JARS, AND YOU CAN PUT THE DRIED HERBS IN THERE. LABEL THEM REALLY CAREFULLY, AND I AM STILL REAPING THE BOUNTY OF ALL MY HERBS FROM LAST FALL. >> WOW. THEY HAVE LASTED A LONG TIME. >> THEY LAST REALLY WELL. YOU WANT TO MAKE SURE THAT THEY'RE REALLY, REALLY DRY, BECAUSE IF THEY AREN'T, THEN YOU'LL HAVE MOLD AND MOISTURE. SO THE FINAL KIND OF SAVING THAT I WANT TO SHARE WITH YOU IS SOMETHING I STUMBLED ONTO BECAUSE A VERY GOOD COLLEAGUE OF MINE TOLD ME ABOUT IT. SHE SAID, "CAROL, YOU KNOW YOU CAN FREEZE PARSLEY, DON'T YOU?" AND I SAID, "NO, I DIDN'T KNOW THIS." >> BEFORE DRYING IT... >> YOU DON'T EVEN HAVE TO DRY IT. >> YEAH, SO THIS IS THE FRESH. >> SO THIS IS FRESH, AND, AGAIN, WHEN YOUR PARSLEY STARTS LOOKING A LITTLE SORRY, IT'S STILL OK. SO YOU WANT TO CHOP IT IN WHATEVER SHAPES--AND I'M JUST DOING A ROUGH CHOP--AND THEN WE PUT IT IN A BAG, LABEL IT CAREFULLY. AND ODDLY ENOUGH, THERE'S ENOUGH CHLOROPHYLL IN HERE THAT THOSE LITTLE, CHOPPED PARSLEY BITS WILL RETAIN THEIR COLOR. THEY'LL FREEZE AND THEY'LL BECOME A LITTLE MUSHY, AND THEREFORE YOU'LL ONLY WANT TO USE THEM--OR ONLY BE ABLE TO USE THEM--IN, SAY, CASSEROLES OR SOUPS, IN COOKING. YOU WON'T BE ABLE TO HAVE THE LOVELY, BEAUTIFUL, FLAT-LEAF GARNISH THAT WE THINK IS SO BEAUTIFUL. BUT THEY'RE STILL VERY USABLE, AND YOU'RE SAVING ALL THAT MONEY. AND SO I ALWAYS HAVE THESE LITTLE BAGS IN MY REFRIGERATOR FREEZER THAT I CAN JUST REACH IN QUICKLY AND POP OUT. >> AND ANOTHER GOOD THING, I THINK, IS USING THESE SMALLER ONES BECAUSE, AGAIN, YOU DON'T WANT TO THAW MORE THAN YOU'RE GOING TO USE, TOO, BECAUSE YOU MIGHT THROW THOSE AWAY. >> AND THESE ARE JUST LITTLE SNACK BAGS, SO--SO THAT'S HERBS IN A NUTSHELL. AND SO THERE'S NO REASON TO SPEND A FORTUNE AND THEN HAVE IT GO TO WASTE ON USING FRESH HERBS WHEN YOU CAN REALLY, REALLY PRESERVE THEM. >> WELL, I APPRECIATE YOU SHARING THESE TIPS WITH US. I KNOW WE'VE ALL LEARNED SOMETHING. >> THANK YOU. >> MATTHEW, THANK YOU SO MUCH FOR BEING WITH US. I ENJOYED READING THE WEBSITE ABOUT GUARDIANS OF RESCUE, AND I KNOW THAT I FEEL VERY COMPASSIONED ABOUT TRYING TO FIND ANIMALS. I'VE HAD DOGS, AND I HAVE CATS, AND I GREW UP ON A FARM, SO WE ALWAYS HAD LOTS OF ANIMALS AROUND. BUT TELL US BRIEFLY ABOUT WHAT THE GUARDIANS OF RESCUE DO AND WHERE ALL ARE YOU LOCATED. >> WE'RE BASED OUT OF LONG ISLAND, NEW YORK. THE GUARDIANS OF RESCUE ARE ABOUT COMPASSIONATE ACTION, WHEN IT COMES TO ANIMAL RIGHTS AND WELFARE, WHERE WE GO WAY OUT OF OUR WAY TO HELP PEOPLE KEEP FAMILIES TOGETHER. WHEN THEY CAN'T AFFORD VET BILLS, WE'LL RAISE MONEY FOR THEM. BUT WE TRY AND EDUCATE CHILDREN INTO THE COMPASSIONATE WAY OF TREATING AND DEALING WITH ANIMALS. BASICALLY TRYING TO KEEP SHELTERS FROM BEING OVERLOADED. WE DO A LOT OF WORK WITH THE MILITARY, BRINGING THEIR DOGS BACK FROM AFGHANISTAN, AND PTSD THERAPY DOGS--VERY IMPORTANT. >> THAT'S WHAT I'D LIKE TO TALK TO YOU ABOUT. I'VE HEARD ABOUT, YOU KNOW, PEOPLE GETTING PERMISSION IN HOSPITALS TO TAKE THE PATIENT'S PET IN AND WHAT-- HOW MUCH GOOD IT DOES, AND-- BUT I HADN'T THOUGHT ABOUT THE MILITARY ASPECT OF IT. HOW DID YOU GET INVOLVED IN THAT PART OF IT? >> WE ACTUALLY GOT A PHONE CALL FROM A WOMAN WHOSE BROTHER WAS A GREET BERET IN AFGHANISTAN, AND WHILE ON PATROL, THEY FOUND TWO PUPPIES. AND THEY SNUCK THEM BACK ON BASE AND THEY JUST--FROM WHAT THE--IT'S A CONSENSUS AMONG THE SOLDIERS WE'VE HELPED THAT THE DOGS ARE THEIR APPLE PIE. THEY REMIND THEM THAT SOMEWHERE IN THE WORLD, LIFE STILL HAS A VALUE AND LOVE STILL HAS A PLACE IN THE ORDER OF THINGS. WHEN THEY GET EITHER REDEPLOYED OR WHEN THE DOGS GET FOUND OUT, BECAUSE THEY'RE NOT ALLOWED TO HAVE NON-MILITARY PETS ON BASE, THE OPTIONS ARE VERY LIMITED. YOU'RE IN A WAR ZONE. IT'S BASICALLY--EUTHANIZE THE DOG IS USUALLY THE OUTCOME. WE WORK WITH THE ONLY ANIMAL SHELTER IN AFGHANISTAN. IT'S RUN BY A ROYAL MARINE COMMANDO NAMED PEN FARTHING--HE EXPATRIATED TO AFGHANISTAN AFTER HIS TOUR OF DUTY WAS UP FROM THE ROYAL MARINE COMMANDOES TO START THIS SHELTER. >> HE SAW THE NEED FOR IT? >> YEAH, HOW IMPORTANT THE DOGS WERE TO HIS BOYS. SO NOW HE TAKES ALL THE ALLIED DOGS--IF YOU CAN GET THE DOG TO NOW ZAD, HE WILL KEEP THAT DOG ALIVE AND DO HIS BEST TO GET IT BACK TO THE STATES. SO WE PUT OUT--LIKE, GUARDIANS OF RESCUE IS ALL VOLUNTEER, AND WE RELY COMPLETELY ON DONATIONS TO DO WHAT WE'RE DOING. SO WE PUT IT OUT TO OUR FRIENDS AND FANS THIS
IS WHAT WE WANT TO DO: WE WANT TO GET THESE DOGS BACK FOR THESE GUYS. AND PEOPLE--NASCAR TEAMS HAVE COME OUT TO HELP US BRING THESE DOGS BACK. WE ACTUALLY GOT--TRIGGER WAS A DOG. HE WAS AN AFGHAN KUCHI HOUND, ABOUT 70 POUNDS AT 7 MONTHS OLD-- BIG BOY, YEAH. WE FLEW HIM FROM QATAR TO KENNEDY AIRPORT. WE HELD HIM FOR A COUPLE OF MONTHS WHILE HIS HUMAN CYCLED BACK TO THE WORLD, WHICH WOUND UP BEING FORT LEWIS-McCHORD. >> SO THEY HAVE AN ADJUSTMENT PERIOD, TOO, JUST LIKE PEOPLE? >> A LOT OF TIMES SPECIAL FORCES--THEY TAKE A LITTLE BIT LONGER TO CYCLE OUT FROM THEIR TOUR OF DUTY TO GO BACK TO THE WORLD. THEY GO FROM AFGHANISTAN TO GERMANY TO TEXAS, THEN BACK TO SEATTLE. SO WHILE THEY WERE DOING THAT, WE HELD THE BOY AND WE HUNG OUT WITH HIM, AND THEN WE REUNITED THEM. AND WHEN THAT DOG SAW HIS HUMAN--I MEAN, THOSE TWO GUYS--AND YOU'RE TALKING ABOUT A GREEN BERET... >> GREAT REUNION. >> YEAH, IT WAS DEFINITELY A MAGNIFICENT MOMENT. >> WHAT ABOUT THOSE--AND WE ALWAYS THINK OF MILITARY PRIMARILY THAT COME BACK WITH THE PTSD, THE POSTTRAUMATIC STRESS SYNDROME, BUT IT'S NOT JUST MILITARY PEOPLE. IT COULD BE ANY OF US WHO'VE HAD MAYBE A TRAGEDY IN OUR LIFE OR SOME LIFE-CHANGING EVENT. >> WELL, BEING A NEW YORKER, I MEAN, THE EVENTS OF 9/11. >> YEAH. THAT BROUGHT IT TO OUR ATTENTION, DIDN'T IT? >> YEAH, THAT REALLY SHOCKED A LOT OF PEOPLE. AND WHEN YOU'RE IN THE MILITARY--NOT THAT IT LESSENS THE BLOW OF SEEING SOMETHING HORRIBLE, BUT YOU'RE TAUGHT YOU'RE GONNA SEE SOMETHING HORRIBLE, AND YOU'RE GONNA GO TO WAR. YOU KNOW, AN IRONWORKER IN NEW YORK--HE GOES TO WORK ONE DAY, AND THE NEXT THING YOU KNOW, HE'S IN WAR. >> BUT HOW DO YOU TRAIN A DOG DIFFERENTLY TO BE POSITIONED WITH SOMEONE THAT IS SUFFERING MAYBE FROM PTSD RATHER THAN JUST MAYBE IF I ADOPTED ONE? >> YOU TAP THEM AND TEST THE ANIMAL. YOU LOOK AT HIM. SOME DOGS ARE A LITTLE MORE AGGRESSIVE, SOME DOGS ARE A LITTLE MORE COMPASSIONATE, A LITTLE MORE MUSHY, AND YOU NURTURE THAT PART OF THE ANIMAL. WHAT'S UNIQUE ABOUT THESE DOGS FROM AFGHANISTAN IS WHEN THE SOLDIERS SAVE THEM, THEY'RE LITTLE PUPPIES, AND THEY GROW UP WITH SOLDIERS. SO AT NIGHT WHEN THEY COME HOME FROM COMBAT AND THEY'RE GOING THROUGH THAT IMMEDIATE SOLDIER STRESS OF THE COMBAT THEY ENDURED THAT DAY, THAT PUPPY GROWS UP CUSTOM ATTUNED TO ASSUAGING THAT SPECIFIC SOLDIER'S STRESS. SO A LOT OF TIMES THESE GUYS WILL HAVE MANY YEARS LEFT ON THEIR HITCH. THEY'RE GOING AROUND THE WORLD, SO TO KEEP THE DOG IN FOSTER FOR YEARS IS JUST--IT'S UNFAIR TO THE DOG. WE'LL FIND OTHER SOLDIERS WHO ARE DONE WITH THEIR DEPLOYMENT, DONE WITH THEIR TOUR, ADOPT THE DOG TO THEM ANYWHERE IN THE NATION--WE
ACTUALLY HAD TWO DOGS: ONE WENT TO HAWAII, ONE WENT TO TEXAS LAST WEEK--AND THEN WE CAN SHOW THE SOLDIERS THAT SAVE THE DOG A PICTURE OF THEIR BATTLE BUDDY AT HOME, ON GREEN GRASS WITH THE SOLDIER'S WIFE AND HIS KIDS, LIVING THE LIFE THEY ALWAYS WANTED FOR THAT DOG. AND JUST FOR THEM TO KNOW THAT THEIR BUDDY THAT GOT THEM THROUGH ALL THOSE ROUGH NIGHTS IN COMBAT IS WITH A BROTHER SOLDIER AND SAFE AND IS GONNA FINISH HIS LIFE WITH THE AMERICAN DREAM, IT'S REALLY--IT'S WHAT THE GUARDIANS ARE ALL ABOUT. >> YEAH, YOU BET. AND I UNDERSTAND THAT IF LEFT UNTREATED, PEOPLE WHO SUFFER FROM PTSD CAN SUFFER LOTS OF THINGS--MAYBE FROM ALCOHOLISM TO SEVERE DEPRESSION--BUT SOMEHOW THESE ANIMALS CAN PREVENT THAT FROM HAPPENING. >> A GREEN BERET FROM VIETNAM, A GENTLEMAN NAMED TONY--SEVERE PTSD, THE POOR GUY'S REALLY SUFFERING. HE ADOPTED A DOG THAT WE SPRUNG FROM THE SHELTER. I SAW THIS BEAUTIFUL AMERICAN BULL TERRIER, AND SHE JUST WASN'T DOING WELL IN THE SHELTER. WE TOOK HER OUT, WE ASSESSED HER--SHE'S A WONDERFUL DOG. SHE RELIEVES HIM FROM THAT STRESS. WHEN HE STARTS GOING THROUGH THAT PICTURE IN HIS MIND OVER AND OVER AGAIN, SHE'LL TOUCH HER NOSE AGAINST HIS HAND AND SNAP HIM OUT OF IT. >> REALLY? >> YEAH. AND HIS TRIPS TO THE VA HOSPITAL HAVE DECREASED CONSIDERABLY. JUST TO HAVE THAT PURE LOVE, THAT PURE COMPASSION, THAT NONJUDGMENTAL ANIMAL RIGHT THERE, AND THEY KNOW. THEY'RE CUSTOM ATTUNED. THEY SEE YOU STARTING TO GO INTO THAT MENTAL LOOP, AND SHE WILL BREAK HIM OUT OF IT. SHE WILL COME OVER AND PUSH UP AGAINST HIM. >> I WAS GOING TO ASK YOU, HOW DO THEY DO IT? HOW ARE THEY TRAINED TO DO THAT? THEY JUST SENSE IT. >> YEAH, YEAH, THEY SENSE IT. THEY LOVE THEIR HUMAN, AND WHEN THEY SEE THEIR HUMAN STARTING TO GO THROUGH THAT STRESS, THEIR FACE STARTS TO TWITCH, SHE COMES RIGHT OVER AND STARTS PUSHING ON HIM AND RUBBING AND-- YOU KNOW. >> YEAH. "YOU'RE IMPORTANT." YOU MENTIONED THE VETERANS HOSPITALS. ARE THESE DOGS THEN ALLOWED TO GO WHEN THE PERSON HAS A CHECKUP OR HAS AN APPOINTMENT? >> WE HAVE PROGRAMS WHERE WE TRY AND TAKE THE DOGS AND WORK THEM THROUGH TO GET ACTUALLY THERAPY CERTIFIED. WE'RE WORKING WITH A COUPLE OF VETERANS--WE'VE ADOPTED OUT OVER TWO DOZEN DOGS THAT WE'VE GOTTEN FROM AFGHANISTAN TO SOLDIERS, AND MOST OF THESE GUYS--THEY'RE COMBAT VETERANS. THEY'VE BEEN THROUGH A LOT OF REALLY DIFFICULT SITUATIONS. THEY SEE THE HELP THE DOG GIVES THEM, AND THEY WANT TO SHARE THAT WITH THEIR BRETHREN. SO WE HAVE PROGRAMS WHERE WE ACTUALLY GO THROUGH THE MOTIONS TO GET THE DOGS CERTIFIED SO THAT LEGALLY THEY CAN BE BROUGHT INTO HOSPITALS AND THEY CAN CONTINUE THE THERAPY. SO WHEN THEY GO TO GROUP SESSIONS, THEY CAN SPREAD THAT JOY WITH THE REST OF THEIR BRETHREN. >> SO THERE IS A PROCESS THAT A PERSON HAS TO GO THROUGH. THEY CAN'T JUST TAKE ANY DOG THEY WANT TO INTO A HOSPITAL FOR AN APPOINT--THAT'S AMAZING. WELL, IT'S WONDERFUL, THE THINGS THAT YOU'RE DOING. PEOPLE CAN GO TO YOUR WEBSITE, GUARDIANSOFRESCUE.ORG--O-R-G-- AND MAYBE SET UP A GROUP IN THEIR OWN LOCAL COMMUNITY. OR, IF THEY FEEL SO COMPELLED, I'M SURE YOU COULD TELL THEM HOW TO HELP YOU. >> ABSOLUTELY. AND IF ANYBODY OUT THERE KNOWS ANY SOLDIERS, ANY SERVICE PERSONNEL THAT NEED HELP LIKE THIS, THE BIGGEST THING IS THEY DON'T KNOW WE'RE HERE TO HELP THEM. >> NO. >> THEN TO TEACH THEM ABOUT THE NOW ZAD SHELTER IN AFGHANISTAN, THAT WE ARE BRINGING THESE DOGS BACK, THAT ANY OF THEIR FRIENDS THAT HAVE A DOG OVER THERE. SO IF THEY GO TO GUARDIANSOFRESCUE.ORG AND CHECK US OUT, WE CAN TELL THEM EXACTLY HOW TO GO ABOUT GETTING A DOG BACK FROM AFGHANISTAN. >> BECAUSE I HAD NEVER HEARD OF THE ORGANIZATION. AND YOU'RE ON FACEBOOK, TOO, SO PEOPLE CAN FIND YOU, AND THAT'S THE IMPORTANT THING--TO EDUCATE EVERYONE. >> ABSOLUTELY. >> WELL, THANK YOU SO MUCH, MATTHEW. I'VE ENJOYED TALKING TO YOU. >> ALWAYS A PLEASURE. >> I HOPE YOU ENJOYED THE SHOW TODAY. NEXT TIME ON "CREATIVE LIVING," WE'LL LEARN HOW TO MAKE 16 HANDCRAFTED CARDS IN UNDER AN HOUR, WE'LL TALK TO THE EDITORS OF "BELLA CRAFTS QUARTERLY," AND WE'LL DEMONSTRATE SOME EASY ONE-STEP FURNITURE MAKEOVERS. ONE OF MY NEXT GUESTS IS GOING TO SHOW HOW TO MAKE 16 CARDS IN ABOUT AN HOUR. THESE MINI CARDS ARE PERFECT FOR ADDING TO A GIFT OR AS A NOTE FOR A FRIEND, AND BY MAKING THEM IN ADVANCE, YOU'LL ENSURE YOU ALWAYS HAVE A SUPPLY READY TO GO WHEN THEY'RE NEEDED. WE'LL MEET AND TALK TO TWO DESIGNERS, CRAFTERS, AND MAGAZINE EDITORS WHO CREATED THE FIRST COMPLETELY FREE ONLINE MAGAZINE DEALING WITH ALL AREAS OF CRAFTS AND RELATED PROJECTS. THEY'LL DISCUSS HOW THE MAGAZINE CAME TO BE, WHO CONTRIBUTES TO IT, AND HOW TO USE IT. THE MAGAZINE IS "BELLA CRAFTS QUARTERLY." AND FINALLY, WE'LL MEET A GUEST WHO WILL SHOW HOW TO MAKE SOME QUICK AND EASY FURNITURE MAKEOVERS FOR PEOPLE WHO DON'T HAVE A LOT OF TIME AND WHO WANT TO START AND FINISH A PROJECT IN ONE DAY. ALL OF THESE TOPICS WILL BE FEATURED ON THE NEXT "CREATIVE LIVING" SHOW. IF YOU EVER HAVE COMMENTS OR SUGGESTIONS OR IDEAS FOR SHOWS, YOU CAN E-MAIL ME AT SHERYL.BORDEN@ENMU.EDU. I'D ALSO LIKE TO ASK YOU TO BECOME A FAN OF "CREATIVE LIVING" ON FACEBOOK. JUST GO TO FACEBOOK.COM, AND IN THE SEARCH WINDOW, TYPE IN "CREATIVE LIVING WITH SHERYL BORDEN." I HOPE YOU'LL PLAN TO JOIN ME NEXT TIME FOR "CREATIVE LIVING." >> WE ARE VERY PLEASED TO OFFER A NEW BOOKLET THAT ACCOMPANIES THIS SERIES OF "CREATIVE LIVING." THIS BOOKLET IS TITLED "THE 6700 SERIES," AND IT FEATURES A WONDERFUL COLLECTION OF IDEAS AND INFORMATION, AND IT'S AVAILABLE FREE OF CHARGE ON OUR WEB SITE. POSTED AS A .PDF FILE, YOU CAN SIMPLY DOWNLOAD THE ENTIRE BOOKLET OR JUST THE SEGMENTS YOU'RE MOST INTERESTED IN. YOU'LL FIND INFORMATION ON FOODS, NUTRITION, CLOTHING, FASHION, HEALTH AND BEAUTY, HOME DECORATING, AND MUCH MORE. FOR YOUR COPY OF THIS NEW BOOKLET, GO TO OUR WEB SITE AT KENW.ORG, AND THEN CLICK ON "CREATIVE LIVING." SCROLL DOWN TO THE BOOKLET SECTION, AND YOU CAN CLICK ON THIS BOOKLET OR ON ANY OF THE OTHER BOOKLETS WE HAVE AVAILABLE ONLINE. JUST GO TO KENW.ORG, CLICK ON "CREATIVE LIVING," AND DOWNLOAD THE BOOKLET TITLED "THE 6700 SERIES." WE ALSO INVITE YOU TO SIGN UP FOR OUR FREE E-NEWSLETTER. JUST GO TO KENW.ORG AND CLICK ON THE "SIGN UP NOW!" BUTTON AND INPUT YOUR E-MAIL ADDRESS. THAT'S ALL THERE IS TO IT. YOU'LL ENJOY READING AN UP-TO-DATE NEWSLETTER FILLED WITH INTERESTING TOPICS AND INFORMATION. THANK YOU.
Now Playing As: Captioned (English) (change)
Sheryl welcomes Guardians of Rescue, and they talk about how animals can help patients with PTSD. And cookbook author Carol Fenster provides tips for growing herbs, while Curt Jaynes discusses the best way to water plants and conserve water.
Media Details
Runtime: 27 minutes