Creative Living With Sheryl Borden #6714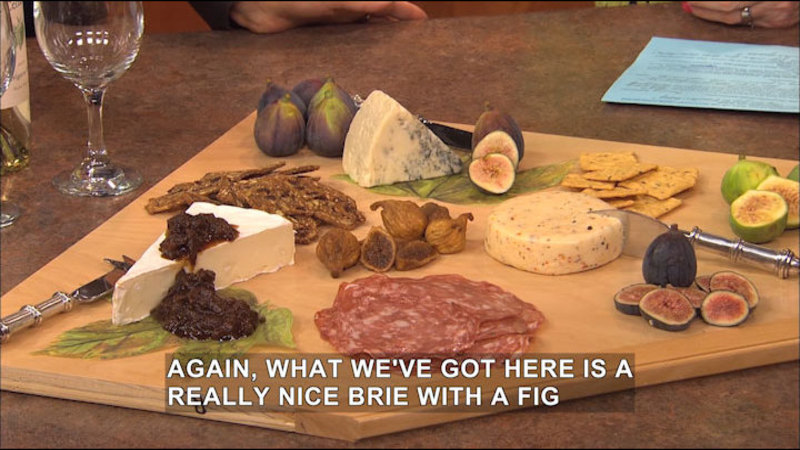 >> "CREATIVE LIVING," UTILIZING TODAY'S TECHNOLOGY WITH THE BEST OF THE PAST TO BRING YOU INNOVATIVE IDEAS AND UP-TO-DATE INFORMATION FOR CREATIVE LIFESTYLES IN TODAY'S ACTIVE WORLD, WITH YOUR HOST, SHERYL BORDEN. >> THANKS SO MUCH FOR JOINING ME TODAY FOR "CREATIVE LIVING." WE'RE GOING TO LEARN HOW TO PAINT FAUX RED BRICKS, WE'LL DISCUSS THE NUTRITIONAL ASPECTS OF FRESH AND DRIED CALIFORNIA FIGS, AND WE'LL SHOW HOW TO MAKE WHAT MY GUEST REFERS TO AS "GREEN DECOR." WHETHER YOU WANT TO COVER UP A PLAIN WALL IN YOUR HOME OR CREATE A FAUX BRICK WALL, BARBARA WURDEN KNOWS EXACTLY HOW TO ACHIEVE A PROFESSIONAL LOOK. SHE'LL DEMONSTRATE CREATING FAUX RED BRICKS AS A WALL COVERING. BARBARA'S COMPANY IS BARBARA WURDEN FINE ART AND FAUX FUN, AND SHE LIVES IN LONG BEACH, CALIFORNIA. ANOTHER GUEST IS KARLA STOCKLI, AND SHE'S THE CEO FOR THE CALIFORNIA FIG ADVISORY BOARD IN FRESNO, CALIFORNIA. KARLA'S GOING TO TALK ABOUT FRESH AND DRIED FIG VARIETIES AND COMPARE THE FLAVOR NOTES TO POPULAR WINE VARIETALS. AND SINCE FIGS HAVE BEEN AROUND SINCE PRACTICALLY THE BEGINNING OF TIME, HAVE YOU EVER WONDERED WHY THEY HAVE REMAINED SO POPULAR TODAY? MY GUEST WILL DISCUSS THIS AS WELL AS TALK ABOUT THE GROWING, HARVESTING, AND STORING OF CALIFORNIA FIGS. AND WE'LL BEGIN THE SHOW WITH SHANNON BIELKE, WHO IS A DESIGNER AND CRAFTER FROM PAYSON, ARIZONA. SHANNON WILL SHOW HOW TO TAKE ITEMS FROM AROUND THE HOUSE AND INCORPORATE THEM INTO NEW CREATIONS, OR WHAT SHE CALLS "GREEN DECOR." HER BUSINESS IS SHA AND COMPANY. SHANNON, THANK YOU SO MUCH FOR BEING HERE. WE HEAR ABOUT RECYCLING AND TAKING CARE OF THE ENVIRONMENT, AND SOMETIMES CRAFTERS ARE REALLY THE BEST INSPIRATION BECAUSE I THINK PEOPLE WHO DO CRAFTS AND SO ON TEND TO TAKE OLD THINGS AND REUSE THEM. AND THAT'S REALLY WHAT YOU'VE DONE WITH THIS. >> THAT IS. ALL OF THIS IS REUSED STUFF THAT I FOUND AROUND THE HOUSE. AND IN A CLASS I DO FOR PAPER CRAFTS, I INSIST THAT WE USE AT LEAST 80% OF USED ITEMS. >> OH. AND THIS IS GOING TO BE A BIRDHOUSE. YOU SAW ONE, AND YOU SAID, "I COULD DO THAT." >> I SAW ONE SOMEWHERE AND LIKED THE DESIGN. SO I WENT HOME AND DESIGNED THE WAY TO DO IT TO SHOW PEOPLE HOW TO DO IT. TOOK AN OLD CARDBOARD BOX. >> RIGHT. >> THESE ARE OLD CARDBOARD BOXES. CUT THEM ANY WAY YOU WANT. COVER THEM WITH PAPIER-MACHE. PAINT A LAYER OF PAINT, AND THEN SEAL IT. YOU DO A NUMBER OF LAYERS TO GIVE IT--IT GETS A LOT STURDIER, AND PRETTY SOON YOU'RE NOT TOO SURE IF THAT'S CARDBOARD BOX ANYMORE. AND THE 20% OF USED ITEMS IS THE BEAUTIFUL PAPERS AND THINGS YOU CAN USE AND THE PAINTS AND THINGS LIKE THAT. SO--AND THEN YOU BUILD IT. I BUILD IT IN SECTIONS, COMPLETE EACH SECTION, DON'T GLUE THE WHOLE THING TOGETHER UNTIL I AM SURE, BECAUSE OTHERWISE I'M GONNA PROBABLY WANT TO DO SOMETHING ON THE INSIDE AFTER I'VE GLUED IT DOWN. >> AND THEN YOU CAN'T TAKE IT APART. >> RIGHT. >> BUT AT THIS POINT--AND YOU DO FINISH THE--IT'S ALL FINISHED, ISN'T IT? >> AND SEE, THE INSIDE OF THAT WILL BE FINISHED. AND MOST LIKELY, BECAUSE IT HAS WINDOWS, I'LL PUT SOME LITTLE BIRDS OR SOMETHING LIKE THAT IN THERE. MAY CUT A BIRD OUT OF CHIP BOARD AND PAINT IT KIND OF THING. SO, YES, AND THAT'S ONE OF MY THINGS ABOUT MAKING THESE, IT HAS TO BE FINISHED-LOOKING. >> RIGHT. >> BECAUSE WE HAVE IN THIS PAPER CRAFT CLASS, WE'VE HAD PEOPLE SAY, "OH, THAT'S THE STUFF THAT YOU DID WHEN YOU WERE IN KINDERGARTEN AND STUFF," AND I'M GOING, "WELL, YEAH. IT KIND OF IS," BUT WE CAN DO IT SO IT LOOKS GOOD, TOO. THANK YOU, PROFESSIONAL IS RIGHT. >> THIS IS A CLOCK, BUT IT STARTED OUT JUST AS A CAKE BOARD OR ONE OF THOSE... >> IT'S AN OLD PIECE OF FOAM BOARD. >> UH-HUH. >> AND, YEAH, I THOUGHT I WANTED TO DO A CLOCK. IT WAS A HOUSEWARMING GIFT FOR A FRIEND. WHAT AM I GONNA DO? SHE LIKES PARIS. SO I WENT IN AND LOOKED AT MY STUFF, AND THIS IS JUST BITS AND PIECES OF STUFF. I CUT A RING HERE, CUT THIS OUT OF IT. THIS OUTER EDGE IS WRAPPED WITH RIBBON SCRAPS. >> OH, THAT'S RIBBON. I THOUGHT IT WAS PAPER, BUT NOW I DO, I FEEL THE RIBBON. >> IT WAS INKED FIRST BECAUSE THAT'S ONE OF MY FINISHING TOUCHES. I INK ALL THE EDGES OF THINGS. >> UH-HUH. >> AND THEN I WRAPPED THE RIBBONS AROUND JUST ENOUGH SO THAT THIS WOULD STILL FIT IN. THIS IS A PIECE OF PAPER ON TOP OF IT. AND THEN IT'S BITS AND PIECES OF THINGS. >> OH, THESE ARE THEN PUT ON TOP OF IT. >> RIGHT. SCRAPS OF PAPER, NUMBERS...I JUST--I HAVE THE NUMBERS. I--THE NUMBERS ARE STILL A WORK IN PROGRESS NOW BECAUSE I'M LOOKING AT THIS AND THINKING IT NEEDS--THE NUMBERS NEED TO POP. >> AND THIS IS ACTUALLY GOING TO HAVE A CLOCK? >> RIGHT. YOU JUST GO TO YOUR LOCAL STORE AND GET CLOCKWORKS. >> SO THIS WILL WORK? I MEAN, THIS IS GOING TO BE A NICE GIFT WHEN YOU FINISH WITH IT. >> YES, YEAH. AND YOU JUST GET A CLOCKWORKS SOMEWHERE. >> AND YOU WERE SAYING, OF COURSE, HERE WE CAN SEE THE ADDITION OF THE GLITTER. >> RIGHT. >> BUT YOU WERE SAYING THE NUMBERS ARE LACKING A LITTLE BIT. >> I'M THINKING THE NUMBERS NEED TO POP A LITTLE BIT MORE. SO I WAS GOING TO TRY--WHICH I MIGHT SOME OTHER TIME. I DON'T THINK YOU WANT GLITTER AL OVER YOUR STUDIO. >> IT IS MESSY, UH-HUH. >> THIS IS ONE OF THOSE THINGS THAT YOU'LL END UP WITH GLITTER ALL OVER YOUR FACE AND EVERYBODY WILL THINK YOU'RE LOVELY. >> BUT WITH THIS KIND, YOU PUT AN ADHESIVE ON FIRST AND THEN SPRINKLE THE GLITTER, KIND OF LIKE WE USED TO DO IN SCHOOL WITH ELMER'S GLUE. >> RIGHT, BUT YOU CAN PAINT IT ON. I AM DETAIL ORIENTED, AND I WANT TO PAINT IT ON. I DON'T WANT A THICK GLUE. SO YOU PAINT IT ON. YOU CAN PAINT THAT ON AND THEN DUMP THE GLITTER ON. OR YOU CAN USE SOME OF THIS NICE STICKER GLITTER GLUE KIND OF STUFF. >> AND YOU CAN GET THESE IN ALL COLORS. >> RIGHT, AND YOU GET THESE IN ALL COLORS, BUT SOMETIMES I WILL START WITH A CLEAR JUST SO THAT I CAN SEE IF I REALLY WANT THAT, BECAUSE THE COLORS SHOW UP DIFFERENT ON YOUR PAINTS, AND THIS IS A PAINT THAT'S-- >> IT'S ALREADY BROWN, SO YOU DON'T KNOW FOR SURE. >> SO THEN I TRY A LITTLE BIT OF GLITTER ON IT TO SEE IF I'M GONNA LIKE IT. THIS IS GOING TO DRY CLEAR. AND SEE, I'M GIVING IT A LITTLE DEPTH BECAUSE MAYBE THAT'LL HELP POP THE COLORS, TOO. BUT THEN I'M GONNA SEE IF I EVEN LIKE THE GLITTER ON IT, BECAUSE IF WORST COMES TO WORST, I CAN SCRAPE THAT OFF OR COVER IT WITH SOMETHING ELSE. >> AND GO BACK TO PLAN "A." >> RIGHT. AND THE NEXT THING WOULD BE, OK, WHAT DO I DO NEXT? BUT I THINK I LIKE THE GLITTER, AND I THINK I MIGHT TRY THE GOLD GLITTER. I'M NOT SO MUCH A GLITTER PERSON, BUT A LOT OF PEOPLE LIKE GLITTER. >> AND YOU CAN SEE HOW IT DOES JUST MAKE CERTAIN AREAS POP. >> RIGHT. AND THEN YOU HAVE TO BE CAREFUL NOT TO PUT TOO MUCH STUFF ON--JUST GAUDY. RIGHT. OH, THERE'S TOO MUCH. THAT'S CRAZY. BUT I'M THINKING THAT IF THE NUMBERS POP A LITTLE MORE, THEN I'M DONE, BECAUSE THERE ARE LITTLE PIECES OF RIBBON THAT I GLUED DOWN AND SOME BLING HERE AND THERE AND A LITTLE BIT OF PARISIAN. THIS IS AN OLD TAG THAT I JUST STAMPED ON. >> YOU'D USE ALL OF THOSE SUPPLIES THAT YOU HAVE. >> JUST DO WHAT YOU KIND OF FEEL LIKE DOING. THE METALS. >> WELL, AND WE'RE MAKING USE OF THINGS THAT OTHERWISE WOULD BE THROWN AWAY AND JUST WASTED. SO THESE ARE GOOD IDEAS. THANK YOU SO MUCH. I APPRECIATE IT. THANK YOU. >> KARLA, THANK YOU SO MUCH FOR BEING HERE. WHEN YOU WERE HERE SEVERAL YEARS AGO, I SAID I THOUGHT I LEARNED EVERYTHING THERE WAS TO KNOW ABOUT FIGS, BECAUSE OBVIOUSLY I KNEW NOTHING. SO IT'S NICE TO HAVE YOU BACK, BECAUSE I BET WE'RE GOING TO SHARE SOME THINGS THAT ARE NEW FOR EVERYONE TODAY. >> ABSOLUTELY, AND IT'S SUCH A PLEASURE TO BE HERE. THANK YOU. >> WELL, THANK YOU. WHEN I READ ABOUT THE HISTORY OF FIGS, IT'S FROM WAY BACK--LET'S JUST SAY THE VERY BEGINNING. BUT WHY ARE FIGS SO POPULAR TODAY? >> WELL, SHERYL, THAT'S CORRECT, AND FIGS ACTUALLY BEGAN ALL THE WAY BACK TO THE GARDEN OF EDEN, AND IT MIGHT BE DEBATED WHETHER OR NOT FIGS WERE THE FORBIDDEN FRUIT, BUT WE KNOW IT WAS THE CLOTHING OF MAN, THE FIRST CLOTHING. >> UH-HUH. >> AND SO-- >> THE FIG LEAF. >> THE FIG LEAF. AND SO WE BRING IT FORWARD TO TODAY, AND THEY'RE SO VERY POPULAR. COOKS, CHEFS, FOOD PROFESSIONALS--THEY'RE ENJOYING FIGS, COOKING WITH THEM, AND IT'S ALMOST LIKE WE HAVE THIS RENAISSANCE, AND PART OF IT IS THE UNIQUE FLAVORS THAT FIGS DELIVER TO YOUR RECIPES AND DISHES. AND THESE FOOD PROFESSIONALS JUST LOVE WHAT THEY CONTRIBUTE TO THEIR DISHES. >> WELL, I BET PEOPLE HAVE ASKED YOU THIS MANY, MANY TIMES, THAT THEY THOUGHT THE ONLY THING THAT FIGS WERE GOOD FOR WERE THE LITTLE FIG NEWTON COOKIES. >> WELL, THAT ABSOLUTELY IS OUR HISTORY, AND THE HISTORY EVEN IN THE CALIFORNIA INDUSTRY GOES WAY BACK. IN THE EARLY 1600s, THE SPANIARDS INTRODUCED FIGS TO CALIFORNIA. >> MM-HMM. >> AND IT WAS IN 1779 THAT THE PRIESTS AT MISSION SAN DIEGO ACTUALLY PLANTED THE FIRST FIG TREES. >> THAT'S THE NAME... >> AND THAT'S WHERE THE PURPLE FIG COMES FROM, THE MISSION FIG. AND THEN IT WAS REALLY IN 1885 THE CALIFORNIA FIG INDUSTRY LIKE WE KNOW TODAY BEGAN TO TAKE SHAPE WHEN FIGS WERE PLANTED IN THE CENTRAL VALLEY. >> AND IN THE UNITED STATES, CALIFORNIA IS THE ONLY PLACE THAT FIGS ARE GROWN. IS THAT RIGHT? >> CORRECT. COMMERCIALLY, WE PRODUCE 100% OF DRIED FIGS AND 98% OF FRESH FIGS. AND SO WE REALLY DO HAVE, AGAIN, A CORNER ON THE MARKET, AND WE DO PRODUCE THE HIGHEST QUALITY IN THE WORLD, AND PART OF THAT IS THAT WONDERFUL CALIFORNIA SUN. YOU COMBINE THAT WITH WARM AND THE TEMPERATURES, BUT ALSO THE SOIL IS VERY RICH, AND THEN THE DEDICATED FARMERS. AND THEY'RE ALWAYS IMPROVING THEIR CULTURAL PRACTICES TO DELIVER THAT HIGHEST-QUALITY FRUIT AROUND THE WORLD. >> WELL, LET'S LOOK AT SOME--YOU MENTIONED THE DIFFERENT VARIETIES. AGAIN, I HAD HEARD OF MISSION FIGS, AND I THINK MY MOTHER HAD BOUGHT SOME DRIED, AND WE WOULD EAT THOSE FOR A SNACK, WHICH--FIGS ARE REALLY GOOD FOR SNACKING, BY THE WAY. >> ABSOLUTELY. >> TELL US ABOUT SOME OF THE DIFFERENT VARIETIES AND WHAT THEY'RE CALLED. >> EXCELLENT. WELL, ONE OF THE THINGS--AND WE DON'T HAVE ALL THE VARIETIES HERE TODAY, BUT WE LIKE TO THINK OF FIGS AND WINE NOTES. AND IT ALLOWS THE CONSUMER TO KIND OF AS A FOODIE FIGURE OUT WHICH ONES THEY LOVE BEST. AND SO, AS I MENTIONED THE MISSION FIG, THE MISSION FIG IS ACTUALLY A DARK PURPLE FIG, WHICH WE HAVE HERE, AND IT'S MORE LIKE A NICE CABERNET, WHEN YOU THINK OF WINE. SO YOU WANT TO PAIR IT WITH FOODS THAT YOU WOULD NORMALLY A CABERNET. AND THEN YOU ALSO HAVE A DRIED MISSION FIG. SO WHEN YOU GET THE CONCENTRATED SUGAR, IT'S A LITTLE BIT OF THAT CABERNET. >> A LITTLE SWEETER. >> BUT IT HAS A LITTLE MORE TAWNY PORT OR A BALSAMIC-Y FLAVOR. >> OH. >> AND SO IT KIND OF DRIVES EVEN MORE TOWARDS THOSE STEAK WONDERFUL FLAVORS AS WELL. AND THEN WE HAVE THE SIERRA FIG HERE, WHICH REALLY IS A RIESLING. WHEN YOU THINK OF A WINE, IT'S MORE LIKE A RIESLING. IT HAS A NICE BERRY NOTE TO IT, VERY REFRESHING. WE ALSO HAVE A CALIMYRNA FIG DRIED. CALIMYRNA FIGS ARE DRIED AND FRESH, AND THEY HAVE MORE LIKE THE BUTTERY NUTTINESS OF A CHARDONNAY. >> I SEE. >> YOU REALLY DON'T GET THAT OAKINESS, BUT YOU GET THE BUTTERY, NUTTY NOTES. >> THEY'RE GOLDEN COLOR. >> THEY'RE VERY BEAUTIFULLY GOLDEN. AND REALLY, AS A CATEGORY, WHEN CONSUMERS ARE LOOKING FOR FIGS FOR THEIR RECIPES, WE LIKE TO SAY THE GOLDEN FIGS BECAUSE THEY'RE GONNA DELIVER VERY SIMILAR AROMATIC FLAVORS TO RECIPES. AND THEN THE DARKER FIGS ARE GONNA GIVE YOU A LITTLE BIT MORE OF THAT MEATIER FLAVOR. >> I SEE. THAT'S A GOOD WAY TO REMEMBER IT. >> AND THEN THE BROWN TURKEYS, THEY'RE KIND OF FUN COLOR. THOSE ARE MORE LIKE THE PINOT NOIR, AND THEY ARE THE ONLY FIG THAT ACTUALLY HAS A FRESH--THEY'RE ONLY FRESH, NOT DRIED. AND THEN ONE FIG THAT IS FUN, IT'S A NEWER VARIETY THAT HAS A LIMITED SUPPLY AT THE MOMENT, BUT THOSE ARE TIGER FIGS. AND WHEN YOU THINK OF THE BEAUTIFUL TIGER STRIPES, YOU'RE GONNA SEE LIKE THE GREEN SOLID FIG WITH YELLOW STRIPES. >> OH, WITH A YELLOW STRIPE. >> THE UNIQUENESS OF THAT IS THE FACT THAT IT'S RASPBERRY INSIDE IN COLOR, AND IT REALLY HAS MORE BERRY NOTES, AND IT'S A VERY JAMMY FIG. >> OH. UH-HUH. >> SO WHAT WE TRY TO DO IS ENCOURAGE PEOPLE, ENJOY THEM ALL AND FIGURE OUT WHICH ONES WORK BEST FOR YOU EITHER OUT OF HAND SNACKING OR TO PAIR WITH YOUR FAVORITE FOODS. >> OH, THAT MAKES SENSE. AND THEN LET'S TALK ABOUT SOME PAIRING IN TERMS OF MAYBE A SNACK TRAY, A CHEESE TRAY. AND WE WERE TALKING, TOO, ABOUT THE ONES THAT ARE THE MOST POPULAR ARE THOSE THAT AREN'T SO PERFECT THAT PEOPLE ARE AFRAID TO ENJOY. BUT THIS ONE'S VERY BEAUTIFUL. >> AND I'LL DO THIS EVEN DURING THE WEEK. YOU GET HOME, YOU'RE TIRED FROM WORK, YOU'VE GOT A LOT OF THINGS YOU NEED TO DO BEFORE YOU EVEN START COOKING DINNER. SO I'LL PUT TOGETHER A CHEESE TRAY, PAIR IT WITH SOME DRIED FRUIT, DEFINITELY FRESH FRUIT DURING THE SUMMER MONTHS, AND THEN A LITTLE PROSCIUTTO, A LITTLE SALAMI, AND THEN A COUPLE CHEESES. YOU KNOW, AGAIN, WHAT WE'VE GOT HERE IS A REALLY NICE BRIE WITH A FIG JAM, AND THAT'S GOT--IT'S GONNA BRING IN SOME SAVORY NOTES BECAUSE THERE'S SOME PORT WINE REDUCTION WITH THAT AS WELL. SO AGAIN, YOU WANT THAT SAVORY WITH THE SWEET. >> AND WHAT KIND OF FIG WAS USED FOR THIS? >> THAT MOST LIKELY IS AN ADRIATIC FIG, WHICH IS MORE LIKE THE FIG NEWTON BECAUSE IT HAS THAT TEXTURE THAT YOU WANT. >> COULD YOU ALSO USE THAT NEW TIGER FIG? >> YOU CAN USE YOUR NEW TIGER FIG. ANYTIME YOU'RE USING--YOU'RE DOING JAMS OR YOU'RE DOING CHUTNEYS AND SAUCES, YOU REALLY COULD COMBINE ALL THE FIGS THAT YOU HAVE AVAILABLE IN YOUR KITCHEN. >> OH. >> BECAUSE YOU'RE GONNA GET DIFFERENT FLAVORS. THEY ALL--THEY PAIR WELL TOGETHER AS WELL. AND THEN WE'VE GOT, AGAIN, THE GOLDEN FIG, AND THAT IS THAT HONEY, BUTTERY NOTE THAT'S GONNA PAIR WELL WITH THE--WE'VE GOT HERE A SPICY JACK CHEESE. SO YOU'RE GONNA GET SOME SPICE AND SWEETNESS THERE. >> AND LOOK AT THEM CUT. THAT'S INTERESTING. >> AND IT'S VERY SIMPLE. YOU CUT THEM. YOU CAN ALSO HAVE MARCONA ALMONDS, PISTACHIOS, WALNUTS. THOSE ALL GO VERY WELL WITH FIGS AS WELL. AND THEN WE HAVE A NICE BLUE HERE, AND BLUE GOES REALLY VERY WELL WITH YOUR DARKER FIGS. AGAIN, WE'VE GOT THE BROWN TURKEYS, WE'VE GOT THE MISSION FIGS, AND IT JUST PAIRS PERFECTLY. AND OF COURSE YOU ALWAYS WANT TO PAIR THAT AS WELL WITH A NICE WINE. >> UH-HUH. >> AND AGAIN, YOU CAN USE A LIGHT SAUVIGNON BLANC. YOU CAN USE A PROSECCO, A LITTLE LIGHTER FOR SPARKLING WINE--JUST SOMETHING LIGHT BEFORE DINNER STARTS. >> WELL, ONE THING WE HAVEN'T TALKED ABOUT, BESIDES TASTING GOOD AND THERE BEING SO MANY VARIETIES, FIGS ARE NUTRITIONALLY VERY GOOD FOR US, AREN'T THEY? >> ABSOLUTELY. FIGS ACTUALLY DELIVER AN EXCELLENT SOURCE OF DIETARY FIBER PER SERVING, AND IT'S 3 TO 5 FIGS ARE A SERVING OF FRUIT. AND AS YOU KNOW, MOST PEOPLE ARE NOT GETTING ENOUGH FRUIT AND VEGETABLES, AND SO THIS IS AN EASY WAY TO INCORPORATE FRUIT IN YOUR DIET EVERY DAY. AND WITH DRIED FIGS, YOU CAN PUT THEM IN YOUR LOCKER, YOU CAN PUT THEM IN YOUR BRIEFCASE OR YOUR DRAWER, AND YOU HAVE THEM ALL THE TIME. >> WHAT A GREAT WAY TO SNACK AND NOT FEEL GUILTY. >> ABSOLUTELY. >> WELL, THANK YOU SO MUCH. THIS HAS REALLY BEEN INTERESTING. I KNEW IT WOULD BE. THANK YOU. >> THANK YOU. >> BARBARA, THANK YOU SO MUCH FOR BEING WITH US. IT'S BEEN QUITE A WHILE SINCE YOU WERE HERE, AND YOU ALWAYS SHOW US SUCH INTERESTING WALL TECHNIQUES. AND YOU EVEN HAVE A VIDEO THAT'S--THIS ONE'S CALLED "ROCKS, BLOCKS, AND BRICKS." >> YES. >> AND IF SOMEBODY IS REALLY INTERESTED AND THEY MAYBE DON'T REMEMBER EVERYTHING THAT YOU TOLD THEM, THEY CAN--WHAT'S YOUR WEBSITE ADDRESS? >> OH, IT'S FAUXFUN.COM. >> FAUXFUN.COM. >> FOR THE DVDs THAT TEACH YOU EVERYTHING, AND I'M GONNA SHOW YOU A LITTLE BIT ABOUT HOW TO MAKE RED BRICKS TODAY. >> OK, AND SOMEBODY ASKED YOU TO DO THIS IN THEIR HOME, AND YOU CAME UP WITH THE TECHNIQUE. >> RIGHT. WELL, YOU CAN DO IT WITH JUST PAINT, BUT I WANTED TO MAKE IT MORE 3-DIMENSIONAL AND TEXTURAL SO IT GIVES IT A MORE AUTHENTIC LOOK. >> AUTHENTIC. >> MUCH MORE AUTHENTIC. >> WHERE ARE SOME PLACES YOU MIGHT USE THIS TECHNIQUE? >> I DON'T KNOW. IT DEPENDS. EVERYTHING IS JOB-SPECIFIC, BUT I'VE USED IT IN THE FARMHOUSE-TYPE-LOOK KITCHEN. >> OH. >> SOMETIMES AROUND A FIREPLACE. THERE ARE CERTAIN PLACES THAT IT REALLY CALLS FOR IT. >> UH-HUH. >> YOU KNOW? SO YOU GOT TO HAVE THE TECHNIQUE. >> OK. AND YOU'RE GOING TO SHOW US THE LOOK IN A MINUTE, BUT WE NEED TO KNOW HOW TO PREPARE OUR WALL. AND WOULD THIS TECHNIQUE WORK ON IF WE HAVE WALLPAPER ALREADY UP, OR DO WE HAVE TO TAKE THAT OFF? WHAT IF IT'S JUST STUCCO? >> WELL, YOU KNOW, THIS IS THE ONE THING YOU COULD PROBABLY DO OVER WALLPAPER IF IT'S REALLY STUCK TO YOUR WALL, BECAUSE WE'RE ACTUALLY PUTTING ON TEXTURE. >> OH, YEAH. >> BUT I DO PREFER JUST AS A NICE PAINTED SURFACE. AND YOU PROBABLY WANT TO START WITH SOMETHING--THIS IS LIKE A LIGHT GRAY. SO-- >> SO THIS HAS BEEN PAINTED? >> YEAH. JUST PAINT A LITTLE, AND IT DOESN'T EVEN HAVE TO BE PAINTED WELL, BECAUSE THIS IS ONLY THE GROUT THAT'S GONNA BE SHOWING THROUGH. >> OH. OK. >> SO THAT'S WHAT YOU WANT TO START WITH. SHOULD I JUST GET IT GOING? >> LET'S SEE HOW YOU DO IT. >> SO WHAT WE'RE GONNA DO IS START WITH CREATING THE GROUT LINES. AND WHAT I LIKE TO USE IS BLUE TAPE. >> MM-HMM. >> AND WHAT YOU WANT TO DO IS TAKE THE TAPE AND JUST KIND OF LIGHTLY STICK IT TO YOUR WALL, AND THEN WHAT WE'RE GONNA DO IS PEEL IT IN HALF. AND WHAT I'M DOING IS TRYING TO CREATE AN IRREGULAR EDGE. AND SOMETIMES IT'S A LITTLE TRICKY. SO YOU...JUST KEEP DOING SECTIONS. YOU'RE NEVER GONNA GET IT A SMOOTH FLOW. YOU JUST WANT A NICE IRREGULAR EDGE LIKE THAT. OK? AND IS IT OK, THEN, THAT THIS SIDE IS STRAIGHT, OR ARE YOU ALSO GOING TO TEAR THAT A LITTLE BIT? >> WELL, I'LL SHOW YOU WHAT WE'RE GONNA DO. >> OK. >> AND YOU KIND OF GOT TO BE CAREFUL WITH THIS STUFF BECAUSE IT WANTS TO TWIST UP ON ITSELF. ALL RIGHT. SO I WOULD NORMALLY HAVE LINES KIND OF MARKED OUT WHERE MY BRICK WOULD BE. SO I'M GONNA GO WITH THAT. AND THEN... SO WE'VE GOT THE SOLID LINE ON ONE SIDE. >> MM-HMM. >> ALL RIGHT? AND THEN YOU'RE GONNA WANT TO JUST-- >> OH, I SEE. YOU'RE JUST OVERLAYING IT. >> ...TO BACK IT UP LIKE THAT. >> MM-HMM. SO THAT LEAVES THIS... >> IT JUST MAKES FOR A FUN LITTLE IRREGULAR EDGE AS IN REAL BRICK WITH GROUT. AND THEN, I HAVE TO ADMIT THIS IS A LITTLE TIME-CONSUMING, BUT IT'S VERY REWARDING. >> YEAH! >> AND OF COURSE, I'M SHOWING YOU RED BRICK, BUT YOU CAN DO ALL SORTS OF KINDS OF BRICK, AND YOU CAN DO ALL OF THE DIFFERENT SHAPES OF BRICK. THIS IS JUST A TYPICAL BRICK PATTERN, WHICH HELPS YOU GET GOING WITH THE CONCEPT OR THE IDEA OF HOW TO DO IT. SO WE'RE GONNA DO THAT. AND THEN YOU MASK OFF THE SECTION OF BRICK. >> SAME THING. YOU'RE GONNA OVERLAP IT TO MAKE... >> YEAH, BECAUSE YOU WANT THE IRREGULAR LINES ON THE OUTSIDE OF THE GROUT. >> UH-HUH. >> OK? AND THEN WE'RE GONNA DO THIS ALL OVER THE WHOLE BOARD... AND MASK OUT THE...COMPLETE BRICK PATTERN. >> MM-HMM. NOW, YOU'RE GETTING PRETTY SPEEDY ON DOING THAT NOW. >> WELL, YOU CAN GET IT GOING THERE QUICKLY. OOPS. >> IT DOES STICK TO ITSELF EASILY, DOESN'T IT? >> YEAH, BUT LIKE ANYTHING, ONCE YOU GET GOING, YOU GET GOING. I AM--I'M JUST GONNA DO THIS. >> SAVE THAT. SEE, I THOUGHT A WHILE GO YOU'D PROBABLY WAD THAT UP, BUT NOW I SEE WHY THOSE SMALL ONES-- >> OH, THE SMALL ONES ARE GREAT, YEAH. SO, YOU KNOW, ALL THIS STUFF IS USABLE. AND YOU MIGHT WANT TO HAVE THESE PRE-MEASURED OUT, OR I'M JUST KIND OF GUESSING AS WE GO HERE JUST TO GIVE YOU THE IDEA. >> MM-HMM. >> OK. SO IT'S STARTING TO TAKE THE SHAPE OF BRICK. >> IT'S STARTING TO LOOK LIKE A BRICK WALL. >> LITTLE BIT. OK? SO THIS IS KIND OF WILD, TO HAVE THIS. AND IT'S GONNA TAKE SOME TIME. JUST, YOU KNOW, RELAX AND HAVE SOME FUN WITH IT. >> OK. >> AND THEN--OK. I'M GONNA JUST--I'LL JUST DO ONE MORE SO IT KIND OF LOOKS MORE LIKE BRICK. AND THEN WHAT WE DO IS WE'RE GONNA TAKE ACTUAL DRYWALL MUD. >> OH, THAT'S WHAT YOU WERE TALKING ABOUT TO GIVE IT THE TEXTURE AND IT DIDN'T MATTER IF IT WAS OVER WALLPAPER OR NOT. >> RIGHT. >> MM-HMM. >> SO... AND YOU'RE GONNA WANT TO HAVE A TRAWL. AND IT'S JUST VERY SIMPLE. I MEAN, YOU DO NOT HAVE TO BE A PROFESSIONAL ANYTHING FOR THIS. THAT'S WHY I LIKE DOING SOME OF THIS STUFF, BECAUSE IT'S JUST SO EASY. I MEAN, YOU KIND OF JUST... YOU WANT TO COVER THE SPACE. YOU DON'T WANT IT TOO THIN, AND YOU DON'T REALLY WANT IT TOO THICK, YOU KNOW? IF IT'S TOO THICK, OF COURSE, IT'S GONNA CRACK. >> OH. >> BUT YOU WANT TO COVER THE SURFACE. >> IS THIS THE SAME TYPE OF PRODUCT THEY USE WHEN THEY DO THOSE, I THINK THEY'RE CALLED TUSCAN WALLS OR SOMETHING, WHEN THEY'RE REAL--THEY HAVE LOTS OF TEXTURE TO THEM? IS THIS THE SAME PRODUCT? >> WELL, THERE ARE DIFFERENT TEXTURES YOU CAN USE, BUT A LOT OF--WHAT I'M BIG WITH WITH MY VIDEOS IS DOING STUFF VERY INEXPENSIVELY WITH EASY-TO-FIND MATERIALS. SO YOU DON'T HAVE TO GO AND GET THE FANCY STUFF. >> OH. >> OK? THIS IS JUST--YOU CAN GET THIS ANYWHERE. AND JUST PUT ON A NICE COAT. AND, OF COURSE, YOU'RE GONNA WANT TO LET THAT DRY. >> ALL RIGHT. HOW LONG DOES IT USUALLY TAKE? OVERNIGHT OR... >> DEPENDING ON THE WEATHER, BUT AT LEAST OVERNIGHT. >> AND HOW THICK? YEAH. >> OK. AND SO WHEN THAT'S DONE... ON THE VIDEO, I SHOW YOU, DEPENDING ON WHAT COLOR BRICKS YOU'RE GONNA DO--OF COURSE, THESE ARE RED, BUT YOU COULD DO GOLD, GRAY, WHATEVER BRICKS YOU WANT, AND WHATEVER SHAPE YOU WANT. AND THEN, ONCE EVERYTHING'S DRY AND I DO A LITTLE SPONGE PAINTING ON TOP--AND YOU CAN SEE ME DO THAT IN THE VIDEO--AND THEN-- >> WHAT KIND OF PAINT IS THIS, THIS RED? >> JUST WALL PAINT. >> OH, JUST--OK. >> THIS TYPE OF SPONGE PAINTING IS ACTUALLY INCREDIBLY SIMPLE. YOU CAN BUY MY SPONGE PAINTING VIDEO, TOO, IF YOU WANT TO GET REAL COMPLICATED ABOUT THIS, BUT IT'S ACTUALLY QUITE SIMPLE. YOU CAN SEE I--IT DOESN'T LOOK LIKE MUCH HERE. THE SPOTS ARE COMING THROUGH. >> BUT I DO SEE NOW WHY YOU LEFT THOSE LITTLE TAILS OUT. I WONDERED A WHILE AGO IF WE NEEDED--BUT NOW I SEE WHY. >> EXACTLY. RIGHT. HAVE A TAIL ON YOUR WALL--AND ESPECIALLY ON YOUR WALLS, SOME OF IT'S GONNA BE BURIED, AND ESPECIALLY WHEN YOU DO THE LONG PIECES ACROSS SO YOU KNOW WHAT TO PULL OFF FIRST. AND THEN IT WILL PULL OFF THE... >> OOH, THAT'S FUN TO SEE WHAT IT'S GONNA LOOK LIKE. >> YEAH. AND THEN IT COMES TO JUST PEELING ALL THIS OFF. AND IT'S A LITTLE MESSY. >> THUS THE DROP CLOTH WHEN YOU'RE WORKING ON IT? >> YEAH. PLUS THIS HAS HAD SOME TIME TO DRY, MORE TIME THAN WOULD BE ALLOWED IF YOU WERE ACTUALLY DOING IT YOURSELF. >> NOW, THAT CAME OFF GOOD. >> SO... SOMETIMES IT HELPS TO HAVE LIKE A TWEEZERS OR SOME SORT OF PICK-LIKE TOOL BECAUSE SOME OF THESE SMALLER-- >> OR EVEN A LITTLE KNIFE THAT YOU CAN SLIP UNDER THERE, I GUESS. >> YEAH. ANYTHING THAT ACTS LIKE A PICK. >> UH-HUH. >> MAKE SURE YOU GET IT ALL OUT. OK. >> OH. THAT ONE'S--DEFINITELY NEEDS A PICK. >> OK. >> OK. I SEE NOW WHY WE WANTED THE... >> SEE, I PREPARED THIS, LIKE, A WEEK AGO, SO IT'S A LITTLE MORE STUBBORN THAN YOU'RE GONNA BE DEALING WITH, ACTUALLY, WHEN YOU DO IT YOURSELF. OK. SO--WHOO! THERE WE GO. WE'RE GETTING A BRICK PATTERN. >> YEAH. >> THERE'S ONE MORE BURIED UNDER HERE. THERE WE GO. >> MM-HMM. THAT'S THE ONE I NEVER COULD--YEAH. >> AND THEN THERE'S A COUPLE OF THINGS YOU CAN DO TO FINISH IT OFF. YOU CAN-- >> WAS THIS JUST--LIKE I'M SEEING THIS LIGHTER COLOR THROUGH HERE. DID YOU USE JUST ONE COAT OF PAINT OF THE RED BRICK PAINT ON TOP, OR DID YOU MIX SEVERAL WHEN YOU DID THE SPONGING? >> I USED A COUPLE, A COUPLE DIFFERENT SHADES OF RED. >> UH-HUH. >> THEY KIND OF BLEND INTO ONE. AND THEN YOU MIGHT WANT TO TAKE A GLAZING-TYPE MATERIAL, AND YOU CAN RUB THAT IN, GIVE IT MORE OF AN EFFECT, DEPENDING ON WHAT YOU WANT. AND SOMETIMES YOU MIGHT WANT THE WHITE HIGHLIGHTS, SO IT WOULD BE FUN TO COME BACK IN AND SAND IT OFF A BIT. >> OH. UH-HUH. >> SO WE'RE JUST CREATING A LITTLE MORE DEPTH BY USING THIS. >> MM-HMM. HMM. >> AND IN THE RIGHT PLACE, IT BECOMES VERY, VERY CONVINCING... >> UH-HUH. >> THAT IT'S RED BRICKS. SO THERE WE GO. IT'S ACTUALLY--IT'S SIMPLE. IT'S JUST A LITTLE TIME CONSUMING. >> RIGHT. IT'S AMAZING. >> YEAH. >> IT DOES LOOK LIKE BRICK. >> YEAH. >> WELL, I APPRECIATE YOU BEING HERE. THANKS FOR TELLING US ABOUT IT, AND IT'S FAUXFUN.COM, RIGHT? >> YOU GOT IT. >> OK. WE'LL LEARN HOW TO DO IT. THANK YOU VERY MUCH, BARBARA. >> SURE. >> I HOPE YOU ENJOYED THE SHOW TODAY. NEXT TIME ON "CREATIVE LIVING," WE'LL LEARN HOW ANIMALS CAN HELP PATIENTS WITH PTSD, WE'LL LEARN HOW TO PRESERVE FRESH HERBS, AND WE'LL TALK ABOUT WATER-RETAINING PLANTS. ONE OF MY NEXT GUESTS IS GOING TO EXPLAIN HOW ANIMALS WHO HAVE BEEN TRAINED THROUGH A PROGRAM CALLED "ANIMALS HELPING PEOPLE" CAN HELP ANYONE WITH POST-TRAUMATIC STRESS DISORDER, ESPECIALLY MILITARY PERSONNEL. ANOTHER GUEST IS A COOKBOOK AUTHOR AND DIETICIAN, AND SHE'LL DISCUSS HOW TO GROW AND HARVEST YOUR OWN HERBS, EXPLAIN HOW TO STORE THEM, AND SHOW SOME WAYS TO PRESERVE FRESH HERBS. WE'LL ALSO HAVE A GUEST WHO WILL SHOW SOME NEW PRODUCTS ON THE MARKET FOR WATER-RETAINING PLANTS, INCLUDING A POLYMER THAT'S ALSO GOOD FOR GARDENS, LAWNS, TREES, AND SHRUBS. ALL OF THESE TOPICS WILL BE FEATURED ON THE NEXT "CREATIVE LIVING" SHOW. IF YOU EVER HAVE COMMENTS OR SUGGESTIONS OR IDEAS FOR SHOWS, YOU CAN E-MAIL ME AT SHERYL.BORDEN@ENMU.EDU. I'D ALSO LIKE TO ASK YOU TO BECOME A FAN OF "CREATIVE LIVING" ON FACEBOOK. JUST GO TO FACEBOOK.COM, AND IN THE SEARCH WINDOW, TYPE IN, "CREATIVE LIVING WITH SHERYL BORDEN." I HOPE YOU'LL PLAN TO JOIN ME NEXT TIME FOR "CREATIVE LIVING." >> WE ARE VERY PLEASED TO OFFER A NEW BOOKLET THAT ACCOMPANIES THIS SERIES OF "CREATIVE LIVING." THIS BOOKLET IS TITLED "THE 6700 SERIES," AND IT FEATURES A WONDERFUL COLLECTION OF IDEAS AND INFORMATION, AND IT'S AVAILABLE FREE OF CHARGE ON OUR WEBSITE, POSTED AS A PDF FILE. YOU CAN SIMPLY DOWNLOAD THE ENTIRE BOOKLET OR JUST THE SEGMENTS YOU'RE MOST INTERESTED IN. YOU'LL FIND INFORMATION ON FOODS, NUTRITION, CLOTHING, FASHION, HEALTH AND BEAUTY, HOME DECORATING, AND MUCH MORE. FOR YOUR COPY OF THIS NEW BOOKLET, GO TO OUR WEBSITE AT KENW.ORG, AND THEN CLICK ON "CREATIVE LIVING." SCROLL DOWN TO THE BOOKLET SECTION, AND YOU CAN CLICK ON THIS BOOKLET OR ON ANY OF THE OTHER BOOKLETS WE HAVE AVAILABLE ONLINE. JUST GO TO KENW.ORG, CLICK ON "CREATIVE LIVING," AND DOWNLOAD THE BOOKLET TITLED "THE 6700 SERIES." WE ALSO INVITE YOU TO SIGN UP FOR OUR FREE E-NEWSLETTER. JUST GO TO KENW.ORG, AND CLICK ON THE "SIGN UP NOW" BUTTON AND INPUT YOUR E-MAIL ADDRESS. THAT'S ALL THERE IS TO IT. YOU'LL ENJOY READING AN UP-TO-DATE NEWSLETTER FILLED WITH INTERESTING TOPICS AND INFORMATION. THANK YOU.
Now Playing As: Captioned (English) (change)
Sheryl and guest paint faux red bricks, while and representative from The California Fig Advisor Board stops by to talk about growing, harvesting, and storing figs. While Shannon Bielke offers ideas for green decor.
Media Details
Runtime: 27 minutes