Creative Living With Sheryl Borden #6713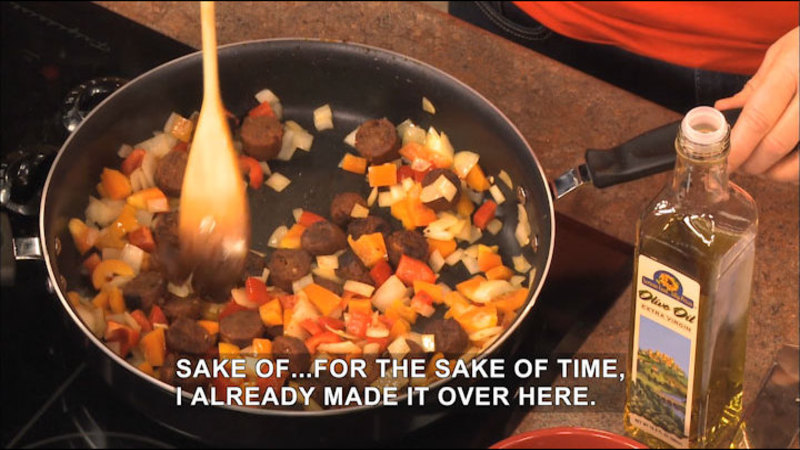 >> "CREATIVE LIVING," UTILIZING TODAY'S TECHNOLOGY WITH THE BEST OF THE PAST TO BRING YOU INNOVATIVE IDEAS AND UP-TO-DATE INFORMATION FOR CREATIVE LIFESTYLES IN TODAY'S ACTIVE WORLD, WITH YOUR HOST SHERYL BORDEN. >> WELCOME TO "CREATIVE LIVING" TODAY. WE'RE GOING TO LEARN HOW TO MAKE SOME DELICIOUS BREAKFAST AND PARTY FOODS WITH FREEKEH, AND WE'LL DEMONSTRATE MAKING A NO-SEW T-SHIRT APRON. ONE OF MY GUESTS TODAY IS BONNIE MATTHEWS, AND SHE'S THE CO-FOUNDER OF FREEKEH FOODS. BONNIE'S GOING TO DEMONSTRATE AN EXCELLENT DISH THAT WOULD BE GREAT FOR ANY DINNER PARTY, USING FREEKEH, OF COURSE. IT'S ALSO EASY TO START YOUR DAY WITH WARM BREAKFAST FREEKEH, AND BONNIE WILL DEMONSTRATE SOME BREAKFAST RECIPES AS WELL. SHE'S FROM MINNEAPOLIS, MINNESOTA. WE'LL START THE SHOW WITH MARISA PAWELKO, WHO'S A DESIGNER AND AN EVENTS COORDINATOR. MARISSA IS GOING TO DEMONSTRATE HOW TO CREATE AN APRON FROM A T-SHIRT AND THEN SHOW HOW TO EMBELLISH IT WITH VARIOUS PRODUCTS. SHE REPRESENTS WESTCOTT BRAND CUTTING TOOLS, IMAGINE CRAFTS, AND TSUKINEKO INKS, AND SHE'LL USE ALL OF THESE PRODUCTS IN HER DEMO. MARISA, IT'S ALWAYS SO NICE TO HAVE YOU COME. I ALWAYS LIKE THE PROJECTS THAT YOU...YOU BRING. THEY'RE... FOR ONE THING, THEY'RE USUALLY BRIGHT COLORS, WHICH I TEND TO LIKE. BUT LET ME ASK YOU, BEFORE YOU TELL US WHAT YOU'RE GOING TO MAKE TODAY, HOW DO YOU COME UP WITH NEW PROJECTS TO SHOW PEOPLE? >> I GET INSPIRED BY THINGS I SEE PEOPLE CREATING ALL AROUND THE WORLD AND THINGS I SEE IN STORES, ON THE STREET, AND I GET REALLY INSPIRED BY HAVING ALL THESE GREAT TOOLS AND MATERIALS, THAT I JUST WANT TO DO SOMETHING WITH THEM. >> AND BELIEVE IT OR NOT, WE'RE GOING TO TAKE A T-SHIRT, AND YOU'RE GOING TO MAKE AN APRON WHICH IS LIKE THE ONE YOU HAVE ON. AND I'M SO IMPRESSED THAT YOU PUT "CREATIVE LIVING" ON YOUR APRON. >> WELL, "CREATIVE LIVING" IS ALSO A GREAT INSPIRATION FOR ME. IT'S MY FAVORITE SHOW. SO I DESIGNED MY APRON IN HONOR OF MY FAVORITE SHOW, "CREATIVE LIVING," AND THE LOCAL CULTURE OF NEW MEXICO. >> OH. YOU DO HAVE ALL... AND OUR CHILIES AND HOT TAMALES. >> RED, GREEN, AND YOU KNOW, SIZZLING. >> THAT IS JUST SO CUTE. AND YOU'VE ADDED A BELT. SO, YOU KNOW, WE ALL NEED A BELT. BUT YOU HAVE YOUR OWN "HOLSTER." >> YEAH. WELL, YOU KNOW, WE ARE IN THE WILD WEST, SO I'VE GOT MY SCISSOR HOLSTER, AND IT'S HOLDING MY GREAT EXTREME EDGE SCISSORS, WHICH IS WHAT WE'RE GONNA USE TO TRANSFORM A REGULAR T-SHIRT INTO AN APRON. >> WELL, YOU KNOW, I'VE HEARD YOU AND OTHER DESIGNERS THAT I'VE HAD ON TALK ABOUT HOW IMPORTANT IT IS TO USE THE RIGHT TOOLS, AND UNTIL YOU CAME THE FIRST TIME, WHEN I FIRST MET YOU, I THOUGHT A SCISSOR WAS A SCISSOR. NOW, I ALWAYS KNEW YOU SHOULDN'T USE FABRIC SCISSORS TO DO CRAFTS. MY MOTHER TAUGHT ME THAT. BUT I NEVER KNEW THERE WERE SO MANY DESIGNS. >> YEAH. THERE ARE SO MANY DIFFERENT GREAT TYPES OF SCISSORS. THIS IS ONE OF MY LATEST AND GREATEST FAVORITE KINDS OF SCISSORS. >> THAT'S GOT A FLAT... SO YOU CAN REALLY GET CLOSE TO THE TABLE, I GUESS. >> YEAH. THESE ARE GREAT EXTREME EDGE SCISSORS. THEY'RE GREAT FOR FABRIC. THEY CAN ALSO BE USED ON PAPER. AND THEY HAVE A REALLY FUN LITTLE ACCESSORY, BECAUSE EVERY CRAFTER LIKES ANOTHER LITTLE GADGET IN THEIR CRAFT ROOM. AND THIS ALLOWS YOU TO ADJUST THE TENSION ON THESE SCISSORS. >> SO IF IT'S PAPER, IT WOULD PROBABLY BE... NEED TO BE A LITTLE TIGHTER, AND THEN THE FABRIC'S THICKER. >> YEAH. IF YOU'RE DOING LOTS OF THICK LAYERS OF DENIM OR BURLAP, YOU CAN LOOSEN THEM UP AND HACK, HACK, HACK THROUGH MANY LAYERS, LIKE, EASILY, LIKE BUTTER. AND THEN IF YOU WANT TO TIGHTEN THEM UP, YOU CAN CUT THROUGH THE FINEST SILKS AND CHIFFONS, AND YOU NEVER HAVE THAT PROBLEM OF THE FABRIC FRAYING OR GOING BETWEEN THE BLADES. >> HOW COOL. I LOVE THE BRIGHT COLORS. THAT AGAIN REMINDS ME OF YOU, OF COURSE. >> THANK YOU. >> BUT AS WE GO THROUGH THIS, WE'LL BE TAKING A LOOK AT VARIOUS SCISSORS. AND THESE ARE... I NOTICED IT SAYS TITANIUM. THAT MEANS THEY DON'T STICK ON STICKY THINGS THAT WE'RE CUTTING, RIGHT? >> YEAH. WE HAVE TITANIUM-BONDED SCISSORS, AND WE HAVE TITANIUM-BONDED NONSTICK SCISSORS, BECAUSE... WE'RE GONNA DO A REALLY FUN SEWING--NO-SEW PROJECT, BUT THEY ARE GREAT FOR PEOPLE WHO SEW. BUT JUST BECAUSE WE KNOW HOW TO SEW DOESN'T MEAN WE ALWAYS HAVE TIME OR EVEN WANT TO. >> OK. WE BOUGHT THESE T-SHIRTS, AND WE'VE DECIDED WE WANT TO MAKE AN APRON OUT OF THEM. >> YEAH. I WAS THINKING IT WOULD BE FUN TO MAKE AN APRON MAYBE FOR YOUR GRANDSON. RIGHT? BECAUSE THERE ARE SO MANY FUN GIRL CLOTHES, BUT, YOU KNOW, I HAVE A SON, AND I LIKE TO DO A LITTLE SOMETHING FOR HIM, TOO. SO JUST START OFF WITH A REGULAR APRON-- I MEAN A T-SHIRT. IT'S ALMOST GONNA BE AN APRON SOON. RIGHT NOW, IT'S STILL A T-SHIRT. AND YOU JUST FOLD YOUR T-SHIRT IN HALF. >> FOLD IT IN HALF, UH-HUH. AND THE GREAT THING ABOUT THESE SCISSORS IS THEY CAN CUT THROUGH MULTIPLE LAYERS OF FABRIC WITH EASE. SO YOUR FIRST STEP YOU'RE GONNA DO IS JUST CUT OFF THESE SLEEVES. AND I'M USING THE 8-INCH. >> AND YOU'RE GOING RIGHT UP TO THE NECKLINE. I THOUGHT YOU WERE GOING TO CUT OFF THE SLEEVE, BUT IT'S REALLY MORE. >> YEAH, RIGHT UP TO THE NECKLINE. YOU DON'T WANT TO CUT THE ACTUAL NECKLINE ITSELF. YOU WANT TO SAVE THAT. AND YOU CAN EVEN SAVE THESE. I'VE HEARD OF PEOPLE USING THEM FOR POCKETS, AND YOU COULD MAKE A MATCHING ACCESSORY, AND ALL KINDS OF STUFF. BUT FOR NOW, WE'LL JUST-- >> LAY ON THE SIDE. >> YEAH. THAT'LL BE ANOTHER PROJECT. SAVE IT FOR ANOTHER DAY. AND SO YOU'VE BASICALLY GOT WHAT LOOKS LIKE A-- >> IT ALREADY LOOKS LIKE AN APRON. >> YEAH. WE'RE ALMOST THERE. SO THE NEXT THING YOU'RE GONNA DO IS... CUT AWAY FROM THE BACK OF THE COLLAR LIKE THIS. AND YOU KNOW, WE CAN ALWAYS TRIM IT LATER. IT DOESN'T HAVE TO BE PERFECT. BUT YOU WOULD CUT OFF. SO THAT CREATES YOUR NECK HOLE FOR YOUR APRON. >> SURE. >> AND THEN THE NEXT THING YOU'RE GONNA DO IS FOLD THE BACK IN HALF LIKE THIS AND LAY IT DOWN LIKE SO. OH, YEAH. AND SO YOU WOULD... YOU WOULD CUT ALONG THIS... THIS LINE, YEAH. SO YOU MAKE AN OPENING RIGHT STRAIGHT UP THE BACK. YOU JUST WANT TO DO IT IN THIS ORDER SO YOU DON'T END UP CUTTING OFF THE WRONG PARTS. AND IF YOU DO, YOU CAN SEW THEM BACK TOGETHER, WHICH, YOU KNOW... >> OR HAVE A NEW PROJECT. >> OR YOU COULD. YOU PROBABLY... THAT'S WHERE I GET MY IDEAS, YOU KNOW--IF SOMETHING GOES WRONG, THAT'S WHERE A LOT OF INSPIRATION COMES FROM. SO NOW IS THE FUN PART, WHERE I DESIGNED A WAY OF MAKING THIS FLOUNCY KIND OF RUFFLED TIE FOR YOUR APRON, AND IT'S JUST SUCH AN EASY THING TO DO. YOU JUST START HERE. AND YOU START CUTTING IN A SPIRAL. AND THIS IS A GREAT PROJECT THAT YOU COULD EVEN DO WITH KIDS BECAUSE IT'S EASY. YOU KNOW, A LOT OF TIMES, KIDS WANT TO GET INTO SEWING AND FABRIC STUFF, BUT IT CAN BE A LITTLE INTIMIDATING AND A LOT OF WORK. SO I'M CUTTING IN A SPIRAL, AND THEN I'M JUST GONNA KIND OF ROUND THIS PART OUT. >> OK. >> JUST TO KEEP IT NICE AND SMOOTH. >> WELL, AND I THINK KIDS ARE JUST LIKE I AM FOR SURE. I LIKE TO HAVE INSTANT GRATIFICATION. I WANT IT READY TO WEAR... >> YEAH. >> THE SAME DAY I MAKE IT. >> I GUESS THAT'S SOMETHING WE NEVER GROW OUT OF. >> MAYBE THAT'S IT. >> I THINK WE GET A LITTLE BIT OF PATIENCE, BUT STILL, YEAH, I LIKE MY PROJECTS TO BE FUN AND EASY AND FAST AND FORGIVING. YOU KNOW THAT. >> YOU KNOW, WE THINK OF AN APRON AS BEING SOMETHING YOU'D USE IN THE KITCHEN, BUT THERE ARE SO MANY PROJECTS, WHETHER IT'S PAINTING, BUILDING MODEL CARS, WORKING OUT IN THE SHOP, WHERE YOU DON'T WANT TO GET SOME OF THAT OIL AND GREASE AND GOOK ON YOUR CLOTHES. SO GUYS CAN WEAR THESE, LIKE YOU SAY, JUST LIKE WOMEN CAN. >> OH, YEAH. OH, YEAH. THEY'RE GREAT FOR THAT. AND SO WE'VE JUST CUT... WE'VE CUT THESE PIECES, SO THIS IS OUR APRON. AND THEN THE NICE THING YOU DO IS WHEN YOU STRETCH IT, THE FABRIC JUST NATURALLY ROLLS BECAUSE IT'S JERSEY. AND THIS IS ALSO A GREAT RECYCLING PROJECT. YOU COULD GET OLD T-SHIRTS. >> MAYBE THEY HAVE HOLES IN THE SLEEVES, TOO, OR SOMETHING. THAT'S GREAT. >> SO IT'S FUN. I LOVE DOING IT. SO YOU WANT TO PULL IT. YOU KNOW, THE FABRIC JUST KIND OF ROLLS LIKE THAT. AND YOU'VE GOT YOUR COOL APRON. >> OK. THEN THE FUN PART REALLY CAN--THAT'S WHAT I LIKE. >> BECAUSE YOU KNOW I LOVE TO EMBELLISH, TOO. >> UH-HUH. >> WHICH IS GOING TO BE A GREAT OPPORTUNITY TO SHOW YOU SOME OF OUR OTHER SCISSORS. >> MM-HMM. AND I'M JUST GONNA LAY THIS OUT LIKE THIS. AND SO SOMETHING THAT'S REALLY GREAT FOR EMBELLISHING-- I'VE USED THAT IN THE APRON I'VE GOT HERE--IS NO-SEW FABRIC APPLIQUE MATERIALS. SO THERE'S DIFFERENT ONES. THIS ONE HAS SOME KIND OF DIMENSION TO IT. >> SOME OF THEM ARE THICKER. >> AND THEN WE'VE GOT A THIN ONE HERE. I'M GONNA USE PROBABLY THE THIN ONE FOR THIS, WHICH I'VE GOT SOME OF IT RIGHT HERE. PEEL-AND-STICK SHEETS. NO MORE SEWING. YOU DON'T EVEN HAVE TO IRON THEM. THEY'RE GREAT. THEY ARE GREAT. AND I RECOMMEND USING THEM WITH OUR NONSTICK SCISSORS. >> UH-HUH. >> SO WE'RE JUST GONNA TAKE SOME OF THIS FABRIC. I'VE CHOSEN A FABRIC THAT I THOUGHT YOUR GRANDSON MIGHT LIKE. >> WELL, RIGHT, AND I HAVE LOTS OF PIECES ABOUT THIS BIG LEFT FROM OTHER PROJECTS THAT JUST SIT THERE IN THE DRAWER. >> JUST SIT THERE, YEAH. SO I THOUGHT, WELL, THIS IS A GREAT...A GREAT LITTLE THEME. SO ALL YOU'VE GOT TO DO IS TAKE A LITTLE PIECE. >> YEAH, I LIKE THAT ONE. THAT'S CUTE WITH THE LITTLE HORNS. >> IT IS SO CUTE. LITTLE...LITTLE MONSTER. AND THESE ARE NONSTICK SCISSORS, BUT THEY'RE ALSO BENT HANDLE. THEY COME IN BENT HANDLE AND STRAIGHT HANDLE. SO THEY CAN BE USED FOR FABRIC OR STICKY MATERIALS LIKE THE APPLIQUE MATERIAL WE'RE GONNA BE USING. >> AND I'VE LIKED IT, TOO, BECAUSE SOMETIMES YOU DON'T WANT TO LIFT UP YOUR PROJECT. MAYBE YOU'VE GOT...YOU'VE GOT SOMETHING SORT OF LAID OUT, AND YOU DON'T WANT TO HAVE TO LIFT IT UP. BOY, THOSE SCISSORS GO RIGHT... >> YOU JUST MOVE RIGHT ALONG. >> THAT'S AMAZING. >> THEY'RE PERFECT FOR THAT. SO I'VE CUT OUT THIS LITTLE GUY, AND I'LL SET THIS ASIDE. THANK YOU. AND NOW I'M JUST GONNA CUT A PIECE OF THIS NO-SEW PEEL-AND-STICK SHEETS. >> AND YOU'D SAVE THAT PIECE FOR A SMALL... >> SAVE IT FOR ANOTHER LITTLE PIECE. YOU KNOW HOW I AM. I SAVE... >> EVERYTHING. >> SAVE EVERYTHING. AND THEN I'VE GOT ALL THESE MATERIALS. AND THEN YOU JUST PEEL IT OFF LIKE THAT. >> MM-HMM. >> AND YOU TAKE YOUR FABRIC. AND IT'S SUPER STICKY. THAT'S WHY I--SEE? >> I WOULD HELP YOU, BUT I WOULD GET STUCK TO IT. >> THAT'S WHY I LOVE MY NONSTICK SCISSORS, BECAUSE THEY MAKE THIS TYPE OF THING REALLY EASY. >> OH, THERE YOU GO. >> YEAH. AND THEN I CAN JUST EASILY TRIM. YEAH, YOU PRESS IT DOWN. EASILY TRIM THAT OFF. SEE? IT STUCK TO MY FINGERS, BUT IT DOES NOT STICK TO MY NONSTICK SCISSORS. >> YEAH. GET RID OF THAT SO THAT YOU DON'T HAVE TO DEAL WITH IT WHILE YOU'RE TRIMMING. >> SO NOW YOU'VE GOT A NICE KIND OF FLAT THING. UM... >> AND YOU COULD LEAVE IT LIKE THAT, OR YOU COULD USE, WHAT, ONE OF THESE SMALLER PAIR AND JUST GO IN-- I LOVE TO CUT TO CUT OUT THINGS, SO I TEND TO LIKE TO DO THAT. >> SOME OF THEM ARE VERY INTRICATE PATTERNS. AND YOU MAY WANT TO GET RIGHT UP INTO THERE, WHICH IS A GREAT USE FOR THESE. >> I HAVE NOT USED THOSE. >> THESE ARE THE PRECISION TIP. THESE ARE NEW, AND THEY'VE GOT THESE BIG HANDLES, WHICH GIVES YOU A LOT OF CONTROL AND LEVERAGE. THEY'RE GREAT FOR CUTTING THROUGH MULTIPLE LAYERS, AND YOU CAN, UM...REALLY GET INTO THOSE TIGHT CORNERS. THEY GIVE YOU A LOT OF CONTROL JUST DUE TO THE DESIGN OF THEM. >> BECAUSE USUALLY IF THEY'VE GOT A SMALL BLADE, THE HANDLES ARE SMALL. SO THEN YOU CAN'T GET YOUR FINGERS IN THERE. >> THIS GIVES YOU A LOT OF CONTROL AND POWER, AND SO YOU CAN GET RIGHT IN THERE AND GET INTO THOSE TIGHT AND TRICKY SPOTS, WHERE IF YOU WERE TRYING THIS WITH YOUR BIGGER SCISSORS, IT WOULD BE A LOT MORE CHALLENGING. I CAN EVEN GET RIGHT INTO THAT LITTLE SPOT. AND A GOOD TRICK IS ALWAYS TO TURN YOUR MATERIAL RATHER THAN TURNING YOUR SCISSORS. THAT'S JUST A LITTLE HANDY TIP. >> I CAN TELL YOU'VE DONE THAT BEFORE. >> YEAH. I'VE DONE A LOT OF CUTTING, BECAUSE I'M JUST ADDICTED TO THESE SCISSORS. I JUST LOVE THEM. BUT I'VE GONE AHEAD AND DONE SOME AHEAD OF TIME THAT WE CAN JUST... >> LET'S SHOW HOW YOU WOULD ADHERE... >> YEAH. IT'S SO EASY. SO THEN YOU CAN ARRANGE-- AND THIS IS WHERE THE KIDS WOULD REALLY ENJOY GETTING INVOLVED. >> BECAUSE THERE'S NO WRONG WAY TO DO THIS. >> NEVER ANY WRONG WAY IN CRAFTING. >> I CAN SEE THIS, LIKE, FOR A 4-H CLUB, AND THEY COULD ALL MAKE SOMETHING AND TAKE IT HOME WITH THEM THE SAME DAY. >> FOR SURE. I'VE EVEN DONE EVENTS WHERE WE'VE PRINTED T-SHIRTS CUSTOM, AND THEN WE'VE TURNED THEM INTO APRONS, AND IT GIVES A REALLY NICE EFFECT, YOU KNOW, REAL CUSTOMIZED. >> AND THAT'S JUST AS STICKY ON THE BACKSIDE, ISN'T IT? >> YEP. JUST PEEL THAT OFF. AND YOU STICK IT RIGHT ON. SO THIS ONE IS ONE THAT, YOU KNOW, WE LEFT AS A SQUARE. AND SOME OF THEM I CUT SUPER DETAILED, LIKE THIS SHAPE. >> HERE'S ONE. >> THERE'S A CUTE ONE. AND SO WE JUST PEEL THOSE. >> SO THEN, WOULD THESE BE WASHABLE? COULD YOU THROW THESE IN THE WASHER? >> YEAH, YOU CAN WASH THESE. THERE'S INSTRUCTIONS. IT'S TOTALLY WASHABLE, PERMANENT, AND CUSTOMIZABLE, EASY, FUN, AND YOU JUST, YOU KNOW, KEEP EMBELLISHING. WE'VE GOT ALL THESE, YOU KNOW, LIKE... >> WELL, I APPRECIATE YOU SHOWING US HOW TO DO THIS. I THINK MY GRANDSON IS GOING TO LOVE THIS. AND AGAIN, I LOVE THE APRON THAT YOU MADE. >> YOU GUYS ARE GONNA LOOK GREAT IN YOUR APRONS, BECAUSE I ACTUALLY HAVE ANOTHER APRON THAT I MADE FOR YOU. >> OH! AND IT'S MY FAVORITE COLORS! >> YEP. >> BLACK. >> THE BLACK AND THE SILVER. AND EVEN ADDED A LITTLE BLING IN THERE, SO YOU GUYS CAN WEAR THEM TOGETHER. >> WE'LL DO THAT. I APPRECIATE IT VERY MUCH. THANK YOU. >> THANK YOU. >> BONNIE, THANK YOU SO MUCH FOR BEING WITH US. I HAVE TO SAY, I HAD NEVER HEARD OF FREEKEH BEFORE. THEY CALL IT THE GRAIN WITH A FUNNY NAME SORT OF. WELL, WHAT IS IT? >> IT'S A ROASTED IMMATURE GREEN WHEAT, AND IT'S DELICIOUS. IT'S BEEN AROUND FOR ABOUT 2,000 YEARS FROM THE MIDDLE EAST. BUT WE JUST HAVEN'T HEARD ABOUT IT MUCH IN THIS COUNTRY, BUT IT'S BEING GROWN HERE IN THE U.S. NOW. >> AND IT'S SORT OF A SUBSTITUTE FOR RICE, OR YOU CAN USE YOUR RICE RECIPES BUT THEN SUBSTITUTE THE FREEKEH? >> YEAH, OR EVEN COUSCOUS. IT'S A GREAT ALTERNATIVE TO COUSCOUS OR QUINOA, BECAUSE IT'S A SMALL... IT'S A REALLY SMALL GRAIN, AND YOU CAN USE IT IF YOU WANT TO ADD MORE FIBER AND PROTEIN INTO YOUR DIET, WHICH IS GREAT. AND IT COMES IN A COUPLE OF DIFFERENT FLAVORS. >> AND BASICALLY IT COOKS JUST LIKE RICE, DOESN'T IT? >> UH-HUH. >> WELL, YOU'RE GOING TO PREPARE A RECIPE, AND I DO HAVE A LOT MORE THINGS TO ASK YOU BECAUSE, LIKE I SAY, I HAD NEVER HEARD OF IT AND DIDN'T REALLY KNOW HOW TO WORK WITH IT. BUT IF YOU KNOW HOW TO COOK RICE, YOU'LL KNOW HOW TO COOK THE FREEKEH. >> YEAH. >> BUT IT'S REALLY HIGH IN WHAT? WHY DO PEOPLE NEED IT? >> WELL, IT'S GREAT BECAUSE IT'S GOT 8 GRAMS OF PROTEIN AND 4 GRAMS OF FIBER. >> FIBER AND PROTEIN. UH-HUH. >> SO IT'S JUST A REALLY GREAT LEAN PROTEIN OPTION, AND IT'S... IT JUST STAYS WITH YOU, YOU KNOW, SO LIKE THIS DISH IS PAELLA, WHICH IS A REALLY FUN ONE-POT MEAL FOR PARTIES AND STUFF, AND IT'S COLORFUL. AND IT'S JUST, UM... THE FREEKEH IS JUST GREAT FOR THIS BECAUSE YOU CAN THROW IT ALL IN THE SAME SKILLET AND COOK IT ALL UP. >> SO CAN YOU COOK THE FREEKEH AHEAD OF TIME AND FREEZE IT IN, LIKE, BAGGIES OR CONTAINERS? >> YEAH. YOU'D JUST BRING IT-- YOU WOULD JUST PUT IT IN WATER AND BRING IT TO A BOIL AND THEN LET IT SIMMER FOR ABOUT 25 MINUTES. AND THEN ONCE IT COOLS DOWN, YOU CAN FREEZE IT IF YOU WANT. >> AND THAT'S WHAT I LIKE TO DO, IS WHEN I HAVE TIME TO COOK, I LIKE TO COOK QUANTITIES, AND THEN IT'S SO EASY. AFTER WORK, YOU CAN JUST PULL A BAG OF SOMETHING OUT AND REHEAT IT. DO YOU RECOMMEND COOKING IT IN THE MICROWAVE, OR DO YOU RECOMMEND THE STOVETOP OR THAT METHOD? >> I RECOMMEND DOING IT IN THE SAUCEPAN WITH WATER OR BROTH. IT JUST WORKS A LOT BETTER. >> AND SO YOU CAN USE EITHER, LIKE, SOME TYPES OF BROTH WITH IT IF YOU WANTED TO SUBSTITUTE? >> YEAH, LIKE THIS ONE. THIS ONE I ACTUALLY PRECOOKED USING CHICKEN BROTH. BUT NORMALLY WHEN I'M MAKING THIS AT HOME, YOU CAN THROW EVERYTHING IN THERE WITH THE DRY BAG OF FREEKEH AND THE BROTH AND LET IT JUST SIMMER DOWN. AND YOU KNOW HOW, WHEN YOU'RE AT A PARTY, EVERYBODY HANGS OUT IN THE KITCHEN? SO YOU COULD BE COOKING THIS AND CHATTING WITH YOUR GUESTS WHILE IT REDUCES DOWN, AND THEN IT'S DONE. >> FOR ONLY ABOUT WHAT? 20 MINUTES OR SO? SO IT'S NOT LONG IF YOU WANTED TO DO THAT AND HAVE IT ON A BUFFET OR WHATEVER. >> EXACTLY, YEAH. >> AND I UNDERSTOOD THAT THE NAME IS... COMES FROM A PROCESS THAT MEANS "TO RUB" IN ARABIC. >> EXACTLY, YEAH. >> RUB THE CHAFF OFF? IS THAT WHAT IT DOES? >> EXACTLY. WHAT HAPPENED WAS, UM, FREEKEH WAS DISCOVERED SORT OF BY ACCIDENT. ABOUT 2,000 YEARS AGO, THERE WAS THIS CONFLICT IN THESE TWO LITTLE VILLAGES IN THE MIDDLE EAST, AND THEY... THEY BURNT THEIR IMMATURE CROPS OF GREEN WHEAT, AND SO THEY WERE LEFT WITH THIS CHARRED GRAIN. >> NOTHING, THEY THOUGHT. >> RIGHT. SO THEY RUBBED OFF THE GRAIN, AND THAT'S WHERE THE FREEKEH NAME CAME FROM. THEY RUBBED OFF THE CHAFF. AND SO THEY STARTED COOKING UP THE GRAIN, AND THEY'RE LIKE, "HEY, THIS IS GOOD." SO THEY STILL MAKE IT. >> THE CROP WASN'T LOST. >> YEAH, EXACTLY. SO THIS PAELLA, I'M JUST MAKING SOME... SAUTEING SOME VEGETABLES, AND I TOOK SOME ANDOUILLE SAUSAGE AND GROUND THAT FIRST. AND YOU CAN USE A CHICKEN ANDOUILLE SAUSAGE, A REGULAR SAUSAGE, REAL SPICY. >> WHATEVER KIND YOU LIKE. >> BUT I ACTUALLY USE A VEGETARIAN SAUSAGE FOR THIS. FOR THIS, IT'S REALLY FLAVORFUL, AND IT'S GOT TONS OF PROTEIN. AND SO I BROWNED THAT IN A SKILLET FIRST. >> JUST CUT IT UP IN BITE-SIZED BITES. >> AND THEN...NOW I'M GONNA PUT IT BACK IN THERE AND JUST LET THAT SIMMER. AND NORMALLY THIS IS WHEN I WOULD ADD THE CHICKEN BROTH RIGHT IN THE SKILLET AND THE DRIED BAG OF FREEKEH AND THEN JUST LET THAT SIMMER DOWN, BUT JUST FOR THE SAKE OF...FOR THE SAKE OF TIME, I ALREADY MADE IT OVER HERE. I'M JUST GONNA THROW IT ALL IN THERE. >> OH. ONE BAG MAKES APPROXIMATELY HOW MUCH? >> ONE BAG MAKES 2 1/2 CUPS. AND I'M ADDING A LITTLE BIT OF CLAM...A LITTLE BIT OF CLAM JUICE IN THERE. >> IS THAT JUST FOR FLAVOR? >> YEAH, A LITTLE FLAVOR. AND A LITTLE BIT OF GARLIC. OR A LOT OF GARLIC, DEPENDING. >> I WAS GONNA SAY, AND I HAD ALWAYS HEARD THAT NO MATTER WHAT YOU'RE COOKING, EITHER SAUTE ONIONS OR ADD A LITTLE GARLIC, EVEN IF IT'S ON A SEPARATE PAN BECAUSE IT'S SO INVITING WHEN PEOPLE COME IN. >> YEAH! AND THEN I'M GONNA ADD THE FREEKEH IN THERE. >> OH, IT DOES LOOK A LOT LIKE COUSCOUS OR RICE. >> YEAH. >> THE TEXTURE AND THE SIZE. UH-HUH. >> AND YOU KNOW, WHAT I LOVE ABOUT THIS RECIPE IS THE PAELLA, YOU CAN USE WHATEVER... WHATEVER VEGETABLES YOU HAVE LEFT OVER IN THE FRIDGE, YOU KNOW, UM, ANY KIND OF SWEET PEPPERS AND GARLIC, WHATEVER. >> AND SO WE COULD ACTUALLY SERVE IT IN THE SKILLET OR COOK IT IN SOMETHING THAT WE COULD ACTUALLY SERVE IT IN. >> ABSOLUTELY. YEAH. AND PUT A LITTLE SPICY STUFF IN THERE. PUT A LITTLE CAYENNE PEPPER IN THERE, WHICH IS ACTUALLY-- I DON'T KNOW IF YOU KNOW THIS, BUT CAYENNE PEPPER ACTUALLY BOOSTS YOUR METABOLISM, BECAUSE IT HEATS UP THE BODY. >> I'VE HEARD THAT, UH-HUH. WELL, OF COURSE, AND THE GOOD THING ABOUT HAVING THE EXTRA FIBER IN OUR DIET IS BECAUSE WE FEEL FULL SOONER AND IT LASTS LONGER. SO WE DON'T TEND TO OVEREAT AS MUCH. >> EXACTLY. THAT'S-- >> SO WHILE THAT HEATS THROUGH, THIS IS...YOU WOULD GO AHEAD AND ADD THE SHRIMP. >> YEAH, ADD THE SHRIMP. >> UH-HUH. >> AND LET THAT COOK DOWN. ADD A LITTLE BIT MORE... JUST A LITTLE BIT MORE LIQUID, A LITTLE CLAM BROTH. YOU CAN ADD SOME FROZEN PEAS. >> THAT COLOR IS REALLY... THAT'S WHAT REALLY GIVES IT A PRETTY COLOR, ISN'T IT? >> YEAH. AND THEN ALL YOU'VE GOT TO DO IS LET THAT SIMMER JUST A FEW MINUTES UNTIL EVERYTHING IS... TILL EVERYTHING IS NICE AND COOKED. AND YOU CAN PUT SOME MUSSELS IN THERE. AND ACTUALLY, YOU KNOW, MUSSELS, YOU CAN GET THEM FRESH, AND JUST MAKE SURE YOU'VE RINSED ALL THE GRIT OFF. BUT IF YOU CAN'T FIND THEM FRESH, YOU CAN ALSO GET THEM FROZEN IN THE FREEZER. SO TAKE A LOOK THERE. >> SO YOU COULD MAKE THIS YEAR-ROUND. THAT'S THE GOOD PART. >> AND WHAT YOU WANT TO DO IS YOU WANT TO COVER THAT UP AND LET THAT SIMMER FOR A FEW MINUTES. HAVE A LITTLE GLASS OF WINE WITH YOUR GUESTS. >> WHILE YOU'RE WAITING, UH-HUH. AND THIS COULD BE AN INDIVIDUAL SERVING, BUT THE GOOD THING IS, IF YOU LET PEOPLE SERVE THEMSELVES, IF THEY WANT LESS OF THE FREEKEH OR MORE OF IT... I THINK A LOT OF PEOPLE WOULD WANT TO SAMPLE IT BECAUSE THEY'VE JUST NEVER HEARD OF IT. >> YEAH. WELL, AND RIGHT WHEN IT'S DONE, YOU WANT TO DEFINITELY MAKE SURE TO SQUEEZE IN SOME... >> I NOTICED YOU HAD THE LEMON ACCENTS, UH-HUH. >> YEAH. OH, AND I FORGOT THE MAIN INGREDIENT ACTUALLY IS THIS SPICE, SAFFRON. >> WHICH WE ASSOCIATE THE YELLOW COLOR. UH-HUH. >> SAFFRON IS A REALLY FLAVORFUL...REALLY FLAVORFUL SPICE, AND YOU JUST PUT THAT IN THERE. JUST A FEW LITTLE PIECES OF IT GOES A LONG WAY, AND IT MAKES A NICE LITTLE YELLOW. >> I DO THINK IT'S REALLY EASY TO OVERDO ON THE SAFFRON. SO YOU DO HAVE TO KIND OF LEARN. >> YEAH. JUST A LITTLE BIT. YEP. >> OK. AND THEN THE NEXT RECIPE ALSO USES THE SAME FREEKEH. SO AGAIN, IF WE ALREADY HAD IT MADE UP AHEAD OF TIME, BOY, THIS WOULD BE FAST FOR BREAKFAST, WOULDN'T IT? >> THIS IS A GREAT BREAKFAST, LIKE, IF YOU'RE...IF YOU'RE... IF YOU'RE KIND OF TIRED OF OATMEAL, AND YOU'RE STILL LOOKING FOR SOMETHING THAT'S KIND OF HEAVY AND SATISFYING AND GONNA GIVE YOU LOTS OF ENERGY TILL YOU'RE READY FOR LUNCH... >> START THE DAY. >> YEAH. YOU CAN COOK IT UP. AND THE WAY YOU COOK THAT ONE IS JUST USE THE REGULAR PLAIN FREEKEH WITH 2 1/2 CUPS OF WATER AND JUST LET THAT BOIL. AND THEN WHEN IT COMES TO A BOIL, YOU JUST PUT IN THE BAG, AND THERE'S A CUP OF FREEKEH IN HERE, AND IT BLOWS UP TO 2 1/2 CUPS. >> 2 1/2 CUPS. UH-HUH. >> YEAH. IT EXPANDS A LOT. SO WHEN THAT COMES TO A BOIL, JUST LET THAT SIMMER AND REDUCE DOWN, AND THEN IT COOKS UP, AND THEN YOU CAN TOP IT WITH ALL KINDS OF STUFF. YOU CAN TOP IT WITH A LITTLE BIT OF GREEK-STYLE YOGURT-- WHICH IS AWESOME, I LOVE IT-- IF YOU WANT TO ADD A LITTLE EXTRA CREAMINESS TO IT. AND YOU CAN PUT A LITTLE CINNAMON ON THERE, WHICH I LOVE CINNAMON. AND ANOTHER THING THAT'S REALLY GOOD IS, UM... YOU CAN, IF YOU WANT-- >> FRESH BERRIES. WELL, OR FROZEN, WHICHEVER YOU WANT. >> FRESH OR FROZEN BERRIES. AND SOME BANANA. WHAT ELSE IS REALLY GOOD IS IF YOU'RE COOKING IT IN A LITTLE BIT OF LIGHT COCONUT MILK, IT'S AWESOME. IT GIVES IT A LITTLE BIT OF CREAMINESS. >> THE COCONUT, UH-HUH. AND MAYBE THE ALMOND MILK WOULD BE A GOOD ONE. >> EXACTLY. >> AND I NOTICED YOU HAD ALMOND BUTTER. >> ALMOND BUTTER. >> IS THAT WHAT YOU WOULD USE TO COOK THE FREEKEH IN? >> YEAH, SOMETIMES I'LL PUT THAT IN IF I WANT A LITTLE EXTRA PROTEIN. I'LL ADD SOME ALMOND BUTTER OR SOME RAW PEANUT BUTTER, JUST A LITTLE TABLESPOON IN THERE JUST FOR A LITTLE CREAMINESS AND PROTEIN, AND THAT'S DELICIOUS, JUST TO VARY IT UP. >> AND WE KNOW IT'S SO IMPORTANT TO START EVERY DAY WITH BREAKFAST, AND IT'S REALLY EASY TO THINK OF EXCUSES. SO THERE'S NO EXCUSE. >> WELL, AND THE OTHER THING THAT'S GOOD ABOUT THE FREEKEH FOR BREAKFAST IS, IF YOU COOK SOME AHEAD OF TIME, YOU CAN PUT IT IN LITTLE BAGGIES AND PUT IT IN THE FREEZER. THAT WAY, IF YOU'RE, LIKE, RUNNING LATE FOR WORK, YOU CAN JUST TAKE IT WITH YOU AND JUST MICROWAVE IT IN A BOWL AT WORK AND JUST TAKE A BANANA WITH YOU AND CHOP IT UP, AND YOU'RE GOOD TO GO. >> I'LL BET YOU'RE CONSTANTLY THINKING OF RECIPES OR READING SOME OF YOUR OLD FAVORITES THAT CALL FOR RICE AND WE COULD EASILY SUBSTITUTE THE FREEKEH. >> OH, ABSOLUTELY. AND IT'S GOT A DIFFERENT TEXTURE THAN RICE. YOU KNOW, WHAT'S GREAT ABOUT IT, TOO, IN RECIPES LIKE CROCKPOT COOKING, IT STAYS... IT HAS A LITTLE BIT OF A CHEWY TEXTURE, AND SO... >> KIND OF LIKE A WILD-GRAIN RICE. >> EXACTLY. AND SO, UM... YOU KNOW HOW SOMETIMES, IF YOU HAVE SOUP IN THE FRIDGE FOR A COUPLE OF DAYS, THE RICE TENDS TO GET SORT OF SOFT? >> RIGHT. >> WELL, FREEKEH'S GREAT IN, LIKE, CROCKPOT COOKING OR SOUPS AND STUFF BECAUSE IT KIND OF STAYS FIRM AND YOU CAN KEEP IT IN THE FRIDGE A COUPLE OF DAYS. >> OH, THAT'S GOOD TO KNOW. WELL, THANK YOU SO MUCH. I REALLY LEARNED A LOT. I'M ANXIOUS TO TRY IT AND SEE HOW IT TASTES. THANK YOU VERY MUCH, BONNIE. >> THANK YOU. >> I HOPE YOU ENJOYED THE SHOW TODAY. NEXT TIME ON "CREATIVE LIVING," WE'LL LEARN HOW TO PAINT FAUX RED BRICKS, WE'LL DISCUSS THE NUTRITIONAL ASPECTS OF FRESH AND DRIED CALIFORNIA FIGS, AND WE'LL ALSO SHOW HOW TO MAKE WHAT MY GUEST REFERS TO AS "GREEN DECOR." WHETHER YOU WANT TO COVER UP A PLAIN WALL IN YOUR HOME OR CREATE A FAUX BRICK WALL, ONE OF THE GUESTS ON THE NEXT SHOW KNOWS EXACTLY HOW TO ACHIEVE A PROFESSIONAL LOOK. SHE'LL DEMONSTRATE CREATING FAUX RED BRICKS AS A WALL COVERING. ANOTHER GUEST IS THE C.E.O. FOR THE CALIFORNIA FIG ADVISORY BOARD, AND SHE'S GOING TO TALK ABOUT FRESH AND DRIED FIG VARIETIES AND COMPARE THE FLAVOR NOTES TO POPULAR WINE VARIETALS. SINCE FIGS HAVE BEEN AROUND SINCE PRACTICALLY THE BEGINNING OF TIME, HAVE YOU EVER WONDERED WHY THEY REMAIN SO POPULAR TODAY? MY GUEST WILL DISCUSS THIS AS WELL AS TALK ABOUT THE GROWING, HARVESTING, AND STORING OF CALIFORNIA FIGS. AND FINALLY WE'LL MEET A DESIGNER AND CRAFTER WHO WILL SHOW HOW TO TAKE ITEMS FROM AROUND THE HOUSE AND INCORPORATE THEM INTO NEW CREATIONS OR WHAT SHE CALLS "GREEN DECOR." ALL OF THESE TOPICS WILL BE FEATURED ON THE NEXT "CREATIVE LIVING" SHOW. IF YOU EVER HAVE COMMENTS OR SUGGESTIONS OR IDEAS FOR SHOWS, YOU CAN E-MAIL ME AT sheryl.borden@enmu.edu. I'D ALSO LIKE TO ASK YOU TO BECOME A FAN OF "CREATIVE LIVING" ON FACEBOOK. JUST GO TO facebook.com AND IN THE SEARCH WINDOW, TYPE IN "CREATIVE LIVING WITH SHERYL BORDEN." I HOPE YOU'LL PLAN TO JOIN ME NEXT TIME FOR "CREATIVE LIVING." >> WE ARE VERY PLEASED TO OFFER A NEW BOOKLET THAT ACCOMPANIES THIS SERIES OF "CREATIVE LIVING." THIS BOOKLET IS TITLED "THE 6700 SERIES," AND IT FEATURES A WONDERFUL COLLECTION OF IDEAS AND INFORMATION, AND IT'S AVAILABLE FREE OF CHARGE ON OUR WEBSITE. POSTED AS A "PDF" FILE, YOU CAN SIMPLY DOWNLOAD THE ENTIRE BOOKLET OR JUST THE SEGMENTS YOU'RE MOST INTERESTED IN. YOU'LL FIND INFORMATION ON FOODS, NUTRITION, CLOTHING, FASHION, HEALTH AND BEAUTY, HOME DECORATING, AND MUCH MORE. FOR YOUR COPY OF THIS NEW BOOKLET, GO TO OUR WEBSITE AT kenw.org AND THEN CLICK ON "CREATIVE LIVING," SCROLL DOWN TO THE BOOKLETS SECTION, AND YOU CAN CLICK ON THIS BOOKLET OR ON ANY OF THE OTHER BOOKLETS WE HAVE AVAILABLE ONLINE. JUST GO TO kenw.org, CLICK ON "CREATIVE LIVING," AND DOWNLOAD THE BOOKLET TITLED "THE 6700 SERIES." WE ALSO INVITE YOU TO SIGN UP FOR OUR FREE E-NEWSLETTER. JUST GO TO kenw.org AND CLICK ON THE "SIGN UP NOW" BUTTON AND INPUT YOUR E-MAIL ADDRESS. THAT'S ALL THERE IS TO IT. YOU'LL ENJOY READING AN UP-TO-DATE NEWSLETTER FILLED WITH INTERESTING TOPICS AND INFORMATION. THANK YOU.
Now Playing As: Captioned (English) (change)
Sheryl discusses the benefits of Freekah with Kelli Dunn. They create breakfast and party foods from the ancient grain. Sheryl also learns how to create an apron from a t-shirt and embellish it with various materials.
Media Details
Runtime: 27 minutes