Creative Living With Sheryl Borden #6712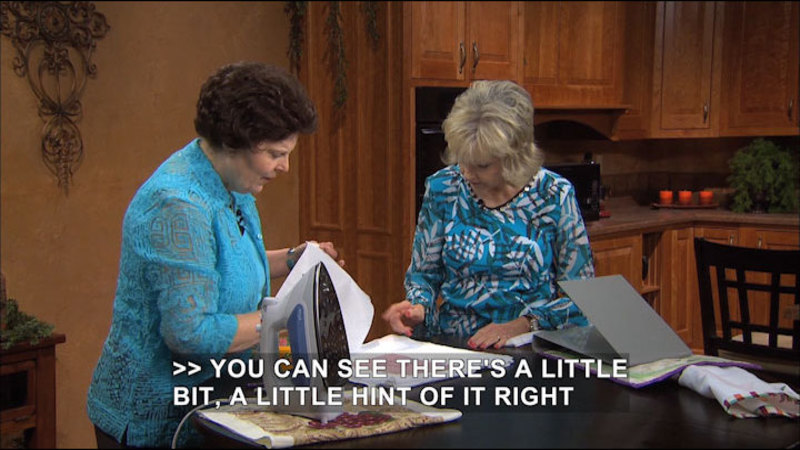 >> "CREATIVE LIVING," UTILIZING TODAY'S TECHNOLOGY WITH THE BEST OF THE PAST TO BRING YOU INNOVATIVE IDEAS AND UP-TO-DATE INFORMATION FOR CREATIVE LIFESTYLES IN TODAY'S ACTIVE WORLD, WITH YOUR HOST, SHERYL BORDEN. >> I'M SO GLAD YOU JOINED ME TODAY FOR "CREATIVE LIVING." WE'RE GOING TO LEARN HOW TO MAKE A FELTED FLOWER PIN, WE'LL DISCUSS SOME THINGS THEY DIDN'T TEACH IN BUSINESS SCHOOL, AND SHOW HOW TO TINT FABRIC WITH CHILDREN'S CRAYONS. ONE OF MY GUESTS TODAY IS MICHELE MUSKA, AND SHE'S WITH THE SIMPLICITY CREATIVE GROUP IN ANTIOCH, TENNESSEE. MICHELE'S GOING TO DEMONSTRATE THE NEW 12-NEEDLE, DELUXE ELECTRIC FELTING MACHINE AS SHE QUICKLY MAKES A FELTED FLOWER PIN. SHE'LL SHOW HOW TO LAYER LACE, SILK, VELVET, ROVINGS, AND YARNS TO CREATE A ONE-OF-A-KIND DESIGN. ANOTHER GUEST IS GARY BARNES, AND HE HAS SUCCESSFULLY BUILT 3 BUSINESSES FROM THE GROUND UP. TODAY HE'S GOING TO SHARE HIS SUCCESS BY TELLING SOME THINGS THEY DON'T TEACH YOU IN BUSINESS SCHOOL. FOR INSTANCE, HE SAYS THAT SUCCESS IS NOT INSTANTANEOUS, AND THAT WE SHOULD START SMALL AND GROW, BUT THE ONE THAT I HAVE TROUBLE WITH IS TO NOT BE AFRAID TO DELEGATE. HIS COMPANY IS GARY BARNES INTERNATIONAL, AND HE LIVES IN DENVER, COLORADO. WE'LL BEGIN WITH SHOW WITH EVELYN TERHUNE, WHO IS THE OWNER OF OZARK CRAFTS IN GILBERT, ARKANSAS. ACCORDING TO EVELYN, IT SEEMS ANYTHING RETRO IS POPULAR ONCE AGAIN, AND SHE'S GOING TO DEMONSTRATE FABRIC TINTING WITH CRAYONS, WHICH IS A GREAT TECHNIQUE THAT EVEN YOUNGER CHILDREN WILL ENJOY AS MUCH AS THE OLDER ONES WILL. EVELYN, IT'S NICE TO HAVE YOU HERE. I KNOW YOU'VE BEEN SEWING AND TEACHING FOR MANY, MANY YEARS, AND YOU HAVE LOTS OF THE NEW GADGETRY, MACHINES AND THINGS. BUT YOU WERE TELLING ME EARLIER ABOUT, WHEN YOU WERE GROWING UP, HOW YOU LEARNED TO REALLY GET INVOLVED IN CRAFTS AND HANDS-ON PROJECTS. >> YES, I WAS, AND THIS IS A PROJECT I'M GOING TO SHOW YOU TODAY THAT IS BOTH RETRO AND CURRENT. I ACTUALLY GOT INTO CRAFTING WITH MY GRANDMOTHER AND GREAT-GRANDMOTHER. THEY WOULD HAND-EMBROIDER THEIR DISHTOWELS AND PILLOWCASES, AND THEN LET US GRANDKIDS COLOR THEM WITH JUST OLD-FASHIONED CRAYOLA CRAYONS. IT STILL WORKS, AND YOU CAN CREATE A PERMANENT DYE WITH THOSE CRAYONS. >> AND NO FANCY MACHINE, DOESN'T COST ANYTHING? THAT'S AMAZING. >> THAT'S RIGHT, AND MOST PEOPLE HAVE SOME ON HAND. >> EVEN BROKEN ONES WILL WORK. >> THAT'S TRUE. >> THIS IS A LITTLE APRON YOU SAID--ARE THESE YOUR GRANDKIDS THAT DID THIS? >> THEY ARE. >> THIS IS SO NEAT. >> WHAT I DID WAS TRACE AROUND THEIR HANDS, AND ON THIS, I JUST USED A SHARPIE PEN BECAUSE IT'S A PERMANENT INK AND THEN LET EACH ONE CHOOSE WHATEVER COLOR THEY WANTED TO TO COLOR IN. I DID WRITE THE LETTERS OF THEIR NAMES SO THEY'D BE ROUGHLY THE SAME SIZE AND LET THEM COLOR THAT. AND EACH YEAR, WHAT THEY'LL DO IS PUT THEIR HANDS OVER THEIR HANDS, TRACE AROUND IT AGAIN, AND THEN THEY'LL HAVE RAINBOW HANDS AS THEY'RE GROWING. >> THAT'S NEAT. >> BUT THEY LOVE DOING IT, YEAH. YOU CAN DO THE SAME CONCEPT FOR BIRTHDAY PARTIES, WHATEVER. >> OH, IT WOULD BE A GOOD ACTIVITY, WOULDN'T IT? WELL, THAT'S REALLY--AND THIS IS JUST A LITTLE APRON THAT THEY CAN USE FOR LOTS OF THINGS. >> RIGHT. NOW, THIS RIGHT HERE IS A PLACEMAT THAT I MADE TO GO WITH MY DISHES, THE COLORS THAT ARE IN THOSE, BUT I WANTED SOME SUBTLETIES ON MY FLOWERS. I DON'T--CAN WE GET THOSE IN REAL CLOSE? >> UH-HUH. >> BUT WHAT I DID ON THAT WAS JUST TINT MY FABRIC WITH CRAYONS SO THAT I COULD GET THAT SUBTLETY. I KNEW I WAS GOING TO OUTLINE IT WITH MY SEWING MACHINE, JUST STITCHING IT DOWN. SO I DIDN'T WORRY ABOUT EDGES TOO MUCH, AND I'M GOING TO SHOW YOU HOW I ACCOMPLISHED THAT. >> OK. >> I TEND TO LIKE PRINTS BECAUSE IT GIVES ME A LITTLE TEXTURE, AND I'LL JUST MAKE A TULIP BECAUSE THEY'RE VERY SIMPLE. >> AND, YOU KNOW, FOR THOSE OF US WHO AREN'T ARTISTIC--I KNOW YOU ARE--BUT KIDS' COLORING BOOKS, COOKIE CUTTERS, THINGS LIKE THAT ARE SO GOOD TO USE AS PATTERNS. >> ABSOLUTELY. NOW YOU CAN SEE I'VE DRAWN THEM THERE, AND I TEND TO, IN THE CORNER, TEST MY CRAYONS THAT I'M GOING TO USE JUST TO SEE WHAT THE COLORS DO. IF I WANT LIGHT, I'LL GET A WHITE, PUT SOME LIGHT IN THE MIDDLE, AND THEN I'LL GO AHEAD AND PUT SOME OTHER COLORS AROUND THE EDGES. I LIKE THE MAIN COLOR TO SHOW THROUGH PRETTY WELL. >> AND I SEE WHAT YOU MEAN ABOUT USING A SMALL PRINT. IT GIVES IT DIMENSION. >> IT DOES. >> IT'S NOT A FLAT COLORING. >> AND THEN I PUT MAYBE A LITTLE BIT DARKER IN THERE. SEE HOW MUCH ROUNDER IT'S GETTING ALREADY? >> MM-HMM. >> I CAN PUT SOME PROBABLY DARKER DOWN HERE BECAUSE NEAR THE STEM, YOU TEND TO HAVE DARKER COLORS. OK, AND THEN BACK BEHIND, I WOULD COME IN WITH A PURPLE. HOPE I'M NOT DRAWING IN FRONT OF WHAT WE NEED TO SHOW HERE. >> NO, THAT LOOKS GOOD. >> BUT CAN YOU TELL WHAT I'M DOING THERE? THAT'S ALL I'M GOING TO DO RIGHT NOW. YOU GET THE EFFECT. I DON'T THINK I NEED TO DO THE OTHER TWO LEAFS. BUT THE IMPORTANT TRICK HERE IS NOW WE NEED TO HEAT-SET THIS, AND TO DO THAT, I NEED TO GRAB A COUPLE OF PAPER TOWELS. THE REASON WE USE PAPER TOWELS IS THERE IS WAX WITH THE COLOR IN HERE. YOU WANT TO KEEP THE DYE ON THE FABRIC, BUT NOT THE WAX. >> HEH HEH! GOOD POINT. >> SO I'VE GOT A HOT IRON HERE. >> NOW, ARE YOU USING STEAM OR DRY OR DOES IT MATTER? >> IT DOESN'T REALLY MATTER, BUT I PUT IT DOWN FOR ABOUT 10 SECONDS AND I DON'T WANT TO IRON IT LIKE THIS. IF I HAD A BIG SPACE, I'D JUST MOVE IT AND PRESS AGAIN. >> MM-HMM, JUST LIFT. >> AND ANY EXCESS WOULD COME OFF ON MY PAPER TOWEL. >> NOT THE IRON, TOO. >> YOU CAN SEE THERE'S A LITTLE BIT, A LITTLE HINT OF IT RIGHT THERE, BUT I'VE GOT MY NICE PERMANENT COLOR RIGHT THERE. >> AND IT IS WASHABLE, THEN, AFTER YOU SET IT? >> OH, YES, AND THEN I WOULD-- WHEN I HAD THIS HEAT SET, I WOULD FUSE IT TO MY FUSABLE, PUT IT ON MY PROJECT, AND THEN PROCEED LIKE YOU NORMALLY WOULD. AND IT HAS A LOT MORE TEXTURE THAN IF I'D JUST DRAWN THE FLOWER ITSELF AND THEN PUT IT ON JUST WITH THREAD. >> AND I CAN SEE THIS LITTLE BIT. THIS IS THE SAME PATTERN RIGHT HERE. >> IT IS EXACTLY THE SAME FABRIC, SAME FABRIC. >> WELL, IT'S FUN, AND I STILL THINK IT'S FUN TO GO BACK AND DO SOME OF THESE CRAFTS THAT WE DID LEARN WHEN WE WERE KIDS AND PASS IT ON TO OUR KIDS AND GRANDKIDS. >> YES, AND THIS IS ONE OF THOSE PROJECTS THAT KIDS CAN BE REALLY PROUD OF. THEY CAN TAKE SOMETHING THAT THEY'VE DONE. THEY CAN DRAW. LET THEM DRAW A DINOSAUR OR WHATEVER THEY WANT TO DRAW, AND TAKE IT IN AS A GIFT TO GRANNY OR TO THEIR HOMEROOM TEACHER, WHOEVER, AND THEY FEEL ACCOMPLISHMENT. >> FEEL PROUD OF IT. >> MM-HMM. >> WELL, I THINK THIS IS GREAT. THANK YOU SO MUCH FOR SHOWING US THIS EASY CRAFT. >> WELL, THANKS FOR HAVING ME TODAY. I APPRECIATE IT. >> GARY, IT'S SUCH A PLEASURE TO HAVE YOU HERE TODAY. I ENJOYED READING YOUR BOOKS, AND THEY'RE THE KIND I LIKE TO READ. THEY'RE WHAT I CALL A FAST READ. THERE'S A LOT OF INFORMATION IN THERE, AND I LEARNED A LOT FROM IT. AND I KNOW, AS A BUSINESSPERSON, AS AN ENTREPRENEUR, YOU'RE A BUSINESS COACH. IT PROBABLY WAS HARD TO GET THAT MUCH INFORMATION IN A SMALL BOOK, BUT THAT'S WHAT WE WANTED TO TALK ABOUT, IS WHAT MAKES SOME PEOPLE SUCCESSFUL AT BUSINESS. EVEN IF THEY HAVE A DEGREE IN BUSINESS, WHAT MAKES SOME SUCCESSFUL AND OTHERS MAYBE NOT AS SUCCESSFUL? >> YOU KNOW, SHERYL, THAT'S A GREAT QUESTION AND, YOU KNOW, WHAT WE LOOK AT--AND DEGREES ARE REALLY IMPORTANT TODAY BECAUSE IF YOU'RE GOING INTO A CAREER, A LOT OF TIMES, YOU WON'T EVEN GET LOOKED AT WITHOUT A DEGREE. ON THE ENTREPRENEURIAL SIDE-- AND ACTUALLY, IT'S ON BOTH SIDES--THERE'S A CONCEPT THAT SUCCESS IS ALMOST AN INSTANT THING. WE'RE AN INSTANT SOCIETY. >> UH-HUH. WE LIKE IT TO BE THAT WAY. >> OH, ABSOLUTELY. WE WANT OATMEAL IN LESS THAN A MINUTE, RIGHT? I MEAN, "WE'RE COOKING OATMEAL? GIVE ME A BREAK." BUT IT'S SOMETHING THAT, WHEN WE REALLY LOOK AT IT, IS THAT THERE IS A--WHAT I CALL A GESTATION PERIOD. THERE IS A GROWTH THAT, WHEN WE PLANT A SEED, THERE'S GOING TO BE A PERIOD OF TIME BEFORE WE SEE THE RESULTS. >> SURE. >> AND WHEN WE GET INTO BUSINESS, WHEN WE ARE AN ENTREPRENEUR OR EVEN IN A--JUST A REGULAR "CAREER-TYPE" JOB, WE WANT TO GO THROUGH THOSE RANKS SO QUICKLY AND WE WANT THAT INSTANT SUCCESS, LIKE INSTANT GRATIFICATION. >> WE'D JUST AS SOON START AT THE TOP. >> OH, ABSOLUTELY. >> WELL, AND I THINK BEING FLEXIBLE IS IMPORTANT, TOO, BECAUSE OBVIOUSLY WE'RE NOT GOING TO START AT THE TOP, AND HOW DOES THAT WORK FOR PEOPLE? >> WELL, I THINK IN TODAY'S SOCIETY, TODAY'S BUSINESS, IF WE'RE NOT FLEXIBLE, WE'RE GOING TO GET LEFT BEHIND BECAUSE THINGS ARE CHANGING SO RAPIDLY. AND SO THAT FLEXIBILITY GIVES US THE OPPORTUNITY TO REALLY ENGAGE WITH THE CHANGES THAT ARE HAPPENING AROUND US AND ALSO THE STIMULUS. I MEAN, WHAT ARE THE THINGS THAT ARE MOVING SOCIETY IN BUSINESS, IN THE ECONOMY? AND IF WE'RE NOT FLEXIBLE, WE'RE GOING TO MISS THE OPPORTUNITIES AS THEY COME TO US. >> WELL, AND I THINK THAT'S TRUE REGARDLESS OF WHAT FIELD PEOPLE ARE IN. YOU'VE GOT TO BE FLEXIBLE, AND ONE THING I ALWAYS LIKE TO ADD IS THAT DON'T TRY TO CHANGE THE WHOLE FORMAT OF HOW BUSINESS IS RUN YOUR FIRST YEAR. JUST SIT BACK, LEARN IT. YOU MAY HAVE BETTER IDEAS, BUT NOT THAT FIRST YEAR. YOU NEED TO KIND OF LET--GO WITH THE FLOW. >> I ALWAYS TALK ABOUT, YOU KNOW, WE KNOW WHAT WE DON'T KNOW OR WE DON'T KNOW WHAT WE THINK WE KNOW. YOU KNOW, AND WHEN WE'RE STARTING OUT, WE DON'T KNOW, AND SOMETIMES THAT'S GOOD BECAUSE WE MIGHT NOT HAVE STARTED THE JOURNEY. >> AND I GUESS--IS IT TRUE IN EVERY KIND OF BUSINESS, YOU NEED TO START SMALL AND GROW? I SEE A LOT OF BUSINESSES, EVEN IN OUR LOCAL TOWN, THAT SEEM TO OUTGROW THEMSELVES TOO SOON AND THEY GO UNDER. >> ABSOLUTELY, AND SOMETIMES, LIKE, THE SUPPLY AND DEMAND, THEY'RE NOT ABLE TO REALLY GIVE THE QUALITY RESPONSES TO THEIR CLIENTELE, THE PEOPLE THAT REALLY WANT THAT PRODUCT OR SERVICE. AND THERE'S ANOTHER ONE OF MY GARYISMS, IS "WHEN DOES IT FEEL BAD TO FEEL GOOD?" >> HA HA! >> SO WE CAN HAVE SOME GREAT SUCCESS, BUT IT'S TOO SOON AND IT TRIPS US UP, WE'RE OUT OF BALANCE. >> MM-HMM. ANOTHER ONE THAT YOU MENTIONED IN ONE OF THE BOOKS THAT I THOUGHT WAS SO TRUE, IT'S CALLED "DISAGREEMENTS OR DISAPPOINTMENTS ARE GOOD" BECAUSE WE ARE GOING TO SEE A DIFFERENT SIDE OF THINGS. >> YES, AND, YOU KNOW, IT'S THAT WISDOM OF OTHERS BECAUSE THEY'RE LOOKING AT THE SAME SITUATION FROM A DIFFERENT ANGLE. AND BECAUSE OF THAT, WE'RE GOING TO GET DIFFERENT INFORMATION, AND THAT INFORMATION COULD ACTUALLY SAVE US. IT'S ALSO TIED TO ADVERSITY BECAUSE WE THINK THAT JUST BECAUSE WE HAVE A GREAT IDEA OR THERE IS SOMETHING THAT WE WANT TO GIVE TO "THE WORLD" THAT WE'RE NOT GOING TO HAVE THOSE STUMBLING BLOCKS. AND, YOU KNOW, LIKE IN 1988, WHEN I WAS DIAGNOSED WITH M.S., THAT HERE I WAS IN THE MIDDLE OF MY CAREER, AND ALL OF A SUDDEN, I WAS GIVEN THIS DIAGNOSIS THAT SAID I WOULD BE DEAD OR IN A WHEELCHAIR IN 10 YEARS. BUT IT WASN'T SO MUCH WHAT WAS THE STIMULUS, WHAT HAPPENED TO ME, BUT MY RESPONSE TO THAT STIMULUS. AND THAT'S THE SAME IN ANY BUSINESS. WE'RE GOING TO HAVE THOSE THINGS THAT ARE GOING TO TRIP US UP IF WE ALLOW IT, BUT IT'S, YOU KNOW, THAT RESPONSE THAT WILL GIVE US THAT DISTINCTIVE RESULT THAT WE WANT. >> WELL, AND SOMETHING THAT'S REALLY ALWAYS BEEN HARD FOR ME, AND I DON'T KNOW IF IT'S BECAUSE I'M JUST SORT OF ANAL THIS WAY, BUT IT'S REALLY HARD FOR ME TO DELEGATE JOBS TO OTHER PEOPLE. BUT THAT HAS TO HAPPEN, ESPECIALLY AS A BUSINESS GROWS. HOW DO YOU TEACH PEOPLE LIKE ME TO BE ABLE TO DELEGATE? >> WELL, YOU KNOW, SHERYL, THAT IS SOMETHING THAT I THINK WE ALL STRUGGLE WITH, AND I THINK THERE'S TWO PRIMARY REASONS, IS THAT NUMBER-ONE, NO ONE CAN DO IT AS WELL AS WE CAN. >> OR WE THINK SO. >> OR WE THINK SO, AND SOMETIMES THAT IS ACTUALLY TRUE. THERE IS SOMETHING THAT WE WANT TO GIVE THE WORLD AND WE KNOW HOW WE WANT TO DO IT, AND SO NO ONE CAN BE IN OUR SKIN, YOU KNOW, EXACTLY. BUT I THINK THE OTHER REASON, SOMETIMES, THAT WE REALLY STUMBLE WITH THIS IS THAT WE LOOK AT THE ECONOMICS. WE DON'T THINK THAT WE HAVE THE RESOURCES TO BE ABLE TO DO IT, AND ONE OF THE THINGS THAT-- AGAIN, IT GOES BACK TO ANOTHER GARYISM--IS THAT I WANT TO BECOME EXCELLENT AT WHAT I'M GOOD AT, NOT JUST GOOD AT WHAT I'M BAD AT. AND SO, IF I'M GOING TO REALLY PROGRESS AND REALLY BE ABLE TO SHOW THE BEST AND BE ABLE TO TOUCH AS MANY PEOPLE AS I CAN, I HAVE TO BE WILLING TO DELEGATE, AND FROM THAT DELEGATION, I ACTUALLY EMPOWERED MYSELF AND OTHERS AND, HENCE, AM ABLE TO TOUCH MORE PEOPLE. >> WELL, IT'S CERTAINLY EASIER SAID THAN DONE, I KNOW, AND SOMETIMES WE HAVE TO HEAR THESE SAME THINGS OVER AND OVER. YOU'VE MENTIONED TWICE, I THINK, GARYISMS. THAT WAS ACTUALLY MY FAVORITE BOOK BECAUSE IT'S ONE PAGE PER TOPIC, SO I THOUGHT IT WOULD BE FUN IF I JUST PICK SOME OF MY FAVORITES AND YOU RESPOND. ONE SAYS, "FIND SOMEONE WHO'S BEEN THERE, DONE THAT, AND THEN RETURNED TO HELP OTHERS." >> YES. YOU KNOW, THE CONCEPT IS IT'S LIKE IN THE OLD WEST. WHEN EVERYONE WENT FROM THE EAST COAST TO CALIFORNIA, THEY HAD SOMEONE THAT HAD ALREADY BEEN A TRAILBLAZER. THEY DIDN'T WANT SOMEONE THAT HAD NEVER BEEN DOWN THE TRAIL BEFORE. AND I THINK THE KEY PART TO THAT IS SOMEONE THAT HAS DONE THAT AND IS STILL DOING IT BECAUSE WE WERE TALKING JUST A MOMENT AGO ABOUT THE FLEXIBILITY AND BEING WILLING TO ADJUST TO CIRCUMSTANCES. IF THEY'RE NOT STILL INVOLVED WITH WHATEVER IT IS THAT YOU'RE WANTING TO FOLLOW THEM, THEN-- >> MAYBE YOU SHOULDN'T BE DOING IT, EITHER. >> IT MIGHT NOT BE THE RIGHT COURSE OF ACTION. >> THAT'S REALLY A LOT TO SAY THERE. "WE DON'T HAVE A MANDATE TO SELL, BUT AN OBLIGATION TO SHARE." I LIKE THAT. >> OH, YOU KNOW, FOR YEARS-- I'VE BEEN IN THE SALES ARENA MY ENTIRE CAREER, SO IT'S OVER SO MANY YEARS. I DON'T EVEN WANT TO SAY THE NUMBER. BUT, YOU KNOW, I CALL IT "THE DOLLAR SIGNS IN THE EYES." WHEN WE GO IN AND IT'S OUR AGENDA FOR WHAT IT IS THAT WE WANT TO ACCOMPLISH, WE HAVE A CHALLENGE. AND IF WE ARE THERE REALLY FOR THAT PERSON THAT WE'RE WANTING TO ENGAGE WITH OR THEIR SOLUTION OR WHATEVER IT IS THAT THEY NEED IN THEIR LIFE RIGHT NOW, THEN IT'S THAT OBLIGATION TO SHARE, AND I THINK, FOR MOST PEOPLE, THEY REALLY BELIEVE IN THEIR PRODUCT OR SERVICE. IT'S JUST ALLOWING THE OTHER PERSON TO ATTACH TO IT AND THEIR TIMING. >> HMM. THAT'S INTERESTING. THIS ONE'S EASY: "GIVE THE GOOD." >> GIVE THE GOOD. YOU KNOW, I ALWAYS SAY YOU CAN EITHER BE GOOD OR GREAT. YOU MIGHT AS WELL BE GREAT. >> HA HA! >> AND SO THERE IS--YOU KNOW, IT'S ALL ABOUT CHOICES AND HOW, AGAIN, WE RELATE TO THE STIMULUS AND WHAT THAT MEANS TO US. >> MM-HMM. WELL, THAT'S INTER-- AND THEN "PAY THE PRICE TODAY FOR A PRICELESS TOMORROW." >> YOU KNOW, IT'S ABOUT DELAYED GRATIFICATION. >> MMM. >> IF WE DON'T REALLY ENGAGE WITH THE IDEA THAT, YOU KNOW, WE CAN--AGAIN, THAT GESTATION PERIOD. IF WE TAKE THAT CAKE OUT OF THE OVEN TOO SOON, IT'S NOT GOING TO DO REALLY WELL. AND SO, BY PAYING THE PRICE TODAY, MAKING THOSE DECISIONS TODAY, MAKING THOSE PHONE CALLS, MAKING THAT CONNECTION, HELPING SOMEONE ELSE WITHIN THAT SITUATION THAT THEY MAY BE IN, IT'S GOING TO PAY DIVIDENDS LATER. >> WELL, I COULD GO THROUGH THE WHOLE BOOK. IT'S GREAT. ALL OF YOUR BOOKS ARE WONDERFUL. THANK YOU VERY MUCH, GARY. I ENJOYED VISITING WITH YOU ABOUT IT. >> BEEN SUCH A PLEASURE TO BE HERE WITH YOU. >> THANK YOU. MICHELE, THANK YOU FOR BEING HERE. HOW DID YOU GET STARTED FELTING? >> OH, I STARTED SEEING IT HERE AND THERE, MAYBE 6, 7 YEARS AGO. AND I STARTED WITH NEEDLE FELTING--ONE NEEDLE WITH ROVING, AND IT BECOMES OBSESSIVE AND YOU CAN REALLY GO OVERBOARD BECAUSE IT'S ONE LITTLE NEEDLE, YOU'RE GOING LIKE THIS, AND I GOT TENNIS ELBOW. SO, YOU KNOW, I TOOK A FEW CLASSES IN NUNO FELTING, WHICH IS A JAPANESE METHOD. AND YOU TAKE WOOL ROVING AND YOU RUB IT INTO SILK, AND IT IS ABSOLUTELY BEAUTIFUL, BUT ALSO VERY LABOR-INTENSIVE. >> WELL, WHAT YOU MENTIONED-- NUNO. WHAT ARE OTHER TYPES OF-- >> WELL, YOU CAN DO WET FELTING, SO YOU CAN TAKE ROVINGS OF DIFFERENT TYPE. AND A ROVING IS SOMETHING LIKE THIS NICE, SOFT BABY ALPACA. >> BEFORE IT'S MADE INTO THREAD. >> BEFORE IT'S, LIKE, SPUN INTO THE YARN AND IT COMES IN ALL DIFFERENT COLORS. AND YOU CAN TAKE THAT AND LAYER IT, AND THEN YOU PUT IT IN BETWEEN, SO, LIKE, SARAN WRAP. BUT YOU WET IT WITH SOME SOAPY WATER AND YOU RUB IT AND RUB IT AND RUB IT, AND IT'S VERY LABOR-INTENSIVE. BUT IT COMES OUT WITH THIS REALLY THICK FIBER, THE FABRIC AFTERWARDS. ORIGINALLY, IN ANCIENT TIMES, THE MONGOLIANS USED TO TAKE ROVING FROM THEIR ANIMALS AND PUT THEM UNDERNEATH THEIR SADDLES OF THEIR HORSES. AND THEY WOULD RIDE ALL DAY, AND THE HEAT AND THE SWEAT FROM THE HORSE WOULD ACTUALLY MELD THE ROVINGS TOGETHER, AND THEY USED THAT FOR BLANKETS AND FOR THEIR TENTS. >> WELL, IT MAKES SENSE. >> MM-HMM. BUT TODAY, WE'RE GOING TO BE DOING NEEDLE FELTING, AND I HAVE A MACHINE THAT DOES ALL THE WORK FOR YOU. >> THAT'S AMAZING. I CAN'T WAIT TO SEE HOW IT WORKS. WE MIGHT SHOW, THIS IS WHAT WE'RE GOING TO MAKE TODAY. IT'S A CUT-OUT FLOWER, WHICH--THE ONLY THINGS I HAD EVER SEEN FELTING DONE ON WERE COMPLETE PIECES AND MAYBE ACCENT PIECES. SO THIS IS--YOU COULD MAKE AS MANY OF THESE LITTLE DETACHABLE FLOWERS AS YOU WANTED. >> AND IN MANY SHAPES, ANIMALS, YOU KNOW, YOUR SIGNATURE. I MEAN, YOU KNOW, THE LETTERS OF YOUR NAME, ANYTHING YOU WANT. >> UH-HUH, AND YOU MENTIONED THIS SILK. THIS IS A PIECE OF THE DUPIONI SILK. HOW DID YOU PREPARE IT? >> WELL, I JUST WANTED TO SHOW YOU THIS LITTLE INTERESTING TECHNIQUE. YOU CAN ACTUALLY JUST MAKE SOME TEXTURING AND USE IT AS AN ACCENT FOR YOUR PIECES.
[MACHINE WHIRRING]
SO WHAT IT DOES... IT ACTUALLY GATHERS IT LIKE IT'S BEING RUCHED OR SMOCKED. >> IT DOES. >> SO YOU CAN DO THAT ON, SAY, THE FRONT OF A PURSE OR A CUFF OF A JACKET OR A LAPEL. >> BUT AGAIN, THERE'S NO PATTERN TO IT. IT'S JUST RANDOM. >> YOU CAN DO RANDOM. YOU COULD DO A CRISSCROSS. YOU COULD DO A PATTERN. YOU COULD DO CIRCLES. YOU COULD DO WHATEVER YOU WANT. IT'S JUST ANOTHER TECHNIQUE THAT WE KIND OF DISCOVERED BY ACCIDENT WITH THE FELTING MACHINE. >> AND THESE ARE SOME OF THE SUPPLIES. YOU DO NEED-- THIS IS WOOL, ISN'T IT? >> THAT IS A WOOL FELT, AND IT'S VERY THIN, BUT IT'S VERY STRONG AND STABLE, AND THIS IS--IT TAKES A LOT OF PUNISHMENT FROM THESE NEEDLES, SO YOU NEED SOMETHING SUBSTANTIAL TO START WITH. BUT WHAT WE DO IS WE LIKE TO LAYER IT WITH BEAUTIFUL CHIFFONS AND METAL FABRICS AND ROVINGS AND YARNS AND VELVETS TO GIVE IT A LOT OF DEPTH AND TEXTURE. >> AND THIS IS SOME OF THE ROVINGS THAT YOU TALKED ABOUT. >> MM-HMM. >> LITTLE PIECES. THOSE WHO SEW WILL HAVE ALL KINDS OF LITTLE PIECES. >> YOU KNOW, WE NEVER THROW ANYTHING AWAY, DO WE? WE ALWAYS THINK WE'RE GOING TO USE IT AGAIN. >> AND THIS LOOKS LIKE A PIECE OF A TABLECLOTH? >> IT IS. IT'S ACTUALLY A VINTAGE TABLECLOTH, BUT, YOU KNOW, IT WASN'T USABLE ANYMORE, RIGHT, SO I SAVED SOME OF IT AND I CUT IT FOR THE BASE OF THE FLOWER TO GIVE IT JUST A LITTLE, YOU KNOW, EXTRA VISUAL INTEREST. >> OK. AND, OF COURSE, THE PATTERN YOU COULD GET OUT OF A COLORING BOOK OR OFF THE INTERNET. >> RIGHT, OR DO IT YOURSELF. VERY SIMPLE. THIS IS A 5-LEAF PATTERN THAT I USE A LOT. I LIKE TO USE-- >> AND THIS IS WHERE--NOW, YOU DON'T LEAVE A SEAM ALLOWANCE OR ANYTHING. YOU JUST CUT DIRECTLY AROUND THE PATTERN. >> RIGHT. SO WE WANT TO GET STARTED WITH THE WOOL BASE, AND THIS MACHINE ACTUALLY HAS A GUARD ON IT, SO YOU WON'T-- YOU KNOW, YOU GET EXCITED WHEN YOU GET IN THERE AND YOU DON'T HAVE TO WORRY, SO YOU CAN ACTUALLY HAVE KIDS WORK WITH IT. SO I USUALLY START WITH SOME ROVING AS A BASE. AND I FIND IT EASIER TO GO IN A NICE, ROUND... ROUND AND AROUND METHOD LIKE THIS. >> BUT YOU DON'T HAVE TO GET ALL OF THOSE EDGES FELTED DOWN? >> NOT AT FIRST. YOU MIGHT WANT TO JUST SEE HOW THINGS GO, HOW YOU'RE GOING TO MAKE A PLACEMENT. AND I MIGHT WANT TO PUT SOMETHING HERE. >> AND YOU DON'T WORRY ABOUT RAW EDGES OVER ANOTHER SURFACE? >> NO, BECAUSE YOU CAN ACTUALLY PUT SOMETHING ON TOP OF THAT IF YOU LIKE. NOW, THIS I FOLDED OVER BY ACCIDENT, AND SO I DIDN'T REALLY LIKE THAT I PUT THAT THERE. AND SINCE I DIDN'T, YOU KNOW, ACTUALLY FELT IT FOR A LONG PERIOD OF TIME, IT'S STILL REMOVABLE, SO I CAN PLACE IT SOMEWHERE ELSE. >> HOW HANDY. >> AND I CAN DO THIS. YEAH. SO IT'S, LIKE, NO MISTAKES. YOU DON'T HAVE TO WORRY ABOUT IT. >> NO MISTAKES. >> AND I USE THE DUPIONI, AND I JUST CREATE SOME NICE TEXTURE AND DEPTH BY LAYERING THE DIFFERENT FIBERS ON TOP. >> SO YOUR COLOR IS ADDED WITH WHATEVER YOU ADD TO IT. >> CORRECT. SO I'M USING A NEUTRAL PALETTE FOR THIS PIECE... >> MM-HMM. >> JUST BECAUSE I WAS USING IT WITH A BROWN HAT, AND I COULD TAKE THE PIN OFF AND USE IT ON A COAT OR SOMETHING LIKE THAT, TOO. AND THEN YOU CAN ALSO USE SOME YARN... TO ADD A LITTLE TEXTURE AND SOME SPARKLE. AND YOU MIGHT FIND WITH THE YARN, IF IT DOESN'T STAY DOWN BECAUSE IT'S THIN, YOU CAN ACTUALLY ADD A LITTLE PIECE OF ROVING OVER IT, AND THAT GETS IT TO STAY A LITTLE BIT BETTER. >> IT'S ALMOST LIKE PAINTING BECAUSE IF IT'S TOO BRIGHT-- LIKE, SAY, A THREAD YOU PUT ON THERE WAS TOO BRIGHT, IT JUST SORT OF TAKES AWAY--THE ROVING LOOKS LIKE IT WOULD SORT OF MAKE MORE OF A PASTEL. >> IT'S VERY PAINTERLY, AND I HAVE A LOT OF FRIENDS THAT ARE ARTISTS, THAT ARE PAINTERS THAT REALLY SEEM TO GRAVITATE TOWARDS FELTING. >> I CAN SEE WHY. >> SO ONCE YOU GET THIS REALLY NICE AND FULL AND A TEXTURE THAT YOU WOULD LIKE IT, YOU NEXT PUT YOUR PATTERN ON HERE. >> MM-HMM. >> AND THEN YOU CAN JUST CUT AROUND THE EDGE. >> INTERESTING THAT YOU DON'T LEAVE SEAM ALLOWANCES, YOU DON'T FOLD UNDER, OR... >> BECAUSE IT'S FELTED AND SO IT'S NOT GOING TO RAVEL OR FRAY OR, YOU KNOW. I MEAN, YOU CAN ACTUALLY, IF YOU WOULD LIKE, YOU CAN MAKE IT A LITTLE BIT MORE FINISH EDGE IF THAT'S THE KIND OF STYLE YOU PREFER, YOU KNOW. AND THEN, SO NEXT WHAT I DO-- TAKE THIS AND SHOW YOU WHAT THIS LOOKS LIKE, AND HERE'S YOUR FLOWER RIGHT THERE. SO THE NEXT STEP IS TO TAKE-- AND I USED BLACK, JUST SO YOUR VIEWERS COULD SEE IT A LITTLE BIT EASIER, SHERYL--IS I DID A RUNNING STITCH IN A CIRCLE AROUND THE MIDDLE... >> MM-HMM. >> LIKE THIS. >> NORMALLY YOU'D JUST USE A MATCHING THREAD. >> CORRECT, YEAH. AND THEN I'M JUST PULLING IT LIKE THIS. >> KIND OF GATHERING IT. >> GATHERING IT AROUND LIKE THIS. HOPEFULLY IT WON'T BREAK ON US. HA HA HA! >> HA HA! THE DOUBLE THREAD TECHNIQUE. >> YEAH. AND THEN I JUST DO A LITTLE BIT OF SLIP-STITCHING THROUGH. OK. AND THEN WE'RE GOING TO FINISH THE LACE. >> THAT'S THE BACK. UH-HUH. >> AND YOU COULD DO THE BACK WITH A SILK. YOU COULD DO IT WITH A BRIGHT-COLOR PIECE OF DUPIONI. YOU COULD DO A FELT. AND BASICALLY, I'M GOING TO LAYER THIS ON THE BACK, SCRINCH IT UP A LITTLE BIT ON THIS ONE, ACTUALLY, AND ALSO THAT ON AS WELL. >> OH, AND YOU'RE DOING THAT BY HAND. >> CORRECT. >> I WONDERED IF YOU USED THE FELTING MACHINE TO ATTACH IT. >> YOU COULD, BUT, YOU KNOW, SOMETIMES WITH THE LACE, BECAUSE THERE'S HOLES, IT DOESN'T QUITE...FELT QUITE AS WELL. >> I SEE. >> YOU CAN PUT LACE ON TOP OF THIS, BUT WHAT YOU WOULD NEED TO DO IS PUT A LITTLE ROVING AROUND THE EDGE TO CAPTURE THE LACE. >> UH-HUH. >> AND I'VE DONE THAT AND ACTUALLY STUFFED LITTLE BEADS AND SEQUINS IN IT, LIKE A LITTLE POCKET. >> OH, UH-HUH. >> SO THEN I TOOK SOME LITTLE BITS AND PIECES. I TOOK SOME LACE AND SOME METALLIC FABRIC LIKE THIS. VERY SIMPLE, AND SOME YARN, AND I JUST WOUND IT AROUND IN A CIRCLE... AND POOFED IT UP LIKE THIS, AND THAT BECAME MY CENTER. >> WELL, HOW NI--AND THEN, LIKE, THIS ONE HAS THE LITTLE PEARL ADDED. >> RIGHT, AND THEN I JUST ADDED SOME LITTLE PEARLS AND EMBELLISHMENTS TO THE MIDDLE. YOU CAN DO BUTTONS. YOU CAN DO BEADS. YOU CAN DO A LITTLE, LIKE, RHINESTONE PIN IF YOU LIKE. YOU CAN ADD SOME EXTRA TRIMS. >> AGAIN, THAT JEWELRY THAT'S BROKEN THAT-- >> EXACTLY, OR ONE EARRING OR WHATEVER. YEAH, EXACTLY. AND AS YOU CAN SEE, TOO, IN THE FRONT OF US, I'VE BROUGHT SOME REALLY BEAUTIFUL HAND-DYED VELVETS AND SOME CRUSHED-VELVET SILK THAT YOU CAN, YOU KNOW, REALLY DO ALL DIFFERENT COLOR WAYS TO MATCH EVERYTHING. >> THERE'S NEVER TWO OF A KIND, IS THERE? >> NO, EXACTLY. SO BASICALLY THIS IS WHAT YOU HAVE. >> THAT'S BEAUTIFUL. WELL, IT'S SO FUN TO WATCH THE MACHINE. IT'S ALMOST MESMERIZING TO SEE HOW IT WORKS, YOU KNOW, FAST. >> AND IT'S SO EASY. THAT'S THE BEST PART, SO EASY. >> NO TENNIS ELBOW WITH THAT. >> RIGHT, EXACTLY. >> WELL, THANK YOU VERY MUCH FOR BEING WITH US TODAY. >> YOU'RE SO WELCOME. IT WAS FUN. >> I HOPE YOU ENJOYED THE SHOW TODAY. NEXT TIME ON "CREATIVE LIVING," WE'LL LEARN HOW TO MAKE SOME DELICIOUS BREAKFAST AND PARTY FOODS WITH FRIKA AND DEMONSTRATE MAKING A NO-SEW T-SHIRT APRON. ONE OF MY NEXT GUESTS IS THE CO-FOUNDER OF FRIKA FOODS, AND SHE'S GOING TO DEMONSTRATE AN EXCELLENT DISH FOR ANY DINNER PARTY USING FRIKA. IT'S ALSO EASY TO START YOUR DAY WITH WARM BREAKFAST FRIKA, AND MY GUEST WILL DEMONSTRATE SOME BREAKFAST RECIPES AS WELL. WE'LL ALSO MEET A DESIGNER AND EVENTS COORDINATOR, AND SHE'S GOING TO DEMONSTRATE HOW TO CREATE AN APRON FROM A T-SHIRT AND THEN SHOW HOW TO EMBELLISH IT WITH VARIOUS PRODUCTS. BOTH OF THESE TOPICS WILL BE FEATURED ON THE NEXT "CREATIVE LIVING" SHOW. IF YOU EVER HAVE COMMENTS OR SUGGESTIONS OR IDEAS FOR SHOWS, YOU CAN EMAIL ME AT SHERYL.BORDEN@ENMU.EDU. I'D ALSO LIKE TO ASK YOU TO BECOME A FAN OF "CREATIVE LIVING" ON FACEBOOK. JUST GO TO FACEBOOK.COM, AND IN THE SEARCH WINDOW, TYPE IN "CREATIVE LIVING WITH SHERYL BORDEN." I HOPE YOU'LL PLAN TO JOIN ME NEXT TIME FOR "CREATIVE LIVING." >> WE ARE VERY PLEASED TO OFFER A NEW BOOKLET THAT ACCOMPANIES THIS SERIES OF "CREATIVE LIVING." THIS BOOKLET IS TITLED "THE 6700 SERIES," AND IT FEATURES A WONDERFUL COLLECTION OF IDEAS AND INFORMATION, AND IT'S AVAILABLE FREE OF CHARGE ON OUR WEBSITE. POSTED AS A PDF FILE, YOU CAN SIMPLY DOWNLOAD THE ENTIRE BOOKLET OR JUST THE SEGMENTS YOU'RE MOST INTERESTED IN. YOU'LL FIND INFORMATION ON FOODS, NUTRITION, CLOTHING, FASHION, HEALTH & BEAUTY, HOME DECORATING, AND MUCH MORE. FOR YOUR COPY OF THIS NEW BOOKLET, GO TO OUR WEBSITE AT KENW.ORG AND THEN CLICK ON "CREATIVE LIVING." SCROLL DOWN TO THE BOOKLET SECTION, AND YOU CAN CLICK ON THIS BOOKLET OR ON ANY OF THE OTHER BOOKLETS WE HAVE AVAILABLE ONLINE. JUST GO TO KENW.ORG, CLICK ON "CREATIVE LIVING," AND DOWNLOAD THE BOOKLET TITLED "THE 6700 SERIES." WE ALSO INVITE YOU TO SIGN UP FOR OUR FREE E-NEWSLETTER. JUST GO TO KENW.ORG AND CLICK ON THE "SIGN UP NOW!" BUTTON AND INPUT YOUR EMAIL ADDRESS. THAT'S ALL THERE IS TO IT. YOU'LL ENJOY READING AN UP-TO-DATE NEWSLETTER FILLED WITH INTERESTING TOPICS AND INFORMATION. THANK YOU.
Now Playing As: Captioned (English) (change)
Sheryl and a guest create a felted flower pin using a new embroidery machine, and a representative from Ozark Crafts demonstrates fabric tinting with crayons. Gary Barnes stops by to provide tips for starting a business.
Media Details
Runtime: 27 minutes