Creative Living With Sheryl Borden #6710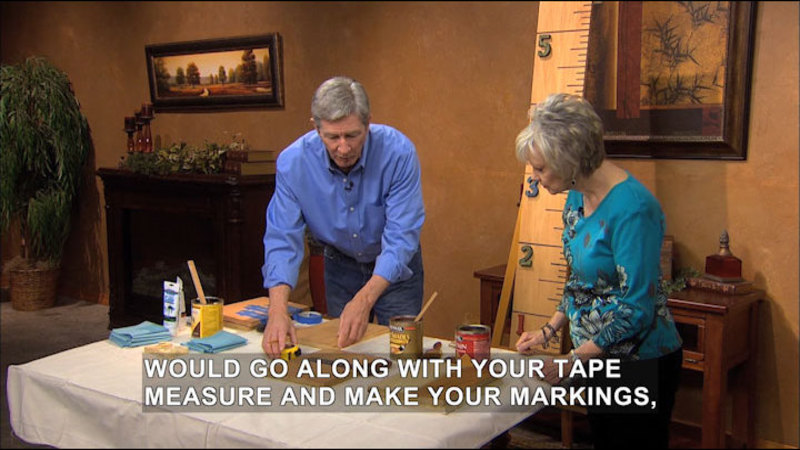 >> "CREATIVE LIVING," UTILIZING TODAY'S TECHNOLOGY WITH THE BEST OF THE PAST TO BRING YOU INNOVATIVE IDEAS AND UP-TO-DATE INFORMATION FOR CREATIVE LIFESTYLES IN TODAY'S ACTIVE WORLD, WITH YOUR HOST, SHERYL BORDEN. >> WELCOME TO "CREATIVE LIVING" TODAY. WE'RE GOING TO LEARN HOW IMPORTANT IT IS TO HAVE A POSITIVE ATTITUDE IN ALL AREAS OF OUR LIFE, WE'LL SEE HOW TO MAKE A REALLY CUTE GROWTH CHART TO MEASURE OUR KIDS' HEIGHTS, AND WE'LL SHOW HOW TO MAKE A KINDLE COZY TO PROTECT OUR TECH GADGETS WHEN TRAVELING. ONE OF MY GUESTS IS VINNIE PARRINELLO, AND SHE'S THE FOUNDER OF WAI HOPE ORGANIC SKINCARE. SHE KNOWS FIRSTHAND HOW FAITH, HOPE, AND A POSITIVE ATTITUDE EMERGED FROM ADVERSITY. SHE'S GOING TO TELL HER PERSONAL STORY ABOUT HOW SHE STARTED HER SKINCARE COMPANY TWICE, AND SHE'LL EXPLAIN HOW TO BECOME SUCCESSFUL IN BUSINESS. VINNIE IS FROM SAN DIEGO, CALIFORNIA. ANOTHER GUEST IS BRUCE JOHNSON, WHO REPRESENTS MINWAX, WHICH IS LOCATED IN UPPER SADDLE RIVER, NEW JERSEY. BRUCE IS GOING TO SHOW HOW TO USE AN OVERSIZED, WOODEN RULER TO MAKE A GROWTH CHART TO MARK THE HEIGHT MILESTONES AS A CHILD GROWS. AND FOR THOSE OF US WHO CAN'T GO ANYWHERE WITHOUT OUR COMPUTER GADGETS, WE'LL LEARN HOW TO MAKE A KINDLE COZY THAT PROTECTS AGAINST SCRATCHES AND DENTS WHEN TRAVELING. MY FIRST GUEST IS LAURA BRAY, WHO IS A CRAFTER AND DESIGNER, AND SHE REPRESENTS VELCRO U.S.A. AND LIVES IN ALISO VIEJO, CALIFORNIA. LAURA, THANKS SO MUCH FOR BEING HERE. I KNOW FROM WORKING WITH YOU BEFORE, YOU LIKE TO COME UP WITH NEW IDEAS AND NEW PROJECTS. YOU'VE EVEN SAID YOU SOMETIMES GO THROUGH MAGAZINES, AND SOMETHING WILL INSPIRE YOU, BUT YOU CREATE YOUR OWN. BUT THIS IS KIND OF--THIS PROJECT YOU'RE GOING TO SHOW US TODAY IS A LITTLE DIFFERENT. HOW DID YOU COME UP WITH IT? >> A LOT OF MY PROJECTS ALSO COME FROM NECESSITY. SOMETHING BOTHERS ME, AND I COME UP WITH A HANDMADE SOLUTION FOR IT. SO, IN THIS CASE, EVERYBODY HAS ELECTRONIC TOYS NOW. AND I HAVE A READER, AN ELECTRONIC READER, AND THEY COME WITH BEAUTIFUL-- YOU CAN GET BEAUTIFUL LEATHER CASES AND THINGS, BUT THOSE ARE QUITE HEAVY, AND I NEEDED SOMETHING THAT I COULD TRAVEL LIGHT WITH, BASICALLY. SO I CAME UP WITH THESE LITTLE COZIES TO PROTECT THE READER WHEN IT'S IN MY PURSE, BUT IT'S NOT GOING TO ADD A LOT OF WEIGHT BECAUSE IT'S JUST FABRIC. >> I SEE, AND I CAN FEEL THE PADDING, AND THAT'S WHAT'S IMPORTANT WITH THE TECHNOLOGY. >> RIGHT. WE WANT IT TO BE COZY. >> COZY. OH, I CATCH. HA HA HA! AND HERE'S ANOTHER ONE THAT JUST HAS THE VELCRO STRIP AT THE TOP. >> RIGHT. >> THE OTHER ONE HAD A TAB WITH VELCRO, SO GOOD WAY TO USE UP SOME LITTLE SCRAPS THAT YOU HAVE ON HAND. >> EXACTLY. YOU KNOW, I LOVE TO USE FABRIC SCRAPS UP. >> UH-HUH, BUT YOU ACTUALLY HAND-PAINTED THIS ONE, SO-- >> I DID HAND-DRAW THAT FABRIC. >> IF WE'RE SO CREATIVE, WE COULD DO THAT. >> HA HA HA! >> OK, HOW DO WE START? >> THE FIRST THING TO DO IS GET A PIECE OF FELT. THAT GIVES IT THE LITTLE BIT OF PADDING AND MAKES IT COZY. >> AND THERE'S DIFFERENT THICKNESSES, SO YOU COULD MAKE YOUR DECISION BASED ON THE WEIGHT OF THE STABILIZERS. >> RIGHT, AND I MEAN, THIS ISN'T GOING TO PROTECT IT IF YOU DROP IT ON THE GROUND, BUT IT'S GOING TO KEEP THE SCREEN FROM GETTING SCRATCHED UP IN YOUR PURSE BECAUSE MY PURSE HAS-- >> SUNGLASSES OR WHATEVER. YOU'RE RIGHT, MM-HMM. >> SO THIS PROJECT WOULD WORK, REALLY, FOR ANYTHING FROM A CELL PHONE UP TO A TABLET. YOU COULD PROBABLY EVEN DO A LAPTOP CASE, ACTUALLY, WITH THIS SAME TECHNIQUE. WHAT YOU NEED TO DO IS YOU NEED TO TAKE YOUR DEVICE AND LAY IT DOWN ON TWO PIECES OF FELT, AND MEASURE AROUND IT ABOUT A HALF AN INCH AROUND. >> ADD AN EXTRA HALF-INCH, MM-HMM. >> IN THIS CASE, IT'S 6" x 9". >> MM-HMM. >> AND JUST SEW 3 SIDES, LEAVING ONE END OPEN. >> OH, OK, LIKE A PILLOWCASE. >> RIGHT, BUT YOU DON'T WANT TO CLIP RIGHT NOW OR TURN ANYTHING OUT. THEN YOU WANT TO GET A PRETTY FABRIC. >> MM-HMM. >> IN THIS CASE, I USED THIS, FOR EXAMPLE, AND LAY THE PIECE YOU JUST CUT OUT ON TOP OF THE TWO PIECES OF FABRIC THAT ARE FACING RIGHT SIDES TOGETHER AND CUT AROUND IT. >> YOU DON'T MAKE IT ANY EXTRA BIGGER. >> NO, BECAUSE-- >> SAME SIZE, OK. >> BECAUSE YOU'RE GOING TO THEN CUT AROUND THIS. THAT'S WHY IT'S--AGAIN, YOU KNOW HOW MUCH I LIKE TO DO SHORTCUTS. >> UH-HUH. OK, SO THEN YOU'LL TRIM THAT TO JUST VERY CLOSE TO THE STITCHING LINE. >> RIGHT, AND THAT WILL GIVE YOU THE RIGHT SIZING DIFFERENCE FOR YOUR LINING. >> I SEE, YEAH. THAT MAKES SENSE NOW. UH-HUH. >> ONCE YOU HAVE BOTH PIECES CUT OUT, YOU'LL WANT TO TURN THIS SO THAT THE RIGHT SIDES ARE FACING...OUT. >> MM-HMM. >> AND THIS IS ALWAYS THE TRICKIEST PART WHEN YOU'RE LINING SOMETHING BECAUSE YOU DON'T WANT TO HAVE YOUR RAW EDGES ON THE INSIDE LININGS. SO THE WAY YOU PUT THIS INTO THE LINING IS YOU TAKE THE LINING ON THE OUTSIDE, YOU PUT-- >> OH, USE YOUR HAND, UH-HUH. >> AND YOU TUCK IT IN. >> NOW, THAT STEP'S EASY ONCE YOU GET THE OTHER ONE TURNED CORRECTLY. >> RIGHT. YOU JUST NEED TO PAY ATTENTION, AND THE GREAT THING ABOUT USING FELT IS YOU DON'T HAVE TO WORRY ABOUT WHICH IS THE RIGHT AND WRONG SIDE, NECESSARILY. >> NO, IT DOESN'T MATTER. UH-HUH. >> SO ONCE THOSE ARE SEWN, YOU'LL SEW ABOUT A 1/4-INCH AROUND THE TOP. >> SO YOU'RE FINISHING THAT TOP EDGE NOW. >> AND LEAVE ONE LITTLE OPENING TO TURN IT OUT. >> OH, I... >> AND THEN YOU'RE GOING TO HAVE A NICE, CLEAN INSIDE WITH NONE OF THOSE SEAMS. IT GETS A LITTLE CONFUSING. I START TO GET LOST WHEN I'M TURNING THESE OUT BECAUSE THEN YOU'RE LIKE-- >> OH, YEAH, "WHAT DID I DO WRONG?" HA HA HA! >> BUT DON'T FRET AT ALL. JUST TAKE A DEEP BREATH. IT'LL ALL COME TO YOU. SO ONCE IT'S, LIKE, PULLED OUT LIKE THIS, THEN YOU TUCK IT BACK IN. >> SO NO PRESSING. I MEAN, YOU JUST ARE PRESSING IT WITH YOUR HAND AS YOU PUT IT TOGETHER. >> AND THEN YOU JUST SLIDE IT BACK IN. >> AND LIKE YOU SAY, YOU COULD MAKE THIS TO FIT YOUR CELL PHONES. YOU COULD MAKE IT TO FIT A TABLET OR WHATEVER. >> AND SO YOU CAN SEE, BY DOING THAT TECHNIQUE, THEN YOU DON'T HAVE A ROUGH EDGE. IT LOOKS NICE AND FINISHED AND PROFESSIONAL. >> AND NOW WE GOT TO MAKE A CLOSURE. >> WELL, YOU STILL HAVE AN OPENING. YOU KNOW, YOU WANT TO STITCH. >> OH, THAT'S RIGHT. UH-HUH. >> FOLD THOSE DOWN AND TOP-STITCH. >> OK, JUST TO FINISH IT. >> TO CLEAN THAT UP. THEN YOU WANT TO MAKE A CLOSURE, AND I JUST CUT A LITTLE PIECE OF FELT. >> IT'S THE TAB TECHNIQUE THAT WE USED HERE. >> TO DO THIS TAB. >> UH-HUH. >> AND I SEWED A PIECE OF VELCRO TAPE ONTO ONE END, AND I USED THE ROUGH SIDE. >> THE LOOP. >> THE LOOP-TYPE, THE BOOK SIDE. THE REASON I DID THAT IS, WHEN IT'S OPEN, THAT WILL LEAVE THE SOFTER SIDE ON HERE, AND WHEN I'M BRUSHING AGAINST IT, AND IT WON'T STICK TO OTHER THINGS. >> THAT'S A GOOD POINT, YEAH, BECAUSE YOU COULD USE EITHER-- >> IT'S SOMETHING THAT PEOPLE, WHEN THEY'RE USING VELCRO TAPE, DON'T ALWAYS THINK AHEAD, AND THAT REALLY MAKES THE DIFFERENCE IN EASE OF USE. >> MM-HMM. >> AND THEN I JUST STITCH. THIS IS THE SEW-ON BRAND OF VELCRO FASTENER. >> MM-HMM, AND REALLY, THE SEW-ON, I THINK, WOULD PROVIDE LONGEVITY TO THE PROJECT. >> EXACTLY. >> YOU'LL WANT IT TO LAST. >> BECAUSE IF YOU'RE A READER LIKE ME, YOU'RE GOING TO BE-- >> IN AND OUT, MM-HMM. >> SO YOU'LL WANT TO GO IN AND SEW ON THE ONE SIDE, AND THEN TUCK YOUR... >> THE OTHER TAB. >> YOUR OTHER TAB, MAKING SURE THAT WHEREVER YOU PLACE IT-- I KIND OF TUCK IT IN AND MAKE SURE THAT IT'S GOING TO CONNECT. >> LIKE YOU DID ON THIS ONE. I SEE. >> AND THEN SEW RIGHT ALONG WHERE YOU TOP-STITCHED SO THAT YOU DON'T HAVE A LOT OF STITCHES SHOWING. TO COVER UP, I ALSO JUST GIVE IT A LITTLE EXTRA BECAUSE I HAVE TO ADMIT, I DON'T KNOW HOW TO SEW BUTTONS ON MY SEWING MACHINE. >> OH, HA HA! OK. >> SO VELCRO MAKES IT LOOK LIKE I HAVE A BUTTON CLOSURE. >> WELL, THAT'S GOOD. WHAT AN EASY PROJECT, AND LIKE YOU SAY, IT WAS SORT OF BORN OUT OF NECESSITY, KNOWING THAT YOU WANTED SOMETHING LIGHT. AND SOMETIMES, WHEN PEOPLE TRAVEL, TOO, THEIR SUITCASES MAY BE ALMOST TO THE LIMIT, SO IF YOU COULD ELIMINATE THAT BIG LEATHER CASE, THIS WOULD HELP. >> AND FOR THIS ONE, YOU COULD DO A LITTLE LONGER, AND INSTEAD OF DOING THE TAB, YOU COULD JUST SEW THE VELCRO TAPE INTO THE INSIDE TO HAVE A FULL CLOSURE. >> SURE, AND IT FOLDS CLOSED NICELY. WELL, THANK YOU VERY MUCH, LAURA. I APPRECIATE LEARNING HOW TO DO THIS. BRUCE, THANK YOU SO MUCH FOR BEING WITH US TODAY. I WAS SO EXCITED WHEN YOU SAID WE WERE GOING TO DO A GROWTH CHART BECAUSE I KNEW IT HAD TO BE MORE STABLE THAN THE GIRAFFE I'VE STILL USED ON THE BACK OF MY DOOR FOR ALL THESE YEARS WITH MY KIDS AND GRANDKIDS. >> OH, YEAH. AND, YOU KNOW, SHERYL, I REMEMBER ONE TIME MOVING INTO A HOUSE, AND THE KITCHEN DOORWAY HAD BEEN WHERE THEY HAD MEASURED EACH OF THEIR KIDS. AND I FELT BAD PAINTING OVER THEIR NAMES AND THE DATES. IT WAS HISTORY, AND WHEN THEY MOVED, IT COULDN'T GO WITH THEM. >> NO. >> AND SO I THOUGHT, WOULDN'T IT BE NEAT IF YOU HAD SOMETHING THAT YOU COULD TAKE WITH YOU AND SOMETHING THAT WAS NICE ENOUGH THAT YOU DIDN'T HAVE TO HAVE IT ON THE BACK OF THE DOOR? AND SO I CAME UP WITH THIS IDEA OF DOING A--IN THIS CASE, A 6-FOOT WOODEN RULER. AND YOU CAN STAND YOUR KIDS OR GRANDKIDS UP AGAINST IT, MEASURE THEIR HEIGHTS, WRITE THE DATES AND THAT SORT OF THING, AND NOT LOSE IT IF YOU HAVE TO MOVE. >> OH, I LOVE THIS IDEA, AND IT'S GOING TO BE SIMPLE ENOUGH WE CAN ALL DO IT, RIGHT? >> OH, WE CAN. IT'S JUST A MATTER OF SEVERAL LITTLE STEPS. >> OK. >> NOW, I'M USING POPLAR HERE. YOU COULD USE POPLAR, PINE, ANY WOOD YOU WANT. THIS IS ABOUT 10 INCHES WIDE. I LIKE THE WIDER BOARDS FOR THAT REASON. GOING TO GIVE US ROOM TO WRITE ON. >> OH, SURE. >> AND FOR PREPARATION, I'M JUST GOING TO TAKE SOME MEDIUM-GRIT SANDPAPER. THIS IS 150 GRIT, AND I ALWAYS GIVE IT A LIGHT SANDING, ALWAYS GOING IN THE DIRECTION OF THE GRAIN OF THE WOOD. >> I'VE LEARNED THAT THROUGH THE YEARS. >> WE DON'T WANT ANY OF THOSE CROSS-GRAIN SCRATCHES. AND THEN, AFTER THAT, I WOULD WIPE THE DUST OFF, AND ANY TIME YOU'RE DEALING WITH ANY OF THESE SOFT WOODS, THEY TEND TO TURN BLOTCHY WHEN YOU PUT A STAIN ON THEM. AND SO, TO PREVENT THAT FROM HAPPENING, I'M GOING TO USE THE PRE-STAIN WOOD CONDITIONER... >> OH, OK. >> THAT YOU BRUSH ON. THIS IS CONDITIONER. THIS IS JUST GETTING IT READY FOR WHEN WE PUT THE STAIN ON THERE. THIS IS GOING TO REDUCE THAT BLOTCHINESS. SO YOU JUST BRUSH THAT ON. >> THE WOOD GRAIN'S BEAUTIFUL, BUT WE DON'T WANT TO DO ANYTHING TO HURT THAT. >> NO, AND THAT'S WHY WE'RE NOT PAINTING THIS, TOO, BECAUSE IF YOU PAY FOR THE WOOD GRAIN, WE WANT TO SEE THE WOOD GRAIN. YEAH. NOW, THAT WOULD NEED-- THIS IS AN OIL-BASED WOOD CONDITIONER MADE BY MINWAX, AND SO THIS WOULD NEED 15 MINUTES TO TWO HOURS TO SET UP BEFORE WE'D STAIN IT. >> AND WE'D DO EACH OF THE SECTIONS. >> YEAH, WE WOULD DO THE WHOLE BOARD THIS WAY. I'M JUST DOING ONE QUICK SECTION HERE FOR US. NOW, THIS BOARD ALREADY HAS THE CONDITIONER ON IT, AND SO NOW IT'S READY FOR A STAIN AND FINISH. NOW, IN THIS CASE, I'M GOING TO USE THE POLY SHADES, WHICH IS A COMBINATION OF BOTH THE STAIN AND THE POLYURETHANE IN ONE COAT. >> SAVES STEPS. >> IT SAVES STEPS, YEAH, AND THIS IS THE PECAN IN A SATIN. >> THAT'S BEAUTIFUL, ISN'T IT? >> YEAH, AND AGAIN, NOTICE WE CAN STILL SEE THE GRAIN OF THE WOOD COMING THROUGH, BUT THE PECAN JUST GIVES IT A LITTLE BIT OF EXTRA COLOR, YOU KNOW. AND THE CRITICAL THING WHEN YOU'RE USING THE POLY SHADES IS JUST--NOTICE I'M JUST USING THE TIPS OF MY BRISTLES, AND JUST WORK IT BACK AND FORTH. >> I ALWAYS WONDER WHAT TELLS YOU TO USE EITHER A BRUSH OR THOSE SPONGE BRUSHES. >> WELL, THE SPONGE RAGS--THE SPONGE BRUSHES, LIKE A RAG, THEY'RE FINE FOR PUTTING ON A REGULAR STAIN. BUT ANYTIME YOU'RE DOING SOMETHING WITH A FINISH, THEN YOU WANT TO GO TO A BRISTLE BRUSH BECAUSE IT GIVES YOU MORE CONTROL. AND AS YOU CAN SEE, THIS GIVES US BOTH OUR COLOR AND THE POLYURETHANE PROTECTION. >> MM-HMM. NOW, THIS ISN'T A PRODUCT THAT WE PUT IT ON, WIPE IT OFF. >> NO, NO. THIS IS A LITTLE BIT DIFFERENT. THAT WOULD BE THE TWO-STEP, WHERE YOU PUT A STAIN ON, WITH A FOAM BRUSH IF YOU WANTED TO, WIPE IT OFF, LET IT DRY, AND THEN PUT YOUR POLYURETHANE ON TOP. >> OH, I LIKE THIS. >> POLY SHADES ARE BOTH OF THEM TOGETHER--STAIN AND FINISH. SO WE SET THAT ASIDE. THAT'S JUST OUR SAMPLE BOARD, AND THIS, THEN, WOULD BE WHAT IT WOULD LOOK LIKE WITH OUR POLY SHADES ON THERE. THIS IS NOW DRY. SO, AS YOU CAN SEE, BRINGS OUT THE GRAIN OF THE POPLAR HERE. AND WHAT WE'RE READY TO DO NOW IS TO TAKE OUR TAPE MEASURE AND OUR PENCIL AND OUR RULER, AND YOU WOULD GO ALONG WITH YOUR TAPE MEASURE AND MAKE YOUR MARKINGS, YOU KNOW, EVERY 3 AND 6 INCHES AS YOU GO DOWN YOUR BOARD. AND AFTER YOU'VE DONE THAT, THEN IT'S GOING TO LOOK LIKE THIS, AND YOU CAN SEE--NOW, WHAT I'VE DONE IS, AND HERE YOU CAN DO THIS ANY WAY YOU WANT IT, I MAKE MY 6-INCH MARKINGS, MY HASH MARKS, LONGER THAN THE 3-INCH ONES. >> JUST LIKE ON A REAL RULER. >> EXACTLY. YOU KNOW, AND THAT'S IT. YOU'RE JUST REALLY DUPLICATING WHAT A RULER LOOKS LIKE, AND THEN WHAT I'M GOING TO DO NEXT IS I'M GOING TO TAKE MY PAINTER'S TAPE BECAUSE WE WANT TO MAKE THESE STAND OUT BETTER THAN JUST A PENCIL MARK. >> I NOTICED YOURS WERE STRAIGHT. THEY WEREN'T CURVY. HA HA HA! >> AND THAT'S WHERE I CREDIT THE TAPE FOR THIS. >> OK. >> AND SO YOU PUT THE TAPE DOWN. >> MM-HMM. >> AND YOU WANT TO PRESS THOSE EDGES DOWN BECAUSE-- >> SO IT DOESN'T SEEP UNDER. >> EXACTLY. AND I'LL TAKE A LITTLE PIECE AND PUT IT ACROSS HERE, JUST LIKE SO. AND THEN IT'S JUST A MATTER OF--NOW, IN THIS CASE, I WANT TO APPLY A STAIN TO THAT, A DARKER STAIN. I'M GOING TO GO TO A GEL STAIN, AND, YOU KNOW, THESE HAVE THAT THICKER CONSISTENCY. >> I LIKE IT BECAUSE IT DOESN'T RUN. >> NO, AND IT'S PERFECT FOR WHAT WE'RE DOING HERE. >> OH, AND NOW YOU'RE USING THE BRUSH. >> I AM GOING TO USE THE FOAM BRUSH. BUT YOU KNOW WHAT, WE DON'T NEED VERY MUCH STAIN WHEN WE'RE DOING THIS, SO I GENERALLY DAB OFF THE EXCESS STAIN THERE, AND THEN I JUST DAB IT ON. I DON'T BRUSH AGAINST THE TAPE-- >> OH, BECAUSE YOU'RE GOING AGAINST GRAIN ANYWAY, SO I SEE. >> AND YOU DON'T WANT IT TO GO UNDERNEATH THE TAPE. I JUST WANT IT TO GO RIGHT ON TOP, LIKE SO. >> UH-HUH. >> AND THEN WE CAN SET THE GEL STAIN ASIDE AND THIS. >> AND THE GOOD THING IS THERE ARE SO MANY COLOR CHOICES WITH ALL THESE PRODUCTS THAT-- >> AND THEN, WHEN YOU DO YOUR PEEL-OFF, YOU DO YOUR REVEAL, YOU CAN SEE THAT WE'RE GETTING OUR HASH MARK THERE. >> MM-HMM. >> NOW, WE'LL SET THIS ONE OVER THERE, AND THIS IS WHAT IT WOULD HAVE LOOKED LIKE BEFORE WE STARTED DOING THE MARKINGS. >> THAT SHOWS ALL 3, THEN. >> YOU CAN SEE HOW IT WOULD SHOW UP ON THERE, THEN. AND SO IT'S A GREAT WAY, THEN, TO DIFFERENTIATE BETWEEN THEM. AND--ALL RIGHT, LET'S SET THIS IN HERE. AND THEN, YOU KNOW, AS A FINAL TOUCH, YOU SAW ON OUR FINISHED RULER WE DID NUMBERS, YOU KNOW. >> THOSE ARE REALLY CUTE, AND ESPECIALLY IN THE COLORS. >> YEAH, WE'VE GOT DIFFERENT COLORS. SO, IN A CASE LIKE THIS, WE'RE GOING TO GO TO--SO FAR, WE'VE BEEN USING THE OIL-BASED PRODUCTS. >> IN THE WOOD COLORS, UH-HUH. >> YEAH. THIS IS THE MINWAX EXPRESS COLOR. THIS IS AN INDIGO. AND WHAT I'M GOING TO DO WITH THIS IS I'LL TAKE MY NUMBER, AND AGAIN, NOW WE'RE GOING BACK TO THE FOAM BRUSH. >> OH, MM-HMM. >> AND WE'LL JUST START DABBING OUR NUMBER 3 HERE. >> OH, HOW FUN. YOU CAN MAKE IT LOOK--COORDINATE WITH THE CHILDREN'S BEDSPREAD. >> OH, EXACTLY, YEAH. AND LIKE YOU SAID, WITH LOTS OF COLORS TO CHOOSE FROM. AND THEN WE'LL JUST-- >> AND THOSE DRY SO FAST, TOO. >> THAT'S THE GREAT THING ABOUT THE WATER-BASED. WATER-BASED GIVES YOU LOTS OF CHOICES OF COLORS AND GIVES YOU THE ABILITY TO DO A PROJECT VERY QUICKLY BECAUSE IT'S GOING TO DRY IN JUST A MATTER OF MINUTES. >> I REMEMBER WHEN YOU FIRST CAME AND SHOWED US ABOUT THESE COLORED STAINS, SO EVIDENTLY THEY'VE DONE WELL BECAUSE THEY'VE CERTAINLY BEEN ON THE MARKET A WHILE. >> ABSOLUTELY. AND LIKE YOU SAID, IT'S NICE FOR THEM, WHEN YOU TAKE A LOOK AT YOUR FINISHED PRODUCT THAT YOU'VE GOT YOUR DIFFERENT NUMBERS ON THERE. AND NOW YOU CAN EITHER GLUE THESE ON, YOU KNOW, PUT SOME WOODWORKER'S GLUE ON THERE AND PUT A CLAMP ON THERE, OR YOU COULD USE A NAIL GUN OR A LITTLE BRAD AND A HAMMER AND ATTACH THEM ON THERE. DOESN'T MAKE ANY DIFFERENCE. >> WOW. >> AND IN THE END, THEN, LIKE I SAY, IN THIS CASE, WE'VE GOT A 6-FOOT RULER. IF YOU HAVE A STORAGE PROBLEM AND YOU DON'T WANT TO HAVE A 6-FOOT BOARD IN THE HOUSE, YOU CAN ACTUALLY CUT IT IN HALF AND HINGE IT ON THE BACK-- >> AND THAT'S WHAT YOU'VE DONE. >> ON THIS ONE, I ACTUALLY HINGED IT AND YOU CAN'T EVEN SEE THE HINGES BECAUSE THEY'RE ON THE BACK. >> THAT'S A GREAT IDEA, AND IF YOU WANT TO PUT IT UNDER THE BED OR IN THE CLOSET, IT DOESN'T TAKE UP SO MUCH ROOM. >> EXACTLY. AND LIKE I SAY, YOU CAN WRITE THE NAMES OF EACH OF THE KIDS AND THE GRANDKIDS ON THERE AND THE DATE, AND IT'S A MEMENTO FOREVER. >> IT IS. WELL, THAT'S A GREAT IDEA. THANK YOU SO MUCH. I'LL REPLACE MY GIRAFFE NOW.
[BOTH LAUGH]
VINNIE, THANK YOU SO MUCH FOR BEING HERE. I THINK WE'VE ALL HEARD THAT LAUGHTER IS THE BEST MEDICINE, AND WHEN YOU'RE ILL, YOU SHOULD ALWAYS DEVELOP A POSITIVE ATTITUDE, SURROUND YOURSELF WITH PEOPLE WHO ARE POSITIVE SO THAT YOU REMAIN POSITIVE AND UPBEAT. AND YOU'RE PROBABLY A LIVING EXAMPLE OF ALL OF THESE THINGS, AREN'T YOU? >> WELL, I HOPE SO. HA! I THINK GOD'S HAD A FUN TIME OF MY LIFE, ACTUALLY. >> CHALLENGES? >> YES, ABSOLUTELY. >> WHEN EVERYTHING'S GOING GREAT, THEN THROWING SOMETHING AT YOU. >> AND JUST KEEPS DOING IT, LIKE I'M AN ENERGIZER BUNNY. JUST KEEP BOUNCING BACK FOR MORE.
[BOTH LAUGH] BUT I LEARNED A LOT ABOUT
RESILIENCY AND ABOUT YOUR SPIRIT. >> SO WHAT REALLY HAPPENED TO YOU? >> WELL, I LOST MY PARENTS EARLY FROM--THEY HAD DIED OF CANCER, 6 WEEKS APART. >> MM-HMM. >> AND THEN I WAS DIAGNOSED WITH BREAST CANCER AT 31 YEARS OLD. MY LITTLE BOYS WERE VERY YOUNG. >> UH-HUH. >> AND I WAS VERY SCARED BECAUSE I THOUGHT, OF EVERYONE IN MY FAMILY, I WOULDN'T GET IT. MOST OF MY MATERNAL AUNTS AND COUSINS DIED FROM BREAST OR UTERINE CANCER. BUT I THOUGHT I DID THINGS DIFFERENTLY IN MY LIFE THAT I WOULDN'T GET IT. SO I STARTED REALIZING I NEEDED TO CHANGE THINGS, AND I STARTED TO GO BACK TO EATING LIKE MY GRANDMA AND HER SISTERS DID, MAKING THINGS FRESH. >> MORE NATURAL. >> RIGHT. SO, AS A RESULT OF THAT, I ENDED UP DEVELOPING A SKINCARE LINE AND STARTED USING THOSE PRODUCTS INSTEAD OF THINGS THAT HAD TOO MANY CHEMICALS IN THEM. >> AND YOU REALLY STUDIED ALL OF THOSE INGREDIENTS THAT ARE LISTED ON THE BACK THAT MOST OF US NEVER READ. >> YEAH, I REALLY DID BECAUSE IF I WANTED TO DO IT, I WANTED TO DO IT RIGHT. AND I WAS DOING IT BECAUSE IT WAS NECESSARY, IT WAS SOMETHING I HAD TO CHANGE. I HAD NO IDEA I WAS DOING THIS TO START A COMPANY. HEH! NEVER IN A MILLION YEARS WOULD I-- >> LIKE STARTING IN YOUR GARAGE AND IT ENDS UP BEING-- >> SERIOUSLY, YEAH. WE HAD BOXES OF PRODUCTS IN THE GARAGE-- HEH!--UNDERNEATH TABLES. WE PUT TABLECLOTHS ON ALL OF OUR TABLES BECAUSE UNDER THE TABLES WERE BOXES OF PRODUCT. >> THAT WAS YOUR INVENTORY. >> YEAH, EXACTLY. AND THE COMPANY GREW. THE FIRST COMPANY I HAD GREW TO BE VERY SUCCESSFUL. WE HAD BEEN FEATURED--ACTUALLY, THIS IS "PEOPLE" MAGAZINE. THE COMPANY WAS FEATURED IN THERE IN 2000. >> "A JAR OF HOPE, TO GO." >> "A JAR OF HOPE, TO GO." I LEARNED A LESSON JUST WITH THE NAME OF THE PRODUCT. I HAD CALLED IT HOPE AESTHETICS, AND MY STORY WAS ABOUT HOPE IN A JAR, SO EVERY PRESS RELEASE THAT WENT OUT, THEY SAID "HOPE IN A JAR." I DIDN'T KNOW ANOTHER WOMAN WOULD TAKE THAT AND NAME A PRODUCT "HOPE IN A JAR." >> OH. >> SO WHEN I WENT ON OPRAH WINFREY'S SHOW AND LAUNCHED OUR PRODUCT, IT WASN'T "HOPE IN A JAR." IT WAS CALLED "BELLISSIMA." OUR COMPANY NAME WAS HOPE AESTHETICS. BUT PEOPLE GOT VERY CONFUSED. >> WELL, YEAH. >> AND SO OPRAH'S MAGAZINE ALSO WROTE ABOUT US, AND IT REALLY GAVE US MOMENTUM AS A COMPANY. YOU KNOW, WE WENT ON THE HOME SHOPPING NETWORK AND SOLD-- >> "HOPE AESTHETICS, FOUNDED IN 1996." >> AND WE DID VERY WELL, AND I LEFT HOME SHOPPING TO TAKE CARE OF KIDS THAT WERE NOW TEENAGERS AND NEEDED A MOTHER HOME... >> MM-HMM. >> AND TAKE CARE OF MY COMPANY. SO WHAT HAPPENED IN 2007 WAS PRETTY DEVASTATING TO SAN DIEGO. WE HAD A FIRESTORM-- >> I REMEMBER THAT, UH-HUH. >> WELL, IT DEVOURED AND DESTROYED 3 OF MY RAW MATERIALS THAT WERE IN DRUMS--BIG, 50-GALLON DRUMS. AND THAT MADE-- >> THAT WAS AT THE WAREHOUSE WHERE THE DRUMS WERE? >> THE DRUMS WERE ACTUALLY, IRONICALLY, FOR THE FIRST TIME EVER, AT MY HOME. >> OH. >> WE WERE GOING TO DRIVE THEM UP TO THE MANUFACTURER ON MONDAY BECAUSE I WAS GOING TO GO MEET WITH THE MANUFACTURER TO TALK ABOUT DIFFERENT CHANGES IN THE FORMULAS. FOR THE FIRST TIME EVER, I HAD THOSE DRUMS AT OUR HOME, OUTSIDE. WELL, THE FIRE HIT AND WE WERE EVACUATED, AND WHEN WE WENT BACK TO THE HOUSE, THE DRUMS WERE DESTROYED, AND I LOST IT. >> AND SO HOW LONG WOULD IT HAVE TAKEN TO HAVE REPLACED ALL OF THOSE AND CONTINUED WITH YOUR COMPANY? >> PROBABLY ABOUT A YEAR AND A HALF. >> OH. WHAT WOULD YOU HAVE DONE IN THE MEANTIME? HEH! >> THAT'S WHAT HAPPENED. THE ACCOUNTANT SAT ME DOWN. I FELT LIKE I LOST A CHILD. THE COMPANY WAS 16 YEARS OLD. >> WOW. >> I DIDN'T KNOW WHAT I WAS GOING TO DO. WE LOST EVERYTHING. WE LOST ALL THE MONEY WE'D PUT INTO THE BUSINESS. PEOPLE COULDN'T COME TO WORK. MY HOUSE HAD SUFFERED $185,000 IN DAMAGE. TWO-THIRDS OF THE HOMES IN THE NEIGHBORHOOD WERE BURNED DOWN. WHEN I SEE THE DEVASTATION BACK EAST FROM THE HURRICANES AND LOOK AT THAT NEW JERSEY NEIGHBORHOOD, MY HEART GOES OUT TO THOSE PEOPLE. >> YOU CAN RELATE, UH-HUH. >> BUT FROM THAT TRAGIC MOMENT, WE HAD PEOPLE THAT CONTACTED ME THAT SAID, "SHE CAN'T STOP PRODUCING SKINCARE." BUT THEY DIDN'T KNOW I WAS DEVASTATED. IT WAS HEARTBREAKING. IT'S LIKE LOSING A CHILD AND HAVING PEOPLE TELL YOU TO GO HAVE ANOTHER BABY. YOU JUST DON'T THINK YOU CAN DO THAT. WELL, I DIDN'T THINK I COULD DO THIS TWICE, BUT I HAD NEVER USED SEAWEEDS BEFORE, SO GOD OPENED UP-- >> AND WHAT MADE YOU THINK ABOUT USING SEAWEED? >> I DID RESEARCH ON SOME SEAWEEDS, AND I USED SOME INTERNALLY TO HELP MY IMMUNE SYSTEM STAY STRONG TO FIGHT OFF THE CANCER AND OTHER AUTOIMMUNE DISEASES. SO I WENT, "YOU KNOW WHAT? WHY DON'T I MAKE THE SKINCARE LINE USING A LOT OF THESE SEAWEEDS, ESPECIALLY THIS RED FIJIAN SEAWEED?" >> THAT'S UNIQUE TO YOUR PRODUCTS. >> BLEW THE PANTS OFF MY OTHER SKINCARE LINE. >> OH, HA HA! >> WELL, SO NOW I COULDN'T EVEN HAVE SOLD THE TWO PRODUCT LINES NEXT TO EACH OTHER ON A SHELF BECAUSE I KNOW THIS ONE IS SO MUCH BETTER. >> UH-HUH. >> SO WAI HOPE--"WAI" ACTUALLY COMES FROM THE WORD "HAWAII." >> OH. >> AND IT MEANS "WATER LIFE." >> OK. >> AND THAT'S WHAT THE LINE DOES. >> AND THAT IS THE ONE THING I HAVE NOTICED, AND I DON'T USUALLY READ THE INGREDIENTS BECAUSE I CAN'T PRONOUNCE MOST OF THEM. BUT THE FIRST ONE'S ALWAYS WATER. >> YES, IT IS. >> AND THAT'S WHAT MAKES YOUR PRODUCTS UNIQUE, IS THE REJUVENATED WATER THAT YOU USE VERSUS TAP WATER. >> ABSOLUTELY. AND MY MESSAGE TO OTHER PEOPLE IS TO NOT GIVE UP. >> MM-HMM. >> IT LOOKS REALLY DIFFICULT AND YOU FEEL BREATHLESS SOMETIMES BECAUSE YOU'RE SO OVERWHELMED WITH GRIEF AND WHAT YOU'RE LOOKING AT, YOU KNOW. COMING BACK INTO OUR NEIGHBORHOOD AND SEEING ALL THESE HOMES AROUND US BURNED DOWN, I WAS GUILTY. I FELT GUILTY THAT MY HOUSE WAS STANDING. I DIDN'T KNOW WHY GOD DID THAT. I DIDN'T EVEN WANT TO CELEBRATE CHRISTMAS WITH PRESENTS THAT YEAR BECAUSE WE WERE GIVING THINGS TO OTHER PEOPLE WHO LOST EVERYTHING. >> YEAH. >> SO--BUT IN THE MIDDLE OF ALL OF THIS, THERE'S THIS CONSTANT-- IF YOU HAVE FAITH IN HIM, YOU HAVE THIS FLICKER OF HOPE. AND AS LONG AS THAT KEEPS FLICKERING, THEN YOU'RE OK, AND
THAT'S REALLY WHY I NAMED MY PRODUCTS: FOR THE FIRST LINE, "HOPE AESTHETICS" AND THIS ONE "WAI HOPE," BECAUSE I REALLY FEEL LIKE AS LONG AS YOU HAVE THAT, THEN YOU'VE ALWAYS GOT SOMETHING THAT YOU'RE GOING TO GET BY WITH. >> THAT'S AMAZING. WELL, YOU CERTAINLY HAVE LIVED THE LIFE OF CONTINUING TO HOPE. I SAW A QUOTE THAT SAID, "BEAUTY BELONGS TO THOSE WHO BELIEVE IN THE POWER OF THEIR DREAMS." >> RIGHT. >> ELEANOR ROOSEVELT. >> YES. >> AND YOU HAD A DREAM OF SKINCARE PRODUCTS THAT WERE ACTUALLY GOOD FOR THE SKIN, NOT JUST TO MAKE A LOT OF MONEY. >> I WANT TO HELP PEOPLE. >> UH-HUH, AND YOU DO. THAT'S PART OF YOUR MISSION, IS TO EDUCATE PEOPLE ABOUT SKINCARE PRODUCTS, WHICH--SOMETIMES WE JUST THINK, OH, IT'S ANOTHER BEAUTY PRODUCT. >> RIGHT. >> BUT BEAUTY AND SKINCARE ARE TWO DIFFERENT THINGS. >> YES, THEY ARE. IF YOU HAVE HEALTHY SKIN, JUST LIKE HAVING HEALTHY TEETH, THEY'RE PRETTY. IT DOESN'T MATTER WHAT AGE YOU ARE. THEY'RE PRETTY. AND I DON'T REMEMBER LOOKING AT MY AUNTIES, MY GREAT AUNTIES AND MY GRANDMA AND HER SISTERS ACROSS THE TABLE AND EVER THINKING THAT THEY WEREN'T PRETTY. >> OH, YEAH. >> AND MY GRANDMA'S GENERATION DIDN'T EVEN WEAR MAKEUP. THEY TOOK RED LIPSTICK, PUT A LITTLE BIT ON THEIR CHEEK AND RUBBED IT IN, AND WORE IT ON THEIR LIPS. >> A NATURAL LOOK. >> THEY DIDN'T WEAR ALL THIS OTHER STUFF, YEAH. SO IT'S NOT NECESSARILY BECAUSE OF THE COSMETICS THAT WE WEAR THAT WE'RE PRETTY. YOUR SKIN SHOULD LOOK NICE. YOU HAVE BEAUTIFUL SKIN. >> WELL, THANK YOU VERY MUCH. COMES FROM MY MOTHER, IF--GIVE HER THE CREDIT. >> VERY NICE OF HER TO GIVE YOU THAT. HA HA HA! >> WELL, THANK YOU SO MUCH. I REALLY HAVE LEARNED A LOT, AND I JUST ADMIRE YOU AND WITH ALL YOU'VE DONE AND WHAT YOU'VE OVERCOME, AND WHAT AN INSPIRATION YOU ARE TO ALL THE REST OF US. >> WELL, THANK YOU FOR DOING ALL THIS THAT YOU DO BECAUSE IT'S VERY IMPORTANT. >> I HOPE YOU ENJOYED THE SHOW TODAY. NEXT TIME ON "CREATIVE LIVING," WE'LL LEARN HOW TO SELECT THE RIGHT STYLE OF JEWELRY, WE'LL TALK ABOUT SOME COMMON CAT HEALTH PROBLEMS, AND WE'LL DISCUSS THE LATEST DIETARY GUIDELINES. USUALLY WOMEN CHOOSE AN ITEM OF JEWELRY JUST BECAUSE IT'S PRETTY. ONE OF MY NEXT GUESTS WILL EXPLAIN THE GUIDELINES FOR CHOOSING THE RIGHT JEWELRY FOR EACH BODY STYLE AND DIFFERENT FACIAL SHAPES. STUDIES SHOW THAT CAT OBESITY HAS RISEN OVER 90% SINCE 2007, AND PEOPLE ARE BEGINNING TO LOOK AT THEIR PET FOOD AS THE SOURCE OF HEALTH PROBLEMS. ANOTHER GUEST WILL TALK ABOUT SOME COMMON CAT HEALTH PROBLEMS. AND FINALLY, WE'LL TALK ABOUT THE NEW DIETARY GUIDELINES FOR AMERICANS AND THE POSITIVE NEWS IT HAS FOR DAIRY PRODUCTS IN OUR DIET. SHE'LL EXPLAIN MORE ABOUT THIS. ALL OF THESE TOPICS WILL BE FEATURED ON THE NEXT "CREATIVE LIVING" SHOW. IF YOU EVER HAVE COMMENTS OR SUGGESTIONS OR IDEAS FOR SHOWS, YOU CAN EMAIL ME AT SHERYL.BORDEN@ENMU.EDU. I'D ALSO LIKE TO ASK YOU TO BECOME A FAN OF "CREATIVE LIVING" ON FACEBOOK. JUST GO TO FACEBOOK.COM, AND IN THE SEARCH WINDOW, TYPE IN "CREATIVE LIVING WITH SHERYL BORDEN." I HOPE YOU'LL PLAN TO JOIN ME NEXT TIME FOR "CREATIVE LIVING." >> WE ARE VERY PLEASED TO OFFER A NEW BOOKLET THAT ACCOMPANIES THIS SERIES OF "CREATIVE LIVING." THIS BOOKLET IS TITLED "THE 6700 SERIES," AND IT FEATURES A WONDERFUL COLLECTION OF IDEAS AND INFORMATION, AND IT'S AVAILABLE FREE OF CHARGE ON OUR WEBSITE. POSTED AS A PDF FILE, YOU CAN SIMPLY DOWNLOAD THE ENTIRE BOOKLET OR JUST THE SEGMENTS YOU'RE MOST INTERESTED IN. YOU'LL FIND INFORMATION ON FOODS, NUTRITION, CLOTHING, FASHION, HEALTH & BEAUTY, HOME DECORATING, AND MUCH MORE. FOR YOUR COPY OF THIS NEW BOOKLET, GO TO OUR WEBSITE AT KENW.ORG AND THEN CLICK ON "CREATIVE LIVING." SCROLL DOWN TO THE BOOKLET SECTION, AND YOU CAN CLICK ON THIS BOOKLET OR ON ANY OF THE OTHER BOOKLETS WE HAVE AVAILABLE ONLINE. JUST GO TO KENW.ORG, CLICK ON "CREATIVE LIVING," AND DOWNLOAD THE BOOKLET TITLED "THE 6700 SERIES." WE ALSO INVITE YOU TO SIGN UP FOR OUR FREE E-NEWSLETTER. JUST GO TO KENW.ORG AND CLICK ON THE "SIGN UP NOW!" BUTTON AND INPUT YOUR EMAIL ADDRESS. THAT'S ALL THERE IS TO IT. YOU'LL ENJOY READING AN UP-TO-DATE NEWSLETTER FILLED WITH INTERESTING TOPICS AND INFORMATION. THANK YOU.
Now Playing As: Captioned (English) (change)
A representative from Wai Hope stops by to discuss the power of having a positive attitude in all situations. Sheryl also talks with Bruce Johnson from Minwax about making a growth chart for children. And crafter Laura Brey creates a Kindle Cozy.
Media Details
Runtime: 27 minutes