Creative Living With Sheryl Borden #6708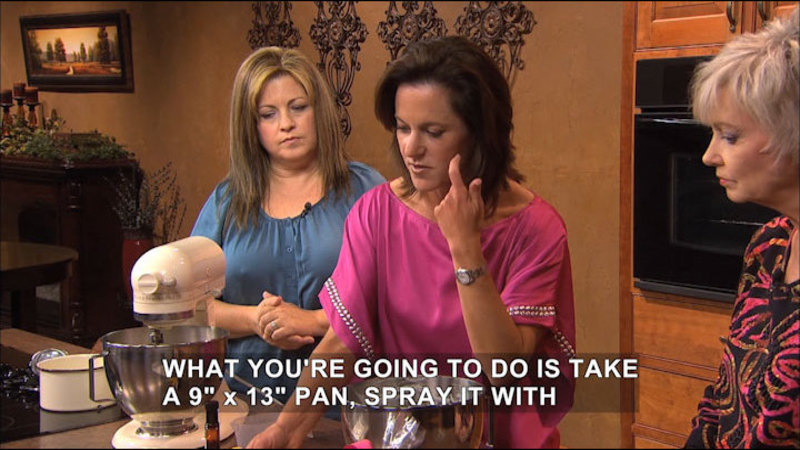 >> "CREATIVE LIVING," UTILIZING TODAY'S TECHNOLOGY WITH THE BEST OF THE PAST TO BRING YOU INNOVATIVE IDEAS AND UP-TO-DATE INFORMATION FOR CREATIVE LIFESTYLES IN TODAY'S ACTIVE WORLD, WITH YOUR HOST, SHERYL BORDEN. >> THANKS SO MUCH FOR JOINING ME TODAY FOR "CREATIVE LIVING." WE'RE GOING TO LEARN HOW TO PREPARE AND SERVE CALIFORNIA KING SALMON AND FIND OUT WHY IT'S SO GOOD FOR US. WE'LL LEARN SOME TECHNIQUES FOR USING PAINTSTIKS TO CREATE BEAUTIFUL FABRIC TREATMENTS, AND WE'LL ALSO LEARN TO PREPARE OUR OWN HOMEMADE MARSHMALLOWS, IN CASE YOU'VE EVER WONDERED HOW THEY'RE MADE. ONE OF MY GUESTS IS CONNIE MOYERS, AND SHE'S GOING TO TALK ABOUT WILD-CAUGHT CALIFORNIA KING SALMON, WHICH IS TASTY AND CONTAINS OMEGA-3 FATTY ACIDS. CONNIE WILL PAIR THIS WITH OTHER INGREDIENTS TO MAKE A MEAL THAT'S EASY TO PREPARE AND EXTREMELY HEALTHY. SHE LIVES IN CLOVIS, NEW MEXICO. ANOTHER GUEST IS LAURA MURRAY, AND SHE'S A QUILTER AND DESIGNER FROM MINNEAPOLIS, MINNESOTA. LAURA IS GOING TO DEMONSTRATE PAINTING QUILT BLOCKS TO CREATE A ONE-OF-A-KIND DESIGN. SHE'LL DEMONSTRATING USING PAINTSTIKS FOR STENCILING, CHANGING BACKGROUNDS, ADDING TEXTURE, AND MUCH MORE. HER BUSINESS IS LAURA MURRAY DESIGNS. AND WE'LL BEGIN THE SHOW TODAY WITH TWO COOKBOOK AUTHORS, KIMBERLY REINER AND JENNA SANZ-AGERO, WHO WILL SHOW HOW TO PREPARE HOMEMADE MARSHMALLOWS. THEY'LL SHARE AN OLD FAMILY RECIPE, WHICH IS INCLUDED IN THEIR COOKBOOK "SUGAR, SUGAR." EACH RECIPE IN THE BOOK HAS A WONDERFUL STORY THAT GOES ALONG WITH IT, SO WHETHER YOU LIKE TO COOK OR NOT, YOU'LL DEFINITELY ENJOY THE STORIES. THEY LIVE IN TARZANA, CALIFORNIA. JENNA AND KIMBERLY, IT'S SO NICE TO HAVE YOU HERE, TO HAVE ACTUAL COOKBOOK AUTHORS. YOU'RE KNOWN AS THE SUGAR MOMMAS, AND YOUR COOKBOOK IS "SUGAR, SUGAR." >> THAT'S RIGHT. >> HOW IN THE WORLD DID YOU COME ABOUT JUST A SWEETS COOKBOOK? I THINK IT'S THE BEST IDEA I'VE EVER HEARD. >> WELL, WE LIKE TO SAY, WHEN YOU SIT AROUND THE DINNER TABLE AND TALK ABOUT STORIES, NO ONE'S EVER TALKING ABOUT THE BRUSSELS SPROUTS. >> HA HA! YOU'RE RIGHT. >> SO, YOU KNOW, IT'S USUALLY THE FAMILY SWEET THAT HAS LEGACY AND STORY RELATED TO IT. >> YEAH, AND IT DEFINITELY CALLS TO MIND ALL THE GOOD MEMORIES, YOU KNOW, OF THE HOLIDAYS AND THE BIRTHDAYS AND THE CELEBRATIONS, AND EVEN SOME OF THE SAD TIMES THAT ARE MADE BETTER WITH SWEETS. >> UH-HUH. AND IT'S THINGS THAT WE PASS ON FROM GRANDMOTHERS TO THEIR DAUGHTERS, AND SO MANY OF THEM, IN YOUR RECIPE BOOK, WERE LIKE FROM GREAT GREAT GRANDMOTHER SO-AND-SO. >> ABSOLUTELY. >> AND WE TALKED ABOUT, WHEN WE WERE DOING THE PROJECT, WE ALWAYS WONDERED, DID THE GRANDMOTHER EVER KNOW WHAT KIND OF LEGACY SHE LEFT THROUGH COOKING? >> NEVER, PROBABLY. >> SO WE THOUGHT THAT THAT WAS SO SPECIAL, AND WE REALLY WANTED TO HONOR FAMILIES, AND AS JENNA TALKS ABOUT, YOU KNOW, SOMETIMES YOU DON'T ALWAYS HAVE VERY PRECIOUS THINGS TO PASS DOWN, BUT THESE RECIPES ARE-- >> THEY'RE PRECIOUS. >> THEY'RE TREASURES. THEY'RE SO VALUABLE. IT IS THE FAMILY-- >> AND THE MEMORIES OF, I CAN TELL YOU, JUST KNOWING THAT MY GRANDMOTHER, FOR EVERY GRANDCHILD'S BIRTHDAY, YOU GOT YOUR FAVORITE BIRTHDAY CAKE, AND, YOU KNOW, WE LOVED HER SO MUCH FOR THAT, AND WE CARRIED THAT ONE. >> AND YOU'RE DOING THAT. >> ABSOLUTELY, ABSOLUTELY. >> AND THIS RECIPE, I UNDERSTAND, YOU ARE A FUDGE MAKER. YOU HAVE A WINNING RECIPE FOR FUDGE. AS MOST OF US KNOW, IF WE'VE MADE FUDGE, IT EITHER CALLS FOR MARSHMALLOWS OR A MARSHMALLOW CREME, SO WHAT MADE YOU DECIDE TO MAKE YOUR OWN MARSHMALLOWS? >> WELL, WHAT HAPPENED WAS, I WAS IN THE KITCHEN MAKING FUDGE ONE DAY, AND I HAPPENED TO HAVE A STORE-BOUGHT MARSHMALLOW IN MY HAND, AND I THOUGHT, GEE, THIS WOULD BE REALLY GOOD DIPPED IN THE FUDGE. SO I DIPPED IT IN THE FUDGE AND, OF COURSE, OFFERED IT TO MY GUINEA PIG CHILDREN, WHO LAPPED IT UP, AND THEN I DECIDED TO GO ABOUT CREATING MY OWN MARSHMALLOW BECAUSE THEN I CAN CUT IT TO WHATEVER SHAPE AND SIZE I WANT IT. >> I THINK THAT'S AMAZING. I USE MARSHMALLOWS A LOT--GELATINS, SALADS, AND DIFFERENT--I NEVER THOUGHT THAT SOMEBODY COULD ACTUALLY MAKE THEM. >> AND THEY'RE SO EASY. AREN'T THEY? >> AND THEY'RE VERY EASY, AND THAT'S WHY WE WANTED TO SHOW YOU TODAY. >> OK. LET'S START AND SHOW US HOW YOU GO ABOUT MAKING IT. >> OK. SO, WE ARE GOING TO START, AS YOU SAID, WITH GELATIN. THIS IS 2 TABLESPOONS AND 1 TEASPOON OF GELATIN. YOU JUST TAKE 1/2 CUP OF COLD WATER... >> COLD WATER. >> JUST TAP WATER, AND YOU JUST COMBINE IT. JUST MIX TO COMBINE, AND THEN ALL YOU'RE REALLY GOING TO DO IS SET THIS ASIDE, AND THE GELATIN IS GOING TO ABSORB THE WATER. >> OH. OK. KIND OF LIKE YEAST, LETTING IT SIT. >> EXACTLY. IT'S GOING TO FORM, LIKE, A GEL. >> JUST LET IT FILL RIGHT UP. AND THEN OVER ON THE STOVE, WE HAVE 2 CUPS OF SUGAR, 1/2 CUP OF HOT WATER, AND 1/2 CUP OF LIGHT CORN SYRUP WITH 1/4 TEASPOON OF SALT, AND WE JUST BRING THAT UP TO ABOUT 240 DEGREES, WHICH, YOU KNOW, PEOPLE ARE A LITTLE INTIMIDATED BY THE CANDY THERMOMETER THING. YOU KNOW, IT'S AS SIMPLE AS JUST A LITTLE DOOHICKEY THAT SITS ON THE SIDE, AND YOU CAN LOOK AT IT, SEE WHAT IT'S AT. YOU WANT YOUR SUGAR ALL TO DISSOLVE. >> AND THAT'S A PROFESSIONAL TERM--DOOHICKEY. >> DOOHICKEY. >> YES, EXACTLY. IT IS. >> DON'T BE AFRAID OF THE DOOHICKEY. >> EXACTLY. >> OK. >> THE SYRUP IS GOING TO LOOK A LITTLE BIT LIKE THIS. IT'S GOT A NICE KIND OF GOLDENY AMBER COLOR. AND THEN ONCE WE GET THAT UP TO THE TEMPERATURE THAT WE WANT, WE ADD OUR GELATIN IN AND TAKE THIS THERMOMETER RIGHT OUT. >> OH, IT DID ABSORB. MY WORD. >> I KNOW. ISN'T THAT FAST? >> YEAH. IT'S SOLID. >> YEAH. SO YOU JUST POUR THE GELATIN RIGHT IN THERE. >> AND WHEN YOU PUT IT IN HERE, WHAT HAPPENS IS, IT JUST MELTS RIGHT IN. HERE. YOU GO AHEAD. >> THANK YOU. >> I THINK THAT MAY BE WHAT GIVES IT THAT CREAMY... >> AND IT GIVES IT ITS FIRMNESS. >> UH-HUH. >> IT KIND OF HOLDS IT ALL TOGETHER. IT'S THE DIFFERENCE BETWEEN THE MARSHMALLOW CREME AND THE SOLID MARSHMALLOW. SO THEN YOU TAKE YOUR SYRUP AND GELATIN, AND WHAT WE'VE GOT IN HERE IS 2 EGG WHITES, WHICH WE'VE WHIPPED UP TO STIFF PEAKS. >> UH-HUH. LIKE MERINGUE. >> EXACTLY. AND THEN YOU'RE GOING TO PUT IT ON A LOW SPEED AND POUR YOUR SYRUP--WE LIKE TO KIND OF POUR IT DOWN THE SIDE, AND IT JUST GETS ALL RIGHT IN THERE. AND THEN WE ADD A LITTLE VANILLA, 1/2 TEASPOON OF VANILLA IN THERE. VERY SIMPLE, AND THEN IT ALL KIND OF GETS TOGETHER. AND THEN WHAT YOU'RE GOING TO DO, ALTHOUGH WE'RE NOT GOING TO DO IT TODAY, IS POP IT ON UP TO HIGH AND WALK AWAY FROM IT. >> LIKE YOU WOULD NORMALLY MAKE MERINGUE--I MEAN, PUT IT ON HIGH. >> ABSOLUTELY. AND FOR 10 MINUTES, YOU'RE GOING TO LEAVE IT ON HIGH, AND AT THE END OF THE DAY, KIMBERLY CAN SHOW YOU WHAT IT'S GOING TO LOOK LIKE. >> THIS IS IT. >> AND LOOK AT THAT COLOR. ISN'T THAT PERFECT MARSHMALLOW WHITE? >> IT IS. IT'S PERFECT. >> SNOW WHITE COLOR. SO ONCE YOU HAVE YOUR MARSHMALLOW, WHAT YOU'RE GOING TO DO IS TAKE A 9" x 13" PAN, SPRAY IT WITH RELEASE SPRAY, AND THEN JUST TAKE A SPATULA, AND YOU'RE GOING TO POUR YOUR MARSHMALLOW RIGHT INTO YOUR PAN. AND AGAIN, YOU ARE JUST GOING TO LET THAT SET OVERNIGHT. >> DOES IT SET IN THE REFRIGERATOR? >> TAKE A PIECE OF PARCHMENT PAPER, COAT IT WITH SOME NONSTICK SPRAY AND PUT IT ON TOP, JUST TO SORT OF PROTECT THE TOP, AND NO, IT'S ROOM TEMPERATURE. >> JUST SET IT ON THE COUNTER. >> IF I HADN'T HAVE SEEN IT, I WOULD HAVE THOUGHT YOU'D PROBABLY BOUGHT THESE, BUT I SAW YOU MAKE THESE, AND THEY WERE IN THE PAN. WHAT BEAUTIFUL, PUFFY MARSHMALLOWS. >> AND THEY'RE SOFT AND SQUISHY, AND THEY'RE THE EXACT--I MEAN, THE DIFFERENCE BETWEEN A HOMEMADE MARSHMALLOW AND A STORE-BOUGHT MARSHMALLOW IS NIGHT AND DAY. >> NIGHT AND DAY. NOW, WE MIGHT MENTION, TOO, WHEN YOU TAKE THESE OUT OF THE PAN AND CUT THEM, YOU PUT THEM IN A BAGGIE WITH...WHAT? >> CORNSTARCH AND CONFECTIONER'S SUGAR. IT'S LIKE A HALF AND HALF. WE DO LIKE 1/2 CUP OF EACH, AND ONCE YOU TURN THEM OUT OF YOUR PAN, CUT THEM TO WHATEVER SIZE YOU LIKE, THROW THEM IN A ZIP BAGGIE, AND SHAKE IT. >> IS THAT WHAT KEEPS THEM FROM STICKING TOGETHER? >> EXACTLY, EXACTLY. AND THAT'S WHY WE USE A LITTLE OF THE CONFECTIONER'S SUGAR INSTEAD OF JUST CORNSTARCH, BUT IF YOU HAVE ONE OR THE OTHER ON HAND, USE WHAT YOU HAVE ON HAND. >> OK. AND THEN, WHEN YOU MAKE YOUR WONDERFUL FUDGE, DO YOU USE THIS? >> I USE THESE MARSHMALLOWS, AND I DIP THEM IN THE FUDGE, AND THEN I LET THAT SET OVERNIGHT. >> THAT SOUNDS DREAMY. >> IT IS HEAVENLY. >> AND DO YOU EVER GET ASKED FOR THAT RECIPE? >> WE HAVE GOTTEN ASKED FOR THAT RECIPE, AND IT IS PUBLISHED OR YOU CAN FIND IT ONLINE. >> OK. AND THE RECIPE COOKBOOK IS "SUGAR, SUGAR." YOU INTERVIEWED HUNDREDS OF PEOPLE ALL OVER THE UNITED STATES. YOU HAVE A GREAT COLLECTION, AND THE STORIES ARE JUST WONDERFUL. >> THANK YOU. >> THANK YOU SO MUCH FOR BEING HERE TODAY. >> THANK YOU. >> LAURA, THANK YOU SO MUCH FOR BEING WITH US TODAY, AND AFTER LOOKING AT YOUR WEBSITE, I THOUGHT, THIS IS RIGHT UP MY ALLEY. I'VE ALWAYS ENJOYED COLORING, AND I LOVE BRIGHT COLORS. I JUST LOVE TO COLOR. I LOVE TO COLOR WITH MY GRANDKIDS, SO THIS IS SORT OF LIKE THAT, BUT HOW DID YOU GET INTO USING THE PAINTSTIKS TO CREATE SUCH BEAUTIFUL QUILT PATTERNS? >> WELL, I HAD A LONG HISTORY OF DOING NEEDLEWORK, VARIOUS FORMS OF NEEDLEWORK, AND THEN I DISCOVERED QUILTMAKING, AND I FOUND OUT I COULD CHOOSE MY OWN FABRIC, AND THEN I PROGRESSED TO, OH, I COULD CHANGE MY FABRIC. I COULD MAKE IT ANYTHING THAT I WANTED IT TO BE, WHICH IS CALLED SURFACE DESIGN, SO IF YOU CAN DYE IT, PAINT IT, FOIL IT, STAMP ON IT, IF YOU CAN ENHANCE CLOTH IN SOME WAY, THAT MAKES ME VERY HAPPY. >> AND I'VE SEEN LOTS OF YOUR SAMPLES. YOU'VE DONE AN EXCELLENT JOB OF IT, SO I'M ANXIOUS TO LEARN HOW. LET'S GO AHEAD AND SHOW THIS BEAUTIFUL WALL-HANGING PIECE, AND WHAT DID THIS START OUT AS? >> WELL, IT STARTED OUT AS A PIECE OF HAND-PAINTED SILK THAT WAS PRETTY MUCH WHAT YOU SEE RIGHT IN HERE, AND ALL THE OTHER SEPARATE PIECES YOU SEE WERE WHITE SILK. >> WHITE SILK, AND YOU PAINTED EVERYTHING ELSE. >> I MADE TEMPLATES, AND I HAVE USED PAINTSTIKS AND A BRUSH TO ALTER IT. >> I CAN'T WAIT TO SEE HOW WE DO THIS. AND WE'LL START--THIS IS ACTUALLY WHAT YOU'RE GOING TO WORK ON IN JUST A MINUTE, A PIECE OF FABRIC SIMILAR TO THIS ONE. >> THAT WHAT YOU'RE SHOWING IS A NICE PURCHASED BATIK. IT'S A LITTLE BLAH, AND WE'LL TALK ABOUT HOW WE CAN TAKE IT FROM ITS ORIGINAL FORM TO USING PAINTSTIKS AND A BRUSH TO STENCIL AND SHADE AND ADD TEXTURE. >> SO THE BACKGROUND WAS DONE, TOO. THAT'S WHAT I JUST NOW NOTICED. >> THAT'S RIGHT. AND HERE'S ANOTHER SAMPLE OF THE SAME TECHNIQUE. >> UH-HUH. >> AND WHAT PAINTSTIKS ALLOW YOU TO DO, USING--I'M GOING TO USE 2 DIFFERENT BRUSHES HERE. >> SO WE DO NEED GOOD BRUSHES. >> OH, WE NEED GOOD BRUSHES. WE NEED PAINTSTIKS. THESE ARE A SELECTION OF THE IRIDESCENT PAINTSTIKS. ACTUALLY, THERE'S 21 COLORS TO CHOOSE FROM. >> WOW. THOSE ARE BEAUTIFUL COLORS, RIGHT THERE. >> I LOVE THEM BECAUSE THEY HAVE THIS IRIDESCENT SHEEN TO THEM. IT'S NOT SO MUCH A BLING AS A GLOW, A VERY RICH EFFECT, AND I LIKE, AS YOU DO, STRONG, RICH COLORS. >> I DO. UH-HUH. >> NOT BIG ON PASTELS, FOR ME. SO HERE'S HOW IT HAPPENS. I'M GOING TO FIRST SHOW YOU HOW TO STENCIL, AND THIS IS THE EASIEST FORM OF STENCILING YOU WILL EVER DO BECAUSE IT INVOLVES NO SKILL, NO PRACTICE... >> I LIKE THAT. >> AND TAKES NO TIME AT ALL. AND I'M USING A BRUSH THAT IS MADE SPECIFICALLY TO WORK WITH PAINTSTIKS. SEE HOW SHORT IT IS COMPARED TO A STANDARD STENCIL BRUSH? >> UH-HUH. SORT OF A STIPPLING TYPE BRUSH. >> YEAH. LOTS OF BRISTLES, SHORT, AND YOU CAN GO FAST, AND I'M ALL FOR GOING FAST. THIS ONE, I'LL USE IN A LITTLE BIT FOR SHADING, WHERE I GET A MORE SUBTLE EFFECT. BUT THE WAY YOU DO THIS IS-- THIS IS CALLED LOADING THE BRUSH. YOU BASICALLY SLAM SOME PAINT ON HERE. >> SLAM SOME PAINT ON THERE. MM-HMM. >> SLAM SOME PAINT ON THERE, AND THEN THERE ARE THINGS ABOUT PAINTSTIKS THAT ARE EXACTLY THE OPPOSITE OF WHAT YOU MIGHT THINK. IN TRADITIONAL STENCILING, WHAT YOU DO IS POUNCING. I COULD BE POUNDING AWAY HERE FOR A LONG TIME TO NO AVAIL. THE WAY THIS WORKS IS I'M GRINDING IT IN. >> OH. >> THINK OF IT LIKE--AND I'M JUST GOING TO DO ONE LITTLE PORTION BECAUSE WE SAW THE FINISHED ONE. IF I WANT TO DO SOME SHADING, I DO DEDICATE A BRUSH TO EACH COLOR. OTHERWISE, I WILL GET MUD. >> MM-HMM. >> BUT THIS IS NOT A DAINTY, GENTLE THING. I'M BASICALLY GRINDING COLOR IN HERE. THINK OF IT LIKE, YOU KNOW, A REALLY DIRTY PLATE IN YOUR SINK THAT YOU'RE SCRUBBING. >> UH-HUH. >> AND VOILA. >> AND IT'S SO FAST THAT WAY. THE STIPPLING, OR THE UP AND DOWN, IS SLOW. >> IT'S VERY FAST. THERE IS NO DANGER OF ANYTHING LEAKING UNDER THE EDGES, WHICH, OF COURSE, IS ONE OF THE BIG PROBLEMS WITH STENCILING WITH A LIQUID. >> DO YOU HAVE TO HEAT-SET THIS, THEN, LATER? >> IF YOU WANT TO WASH IT, YOU WOULD HEAT-SET IT, AND THIS IS OIL PAINT IN STICK FORM. >> OIL PAINT. >> IT'S OIL PAINT IN STICK FORM, SO WHAT YOU WANT TO DO IS LET IT DRY THOROUGHLY FOR 3 DAYS, AND I JUST THROW MINE IN A HOT DRYER FOR 1/2 HOUR, AND IT'S GOOD TO GO. >> OH. OK. >> OR JUST LEAVE IT ALONE FOR 2 MONTHS AND NATURE WILL DO THAT, BUT I COULD START WORKING WITH THIS RIGHT AWAY. IT'S NOT GOING TO FALL OFF OR FLAKE OFF OR ANYTHING LIKE THAT. >> OH. >> NOW, SOMETHING ELSE I CAN DO WITH A SOFT BRUSH IS CALLED SHADING. THINK OF IT A LOT LIKE PUTTING ON EYE SHADOW. >> OH. AND YOU'RE USING A LONGER-BRISTLE BRUSH. >> EXACTLY. PUT A LITTLE BIT OF PAINT, AND THEN I'M GOING TO GO TO KIND OF MY TESTER HERE, AND I'M JUST GOING TO MAKE SURE THAT I'M NOT--I WANT TO PUT IT ON VERY LIGHTLY. >> OH. >> SO I'LL GO BACK TO MY LITTLE SAMPLE HERE, AND SEE HOW EASY IT IS TO ADD COLOR, VERY SUBTLE COLOR, AND CREATE A BACKGROUND FOR MY LITTLE BUTTERFLY, AS I DID OVER HERE. THIS IS A GREAT SOLUTION FOR THAT NOT-QUITE-RIGHT FABRIC, YOU KNOW? IT'S CLOSE, BUT IT'S NOT QUITE RIGHT. >> IN FACT, THIS ALMOST LOOKED LIKE JUST A PLAIN MUSLIN, AND I THOUGHT, WELL, I GUESS YOU COULD USE THAT, BECAUSE IT CERTAINLY WON'T LOOK PLAIN WHEN YOU GET THROUGH. >> YEAH. NOW, SO, I'VE STENCILED. I HAVE JUST BRUSHED SOME COLOR ON. I COULD TAKE A DIFFERENT BRUSH AND ADD MORE COLORS, AS WELL. AND ANOTHER FUN THING I CAN DO IS TAKE A RUBBING PLATE. THIS IS CALLED A RUBBING PLATE. IT'S IN A LEAF FORM. I CAN PUT IT UNDERNEATH. I CAN TAKE MY BRUSH, THAT SAME BRUSH, AND SEE HOW I CAN PICK UP JUST LITTLE SECTIONS OF THIS? AND IN THIS MANNER, I CAN GO AHEAD AND I CAN ADD VERY SUBTLE TEXTURE TO ANY FABRIC. >> AND YOU'RE NOT HAVING TO REDISTRIBUTE THE PAINTSTIK. >> NO. I'M NOT LAYING DOWN MUCH PAINT HERE. >> IT'S AMAZING. >> I AM NOT LAYING DOWN MUCH PAINT HERE, AND FOR ALL YOU MACHINE EMBROIDERERS OUT THERE, THIS IS A GREAT TECHNIQUE THAT CAN BUILD A MORE DIMENSIONAL BACKGROUND TO THE WORK THAT YOU'RE DOING. >> OH! UH-HUH. >> BECAUSE A LOT OF MACHINE EMBROIDERY IS DONE ON A SOLID FABRIC, AND THIS IS A WAY TO BUILD A BACKGROUND SO IT'S NOT SO FLAT. YOU CAN MAKE IT MORE INTERESTING. >> I SEE, AND IT CERTAINLY IS EXEMPLIFIED IN THIS. BUT SINCE WE'VE GOT JUST A FEW MINUTES, LET'S GO AHEAD AND SHOW SOME OTHER THINGS--THIS BEAUTIFUL SCARF. AND WAS THAT DONE MUCH LIKE THIS? >> WELL, THIS WAS DONE PRETTY MUCH AS YOU SAW ME DO HERE. >> YOU PUT IT UNDERNEATH. >> I USED MY TURQUOISE. YOU CAN SEE THE TURQUOISE COLOR THERE. >> UH-HUH. >> WHERE YOU SEE SOME PURPLE, I USED PURPLE COLOR, AND THEN I PUT THIS UNDERNEATH, AND I DID THIS. IT'S ADDING TEXTURE USING THE BRUSH. IT'S A BRUSH RUBBING, AND THAT'S HOW YOU COULD TAKE A PLAIN WHITE SCARF. >> OH. AND THIS WAS PLAIN WHITE WHEN YOU STARTED? >> IT WAS PLAIN WHITE, STARK WHITE, WHEN I STARTED. >> WOW. AND THIS-- I LOVE THIS TECHNIQUE. THIS IS CALLED TORN EDGE? >> THE TORN EDGE. YEAH. THE TORN EDGE BASICALLY IS A GREAT WAY TO CREATE THE EFFECT ON LANDSCAPE QUILTS, OR I CAN KIND OF SEE THIS IS AS AN INSET IN A GARMENT, FOR EXAMPLE. ALL I DID IS TAKE A PIECE OF PAPER AND TORE IT. THAT'S IT. THAT'S THE TORN EDGE. THAT'S YOUR TOOL. AND THE REASON YOU WANT THE TORN EDGE, AS OPPOSED TO CUTTING IT, IS IT GIVES YOU A VERY SOFT EDGE. >> MORE OF A FEATHERED LOOK. >> EXACTLY. >> UH-HUH. >> AND I WOULD THEN GO BACK TO MY--BECAUSE I WANT A SOFT LOOK HERE. I JUST RUN RIGHT OVER THE TOP, AND I'LL JUST DO A LITTLE SECTION HERE, BECAUSE YOU CAN SEE I'VE BEEN WORKING ON THIS ONE FOR A WHILE. BUT SEE THE LINE I JUST MADE IN THERE? >> UH-HUH. IT'S VERY SOFT. >> IT'S VERY SOFT. I COULD MOVE THIS AROUND. I COULD ADD MORE COLORS. AS YOU SEE HERE, I WAS KIND OF GOING FOR THE SEDONA LOOK, I THINK, ON THIS ONE. >> IS THIS THE SAME TECHNIQUE? >> IT IS THE SAME TECHNIQUE. THE ONLY DIFFERENCE IS, I TORE MY PAPER DIFFERENTLY. I WAS TRYING TO GET THE EFFECT OF ROCKS. >> OH, I SEE. UH-HUH. IT'S REALLY BEAUTIFUL. >> SO YOU JUST CHANGE COLORS AND KEEP MOVING YOUR SHAPES AROUND, AND YOU GET THIS VERY NATURAL EFFECT. THIS WOULD BE GOOD IF YOU WERE DOING WAVES. >> I WAS GOING TO SAY WATER, TIDES. >> YES, YOU WOULD, YOU WOULD. THIS LITTLE ONE-- >> THIS IS BLACK FABRICS. >> YES. THIS IS BLACK FABRIC. ONE OF THE NICE THINGS ABOUT PAINTSTIKS IS THAT YOU CAN USE IT ON LIGHT TO DARK VALUES, SO THIS STARTED OUT--THIS IS MY LITTLE HUMMINGBIRD STENCIL. I AM A STENCIL DESIGNER, WHICH IS ALSO WHAT THE BUTTERFLY WAS. I DID THAT SAME, A LITTLE BIT OF TORN EDGE, A LITTLE TEXTURIZING, TO CHANGE THAT SOLID BLACK BACKGROUND. >> DO YOU START, THOUGH, WITH THE OBJECT, AND THEN DO THE BACKGROUND? >> YES. >> SO THAT'S KIND OF INTERESTING, TOO. >> I DO START WITH THE OBJECT, AND THEN I THINK OF IT AS THESE ARE MY LITTLE DRAMA QUEENS, AND I'M GIVING IT A SUPPORTING CAST, BECAUSE I LIKE THE EFFECT OF DIMENSION IN MY WORK, WHICH YOU GET BY HAVING LIGHTS, MEDIUMS, AND DARKS. >> WELL, THIS LOOKS LIKE NOT ONLY FUN, BUT SUCH A WONDERFUL WAY TO CREATE BEAUTIFUL DESIGNS. >> AND IF WE COULD GO BACK TO THE FIRST ONE WE STARTED WITH, THE WAY THIS WAS DONE--I WANT TO POINT OUT RIGHT DOWN HERE IN THIS CORNER. WHAT I NEEDED, BECAUSE MY ORIGINAL FABRIC THAT I FUSED ALL THESE PIECES TO AFTER I DID THE SHADING, WAS I'D WANTED TO GET MORE DARKS TO LIGHTS TO MEDIUMS. >> UH-HUH. >> I TOOK MY BRUSH, AND I WENT RIGHT OVER THE TOP LIKE THIS. YOU'RE NOT GOING TO SEE IT WITH THIS BECAUSE THE TURQUOISE IS TOO LIGHT, BUT THIS WHOLE SECTION IN HERE IS DONE JUST BY USING A BRUSH. SO YOU CAN USE THIS EVEN ON A FINISHED PIECE OF WORK IF YOU LOOK AT IT AND SAY, "IT WASN'T QUITE WHAT I WANTED." >> "I WANTED THIS A LITTLE MORE." WELL, THIS IS WONDERFUL. THANK YOU SO MUCH, LAURA, FOR SHOWING US HOW TO DO THIS TECHNIQUE. >> YOU'RE VERY WELCOME. >> CONNIE, THANKS FOR COMING TODAY, AND WHEN YOU COME, I ALWAYS KNOW YOU'RE GOING TO BRING SOME TIPS AND TECHNIQUES AND SOME REALLY EASY RECIPES WITH YOU. >> WELL, THESE ARE PRETTY GOOD, EASY RECIPES, AND I THINK YOU'LL ENJOY THEM. >> WELL, AND I THINK WHAT I'VE ALWAYS LIKED ABOUT YOUR COOKBOOKS AND PAMPHLETS AND THINGS, THERE'S USUALLY NOT A WHOLE LOT OF INGREDIENTS, AND SOME OF US HAVE THAT NUMBER, LIKE IF IT'S MORE THAN 6 INGREDIENTS, WE WON'T MAKE IT. AND SOMETIMES IT'S JUST A MATTER OF USING WHAT YOU HAVE ON HAND, BUT USING IT IN A DIFFERENT WAY. >> THAT'S TRUE, THAT'S TRUE. WE'RE GOING TO FIRST START TALKING ABOUT THESE ROLLS OVER HERE. I'VE CHOSEN SOME RHODES FROZEN ROLLS, AND, YOU KNOW, WE BUY STUFF LIKE THAT, AND THEY'RE SUCH A CONVENIENCE. THEY'RE SO NICE TO BE ABLE TO DO, AND WE DON'T HAVE TO KNEAD AND MIX, AND DO ALL THAT, BUT WE FORGET WE CAN DO A LOT OF OTHER THINGS WITH THEM. >> YOU MEAN BESIDES MAKE ROLLS? >> BESIDES MAKE ROLLS. >> OK. >> SO, THAT'S REALLY GOOD, AND I HAVE AN EXAMPLE OF SOME ROLLS I MADE, AND THAT WAS 2 OF THE INDIVIDUAL ROLLS PUT TOGETHER IN A MUFFIN TIN, AND THAW THEM, LET THEM RISE. SO THAT'S PRETTY EASY, AND YOU HAVE SOME BEAUTIFUL ROLLS LIKE THAT, AND EVERYBODY THINKS YOU JUST MADE THEM. >> JUST MADE THEM. HOMEMADE. >> AND YOU DID. HA HA! >> YOU DID. MADE THEM AT HOME. >> SO, I FOUND THIS RECIPE. I THOUGHT IT WAS JUST REALLY UNIQUE, AND I LOVE LEMON FLAVORS AND DIFFERENT TARTNESS, AND SO I THOUGHT, OH, THAT'LL BE FUN TO DO, AND IT'S SO DIFFERENT. >> THAT'S MADE WITH THESE SAME ROLLS? >> IT'S MADE WITH THE SAME ROLLS, AND WHAT I DID IS I THAWED THEM, BUT THEY WERE STILL COLD, AND I TOOK THEM IN 2 PIECES--YOU KNOW, JUST BROKE THEM APART--AND THEN JUST MASHED IT FLAT AND MADE ABOUT A 3" x 3" OVAL. >> OH, OK. >> IT WAS 12 ROLLS, AND THEN I DIPPED IT IN BUTTER, MELTED BUTTER, AND THEN IN SUGAR WITH LOTS OF LEMON ZEST, LOTS OF LEMON ZEST. >> THAT SOUNDS LIKE THAT RECIPE WE USED TO MAKE CALLED MONKEY BREAD, SORT OF. >> IT'S REAL SIMILAR TO IT, BUT IT'S NOT--I MEAN, IT'S SWEET, BUT IT HAS THE LEMON FLAVOR, TOO, YOU KNOW, BECAUSE THERE'S A LOT OF SUGAR AND SO FORTH ON IT. BUT I JUST KIND OF TILTED MY 9" x 5" PAN UP AND JUST LAYERED THEM IN THERE, KIND OF LIKE DOMINOES, LET THEM DOUBLE IN SIZE, RISE, BAKED IT FOR ABOUT 25 MINUTES, AND THAT WAS REAL SIMPLE. >> I UNDERSTAND YOU CAN ALSO PUT THESE IN YOUR REFRIGERATOR THE DAY BEFORE AND LET THEM RISE THERE, AND THAT EVEN CUTS DOWN TIME. >> OR JUST LET THEM THAW. >> OH, JUST LET THEM THAW. >> AND I HAVE, LIKE THE MONKEY BREAD, OR WE CALL IT PHEASANT HUNTERS BREAD AT OUR HOUSE-- I HAVE, YOU KNOW, YOU TAKE THAT OUT AND PUT THE FROZEN ROLLS IN YOUR BUNDT PAN AND LET IT SET OVERNIGHT, AND YOU CAN KEEP THAT IN THE REFRIGERATOR, AND THEN THE NEXT MORNING, IT'S READY. WE DO THAT A LOT FOR CHRISTMAS MORNING, AND SO WHILE WE'RE OPENING GIFTS, IT'S COOKING, AND THEN IT'S FRESH AND HOT, AND IT'S REALLY GOOD. >> AND THE HOUSE SMELLS SO GOOD. >> IT'S GOOD. AND THIS GLAZE WAS JUST LEMON JUICE, POWDERED SUGAR, AND CREAM CHEESE, AND DRIZZLED IT OVER THERE, TOOK IT OUT OF THE PAN WHILE IT WAS HOT, AND I JUST THINK IT MADE A YUMMY, REALLY DELICIOUS BREAKFAST, DESSERT... >> IT LOOKS YUMMY. I'M ANXIOUS TO TRY THAT. >> OR MID-AFTERNOON SNACK. >> RIGHT. >> SO, THE OTHER THING THAT WE'RE GOING TO FIX IS WE HAVE SOME SALMON, AND THIS WAS THE CALIFORNIA WILD-CAUGHT SALMON, THE KING SALMON. AND WHAT I DID IS, I JUST COOKED IT ON MY BROILER PAN AT 400 DEGREES. IT WAS A BIG, THICK PIECE, AND ACTUALLY I COOKED SEVERAL SO I WOULD HAVE SOME LEFTOVERS. >> UH-HUH. >> WE COULD USE THIS HOT OR COLD AND PUT IT ON A SALAD. WE JUST HAVE A BEAUTIFUL SALAD MIX HERE, AND SO WE'LL JUST POUR IT OVER THE TOP. >> AND I'VE ALWAYS FOUND THAT THE HARDEST THING ABOUT COOKING SEAFOOD IS TO NOT OVERCOOK IT, BECAUSE IT REALLY DOES COOK QUICKLY. >> IT DOES, AND I DON'T REALLY REMEMBER HOW LONG I COOKED THIS. LIKE I SAID, IT WAS A PRETTY THICK PIECE OF MEAT, BUT IT JUST WAS GORGEOUS. >> IT LOOKS IT. >> AND YOU CAN PUT A GLAZE ON IT IF YOU WANT TO. THIS IS SOMETHING THAT I JUST LEARNED ABOUT, AND THIS IS A BERTOLLI ITALIAN GLAZE. MY SON HAS BEEN TALKING ABOUT BALSAMIC REDUCTION THAT HE USES FOR THIS AND HE USES FOR THAT. HE PUTS IT ON SWEET THINGS. HE PUTS IT ON EVERYTHING. AND YOU COULD PUT SOME OF THIS AND SOME OLIVE OIL ON YOUR SALMON AS IT-- >> OH, WHEN IT'S COOKING. >> AS IT COOKS OR BEFORE, AND IT WOULD WORK GREAT. >> I'VE NEVER SEEN THAT, EITHER. >> AND SO THAT'S A REALLY NEW ADDITION THAT WE COULD USE FOR THINGS. I'M GOING TO PUT SOME PRETTY TOMATOES ON THERE AND SOME MUSHROOMS. >> JUST WHATEVER YOU HAVE HANDY. >> JUST WHATEVER YOU HAVE, AND THEN WE CAN ADD THESE BELL PEPPER STRIPS. >> AND DON'T YOU LOVE TO USE ALL 3 COLORS? >> OOH, I DO. AND I LIKE THOSE SMALL ONES THAT ARE YELLOW, ORANGE, AND RED. DO YOU USE THOSE A LOT? >> I HAVEN'T BOUGHT ANY, BUT I'VE SEEN THEM. >> THERE'S NOT AS MUCH WASTE TO THEM BECAUSE A LOT TIMES YOU DON'T NEED A WHOLE BELL PEPPER OR SOMETHING, SO THAT WORKS GOOD. THEN WE COULD JUST USE OUR FAVORITE BALSAMIC VINEGAR OR ANOTHER VINEGAR, OLIVE OIL, AND SOME MUSTARD, AND BE ABLE TO POUR THAT OVER THE TOP. >> BOY, THAT IS A QUICK RECIPE. >> OR JUST WHISK IT TOGETHER AND DRIZZLE IT ON THERE. >> AND WITH THE SALAD MIXES NOW, THAT JUST CUTS DOWN SO MUCH TIME. >> IT DOES. >> AND YOU HAVE SO LITTLE WASTE. >> IF YOU HAD A LUNCHEON OR FRIENDS OVER, WOULDN'T THAT BE A QUICK, EASY WAY TO DO IT? >> HAVE THAT, HAVE THIS FOR YOUR DESSERT, HAVE A BEVERAGE, YOU'RE THROUGH. >> THAT'S RIGHT. >> WELL, THAT'S GREAT, CONNIE. I KNEW I WOULDN'T BE DISAPPOINTED. THANK YOU FOR BRINGING THESE RECIPES TO OUR ATTENTION. >> THANK YOU. >> I HOPE YOU ENJOYED THE SHOW TODAY. NEXT TIME ON "CREATIVE LIVING," WE'LL LEARN HOW TO PREPARE CREPES, AND WE'LL SHOW HOW KITCHENS HAVE CHANGED AND EVOLVED SINCE 1920 TO THE PRESENT TIME. ON THE NEXT SHOW, WE'LL LEARN HOW TO MAKE A SIMPLE CREPE BATTER USING A BLENDER. MY GUEST, WHO IS A CHEF, WILL PREPARE BOTH A SWEET AND A SAVORY FILLING FOR THE CREPES. WE'LL ALSO MEET A KITCHEN AND BATH DESIGNER WHO WILL DISCUSS HOW KITCHENS HAVE CHANGED SINCE 1920, WHEN THEY WERE FIRST DESIGNED FOR EFFICIENCY, AND NOW WE REALIZE THE NEED FOR BEAUTY, TOO. YOU'LL ENJOY SEEING HER PICTURES, AND YOU'LL PROBABLY RECOGNIZE SOME OF THE ITEMS FROM YOUR MOTHER'S OR GRANDMOTHER'S HOMES. BOTH OF THESE TOPICS WILL BE FEATURED ON THE NEXT "CREATIVE LIVING" SHOW. IF YOU EVER HAVE COMMENTS OR SUGGESTIONS OR IDEAS FOR SHOWS, YOU CAN E-MAIL ME AT SHERYL.BORDEN@ENMU.EDU. I'D ALSO LIKE TO ASK YOU TO BECOME A FAN OF "CREATIVE LIVING" ON FACEBOOK. JUST GO TO FACEBOOK.COM, AND IN THE SEARCH WINDOW, TYPE IN "CREATIVE LIVING WITH SHERYL BORDEN." I HOPE YOU'LL PLAN TO JOIN ME NEXT TIME FOR "CREATIVE LIVING." >> WE ARE VERY PLEASED TO OFFER A NEW BOOKLET THAT ACCOMPANIES THIS SERIES OF "CREATIVE LIVING." THIS BOOKLET IS TITLED "THE 6700 SERIES," AND IT FEATURES A WONDERFUL COLLECTION OF IDEAS AND INFORMATION, AND IT'S AVAILABLE FREE OF CHARGE ON OUR WEBSITE. POSTED AS A PDF FILE, YOU CAN SIMPLY DOWNLOAD THE ENTIRE BOOKLET OR JUST THE SEGMENTS YOU'RE MOST INTERESTED IN. YOU'LL FIND INFORMATION ON FOODS, NUTRITION, CLOTHING, FASHION, HEALTH AND BEAUTY, HOME DECORATING, AND MUCH MORE. FOR YOUR COPY OF THIS NEW BOOKLET, GO TO OUR WEBSITE AT KENW.ORG AND THEN CLICK ON "CREATIVE LIVING." SCROLL DOWN TO THE BOOKLET SECTION, AND YOU CAN CLICK ON THIS BOOKLET OR ON ANY OF THE OTHER BOOKLETS WE HAVE AVAILABLE ONLINE. JUST GO TO KENW.ORG, CLICK ON "CREATIVE LIVING," AND DOWNLOAD THE BOOKLET TITLED "THE 6700 SERIES." WE ALSO INVITE YOU TO SIGN UP FOR OUR FREE E-NEWSLETTER. JUST GO TO KENW.ORG AND CLICK ON THE "SIGN UP NOW" BUTTON AND INPUT YOUR E-MAIL ADDRESS. THAT'S ALL THERE IS TO IT. YOU'LL ENJOY READING AN UP-TO-DATE NEWSLETTER FILLED WITH INTERESTING TOPICS AND INFORMATION. THANK YOU.
Now Playing As: Captioned (English) (change)
Connie Moyers joins Sheryl to discuss the benefits of adding salmon to one's diet, and cookbook authors Kimberly Reiner and Jenna Sanz-Agero make homemade marshmallows. Quilter Laura Murray uses paint sticks to decorate quilt blocks.
Media Details
Runtime: 27 minutes