Creative Living With Sheryl Borden #6707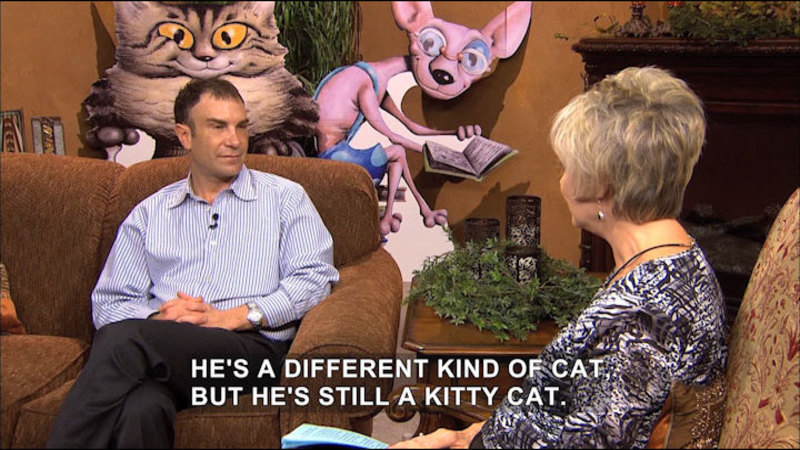 >> "CREATIVE LIVING," UTILIZING TODAY'S TECHNOLOGY WITH THE BEST OF THE PAST TO BRING YOU INNOVATIVE IDEAS AND UP-TO-DATE INFORMATION FOR CREATIVE LIFESTYLES IN TODAY'S ACTIVE WORLD, WITH YOUR HOST, SHERYL BORDEN. >> WELCOME TO "CREATIVE LIVING" TODAY. WE'RE GOING TO LEARN HOW TO DO NUNO FELTING AND FIND OUT HOW TO CHANGE BYSTANDERS INTO UPSTANDERS TO AVOID BULLYING AMONG CHILDREN. ONE OF MY GUESTS IS BARBARA CRAWFORD, AND SHE'S A DESIGNER AND CRAFTER. BARBARA WILL DEMONSTRATE NUNO FELTING, WHICH IS A JAPANESE FIBER ART TECHNIQUE. SHE'LL SHOW HOW TO CREATE A PIECE OF FABRIC FROM SILK AND WOOL ROPING BY USING SOAP, WATER, BUBBLE WRAP, AND SOME MUSCLE. I THINK YOU'LL BE SO SURPRISED AT THE RESULTS. HER BUSINESS IS CRAWFORD DESIGNS & SUNSET GALLERIES, AND SHE LIVES IN AMARILLO, TEXAS. MY FIRST GUEST TODAY IS PETER GOODMAN, AND HE'S WRITTEN A CHILDREN'S BOOK ABOUT BULLYING, WHICH CAN START AS EARLY AS 2 YEARS OF AGE. PETER SAYS THAT ATTENTION FROM PEERS AS WELL AS THE FEAR OF RETALIATION AND NOT KNOWING HOW TO RESPOND IN THE MOMENT IS WHAT CAUSES BULLYING BEHAVIOR TO CONTINUE. HE'S GOING TO EXPLAIN HOW TO CHANGE BYSTANDERS INTO UPSTANDERS IN ORDER TO DISCOURAGE BULLYING BEHAVIOR. HIS COMPANY IS DREAM BIG, AND HE LIVES IN WASHINGTON, D.C. PETER, THANK YOU SO MUCH FOR BEING HERE, AND I'VE ENJOYED READING THIS LITTLE BOOK DESIGNED FOR PRESCHOOLERS UP TO AGE 8 OR SO, AND IT'S ALL ABOUT BULLYING, AND CERTAINLY BY THE TIME I FINISHED READING IT I REALIZED THAT IS THE TIME TO START. WE DON'T WANT TO WAIT TILL A CHILD IS BULLIED TO DEAL WITH IT, AND IF WE AS PARENTS OR GRANDPARENTS KNOW HOW TO MAYBE PREVENT IT, IT'S GOING TO BE HELPFUL. BUT SOMETIMES JUST THAT FEAR OF RETALIATION--MAYBE THE CHILD SURVIVED THAT FIRST BULLYING INCIDENT, BUT THEY'RE AFRAID THAT SOMETHING'S GOING TO CONTINUE TO HAPPEN. HOW DO YOU INSTILL MORE SELF-CONFIDENCE INTO KIDS? >> WELL, IT'S IMPORTANT TO ENGAGE KIDS, YOU KNOW, PARENTS AND TEACHERS, AND TO REALLY TALK ABOUT THEIR EMOTIONS AND GETTING THEM TO BE GOOD SOCIAL LEARNERS, AND THE MORE YOU KIND OF PROVIDE THEM TOOLS, THEY'RE ABLE TO BETTER DEAL WITH SITUATIONS THAT MIGHT BE FEARFUL OR CONFRONTATIONAL FROM THEIR PERSPECTIVE. >> AND NOT ONLY TO PROTECT THEMSELVES FROM BULLYING, BUT TO LEARN TO STAND UP FOR THEIR FRIENDS. >> RIGHT, AND THAT'S REALLY IMPORTANT, THAT KIDS IN GENERAL ARE ABLE TO FEEL COMFORTABLE IN GROUPS AND INTERACT WITH OTHERS, AND A LOT OF TIMES KIDS ARE WITNESSES TO BULLYING AND THEY DON'T REALLY FEEL COMFORTABLE JOINING IN, BECAUSE THEY DON'T WANT THE ATTENTION, UM-- >> TO TURN ON THEM. >> TO TURN ON THEM, EXACTLY. >> RIGHT. SOMETIMES THERE'S A REAL FINE LINE BETWEEN BULLYING AND TEASING. >> RIGHT. >> AND I GUESS THAT'S DIFFERENT WITH EVERYONE. SOME FAMILIES DON'T DO A LOT OF TEASING. OUR FAMILY, WE TEND TO, BUT THERE IS A DIFFERENCE. AND HOW DO YOU EXPLAIN THAT DIFFERENCE IF A KID SAYS, "OH, I WAS JUST TEASING HIM OR HER." >> A LOT OF TEASING STARTS AT A YOUNG AGE. I MEAN, TEASING IS JUST KIND OF BANTER BACK AND FORTH, YOU KNOW, WITH JUST KIND OF NOT HARMFUL, PLAYFUL BANTER. BUT BULLYING REALLY IS SOMETHING THAT HURTS, YOU KNOW, AND BULLYING, THERE'S VERBAL, THERE'S PHYSICAL, THERE'S EMOTIONAL BULLYING, AND THAT REALLY HURTS SOMEONE'S FEELINGS, AND THAT'S REALLY THE KEY DIFFERENCE. >> SURE. WELL, AND NOW THERE'S CYBER-BULLYING. WE HEAR BAD STORIES ABOUT THAT ALL THE TIME ON THE INTERNET, SO IT ENCOMPASSES LOTS OF DIFFERENT AREAS, AND SOME PEOPLE ARE HURT MORE ONE WAY THAN ANOTHER, BUT I DO THINK THE VERBAL ABUSE CAN BE JUST AS HARMFUL IN RECUPERATING FROM THAT, BEING ABLE TO GO TO SCHOOL THE NEXT DAY. I THINK IT WOULD BE VERY HARD. >> RIGHT, AND THAT'S THE BIG THING, TOO, BECAUSE IF YOU'RE NOT FEELING GOOD ABOUT YOURSELF, THE PSYCHOLOGICAL ASPECT, THAT CAN OFTEN BE MUCH MORE INTIMIDATING THAN JUST, YOU KNOW, HAVING A BLACK-AND-BLUE MARK. >> YES. >> IT'S THAT KIND OF EMOTIONAL TORMENT THAT MAKES IT EVEN MORE WORRISOME FOR KIDS WHEN THEY HAVE TO GO BACK INTO A TOUGH SITUATION. >> OH, I THINK SO. >> YEAH. >> AND ONE OF THE TIPS THAT'S SHARED IN THE BOOK--AND I WOULD HAVE NEVER THOUGHT ABOUT THIS-- IS, AS A WAY TO DEAL WITH A BULLY--OF COURSE, YOU JUST USUALLY WANT TO GET AWAY FROM THEM AND HOPE THEY DON'T PICK ON YOU AGAIN THE NEXT DAY, BUT WAS TO INVITE A BULLY TO BECOME A PART OF A GROUP--MAYBE IF IT'S A SKATING GROUP, OR PLAYING ON THE PLAYGROUND OR WHATEVER--SO ENCOURAGING THAT BULLY TO JOIN IN WITH A GOOD GROUP. >> YEAH, AND THAT'S ONE WAY TO DO THAT. IT'S NOT NECESSARILY GOING TO HAPPEN, BUT IF YOU ENGAGE THE BULLY IN SOME KIND OF POSITIVE SITUATION THAT IS INCLUSIVE RATHER THAN EXCLUSIVE, THAT'S A GOOD WAY TO KIND OF CHANGE THE BULLY'S PERSPECTIVE. >> YEAH, AND AGAIN, THIS PROBABLY WOULDN'T WORK IN OLDER CHILDREN, BUT AT A YOUNGER AGE, IT WOULD BE A GOOD WAY TO, I THINK, TO TRY SOMETHING LIKE THAT, MAYBE WHEN THEY'RE NOT SO BIG. [LAUGHS] >> RIGHT, RIGHT, AND IT'S EVEN TO ENGAGE KIDS AT A YOUNG AGE TO PLAY WITH YOU OR NOT TO BE--THE BIG THING WITH KIDS IS NOT TO BE EXCLUSIONARY. IT'S REALLY TO BE INCLUSIVE, AND THAT'S OFTEN ONE OF THE THINGS THAT, ONE OF THE EMOTIONS THAT'S REALLY TOUGH, YOU KNOW. BEING EXCLUDED, WANTING TO BE ACCEPTED ARE REALLY IMPORTANT, VERY IMPORTANT CONCEPTS TO GET ACROSS TO KIDS. >> AND AGAIN, IT'S PROMOTING DIVERSITY AND UNDERSTANDING THAT WE ARE DIFFERENT, EACH ONE OF US IS DIFFERENT, AND, OF COURSE, THAT'S WHAT HAPPENS TO CARLOS IN THE BOOK. HE'S A DIFFERENT KIND OF CAT, BUT HE'S STILL A KITTY CAT. >> RIGHT. >> AND YET, HIS FRIENDS CAME TO HIS AID BECAUSE THEY TALKED ABOUT, "WELL, CARLOS, EVEN THOUGH YOU DON'T HAVE HAIR," THEY COME TO FIND OUT THAT HE KNOWS HIS ABC'S ALREADY, SO HE'S A VERY SMART CAT, AND IT SORT OF GIVES HIM A WAY TO PROVE THAT HE IS DIFFERENT, BUT HE'S VERY SMART, TOO. >> RIGHT, AND IT'S ALSO REALLY IMPORTANT THAT FLO AND MARLO, THE TWO KITTY CATS, ARE SUPPORTIVE OF CARLOS, AND CARLOS'S REDEEMING QUALITY AT THE END THAT HE IS, YOU KNOW, THE SMARTEST ONE IN THE CLASS. >> YEAH. I WAS READING THE STATISTICS THAT YOU SENT. IT SAID APPROXIMATELY A THIRD OF ALL CHILDREN ARE BULLIED AT SCHOOL AT SOME POINT, AND THAT 90% OF ALL ELEMENTARY SCHOOL-AGE CHILDREN REPORT HAVING BEEN BULLIED SOME TIME. THAT'S HIGH. >> YEAH, AND THAT'S THE BIG THING THAT THE FOCUS IN THE MEDIA IS REALLY AROUND 10 YEARS, 11, 12, THE TEENS, BUT THERE AREN'T A TREMENDOUS AMOUNT OF RESOURCES, YOU KNOW, ESPECIALLY WHAT WE'RE DOING WITH THE KITTY CATS BOOK, FOCUSING AT A REALLY YOUNG AGE, AND IT'S REALLY IMPORTANT TO GET KIDS ENGAGED AT THIS YOUNG AGE, BECAUSE IT GETS THEM ESTABLISHING GOOD BEHAVIOR EARLY ON. >> AND YOU MENTION THIS IS THE KITTY CAT BOOK; ARE THERE GOING TO BE OTHER BOOKS COMING OUT? >> THERE WILL BE SUBSEQUENT BOOKS-- >> KITTY CATS? >> KITTY CAT BOOKS. WE'RE GOING TO STAY ON CATS, NOT DOGS, BUT YEAH, THE TOPICS ARE GOING TO FOCUS ON MANAGING EMOTIONS, MAKING FRIENDS, CHILDHOOD FEARS, THINGS THAT KIDS TYPICALLY FACE WHEN THEY'RE YOUNG, YOU KNOW, ALL FOCUSED AROUND SOCIAL-EMOTIONAL ISSUES WHICH HAVE GOOD NARRATIVES THAT ARE ENGAGING FOR KIDS AND ALSO PARENTS, GRANDPARENTS, AND TEACHERS. >> AND YOU MIGHT MENTION THAT THERE WILL BE A CURRICULUM FOR ALL OF THE BOOKS FOR TEACHERS TO USE IF THEY WISH. >> RIGHT, AND THAT'S ONE OF THE UNIQUE THINGS THAT WE'RE DOING, IS THAT IT'S NOT ONLY A BOOK, BUT WE'RE TAKING THE STORY AND THE MESSAGES FROM THE BOOK INTO THE CLASSROOM OR THE HOME, AND ESPECIALLY WITH TEACHERS, THERE'S A 5-PART CURRICULUM AND A TEACHER'S GUIDE THAT'S ALL FOCUSED AROUND BULLYING, AND GIVING KIDS THE TOOLS THEY NEED TO HELP THEM LEARN ABOUT THIS SUBJECT, AND IT'S VERY IMPORTANT WITH REGARD TO BULLYING PREVENTION AND BULLYING AWARENESS. >> SURE. HOW DO TEACHERS FIND OUT ABOUT THE RESOURCES THAT ARE AVAILABLE TO THEM? >> WITH REGARD TO THE BOOK? >> MM-HMM. >> WELL, WE HAVE A GREAT RELATIONSHIP WITH PACER'S NATIONAL BULLYING PREVENTION CENTER. THEY'VE ENDORSED THE BOOK. THEY HAVE A BIG REACH. THEY'VE DONE SOME GREAT WORK WITH ELLEN DeGENERES AND ALSO ANDERSON COOPER, WITH BULLYING PREVENTION MONTH, WHICH IS OCTOBER. WE ALSO HAVE A PARTNERSHIP WITH THE HUMANE SOCIETY, MONTGOMERY COUNTY HUMANE SOCIETY, AND THEY HAVE A LOT OF REACH AND TENTACLES INTO SCHOOLS. SO WE HAVE KIND OF A MULTI-FACETED APPROACH TO LET TEACHERS KNOW THAT THIS KIND OF CURRICULUM EXISTS. >> I THINK IT'S WONDERFUL. I'M ANXIOUS TO READ THIS TO MY GRANDDAUGHTER AND GET HER REACTION, AND SOME GOOD DISCUSSION GOING ON. >> I HOPE YOU ENJOY IT, TOO. >> WELL, I WILL, TOO. I ALREADY HAVE, AND THANK YOU VERY MUCH, PETER, FOR BEING WITH US TODAY. >> THANK YOU VERY MUCH. >> BARBARA, THANK YOU SO MUCH FOR COMING. I KNOW YOU TEACH CLASSES, YOU HAVE SEMINARS, WORKSHOPS, AND YOU SAID OUT OF ALL OF THE THINGS YOU DO, WHAT'S THE MOST POPULAR OR THE MOST ASKED FOR? >> AND THAT'S THIS. THIS IS THE NUNO FELTING. >> "NUNO"? >> NUNO. N-U-N-O. IT'S A JAPANESE WORD. IT MEANS "FABRIC," SO YOU'RE ACTUALLY CREATING A PIECE OF FABRIC OF YOUR OWN USING WOOLS AND SILKS AND ANYTHING ELSE YOU CAN FIND TO THROW INTO THE MIX. >> UH-HUH. >> SO EVERYTHING IS THROWN ONTO THE SILK, PUSHED THROUGH, AND SHRUNK INTO IT, OK? SO YOU CAN ACTUALLY CUT THROUGH AND CREATE FABRIC-- CREATE CLOTHING. >> LIKE ON THIS ONE, THIS VEST, THIS IS THE PART, THE PANEL ON EACH SIDE. >> THE PANEL-- >> THIS IS THE NUNO FELTING. >> RIGHT, THIS IS THE NUNO FELTING, AND THEN I TOOK PIECES-- >> I WAS GOING TO-- >> AND PUT IT BEHIND THE GROMMET. IT'S LIKE LITTLE WINDOWS, LITTLE STAINED-GLASS WINDOWS. >> THAT'S WHAT I THOUGHT IT LOOKED LIKE. I'M GLAD YOU MENTIONED IT. >> THAT'S THE ARTSY SIDE. >> [LAUGHS] OK. >> OF ADDING IT IN. BUT IT'S ALL WASHABLE. >> REALLY? >> NOW, YOU HAVE TO WASH IT BY HAND. >> BY HAND. >> I WOULD NOT SAY PUT IT IN THE WASHER. >> IF I PUT THAT MUCH WORK INTO IT-- >> YEAH, YOU WOULDN'T WANT TO-- >> IT WOULD BE DONE BY HAND. >> YEAH. >> THIS IS REALLY BEAUTIFUL. >> YOU CAN BE DELIBERATE IN YOUR DESIGN, LIKE SOME PIECE OF ARTWORK, OR YOU CAN BE ABSTRACT. JUST THROW IT ON THERE AND TAKE YOUR CHANCES. >> YOU SAID LOTS OF PEOPLE LOVE THIS ONE. >> THIS IS THE MOST FAVORITE, YEAH. >> THIS IS MY FAVORITE, TOO.
[LAUGHS] I THINK IT'S BECAUSE I LOVE THE COLORS, AND THAT'S
WHAT YOU'RE TALKING ABOUT. WE CAN CREATE WHATEVER COLORS WE WANT. >> RIGHT, RIGHT, AND YOU CAN USE YARN, SARI SILK THREAD, BANANA FIBERS, ANGELINA FOR THE SHINE, AS LONG AS YOU HAVE WOOL TO BACK YOU UP, BECAUSE IT IS THE GLUE. >> THIS IS JUST GORGEOUS. >> ISN'T THAT PRETTY? >> UH-HUH. SO THESE COULD BE WALL HANGINGS? >> WALL HANGINGS, CLOTHING-- PILLOWS, ANYTHING YOU WANT TO DO WITH THEM. YOU CAN CUT THROUGH THEM. THEY WILL NOT COME APART. >> THAT'S AMAZING. AND THEY DON'T RAVEL. >> NO. >> YOU DON'T HAVE TO FINISH THAT. >> NO. >> LET'S GO BACK. YOU WERE TALKING ABOUT BANANA THREAD? >> THIS IS THE BANANA FIBERS. THEY COME FROM THE TRUNK OF THE BANANA TREE. >> THIS ONE? UH-HUH. >> I GUESS THEY BLEACH THEM OUT IN THE SUN-- >> THIS IS THE SOFTEST THING I'VE EVER FELT. >> IT'S SO SOFT. AND WHAT HAPPENS WHEN IT GOES IN, IF YOU CAN SEE HERE, IS AS YOU'RE WORKING, IT WILL SPIDER OUT. >> OH, UH-HUH. >> INTO THE WORK. EVEN IF YOU'VE CLUMPED IT A LITTLE IT COMES OUT AND IT VEINS OUT. >> NOW, WHAT'S THIS? >> THIS IS ANGELINA. IT'S A MYLAR. >> OH, I'VE HEARD OF THAT. ANGELINA. >> AND IT WORKS THROUGH THE SILK VERY FAST, BECAUSE IT IS, IT'S KIND OF--IT'S NOT HARD, BUT IT DOES HAVE AN EDGE. >> IT REMINDS ME A LITTLE BIT OF THAT, WHAT YOU USE AT CHRISTMAS, THE ANGEL-- >> RIGHT. >> WHAT'S IT CALLED? >> SNOW ORNAMENTS THAT THEY USED TO PUT THEM IN. >> UH-HUH. >> AND THEN THESE ARE SORRY-- >> AND YOU DYED THESE? >> NO, NO. >> NO? THESE COME-- >> THEY RIPPED THEM OFF THE SILK WHEN THEY WERE DOING STUFF, AND I BUY THEM ALREADY RIPPED OUT. >> JUST LIKE THAT? >> JUST LIKE THAT. AND YOU CAN USE YARN. I'M A SPINNER, SO THAT'S MY HANDSPUN YARN IN THERE. >> MY GOODNESS! >> JUST LITTLE STUFF YOU HAVE. MAYBE YOU WERE MAKING YOUR KID'S COSTUME, WHATEVER YOU WANT TO DO, THROW IT IN. THREADS, YOU NAME IT. >> YOU'LL SHOW US HOW IN A MINUTE. AND THESE ARE JUST SOME OF THE YARNS THAT-- >> THIS IS CORRIEDALE. THIS WOOL COMES FROM NEW ZEALAND, THE SHEEP. MUCH TO MY SURPRISE, THEY HAD TO DYE THEM, SO THE SHEEP ARE NOT MULTICOLORED. >> THEY'RE NOT MULTICOLORED. >> BUT THIS IS THE BEST WOOL. IT'S NOT REAL EXPENSIVE, BUT IT JUST BUILDS. IT'S UNLIKE ANY OF THE OTHER WOOLS. BUT IF YOU'RE ALLERGIC TO WOOL--AND A LOT OF PEOPLE ARE-- THEN ALPACA IS YOUR ANSWER. >> THAT'S THE ONE TO CHOOSE. >> THAT TAKES THE ITCH OUT OF WOOL. THERE'S NO ITCH TO IT, AND IT'S WARMER THAN WOOL. SO IF IT'S SOMETHING THAT YOU WANTED, THEN YOU COULD USE ALPACA. JUST ANY FIBER, ACTUALLY. >> THIS IS WHAT YOU'RE GOING TO SHOW US NOW-- >> RIGHT. >> HOW TO MAKE JUST A SCARF? >> IT'S A SCARF. >> THIS IS A SILK, 100% SILK. >> THIS IS SILK. IT'S SILK CHIFFON. IT NEEDS TO BE A REALLY LOOSE WEAVE, YOU KNOW, SO IT KIND OF FLOATS IN THE AIR WHEN YOU THROW IT UP. >> OH, YEAH. >> AND YOU CAN MOVE THESE THREADS AROUND. SO YOU CAN GO ANYWHERE FROM 3 MM--IT MEANS "MOMMY." I DON'T KNOW WHAT THAT MEANS. >> [LAUGHING] >> BUT--I THOUGHT IT WAS "MILLIMETER," BUT IT ISN'T. IT'S "MOMMY" IN THE SILK WORLD. ALL THE WAY UP TO 8. I WOULDN'T GO ANY FURTHER THAN THOSE 2 NUMBERS. >> THOSE NUMBERS. SAY THEM AGAIN. >> 3 MM AND 8 MM. >> 3 AND 8. >> ANYBODY SELLING YOU SILK WILL KNOW WHAT THAT WORD IS. >> OK. >> OK. >> AND I NOTICED IN THE MATERIAL YOU SENT, THIS TECHNIQUE IS ALSO CALLED SOMETHING LAMI-- >> LAMINATED. >> I NEVER HEARD THAT. >> THAT'S UNUSUAL. I HAD ONLY HEARD IT ONCE, SO I JUST THREW IT IN THERE, BUT I GUESS THE WAY IT APPLIES IT'S LAMINATED TO THE SILK. >> IT'S IN BETWEEN. >> YES. >> SORT OF SANDWICHED, UH-HUH. >> NOW, THE JAPANESE USE BAMBOO TO TAKE CARE OF THIS AND ALL THAT, BUT WE'RE NOT LOOKING FOR BAMBOO. WE NEED SOMETHING THAT'S EASILY ACCESSIBLE, AND THAT WOULD BE BUBBLE WRAP. >> BUBBLE WRAP. YOU'VE GOT A-- >> SO YOU'RE GOING TO--YEAH, PUT A TOWEL DOWN TO CATCH ANY WATER. THE BUBBLE WRAP BUBBLES UP. >> BUBBLES UP, GOT IT. >> OK, THAT'S YOUR FINGERS INSIDE THE ROLL, BECAUSE YOU CAN'T GET YOUR HANDS IN THERE, SO THESE ARE YOUR FINGERS. >> OK. >> SO THAT'S THE AGITATOR. >> [LAUGHS] >> [LAUGHS] AND YOU THOUGHT IT WAS JUST YOU. >> UH-HUH, I DID. >> THEN YOU THROW YOUR SILK ON THERE AND YOU GET READY TO ROCK AND ROLL. NOW, WE'RE NOT GOING TO GET BOGGED DOWN IN THE DESIGN. WE'RE JUST GOING TO BE RANDOM. LIKE I SAID, YOU CAN DO ANY DESIGN YOU WANT. YOU DON'T WANT TO JUST THROW IT ON, OK? THAT'S TOO HEAVY. >> TOO THICK, OK. >> ESPECIALLY FOR, YOU WANT IT TO BE SOMETHING-- >> SOMETHING THIS LONG. >> ESPECIALLY A SCARF. SO YOU'RE JUST PULLING IT OFF, YOU'RE DRAFTING IT OFF, OK? WE WON'T GET BOGGED DOWN. DON'T LOOK AT THE COLOR CHOICES. I'M JUST PLAYING. I LIKE THE BROWN. SO, HERE'S YOUR CHOICES. YOU CAN DO A FULL COVERAGE, OR YOU CAN LEAVE PARTS OF YOUR SILK SHOWING. WE HAVE BLACK AND WHITE, SO IT CAN ALSO HAND-DYE YOUR SILKS, AND GIVE WHATEVER BASE COLOR YOU WANT. IF YOU WANT, LIKE, WHAT I CALL DREADLOCKS, THEN YOU WOULD LEAVE SOME HANGING OFF THE EDGE, YEAH. >> HANGING DOWN? >> UH-HUH. YOU CAN ACTUALLY GO OVER THE EDGE AND CREATE YOUR OWN LITTLE DESIGN. AS YOU CAN SEE, IT COMES OUT IN DIFFERENT SHAPES, SO IF YOU'RE LOOKING FOR MORE OF AN ANIMAL SKIN LOOK, THAT'S HOW TO DO IT. >> YOU MADE ONE, YOU SAID, AT HOME THAT LOOKS LIKE A ZEBRA. >> A ZEBRA, YES. THESE ARE OUR BANANA FIBERS. >> OH, UH-HUH. >> I JUST LOVE THEM. >> [LAUGHS] >> [LAUGHS] THEY'RE VERY SOFT. JUST THROW THEM ON. THEY'LL MOVE AROUND WHILE WE'RE WORKING AND THEY'LL CATCH SOME OF THE DYES. SO THEY'LL CATCH THE DYE AND PULL THEM INTO THEM, AND THEN AS THEY SPIDER OUT, THEY GO BACK TO WHITE. >> OH, UH-HUH. >> I'M DOING THAT FROM THE PERSPECTIVE OF BEING INSIDE THE ROLL, BUT WHAT I CAN SEE WHEN IT COMES OUT, YOU KNOW, CATCH SOME OF THE COLOR AND THEN MOVE BACK OUT. >> OH, OK. >> OK? >> DO YOU SUGGEST IF SOMEONE'S DOING THIS FOR THE FIRST TIME MAYBE THEY JUST DO A LITTLE HANG PIECE? >> JUST A LITTLE PIECE. >> SOMETHING? >> GET USED TO THE DEPTH OF WHAT YOU PUT DOWN. >> UH-HUH. >> I DON'T MEASURE ANYTHING, BECAUSE I JUST THINK THAT SUCKS THE FUN OUT OF EVERYTHING, AND... YOU SEE HOW I'M MIXING YOU ALL UP? WHAT'S GOING TO HAPPEN HERE IS THE WOOL, SO YOU'RE STARTING WITH WOOL, THEN YOU'RE PUTTING ALL YOUR PRETTIES IN, AND THEN YOU'RE COMING BACK WITH WOOL, AND THE BASIC COLOR HERE WAS MAGENTA, SO YOU'RE GOING TO TAKE SMALL SPIDERS. AND ANYTHING YOU KNOW WILL NOT GO THROUGH THAT SILK YOU'RE GOING TO SPIDER OVER. YOU WON'T SEE IT IN THE LONG RUN, BUT WE KNOW THAT HAS TO CATCH IT. THE MYLAR ACTUALLY WILL GO THROUGH. BUT THERE'S A LOT OF THINGS THAT WON'T. IF YOU GOT A BIG PIECE OF YARN HERE, YOU KNOW DARN WELL IT'S NOT GOING TO GO THROUGH THE SILK. HOW WOULD IT? >> OH, LIKE THESE. >> YES. >> AND SO WHAT YOU'RE PUTTING ON IS WHAT YOU PUT ON OVER THIS CORD. >> EXACTLY. I'M SPIDERING IT OVER THE CORD. >> OH, HERE. >> SO YOUR WOOL, PRETTIES, WOOL AGAIN. >> OK. >> OK? >> NOW, LET ME MOVE THAT SO THEY DON'T GET WET. AND YOU'RE GOING TO GET YOUR SPRAY BOTTLE. THIS IS THE EASIEST WAY TO DO >> NOW, WHAT DO YOU HAVE IN THERE? >> I HAVE PALMOLIVE DISHWASHING LIQUID, THE ORIGINAL ONE. >> THE ORIGINAL, OK. THAT WORKS THE BEST? >> IT HAS THE BEST PH BALANCE FOR WOOL. IT WORKS BETTER THAN ANY OTHER SOAP. IVORY MIGHT BE A CLOSE SECOND. >> OK. >> ONCE YOU'VE GOT THIS DOWN, YOU'RE GOING TO SANDWICH EVERYTHING, AND I DON'T KNOW HOW LONG MY TULLE IS, BUT-- >> OH, THIS IS JUST-- >> YOU WANT TO USE A FINE MESH TULLE, LIKE THEY USE ON THE VEILS, OK? >> OH, OK, WEDDING VEILS, UH-HUH. >> BECAUSE EVERYTHING HERE WILL TRY TO COME THROUGH THAT TULLE BEFORE IT TRIES TO GO THROUGH THAT SILK, SO YOU HAVE TO WATCH IT. SO MIX UP YOUR SOAP, AND YOU'RE GOING TO SPRAY IT. YOU CAN OPEN THE BOTTLE. PLEASE DON'T MAKE ME POUR IT. >> [LAUGHS] >> OK, THAT'S THE WORST NIGHTMARE, THAT YOU GET ON TV AND YOUR BOTTLE DOESN'T WORK. >> IF THAT'S THE ONLY THING BAD THAT CAN HAPPEN. >> YEAH. >> WOULD YOU EVER PUT IT ON LIKE WITH A SPONGE AND JUST-- >> YOU CAN. ANY TIME YOU WANT TO WET IT. PEOPLE THINK YOU HAVE TO USE HOT WATER, BECAUSE IT'S WOOL. IN THIS CASE, IT'S NOT THE CASE. >> THIS IS COLD. >> IT'S COLD. BY THE TIME YOU SPRAY IT IT'S COLD ANYWAY. >> OH, WELL, THEN. >> BESIDES, SARI SILK RUNS, AND SO, IF YOU HAVE SOMETHING IN IT THAT THE DYE RUNS AND YOU DON'T WANT IT TO RUN, THEN YOU DON'T WANT TO USE HOT WATER. OK, WE'RE NOT GOING TO GET IT TOO SOAKING WET, JUST TO PROTECT YOU. ALL RIGHT, WE'RE GOING TO PRESS IT ALL DOWN, SANDWICHED IN. YOU CAN SEE THE SUDS ARE ALL STARTING TO FELT. >> AND THESE THAT ARE HANGING OFF, YOU JUST LEAVE THOSE. >> YOU LEAVE THEM. >> OK. >> THEN WE'RE GOING TO TAKE THE SWIMMING POOL NOODLE, CUT IT DOWN TO SIZE. IF IT'S A REAL TINY PIECE, YOU CAN USE THE PIPE COVERS THAT YOU USE IN ANY--ACTUALLY, THEY HAVE A SLIT IN THEM, SO YOU COULD ACTUALLY SLIDE THE END IN TO HOLD IT IN PLACE. YOU WANT TO ROLL THIS UP. I WONDER HOW MANY TIMES I'VE DONE THIS. >> [LAUGHTER] >> YOU KNOW-- >> OH, NO, THAT'S JUST TO HOLD IT. YOU'RE NOT PUTTING IT TIGHT. >> THIS IS TO HOLD IT IN PLACE. YOU CAN USE OLD PANTYHOSE TO TIE IT, BUT YOU DON'T WANT TO PUT IT INSIDE OF IT. TOO HARD TO TAKE OFF AND ON. I USE RUBBER BANDS, BECAUSE IT'S ACCESSIBLE. IT SEEMS TO WORK. >> UH-HUH. I THOUGHT AT FIRST WE WERE GOING TO DO TIE-DYEING. >> THAT WOULD BE SOMETHING. WE ALWAYS SEEM TO USE RUBBER BANDS FOR SOMETHING. >> YOU BET. THEY HAVE LOTS OF USES. >> RUBBER BANDS AND BUBBLE WRAP. >> UH-HUH. >> AND DUCT TAPE. >> I WOULD HAVE NEVER THOUGHT ABOUT THE BUBBLE WRAP. >> SO IF YOU HAVE A BIG PIECE OF SILK LIKE THESE, IT'S HARD TO FIND BUBBLE WRAP THAT SIZE. ONCE AGAIN, DUCT TAPE COMES TO THE RESCUE. YOU CAN DUCT-TAPE THEM ON THE WRONG SIDE, THE SIDE THAT'S NOT GOING TO BE WET. >> OH, YOU CAN! OK. SO JUST MAKE IT TOGETHER. >> YOU'VE GOT ENOUGH HERE TO HOLD IT IN PLACE. >> MM-HMM. >> YES, AND YOU CAN SEW THE SILKS TOGETHER BY HAND, NOT ON THE MACHINE, JUST WHERE YOU--IF YOU WANT TO INCREASE THE SIZE OF YOUR SILK. I HAD TROUBLE FINDING IT-- >> YOU'RE ROLLING THIS IN THE TOWEL. >> YEAH, JUST TO GET THE-- >> WATER OUT? >> TRACTION AND THE WATER. >> OH. >> YOU'LL KNOW IF YOU OVERSUD, BECAUSE THEY'LL SHOOT OUT THE SIDES OF THE... >> [LAUGHS] >> SWIMMING POOL NOODLE. SO WHAT YOU'RE DOING IS YOUR PRESSURE MOTION, AGITATION, SOAP AND WATER. OK? THAT'S WHAT YOU NEED. FAST MOTION. >> YOU'RE GETTING A GOOD WORKOUT. UPPER ARM. >> YOU'RE GETTING A GOOD WORKOUT. YOU CAN GET RID OF THOSE BAT WINGS WITH THIS. >> [LAUGHING] THAT'S GREAT. >> NOW, I HAVE PEOPLE IN MY CLASSES THAT HAVE ARTHRITIS, SO IF YOU CANNOT USE YOUR HANDS, GO TO YOUR ARMS. >> OK, WELL, THAT MAKES SENSE. >> AND PUT THE PRESSURE BEHIND IT. IF YOU CANNOT USE YOUR HANDS OR ARMS, THE NEXT BEST THING IS YOUR FEET. YOU CAN SIT IN A CHAIR AND PUT THIS ON THE FLOOR AND ROLL WITH YOUR FEET. KEEP YOUR SHOES ON FOR TRACTION, TURN THE MUSIC ON-- >> AND JUST ENJOY IT. >> WHEN THE FIRST SONG IS OVER, THEN YOU CHECK IT, OK? SOMETHING PEPPY. >> ABOUT 3 MINUTES OR SO. >> YEAH. NOT ANYTHING CLASSICAL. JUST SOMETHING PEPPY THAT MAKES YOU MOVE, BECAUSE THE AGITATION IS REALLY IMPORTANT--SORRY. >> HOW DO YOU KNOW WHEN IT'S-- >> YOU DON'T. >> ABOUT 3 MINUTES OR-- >> WELL, YOU HAVE TO CHECK IT. I KNOW THAT A WHOLE SONG, IF YOU'RE REALLY MOVING, YOU CAN CHECK IT. I'LL SAY MY HUSBAND CAN DO IT BETTER THAN I CAN AS FAR AS FASTER. >> UH-HUH, MORE STRENGTH. >> HE'S GOT MORE PRESSURE, YEAH. >> YEAH. >> THERE'S NO WAY THAT IT'S READY, OK? I'M JUST--KNOW THAT WE HAVE A CERTAIN AMOUNT OF TIME, SO NOW WE'RE GOING TO LOOK AND SEE WHAT WE'RE LOOKING FOR. FIRST THING YOU WANT TO CHECK IS YOUR TULLE. YOU DO NOT WANT THE WOOL TO BE A PART OF THE TULLE, SO YOU'RE PULLING IT OFF. >> SO YOU KIND OF PULL IT OFF OF IT? >> YEAH. AND IF YOU WERE DOING A REALLY GOOD JOB AND YOU WENT THE WHOLE TIME-- >> THIS ONE DID GREAT, THIS SIDE. LOOK AT THAT. >> IF THIS IS STICKING, IF THE TULLE'S TRYING TO STICK TO THE WOOL, THAT MEANS YOU'RE WORKING HARD AND YOU'RE DOING IT RIGHT. IF IT'S JUST COMING OFF LOOSE LIKE THIS, THERE'S NO WAY IT'S EVEN CLOSE. >> OH, IT'S NOT? >> YOU REPLACE IT, AND YOU ROLL AGAIN. SO LET'S SAY WE ROLLED IT AS MUCH AS WE NEED TO. THIS IS WHAT WE'RE LOOKING FOR. EACH TIME, THIS WILL STICK LESS. >> OH, I SEE. >> YOU JUST DON'T WANT IT TO BECOME PART OF THE WORK. YOU'RE LOOKING ON THE BACK. THIS IS PROBABLY WHERE WE NEED THIS. >> UH-HUH. >> OK. >> OH, WHEN IT COMES THROUGH THE BACK, I SEE. >> WHEN IT COMES THROUGH, YOU CAN PULL FIBERS WITH YOUR FINGERS. >> UH-HUH. >> THIS IS ALPACA THAT YOU'RE LOOKING AT RIGHT HERE. THAT TAKES THE ITCH OFF OF MY NECK. IF I WANT TO WEAR THE SCARF, I PUT THE ALPACA ONTO THE-- >> THAT WOULD BE PROMINENT ONE THAT GOES CLOSEST TO YOU. >> YES, AND IT GOES UNDERNEATH THE SCARF, ON TOP OF THE BUBBLE WRAP. >> SO WE WOULD JUST KEEP THIS, AND THEN-- >> SO SAY THIS HAS GOT ALL THROUGH AND YOU'RE PULLING IT, YOU SEE YOUR FIBERS-- >> AND IT'S WET. >> IT'S WET. YOU'RE GOING TO TAKE IT TO THE BATHROOM AND WASH IT. NOW YOU CAN USE WARM WATER. YOU'RE GOING TO RINSE OUT ALL THE SOAP. THAT'S THE ONLY WAY TO GET THE WATER OUT. >> RIGHT. >> TAKE THE EXCESS WATER OUT, STAY IN THE BATHROOM, BECAUSE WE'RE NOT DONE. JUST USE THE SHOWER WALL AND START THROWING IT LIKE THIS. >> REALLY? >> WHAT DOES THAT DO? >> EVERY TIME IT FLIES THROUGH THE AIR, IT STARTS TO SHRINK. DO YOU SEE THIS WRINKLING BACK HERE? THAT'S THE SHEEP HANGING ON FOR DEAR LIFE. IT'S BECOMING PART OF THE SILK. IT'S NOT LETTING GO. IT'S SHRINKING INTO THE SILK. >> SO IT'S ALL SHRINKING IN. >> YES. >> ONCE YOU DO THAT, FOR HOW LONG? >> IT'S PERMANENT. YOU MAKE THAT DECISION. IF IT'S IN THERE ENOUGH, AND IT--WHATEVER YOUR PROJECT IS, IF IT'S SOMETHING THAT YOU KNOW YOU'RE GOING TO WASH OVER AND OVER AGAIN, YOU WANT TO GET A GOOD-- >> DO IT MORE. >> TIGHT, YES. BECAUSE THE WHOLE THING IS SHRINKING AT THE SAME TIME, SO--AND THEN THAT'S ALL YOU'RE DOING. YOU'RE JUST THROWING IT. AND THEN WHEN YOU DRY IT, YOU'LL LAY IT ON THE SHOWER ROD-- >> AND DO YOU PUT IT IN THE DRYER TO DRY? >> NO, NO, NO. >> DON'T DO THAT. JUST LET IT DRY NATURALLY. >> LONG, LENGTHWISE LIKE THIS INSTEAD OF THIS WAY, BECAUSE THE WATER WILL PULL IT AND DISTORT IT. >> WOW. WELL, I WISH WE HAD TIME TO GO ALL THE WAY THROUGH IT-- >> I KNOW. >> BUT I THINK WE'VE ALL GOT, AND WITH THE INSTRUCTIONS WE CAN FIGURE THIS OUT. I REALLY APPRECIATE YOU SHOWING-- >> [INDISTINCT] >> IT'S AMAZING, AND THE THINGS YOU BROUGHT ARE JUST ABSOLUTELY BEAUTIFUL. >> WELL, THANK YOU. >> THANK YOU, BARBARA. >> THANK YOU FOR HAVING ME. >> I HOPE YOU ENJOYED THE SHOW TODAY. NEXT TIME ON "CREATIVE LIVING," WE'LL LEARN HOW TO PREPARE AND SERVE CALIFORNIA KING SALMON AND LEARN WHY IT'S SO GOOD FOR US. WE'LL ALSO LEARN SOME TECHNIQUES FOR USING PAINT STICKS TO CREATE BEAUTIFUL FABRIC TREATMENTS, AND THEN WE'LL SHOW HOW TO PREPARE OUR OWN HOMEMADE MARSHMALLOWS, IN CASE YOU'VE EVER WONDERED HOW THEY'RE MADE. ONE OF MY NEXT GUESTS IS GOING TO TALK ABOUT WILD-CAUGHT CALIFORNIA KING SALMON, WHICH IS TASTY AND CONTAINS OMEGA-3 FATTY ACIDS. SHE'S GOING TO PAIR THIS WITH OTHER INGREDIENTS TO MAKE A MEAL THAT'S EASY TO PREPARE AND EXTREMELY HEALTHY. ANOTHER GUEST IS A QUILTER AND DESIGNER, AND SHE'S GOING TO DEMONSTRATE PAINTING QUILT BLOCKS TO CREATE A ONE-OF-A-KIND DESIGN. SHE'LL DEMONSTRATE USING PAINT STICKS FOR STENCILING, CHANGING BACKGROUNDS, ADDING TEXTURE, AND MUCH MORE. AND FINALLY, WE'LL TALK TO TWO COOKBOOK AUTHORS WHO WILL SHOW HOW TO PREPARE HOMEMADE MARSHMALLOWS. THEY'LL SHARE AN OLD FAMILY RECIPE, WHICH IS INCLUDED IN THEIR COOKBOOK, "SUGAR SUGAR." EACH RECIPE IN THE BOOK HAS A WONDERFUL STORY THAT GOES ALONG WITH IT, SO WHETHER YOU LIKE TO COOK OR NOT, YOU'LL DEFINITELY ENJOY THE STORIES. ALL OF THESE TOPICS WILL BE FEATURED ON THE NEXT "CREATIVE LIVING" SHOW. IF YOU EVER HAVE COMMENTS OR SUGGESTIONS OR IDEAS FOR SHOWS, YOU CAN E-MAIL ME AT SHERYL.BORDEN@ENMU.EDU. I'D ALSO LIKE TO ASK YOU TO BECOME A FAN OF "CREATIVE LIVING" ON FACEBOOK. JUST GO TO FACEBOOK.COM AND IN THE "SEARCH" WINDOW TYPE IN "CREATIVE LIVING WITH SHERYL BORDEN." I HOPE YOU'LL PLAN TO JOIN ME NEXT TIME FOR "CREATIVE LIVING." >> WE ARE VERY PLEASED TO OFFER A NEW BOOKLET THAT ACCOMPANIES THIS SERIES OF "CREATIVE LIVING." THIS BOOKLET IS TITLED "THE 6700 SERIES," AND IT FEATURES A WONDERFUL COLLECTION OF IDEAS AND INFORMATION, AND IT'S AVAILABLE FREE OF CHARGE ON OUR WEB SITE. POSTED AS A PDF FILE, YOU CAN SIMPLY DOWNLOAD THE ENTIRE BOOKLET OR JUST THE SEGMENTS YOU'RE MOST INTERESTED IN. YOU'LL FIND INFORMATION ON FOODS, NUTRITION, CLOTHING, FASHION, HEALTH AND BEAUTY, HOME DECORATING, AND MUCH MORE. FOR YOUR COPY OF THIS NEW BOOKLET, GO TO OUR WEB SITE AT KENW.ORG AND THEN CLICK ON "CREATIVE LIVING." SCROLL DOWN TO THE BOOKLET SECTION AND YOU CAN CLICK ON THIS BOOKLET, OR ON ANY OF THE OTHER BOOKLETS WE HAVE AVAILABLE ONLINE. JUST GO TO KENW.ORG, CLICK ON "CREATIVE LIVING," AND DOWNLOAD THE BOOKLET TITLED "THE 6700 SERIES." WE ALSO INVITE YOU TO SIGN UP FOR OUR FREE E-NEWSLETTER. JUST GO TO KENW.ORG AND CLICK ON THE "SIGN UP NOW" BUTTON, AND INPUT YOUR E-MAIL ADDRESS. THAT'S ALL THERE IS TO IT. YOU'LL ENJOY READING AN UP-TO-DATE NEWSLETTER FILLED WITH INTERESTING TOPICS AND INFORMATION. THANK YOU.
Now Playing As: Captioned (English) (change)
Crafter Barbara Felts demonstrates a Japanese felting technique, while author Peter Goodman discusses anti-bullying tips with Sheryl.
Media Details
Runtime: 27 minutes