Creative Living With Sheryl Borden #6706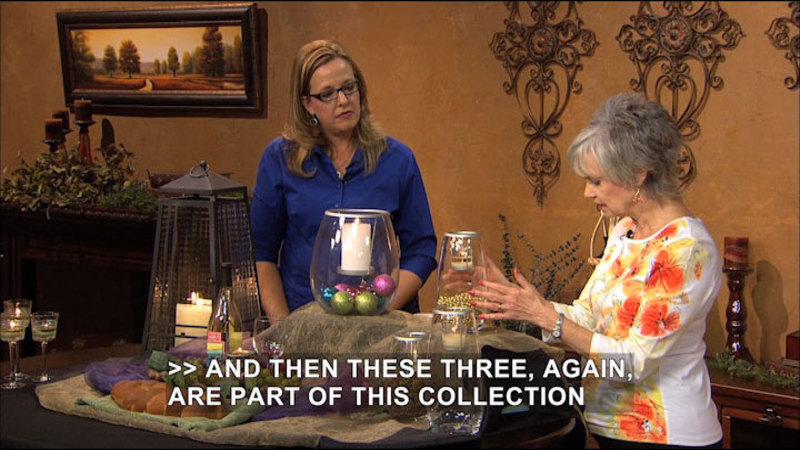 >> "CREATIVE LIVING," UTILIZING TODAY'S TECHNOLOGY WITH THE BEST OF THE PAST TO BRING YOU INNOVATIVE IDEAS AND UP-TO-DATE INFORMATION FOR CREATIVE LIFESTYLES IN TODAY'S ACTIVE WORLD WITH YOUR HOST--SHERYL BORDEN. >> I'M SO GLAD YOU JOINED ME TODAY FOR "CREATIVE LIVING." WE'RE GOING TO LEARN HOW TO MAKE TREAT POPS. WE'LL TALK ABOUT THE BENEFITS OF ACUPUNCTURE AND FIND OUT HOW TO USE CANDLES TO MAKE SPECIAL EVENTS EVEN MORE SPECIAL. ONE OF MY GUESTS IS NANCY SILER, AND SHE'S GOING TO DEMONSTRATE HOW TO MAKE TREAT POPS, WHICH ARE SWEET INDIVIDUAL SERVINGS OF CAKE LAYERED WITH ICING OR A FAVORITE FILLING AND TOPPED WITH A FESTIVE ACCENT SUITABLE FOR ANY OCCASION. NANCY'S WITH WILTON BRANDS IN WOODRIDGE, ILLINOIS. ANOTHER GUEST IS DR. DANIEL MAREZ, AND HE'S A DOCTOR OF ORIENTAL MEDICINE, AND HE'S ALSO WRITTEN A BOOK ON RELIEVING PAIN. DR. MAREZ IS GOING TO EXPLAIN WHAT ACUPUNCTURE CAN AND CANNOT DO. HE'LL ALSO TALK ABOUT HOW TO CHOOSE AN ACUPUNCTURIST, THE EXPENSE INVOLVED, AND HE'LL DISCUSS INSURANCE COVERAGE. HE LIVES IN RATON, NEW MEXICO. AND WE'LL BEGIN THE SHOW TODAY WITH MELANIE THAYN, WHO IS AN INDEPENDENT CONSULTANT WITH PARTYLITE, WHICH IS LOCATED IN PLYMOUTH, MASSACHUSETTS. MELANIE WILL SHOW US HOW CANDLES MAKE ALL EVENTS SPECIAL OCCASIONS AND GIFTS EVEN MORE SPECIAL. SHE SAYS IT'S IMPORTANT TO CREATE A WOW FACTOR AT EVERY EVENT, AND CANDLES CAN HELP DO THIS. MELANIE, THANK YOU SO MUCH FOR COMING, BUT MOST OF ALL, THANK YOU FOR BRINGING ALL OF THESE BEAUTIFUL CANDLES AND CANDLEHOLDERS. >> OH, YOU'RE MORE THAN WELCOME. AND THANK YOU FOR HAVING US. >> WELL, AND WHAT WE WANTED TO TALK ABOUT WAS HOW DO YOU ADD THAT I GUESS YOU COULD CALL IT THAT WOW FACTOR TO ENTERTAINING? >> YEAH. THERE'S A LOT OF THINGS THAT YOU CAN DO WITH CANDLES THAT CAN REALLY ADD FOR THE WOW FACTOR. OF COURSE, A LOT OF PEOPLE START OFF BY THINKING OF SPECIAL OCCASIONS AS GIFT GIVING. SO I WANT TO KIND OF START OFF WITH THAT A LITTLE BIT. I PUT TOGETHER A BASKET HERE OF OUR FORBIDDEN FRUITS COLLECTION, AND THIS COLLECTION ESPECIALLY APPEALS TO BOTH OUR MOTHERS' AGES, OUR AGES, AND TEENAGERS, SO IT'S SUCH A BEAUTIFUL COLLECTION. WE HAVE REED DIFFUSER, LIP GLOSSES, VOTIVE HOLDERS IN JARS. >> EVERYTHING TO PAMPER US. >> YES. IT'S A GREAT GIFT FOR MOTHER'S DAY, BIRTHDAYS, VALENTINE'S DAY, SO LOVE, LOVE, LOVE THAT LINE. >> IT'S COLORFUL. THAT'S PART OF THAT WOW FACTOR WE WANTED TO TALK ABOUT WAS COLOR. >> ABSOLUTELY. AND THAT BRINGS US OVER HERE. AND YOU CAN SEE IN THESE VOTIVE HOLDERS HERE, I HAVE THE GREEN WHICH BLENDS SO WELL WITH THE MIDDLE DISPLAY, BUT COLOR REALLY CAN MAKE A DIFFERENCE. SOME IDEAS ARE WHEN YOU DO A SPECIAL OCCASION, SAY FOR 4TH OF JULY, YOU CAN DO RED, WHITE, AND BLUE CANDLES, SO YOU DON'T HAVE TO HAVE ALL THE SAME COLOR. >> IF YOU HAVE THE CANDLEHOLDERS, THAT JUST SHOWS HOW VERSATILE THEY ARE. YOU CAN CHANGE IT WITH PARTY OR WITH SEASON. >> EXACTLY. >> WHAT ABOUT INDOOR/OUTDOOR? SO MANY PEOPLE LOVE TO ENTERTAIN OUTSIDE. >> RIGHT, THEY DO. AND LANTERNS ARE VERY, VERY POPULAR IN DECORATING. BUT YOU CAN REALLY BRING THOSE INSIDE BECAUSE THEY ARE SUCH MAGNIFICENT PIECES. >> THEY'RE ALMOST THE FOCAL POINT OF SOMETHING. >> ABSOLUTELY. AND THE TYPE OF GLASS THAT THE LANTERN HAS CAN REALLY GIVE SOME GREAT REFLECTIONS. FIREPLACE MAN-- HEARTHS ARE PERFECT FOR THESE TYPES OF THINGS. AND I LOVE DOING THE 3 WICKS IN THEM 'CAUSE THEY GIVE OFF SO MUCH LIGHT. >> WE TALKED ABOUT THE LITTLE VOTIVES, AND WE'VE TALKED ABOUT THE 3 WICK. WHAT ABOUT BURNING TIME? >> BURNING TIMES VARY DEPENDING ON THE SIZE OF THE CANDLE. WITH YOUR VOTIVES AND YOUR TEA LIGHT-SIZE CANDLES, WHICH ARE THE SMALLER ONES, YOU USUALLY DON'T HAVE TO WORRY ABOUT HOW LONG YOU'RE BURNING THEM. I ALWAYS LIKE TO TELL PEOPLE IF IT'S GOT A LAYER OF LIQUEFIED WAX ACROSS THE TOP, YOU'VE BURNED IT LONG ENOUGH. WITH A 3-WICK, IT IS A LITTLE BIT MORE OF AN INVESTMENT OF YOUR TIME. SO 3 WICKS ARE 6 INCHES ACROSS, SO THE MINIMUM BURNING TIME IS 6 HOURS. SO THEY'RE IDEAL FOR ENTERTAINING BECAUSE TYPICALLY, YOU WILL LIGHT THEM BEFORE YOUR GUESTS ARRIVE, AND THEN YOUR GUESTS ARE THERE FOR A LITTLE WHILE. SO YOU CAN GET THEM-- >> YOU CAN COUNT ON THEM. >> YES. >> WE WANTED TO TALK ABOUT THIS BEAUTIFUL PIECE BECAUSE TALK ABOUT VERSATILITY. >> YES, AND THAT'S ONE THING I LOVE AS A VERY BUSY PERSON. I LOVE TO DECORATE, BUT I DON'T HAVE THE TIME TO TAKE EVERYTHING DOWN AND THEN PUT NEW STUFF UP. I PREFER TO HAVE PIECES LIKE THIS WHERE YOU CAN JUST CHANGE WHAT'S INSIDE OF IT. >> RIGHT NOW, YOU HAVE WHITE ROSES, JUST SILK ROSES... >> LITTLE--FUN LITTLE BIG DIAMOND RING. SO WHETHER IT BE FOR A WEDDING OR FOR AN ANNIVERSARY, BUT THIS COMES OUT VERY EASILY, OK, AND WE CAN TAKE THESE THINGS OUT AND YOU CAN SEE HOW QUICK, AND IT'S ALMOST AS SIMPLE AS SOMETHING THAT YOUR KIDS COULD DO AND KIND OF HAVE FUN WITH THE DECORATING, AND YOU JUST THROW SOME LEAVES IN THERE. >> SO INSTEAD OF PUTTING ALL THE DECORATIONS UP EACH SEASON, ALL YOU'RE DOING IS THE INSIDES. >> EXACTLY. EXACTLY. SO IT LOOKS SO BEAUTIFUL, AND YOU JUST PUT THAT GLOW-LIGHT PILLAR, WHICH IS ONE OF MY FAVORITE PILLARS... >> I DO LIKE THAT, BUT I COULD ALSO SEE THE OTHER COLORS FROM THE LEAVES. YOU COULD CHANGE THAT. >> RIGHT. AND I'LL SHOW YOU ONE MORE. I'M A BIG ORNAMENT PERSON, SO AT THE HOLIDAYS, AND I HAVE TEENAGERS, SO WE DO A LOT OF BRIGHT COLORS INSTEAD OF TRADITIONAL COLORS. >> THOSE NEON. >> MM-HMM. AND YOU CAN JUST ADD SOME ORNAMENTS DOWN IN THERE AND HAVE-- >> THERE'S ONE RIGHT-- >> YEAH. CAN YOU GET IT FOR ME? >> THERE. >> OK. AWESOME. THANKS. SO, VERY SIMPLE. >> AND HALLOWEEN--WOULDN'T THAT BE FUN TO PUT MAYBE CANDIED CORN IN IT OR SOMETHING? >> I LOVE DOING CANDY CORN OR PUMPKINS BECAUSE THEY HAVE THE MOST LONGEVITY IN DECORATING 'CAUSE YOU CAN USE PUMPKINS AND CANDY CORN FROM SEPTEMBER TO THE END OF NOVEMBER, SO YOU DON'T HAVE TO CHANGE AS MANY THINGS. >> I LIKE THE WAY YOU THINK. AND NOW THIS IS JUST ABSOLUTELY SPECTACULAR IN FRONT AND READY FOR A PARTY. >> ABSOLUTELY. THIS TRAY IS REALLY A GREAT BASE PIECE BECAUSE ALL YOU HAVE TO CHANGE IS WHAT'S ON THE TRAY TO FIT THE SEASON. I KIND OF WENT WITH THE WINE-AND-CHEESE THEME HERE. YOU CAN SEE WHERE THE SMALLER OF THE HURRICANE I PUT SOME CORKS IN IT. >> I HADN'T EVEN REALIZED THAT WAS THE SAME PIECE ON A MINIATURE. >> THE SAME COLLECTION, YEAH. YOU CAN DO A CANDLE GARDENS THROUGH THE FRONT-SIZE PILLARS AND THEN PUT SOME ORNAMENTS AROUND FOR CHRISTMAS OR SOME PINE CONES. JUST THE SKY'S THE LIMIT, BUT IT'S A GREAT BASE PIECE FOR ALL YEAR ROUND AS WELL. >> ONE THING YOU POINTED OUT TO ME EARLIER WAS SOME OF THE PIECES IN THE COLLECTION ARE FOOD SAFE. THIS ONE ISN'T. SO PEOPLE DO NEED TO KNOW THAT. >> CORRECT. THAT IS CORRECT. >> USE THIS AS A SERVING, A CENTERPIECE. >> YES. AS A BASE PIECE. ABSOLUTELY. AND THAT'S WHY WE JUST DID FAKE GRAPES. >> VERY SMART. >> BUT IT TIES TO THE THEME, AND IT'S FUN, SO... >> AND THEN THESE THREE, AGAIN, ARE PART OF THIS COLLECTION AND, UH, GOSH, WE COULD DO LOTS OF THINGS WITH THESE. >> YES. I LOVE THE TRIO BECAUSE WITH THE TRIO, YOU CAN ACTUALLY DO AN ENTIRE THEME, BUT 3 DIFFERENT THINGS IN EACH HOLDER. SO, AGAIN, SAY GOING BACK TO A HOLIDAY LIKE 4TH OF JULY, YOU CAN DO FLAGS IN ONE, LITTLE MINIATURE FLAGS IN ONE, YOU CAN DO STARS IN ANOTHER ONE, SO YOU CAN REALLY TIE ALL OF THOSE IN, AND THEY HAVE SOMETHING DIFFERENT IN EVERY ONE. >> AND I'VE EVEN SEEN NOW THEY HAVE, IT LOOKS LIKE ORNAMENTS, BUT THEY'RE IN THE RED, WHITE, AND BLUE, SO YOU COULD PUT SEVERAL OF THOSE IN. >> YOU CAN GET SO CREATIVE, AND EVEN KIDS HAVE A LOT OF FUN WITH COMING UP WITH IDEAS. >> GOSH, WITH A FEW PIECES-- AND WHAT I LIKE IS JUST LIKE YOU SAID. YOU DON'T HAVE TO TAKE THESE ALL SOMEWHERE--UPSTAIRS OR IN THE ATTIC OR IN YOUR-- WHEREVER YOU STORE YOUR THINGS-- IT'S ONLY THE INSIDE PARTS THAT HAVE TO BE MOVED. >> EXACTLY. I'VE GOTTEN TO THE POINT NOW WHERE I JUST HAVE LITTLE PLASTIC CONTAINERS, AND THOSE CONTAINERS ARE WHAT CHANGES TO THE INSIDE OF THESE. AND IT SAVES SO MUCH SPACE AND TIME. >> IT DOES. WELL, THIS IS JUST BEAUTIFUL. I LOVE YOUR IDEAS, AND I'M ALREADY THINKING OF SOME OF MY OWN. THANK YOU VERY MUCH, MELANIE. >> THANK YOU. >> DR. MAREZ, IT'S A REAL PLEASURE TO HAVE YOU HERE TODAY, AND I HAVE TO TELL YOU, WHEN I TOLD EVERYONE THAT I WORK WITH THAT YOU WERE COMING, AND THAT YOU WERE AN ACUPUNCTURIST, EVERYBODY VOLUNTEERED TO BE OUR GUINEA PIG TODAY, IF YOU WILL, SO THERE'S REALLY A LOT OF INTEREST IN ACUPUNCTURE. HOW DID YOU GET INVOLVED IN IT? >> WELL, FIRST, THANK YOU FOR HAVING ME ON YOUR SHOW. I APPRECIATE THAT. I STARTED OUT IN THE MILITARY, MY MEDICAL CAREER IN THE MILITARY. I DIDN'T KNOW--THIS WAS AT THE END OF VIETNAM, AND THEY WERE CRANKING OUT MEDICS LEFT AND RIGHT, BECAUSE THE AVERAGE MEDIC ONLY LASTS ABOUT 2 WEEKS IN VIETNAM BEFORE THEY WERE WOUNDED. SO THEY NEEDED TO REPLACE THEM, SO THAT'S HOW I STARTED MY CAREER, AND THEN I WORKED AT A VERY LOCALE IN JAPAN THAT WAS VERY REMOTE, SO WE HAD ONE DOCTOR, AND HE WAS A FLIGHT SURGEON. SO HE SAID, "IF YOU SEND ME A PATIENT, THEY BETTER BE DYING." SO I SAID, "TEACH ME." SO HE TAUGHT ME HOW TO SHOOT X-RAYS, WE DID BLOOD WORK, AND I WAS LUCKY TO WORK FOR SOMEBODY THAT EVERY MONTH, I GOT TO WORK IN A DIFFERENT DEPARTMENT. >> IT WAS ON-THE-JOB TRAINING-- >> IT WAS OJT BIG TIME, YES, SO I REALLY ENJOYED THAT, SO WHEN I GOT OUT, I WAS A PREMED MAJOR IN COLLEGE, AND THEN I WANTED TO PROBABLY PURSUE BEING AN M.D., BUT THEN I STARTED NOTICING--I WORKED IN THE EMERGENCY ROOM. I WAS IN COLLEGE. PEOPLE WERE COMING TO THE EMERGENCY ROOM FOR CHRONIC CONDITIONS, AND I THOUGHT SOMETHING DIDN'T MAKE SENSE HERE. SO I RESEARCHED MORE, AND I THOUGHT ACUPUNCTURE MIGHT BE MORE MY PHILOSOPHY OF TREATING MED--OF TREATING-- >> IT'S AN ANCIENT ART, ISN'T IT? >> YES. IT GOES WAY BACK TO THE STONE AGE, ACTUALLY, BUT THERE'S NO EXACT DATE, BUT I READ A ARTICLE BY A DOCTOR. HE SAID THAT THERE'S A REALLY GOOD, EFFECTIVE TREATMENT FOR PAIN. HE CALLED IT ACUPUNCTURE, AND THIS WAS IN 1916. THIS IS ALMOST A HUNDRED YEARS AGO HERE IN THE UNITED STATES. >> I'VE ALWAYS THOUGHT IT WAS ALWAYS CHINESE ACUPUNCTURE, BUT I UNDERSTAND THERE'S DIFFERENT TYPES. >> THERE'S CHINESE, JAPANESE, KOREAN, VIETNAMESE, TAIWANESE, THERE'S AMERICAN ACUPUNCTURE. >> AND THEY'RE ALL DIFFERENT? >> THEY'RE ALL DIFFERENT, AND THE MAIN 2 ARE CHINESE AND JAPANESE, AND THE DIFFERENCE IS WITH CHINESE ACUPUNCTURE, THEY PUT THE NEEDLE IN DEEPER. WITH JAPANESE ACUPUNCTURE, THE NEEDLE'S IN MAYBE A HUNDREDTH OF AN INCH. VERY SHALLOW. >> WHICH DO YOU PREFER? >> I DIAGNOSE WITH CHINESE ACUPUNCTURE, BUT MY NEEDLE TECHNIQUE IS JAPANESE. IT'S MORE PATIENT-FRIENDLY. THE NEEDLES DON'T HURT. AND THE RESULTS ARE INSTANT. INSTANT RESULTS. >> I GUESS THE PROOF IS IN THE PUDDING, SO TO SPEAK, AND TERRY HAS RHEUMATOID ARTHRITIS. SHE-- WHEN I--WHEN SHE VOLUNTEERED TO DO THIS, I SAID, "WHERE DO YOU HAVE PAIN?" AND SHE SAID, "OH, EVERYWHERE." AND I THOUGHT IT WAS INTERESTING BEFORE WE STARTED, CAME IN HERE, YOU TREATED THE NERVES. NOW WHY? >> YES. SOMETIMES I'LL GET PATIENTS WITH MULTIPLE-SITE PAINS, SO BEFORE I DO TREATMENTS FOR EACH PAIN, I SET UP THE WHOLE BODY TO RELAX HER NERVES. THAT WAY, SHE'S MORE RECEPTIVE FOR THE TREATMENTS. AND A LOT OF TIMES, WHEN YOU DO THE WHOLE NERVE TREATMENT, THE PAIN WOULD GO AWAY. >> THEN YOU DON'T HAVE TO DO ANYTHING ELSE? >> SOMETIMES I DON'T EVEN DO IT. THAT'S IT. YEAH. >> DID YOU RELAX ENOUGH THAT ANY PAIN WENT AWAY? >> I FELT COMPLETELY PAIN FREE WHEN I WAS FINISHED. YEAH, ALL OVER. >> LET'S SEE HOW YOU DO THIS, BECAUSE I HAVE GONE, I HAVE HAD ACUPUNCTURE, AND MY GREATEST FEAR WAS THE NEEDLE. >> WAS THE NEEDLE, RIGHT. OK. THAT'S THE SAME THING WITH OTHER PEOPLE, TOO. NOBODY LIKES NEEDLES. BUT ONE OF THE THINGS WE DID--WE TALKED BEFORE THE TREATMENT WAS TREATING PAIN IS JUST NOT ENOUGH. WE GOT TO FIND A PATTERN TO HER PAIN, AND SHE WAS SAYING THAT HER PAIN WAS WORSE IN THE MORNING. IN THE MORNING IS THE COLDEST TIME OF THE DAY, SO IF I SAID THE COLD MAKES YOUR PAIN WORSE, WHY ARE YOU DRINKING ICE-COLD WATER? IT DOESN'T MAKE SENSE. >> BUT JUST FAUCET WATER OR JUST TAP WATER. >> I TELL PEOPLE TO GO TO ROOM TEMPERATURE. OUR BODY TEMPERATURE'S 98.6, SO OUR BODY LIKES WARMTH. SEE? SO... SO HERE'S A POINT FOR THIS AREA OF PAIN, AND I SEE THIS AREA OF PAIN A LOT 'CAUSE THESE ARE PEOPLE WHO ARE TEXTING AND TWEETING. PEOPLE ARE ON THEIR COMPUTER A LOT. SO YOU'RE STARTING TO SEE THIS MORE AND MORE. THERE'S A POINT RIGHT IN HERE TO TREAT THIS, AND THE PAIN WILL GO AWAY INSTANTLY, SO FIRST WE'RE GONNA CLEAN THE AREA. AND I JUST TAP A NEEDLE IN VERY SHALLOW. LET ME FIND THAT TENDER SPOT FIRST AND YOU TELL ME. TENDER RIGHT HERE. AND JUST TAP IT IN GENTLY. >> THAT'S WHAT I THOUGHT WAS ODD, TOO. YOU DON'T PUSH IT IN. IT'S JUST TAPPED. >> EVERYBODY HAS THEIR OWN TECHNIQUE, SO I TRY TO GO TO A TECHNIQUE THAT'S VERY PATIENT- FRIENDLY, THAT DOESN'T HURT. >> DID THAT HURT GOING IN? >> I COULDN'T FEEL IT GO IN. >> DIDN'T FEEL IT GOING IN. I'M GONNA STIMULATE THE NEEDLE. CAN YOU FEEL THAT? >> YES. >> DO YOU FEEL PAIN IN THIS AREA NOW? >> NO. >> NOTHING. INSTANT RESULTS. WE LIVE IN A DRIVE-THRU SOCIETY. >> SO SHE DOESN'T NEED TO LAY THERE OR RELAX FOR AN HOUR, 20 MINUTES OR SOMETHING IF IT'S THAT FAST? >> YEAH, IF IT'S THAT FAST, YEAH. THE AVERAGE ACUPUNCTURE TREATMENT NOW IS A HALF AN HOUR, AND MY TREATMENTS GO OVER AN HOUR BECAUSE NOBODY CO--NOT MANY PEOPLE COME IN WITH ONE PAIN. THEY SAY, "OH, I GOT MY NECK AND MY HIP, MY BACK," SO I'M SAYING, "YOU'RE HERE. LET'S JUST WORK ON ALL OF IT." SEE? SO... AND I'LL JUST LEAVE IT IN, STIMULATE IT. I MIGHT LEAVE IT IN FOR ABOUT 15 MINUTES, STIMULATE IT 3 OR 4 TIMES. AND THEN WE TALK ABOUT THE PATTERN OF YOUR PAIN. EVERYTHING HAS A PATTERN TO IT, SO WE WANT TO FIGURE OUT THAT PATTERN. >> AND SINCE THIS WAS HER THUMB, AND THEN YOU PUT THE NEEDLE ON THE OPPOSITE SIDE, IS THAT ALWAYS THE CASE THAT YOU GO TO AN OPPOSITE SIDE? >> NOT ALWAYS, BUT A LOT OF TIMES, IT IS. BUT THERE'S DIFFERENT TYPES OF ACUPUNCTURE FOR PAIN. I GRAVITATED TO INSTANT PAIN RELIEF. >> I LIKE THAT BETTER, TOO. >> YES. PATIENTS LIKE IT. IN RURAL NEW MEXICO, WE'RE IN A VERY POOR AREA, SO PEOPLE, A LOT OF TIMES, CAN'T AFFORD MULTIPLE TREATMENTS, SO I HAVE TO HIT A GRAND SLAM WITH EVERY TREATMENT. >> AND THAT'S WHY I THOUGHT THIS BOOK WAS SO INTERESTING. I'VE ALREADY TRIED TO TREAT MYSELF IN A FEW PLACES. BUT THIS IS PAIN RELIEF IN 3 SECONDS, BUT IT'S ACUPRESSURE. >> ON ACUPUNCTURE POINTS. THESE ARE ACUPUNCTURE POINTS. AND THESE POINTS HAVE BEEN STUDIED FOR HUNDREDS OF YEARS. AND WHAT GOT ME WITH THE BOOK WAS--GOT ME GOING WITH THE BOOK WAS A NATIVE-AMERICAN NURSE UP IN NORTHERN BRITISH COLUMBIA. PATSY AND I WERE VACATIONING UP THERE, AND EVERY TIME WE STOPPED AT--THEY SAID, "OH--" ONE OF THE TOWNS, IT WAS THE NATIVE-AMERICAN--THE CHIEF'S MOTHER HAD KNEE PAIN, AND SO I TREATED HER FOR KNEE PAIN, AND WE WENT NORTH, AND WE CAME BACK SOUTH ABOUT 3 WEEKS LATER, AND THE NURSE SAID, "SHE HASN'T HAD ANY PAIN. SHE HASN'T ASKED FOR ANY PAIN MEDS. I WANT TO LEARN HOW TO DO THIS." AND I SAID, "LET ME COME UP WITH SOMETHING THAT'S EASY TO LEARN," SO I CAME UP WITH THIS BOOK, AND, ACTUALLY, MY DEMONSTRATION IS TAILORED FOR A NATIVE-AMERICAN NURSE WITH RESPECT TOWARDS THEIR PHILOSOPHY TOWARDS LIFE, PHILOSOPHY TOWARDS THEIR ANIMALS, SO MY SPEECH IS REALLY GEARED FOR NATIVE-AMERICAN NURSE. I'VE, UH-- RECENTLY, I GOT CONTACTED BY A DOCTOR, AND SHE WANTED TO LEARN HOW TO GET RID OF PAIN, SO WE SPENT THE WHOLE MORNING GOING THROUGH THIS, AND SHE CALLED ME BACK THE NEXT WEEK, AND SHE WAS THRILLED. SHE SAID, "I'VE NEVER LEARNED SO MUCH ABOUT PAIN IN MY LIFE." SHE'S MAKING MORE MONEY. AND THE DOCTOR BURNOUT WAS ADDRESSED. BUT THE MOST IMPORTANT THING--PATIENT SATISFACTION SKYROCKETED. ACTUALLY, SOME OF HER PATIENTS HAVE TOLD ME NOW SHE'S WRITING LESS PRESCRIPTIONS, SO THAT COULD BE GOOD OR BAD. >> BUT THIS GOES FROM THE WRIST TO THE THUMB TO THE SHOULDER, NECK. >> THE NEXT 30 TO 40 YEARS, ARTHRITIS IS GONNA BE THE NUMBER ONE CONDITION, AND ARTHRITIS IS BASICALLY-- >> BECAUSE WE'RE LIVING LONGER? >> WE'RE LIVING LONGER, TOO, BUT, UH, WE'RE ALSO A HEAVIER SOCIETY. THERE'S WEIGHT GAIN. THERE'S MORE OVERWEIGHT PEOPLE. THAT PUTS MORE STRESS ON THE JOINTS. SO BASICALLY, THIS HERE IS FOR ALL--ANY JOINT IN THE BODY. YOU CAN EVEN USE IT FOR AREA OF PAIN. I RECENTLY HAD A LADY WHO HAD SHINGLES BEHIND THE SHOULDER, SO I PRESSED THE SHOULDER POINT, AND THE SHINGLE PAIN WENT AWAY. >> AND YOU'VE TOUCHED HERE. THAT'S A SHINGLE POINT? >> THIS IS PAIN FOR SHOULDER. >> FOR SHOULDER. I SEE. >> THIS BOOK IS FOR THE AREA OF PAIN, NOT THE DIAGNOSE. SO SHINGLES, THERE COULD BE SHINGLES ANYWHERE IN THE BODY. SO IF IT'S IN THE CHEST, THEN I USE THE POINT FOR CHEST PAIN. IF IT'S IN THE SHOULDER, I USE THE POINT FOR SHOULDER PAIN. >> DO YOU HAVE TO PRESS REALLY HARD? >> NO, YOU DON'T HAVE TO. USE JUST BARELY PRESS. SOON AS YOU FEEL THE TENDER SPOT, YOU MASSAGE IT FOR 3 SECONDS, AND THE PAIN'S GONE. >> THAT'S WHY IT'S CALLED "PAIN RELIEF IN 3 SECONDS.COM." >> AND WHAT I'VE DONE WAS I'VE FOUND--I'VE RESEARCHED AND I WENT TO THE BEST EAR ACUPUNCTURIST IN THE WORLD. I WENT TO THE BEST HAND ACUPUNCTURIST IN THE WORLD. AND I WENT TO BEST BODY ACUPUNCTURIST IN THE WORLD FOR PAIN, AND I JUST COMBINED ALL THE POINTS AND CAME UP WITH THIS BOOK. I SENT IT TO WASHINGTON, D.C., TO GET THE COPYRIGHT. MAKE SURE I'M NOT STEALING ANYBODY'S MATERIAL. IT'S ORIGINAL. IT TOOK 6 TO 7 MONTHS TO GET IT BACK, AND FROM THIS, I WENT AND DID A PHONE APP, SO WE HAVE A PHONE APP, AND UNIVERSITY OF NEW MEXICO, THEY DID A STUDY ON MY BOOK AND PHONE APP, AND THEY SAID, "RIGHT NOW, THE BEST MARKET FOR YOU WOULD BE THE NATIVE-AMERICANS AND THE MILITARY." BECAUSE RIGHT NOW, THE MILITARY HAS A PROBLEM WITH PRESCRIPTION DRUGS, AND THEY'RE TRYING TO GET AWAY FROM THAT. ACTUALLY, IN NEW MEXICO, TOO, THEY'RE TRYING TO GET AWAY FROM HARDCORE PAIN MEDS LIKE HYDROCODONE, OXYCONTIN, SO RIGHT NOW, THERE'S AN OPPORTUNITY FOR PEOPLE TO USE THIS. >> AND LIKE YOU SAY, ONCE WE LEARN ENOUGH ABOUT IT, THEN WE'RE ABLE TO TREAT OURSELVES OR OUR FAMILY MEMBERS, SO IT'S SAVING MONEY AND RELIEVING THAT PAIN, AND, OK, SO ONCE THIS IS-- TERRY, YOU WOULD STIMULATE THIS PERIODICALLY AND THEN TAKE THE NEEDLE OUT. >> JUST TAKE THE NEEDLE OUT. NO BLOOD. ARE YOU HUMAN? >> YES. >> HOW DID THE-- >> FEELS GREAT. >> YEAH. >> WOW. OK, WELL, THANK YOU SO MUCH FOR BEING ON AND TALKING ABOUT YOUR BOOK, "INSTANT PAIN RELIEF BY USING ACUPRESSURE ON PROVING ACUPUNCTURE POINTS." THANK YOU VERY MUCH FOR BEING WITH US. >> THANK YOU. >> NANCY, IT'S ALWAYS SO MUCH FUN TO HAVE YOU COME BECAUSE YOUR BRING SOMETHING NEW WITH YOU EACH TIME. AT LEAST IT'S NEW TO ME. I'VE NOT SEEN IT, AND I'M ANXIOUS TO SEE HOW THESE TREAT POPS WILL WORK, BECAUSE I THINK THEY WOULD NOT ONLY BE GOOD FOR KIDS PARTIES, MY GRANDCHILDREN, FOR INSTANCE, BUT FOR ADULTS, TOO. THEY'RE SO UNIQUE. >> WELL, THEY ARE. THEY'RE COLORFUL, THEY'RE FUN, THEY'RE SO EASY TO MAKE, AND THERE'S SO MANY DIFFERENT VARIETIES THAT YOU CAN USE. YOU CAN USE THEM FOR ANY SEASON, OCCASION, JUST BECAUSE, AND YOU CAN KIND OF PERSONALIZE THEM, AND THEY HAVE A TOP ON THEM, SO YOU COULD GIVE THEM AS A GIFT IF YOU WANTED TO OR A PARTY FAVOR. AND YOU CAN ARRANGE THEM SO THAT THEY COULD ACTUALLY BE YOUR CENTERPIECE, TOO. SO NOT ONLY IS IT DESSERT, BUT IT'S ALSO A CENTERPIECE. AND I LIKE TO LAYER THEM WITH, OBVIOUSLY, CAKE AND ICING, BUT YOU CAN USE DIFFERENT COLORS OF SORBET OR ICE CREAM OR YOU CAN MIX AND MATCH, YOU KNOW, WITH ANY OTHER TYPE OF DESSERT ITEM. >> FRUIT OR PUDDINGS OR WHATEVER. >> WHIPPED TOPPING IS ALSO GOOD IN THERE. WE'VE DONE THEM WITH BLUEBERRIES, RASPBERRIES, AND YOU HAVE TO CUT YOUR STRAWBERRIES IF YOU USE THOSE, BUT REALLY TASTY. >> OH, GOSH. THIS IS WHAT IT LOOKS LIKE WHEN YOU BUY THE SET OF 12 TREAT POPS. >> THEY ALSO COME IN A SET OF 6, AND THEN THERE IS A SET OF 4 IN GROCERY STORES, TOO. SO IF YOU WANT TO TRY THEM IN SMALLER AMOUNTS, YOU CAN GET A SMALLER SET OF THEM IF YOU WANT TO. AND IF YOU REALLY DIDN'T WANT TO BUY THE CONTAINER, YOU COULD DO A PARFAIT, BUT I DON'T THINK IT'S QUITE THE SAME. >> NO, I DON'T, EITHER. AND WHEN I WAS ASKING YOU HOW IN THE WORLD DO YOU HAVE A PIECE OF CAKE THAT FITS JUST THE RIGHT SIZE, YOU HAVE AN ANSWER TO THAT AS WELL. >> WE HAVE A MINI WHOOPIE PIE PAN, AND ONE CAKE MIX WILL MAKE 70 OF THESE, AND NORMALLY, IF YOU'RE DOING WHOOPIE PIES, YOU'D USE 2, SO YOU ONLY GET 35, WHICH IS A PRETTY GOOD-SIZE SERVING, BUT YOU CAN GET THESE AND MAKE THEM IN CHOCOLATE OR, YOU KNOW, VIRTUALLY ANY FLAVOR YOU WANT. RED VELVET. DONE THEM WITH RED VELVET, YOU KNOW, WITH THE WHITE ICING IN BETWEEN. YOU CAN ALSO USE A MINI MUFFIN PAN TO MAKE--THAT FITS THE CONTAINER. AND THEN IF YOU REALLY DIDN'T WANT TO BAKE, YOU COULD USE 2 VANILLA WAFERS. >> PERFECT. >> I LIKE THE CAKE. I THINK IT'S BETTER, AND IT HOLDS UP BETTER WITH THE ICING OR ANY KIND OF COLORING THAT YOU PUT IN BETWEEN THERE THAN THE VANILLA WAFERS, BUT YOU COULD USE VANILLA WAFERS, TOO. >> LET'S TAKE A LOOK AT SOME OF THE ONES THAT YOU'VE MADE BECAUSE YOU HAVE ALL COLORS, YOU HAVE DIFFERENT TYPES OF TOPPINGS. THOSE ARE BEAUTIFUL. >> I'VE GOT THEM WITH THE STRAWBERRIES, WITH THE CUT STRAWBERRIES, SO THAT LENDS ITSELF TO A LITTLE BIT MORE OF AN ELEGANCE OR AN ADULT DISH OR I DON'T KNOW, A WAY TO GET YOUR KIDS TO EAT STRAWBERRIES. AND THEN THE OTHER IS CAKE AND ICING WITH SOME ICING DECORATIONS, AND THERE'S LOTS OF ICING DECORATIONS OUT THERE. I JUST KIND OF, YOU KNOW, PICKED FLOWERS 'CAUSE THOSE ARE ALWAYS SOMETHING THAT'S, YOU KNOW, REALLY EASY TO USE, BUT, YOU KNOW, YOU COULD ACTUALLY PUT SOCCER BALLS ON TOP IF YOU WANT TO DO IT FOR THE KIDS, YOU KNOW, FOR, YOU KNOW, LIKE, A TREAT. >> THEY DON'T ALL HAVE TO MATCH. THAT'S WHAT I WAS JUST THINKING. I HAVE PIECES OF--FROM OTHER PARTIES, AND THERE'LL BE 3 FLOWERS LEFT OR ONE SOCCER BALL OR SOMETHING, SO THIS WOULD BE A GREAT WAY TO USE THOSE UP. >> IT'D BE GOOD BECAUSE YOU COULD MAKE YOUR WHOOPIE PIES, FREEZE THEM, AND THEN WHEN THE KIDS COME HOME, YOU COULD ACTUALLY JUST, YOU KNOW, SAY, "OH, HERE'S A TREAT POP." YEAH. SO LET ME SHOW YOU THE BASIS OF IT. THIS IS WHAT THE CONTAINER IS. IT'S A 3-PIECE CONTAINER, AND IT'S GOT THIS SECTION HERE, AND IT COMES DOWN AND THERE'S ACTUALLY A SQUARE, SO YOU LINE UP THE SQUARE AND JUST PULL THAT DOWN. NOW, THIS HERE CAN EITHER BE THE TOP, SO IF YOU WANT TO HAVE IT ON THE GO, OR IT CAN BE THE STAND, SO WHETHER YOU COULD DISPLAY THEM LINED UP ON THE TABLE IF YOU WANTED TO, OR FOR ACTUALLY BUILDING THEM. SO I WAS JUST GOING TO BUILD ONE. I ACTUALLY PUT A CHOCOLATE WHOOPIE IN THERE AND THEN I HAVE--THIS IS BUTTER CREAM ICING THAT'S BEEN COLORED PINK, AND I HAVE A TIP--2A-- WHICH IS ACTUALLY IN THE TREAT POP DECORATING KIT, BUT YOU COULD USE ANY ROUND TIP. MAKES IT JUST A LOT EASIER. YOU COULD ALSO USE THE 1M, WHICH IS THE LARGE CUPCAKE TIP. >> AND I WAS THINKING IF YOU HAD THIS AS AN ACTIVITY AT A TWEENS PARTY. YOU KNOW, JUST HAVE THE BAGS FILLED AND LET THE KIDS DECORATE IT AS THEY WANT TO. >> AND YOU CAN SEE YOU JUST PUT ANOTHER WHOOPIE IN... AND YOU DON'T HAVE TO BE REALLY, YOU KNOW, GOOD AT THIS. YOU JUST BASICALLY GETTING YOUR ICING IN THERE. AND THEN, TO TOP IT OFF, I WOULD JUST DO, LIKE, A ROUND AND GOING AROUND... >> WE COULD DO A CUPCAKE. >> MM-HMM. SO THERE'S THAT ONE. AND LET'S JUST, SINCE THIS IS PINK AND PURPLE, AND THEN YOU CAN SEE HOW NICELY IT JUST SITS THERE. SO LET'S DO ONE, AND THIS ONE I DIDN'T START OFF WITH, SO I'M JUST GOING TO DROP IT IN THE BOTTOM. AND THIS ONE, WE'LL DO SOMETHING A LITTLE DIFFERENT. WE'LL DO 2 DIFFERENT COLORS. SO THERE'S THAT. >> I THINK THAT'D BE FUN. >> ANOTHER ONE. >> AND I SEE NOW WHAT YOU MEAN ABOUT JUST LET--IF WE PUT THE COVER ON THE TOP, IT WOULD BE A GREAT FAVOR FOR EACH OF THE KIDS TO GET TO TAKE HOME FROM THE PARTY. >> I DON'T HAVE PINK. >> LET ME GET THE BLUE OFF THIS. >> WHAT A CONVERSATION STARTER. >> AND FOR THE DIFFERENT HOLIDAYS, YOU KNOW, OBVIOUSLY YOU COULD FIGURE OUT WHAT HOLIDAY YOU MIGHT WANT TO PUT ON TOP. SO THIS LOOKS KIND OF TROPICAL. I'M GONNA PUT THESE LITTLE HIBISCUS ICING DECORATIONS ON TOP. I LOVE THESE. REMINDS ME OF ISLANDS. I FEEL LIKE I SHOULD HAVE MY FLIP-FLOPS ON. AND YOU COULD PUT SUGARS AND SPRINKLES. I FORGOT TO PUT SOME SPRINKLES ON THAT, BUT, YOU KNOW, ANY KIND OF SPRINKLES OR SUGARS, YOU COULD ADD TO IT IF YOU WANTED TO. IF YOU FORGOT, YOU COULD COME BACK IN AND STICK THEM ON LATER. >> OH, YEAH. >> VERY SIMPLE. VERY EASY TO DO. AND OBVIOUSLY IF I WAS GONNA PUT THE TOP ON THEM, I WOULDN'T BUILD IT UP QUITE SO HIGH, AND YOU COULD PUT THE TOP ON. BUT LIKE I SAID, YOU CAN LET THEM STAND ON THE TABLE OR THE COUNTER, AND PEOPLE CAN PICK THEM UP AND GO, AND THEN YOU JUST PUSH THEM UP TO EAT THEM. >> THAT'S GREAT. NO MESS. NO SPOONS, FORKS TO HAVE TO DO. JUST PUSH IT UP. AND THEY'RE ALSO DISHWASHER-SAFE. >> THEY ARE DISHWASHER-SAFE. >> WELL, THANK YOU SO MUCH. I'M SO GLAD YOU SHOWED US THESE. I HOPE YOU ENJOYED THE SHOW TODAY. NEXT TIME ON "CREATIVE LIVING," WE'LL LEARN HOW TO DO NUNO FELTING AND FIND OUT HOW TO CHANGE BYSTANDERS INTO UPSTANDERS TO AVOID BULLYING AMONG CHILDREN. ONE OF MY NEXT GUESTS WILL DEMONSTRATE NUNO FELTING, WHICH IS A JAPANESE FIBER ART TECHNIQUE. SHE'LL SHOW HOW TO CREATE FABRIC FROM SILK AND WOOL ROBING BY USING SOAP, WATER, BUBBLE WRAP, AND SOME MUSCLE. I THINK YOU'LL BE SO SURPRISED AT THE RESULTS. ANOTHER GUEST ON THE NEXT SHOW IS AN AUTHOR OF A CHILDREN'S BOOK ABOUT BULLYING. HE SAYS THAT ATTENTION FROM PEERS AS WELL AS THE FEAR OF RETALIATION AND NOT KNOWING HOW TO RESPOND IN THE MOMENT IS WHAT CAUSES BULLYING BEHAVIOR TO CONTINUE. HE'S GOING TO EXPLAIN HOW TO CHANGE BYSTANDERS INTO UPSTANDERS IN ORDER TO DISCOURAGE BULLYING BEHAVIOR. BOTH OF THESE TOPICS WILL BE FEATURED ON THE NEXT "CREATIVE LIVING" SHOW. IF YOU EVER HAVE COMMENTS OR SUGGESTIONS OR IDEAS FOR SHOWS, YOU CAN EMAIL ME AT SHERYL.BORDEN@ENMU.EDU. I'D ALSO LIKE TO ASK YOU TO BECOME A FAN OF "CREATIVE LIVING" ON FACEBOOK. JUST GO TO FACEBOOK.COM AND IN THE SEARCH WINDOW, TYPE IN "CREATIVE LIVING WITH SHERYL BORDEN." I HOPE YOU'LL PLAN TO JOIN ME NEXT TIME FOR "CREATIVE LIVING." >> WE ARE VERY PLEASED TO OFFER A NEW BOOKLET THAT ACCOMPANIES THIS SERIES OF "CREATIVE LIVING." THIS BOOKLET IS TITLED "THE 6700 SERIES," AND IT FEATURES A WONDERFUL COLLECTION OF IDEAS AND INFORMATION, AND IT'S AVAILABLE FREE OF CHARGE ON OUR WEBSITE. POSTED AS A PDF FILE, YOU CAN SIMPLY DOWNLOAD THE ENTIRE BOOKLET OR JUST THE SEGMENTS YOU'RE MOST INTERESTED IN. YOU'LL FIND INFORMATION ON FOODS, NUTRITION, CLOTHING, FASHION, HEALTH AND BEAUTY, HOME DECORATING AND MUCH MORE. FOR YOUR COPY OF THIS NEW BOOKLET, GO TO OUR WEBSITE AT KENW.ORG AND THEN CLICK ON CREATIVE LIVING. SCROLL DOWN TO THE BOOKLET SECTION, AND YOU CAN CLICK ON THIS BOOKLET OR ON ANY OF THE OTHER BOOKLETS WE HAVE AVAILABLE ONLINE. JUST GO TO KENW.ORG, CLICK ON CREATIVE LIVING AND DOWNLOAD THE BOOKLET TITLED, "THE 6700 SERIES." WE ALSO INVITE YOU TO SIGN UP FOR OUR FREE E-NEWSLETTER. JUST GO TO KENW.ORG AND CLICK ON THE "SIGN UP NOW" BUTTON AND INPUT YOUR E-MAIL ADDRESS. THAT'S ALL THERE IS TO IT. YOU'LL ENJOY READING AN UP-TO-DATE NEWSLETTER FILLED WITH INTERESTING TOPICS AND INFORMATION. THANK YOU.
Now Playing As: Captioned (English) (change)
Nancy Siler creates treat pops with festive toppers, and a consultant from PartyLite shows the many uses for candles at special events. Also Sheryl talks with a guest about the benefits of acupuncture.
Media Details
Runtime: 27 minutes