Creative Living With Sheryl Borden #6704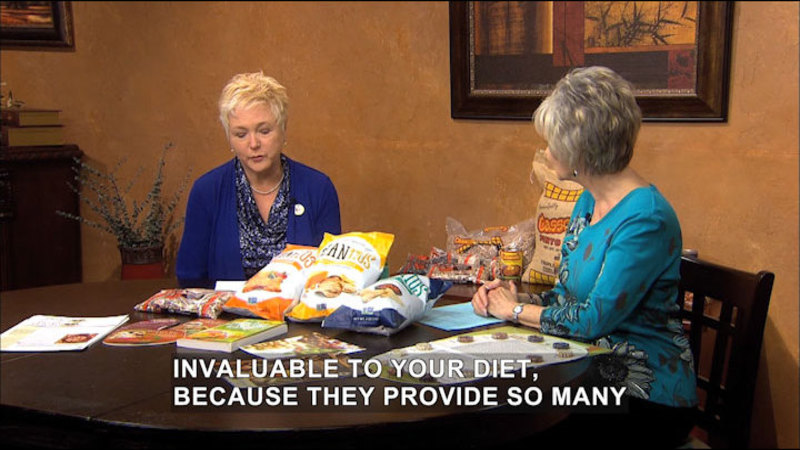 >> "CREATIVE LIVING," UTILIZING TODAY'S TECHNOLOGY WITH THE BEST OF THE PAST TO BRING YOU INNOVATIVE IDEAS AND UP-TO-DATE INFORMATION FOR CREATIVE LIFESTYLES IN TODAY'S ACTIVE WORLD WITH YOUR HOST--SHERYL BORDEN. >> WELCOME TO "CREATIVE LIVING" TODAY. WE'RE GOING TO LEARN HOW TO USE STAMPS TO MAKE A PILLOW, WE'LL TALK ABOUT WHY DRIED BEANS ARE SO GOOD FOR US, AND WE'LL SHOW YOU HOW TO MAKE CUSTOM CORNICES. ONE OF MY GUESTS TODAY IS LISA ROJAS, AND SHE'S GOING TO DEMONSTRATE HOW TO CREATE A NO-SEW PILLOW WITH A FAUX QUILTING TECHNIQUE USING A NEW LINE OF RUBBER STAMPS AND INK PADS. HER COMPANY IS STAMPIN' QUEEN CREATIONS, AND SHE LIVES IN VICTORVILLE, CALIFORNIA. ALSO WITH US TODAY IS JEANNE WHARTON, AND SHE'S WITH THE U.S. DRY BEAN COUNCIL IN JACKSON, WYOMING. JEANNE'S GOING TO TALK ABOUT WHY EATING BEANS IS GOOD FOR YOUR HEALTH, INCLUDING LOWERING YOUR RISK FOR HEART DISEASE AND CERTAIN TYPES OF CANCER. BEANS ALSO HELP CURB THE APPETITE AND HELP FIGHT TYPE II DIABETES. WE'LL BEGIN THE SHOW TODAY WITH REBECCA PECK, WHO REPRESENTS THE UPHOLSTERY STUDIO IN PHOENIXVILLE, PENNSYLVANIA, AND WHETHER YOU WANT TO MAKE A CORNICE TO GO OVER LONGER DRAPES OR JUST MAKE ONE AS A TOPPER, REBECCA WILL SHOW HOW TO BUILD AND FINISH A CUSTOM CORNICE WITH BOTH SEW AND NO-SEW METHODS. THE UPHOLSTERY STUDIO ALSO MAKES PATTERNS FOR CORNICES, HEADBOARDS, TUFFETS, AND OTHER HOME DECOR PROJECTS. REBECCA, THANK YOU SO MUCH FOR BEING WITH US TODAY. I'M ANXIOUS TO LEARN HOW TO DO SOME OF THE THINGS THAT YOU PROBABLY HAVE BEEN WORKING ON FOR YEARS, BUT FOR A BEGINNER TO MAKE A TUFFET OR A OTTOMAN OR A CORNICE BOARD ALMOST SEEMS OVERWHELMING, BUT I'VE ALWAYS WANTED TO CHANGE CORNICE BOARDS IN MY GRANDDAUGHTER'S ROOM, SO I'M REALLY ANXIOUS TO SEE WHAT YOUR TECHNIQUE IS. >> WELL, I THINK IT'S FUN THAT WE CAN CHANGE OUR CORNICES TO MATCH THE SEASONS OR MAYBE IF YOUR CHILD IS GROWING UP AND THEY DON'T WANT THE KIND OF KIDDISH STUFF ANYMORE, WANT SOMETHING A LITTLE MORE MATURE, THIS MAKES IT VERY EASY TO DO THAT. >> OH, IT'S GONNA BE GREAT. I CAN'T WAIT. NOW, THIS ONE IS WITH THE, UH, THE FABRIC AND THIS ONE--WELL, OF COURSE THEY'RE ALL WITH FABRIC-- BUT THIS ONE--WHAT'S THE DIFFERENCE IN THIS PACKAGE? >> WELL, THIS IS THE, UH, THE COLLECTION FROM "HOME DECOR 1 2 3" THAT EXPLAINS HOW TO MAKE THE CORNICE BOARDS. >> BOARDS, OKAY. >> SO, THAT'S ACTUALLY THE HARD BOARD. >> AND THAT'S--OKAY. >> THAT'S ALL UPHOLSTERED. >> UH-HUH. >> AND THEN YOU JUST MOUNT THAT OVER YOUR WINDOW. >> OKAY. >> SO THAT'S GOT THE PATTERNS, THE INSTRUCTIONS. EVERYTHING IS IN THERE. >> AND THEN THIS ONE... >> AND THIS THIS ONE IS ACTUALLY THE DIRECTIONS FOR THIS, SO THIS IS JUST A FABRIC VALANCE MOUNTED ON A BOARD. >> AND, AGAIN, WE'VE GOT PATTERNS AND EVERYTHING WE NEED. >> PATTERNS, INSTRUCTIONS. EVERYTHING'S IN THERE. >> AND TELL US ABOUT THE KITS THAT WE CAN GET TO KEEP US FROM RUNNING ALL OVER TOWN. >> YEAH. SO YOU DON'T HAVE TO GO TO A BUNCH OF DIFFERENT STORES, WE ALSO HAVE AVAILABLE THE KITS TO BUILD THE CORNICE BOARD. >> MM-HMM. THAT'S WHAT THIS IS. >> SO THAT'S--YES. THAT'S GOT YOUR PRECUT WOOD. >> OH. >> YOU TELL US WHAT SIZE, WHAT SHAPE YOU WANT. WE DO ALL THE CUTTING FOR YOU. >> OH, I WONDERED HOW THAT WOULD WORK, BECAUSE EVERYONE'S WINDOW IS A DIFFERENT SIZE. >> YEAH. >> OKAY. >> AND THEN WE SEND YOU THE FOAM, THE DACRON, THE WELTING, ALL OF YOUR BOARDS, YOUR ADHESIVE, YOUR WOOD GLUE, YOUR TACK STRIPS, EVEN YOUR SCREWS AND YOUR HARDWARE. >> OKAY. AND YOU SAID A COUPLE OF THESE STAPLE REMOVERS ARE REALLY HELPFUL TO HAVE. >> YES. WE HAVE 2 TOOLS FROM DOUBLE ROCK. ONE IS THE STAPLE REMOVER, WHICH IS AWESOME, AND THE OTHER ONE IS THE STAPLE SETTER, SO IF YOU DON'T GET THAT ONE STAPLE IN ALL THE WAY, INSTEAD OF PULLING IT OUT, YOU CAN JUST TAP IT BACK IN. >> THAT'S GREAT. OKAY, THIS IS WHAT'S BUILT, BUT WHAT'S SO INTERESTING ABOUT THIS IS THAT WE CAN ACTUALLY CUSTOMIZE THIS FOR, UH, LIKE I SAID, MY GRANDDAUGHTER'S ROOM OR IF YOU'RE PUTTING IT IN YOUR HUSBAND'S OFFICE OR A MASCULINE APPEAL, IT'S JUST A GREAT IDEA. >> YEAH, THIS IS GREAT, BECAUSE THIS IS ON WITH HOOK-AND-LOOP TAPE. >> UH-HUH. >> SO, INSTEAD OF TAKING THE WHOLE BOARD OFF OF THE WALL AND CHANGING IT ALL OUT, ALL YOU HAVE TO DO... IS PULL IT OFF. >> VOILA. >> AND IF YOU WANTED TO DO SOMETHING FOR A HOLIDAY... >> OH, I HADN'T THOUGHT ABOUT DOING THAT. >> PUT THAT ONE. WHOOP. PUT THAT OVER THERE. >> WHOOPS. >> PUT THAT ONE ON. >> STICK IT ON. IT'S JUST LIKE MAGIC. >> STICK IT ON. THERE YOU GO. ALL DONE. >> AND DIDN'T HAVE TO TAKE ANYTHING DOWN OR ASK FOR HELP AT ALL. >> NO. YOU DON'T HAVE TO PUT 18 HOLES IN YOUR WALL. >> NO. I KNOW A LOT OF HUSBANDS WILL BE HAPPY ABOUT THAT. >> SO... >> THEN WE HAVE ANOTHER ONE THAT'S REALLY CUTE TO SHOW. >> YEAH, WE'VE GOT A COUPLE OF DIFFERENT PATTERNS, ACTUALLY, IN THE COLLECTION. >> OH, I LIKE THIS WITH THE... >> THIS IS A DIFF--THIS HAS SOME LITTLE PANELS ON IT. THAT'S REALLY CUTE. THAT THERE. >> WHOOP. HOW CUTE. >> SO HERE'S SOME LITTLE MONSTERS. SO, FOR-FOR YOUR LITTLE BOY, BUT, YOU KNOW... >> OR FOR HALLOWEEN. >> OR FOR HALLOWEEN, YEAH. >> THAT'S CUTE. REALLY CUTE. >> SO YOU CAN CHANGE THAT OUT. >> UH-HUH. >> AND THEN WE'VE GOT THIS ONE. >> OH. PATRIOTIC. >> YEAH. 4th OF JULY OR IF YOU'VE GOT A-- SOMEONE SERVING IN THE SERVICES AND YOU WANT TO GIVE THEM A NICE WELCOME HOME. >> OH, WHAT A GREAT IDEA. HAVE IT ON THE FRONT WINDOW AND SAY, "WE ARE..." >> SO THIS IS ANOTHER ONE OF-- >> ...THANKFUL YOU'RE HOME." >> ANOTHER ONE OF THE SHAPES THAT'S-THAT'S IN THE COLLECTION. >> OH, I LIKE THE WAY THAT HANGS SO NICELY, AND YOU COULD HAVE BLINDS UNDER IT, OR YOU COULD HAVE FABRIC SHEERS OR WHATEVER BEHIND IT. >> EXACTLY. >> AND THEN ANOTHER EXAMPLE WAS TO STENCIL, AND BEFORE WE HANG-- SHOW THIS ONE, YOU'RE GOING TO DO A LITTLE STENCILING... >> YEAH. >> ...FOR US. >> THE GREAT THING ABOUT THIS IS YOU CAN PICK OUT YOUR OWN FABRIC, OR IF YOU'RE A LITTLE ARTSY AND YOU WANTED TO DO A CUSTOM PAINT JOB ON IT, YOU CAN ALWAYS GO AHEAD AND USE FABRIC PAINT AND DO SOME STENCILING. >> MM-HMM. >> I WOULD RECOMMEND, THOUGH, THAT UNLIKE THIS MODEL, YOU WOULD DO--PAINT YOUR-- CUT YOUR PIECES OUT, PAINT THEM FIRST, AND THEN SEW THEM TOGETHER, SO YOU... >> JUST IN CASE. >> YES, JUST IN CASE YOU MAKE A LITTLE BOOBOO. >> YOU DROP THE PAINT ON THE SIDE OR SOMETHING. >> EXACTLY. >> AND THERE ARE SO MANY STENCILS AVAILABLE. I DON'T KNOW IF IT'S BECAUSE OF THE POPULARITY OF SCRAPBOOKING OR BECAUSE OF ALL KINDS OF HOME DECOR. >> YEAH. YOU KNOW, EVERYBODY'S REALLY INTO CUSTOMIZING EVERYTHING... >> UH-HUH. >> SO, THIS MAKES GREAT... >> THIS IS FABRIC PAINT. >> THIS IS FABRIC PAINT. SO I'M JUST GONNA GET SOME ON MY BRUSH. >> THIS IS KIND OF A PEARLIZED OR-- >> YEAH, THIS IS A METALLIC, AND IT'S REALLY PRETTY. AND I'M JUST GONNA POUNCE. >> MM-HMM. >> SO I WANT TO GET THAT-- >> AND YOU USE ONE OF THOSE BRUSHES THAT'S FLAT ON THE BOTTOM, AND IT REALLY DOES GO INTO-- >> STENCIL BRUSH. YEAH, I DON'T WANT TO--REALLY WANT TO RUB, 'CAUSE THEN I'M NOT GONNA GET A NICE CLEAN EDGE ON MY STENCIL. >> AND NOW DO YOU USE A SPONGE? IS IT AN EITHER/OR, OR IS THAT FOR ANOTHER COAT? >> YOU CAN USE THE SPONGE. ON THIS ONE, I'M JUST DOING ALL ONE COLOR. >> UH-HUH. >> BUT IF YOU WANTED TO DO SOMETHING LIKE THE BUTTERFLY, WHERE IT'S A COUPLE DIFFERENT COLORS, AND YOU'RE GETTING... >> IT'S UPSIDE DOWN. >> OOP, THAT'S UPSIDE DOWN. YOU'RE RIGHT. YOU'RE GETTING CLOSE TO WHERE YOU WANT TO CHANGE COLOR, YOU CAN USE THE SPONGE JUST TO GET IN A LITTLE BIT-- >> OH, SO YOU DON'T OVERLAP IT? >> SO YOU DON'T OVERLAP, YEAH. >> LIKE RIGHT HERE. I'D SAY, YEAH, THAT'S PRETTY TIGHT. >> THAT'S PRETTY TIGHT. >> OKAY, LET'S SEE WHAT IT LOOKS LIKE. OH, YOU DID A GREAT JOB. >> TA. >> BUT IN CASE YOU HADN'T, LIKE YOU SAY, IT'S GOOD TO DO ALL THE PAINTING AHEAD OF TIME AND THEN MAKE YOUR-- >> YES, BEFORE YOU SEW IT TOGETHER, 'CAUSE THEN YOU DON'T HAVE TO GET THE SEAM RIPPER OUT IF YOU MESS IT UP. >> AND, GOSH, YOU COULD REALLY COORDINATE THIS WITH THE FABRIC IN YOUR ROOM OR WITH OTHER CURTAINS OR THROW PILLOWS OR SOMETHING. THIS IS GREAT. I LOVE THE FACT IT ALL COMES TOGETHER. THANK YOU SO MUCH, REBECCA. THAT REALLY DOES MAKE IT EASY. >> THANK YOU, SHERYL. >> JEANNE, THANK YOU SO MUCH FOR BEING HERE. I'M ANXIOUS TO LEARN EVERYTHING THERE IS ABOUT BEANS, AND WE MIGHT SAY THAT'S REALLY WHAT WE'RE GOING TO TALK ABOUT-- EVERYTHING YOU EITHER WANTED OR DIDN'T WANT TO KNOW ABOUT BEANS. THEY'RE SUCH AN OLD FOOD. >> THEY ARE. THEY ARE ACTUALLY AMONG THE OLDEST CULTIVATED CROPS IN THE WORLD. >> UH-HUH. >> AND MANY OF THE BEANS THAT YOU'LL SEE NOW ARE BEANS THAT HAVE BEEN AROUND FOR THOUSANDS OF YEARS. NATIVE-AMERICAN LEGEND SAID THAT BEANS WERE PART OF THE 3 SISTERS. THERE WERE BEANS, CORNS AND SQUASH, AND YOU PLANTED ALL 3 OF THOSE, AND FOR THE TIMES, IT WAS A VERY SOPHISTICATED CROP ROTATION AND SUSTAINABILITY, BUT ALSO A GOOD DIET. OF COURSE, THE CORN PROVIDED THE POLE FOR THE BEANS TO CLIMB AND THAT KIND OF THING. >> OH, I SEE WHAT YOU MEAN ABOUT GROWING ALL 3. WELL, YOU KNOW, I GREW UP--WE ALWAYS HAD PINTO BEANS. THAT WAS PROBABLY THE ONE. I DIDN'T EVEN KNOW THERE WERE OTHER VARIETIES FOR A LONG, LONG TIME, BUT SO MANY PEOPLE HAVE ALMOST A NEGATIVE CONNOTATION, BECAUSE--AND WE ATE BEANS BECAUSE THEY WERE CHEAP. THEY WERE A EASY COMMODITY TO HAVE, AND YOU COULD EXTEND IT A LONG WAY. YOU COULD ADD IT TO OTHER FOODS TO EXTEND IT. BUT, REALLY, WE NEED TO DISPEL THAT, BECAUSE THERE ARE SO MANY WAYS AND REASONS TO EAT BEANS. >> I OFTEN SAY THAT THEY'RE INEXPENSIVE, BUT THEY'RE ALSO INVALUABLE TO YOUR DIET, BECAUSE THEY PROVIDE SO MANY DIFFERENT VITAMINS AND MINERALS. BEANS HAVE IN THEM FIBER, FOLATE, IRON, MAGNESIUM... >> AND POTASSIUM. AREN'T THEY... >> POTASSIUM. >> UH-HUH. >> AND RIGHT NOW, YOU'RE SEEING A LOT OF PEOPLE WHO HAVE POTASSIUM DEFICITS, SO THIS IS AN IMPORTANT ADDITIVE FOR YOUR DIET IS TO EAT SOME BEANS. >> AND WHAT'S THE SEASON? IS IT THE SAME GROWING SEASON FOR ALL THE DIFFERENT VARIETIES? >> PRETTY MUCH. THEY'RE GROWN COMMERCIALLY IN 15 STATES. BEANS ACTUALLY GROW IN ABOUT 40 STATES, BUT IN MICHIGAN, THEY MIGHT PLANT THEM A LITTLE BIT LATER THAN THEY WOULD IN NEBRASKA OR IN MINNESOTA, BECAUSE THEY HAVE A LITTLE BIT DIFFERENT--BUT BEANS LIKE THE WARM SUMMERS AND THE COLD WINTERS, AND THEY LIKE KIND OF A SANDY SOIL, AND THEY'RE TYPICALLY PLANTED AROUND MEMORIAL DAY, FIRST WEEK OF JUNE AND THEN HARVESTED IN THE FALL, USUALLY IN SEPTEMBER. >> I SEE. AND ANOTHER GOOD THING ABOUT BEANS IS THE LONGEVITY. IF YOU CAN BUY THEM IN BULK, WHICH WE HAVE SOME BULK BAGS HERE, YOU CAN BUY THEM AND KEEP THEM FOR A LONG PERIOD OF TIME. >> THAT'S RIGHT. IF YOU STORE THEM PROPERLY, WHICH BASICALLY MEANS A COOL, DARK PLACE... >> UH-HUH. >> AND SEALED UP IN THEIR BAGS-- >> PEOPLE KEPT THEM IN, UH, BASEMENTS FOR MANY TIMES. >> YOU BET. AND THE BEANS THAT YOU WOULD FIND IN SOMEBODY'S BASEMENT 40 YEARS AGO WOULD PROBABLY STILL BE GOOD. IT MIGHT TAKE 'EM A WHILE TO COOK.
[LAUGHS] >> WELL, SPEAKING OF COOKING,
I THINK A LOT OF, ESPECIALLY THE YOUNGER PEOPLE WHO ARE SETTING UP HOUSEKEEPING, DON'T WANT TO COOK DRY BEANS BECAUSE THEY'VE HEARD ALL THE STORIES ABOUT THE PRESSURE COOKER PROBLEMS OR, WELL, HEAVENS, IT TAKES 4 HOURS TO COOK THEM. GO THROUGH THE PROCESS OF HOW YOU REALLY DO THAT. >> ONE OF THE WAYS THAT I LIKE TO COOK BEANS IS WITH A WHAT THEY CALL A QUICK-SOAK METHOD. AND I'M GONNA READ HERE THE-THE TYPICAL WAY TO DO IT IS FOR US TO START WITH 3 CUPS OF WATER PER CUP OF BEANS. >> SO, 1 TO 3. >> BEANS WILL EXPAND. >> EXPAND, UH-HUH. >> IN FACT, I HAVE TO TELL YOU A QUICK STORY. I WENT TO A DINNER WHERE WE HAD LITTLE GLASS PARFAIT JARS FULL OF BEANS, AND IN THE MIDDLE OF DINNER, ALL OF A SUDDEN, SOME OF THEM EXPLODED BECAUSE THEY'D ABSORBED WATER IN THESE GLASSES. ANYWAY, LITTLE SIDE STORY. HA HA HA HA. YOU COOK 'EM ON HIGH FOR ABOUT 2 MINUTES, LET IT COME TO A BOIL. >> COME TO A BOIL. >> THEN LET 'EM SIT FOR A LITTLE WHILE. >> TURN THE HEAT OFF. >> TURN THE HEAT OFF AND LET THEM SIT FOR ABOUT AN HOUR. NOW, WHAT I DO THEN IS I RINSE THEM AND PUT THEM IN A CROCKPOT OR A SLOW COOKER AND LET THEM COOK, AND THEN THEY'RE READY WHEN I GET HOME FROM WORK, AND THE HOUSE SMELLS WONDERFUL. BUT A LOT OF PEOPLE WILL COOK 'EM IN THAT DOUBLE BOILER OR THE BIG DUTCH OVEN ON THEIR STOVETOPS, AND DIFFERENT BEANS TAKE DIFFERENT TIMES. >> OH. >> A PINTO BEAN, OF COURSE, IS BIGGER THAN A BLACK BEAN, SO A BLACK BEAN MAY ONLY NEED A FEW HOURS TO COOK, AND A PINTO BEAN MAY NEED 5 OR 6 HOURS TO COOK. AND DEPENDS ON HOW MANY YOU'RE MAKING, TOO. >> MM-HMM. >> THAT'S A GREAT WAY TO DO IT. >> AND WITH THE NEW PRESSURE COOKERS, WHICH ARE SO MUCH EASIER TO USE THAN THE ONES THAT USED TO BLOW THE TOP OFF... >> [LAUGHS] YES. >> BEANS CAN BE PREPARED SO QUICKLY. AND I ALWAYS LIKE TO PREPARE A LOT OF THEM, BECAUSE YOU CAN STORE THEM IN THE FREEZER. >> BEANS FREEZE VERY WELL. I LIKE THE LITTLE SNAP-TOP CONTAINERS THAT YOU CAN PUT IN THE FREEZER, AND YOU CAN FREEZE A COUPLE OF CUPS OF THEM AND THEN THAW THEM AND PUT THEM IN YOUR SALAD OR TAKE THEM FROZEN AND POUR THEM INTO YOUR POT OF SOUP, AND IN A LITTLE WHILE, THEY'RE ALREADY COOKED, SO THERE YOU HAVE WONDERFUL BEANS IN YOUR SOUPS AND TO SPRINKLE ON SALADS. I HAVE ONE BOARD MEMBER WHO MAKES AN ICE-CREAM SUNDAE TOPPING OUT OF BLACK BEANS, BECAUSE THEY'RE SWEET, AND HE JUST LOVES THAT, SO THEY'RE VERY VERSATILE. >> WELL, AND, YOU KNOW, AND I THINK MOST OF US, IF PEOPLE HAVE GROWN UP EATING BEANS, WE THINK OF THEM AS EITHER THE MAIN DISH, BECAUSE THEY'RE SUCH A GOOD SOURCE OF PROTEIN-- IT'S-IT'S THE MEATLESS VARIETY OF PROTEIN--BUT ALSO AS A SIDE DISH, MAYBE IF YOU'RE HAVING YOUR MEAT AND SALAD AND WHATEVER, BUT THEY CAN GO IN--I LIKE THE SUGGESTION I READ SOMEWHERE ABOUT MASHING THEM UP AND PUTTING THEM AS AN EXTENDER IN MEATLOAF. I THOUGHT, "WHAT A GREAT IDEA." PEOPLE ARE SHOWING UP AT THE LAST MINUTE AND YOU ONLY PREPARED FOR 4, YOU CAN EXTEND IT TO 8 EASILY. >> IN ASIA, THERE'S A COMMON USE OF BEANS IN A CAN OF TUNA TO EXTEND THE CANS OF TUNA AND MAKE THEM AFFORDABLE FOR PEOPLE, SO I THINK WE MIGHT SEE MORE OF THAT IN THE U.S., TOO, USING THEM IN DIFFERENT WAYS. >> UH-HUH. YOU WERE MENTIONING DIFFERENT BEANS MIGHT COOK A LITTLE LONGER. THIS IS KIND OF SMALL, BUT I-I THINK IT'S-- I THINK IT'S SO PRETTY, FIRST OF ALL, TO SEE HOW MANY DIFFERENT VARIETIES OF BEANS THERE ARE. LIKE I SAY, I GREW UP ON PINTO BEANS. THAT'S ALL WE HAD, AND JUST TO SEE THE-- PLUS, LIKE YOU WERE SAYING EARLIER, BEANS ARE SO PRETTY BECAUSE THERE ARE SO MANY DIFFERENT COLORS OF THEM, TOO. >> YEAH, ONE OF MY FAVORITE THINGS IS THE BEAN SOUP MIX, AND I DON'T KNOW IF YOU CAN REALLY GET A VERY GOOD PICTURE OF IT, BUT IT HAS ALL THE DIFFERENT COLORS AND FLAVORS AND THINGS IN IT, AND THAT MAKES FOR A REALLY GREAT SOUP, BUT IT ALSO LOOKS PRETTY IN THE PACKAGE, BECAUSE YOU DO HAVE ALL THE DIFFERENT COLORS AND-AND SIZES. >> WELL, WHAT'S--MAYBE YOU CAN EXPLAIN TO US. WE TALK ABOUT DRY BEANS, AND WE KNOW, PERHAPS, HOW THEY GROW, BUT IS IT--IS-- ARE ALL DRY BEANS LEGUMES AND WHAT--I'VE HEARD ABOUT PULSES. WHAT IS THAT? >> THOSE ARE BASICALLY TERMS THAT YOU USE INTERCHANGEABLY. >> OH. >> LEGUMES CAN ALSO INCLUDE ALFALFA AND CLOVER, BECAUSE OF THE BOTANICAL STRUCTURE, BUT A LOT OF PEOPLE USE LEGUMES, PARTICULARLY DIETICIANS, LEGUMES OR PULSES, BECAUSE THEY'RE SPEAKING OF BEANS, PEAS AND LENTILS. >> OH, PULSES. THAT WAS A TERM I HAD NEVER HEARD ABOUT. >> AND IT'S BASICALLY THAT THEY GROW IN THE POD. IT'S SEEDS THAT ARE IN THE POD, AND THEY'RE LEFT IN THE POD UNTIL THEY HARVEST AND ARE--OR MATURE, AND THEN THEY ARE HARVESTED. >> UH-HUH. WELL, ONE THING I NOTICED, YOU BROUGHT LOTS OF RESOURCE MATERIAL, AND THIS IS SOMETHING THAT THE DRY BEAN COUNCIL PROVIDES FOR CONSUMERS OR GROCERY STORE PEOPLE OR WHATEVER. BUT I REALLY WOULD LIKE TO ENCOURAGE PEOPLE IF THEY HAVEN'T TRIED A VARIETY OF DRY BEANS, THEY REALLY SHOULD, BECAUSE JUST LIKE EVERYTHING ELSE, IT'S SO MUCH EASIER TO COOK THEM NOW THAN IT USED TO BE, AND THERE'S SO MANY VARIETIES. AND I THOUGHT WE MIGHT JUST FOR FUN-- I HAD NEVER HEARD OF BEAN CHIPS, AND THESE ARE RELATIVE A-- RELATIVELY A NEW PRODUCT, BUT WHAT'S INTERESTING IS, LIKE, THESE ARE PINTO BEAN CHIPS, THESE HAVE THE SEA SALT. SO, AGAIN, IF YOU DON'T TAKE TIME TO LOOK--AND MANY TIMES, I GO A MILE A MINUTE DOWN THE GROCERY AISLE, AND I DON'T SEE NEW THINGS, BUT I REALLY ENCOURAGE PEOPLE TO LOOK. >> ABSOLUTELY, BECAUSE THIS IS A GREAT SNACK, BUT IT'S ALSO HEALTHY. AND WHEN YOU OPEN A CAN OF BEAN DIP OR YOU CAN OPEN A CAN OF BEANS OR PREPARE SOME PACKAGED BEANS, YOU HAVE SOMETHING THAT CAN BE USED FOR SNACKS, BUT IT'S ALSO HEALTHY. >> MM-HMM. >> AND I THINK THAT'S A HUGE THING RIGHT NOW, BECAUSE THAT'S A FOCUS OF MORE AND MORE PEOPLE IS A HEALTHY DIET. IT'S ALSO A FOCUS FOR PEOPLE WHO HAVE GLUTEN SENSITIVITY. >> OH, YEAH, THAT'S RIGHT. >> ...THINKING ABOUT WEIGHT LOSS, BECAUSE BEANS HAVE BEEN LINKED TO--NOT NECESSARILY TO WEIGHT LOSS, BUT TO FEELINGS OF SATIETY SO THAT YOU'RE NOT EATING AS MUCH BECAUSE YOU FEEL FULL. >> MM-HMM. RIGHT. AND ANOTHER THING I THINK SOMETIMES PEOPLE WITH SODIUM, RIGHTFULLY SO, AND MANY OF US GET TOO MUCH. BUT BY COOKING THE DRY BEANS YOURSELF, YOU CAN CONTROL THAT, BECAUSE THERE'S NO SODIUM IN THOSE, WHEREAS IF YOU BUY THE CANS, WHICH ARE ALSO CONVENIENT AND HANDY, WHAT SHOULD WE BE SURE AND DO? >> SOMETIMES YOU CAN JUST POUR THE BEANS INTO A STRAINER AND RINSE THEM OFF... >> RUNNING WATER, UH-HUH. >> ...AND THAT RINSE SOME OF THE SALT OFF OF THEM. ONE THING I ALSO WANT TO MENTION ABOUT READING A LABEL, AND BONNIE TAUB DICKS MENTIONS THIS IN HER BOOK, TOO, ABOUT READING LABELS. >> MM-HMM. >> SOMETIMES THERE IS GLUTEN. EVEN THOUGH BEANS ARE NATURALLY GLUTEN-FREE, THERE MAY BE GLUTEN IN THE SAUCE OR IN THE THICKENING, SO YOU MIGHT WANT TO TAKE A LOOK AT THOSE LABELS. AND NOWADAYS, THERE ARE SO MANY OPTIONS. THERE ARE VEGETARIAN. I SPOKE TO A MAN RECENTLY WHO IS A MUSLIM, AND HE WAS HAPPY TO SEE VEGETARIAN OPTIONS IN CANNED BEANS, BECAUSE THERE'S NO PORK IN THERE TO SEASON THE CANNED BEANS... >> OH, I SEE. >> ...HAPPY THAT HE COULD BUY THAT PARTICULAR CAN OF BEANS. >> AND ADD HIS OWN SEASONING AS HE WISHED. >> EXACTLY. >> WELL, IT'S REALLY AMAZING. ANYTHING ELSE YOU FEEL LIKE YOU NEED TO TELL US, BECAUSE THERE'S SO MUCH TO KNOW ABOUT BEANS. >> THERE IS A LOT TO KNOW ABOUT THEM. THEY'RE VERY HEALTHY. A LOT OF RESEARCH HAS BEEN DONE ON THEM RECENTLY TO TIE THEM INTO HELPING YOU LOWER YOUR BLOOD SUGAR, HELPING YOU TO FIGHT DIABETES AND FIGHT HEART DISEASE. DARKER BEANS, LIKE DARKER KIDNEYS-- >> COLON. I READ THAT ABOUT-- UH-HUH--PREVENTING POLYPS. >> DARKER KIDNEYS AND BLACK BEANS ALSO HAVE A LOT OF POLYPHENOLS THAT HELP KEEP THAT PLAQUE FROM BUILDING IN YOUR BLOOD VESSELS, AND SO THAT'S AN IMPORTANT FACET. THE DARKER BEANS HAVE MORE ANTIOXIDANTS IN THEM THAN, SAY, A PINTO BEAN, BUT A KIDNEY BEAN OR A BLACK BEAN HAS THAT IN IT. >> OH, I DIDN'T KNOW THAT. >> SO THERE'S ALL KINDS OF STUDIES THAT ARE ON OUR WEBSITE, WHICH IS WWW.BEANSFORHEALTH.COM. >> BEANSFORHEALTH.COM. >> THAT'S AN EASY ONE TO REMEMBER. AND THERE ARE HUNDREDS OF RECIPES AND ALSO INFORMATION ON THERE. WE WORK A LOT WITH DIETICIANS AND DIABETES EDUCATORS, BECAUSE UNFORTUNATELY, SOMETIMES PEOPLE WHO HAVE DIABETES OR EDUCATE ABOUT DIABETES STILL THINK OF BEANS AS A STARCH. >> UH-HUH. >> AND THEY ARE, BUT THEY'RE A SPECIAL KIND OF STARCH, AND I'M NOT A DIETICIAN, SO I CAN'T REALLY ADDRESS THAT, BUT THEY ARE GREAT FOR DIABETICS BECAUSE THEY MAKE THEM FEEL FULL. THEY DIGEST SLOWLY, AND THAT'S AN IMPORTANT PART OF A DIABETIC DIET. >> SURE. WELL, THANK YOU SO MUCH. I'M REALLY LEARNING A LOT, AND I HOPE PEOPLE WATCHING HAVE LEARNED AS MUCH... >> I HOPE SO, TOO. THANK YOU. >> LISA, IT'S ALWAYS NICE TO HAVE YOU HERE. AND I KNOW YOU'RE KNOWN AS THE STAMPING QUEEN. YOU KNOW HOW TO USE RUBBER STAMPS IN WAYS NO ONE EVER THOUGHT OF. >> I TRY, YES. >> AND YOU'RE GOING TO SHOW US SOMETHING TODAY AND MAKE USE OF SOME NEW STAMPS THAT ARE ON THE MARKET. >> YES. MY DESIGNER FRIEND, ANN BUTLER, CAME UP WITH THIS CONCEPT, AND SHE'S THE ONE THAT BROUGHT THESE NEW STAMPS OUT TO THE MARKET FOR US, WHICH I WAS VERY EXCITED ABOUT, BECAUSE I COME FROM A LONG LINE OF QUILTERS AND SEWERS, BUT I NEVER PICKED IT UP. >> IT STOPPED WITH YOU. >> IT STOPPED WITH ME. SO, THIS WAY, WHEN ANN CAME UP WITH THIS CONCEPT, IT WAS SOMETHING THAT WAS GREAT FOR ME THAT-THAT--"OKAY, NOW I CAN GET INVOLVED." >> WELL, WE HAVE SOME OF THE PATTERNS. THEY'RE ALL GEOMETRIC SHAPES, SIZES, UH... >> YES, AND WHAT-- >> THERE'S PLAIDS, THERE'S POLKA DOTS, THERE'S JUST EVERYTHING. >> AND WHAT I--WHAT'S-- WHAT MAKES THEM UNIQUE IS THAT THERE IS NO LIP AROUND THEM. IF YOU SEE A REGULAR STAMP-- THIS IS A REGULAR WOOD STAMP-- >> THAT'S WHAT YOU MEAN BY... >> IT ALL HAS, YOU KNOW, IT HAS ABOUT AN 1/8 OF AN INCH LIP. >> UH-HUH. >> ON ANN'S STAMPS, THEY ALL-- THERE'S NO LIP ON IT, SO IT ALL BUTTS UP TOGETHER SO YOU CAN MAKE MULTIPLE DESIGNS. THE DESIGNS ARE ENDLESS... >> OKAY. >> THAT YOU CAN MAKE WITH THEM, SO-- >> AND I LIKE YOUR IDEA. YOU TALKED ABOUT BEFORE--SOME OF US MIGHT BE A LITTLE LEERY ABOUT DOING THIS ON OUR BEST FABRIC THAT WE'VE SAVED FOR THIS PROJECT, SO YOU'VE GOT A TIP FOR THAT, TOO. >> I DO, BECAUSE WHEN I FIRST STARTED STAMPING ON FABRIC, I WAS VERY AFRAID OF IT, AND I THOUGHT, "OH, I'M GONNA RUIN MY FABRIC." SO, WHAT I DECIDED TO DO WAS I STAMP OUT MY PATTERN FIRST ON A PIECE OF PAPER. THIS IS JUST A REGULAR CARD STOCK, A 12X12 FOR THIS PROJECT, AND I STAMP IT OUT FIRST AND THEN SO THAT WAY, I CAN GET IT LINED UP. I KNOW EXACTLY WHERE IT IS, AND IF I MAKE A MISTAKE, I CAN THROW IT AWAY AND STAMP IT, AND I HAVEN'T RUINED MY MATERIAL. >> THAT'S A GOOD IDEA. >> AND THEN WHAT MAKES IT NICE, THEN FOR THE PILLOW, YOU CAN SLIP IT IN... >> MAKE SURE ALL YOUR EDGES ARE STRAIGHT AND IT'S FLAT. >> MAKE EVERYTHING STRAIGHT AND IT'S FLAT, AND THEN YOU CAN START-- >> BUT YOU CAN SEE THROUGH IT. >> YOU CAN SEE THROUGH IT, SO YOU CAN STAMP DIRECTLY ON YOUR PATTERN. IT'S ALREADY THERE. >> THAT IS A GREAT IDEA. >> IT IS. >> I HAD THOUGHT ABOUT MAYBE DOING IT ON PAPER, BUT I HADN'T THOUGHT ABOUT SLIPPING IT INSIDE SO YOU CAN JUST MATCH THE-- >> YEAH, I JUST FIGURED THAT OUT ONE DAY WHEN I WAS WORKING IN MY STUDIO, SO YOU JUST KIND OF-- YOU LAY IT ON TOP, AND IT'S JUST--IT'S RIGHT THERE, SO YOU DON'T HAVE TO WORRY ABOUT RE-ALIGNING ANYTHING. IT'S ALL RIGHT THERE, AND THEN YOU CAN GET YOUR IMAGE. >> AND THEN YOU WOULD CONTINUE WITH THE OTHERS. >> AND THEN YOU WOULD CONTINUE WITH THE OTHERS AND STAMP OUT YOUR WHOLE PILLOW PATTERN HOW YOU WANT IT. AND THEN THE NEXT THING THAT YOU CAN DO... >> THIS IS ONE THAT YOU HAVE DONE EXACTLY WHAT YOU WERE SHOWING US. >> YEP. AND THESE ARE--I WANTED TO MENTION, TOO, THESE ARE FLOUR SACKS. >> AND TELL US ABOUT THOSE IN CASE SOMEONE HASN'T EVER HEARD OF THEM LIKE WE HAVE. >> I HAD TO--MY MOM WAS THE ONE THAT ACTUALLY BOUGHT THESE FOR ME, AND WHAT I LIKED ABOUT IT--BECAUSE WHEN I MADE A PILLOW SIMILAR TO THIS, I USED MUSLIN. SO, OF COURSE YOU CAN USE MUSLIN ALSO. BUT BECAUSE I DON'T LIKE TO SEW, I HAD TO SEW THE MUSLIN TO GET THE EDGES. I DIDN'T WANT TO DO THAT. THE FLOUR SACKS, YOU CAN FIND THEM IN KMART, WALMART, YOU KNOW, ANY OF YOUR BIG STORES WHERE YOUR DISH TOWELS ARE. >> OH, I SEE. >> AND THEY'RE ALREADY FINISHED FOR YOU, SO-- >> HOW NICE FOR PEOPLE WHO DON'T WANT TO SEW OR HAVE A MACHINE. >> EXACTLY. AND SINCE I DON'T LIKE TO SEW, MY VERY FAVORITE, FAVORITE GLUE IS THE BEACON ADHESIVES. >> UH-HUH. >> THIS IS A FABRIC TACK GLUE, AND IT IS ABSOLUTELY WONDERFUL. >> SO YOU GET THAT ALL CENTERED ON THE PILLOW FORM. >> YEP. GET IT ON YOUR PILLOW. AND THEN THE EASIEST WAY TO DO IT WHEN YOU FIRST START ON IT IS LAY IT OUT, MAKE SURE YOU HAVE EVERYTHING STRAIGHT, AND THEN SEW--OR, NOT SEW. SORRY. >> GLUE. >> GLUE YOUR EDGE DOWN SO YOUR MATERIAL'S NOT MOVING AROUND. AND ALSO, YOU WANT TO GLUE THE TOP ONE DOWN... >> FIRST. >> OKAY, FIRST, EXACTLY. BECAUSE THEN WHAT YOU'RE GONNA DO IS YOU'RE GONNA TAKE SOME EMBROIDERY THREAD AND YOUR-- THIS IS THE ONLY SEWING THAT I DO--AND YOUR BUTTON, AND YOU'RE GONNA RUN IT UP THROUGH THE BACK OF THE PILLOW. >> BUT IT'S NOT GOING TO SHOW ON THE BACK. THAT'S A GOOD IDEA. >> EXACTLY. SO--AND THEN YOU JUST PULL IT IN, PULL THE BUTTON ON, SEW IT ON, AND YOU'RE GOOD. >> OH, THAT'S SMART. >> AND THEN THE LAST THING THAT YOU HAVE TO DO IS FOLD YOUR OTHER END OVER, GLUE IT IN PLACE WITH YOUR FABRIC GLUE... >> LET'S TAKE A LOOK AT IT. IT REALLY IS AMAZING HOW-- THERE'S NO SEWING. >> THERE'S NO SEWING. VERY SIMPLE, VERY EASY. >> FOLD THIS BACK. >> YOU KNOW, YEAH, YOU JUST FOLD IT BACK, AND THEN I JUST ADDED THE LITTLE BOWS ON THE CORNER OF THE PILLOWS AND... >> AND HERE'S WHERE YOU FIRST STARTED, WHERE YOU WERE TALKING ABOUT FOLDING THE TOP, DOING IT FIRST. >> YES, AND THEN THIS IS WHERE I FINISHED IT, WHERE I ROLLED THE SIDES IN AND GLUED IT IN PLACE WITH THE GLUE, AND THEN ADDED THE BOWS. >> AND SEE, WE DON'T HAVE THE BUTTON ON THE BACK... >> AND YOU DON'T HAVE THE BUTTONS ON THE BACK. THAT'S WHAT I WANTED. >> WHOOPS. I'VE GOT IT UPSIDE DOWN, BUT IT'S JUST AS PRETTY. >> THANK YOU. >> WELL, THANK YOU SO MUCH, AND I JUST LOVE THE STAMPS AND THE COLORS, AND IT DOES LOOK LIKE IT'S JUST A QUILT BLOCK ON TOP OF A PILLOW. >> THANK YOU. >> FAUX QUILTING. >> FAUX QUILTING. >> THANK YOU VERY MUCH, LISA. >> YOU'RE WELCOME. >> I HOPE YOU ENJOYED THE SHOW TODAY. NEXT TIME ON "CREATIVE LIVING," WE'LL LEARN HOW TO COMMUNICATE MORE EFFECTIVELY AND THEN WE'LL DEMONSTRATE PREPARING SHRIMP. ONE OF MY NEXT GUESTS IS A MOTIVATIONAL SPEAKER, AND SHE'LL TALK ABOUT THE IMPORTANCE OF EFFECTIVE COMMUNICATION, WHETHER IT'S BETWEEN YOUR SPOUSE, YOUR CHILDREN OR A GOOD FRIEND. SHE EMPHASIZES GREAT LISTENING SKILLS AND A DESIRE TO CHANGE BEHAVIORS. WE'LL ALSO MEET A COOKBOOK AUTHOR AND CHEF WHO WILL DEMONSTRATE HOW TO COOK WITH INEXPENSIVE AND VERSATILE SHRIMP. HE STRESSES THAT SHRIMP ARE LOW-FAT BUT BIG ON FLAVOR AND THEY'RE A VERSATILE INGREDIENT THAT ADAPTS THEMSELVES EASILY TO MANY DIFFERENT TYPES OF CUISINES. TO ILLUSTRATE THIS POINT, HE'LL PREPARE 3 GREAT RECIPES THAT SHOWCASE HOW EASY SHRIMP IS TO INCORPORATE INTO A FAMILY MEAL. BOTH OF THESE TOPICS WILL BE FEATURED ON THE NEXT "CREATIVE LIVING" SHOW. IF YOU EVER HAVE COMMENTS OR SUGGESTIONS OR IDEAS FOR SHOWS, YOU CAN E-MAIL ME AT SHERYL.BORDEN@ENMU.EDU. I'D ALSO LIKE TO ASK YOU TO BECOME A FAN OF "CREATIVE LIVING" ON FACEBOOK. JUST GO TO FACEBOOK.COM AND IN THE SEARCH WINDOW, TYPE IN "CREATIVE LIVING WITH SHERYL BORDEN." I HOPE YOU'LL PLAN TO JOIN ME NEXT TIME FOR "CREATIVE LIVING." >> WE ARE VERY PLEASED TO OFFER A NEW BOOKLET THAT ACCOMPANIES THIS SERIES OF "CREATIVE LIVING." THIS BOOKLET IS TITLED "THE 6700 SERIES," AND IT FEATURES A WONDERFUL COLLECTION OF IDEAS AND INFORMATION, AND IT'S AVAILABLE FREE OF CHARGE ON OUR WEBSITE. POSTED AS A PDF FILE, YOU CAN SIMPLY DOWNLOAD THE ENTIRE BOOKLET OR JUST THE SEGMENTS YOU'RE MOST INTERESTED IN. YOU'LL FIND INFORMATION ON FOODS, NUTRITION, CLOTHING, FASHION, HEALTH AND BEAUTY, HOME DECORATING AND MUCH MORE. FOR YOUR COPY OF THIS NEW BOOKLET, GO TO OUR WEBSITE AT KENW.ORG AND THEN CLICK ON CREATIVE LIVING. SCROLL DOWN TO THE BOOKLET SECTION, AND YOU CAN CLICK ON THIS BOOKLET OR ON ANY OF THE OTHER BOOKLETS WE HAVE AVAILABLE ONLINE. JUST GO TO KENW.ORG, CLICK ON CREATIVE LIVING AND DOWNLOAD THE BOOKLET TITLED, "THE 6700 SERIES." WE ALSO INVITE YOU TO SIGN UP FOR OUR FREE E-NEWSLETTER. JUST GO TO KENW.ORG AND CLICK ON THE "SIGN UP NOW" BUTTON AND INPUT YOUR E-MAIL ADDRESS. THAT'S ALL THERE IS TO IT. YOU'LL ENJOY READING AN UP-TO-DATE NEWSLETTER FILLED WITH INTERESTING TOPICS AND INFORMATION. THANK YOU.
Now Playing As: Captioned (English) (change)
A representative from Stamping Queens shows techniques for stamping designs on pillows, while a representative from US Dry Bean Council in Wyoming discusses the health benefits of dry beans. Rebecca Peck joins Sheryl to discuss ways to make a custom cornice.
Media Details
Runtime: 27 minutes