Creative Living With Sheryl Borden #6703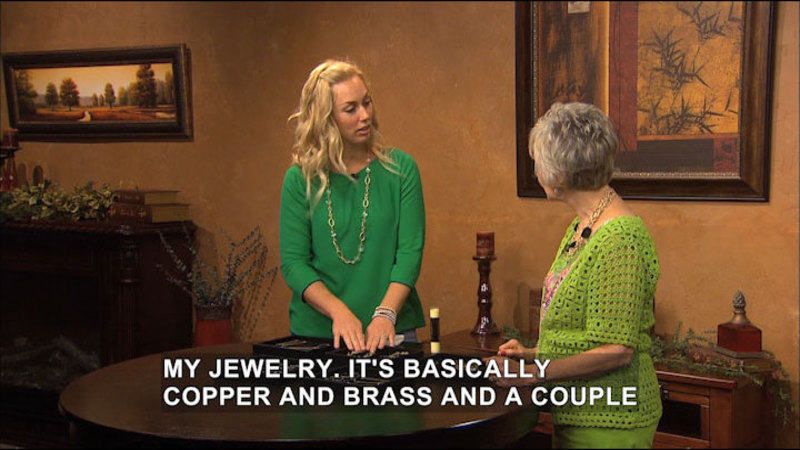 >> "CREATIVE LIVING," UTILIZING TODAY'S TECHNOLOGY WITH THE BEST OF THE PAST TO BRING YOU INNOVATIVE IDEAS AND UP-TO-DATE INFORMATION FOR CREATIVE LIFESTYLES IN TODAY'S ACTIVE WORLD, WITH YOUR HOST, SHERYL BORDEN. >> I'M SO GLAD YOU JOINED ME TODAY FOR "CREATIVE LIVING." WE'RE GOING TO LEARN HOW TO TAKE CARE OF JEWELRY; WE'LL LEARN HOW TO MAKE A CLASSIC CAESAR SALAD; AND SHOW SOME HARDWARE EMBELLISHMENTS YOU MIGHT LIKE TO ADD TO YOUR NEEDLEPOINT PROJECTS. ONE OF MY GUESTS TODAY IS KRISTINA RACHEL, AND SHE'S A JEWELRY DESIGNER FROM SAN JOSE, CALIFORNIA. KRISTINA'S GOING TO SHOW HOW TO TAKE CARE OF JEWELRY, WHETHER IT'S STERLING SILVER, GOLD, BASE METAL, OR EVEN LEATHER AND GEMSTONES. HER COMPANY IS RACHEL CLAIRE COLLECTION. ANOTHER GUEST IS A COOKBOOK AUTHOR AND CHEF, AND HIS NAME IS JOHN VOLLERTSEN, OR MORE COMMONLY KNOWN AS CHEF JOHNNY VEE. JOHN WILL DEMONSTRATE HOW TO MAKE CLASSIC CAESAR SALAD WITH TOASTED GARLIC CROUTONS. HE OWNS AND OPERATES LAS COSAS COOKING SCHOOL IN SANTA FE, NEW MEXICO. AND WE'LL BEGIN TODAY'S SHOW WITH DESIGNER SANDY GROSSMAN-MORRIS, AND SHE'S GOING TO SHOW HOW TO INCORPORATE THINGS FROM YOUR LOCAL HARDWARE STORE, SUCH AS WASHERS OR HEX NUT COVERS, INTO YOUR NEEDLEPOINT PROJECTS. SHE LIVES IN BRENTWOOD, CALIFORNIA, AND HER BUSINESS IS SANDY GROSSMAN-MORRIS DESIGN. SANDY, THANK YOU SO MUCH FOR BEING HERE. WHEN YOU SAID WE WERE GOING TO DO A SEGMENT ON HARDWARE, I REALLY HAD NO IDEA THAT YOU MEANT TO INCORPORATE SOME OF THOSE PIECES IN WITH ARTWORK, BUT THAT'S REALLY WHAT YOU'VE LEARNED, AND THAT'S WHAT YOU'RE GOING TO SHOW US. IS THAT RIGHT? >> ABSOLUTELY, SHERYL. IT'S KIND OF FUN TO TAKE A TRIP TO THE HARDWARE STORE AFTER YOU'VE BEEN TO THE NEEDLEPOINT SHOP AND PICKED OUT YOUR CANVAS AND SEE WHAT THEY HAVE AT THE HARDWARE STORE THAT WILL MAKE YOUR PIECE A LITTLE MORE INTERESTING. >> I NEVER WOULD HAVE THOUGHT ABOUT THE HARDWARE. I WOULD HAVE GONE TO A CRAFTS STORE, BUT THAT'S A GREAT SUGGESTION. LET'S--THIS IS ONE OF YOUR DESIGNS. WE ALL ARE JUST LOVING THIS LITTLE WITCH. BUT TELL US ABOUT WHAT YOU'VE USED ON THE BASE OF THIS WITCH. >> WELL, THIS IS GRINELDA AND HER LITTLE SIDEKICK CAT, POLKA DOT PHILPOTT. AND ON HER SHOES, YOU CAN SEE THESE LITTLE CHROME BRADS, AND THEY REALLY MAKE THAT SHOE POP, AND THAT'S SOMETHING YOU CAN FIND AT THE HARDWARE STORE. >> OKEY-DOKE. I'M GOING TO START LOOKING.
[BOTH LAUGH] AND THIS IS A LITTLE WALL
HANGING, COULD BE IN A PERSON'S ROOM. >> ACTUALLY, THAT'S A-- >> HERE'S SOME LITTLE WASHERS. >> YEAH, THIS IS ACTUALLY A FRAME, AND PART OF MY COLLECTION OF "TRANSPORTATION STATION." >> UH-HUH. >> AND THOSE ARE WASHERS-- >> THAT HAVE BEEN COVERED WITH THREAD. >> ABSOLUTELY, AND I'LL SHOW YOU LATER HOW TO DO THAT. >> AND HERE'S SOME LITTLE--THESE LOOK LIKE REGULAR SNAPS FOR THE WHEELS? >> YES. >> THEY'RE SO CUTE. >> ISN'T THAT INTERESTING? >> UH-HUH. >> REALLY MAKES THEM, UH, LOOK LIKE THEY'RE REAL. >> THAT'S, WELL, TRUE. AND HERE'S A CAT, AND I WAS LOOKING FOR HARDWARE, BUT YOU'RE TALKING ABOUT A DOWEL STICK. >> ABSOLUTELY. HIT THE HARDWARE STORE AND GET DOWELS TO MAKE THINGS. THIS IS ACTUALLY A HALLOWEEN ORNAMENT, BUT IT'S BEEN MADE INTO A WAND. >> OH, OF COURSE, WITCHES HAVE TO HAVE WANDS, OK. >> THAT'S TRUE. >> AND THIS IS A LITTLE NIGHT LIGHT. WE TOOK THE LIGHT OFF, BUT THIS IS ACTUALLY A NIGHT LIGHT, AND TELL US ABOUT THESE LITTLE GOLD PIECES. >> WELL, ACTUALLY, THOSE ARE BRASS, AND-- >> OH, THEY'RE BRASS. UH-HUH. >> YES. THESE ARE NUMBER FOUR BRASS WASHERS, AND YOU CAN SEE HERE--NOW, WE HAVEN'T COVERED THESE. WE'VE JUST LEFT THESE--IN THE BACK, WE'VE DONE THE STITCHING RIGHT OVER THEM, AND, WHICH HAS MADE THEM ABSOLUTELY POP, AND THERE'S A LITTLE BIT OF COPPER KREINIK THREAD THERE THAT'S HOLDING THOSE, AND IN PLACE-- >> IT JUST ENHANCES THEM, IN THIS CASE. >> IT ABSOLUTELY DOES, GIVES IT A DECORATOR LOOK, AND SO, DON'T HIDE THE BRASS. >> [LAUGHS] OK. AND THEN I LOVE THIS CLOCK. >> OH, THANK YOU. THIS IS ANOTHER ONE FROM THE TRANSPORTATION COLLECTION, TRANSPORTATION STATION COLLECTION, AND WE'VE MADE THIS INTO A CLOCK, AND IT ACTUALLY HAS-YOU CAN SEE HERE, THE LITTLE CHROME HEX NUT COVERS FOR THE HOURS. >> FOR THE HOURS. >> ABSOLUTELY. SO IT MAKES IT KIND OF FUN TO HAVE SOMETHING THAT'S INTERESTING, AND IT KIND OF GIVES IT A LITTLE BOY LOOK. >> WELL, AND IT'S MORE 3-DIMENSIONAL. I THINK THAT'S INTERESTING, TOO. >> YES, YES. >> WELL, YOU MENTIONED THE HARDWARE STORE, AND YOU JUST BROUGHT A FEW OF THE THINGS THAT WE COULD FIND. >> I DID. >> THE LITTLE GOLD PIECES, SILVER, THAT ARE SMALL. HERE'S A LARGE ONE, LARGE WASHER THAT YOU'RE GOING TO WORK WITH. >> YES. SO CHECK AT HOME. SEE WHAT YOU'VE GOT THAT CAN BE INCORPORATED INTO YOUR WORK IF YOU, YOU KNOW, BEFORE YOU HEAD TO THE HARDWARE STORE. >> AND I WOULD ASSUME IT MIGHT BE A LITTLE CHEAPER AT A HARDWARE STORE. >> WELL, THEY DON'T ACTUALLY CARRY THESE THINGS AT NEEDLEPOINT SHOPS. >> OH, OK. >> THEY DO HAVE A LOT OF EMBELLISHMENTS, THOUGH, SO, YOU KNOW. >> UH-HUH. LOOK AT THOSE TOO. >> YOU SHOULD CHECK THAT, ABSOLUTELY. >> NOW, YOU'RE GOING TO SHOW US HOW TO ACTUALLY COVER ONE OF THESE WASHERS... >> YES. >> WHICH WAS SHOWN ON THE LITTLE FRAME. >> YES. THAT MAKES--GIVES IT A LITTLE BIT OF TEXTURE, MAKES IT POP FROM THE CANVAS, AND YOU HAVE A PERFECT CIRCLE. >> UH-HUH. ADD SOFTNESS TO IT, TOO. >> YOU CAN ALSO--YES, AND YOU CAN ALSO USE THESE WITH A VERY FUZZY TEXTURED FIBER, AND USE IT AS THE CENTER OF A FLOWER. >> OH, THAT'S A GOOD IDEA, YEAH. >> SO I'VE STARTED THIS ON HERE JUST SO THAT WE DON'T, YOU KNOW, FOR TIMEWISE, BUT YOU JUST WANT TO DO WHAT'S CALLED A BLANKET OR BUTTONHOLE STITCH, SO BRING THIS AROUND AND TAKE-- >> AND YOU COULD USE ANY YARN, COULDN'T YOU? >> ABSOLUTELY. THIS IS JUST A PEARL COTTON THAT I THOUGHT WOULD SHOW UP WELL FOR THE VIEWERS, AND JUST COME AROUND, GO THROUGH, BRING IT ABOVE... >> THIS WOULD BE GOOD TO DO A BUNCH OF THESE WHEN YOU'RE MAYBE SITTING AND WATCHING TELEVISION OR SOMETHING, BECAUSE YOU DO THE SAME STITCH OVER AND OVER. >> OVER AND OVER. >> UH-HUH. >> AND SO ONCE YOU'VE DONE THIS, YOU WILL, YOU KNOW, OF COURSE, BRING THOSE CLOSER. >> UH-HUH. >> AND THEN YOU HAVE THIS. NOW, WHEN YOU START WITH, BEGINNING, YOU WANT TO LEAVE A TAIL. >> UH-HUH. >> WHEN YOU GET ALL THE WAY AROUND, WORK THAT BACK THROUGH UNDERNEATH, WORK YOUR NEEDLE THROUGH AND YOUR THREAD, BRING IT OUT SO YOU CAN GO ON THE OTHER SIDE-- >> AND DO YOU WANT TO LEAVE TWO TAILS? >> YOU ABSOLUTELY DO, AND THAT WAY YOU CAN WORK IT THROUGH TO THE OTHER SIDE. I GENERALLY LEAVE A LITTLE BIT LONGER TAIL TO WORK IT IN, BUT THAT'S HOW YOU HOOK THAT TO-- >> COULD IT BE GLUED ON? >> I WOULDN'T SUGGEST GLUING IT. >> OK. >> I WOULD-- >> STITCHING IT WOULD HOLD IT. >> ABSOLUTELY. >> WELL, IT'S JUST AMAZING THAT YOU THOUGHT ABOUT DOING THIS. I CERTAINLY NEVER HAD, AND I BET IT WILL BE FUN WHEN I GO WITH MY HUSBAND TO LOOK AT HARDWARE ITEMS, I'LL LOOK FOR MY OWN SUPPLIES. >> OH, IF YOU TAKE A CANVAS IN THERE, I GUARANTEE THE GUYS THAT ARE AROUND THERE WILL JUMP TO HELP YOU, AND--BECAUSE IT'S JUST SOMETHING TOTALLY OUT OF THEIR REALM, AND THEY HAVE KIND OF FUN WITH IT. >> WELL, I BET THEY DO. THANK YOU SO MUCH FOR SHOWING US HOW TO DO THIS. >> YOU'RE WELCOME, SHERYL. THANK YOU. >> THANK YOU SO MUCH FOR BEING WITH US, JOHNNY. WHEN YOU SAID WE WERE GOING TO DO A CAESAR SALAD, I THOUGHT, "WELL, THAT'S EASY. WE JUST THROW EVERYTHING IN THE BOWL, AND THAT'S A SALAD." BUT YOU WERE GOING TO EXPLAIN HOW CAESAR SALAD CAME ABOUT, WHERE IT ORIGINATED. >> YEAH, AND IT'S INTERESTING. ACTUALLY, I HAVE A CHAPTER IN MY COOKBOOK CALLED "CELEBRATE SALTY," AND OF ALL THE 4 FLAVORS--HOT, SWEET, SALTY, SOUR--I THINK SALTY IS MY... >> THAT'S MY FAVORITE. >> FAVORITE. YOU KNOW, I LOVE SPICY, BUT SALTY IS IMPORTANT. SALT IS IMPORTANT. THE STORY ABOUT CAESAR SALAD, WHICH IS INTERESTING, IS WE ALL THINK OF IT AS AN ITALIAN SALAD. IT ACTUALLY STARTED IN TIJUANA, MEXICO. >> NO! >> AND I RESEARCHED IT. THERE'S A FABULOUS BOOK CALLED "THE FOOD CHRONOLOGY," AND I LOOKED IT UP THE OTHER NIGHT, AND IN 1924, A GROUP OF PEOPLE FROM L.A. DROVE TO TIJUANA LATE AT NIGHT, WENT TO A RESTAURANT THAT WAS RUN BY TWO BROTHERS, THE CARDINI BROTHERS, AND THE CHEF WAS CAESAR CARDINI, AND THEY WANTED A--THEY WANTED SOMETHING TO EAT, BUT THEY DIDN'T REALLY WANT A BIG DINNER. >> UH-HUH. >> CHEF WENT INTO THE KITCHEN TO SORT OF SEE WHAT WAS LEFT FROM THE DINNER SERVICE--THIS IS ABOUT 11:00 AT NIGHT--AND HE HAD SOME BREAD LEFT OVER THAT WAS A LITTLE BIT STALE, HE HAD ANCHOVIES, HE HAD LETTUCE, HE HAD PARMESAN CHEESE. SO HE JUST WHIPPED UP THIS SALAD THAT WAS SORT OF A, YOU KNOW, A LITTLE MORE OF A MAIN COURSE SALAD USING THOSE INGREDIENTS, AND HIS FIRST NAME WAS CAESAR, AND SO... >> THE CAESAR SALAD. >> HE CLAIMS IT, BUT IT'S SO FUNNY. WE ALWAYS THINK OF IT-- >> I THOUGHT IT WAS ITALIAN. >> HE WAS ITALIAN, BUT HE, OF COURSE, WAS IN MEXICO. >> [LAUGHING] OK. >> SO I ALWAYS, WHEN I DID THE COOKBOOK, I THOUGHT, YOU KNOW, PEOPLE MAKE CAESAR SALAD DRESSINGS IN RESTAURANTS PRE-MADE IN A BLENDER, BUT I LOVE THOSE RESTAURANTS WHERE YOU GO AND THEY MAKE THE DRESSING AND THE SALAD RIGHT IN FRONT OF YOU. AND WHEN I WAS GROWING UP IN ROCHESTER, THERE WAS A RESTAURANT WHEN I WAS A KID THAT YOU WOULD GO TO AND THEY WOULD MAKE THE CAESAR AT THE TABLE. >> OH. >> AND IT ALWAYS SEEMED SO FANCY TO ME. >> UH-HUH. >> AND SO, LIKE, YOU KNOW, WOW! IS THAT WHAT THE--ONE OF THE REASONS I MIGHT HAVE BEEN LURED INTO THE BUSINESS. SO, UM, WHAT WE'RE GOING TO DO IS BASICALLY MAKE OUR DRESSING FIRST, PUT OUR ROMAINE LETTUCE IN HERE AFTERWARDS, TOSS IT, PLATE IT. I'VE ALSO MADE SOME ROASTED GARLIC CROUTONS-- >> THAT'S THAT STALE BREAD THAT CAESAR WORKED WITH. >> EXACTLY, WITH THAT, AND ACTUALLY SAUTÉED SOME GARLIC AND OLIVE OIL AND BUTTER... >> UH-HUH. >> AND THEN TOSSED OUR, JUST A CUT-UP BAGUETTE, TORN-APART BAGUETTE, GOT THEM NICE AND CRISPY. AND I LIKE TO USE BIG CROUTONS. YOU KNOW, I WAS IN A RESTAURANT THE OTHER NIGHT, AND THE CROUTONS WERE REALLY SMALL, AND IF THEY'RE TOO SMALL, THEY SOAK UP TOO MUCH OF THE DRESSING. >> OH! >> SO A NICE BIG ONE LEAVES IT A LITTLE BIT CRUNCHY. >> OH, I WONDERED WHY THEY HAD THEM IN DIFFERENT SIZES. >> YEAH. >> I DIDN'T REALIZE THAT WAS PART OF THE REASON. >> YEAH, IT'S BECAUSE YOU GET BIG ONES, YOU GET LITTLE ONES. SO THOSE ARE READY TO GO. SO, A LITTLE NOTE ABOUT OLIVE OIL. PEOPLE ALWAYS SAY TO ME, "HOW DO I SHOP FOR OLIVE OIL?" BECAUSE THERE'S A MYRIAD OF CHOICES. A COUPLE OF POINTERS: FIRST OF ALL, IF YOU LIKE MORE BUTTERY OLIVE OILS, LOOK FOR ONES THAT ARE YELLOWER. >> OH, THAT MAKES SENSE. >> YOU'RE GOING TO NOTICE ON THE SHELF SOME ARE YELLOWER, SOME ARE REALLY DARK GREEN. >> UH-HUH. >> IF YOU'RE MORE LIKE, LIKE AN OLIVE OIL THAT HAS A VERY PRONOUNCED OLIVE FLAVOR... >> THE GREEN. >> LOOK FOR THE GREEN ONES. >> I SEE, UH-HUH. >> YEAH. SO THIS IS KIND OF IN THE MIDDLE. THIS IS, UH, STORES DON'T LIKE IT IF YOU OPEN IT UP AND SAMPLE IT. >> [LAUGHING] NO, YOU SHOULDN'T DO THAT. >> YEAH, DON'T DO THAT. SO WE GOT OUR OLIVE OIL. WE'VE GOT A RAW EGG YOLK. AND YOU KNOW, THERE IS THOUGHT--SOME PEOPLE ARE LEERY OF USING RAW EGGS. IF YOU ARE, IN MY COOKBOOK AND ON A RECIPE WHICH WE'LL POST ONLINE, JUST SUBSTITUTE A TABLESPOON OF MAYONNAISE. IT'S JUST ENOUGH TO... >> IT'S A BINDER, ISN'T IT? >> EMULSIFY IT. YEAH, IT'S REALLY AN EMULSIFIER. >> OK. >> SOME PEOPLE ACTUALLY WILL CODDLE OR SOFT-POACH THE YOLK, WHICH YOU COULD DO AS WELL. SO BASICALLY WE'RE GOING TO DO EVERYTHING IN OUR BOWL, AND THEN WE'LL TOSS OUR DRESSING, OR TOSS OUR LETTUCE IN THE DRESSING. >> IT'S JUST THE OPPOSITE OF WHAT YOU NORMALLY THINK OF. >> YEAH, THE OLD DAYS, YEAH. SO A COUPLE OF LITTLE GADGETS. THIS IS ONE OF MY LITTLE FAVORITE GADGETS. THIS IS A GARLIC PEELER. SO WHAT YOU DO IS YOU TAKE YOUR UNPEELED GARLIC CLOVE, SLIDE IT IN THERE, AND ROLL IT ON THE COUNTER. AND LOOK AT THAT. >> OH, WOW, PERFECT. >> OUT POPS YOUR LITTLE GARLIC CLOVES. >> AND YOU DON'T HAVE IT ALL OVER YOUR HANDS. >> NOT OVER YOUR HANDS. SO WE'RE GOING TO--AND THEN, I LIKE TO SEE MY GARLIC IN SOME DISHES, SO WHAT I'M GOING TO DO--WHOOPS! WHAT I'M GOING TO DO IS USE WHAT'S CALLED THE GARLIC MANDOLIN. >> OH, I'VE NEVER USED THAT. >> SO THIS IS A NICE WAY TO THINLY SLICE YOUR GARLIC. >> IT'S LIKE A CHEESE GRATER. >> IT IS, BUT IT'S EVEN LIKE A--LOOK AT THAT. >> OH, REALLY THIN SLICES RATHER THAN CHOPPED UP. >> YEAH, RATHER THAN EVEN IN A PRESS. SO I'M GOING TO GET THAT ALL READY. AND THEN, YOU KNOW, PEOPLE SAY, "CAN I GET MY CAESAR SALAD WITHOUT ANCHOVIES?" AND, YOU KNOW, ANCHOVIES IS REALLY THAT SPECIAL INGREDIENT THAT GIVES YOU-- >> WHAT MAKES IT, UH-HUH. >> YEAH. >> WHAT MAKES IT DIFFERENT FROM OTHER SALADS. >> MAKES IT DIFFERENT. YEAH, IT GIVES IT THAT GREAT FLAVOR. I'VE ALWAYS WORKED--I'VE WORKED IN RESTAURANTS WHERE WHEN A CUSTOMER WOULD SAY, "CAN WE GET IT WITHOUT THE ANCHOVIES?" YOU'D GO, "OH, ABSOLUTELY, SIR," AND WE STILL PUT THEM IN THERE, SO... >> [LAUGHS] >> BECAUSE IT'S GOT TO BE FLAVORFUL. OK, SO THERE'S OUR GARLIC. SO THAT'S READY. UM, SO OUR ANCHOVIES, WE ARE GOING TO--I'M GOING TO TAKE THAT OLIVE OIL THAT THE ANCHOVIES ARE IN AND PUT THAT IN MY BOWL, OK? AND THEN I THINK OUR RECIPE SAYS TO USE 12. I USUALLY USE THE WHOLE CAN, AND I'M JUST GOING TO CHOP THESE UP. THIS IS MY KNIFE THAT I CALL "THE TERMINATOR." THIS IS-- >> IT'S SHARP. >> IT'S FROM A COMPANY CALLED SHUN, BUT THIS IS THE--THIS IS ALSO, I THINK, COULD BE A PIRATE'S KNIFE. >> OH, IT DOES LOOK LIKE ONE. UH-HUH. >> SO WE'RE GOING TO PUT THAT IN, OK? I'M GOING TO CHOP MY GARLIC A LITTLE BIT MORE. IT'S NICE AND THIN. >> AND THAT'S JUST PERSONAL PREFERENCE, TOO. >> YEAH. OK. THEN WE'VE GOT A RAW EGG YOLK. ONCE AGAIN, WE COULD USE A TABLESPOON OF MAYONNAISE IF WE DIDN'T WANT THAT. >> UH-HUH. THE REAL MAYONNAISE. >> YEAH, USE THE REAL STUFF. AND THEN DIJON MUSTARD, A LITTLE SQUIRT. >> OOH! >> GIVE IT A LITTLE ZIPPINESS. AND THEN SOME WORCESTERSHIRE SAUCE. HAVE YOU HEARD ABOUT THE IDEA OF UMAMI? YOU KNOW, UMAMI IS THE NEW THING, WHICH IS THE--IT'S ACTUALLY THE FIFTH FLAVOR. SO WE HAVE HOT, SWEET, SALTY, SOUR-- >> AND UMAMI. >> AND UMAMI IS ACTUALLY A MEATINESS THAT IS DERIVED FROM ANCHOVIES, SOY SAUCE, AND EVEN WORCESTERSHIRE SAUCE, SO YOU'RE GOING TO START TO HEAR ABOUT UMAMI. >> OK, YOU HEARD IT FIRST HERE. >> OK, REALLY. SO WE'RE GOING TO--NOTICE WE'RE GOING TO PUT THE CUT SIDE DOWN. >> UH-HUH. >> SQUEEZE THOSE IN. I'LL TRY NOT TO GIVE YOU A LITTLE BATH THERE, SHERYL. >> BOY, THAT'S A GREAT-- >> AND THESE ARE REALLY NICE, JUICY. >> UH-HUH. >> NOW, THIS IS QUITE LEMONY. IF YOU'RE NOT--WE MIGHT DO ONE AND A HALF, 'CAUSE--WHOO! HELLO. THESE ARE, THESE ARE PRETTY, PRETTY JUICY. >> THEY ARE. THEY'RE NICE, BIG LEMONS. >> I LIKE A NICE, JUICY--YEAH, I LIKE A LEMONY DRESSING. OK? OK, THEN I'M JUST GOING TO KIND OF WHISK THESE INGREDIENTS TOGETHER. THAT'S GOING TO EMULSIFY A LITTLE BIT. AND THEN THERE'S A SCHOOL OF THOUGHT, WHEN YOU'RE CUTTING UP YOUR LETTUCE, IF YOU HAND-TEAR IT, IT'S ACTUALLY BETTER, BECAUSE WHEN YOU CUT THE CELLS OF THE LETTUCE THEY TEND TO WILT... >> WILT FASTER. >> QUICKER. SO... >> THIS IS ROMAINE. >> THIS IS ROMAINE. SO I'VE WASHED THIS. I'M JUST GOING TO KIND OF TEAR THESE UP, LEAVING THE BOTTOM BEHIND THERE. I CAN SMELL MY ANCHOVIES. AND, YOU KNOW, CHEFS, NOWADAYS IN A RESTAURANT, OF COURSE, YOU'D HAVE TO WEAR RUBBER GLOVES IN THE KITCHEN, BUT I WAS SAYING EARLIER, I COULDN'T COOK IF I DIDN'T HAVE MY HANDS, BECAUSE... >> NO, IT'S QUITE IMPORTANT. >> IT'S HARD TO DO EVERYTHING WITH TONGS. YOU KNOW, I MEAN, I COULD USE TONGS, BUT SINCE WE'RE HERE IN THE SAFETY OF OUR TELEVISION STUDIO... >> YES. >> SO NOW I'M JUST GOING TO TOSS THIS, AND, SHERYL, I MIGHT GET YOU TO GRATE SOME CHEESE OVER OUR SALAD. >> NOW, THIS IS THE PARMESAN. >> SO THAT'S OUR PARMESAN, SO JUST, YEAH, JUST DO IT, AND I'M GOING TO PUT IN A BIG HANDFUL OF OUR CROUTONS. AND I ALWAYS LIKE TO DO THE CROUTONS IN THERE WITH THE DRESSING SO THEY GET PARTIALLY COATED. THAT LOOKS GOOD. GOT TO HAVE SOME CRACKED, FRESH PEPPER. >> FRESH PEPPER. >> AND IT'S SO FUNNY. WHEN I GO TO RESTAURANTS, I'M ALWAYS LIKE, "DO YOU HAVE FRESH PEPPER?" AND THEY'RE LIKE, "OH, I DON'T THINK SO." >> [LAUGHS] >> I'M LIKE, "YOU HAVE TO HAVE FRESH PEPPER HERE." >> IT'S THAT ONE SITTING THERE, HASN'T BEEN THERE LONG. >> YEAH. THEY'LL SAY, "WELL, YOU HAVE A PEPPER SHAKER ON YOUR TABLE, SIR." >> UH-HUH. [LAUGHS] >> AND I'M LIKE, "YEAH, NOT QUITE THE SAME THING." OK, SO LET'S TOSS THIS, AND I SEE WE HAVE VISIBLE, CLEARLY VISIBLE ANCHOVIES HERE. >> MMM. >> YUM. SO LET ME JUST GET THOSE NICE ANCHOVIES, AND THEN RIGHT AT THE END, WE WILL DO A LITTLE MORE PARMESAN, AND I THINK CAESAR SALAD'S REALLY BEST SERVED PRETTY MUCH RIGHT AWAY. REALIZE, AS SOON AS LEMON JUICE HITS THE LETTUCE IT'LL START TO... >> HMM. >> START TO WILT. AND THEN IF YOU WANTED TO MAKE THIS INTO A MAIN COURSE, YOU COULD ADD SOME SLICED GRILLED CHICKEN BREAST. >> OH, THAT WOULD BE GOOD. >> WOULD BE GREAT. AND VOILA! >> WELL, I'M SO GLAD TO KNOW THE HISTORY ABOUT IT. THAT'S ALMOST AS INTERESTING AS THE WAY IT'S MADE. >> I KNOW, REALLY. SO THIS OUGHT TO BE DELICIOUS. >> WELL, I THINK WE'RE READY TO EAT, AND THANK YOU SO MUCH FOR SHARING THIS WITH US. >> THANK YOU FOR HAVING ME IN. THANK YOU. >> KRISTINA, THANKS SO MUCH FOR LETTING ME MODEL ONE OF YOUR BEAUTIFUL PIECES OF JEWELRY, AND YOU'RE WEARING THE ONE I REALLY LOVE, BECAUSE I LIKE THAT CLEAR QUARTZ, IS WHAT IT IS. >> QUARTZ. >> BUT YOU KNOW, REGARDLESS OF HOW MUCH YOU LOVE JEWELRY, IT HAS TO BE TAKEN CARE OF. >> YES. >> JUST LIKE PETS AND KIDS AND EVERYTHING ELSE. >> YES, I THOUGHT IT WAS IMPORTANT TO DISCUSS TAKING CARE OF YOUR JEWELRY, 'CAUSE YOU SPEND A LOT OF MONEY ON IT, AND YOU WANT IT TO LAST. >> AND EVEN IF IT'S COSTUME JEWELRY, WE STILL WANT TO KEEP IT LOOKING GOOD AS LONG AS POSSIBLE. >> DEFINITELY, YEAH. >> OK, LET'S START WITH THE SILVER. IS IT CALLED WHITE GOLD OR-- >> STERLING SILVER. >> OK, STERLING SILVER. >> STERLING SILVER. STERLING SILVER TARNISHES FAIRLY RAPIDLY, SO IT'S DIFFICULT TO KEEP CLEAN, BUT THERE ARE WAYS TO KEEP TARNISH FROM HAPPENING. TARNISH IS WHEN IT TURNS BLACK. >> YES, DULL. >> AND KIND OF DULL AND DINGY, NOT SHINY AND PRETTY. SO YOU WANT--THINGS THAT MAKE SILVER TARNISH ARE SULFUR IN THE AIR. SULFUR COMES FROM JUST POLLUTION IN THE AIR. IF YOU EAT BREAKFAST AND YOU HAVE EGGS, THAT CAN GET ON YOUR SILVER-- >> OH, YEAH, SO DON'T PUT YOUR JEWELRY ON. >> HAIRSPRAY, BODY LOTION, PERFUME...I MEAN, THE LIST GOES ON AND ON. BUT YOU CAN KEEP IT LOOKING REALLY PRETTY BY WIPING IT WITH JUST A DRY CLOTH WHEN YOU COME HOME. TAKE IT OFF. IT'S THE LAST THING YOU SHOULD PUT ON AND THE FIRST THING YOU SHOULD TAKE OFF. >> I SEE. >> AND WHEN YOU TAKE IT OFF, YOU WIPE IT WITH A JUST CLEAN, DAMP OR DRY CLOTH. >> UH-HUH. >> AND THEN YOU MAKE SURE TO PUT IT INTO ITS OWN INDIVIDUAL BAGGIE. >> OH, DEAR. I'M GUILTY OF NOT DOING THAT. >> WITH A TARNISH STRIP. THIS IS CALLED AN ANTI-TARNISH STRIP. LOTS OF COMPANIES SELL THEM. THEY'RE REALLY EASY TO FIND. >> HOW LONG WOULD ONE OF THESE LAST? >> UH, ABOUT-DEPENDING HOW DIRTY YOUR SILVER IS OR HOW OFTEN YOU WEAR IT, BETWEEN 2 TO 6 MONTHS. >> OH, OK. >> AND THEY'RE NOT VERY EXPENSIVE, SO YOU WANT TO SLIP THAT INTO ITS OWN LITTLE INDIVIDUAL BAGGIE WITH YOUR PIECE OF JEWELRY, AND THAT'S HOW YOU SHOULD STORE IT. >> I'VE GOT A JOB AHEAD OF ME THIS AFTERNOON. >> [LAUGHS] IF YOUR STERLING IS DIRTY, YOU WANT TO WASH IT IN SOME--A MILD DISHWASHING SOAP LIKE DAWN OR IVORY. >> UH-HUH. >> MAKE SURE IT'S NON-PHOSPHATE. AGAIN, DAWN OR IVORY ARE EASY TO REMEMBER, AND THEY WORK REALLY WELL. TARNISH BEYOND JUST KIND OF GRIME IS WHEN YOU USE A POLISHING CLOTH. >> UH-HUH. >> SUNSHINE CLOTHS ARE REALLY GOOD. YOU'LL FIND ANY KIND OF SILVER POLISHING CLOTH. IF YOU HAVE PIECES OF JEWELRY AT HOME THAT ARE ALMOST ALL BLACK, YOU SHOULD REALLY SEEK PROFESSIONAL HELP. >> AND DO YOU TAKE IT TO A JEWELER? >> A JEWELER, YEAH. >> OK. >> IT CAN BE JUST A JEWELER IN THE MALL, OR YOUR HOMETOWN JEWELER ON MAIN STREET. IT DOESN'T REALLY MATTER. THEY ALL KNOW HOW TO HANDLE IT. THEY'LL USUALLY DIP IT IN A JEWELRY SOLUTION. YOU DO HAVE TO BE CAREFUL, CLEANING IT AT HOME, WITH GEMSTONES. SOME GEMSTONES LIKE PEARLS, OPALS, AND TURQUOISE ARE VERY SENSITIVE, SO YOU DON'T WANT TO GET THEM--YOU DON'T WANT TO SUBMERGE THEM IN THE DISHWASHING SOAP. >> OH, SO-- >> SO THIS IS JUST, WE'RE JUST TALKING ABOUT THE METALS, AND IF YOU'RE GOING TO CLEAN, YOU KNOW, A CHAIN, YOU WOULD JUST HOLD THE GEMSTONE ABOVE AND DIP. >> SO THAT YOU DON'T ACCIDENTALLY GET ANYTHING ON IT. >> YEAH. >> OH, THAT MAKES SENSE. >> ALSO, ONE MORE TIP IS TO MAKE SURE IT'S COMPLETELY DRY BEFORE YOU PUT IT AWAY, BECAUSE MOISTURE AND SULFUR ARE CONTRIBUTING FACTORS TO TARNISH. >> OK, GOOD TIPS HERE. >> THAT'S THE MOST DIFFICULT ONE. WE'RE GOING TO TALK ABOUT 14-KARAT GOLD FILL AND GOLD PLATING. GOLD FILL AND GOLD PLATE ARE BOTH 14-KARAT GOLD, USUALLY, THAT'S HEATED AND BONDED--BONDED WITH HEAT AND PRESSURE ONTO A BASE METAL, WHICH COULD BE BRASS, MAINLY BRASS. SO THE THING WITH GOLD PLATE--I DON'T USE GOLD PLATE-- IT'S VERY MICROSCOPIC AND IT'S VERY EASY TO WEAR OFF AND CHIP OFF. >> OH. >> GOLD FILL HAS-- >> SO THE LIFE OF IT'S NOT-- >> IT'S NOT VERY GOOD, YEAH. GOLD FILL HAS 50 TO 100 TIMES MORE GOLD, AND IT'S 5% OF THE TOTAL METAL WEIGHT, SO IT'S A THICKER LAYER, IT'S HARDER TO RUB OFF, BUT IT CAN TARNISH AND IT CAN RUB OFF AND IT CAN EXPOSE THE BRASS UNDERNEATH. >> OH. >> SO, AGAIN, YOU DON'T WANT TO USE, REALLY, ANY SOLVENTS. YOU WANT TO BE VERY CAREFUL. YOU WANT TO WIPE IT WITH THE CLOTH. >> JUST USE THE CLOTH. >> WHEN YOU GET HOME, INDIVIDUAL BAGGIE. [LAUGHS] >> AND DO YOU PUT THESE LITTLE-- >> NO, THOSE ARE JUST FOR SILVER. >> JUST FOR SILVER, OK. >> 14-KARAT GOLD IS VERY EASY. IT'S GOLD. THERE ARE MANY DIFFERENT KARATS. 24-KARAT IS CONSIDERED PURE GOLD. IT'S KIND OF TOO SOFT FOR JEWELRY MAKING. THAT'S WHY THEY ADD ALLOYS LIKE NICKEL, COPPER, SILVER, TO MAKE THE GOLD STRONGER SO THAT YOU CAN WEAR IT FOR JEWELRY. BUT, AGAIN, IT'S ALL METAL, SO IT WON'T WEAR OFF OR RUB OFF. YOU CAN USE JEWELRY CLEANERS ON IT. AGAIN, I WOULD WIPE IT WITH A DAMP CLOTH... >> EACH TIME. >> AFTER YOU WEAR IT, AND INDIVIDUAL BAGGIE. AGAIN, IT'S VERY IMPORTANT THAT EVERYTHING IS DRY WHEN YOU PUT IT IN THAT BAGGIE. IF YOU WANT TO, YOU CAN--YOU KNOW THOSE LITTLE SILICA PACKETS? >> UH-HUH. >> THAT COME IN YOUR SHOES? YOU CAN PUT THOSE IN YOUR JEWELRY BOX, AND IT WILL ABSORB ANY KIND OF AMBIENT MOISTURE. >> NOW, DO YOU MEAN OPEN THAT LITTLE BAGGIE AND SPRINKLE 2 OR 3? >> NO, JUST PUT THE-- >> YOU USE THE WHOLE BAG. OK, GOT IT. I ALWAYS THROW THOSE AWAY, TOO. >> [LAUGHS] YEAH. YOU SHOULD COLLECT THEM IN A LITTLE JAR. >> I NEED TO. >> HERE'S BASE METAL. THIS IS THE BASE METAL CHAIN I USE IN MY JEWELRY. IT'S BASICALLY COPPER AND BRASS AND A COUPLE OF OTHER THINGS, MAYBE SOME NICKEL. >> UH-HUH. >> BUT THE BASE METAL CHAIN IS KIND OF A CATCH-ALL PHRASE FOR NON-PRECIOUS METALS IN JEWELRY. SO, COSTUME JEWELRY. IT TARNISHES VERY EASILY, IT GETS DINGED UP VERY EASILY, BUT IT'S CHEAP AND IT'S FUN AND IT LOOKS REALLY PRETTY. >> YEAH, I LIKE IT. >> SO, YEAH. CLEAN, DRY CLOTH, AND INDIVIDUAL BAGGIE. >> BAGGIE. I'VE GOT TO LEARN THAT. >> AND HERE'S SOME CORDS. YOU KNOW, JEWELRY'S BEING MADE WITH LEATHER AND CORDS. THIS IS ONE OF MY CURRENT LINES, AND THIS IS ACTUALLY ONE FROM MY-- >> THAT'S LEATHER, ISN'T IT? >> MY NEWEST LINE, YEAH, AND ALSO THIS BRACELET I'M WEARING IS FROM THAT SAME LINE. >> OH. UH-HUH. >> I USE LEATHER. THESE ARE VERY DELICATE. YOU KNOW, YOU DON'T WANT TO SHOWER WITH THEM OR REALLY GET THEM WET AT ALL, BECAUSE THEY CAN BECOME BRITTLE, THEY CAN DISCOLOR. >> KEEP ALL MOISTURE AWAY FROM THESE. >> YEAH. YOU CAN SPOT-TREAT THEM WITH A Q-TIP AND SOME DAWN DISH SOAP, WATER. >> UH-HUH. BUT JUST SPOT IT IF IT'S ON THE LITTLE CORD-- >> YEAH, IF THERE'S LIKE A STAIN OR, YEAH, BUT YOU WANT TO KIND OF KEEP IT CAREFUL. INDIVIDUAL BAGGIE. [LAUGHS] PUT IT AWAY. >> GOT THAT. MAYBE MY NEXT SEGMENT SHOULD BE ON WHERE DO YOU FIND THOSE INDIVIDUAL BAGGIES AT A GOOD PRICE. >> YES. >> WELL, IT IS IMPORTANT TO TAKE CARE OF IT, AND I GUESS THIS PROVES THAT WHEN YOU'RE BUYING THE REAL GOLD, YOU'RE PAYING MORE FOR IT, BUT THE CARE IS LESS BECAUSE IT'S GOING TO--IT'S GOING TO LAST A LONG TIME. >> YEAH. AND AGAIN, THE INDIVIDUAL BAGGIES IS IMPORTANT SO THAT THEY DON'T MAR EACH OTHER. YOU KNOW, ALL METAL, GOLD AS WELL, IT CAN SCRATCH VERY EASILY, AND THE OTHER JEWELRY IN A JEWELRY BOX IS JUST GOING TO, YOU KNOW, BE HITTING AND...SO YOU WANT TO TAKE CARE OF IT. YOU KNOW, YOU SPEND YOUR MONEY ON IT, AND TAKE CARE OF IT WELL. >> THANK YOU SO MUCH. YOU'VE REALLY POINTED OUT A LOT OF THINGS I NEED TO DO FOR SURE. THANK YOU. >> THANK YOU. >> I HOPE YOU ENJOYED THE SHOW TODAY. NEXT TIME ON "CREATIVE LIVING," WE'LL LEARN HOW TO USE STAMPS TO MAKE A PILLOW, WE'LL TALK ABOUT WHY DRIED BEANS ARE SO GOOD FOR US, AND WE'LL SHOW YOU HOW TO MAKE CUSTOM CORNICES. ONE OF MY NEXT GUESTS IS GOING TO DEMONSTRATE HOW TO CRATE A NO-SEW PILLOW WITH A FAUX QUILTING TECHNIQUE USING A NEW LINE OF RUBBER STAMPS AND INK PADS. YOU'LL BE SO SURPRISED BY HOW MUCH IT LOOKS LIKE TRADITIONAL QUILTING. ANOTHER GUEST IS WITH THE U.S. DRIED BEAN COUNCIL, AND SHE'S GOING TO TALK ABOUT WHY EATING BEANS IS GOOD FOR YOUR HEALTH, INCLUDING LOWERING YOUR RISK FOR HEART DISEASE AND CERTAIN TYPES OF CANCER. BEANS ALSO HELP CURB THE APPETITE AND HELP FIGHT TYPE-2 DIABETES. WHETHER YOU WANT TO MAKE A CORNICE TO GO OVER LONGER DRAPES OR JUST MAKE ONE AS A TOPPER, ANOTHER GUEST ON THE NEXT SHOW WILL DEMONSTRATE HOW TO BUILD AND FINISH A CUSTOM CORNICE WITH SEW AND NO-SEW METHODS. SHE REPRESENTS A COMPANY WHICH MAKES PATTERNS FOR CORNICES, HEADBOARDS, AND OTHER HOME DECOR PROJECTS. ALL OF THESE TOPICS WILL BE FEATURED ON THE NEXT "CREATIVE LIVING" SHOW. IF YOU EVER HAVE COMMENTS OR SUGGESTIONS OR IDEAS FOR SHOWS, YOU CAN E-MAIL ME AT SHERYL.BORDEN@ENMU.EDU. I'D ALSO LIKE TO ASK YOU TO BECOME A FAN OF "CREATIVE LIVING" ON FACEBOOK. JUST GO TO FACEBOOK.COM, AND IN THE SEARCH WINDOW, TYPE IN "CREATIVE LIVING WITH SHERYL BORDEN." I HOPE YOU'LL PLAN TO JOIN ME NEXT TIME FOR "CREATIVE LIVING." >> WE ARE VERY PLEASED TO OFFER A NEW BOOKLET THAT ACCOMPANIES THIS SERIES OF "CREATIVE LIVING." THIS BOOKLET IS TITLED "THE 6700 SERIES," AND IT FEATURES A WONDERFUL COLLECTION OF IDEAS AND INFORMATION, AND IT'S AVAILABLE FREE OF CHARGE ON OUR WEB SITE, POSTED AS A PDF FILE. YOU CAN SIMPLY DOWNLOAD THE ENTIRE BOOKLET OR JUST THE SEGMENTS YOU'RE MOST INTERESTED IN. YOU'LL FIND INFORMATION ON FOODS, NUTRITION, CLOTHING, FASHION, HEALTH AND BEAUTY, HOME DECORATING, AND MUCH MORE. FOR YOUR COPY OF THIS NEW BOOKLET, GO TO OUR WEB SITE AT KENW.ORG, AND THEN CLICK ON "CREATIVE LIVING." SCROLL DOWN TO THE BOOKLET SECTION, AND YOU CAN CLICK ON THIS BOOKLET OR ON ANY OF THE OTHER BOOKLETS WE HAVE AVAILABLE ONLINE. JUST GO TO KENW.ORG, CLICK ON "CREATIVE LIVING," AND DOWNLOAD THE BOOKLET TITLED "THE 6700 SERIES." WE ALSO INVITE YOU TO SIGN UP FOR OUR FREE E-NEWSLETTER. JUST GO TO KENW.ORG, AND CLICK ON THE "SIGN UP NOW" BUTTON, AND INPUT YOUR E-MAIL ADDRESS. THAT'S ALL THERE IS TO IT. YOU'LL ENJOY READING AN UP-TO-DATE NEWSLETTER FILLED WITH INTERESTING TOPICS AND INFORMATION. THANK YOU.
Now Playing As: Captioned (English) (change)
Sheryl is joined by a jewelry maker who discusses ways to take care of jewelry, and Chef Johnny Vee prepares a classic Caesar salad. Designer Sandy Grossman Moore discusses embellishments for needle point projects.
Media Details
Runtime: 27 minutes