Creative Living With Sheryl Borden #6702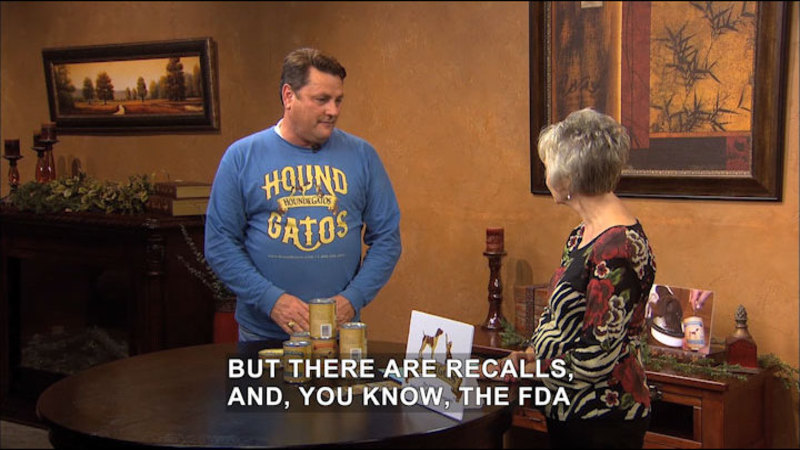 >> "CREATIVE LIVING," UTILIZING TODAY'S TECHNOLOGY WITH THE BEST OF THE PAST TO BRING YOU INNOVATIVE IDEAS AND UP-TO-DATE INFORMATION FOR CREATIVE LIFESTYLES IN TODAY'S ACTIVE WORLD, WITH YOUR HOST, SHERYL BORDEN. >> THANKS FOR JOINING ME TODAY FOR "CREATIVE LIVING." WE'RE GOING TO LEARN SOME NEW DECORATING TIPS FOR CREATING A BEAUTIFUL COLLECTION OF CUPCAKES, WE'LL TALK ABOUT SOME THINGS WE ALL NEED TO KNOW ABOUT BUYING COMMERCIAL PET FOOD, AND WE'LL DEMONSTRATE MAKING SOME HEALTHY SCHOOL LUNCHES AND SNACKS. ONE OF MY GUESTS TODAY IS NANCY SILER, AND SHE REPRESENTS WILTON BRANDS. NANCY'S GOING TO SHOW HOW TO CREATE A COLLECTION OF DELICIOUS, COLORFUL CUPCAKES GOOD FOR ANY OCCASION. SHE SAYS TO LET YOUR IMAGINATION INSPIRE THE FINISHING TOUCHES. THIS IS A GREAT WAY TO PRACTICE DIFFERENT DECORATING TECHNIQUES. SHE'S FROM WOODRIDGE, ILLINOIS. ACCORDING TO ANOTHER GUEST TODAY, MOST PEOPLE DON'T GIVE A LOT OF THOUGHT TO THE PET FOOD THEY BUY, OFTEN MAKING PURCHASES BASED ON ADVERTISING OR PRICE. MY GUEST IS WILL POST, AND HE'S GOING TO TALK ABOUT THE 5 THINGS WE NEED TO KNOW BEFORE BUYING COMMERCIAL PET FOOD. HIS COMPANY IS HOUND AND GATOS PET FOOD CORPORATION, AND HE'S FROM ATLANTA, GEORGIA. WE'LL BEGIN THE SHOW TODAY WITH REGISTERED DIETICIAN AND AUTHOR PAT BAIRD. PAT WILL TALK ABOUT HEALTHY SCHOOL LUNCHES AND SNACKS AND LOOK AT SOME QUICK AND EASY WAYS TO MAKE NUTRITIOUS LUNCHES AND SNACKS AT HOME. PAT REPRESENTS COUNTRY CROCK, AND SHE'S FROM GREENWICH, CONNECTICUT. PAT, THANK YOU SO MUCH FOR BEING WITH US, AND I REALLY AM GLAD TO BE ABLE TO TALK TO YOU ABOUT SOMETHING THAT I THINK IS JUST A TERRIBLE EPIDEMIC IN THIS COUNTRY, AND THAT'S OBESITY, ESPECIALLY CHILDHOOD OBESITY. >> IT IS. I MEAN, THIS IS JUST-- IT'S THE FOCUS OF ALL EFFORTS RIGHT NOW IN HEALTH, WHETHER IT'S NUTRITION OR WHETHER IT'S MEDICINE. AND THE DIETARY GUIDELINES REALLY JUST TIME AND TIME AGAIN TALK ABOUT THIS ISSUE OF CHILDHOOD OBESITY ESPECIALLY, AND THEN THEY GIVE US SOME WAYS TO IMPROVE OUR HEALTH AND TO LOSE WEIGHT. >> AND WHAT IS IT-- ABOUT 1 IN 3 CHILDREN IS OVERWEIGHT? >> OVERWEIGHT OR OBESE. AND IT'S A REAL ISSUE. AND SO WHAT THIS HAS DONE IS TO PUT A REAL FOCUS ON SCHOOL LUNCHES. AND IN THE SCHOOLS, THE NATIONAL SCHOOL LUNCH PROGRAM IS REALLY CHANGING DRAMATICALLY. WHAT THEY'RE DOING IS TRYING TO MAKE THEM HEALTHIER BUT ALSO TO FOCUS ON 4 WHAT THEY CALL "SHORTFALL NUTRIENTS..." >> SHORTFALL NUTRIENTS. >> THAT KIDS ARE NOT GETTING ENOUGH OF. THERE'S CALCIUM, VITAMIN D, FIBER, AND POTASSIUM. SO FOR ALL THE VIEWERS AT HOME WHO ARE...HAVE KIDS WHO ARE BRINGING THEIR OWN LUNCH OR FOR HOLIDAYS AND VACATIONS, WE'RE GONNA TALK ABOUT HEALTHIER SNACKS AND LUNCHES BUT IN TERMS OF HOW DO YOU GET MORE OF THOSE 4 NUTRIENTS. SO CALCIUM AND VITAMIN D. NOW, CALCIUM IS A LITTLE BIT EASIER BECAUSE IT'S IN DAIRY FOODS, IT'S IN FORTIFIED CEREALS. VITAMIN D IS A LITTLE MORE TRICKY. >> THERE'S NOT TOO MANY FOODS THAT CONTAIN VITAMIN D. >> PRECISELY. SEAFOOD IS PROBABLY OUR BEST SOURCE. WE GET SOME FROM EGGS. AND AGAIN WE GET IT FROM FORTIFIED FOODS. SO HOW DO WE DO THAT? WELL, INSTEAD OF JUST A GLASS OF MILK, WHICH IS WONDERFUL-- >> AND THE FLAVORED MILKS SEEM TO BE QUITE POPULAR. >> YES. AND HAPPILY, FLAVORED MILK HAS SURVIVED IN THE SCHOOLS, AND EVERY ONCE IN A WHILE, WE HAVE A DISCUSSION. BETTER TO HAVE A LITTLE BIT OF SUGAR AND GET ALL OF THOSE NUTRIENTS THAN TO TAKE IT OUT. BUT MAKE A YOGURT PARFAIT. SOME FRESH OR DRIED FRUITS WITH SOME GRANOLA, A GREAT WAY TO DO IT. WHEN IT COMES TO VITAMIN D, SEAFOOD, WHETHER IT'S TUNA SALMON...THEY'RE ALL VERY GOOD SOURCES OF VITAMIN D. SALMON IS PROBABLY THE BEST. >> AND ISN'T IT TRUE THAT VITAMIN D DOESN'T WORK WITHOUT CALCIUM? >> ACTUALLY, IT'S JUST THE OTHER WAY AROUND. VITAMIN D IS LIKE THE MASTER, AND THEY CONTROL CALCIUM AND A FEW OTHER THINGS. >> I SEE. >> AND THAT'S WHY WE NEED IT. >> CANNED SALMON IS A WONDERFUL CHOICE. IN TERMS OF KIDS, I MAKE SALMON TACOS AND PUT A LITTLE BIT OF YOGURT, A LITTLE BIT OF MAYONNAISE, SOME JALAPENO PEPPERS, AND A WHOLE GRAIN TACO SHELL THAT'S AVAILABLE IN ALL THE MARKETS. A GOOD WAY TO DO THAT. YOU KNOW, BEFORE WE TALK ABOUT FIBER, I JUST WANT TO SEGUE FOR A MINUTE BECAUSE FAT IS SUCH AN IMPORTANT ISSUE. WHAT'S MOST IMPORTANT IS THAT WE HAVE HEALTHIER TYPES OF FATS. SO WE WANT TO AVOID THOSE SOLID SATURATED FATS. AND ONE OF THE EASIEST WAYS TO DO THAT IS TO REPLACE BUTTER WITH A SOFT SPREAD LIKE COUNTRY CROCK. THE REASON IS THAT IT CONTAINS NO TRANS FAT WHATSOEVER. >> THAT'S THE REAL KEY. >> YEAH. NO CHOLESTEROL AND 70% LESS SATURATED FAT BECAUSE IT'S MADE WITH SOYBEAN OIL AND CANOLA OIL. SO WHETHER YOU'RE PUTTING IT ON TOAST IN THE MORNING OR MAKING SOME MINI MUFFINS-- >> MAYBE SOME WHOLE WHEAT. >> AND YOU'VE GOT A GOOD COMBINATION. USE AN OIL LIKE OLIVE OIL OR CANOLA OIL FOR DRESSINGS AND SAUTEING. AND SNACKS LIKE WALNUTS, ALMONDS. ALL NUTS HAVE GOT THOSE HEALTHIER FATS, PLUS THEY HAVE A LITTLE BIT OF PROTEIN, AND THEY'VE GOT FIBER. >> AND MODERATION IS STILL THE KEY TO ALL OF THIS, ISN'T IT? >> IT ALWAYS IS, AND THAT'S WHY THESE MINI MUFFINS CAN BE SUCH A GREAT IDEA AND SUCH A GREAT WAY TO INTRODUCE KIDS TO COOKING, TO MAKE THEM ON YOUR OWN. HOW DO WE GET FIBER? I DON'T KNOW WHY, BUT FIBER HAS A NEGATIVE CONNOTATION. WE GET IT FROM PLANT FOODS-- FRUITS, VEGETABLES, WHOLE GRAINS. PEARS ARE PROBABLY KING OF FIBER. THEY'VE GOT A LOT. POPCORN IS A WONDERFUL SNACK. >> HOW IS IT THAT WE CAN HAVE HEALTHY POPCORN WHEN SOMETIMES IT'S ON THAT "DO NOT EAT" LIST. >> MAKE IT IN THE MICROWAVE. OK? NO FAT. AND YOU CAN USE ONE OF THE SOFT-SPREAD SPRAYS TO FLAVOR IT UP. WHEN YOU'RE MAKING THAT GUACAMOLE, PAIR IT WITH WHOLE-GRAIN CHIPS. THEY'VE GOT MORE FIBER THAN A REGULAR CHIP. SO FIBER CAN REALLY BE BROUGHT INTO THE DIET VERY EASILY THAT TASTES GOOD. FINALLY, POTASSIUM. >> MY FAVORITES RIGHT HERE. >> WELL, WE NEED POTASSIUM-- MUSCLE CONTRACTION, NERVE TRANSMISSION, HEALTHY HEARTS. AGAIN, FRUITS AND VEGETABLES, BUT PROBABLY SOME REALLY GOOD SOURCES--SWEET POTATOES. WHY ARE THESE THE ORPHAN ON SO MANY PEOPLE'S TABLE? >> THEY JUST HAVEN'T TRIED THEM YET. >> I GUESS NOT. WHETHER YOU, AGAIN, POP THEM IN THE MICROWAVE-- 5 MINUTES, REALLY QUICK-- MAKE BAKED SWEET POTATO FRIES. ORANGES, BANANAS. SERVE THE FRUIT WITH A PIECE OF STRING CHEESE. AGAIN, YOU BRING IN SOME CALCIUM, AND YOU BRING IN A LITTLE BIT OF PROTEIN-- A PERFECT COMBINATION FOR A SNACK. >> AND I THINK IT'S TRUE THAT IF YOU HAVE THESE THINGS ON HAND, KIDS WILL JUST AS EASILY PICK THE HEALTHY CHOICES. THEY PICK THE OTHERS WHEN THERE'S NOTHING ELSE TO PICK FROM. >> YOU ARE SO RIGHT. PLANNING IS KEY. WE WANT TO KEEP A RUNNING SHOPPING LIST, MAKING SURE... CUT THE ORANGES. >> PUT THEM IN A PLASTIC BAGGY OR SOMETHING. >> YES. SO THAT KIDS OPEN THE REFRIGERATOR AND SAY, "OOH!" AND THEY JUST TAKE OUT A QUARTER OF AN ORANGE. HAVE THE PEARS ALREADY READY TO GO. AND THAT REALLY IS THE MOST IMPORTANT THING, IS THE PLANNING. >> WELL, AND I THINK WE READ ENOUGH AND HEAR ENOUGH ABOUT OBESITY BEING A PROBLEM THAT BEING ABLE TO OFFER SOME SUGGESTIONS FOR ALL PARENTS IS VERY IMPORTANT. >> YOU KNOW, WE MAKE SMALL CHANGES, LOSE WEIGHT SLOWLY, AND WE CAN SOLVE THIS PROBLEM. >> AND KEEP IT OFF THAT WAY. WELL, THANK YOU VERY MUCH FOR BEING WITH US, PAT. >> MY PLEASURE. >> WILL, IT'S REALLY NICE TO HAVE YOU HERE. I'VE NEVER MET ANYONE WHO STARTED THEIR OWN COMPANY, AND YOU STARTED YOUR OWN PET FOOD COMPANY. WHY? WHY NOT JUST GO TO THE GROCERY STORE AND BUY THE CANNED OR THE DRY PET FOOD? >> THAT'S A VERY GOOD QUESTION. I GOT FED UP WITH THE INDUSTRY. I GOT FED UP WITH MY DOGS AND CATS LIVING A LIFE ON DRUGS, HAVING STOMACH ISSUES, ALLERGIES THEIR ENTIRE LIVES, AND LIVING TO BE 5 TO 7. I GOT FED UP, AND I WANTED TO DO SOMETHING ABOUT IT. AND THE MORE RESEARCH I UNCOVERED OF THE INDUSTRY AND HOW MUCH GARBAGE REALLY DOES GO INTO THE PET FOODS-- THIS WAS YEARS AGO. IT WAS THE LAST DAY MY DOGS EVER ATE COMMERCIAL PET FOOD. AND I WENT OUT AND DID SOMETHING ABOUT IT, AND I STARTED HOUND AND GATOS. >> UH-HUH. AND IT'S PURE... >> IT'S 100% MEAT. >> 100% MEAT. AND YOU SAY THAT'S REALLY WHAT CATS AND DOGS WERE...WERE BORN TO EAT. >> RIGHT. RIGHT. >> NOT THE FILLERS LIKE GRAINS AND SOY AND STUFF LIKE THAT. >> RIGHT. I HAVE FRIENDS ACROSS THE COUNTRY AND IN CANADA, AND THEY TEASE ME A LOT. BUT I OFTEN SAY THAT I BELIEVE THAT THE BARNYARD CAT IS MUCH HEALTHIER THAN OUR CATS IN OUR OWN HOMES... >> THEY HAVE TO CATCH...UH-HUH. >> AND THE WILD ANIMALS THEY CONSUME IS NOT DOCTORED UP WITH HORMONES AND ANTI-CANCER DRUGS AND EVERYTHING ELSE. >> WELL, IS THE PET FOOD INDUSTRY NOT CONTROLLED BY FDA LIKE OUR PEOPLE FOOD? >> YEAH, IT IS CONTROLLED BY THE FDA, AND THEY'RE THE OVERSEER, AND THEY DO GO OUT THERE AND TRY TO PROTECT WHAT THEY CAN. >> BUT WHAT'S... ARE THEY JUST NOT PUTTING FORTH THE INFORMATION THAT WE NEED TO READ THE LABELS TO SEE REALLY WHAT'S IN IT LIKE WE'RE SUPPOSED TO DO FOR OUR OWN FOOD? >> WELL, THEY DO THAT. THE INFORMATION IS THERE. BUT THERE'S SEVERAL DIFFERENT APPROACHES IN THE CONCEPTS ON HOW ANIMALS SHOULD EAT. I MEAN, YOU KNOW, SOME PEOPLE BELIEVE THAT ANIMALS CAN LIVE A LIFE ON WHEAT AND SOY AND CORN AND GENERIC LIVER. I DON'T BELIEVE THAT. I BELIEVE THAT OUR CATS AND DOGS WERE CREATED TO EAT MEAT. YOU'VE NEVER SEEN A DOG GRAZING IN WHEAT FIELDS WITH HORSES. >> NO. >> YOU'VE NEVER SEEN A CAT DIGGING UP POTATOES OR CARROTS IN THE GARDEN, AND THAT'S EXACTLY WHAT WE'RE DOING WITH PET FOOD. WE'RE FILLING THESE PRODUCTS UP WITH NOTHING BUT CARROTS AND POTATOES. >> WELL, I'D ALWAYS HEARD THAT IT WAS GOOD TO GIVE PETS THE DRY BECAUSE IT WAS GOOD FOR THEIR TEETH. IS THAT NOT NECESSARILY TRUE? >> I DON'T...I DON'T BUY THAT. YOU CAN TAKE A COOKIE, A NORMAL HUMAN OATMEAL COOKIE, AND GIVE IT TO THE DOG, AND YOU'LL SEE IN THEIR TEETH IT DOES IMPACT THE TEETH. IT DOES COLLECT THERE. AND EVENTUALLY IT WILL DISINTEGRATE, BUT, UM... BUT THE ADVANTAGE OF ADDING THE WET FOOD IS IT DISINTEGRATES FASTER AND THERE'S A LOT MORE WATER IN THAT...IN THAT MEAT PRODUCT. BUT, UM, IT'S IMPORTANT TO USE THE MEAT. >> OK. KEEP MEAT IN MIND. NOW, WHAT ABOUT...WE'RE ALWAYS READING ABOUT RECALLS. DO THEY EVER RECALL PET FOOD? >> OH, ABSOLUTELY. >> OH, DO THEY? >> IT'S HAPPENING EVERY DAY. AND WE HAVE NEVER HAD A RECALL. AND WE'RE A SMALL COMPANY, SO WE GET TO OVERSEE MANY, MANY DIFFERENT FACETS OF THE PROCESS OF CANNING. BUT THERE ARE RECALLS, AND, YOU KNOW, THE FDA CHALLENGES THEM, AND THEY MAKE CORRECTIVE MEASURES AND CORRECT THAT. >> AND SUPPOSEDLY DO THEY ADVERTISE IT AS WELL AS WHEN IT'S PEOPLE-FOOD RECALLS? I DON'T REMEMBER SEEING RECALLS ON ANY OF THE PET FOODS. >> WELL, THEY'RE OUT THERE. IT'S EXPOSED EVERY DAY. THERE'S ORGANIZATIONS OUT THERE THAT EXPOSE THAT. AND YOU CAN ALWAYS GO TO fda.gov AND TYPE IN A BRAND, AND THAT WILL EXPOSE IT THERE, TOO. BUT WE'VE NEVER HAD A RECALL. >> AND HOW OLD IS YOUR COMPANY? >> 3 YEARS OLD. >> 3 YEARS OLD. UH-HUH. AND IT IS A HUGE INDUSTRY, BECAUSE I READ, LET'S SEE, THERE'S 70 MILLION DOGS AND 86 MILLION CATS IN THE WORLD OR IN THE UNITED STATES. SO THE PET FOOD INDUSTRY'S HUGE. >> IT IS. WE'VE HUMANIZED OUR CATS AND DOGS, AND THERE'S EMPTY-NESTERS OUT THERE AS WELL. YOU KNOW, THE CHILDREN HAVE GONE OFF TO COLLEGE, GET MARRIED, AND WE'RE LEFT WITH OUR PETS, AND OUR PETS ARE OUR CHILDREN NOW. SO IT IS A HUGE INDUSTRY. IT'S A HUGE MARKET. AND PEOPLE WANT TO START TAKING CARE OF THEIR ANIMALS BETTER. >> DO THEY EVER PUT ARTIFICIAL FLAVORINGS THAT MAYBE CAUSE CATS OR DOGS TO REALLY LIKE, SAY, A CERTAIN TYPE OF CAT OR DOG FOOD? >> YES. THERE ARE PEOPLE OUT THERE THAT THEY ADD... I CALL THEM TASTE CHEMICALS, YOU KNOW, SO THE CAT WILL NEVER SAY NO TO IT. AND I DON'T LIKE THAT. MY PRODUCTS ARE 100% MEAT. WE ADD NO CHEMICALS TO IT WHATSOEVER. >> UH-HUH. WELL, I GUESS THE BOTTOM LINE IS WE NEED TO LEARN TO READ THE LABELS ON THE PET FOOD, JUST LIKE WE DO OUR OWN. BUT WOULD YOU CONSIDER THESE, LIKE, A SNACK OR A TREAT THAT GO IN CONJUNCTION WITH A FULL MEAL, OR ARE YOUR PRODUCTS FULL MEALS? >> RIGHT. IF I MAY SHOW YOU THAT, RIGHT IN THE CENTER ON THE BOTTOM, IT SAYS "COMPLETE MEAL." THERE ARE SEVERAL DIFFERENT TYPES OF CANNED. THERE'S A LOT OF PRODUCTS OUT THERE THAT ARE REALLY CALLED TREATS OR TOPPERS, AND THEY'RE NOT FORMULATED BY AAFCO STANDARDS. THEY'RE JUST TREATS. THEY'RE JUST SNACKS. ALL OF HOUND AND GATOS PRODUCTS ARE COMPLETE MEALS, AND THEY'RE FOR ALL LIFE STAGES, AND MEANING IT HAS THE PROTEINS IN THERE, THE SINGLE-SOURCE PROTEINS, AND THEY HAVE THE VITAMINS AND SUPPLEMENTS THAT'S FORTIFIED SO THAT THEY JUST NEED TO EAT THAT PRODUCT RIGHT THERE, AND IT'S A BALANCED DIET. >> WHAT ABOUT, LIKE, FOR LITTLE PUPPIES AND LITTLE KITTENS ALL THE WAY UP TO THE OLDER ONES? DO THEY EAT THE SAME FOODS AS LONG AS IT'S MEAT? >> WELL, I BELIEVE THEY EAT ALL MEAT, YES. BUT MY PRODUCTS, UM... IT'S VERY SIMPLE. IT'S FOR ALL LIFE STAGES, FROM THE KITTEN TO THE SENIOR. I BELIEVE, YOU KNOW, WHOLEHEARTEDLY THAT CATS AND DOGS WERE CREATED TO EAT MEAT, AND IT'S REALLY IMPORTANT THAT THEY CONSUME NOTHING BUT MEAT. I MEAN, VEGETABLES ARE GOOD. FRUITS ARE GOOD, TOO. BUT THE PRIMARY DIET NEEDS TO BE 100% MEAT. >> AND I NOTICED ON THE CAN, IT TELLS YOU HOW MUCH OF A BIG CAN THEY SHOULD EAT, AND IT'S ALL BASED ON THEIR WEIGHT. >> RIGHT. EXACTLY. >> WHICH ALSO KEEPS THEM FROM BECOMING OBESE AND BEING OVERWEIGHT IF WE GO BY IT. >> RIGHT, AND ON THAT OBESITY QUESTION, IF THE CAT IS EATING 100% MEAT AND A DOG HAS 100% MEAT AS WELL, YOU'RE NOT GONNA HAVE THAT PROBLEM WITH OBESITY. >> OH, OK. WHERE... ARE YOUR PRODUCTS IN GROCERY STORES AND STORES LIKE THAT? IS THAT HOW PEOPLE FIND THEM? >> WE'RE SOLD IN ALL 50 STATES, IN ALL 10 PROVINCES OF CANADA. YOU CAN GO ON MY WEBSITE houndgatos.com OR FACEBOOK AND TYPE IN YOUR ZIP CODE, AND YOU'LL SEE STORES THERE. AND IF WE'RE NOT LISTED, I NEED YOU TO CALL THAT STORE AND SAY, "HEY, CARRY HOUND AND GATOS." AND THEN WE DO HAVE OUR ONLINE SHOPPING CART. IT'S petfooddirect.com. >> WELL, IT'S BEEN INTERESTING, AND I'VE LEARNED A LOT ABOUT THINGS THAT I REALLY TOOK FOR GRANTED, AND I THINK THAT'S PROBABLY WHAT MOST OF US ARE GUILTY OF. >> I AM, TOO. >> YOU WERE, TOO, WEREN'T YOU? WELL, THANK YOU VERY MUCH FOR BEING WITH US TODAY, WILL. >> THANK YOU VERY MUCH. >> NANCY, THANK YOU SO MUCH FOR COMING. I ALWAYS LOVE WHEN YOU COME AND I SEE WHAT'S NEW IN CAKE DECORATING OR MAKING BROWNIES AND EMBELLISHING THEM. AND SOMETIMES YOU'VE DONE REALLY INTRICATE THINGS FOR US, BUT TODAY YOU DECIDED TO GET BACK TO THE BASICS. WHY? >> I DID, BECAUSE SOMETIMES WE'RE SO OVERWHELMED WITH THESE BEAUTIFUL 5-TIERED CAKES OR, YOU KNOW, LOTS OF FONDANT, YOU KNOW, STACKED ON TOP, AND YOU FORGET HOW ATTRACTIVE SOMETHING SIMPLE IS. AND THE OTHER THING IS IS I WANT PEOPLE TO KNOW ANYBODY CAN DO CAKE DECORATING, CUPCAKES, TREATS. IT'S REALLY A LOT EASIER THAN THEY THINK, AND I DON'T WANT THEM TO BE INTIMIDATED. SO I THOUGHT LET'S STAY WITH THE BASICS, SHOW YOU SOME THINGS, AND MAYBE ONE TECHNIQUE YOU JUST MAY BE A MASTER AT, AND ANOTHER TECHNIQUE YOU GO, "HMM...I'M GOING BACK TO THAT OTHER ONE." >> HA HA. OK. WELL, YOU'RE GOING TO SHOW US HOW TO DO ALL OF THESE, BUT LET'S JUST TAKE A LOOK AT SOME OF THESE. AND THEY DO LOOK VERY SIMPLE, I HAVE TO ADMIT, AND I THINK IT WOULD BE VERY GRATIFYING FOR SOMEONE WHO'S NEVER DONE CAKE DECORATING TO THINK, "WOW! FOR MY KIDS' BIRTHDAY "PARTY OR FOR A PICNIC, I COULD DO SOME OF THESE." SO... >> ABSOLUTELY. SO, YOU KNOW, I'VE MADE SOME THAT LOOK LIKE WHAT YOU BUY AT A BAKERY, AND THERE'S NO REASON YOU CAN'T DO THEM YOURSELF. >> A SWIRL. >> YEAH, THE SWIRLS, WHETHER YOU USE THE ROUND OR THE STAR TIP. AND THEN I'VE DONE SOME OTHERS WITH JUST ANOTHER ROUND TIP, AND THEN THERE'S A DIFFERENT STAR TIP, AS YOU CAN SEE, WITH THE FLOWERS THERE, SO THAT THAT LOOKS VERY PRETTY, VERY SIMPLE. THAT LOOKS PHENOMENAL ON A PETIT-FOURS, ABSOLUTELY BEAUTIFUL ON A BROWNIE, BECAUSE YOU'VE GOT THAT CHOCOLATE FRAME AROUND IT. SO ANYTHING SMALL YOU CAN DO IT. YOU COULD DO IT ON A COOKIE. YOU JUST CAN'T STACK IT IF YOU'RE DOING IT IN BUTTERCREAM. AND THEN LASTLY, JUST USING AN ICING DECORATION THAT YOU CAN PUT ON, ONE THAT COULD BE 1M-SWIRLED, 1A-SWIRLED, OR YOU COULD ACTUALLY JUST SPATULA-ICE. >> AND THEN WE JUST TOP IT WITH THAT LITTLE BUTTERFLY, AND IT LOOKS LIKE A PRO DID IT. OK. LET'S MAKE SOME. >> SO, TO START OUT WITH THE BASICS, I THOUGHT WE SHOULD ACTUALLY SHOW YOU HOW TO ICE A CUPCAKE. SO I'VE GOT SOME BUTTERCREAM HERE THAT'S THIN, AND YOU CAN SEE THAT IT DOESN'T REALLY HOLD A PEAK TOO MUCH. YOU CAN SEE IT'S KIND OF SOFT. >> SO WE DO WANT IT SOFTER? >> YOU DO WANT IT SOFT. AND WHEN YOU MAKE YOUR BUTTERCREAM ICING, MOST RECIPES ARE A MEDIUM THICKNESS, AND A BUTTERCREAM RECIPE IS JUST POWDERED SUGAR, BUTTER, FLAVORING, AND A LITTLE BIT OF MILK OR LEMON JUICE. >> A LIQUID. >> YEAH, A LIQUID. AND THEN I LIKE TO THIN MINE WITH ABOUT A TABLESPOON OF CORN SYRUP. YOU COULD USE MILK, WATER, OR YOUR LEMON JUICE, BUT THE CORN SYRUP GIVES IT SOME ELASTICITY. >> AND DOESN'T IT SEEM TO MAKE IT A LITTLE MORE GLISTENY, OR IS THAT MY IMAGINATION? >> NO, IT DOES MAKE IT A LITTLE BIT SHINY. SO WHAT YOU SAW THAT I DID IS I JUST PUT A WHOLE BUNCH ON, AND THEN I JUST SPREADED IT-- SPREAD IT. SPREADED. SPREAD IT AROUND. NOW, YOU CAN SMOOTH IT IF YOU WANT TO. IF YOU'RE GONNA PUT SOME THINGS ON TOP, YOU DON'T NEED TO DO TOO MUCH SMOOTHING. ANOTHER THING THAT'S KIND OF INTERESTING THAT YOU CAN DO IS GIVE IT A LITTLE BIT OF TEXTURE. IF YOU HAVE TROUBLE SMOOTHING, THEN JUST SAY THIS IS YOUR SIGNATURE WAY OF MAKING YOUR CUPCAKES, AND THEN YOU DON'T HAVE TO WORRY ABOUT THE SMOOTHING ASPECT OF IT. >> I LIKE THAT. >> OK. WE'LL USE THAT AGAIN IN A MINUTE. THEN I WANTED TO SHOW YOU THE ONE THAT'S PROBABLY THE MOST POPULAR, AND THAT'S THE 1M SWIRL. AND YOU CAN SEE HERE-- >> NOW, BY "1M," THAT'S A TIP YOU'RE TALKING ABOUT? >> THAT'S THE NUMBER OF THE TIP, AND THAT'S THIS ONE IN THE FRONT. AND YOU CAN SEE IT HAS A VERY WIDE--IT'S A STAR, BUT IT HAS VERY WIDE SEPARATIONS BETWEEN THE POINTS. SO WHAT YOU'RE GONNA DO WITH YOUR 1M, YOU'RE GONNA START ON THE OUTSIDE OF YOUR CUPCAKE. YOU'RE GONNA JUST START SQUEEZING, AND YOU'RE JUST GONNA GO AROUND LIKE THAT AND KIND OF COVER IT. NOW, WHEN YOU FINISH IT, I LIKE TO JUST STOP LIKE THAT, BUT SOME PEOPLE LIKE TO PUT A STAR ON TOP OR PULL IT OUT. SO THERE'S YOUR 1M SWIRL. SO YOU SEE, YOU START ON THE OUTSIDE, JUST GO AROUND. >> NOW, LET ME ASK THIS, BECAUSE I'VE HAD THIS HAPPEN BEFORE. FOR INSTANCE, IF THERE IS STILL SOME CAKE SHOWING, CAN WE JUST... YOU CAN ALWAYS FIX THINGS WITH CAKE DECORATING AND ICING, CAN'T YOU? MAKING ANOTHER ROW. OK. >> NOW, YOU CAN KIND OF SEE WHERE I STARTED AND ENDED, BUT MOST PEOPLE AREN'T GONNA LOOK AT, WHEN THEY PICK UP THEIR CUPCAKE AND GO, "I THINK SHE STARTED AGAIN RIGHT THERE." SO DON'T BE SO CRITICAL OF YOURSELF. >> AND THE MORE ICING, THE BETTER I THINK. YOU CAN'T GO WRONG WITH ALL OF THAT. >> AND TO FINISH THAT OFF, YOU COULD PUT SOME PEARLS ON IT, JUST SOME JIMMIES, SOME NONPAREILS. I WOULD PUT THEM ON RIGHT AWAY, BECAUSE IF YOU WAIT, THEN AS THE ICING BEGINS TO WHAT I CALL CRUST OVER OR DRY A LITTLE BIT, IT'S A LITTLE HARDER FOR THEM TO STICK. >> OK. >> NOW, THE SAME TECHNIQUE, THIS IS A 1A, AND THIS IS JUST A HUGE, HUGE ROUND TIP. THAT'S THIS ONE. IF YOU ALSO HAVE A NUMBER 12, THAT'S A SMALLER ROUND TIP. SO AGAIN, I'M GOING ON THE OUTSIDE. AND I'M SEEING THIS IN A LOT OF HIGH-END BAKERIES. SO IT LOOKS VERY SMOOTH AND VERY ELEGANT. >> AND HOW FAST WAS THAT? >> OH, I DON'T EVEN THINK ABOUT IT. I JUST KIND OF DO IT. >> UH-HUH. >> AND THEN AGAIN, YOU CAN FINISH IT OFF WITH--HOWEVER YOU WANT TO FINISH IT OFF. >> AND WITH IT STILL A LITTLE DAMP LIKE THIS, BOY, THEY JUST STICK. >> THEY DO, AND THAT'S WHAT YOU WANT. YOU DON'T WANT THEM GOING ALL OVER THE PLACE. THEN I WANTED TO SHOW YOU JUST SOMETHING REALLY SIMPLE. AND THIS IS YOUR TIP 12. AND I'M JUST GONNA SQUEEZE, STOP SQUEEZING, AND THEN KIND OF CURL IT OFF LIKE THAT. >> OH, THAT MAKES THOSE LITTLE ROUND... >> LITTLE ROUND DOTS. SO SQUEEZE, STOP SQUEEZING, AND COME AROUND. NOW, IF YOU HAD A LITTLE POINT LIKE THAT, YOU CAN TAKE EITHER SOME CONFECTIONERS SUGAR OR SOME CORN STARCH ON YOUR FINGER AND TAP IT DOWN AFTER IT DRIES A LITTLE BIT. SO JUST... >> DON'T WORRY ABOUT IT AT THE TIME. >> NO. I DON'T. I'M GONNA DO ONE MORE REAL QUICK BECAUSE I CAN'T HELP MYSELF. NOW, SEE, IF YOU WANTED TO BE, YOU KNOW, A LITTLE BIT MORE DECORATIVE, YOU COULD PUT SOME SUGAR PEARLS IN THAT. BUT THEN I ALSO WANTED TO SHOW YOU HOW YOU CAN MAKE A FLOWER. SO HERE'S THE CENTER OF MY FLOWER. AND THEN... DO THE SAME TECHNIQUE AROUND THE OUTSIDE. >> OH, JUST MORE ROUND DOTS. I KIND OF LIKE THE LITTLE PEAKS ON THERE. I THINK THAT'S KIND OF PRETTY. SO YOU COULD LEAVE IT IF YOU WANTED TO. >> THEY DON'T BOTHER ME TOO MUCH, BUT YOU KNOW, IF YOU ACTUALLY GET AN INSTRUCTOR, THEY'RE GONNA GO, "YOU HAVE PEAKS." SO WHAT I WOULD DO IS I WOULD JUST TAKE CARE OF THAT AND, LIKE I SAID, LET IT DRY A LITTLE BIT. IF YOU LET IT DRY FOR MAYBE 10 MINUTES, YOU CAN PAT IT DOWN WITHOUT ANY CONFECTIONERS SUGAR OR ANY CORN STARCH. >> JUST AS IS. >> YEAH. AND COULD PUT A SUGAR PEARL IN THE MIDDLE OF THAT IF YOU REALLY WANTED TO. OK. SO NOW LET'S DO-- I HAVE A 4B. THIS IS A TIP THAT LOOKS REALLY GREAT IF YOU WANT TO TAKE, LIKE, STABILIZED WHIPPED CREAM OR WHIPPED TOPPING AROUND YOUR PIES ANY TIME YOU'RE DOING A PIE. AND--OH, I DON'T HAVE ANOTHER. I USED THAT ONE UP. SO OK, LET'S JUST DO THIS REAL QUICK. SO DON'T GRADE ME ON WHETHER I HAVE-- >> SO SEE HOW FAST THIS IS TO DO. THAT'S THE THING TO KEEP IN MIND. >> OK. SO WHEN I DO A FLOWER, YOU'RE JUST GONNA HOLD IT STRAIGHT UP AND DOWN LIKE YOU WOULD A NORMAL STAR TIP, BUT SEE, THIS STAR TIP HAS... >> CREATES IT ITSELF. >> YEAH. AND THEN, SEE, IT'S THIS ONE RIGHT HERE. SO YOU CAN SEE THE DIFFERENCE BETWEEN THE 4B AND THE 1A. >> OOPS. LET ME TURN IT OVER, AND YOU CAN SEE THE...OH, YEAH. THEY ARE DIFFERENT. >> SO YOU CAN SEE, THIS WAS THE TIGHTER ONE. THEN IF YOU WANTED TO, THIS IS A 352 LEAF TIP. AND SO YOU JUST ACTUALLY POKE IT IN THERE. THIS ONE LOOKS LIKE A CHICKEN BEAK, SO YOU CAN SEE THERE'S THE TOP BEAK AND THE BOTTOM BEAK. AND SO YOU JUST HOLD IT LIKE THE CHICKEN IS GONNA PECK AND GET SOME CORN. AND THERE'S YOUR LITTLE LEAF LIKE THAT, AND AGAIN, YOU CAN PUT A PEARL UP TOP IF YOU WANT TO. THERE'S NOT TOO MUCH CONTRAST WITH THE GREEN. I HAVE TWO OTHER LEAF TIPS HERE. THESE ARE THE LARGER LEAF TIPS. I KIND OF CALL THOSE THE FOODSERVICE OR THE LARGE TIPS. YOU COULD USE THOSE, BUT I DIDN'T WANT THEM TO OVERPOWER MY FLOWER. AND THEN LASTLY, LET ME JUST DO ANOTHER 1M, AND WE CAN ADD SOME ICING DECORATIONS ON TOP. YEAH, YOU'VE GOT TO GET READY. >> I'VE GOT TO GET READY. THESE ARE SO CUTE. >> BUT YOU SEE HOW QUICK IT IS? >> AND THIS IS HOW THEY COME, IN A LITTLE... >> MM-HMM. AND THEN WE COULD JUST STICK THE LITTLE BUTTERFLY IN THERE. YOU COULD PUT A BODY IN BETWEEN IF YOU WANTED TO, BUT YOU REALLY DON'T HAVE TO. >> OH, THAT IS SO CUTE. AND IT MAKES IT LOOK SO PROFESSIONAL. >> IT DOES, AND YOU KNOW, IT'S REALLY ATTRACTIVE WHEN YOU HAVE A WHOLE BURST OF THEM. PUT THEM ON A NICE CAKE PLATTER. GET, YOU KNOW, A CUPCAKE STAND. AND AGAIN, THESE ARE JUST BASIC TECHNIQUES THAT EVERYBODY CAN DO. >> WELL, I REALLY APPRECIATE YOU SHOWING THEM, BECAUSE THIS PROVIDES A CHANCE FOR EVEN A VERY BEGINNER OR A YOUNG PERSON THAT'S WANTING TO DO THIS TO BE SO PROUD OF WHAT THEY'VE CREATED. >> AND EAT IT. >> AND EAT IT. HA HA! THANK YOU, NANCY. I HOPE YOU ENJOYED THE SHOW TODAY. NEXT TIME ON "CREATIVE LIVING," WE'LL LEARN HOW TO TAKE CARE OF JEWELRY, HOW TO MAKE AN AUTHENTIC CAESAR SALAD, AND SHOW SOME HARDWARE EMBELLISHMENT FOR NEEDLEPOINT PROJECTS. ONE OF MY NEXT GUESTS IS A JEWELRY DESIGNER, AND SHE'S GOING TO SHOW HOW TO TAKE CARE OF JEWELRY, WHETHER IT'S STERLING SILVER, GOLD, BASE METAL, OR EVEN LEATHER AND GEMSTONES. ANOTHER GUEST IS A COOKBOOK AUTHOR AND CHEF, AND HE'S GOING TO DEMONSTRATE HOW TO MAKE CLASSIC CAESAR SALAD WITH TOASTED GARLIC CROUTONS. AND FINALLY, ANOTHER GUEST WILL SHOW HOW TO INCORPORATE THINGS FROM YOUR LOCAL HARDWARE STORE, SUCH AS WASHERS AND HEX NUT COVERS, INTO YOUR NEEDLEWORK PROJECTS. ALL OF THESE TOPICS WILL BE FEATURED ON THE NEXT "CREATIVE LIVING" SHOW. IF YOU EVER HAVE COMMENTS OR SUGGESTIONS OR IDEAS FOR SHOWS, YOU CAN E-MAIL ME AT sheryl.borden@enmu.edu. I'D ALSO LIKE TO ASK YOU TO BECOME A FAN OF "CREATIVE LIVING" ON FACEBOOK. JUST GO TO facebook.com AND IN THE SEARCH WINDOW TYPE IN "CREATIVE LIVING WITH SHERYL BORDEN." I HOPE YOU'LL PLAN TO JOIN ME NEXT TIME FOR "CREATIVE LIVING." >> WE ARE VERY PLEASED TO OFFER A NEW BOOKLET THAT ACCOMPANIES THIS SERIES OF "CREATIVE LIVING." THIS BOOKLET IS TITLED "THE 6700 SERIES," AND IT FEATURES A WONDERFUL COLLECTION OF IDEAS AND INFORMATION, AND IT'S AVAILABLE FREE OF CHARGE ON OUR WEBSITE. POSTED AS A "PDF" FILE, YOU CAN SIMPLY DOWNLOAD THE ENTIRE BOOKLET OR JUST THE SEGMENTS YOU'RE MOST INTERESTED IN. YOU'LL FIND INFORMATION ON FOODS, NUTRITION, CLOTHING, FASHION, HEALTH AND BEAUTY, HOME DECORATING, AND MUCH MORE. FOR YOUR COPY OF THIS NEW BOOKLET, GO TO OUR WEBSITE AT kenw.org AND THEN CLICK ON "CREATIVE LIVING," SCROLL DOWN TO THE BOOKLETS SECTION, AND YOU CAN CLICK ON THIS BOOKLET OR ON ANY OF THE OTHER BOOKLETS WE HAVE AVAILABLE ONLINE. JUST GO TO kenw.org, CLICK ON "CREATIVE LIVING," AND DOWNLOAD THE BOOKLET TITLED "THE 6700 SERIES." WE ALSO INVITE YOU TO SIGN UP FOR OUR FREE E-NEWSLETTER. JUST GO TO kenw.org AND CLICK ON THE "SIGN UP NOW" BUTTON, AND INPUT YOUR E-MAIL ADDRESS. THAT'S ALL THERE IS TO IT. YOU'LL ENJOY READING AN UP-TO-DATE NEWSLETTER FILLED WITH INTERESTING TOPICS AND INFORMATION. THANK YOU.
Now Playing As: Captioned (English) (change)
Nancy Siler discusses tips for decorating cupcakes, and a representative from Hound and Gatos provides tips on how to select healthy pet foods. Also Pat Rivers from Country Crock gives ideas for healthy school lunches and snacks.
Media Details
Runtime: 27 minutes