Creative Living With Sheryl Borden #6701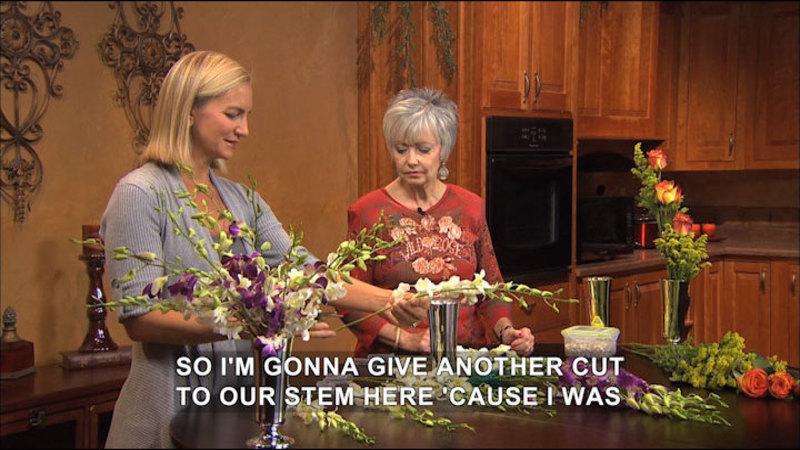 >> "CREATIVE LIVING," UTILIZING TODAY'S TECHNOLOGY WITH THE BEST OF THE PAST TO BRING YOU INNOVATIVE IDEAS AND UP-TO-DATE INFORMATION FOR CREATIVE LIFESTYLES IN TODAY'S ACTIVE WORLD WITH YOUR HOST--SHERYL BORDEN. >> WELCOME TO "CREATIVE LIVING" TODAY. WE'RE BEGINNING A NEW SERIES OF SHOWS, AND I HOPE YOU'LL WATCH AS OFTEN AS POSSIBLE. TODAY WE'LL LEARN ABOUT OPTICAL ILLUSIONS AND HOW THEY AFFECT INTERIOR- DESIGN ELEMENTS, AND WE'LL LEARN TO MAKE SOME BEAUTIFUL BUD VASES. ONE OF MY GUESTS TODAY IS DIANE ROMICK, AND SHE'S THE PRESIDENT AND CEO OF CASTLE DESIGN STUDIO IN NEWPORT COAST, CALIFORNIA. DIANE WILL EXPLAIN HOW OPTICAL ILLUSIONS CAN CHANGE THE PERCEPTION OF SPACE WHEN DESIGNING THE INTERIOR OF A ROOM. ACCORDING TO DIANE, LINES, SURFACE TREATMENTS, AND COLORS CAN HELP OR HURT THE OPTIMIZATION OF A ROOM VIA THE FLOOR, CEILINGS, WALLS, WINDOW TREATMENTS, EVEN FURNISHINGS OR ACCESSORIES. WE'LL LOOK AT EACH DIFFERENT ILLUSION TO SEE HOW IT APPLIES TO A ROOM. WE'LL BEGIN THE SHOW TODAY WITH CASEY SCHWARTZ, WHO IS A FLORAL DESIGNER AND CO-OWNER OF FLOWER DUET. CASEY'S GOING TO SHOW HOW TO CREATE AN IMPRESSIVE BUD VASE WITH A SPRAY OF ORCHIDS AND A CLASSIC TRIO OF ROSES WITH ADDED GREENERY AND FILLER. SHE SAYS THAT BUD VASES CAN BE MANY SIZES, BUT SHOULD ALWAYS HAVE A VERY NARROW OPENING. SHE'S FROM REDONDO BEACH, CALIFORNIA. THANK YOU SO MUCH, CASEY, FOR BEING HERE. I ENJOYED WHEN YOU CAME BEFORE, AND I LEARNED LOTS OF THING ABOUT FLOWERS THAT I HAD NO IDEA THAT A NOVICE COULD DO, AND YOU SAID WE'RE GONNA TALK ABOUT BUD VASES, AND I ALWAYS THINK OF A BUD VASE AS ONE SINGLE FLOWER IN A BUD VASE. >> THAT WORKS WELL, AND SOMETIMES, IT CAN BE DRAMATIC, ESPECIALLY IF IT'S A HYDRANGEA OR PIANESE. BUT EVEN A LITTLE ROSE LOOKS REALLY SWEET IN A BUD VASE. BUT WE'RE GONNA GO A LITTLE BIT BEYOND, BUT BUD VASES ARE A GOOD PLACE TO START IF YOU'RE NERVOUS ABOUT DOING FLOWER ARRANGING. NOT TOO FLOWERS. MAKES A NICE IMPRESSION. NOT A BIG VASE. SO WE'RE GONNA START SMALL, BUT WE'RE GONNA MAKE A NICE IMPACT. >> OK. THAT'S BEAUTIFUL THOSE ARE ORCHIDS. >> THEY'RE ORCHIDS. THEY'RE DENDROBIUM ORCHIDS. THERE'S WHITE, AND THEN THE PURPLE-Y-WHITE ONES WHICH ARE CALLED BOMBAY. AND THEY'RE VERY SIMPLE. THEY'RE CONSIDERED A LINE FLOWER 'CAUSE THERE'S A BUNCH OF BLOOMS ON ONE STEM. AND, UH, A LINE FLOWER. AND WE'RE GONNA BUILD IN-- RIGHT IN OUR VASE HERE, WHICH HAS GOT SOME WATER IN IT ALREADY, AND WE'RE JUST GONNA POP THESE OVER THERE FOR A MINUTE. AND WE'RE GONNA PULL THESE IN. NOW, ORCHIDS ARRIVE FROM THAILAND, USUALLY, OR FROM HAWAII, AND THEY ALWAYS TRAVEL IN THESE VIALS OF WATER. >> IN THE WATER. >> 'CAUSE THEY CAN'T BE KEPT TOO CHILLY TO SUSTAIN THEIR LONGEVITY. THEY HAVE TO BE KEPT IN WATER 'CAUSE THEY'RE TROPICAL FLOWERS. AND, UM, SO WHAT WE'RE GONNA DO IS REMOVE THE VIALS BEFORE WE PUT THEM IN WATER, AND WE'RE GONNA GIVE THEM A FRESH CUT. AND WE'RE ACTUALLY GONNA START WITH THE WHITE ONES. >> I REMEMBER THAT'S WHAT YOU SAID. NO MATTER HOW YOU GET FLOWERS, YOU ALWAYS GIVE THEM A FRESH CUT. >> ALWAYS GIVE THEM A FRESH CUT BECAUSE EVEN THOUGH THEY GOT A CUT, AND THEY'VE BEEN SITTING IN WATER, THEY DO START TO SEAL UP A LITTLE BIT AS THE STEM STARTS TO BREAK DOWN. NOW, YOU HAVE TO BE CAREFUL WHEN YOU UNDO YOUR ORCHIDS. >> THEY KIND OF WEAVE TOGETHER. >> YES, THEY DO, AND DON'T WANT TO JUST GO SWINGING THEM OUT 'CAUSE THEY MIGHT FLING THE BUDS ACROSS THE ROOM, AND THEN YOU DON'T HAVE EXTRA BUDS TO OPEN. WHAT WE USUALLY DO IS UNFURL THEM A BIT AND LAY THEM OUT SO WE HAVE AN EASY ACCESS. AND SO WE SEE WHAT WE HAVE. >> IF YOU'RE BUYING ORCHIDS, THIS IS WHAT YOU WANT, WHERE SOME OF THE BLOOMS ARE OPEN AND SOME OF THEM ARE NOT, SO YOU HAVE LONGER BEAUTY. >> LONGER BEAUTY. AND THE BUDS YOU WANT TO LOOK FOR, THEY WANT THEM TO BE GREEN. YOU DON'T WANT THEM TO BE YELLOW OR BROWN OR--AND YOU WANT THEM TO BE PERKY, KIND OF LIKE A FUCHSIA BLOOM BEFORE IT POPS. SO YOU KNOW THEY'RE GONNA CONTINUE TO OPEN. SOME OF THE LOWER BLOOMS MAYBE HAVE BEEN--ARE A LITTLE BIT BROWN BECAUSE THEY'VE OPENED ALREADY. SO YOU CAN REMOVE THOSE IF THEY'RE LOOKING BAD BECAUSE THEN THAT'LL GIVE MORE ENERGY TO THE FLOWER TO OPEN. SORT OF LIKE WHEN YOU DEADHEAD YOUR GARDEN. SO WE'RE GONNA USE MOST OF THE BLOOMS, THOUGH. THEY'RE IN PRETTY GOOD SHAPE. I MAY NOT REMOVE ANY. AND WE SEE WE HAVE QUITE A LONG STEM TO WORK INTO OUR VASE, BUT WE'RE GONNA CUT A LITTLE BIT OF IT OFF. I'M GONNA PULL THE VIAL OFF VERY SIMPLY AND GRAB MY CUTTERS. I'M GONNA CUT AT AN ANGLE. >> DO YOU SAVE THOSE VIALS AND USE THEM FOR-- >> I HAVE IN THE PAST, AND THEN I ALWAYS GET TO THE POINT WHERE I NEVER USE THEM, AND SO I PITCH THEM, AND YOU CAN BUY THEM VERY REASONABLY. SOMETIMES I THINK, "I'LL USE THOSE," AND I DON'T. SO I'M GONNA GIVE ANOTHER CUT TO OUR STEM HERE 'CAUSE I WAS JUST CHATTING AWAY THERE. AND OUR STEMS CLOSE UP IN ABOUT 10 SECONDS. AND I'M JUST GONNA POP THAT RIGHT IN THERE. >> CLIP IT, PUT IT IN WATER... >> CLIP AND PUT IN. AND HOW WE'RE GONNA BUILD THIS ONE IS WE'RE GONNA CLIP, AND WE'RE JUST GONNA KEEP PLACING ALL THE WAY AROUND WITH THE WHITE ONES, AND WE'RE GONNA ADD OUR PURPLE. SO IF YOU WANT TO GO AHEAD AND SLIDE OFF A VIAL THERE AND LEAVE YOURSELF ABOUT 4 INCHES OR SO ON YOUR STEM. YEP. AND WE'RE GONNA GO AROUND AND ROUND A CIRCLE, SO GO AHEAD AND LAY THAT IN THERE AND LET IT ARCH OUT NATURALLY. ALL READY LOOKS PRETTY. >> THAT ONE LOOKS GREAT. >> WE USE THESE OFTEN WHEN YOU'VE GOT A SITUATION WHERE YOU NEED IT TO LAST A LONG TIME. MAYBE IT'S AN OPEN HOUSE FOR A HOUSE THAT'S GONNA BE SOLD, AND THEY DON'T WANT TO WORRY ABOUT FUSSING WITH THE FLOWERS, SO YOU GET ORCHIDS AND PUT THESE ALL OVER THE HOUSE IN DIFFERENT ROOMS, AND IT'S JUST BEAUTIFUL HOW IT ALL TIES TOGETHER. PUT THAT LAST ONE IN. >> NOW, I NOTICE THAT SOME OF THESE ARE DOWN IN THE VASE... >> YOU CAN PULL THOSE OFF. YOU CAN PULL THEM OFF IF YOUR STEM'S A LITTLE BIT SHORT, BUT WHAT IT DOES ADD, BECAUSE WE'RE USING A VASE WITH A WIDE OPENING, IT ACTUALLY ADDS A LITTLE BIT OF GIRTH IN THERE. THEY'RE NOT NECESSARILY IN THE WATER. WE ONLY HAVE WATER UP TO ABOUT THERE. NOW WE'RE GONNA ADD OUR PURPLE. SO WE HAVE SET OUR PACE HERE WITH A NICE RIM OF WHITE, WHICH MAKES IT SORT OF A NICE COLLAR. BOMBAY. BOMBAY DENDROBIUM. IN THE TRADE, WE CALL THEM DENDROS. MAKES IT A LITTLE BIT EASIER. >> ABOUT 4 INCHES AGAIN? >> DOING ALL ABOUT THE SAME, AND THEN WE GONNA SLIDE THESE NOW MORE IN THE CENTER RIGHT IN THERE. AND THEY'RE GONNA STAND UP A LITTLE MORE BECAUSE YOU'VE ADDED THE OTHER ONES FIRST, GIVING IT A LITTLE BIT OF AN ARCHITECTURE IN THERE. INTERIOR. ADD THIS ONE IN. JUST NICE, THIN STEM. >> ALWAYS THINK OF ORCHIDS AS BEING SUCH A DELICATE FLOWER. THEY'RE REALLY QUITE HEARTY. >> THEY ARE. UH-HUH. >> RIGHT. GET THAT IN THE-- LET'S GET IT IN--ON THE OUTSIDE. THAT'S ALL RIGHT. >> THOUGHT IT WENT IN TOO EASY. >> AND THEN WE HAVE OUR LAST ONE, AND I THINK WE'RE MISSING ONE RIGHT HERE, SO I'M GONNA ANGLE IT OUT TOWARDS US. AND VOILA. A BEAUTIFUL SPRAY OF ORCHIDS. VERY SIMPLE AND IN A BUD VASE. AND IT FILLS THAT NICE RIM VERY, VERY NICELY AND VERY TIGHTLY. >> ALL RIGHT, LET'S SET THIS ONE BEHIND US SO THAT YOU CAN SHOW US ON--THESE ARE THE MOST GORGEOUS ROSES. >> THESE ARE. THIS IS ANOTHER IDEA FOR A BUD VASE, AND THIS IS HAPPENS--NOW, WE HAVE THE EXACT SAME STYLE OF VASE. >> AND YOU'VE GOT 2 DIFFERENT KINDS OF FLOWERS. >> WE HAVE 2 DIFFERENT FLOWERS. YEP, WHICH WE'RE GONNA USE, AND--YOU SEE FROM THE EXAMPLE HERE, WE ARE NOT--DON'T HAVE QUITE ENOUGH FLOWERS TO FILL THE WHOLE THING AND MAKE IT LOOK QUITE UNIFORM. >> YOU'D THINK THEY'D JUST KIND OF FLOP. >> THEY WOULD, AND SOMETIMES THAT DOESN'T LOOK AS PRETTY. YOU WANT IT TO LOOK MORE COMPACT, MORE ORGANIZED, LIKE THIS ONE IS, AND WE'VE LAYERED IT SORT OF A LADDER. SO WE HAVE OUR LOWEST FLOWER IS THE MOST FULL. AND WE HAVE THIS NICE FULLNESS HERE, AND THEN OUR SECOND ROSE IS A LITTLE MEDIUM, AND THEN OUR TALLEST ROSE IS THE SMALLEST, SO THE RULE WE USE IS TALLEST, SMALLEST, LOWEST, LARGEST. TALL, SMALL, LOW, LARGE. AND IT'S JUST AESTHETICALLY MORE PLEASING. YOU WOULDN'T WANT TO PUT A GIANT FLOWER UP UP TOP. >> IT WOULD LOOK TOP HEAVY. >> AND IF WE DON'T HAVE ENOUGH FLOWERS TO FILL IN, WE ACTUALLY USE GEMS OR SOME--THIS IS ACTUALLY BROKEN SEASHELLS, AND I CAN USE SAND. YOU CAN USE MARBLES. ANYWAY, IT HOLDS YOUR STEMS TOGETHER, SO WE'RE GONNA SHOW YOU HOW TO DO THAT. >> OK. >> THE FIRST THING WE NEED TO DO IS CLEAN OUR ROSES, AND NOT TOO MUCH TODAY. USUALLY, THERE'S THORNS ON 3 DIFFERENT PLACES ON A ROSE, BUT THESE ARE WONDERFUL. THERE'S NONE AT ALL. AND WE'RE GONNA REMOVE THE GREENERY, AND WE STAND UP THE STEM AND SPIN IT AROUND, AND I MIGHT ACTUALLY KEEP THAT GREENERY 'CAUSE IT'S NOT GONNA BE BELOW THE WATER LINE. WOULD YOU LIKE TO DO THIS ONE? AND I'LL DO THE TALLEST ONE HERE, LEAVING THE GREENERY UP TOP. OK. SO, THOSE ARE OUR 3 ROSES, AND THEY'RE IN VARIOUS STAGES OF OPENING AND HOW WE DO THIS ONE, WE ACTUALLY LAY THEM DOWN ON THE TABLE TO GET OUR DESIGN. THAT WAY, WE CAN SEE IT AND NOT HAVE TO SIT THERE AND TRY TO JUGGLE IT. THEN WE TAKE OUR FILLER FLOWER, WHICH TODAY IS SOLIDAGO, AND THIS ONE ONLY COMES IN YELLOW, BUT IT'S ABSOLUTELY BEAUTIFUL, AND IT'S JUST STARTING TO OPEN. ALL THESE TONS AND TONS OF LITTLE FLOWERS, AND THEY DO HAVE QUITE A BIT OF ACTION GOING ON THE STEM. SO AGAIN, WE WANT TO TAKE A LOOK AT WHAT WE HAVE. THESE ALL CAME OFF ONE STEM. >> WOW. SO IT DOESN'T TAKE MUCH. >> RIGHT, DOESN'T TAKE MUCH TO DO, AND WE'RE GONNA UNDO THEM ALL AND SEE IF WE HAVE ONE THAT'S A LITTLE MORE TIGHTER. THIS ONE LOOKS LIKE PRETTY TIGHT. THAT ONE'S TIGHT, TOO. SO THESE ARE GONNA GO ON THE TALLER PARTS. >> SO YOU'RE JUST KIND OF LAYING IT OUT. >> WE ARE. WE'RE GONNA CLEAN THEM A LITTLE BIT, BUT WE'RE GONNA SEE WHO QUALIFIES FOR WHERE. WHO MAKES THE CUT. I'M GONNA LAY THOSE IN THERE 'CAUSE WE WANT TO TIE IT IN AND DON'T WANT TO SEE TOO MUCH STEM ACTION THERE, SO WE'LL PROBABLY TAKE ABOUT 5 PIECES. WE'LL FLANK THAT ONE, AND THEN WE'LL DO MAYBE 3 AT THE BOTTOM. SO THIS IS HOW IT'S GONNA LOOK, BUT WE'RE GONNA CLEAN IT UP A LITTLE BIT. TO CLEAN SOLIDAGO, SINCE THERE'S NO THORNS, WE PUT OUR FINGERS WHERE WE WANT TO KEEP, WE SLIDE DOWN THE REST OF IT, AND THEN WE HAVE THAT TO WORK WITH. SO WE'RE GONNA DO THAT FOR ALL OF THIS SET THAT WE'VE GOT PICKED OUT HERE 'CAUSE THESE WILL ALL WORK. AND PULL THOSE OFF. SO IT DOESN'T DO WELL IF YOU'VE JUST HAD A MANICURE, BUT WE DON'T WORRY ABOUT THAT SORT OF THING WHEN WORKING WITH FLOWERS. >> NOT WHEN WE'RE IN THE BUSINESS. >> NO. WONDERFUL. EASY CLEANING. >> YEAH. >> ALL RIGHT. WELL, WE'RE ALMOST THERE, ACTUALLY, FOR THIS SET. SO WHAT WE'RE GONNA DO IS LAY THEM ALL DOWN. WE TAKE OUR TALL, SMALL SOLIDAGO, AND THEN WE HAVE OUR TALLEST ROSE, AND WE'RE GONNA LAY DOWN-- LET'S DO ACTUALLY-- >> I HADN'T THOUGHT ABOUT BUILDING IT ON A FLAT SURFACE. THAT'S A GREAT IDEA. >> IT IS SO REWARDING BECAUSE YOU CAN EXACTLY SEE WITHOUT ALL THE JUMBLING AROUND WHAT YOU WANT TO DO. SO THEN THAT ONE. AND THEN THAT ONE. >> AND THAT IS COVERING UP. >> AND THAT'S COVERING UP. AND THEN THIS ONE WE'LL HAVE HERE. AND THEN THESE TWO WE'LL HAVE RIGHT AT THE BOTTOM. SO THIS IS HOW OUR BUD VASE IS GOING TO LOOK. >> HOW PRETTY. >> ISN'T THAT FUN? SO FROM HERE, YOU THINK, "OK, WELL, I DON'T THINK THAT'S GONNA WORK," SO WE NEED TO TRIM SOME OF IT OFF, AND WE'VE GOT SOME LITTLE RUBBER BANDS. I'VE GOT THEM HERE. >> OH, OK. >> I'M GONNA TRIM MOST OF THE LENGTH OFF TO MAKE IT EASIER, BUT I'M NOT GONNA COMMIT TO THE FINAL LENGTH YET. THIS IS JUST TO MAKE IT A LITTLE EASIER TO PUT A RUBBER BAND ON. AND WHAT WE WANT TO DO IS JUST SLIDE A VERY SIMPLE RUBBER BAND. >> I MAY HAVE CUT THEM UP. OH, THERE WE GO. >> I THINK WE ONLY NEED POSSIBLY JUST ONE. AND WE'LL JUST DOUBLE THIS ONE UP AND SLIDE IT UP THE STEMS. SURE WE GET EVERYBODY IN THERE. AND THIS IS GONNA HELP ORGANIZE YOUR STEMS AND KEEP EVERYTHING TOGETHER. >> SO IT DOESN'T START MOVING WHILE YOU'RE TRYING TO ARRANGE IT. THAT'S A GREAT IDEA. >> NOW WE KNOW THAT'S WHAT WE WANT. NOW WE HAVE TO DETERMINE, WELL, HOW TALL SHOULD WE MAKE THIS? WE DON'T WANT TO GO TOO TALL. WE SORT OF WANT THIS COLLECTION OF SOLIDAGO TO BE LOW AND JUST ABOVE WHERE THE VASELINE IS. SO WE SIMPLY-- >> AGAIN, SO YOU DON'T SEE ALL THOSE STEMS. >> RIGHT. NOT EVERYBODY LIKES THAT. SO WE'RE GONNA BRING OUR VASE TO THE EDGE OF THE TABLE. WE'RE GONNA LINE IT UP TO WHERE IT WOULD HIT INSIDE. WE GIVE IT A MARK HERE, AND THEN WE GIVE IT A TRIM. >> YOU'RE GOING AT A LITTLE-- >> GOING A LITTLE BIT OF AN ANGLE, ABSORB WATER. WE DON'T WANT THIS TO SIT FLAT AT THE BOTTOM OF THE VASE. >> I REMEMBER THESE THINGS. >> I KNOW. YOU'RE GOOD. THEN WE'RE GONNA PUT IT IN THERE. NOW YOU THINK, "GOSH, IT'S NOT REALLY-- " >> KIND OF WOBBLY. >> RIGHT. SO, IN HELPS OUR SUPPORT SYSTEM. >> WE NEED THESE. >> RIGHT. >> I THOUGHT YOU PUT THOSE IN FIRST. I DIDN'T NOTICE. >> IF YOU PUT THEM IN FIRST, IT'S HARD--IT WON'T--THE STEMS BASH A LITTLE BIT, AND THEN THEY CAN'T REALLY SIT UP, SO YOU ACTUALLY PUT THEM IN AFTER, SO YOU HOLD IT UP STILL LIKE THIS AND YOU JUST FEED IN-- >> I SEE WHY THESE LITTLE ONES WOULD REALLY WORK IN A BUD VASE. THE BIG MARBLES WOULD BE A LITTLE BIT HARDER TO-- >> A LITTLE BIT HARDER, BUT THEY STILL DO THE TRICK, SO YOU CAN PUT THEM IN AROUND, AND THEN YOU MOVE YOUR VASE AROUND AND FILL IN, AND YOU CAN EVEN DO THIS IN A CLEAR VASE. >> OH, BECAUSE THEY LOOK PRETTY. THE SHELLS OR THE MARBLE-- >> OR IF YOU'RE TRYING TO INCORPORATE A COLOR THAT MAYBE DOESN'T COME IN FLOWERS, LIKE, SAY, TURQUOISE IS ONE OF THE COLORS THAT YOU'RE TRYING TO WORK INTO YOUR ARRANGEMENT, FLOWERS DON'T COME IN THAT COLOR. MAYBE THE CONTAINER IS. MAYBE YOU CAN'T FIND ONE. SO YOU GET GEMS THAT ARE TURQUOISE-- >> THAT'S A GOOD IDEA. >> SURE THING. >> GIVES YOUR ACCENT COLOR. >> RIGHT. SO THERE WE ARE. HOLDING UP JUST FINE. >> CASEY, ONCE AGAIN, YOU JUST CREATE THESE MASTERPIECES, AND IT MAKES ALL OF US THINK WE CAN DO IT. THANK YOU SO MUCH. >> YOU'RE VERY WELCOME. >> DIANE, THANK YOU SO MUCH FOR BEING WITH US TODAY. I'VE ALWAYS HEARD THAT DECORATORS AND DESIGNERS HAVE LOTS OF TRICKS UP THEIR SLEEVE TO ACCOMPLISH THINGS THAT THE REST OF US DON'T SEEM TO BE ABLE TO DO, LIKE MAYBE MAKING A ROOM SEEM LARGER OR MAKING IT SEEM MORE GRAND OR SOMETHING. IS THAT TRUE? >> OH, YOU FOUND US OUT. IT IS TRUE, BUT I'D BE REALLY HAPPY TO SHARE SOME OF THE TRICKS AND TIPS WITH YOU. SO MANY OF THEM ARE BASED ON ACTUAL OPTICAL ILLUSIONS. A LOT OF US USE THESE ILLUSIONS WITHOUT EVEN KNOWING IT. >> WE DON'T KNOW WHAT WE'RE REALLY DOING. >> EXACTLY. >> THIS IS AN EXAMPLE OF ONE. YOU MIGHT EXPLAIN THIS TO US. >> WELL, IT'S SO SURPRISING WHEN YOU FIRST GLANCE AT THESE GRAPHICS THAT THE HORIZONTAL LINES ABOVE AND BELOW, THOSE ARE, RESPECTIVELY, THE SAME EXACT LENGTH. >> THAT'S UNBELIEVABLE 'CAUSE THIS ONE LOOKS SO SHORT. >> RIGHT. >> AND THAT ONE DOES, TOO, AND THE OTHERS LOOK--THE ONES ON THE BOTTOM LOOK MUCH LONGER. >> MM-HMM. >> SO OPTICAL ILLUSIONS. >> YES. IT'S ALL MYSTERIOUS. >> UH-HUH. AND LOOKING AT IT IN TERMS OF A WINDOW, I THINK PROBABLY THAT'S WHERE I WOULD THINK OF IT BECAUSE SOME OF OUR HOUSES EITHER HAVE WINDOWS WHERE WE REALLY WISH THEY WEREN'T OR MAYBE THEY'RE TOO SMALL OR THEY TAKE UP THE WHOLE WALL, WHICH MAKES IT HARD TO DECORATE FROM. >> RIGHT. >> AND USING BLINDS. THIS IS A GOOD EXAMPLE. >> WHAT WE TEND TO DO IS WE SAY, "OK, HERE WE'VE GOT A WINDOW, AND WE'VE GOT A LOT OF SUNSHINE COMING IN OR MAYBE WE HAVE PRIVACY ISSUES. LET'S JUST PUT SOME INSET BLINDS UP THERE SO WE CAN STILL SEE THAT WOOD MOLDING AROUND IT." >> THESE ARE AN INSIDE MOUNT. >> CORRECT. AND YET WHAT YOU'RE REALLY DOING IS YOU'RE SETTING YOURSELF UP FOR THE GRAPHIC ILLUSION WHERE THE LINE LOOKS SHORTER. THE WINDOW'S GONNA LOOK SMALLER. AND SO WE CAN GO THROUGH A SERIES OF GRAPHICS AND YOU'LL SEE THE MAGICAL EXPANDING-- >> IT'S GETTING BIGGER. IT'S GROWING. >> RIGHT, YEAH. SO HERE WE'VE GOT THE BLINDS OUTSIDE MOUNT AND A LITTLE ABOVE THE WINDOW. >> UH-HUH. SO MORE OF THE WINDOW IS AVAILABLE TO US TO EITHER DECORATE OR WHATEVER WE WANT TO DO WITH IT. >> RIGHT. >> THIS WAS HORIZONTAL, AND THIS IS VERTICAL. >> YES. SO NOW, EVEN JUST GOING VERTICALLY--IT'S SUCH A GOOD POINT THAT YOU MADE--EVEN JUST GOING VERTICALLY, NOW YOU'RE PULLING YOUR EYE UP AND DOWN AS WELL AS THE HORIZONTAL LINES IN THE WINDOW ITSELF PULLING YOUR EYES SIDE TO SIDE. >> I SEE. >> SO AUTOMATICALLY, YOU'VE EXPANDED THAT WINDOW, AND YET EVEN THOSE DRAPES AREN'T AS GOOD AS WE CAN DO. >> MM. OK. >> SO THOSE DRAPES--THIS IS JUST THE SMALLEST LITTLE DIFFERENCE, IF YOU WANT TO HOLD THEM BOTH UP, THE SMALLEST DIFFERENCE OF THE DRAPERIES BEING JUST CLOSE TO THE WINDOW-- >> IT IS. UH-HUH. >> YEAH, THE TOP AND THE SIDES. COMPARED TO IF THE DRAPERY ROD IS PLACED HIGHER THAN THE WINDOW AND THE FABRIC OF THE DRAPES ARE REALLY ALMOST COMPLETELY ON THE OUTSIDE. >> UH-HUH. SO YOU GOT THE WHOLE SPACE OF THE WINDOW TO LET THE BEAUTIFUL OUTSIDE INSIDE. >> PERFECT. YES. >> OK, NOW THIS HAS THE RODS ABOVE THE WINDOW LIKE IN THE LAST ONE. >> NOW, THIS HAS THE DRAPERY NOT JUST FRAMING THE WINDOW, BUT REALLY COVERING THAT ENTIRE WALL. AND SO THIS IS TRULY THE VERY MOST YOU COULD DO TO MAKE THAT WINDOW LOOK AS LARGE AS POSSIBLE. >> UH-HUH. AND IS THIS, WHEN IT COMES DOWN LONGER LIKE THIS, IS THAT AN EFFECT THAT WE NEED TO KNOW ABOUT? >> WELL, PUDDLING THE DRAPERY, I PERSONALLY LOVE IT. DO YOU LIKE THAT LOOK? >> I DON'T HAVE ANY, BUT I'VE SEEN IT IN HOUSES, AND IT ALWAYS LOOKED REALLY PRETTY. >> IT'S A VERY ELEGANT LOOK. AND YET, YOU KNOW, ANYBODY WATCHING THIS LITTLE EPISODE WHO PREFERS CLEAN MODERN LINES, THEY'RE CRINGING. HOWEVER-- >> HOW DO YOU CLEAN AROUND IT? >> RIGHT. YES. HOWEVER, THIS SAME EFFECT COULD BE HAD IF THE DRAPERY PANELS WERE JUST BARELY TOUCHING THE FLOOR, AND AT THE TOP, THEY CAN HAVE METAL GROMMETS TO HOLD THE DRAPES ONTO THE ROD. SO THERE ARE MANY DIFFERENT WAYS STYLISTICALLY TO CHANGE THAT. AND IF YOU LOOK AT THE FIRST BLIND COMPARED TO THAT VERY LAST ONE, WE'LL BE ABLE TO SEE THE LITTLE BIT OF AN OPTICAL ILLUSION. >> DOESN'T LOOK LIKE THE SAME ROOM, THE WINDOW AND ALL. >> MM-HMM. >> TOTALLY DIFFERENT. >> YEAH. MUCH BIGGER. >> MUCH, MUCH BIGGER. OK, NOW DO WE GO WITH SOLIDS OR DO WE GO WITH PLAIDS? DO WE GO WITH WHAT? >> WHAT HAPPENS WHEN WE CHOOSE THE DRAPERY FABRIC IS THAT WHEN YOU'VE GOT A BUSY FABRIC, A PATTERN FABRIC... >> LIKE A BIG FLORAL OR SOMETHING. >> EXACTLY. THAT'S HOLDING THE EYE. AND SO INSTEAD OF THE EYE JUST FLOWING KIND OF OUT THE WINDOW INTO THE BORROWED SPACE, AS THE JAPANESE WOULD SAY, AND THEN COMING BACK IN, THEREFORE IT TOOK LONGER FOR YOUR MIND'S EYE TO TRAVEL AROUND SO YOU THINK THE ROOM IS BIGGER, BUT IF IT'S--IF YOUR EYE IS BEING STOPPED BY THE FABRIC, THEN IT FEELS LIKE, OK, THAT'S REALLY TRULY WHERE THAT WALL IS, AND SO IT JUST ENDS RIGHT THERE. IT'S NOT A REALLY EASY THING TO SHOW, ESPECIALLY WHEN THE VIEW OUT THE WINDOW IS KIND OF JUST VERY FADED IN THE GRAPHIC, BUT JUST AS A TIP TO KNOW THAT PATTERNED DRAPES KEEP THE EYE INSIDE. SOLID DRAPES LET THE EYE GO OUTSIDE. UH-HUH. >> I THINK YOU CAN SEE THAT IN THE EXAMPLE PRETTY EASILY. >> WELL, GOOD. >> OK, WE TALKED ABOUT WINDOWS. NOW FLOORS. DO WE WANT A DEFINITE, YOU KNOW, A SOLID LOOK LIKE WITH CARPET? IS THERE ANY WAY TO GO WRONG WITH THAT? >> WHAT HAPPENS WITH THE FLOORING--OF COURSE, EVERYONE HAS PERSONAL PREFERENCES, AND THAT WILL ALWAYS WIN--BUT FLOORING IS A GREAT OPPORTUNITY TO EXPAND A SPACE AND TO MAKE A ROOM TRULY SEEM SIGNIFICANTLY LARGER. AND SOME OF US WANT TO HAVE A ROOM THAT SEEMS DEEPER. SOME OF US WISH THAT OUR ROOM SEEMED WIDER. AND THAT CAN BE ACCOMPLISHED WITH JUST HOW THE HARDWOOD FLOORS RUN. >> WHICH IS SORT OF SHOWN HERE. >> MM-HMM. >> THIS REALLY DOES MAKE IT LOOK DIFFERENT. >> YEAH, SO IF WE'VE GOT THE HARDWOOD FLOOR RUNNING LENGTHWISE SO THAT THEY'RE RUNNING AWAY FROM US, THEN OUR EYE IS TRAVELING THAT WAY, AND IT MAKES IT APPEAR THAT THE ROOM IS ACTUALLY LONGER, DEEPER. AND IN COMPARISON, THE ROOM WITH THE HORIZONTAL- LAID HARDWOOD, THAT IS GONNA PULL THIS WALL CLOSER TO YOUR EYE, IF YOU WILL, BUT THE ROOM'S GONNA FEEL WIDER. >> I WONDER WOULD IT MAKE IT SEEM WIDER? >> MM-HMM. ABSOLUTELY. >> THIS IS A GOOD IDEA FOR PEOPLE WHO ARE PLANNING TO DO SOME OF THIS TO PUT IT DOWN ON PAPER. IT REALLY DOES SHOW. >> AND YOU CAN SEE HOW EASY WAS THAT TO TAKE A PHOTOGRAPH AND DRAW ON TOP OF IT? WHY NOT? >> YOU DON'T HAVE TO BE A REAL ARTIST. >> ABSOLUTELY NOT. >> AND THIS IS WHERE YOU'RE TALKING ABOUT PERCEIVED COLORS. >> MM-HMM. WE'VE DISCUSSED LINE DISTORTIONS. NOW THIS IS COLOR DISTORTIONS IN THE OPTICAL ILLUSIONS WORLD. SO YOU WILL BE SURPRISED TO KNOW THAT IN THIS TOP GRAPHIC, THE TWO KIND OF ORANGE-Y YELLOW-Y CIRCLES, THOSE ARE EXACTLY THE SAME COLOR. >> OH, IT DOESN'T LOOK IT BECAUSE OF THE BACKGROUND. >> MM-HMM. AND YOU'VE HIT THE NAIL ON THE HEAD. IT'S BECAUSE OF THE BACKGROUND. SO THE WAY WE PERCEIVE COLOR CAN BE CHANGED BY WHAT IT'S SURROUNDED BY. BUT I PROMISE. I EVEN PRINTED ANOTHER GRAPHIC OUT AND CUT THESE OUT SO YOU CAN SEE THOSE ARE THE SAME. AND THEN HERE'S ANOTHER EXAMPLE. SO IF YOU REALLY LOOK AT THE CENTER GREEN AND THIS CENTER GREEN, YOUR MIND IS SEEING 2 DIFFERENT SHADES OF GREEN. >> THIS ONE HAS MORE OF THE DARK ELEMENT IN IT. THIS ONE'S A BRIGHTER, HAPPIER GREEN IT LOOKS LIKE, BUT IT'S THE SAME ONE, ISN'T IT? >> IT'S THE SAME EXACT GREEN. YOU CAN SEE THEM LINED UP HERE. AND WHAT HAPPENS ANATOMICALLY IS THAT YOUR EYE ALWAYS WANTS TO SEE THE COMPLIMENTARY COLOR. AND SO YOUR EYE IS KIND OF AUTO-CORRECTING AND-- >> LIKE A CAMERA. >> YES. SO WE'VE GOT OUR OWN LITTLE PHOTOSHOP HAPPENING HERE. >> THEN WE GO INTO WARM AND COOL COLORS. I THINK MOST OF US KNOW A LITTLE BIT ABOUT THAT, OR AT LEAST WE'VE SEEN COLOR WHEELS, BUT THIS IS THE EXACT SAME ROOM. >> EXACT SAME ROOM, AND ON THIS SIDE, WE SEE WARM COLORS. WARM COLORS ADVANCE TOWARDS YOU. SO A LOT OF TIMES, IF YOU'RE IN A COLD CLIMATE AND YOU SAY, "OH, I WANT THE SPACE TO FEEL WARM AND COZY," GO WITH WARM COLORS. IT'LL FEEL COZY BECAUSE IT FEELS A LITTLE BIT SMALLER. HOWEVER, IT'S GONNA FEEL GREAT, AND THE EMOTION IS IMPORTANT, AS WE'VE TALKED ABOUT BEFORE. ALTERNATIVELY, THE COOLER-COLOR ROOM, THAT ROOM, THE WALLS, THE COOL COLORS ACTUALLY RECEDE, AND SO THAT ROOM IS GONNA FEEL A LITTLE BIT BIGGER AND A LITTLE BIT COOLER. >> SO, FOR INSTANCE, IF A PERSON LIVED IN SUNNY CALIFORNIA, WHERE IF IT'S WARM MOST OF THE TIME, THEY PROBABLY WOULD WANT TO GO WITH THE COOLER COLORS, LIKE THE OCEAN. >> RIGHT. >> BUT THEN THE COLD NEBRASKA MAYBE TEMPERATURES, FOR INSTANCE, WOULD BE AN EXAMPLE OF WHERE WE MIGHT WANT TO MAKE IT A LITTLE WARMER YEAR ROUND. >> RIGHT, AND IT'S VERY INTERESTING THAT YOU TALK ABOUT THE GEOGRAPHICAL DIFFERENCES BECAUSE WE--I WOULD SAY EXACTLY SAME AS YOU, AND THEN, OF COURSE, HUMANS BEING WHAT THEY ARE, THEY SURPRISE US. WE LOOK AT SCANDINAVIA, AND WE SEE THAT THEY USE A LOT OF COOL COLORS AND YET-- >> EVEN THOUGH IT'S COLD THERE. >> MM-HMM, BUT THEY'RE CONNECTING TO THE NATURE THAT'S SURROUNDING THEM. SO THERE ARE MANY, MANY ELEMENTS. AND ALL THINGS ARE GOOD AND FAIR IN ANY CLIMATE, BUT GOOD TO KNOW ABOUT THEM IN ADVANCE. >> I CERTAINLY IS, AND JUST LOOKING AT PICTURES IN MAGAZINES, I BET WE CAN LOOK AT THINGS A LOT DIFFERENTLY NOW. >> RIGHT, YEAH. >> THANK YOU VERY MUCH, DIANE. >> THANK YOU. >> I HOPE YOU ENJOYED THE SHOW TODAY. NEXT TIME ON "CREATIVE LIVING," WE'LL LEARN HOW TO DECORATE A COLLECTION OF CUPCAKES, WE'LL TALK ABOUT THINGS YOU NEED TO KNOW ABOUT COMMERCIAL PET FOOD, AND WE'LL DEMONSTRATE MAKING HEALTHY SCHOOL LUNCHES AND SNACKS. ONE OF MY NEXT GUESTS IS GOING TO SHOW HOW TO DECORATE A COLLECTION OF DELICIOUS COLORFUL CUPCAKES, GOOD FOR ANY OCCASION. SHE SAYS TO JUST LET YOUR IMAGINATION INSPIRE THE FINISHING TOUCHES. THIS IS A GREAT WAY TO PRACTICE VARIOUS DECORATING TECHNIQUES. ANOTHER GUEST SAYS THAT MOST PEOPLE DON'T GIVE A LOT THOUGHT TO THE PET FOOD THEY BUY, OFTEN MAKING PURCHASES BASED ON ADVERTISING OR PRICE. HE'S GOING TO TALK ABOUT 5 THINGS WE NEED TO KNOW BEFORE BUYING PET FOOD. AND FINALLY, WE'LL TALK ABOUT HEALTHY SCHOOL LUNCHES AND SNACKS AND LOOK AT SOME QUICK AND EASY WAYS TO MAKE NUTRITIOUS LUNCHES AND SNACKS AT HOME. ALL OF THESE TOPICS WILL BE FEATURED ON THE NEXT "CREATIVE LIVING" SHOW. IF YOU EVER HAVE COMMENTS OR SUGGESTIONS OR IDEAS FOR SHOWS, YOU CAN EMAIL ME AT SHERYL.BORDEN@ENMU.EDU. I'D ALSO LIKE TO ASK YOU TO BECOME A FAN OF "CREATIVE LIVING" ON FACEBOOK. JUST GO TO FACEBOOK.COM AND IN THE SEARCH WINDOW, TYPE IN "CREATIVE LIVING WITH SHERYL BORDEN." I HOPE YOU'LL PLAN TO JOIN ME NEXT TIME FOR "CREATIVE LIVING." >> WE ARE VERY PLEASED TO OFFER A NEW BOOKLET THAT ACCOMPANIES THIS SERIES OF "CREATIVE LIVING." THIS BOOKLET IS TITLED "THE 6700 SERIES," AND IT FEATURES A WONDERFUL COLLECTION OF IDEAS AND INFORMATION, AND IT'S AVAILABLE FREE OF CHARGE ON OUR WEBSITE. POSTED AS A PDF FILE, YOU CAN SIMPLY DOWNLOAD THE ENTIRE BOOKLET OR JUST THE SEGMENTS YOU'RE MOST INTERESTED IN. AS WITH ALL OF THE "CREATIVE LIVING" BOOKLETS, YOU'LL FIND INFORMATION ON FOODS, NUTRITION, CLOTHING, FASHION, HEALTH AND BEAUTY, HOME DECORATING AND MUCH MORE. FOR YOUR COPY OF THIS NEW BOOKLET, GO TO OUR WEBSITE AT KENW.ORG AND THEN CLICK ON CREATIVE LIVING. SCROLL DOWN TO THE BOOKLET SECTION, AND YOU CAN CLICK ON THIS BOOKLET OR ON ANY OF THE OTHER BOOKLETS WE HAVE AVAILABLE ONLINE. JUST GO TO KENW.ORG, CLICK ON CREATIVE LIVING AND DOWNLOAD THE BOOKLET TITLED, "THE 6700 SERIES." WE ALSO INVITE YOU TO SIGN UP FOR OUR FREE E-NEWSLETTER. JUST GO TO KENW.ORG AND CLICK ON THE "SIGN UP NOW" BUTTON AND INPUT YOUR E-MAIL ADDRESS. THAT'S ALL THERE IS TO IT. YOU'LL ENJOY READING AN UP-TO-DATE NEWSLETTER FILLED WITH INTERESTING TOPICS AND INFORMATION. THANK YOU.
Now Playing As: Captioned (English) (change)
A representative from Castle Design Studio joins Sheryl to discuss the effects of optical illusions on interior design and perspective. A florist from Casey Flower Duet demonstrates how to make bud vases using roses and orchids.
Media Details
Runtime: 27 minutes