Creative Living With Sheryl Borden #6625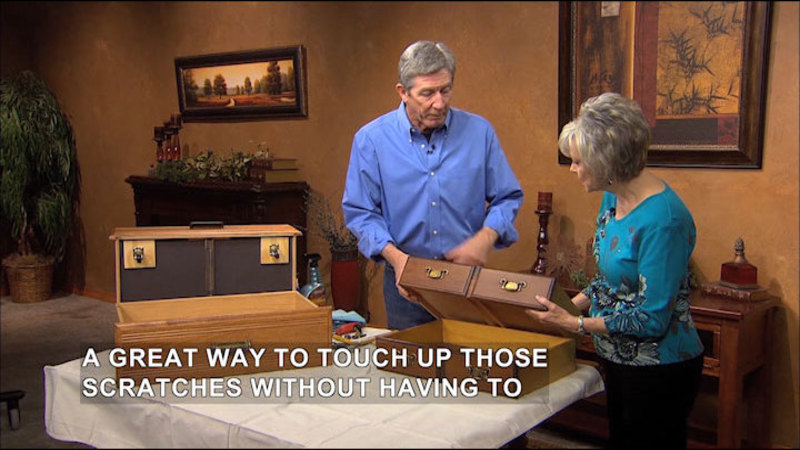 >> "CREATIVE LIVING," UTILIZING TODAY'S TECHNOLOGY WITH THE BEST OF THE PAST TO BRING YOU INNOVATIVE IDEAS AND UP-TO-DATE INFORMATION FOR CREATIVE LIFESTYLES IN TODAY'S ACTIVE WORLD WITH YOUR HOST--SHERYL BORDEN. >> WELCOME TO "CREATIVE LIVING" TODAY. WE'RE GOING TO LEARN HOW TO WEAR SCARVES, SHOW SOME NEAT STORAGE SOLUTIONS, AND DISCUSS THE JOURNEY OF A HEALER. ONE OF MY GUESTS TODAY IS NANCY NIX-RICE, AND SHE'S A WARDROBE CONSULTANT AND AUTHOR. NANCY'S GOING TO SHOW HOW TO WEAR A SCARF IN MULTIPLE WAYS. SCARVES ARE SUCH A GREAT FASHION ACCESSORY, AND THEY'RE VERY VERSATILE. HER BOOK IS TITLED, "LOOKING GOOD," AND SHE'S FROM ST. LOUIS, MISSOURI. ANOTHER GUEST IS BRUCE JOHNSON, AND HE'S THE SPOKESPERSON FOR MINWAX, WHICH IS LOCATED IN UPPER SADDLE RIVER, NEW JERSEY. BRUCE IS GOING TO SHOW HOW TO USE DRESSER DRAWERS TO CREATE AN UNDER-THE-BED STORAGE BIN. THIS HOME STORAGE SOLUTION IS SO EASY AND ATTAINABLE FOR EVEN FIRST TIME DO-IT-YOURSELFERS. AND WE'LL BEING THE SHOW TODAY WITH DR. DANIEL MAREZ, WHO IS A DOCTOR OF ORIENTAL MEDICINE ABOUT A BOOK HE'S WRITTEN ON RELIEVING PAIN IN JUST 3 SECONDS. HE'S GOING TO SHARE HIS JOURNEY FROM BEING A LICENSED OPTICIAN TO BECOMING AN ACUPUNCTURIST. DR. MAREZ IS FROM RATON, NEW MEXICO. DR. MAREZ, IT'S A REAL PLEASURE TO HAVE YOU ON THE SHOW TODAY, AND I'VE ALWAYS WANTED TO TALK TO SOMEONE ABOUT ACUPUNCTURE SIMPLY BECAUSE BEFORE I WENT, AND I HAVE HAD SOME TREATMENTS, IT WAS REALLY PRETTY MUCH, UM, A MYSTERY. I WAS REALLY AFRAID THE NEEDLES WERE GOING TO HURT. IT'S-IT'S AN ANCIENT ART. >> YES, IT'S BEEN AROUND SINCE THE STONE AGE, ACTUALLY, BUT THE EXACT DATE IT STARTED, I DON'T THINK ANYBODY REALLY KNOWS. IT'S BEEN AROUND FOR A LONG TIME, AND RIGHT NOW, IT'S BECOMING MORE AND MORE CREDIBLE. THE INSURANCE COMPANIES ARE PAYING FOR IT. THE DOCTORS AT THE MAYO CLINIC IN MINNESOTA ARE USING ACUPUNCTURE, YES. >> HOW DOES A PERSON BECOME TRAINED TO BE AN ACUPUNCTURIST? >> RIGHT NOW, IT USED TO BE 2 YEARS OF SCHOOLING, AND NOW CALIFORNIA'S PASSED A LAW WHERE IT'S 9 YEARS OF COLLEGE TO BECOME AN ACUPUNCTURIST. >> 9, UH-HUH. WHAT ARE SOME OF THE TYPES OF AILMENTS, PAIN THAT ACUPUNCTURE WOULD TREAT THAT MAYBE WOULD SURPRISE US? >> WELL, WE ALREADY KNOW HEADACHES AND NECK PAIN, SHOULDER PAIN, HIP PAIN, BACK PAIN, BUT RIGHT NOW, I HAVE PATIENTS THAT ARE DOING CHEMO AND RADIATION, AND THE DOCTORS ARE JUST AMAZED THAT THEY'RE NOT LOSING THEIR HAIR, THEY'RE NOT GETTING SICK. >> AT WHAT POINT DO THEY TRY THE ACUPUNCTURE? >> USUALLY THESE ARE PATIENTS OF--THEY MIGHT CALL ME, AND THAT'S WHAT I PROBABLY RECOMMEND FOR OTHER PEOPLE, TOO, IS IF YOU'RE NOT SURE IF AN ACUPUNCTURIST CAN HELP YOU, JUST CALL AND ASK HIM. "I HAVE THIS, THIS, AND THIS. CAN YOU HELP ME?" YOU'LL FIND SOMEBODY. >> SO MAYBE BEFORE THEY STARTED THE RADIATION AND CHEMO? >> YES. YES. AND, ACTUALLY, I DO--THERE'S A TREATMENT TO BOOST YOUR IMMUNE SYSTEM SO WHEN YOU START THE CHEMO AND RADIATION, YOU'RE MORE PREPARED FOR IT. >> OH, THAT'S GOOD. WHAT ABOUT SOMEONE WHO'S HAD A STROKE? >> ACTUALLY, I JUST HAD A PATIENT WHO HAD A STROKE, AND WHAT'S INTERESTING, AFTER THE STROKE, THE PATIENT'S BLOOD PRESSURE IS JUST ALL OVER THE PLACE, AND THEY'RE USING ALL THESE BLOOD PRESSURE MEDICINES, AND THEY CAN'T FIGURE OUT HOW TO STABILIZE IT. ONE ACUPUNCTURE TREATMENT, AND NOW HIS BLOOD PRESSURE'S 120 OVER 80. 120 OVER 80. >> AND DO YOU THINK THAT WOULD BE TRUE OF EVERYONE? DOES IT WORK THAT FAST ON MOST PEOPLE? >> EVERYBODY IS DIFFERENT, AND EVERY ACUPUNCTURIST IS DIFFERENT, TOO, SO THERE MIGHT-- THEY MIGHT USE A DIFFERENT TREATMENT FOR A STROKE, BUT ONE OF THE POINTS I USE FOR STROKE IS RIGHT BELOW THE KNUCKLE BET--BELOW THE MIDDLE FINGER. THIS IS AN EXCELLENT POINT TO TREAT A STROKE, PREVENT A STROKE, AND IT'S ALSO NEAR THE NECK POINT, AND SO MANY PEOPLE WITH STROKES HAVE NECK PROBLEMS. >> WELL, AND I'M SURPRISED IN TALKING ABOUT SOME OF THESE THAT IT ACTUALLY WORKS. WHAT ABOUT SOMETHING LIKE ASTHMA, ALLERGIES? >> WITH ASTHMA, THERE'S STRESS- INDUCED ASTHMA, COLD-INDUCED ASTHMA, EXERCISE-INDUCED ASTHMA, ALLERGY-INDUCED ASTHMA, HEAT- INDUCED ASTHMA. ALL OF THEM ARE DIFFERENT TREATMENT. ALL THEM ARE A DIFFERENT MEDICINAL FORMULA, AND ALSO, ALL OF THEM WILL HAVE DIFFERENT NUTRITIONAL INFORMATION, SO WHEN YOU GO TO THE DOCTOR FOR ASTHMA, YOU'RE JUST GETTING TREATED FOR ASTHMA, BUT I LOOK AT IT AS WE WANT A FINER DIAGNOSIS FOR ASTHMA. >> FIND OUT WHAT'S REALLY CAUSING IT. >> YES. I RECENTLY SAW A 9-YEAR- OLD GIRL, AND SHE HAD EXERCISE- INDUCED ASTHMA, SO SHE COULDN'T BE IN THE PLAYGROUND. SHE WAS TAKING THE INHALER AND THE MEDICATION ALL HER LIFE. BY FOURTH OR FIFTH TREATMENT, SHE'S OFF OF HER MEDICATION. HER MOTHER CALLED ME ABOUT 6 MONTHS LATER, AND SHE SAID HER DAUGHTER'S ON THE BASKETBALL TEAM. >> WOW, THAT'S WONDERFUL. ANOTHER SOMETHING THAT WE HEAR A LOT ABOUT IS FIBROMYALGIA. >> FIBROMYALGIA, I JUST GO RIGHT DOWN THE LINE. WRITE DOWN YOUR WORST PAIN. LET'S GET RID OF IT. WHAT'S THE NEXT PAIN? LET'S GET RID OF IT. WHAT'S THE NEXT PAIN? BUT WITH FIBROMYALGIA, I DO SEE A PATTERN, AND IT'S USUALLY FOR OLDER WOMEN, AND A LOT OF THEM ARE A LITTLE--ABOUT 30, 40 POUNDS OVERWEIGHT. BUT I ALWAYS LOOK FOR PATTERNS WITH EVERY CONDITION. >> MM-HMM. SO, THAT MIGHT BE A WAY THAT WE WOULD CHOOSE THE ACUPUNCTURE DOCTOR THAT WE'D WANT TO GO TO, IS FIND A-- INSTEAD OF BEING TREATED JUST LIKE EVERYBODY ELSE. IT CAN BE MORE INDIVIDUALIZED, WHICH IS WHAT YOU DO. >> ALL OF MY TREATMENTS ARE CUSTOM, AND WITH MOST ACUPUNCTURISTS, THE TREATMENTS ARE GONNA BE CUSTOM, BUT, LIKE, SAY, FOR EXAMPLE, LIKE ASTHMA, ASTHMA'S A LUNG PROBLEM, SO I LOOK AT THE LUNGS. I DON'T LOOK AT THE DIAGNOSIS. I THINK, "WHAT AFFECTING THE LUNGS?" IS IT COLD WEATHER? IS IT THE EXERCISE? IS IT THE HOT WEATHER? SO, DIFFERENT TREATMENTS FOR DIFFERENT CONDITIONS. >> SO WOULD THAT MAYBE BE WHY YOU CAME UP WITH THIS BOOK THAT YOU WROTE? SO SINCE EVERYBODY'S TREATMENT IS SO TOTALLY DIFFERENT? >> YES. IT WAS A NATIVE-AMERICAN NURSE WHO GOT ME INVOLVED WITH THE BOOK. I TREATED THE TRIBAL CHIEF'S MOTHER FOR KNEE PAIN, AND THEN I SAW HER ABOUT COUPLE WEEKS LATER, AND THE NURSE SAID SHE HASN'T COMPLAINED OF PAIN. SHE HASN'T TAKEN ANY PAIN MEDS. AND SO THE NURSE SAID, "I WOULD LIKE TO LEARN THIS," SO I SAID, "LET ME COME UP WITH SOMETHING THAT'S EASY FOR YOU TO LEARN," AND I--EVERY WEEK, I GET CALLS FROM NURSES OR PATIENTS, THEY'LL SAY, "I HAD A HEADACHE. I USE YOUR POINT, AND THE PAIN WENT AWAY." AND THEY'RE ACTING LIKE THEY'RE SURPRISED, BUT I'M NOT SURPRISED. >> SO ANYONE CAN USE THIS BOOK. >> YES. >> WHAT ABOUT WOMEN WHO ARE PREGNANT OR THINKING ABOUT BECOMING PREGNANT? >> I DON'T USE ACUPUNCTURE, OTHER THAN MORNING SICKNESS. AFTER THAT, I DON'T USE ACUPUNCTURE. SO IT'S NOT REALLY--YOU WANT TO BE SAFE. >> AND WHAT DO YOU HOPE TO ACCOMPLISH WITH THE BOOK? >> WELL, UNIVERSITY OF NEW MEXICO, THEY JUST DID A STUDY FOR--ON MY BOOK AND PHONE APP, AND THEY SAID THE MARKETING FOR THIS--FOR THESE 2 WOULD BE THE MILITARY AND THE NATIVE-AMERICAN TRIBES. >> NOW, WHY? >> WITH THE MILITARY, SAY SOME GUY'S IN A FOXHOLE IN AFGHANISTAN AND HE'S GOT A HEADACHE, WE CAN'T GIVE HIM PAIN MEDS, BUT WE'LL BE ABLE TO, THROUGH TELEMEDICINE--OR ACTUALLY, YOU HEARD OF TELEMEDICINE. THIS IS TELETREATMENTS, SO YOU COULD SEND THEM THE POINTS OVER THE PHONE ON WHERE TO PRESS TO GET RID OF HIS HEADACHE. >> UH-HUH. OR IF THEY HAD STUDIED THE BOOK BEFORE THEY GO. >> YES, AND WITH NATIVE AMERICANS, THEIR PHILOSOPHY IS LIVING WITHIN NATURE, SO I THINK THEY HAVE A PROBLEM SOMETIMES WITH MEDICATIONS AND ALL THIS, SO THEY'RE LOOKING FOR SOMETHING THAT'S NATURAL AND IT'S EASY TO USE AND THE RESULTS ARE INSTANT. >> WELL, I THINK ALL OF US WOULD LIKE THAT. WE'D LIKE TO BE CURED OF WHATEVER'S HURTING US IMMEDIATELY. WELL, CONGRATULATIONS ON THE BOOK, AND THANK YOU AGAIN FOR BEING HERE ON THE SHOW TODAY. >> THANK YOU FOR HAVING ME. >> BRUCE, IT'S ALWAYS NICE TO HAVE YOU HERE, AND--WE WERE TALKING ABOUT STORAGE, AND I'M JUST LIKE EVERYBODY ELSE. THERE'S NEVER ENOUGH STORAGE, AND I'VE SEEN ALL OF THOSE UNITS THAT ARE--GO UNDER THE BED, AND I THOUGHT, "THAT'S A GREAT IDEA." BUT THERE'S SOME PROBLEMS, RIGHT? >> RIGHT. I RAISED 2 SONS, AND WE WERE ALWAYS LOOKING FOR MORE STORAGE SPACE, AND UNDER THE BED SEEMS VERY LOGICAL, BUT THOSE UNITS YOU'RE TALKING ABOUT, SEEMS LIKE THEY WERE EITHER VERY EXPENSIVE OR POORLY CONSTRUCTED. YOU KNOW, PARTICLE BOARD, VENEER, THAT SORT OF THING. >> ALMOST WHEN YOU FILL THEM FULL, YOU PULL IT OUT, AND THE HANDLES COME OFF. YEAH. >> SO WHEN I WAS CLEANING OUT MY CLOSET NOT TOO LONG AGO, AND AGAIN, LOOKING AT THAT IDEA OF STORING IT UNDER THE BED, THE IDEA OCCURRED TO ME, "WELL, WHY NOT USE DRESSER DRAWERS?" I WAS AT A FLEA MARKET, AND I SAW A SMALL CHEST OF DRAWERS THAT HAD WATER DAMAGE AROUND THE FEET, BUT THE DRAWERS LOOKED FINE. AND SO I HAD THE IDEA OF TAKING A DRESSER DRAWER AND PUTTING CASTERS UNDERNEATH, INEXPENSIVE CASTERS, SO THEY WOULD ROLL IN AND OUT UNDERNEATH THE BED. AND SO I GOT THAT IDEA, WANTED TO WORK WITH IT, AND I THOUGHT I'D BRING IT HERE TODAY AND SHOW YOU HOW I DID IT. >> OK. >> NOW, ONE OF THE THINGS YOU WANT TO DO IS MAKE SURE THAT IT'S A GOOD QUALITY DRAWER. >> WELL, YOU DON'T WANT TO SPEND THE MONEY AND ESPECIALLY THE TIME. >> NO, NOT IF IT'S PARTICLE BOARD FALLING APART. I LIKE THE FACT THAT THESE HAVE NICE DOVETAIL JOINTS AND IT'S SOLID WOOD, SO IT'S GONNA HOLD TOGETHER. AND MANY TIMES, THE HANDLES ON THE FRONT ARE IN GREAT SHAPE, AND SO IN A CASE LIKE THIS, I WOULD LEAVE THOSE HANDLES, OR YOU COULD CHANGE IT IF YOU NEEDED TO. BUT NOW SOMETIMES WE GOT A LITTLE BIT OF WORK TO DO. IF YOU LOOK OVER HERE, WE GOT SCRATCHES, YEAH. BUT WHAT I'M GONNA DO WITH THIS ONE IS I'M GONNA USE A STAIN MARKER, AND THESE ARE GREAT BECAUSE YOU DON'T HAVE TO GET A CAN OF STAIN OUT. YOU CAN JUST TAKE YOUR STAIN MARKER, RUB SOME STAIN RIGHT OVER THAT SCRATCH. >> THOUGH THAT LOOKS DARKER. >> RIGHT. THEN WHEN YOU WIPE IT OFF, NOTICE IT BLENDS IN. >> UH-HUH. >> AND THE NICE THING ABOUT THE STAIN MARKERS IS THEY COME IN SEVERAL DIFFERENT COLORS. IF YOU DON'T GET IT RIGHT THE FIRST TIME, TAKE A DIFFERENT ONE, EXPERIMENT WITH IT. BUT IT'S A GREAT WAY TO TOUCH UP THOSE SCRATCHES WITHOUT HAVING TO REFINISH IT. >> AND IS IT USUALLY BETTER TO START WITH--IF YOU DON'T KNOW WHICH COLOR EXACTLY, START-- >> THE LIGHTER ONE AND WORK YOUR WAY UP. RIGHT. AND THEN ALSO MANY TIMES, THESE ARE GONNA BE DIRTY, AND SO WE'LL TAKE THIS ONE AND WE'RE GONNA JUST SPRAY A LITTLE BIT OF A WOOD CLEANER. NOW, YOU WANT TO MAKE SURE YOU'RE NOT USING SOME HOMEMADE REMEDY THAT'S ACTUALLY GONNA HURT THE FINISH. >> YEAH. THIS IS PRETTY WOOD. >> THIS IS A WOOD CABINET CLEANER BY MINWAX, AND IT'S A GREAT WAY TO CLEAN IT UP. AGAIN, WE DON'T WANT TO HAVE TO REFINISH IT, AND SO WE'RE GONNA DO THAT TO. >> THAT ALREADY LOOKS BETTER. >> WE CAN SET THAT ONE ASIDE. PUT THAT ONE UP THERE. NOW, ON THIS PARTICULAR ONE, YOU KNOW, SOMETIMES YOU END UP WITH A DRAWER THAT, YOU KNOW, MAYBE WON'T FIT UNDERNEATH YOUR BED WITH THE CASTERS ON IT, AND SO WHAT WE'RE GONNA DO ON THIS ONE IS RATHER THAN PUT THE CASTERS ON, WE'RE GONNA PUT ON ONE OF THESE GLIDES THAT--FURNITURE GLIDES. THEY'RE VERY INEXPENSIVE. AND WHAT I'VE DONE ON THIS ONE IS I'VE ALREADY PRE-DRILLED THE HOLE, AND SO I CAN TAKE MY HAMMER AND I CAN JUST TAP THAT IN LIKE SO. VERY EASY TO DO. YOU WOULD PUT ONE OF THESE ON EACH CORNER, AND THEN THAT WILL ENABLE IT TO SLIDE ON YOUR CARPET OR YOUR HARDWOOD FLOORS WITHOUT SNAGGING OR SCRATCHING. SO THAT'S WHAT YOU WOULD DO IF IT WAS--YOUR BED WASN'T VERY HIGH. NOW, WE'RE GONNA GET TO OUR MAIN ONE OVER HERE, AND THIS IS A LARGE DRAWER. GREAT SHAPE. I LIKE THE WAY IT WAS BUILT. I'M GONNA FLIP THIS ONE OVER. >> THAT IS HEAVY DUTY AND VERY STURDY. >> AND ON THE UNDERSIDE, WE'RE GOING TO DUPLICATE WHAT I DID HERE ON THIS ONE. AND IN THIS CASE, WE'VE GOT A VERY THIN BOTTOM. SO WHAT WE'RE GONNA DO ON THIS IS TAKE A PIECE OF PLYWOOD AND I WOULD JUST TAKE ORDINARY WOODWORKER'S GLUE AND GLUE THAT TO THE BOTTOM OF IT HERE, ALL RIGHT? >> NOW, IF IT IS WAS--LIKE, THIS ONE LOOKS LIKE THIS IS THICKER. >> YOU COULD PUT THE SCREWS IN, BUT IT DOESN'T REQUIRE VERY MUCH, SO WE GLUE THAT ON THERE, AND THEN WE WILL TAKE AN INEXPENSIVE FURNITURE CASTER AND THESE ARE VERY EASY TO WORK WITH. I'VE GOT ONE HERE THAT JUST SCREWS ON. IN THIS CASE, THEN, WE WOULD THEN TAKE OUR-- AGAIN, PRE-DRILL OUR HOLES, TAKE OUR SCREWDRIVER, AND JUST SCREW THESE INTO THE BOTTOM OF OUR PLYWOOD. 'CAUSE OUR PLYWOOD'S GONNA GIVE US MORE STRENGTH THAN JUST PUTTING THIS RIGHT ON THE BOTTOM. >> SO EVEN IF YOU HAD ONE LIKE THIS, IT SEEMS LIKE IT'S A LITTLE MORE STURDY, IT WOULDN'T HURT TO GO AHEAD AND PUT THE PLYWOOD ON IT, IF YOU'VE GOT THE ROOM. >> YOU DO THAT ON EACH OF THE 4 CORNERS LIKE I HAVE HERE, AND THEN YOU'VE GOT AN EASY WAY TO SLIDE IT IN AND OUT. SO WE GOT YOUR CHOICE OF THE GLIDES OR THE CASTERS. NOW, ONE THING I ALSO WANTED TO SHOW YOU ON THE FRONT OF THIS ONE IS THAT SOMETIMES WE RUN INTO A CASE WHERE THIS OLD FINISH IS GETTING DRY AND WORN OUT. WE TALKED ABOUT THE FACT THAT YOU CAN CHANGE THE HARDWARE IF YOU WANT TO. IF YOU WANT TO HOLD THAT FOR JUST A SECOND. I'M GONNA SHOW YOU ONE OF MY FAVORITE PRODUCTS. THIS IS CALLED WIPE-ON POLY. AND YOU TAKE THE WIPE-ON POLY IN A RAG... >> THAT'S LIKE A FINISH. >> IT'S LIKE A FINISH. >> IT'S NOT A CLEANER. >> ACTUALLY, WE'RE PUTTING A NEW OVER THE TOP OF THE EXISTING ONE. AND THE WIPE-ON POLY DRIES QUICKLY AND GIVES YOU THAT GREAT SHINE THAT WE ALL WANT TO SEE. SO WE'VE GOT OUR COMBINATION OF--WE CAN TOUCH UP OUR SCRATCHES, WE CAN PUT ON OUR WIPE-ON POLY, AND THEN, LIKE I SAY, WE END UP WITH OUR CASTERS ON THE BOTTOM OR OUR GLIDES TO MOVE IT IN AND OUT. WE DIDN'T SPEND MUCH MONEY AT ALL. >> NO. JUST NEED TO HAVE THE KNOW-HOW, WHICH IS WHAT I ALWAYS LEARN FROM YOU. THANK YOU SO MUCH, BRUCE. THIS IS A GREAT PROJECT. NANCY, IT'S SO NICE TO HAVE YOU HERE, AND WHEN YOU SAID WE WERE GOING TO DO A SEGMENT ON SCARVES, I THOUGHT, "OH, GOOD." BECAUSE I HAVE A CLOSET FULL OF THEM, BUT I HAVE TO ADMIT, I REALLY SORT OF HAVE A PHOBIA ABOUT THEM. I PUT THEM ON, THEY LOOK REALLY PRETTY FOR A FEW MINUTES, AND THEN BY THE TIME I GET TO WORK OR TO A LUNCHEON OR SOMETHING, IT'S COMING DOWN OR APART, IT'S IN THE WAY. SO I'M GLAD YOU'RE HERE. >> WELL, I HEAR THAT STORY SO MANY TIMES FROM WOMEN WHO TELL ME THAT THEY DON'T WEAR THE SCARVES THAT THEY HAVE, BUT THEY'RE SUCH A POWERFUL ACCESSORY IN OUR WARDROBES FOR 2 DIFFERENT REASONS-- WELL, 3 IF YOU COUNT POLISHING THE LOOK OF ANY OUTFIT. YOU JUST DO LOOK MORE PUT TOGETHER. BUT A SCARF AROUND YOUR NECK REALLY TELLS EVERYONE WHO LOOKS AT YOU, "HEY, LOOK UP HERE AT MY FACE AND NEVER MIND MY HIPS OR MY TUMMY" OR WHATEVER CHALLENGES WE MAY BE CONCERNED ABOUT, AND IT SEEMS THAT EVERY WOMAN HAS HER SHARE OF THOSE. AND THEY'RE WONDERFUL FOR BRINGING TOGETHER KIND OF UNEXPECTED COLOR COMBINATIONS AND LETTING YOU WEAR YOUR WARDROBE IN A LOT OF DIFFERENT WAYS. FOR INSTANCE, MOST PEOPLE WOULDN'T REALLY THINK OF PUTTING THIS BLUSH PINK JACKET OVER A CHOCOLATE-BROWN TURTLENECK, BUT LOOK HOW RIGHT IT LOOKS WHEN YOU INTRODUCE A SCARF THAT INCORPORATES BOTH OF THOSE COLORS. ALL OF A SUDDEN, IT SAYS, "WOW. IT'S AN OUTFIT." >> AND IT CAN UPDATE OUR WARDROBE WITHOUT US HAVING TO SPEND A LOT OF MONEY. >> OH, ABSOLUTELY. SO THE TRICK IS SIMPLY KNOWING WAYS TO WEAR A SCARF THAT ARE NUMBER ONE-- EASY TO DO, BUT NUMBER 2-- JUST AS YOU REFERENCED, EASY TO WEAR ALL DAY, SO YOU'RE NOT FUSSING WITH IT ALL DAY. SO WOULD YOU LIKE ME TO SHOW YOU A FEW? >> YES, PLEASE. I NEED THIS. >> OK. LET'S START WITH OUR JACKET AND TURTLENECK COMBO. AND THE EASIEST THING TO DO WITH A SCARF WHEN YOU'RE WEARING A JACKET IS JUST TO KICK UP THE COLLAR OF THE JACKET A LITTLE BIT IN THE BACK SO THAT YOU CAN SLIDE THE SCARF UNDER THAT COLLAR, UNDER THE LAPEL, AND LET IT JUST HANG DOWN THE FRONT. THE BENEFIT OF THIS ONE IN PARTICULAR IS THAT IT BRINGS THAT DARKER UNDERLAYER COLOR OFF ONTO THE LIGHTER JACKET COLOR, SO NOW THE WHOLE THING LOOKS MORE INTEGRATED INSTEAD OF KIND OF STANDING APART. >> RIGHT. IT LOOKS LIKE IT GOES TOGETHER. >> NOW, IF YOU'D RATHER HAVE IT INSIDE THE JACKET, YOU CAN JUST TUCK IT INTO THE NECKLINE. THE NECKLINE OF THE JACKET NOW IS GOING TO WEIGHT THAT AND HOLD IT IN PLACE. IT'S SIMPLY HANGING DOWN THE FRONT WHERE IT'S GIVING YOU A NICE, STRONG VERTICAL THAT MAKES YOUR BODY LOOK TALLER AND TALLER EQUALS SLIMMER EVERY TIME. CAN'T BEAT THAT. NOW, SOME PEOPLE PREFER TO HAVE THAT ANCHORED IN SOME WAY, AND THAT'S JUST FINE, TOO. BUT WHAT MOST PEOPLE WOULD DO IS START TO TIE A SQUARE KNOT, WHICH IS OK, BUT A SQUARE KNOT CAUSES THE ENDS TO KIND OF WONK OUT FUNNY RATHER THAN HANGING NICE AND STRAIGHT. WHAT'S JUST AS EASY AND ACTUALLY LOOKS BETTER IS TO TIE JUST A PLAIN, LOOSE OVERHAND KNOT, AND THAT'S JUST A KNOT, A REGULAR KNOT. YOU DID NOT HAVE TO BE A GIRL SCOUT TO DO THIS. THEN YOU FEED THE OTHER END RIGHT THROUGH THAT KNOT SO IT HANGS PARALLEL LIKE THAT, ALMOST LIKE A GUY'S NECKTIE. >> AND YOU CAN ADJUST THIS A BIT UP OR DOWN. >> YOU CAN ADJUST THE KNOT A BIT UP AND DOWN, AND THAT'S A VERY IMPORTANT POINT, BECAUSE WHERE THAT KNOT COMES TO REST ON YOUR UPPER BODY REALLY HAS A BIG IMPACT ON HOW YOUR PROPORTIONS LOOK. SO FOR GALS WHO ARE A LITTLE LESS ENDOWED AND WOULDN'T MIND A LITTLE MORE VA VA VOOM, IF WE LINE THAT UP RIGHT WITH THE FULLEST PART OF HER BUSTLINE, ALL OF A SUDDEN, SHE LOOKS A WHOLE CUP SIZE BIGGER. ON THE OTHER HAND, IF YOU ALREADY HAVE ALL THE VA VA VOOM THAT YOU CARE FOR, OR IF IT'S SORT OF BEING IMPACTED BY THE PULL OF GRAVITY AND YOU'D LIKE TO LOOK A LITTLE MORE LIFTED, YOU JUST BRING THE KNOT UP A LITTLE HIGHER, AND IT CHANGES THE IMPACT ALTOGETHER. WHO WOULD'VE THOUGHT THAT SUCH A LITTLE DETAIL COULD MAKE A BIG VISUAL DIFFERENCE? >> AND WHAT A NICE WAY TO HOLD IT TOGETHER SO THAT IT'S NOT FALLING OFF OUR SHOULDERS OR WHATEVER. >> ABSOLUTELY. YOU CAN WEAR IT THAT WAY ALL DAY LONG. NOW, A VARIATION ON THAT ONE, IF YOU'RE A SHORTER GAL OR YOU'RE WEARING A SHORTER JACKET AND YOU DON'T WANT THE TAILS OF THE SCARF HANGING OUT THE BOTTOM, YOU JUST START WITH THE 2 ENDS TOGETHER AND TIE YOUR SAME BIG, SOFT, FLUFFY OVERHAND KNOT, BUT JUST THROUGH BOTH LAYERS, AND IT GIVES YOU AN ENTIRELY DIFFERENT LOOK. >> IT SHORTENS IT MORE EVEN. >> ISN'T THAT EASY? NOW, THOSE LOOK LIKE THINGS YOU COULD HANDLE, RIGHT? WE CAN DO THIS. ALL RIGHTY. WE SHOULD MENTION THAT ALTHOUGH THERE ARE ALL KINDS OF SHAPES AND SIZES FOR SCARVES, BY FAR THE MOST VERSATILE IS THE 60-INCH RECTANGLE. THESE ARE ABOUT 60 INCHES LONG AND ABOUT 15 INCHES WIDE. AND FOR EVERY SCARF TIE THAT I DO WITH THESE, I START BY FOLDING THE SCARF ITSELF IN APPROXIMATELY THIRDS LENGTHWISE SO THE FULLNESS IS CONTROLLED. THAT CAUSES IT TO LOOK MORE PURPOSEFUL AS OPPOSED TO JUST A LOT OF FABRIC FLYING EVERYWHERE. LET'S SLIP OUR JACKET OFF, AND I'LL SHOW YOU A FEW OTHER OPTIONS WITH THIS. ONE OF THE VERY EASIEST ONES STARTS WITH BRINGING THE 2 ENDS OF THE SCARVES TOGETHER. YOU HAVE A LOOP ON THE OPPOSITE SIDE, YOU BRING IT AROUND YOUR NECKLINE AND SIMPLY TUCK THE ENDS THROUGH THE LOOP. THAT'S ANOTHER ONE THAT'S SO EASY, IT'S HARD TO EVEN IMAGINE. >> NOW, I READ SOMEWHERE THAT THE ENDS SHOULD NOT BE EXACTLY EVEN. IS THAT TRUE OR IS THAT A PERSONAL... >> IT DEPENDS ON WHAT YOU'RE DOING. WITH THIS ONE, YOU DO WANT THEM TO BE EVEN, BUT I'M SO GLAD YOU ASKED. WITH THE LONGER ONES THAT WE DID BEFORE, IT'S BETTER IF THEY ARE OFFSET BY ABOUT 2 INCHES, AND THE REASON IS WHEN THE ENDS GET DOWN HERE IN YOUR TUMMY AREA, YOU DON'T WANT THE HARD HORIZONTAL OF THOSE 2 ENDS AT THE SAME SPOT. BY STAGGERING THEM, NOW THE VIEWER'S EYE IS GONNA KIND OF CLIMB THOSE STAIR STEPS AND MOVE IN A VERTICAL DIRECTION. SEE, YOU KNEW MORE ABOUT SCARVES THAN YOU ARE GIVING YOURSELF CREDIT FOR. >> I'VE READ A LOT. >> NOW, LET ME SHOW YOU 2 OTHER FUN VARIATIONS OF THIS EASY ONE. FOR SOME PEOPLE, THAT FIRST WAY THAT WE JUST DEMONSTRATED IT GETS A LITTLE BULKY RIGHT UNDER THEIR CHIN, ESPECIALLY IF THEIR NECK ISN'T VERY LONG. SO THEY'RE HAPPIER STARTING THE SAME WAY, THE 2 ENDS TOGETHER, THE LOOP ON THIS SIDE, BUT NOW WE'RE GONNA TURN OUR FINGERS ALMOST LIKE AND EGG BEATER AND TWIST THAT. SO NOW THE PART THAT'S GOING AROUND YOUR NECK IS COMPACTED. IT'S A LITTLE MORE WORK TO GET THE TAILS THROUGH THE LOOP BECAUSE IT'S TIGHTENED, BUT NOW AGAIN, IT HAS ALMOST A BRAIDED EFFECT. THIS IS A GREAT ONE TO WEAR AT CENTER FRONT OR TO KICK IT OVER HERE AND WEAR IT ON THE SIDE, BUT IF YOU'RE GOING TO WEAR IT ON THE SIDE, SNEAK UNDERNEATH WITH A LITTLE SAFETY PIN AND ANCHOR IT. >> I WAS GOING TO ASK, COULD WE PIN IT SOMEWHERE? >> YOU REALLY HAVE TO. PEOPLE WHO IMAGINE THAT THERE'S A WAY TO MAKE THAT JUST STAY ARE LIVING IN FANTASYLAND. >> NOW, WE TOOK THE JACKET OFF. WOULD THESE LAST 2 THAT YOU SHOWED STILL BE DOABLE WITH A JACKET? >> ABSOLUTELY. THEY'RE JUST A LITTLE HARDER TO TIE WITH THE JACKET IN PLACE. >> OH, I SEE. OK. >> NOW LET ME SHOW YOU ONE MORE VARIATION OF THAT THROUGH-THE- NEEDLE TECHNIQUE. STARTED THE SAME WAY. 2 ENDS, LOOP. THIS TIME, WE'RE GOING TO BRING JUST ONE END THROUGH THE LOOP, AND WE'RE GOING TO PULL IT UP OUT OF THE WAY, THEN WE'RE GONNA TAKE THAT LOOP AND FLIP IT IN A FIGURE-8 TWIST. YOU CAN'T DO THIS WRONG. IT DOESN'T MATTER IF YOU TWIST IT TO THE LEFT OR TO THE RIGHT. IT DOESN'T MATTER WHICH END YOU PUT THROUGH FIRST. THEN YOU PUT THE SECOND END THROUGH THE NEW LOOP AND SMOOTH THE WHOLE THING DOWN, AND IT GIVES YOU THIS SORT OF WOVEN OR BRAIDED LOVER'S KNOT EFFECT THAT'S VERY SOPHISTICATED. I DO WARN PEOPLE TO WEAR THIS ONE ONLY ON DAYS THAT YOU'RE FEELING PARTICULARLY OUTGOING BECAUSE AT LEAST HALF A DOZEN PEOPLE WILL STOP YOU AND DEMAND A DEMONSTRATION OF HOW YOU TIED THAT SCARF. >> UH-HUH. >> OK. HAVE WE DONE ANYTHING SO FAR THAT LOOKS TOO DIFFICULT TO MANAGE? >> NO, AND I LIKE THESE NEW IDEAS BECAUSE I DO HAVE SEVERAL SCARVES, BUT I JUST ALWAYS PUT OFF WEARING THEM. >> WELL, PEOPLE DO, AND YOU WILL LOVE IT ONCE YOU GET IN THE HABIT. LET ME SHOW YOU ONE MORE EASY SEQUENCE WITH THESE LONG ONES. WE FOUND THE MIDPOINT OF THE SCARF. WE'RE GOING TO START WITH THAT MIDPOINT, KIND OF RIGHT ABOUT AT YOUR ADAM'S APPLE. THE TAILS NOW ARE HANGING DOWN THE BACK. WE'RE GOING TO CROSS THEM IN BACK, BRING THEM BACK TO THE FRONT, AND JUST LOOSEN THAT ENOUGH THAT IT'S COMFORTABLE, AND YOU CAN STOP RIGHT THERE OR YOU CAN TUCK THE 2 ENDS... >> THAT LOOKS SAFER TO ME. >> THROUGH THE LOOP SO IT'S A LITTLE MORE ANCHORED AND THEY'RE FALLING MORE TOWARD THE CENTER OR YOU CAN WRAP THEM ONE MORE TIME... >> TO GET THAT SHORTER LOOK, IF THAT'S WHAT YOU WANT. >> AND THAT PULLS THOSE ENDS TO THE CENTER, AND AGAIN, GIVES YOU THAT BRAIDED SORT OF EFFECT. SO ISN'T THAT FUN? NOW LET ME UNBRAID THAT REALLY QUICKLY, AND I'LL SHOW YOU 2 OTHER OPTIONS. >> I NEVER KNEW THERE WAS SO MUCH TO KNOW ABOUT SCARVES. >> WELL, AND THESE ARE ALL THE EASY ONES. YOU SEE THOSE BOOKLETS OF 50 NIFTY WAYS TO TIE A SCARF THAT END UP WITH THE BIG ORIGAMI BUTTERFLY ON YOUR SHOULDER THAT WILL LAST FOR ABOUT THE TIME THAT IT TAKES YOU TO GET OUT TO YOUR CAR. THESE ARE GREAT ALL-DAY WAYS. >> TO WEAR TO WORK OR TO WEAR TO A LUNCHEON OR WHEREVER. >> OR WHEREVER. TO WEAR TO A MOVIE, TO WEAR ANYWHERE YOU'RE GOING. WE'RE GOING TO BRING ONE END OVER THE OTHER END AND NOW UP THROUGH THE LOOP AND THEN, IF WE FLUFF THAT PIECE THAT'S COMING THROUGH THE LOOP, NOW WE HAVE AN ASCOT EFFECT THAT YOU CAN BUTTON INTO THE NECKLINE OF A SHIRT OR INTO THE NECKLINE OF A JACKET OR WE CAN TAKE THOSE ENDS AND BRING THEM THROUGH IN A SQUARE KNOT, AND NOW WE WANT THOSE ENDS TO FLUFF OUT. >> AND THIS IS A GOOD EXAMPLE OF WHY WE ALWAYS CUT OFF THAT TAG FIRST. >> ABSOLUTELY. THIS IS NOT A MATTRESS. IT IS NOT A PILLOW. IT IS FINE TO CUT OFF THE TAG, AND THIS IS ONE MORE THAT WORKS WELL STRAIGHT AHEAD OR DARLING OFF TO THE SIDE. >> AND MIGHT NOW EVEN HAVE TO BE PINNED BECAUSE IT'S SORT OF BULKIER OVER THERE. >> OR WOULD YOU SUGGEST STILL PINNING IT? >> I'D PIN IT. YOU KNOW WHAT? WHY SET YOURSELF UP FOR AN EXTRA CHALLENGE? SO LOTS OF EASY, FUN THINGS TO DO WITH SCARVES. I HOPE I'VE MADE YOU A CONVERT. >> I'M GOING TO GO HOME AND TRY IT. I HAVE A SPECIAL SCARF THAT GOES WITH THIS. I SHOULD'VE BROUGHT IT, AND YOU COULD'VE PLAYED WITH IT. >> WELL, PERFECT. NEXT TIME. >> YOU HAVE A BOOK THAT'S JUST WONDERFUL. IT NOT ONLY INCLUDES INFORMATION ON SCARVES, BUT LOTS OF OTHER WAYS THAT I THINK WE WOMEN ARE LOOKING FOR WAYS TO LOOK GOOD, AND, OF COURSE, THAT'S THE NAME OF THE BOOK, "LOOKING GOOD." BUT SCARVES, JEWELRY, JEANS, LOTS OF DIFFERENT WAYS. THANK YOU SO MUCH. >> WELL, IT WAS MY PLEASURE. >> I HOPE YOU ENJOYED THE SHOW TODAY. NEXT TIME ON "CREATIVE LIVING," WE'LL LEARN HOW TO MAKE A BEAUTIFUL SUNFLOWER CENTERPIECE AND DEMONSTRATE WORKING WITH PAINTED QUILT BLOCKS. ONE OF MY NEXT GUESTS IS A FLORAL DESIGNER, AND SHE'S GOING TO SHOW HOW TO MAKE A BEAUTIFUL SPRING SUNFLOWER CENTERPIECE USING SPIDER MUMS, SAFFRON, AND, OF COURSE, SUNFLOWERS. WE'LL ALSO TALK TO A QUILTER AND DESIGNER WHO WILL DEMONSTRATE PAINTING QUILT BLOCKS TO CREATE A ONE-OF-A-KIND DESIGN. SHE HAS LOTS OF FINISHED ITEMS, INCLUDING A WALL HANGING, A FRAMED PICTURE, AND A JEAN JACKET TO ILLUSTRATE THIS TECHNIQUE. AND IF YOU HAVEN'T WORKED WITH PAINT STICKS BEFORE, THEY CREATE BEAUTIFUL COLORS, AND THEY'RE EASY TO WORK WITH. BOTH OF THESE TOPICS WILL BE FEATURED ON THE NEXT "CREATIVE LIVING" SHOW. IF YOU EVER HAVE COMMENTS OR SUGGESTIONS OR IDEAS FOR SHOWS, YOU CAN EMAIL ME AT SHERYL.BORDEN@ENMU.EDU. I'D ALSO LIKE TO ASK YOU TO BECOME A FAN OF "CREATIVE LIVING" ON FACEBOOK. JUST GO TO FACEBOOK.COM AND IN THE SEARCH WINDOW, TYPE IN "CREATIVE LIVING WITH SHERYL BORDEN." THANKS SO MUCH, AND I HOPE YOU'LL PLAN TO JOIN ME NEXT TIME FOR "CREATIVE LIVING." >> WE ARE VERY PLEASED TO OFFER A NEW BOOKLET THAT ACCOMPANIES THIS SERIES OF "CREATIVE LIVING." THIS BOOKLET IS TITLED "THE 6600 SERIES," AND IT FEATURES A WONDERFUL COLLECTION OF IDEAS AND INFORMATION, AND IT'S AVAILABLE FREE OF CHARGE ON OUR WEBSITE. POSTED AS A PDF FILE, YOU CAN SIMPLY DOWNLOAD THE ENTIRE BOOKLET OR JUST THE SEGMENTS YOU'RE MOST INTERESTED IN. AS WITH ALL OF THE "CREATIVE LIVING" BOOKLETS, YOU'LL FIND INFORMATION ON FOODS AND NUTRITION, CLOTHING AND FASHION, HEALTH AND BEAUTY, HOME DECORATING AND MUCH MORE. FOR YOUR COPY OF THIS BOOKLET, GO TO OUR WEBSITE AT KENW.ORG AND THEN CLICK ON CREATIVE LIVING. SCROLL DOWN TO THE BOOKLET SECTION, AND YOU CAN CLICK ON THIS BOOKLET OR ANY OF THE OTHER BOOKLETS WE HAVE AVAILABLE ONLINE. ONCE AGAIN, JUST GO TO KENW.ORG, CLICK ON CREATIVE LIVING AND DOWNLOAD THE BOOKLET TITLED, "THE 6600 SERIES." WE ALSO WANT TO ENCOURAGE YOU TO SIGN UP FOR OUR FREE E-NEWSLETTER. JUST CLICK ON THE "SIGN UP NOW" BUTTON AND INPUT YOUR E-MAIL ADDRESS. THAT'S ALL THERE IS TO IT. YOU'LL ENJOY READING AN UP-TO-DATE NEWSLETTER FILLED WITH INTERESTING TOPICS AND INFORMATION. THANK YOU.
Now Playing As: Captioned (English) (change)
A fashion consultant shows the multiple ways to wear a scarf or use it to accessorize an outfit. A home designer creates a storage unit out of dresser drawers, and Sheryl discusses the benefits of acupuncture.
Media Details
Runtime: 27 minutes