Creative Living With Sheryl Borden #6624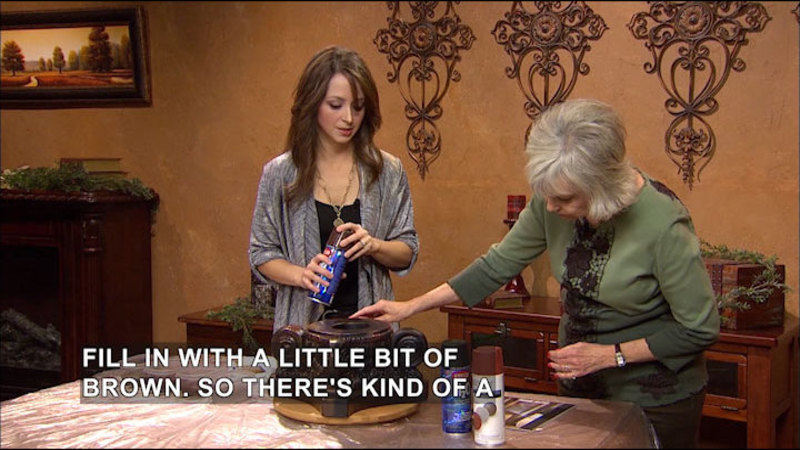 >> "CREATIVE LIVING," UTILIZING TODAY'S TECHNOLOGIES WITH THE BEST OF THE PAST, TO BRING YOU INNOVATIVE IDEAS AND UP-TO-DATE INFORMATION FOR CREATIVE LIFESTYLES IN TODAY'S ACTIVE WORLD WITH YOUR HOST SHERYL BORDEN. >> THANKS SO MUCH FOR JOINING ME TODAY FOR "CREATIVE LIVING." WE'RE GOING TO LEARN ALL ABOUT EDIBLE PLANTS. WE'LL TALK ABOUT BUILDING A HEALTHIER HEART AND A HEALTHIER LIFE. AND FINALLY WE'LL DEMONSTRATE HOW TO MAKE BEAUTIFUL BRONZE COLUMNS. ONE OF MY GUESTS TODAY IS CURT JAYNES, AND HE OWNS AND OPERATES GARDENSOURCE NURSERY AND LANDSCAPING, AND CURT'S GOING TO TALK ABOUT EDIBLE PLANTS SUCH AS THYME, STEVIA, LAVENDER, AS WELL AS GERANIUMS, PANSIES, AND OTHER FLOWERS. THESE LOOK ESPECIALLY PRETTY IN A PUNCH BOWL OR ON A SALAD OR DESSERT PLATE. HE LIVES IN PORTALES, NEW MEXICO. ANOTHER GUEST IS PAT BAIRD, AND SHE'S A REGISTERED DIETICIAN AND AUTHOR. PAT'S GOING TO EXPLAIN HOW TO BUILD A HEALTHIER HEART AND A HEALTHIER LIFE. HER 4-STEP PLAN IS DOABLE FOR EVERYONE. SHE LIVES IN GREENWICH, CONNECTICUT. AND WE'LL BEGIN THE SHOW WITH JAIME ALCORTA, WHO WILL SHOW HOW TO PAINT COLUMNS. YOU'LL BE SURPRISED AT HOW EASY IT IS TO CREATE THESE ELEGANT, BRONZE-LOOKING COLUMNS FOR YOUR HOUSE. HER COMPANY IS WALLS OF ART IN LUBBOCK, TEXAS. JAMIE, IT'S REALLY NICE TO HAVE YOU HERE. I UNDERSTAND YOU'VE WORKED WITH LOTS OF CLIENTS ON ADDING DECORATIVE THINGS TO THEIR HOME TO MATCH EXISTING OR NEW HARDWARE OR BATH FIXTURES. YOU MEAN TO CREATE SOMETHING THAT LOOKS METALLIC IS WHAT YOU'RE TALKING ABOUT? >> RIGHT. OLD-WORLD BRONZE IS A POPULAR FINISH FOR APPLYING FIXTURES AND CABINET HARDWARE, AND THIS IS A FINISH THAT YOU CAN PAINT TO COORDINATE WITH THOSE. YOU CAN EVEN PAINT-- >> IT LOOKS METAL. IT'S NOT. BUT IT LOOKS LIKE IT. >> RIGHT, YEAH. FIBERGLASS COLUMNS IS WHAT THAT PICTURE IS. >> SO THIS IS WHAT YOU ARE TRYING TO MATCH... >> RIGHT. >> ...WITH THAT HARDWARE. >> DARK PLUMBING FIXTURES. >> BUT THIS IS WHAT YOUR CLIENT WANTED TO MATCH. >> UH-HUH. SOME DRAMA TO THAT, THOSE COLUMNS. JUST PLAIN WHITE FIBERGLASS COLUMNS. >> IT'S JUST BEAUTIFUL. >> IT REALLY CONTRASTS WITH EVERYTHING. >> OH, AND YOU EVEN DID THE TOP PART, TOO. >> AND YOU CAN DO THIS ON ANY ACCESSORY, URNS. YOU CAN PAINT AN OLD BRASS LIGHT FIXTURE TO LOOK MORE LIKE NEW, NEWER BRONZE ONES. >> SO IT WORKS ON WOODS, CERAMICS, TILE. >> YOU JUST HAVE TO PREP, RIGHT, PREP IT. AND THEN YOU CAN, YEAH, PAINT THE FINISH ON. >> AND WHAT WAS THIS ORIGINALLY, WHAT COLOR WAS IT? >> IT WAS WHITE. >> OH, IT WAS. >> IT'S JUST A PLASTER COLUMN CAPITAL. AND THE FIRST STEP I DID WAS TO PRIME IT. I SPRAYED ON A PRIMER AND USED A RUST ONE SO IT'S KIND OF CLOSE TO THE COLOR THAT WE ARE GOING FOR. IF YOU DON'T GET IT COMPLETELY COVERED, IT'S OK FOR SOME OF THAT TO SHOW THROUGH. >> OK. INTERIOR/EXTERIOR PRIMER PAINT. AND YOU DID--IT'S SOLID. >> RIGHT. >> OK. >> AND THEN THE NEXT STEP I DID WAS I SPRAYED A LITTLE BIT OF BLACK, AND INSTEAD OF, YOU KNOW, LONG STROKES, I DID KIND OF ROUND...A ROUND PATTERN. >> AND WHY DID YOU DO THAT? >> JUST TO KIND OF GIVE IT A MOTTLED...A MOTTLED LOOK. AND I DIDN'T SPRAY 100% OF BLACK. I LEFT SOME OPEN AREAS TO KIND OF FILL IN WITH A LITTLE BIT OF BROWN. SO THERE'S KIND OF A MINGLING OF TWO COLORS ON THAT. IF YOU GET TOO MUCH BROWN, YOU CAN KIND OF LIGHTLY GO BACK WITH THE BLACK, JUST A REAL FINE MIST TO KIND OF GET A LITTLE BIT MORE BLACK. >> OK. >> AND THEN AFTER THAT DRIES, THESE ARE WATER-BASED GLAZES MIXED TWO PARTS GLAZED TO ONE PART PAINT, AND THESE ARE METALLIC PAINTS. >> AND YOU CAN BUY THE PAINT THAT ALREADY HAS THE GLAZE IN IT, BUT YOU CAN MIX YOUR OWN? >> RIGHT, YEAH, THEY DO SELL METALLIC GLAZES. >> MM-HMM. >> I'M USING 3. I HAVE A BRONZE, A COPPER, AND A GOLD, AND I'M GONNA STIPPLE THIS ON WHERE YOU KIND OF STILL SEE THE, YOU SEE THE TIPS OF THE BRUSH. AND NOT COMPLETELY BLENDED. YOU WANT TO WORK IN SEVERAL COLORS AT ONCE. YOU DON'T WANT TO DO ALL ONE COLOR. YOU WANT TO MIX IN AND KIND OF MINGLE THEM TOGETHER. I HOPE YOU DON'T MIND PAINT ON YOUR...HA...TURNTABLE. >> NOW, THAT'LL BE... >> HA HA. >> AND YOU DON'T NECESSARILY START WITH EACH COLOR IN THE SAME ORDER? JUST-- >> NO, JUST--YEAH, JUST AS LONG AS YOU GET A LITTLE BIT OF EVERY COLOR IN. IF YOU'RE DOING A COLUMN, YOU'D PROBABLY START FROM THE TOP AND WORK YOUR WAY DOWN. >> OH, UH-HUH. SO YOU SPEND A LOT OF TIME ON LADDERS, I BET, DON'T YOU? >> YES. YOU BET. AND YOU JUST WANT TO...YOU WANT TO STILL SEE SOME OF THE BLACK COMING THROUGH. IT GIVES IT THE DEPTH. AND THIS IS... >> THIS IS WHAT YOU'RE ACHIEVING. >> RIGHT. THE FINAL--THIS HAS BEEN CLEAR-COATED WITH A GLOSSY SPRAY AND CLEAR COAT. >> AFTER ALL THE PAINT IS DRY. THAT'S JUST TO PROTECT THE SURFACES. >> RIGHT. UH-HUH. AND YOU CAN DO SATIN IF YOU DON'T WANT IT AS GLOSSY. >> MM-HMM. IT'S JUST BEAUTIFUL. IT'S HARD TO BELIEVE THAT IT'S NOT THE ORIGINAL METAL AND THAT IT STARTED OUT WHITE. SO ONCE AGAIN, IF PEOPLE WOULD WANT TO ADD THE METALLIC METAL LOOK, IT CAN ALL BE DONE WITH PAINT. >> MM-HMM. >> THANK YOU VERY MUCH FOR SHOWING US HOW EASY IT IS TO DO. I WAS EXPECTING IT TO BE VERY LONG AND DRAWN OUT. THANK YOU VERY MUCH, JAIME. >> YOU'RE WELCOME. THANK YOU. >> PAT, THANK YOU SO MUCH FOR BEING HERE TODAY. I KNOW WE'RE GOING TO TALK ABOUT HEART HEALTH AND SOME THING THAT WE CAN ALL DO REGARDLESS IF IT'S CHILDREN OR ADULTS, THAT WE NEED TO MAKE THESE SMALL CHANGES IN OUR LIVES, BUT THEY MAKE A CONSIDERABLE DIFFERENCE, DON'T THEY? >> THEY REALLY DO BECAUSE THE OTHER GOOD PART ABOUT THIS IS THAT NOT ONLY DO WE NOT HAVE TO MAKE MAJOR CHANGES, BUT YOU KNOW, WHEN WE BUILD A HEALTHIER HEART, WE'RE ACTUALLY BUILDING A HEALTHIER BODY, SO THE GOOD NEWS IS THAT WITH SOME SIMPLE LIFESTYLE CHANGES, AND SINCE I'M A DIETICIAN, I'M GONNA TALK ABOUT THE NUTRITION CHANGES. IT'S JUST VERY SMALL, LITTLE THINGS ON WHAT MOST PEOPLE ARE PROBABLY DOING ALREADY. >> BUT I THINK WE'VE HEARD OVER AND OVER AND OVER AGAIN, NOT JUST FOR HEART DISEASE, BUT FOR GENERAL HEALTH, EVERYTHING, TO STOP SMOKING. >> THIS IS IT. THIS IS THE ONE THING TO ELIMINATE, THAT IF ANYONE IS STILL SMOKING, IT'S REALLY CRITICAL TO STOP, AND IT GOES BEYOND ALL OF THE DIFFERENT CANCERS THAT SMOKING CONTRIBUTES TO. DO YOU KNOW THAT 20% OF THE DEATHS FROM HEART DISEASE ARE ACTUALLY RELATED TO SMOKING? >> NOW, IS THAT TO SMOKING OR WHAT ABOUT THE SECOND-HAND AND OTHER TYPES OF SMOKE THAT WE ARE SUBJECTED TO? >> WELL, THEY CONTRIBUTE. YOU KNOW, THEY BUILD UP, BUT WE KNOW THAT 20% OF THE PEOPLE WHO ACTUALLY HAVE HEART DISEASE WERE SMOKERS, THE ONES WHO DIED. >> THAT'S A GOOD REASON IN AND OF ITSELF RIGHT THERE, BUT EVERYONE SHOULD. >> CORRECT. >> OK, FIBER. I KNOW AS A DIETICIAN YOU'RE ALWAYS TALKING ABOUT GETTING MORE FIBER IN OUR DIET. >> AND WHAT'S ESPECIALLY IMPORTANT FOR HEART HEALTH IS SOLUBLE FIBER. THERE'S SOLUBLE FIBER, INSOLUBLE FIBER, AND I THINK A LOT OF PEOPLE HAVE HEARD ABOUT THE BENEFITS OF OATMEAL. >> OH, YEAH. >> BECAUSE THE SOLUBLE FIBER ACTUALLY BINDS CHOLESTEROL IN THE BODY AND DOES HELP TO LOWER IT. HOWEVER, IT'S IMPORTANT FOR PEOPLE TO KNOW THAT THERE'S SOLUBLE FIBER IN LOTS OF DIFFERENT FOODS. ACTUALLY THERE IS MORE SOLUBLE FIBER IN THESE THEN THERE IS IN OATMEAL. WE ALSO GET IT FROM GREEN PEAS, FROM SPLIT PEAS, AS WELL AS ALL OF THE DIFFERENT COLORS. WE'RE TALKING ABOUT THE LEGUME FAMILY, THE LENTILS, THE BEANS, THE PEAS, AND A PERFECT SNACK FOR HEART HEALTH, AIR-POPPED POPCORN. >> AIR-POPPED. THAT'S IMPORTANT. >> LEAVE OFF THE FAT. EASY ON THE SALT. BECAUSE THERE IS SOLUBLE FIBER IN CORN. >> GOSH, THAT'S NICE TO KNOW. SOMETHING THAT WE ALL PROBABLY LOVE IS REALLY GOOD FOR US, AND WE MIGHT POINT OUT THAT THE FIBER IS JUST AS HEALTHY FOR US IN DRIED BEANS AS IT IS IN THE CANNED PRODUCT. >> OH, THAT'S AN EXCELLENT POINT. YES, IT IS. SO FOR CONVENIENCE SAKE, YOU KNOW, OPEN UP A CAN OF BEANS. THESE ARE REALLY ECONOMICAL. >> UH-HUH, THEY REALLY ARE. >> SO FROM A PRICE POINT OF VIEW, YOU CAN'T BEAT DRIED BEANS AND COOK 'EM YOURSELF. >> WELL, AND THEN WE GO TO FATS, AND I LOVE THE FACT THAT YOU HAVE THE AVOCADOS THERE. WE'LL GET TO THAT IN A MINUTE, TOO. >> YES. YOU KNOW, THE MESSAGE FROM THE HEART ASSOCIATION IS IT'S THE TYPE OF FAT THAT IS MORE IMPORTANT TO HEART DISEASE THAN EVEN THE AMOUNT OF FAT, SO WE WANT TO HAVE THOSE HEART HEALTHY MONOUNSATURATED FATS THAT YOU FIND IN CORN OIL, OLIVE OIL, IN NUTS, IN SEEDS, AND AVOCADO. >> SO MONOUNSATURATED FAT. >> AND WE WANT TO HAVE LEANER MEAT WHERE WE SEE LESS MARBLING, LESS OF THOSE WHITE STREAKS. THOSE WHITE STREAKS INDICATE SATURATED FAT. THAT'S THE KIND THAT BUILDS UP IN THE BLOODSTREAM AND CONTRIBUTES TO HEART ATTACKS AND STROKES. >> AND I KNOW YOU FIRMLY BELIEVE THAT WE SHOULD ALL READ THE LABELS. AND IT IS LISTED ON THERE. NOW, WHAT ABOUT TRANS FAT. ARE WE MOSTLY--HAVE WE JUST ABOUT ELIMINATED THAT? >> I THINK WE HAVE. FOOD MANUFACTURERS HAVE DONE A GOOD JOB SO YOU CAN LOOK AT THE LABELS AND CLEARLY SEE "ZERO TRANS FAT" OR "ONE GRAM OF TRANS FAT." AND IN THE SAME VEIN, YOU CAN SEE HOW MUCH SATURATED FAT AND HOW MUCH MONO UNSATURATED. >> NOW, WHAT IF IT HAS SOME POLYUNSATURATED? IS THAT PRETTY GOOD? >> THAT'S FINE. >> THAT'S GOOD, TOO? >> YOU KNOW, I THINK A GENERAL IDEA IS TO MIX UP YOUR OILS. THE CANOLA AND THE OLIVE OIL ARE THE HIGHEST IN MONOS. >> OK. >> THE CORN OIL, THE SAFFLOWER OIL ARE A LITTLE BIT LOW, BUT YOU KNOW, THEY HAVE BENEFITS, TOO, SO MIX AND MATCH, BUT ESPECIALLY IF YOU ALREADY HAVE HEART DISEASE, THIS IS WHAT YOU WANT TO FOCUS ON IS THE MONOS. YOU WANT TO SNACK ON WALNUTS AND ALMONDS. YOU WANT TO TRY TO HAVE GUACAMOLE INSTEAD OF, SAY, A SOUR CREAM DIP. SO THAT YOU HAVE YOUR SNACKS, YOU WATCH THOSE FOOTBALL GAMES AND HAVE A LOT OF FUN, BUT DO IT IN A HEALTHFUL WAY. >> UH-HUH, AND MODERATION STILL IS TRUE FOR EVERYTHING BECAUSE WE MAY THINK, "OH, I CAN EAT NUTS." THAT MEANS A SERVING SIZE OF NUTS. >> THAT'S RIGHT. >> IT'S ONE OUNCE. >> IT'S ABOUT 22 ALMONDS. >> OK. >> THAT'S ONE OUNCE. >> THAT'S ONE OUNCE. >> SO THERE'S A GOOD WAY TO FIGURE IT OUT. >> AND WE CAN'T SAY ENOUGH ABOUT THE IMPORTANCE OF FRUITS AND VEGETABLES, CAN WE? >> FOR OVERALL HEALTH, FOR HEART HEALTH, BUT WHAT IS REALLY EXCITING IN THIS CATEGORY IS A STUDY THAT CAME OUT ABOUT BERRIES. AND THEY FOUND THAT WOMEN WHO EAT 2-3 SERVINGS OF BERRIES EVERY DAY, LISTEN TO THIS, HAVE A 32% LOWER RISK OF HEART DISEASE THAN WOMEN WHO DON'T. >> UH-HUH. >> SO YOU KNOW... >> WHAT A NICE DIAGNOSIS. JUST EAT FRUIT. >> 32%. IT IS JUST SUCH AN INCREDIBLY HIGH NUMBER. SO YOU KNOW, I MEAN, YOU CAN HAVE THEM WHOLE AS A SNACK, YOU CAN MAKE THEM INTO A SMOOTHIE, USE THEM CUT UP OVER YOGURT FOR BREAKFAST IN THE MORNING. THERE ARE JUST SO MANY WAYS TO DO IT. BUT HERE IS THE THOUGHT PROCESS BEHIND RECOMMENDING FRUITS AND VEGETABLES, IS IT'S THE PIGMENT, IT'S THE PHYTO OR THE PLANT NUTRIENT THAT ACTUALLY CONTRIBUTE THE HEALTH BENEFIT. IN BERRIES, IT'S COMPOUNDS CALLED ANTHOCYANINS THAT-- THEY'RE ANTIOXIDANTS. THEY PROTECT CELLS FROM BEING DAMAGED. >> AND ISN'T IT TRUE THAT THE BRIGHTER THE COLOR, WE WANT THE NICE DEEP COLORS IN THE FRUITS AND VEGETABLES THAT WE EAT? >> BUT WE WANT ALL COLORS, TOO. REDS, YELLOWS, GREEN, BLUES, ORANGES BECAUSE THEY ALL HAVE DIFFERENT PHYTO NUTRIENTS. AND SPEAKING OF PHYTO NUTRIENTS... >> NOW, I LIKE THIS SECTION. >> HOW MUCH BETTER DOES LIFE GET THAN TO HAVE A DIETICIAN TELL YOU TO HAVE SOME CHOCOLATE FOR HEART HEALTH? NOW, VIEWERS, HERE'S THE SECRET, IS WE'RE REALLY TALKING ABOUT DARK CHOCOLATE, AND WE'RE TALKING ABOUT THE AMOUNT OF CACAO. CACAO IS ACTUALLY PART OF THE COCOA SEED THAT HAS FLAVONOLS. AGAIN, IT'S THOSE PLANT NUTRIENTS. AND WE WANT A CACAO CONTENT HIGHER THAN 70%, SO HERE TODAY I HAVE 72%, I HAVE 86%. I KNOW THAT THERE ARE SOME PERCENTAGES THAT ARE UP IN THE 90s. >> OH, IS THAT RIGHT? AND THAT'S GOING TO BE ON THE LABEL. WE JUST NEED TO LOOK FOR THAT. >> THAT'S WHAT YOU NEED TO LOOK FOR. AGAIN, READ THOSE LABELS. SO STOP SMOKING, MORE SOLUBLE FIBER, CHOOSE THE RIGHT FAT, FRUITS AND VEGETABLES ESPECIALLY BERRIES, AND ONE OUNCE OF DARK CHOCOLATE. >> ONE OUNCE. OK. WELL, I THINK THIS IS VERY DOABLE. THANK YOU SO MUCH. >> MY PLEASURE. IT WAS GOOD TO BE HERE, SHERYL. >> CURT, IT'S REALLY NICE TO HAVE YOU HERE, AND I'VE WANTED YOU TO COME AND TALK ABOUT EDIBLE FLOWERS FOR A LONG TIME, SO I'M REALLY GLAD THAT YOU TOOK TIME TO DO THAT. YOU DO THIS PROGRAM FOR YOUTH GROUPS AND SCHOOLS AND WOMEN'S CLUBS, DON'T YOU? >> YES, WE GO INTO THE JUNIOR HIGH, AND WE'LL TEACH THEM ABOUT EDIBLE PLANTS THERE AND THE DIFFERENT CIVIC ORGANIZATIONS IN THE COMMUNITY. >> WELL, I'VE HEARD ABOUT IT AND I'VE NEVER SEEN IT, SO I'M ANXIOUS TO SEE WHICH ONES ARE SAFE TO GO OUT AND EAT, AND YOU'LL POINT OUT SOME THAT WE NEED TO AVOID. >> THAT'S EXACTLY RIGHT. NOW I DO WANT TO POINT OUT FIRST OF ALL THAT EACH PERSON IS MORE TOLERANT TO THESE PLANTS THAN OTHER PEOPLE, SO DON'T JUST TAKE AND START EATING PLANTS AT RANDOM. >> HA HA! AND ESPECIALLY TELL YOUR CHILDREN NOT TO GO OUT AND GOBBLE DOWN THE PLANTS. >> EXACTLY BECAUSE THERE ARE POISONOUS PLANTS DEFINITELY, AND YOU JUST WANT TO--ANY OF THESE THAT WE TALK ABOUT TODAY USE SPARINGLY. >> NOW, I'VE SEEN PUNCH BOWLS WITH FLOWERS FLOATING OR PETALS FLOATING ON THE TOP, BUT I THOUGHT THOSE WERE JUST FOR DECORATION. SO ANY OF THESE THAT ARE EDIBLE, WE COULD CERTAINLY DO THAT, EVEN PUT IT IN THE PUNCH. >> YES. IT'LL ADD THAT LITTLE EXTRA PIZZAZZ TO ANY DISH THAT YOU ARE PUTTING TOGETHER FOR A PARTY OR FOR A CELEBRATION OF ANY TYPE. >> THAT'S A GOOD IDEA. OK. SHALL WE START WITH THESE? WHAT ARE THESE? >> LET'S START WITH THIS. THIS IS THE PURPLE HYACINTH BEAN, OR SCARLETT RUNNER BEAN. THIS IS ACTUALLY FROM MY YARD, AND THESE SEEDS THAT YOU HAVE IN THAT PLATE ARE ACTUALLY PASSED DOWN FROM MY GRANDMOTHER. I'VE HAD THEM FOR MANY, MANY YEARS. THIS VINE, WHEN IT IS PLANTED-- >> THIS? >> YES, ALL OF THOSE RIGHT THERE, ARE, UH, THAT'LL GET UP ABOUT 5 FEET, 6 FEET TALL, MAYBE ABOUT 5 FEET WIDE, AND HAVE BEAUTIFUL BLOOMS, BUT WHEN YOU GO TO EAT THESE, YOU CAN TAKE THESE SEED PODS WHEN THEY'RE YOUNG, AS I BROUGHT IN TODAY. YOU DON'T WANT THEM TO BE FULLY MATURE, YOU'LL TAKE THOSE, AND YOU'LL EAT THOSE JUST AS YOU DO SNAP PEAS. >> SO YOU DON'T EAT THE FLOWER. YOU EAT THE BEAN THAT'S INSIDE OR THE SEED. >> THE SEED THAT'S INSIDE, OR YOU CAN EAT THE ENTIRE POD IN A SALAD OR JUST AS A SIDE DISH. BUT ONE THING THAT I DO WANT TO POINT OUT ON THIS IS, EVEN THOUGH THE VINE IS VERY PRETTY, WHENEVER THE SEEDS MATURE, YOU CAN HARVEST THOSE, AND WHEN YOU GO TO COOK THEM, YOU'LL WANT TO SOAK THEM OVER NIGHT JUST LIKE YOU DO-- >> KIND OF WHEN WE DO PINTO BEANS OR SOMETHING LIKE THAT. >> AND THE CAUTION ON THESE IS WHEN YOU ARE BOILING THEM OR COOKING THEM, YOU NEED TO EMPTY THE WATER TWO TIMES, AND THEN YOU CAN EAT THE FINAL PRODUCT. >> JUST RINSE IT, PUT FRESH WATER IN WHILE YOU'RE COOKING IT. >> YES, SO THAT THE PURPLE HYACINTH BEAN, IF ANYBODY IS INTERESTED IN DOING THAT, I WOULD GO ONLINE AND MAKE SURE THAT THEY GET THE RIGHT COOKING INSTRUCTIONS. >> AND WHAT TIME OF THE YEAR DO THESE BLOOM? IS IT A SUMMER FLOWER? >> IT IS. THEY WILL START BLOOMING ABOUT JULY. >> OH, OK. >> AND ALL THE WAY TO FROST. >> WELL, THE PLANT ITSELF IS BEAUTIFUL IF YOU NEVER HARVESTED IT. >> WHAT I LIKE ABOUT IT IS THE UNDERSIDE OF THE LEAVES HAS A LITTLE BIT OF THAT PURPLE COLOR ALSO. >> TIES IN THAT PURPLE, DOESN'T IT? >> YES, IT DOES. YOU WILL LOVE THAT VINE EVEN IF YOU JUST GREW IT FOR ORNAMENTAL PURPOSES. >> RIGHT. WELL, I'VE NEVER SEEN THAT BEFORE. NOW THIS IS GERANIUM, AND I WAS TELLING YOU I HAVE A HARD TIME GROWING GERANIUMS. >> WELL, THEY LIKE TO HAVE DRY FEET, SO JUST DON'T OVERWATER. >> I THINK THAT'S BEEN MY PROBLEM. >> THE BLOOMS ARE EDIBLE, AND THEY MAKE AN EXCELLENT ADDITION TO A SALAD OR JUST A SIDE DISH OF ANY SORT, AND THEY KIND OF HAVE ALMOST A PEPPERY TASTE... ALMOST A LITTLE BITTER, BUT YOU KNOW, IF YOU HAVE THE DIFFERENT TYPES OF LETTUCES AND YOU'RE TRYING TO BALANCE OUT YOUR SALAD... >> THE COLOR WOULD BE SO PRETTY IN A SALAD. >> IT WOULD REALLY MAKE A DIFFERENCE IN A SALAD, SO I THINK THAT'S A GREAT ADDITION, PLUS IT MAKES A GOOD CONVERSATION PIECE AT A DINNER PARTY. >> I GUESS IT WOULD. "WHAT'S THIS RED LETTUCE?" >> IN FACT, YOU KNOW, GERANIUMS COME IN MANY DIFFERENT COLORS, SO THAT WOULD MAKE A WONDERFUL ADDITION TO A SALAD. >> WELL, IT WOULD. OH, MY FAVORITE, ROSE. >> ROSE. ROSE PETALS ARE EDIBLE ALSO. YOU KNOW, SOMETIMES THEY'LL USE THEM ON CAKES OR YOU CAN PUT THOSE IN SALADS. IF YOU'D LIKE TO TAKE A TASTE OF THAT. IT'S ACTUALLY A LITTLE SWEET. PLUS IT SMELLS GOOD. HA HA! AND WITH THE ROSES THAT DO PUT OUT THE ROSE HIPS, YOU KNOW, ROSE HIPS ARE HERBS, SO YOU CAN EAT THE ROSE HIPS AS WELL, TAKE CARE OF... >> NOW, WHAT ABOUT THE LEAVES? DO YOU-- >> NO, YOU DON'T WANT TO EAT THE LEAVES. >> JUST THE PETALS. AND SAME THING? >> WHAT'D YOU THINK OF THE TASTE OF THAT? >> REALLY, I DON'T GET A LOT OF TASTE. I JUST THINK IT WOULD BE PRETTY TO USE. >> TO USE. I HAVE A--I GUESS EVERYBODY'S PALATE'S A LITTLE DIFFERENT. I TASTE IT WAS A LITTLE BIT SWEET. >> IT'S SWEETER THAN THE GERANIUM, YES, DEFINITELY. HA HA! I CAN TELL THAT MUCH. >> THE NEXT ONE IS A DIANTHUS, AND DIANTHUS BLOOM EARLY IN THE SPRING, SO IF YOU'RE DOING THAT EASTER SALAD, YOU KNOW, THEY'RE ALREADY IN BLOOM. >> THAT WOULD BE PRETTY. >> WOULDN'T IT? PLUS THEY MAKE A WONDERFUL ADDITION TO CAKES, THINGS LIKE THAT. IT'S GONNA HAVE ABOUT THE SAME TASTE AS YOUR GERANIUMS DO, BUT LOOK AT THE COLOR ON THAT, AND DIANTHUS COME IN MANY DIFFERENT COLORS. >> AND I CAN GROW THAT. I LOVE TO HAVE DIANTHUS IN POTS. IT'S SUCH A PRETTY FLOWER. >> IT'S A HARDY PERENNIAL, TOO, SO YOU'LL ENJOY THAT. NOW, THE NEXT ONE HAS TO BE MY FAVORITE JUST BECAUSE THERE ARE SO MANY DIFFERENT COLORS, AND THAT IS THE PANSY OR THE VIOLA OR THEY'RE ALSO KNOWN AS JOHNNY JUMP-UPS, THE SMALLER VARIETIES. >> OH, I DIDN'T KNOW THAT. >> SOMETIMES PEOPLE WILL TAKE THESE AND THEY'LL SUGAR THEM AND PUT THEM ON CAKES. >> YEAH. >> AND I KNOW YOU'VE HAD SOME GUESTS THAT MAKE BOOKMARKS AND THINGS LIKE THAT, SO THEY'RE MULTIFUNCTIONAL. NOW, I LIKE THE--AND YOU CAN PICK YOUR FAVORITE ONE THERE IF YOU'D LIKE TO TASTE IT. THIS DEFINITELY HAS A PEPPERY TASTE, AND I THINK IT JUST REALLY ADDS TO A SALAD BECAUSE SOMETIMES PEOPLE DON'T LIKE TO USE THE DRESSINGS THAT ARE AVAILABLE. THIS RIGHT HERE ADDS A LITTLE DIFFERENT TASTE AND TEXTURE TO A SALAD. >> IT DOES. >> AND COLOR. >> AND SO IT'S A PANSY. >> YES. >> AND LIKE YOU SAID, THEY COME IN ALL DIFFERENT COLORS. >> YES, THEY DO. AND THESE I HAVE ALSO SEEN ON CAKES, AND I'VE ALSO SEEN THEM FLOATING IN PUNCH BOWLS, SO THAT WOULD MAKE A GREAT ADDITION. >> THE PANSY IS THE ONE THAT I WAS REFERRING TO ABOUT PUNCH BOWLS AND THE ROSE, TOO. >> ...CAN DO THAT AS WELL. NOW THE NEXT ONE, I REALLY AM PARTIAL TO THE DAY LILIES. >> DAY LILLY. >> AND THERE'S MANY DIFFERENT VARIETIES. THIS ONE JUST HAPPENS TO BE A REBLOOMING, SO IT'S GONNA BLOOM MORE THAN ONCE, BUT THE LEAVES, IF YOU'LL TEAR SOME OF THAT OFF, THEY'RE THICKER. >> OH, THEY ARE. >> AND THEY DO HAVE A UNIQUE TASTE, ALMOST A LETTUCE-TYPE TASTE. >> MM-HMM, MM-HMM. >> AND I JUST THINK THEY'RE GREAT. AND YOU DON'T WANT TO EAT THE BUDS ON THESE. YOU'LL ONLY WANT TO EAT THE OPEN BLOOMS. >> OPEN BLOOMS, OK. THAT'S ALMOST TRUE OF EVERYTHING WE'VE TALKED ABOUT, ISN'T IT? >> YES. >> EXCEPT FOR THIS. >> EXCEPT FOR THAT RIGHT THERE. YOU CAN DRY THOSE BEANS OUT AND USE THEM IN THE WINTER. THE NEXT, PRETTY MUCH EVERYBODY THAT GROWS A GARDEN GROWS SQUASH. >> OH, YEAH. >> AND DID YOU KNOW THE SQUASH BLOOMS ARE EDIBLE? >> NO. >> THEY SURE ARE. THEY HAVE A REALLY UNIQUE TASTE, AND SOME PEOPLE WILL EVEN TAKE AND MIX THEM WITH SOME EGG BATTER AND CORNMEAL AND FRY THEM UP. >> I THOUGHT YOU JUST DID THAT WITH THE SQUASH. >> NO, IT HAS A UNIQUE TASTE. >> THE BLOOMS. IT REALLY DOES. >> IT MAKES FOR AN INTERESTING CONVERSATION PIECE FOR WHEN YOU'RE AT DINNER, WHAT HAVE YOU. BEFORE WE MOVE ON IN TO SOME HERBS, I WANT TO POINT OUT A COUPLE OF OTHER ONES THAT ARE EDIBLE THAT I DIDN'T HAVE ACCESS TO THIS TIME OF YEAR, IS THE HOLLYHOCK, EDIBLE, MARIGOLDS, THE BLOOMS, YOU WANT TO EAT THOSE VERY SPARINGLY. >> OH, I DIDN'T KNOW. I KNEW MARIGOLDS WERE GOOD TO KEEP BUGS AND THINGS AWAY FROM OTHER PLANTS, BUT WE CAN EAT THE FLOWER. >> YOU CAN. WITH ANYTHING, JUST IN MODERATION. IF YOU ARE GOING TO EAT MUMS, WHICH IN THE FALL TIME OF THE YEAR MUMS ARE IN BLOOM, MAKE SURE YOU BLANCHE THOSE BEFORE YOU EAT THOSE. >> BLANCHE THE MUM? OK. >> YES, AND THERE'S MANY OTHER VARIETIES OUT THERE. IT WOULD PROBABLY BE A GOOD IDEA IF ANYBODY'S GOING TO TRY THIS IS TO MAYBE GO ONLINE, THE INTERNET, AND TRY TO FIND SOME RECIPES TO GO ALONG WITH IT. >> YEAH. OR EVEN GO ONLINE FOR EDIBLE FLOWERS, AND THEY MAY BE GROWING SOME THEY DIDN'T EVEN KNOW THEY COULD BE. >> THEY COULD BE EATING, THAT'S CORRECT. LET ME MOVE INTO HERBS. AND ONE THING THAT I DID NOT KNOW WE COULD GROW, AND THAT WAS STEVIA, WHICH IS THE NATURAL SWEETENER. >> THAT'S THE FLOWER? I MEAN, THAT'S LIKE THE SWEETENER? >> YES, IT IS. AND IF YOU TASTE IT, IT'S VERY SWEET. IT'S JUST LIKE THE ARTIFICIAL SWEETENER. YOU'LL WANT TO DRY THE LEAVES, AND THEN USE THOSE IN PLACE OF SUGAR. >> AND IF YOU WANTED TO USE A PESTLE AND YOU COULD JUST MASH IT UP A LITTLE BIT. >> YES. >> OH, THAT IS SWEET. >> VERY SWEET, ISN'T IT? TASTES GOOD. PLUS THE PLANT'S NOT VERY ATTRACTIVE, BUT LET ME TELL YOU, IF YOU HAVE IT IN YOUR GARDEN AND YOU'RE WALKING BY WITH SOME FRIENDS, YOU CAN JUST TAKE A LEAF AND EAT IT, AND THEY'LL LOOK AT YOU. >> JUST HAVE A LITTLE NIBBLE. >> EXACTLY. I THINK EVERYONE IS FAMILIAR WITH MINT. >> OH, YEAH. >> NOT ONLY IS IT HIGH IN VITAMIN C, BUT IT ALSO HELPS CURB OR REDUCE A UPSET STOMACH, DID YOU KNOW THAT? >> NO, BUT I LOVE TO HAVE IT IN, LIKE, ICED TEA OR SOMETHING. >> YES, I USE IT TO--GRIND IT UP AND PUT IT IN SUN TEA OR IN ICED TEA. YOU CAN ALSO DRY IT AND YOU CAN USE IT WITH YOUR TEA BALL TO STEEP MINT TEA DURING THE WINTER. >> OH, OK. >> YOU'LL WANT TO HARVEST IT WHEN IT'S AT THIS STAGE BEFORE IT BLOOMS. >> MM-HMM. OK. >> OK. >> YEAH. I LIKE THE TASTE OF MINT. >> AMONG OTHER THINGS, CHIVES. THEY ARE SO EASY TO GROW. AND WE DON'T HAVE TO TASTE THESE 'CAUSE THEY HAVE THE ONIONY TASTE, BUT WE KEEP 'EM GROWING AT OUR HOUSE. WE USE 'EM ON BAKED POTATOES, PUT 'EM IN SALADS. THEY'RE SO EASY TO GROW, PLUS THEY'RE HIGH IN VITAMINS AND THEY'RE VERY HEALTHY FOR YOU. THEY START COMING OUT PROBABLY ABOUT FEBRUARY, MARCH DEPENDING ON YOUR ZONE, WHERE YOU'RE GROWING THOSE AT. BUT THEY'RE SO EASY TO USE. YOU JUST TAKE SOME SCISSORS, GO OUT THERE, AND CUT 'EM, WASH 'EM, AND THEN JUST BREAK 'EM UP AND USE 'EM ON YOUR BAKED POTATOES. >> HOW EASY IS THAT? >> AMONG THE OTHER THINGS IS ROSEMARY. THOSE WORK REALLY GOOD. SAGE. ALL THOSE HAVE BEAUTIFUL FLOWERS, AND THEY'RE READILY AVAILABLE IN PRETTY MUCH ANY GARDEN, AND THEY'RE EASY TO GROW. >> WELL, I'M GLAD WE FINALLY GOT AROUND TO DOING THIS BECAUSE IT'S REALLY INTERESTING AND IT'S, LIKE YOU SAID, A GREAT CONVERSATION PIECE BUT A LOT OF THINGS WE CAN DO WITH IT THAT WE DIDN'T EVEN THINK ABOUT. >> THAT'S CORRECT. >> THANK YOU. >> YOU'RE WELCOME. >> I HOPE YOU ENJOYED THE SHOW TODAY. NEXT TIME ON "CREATIVE LIVING" WE'LL LEARN HOW TO WEAR SCARVES, SHOW SOME NEAT STORAGE SOLUTIONS, AND DISCUSS THE JOURNEY OF A HEALER. ONE OF MY NEXT GUESTS IS A WARDROBE CONSULTANT AND AUTHOR AND SHE'S GOING TO SHOW HOW TO WEAR A SCARF IN MULTIPLE WAYS. ANOTHER GUEST IS GOING TO SHOW HOW TO USE DRESSER DRAWERS TO CREATE AN UNDER-THE-BED STORAGE BIN. THIS HOME STORAGE SOLUTION IS SO EASY AND ATTAINABLE FOR EVEN FIRST-TIME DO-IT-YOURSELFERS. AND FINALLY WE'LL TALK TO A DOCTOR OF ORIENTAL MEDICINE ABOUT A BOOK HE'S WRITTEN ON RELIEVING PAIN IN JUST 3 SECONDS. HE'S GOING TO TALK ABOUT HIS JOURNEY FROM BEING A LICENSED OPTICIAN TO BECOMING AN ACUPUNCTURIST. ALL OF THESE TOPICS WILL BE FEATURED ON THE NEXT "CREATIVE LIVING" SHOW. IF YOU EVER HAVE COMMENTS OR SUGGESTIONS OR IDEAS FOR SHOWS, YOU CAN EMAIL ME AT SHERYL.BORDEN@ENMU.EDU. I'D ALSO LIKE TO ASK YOU TO BECOME A FAN OF "CREATIVE LIVING" ON FACEBOOK. JUST GO TO FACEBOOK.COM AND IN THE SEARCH WINDOW TYPE IN "CREATIVE LIVING WITH SHERYL BORDEN." THANKS SO MUCH AND I HOPE YOU'LL PLAN TO JOIN ME NEXT TIME FOR "CREATIVE LIVING." >> WE ARE VERY PLEASED TO OFFER A NEW BOOKLET THAT ACCOMPANIES THIS SERIES OF "CREATIVE LIVING." THIS BOOKLET IS TITLED THE 6600 SERIES, AND IT FEATURES A WONDERFUL COLLECTION OF IDEAS AND INFORMATION AND IT'S AVAILABLE FREE OF CHARGE ON OUR WEBSITE. POSTED AS A PDF FILE, YOU CAN SIMPLY DOWNLOAD THE ENTIRE BOOKLET OR JUST THE SEGMENTS YOU'RE MOST INTERESTED IN. AS WITH ALL THE "CREATIVE LIVING" BOOKLETS, YOU'LL FIND INFORMATION ON FOODS AND NUTRITION, CLOTHING AND FASHION, HEALTH AND BEAUTY, HOME DECORATING AND MUCH MORE. FOR YOUR COPY OF THIS BOOKLET, GO TO OUR WEBSITE AT KENW.ORG AND THEN CLICK ON "CREATIVE LIVING." SCROLL DOWN TO THE BOOKLET SECTION AND YOU CAN CLICK ON THIS BOOKLET OR ANY OF THE OTHER BOOKLETS WE HAVE AVAILABLE ONLINE. ONCE AGAIN, JUST GO TO KENW.ORG, CLICK ON "CREATIVE LIVING," AND DOWNLOAD THE BOOKLET, TITLED THE 6600 SERIES. WE ALSO WANT TO ENCOURAGE YOU TO SIGN UP FOR OUR FREE E-NEWSLETTER. JUST CLICK ON THE SIGN UP NOW BUTTON AND INPUT YOUR EMAIL ADDRESS. THAT'S ALL THERE IS TO IT. YOU'LL ENJOY READING AN UP-TO-DATE NEWSLETTER FILLED WITH INTERESTING TOPICS AND INFORMATION. THANK YOU.
Now Playing As: Captioned (English) (change)
The focus of this episode is on edible plants and creating a healthy heart and lifestyle. A guest also discusses how to paint columns for decorating in the home.
Media Details
Runtime: 27 minutes