Creative Living With Sheryl Borden #6622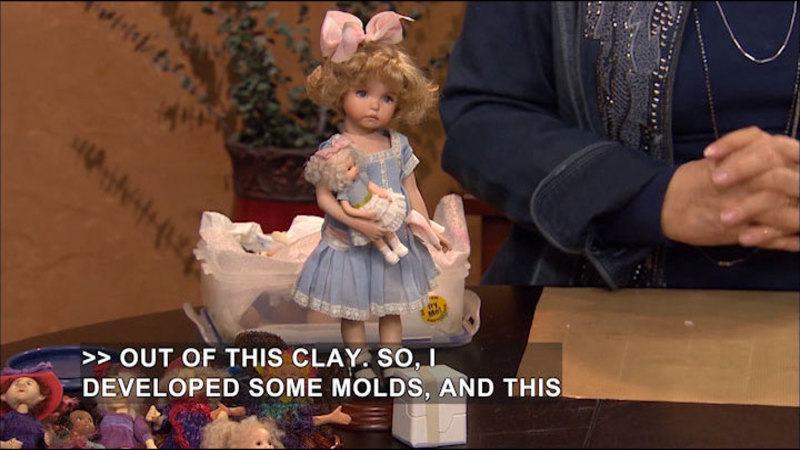 >> "CREATIVE LIVING," UTILIZING TODAY'S TECHNOLOGY WITH THE BEST OF THE PAST TO BRING YOU INNOVATIVE IDEAS AND UP-TO-DATE INFORMATION FOR CREATIVE LIFESTYLES IN TODAY'S ACTIVE WORLD, WITH YOUR HOST SHERYL BORDEN. >> WELCOME TO "CREATIVE LIVING" TODAY. WE'RE GOING TO TALK ABOUT POST-TRAUMATIC STRESS DISORDER AND ANIMALS. WE'LL LEARN WHAT'S HOT IN BATHROOM DESIGN AND ALSO LEARN TO CREATE VARIOUS ITEMS OUT OF HEARTY CLAY. ONE OF MY GUESTS IS MATTHEW FESTA, AND HE'S ASSOCIATED WITH AN ORGANIZATION CALLED GUARDIANS OF RESCUE. MATTHEW WILL TELL ABOUT THEIR ANIMAL THERAPY PROGRAM THAT HELPS PEOPLE WITH PTSD BY PAIRING TRAINED THERAPY DOGS WITH PEOPLE WHO NEED THE THERAPY. HE LIVES IN SMITHTOWN, NEW YORK. ANOTHER GUEST ON THE SHOW IS JENNY RAUSCH, AND SHE'S A KITCHEN AND BATH DESIGNER. JENNY'S GOING TO DISCUSS BUDGETS, STATISTICS, GADGETS, AND TRENDS PERTAINING TO NEW BATHROOMS. YOU'LL ESPECIALLY ENJOY SEEING AND HEARING A NEW SHOWER HEAD SHE'S BROUGHT. HER COMPANY IS KARR BICK KITCHEN & DESIGN, AND SHE'S FROM BRENTWOOD, MISSOURI. AND WE'LL BEGIN THE SHOW WITH DIANNA EFFNER, WHO'S THE DESIGNER OF DOLL MOLDS. DIANNA WILL SHOW SEVERAL DOLLS AND OTHER ITEMS THAT ARE MADE WITH HEARTY CLAY. HER BUSINESS IS EXPRESSIONS, INCORPORATED, AND SHE'S FROM JAMESTOWN, MISSOURI. DIANNA, THANK YOU SO MUCH FOR BEING HERE. IN LOOKING AT YOUR WEBSITE, I KNOW YOU HAVE ALL THESE MOLDS FOR THESE BEAUTIFUL LITTLE PORCELAIN DOLLS. BUT HOW DO YOU GO ABOUT DECIDING WHAT TYPES OF PRODUCTS YOU USE TO MAKE DOLLS AFTER YOU DESIGN THE MOLDS? >> WELL, USUALLY, WE USE PORCELAIN. WE MAKE A LOT OF PORCELAIN DOLLS, BUT I LIKE TO TRY NEW THINGS. SO I DID DEVELOP SOME MOLDS FOR A SPECIFIC AIR-DRIED CLAY THAT I DISCOVERED. >> OH, SO, IT DOESN'T HAVE TO BE FIRED? >> NO. >> OH, THAT'S WHAT I'D LIKE. >> A LOT OF PEOPLE DON'T LIKE TO WAIT THAT LONG FOR THE PORCELAIN. IT'S SOMETHING THAT YOU CAN DO. >> AND THIS IS CALLED HEARTY. >> HEARTY MOLDING CLAY. >> COMES IN ALL COLORS AND... >> YEAH, WELL, IT COMES... I'M NOT SURE. IT USED TO COME IN MORE COLORS. AND NOW THEY DON'T HAVE THE FLESH, AND THEY DON'T HAVE SOME OF THE COLORS, >> SO, YOU MIX THEM. >> THESE ARE THE COLORS I USE, THE BASIC PRIMARY COLORS AND WHITE AND SOMETIMES BLACK. >> OK. I CAN TELL BY FEELING THAT IT'S VERY SOFT. >> IT'S VERY SOFT, UH-HUH. AND THAT'S WHAT I LIKE ABOUT THE CLAY. >> AND WHILE YOU'RE... THIS IS ONE OF THE MOLDS THAT YOU'VE DESIGNED THAT CREATES THE FACES, AND SHOW US THE CLAY AND HOW YOU MIX IT. >> WELL, IT'S VERY SOFT, AND I'M GOING TO MIX A PIECE OF PINK-- THE RED CLAY. >> OH, SO, YOU JUST TOOK A PINCH OF IT AND YOU'RE JUST MOLDING IT. >> SO YOU CAN REALLY SEE HOW SOFT IT IS AND HOW STRONG THE COLORS ARE. AND IT'S REALLY FUN TO MIX. YOU CAN MAKE ANY COLOR THAT YOU CAN THINK OF. >> THIS WOULD BE FUN FOR KIDS TO WORK ON, 'CAUSE THEY'D LOVE THE MOLDING PART. >> OH, YEAH, IT'S FUN, AND IT'S CLEAN. IT'S NOT GREASY. >> IT REMINDS ME OF MIXING PASTE FOOD COLORING INTO ICING. >> I'M GONNA PUT A LITTLE YELLOW IN IT. THAT'S TOO PINK FOR ME. >> OK! HA HA! OK, SO, ONCE YOU GET IT MOLDED-- OR AS SOFT-- >> I'M GONNA... YOU HAVE TO GET IT KIND OF SMOOTH AND EVEN. IF IT'S TOO WET, IT MIGHT NOT WORK OUT IN THE MOLD. IT MIGHT STICK IN THE MOLD A LITTLE BIT. >> AND YOU DON'T...LIKE IN COOKING, YOU DON'T SPRAY THESE WITH ANYTHING TO START WITH. YOU JUST USE THE MOLD AS-IS? >> YOU CAN. SOMETIMES I PUT A LITTLE FLOOR WAX ON THE FLAT SURFACE SO THAT IT'LL REMOVE CLEAN. >> OH, UH-HUH. >> SO, THIS IS A PRETTY BRIGHT COLOR PINK, BUT... >> SHE'S BEEN OUT IN THE SUN A LOT. >> THESE PRESS MOLDS I DEVELOPED FOR, UM...JUST A LITTLE QUICK PROJECT THAT YOU LIKE TO DO, BECAUSE DOING A DOLL IS A LITTLE MORE INVOLVED. >> MM-HMM. >> AND YOU JUST PUT THE CLAY IN THE MOLD AND PRESS. AND SOMETIMES IT COMES OUT... IF YOU DO IT JUST RIGHT-- >> OH, HOW CUTE! >> OR YOU CAN JUST TAKE... SOME CLAY... >> SO, YOU JUST PRESS IT THAT LONG AND THEN TAKE IT OUT. >> YEP. THAT'S ALL IT IS, AND YOU CAN CRANK OUT A LOT OF THESE LITTLE THINGS. >> AND THEN YOU JUST LAY THEM OUT AND LET THEM AIR DRY. >> AND THEY AIR DRY. >> SO, THIS IS-- >> AND YOU CAN PAINT THEM WITH ANY KIND OF PAINT. >> AND NOW LET'S GO BACK TO THE DOLL, BECAUSE THIS WAS ONE OF THE FIRST ITEMS YOU CREATED USING THIS TECHNIQUE WITH THE HEARTY CLAY. >> OF COURSE, I'M A DOLL ARTIST, SO THE FIRST THING I THOUGHT WAS WE COULD MAKE DOLLS-- >> OF COURSE. >> OUT OF THIS CLAY. SO, I DEVELOPED SOME MOLDS, AND THIS WAS THE FIRST ONE I DEVELOPED. >> AND WE'RE TALKING NOT ABOUT THE BIG DOLL. WE'RE TALKING ABOUT THE LITTLE-BITTY DOLL SHE'S HOLDING. >> THE LITTLE ONE. SO, IT'S VERY LIGHTWEIGHT, SO... AND IT'S PUT TOGETHER WITH PIPE CLEANERS, THOSE CRAFT PIPE CLEANERS THAT THEY USE. IT'S JUST--THE BODY PARTS ARE SEPARATE, AND THEN-- >> THE LEGS AND ARMS. >> I ATTACH THE ARMS AND LEGS TO THE LITTLE TORSO, AND THEN WE HAVE INSTRUCTIONS FOR THIS DOLL ON OUR WEBSITE, EXPRESSIONSDOLLS.COM. >> AND PEOPLE CAN JUST DOWNLOAD THESE. >> STEP-BY-STEP. YOU CAN DOWNLOAD THE INSTRUCTIONS, AND THERE'S A PATTERN FOR HER LITTLE DRESS. >> OH, THAT'S HELPFUL. LET'S TAKE A LOOK AT THE BASKET THAT--YOU JUST HAVE ALL KINDS OF DOLLS. YOU CAN MAKE ETHNIC DOLLS. YOU CAN MAKE THEM-- >> OH, YEAH, 'CAUSE YOU CAN MIX ANY COLOR. >> YEAH, THAT'S GREAT! BALLERINAS. YOU'VE GOT A KITTY-- ALL KINDS. >> YEAH, THEN I DEVELOPED THE BALLERINA BODY, AND I HAVE DIFFERENT HEADS THAT FIT THAT BODY. I HAVE A RABBIT, TOO, BUT I DIDN'T BRING HIM--HER. >> AND I LIKE--YOU'VE GOT SORT OF THE SANTA CLAUS FACE. YOU'VE GOT THE OLD WOMAN. >> YEAH. BEST FRIENDS. >> SOME OF THEM HAVE HAD A BETTER HAIR DAY. >> YEAH, SOME ARE THE RED HAT LADIES. >> OH, I SEE! YES, UH-HUH. OK, THEN LET'S TAKE A LOOK AT THESE. YOU SAID, BASICALLY, YOU HAVE MOLDS FOR ABOUT 5 DIFFERENT FACIAL DESIGNS. >> THIS SIMPLE ONE-PIECE PRESS MOLD IS AVAILABLE WITH 5 DIFFERENT CHARACTERS. >> OH, OK. >> I CAN TELL YOU WHAT CHARACTER THEY ARE. >> THIS ONE? >> THAT ONE I CALL "ARTSY." >> THIS ONE? >> THAT ONE IS "PEACEFUL." >> PEACEFUL, UH-HUH. >> THAT ONE'S "COOL." >> THAT'S COOL! >> HE'S COOL. THAT ONE'S "HAPPY" AND THAT ONE'S "SILLY." >> SILLY, OK! HA HA! SO, WORKING WITH THESE, MAKING DOLLS, OBVIOUSLY, BUT YOU'VE ALSO COME UP WITH WAYS TO MAKE LITTLE ORNAMENTS? >> OH, YEAH. THERE ARE LOTS OF DIFFERENT THINGS. I USE THESE LITTLE PLASTIC CLEAR SCRAPS TO MOUNT THEM AND DECORATE THEM. >> HOW EASY. SO, IT'S BASICALLY THE FACE, AND THEN YOU'VE ADDED--LIKE, THAT ONE IS THE LITTLE SANTA CLAUS HAT. >> YEAH. SIMPLE. >> WHAT GREAT PROJECTS FOR KIDS TO WORK ON, TOO, WITH THE HOLIDAY TIME. >> ALL AGES, UH-HUH. >> ALL AGES OF US KIDS! OK. WELL, DIANNA, THANK YOU SO MUCH FOR SHOWING US SOMETHING THAT REALLY SEEMS ALMOST SIMPLE ENOUGH THAT EVERYBODY CAN DO IT WITH A LITTLE PRACTICE. >> RIGHT. >> THANK YOU. JENNY, THANK YOU SO MUCH FOR BEING WITH US TODAY. I'M JUST SO EXCITED TO HAVE A CHANCE TO PICK YOUR BRAIN ABOUT ALL THINGS INTERIORS, SO TO SPEAK. BUT I REALLY WAS THINKING THAT FOR A PROFESSIONAL INTERIOR DESIGNER THAT MOST PEOPLE WOULD HIRE ONE TO HELP, LIKE, WITH A LIVING ROOM OR MAYBE A KITCHEN REDESIGN, BUT WE'RE GONNA TALK BATHROOMS. >> YEAH, I ACTUALLY LIKE TO CALL MYSELF A KITCHEN AND BATH DESIGNER. AND WE ARE GONNA TALK BATHROOM TRENDS TODAY. AND I THINK WE CAN'T TALK ABOUT IT WITHOUT TALKING ABOUT BUDGET. PEOPLE ARE ALWAYS SURPRISED ABOUT HOW MUCH A BATHROOM COSTS. >> MM-HMM. >> AND I LIKE TO GIVE YOU A STARTING POINT. SO, TYPICALLY I SAY THAT YOU'RE GOING TO SPEND ABOUT 10% OF THE VALUE OF YOUR HOUSE. >> ON A BATHROOM? >> YES. HA HA! SURPRISING, ISN'T IT? BUT IF YOU THINK ABOUT ALL OF THE THINGS THAT GO INTO REMODELING A BATHROOM, AND YOU START ADDING UP ALL THE PARTS AND PIECES, THERE'S JUST AS MUCH LABOR INVOLVED AS REMODELING A KITCHEN, IT STARTS TO ADD UP VERY QUICKLY. >> AND YOU'RE IN A SMALLER SPACE, EVEN. >> YOU ARE IN A SMALLER SPACE, BUT THERE'S A LOT OF PLUMBING, A LOT OF ELECTRIC, AND THERE'S STILL A LOT OF PARTS AND PIECES. AND A LOT OF TIMES IN A MASTER BATHROOM, YOU HAVE DOUBLE EVERYTHING. SO, YOU HAVE A DOUBLE SINK, YOU HAVE 2 FAUCETS. YOU COULD HAVE A TUB AND A SHOWER, SO THERE'S A LOT OF PLUMBING PARTS AND PIECES INVOLVED IN THAT, SO IT CAN ADD UP QUICKLY. BUT THE GOOD NEWS IS, YOU GET A GOOD RETURN ON YOUR INVESTMENT. SO DEPENDING ON YOUR AREA, AND THERE IS RESEARCH FOR THAT--SO, YOU CAN GO ON THE INTERNET. THE HBA, THE HOME BUILDERS ASSOCIATION, THE NATIONAL REALTOR ASSOCIATION, THEY PUT OUT NUMBERS BASED ON YOUR DEMOGRAPHICS, SO YOU CAN FIND OUT BASED ON WHERE YOU LIVE WHAT YOUR RETURN ON INVESTMENT IS. AND TYPICALLY, IT'S AROUND 90%. >> IS THAT RIGHT? WOW! SO, IT'S WORTH DOING THAT, ESPECIALLY IF IT REALLY NEEDS REMODELING. >> IT IS WORTH IT. >> UH-HUH. WELL, LET'S TALK ABOUT SOME--I LOVE GADGETRY. AND I KNOW THERE'S NEW TRENDS, PROBABLY, IN BATH DESIGN, JUST LIKE THERE WOULD BE IN CLOTHING OR NEW FURNITURE OR THINGS LIKE THAT. BUT I GUESS I WOULDN'T HAVE THOUGHT ABOUT IT BEING SO INTERESTING. BUT I THINK PEOPLE ARE GONNA BE SURPRISED WHEN THEY SEE SOME OF THE THINGS THAT YOU HAVE TO SHOW. >> YEAH. >> WHAT SORT OF DETERMINES THE NEWEST TREND EACH YEAR? >> WELL, THERE'S A LOT OF INFORMATION OUT THERE. SO, PEOPLE ARE USING DIFFERENT SOURCES ON THE INTERNET. YOU CAN FIND LOTS OF INFORMATION AND PICTURES GALORE ON HOUZZ AND PINTEREST, ALL OF THOSE THINGS THAT PEOPLE LOVE TO DO TO SEARCH. BUT SOME OF THE EMERGING TRENDS WOULD BE LIKE, UM... HOTEL BATHROOMS, FOR INSTANCE. >> OH! SOME OF THEM ARE JUST FABULOUS. >> YEAH! >> IT'S FUN TO TRAVEL. >> YES, SO I HAVE A GOOD PICTURE HERE. THIS ONE LOOKS VERY SIMILAR, A LITTLE BIT MORE GLAMOROUS, BUT MAYBE SOMETHING YOU'D FIND AT THE RITZ OR A HIGH-END HOTEL. THIS CLEAN-LINED LOOK, IT'S A LITTLE BIT MORE CONTEMPORARY, BUT SOMETHING THAT MAKES YOU FEEL LIKE YOU'VE BEEN ON VACATION IN YOUR OWN BATHROOM. SO, MAYBE YOU CAN'T TRAVEL, BUT EVERY TIME YOU GO INTO THE BATHROOM, IT MAKES YOU FEEL LIKE YOU'RE ON VACATION. SO, A HOTEL BATHROOM TREND--HIGH CONTRAST IS VERY POPULAR. SO, THIS KIND OF SHOWS THAT. SO, WE'RE DOING A LOT OF THAT IN BATHROOM REMODELING RIGHT NOW. >> I NOTICE IT'S A WHOLE LOT LESS CLUTTERED THAN MINE AT HOME. SO, I THINK THAT HELPS US UNDERSTAND WHAT WE WOULD FEEL LIKE IF WE COULD MAYBE GET RID OF SOME OF THAT STUFF ON THE COUNTERTOP. >> YEAH, EXACTLY. WELL, I'M SURE IF THE HOMEOWNER WAS ACTUALLY HOME, IT MIGHT BE A LITTLE BIT MORE CLUTTERED THAN THIS. >> I GUESS YOU'RE RIGHT. OOH, THIS IS BEAUTIFUL. >> THAT'S THE BLUE-GRAY TREND. AGAIN, HIGH CONTRAST. YOU NOTICE THAT FROM THE LAST PICTURE, BUT GRAYS AND BLUES VERY POPULAR. KIND OF COASTAL FEELING. AGAIN, IT GOES BACK TO THAT VACATION IDEA. >> OH! >> SO, THIS IS KIND OF A BLUE CABINET, WHITE MARBLE. IT MAKES YOU FEEL COMFORTABLE. YOU'LL SEE A LOT OF THAT IN COLOR TRENDS, EVEN IN KITCHENS. SO, IF YOU'RE SURFING PICTURES, AND LUCKILY THE CABINET MANUFACTURERS HAVE CAUGHT UP WITH THAT, SO THEY GIVE US A LOT OF OPTIONS NOW-- DIFFERENT SHADES OF BLUES AND GRAYS. >> OH! BLUES AND GRAYS. OK. >> CONTEMPORARY IS ALSO A HOT TREND. >> IS THAT BECAUSE IT'S USUALLY CLEANER LINES, SMOOTHER, OR... >> WELL, BATHROOMS, YES. BATHROOMS, WE WANT TO GO IN, GET OUT. WE WANT TO CLEAN IT EASILY. ALSO, YOU FEEL LIKE YOU CAN USE CONTEMPORARY IN YOUR BATHROOM, EVEN IF YOUR HOUSE IS NOT CONTEMPORARY, BECAUSE NOT AS MANY PEOPLE SEE IT. IN YOUR KITCHEN, YOU MIGHT NOT FEEL LIKE YOU CAN DO AS MANY CONTEMPORARY THINGS DESIGN-WISE BECAUSE IT'S KIND OF THE CENTER OF THE HOUSE. YOU MIGHT FEEL LIKE YOU WANT TO KEEP IT MORE SIMILAR TO THE TRUE ARCHITECTURAL DETAIL OF THE HOUSE. BUT IN THE KITCHEN OR IN THE BATHROOM, YOU CAN GO A LITTLE OUTSIDE OF THAT BOX... >> I SEE. >> BECAUSE NOT AS MANY PEOPLE SEE IT. LIGHTING IS ALSO A HUGE TREND. >> AND THAT'S ALWAYS MY BIGGEST COMPLAINT IN A HOTEL IF THE LIGHTING'S NOT GOOD. AND SO THAT DOES CARRY OVER TO THE HOME, TOO. WE WANT GOOD LIGHTING. >> I PREFER DARK LIGHTING SO I CAN'T REALLY SEE MYSELF. >> THE WRINKLES AND ALL, I KNOW. >> IN THE MORNING, I DON'T WANT TO SEE MYSELF YET, BUT, YES, GOOD LIGHTING IS--THE BEST PLACE TO HAVE LIGHTING IS EITHER SIDE OF YOUR FACE AND BEHIND YOU, SO THAT YOU DON'T HAVE SHADOWS. >> OH, NOT DIRECTLY OVERHEAD. SO, YOU WANT TO SORT OF LIGHT ALL THE WAY AROUND YOUR FACE. THIS IS A GOOD EXAMPLE OF THAT, BUT ALSO DRAMATIC LIGHTING. SO, THE BATHROOM IS A GREAT PLACE TO PUT REALLY BEAUTIFUL DRAMATIC LIGHTING. >> I HADN'T THOUGHT ABOUT THAT. >> SO, THIS IS A GOOD EXAMPLE OF THAT. AND THEN NOT HAVING THAT MIRROR ALL THE WAY ACROSS, BREAKING IT UP WITH 2 BEAUTIFUL DECORATIVE LIGHTS. >> UH-HUH. AND WHAT'S THE PURPOSE OF THE MIRRORS BEING SEPARATED. YOU SAY THAT'S JUST A TREND? >> IT'S A TREND. IT'S MORE FURNITURE-LIKE, SO THAT YOU DON'T FEEL LIKE IT'S JUST A BIG, WIDE MIRROR SLAPPED ACROSS THERE. >> YEAH. I LIKE IT BETTER, TOO. >> OHH! >> FREE-STANDING TUBS. >> FREE-STANDING, UH-HUH. >> YES. AGAIN, IT JUST IS MORE LUXURIOUS. IT'S A DIFFERENT WAY OF HANDLING IT. IT'S MORE FURNITURE-LIKE. FURNITURE IS ALSO A TREND--KITCHENS AND BATHS. IT'S A FREE-STANDING PIECE. ANYTHING FREE-STANDING MAKES US FEEL LIKE IT'S A LITTLE BIT MORE FURNITURE, LESS FITTED. IT'S JUST A COZIER FEEL. AGAIN, YOU HAVE A DECORATIVE LIGHTING PIECE HERE. >> YEAH, THIS LOOKS MORE LIKE OVER THE DINING TABLE. >> YES. >> YOU KNOW, I'M SURPRISED TO SEE IT IN A BATHROOM. >> IT'S VERY DRAMATIC. >> YEAH, IT IS. IT'S VERY DRAMATIC. >> LOTS OF DRAMA. ANOTHER TREND IS THE WATER, THE COLOR OF THE WATER. SO, IN A LOT OF THESE BATHTUBS--THIS IS ACTUALLY AN AIR TUB--YOU CAN SEE THE CONTROLS ON THE WALL THERE. SO YOU CAN CHANGE THE COLOR OF THE LIGHT AND THE BUBBLES AND THE INTENSITY OF THE BUBBLES. >> UH-HUH. HOW FUN. >> SO, IT'S JUST THAT--I KNOW. >> YOU WOULD FEEL LIKE YOU WERE CONTINUING YOUR VACATION. >> YEAH. THAT'S THE IDEA. >> I LIKE THAT. OK. I WAS TELLING EVERYONE EARLIER THAT THEY'RE GONNA BE SO EXCITED ABOUT NEW--WE WON'T CALL IT A GADGET, BECAUSE A SHOWERHEAD'S VERY IMPORTANT IN A BATHROOM. >> IT IS IMPORTANT, BUT THIS IS KIND OF A NEAT, FUN THING THAT KOHLER PUTS OUT. IT'S A SHOWERHEAD, BUT IT ALSO PLAYS MUSIC. IT'S A BLUETOOTH FUNCTION.
[HIP-HOP MUSIC PLAYING] SO...
>> SO, YOU COULD PLAY ALL YOUR FAVORITE SONGS, OR AT LEAST A FEW OF THEM. YEAH! BUT WE DO WANT TO CONSERVE WATER, SO WE WANT TO CAUTION PEOPLE TO MAYBE HAVE A TIMER SET FOR A 10-MINUTE SHOWER AND NOT SPEND THE DAY IN THERE. >> EXACTLY. >> THAT IS NEAT. I'VE NEVER EVEN SEEN THAT BEFORE. >> YEAH, IT'S FUN. IT'S JUST A WAY TO WAKE YOU UP IN THE MORNING. IT PUTS YOU IN A GOOD MOOD AS YOU'RE HEADED OUT THE DOOR IN THE MORNING. >> WELL, YEAH. AND ONE THING WE HAVEN'T TALKED ABOUT, AND I KNOW I'VE BEEN SEEING IT IN NEW HOMES THAT ARE BUILT IN THE AREA WHERE I LIVE ARE HAVING THE SEPARATE BIDET. AND THAT'S WHAT YOU NORMALLY WOULD SEE IN A HOTEL ROOM. >> YES, EXACTLY. THAT GOES BACK TO THE HOTEL TREND FOR SURE, YES. YOU CAN HAVE A SEPARATE BIDET, BUT YOU CAN ALSO HAVE A BIDET ON YOUR EXISTING TOILET SEAT. >> OHH! >> SO, THEY MAKE A TOILET SEAT THAT FUNCTIONS AS A BIDET, SO YOU CAN GO OUT AND BUY THAT RIGHT NOW. YOU CAN PUT THE BIDET RIGHT ON THE TOILET. IT WARMS YOU. >> IT SAVES MONEY. >> IT SAVES MONEY, AND IT REMOVES--IT HAS AN AIR FILTRATION SYSTEM IN IT, SO THERE'S LOTS OF DIFFERENT THINGS. THERE'S HEATED FLOORS. YOU CAN HAVE A HEATED FLOOR, HEATED TILE FLOOR. SO, THERE'S THIS WHOLE LUXURY BATHROOM THING THAT WE'RE SEEING, WHICH IS JUST AN AMAZING EMERGING TREND. >> HOW DO YOU KEEP UP WITH ALL OF THIS? >> IT'S VERY EASY. MY CUSTOMERS FORCE ME TO. HA HA! >> OK! WELL, IT'S SO NICE TO HAVE YOU COME AND TELL US ABOUT IT. I REALLY ENJOYED THIS. >> THANK YOU FOR HAVING ME. >> MATTHEW, THANK YOU SO MUCH FOR BEING WITH US. I ENJOYED READING THE WEBSITE ABOUT GUARDIANS OF RESCUE. AND I KNOW THAT I FEEL VERY COMPASSIONATE ABOUT TRYING TO FIND ANIMALS. I'VE HAD DOGS, AND I HAVE CATS. AND I GREW UP ON A FARM, SO WE ALWAYS HAD LOTS OF ANIMALS AROUND, BUT TELL US BRIEFLY ABOUT WHAT THE GUARDIANS OF RESCUE DO AND WHERE ALL ARE YOU LOCATED. >> WE'RE BASED OUT OF LONG ISLAND, NEW YORK. THE GUARDIANS OF RESCUE ARE ABOUT COMPASSIONATE ACTION WHEN IT COMES TO ANIMAL RIGHTS AND WELFARE. WE GO WAY OUT OF OUR WAY TO HELP PEOPLE KEEP FAMILIES TOGETHER WHEN THEY CAN'T AFFORD VET BILLS. WE'LL RAISE MONEY FOR THEM. WE TRY AND EDUCATE CHILDREN INTO THE COMPASSIONATE WAY OF TREATING AND DEALING WITH ANIMALS. BASICALLY, TRYING TO KEEP SHELTERS FROM BEING OVERLOADED. WE DO A LOT OF WORK WITH THE MILITARY, BRINGING THEIR DOGS BACK FROM AFGHANISTAN AND PTSD THERAPY DOGS--VERY IMPORTANT, VERY IMPORTANT. >> THAT'S WHAT I'D LIKE TO TALK TO YOU ABOUT. I'VE HEARD ABOUT PEOPLE GETTING PERMISSION IN HOSPITALS TO TAKE THE PATIENT'S PET IN AND HOW MUCH GOOD IT DOES, BUT I HADN'T THOUGHT ABOUT THE MILITARY ASPECT OF IT. HOW DID YOU GET INVOLVED IN THAT PART OF IT? >> WE ACTUALLY GOT A PHONE CALL FROM A WOMAN, WHOSE BROTHER WAS A GREEN BERET IN AFGHANISTAN. AND WHILE ON PATROL, THEY FOUND 2 PUPPIES, AND THEY SNUCK 'EM BACK ON BASE AND THEY JUST-- IT'S A CONSENSUS AMONG THE SOLDIERS WE'VE HELPED THAT THE DOGS ARE THEIR APPLE PIE. THEY REMIND THEM THAT SOMEWHERE IN THE WORLD, LIFE STILL HAS A VALUE AND LOVE STILL HAS A PLACE IN THE ORDER OF THINGS. WHEN THEY GET EITHER REDEPLOYED OR WHEN THE DOGS GET FOUND OUT-- BECAUSE THEY'RE NOT ALLOWED TO HAVE NON-MILITARY PETS ON BASE-- THE OPTIONS ARE VERY LIMITED. YOU'RE IN A WAR ZONE. EUTHANIZE THE DOG IS USUALLY THE OUTCOME. WE WORK WITH THE ONLY ANIMAL SHELTER IN AFGHANISTAN. IT'S RUN BY A ROYAL MARINE COMMANDO NAMED PEN FARTHING. HE EXPATRIATED TO AFGHANISTAN AFTER HIS TOUR OF DUTY WAS UP FROM THE ROYAL MARINE COMMANDOS TO START THIS SHELTER. >> HE SAW THE NEED FOR IT. >> YEAH, HOW IMPORTANT THE DOGS WERE TO HIS BOYS. SO, NOW HE TAKES ALL THE ALLIED DOGS. IF YOU CAN GET THE DOG TO NOWZAD, HE WILL KEEP THAT DOG ALIVE AND DO HIS BEST TO GET IT BACK TO THE STATES. >> MM-HMM. >> SO, WE PUT OUT--GUARDIANS OF RESCUE IS ALL VOLUNTEER, AND WE RELY COMPLETELY ON DONATIONS TO DO WHAT WE'RE DOING. SO, WE PUT IT OUT TO OUR FRIENDS AND FANS. THIS IS WHAT WE WANT TO DO. WE WANT TO GET THESE DOGS BACK FOR THESE GUYS. AND PEOPLE--NASCAR TEAMS HAVE COME OUT TO HELP US BRING THESE DOGS BACK. WE ACTUALLY GOT--TRIGGER WAS A DOG. HE WAS AN AFGHAN KUCHI HOUND, ABOUT 70 POUNDS AT 7 MONTHS OLD. BIG BOY, YEAH. WE FLEW HIM FROM QATAR TO KENNEDY AIRPORT. WE HELD HIM FOR A COUPLE OF MONTHS WHILE HIS HUMAN CYCLED BACK TO THE WORLD, WHICH WOUND UP BEING FORT LEWIS-- >> OH, SO, THEY HAVE AN ADJUSTMENT PERIOD, TOO, JUST LIKE PEOPLE. >> WELL, A LOT OF TIMES SPECIAL FORCES, THEY TAKE A LITTLE BIT LONGER TO CYCLE OUT FROM THEIR TOUR OF DUTY TO GO BACK TO THE WORLD. THEY DO IT FROM AFGHANISTAN TO GERMANY TO TEXAS, THEN BACK TO SEATTLE. SO, WHILE THEY WERE DOING THAT, WE HELD THE BOY. WE HUNG OUT WITH HIM, AND THEN WE REUNITED THEM. AND WHEN THAT DOG SAW HIS HUMAN, I MEAN, THOSE TWO GUYS--AND YOU'RE TALKING ABOUT A GREEN BERET. >> GREAT REUNION, UH-HUH? >> YEAH, IT WAS DEFINITELY A MAGNIFICENT MOMENT. >> WELL, WHAT ABOUT THOSE-- AND WE ALWAYS THINK OF MILITARY, PRIMARILY, THAT COME BACK WITH THE PTSD, THE POST-TRAUMATIC STRESS SYNDROME, BUT IT'S NOT JUST MILITARY PEOPLE. IT COULD BE ANY OF US WHO'VE HAD MAYBE A TRAGEDY IN OUR LIFE OR SOME LIFE-CHANGING EVENT. >> WELL, BEING A NEW YORKER, THE EVENTS OF 9-11-- >> YEAH. >> THAT... >> THAT BROUGHT IT TO OUR ATTENTION, DIDN'T IT? >> YEAH, THAT REALLY SHOCKED A LOT OF PEOPLE. AND WHEN YOU'RE IN THE MILITARY, NOT THAT IT LESSENS THE BLOW OF SEEING SOMETHING HORRIBLE, BUT YOU'RE TAUGHT YOU'RE GONNA SEE SOMETHING HORRIBLE AND YOU'RE GONNA GO TO WAR. AND AN IRON WORKER IN NEW YORK, HE GOES TO WORK ONE DAY, AND THE NEXT THING YOU KNOW, HE'S IN WAR. >> RIGHT. BUT HOW DO YOU TRAIN A DOG DIFFERENTLY TO BE POSITIONED WITH SOMEONE THAT IS SUFFERING MAYBE FROM PTSD, RATHER THAN JUST IF I ADOPTED ONE? >> YOU TEMPERAMENT-TEST THE ANIMAL. YOU LOOK AT 'EM. SOME DOGS, A LITTLE MORE AGGRESSIVE. SOME DOGS A LITTLE MORE COMPASSIONATE, A LITTLE MORE MUSHY. AND YOU NURTURE THAT PART OF THE ANIMAL. WHAT'S UNIQUE ABOUT THESE DOGS FROM AFGHANISTAN IS WHEN THE SOLDIERS SAVE THEM, THEY'RE LITTLE PUPPIES. AND THEY GROW UP WITH SOLDIERS, SO AT NIGHT WHEN THEY COME HOME FROM COMBAT AND THEY'RE GOING THROUGH THAT IMMEDIATE SOLDIER STRESS OF THE COMBAT THEY ENDURED THAT DAY, THAT PUPPY GROWS UP CUSTOM-ATTUNED TO ASSUAGING THAT SPECIFIC SOLDIER'S STRESS. SO, A LOT OF TIMES, THESE GUYS WILL HAVE MANY YEARS LEFT ON THEIR HITCH, THEY'RE GOING AROUND THE WORLD, SO TO KEEP THE DOG IN FOSTER FOR YEARS, IT'S UNFAIR TO THE DOG. WE'LL FIND OTHER SOLDIERS WHO ARE DONE WITH THEIR DEPLOYMENT, DONE WITH THEIR TOUR, ADOPT THE DOG TO THEM ANYWHERE IN THE NATION. WE ACTUALLY HAD 2 DOGS. ONE WENT TO HAWAII, ONE WENT TO TEXAS LAST WEEK. >> UH-HUH. >> AND THEN WE CAN SHOW THE SOLDIERS THAT SAVED THE DOG A PICTURE OF THEIR BATTLE BUDDY AT HOME ON GREEN GRASS WITH THE SOLDIER'S WIFE AND HIS KIDS LIVING THE LIFE THEY ALWAYS WANTED FOR THAT DOG. AND JUST FOR THEM TO KNOW THAT THEIR BUDDY THAT GOT 'EM THROUGH ALL THOSE ROUGH NIGHTS IN COMBAT IS WITH A BROTHER SOLDIER AND SAFE AND IS GONNA FINISH HIS LIFE WITH THE AMERICAN DREAM, IT'S WHAT THE GUARDIANS ARE ALL ABOUT. >> WELL, YEAH, YOU BET. AND I UNDERSTAND THAT IF LEFT UNTREATED, PEOPLE WHO SUFFER FROM PTSD CAN SUFFER LOTS OF THINGS, MAYBE FROM ALCOHOLISM TO SEVERE DEPRESSION, BUT SOMEHOW THESE ANIMALS CAN PREVENT THAT FROM HAPPENING. >> A GREEN BERET FROM VIETNAM, A GENTLEMAN NAMED TONY, SEVERE PTSD. THE POOR GUY'S REALLY SUFFERING. HE ADOPTED A DOG THAT WE SPRUNG FROM THE SHELTER. I SAW THIS BEAUTIFUL AMERICAN BULL TERRIER, AND SHE JUST WASN'T DOING WELL IN THE SHELTER. WE TOOK HER OUT. WE ASSESSED HER. SHE WAS A WONDERFUL DOG. SHE RELIEVES HIM FROM THAT STRESS. WHEN HE STARTS GOING THROUGH THAT PICTURE IN HIS MIND OVER AND OVER AGAIN, SHE'LL TOUCH HER NOSE AGAINST HIS HAND AND SNAP HIM OUT OF IT. >> REALLY? UH-HUH. >> YEAH. AND HIS TRIPS TO THE VA HOSPITAL HAVE DECREASED CONSIDERABLY. JUST TO HAVE THAT PURE LOVE, THAT PURE COMPASSION, THAT NON-JUDGMENTAL ANIMAL RIGHT THERE. AND THEY KNOW. THEY'RE CUSTOM-ATTUNED. THEY SEE YOU STARTING TO GO INTO THAT MENTAL LOOP, AND SHE WILL BREAK HIM OUT OF IT. SHE WILL COME OVER AND PUSH UP AGAINST HIM. I WAS GOING TO ASK YOU HOW DO THEY DO IT. HOW ARE THEY TRAINED TO DO THAT? THEY JUST SENSE IT. >> YEAH, YEAH, THEY SENSE IT. THEY LOVE THEIR PERSON. THEY LOVE THEIR HUMAN. AND WHEN THEY SEE THEIR HUMAN STARTING TO GO THROUGH THAT STRESS--THEIR FACE STARTS TO TWITCH--SHE COMES RIGHT OVER AND STARTS PUSHING ON HIM AND RUBBING, YOU KNOW, AND... >> YEAH. YOU'RE IMPORTANT. YOU MENTIONED THE VETERANS HOSPITALS. ARE THESE DOGS THEN ALLOWED TO GO WHEN THE PERSON HAS A CHECKUP OR HAS AN APPOINTMENT? >> WE HAVE PROGRAMS WHERE WE TRY AND TAKE THE DOGS AND WORK 'EM THROUGH TO GET ACTUALLY THERAPY-CERTIFIED. WE'RE WORKING WITH A COUPLE VETERANS. WE'VE ADOPTED OUT OVER 2 DOZEN DOGS THAT WE'VE GOTTEN FROM AFGHANISTAN TO SOLDIERS. AND MOST OF THESE GUYS, THEY'RE COMBAT VETERANS. THEY'VE BEEN THROUGH A LOT OF REALLY DIFFICULT SITUATIONS. THEY SEE THE HELP A DOG GIVES THEM, AND THEY WANT TO SHARE THAT WITH THEIR BRETHREN. SO WE HAVE PROGRAMS WHERE WE ACTUALLY GO THROUGH THE MOTIONS TO GET THE DOGS CERTIFIED SO THAT LEGALLY THEY CAN BE BROUGHT INTO HOSPITALS, AND THEY CAN CONTINUE THE THERAPY. SO, WHEN THEY GO TO GROUP SESSIONS, THEY CAN SPREAD THAT JOY WITH THE REST OF THEIR BRETHREN. >> SO, THERE IS A PROCESS THAT A PERSON HAS TO GO THROUGH. THEY CAN'T JUST TAKE ANY DOG THEY WANT TO INTO A HOSPITAL FOR AN APPOINTMENT. THAT'S AMAZING. WELL, IT'S WONDERFUL THE THINGS THAT YOU'RE DOING. PEOPLE CAN GO TO YOUR WEBSITE, GUARDIANSOFRESCUE.ORG, O-R-G, AND MAYBE SET UP A GROUP IN THEIR OWN LOCAL COMMUNITY, OR, IF THEY FEEL SO COMPELLED, I'M SURE YOU COULD TELL THEM HOW TO HELP YOU. >> ABSOLUTELY. AND IF ANYBODY OUT THERE KNOWS ANY SOLDIERS, ANY SERVICE PERSONNEL THAT NEED HELP LIKE THIS, THE BIGGEST THING IS THEY DON'T KNOW WE'RE HERE TO HELP THEM. >> NO. >> THEN TO TEACH THEM ABOUT THE NOWZAD SHELTER IN AFGHANISTAN, THAT WE ARE BRINGING THESE DOGS BACK, THAT ANY OF THEIR FRIENDS HAVE A DOG OVER THERE. SO, IF THEY GO TO GUARDIANSOFRESCUE.ORG AND CHECK US OUT, WE CAN TELL 'EM EXACTLY HOW TO GO ABOUT GETTING A DOG BACK FROM AFGHANISTAN. >> YEAH, 'CAUSE I HAD NEVER HEARD OF THE ORGANIZATION. AND YOU'RE ON FACEBOOK, TOO, SO PEOPLE CAN FIND YOU. AND THAT'S THE IMPORTANT THING TO EDUCATE EVERYONE. >> ABSOLUTELY. >> WELL, THANK YOU SO MUCH, MATTHEW. I'VE ENJOYED TALKING TO YOU. >> ALWAYS A PLEASURE. >> I HOPE YOU ENJOYED THE SHOW TODAY. NEXT TIME ON "CREATIVE LIVING," WE'LL LEARN HOW TO MAKE SOME DARLING DOMINOES, HOW TO MAKE A FELTED FLEECE SCARF, AND SHOW YOU A UNIQUE TYPE OF GREETING CARD YOU CAN MAKE. >> ONE OF MY NEXT GUESTS IS A DESIGNER AND CRAFTER, AND SHE'S GOING TO SHOW HOW TO USE REGULAR DOMINOES AND A FEW SIMPLE CRAFT PRODUCTS AND TURN THEM INTO JEWELRY, BOOKS, ORNAMENTS, AND MORE. ANOTHER GUEST IS GOING TO DEMONSTRATE THE NEW 12-NEEDLE DELUXE ELECTRIC FELTING MACHINE, AS SHE QUICKLY MAKES A FELTED FLEECE SCARF. AND FINALLY, ANOTHER GUEST, WHO'S A PROFESSIONAL CRAFTER AND DESIGNER IS GOING TO SHOW HOW TO CREATE A GREETING CARD WITH A REMOVABLE PAPER HAIR FLOWER. ALL OF THESE TOPICS WILL BE FEATURED ON THE NEXT "CREATIVE LIVING" SHOW. IF YOU EVER HAVE COMMENTS OR SUGGESTIONS OR IDEAS FOR SHOWS, YOU CAN E-MAIL ME AT SHERYL.BORDEN@ENMU.EDU. I'D ALSO LIKE TO ASK YOU TO BECOME A FAN OF "CREATIVE LIVING" ON FACEBOOK. JUST GO TO FACEBOOK.COM, AND IN THE SEARCH WINDOW, TYPE IN "CREATIVE LIVING WITH SHERYL BORDEN." THANKS SO MUCH. I HOPE YOU'LL PLAN TO JOIN ME AGAIN NEXT TIME FOR "CREATIVE LIVING." >> WE ARE VERY PLEASED TO OFFER A NEW BOOKLET THAT ACCOMPANIES THIS SERIES OF "CREATIVE LIVING." THIS BOOKLET IS TITLED "THE 6600 SERIES," AND IT FEATURES A WONDERFUL COLLECTION OF IDEAS AND INFORMATION, AND IT'S AVAILABLE FREE OF CHARGE ON OUR WEB SITE. POSTED AS A PDF FILE, YOU CAN SIMPLY DOWNLOAD THE ENTIRE BOOKLET OR JUST THE SEGMENTS YOU'RE MOST INTERESTED IN. AS WITH ALL OF THE "CREATIVE LIVING" BOOKLETS, YOU'LL FIND INFORMATION ON FOODS & NUTRITION, CLOTHING & FASHION, HEALTH & BEAUTY, HOME DECORATING, AND MUCH MORE. FOR YOUR COPY OF THIS BOOKLET, GO TO OUR WEB SITE AT KENW.ORG AND THEN CLICK ON "CREATIVE LIVING." SCROLL DOWN TO THE BOOKLET SECTION, AND YOU CAN CLICK ON THIS BOOKLET OR ANY OF THE OTHER BOOKLETS WE HAVE AVAILABLE ONLINE. ONCE AGAIN, JUST GO TO KENW.ORG, CLICK ON "CREATIVE LIVING," AND DOWNLOAD THE BOOKLET TITLED "THE 6600 SERIES." WE ALSO WANT TO ENCOURAGE YOU TO SIGN UP FOR OUR FREE E-NEWSLETTER. JUST CLICK ON THE "SIGN UP NOW!" BUTTON AND INPUT YOUR E-MAIL ADDRESS. THAT'S ALL THERE IS TO IT. YOU'LL ENJOY READING AN UP-TO-DATE NEWSLETTER FILLED WITH INTERESTING TOPICS AND INFORMATION. THANK YOU.
Now Playing As: Captioned (English) (change)
In this episode, a representative from Guardians of Rescue discusses how therapy dogs can help individuals suffering from Post-Traumatic Syndrome. And Jenny Rouch provides information on the latest ideas in kitchen and bath design. Sheryl also visits with a maker of doll molds.
Media Details
Runtime: 27 minutes