Creative Living With Sheryl Borden #6618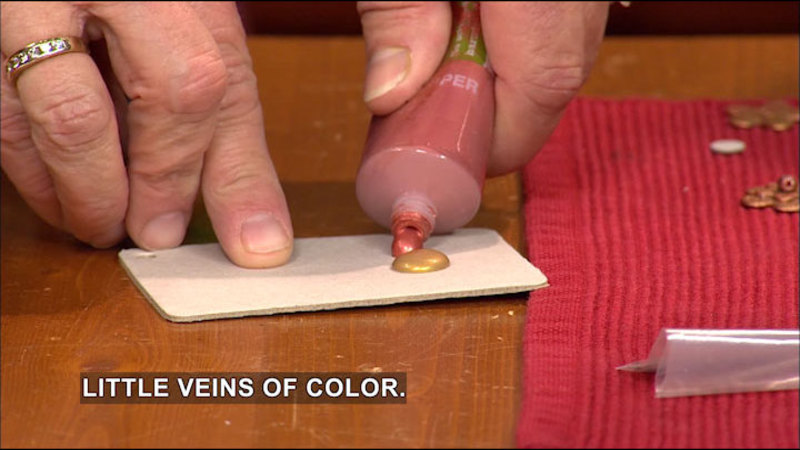 >> "CREATIVE LIVING," UTILIZING TODAY'S TECHNOLOGY WITH THE BEST OF THE PAST TO BRING YOU INNOVATIVE IDEAS AND UP-TO-DATE INFORMATION FOR CREATIVE LIFESTYLES IN TODAY'S ACTIVE WORLD, WITH YOUR HOST SHERYL BORDEN. >> THANKS FOR JOINING ME TODAY FOR "CREATIVE LIVING." WE'RE GOING TO LEARN HOW TO PREPARE A FAJITA PARTY AND SHOW HOW TO MAKE GREEN, OR RECYCLED, JEWELRY. ONE OF MY GUESTS IS JOHN VOLLERTSEN, OR MORE COMMONLY KNOWN AS CHEF JOHNNY VEE. HE'S A COOKBOOK AUTHOR AND CHEF, AND HE'S GOING TO EXPLAIN HOW A FAJITA MENU MAKES FOR A GREAT PARTY THEME BECAUSE MOST OF THE ITEMS CAN BE PREPARED IN ADVANCE. JOHN WILL DEMONSTRATE MAKING A QUICK SALSA, A MARINADE FOR MEATS, DELICIOUS GUACAMOLE, AND HOMEMADE FOUR TORTILLAS. HE OWNS AND OPERATES LAS COSAS COOKING SCHOOL IN SANTA FE, NEW MEXICO, AND WE'LL BEGIN THE SHOW TODAY WITH SHANNON BIELKE, WHO IS A DESIGNER AND CRAFTER. SHANNON WILL SHOW HOW TO USE RECYCLED PRODUCTS, LOTS OF BLING, ALONG WITH PAINTS AND OTHER EMBELLISHMENTS TO CREATE BEAUTIFUL, GREEN JEWELRY. HER BUSINESS IS CALLED SHA & COMPANY, AND SHE'S FROM PAYSON, ARIZONA. SHANNON, THANK YOU SO MUCH FOR COMING. I TOLD YOU, I LOVE TO DO CRAFTS, AND I CAN COPY MOST THINGS, BUT I'M NOT ORIGINAL. YOU DESIGN A LOT OF YOUR OWN PROJECTS, AND YOU TEACH LOTS OF PEOPLE. TELL US ABOUT THAT. >> I LOOK AT OTHER PEOPLE'S WORK AND SAY, "I'D LIKE TO TRY THAT," BUT I NEVER DO WHAT THEY DID BECAUSE SOMEWHERE INSIDE, I HAVE TO GO OUT ON MY OWN LITTLE LIMB, BUT, YES, I TEACH LOTS OF PEOPLE, AND I GET LOTS OF INSPIRATION FROM THEM, TOO. >> WELL, I THINK THAT'S TRUE, AND IF YOU DO SEWING OR CRAFTS OR ANY TYPE OF HANDS-ON THING, EVERYBODY HAS A LITTLE EXTRA TOUCH THEY PUT TO IT. >> YEAH. IT SEEMS TO COME. YOU DON'T EVEN PLAN IT, AND I THINK THAT'S THE BEAUTY OF THE ARTWORK, IS, MY FINISHED PIECE IS NEVER ENVISIONED. IT'S, I'LL START WITH SOMETHING--SAY, I WANT TO TRY THAT TECHNIQUE--AND I SEE WHERE IT TAKES ME. >> IT'S ONE OF A KIND THAT WAY. >> YES. >> WELL, WE'RE GOING TO TALK ABOUT MAKING OUR OWN JEWELRY, AND ACTUALLY IT'S GREEN JEWELRY BECAUSE YOU'VE TAKEN, FOR INSTANCE, THIS CHAIN FROM AN OLD PIECE THAT YOU SAID, "I WONDER WHY IN THE WORLD I EVER BOUGHT THAT"-- >> EXACTLY. >> THE CHAIN IS BEAUTIFUL-- >> YES. >> AND THIS IS WHAT YOU'RE GOING TO SHOW US HOW TO MAKE... >> YES. >> THIS PENDANT, OR THE PIECE ON THE BOTTOM, AND, AGAIN, YOU'LL SHOW US SOME VARIATIONS TO IT, AND THIS IS A BRACELET THAT'S MADE THE SAME WAY, COULD BE WORN TOGETHER OR SEPARATELY. >> RIGHT, AND THEN I BROUGHT THE LAST PIECES, WHICH WOULD BE THE MATCHING EARRINGS. >> SO WE'RE GONNA MAKE EARRINGS TODAY. OK. WHAT SUPPLIES DO WE NEED TO START WITH? >> THIS IS VERY BASIC. YOU USE CARDBOARD, OLD CARDBOARD. THIS IS RECYCLED IN A CLASS THAT I TEACH. WE START EVERYTHING WITH RECYCLED, USED ITEMS, AND THIS IS A BASIC, PLAIN PIECE OF CARDBOARD THAT-- >> JUST CHIPBOARD. >> CHIPBOARD, RIGHT. NOW, YOU CAN GET CHIPBOARD IN CUT OUT SHAPES, OR YOU CAN CUT THEM YOURSELF. >> USE THE DIE CUTTER. UH-HUH. >> RIGHT, AND SOME OF THIS-- THIS BIG ONE IS CUT OUT OF-- IT'S A PIECE THAT I ALREADY HAD CUT OUT, AND THEN IT'S CHIPBOARD THAT I BOUGHT, AND THEN SOME OF THEM, YOU LOOK AT THE DIFFERENT SHAPES, AND YOU CUT THEM OUT YOURSELF. NOW, THAT'S A LITTLE TEDIOUS, BUT STILL, IT'S-- >> CAN BE DONE. UH-HUH. >> YES, ABSOLUTELY. >> AND YOU STACK SOME SO IT MAKES IT 3-DIMENSIONAL IN SOME INSTANCES. OK. WE HAVE OUR CHIPBOARD, ACRYLIC PAINTS, JUST OUR CHOICE OF COLORS. >> THIS TECHNIQUE IS TO LOOK LIKE OLD, WORKED METAL, AND YOU START WITH YOUR BASIC CHIPBOARD. YOU COVER YOUR BASIC CHIPBOARD WITH A LAYER OF BLACK PAINT. >> MM-HMM. FLAT BLACK. MM-HMM. >> FLAT BLACK, LET IT DRY. THEN YOU MIX METALLIC COLORS FOR THIS... >> OK. >> AND YOU MIX JUST A LITTLE, AND YOU MIX IT RIGHT ON YOUR PIECE... >> OH. OH, OK. >> AND SO NONE OF THEM ARE THE SAME, AND THEY HAVE THEIR OWN LITTLE VEINS OF COLOR. >> NOW, ARE THESE METALLIC ACRYLICS? >> THESE ARE GREEN, METALLIC ACRYLICS... >> OH, OK. >> VERY NICE PAINTS, AND THEN YOU JUST MIX IT AND PAINT IT RIGHT ON. MIX IT THE WAY YOU WANT AND PAINT IT RIGHT ON TOP. >> OH, I LIKE THE STREAKS OF THE REDDISH COLOR THAT'S COMING OUT. >> YEAH, THE COPPER. THEN YOU GET THE COLOR, AND YOU CAN DO IT ANY WAY YOU WANT. SOMETIMES YOU WANT MORE COPPER. SOMETIMES YOU WANT MORE GOLD, AND WHAT YOU'RE GONNA DO IS COVER THE WHOLE PIECE... >> MM-HMM. >> AND LET IT DRY. >> AND ACRYLICS DRY SO QUICKLY. >> RIGHT. >> SO IT'S A PROJECT YOU COULD DO SEVERAL OF THESE IN STEPS. >> RIGHT, AND I DO THEM IN LAYERS, EVERYTHING BLACK, BUT IT GETS BORING. SO THEN YOU HAVE TO SAY, "OK. THIS ONE IS DRY SO LET'S TRY A LITTLE COLOR ON THIS ONE," AND ONCE IT DRIES, YOU WILL SEE THAT WITH THE METAL LOOK, IT MIGHT LOOK A LITTLE TOO THIN. SO PUT ANOTHER LAYER ON. MAKE IT NICE AND THICK. >> NOW, DO YOU DO BOTH SIDES? >> YES. I DO BOTH SIDES, AND THAT'S MORE MY THING BECAUSE I WANT TO MAKE IT LOOK FINISHED. >> MM-HMM. I THINK THAT WOULD BE NICE. >> EVEN IF IT'S GONNA BE GLUED DOWN, I MAKE IT FINISHED, AND SO SOME OF THESE ARE ALREADY FROM CHIPBOARD. I POPPED SOME OF THE CENTERS OUT. SOME I DIDN'T... >> SOME YOU DON'T. UH-HUH. >> AND THAT'S ONE OF THOSE YOU KIND OF LOOK AT IT AND THINK, "HOW IS THAT GONNA WORK? HOW DOES THAT LOOK?" >> SO THE LITTLE, PUNCHED-OUT CENTERS IS SORT OF AN EXTRA ACCENT TO THE PIECE. >> RIGHT, AND THEN YOU CAN USE THEM ON AS YOU SEE FIT, AND THEN I WENT INTO MY LITTLE GADGET BOX AND FOUND SOME LITTLE BEADS THAT WHO KNOWS WHERE THOSE ARE FROM TO GLUE DOWN. >> SO NOW WE'RE TALKING ABOUT THE EARRINGS RIGHT HERE. >> WELL, AND JUST TOPPED RIGHT HERE. >> OH, UH-HUH, AND ON THE BRACELET. >> RIGHT. NOW, THE EARRINGS ARE THE LAST THING. THEY'RE THE SAME LITTLE PIECE OF CHIPBOARD, AND I THOUGHT, "WELL, I'D LIKE-- LET'S MAKE A MATCHING SET," EVEN THOUGH I DON'T WEAR A MATCHING SET, AND THEN YOU WOULD JUST PIERCE LITTLE, TINY HOLES, AND THIS IS JUST CHIPBOARD. SO IF IT WEARS OUT, WEARS OUT. IF IT GETS LOST, IT GETS LOST. >> WELL, YEAH. YOU DON'T HAVE TO WORRY ABOUT IT IN THAT RESPECT, AND YOU HAVE YOUR EARRING BINDINGS THAT YOU CAN BUY AT ANY CRAFTS STORE. >> ANY CRAFTS STORE, OR GO TO YOUR JEWELRY BOX AND FIND ALL THAT JEWELRY THAT YOU USED TO LIKE AND NOW YOU DON'T KNOW WHAT YOU WERE THINKING WHEN YOU GOT IT AND REUSE IT... >> UH-HUH. >> BUT THE THING THAT GIVES THESE ALL THIS NICE, WORKED-METAL LOOK IS THE FUN PART WHEN YOU'RE FEELING AGGRESSIVE OR YOU NEED TO TAKE IT OUT OR JUST GET SOME TENSION OUT. YOU'RE GONNA TAKE THE END OF YOUR PAINTBRUSH--AND A SMALLER END WORKS BETTER--AND YOU'RE JUST GONNA POUND IT IN. >> THAT'S THAT DISTRESSED LOOK, ISN'T IT? >> RIGHT, AND THAT POUNDS IT IN AND GIVES YOU THAT WORKED-METAL LOOK, AND THEN ON TOP OF THAT, YOU CAN MIX THE TEENIEST BIT OF GREEN PAINT AND BLUE PAINT, AND YOU JUST LIGHTLY DAB IT AND THEN DAB IT SO THAT THERE'S-- >> NOW, WHY GREEN AND BLUE? >> THE GREEN AND BLUE, WHEN YOU PUT IT ON TOP OF THE METALLIC, GIVES IT THAT OLD, PATINA LOOK... >> OH, I SEE. >> BUT YOU DON'T DO IT SO IT COVERS IT. YOU DO IT LITTLE BITS HERE AND THERE, AND IT GIVES IT AN OLD, METALLIC LOOK, AND IF YOU WANT IT EVEN OLDER-LOOKING, YOU'D SAND OFF THE EDGES A LITTLE BIT TILL YOU GET DOWN TO THE BLACK PAINT... >> OH, LIKE THEY DO FURNITURE. >> JUST A LITTLE. RIGHT. >> I SEE. THAT'S A GREAT IDEA. >> IT'S KIND OF AN ANTIQUING TRICK. >> THIS IS REALLY FUN THAT YOU MADE USE OF SOME THINGS THAT OTHERWISE WOULD BE SITTING AT THE BOTTOM OF YOUR JEWELRY BOX OR, WORSE, THROWN AWAY. SO IT'S ALWAYS GOOD FOR US TO SEE IDEAS OF REUSING THINGS. THANK YOU VERY MUCH, SHANNON. I APPRECIATE YOU SHOWING UP HOW TO DO THIS. >> I WAS HAPPY TO. THANK YOU. >> JOHNNY, IT'S SUCH A PLEASURE TO HAVE YOU BACK, AND I ALWAYS LOVE TO SEE THAT WE'RE GOING TO DO BECAUSE YOU TEACH CLASSES AT THE LAS COSAS COOKING SCHOOL... >> YES, IN SANTA FE, NEW MEXICO. >> AND YOU SAID THE FAJITA CLASS IS ONE OF THE MOST FAVORITE ONES YOU DO. >> IT REALLY IS, AND DURING THE SUMMER, I LOVE TO GIVE PEOPLE ENTERTAINING IDEAS WHERE YOU CAN ACTUALLY, FIRST OF ALL, BE AT YOUR OWN PARTY, GET EVERYTHING DONE IN ADVANCE, GET THINGS DONE IN THE MORNING, LOOK FOR RECIPES THAT ARE EASY TO DO, CAN BE NICELY PUT INTO BOWLS, READY TO GO. THEN YOU CAN BE AT YOUR OWN PARTY AND BRING EVERYTHING OUT, AND EVERYBODY THINKS, "WOW, WHAT A WONDERFUL HOSTESS. SHE'S BEEN COOKING ALL DAY." PLUS, WITH FAJITAS, WHEN YOU'RE GRILLING THINGS, IDEALLY, YOU CAN GET ALL THE CONDIMENTS DONE IN THE KITCHEN, SEND THE MEAT OUT WITH THE MENFOLK, AND LET THEM DO THE GRILLING--YOU'VE GOT EVERYTHING DONE--AND THEN PEOPLE CAN GATHER AROUND AND ENJOY THE GOODIES. >> THAT'S A GOOD POINT, AND, I WAS TELLING YOU, I DON'T DO WELL IF I WAIT TILL THE LAST MINUTE AND EVERYONE IS AROUND AND TALKING AND ALL THAT. I LIKE TO HAVE IT ALL DONE AHEAD OF TIME. >> ALL READY TO GO. ALSO THEN, THE KITCHEN ISN'T A MESS WHEN PEOPLE COME IN AND THEY LOOK AT YOU LIKE, "OH, MY GOD, WHAT HAS SHE BEEN DOING?" YOU GET EVERYTHING CLEANED UP. HIDE ANY OF THE CONTAINERS YOU BOUGHT FROM THE STORE THAT YOU SHORTCUT, BUT THAT'S OK, TOO, AND, REALLY, ONCE YOU GET YOUR MEAT MARINATED, YOU GET YOUR SALSAS INSIDE, CONDIMENTS READY TO GO, YOU'RE READY TO GO. >> OK. LET'S START WITH THE PICO DE GALLO. >> YEAH. SO LET'S START. PICO DE GALLO, WHICH MEANS THE BEAK OF A BIRD, IS REALLY SPICY SALSA TRADITIONALLY SERVED WITH FAJITAS, AND, BY THE WAY, "FAJITA" COMES FROM A SPANISH WORD "FAJA," WHICH MEANS SKIRT... >> SKIRT. OH. >> AND IT IS ORIGINALLY, OR TRADITIONALLY, DONE WITH SKIRT STEAK. >> UH-HUH, THE BEEF, UH-HUH... >> SO THE BEEF SKIRT STEAK. >> BUT WE LIKE CHICKEN FAJITAS, TOO. >> YEAH. YOU COULD DO CHICKEN. YOU CAN DO SHRIMP. ALSO, IT'S EASY TO DO VEGETARIAN FAJITAS FOR ANY VEGETARIANS THAT MIGHT SNEAK INTO THE PARTY, BUT PICO DE GALLO TRADITIONALLY IS SERVED NOT SO MUCH AS A CORN-CHIP SALSA, BUT A CONDIMENT TO PUT OVER YOUR FAJITAS. >> OH, MM-HMM. >> SO WHAT WE START WITH IS ONE OF OUR POPULAR CHILIES. THEY'RE CALLED CHIPOTLE CHILIES. >> OH, MM-HMM, KIND OF A SMOKY TASTE, ISN'T IT? >> IT'S A SMOKED JALAPENO... >> OH. >> AND JUST SMELL HOW WONDERFUL THAT IS. >> MM. YES. >> SO THOSE I HAVE ACTUALLY SOAKED IN HOT WATER FOR ABOUT 15 MINUTES, JUST UNTIL THEY SOFTEN, AND THEN WHAT I'M GONNA DO IS TAKE THE CHILIES OUT OF THE BOWL, CHOP THEM UP, AND I AM GONNA LEAVE THE SEEDS IN THERE BECAUSE, OF COURSE, THE SEEDS DO HAVE A LOT OF FLAVOR. WE CAN LEAVE THAT THERE BECAUSE I'LL PROBABLY THROW EVERYTHING IN. HERE'S MY KNIFE I CALL THE TERMINATOR. >> YES. I REMEMBER YOUR TERMINATOR KNIFE. >> THIS IS THE DOOZY HERE. THIS IS BY A COMPANY CALLED KEN ONION, BUT IT'S A KNIFE CALLED A SHUN. >> AND CHEFS ALWAYS HAVE THEIR FAVORITE KNIFE, DON'T THEY? >> YOU'VE GOT TO HAVE IT. IT'S SORT OF LIKE YOUR MAJOR TOOL THAT YOU WANT TO WORK WITH. SO WE'RE JUST GONNA CHOP THOSE UP, ONCE AGAIN, LEAVING THE SEEDS BECAUSE WE WANT THIS TO HAVE A NICE KICK TO IT. >> DO PEOPLE EVER COMPLAIN THAT IT'S TOO HOT? >> YEAH, AND THAT'S ALWAYS FUN. THAT'S ALWAYS FUN WHEN THEY DO THAT. >> YOU DON'T CARE, HUH? HA HA! >> YEAH. WELL, YOU COULD GIVE THEM A LITTLE BIT OF WARNING. IF YOUR COUSIN FROM BOSTON COMES, I WOULD PROBABLY WARN THEM. >> OK. >> COUPLE OF THE GADGETS-- YOU KNOW I LOVE MY GADGETS. THIS IS ONE OF MY FAVORITES CALLED THE GARLIC PEELER, AND WE'RE GONNA USE A LOT OF GARLIC IN OUR MENU TODAY. SO WHAT I DO, PUT MY GARLIC CLOVES IN THERE, ROLL IT ON THE COUNTER, AND OUT POPS THE GARLIC CLOVE ALL PEELED. ISN'T THAT FUN? I WISH I HAD CREATED THIS. >> REGARDLESS OF THE SIZE, IT JUST-- >> YEP. IT JUST PEELS THEM RIGHT OFF. THEN THIS GOES IN THE DISHWASHER, AND ALL YOUR LITTLE SKINS GO IN THERE. REALLY GOOD GARLIC PRESS IS A GOOD GADGET TO HAVE. THIS IS BY A COMPANY CALLED ROSLE. >> AND THAT'S ALSO ANOTHER CLASS THAT'S JUST ON KITCHEN GADGETS. >> YEAH, ON GADGETS BECAUSE I THINK YOU CAN ALSO BE A GREAT CHEF IF YOU'VE GOT A GOOD CUTTING BOARD AND A KNIFE, BUT SOME OF THE GADGETS DO MAKE THINGS... >> OH, SURE. >> EASIER AND A LITTLE FASTER. SO WE'LL PUT OUR GARLIC IN, AND THEN WE'RE ACTUALLY GONNA SNEAK IN SOME RED WINE VINEGAR, AND VINEGAR IS A GREAT THING TO ADD TO SALSAS, SHERYL, BECAUSE IT REALLY GIVES YOUR SALSA A NICE, LITTLE ZIP, AND THEN WE'RE ALSO GONNA ADD LEMON JUICE--WHICH, OF COURSE, GOES IN A LOT OF SALSAS--AND ANOTHER NIFTY, LITTLE JUICER GADGET HERE. WE'RE JUST GONNA SQUEEZE THAT IN. >> OH, THAT'S A LOT EASIER THAN SQUEEZING IT BY HAND. >> YEAH, REALLY, AND THEN WE'RE GONNA ADD JUST TOMATOES, CHOPPED TOMATOES OR DICED TOMATOES, AND SOME ONION. NOW, CILANTRO APPEARS IN A LOT OF OUR NEW MEXICO DISHES, AND RECENTLY, THEY'VE DISCOVERED THAT SOME PEOPLE ACTUALLY DO NOT HAVE THE ENZYMES TO DIGEST CILANTRO. SO YOU PROBABLY HAVE HEARD PEOPLE SAYING, "OH, CILANTRO MAKES ME BURPY. IT DOESN'T DIGEST WELL. I THINK I'M ALLERGIC TO IT." WELL, NOW THEY'VE DISCOVERED THAT ACTUALLY, IT PROBABLY IS... >> PROBABLY IS TRUE. UH-HUH. >> SOMEBODY DOESN'T HAVE THE ENZYMES, BUT A BETTER WAY TO GET A LITTLE MORE YIELD OUT OF YOUR CILANTRO AND A BETTER, FRESH FLAVOR IS, I JUST CHOP IT A LITTLE BIT. I DON'T PULVERIZE IT BECAUSE WHEN YOU PULVERIZE IT, YOU REALLY START TO BREAK IT DOWN, AND THAT'S WHEN IT GETS BROWN AND SORT OF FUNKY. SO I JUST SAY WE'RE GONNA CHOP THROUGH THIS ABOUT 10 TIMES. >> MM-HMM. >> LEAVE IT NICE AND LEAFY THERE SO WE HAVE THAT NICE, FRESH FLAVOR. >> I LOVE TO SMELL CILANTRO, TOO. MM-HMM. >> YEAH. WE NEED TO CREATE SMELL-O-VISION... >> YES. WE DO. >> BECAUSE THIS WOULD BE A GREAT-- SO YOU CAN SEE HOW PRETTY THAT IS. WE'VE GOT RED, GREEN, AND WHITE, AND WE'LL JUST LET THAT MARINATE A LITTLE BIT, AND THEN THAT WILL BE WHAT WE'LL SERVE OUR FAJITAS WITH. >> OK. >> NOW, TO MARINATE OUR MEAT, SKIRT STEAK TRADITIONALLY WAS THE BEEF THAT WAS USED, BUT YOU CAN REALLY GET SOME NICE, THIN-- THIS IS ACTUALLY A THINLY SLICED RIB EYE STEAK THAT'S BONELESS-- WELL, SORT OF SEMIBONELESS, I GUESS--AND WHAT WE'RE GONNA USE IS ANOTHER GREAT GADGET. THIS IS CALLED THE JACCARD MEAT TENDERIZER. >> JACCARD. MM-HMM. >> SO THIS ACTUALLY COMES FROM BUFFALO, NEW YORK. >> KIND OF A TERMINATOR ON A SMALLER SCALE. >> IT IS ON ITS OWN. YEAH. THOSE ARE SURGICAL STEEL BLADES, SHERYL, THAT ARE GONNA PUNCTURE THE MEAT, OPEN UP THE CELLS, AND IF YOU NOTICE THE ANGLE OF THOSE... >> YES. UH-HUH. ALTERNATES. >> YEAH, THEY ALTERNATE. THEY'RE ON THE BIAS. USUALLY, THEY TELL YOU, DON'T CUT INTO MEAT WHEN YOU'RE ABOUT TO GRILL IT BECAUSE THE JUICES WILL RUN OUT. THIS TURNS YOUR MEAT INTO A SPONGE. SO THIS IS THE FUN PART. >> HA! TAKE OUT YOUR FRUSTRATIONS. >> IF YOU'VE HAD A BAD DAY, COME HOME AND TENDERIZE... >> ALL THE MEAT. >> ALL THE MEAT. WE'RE GONNA FLIP IT OVER. THAT'S GOOD. WE'VE GOT CILANTRO ON THERE, TOO... >> UH-HUH. >> AND THEN WHAT I HAVE HERE, SHERYL, IS A MIXTURE OF LIME JUICE AND GARLIC. NOW, GETTING BACK TO THAT IDEA OF THE ORIGINAL FAJITAS--THAT'S GOOD; WE CAN LET THAT MARINATE--IF YOU THINK ABOUT THIS, MEXICAN RANCHERS THAT CAME TO HELP WITH THE RANCHING IN TEXAS STARTING IN THE 1930s, SKIRT STEAK WAS NOT POPULAR THEN. SO THE MEXICAN WORKERS WERE GIVEN THESE INEXPENSIVE CUTS OF BEEF CALLED THE SKIRT STEAK, AND THE MEXICAN RANCHERS KNEW THAT IF YOU TENDERIZED, POUNDED THE SKIRT STEAK, MARINATED IT WITH LIME JUICE GARLIC, THE LIME JUICE WOULD ACTUALLY BREAK DOWN THE PROTEIN IN THE MEAT AND TENDERIZE IT. ALSO, IT GIVES IT A FANTASTIC FLAVOR. >> OH, IT DOES. MM-HMM. >> SO WE CAN DO THE SAME PREPARATION WITH CHICKEN. I JUST HAVE A BONELESS, SKINLESS CHICKEN BREAST, LIME JUICE, GARLIC, SALT, AND PEPPER, ALSO TENDERIZED WITH OUR LITTLE JACCARD MEAT TENDERIZER. SO WE'RE GONNA JUST LET THAT MARINATE FOR A COUPLE OF HOURS, AND THEN WE'LL GRILL THEM AND SERVE THEM ON OUR FAJITAS... >> GREAT. >> AND THE NICE THING ABOUT A FAJITA PARTY IS, ALL OF YOUR SALSAS AND YOUR GUACAMOLE AND EVERYTHING CAN KIND OF BE OUT WITH CORN CHIPS AT THE BEGINNING OF THE PARTY. >> WHICH IS KIND OF AN APPETIZER. >> YEAH. THEN IT'S ALL SORT OF THERE. YOU BRING OUT THE MEAT, AND YOU'RE READY TO GO. SO WHAT WE'RE GONNA DO IS MAKE A QUICK GUACAMOLE, AND WHEN YOU'RE CHOOSING YOUR AVOCADOS, YOU WANT THEM TO BE NICE AND BLACK. >> UH-HUH. >> THEY SHOULD YIELD SLIGHTLY TO THE TOUCH, AND I SHAKE THEM. I DON'T WANT THAT PIT TO BE HOLLOW AND ROLLING AROUND IN THERE. THAT MEANS IT'S OVERRIPE, OK? >> OVERRIPE. OK. I DO THIS PINCHING, BUT I HADN'T THOUGHT ABOUT SHAKING IT. >> YEAH, AND THE SHOULD BE PRETTY WELL ALMOST BLACK. NOW, RATHER THAN PEEL THIS LIKE A PEACH, I'M GONNA CAREFULLY CUT THIS AROUND THE NORTH AND SOUTH--THAT'S A PRETTY RIPE AVOCADO--AND THEN VERY CAREFULLY GRAB THAT PIT, WHOOPS, AND-- >> WHOOPS. YEAH. WELL, WE DIDN'T NEED IT, ANYWAY. >> YEAH, REALLY, AND PEOPLE ALWAYS SAY, "IS IT TRUE THAT IF YOU PUT YOUR PIT IN THE GUACAMOLE, IT KEEPS IT FROM BROWNING?" I ALWAYS THINK THAT'S SORT OF AN OLD WIVES' TALE, BUT I THINK IT'S CUTE BECAUSE IT'S ALMOST LIKE THE GUACAMOLE THINKS IT'S STILL AN AVOCADO, BUT THE BEST WAY TO KEEP YOUR AVOCADO, OR YOUR GUACAMOLE, FROM BROWNING IS TO ACTUALLY PRESS PLASTIC RIGHT INTO IT. >> OH, PLASTIC. UH-HUH. >> YEAH, PLASTIC WRAP. THAT CUTS OFF ALL OF YOUR OXYGEN. WE'VE GOT A LITTLE BIT OF AN OVERRIPE ONE HERE, AND I ALWAYS TELL PEOPLE, IF YOU REALLY NEED A CERTAIN AMOUNT OF GUACAMOLE, ALWAYS BUY AN EXTRA AVOCADO. >> EXTRA. UH-HUH. >> THEN IF YOU GET HOME AND THAT ONE IS TOO-- >> WELL, AND I'LL EAT IT. SO IT NEVER GOES TO WASTE. >> YEAH, ABSOLUTELY, AND THEN WE'VE GOT-- I ACTUALLY ADD A LITTLE BIT OF CHOPPED, SORRY, SCALLIONS TO MY GUACAMOLE, AND I LIKE A CHUNKY GUACAMOLE. SOME PEOPLE MASH IT UP. SO I'M JUST GONNA USE A COUPLE OF BREAD-AND-BUTTER KNIVES HERE... >> MM-HMM. >> LEAVE IT A LITTLE BIT CHUNKY, AND THEN I HAVE ALSO DICED AND SEEDED JALAPENO--SO WE DON'T WANT THE SEEDS; ONCE AGAIN, THAT'S GONNA BE TOO HOT-- >> MM-HMM. >> AND MY LITTLE ADDITION OF SCALLION... >> SCALLIONS. >> AND THEN OUR DICED ROMA TOMATOES AND-- >> AND I'VE TRIED LOTS OF PURCHASED GUACAMOLES, AND I FOUND A BRAND THAT I REALLY LIKE THAT'S GOOD, AND SO IF IN IN A HURRY, I'LL STILL PURCHASE IT, BUT IT'S FUN TO-- >> YEAH. WHEN YOU'RE ENTERTAINING NOW, DON'T FEEL LIKE YOU DO HAVE TO MAKE EVERYTHING FROM SCRATCH. BOY, IF YOU CAN SHORTCUT, THAT'S PART OF IT. LITTLE BIT OF SALT IN THIS. >> OR ASK OTHER PEOPLE TO BRING SOME DISHES IN. THAT'S ALWAYS NICE, TOO. >> THAT'S THE WAY TO DO IT. OK. SO WE NEED A LITTLE LIME JUICE... >> OH, WE NEED SOME MORE LIME. MM-HMM. >> AND, OF COURSE, THAT'S GOING TO KEEP OUR SALT-- >> IT KEEPS IT FROM BROWNING, TOO. UH-HUH. >> AND THEN WE'LL ADD SOME CILANTRO LATER, AND THEN WE'VE GOT--LOOK HOW PRETTY THAT IS-- >> MM-HMM. >> LITTLE BIT OF FRESH CILANTRO, AND CILANTRO YOU CAN ADD RIGHT AT THE END BECAUSE THAT'LL KEEP IT NICE AND FRESH, AND WE'LL HAVE THAT READY TO GO. LOOK AT HOW QUICK WE'RE COOKING. >> YEAH. IT'S GOING GREAT. >> OK. ONE OF THE OTHER CHALLENGES, I THINK, WITH FAJITAS IN RESTAURANTS IS, I THINK THEY END UP FRYING THE PEPPERS AND ONIONS, AND WHEN YOU GET THE PLATE OF FOOD, EVERYTHING IS COVERED WITH GREASE. SO WHAT I DO--THIS IS A LITTLE STOVETOP GRILL--I JUST GRILL MY VEGGIES. THIS IS RED AND YELLOW BELL PEPPER AND A SLICED UP RED ONION. >> RED ONIONS. >> THEN WHEN YOU SERVE THESE, YOU'RE GONNA HAVE A MUCH NICER, FRESHER FLAVOR WITHOUT ALL THAT. >> AND YOU STILL KEEP THE COLOR, AND THAT'S WHAT FAJITAS ARE KIND OF KNOWN FOR, IS THE BEAUTIFUL COLOR. >> KIND OF GIVE OURSELVES A LITTLE ROOM. NOW WE'RE GONNA MAKE SOME HOMEMADE TORTILLAS. >> NOW, I USUALLY DO CHEAT ON THAT. >> WELL, AND, YEAH, THAT'S AN EASY PLACE TO CHEAT, BUT I ACTUALLY-- >> FOR MY RECIPE, THIS IS 3 CUPS OF WHITE FLOUR... >> OH, AND YOU'VE GOT SOME WHEAT. >> AND ONE CUP OF WHOLE-WHEAT FLOUR, WHICH MAKE THEM A LITTLE BIT HEALTHIER, AND I'VE JUST MARINATED--SORRY--KNEADED THAT, LET IT REST FOR 20 MINUTES, AND NOW ALL I'M GONNA DO IS PULL OFF A BALL OF DOUGH ABOUT THE SIZE OF--WHAT'S THAT?--A TENNIS BALL, MAYBE... >> YEAH. UH-HUH. >> AND THEN ROLL THIS OUT PRETTY THIN. WE DON'T WANT THIS TO BE TOO THICK BECAUSE-- >> NOW, DOES THIS HAVE BAKING POWDER OR-- >> THERE'S BAKING POWDER; LITTLE BIT IF SUGAR, ACTUALLY; LITTLE BIT OF SALT; AND A LITTLE BIT OF LARD. OF COURSE, WE LIKE TO USE LARD HERE IN OUR NEW MEXICO COOKING, AND WE'RE GONNA ROLL THESE PRETTY THIN, AND THEN I'VE GOT A GRIDDLE HERE WHICH I KIND OF CALL A COMAL. GONNA PUT A LITTLE BIT OF SPRAY--OOH!-- LITTLE SPRAY ON THERE. >> WE KNOW IT'S HOT. >> YEAH. THAT IS READY TO GO, AND WE'RE GONNA ROLL THESE OUT. NOW, I NEVER WORRY ABOUT GETTING THESE PERFECTLY ROUND. THIS WAY, WE KNOW THEY'RE HOMEMADE, OK? >> HOMEMADE. OH. HA HA HA! YEAH. IT'S NOT THE COOKIE-CUTTER VERSION, IS IT? >> AND YOU DON'T NEED GREAT BIG ONES, BUT YOU CAN-- I CALL THIS A WORKABLE DOUGH. >> NOW, YOU DON'T SLING IT UP IN THE AIR LIKE THEY DO PIZZA. >> YEAH. YEAH, AND THEN WE'RE GONNA PUT THAT ON HERE. >> AND YOU DON'T WANT TO BE GOING TOO LONG BECAUSE THEY COOK FAST, AND THAT'S THE BEAUTY OF IT, TOO. >> THAT'LL HAPPEN QUICK. LET ME JUST GRAB THE LITTLE SPATULA THAT WE CAN TURN WITH. >> OH. MM-HMM. >> THEN WHEN WE GET READY TO ASSEMBLE, WE HAVE OUR MARINATED MEAT. SO, YEAH, LOOK AT THAT. LOOK AT OUR PUFF THERE. >> AND THAT'S WHAT THEY SAY, IS THAT YOU DO WANT THOSE BUBBLES. >> YEAH. >> THAT TELLS YOU IT'S TIME TO TURN IT. HA HA HA! >> YEAH, AND I DO LIKE NICE AND CRISPY STUFF. >> WE'RE GOOD. HA HA! >> THAT'S GOOD, AND THOSE'LL HAPPEN PRETTY QUICK, AND THEN, EVEN IF YOU BOUGHT STORE-BOUGHT TORTILLAS, HEAT THEM UP ON A GRIDDLE BECAUSE THEN WHEN YOU SERVE THEM, THEY'RE SO, SO YUMMY. SO WE'LL PUT THAT DOWN THERE PRETTY SIDE UP, OK, AND THEN I'M GONNA TAKE MY STEAK HERE. NOW, ONE THING YOU DON'T WANT TO DO IS, SOMETIMES PEOPLE SLICE THEIR MEAT BEFORE THEY DO THEIR FAJITAS. GRILL THE MEAT WHOLE AND THEN SLICE IT BECAUSE YOU CAN-- >> IT DOESN'T MOVE AROUND A LOT. THAT WAY, YOU HAVE BETTER CONTROL. NOW YOU'RE SLICING IT VERY THIN. UH-HUH. >> VERY THIN, AND YOU SEE HOW TENDER THIS IS BECAUSE I-- >> YOU CAN STILL SEE SOME PINK. >> YEAH. THAT'S GOOD BECAUSE I MARINATED IT AND ALSO TENDERIZED THE MEAT. >> MM-HMM. >> SO WHAT WE'LL DO, WE WOULD LET THESE VEGGIES GET NICE AND CHARRED HERE, AND WE WILL ASSEMBLE. NOW, I WORKED IN AUSTRALIA FOR A LONG TIME, SHERYL, AND WE USED TO SELL FAJITAS IN A RESTAURANT GROUP THAT I WORKED FOR. SO WE WOULD SERVE THE MEAT. WE WOULD SERVE ALL THE CONDIMENTS AND THE TORTILLAS TO THE AUSTRALIANS, AND THEY WOULD EAT EVERYTHING, AND THEN THEY WOULD CALL US OVER AND HOLD UP THE TORTILLAS AND SAY, "WHAT WERE THESE FOR, MATE?" >> OH, WHAT? >> SO WE FINALLY ENDED UP SERVING-- >> PUTTING IT ALL TOGETHER? >> WELL, WE ACTUALLY GAVE THEM A LITTLE CHEAT SHEET ON HOW TO EAT FAJITAS BECAUSE THEY WERE-- >> OH, I HADN'T THOUGHT ABOUT THAT, I GUESS, BECAUSE WE GREW UP EATING THEM, PRACTICALLY, BUT I'VE HAD THE SAME PROBLEM WITH OTHER CUISINES. SO I CAN UNDERSTAND THAT. >> AND THEN LET ME GET A FEW OF THESE LITTLE VEGGIES HERE. THIS IS GONNA SMELL SO DELICIOUS... >> IT ALREADY DOES. >> AND THIS IS PRETTY HEALTHY, TOO. WE'RE NOT-- WE DON'T HAVE A LOT OF OIL HERE. >> NO FAT ADDED. HERE'S THE PICO DE GALLO... >> HERE'S OUR PICO. >> AND THE GOOD THING ABOUT HAVING THIS AS A BUFFET, PEOPLE CAN PUT AS MUCH OR AS LITTLE AS THEY WANT. >> YEAH, AND I ALWAYS TELL PEOPLE, IF YOU HAVE SOME VEGETARIANS COMING, GRILL SOME NICE ZUCCHINI AND BUTTERNUT SQUASH. GIVE THEM THAT, AND THEN THIS IS JUST A LITTLE CHEDDAR... >> MM-HMM. >> ON TOP. YOU CAN DO A LITTLE SOUR CREAM, MAYBE A LITTLE HOT SAUCE. SO ANOTHER FUN THING I DO FOR PARTIES--THESE ARE A DOLLAR EACH--BUY SOME FUN HOT SAUCES, PUT THEM OUT ON THE TABLE. IT KIND OF MAKES THE TABLE FESTIVE, AND THEN YOU-- >> PEOPLE CAN SAMPLE DIFFERENT ONES. UH-HUH. WOW. >> NOW, I DON'T THINK WE SHOULD TRY TO WRAP THIS UP, BUT YOU CAN SEE. SO WE HAVE OUR HOMEMADE FLOUR TORTILLAS; PICO DE GALLO; OUR GRILLED, MARINATED STEAK; GUACAMOLE; CHEESE; AND A LITTLE BIT OF SALSA. SO GREAT PARTY. LOOK AT HOW PRETTY THAT IS. >> IT REALLY IS. WELL, THANK YOU SO MUCH FOR SHOWING US, REALLY, HOW EASY IF WE'LL DO A LOT OF THE CHOPPING AND PREPARING AHEAD OF TIME. >> GET EVERYTHING READY, AND THEN YOU CAN PARTY. >> OK. THANK YOU VERY MUCH, JOHN. >> THANK YOU FOR HAVING ME. >> I HOPE YOU ENJOYED THE SHOW TODAY. NEXT TIME ON "CREATIVE LIVING," WE'LL LEARN ABOUT A CURRICULUM THAT SCHOOLS CAN USE TO DEAL WITH BULLYING. WE'LL SHARE SOME INTERESTING INFORMATION ON AN OLD QUILT PATTERN AND DEMONSTRATE MAKING GIFTS WITH SLICE-AND-BAKE COOKIE DOUGH. ONE OF MY NEXT GUESTS IS AN AUTHOR WHO'S WRITTEN A CHILDREN'S BOOK ABOUT BULLYING. HE SAYS THAT A LARGE PERCENTAGE OF BULLYING TAKES PLACE IN AND AROUND THE SCHOOL BUILDING, AND HE'LL EXPLAIN WHY HIS CURRICULUM IS SO EFFECTIVE IN THE SCHOOL SYSTEM. ANOTHER GUEST IS GOING TO SHOW HER VERSION OF QUILT BLOCKS FOR THE POPULAR DRUNKARD'S PATH PATTERN. SHE'LL DEMONSTRATE USING TRIANGLES INSTEAD OF SQUARES AND ALTERNATING FABRIC COLORS TO ALLOW FOR MANY NEW DESIGNS, AND FINALLY, WE'LL TALK TO TWO COOKBOOK AUTHORS WHO WILL SHOW HOW TO MAKE A BASIC COOKIE DOUGH RECIPE. THEN THEY'LL SHOW HOW TO CREATE A SLICE-AND-BAKE GIFT LOG WITH PARCHMENT PAPER AND DECORATIONS. ALL OF THESE TOPICS WILL BE FEATURED ON THE NEXT "CREATIVE LIVING" SHOW. IF YOU EVER HAVE COMMENTS OR SUGGESTIONS OR IDEAS FOR SHOWS, YOU CAN E-MAIL ME AT SHERYL.BORDEN@ENMU.EDU, AND I'D ALSO LIKE TO ASK YOU TO BECOME A FAN OF "CREATIVE LIVING" ON FACEBOOK. JUST GO TO FACEBOOK.COM AND IN THE SEARCH WINDOW, TYPE IN "CREATIVE LIVING WITH SHERYL BORDEN." THANKS SO MUCH. I HOPE YOU'LL PLAN TO JOIN ME NEXT TIME FOR "CREATIVE LIVING." >> WE ARE VERY PLEASED TO OFFER A NEW BOOKLET THAT ACCOMPANIES THIS SERIES OF "CREATIVE LIVING." THIS BOOKLET IS TITLED "THE 6600 SERIES," AND IT FEATURES A WONDERFUL COLLECTION OF IDEAS AND INFORMATION, AND IT'S AVAILABLE FREE OF CHARGE ON OUR WEBSITE. POSTED AS A .PDF FILE, YOU CAN SIMPLY DOWNLOAD THE ENTIRE BOOKLET OR JUST THE SEGMENTS YOU'RE MOST INTERESTED IN. AS WITH ALL OF THE "CREATIVE LIVING" BOOKLETS, YOU'LL FIND INFORMATION ON FOODS AND NUTRITION, CLOTHING AND FASHION, HEALTH AND BEAUTY, HOME DECORATING, AND MUCH MORE. FOR YOUR COPY OF THIS BOOKLET, GO TO OUR WEBSITE AT KENW.ORG AND THEN CLICK ON "CREATIVE LIVING." SCROLL DOWN TO THE BOOKLET SECTION, AND YOU CAN CLICK ON THIS BOOKLET OR ANY OF THE OTHER BOOKLETS WE HAVE AVAILABLE ONLINE. ONCE AGAIN, JUST GO TO KENW.ORG, CLICK ON "CREATIVE LIVING," AND DOWNLOAD THE BOOKLET TITLED "THE 6600 SERIES." WE ALSO WANT TO ENCOURAGE YOU TO SIGN UP FOR OUR FREE E-NEWSLETTER. JUST CLICK ON THE "SIGN UP NOW" BUTTON AND INPUT YOUR E-MAIL ADDRESS. THAT'S ALL THERE IS TO IT. YOU'LL ENJOY READING AN UP-TO-DATE NEWSLETTER FILLED WITH INTERESTING TOPICS AND INFORMATION. THANK YOU.
Now Playing As: Captioned (English) (change)
In this episode, Chef Johnny Vee prepares a fajita party, and Shannon Bielke creates jewelry from recycled materials.
Media Details
Runtime: 27 minutes