Creative Living With Sheryl Borden #6617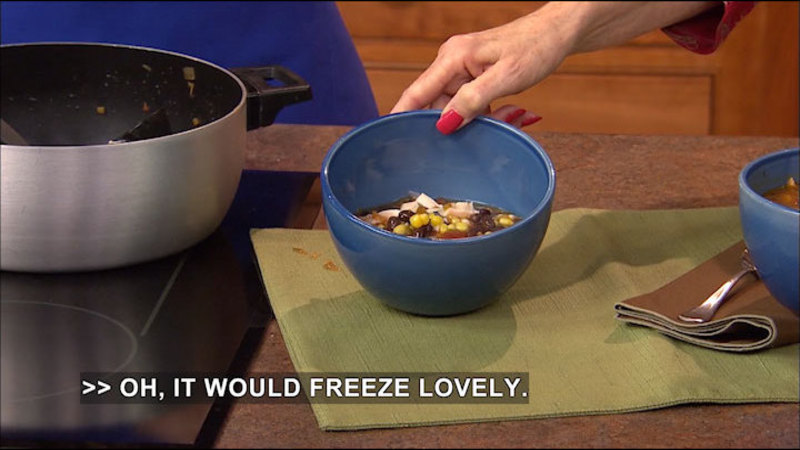 >> "CREATIVE LIVING," UTILIZING TODAY'S TECHNOLOGY WITH THE BEST OF THE PAST TO BRING YOU INNOVATIVE IDEAS AND UP-TO-DATE INFORMATION FOR CREATIVE LIFESTYLES IN TODAY'S ACTIVE WORLD, WITH YOUR HOST, SHERYL BORDEN. >> I'M SO GLAD YOU JOINED ME TODAY FOR "CREATIVE LIVING." WE'RE GOING TO LEARN ABOUT THE NATIONAL DIABETES PREVENTION PROGRAM, SHOW HOW TO MAKE SOME EXCITING PROJECTS WITH STAMPS, AND DEMONSTRATE COOKING TURKEY. ONE OF MY GUESTS IS SHANNON WOOTON, AND SHE'S WITH THE NEW MEXICO COOPERATIVE EXTENSION SERVICE. SHANNON WILL DISCUSS THE CDC-LED NATIONAL DIABETES PREVENTION PROGRAM. THIS IS DESIGNED TO BRING EVIDENCE-BASED LIFESTYLE CHANGE PROGRAMS FOR PREVENTING TYPE 2 DIABETES. SHE'S FROM ROSWELL, NEW MEXICO. ANOTHER GUEST IS CARLIE ROBERTSON, AND SHE'S GOING TO SHOW SOME OF THE NEW CLEAR POLYMER STAMPS THAT ARE ON THE MARKET. THESE ARE FUN TO USE, THEY'RE EASY TO CLEAN, AND VERY VERSATILE ONCE YOU KNOW A FEW BASIC TECHNIQUES. AND CARLIE WILL SHARE SOME GREAT STAMPING TIPS, INCLUDING BORDERS, TEXTURE STAMPING, AND MORE. SHE'S WITH CLOSE TO MY HEART IN PLEASANT GROVE, UTAH. WE'LL BEGIN THE SHOW TODAY WITH JANET STAHL, AND SHE'S A TURKEY TALK LINE EXPERT WITH BUTTERBALL. JANET'S GOING TO DEMONSTRATE RECIPE IDEAS FOR EACH SEASON OF THE YEAR. SHE'LL ALSO TELL US HOW TO SAVE MONEY BY GOING TO THEIR WEBSITE FOR COUPONS FOR PROMOTIONS AND COST SAVINGS. SHE'S FROM CHICAGO, ILLINOIS. JANET, THANK YOU SO MUCH FOR BEING WITH US TODAY. I ENJOY MAKING TURKEY BECAUSE I LIKE TO MAKE IT, COOK IT, AND HAVE LOTS OF LEFTOVERS, BUT I TEND TO ONLY DO IT ON THANKSGIVING AND CHRISTMAS. IS THAT WHAT YOU FIND IN YOUR WORK? >> THAT'S WHAT WE FIND, TOO, AND TURKEY IS GREAT ALL YEAR ROUND. YOU KNOW, MY HUSBAND AND I, WE MAKE A TURKEY ON THE GRILL EVERY SUMMER. I LOVE THE AROMA. I LOVE ENJOYING SOME TURKEY SALAD OUT ON THE DECK IN THE MIDDLE OF SUMMER. AND THEN YOU HAVE SOME GREAT MEAT FOR SANDWICHES. >> MM-HMM. >> SO, SO MANY GREAT WAYS TO INCORPORATE TURKEY, AND I'VE BROUGHT SOME GREAT RECIPES TODAY TO KIND OF WALK YOU THROUGH SOME OF MY FAVORITE RECIPES THAT I USE TURKEY IN. >> AND YOU SAY THERE'S TURKEY FOR EVERY SEASON. >> THERE IS TURKEY FOR EVERY SEASON. YOU KNOW, YOU DON'T EVEN HAVE TO ALWAYS BUY THE BIG TURKEY. WE OFFER BONELESS ROASTS THAT YOU CAN BUY. WE HAVE A READY TO ROAST PRODUCT THAT WE SELL. SO MANY OPTIONS, AND YOU CAN FIND ALL THIS ON BUTTERBALL.COM. YOU KNOW, YOU CAN FOLLOW US ON FACEBOOK, TWITTER--YOU KNOW, SO MANY OPTIONS. >> AND I THINK SOMETIMES, MAYBE FOR BEGINNING COOKS, ESPECIALLY, BUYING A 15-, 20-POUND TURKEY IS LIKE, "OHH. I'LL NEVER EAT IT." BUT, LIKE YOU SAY, YOU CAN BUY THE BREAST OR THE ROAST. >> JUST BUY THE LITTLE BREAST ROASTS. THEY'RE 3 POUNDS. THEY COOK UP IN NO TIME, AND REALLY SIMPLE, REALLY EASY. >> THAT'S A GREAT IDEA. >> IT'S A REALLY NICE ALTERNATIVE. >> I'LL HAVE TO START LOOKING FOR THOSE... >> YEAH, ABSOLUTELY. >> BECAUSE I ENJOY IT ANY TIME OF THE YEAR. >> AND THEY'RE RIGHT WHERE YOU WOULD FIND THE TURKEYS, YOU KNOW, SO SOMETHING NICE TO THINK ABOUT AND REALLY A HEALTHY ALTERNATIVE. >> AND YOU WERE TALKING ABOUT--LET'S GO AHEAD AND START THE SOUP YOU'RE GOING TO PREPARE, BECAUSE, YOU KNOW, IN THE WINTER, THERE'S NOTHING BETTER THAN A HOT BOWL OF SOUP... >> ABSOLUTELY. >> ALMOST BREAKFAST, LUNCH, OR DINNER. >> RIGHT, EXACTLY. YOU KNOW, BIG, CRUSTY LOAF OF BREAD, YOU KNOW, A BIG, WARM BOWL OF SOUP--I MEAN, NOTHING BETTER. AND THIS IS SO EASY TO DO. AND YOU CAN EVEN MAKE THIS UP IN ADVANCE, AND HONESTLY, I ACTUALLY LIKE TO MAKE MY SOUPS IN ADVANCE BECAUSE I THINK IT LETS THE FLAVORS KIND OF COME TOGETHER AND REALLY SOAK IN. AND SO, REAL EASY. AND ALL THIS HAS IN IT--THIS IS OUR TURKEY SALSA SOUP. AND ALL YOU'RE GONNA DO IS YOU'RE GONNA PUT YOUR BLACK BEANS IN. YOU'LL ADD YOUR CORN AND--YOU KNOW, FROZEN CORN, CANNED CORN, WHATEVER YOU HAVE WILL DO. >> I LIKE THE COLORS ALREADY. I THINK THAT'S PART OF EATING. >> AND THEN WE HAVE OUR SALSA HERE, A NICE, CHUNKY SALSA WITH A LITTLE CHIPOTLE IN IT. AND OF COURSE YOUR TURKEY, RIGHT HERE. >> SO ALREADY COOKED. >> ALREADY COOKED, READY TO GO. >> REALLY EVERYTHING IS PREPARED. ALL WE'RE GOING TO DO IS HEAT IT. >> ALL YOU'RE GONNA DO IS HEAT IT. YOU TOSS IN YOUR BROTH, AND THEN THERE MIGHT BE SOME SEASONINGS, YOU KNOW, YOU MIGHT WANT TO ADD IN, WHATEVER YOUR FLAVOR. >> I LIKE GREEN CHILI. I USUALLY LIKE TO ADD THAT TO IT. >> ABSOLUTELY, AND THEN IN THE END, I LIKE TO PUT AVOCADO SLICES ON IT. I LOVE AVOCADO. >> OH, TO TOP IT WITH AVOC--OH. >> YEAH, TO TOP IT WITH SOME AVOCADO. AND THEN YOU CAN SERVE IT WITH WHATEVER BREAD YOU MIGHT LIKE--YOU KNOW, A CORNBREAD OR TORTILLAS, YOU KNOW, ANYTHING. YOU CAN EVEN PUT TORTILLAS IN THIS IF YOU'D LIKE. YOU KNOW, THEY WOULD SOFTEN UP AND REALLY-- >> WHAT ABOUT THOSE LITTLE STRIPS, TORTILLA STRIPS? >> ABSOLUTELY. YEAH, THEY'D BE GREAT IN HERE. >> JUST BEFORE YOU SERVE IT. >> YEAH. SO, I MEAN, AND THIS IS ALL YOU DO. I MEAN, YOU'RE MIXING IT ALL UP, GETTING ALL THOSE FLAVORS IN THERE, HEATING IT UP, AND IT REALLY MAKES JUST A LOVELY BOWL OF SOUP ON A NICE CHILLY EVENING. AND ALSO, JUST SOMETHING NICE, TOO--WHEN YOU COME HOME FROM WORK, IT'S DONE. IT'S ALL READY TO GO. >> AND I WOULD THINK THIS WOULD PROBABLY FREEZE. >> OH, IT WOULD FREEZE LOVELY. >> YOU MENTIONED MAKING IT AHEAD OF TIME, WHICH I LIKE TO DO EVERYTHING AHEAD OF TIME. >> AND THEY HAVE SOMETHING EVEN WITH TURKEY, A LOT OF PEOPLE DON'T REALIZE. YOU KNOW, YOU HAVE A WINDOW OF ABOUT 3 TO 4 DAYS FOR LEFTOVERS, BUT IF YOU THINK YOU'RE GONNA RUN OVER THAT, THROW IT IN LITTLE BAGGIES, THROW IT IN YOUR FREEZER. IT IS GREAT FOR SOUPS AND CHILIS AND-- >> YOU COULD GO AHEAD AND CHOP IT, LIKE, FOR INSTANCE, YOU DID, AND PUT ON THERE ONE CUP COOKED CHOPPED TURKEY. >> AND YOU'RE READY TO GO. >> THAT REALLY CUTS DOWN ON THE TIME. NOW, THIS ONE IS SO INTERESTING. WHEN YOU SAID THIS RECIPE, I THOUGHT, "OH, WHAT'S THAT GONNA TASTE LIKE?" >> THIS IS A CROWD PLEASER. THIS IS OUR PUMPKIN BLACK BEAN TURKEY CHILI. >> UH-HUH. >> AND IT'S REALLY JUST A FUN TWIST ON CHILI. THE PUMPKIN HAS A REAL NICE SWEETNESS TO IT. >> I'VE NEVER HEARD OF PUTTING PUMPKIN IN A SOUP. >> I KNOW. AND THEN TURKEY, THE HEALTHY ALTERNATIVE, YOU KNOW, SO A REAL NICE MIX. I MADE THIS FOR A SUPER BOWL PARTY LAST YEAR, AND I HAD SO MANY FRIENDS ASK ME FOR THE RECIPE, AND THEY WERE SHOCKED TO FIND OUT THAT NOT ONLY DID IT HAVE PUMPKIN IN IT, BUT IT HAD TURKEY. AND I SAID, "YOU LOVED IT!" SO JUST A REAL NICE--AND IT HAS LOVELY INGREDIENTS IN IT, AND AGAIN, THIS IS SOMETHING THAT YOU CAN MAKE UP IN ADVANCE. YOU KNOW, MAKE IT UP, LET THOSE FLAVORS COME TOGETHER, PUT IT IN YOUR FRIDGE, ESPECIALLY IF YOU'RE HAVING A PARTY--ONE LESS THING TO THINK ABOUT. ALL YOU HAVE TO DO IS HEAT IT UP, PUT IT OUT, AND YOU'RE READY TO GO. >> AND YOU PUT A DOLLOP OF SOUR CREAM ON IT. AND THIS IS THE ONE YOU SAID YOU'D PUT A FEW AVOCADO SLICES ON? >> A LITTLE AVOCADO SLICES ON THERE, AND, I MEAN, JUST LOVELY, YOU KNOW? >> OF COURSE, THE RECIPES ARE AVAILABLE ON YOUR WEBSITE, BUTTERBALL.COM. BUT THERE'S ALSO SOME COUPONS THAT WE COULD GO TO. >> YOU KNOW, THERE ARE SOME GREAT COST-SAVING TIPS OUT THERE. NOT ONLY ARE THERE RECIPES AND IDEAS, BUT WE HAVE COUPONS, WE RUN PROMOTIONS WITH OUR PARTNERS, AND I KNOW FOR MYSELF, BEFORE I HIT THE ROAD, BEFORE I GO GROCERY SHOPPING, I'M ON THE WEB, AND I'M IN THE NEWSPAPER, AND I'M LOOKING FOR ALL OF THAT. AND REALLY, WE'VE HELPED FIND WAYS TO MAKE ENTERTAINING AFFORDABLE, WHICH IS IMPORTANT. >> MENTIONING THE ECONOMICS, THERE'S NOTHING MORE ECONOMICAL THAN COOKING A TURKEY BECAUSE, AS YOU MENTIONED, YOU GET SEVERAL MEALS OUT OF IT. >> YOU REALLY DO, AND THINK ABOUT STRETCHING THAT MEAL AND BUYING A LARGER TURKEY. SO MAYBE YOU BUY A 10-POUND-- >> YOU'RE GONNA COOK IT, ANYWAY. >> RIGHT, EXACTLY. BUY A 12-POUND OR A 14-POUND, AND THEN YOU'LL HAVE THAT EXTRA MEAT TO BE ABLE TO GO AHEAD AND MAKE SOME OF THESE WONDERFUL THINGS HERE. AND AGAIN, IF YOU DON'T THINK YOU HAVE THE TIME, FREEZE IT. MAKE IT UP IN LITTLE BAGGIES, AND THROW IT IN YOUR FREEZER, SO, A NICE ALTERNATIVE. >> YOU WERE TELLING ME SOMETHING I HAD NEVER THOUGHT ABOUT DOING. AFTER YOU'VE TAKEN THE MEAT OFF THE TURKEY, YOU FREEZE THAT... >> I DO. I FREEZE THE LEFTOVERS TO GO AHEAD AND MAKE SOUP. AND A LOT OF TIMES THAT YOU'RE STRESSED FROM THE HOLIDAYS, FROM COOKING THE TURKEY, YOU'RE TIRED OF IT, AND YOU JUST WANT TO THROW THE REST OF IT--YOU KNOW, DON'T. PUT THAT IN THE FREEZER, BOIL IT, AND YOU'LL MAKE WONDERFUL SOUP. >> WELL, THAT'S GOOD, BECAUSE I KNOW THERE'S ALWAYS LITTLE PIECES STILL LEFT ON THERE THAT YOU CAN'T GET, AND THEY'RE NOT REALLY BIG ENOUGH TO SLICE OR TO SERVE, AND THEY DON'T LOOK AS PRETTY ON YOUR PLATTER. >> RIGHT, BUT THAT'S WHAT'S GONNA FLAVOR YOUR SOUP. THAT'S WHAT'S GONNA BRING ALL THE GREAT FLAVOR OUT, SO... >> WELL, I'M A BELIEVER. I THINK IT'S GREAT. I CAN'T WAIT TO TRY THESE SOUPS, TOO. THANK YOU VERY MUCH, JANET. >> THANK YOU FOR HAVING ME. >> CARLIE, THANK YOU SO MUCH FOR BEING WITH US TODAY. WHEN YOU STARTED BRINGING EVERYTHING OUT, I GOT EXCITED, WONDERING WHAT ALL WE WERE GOING TO DO, AND THEN I SAW YOUR SUPPLIES, AND THEY LOOKED SO TOTALLY DIFFERENT. SO YOU'RE GOING TO TALK ABOUT STAMPING, AREN'T YOU? >> MM-HMM. I WANT TO TALK ABOUT STAMPING AND SOME FUN STAMPING TECHNIQUES, BUT ALSO ABOUT CREATING CUSTOMIZED HOME DECOR WITH USING STAMPS AND SCRAPBOOKING PRODUCTS BECAUSE HOME DECOR IS HUGE RIGHT NOW, AND SO IT'S ALL OVER PINTEREST AND THE BLOG. AND CLOSE TO MY HEART ACTUALLY HAS A SERIES OF MY CREATIONS ITEMS. SO THAT'S WHAT WE'VE USED HERE. THEY'RE JUST LIGHTWEIGHT, WHITE CHIPBOARD. AND SO WE HAVE THEM COVERED WHITE CHIPBOARD BECAUSE YOU CAN STAMP ON IT, YOU CAN INK IT, YOU CAN DO... >> PAINT IT OR WHATEVER. I SEE. >> IT REALLY CAN BE CUSTOMIZED TO MATCH YOUR SPACE, WHATEVER YOUR SPACE IS. >> AND THESE ARE SO LIGHT, THEY COULD BE HUNG IN DORM ROOMS, PLACES WHERE YOU-- >> IN A LOCKER. THEY CAN GO ANYWHERE. >> GOOD IDEA. >> YEAH, THEY'RE GREAT. BUT TO BEGIN WITH, I WANTED TO TALK A LITTLE BIT ABOUT CREATING YOUR OWN BACKGROUND IN TEXTURE PAPER, BECAUSE I'VE STARTED OUT WITH THIS PHOTO OF SERENA, AND SHE IS SO GORGEOUS, AND SHE'S WEARING BRIGHT, VIBRANT COLORS. AND YOU COULD SPEND HOURS AND HOURS IN A CRAFT STORE TRYING TO FIND THE PERFECT PAPER OR THE PERFECT STICKERS TO GO WITH THE PHOTO. AND SO, TO BYPASS THAT, I WANT TO SHOW YOU KIND OF HOW TO MAKE YOUR OWN BECAUSE THESE PIECES OF BACKGROUND AND TEXTURE PAPER AREN'T A STORE-BOUGHT PAPER. THEY'RE JUST CARD STOCK THAT HAD BEEN STAMPED. >> OH, OK. >> SO LET ME SHOW YOU A LITTLE BIT ABOUT THAT. NOW, THIS IS ONE OF OUR ACRYLIC STAMPS FROM CLOSE TO MY HEART, AND THEY COME WITH THIS FOAM BACKING. AND YOU WANT TO HOLD ONTO THAT BECAUSE YOU WANT TO PUT IT UNDER THE PIECE YOU'RE STAMPING ON, OR IF YOU HAVE A MATTE THAT HAS THE FOAM PIECE LIKE THIS, YOU CAN DO THAT AS WELL. >> I HAVE NEVER REALIZED THAT. I'M SO GLAD TO FIND THAT OUT. >> IT HELPS TO HAVE THAT LITTLE BIT OF GIVE. SO YOU JUST PEEL THEM RIGHT OFF OF THE BACKING, AND THEN PLACE IT ON. >> AND THESE CLEAR BLOCKS ARE SO NICE. >> THEY ARE. YOU PUT IT RIGHT THROUGH THEM. NOW, INITIALLY WHEN YOU USE A BRAND-NEW STAMP SET LIKE THIS, YOU WANT TO KIND OF CONDITION YOUR STAMP, SEASON IT A LITTLE BIT. IN THE STUDIO AT CLOSE TO MY HEART, WE JUST RUB IT RIGHT ON OUR ARMS, AND A LOT OF PEOPLE SAY IT HURTS, WHICH IS FINE. ANOTHER WAY YOU CAN DO IT IS YOU CAN JUST TAKE YOUR INK PAD AND KIND OF RUB IT ALONG THE STAMP SET. IT'S JUST BECAUSE IT'S A CLEAR POLYMER. SOMETIMES THERE'S A LITTLE BIT OF A RESIDUE ON THERE. SO YOU JUST WANT TO KIND OF GET THAT OFF. AND YOU CAN STAMP IT OFF ON A SCRATCH PIECE OF PAPER LIKE I HAVE HERE JUST TO-- >> SO THAT'S CALLED SEASONING. >> MM-HMM. >> OH. OK. I'VE NEVER DONE THAT. >> RIGHT. AND SO, TO STAMP THESE, I'VE ALREADY PRE-CUT THE PIECES. I'M GOING TO FOLD THIS SCRATCH PIECE OUT. AND THE GREAT THING ABOUT THESE BORDER--OR THESE BACKGROUND STAMPS IS THAT THEY ARE LONG. SO YOU, WHEN YOU'RE STAMPING, JUST INK UP YOUR STAMP, AND YOU CAN LET IT HANG RIGHT OFF. AND BECAUSE THE STAMP IS CLEAR, YOU CAN JUST LINE IT RIGHT UP TO THE NEXT SPOT. AND I DON'T MIND THE COMING AND GOING OF MY STAMP. SO I DON'T MIND IF YOU CAN SEE WHERE IT OVERLAPS OR--SO YOU CAN DO THAT TO THE WHOLE PIECE, AND I'VE ACTUALLY DONE IT OVER HERE TO THOSE PIECES. AND THEN THAT'S WHAT HAS BEEN LAID ON... >> SORT OF LIKE A SCREEN WIRE OR SOMETHING. >> YEAH, IT LOOKS LIKE CHICKEN WIRE. >> CHICKEN WIRE, YEAH. >> AND THEN I JUST PRE-CUT THESE LITTLE PIECES, AND THEY WOULD LAYER RIGHT ON TOP OF THERE. AND THEN I HAVE FUN SPARKLE PAPER THAT I'VE CUT TO LAYER ON THERE AS WELL. >> NOW, IS THIS INK ALONG--THIS SORT OF AGING LOOK OR WHATEVER? >> IT IS. I WILL SHOW YOU HOW TO DO THAT USING JUST INK AND A SPONGE. >> OH, AND A SPONGE. OK. >> SO THERE ARE LOTS OF FUN THINGS YOU CAN DO WITH INK. ON THIS FRAME, I ALSO WANT TO SHOW YOU A COUPLE OF OTHER TECHNIQUES THAT WE USE THE BACKGROUND STAMPS FOR. THIS PIECE ON THE BACK, I'VE ALREADY DONE HERE USING ANOTHER BACKGROUND STAMP WITH MUSIC NOTES ON THERE. >> OH, I THOUGHT THAT WAS MUSIC PAPER. >> NO. I DID IT WITH A STAMP SET AND INKS. SO YOU CAN MAKE IT ANY COLOR YOU WANT. IF YOU DIDN'T WANT IT TO BE BROWN, YOU COULD MAKE IT WHATEVER COLOR YOUR PHOTO IS. AND THEN THE FUN THING THAT I HAVE HERE--JUST GOING TO TAKE THAT ONE OFF THAT WE JUST USED. THERE'S THIS OTHER ONE ON HERE THAT'S A HOUNDSTOOTH, AND HOUNDSTOOTH IS A VERY POPULAR PATTERN RIGHT NOW. SO I'LL PLACE THAT ON. >> I THOUGHT THAT WAS PROBABLY ALREADY PRINTED. >> IT KIND OF LOOKS LIKE WASHI TAPE, WHICH IS ALSO VERY HIP RIGHT NOW. SO I'LL JUST SEASON THIS ONE AGAIN. AND I'M GOING TO STAMP IT IN HONEY. SO I JUST WILL START OUT WITH JUST PLAIN WHITE STRIP OF PAPER AND THEN TAKE MY INK PAD, AND THE INK PAD, YOU JUST OPEN THEM AT A 90-DEGREE ANGLE AND PUT THEM BACK DOWN. WE DESIGNED THEM THAT WAY SO THAT THE INK IS STORED UPSIDE DOWN SO IT PULLS IT TO THE TOP OF THE INK PAD. SO YOU NEVER--YOU ALWAYS HAVE NICE INK COVERAGE. AND BECAUSE THE BACKGROUND STAMP IS SO LARGE, I COULD ACTUALLY DO BOTH PIECES OF MY WASHI TAPE AT THE SAME TIME. >> OR YOU COULD DO A WHOLE SHEET AND JUST HAVE THOSE LEFT OVER FOR OTHER PROJECTS, COULDN'T YOU? >> AND, SEE, IT HAS KIND OF A MOTTLED LOOK BECAUSE THE STAMP WAS DESIGNED WITH KIND OF MOTTLED ORGANIC EDGES. I REALLY LIKE THAT A LOT. >> I DO, TOO. >> USING THIS SAME STAMP, I ALSO HAVE STAMPED ON THESE HEARTS TO CREATE KIND OF A LIFTED EMBELLISHMENT, AND THEY'RE SUPER SIMPLE. IT'S JUST TWO HEARTS THAT HAVE BEEN CUT OUT USING THE CRICKET PERSONAL MACHINE IN OUR ART--ART PHILOSOPHY CARTRIDGE. SORRY ABOUT THAT. AND ALL YOU NEED TO DO IS CUT TWO HEARTS, FOLD ONE IN HALF, AND THEN YOU WOULD JUST PUT A LITTLE BIT OF ADHESIVE RIGHT THERE ON THAT FOLD AND GLUE IT DOWN TO THE OTHER ONE, AND IT GIVES IT THIS NICE LIFT. >> AND YOU COULD EITHER STAMP BOTH OF THEM OR LEAVE ONE SOLID OR--OH, I SEE. >> AND IT'S JUST A SIMPLE WAY TO MAKE AN EMBELLISHMENT FOR YOUR PROJECT. >> MM-HMM. >> ANOTHER STAMPING PIECE THAT'S ON HERE IS THIS BORDER. AND BORDERS CAN BE TRICKY, BUT THEY ACTUALLY ARE REALLY FUN. A LOT OF PEOPLE GET INTIMIDATED BY THEM BECAUSE THEY ARE KIND OF FLIMSY-ISH, BUT THEY'RE NOT FLIMSY. THEY'RE REALLY--THEY'RE NICE AND STURDY. I LIKE TO HAVE MY VERSA-MAT FLIPPED OVER. AND THE REASON THAT A LOT OF PEOPLE GET INTIMIDATED IS BECAUSE IT'S HARD TO GET THEM STRAIGHT ON YOUR BLOCK WHEN YOU'RE TRYING TO PLACE THEM STRAIGHT. HOWEVER, THAT IS ALSO AN UPSIDE BECAUSE IF YOU HAVE SOMETHING CURVED YOU WANT TO STAMP AROUND, YOU CAN GO AHEAD AND MAKE IT ALL CURVY ON YOUR BLOCK. YOU CAN MAKE IT DO KIND OF WHATEVER YOU WANT TO DO. >> SO THAT MIGHT BE AN ADVANTAGE. >> BUT TO MAKE IT STRAIGHT, ALL I DO IS I LAY IT DOWN ON MY VERSA-MAT. AND IF YOU DON'T HAVE A STRAIGHT EDGE LIKE THIS, YOU REALLY CAN JUST DROP IT DOWN. AS LONG AS YOU GO UPSIDE DOWN, IT'LL JUST HOLD ITS NATURAL SHAPE. THEN YOU TAKE YOUR BLOCK AND PLACE IT OVER AND PICK IT UP. YEAH. AND THEN YOU JUST INK IT RIGHT UP, AND YOU COULD STAMP IT DIRECTLY ON THERE LIKE THAT. >> MIGHT WANT TO PRACTICE ON PAPER AHEAD OF TIME. >> MAYBE. MAYBE GIVE IT A LITTLE PRACTICE RUN. THE OTHER THING ON HERE THAT HAS BEEN STAMPED IS THE TITLE DOWN HERE. >> OH, USING AN ALPHABET. >> YES, JUST USING OUR KEYBOARD UPPERCASE ALPHABET. AND THIS IS ONE OF MY FAVORITES. WE DO HAVE FUN STICKERS THAT ARE ALPHABET STICKERS, AND THEY ARE FUN. THEY'RE DESIGNED. BUT THE GREAT THING ABOUT AN ALPHABET STAMP IS THAT YOU DON'T RUN OUT OF THE LETTERS. YOU DON'T HAVE TO WORRY ABOUT HAVING ENOUGH E's. >> THAT'S A GOOD POINT. >> AND I CAN STAMP IT IN SORBET TO MATCH SERENA'S SHIRT. >> OH, OK, YEAH, WHATEVER COLOR YOU WANT TO-- >> IT COORDINATES WITH YOUR PROJECT, AND THAT'S THE BEST THING ABOUT STAMPS, IS YOU CAN MAKE THEM WHATEVER COLOR YOU WANT THEM TO BE. >> AND YOU USED A LITTLE LOOKS LIKE THE FOAM. IT'S EASY TO LIFT, IT'S 3-DIMENSIONAL. >> SO YOU COULD STAMP THIS DIRECTLY TO THE FRAME IF YOU WANTED, BUT TO GIVE IT A LITTLE MORE LIFT, I LIKE TO... >> THAT'S A GREAT IDEA. >> NOW, USING THAT SAME COLOR OF INK, SORBET, I'M GOING TO SHOW YOU A FUN TRICK. I'M GOING TO HAVE YOU HELP ME WITH THIS. >> OK. >> SO THIS TITLE UP HERE THAT HAS THE HOUNDSTOOTH PRINT ON IT, IT LOOKS LIKE IT MIGHT HAVE BEEN STAMPED, BUT IT'S NOT. WE HAVE THESE IRRESISTIBLES, IS WHAT WE CALL THEM, AND THEY HAVE A COATING ON THEM. IT MIGHT BE HARD TO SEE ON CAMERA, BUT IT'S KIND OF SHINY. IT'S A SHINY PRINTED COATING. AND I WON'T TAKE THE MIDDLE OUT OF THAT ONE. BUT ALL YOU NEED IS INK AND A SPONGE. SO I'LL GIVE YOU ONE OF THESE LITTLE SPONGE JOBBERS. THEY JUST SLIDE RIGHT ON YOUR FINGER. I'LL DO MINE IN HONEY. AND ALL YOU DO IS JUST INK UP YOUR SPONGE. AND THEN YOU MIGHT GET A LITTLE INKY DOING THIS. THEN ALL YOU DO IS RUN THE INK OVER, AND WHEREVER THAT COATING IS-- >> OH, IT'S LIKE THOSE COLORING BOOKS. >> RIGHT. IT WON'T PICK UP THE INK. SO THEN IT JUST KIND OF FILLS IN THE BLANK. AND IT'S SUPER SIMPLE. ALL IT IS IS JUST INK AND OUR IRRESISTIBLES PRODUCT. >> YOU CAN MAKE IT LOOK LIKE YOU STAMPED IT. >> AND THEN USING THESE SAME LITTLE SPONGE JOBBERS AND THE COCOA INK, THAT'S HOW WE DID THE DISTRESSING ON THE EDGE. ALL YOU DO IS JUST PICK UP YOUR CARD STOCK AND JUST PULL IT ALONG THE EDGE. >> I SEE. >> AND IT GIVES IT THAT NICE DISTRESSED EDGE. >> WELL, I'VE LEARNED A LOT ABOUT STAMPING IN A FEW MINUTES HERE. >> IN JUST A FEW MINUTES, YOU CAN DO LOTS OF FUN THINGS. >> WELL, YOU CERTAINLY CAN. THANK YOU SO MUCH, CARLIE. >> THANK YOU. >> SHANNON, THANK YOU SO MUCH FOR BEING WITH US TODAY, AND I WAS SO GLAD THAT YOU SAID WE WERE GOING TO TALK ABOUT DIABETES IN GENERAL AND TYPE 2, I BELIEVE IT IS, BUT DOES THAT MEAN, BECAUSE THERE'S SUCH AN EMPHASIS ON IT, THERE'S MORE AND MORE PEOPLE GETTING DIABETES? >> THERE ARE. THE NEW RECORD OUT IS ABOUT 79 MILLION AMERICANS ARE DIAGNOSED WITH TYPE 2 DIABETES. >> TYPE 2 DIABETES. NOW, IS IT ADULTS OR CHILDREN? >> USUALLY ADULTS, BUT WE ARE FINDING WITH THE CHILDHOOD OBESITY RATES THAT THE AGE IS BEING LOWERED ALL THE TIME. >> AND REALLY, THIS PROGRAM THAT YOU'RE GOING TO TALK ABOUT IS GEARED TO PEOPLE--IT'S A PRE-DIABETES. SO IT'S FOR PEOPLE TO KEEP THEM FROM GETTING WORSE. >> RIGHT, RIGHT, FROM BEING DIAGNOSED AS A DIABETIC. IT'S FROM THE NATIONAL DIABETES PREVENTION PROGRAM, AND WE TAUGHT THIS LAST YEAR. IT'S A 16-WEEK PROGRAM WHERE THE PARTICIPANTS MEET ONCE A WEEK, AND THEN AFTER THE 16 WEEKS, THEY MEET ONCE A WEEK FOR 6 MONTHS JUST SO THEY CONTINUE ON WITH THE PROGRAM. AND WE WANT THESE TO BE LIFESTYLE HEALTHY HABITS. >> AND I THINK YOU KEYED IN TO IT, THAT IT'S A GROUP, IT'S A COMMITMENT, AND YOU'RE PROMISING TO FULFILL THIS, AND I THINK FOR MANY OF US THAT START A DIET OR START AN EXERCISE PROGRAM, NOBODY KNOWS ABOUT IT, ANYWAY, SO IT'S REALLY EASY TO QUIT. >> RIGHT, RIGHT. AND WE PROVIDE THE SUPPORT AND THAT ONCE-A-WEEK MEETING. THERE'S A FEW THINGS THAT WE'LL GET INTO ON THE TABLE, BUT IT IS EVIDENCE-BASED PROGRAM THAT HAS SHOWED THAT IF THE PARTICIPANT WILL LOSE 5% TO 7% OF THEIR BODY WEIGHT, THEY FALL OUT OF THAT PRE-DIABETES RANGE, AND SO IF YOU TAKE THE AVERAGE 200-POUND PERSON, IF THEY LOSE 10 TO 14 POUNDS, THEY ARE OUT OF BEING PRE-DIABETIC. >> WHICH CAN CERTAINLY SOLVE LOTS OF HEALTH PROBLEMS DOWN THE ROAD. NOW, YOU HAVE A GROUP GOING RIGHT NOW. HOW DO THEY GET INTO THE PROGRAM? >> WELL, IT WAS OFFERED THROUGH THE EXTENSION OFFICE, AND I HAVE TO TELL YOU THAT THERE ARE GONNA BE MORE EXTENSION OFFICES OFFERING THIS THROUGHOUT THE STATE. >> AND THROUGHOUT THE WHOLE COUNTRY. >> THAT'S RIGHT. IT'S JUST VERY EXCITING. AND THEY CAN BE REFERRED BY A DOCTOR OR THEY CAN FALL INTO THE CRITERIA OF BEING AT RISK OR FALLING INTO THAT PRE-DIABETIC STAGE. >> AND WHAT ARE SOME OF THOSE SYMPTOMS? >> SOME OF THOSE ARE THEIR AGE--IF THEY'RE 45 YEARS OR OLDER--IF THEY'VE HAD A PARENT THAT WAS DIAGNOSED AS A DIABETIC OR A BROTHER OR SISTER. >> SO FAMILY HISTORY. >> THAT'S RIGHT. IF THEY'RE OVERWEIGHT--THEY CAN TAKE THEIR HEIGHT AND WEIGHT, AND WE CAN FIGURE OUT THEIR BMI. ALSO, IF THEY'VE HAD GESTATIONAL DIABETES DURING A PREGNANCY OR HAD A BABY WEIGHING OVER 9 POUNDS, THAT'S A RISK FACTOR, ALSO. >> SO EVERYONE THAT'S IN THERE IS SORT OF ON THE SAME PLAYING FIELD. >> YES, YES. THEY'RE ALL KIND OF DIAGNOSED. THEY CAN ALSO HAVE A A1C TEST, WHICH IS THE BLOOD SUGARS IN THE RED BLOOD CELLS OVER, LIKE, THE LAST 3 MONTHS, AND IF IT FALLS INTO LIKE A 5.7 TO 6.4 RANGE, THEY ARE PRE-DIABETIC, AND THAT'S WHERE WE GET THE DOCTOR'S REFERRALS ON THAT. >> AND YOU HAVE LOTS OF TOOLS THAT YOU GIVE... >> WE DO. WE DO. >> MAKE THEM SUCCESSFUL. >> AT THE FIRST MEETING, WE PROVIDE THEM WITH A TRACKER, AND IN THAT TRACKER, THEY ARE TO WRITE DOWN EVERYTHING THEY EAT FOR THAT DAY. AND WITH THEIR HEIGHT AND WEIGHT, THEY'RE GIVEN A RANGE ON THEIR CALORIE INTAKE AND THEIR FAT GRAMS. AND SO THEY WILL WRITE IT DOWN, AND THEN WE PROVIDE THEM WITH A LITTLE BOOK, CALORIE AND FAT BOOKLET, AND THEY CAN LOOK UP THE FOODS THAT THEY'VE EATEN, THEY CAN FIGURE OUT THE CALORIE AND THE FAT GRAMS. >> THAT IS VERY HELPFUL, TOO. >> YES. >> SOMETIMES YOU THINK, OH, I JUST HAD A LITTLE SNACK, BUT THEN YOU REALIZE THE CHOICES YOU MADE WERE NOT THE BEST ONES. >> YES, THAT'S RIGHT. AND THEN, EACH WEEK, A DIETICIAN EVALUATES THEIR TRACKER AND OFFERS SUGGESTIONS--MAYBE TRY THIS OR SUBSTITUTE THIS FOOD FOR THIS OR...WHICH IS VERY HELPFUL TO GET THAT FEEDBACK. >> AND YOU KNOW, YEARS AND YEARS AGO, AND I WORKED FOR THE EXTENSION SERVICE, TOO, AND WHEN WE WOULD MAKE SUGGESTIONS FOR HEALTHFUL CHANGES, MANY TIMES THOSE WEREN'T VERY TASTY THINGS, BUT NOW WE HAVE SO MANY CHOICES AND SO MANY COMPANIES ARE GEARING THEIR PRODUCTS TO LOW-FAT, HEALTHY EATING, THAT SORT OF THING, IT'S NOT HARD. >> WELL, THAT'S RIGHT, AND THEY TASTE GOOD. >> AND THEY TASTE GOOD. >> THAT'S THE IMPORTANT PART, THE IMPORTANT PART. WE ALSO WITH THIS PROGRAM, THEY ARE TO EXERCISE 150 MINUTES-- >> OOH. >> RIGHT. YOU THINK THAT'S A BIG NUMBER UNTIL YOU BREAK IT DOWN. DIVIDE THAT BY 5 DAYS A WEEK, IT'S 30 MINUTES. OR DIVIDE IT BY 7, IT'S ABOUT 22 MINUTES A DAY. >> AND YOU EVEN GIVE THEM A LITTLE-- >> WE GIVE THEM A PEDOMETER AND THEY TELL US HOW MANY MINUTES-- EACH WEEK, THEY COME AND WEIGH, AND THEN THEY TELL US HOW MANY MINUTES THEY EXERCISE, AND THAT'S JUST A NEAT LITTLE TOOL THAT MAYBE WE TRY TO TELL THEM TO GET IN 10,000 STEPS A DAY OR-- >> THAT'S ABOUT A MILE, ISN'T IT? >> RIGHT. >> ABOUT 10,000 STEPS. AND YOU TEACH ABOUT READING LABELS, AND I GUESS WE'VE TAUGHT THAT FOR MANY, MANY, MANY YEARS. >> YES, AND NOW THE NICE THING IS EVERY FOOD HAS A FOOD LABEL, EVEN AT OUR FAST FOOD RESTAURANTS, AND THAT'S WHAT'S NICE ABOUT THE LITTLE BOOK. IT HAS FAST FOOD RESTAURANTS IN THERE, OTHER RESTAURANTS IN THERE. IF YOU ORDER AN ENTREE, YOU CAN TELL HOW MANY CALORIES AND FAT GRAMS. BUT ON ANY OF THE FOOD PRODUCTS, THERE'S A LABEL, AND YOU CAN TELL THE SERVINGS OF THE FAT GRAMS. YOU CAN TELL THE CALORIE COUNT. AND YOU LOOK AT THE SERVING SIZE, WHETHER IT'S ONE SERVING OR YOU JUST HAD TWO SERVINGS, YOU'RE GONNA MULTIPLY EVERYTHING BY TWO. SO WE DO LOTS OF LABEL READING. >> SO YOU'RE MOSTLY CONCERNED WITH THE FAT GRAMS, THE CALORIES... >> AND EXERCISE. >> AND EXERCISE. AND OF COURSE, SUGAR IS RELATED TO THE CALORIES, AND IT FITS IN THERE, SO--AND THE EXERCISE. NOW, I KNOW THAT BOTTLE HAS TO BE ABOUT WATER, RIGHT? >> THAT'S RIGHT. ANOTHER THING WE ENCOURAGE--WE GIVE THE PARTICIPANTS A WATER BOTTLE, AND WE TELL THEM, "DRINK MORE WATER," AND THAT'S VERY IMPORTANT. AND SO, JUST BY HAVING SOME TYPE OF CONTAINER THAT THEY CAN HAVE AND HAVE WITH THEM ALL THE TIME JUST HELPS THEM DRINK THAT. >> 8 GLASSES STILL RECOMMENDED? >> YES, YES. >> I WAS AFRAID SO. >> 8 TO 10 GLASSES A DAY, AND COLD WATER, WARM WATER--JUST DRINK MORE WATER. >> SINCE YOU'VE DONE THE PROGRAM IN THE PAST, COMPLETED THE FULL COURSE, WHAT PERCENTAGE OF YOUR PARTICIPANTS LOWERED THEIR RISK AND GOT OUT OF THAT CATEGORY? >> WELL, I HAVE TO TELL YOU, WE HAD 20 PARTICIPANTS, AND WE HAD A WEIGHT LOSS OF--EACH PARTICIPANT LOST ON THE AVERAGE OF 20 POUNDS. >> WOW! >> YES. YES. WE HAD SOME LOSE 30 AND SOME MAYBE LOSE 15, BUT ALL OF--ON THE AVERAGE. ALL OF THEM WERE VERY COMMITTED AND CONTINUED WITH THE PROGRAM, AND WE HAVE OUR LAST SESSION IN NOVEMBER. AND SO I'M GONNA BE REAL SURPRISED IF THEY DON'T WANT TO SIGN UP AGAIN, BECAUSE WE--WE KIND OF LIKE THAT SUPPORT... >> WELL, IT IS. IT'S REINFORCEMENT AND ENCOURAGEMENT, AND THAT'S AS IMPORTANT AS WHAT THEY'RE DOING. AND TO KNOW THAT IT'S NOT JUST THEM. I LIKE THE WAY THAT EVERYONE IS SCREENED BEFORE THEY GET IN, SO...WELL, THAT'S WONDERFUL. PEOPLE CAN CONTACT THEIR COUNTY EXTENSION OFFICE OR GO ONLINE. >> UH-HUH. THEY CAN GO ONLINE, THEY CAN CONTACT THE EXTENSION OFFICE, SEE IF IT'S OFFERED THERE. IF NOT, THE EXTENSION OFFICE MIGHT KNOW OF WHO IS OFFERING IT. >> I THINK IT'S A GREAT PROGRAM. THANK YOU VERY MUCH. I APPRECIATE IT. >> THANK YOU. >> I HOPE YOU ENJOYED THE SHOW TODAY. NEXT TIME ON "CREATIVE LIVING," WE'LL LEARN HOW TO PREPARE FOR A FAJITA PARTY AND SHOW HOW TO MAKE GREEN OR RECYCLED JEWELRY. ONE OF MY NEXT GUESTS IS A COOKBOOK AUTHOR AND CHEF, AND HE'S GOING TO EXPLAIN HOW A FAJITA MENU MAKES FOR A GREAT PARTY THEME BECAUSE MOST OF THE ITEMS CAN BE PREPARED IN ADVANCE. HE'LL DEMONSTRATE MAKING A QUICK SALSA, A MARINADE FOR MEATS, DELICIOUS GUACAMOLE, AND HOMEMADE FLOUR TORTILLAS. AND WE'LL ALSO TALK TO A DESIGNER AND CRAFTER WHO WILL SHOW HOW TO USE RECYCLED PRODUCTS, LOTS OF BLING, ALONG WITH PAINTS AND OTHER EMBELLISHMENTS TO CREATE BEAUTIFUL GREEN JEWELRY. BOTH OF THESE TOPICS WILL BE FEATURED ON THE NEXT "CREATIVE LIVING" SHOW. IF YOU EVER HAVE COMMENTS OR SUGGESTIONS OR IDEAS FOR SHOWS, YOU CAN EMAIL ME AT SHERYL.BORDEN@ENMU.EDU. I'D ALSO LIKE TO ASK YOU TO BECOME A FAN OF "CREATIVE LIVING" ON FACEBOOK. JUST GO TO FACEBOOK.COM, AND IN THE SEARCH WINDOW, TYPE IN "CREATIVE LIVING WITH SHERYL BORDEN." THANKS SO MUCH. I HOPE YOU'LL PLAN TO JOIN ME NEXT TIME FOR "CREATIVE LIVING." >> WE ARE VERY PLEASED TO OFFER A NEW BOOKLET THAT ACCOMPANIES THIS SERIES OF "CREATIVE LIVING." THIS BOOKLET IS TITLED "THE 6600 SERIES," AND IT FEATURES A WONDERFUL COLLECTION OF IDEAS AND INFORMATION, AND IT'S AVAILABLE FREE OF CHARGE ON OUR WEBSITE. POSTED AS A PDF FILE, YOU CAN SIMPLY DOWNLOAD THE ENTIRE BOOKLET OR JUST THE SEGMENTS YOU'RE MOST INTERESTED IN. AS WITH ALL OF THE "CREATIVE LIVING" BOOKLETS, YOU'LL FIND INFORMATION ON FOODS AND NUTRITION, CLOTHING AND FASHION, HEALTH AND BEAUTY, HOME DECORATING, AND MUCH MORE. FOR YOUR COPY OF THIS BOOKLET, GO TO OUR WEBSITE AT KENW.ORG AND THEN CLICK ON "CREATIVE LIVING," SCROLL DOWN TO THE BOOKLETS SECTION, AND YOU CAN CLICK ON THIS BOOKLET OR ANY OF THE OTHER BOOKLETS WE HAVE AVAILABLE ONLINE. ONCE AGAIN, JUST GO TO KENW.ORG, CLICK ON "CREATIVE LIVING," AND DOWNLOAD THE BOOKLET, TITLED "THE 6600 SERIES." WE ALSO WANT TO ENCOURAGE YOU TO SIGN UP FOR OUR FREE E-NEWSLETTER. JUST CLICK ON THE "SIGN UP NOW" BUTTON AND INPUT YOUR E-MAIL ADDRESS. THAT'S ALL THERE IS TO IT. YOU'LL ENJOY READING AN UP-TO-DATE NEWSLETTER FILLED WITH INTERESTING TOPICS AND INFORMATION. THANK YOU.
Now Playing As: Captioned (English) (change)
In this episode, Sheryl discusses the National Diabetes Prevention Program. Also Carly Robertson demonstrates clear polymer stamps and gives stamping tips. And a representative from Turkey Talk Live gives seasonal turkey recipes.
Media Details
Runtime: 27 minutes