Creative Living With Sheryl Borden #6616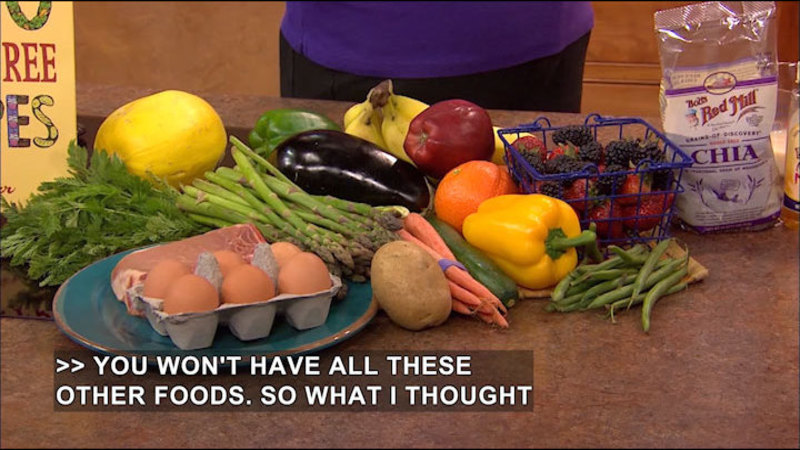 >> "CREATIVE LIVING," UTILIZING TODAY'S TECHNOLOGY WITH THE BEST OF THE PAST TO BRING YOU INNOVATIVE IDEAS AND UP-TO-DATE INFORMATION FOR CREATIVE LIFESTYLES IN TODAY'S ACTIVE WORLD. WITH YOUR HOST, SHERYL BORDEN. >> WELCOME TO "CREATIVE LIVING" TODAY. WE'RE GOING TO LEARN HOW TO MAKE RUFFLES AND BOWS WITH FONDANT, HOW TO CREATE OUR OWN CUSTOM UPHOLSTERED HEADBOARD, AND SHOW HOW TO INCORPORATE CHIA SEEDS FOR A PALEO DIET. ONE OF MY GUESTS IS LAURA HASELDEN, AND SHE'S A SELF-TAUGHT CAKE DECORATING WONDER. SHE'S GOING TO DEMONSTRATE USING FONDANT TO MAKE BEAUTIFUL RUFFLES AND BOWS FOR CAKES OR CUPCAKES. ANOTHER GUEST IS REBECCA PECK, AND SHE REPRESENTS THE UPHOLSTERY STUDIO. THIS IS A COMPANY THAT MAKES KITS FOR HEADBOARDS, TUFFETS, CORNICES, AND OTHER DO-IT-YOURSELF PROJECTS. REBECCA'S GOING TO SHOW HOW TO MAKE A BEAUTIFUL CUSTOM UPHOLSTERED HEADBOARD WHICH WILL MAKE YOUR BEDROOM A HAVEN OF COMFORT. SHE'S FROM PHOENIXVILLE, PENNSYLVANIA. AND WE'LL BEGIN THE SHOW WITH CAROL FENSTER, WHO IS A COOKBOOK AUTHOR AND DIETICIAN. AND CAROL WILL DISCUSS THE PALEO DIET AND WHAT IT CONSISTS OF, AS WELL AS THE PROS AND CONS. THEN SHE'LL DEMONSTRATE USING CHIA SEEDS, WHICH ARE HIGH IN OMEGA 3, AND THEY HAVE A LONG SHELF LIFE. HER COMPANY IS SAVORY PALATE INCORPORATED AND SHE LIVES IN CENTENNIAL, COLORADO. CAROL, IT'S REALLY NICE TO HAVE YOU HERE. YEARS AGO WHEN YOU MADE YOUR FIRST APPEARANCE HERE, I WAS SO EXCITED TO TALK TO YOU ABOUT THE GLUTEN-FREE DIET. AND I THINK ABOUT ALL OF THE DIETS THAT HAVE COME ALONG SINCE THEN, AND THERE'S PROS AND CONS OF ALL OF THEM, I REALIZE. BUT NOW THE ONE THAT SEEMS TO REALLY BE IN THE FOREFRONT IS ONE CALLED A PALEO DIET. >> IT IS. IT'S SHORT FOR PALEOLITHIC, AND I GET A LOT OF QUESTIONS ABOUT IT, TOO. >> I BET YOU DO. >> IT BASICALLY SAYS THIS--THAT WE SHOULD BE EATING THE WAY PALEOLITHIC MAN AND WOMAN DID, WHICH IS A LONG, LONG TIME AGO. AND THEY BASICALLY ATE ONLY FRESH MEATS, SUCH AS THE PORK CHOP, EGGS, VEGETABLES, BERRIES, FRUITS, NUTS, MUSHROOMS. ANYTHING THAT WAS PURE AND FRESH AND UNADULTERATED WAS ACCEPTABLE. >> AND IT WAS GROWING WHEREVER THEY HAPPENED TO BE LIVING. >> WHEREVER THEY HAPPENED TO BE, EXACTLY. AND IT ALSO RULES OUT ANY ALCOHOL OR COFFEE OR SUGAR OR ANY PROCESSED FOODS. AND THE ONLY OILS THAT ARE ALLOWED WOULD BE OLIVE, COCONUT, AND-- >> AVOCADO OIL, WHICH IS HARD TO FIND. >> IT'S HARD TO FIND, A LITTLE EXPENSIVE, TOO. >> I BET. >> SO THAT'S WHAT THE PROPONENTS SAY WE SHOULD BE EATING THIS DIET BECAUSE IT'S FOR OUR HEALTH AND WE SHOULD LIVE LIKE EARLY MAN DID. THE CRITICS, ON THE OTHER HAND, SAY, WAIT A MINUTE, YOU HAVE LEFT OUT 3 CRITICAL FOOD GROUPS. ONE IS DAIRY. ONE IS WHOLE GRAINS, WHICH ARE REALLY IMPORTANT. AND THE OTHER IS LEGUMES AND BEANS. AND SO ANY DIET THAT LEAVES OUT A WHOLE SET OF FOOD GROUPS CANNOT BE REALLY THE BEST FOR YOU. AND AFTER ALL, WE AS MAN HAVE EVOLVED BEYOND THAT FAIRLY SIMPLISTIC DIET. >> AND TRULY, WE CAN'T EVEN THINK ABOUT EATING THE THINGS THAT THEY HAD THEN BECAUSE OF ALL THE TECHNOLOGY AND THE EQUIPMENT AND PROCESSING THAT HAS TAKEN PLACE. >> EXACTLY. AND IT CAN BE A CHALLENGING DIET IF YOU WANT TO ADOPT IT WHEN YOU ARE ALSO ON SOME OTHER DIETS, SUCH AS THE GLUTEN-FREE DIET, AS I AM. BUT THE PART THAT PROBABLY DISTURBS ME THE MOST AND I FIND HARDEST IS I LOVE WHOLE GRAINS. AND SO IF I WANTED TO BE ON A PALEO DIET, WHAT WOULD I DO? >> I LIKE DAIRY FOODS. SO THAT'S NOT ALLOWED EITHER. >> NO. YOU WOULD MISS THE CHEESES. AND I THINK BEANS ARE ESPECIALLY IMPORTANT FOR THE GLUTEN-FREE DIET BECAUSE THEY PROVIDE THE ESSENTIAL "B" VITAMINS THAT WE GIVE UP-- >> THE PROTEIN. >> AND THE PROTEIN WHEN WE STOP EATING FORTIFIED WHEAT PRODUCTS. SO ANYWAY-- >> BUT IT'S INTERESTING TO READ. AND I REALLY LIKE KNOWING THE PROS AND CONS. >> I DO, TOO. I DO, TOO. AND THERE IS AN ABUNDANCE OF FOOD HERE THAT YOU CAN EAT. BUT IT'S JUST THAT THIS IS WHAT YOU'LL EAT. >> THIS IS IT. >> YOU WON'T HAVE ALL THESE OTHER FOODS. SO WHAT I THOUGHT WE COULD TALK ABOUT IS A WAY TO GET SEEDS INTO YOUR DIET AS OPPOSED TO WHOLE GRAINS. AND THAT BRINGS US TO CHIA SEED. >> WHICH I HAD NEVER EVEN HEARD OF COOKING WITH. >> NO, I KNOW. WE THINK OF IT AS THE LITTLE ANIMALS, CHA-CHA-CHA-CHIA AT THE HOLIDAYS, YEAH. THIS IS WHAT IT LOOKS LIKE IN THE BAG. >> MM-HMM. >> THERE ARE BASICALLY TWO COLORS. ONE IS A LIGHTER COLOR. SOMETIMES YOU'LL SEE THAT UNDER THE NAME OF SALBA. S-A-L-B-A. IT LOOKS LIKE SALBA TO ME. BUT IT WAS SOLD AS CHIA. >> THEY'RE TINY. >> THEY'RE TINY. THEY'RE VERY TINY. AND THIS IS THE DARKER VERSION. NOW, THESE--IN THE MAYAN LANGUAGE, THE WORD "CHIA," WHICH IS SPELLED C-H-I-A, MEANS STRENGTH. AND IN THE AZTEC WARRIOR TIMES, THEY WOULD EAT THIS BECAUSE IT GAVE THEM STRENGTH AND STAMINA. >> FOR BATTLE AND SORT OF WHATEVER. >> FOR BATTLE, YEAH. THOSE ARE EACH ABOUT ONE TABLESPOON. ONE TABLESPOON ALONE HAS A LOT OF OMEGA 3 FATTY ACIDS, BUT ALSO 5 GRAMS OF FIBER AND 3 GRAMS OF PROTEIN. SO THAT'S A LOT. >> UH-HUH. >> THAT'S A LOT IN ONE LITTLE BITE. >> WOULD THEY JUST EAT IT LIKE THAT? WOULD THEY PUT IT IN WATER? >> WELL, I DON'T KNOW THAT WE KNOW. IF THEY ATE IT IN WATER, OR IF THEY USED IT WITH WATER, HERE'S THE INTERESTING THING, IT ABSORBS 9 TO 10 TIMES ITS OWN WEIGHT IN WATER. SO YOU COULD GET BY WITH EATING NOT VERY MUCH AS LONG AS YOU DRANK WATER 'CAUSE IT SWELLS UP. AND I WANTED TO SHOW YOU SOMETHING YOU CAN MAKE WITH CHIA CALLED THE CHIA PUDDING. >> AND THAT'S A NEW ONE FOR ME, TOO. >> IT IS A NEW ONE. >> THAT'S WHAT THIS IS. >> THAT'S WHAT THAT IS. SO IT IS SO SIMPLE TO MAKE. I'VE ALREADY PUT THE CHIA SEEDS IN A WIDE MOUTH JAR. >> IS THAT ABOUT A TABLESPOON? >> IT'S A TABLESPOON, UH-HUH. PALEO MAN DID NOT HAVE WIDE MOUTH JARS. OK. HE ALSO PROBABLY DID NOT HAVE-- >> THE MEASURING CUP. >> NO. THIS IS ALMOND MILK, WHICH IS ALLOWED ON THE DIET BECAUSE--EVEN THOUGH IT'S A HIGHLY PROCESSED FOOD, IT'S ALLOWED BECAUSE THE NUTS. RIGHT. AND I LIKE USING THESE LITTLE WIDE MOUTH JARS BECAUSE ALL YOU HAVE TO DO--YOU CAN EAT RIGHT OUT OF THEM, TOO. >> OH, YEAH. THEY'RE LIKE A LITTLE MINI BLENDER, AREN'T THEY? >> THEY'RE LIKE LITTLE MINI BLENDERS. AND I'M SHAKING IT. NOW, WHAT'S HAPPENING RIGHT AWAY IS THESE SEEDS ARE STARTING TO SOAK UP THE MILK. >> YOU SAID 9 TO 10 TIMES. >> YEAH, 9 TO 10 TIMES. SO I'M JUST SHAKING IT TO MAKE SURE THE SEEDS GET DISTRIBUTED BECAUSE THOSE LITTLE SEEDS LIKE EACH OTHER AND THEY CLUMP UP TOGETHER. SO AND I'M SURE EARLY MAN DID NOT HAVE AGAVE NECTAR, BUT THEY PROBABLY WOULD HAVE USED HONEY. WE'RE USING AGAVE JUST BECAUSE IF YOU'RE PUTTING HONEY, COLD HONEY--HONEY INTO COLD MILK--LET ME ADD SOME VINEGAR--SOME VANILLA, TOO-- IT'LL CLUMP UP. SO I USED AGAVE. BUT IF YOU WANTED TO HEAT IT, YOU COULD HEAT THIS UP AND MAKE IT HOT, TOO. SO A LITTLE BIT OF FLAVORING MAKES IT TASTE GOOD. AND THEN YOU SHAKE IT. AND WHAT I LIKE TO DO IS FOR ABOUT THE NEXT COUPLE OF HOURS, PUT IT IN THE REFRIGERATOR BECAUSE--ASSUMING YOU WANTED IT COLD AND TO PRESERVE IT OVERNIGHT. WITH MILK. EVERY FEW--HALF HOUR OR SO, WALK BY AND SHAKE IT BECAUSE THOSE LITTLE CHIA SEEDS ARE ABSORBING MOISTURE. AND WITHIN A HALF HOUR OR SO, THEY WILL START TO THICKEN THIS PUDDING, AS I CALL IT. >> THIS REMINDS ME OF YEARS AGO AS A CHILD WHEN WE MADE ICE CREAM. >> YES. >> AND WE WOULD EITHER CRANK IT, OR I HAD A GUEST THAT SHOWED ROLLING THE CAN BACK AND FORTH. SO IT'S SORT OF THE SAME CONCEPT. >> SAME CONCEPT. AND SO LEAVE IT OVERNIGHT. I MADE ONE LAST NIGHT, AND IT CAN BE EATEN THE NEXT MORNING FOR BREAKFAST. IF YOU WANT IT HOT, SIMPLY HEAT IT. THAT IS JUST SIMPLY POURED INTO A WINE GLASS, 'CAUSE IT'S A LITTLE BIT PRETTY. YOU COULD PUT IT INTO A CEREAL BOWL. YOU COULD HEAT IT UP, YOU COULD DRESS IT JUST LIKE YOU MIGHT DRESS HOT CEREAL, YOU KNOW, CINNAMON. PALEO MEN MIGHT NOT HAVE USED CINNAMON. >> RAISINS. >> AND RAISINS. YOU CAN--YOU KNOW, IT'S A HEALTHY FOOD FOR ANYONE, NO MATTER WHAT DIET YOU'RE ON. AND IT'S EXTRAORDINARILY NUTRITIOUS AND IT'S NOT THAT HARD TO MAKE. AND IT'S REALLY FAIRLY UNPROCESSED GIVEN WHAT WE'VE PUT INTO IT. >> WOW. WELL, I'VE HEARD OF THE DIET AND I TRIED TO READ. BEFORE YOU CAME, I TRIED TO READ AS MUCH AS I COULD ABOUT IT, BUT, YOU KNOW, I STILL GO BACK TO WHAT I LEARNED WHEN I WAS MAJORING IN HOME EC, MODERATION IS THE KEY TO EVERYTHING. >> MODERATION, MODERATION, MODERATION. SO THIS WILL WORK ON ANY DIET. AND JUST KEEP IN MIND THAT IT'S HIGH FIBER, AND SO IF YOU'RE JUST INITIALLY ADOPTING SOME HIGH FIBER FOODS, YOU MIGHT WANT TO TAKE IT EASY. >> I THINK IT'D BE FUN TO EXPERIMENT WITH IT ANYWAY. >> YEAH. OH, YEAH. DIFFERENT FLAVORS. I WOULD PUT CHOCOLATE IN MINE. >> I'D PUT WHIPPED CREAM ON TOP. >> A LITTLE BIT OF YOGURT. AND IT WOULD BE PERFECT. >> WELL, GREAT. WELL, THANK YOU VERY MUCH, CAROL. THIS IS REALLY INTERESTING. >> THANK YOU. >> REBECCA, THANK YOU SO MUCH FOR BEING HERE. I'VE REALLY ALWAYS ADMIRED PEOPLE WHO KNOW HOW TO UPHOLSTER OR MAKE SLIPCOVERS OR MAKE BEAUTIFUL CORNICE BOARDS OR HEADBOARDS. BUT TO A BEGINNER, IT'S KIND OF OVERWHELMING TO KNOW WHAT SUPPLIES YOU NEED, WHERE YOU GET EVERYTHING. YOU ALL HAVE KIND OF COME UP WITH A SOLUTION, HAVEN'T YOU? >> WE HAVE. I THINK OUR COLLECTIONS AND OUR KITS REALLY MAKE IT EASY FOR THE FIRST TIME UPHOLSTERER AND FURNITURE BUILDER TO MAKE A REALLY GREAT PROJECT. >> AND SO TALKING ABOUT THE COLLECTION, YOU HAVE SEVERAL HEADBOARD COLLECTIONS. I'LL TRY TO SHOW THESE. >> WE ACTUALLY HAVE 5. SO DEPENDING ON WHAT SHAPE HEADBOARD YOU WANT, WHETHER OR NOT YOU WANT A BORDER, WE'VE GOT LOTS OF DIFFERENT CHOICES. AND THEY CAN ALL BE MADE TO WHATEVER SIZE YOU NEED--TWIN, QUEEN, OR KING. AND IN EACH COLLECTION IS THE DVD THAT SHOWS YOU STEP BY STEP HOW TO DO YOUR PROJECT, ALL OF THE INSTRUCTIONS, AND EVEN THE PATTERNS TO CUT OUT YOUR FABRIC, CUT OUT YOUR WOOD, YOUR FOAM, ET CETERA. >> GOSH, IT'S HARD TO DECIDE WHICH IS MY FAVORITE. I THOUGHT I KNEW, BUT NOW I'M LIKING ALL OF THEM. >> THEY'RE ALL PRETTY. >> THEY ARE. THEY'RE ALL PRETTY. AND THEN YOU MENTIONED A KIT. THIS WILL TELL US HOW TO DO IT, BUT, YOU KNOW, DEPENDING ON WHERE YOU LIVE, YOU MAY NOT HAVE ACCESS TO EVERYTHING THAT IS REQUIRED FOR DOING A PROJECT, SO YOU'VE SOLVED THAT, TOO. >> YES. INSTEAD OF GOING TO A BUNCH OF DIFFERENT STORES, WE ALSO SELL THE KITS THAT INCLUDE EVERYTHING YOU NEED TO MAKE YOUR HEADBOARD. >> WHICH IS WHAT WE'RE SHOWING HERE. >> YEAH, SO IT'D BE YOUR WOOD, YOUR FOAM. >> OH, THE WOOD? EVERYTHING COMES IN IT. >> EVERYTHING IS IN IT. YES, EXACTLY. EVEN THE SCREWS. >> OK. WELL, I THINK THAT IS ESPECIALLY GOOD FOR PEOPLE LIKE ME WHO DON'T WANT TO HAVE TO MAKE SEVERAL STOPS TO FIND IT. AND SO REALLY WE'RE JUST IN CHARGE OF OUR FABRIC. >> YEAH, YOU'RE IN CHARGE OF SELECTING THE SHAPE YOU WANT AND WHAT FABRIC YOU WANT. AND THE WOOD IS EVEN CUT TO THE SHAPE THAT YOU NEED, SO YOU DON'T EVEN HAVE TO CUT WOOD. >> THAT'S GREAT. I WOULDN'T KNOW WHAT TO DO WITH THAT, EITHER. OK, THIS IS A HEADBOARD, AS WE CAN SEE, BACK HERE. AND YOU'VE PARTIALLY PUT IT TOGETHER, BUT THERE'S A FEW THINGS YOU WANTED TO MAKE US AWARE OF. >> YEAH, WE JUST KIND OF WANTED TO SHOW YOU EXACTLY HOW THIS GETS BUILT. SO YOU'VE GOT YOUR WOOD. IT'S CUT TO THE SHAPE. >> ALREADY CUT. I LIKE THAT. >> YOU TAKE YOUR PATTERN AND YOU TRACE AROUND IT WITH THE MARKER. AND THAT'S WHERE YOU PUT YOUR FOAM. >> OH, OK. >> SO YOU WOULD APPLY YOUR FOAM, PUT YOUR DACRON ON TOP, STAPLE THAT IN PLACE. >> AND THE FOAM COMES IN LIKE A SQUARE AND WE'D CUT IT TO FIT THE SHAPE. >> ACTUALLY, THE FOAM IS ALREADY CUT. >> OH, THAT'S EVEN BETTER. OK. THAT'S PERFECT. >> EASY PEASY. SO THEN ONCE YOU GET THE FOAM DOWN IN THE MIDDLE HERE, YOU'RE GONNA PUT THIS FABRIC ON. >> OK. >> YOUR CENTER FABRIC. AND YOU'RE JUST GONNA PUT THAT ON WITH AT STAPLE GUN. MAKE SURE IT'S NICE AND TIGHT. DOING IT BACKWARDS. GET RIGHT UP CLOSE TO THAT EDGE. KIND OF MAKE SURE IT'S EVEN ALL THE WAY AROUND. KEEP SMOOTHING IT. KEEP SMOOTHING IT OUT. AND THEN YOU'RE GONNA PUT ON YOUR BORDER. SO FIRST YOU'RE GONNA APPLY YOUR PIPING. >> THE CORDING OR PIPING. >> YEAH. SO YOU JUST STAPLE THAT INTO PLACE. AND YOU CAN DO THE REALLY BIG PIPING AS WELL IF YOU WANT A LITTLE MORE DRAMATIC LOOK. THEN YOU'RE GONNA PUT ON YOUR BORDER FABRIC. AND YOU CAN, IF YOU WANT, GO AHEAD AND PRE-GATHER THAT IF YOU HAVE A GATHERING FOOT ON YOUR MACHINE. MM-HMM. OR YOU CAN JUST DO IT BY HAND AS YOU'RE STAPLING. >> OH. >> THIS IS A LITTLE FASTER, I THINK. >> UH-HUH. >> SO YOU'RE GONNA STAPLE THAT ON. AND YOU'RE GONNA ALSO STAPLE A TACK STRIP ON TOP OF THAT. IT JUST GIVES IT A NICE CLEAN EDGE. >> OH, OK. >> THEN YOU'RE GONNA PUT YOUR FOAM DOWN, YOUR DACRON, STAPLE THAT, BOTH SIDES. AND THEN YOU'RE JUST GONNA PULL THIS OVER AND STAPLE THAT AROUND THE BACK. >> AND YOU PULL IT REALLY TIGHT. THAT'S WHAT GIVES IT THAT REALLY PROFESSIONAL LOOK, ISN'T IT? >> YEAH, EXACTLY. AND THEN IF YOU REALLY WANT TO GIVE IT THE FINAL DETAIL, YOU CAN PUT PIPING ALONG THIS BACK EDGE AS WELL. IT'S NOT ON THIS ONE, BUT IT'S ON THIS ONE HERE. >> OH. LET'S TILT THIS JUST A LITTLE BIT. I DON'T KNOW IF WE CAN SEE IT OR NOT. UH-HUH. OH. >> SO THAT GIVES IT A NICE FINISHED TOUCH. >> SO THIS IS EXACTLY WHAT YOU WERE MAKING, AND THEN WE ADD THE LEGS. AND THIS ALL COMES WITH IT IN THE KIT. >> ALL IN THE KIT. >> OK. >> THE HARDEST PART IS PICKING OUT THE FABRIC. >> WELL, YEAH, THAT'S TRUE, BUT THERE ARE SO MANY BEAUTIFUL CHOICES ANYMORE. >> THERE ARE. MM-HMM. >> AND WE COULD MAKE TWIN, QUEEN, KING. >> YES, ANY SIZE. YOU COULD DO-- IF YOU WANTED TO DO A QUILTED FRONT ON THIS, YOU COULD QUILT YOUR FABRIC BEFORE YOU PUT IT ON. >> WELL, THAT'S A GOOD IDEA. OR IT COULD EVEN BE A GOOD WAY IF YOU HAD A WALL HANGING THAT MAYBE YOU WERE TIRED OF AS A HANGING, BUT YOU MIGHT COULD INCORPORATE IT INTO YOUR HEADBOARD. >> YEAH, EXACTLY. OR MAYBE YOU HAVE AN OLD QUILT THAT IS NOT IN THE BEST OF SHAPE. AN OLD CHENILLE BEDSPREAD WITH THE BIG FLOWER IN THE MIDDLE. >> WOULDN'T THAT BE BEAUTIFUL? >> YES. IF YOU DON'T WANT TO MAKE THE PIPING, YOU CAN USE THE BRAID WITH THE FLANGE ON IT ALREADY. >> LOTS OF DIFFERENT IDEAS. YOUR CREATIVITY CAN COME INTO PLAY, CAN'T IT? >> THAT'S RIGHT. >> WELL, THANK YOU SO MUCH FOR SHOWING US HOW EASY THIS REALLY IS TO DO. >> NO PROBLEM. THANK YOU FOR HAVING US, SHERYL. >> LAURA, THANK YOU SO MUCH FOR BEING HERE. AS I'VE TOLD YOU BEFORE, I FOUND YOU ON FACEBOOK AND AFTER I SAW SOME OF THE CAKES THAT YOU DECORATED, I JUST KNEW I WANTED TO MEET YOU AND HAVE YOU ON THE SHOW, BECAUSE YOU'RE SUCH A PRO. BUT YOU SAID YOU DON'T COME ABOUT IT FROM GOING TO CLASSES. HOW DID YOU GET INVOLVED. >> WELL, UH, THANK YOU. UM, I JUST STARTED MAKING CAKES FOR MY CHILDREN AND THEN WATCHING SHOWS LIKE "THE CAKE BOSS" AND "ACE OF CAKES" AND LOOKING AT PICTURES ONLINE, AND I THOUGHT, HEY, I THINK I CAN DO THAT. SO... >> AND YOU HAVE 4 CHILDREN. >> I DO. >> SO YOU GOT A LOT OF PRACTICE. >> I DO. >> [LAUGHS] THAT'S GREAT. WELL, WAS IT--DID YOU HAVE ALL THE TOOLS? OR DID YOU HAVE TO JUST START FROM SCRATCH? >> I STARTED FROM SCRATCH. I JUST BUYING, UM, A FEW TOOLS AT A TIME. STARTED WITH LIKE THE CIRCLE CUTTERS AND THE SQUARE CUTTERS AND SMALL BASIC DESIGNS, AND THEN I JUST DEVELOPED OVER TIME. >> UH-HUH. SO ANYBODY COULD DO THIS IF THEY JUST HAVE THE DESIRE. >> I THINK SO. >> THAT'S WHAT I THINK'S INTERESTING. I EQUATE PLAYING WITH FONDANT TO PLAYING WITH PLAY-DOH WITH YOUR CHILDREN. SO IT'S A LOT OF FUN. >> IT TASTES A LOT BETTER, TOO. >> IT DOES. >> OK. WELL, FONDANT. WHY DO YOU LIKE TO WORK WITH FONDANT? >> WELL, IT'S VERY PLIABLE. IT HOLDS ITS SHAPE. A LOT OF PEOPLE, SOMETIMES THEY CAN MIX IT 50-50 WITH GUM PASTE. BUT THAT DRIES VERY QUICKLY. UM, SO IT'LL HELP HOLD THE SHAPE BETTER, BUT YOU HAVE TO WORK FAST. >> WORK FASTER. >> SO I REALLY ENJOY THE FONDANT. >> AND YOU CAN NOW BUY IT IN LOTS AND LOTS OF COLORS. BUT YOU CAN ALSO TINT IT YOURSELF. >> I PREFER TO BUY IT WHITE AND THEN TINT IT MYSELF. >> DO YOU? >> I FEEL THE COLORED FONDANT HAS A DIFFERENT TEXTURE. IT'S A LITTLE SOFTER, SO IT MIGHT NOT HOLD THE FORM OR THE SHAPE THAT YOU WANT. >> OK. AND YOU, THEN, AS WE'VE BEEN TALKING, YOU'VE BEEN MOLDING THIS AND PLAYING WITH IT. >> KNEADING IT. >> KNEADING IT SO THAT IT WILL SOFTEN UP. AND YOU DO WANT IT TO BE AT A CERTAIN STAGE BEFORE YOU START ROLLING IT OUT. >> RIGHT. PRETTY PLIABLE, SO YOU CAN GET IT TO HOLD THE SHAPE. >> AND DO YOU NEED TO PUT DOWN FLOUR OR ANYTHING TO ROLL IT OUT? >> SOMETIMES YOU DO. SOMETIMES WHEN YOU FIRST ADD THE COLORING IT'S VERY STICKY. SO I ACTUALLY USE CONFECTIONERS SUGAR. >> OH, UH-HUH. >> RATHER THAN A FLOUR OR CORNSTARCH. >> THAT WOULD DRY IT, I GUESS, ALSO, TOO. >> IT KEEPS THE SWEETNESS... >> MM-HMM. WE LIKE THAT. >> LEVEL IN THERE, AND SOMETIMES I, UM--JUST DEPENDING ON HOW STICKY THE FONDANT IS. I DON'T BELIEVE I NEED ANY TODAY. BUT, UM... >> AND IT'S SOMETHING YOU GET A FEEL FOR, I'VE HEARD PEOPLE SAY. YOU JUST KNOW WHEN IT'S READY TO WORK WITH IT. >> RIGHT. AND THEN... >> AND HOW THICK--NOW, IS THIS WHOLE THING COVERED WITH FONDANT? >> NO. I USE-- >> THIS IS A BUTTERCREAM... >> I NORMALLY COVER MY CAKES IN BUTTERCREAM. >> OK. >> AND THEN, UM, I JUST ADD FONDANT DECORATION. >> UH-HUH. DO PEOPLE EVER COMPLAIN THAT THEY EITHER DON'T LIKE THE TASTE OF IT OR IT'S TOO--TOO HARD OR-- >> OH, THE FONDANT? >> UH-HUH. >> UH, I THINK A LOT OF PEOPLE PREFER BUTTERCREAM OVER FONDANT, SO THAT'S WHY I--I JUST USE IT AS ACCENTS. BUT, UM, I'VE HAD QUITE A FEW PEOPLE SAY THAT THEY ACTUALLY ENJOY THE FONDANT. SO... >> WELL, WHEN IT'S SWEET, THAT WOULD BE FINE WITH ME. SO FIRST YOU'RE GOING TO SHOW HOW TO MAKE THESE LITTLE, UH... >> RUFFLES. >> RUFFLES. >> AND THEN YOU CAN, UM--FOR A BASIC RUFFLE YOU CAN USE A CIRCLE CUTTER. >> HMM. >> IF YOU WANT IT A LITTLE BIT MORE FRILLY, YOU CAN USE A FLOUR CUTTER OR MOST ANY, UM... SHAPE THAT YOU WANTED. YOU JUST CUT OUT YOUR CIRCLES. >> THAT'S ABOUT--WHAT IS THAT, 1/16 OF AN INCH? I DON'T KNOW, IT'S HARD TO TELL, BUT YOU WANT IT PRETTY THIN. >> RIGHT. I JUST USE THE--THE SMALLEST RING ON MY ROLLING PIN. >> GOT IT. AND NOW WHEN YOU WORK WITH FONDANT, DO YOU MAKE ALL OF YOUR DECORATIONS AHEAD OF TIME AND LET THEM DRY, OR DO YOU GO AHEAD AND START DECORATING? >> IT DEPENDS ON WHAT IT IS. LIKE, UM...THE RUFFLES, IT HAS TO BE PLIABLE. BECAUSE IT WILL KIND OF CRACK WHEN IT STARTS TO DRY OUT IF YOU TRY TO-- >> A LITTLE BIT MUCH. I SEE. >> BUT, UH, FOR THE RUFFLES, YOU JUST TAKE YOUR CIRCLE AND I FOLD THEM IN HALF AND THEN IN HALF AGAIN. >> UH-HUH. >> AND THEN YOU JUST ADD A LITTLE BIT OF WATER. >> THAT'S KIND OF LIKE GLUE. >> RIGHT. IT'S KIND OF... AND THEN YOU JUST... >> PUSH IT INTO THE, UH... >> RIGHT, PLACE IT ON THE CAKE. >> AND THE BUTTERCREAM MAKES IT EASY TO PUT THOSE IN AND THEY'LL STAY WHERE YOU WANT THEM. >> THAT'S CORRECT. AND SOMETIMES I TRY TO SWITCH THE POSITION OF IT. >> SO YOU'LL JUST GO AHEAD AND FINISH PUTTING THESE LITTLE RUFFLES ALL THE WAY AROUND THE CAKE? >> RIGHT. RIGHT. >> AND WHAT OTHER THINGS DO YOU LIKE TO DO SOMETIMES? >> SOMETIMES YOU CAN, UM, YOU KNOW, CHANGE THE COLOR AND YOU CAN HAVE DIFFERENT COLORS GOING ALL THE WAY UP THE CAKE, JUST DIFFERENT, UM, SHADES OF PURPLE, OR YOU CAN DO [INDISTINCT]--I MEAN, SKY'S THE LIMIT. >> AND I GUESS YOU COULD ALSO COVER THE WHOLE THING IN THE RUFFLES. WE'RE GOING TO DO SOME BOWS ON IT TODAY. >> RIGHT. THAT'S CORRECT. >> AND YOU ROLL THEM OUT THE SAME WAY? >> I DO, FOR THE STRIPS FOR THE BOWS. >> MM-HMM. YOU CAN GET BY WITH JUST A LOT OF BAKING TOOLS THAT A PERSON ALREADY HAS ON HAND. >> THAT'S RIGHT. SOMETIMES I DO GET CREATIVE IN THE KITCHEN, AND I'M LOOKING AND I'M LIKE, WHAT MAKES--CAN MAKE THAT SHAPE? >> A CUTTER, OR...[LAUGHS] >> RIGHT. OR SOMETIMES BOWLS. IF I'M LOOKING FOR A CERTAIN CONCAVE SHAPE, AND I'LL PUT THE FONDANT IN THERE AND LET IT DRY SO THAT IT'LL GIVE ME-- >> THE FORM. >> THE FORM. >> GOOD IDEA. SO NOW WE'VE GOT RUFFLES AND NOW WE'RE MAKING BOWS. >> RIGHT. >> AND YOU DON'T EVER THROW THIS AWAY. YOU JUST KEEP KNEADING IT FOR THE NEXT PROJECT. CAN YOU SAVE IT, LIKE IN THE REFRIGERATOR OR SOMETHING? >> I DON'T PUT IT IN THE REFRIGERATOR. I JUST COVER IT IN SARAN WRAP AND THEN PLACE IT IN AN AIRTIGHT CONTAINER UNTIL THE NEXT TIME. YOU NEVER KNOW WHEN YOU MAY NEED THAT COLOR AGAIN. >> AND YOU DO THIS 2 OR 3 A WEEK, SO THOSE OF US WHO MIGHT NOT DO AS MANY COULD BE SURE AND JUST COVER IT CAREFULLY. OK, SO YOU'VE JUST CUT ABOUT AN INCH-WIDE STRIP, AND ABOUT, WHAT, 5 INCHES LONG? >> IT CAN REALLY BE AS LONG-- HOWEVER LONG YOU WANT. >> YOU LIKE IT TO BE. >> IT JUST DEPENDS ON THE SIZE OF THE BOW THAT YOU WANT. SO YOU JUST CUT YOUR STRIPS, AND THEN I NORMALLY PUT A LITTLE BIT OF WATER ON EACH END. >> AGAIN, TO CAUSE IT TO STICK TOGETHER. >> A LOT OF TIME, THEY SHOW USING TISSUE PAPER TO HOLD THE SHAPE. I DON'T DO THAT. UM, I JUST PUT IT TOGETHER AND THEN I CRIMP IT AT THE BOTTOM. >> LIKE A REAL FABRIC BOW, A RIBBON BOW. >> RIGHT. I REALLY FEEL LIKE IT GIVES IT THAT NATURAL FABRIC LOOK WHEN YOU DO THAT. AND THEN I JUST SET THEM UP ON THEIR SIDE, SHAPE IT HOW I WANT IT, AND LET IT DRY LIKE THAT. >> OK, SO LET IT DRY FOR AN HOUR OR TWO? HOW LONG WOULD IT TAKE? >> IT JUST DEPENDS. SOMETIMES MAYBE 3 OR 4 HOURS. >> SO YOU CAN GO ON AND WORK ON YOUR OTHER CAKES WHILE THOSE ARE SITTING. >> THAT'S RIGHT. THERE ARE OTHER DECORATIONS. I ALWAYS PREPARE THESE AHEAD OF TIME. >> UH-HUH. AND SO HOW DO WE ATTACH THESE, THEN? >> OK. I LIKE TO PUT... >> THIS IS THE BUTTERCREAM RIGHT THERE. >> RIGHT. THIS IS BUTTERCREAM ICING. AND I PUT A BIG... BLOB. >> BLOB. >> IN THE MIDDLE. >> THAT'S A TECHNICAL TERM. >> THAT IS. AND THEN... >> AND THESE ARE ONES YOU'VE MADE UP AHEAD OF TIME. >> RIGHT. I MADE THESE LAST NIGHT, SO THEY HAD TIME TO DRY OVERNIGHT. AND THEN I JUST PUT THEM IN THE BLOB. >> SO WE DON'T EVEN NEED TO ADD THE WATER NOW BECAUSE THE ICING IS GOING TO HOLD THEM. >> AND I LIKE TO CUT MY BOWS, AS YOU CAN SEE HERE, ON A DIAGONAL. >> AT AN ANGLE. >> SO THAT WAY, WHEN YOU PLACE THEM TOGETHER, THEY FIT BETTER. >> OH, I HADN'T NOTICED THAT. I JUST LEARNED THAT OVER TIME. >> OK. >> THIS IS WHAT I--PRACTICE MAKES PERFECT. I PUT... NOW ACROSS FROM EACH OTHER TO MAKE LIKE A LITTLE SQUARE. AND THEN YOU ALTERNATE-- UP, SIDE, UP, SIDE, FOR THE BOTTOM ROW. >> UH-HUH. >> LIKE THAT. >> I WOULD HAVE NOT THOUGHT OF THAT. MM-HMM. THAT'S SO PRETTY ALREADY. >> A FULLER LOOK. >> YEAH. >> SOMETIMES YOU MAY JUST NEED TO ADD A LITTLE BIT MORE BUTTERCREAM. >> MM-HMM. >> AND THEN SINCE THOSE ARE-- >> DOWN, THESE ARE GONNA BE UP. >> THOSE ARE GONNA BE UP. >> I SEE. >> AND ALTERNATE THEM. LIKE THAT. AND SOMETIMES YOU JUST KIND OF HAVE TO PLAY WITH IT. >> KIND OF WORK THEM IN... >> RIGHT. [INDISTINCT] >> OH, I WONDERED WHY YOU MADE SOME LITTLE BITTY ONES. THAT'S GONNA BE THE TOP OF THE BOW. >> RIGHT. THEY'RE LIKE LITTLE FILLERS. >> UH-HUH. >> TO GIVE IT THAT, UM, THAT COMPLETED LOOK. AND JUST A LITTLE BIT MORE BUTTERCREAM. >> WELL, YOU DO MAKE THIS LOOK SO EASY. VERY NICE. >> AND THERE YOU HAVE IT. >> AND A CAKE THIS SIZE, WHAT WOULD YOU SAY IT SERVES? 8 OR... >> IT SERVES ABOUT 8 TO 10. >> 8 TO 10. UH-HUH. WELL, I APPRECIATE YOU SHOWING US HOW SIMPLE THIS REALLY IS TO DO. >> IT REALLY IS SIMPLE. I THINK ANYBODY CAN DO IT. >> WELL, IT'S A BEAUTIFUL CREATION. THANK YOU VERY MUCH, LAURA. I HOPE YOU ENJOYED THE SHOW TODAY. NEXT TIME ON "CREATIVE LIVING," WE'LL LEARN ABOUT THE NATIONAL DIABETES PREVENTION PROGRAM, SHOW HOW TO MAKE SOME EXCITING PROJECTS WITH STAMPS, AND DEMONSTRATE COOKING TURKEY. ONE OF MY NEXT GUESTS WILL DISCUSS THE CDC-LED NATIONAL DIABETES PREVENTION PROGRAM. THIS IS DESIGNED TO BRING EVIDENCE-BASED LIFESTYLE CHANGE PROGRAMS FOR PREVENTING TYPE 2 DIABETES. ANOTHER GUEST IS GOING TO SHOW SOME OF THE NEW CLEAR POLYMER STAMPS THAT ARE ON THE MARKET. THESE ARE FUN TO USE, THEY'RE EASY TO CLEAN, AND VERY VERSATILE, ONCE YOU KNOW A FEW BASIC TECHNIQUES. AND FINALLY, ANOTHER GUEST ON THE NEXT SHOW IS A TURKEY TALK LINE EXPERT, AND SHE'LL DEMONSTRATE RECIPE IDEAS FOR EACH SEASON OF THE YEAR. SHE'LL ALSO TELL US HOW TO SAVE MONEY BY GOING TO THEIR WEBSITE FOR COUPONS AND PROMOTIONS AND COST SAVINGS. ALL OF THESE TOPICS WILL BE FEATURED ON THE NEXT "CREATIVE LIVING" SHOW. AND IF YOU EVER HAVE COMMENTS OR SUGGESTIONS OR IDEAS FOR SHOWS, YOU CAN E-MAIL ME AT SHERYL.BORDEN@ENMU.EDU. I'D ALSO LIKE TO ASK YOU TO BECOME A FAN OF "CREATIVE LIVING" ON FACEBOOK. JUST GO TO FACEBOOK.COM AND IN THE SEARCH WINDOW TYPE IN "CREATIVE LIVING WITH SHERYL BORDEN." THANKS SO MUCH, AND I HOPE YOU'LL PLAN TO JOIN ME NEXT TIME FOR "CREATIVE LIVING." >> WE ARE VERY PLEASED TO OFFER A NEW BOOKLET THAT ACCOMPANIES THIS SERIES OF "CREATIVE LIVING." THIS BOOKLET IS TITLED "THE 6600 SERIES," AND IT FEATURES A WONDERFUL COLLECTION OF IDEAS AND INFORMATION. AND IT'S AVAILABLE FREE OF CHARGE ON OUR WEBSITE. POSTED AS A PDF FILE, YOU CAN SIMPLY DOWNLOAD THE ENTIRE BOOKLET OR JUST THE SEGMENTS YOU'RE MOST INTERESTED IN. AS WITH ALL OF THE "CREATIVE LIVING" BOOKLETS, YOU'LL FIND INFORMATION ON FOODS AND NUTRITION, CLOTHING AND FASHION, HEALTH AND BEAUTY, HOME DECORATING, AND MUCH MORE. FOR YOUR COPY OF THIS BOOKLET, GO TO OUR WEBSITE AT KENW.ORG AND THEN CLICK ON "CREATIVE LIVING," SCROLL DOWN TO THE BOOKLETS SECTION, AND YOU CAN CLICK ON THIS BOOKLET OR ANY OF THE OTHER BOOKLETS WE HAVE AVAILABLE ONLINE. ONCE AGAIN, JUST GO TO KENW.ORG, CLICK ON "CREATIVE LIVING," AND DOWNLOAD THE BOOKLET, TITLED "THE 6600 SERIES." WE ALSO WANT TO ENCOURAGE YOU TO SIGN UP FOR OUR FREE E-NEWSLETTER. JUST CLICK ON THE "SIGN UP NOW" BUTTON AND INPUT YOUR E-MAIL ADDRESS. THAT'S ALL THERE IS TO IT. YOU'LL ENJOY READING AN UP-TO-DATE NEWSLETTER FILLED WITH INTERESTING TOPICS AND INFORMATION. THANK YOU.
Now Playing As: Captioned (English) (change)
In this episode, a guest decorates cakes with bows and ruffles made from fondant, and another guest creates a custom upholstered headboard. And Carol Fenster discusses the Paleo Diet.
Media Details
Runtime: 27 minutes