Creative Living With Sheryl Borden #6614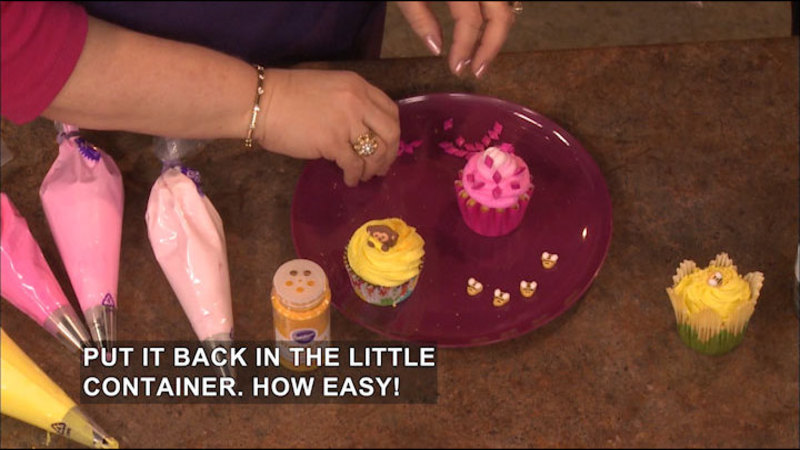 >> "CREATIVE LIVING," UTILIZING TODAY'S TECHNOLOGY WITH THE BEST OF THE PAST TO BRING YOU INNOVATIVE IDEAS AND UP-TO-DATE INFORMATION FOR CREATIVE LIFESTYLES IN TODAY'S ACTIVE WORLD, WITH YOUR HOST, SHERYL BORDEN. >> I'M SO GLAD YOU JOINED ME TODAY FOR "CREATIVE LIVING." WE'RE GOING TO LEARN HOW TO STAGE A HOME WHEN WE'RE TRYING TO SELL, WE'LL REVIEW SOME TECHNIQUES FOR CAKES AND CUPCAKES, AND THEN WE'LL TALK ABOUT DECORATING ON A BUDGET. DID YOU KNOW THAT A HOUSE WILL SELL 80% FASTER IF IT'S BEEN STAGED? ONE MY GUESTS IS DIANE ROMICK, AND SHE'S AN INTERIOR DESIGNER FROM NEWPORT COAST, CALIFORNIA. DIANE'S GOING TO SHARE LOTS OF IDEAS FOR EXPANDED STAGING OF A HOUSE. HER COMPANY IS CASTLE DESIGN STUDIO. ANOTHER GUEST IS NANCY SILER, AND SHE'S WITH WILTON BRANDS IN WOODRIDGE, ILLINOIS. NANCY IS GOING TO SHOW HOW TO DO A VARIETY OF TECHNIQUES THAT MAKE DECORATING CUPCAKES, COOKIES, AND OTHER DELICACIES MUCH EASIER. THIS INCLUDES FILLING A CUPCAKE, HOW TO USE A SPATULA TO APPLY ICING ON A CUPCAKE, AND HOW TO MAKE EASY SWIRL DESIGNS. AND WE'LL BEGIN THE SHOW WITH LACY JONES, WHO IS A VISUAL COORDINATOR FOR HAVERTY'S FURNITURE COMPANY IN LUBBOCK, TEXAS, AND LACEY WILL SHOW US HOW TO ARRANGE ANY ROOM IN THE HOUSE IN JUST 5 SIMPLE STEPS WITH AN EASY-TO-USE ONLINE ROOMER PLANNER. LACY, IT'S SO NICE TO HAVE YOU HERE. I'VE ALWAYS LOVED TO DRAW FLOOR PLANS AND TO DRAW HOUSE PLANS AND THEN MOVE THINGS AROUND, AND OF COURSE, WITH A PENCIL, YOU CAN AT LEAST ERASE AND MOVE THE FURNISHINGS AND THINGS, BUT WE'VE COME A LONG WAY, HAVEN'T WE, IN TERMS OF HOW YOU AS A VISUAL COORDINATOR FOR THE FURNITURE STORE, HOW YOU WORK WITH PEOPLE WANTING TO DECORATE A ROOM. >> YES, DEFINITELY WE HAVE. USED TO, I'D HAVE TO MEASURE OUT EVERY SINGLE PIECE OF FURNITURE AND THE ROOM AND THEN PUT IT ON THE PAPER. >> SOMETHING LIKE THIS. >> YES. DEFINITELY. >> THAT LOOKS VERY FAMILIAR. >> VERY FAMILIAR. >> YOUR CALCULATIONS--YOU WOULD, OF COURSE, ENTER ALL OF THAT. >> YES, AND IT WOULD BE VERY TIME-CONSUMING. >> WE WERE SAYING WHAT'S EVEN OLDER, AND I DO REMEMBER USING THIS, WHEN WE WOULD HAVE THE LITTLE PIECES OF FURNITURE THAT WE'D HAVE TO PEEL OFF AND STICK TO SOMETHING. >> OH, YES. >> IT WAS FUN, ACTUALLY. BUT YOU HAVE AN ONLINE PLANNING SYSTEM THAT PEOPLE CAN WORK ON AT HOME AND THEN BRING IT TO THE STORE AND ALREADY BE READY TO PICK OUT THINGS, CAN'T THEY? >> YES, DEFINITELY. IT'S VERY EASY TO DO, AND YOU JUST PICK OUT YOUR FURNITURE. FIRST, YOU HAVE TO PUT THE DIMENSIONS IN TO BUILD YOUR ROOM. THEN YOU CAN PICK OUT THE FURNITURE, AND THEN YOU CAN JUST USE IT. >> OK. AND YOU SAID THERE'S, LIKE, 5 STEPS TO THIS WHOLE THING--FIRST OF ALL, OF COURSE, PUTTING IN THE DIMENSIONS. AND THEN THE FUN PART, I WOULD THINK, WOULD BE SELECTING THE FURNITURE THAT YOU WANT. >> OH, YEAH. THAT'S THE BEST PART ABOUT IT. AND SELECTING IT-- >> SO YOU'VE ALREADY PUT THE DIMENSIONS OF THIS ROOM TOGETHER. >> YES. >> AND YOU'RE GOING TO WHAT? DRAG IN SOME FURNITURE? >> YEAH, DEFINITELY. OR SINCE I ALREADY HAVE THIS SET UP, I'M JUST GOING TO CLICK ON THAT, AND I CAN JUST BRING IT OVER TO THE OTHER SIDE OF THE ROOM IF I WANTED TO AND TURN IT AROUND. AND IT ALSO GIVES ME MY DIMENSIONS, AND ALSO, IF YOU JUST POINT YOUR MOUSE TO SOMETHING, IT WILL TELL EXACTLY WHAT IT IS. IT'S A TABLE LAMP. >> INSTEAD OF THE WAY WE USED TO DO IT. IT WOULD BE A ROUND CIRCLE, AND THAT COULD EITHER BE A TREE, A FAKE TREE, OR IT COULD BE A LAMP, OR IT COULD BE A ROUND TABLE. >> YES, DEFINITELY. AND IT'S REAL EASY JUST TO TAKE OFF. IF YOU DECIDED YOU DIDN'T WANT THAT ANYMORE, YOU CAN JUST CLICK AND TAKE IT OFF. OR IF YOU WANTED TO ADD MAYBE A DESK OR SOMETHING IN THERE--A LOT OF PEOPLE USE COMPUTERS IN THEIR LIVING ROOM. THERE'S YOUR DESK RIGHT THERE. >> MM-HMM. >> AND YOU CAN JUST DRAG IT AND PUT IT ANYWHERE YOU WANT. >> AND ROTATE IT. >> AND ROTATE IT. DEFINITELY. >> SURE BETTER THAN HAVING TO MOVE FURNITURE, TOO, ISN'T IT? >> OH, YEAH, IT DEFINITELY IS. >> SO THEN AFTER PEOPLE HAVE JUST ABOUT FIGURED OUT WHAT THEY WANT, DO WANT THEM TO ACTUALLY BRING IN THE DRAWING, PRINT IT OFF AND BRING IT IN? >> YES, DEFINITELY. IF YOU BRING IT IN, THEN WE CAN KIND OF FIGURE OUT WHAT YOU'RE LOOKING FOR AND HELP YOU DECIDE ON IF THAT'S DEFINITELY GOING TO LOOK GOOD. SINCE THIS IS, YOU KNOW, GRAY AND BLUE, YOU MIGHT NOT HAVE THE COLOR SCHEME JUST PERFECT, SO IF YOU BRING IT IN AND LET US HELP YOU WITH IT, THEN WE CAN MAKE YOUR ROOM LOOK LIKE SOMETHING OUT OF A MAGAZINE. >> YEAH. I'M SURE THAT'S TRUE. WE WENT AHEAD AND PRINTED OUT A COUPLE OF SAMPLES THAT WE THOUGHT MIGHT BE INTERESTING TO LOOK AT. SO THIS MIGHT BE WHAT I MIGHT BRING TO THE STORE IF I WAS REALLY LOOKING AT FURNITURE. BUT WHAT'S REALLY NICE IS IT ALSO PRINTS OUT A LIST OF THE PRODUCTS AND THE SIZES AND HOW MANY WE'D NEED, SO IT HELPS A PERSON IN YOUR POSITION TO KNOW WHAT WE'D HAVE ROOM FOR. >> YES, DEFINITELY, IT WOULD. AND ALSO, YOU CAN EMAIL THEM TO THE STORE, AND WE CAN HELP REARRANGE IT, TOO, AND GIVE YOU SOME IDEAS AS WELL. >> YEAH. THIS TELLS ABOUT THE AREA RUG. YOU HAVE 2 ARM CHAIRS, THE SERVER, THE CHINA CABINET. SO IT JUST GETS IT ALL DOWN PRETTY DETAILED, DOESN'T IT? >> OH, YEAH, AND IT'S A LOT OF FUN TO DO DIFFERENT ROOMS, TOO. >> AND I WOULD ASSUME THAT IT MIGHT HELP THE CUSTOMER FOR YOU TO BE ABLE TO LOOK AT IT AND HELP THEM REALIZE THAT IF THEY MOVE THE FURNITURE A CERTAIN WAY--MAYBE AT AN ANGLE, FOR INSTANCE--THEY'D HAVE MORE FLOOR SPACE OR MORE LIVING SPACE. >> YEAH, DEFINITELY. >> WELL, THAT'S REALLY QUITE INTERESTING, AND LIKE YOU SAY, IT'S ONLY 5 STEPS, SO IT DOESN'T TAKE ANYONE LONG TO DO. >> YES. IT DOESN'T TAKE VERY LONG AT ALL, AND IT'S A LOT OF FUN TO REARRANGE AND FIX WHATEVER ROOM THAT YOU WANT TO, OR REDECORATE WHATEVER ROOM YOU WANT TO. >> AND THEY GO TO HAVERTYS.COM. >> YES. >> WHAT'S THE SECTION CALLED? >> PLAN YOUR ROOM. >> PLAN YOUR ROOM. >> YES. >> AND THEN THERE'S 800 NUMBERS THEY CAN CALL IF THEY HAVE PROBLEMS, TOO. >> OH, YEAH, DEFINITELY. >> WELL, THANK YOU SO MUCH. THIS REALLY HAS COME A LONG WAY FROM THE WAY WE USED TO DRAW IT OUT WITH PENCIL AND A RULER. >> YES, IT SURE HAS. >> THANKS, LACY. >> THANK YOU. >> NANCY, THANK YOU SO MUCH FOR BEING HERE TODAY. I HAVE ALWAYS ENJOYED A CUPCAKE BETTER THAN A PIECE OF CAKE. IT CAN BE THE SAME CAKE, THE SAME ICING AND EVERYTHING, BUT IT'S JUST KNOWING IT'S IN THOSE INDIVIDUALIZED LITTLE LINERS. >> IT'S JUST FOR YOU. >> IT'S JUST FOR ME. I GUESS I HADN'T THOUGHT ABOUT IT THAT WAY. >> HA HA HA! >> BUT YOU'VE REALLY GIVEN A NEW LOOK TO CUPCAKE LINERS THEMSELVES. >> WELL, YES. THERE'S SO MANY DIFFERENT PATTERNS OUT ON THE MARKET. THERE'S SOME THAT LOOK LIKE FLOWERS AND SCALLOPS, AND WILTON HAS INTRODUCED COLOR CUPS, WHICH ACTUALLY THE COLOR RETAINS WHEN YOU BAKE IT, BECAUSE YOU KNOW SOMETIMES WITH THE BAKED GOODS, YOU DON'T GET THAT CLEAR, VIVID COLOR AS MUCH. SO THAT'S SOMETHING NEW FOR US. BUT YOU KNOW, IT'S KIND OF A WHOLE DIFFERENT CHAPTER IN CUPCAKES. >> RIGHT. >> THEY'RE NOT LIKE THE CUPCAKES THAT I GREW UP WITH, AND I'M KIND OF EXCITED TO SHOW YOU SOME OF THE DIFFERENT THINGS THAT YOU CAN DO WITH THEM. >> WELL, LET'S TAKE A LOOK, AND EVERYBODY THEN CAN SEE WHAT YOU'RE GOING TO DECORATE. I LOVE THE ONES WITH THE LITTLE MONKEY ON THE TOP HOLDING HIS BANANA, AND THAT HAS A PARTY THEME LOOK TO IT, WITH THE LINER, RIGHT THERE. THAT JUST MAKES YOU IN A PARTY MOOD. >> ABSOLUTELY. >> AND THEN THE LITTLE BUMBLEBEES. I THOUGHT THAT WAS REALLY CUTE, WITH THE-- WHAT WOULD YOU CALL THAT KIND OF A GRASS/FLOWER DESIGN ON THE CUPCAKE LINER? >> WE JUST CALL IT A PETAL CUP, AND IT COMES IN A BUNCH OF DIFFERENT COLORS, SO YOU COULD MATCH IT WITH ANY COLOR THAT YOU WANTED, OR YOU COULD MIX AND MATCH THEM. AND YOU KNOW, I PUT A 1M SWIRL ON TOP OF THAT, BUT YOU COULD JUST SPATULA-ICE THOSE CUPCAKES AND LEAVE THEM PLAIN AND PEOPLE WOULD GO "WOW!" >> AND ONCE YOU PUT THOSE LITTLE BITTY BEES ON TOP, IT'S GREAT. AND NOW THE VARIEGATED-- THAT'S KIND OF A NEW LOOK. >> OMBRE IS A HUGE TREND. YOU'LL SEE IT IN CLOTHING. YOU'LL ALSO SEE IT IN FOOD. A LOT OF PEOPLE ARE COLORING THEIR CAKE MIX SO THAT IT'S GRADUATED IN DIFFERENT SHADES. >> OH. NEVER THOUGHT ABOUT IT. >> YEAH. SO THAT'S REALLY A HOT LOOK IN COLOR. BUT LET'S TALK ABOUT BASIC BAKING OF YOUR CUPCAKES. MOST EVERYBODY HAS A MUFFIN PAN. THERE ARE SOME BAKING CUPS ON THE MARKET WHERE YOU CAN JUST PUT THEM ON A COOKIE SHEET, BUT YOU WANT TO MAKE SURE THAT THEY'RE THE RIGHT ONES. OTHERWISE, MAKE SURE YOU PUT THEM IN A BAKING PAN. AND YOU WANT TO MAKE SURE YOU FILL YOUR CUPCAKE CAVITY 2/3 FULL SO YOU GET A GOOD DOME AND YOU DON'T HAVE, LIKE, SOME OF THEM THAT ARE THAT, SOME OF THEM THAT ARE THAT TALL. >> OVERFLOW. >> ONE OF THE THINGS WE'VE COME OUT WITH IS--THIS IS A PERFECT FILL BATTER TIP, AND YOU CAN SEE IT'S LIKE A COUPLER, A DECORATING COUPLER. >> THAT'S WHAT I THOUGHT IT WAS. >> AND THEN YOU JUST SCREW IT ON LIKE YOU WOULD A DECORATING COUPLER, BUT THERE IS A SILICONE FEED HERE SO WHEN YOU'RE SQUEEZING YOUR BATTER OUT, IT COMES OUT DIRECTLY INTO YOUR CAVITY, AND THEN WHEN YOU STOP, IT STOPS, SO YOU DON'T HAVE ANY DRIPS AND YOU DON'T GET DRIPS ALL OVER HERE. I DON'T LIKE TO BAKE THE DRIPS BECAUSE THEN YOU HAVE TO KIND OF CLEAN THE PAN. I DON'T LIKE CLEANING VERY MUCH. AND THEN, YOU KNOW, IT JUST MAKES IT SO MUCH EASIER. IF YOU TRY TO USE A SPOON OR SOMETHING LIKE THAT, SOMETIMES YOU'RE STILL DRIPPING, BUT THIS IS JUST A PERFECT WAY TO GET IT IN. >> SO IN OTHER WORDS, YOU PUT THE CAKE BATTER INSIDE THIS. >> YES, INSIDE THE BAG. >> I SEE. I'VE NEVER THOUGHT ABOUT THAT. >> SO THAT'S ONE WAY TO DO IT, BUT THE MAIN POINT HERE IS, MAKE SURE YOU FILL IT 2/3 FULL SO YOU GET A NICE BAKE. SO HERE I HAVE A BAKING CUP, AND IT'S KIND OF PLAIN, SO WHAT I THOUGHT I'D DO IS FILL THIS. THIS IS A BISMARCK TIP, SO IT'S A LONG AND NARROW TIP, AND I HAVE RASPBERRY JELLY IN HERE. YOU CAN ALSO DO ICING. YOU CAN SEE THE RASPBERRY JELLY IS A LITTLE OOZY, BUT WHAT I'M GOING TO DO IS, I'M JUST GOING TO STICK THIS IN. YOU CAN'T REALLY SEE VERY MUCH OF IT, BUT I'LL HAVE THAT ON TOP. IF YOU DON'T LIKE THAT ONE, YOU WANT TO PUT YOUR BUTTER CREAM ON, YOU CAN JUST WIPE IT OFF. BUT THAT WAY, YOU HAVE A FILLED CUPCAKE SO WHEN YOU BITE INTO IT, THERE'S A NICE FEELING TO IT. >> SORT OF A SPECIAL TREAT. >> YOU CAN ALSO DO IT WITH ICING. YOU CAN DO IT WITH COLORED ICING, SO THERE'S ALL SORTS OF THINGS THAT YOU COULD DO. NOW, I WANT TO SHOW YOU HOW TO ICE A CUPCAKE. NOW, I'VE ALWAYS USED THE ANGLED SPATULA. WE ALSO HAVE THIS CUPCAKE SPATULA THAT YOU CAN USE SO THAT YOU PICK UP A LOT MORE ICING. YOU WANT TO MAKE SURE YOU GET ENOUGH ICING, AND THEN YOU JUST COME AROUND. YOU PUT IT IN THE CENTER, AND YOU JUST COME AROUND UNTIL YOU GET TO THE OUTSIDE. NOW, WHEN I GREW UP, WHEN I FIRST STARTED BAKING, YOU ABSOLUTELY HAD TO GO TO THE ENTIRE OUTSIDE. NOW A LOT OF PEOPLE ARE LEAVING A LITTLE BIT OF THE CUPCAKE LOOK THERE SO THAT YOU ACTUALLY SEE SOME OF THE BAKED GOOD. >> OH, I DIDN'T KNOW THAT. >> YOU COULD SEE IT THERE. NOW, OK, THAT ISN'T THE GREATEST. I MEAN, I COULD COME AROUND AND FINISH IT OFF, BUT HERE'S ANOTHER LOOK THAT YOU CAN DO. >> I LIKE THAT. >> THAT WAY, NOBODY SAYS, "OH, SHE DIDN'T ICE IT PERFECTLY," OR, "SHE'S GOT A LINE." IT JUST LOOKS REALLY KIND OF NICE. >> IT ALMOST LOOKS LIKE YOU USED THAT GRASS TIP. >> MM-HMM. 233 IS THE GRASS TIP. >> 233. >> AND THEN THESE ARE JUST SOME SPRINKLES TO PUT ON TOP. SO YOU CAN SEE YOU DON'T HAVE TO DO A GREAT JOB. YOU DON'T HAVE TO BE A PERFECT ICER TO ENJOY A CUPCAKE. NOW, AFTER YOU'VE GRADUATED FROM FLAT ICING OR POINTS UP AND DOWN, THIS IS A 1M TIP, AND SO IT'S A LARGE STAR TIP, AND WITH THAT, YOU START IN THE MIDDLE. YOU START SQUEEZING, AND THEN YOU COME AROUND THE OUTSIDE PERIMETER TO THE CENTER. >> WITHOUT LETTING UP. >> WITHOUT LETTING UP. >> ALMOST LIKE AN ICE CREAM MACHINE. >> YES. EVERYBODY IS FAMILIAR WITH THAT NOW. YOU SELF-SERVE YOUR OWN. SO THEN I'M PUTTING LITTLE COLORED SUGARS ON TOP. AND HERE'S OUR LITTLE MONKEY. >> HOW CUTE! >> HE KIND OF SANK IN THE ICING. AND THEN, IF YOU WANTED TO DO YOUR BEES--THIS IS IN THE PETAL CUP, SO AGAIN, YOU START IN THE CENTER, AND THAT HELPS BECAUSE YOU GET A HIGHER MOUND, AND YOU JUST GO AROUND, AND THEN YOU CAN JUST PUT YOUR LITTLE BEES. YOU KNOW, LET'S PUT SOME YELLOW JIMMIES ON TOP. YOU GOT TO EMBELLISH THESE CUPCAKES. >> THE MORE, THE MERRIER. >> THAT KIND OF BLENDS IN. YOU COULD DO A CONTRASTING COLOR IF YOU WANTED TO, AND I'LL JUST PUT ONE SINGLE LITTLE GUY ON TOP. BUT THOSE ARE JUST-- IT'S A 6-CELL SO THAT YOU HAVE DIFFERENT COLORS ON THAT. THEN FOR THE LAST ONE, THIS IS A ROUND TIP, AND THIS IS A 2A, AND IT'S A LARGER TIP, SO IT'S SIMILAR TO YOUR 1M. >> AND THIS IS WHAT YOU'RE CALLING OMBRE BECAUSE IT STARTS DARKER AT THE BOTTOM. >> MM-HMM. AND YOU JUST GO AROUND, AND YOU KEEP KIND OF COMING TOWARD THE CENTER. AND THEN YOU CAN SEE THE GRADUATED OF THE PINK, AND I DID START IN THE MIDDLE, SO I'M GOING TO KIND OF CHEAT AND JUST PUT A LITTLE MORE THERE. AND YOU JUST KEEP GOING AROUND, AND I'M JUST GOING TO, BECAUSE THIS IS A SMALLER CUPCAKE-- >> THAT'S A VERY PALE PINK. >> UH-HUH. SO YOU CAN SEE IT JUST KIND OF GRADUATES UP, AND THEN I'M GOING TO PUT A COUPLE OF SPRINKLES ON TOP. >> AND IT'S A GOOD IDEA TO WORK IN SOMETHING SO YOU CAN CATCH THE THINGS, BECAUSE I NEVER THROW ANY OF IT AWAY. I JUST PUT IT BACK IN THE LITTLE CONTAINER. HOW EASY! >> SO THAT JUST, YOU KNOW, IS HOW YOU DO THE OMBRE CUPCAKE. SO HOPEFULLY, THIS INSPIRES PEOPLE TO TRY A NUMBER OF DIFFERENT THINGS. WE HAVE SOMETHING THAT LOOKS WHIMSICAL, WE HAVE SOMETHING THAT'S SEMI-WHIMSICAL, SEMI-ADULT, AND THEN WE HAVE WHAT I WOULD SAY WOULD BE A LITTLE BIT MORE ELEGANT-LOOKING. >> IT REALLY IS. JUST THE CUPCAKE LINERS THEMSELVES ALREADY TELL YOU SORT OF WHAT DO TO DO WITH IT, SO IT'S NICE TO HAVE THOSE ALREADY ON THE MARKET, READY TO GO. >> ABSOLUTELY, BUT THESE ARE JUST SO MUCH FUN, AND AGAIN, AN INDIVIDUAL TREAT JUST FOR YOU. >> JUST FOR YOU. WELL, THANK YOU FOR SHOWING US. APPRECIATE IT, NANCY. >> DIANE, IT'S SUCH A PLEASURE TO HAVE YOU HERE. WORKING IN INTERIOR DESIGN AND SEEING BEAUTIFUL HOUSES AND THE ONES THAT YOU TURN FROM NOT TOO BEAUTIFUL TO BEAUTIFUL-- WHEN YOU SAID WE WERE GOING TO TALK ABOUT HOME STAGING, I THOUGHT, ISN'T THAT WHAT A REALTOR DOES WHEN YOU'RE TRYING TO SELL YOUR HOUSE? HOW DOES YOUR BUSINESS OF BEING AN INTERIOR DESIGNER DO THAT? >> WELL, SHERYL, FIRST OF ALL, THANK YOU SO MUCH FOR HAVING ME. A REALTOR IS VERY MUCH MORE OF THE BUSINESS END OF SELLING A HOME, IN REGARDS TO, THEY'VE GOT TO GO GET THE COMPS, THEY'VE GOT TO MAKE SURE THAT THE MEETS AND BOUNDS AND PROPERTY IS ALL CORRECT AND THE PAPERWORK. YOU'VE SEEN THE PAPERWORK WITH REAL ESTATE--THIS TALL. AND SO THEY REALLY ARE MUCH MORE PAPER ORIENTED, IF YOU WILL, WHERE A DESIGNER IS GOING TO GO INTO A HOUSE AND REALLY HELP OTHER PEOPLE TO IMAGINE THEMSELVES LIVING THERE. >> I SEE. AND YOU TAKE IT A STEP FURTHER AND TALK ABOUT EXPANDED HOME STAGING. WHAT DO YOU MEAN BY THAT? >> WELL, WE'VE ALL HEARD HOME STAGING IS BASICALLY CLEAN, DECLUTTER, DEPERSONALIZE, AND YET, IF WE JUST EXPAND ON THAT. AND I KIND OF HAVE 7 DIFFERENT STEPS THAT I HELP PEOPLE WITH, AND THE FIRST ONE IS INDEED TO GET A BUSINESS MINDSET. >> WHEN I READ THAT, I THOUGHT, NOW, WE'RE JUST A FAMILY. WE'RE JUST A HUSBAND, WIFE, 2 OR 3 KIDS, AND I COULDN'T IMAGINE HOW YOU WOULD MAKE THIS INTO A BUSINESS. HOW DO YOU DO THAT? >> WELL, YOU FIRST CONGRATULATE YOURSELF. YOU'RE GOING TO BE CEO OF YOUR NEW COMPANY, AND THE COMPANY WILL, INDEED, BE ALL ABOUT SELLING YOUR HOUSE. SO WHAT YOU REALLY MOST IMPORTANTLY NEED TO DO IS TAKE THE PERSONAL EMOTIONAL ASPECTS OF THE HOUSE OUT. IT'S NO LONGER YOUR HOME. IT'S AN OBJECT THAT'S TO BE SOLD, AND SO IF YOU'VE GOT-- >> THAT'S HARD FOR SOME FAMILIES, ISN'T IT? >> IT'S SUPER HARD, FOR ALL OF US, AND IT'S SO MUCH OF OUR IDENTITY, YOU KNOW? YOU WANT TO HAVE PEOPLE OVER TO YOUR HOME AND SHOW THEM, YOU KNOW, WHAT REALLY REPRESENTS YOU. >> OR YOUR KIDS WERE BORN THERE, OR, LIKE YOU SAY, YOU'VE ENTERTAINED THERE, SO IT'S HARD EMOTIONALLY, I GUESS, TOO. >> EXACTLY RIGHT. AND SO IF PEOPLE START, NUMBER ONE, WITH A BUSINESS MINDSET--THEY ALL SIT DOWN AT A TABLE, AND THEY SAY, YAY, US. WE'VE STARTED THIS NEW BUSINESS, AND WHAT IS OUR GOAL? WHAT'S THE MOST IMPORTANT THING? NOT JUST SELL FOR A LOT OF MONEY AND SELL REALLY QUICKLY, BUT INDEED TO BE VERY SPECIFIC. SAY, FOR EXAMPLE, THEY WANT TO MOVE TO A DIFFERENT SCHOOL DISTRICT. >> OH. YEAH. THAT MAKES SENSE. >> SO THAT WAY, THEY REALLY HAVE DOWN, ON PAPER, A REMINDER FOR THEMSELVES, "OK, WE REALLY WANT TO SELL THIS HOUSE BECAUSE..." >> DOES THAT SORT OF LEAD INTO THE SECOND AREA, THE MANTRA FOR MOVING? JUST KEEP TELLING YOURSELF, "THIS IS WHY WE'RE DOING THIS." >> EXACTLY RIGHT. YOU KNOW, WHEN YOU'RE MOVING, THERE ARE GOING TO BE FRUSTRATING THINGS THAT HAPPEN, AND PEOPLE, FAMILIES, ARE GOING TO GET FRUSTRATED WITH EACH OTHER. THE STRESS LEVEL FOR A MOVE IS RIGHT UP THERE WITH DIVORCE AND DEATH. IT'S REALLY CHALLENGING. >> THAT'S INTERESTING. >> AND SO IF A FAMILY HAS ALREADY CREATED THEIR GOAL AND HAS TURNED THAT INTO A MANTRA FOR MOVING, THEN WHEN THEY HIT ON THOSE TRYING TIMES, OR WHEN MAYBE SOMEBODY'S NOT DOING THEIR PART TO KEEP THE HOUSE CLEAN AND PERFECT, THEY CAN SAY, "WE'RE SELLING FOR THE SCHOOL. WE'RE SELLING FOR THE SCHOOL." >> UH-HUH. JUST REMIND YOURSELF. AND YOU SAY IT'S IMPORTANT TO WORK WITH YOUR TEAM. WHO ALL IS A PART OF THAT TEAM? >> WELL, INDEED, STEP NUMBER 3 IS, LISTEN TO YOUR TEAM. SO, ON THE TEAM, YOU WOULD HAVE YOUR REALTOR, CERTAINLY EVERYONE IN YOUR FAMILY, AND THEN THE STAGER, AND ANYONE ELSE INVOLVED WITH, PERHAPS, CLEANING THE HOME, MAKING THE NECESSARY REPAIRS, THINGS LIKE THAT. SO WHEN THESE PEOPLE SAY, "I RECOMMEND YOU DO SOMETHING," DO IT. >> LISTEN TO THEM. >> EXACTLY. >> EVEN THOUGH WE MAY HAVE ALL OF OUR KNICKKNACKS DISPLAYED ON A TABLE AND WE LOVE IT, THAT JUST LOOKS LIKE CLUTTER, WHICH IS SORT OF LIKE THE NEXT AREA. YOU TALK ABOUT PACKING EARLY, WHICH WOULD ALSO MEAN PURGING, GETTING RID OF SOME OF THOSE THINGS THAT LOOK LIKE CLUTTER TO EVERYBODY ELSE BESIDES US. >> RIGHT. THEY JUST DON'T KNOW. WELL, IT'S SO DIFFICULT WHEN YOU'RE GOING TO MOVE. ON ONE HAND, YOU WANT TO MAKE YOUR HOME AND YOUR HOUSE LOOK REALLY GREAT, SO YOU THINK, "WELL, OF COURSE I'M GOING TO DO THAT WITH MY LIMOGE COLLECTION," OR SOMETHING. HOWEVER, MOST IMPORTANT IS TO GET THE MOST OF YOU OUT SO OTHER PEOPLE CAN IMAGINE THEMSELVES IN. >> I SEE. >> SO YOU DO WANT TO PACK EARLY, AND IF PEOPLE CAN'T BE PERFECTIONISTS AND REALLY GO THROUGH A PURGING, THAT'S OK. PACK IT ALL UP. >> DEAL WITH IT WHEN YOU MOVE. >> MM-HMM. >> THEY CAN MAKE THOSE DECISIONS THEN. >> RIGHT. >> WELL, I WANTED TO GET INTO SOME EXAMPLES, AND I GUESS A KITCHEN--WE ALL HAVE OUR MOMENTS, BUT THIS IS AN EXAMPLE OF PROBABLY ONE OF THE WORST KITCHENS I'VE EVER SEEN, AND A KITCHEN IS IMPORTANT FOR A POTENTIAL BUYER, TO SEE SPOTLESS, ALMOST. >> ABSOLUTELY, SPOTLESS IS THE BARE MINIMUM. >> BARE MINIMUM. >> RIGHT. RIGHT. THIS IS A CRAZY PHOTOGRAPH. BELIEVE IT OR NOT, SOMEBODY VOLUNTARILY POSTED THIS PHOTOGRAPH OF THEIR KITCHEN ON THE INTERNET. THIS IS NOT ONE OF MY CLIENTS. BUT WHAT IT SAYS TO ME IS, YOU KNOW, PEOPLE WILL POST SOMETHING AND SAY, "OH, LOOK HOW BUSY I AM." THIS IS NOT A TIME TO BE ABLE TO BRAG ABOUT HOW BUSY YOU ARE. THIS IS A TIME TO BE PERFECT. >> BETTER GET BUSY AND CLEAN IT UP. >> YES. >> PERFECTION. IT'S A SMALL PICTURE, BUT MAYBE WE CAN SEE DOWN HERE. THIS IS AN EXAMPLE OF WHAT A POTENTIAL BUYER WOULD LOOK FOR--THE CABINET SPACE, THE COUNTERTOPS. YOU KNOW, THE FRUIT ON THE ISLAND IS NICE. IT'S A NICE TOUCH. HOW DO YOU MOTIVATE PEOPLE TO SUCCEED AND GET TO THIS POINT? >> WELL, IF THEY HAVE LISTENED AND THEY'VE PACKED EARLY AND THEY'VE DECLUTTERED, THAT MEANS THAT YOU'RE MORE OR LESS STARTING WITH A CLEAN SLATE, AND SO WHEN, AS A STAGER, A DESIGNER, YOU COME IN, YOU INDEED JUST WANT TO HAVE EVERYTHING OUT THAT'S PRETTY, AND WHAT YOU'RE REALLY TRYING TO DO IS HELP SOMEONE ELSE NOT ONLY IMAGINE THEIR OWN ITEMS IN THAT HOME, BUT YOU WANT TO HELP THEM IMAGINE, "IF I LIVED HERE, I WOULD BE THIS ORGANIZED. MY HOME WOULD BE THIS GORGEOUS ALWAYS." >> I SEE. THAT'S INTERESTING. OK. LET'S GO TO THE FAMILY ROOM, WHICH IS WHERE WE LIVE, SO YOU WOULD ALMOST THINK--ALTHOUGH I THINK THIS IS A DISASTER, BUT YOU WOULD ALMOST THINK, WELL, MAYBE THAT'S OK, TO LET IT BE KIND OF "LIVED IN." >> IT'S SUCH A GOOD POINT THAT YOU'RE MAKING. PEOPLE CONSTANTLY WANT TO ARGUE OR DEBATE THE POINT THAT EVERYTHING SHOULDN'T HAVE TO BE PERFECT. IT'S A FAMILY HOME, SO THEY WOULD KNOW AND UNDERSTAND THAT PEOPLE LIVE HERE. IT'S ABSOLUTELY NOT THE CASE. GET ALL OF THAT STUFF UP AND OUT, AND HELP PEOPLE TO IMAGINE THEMSELVES THERE. >> AND THIS IS AN EXAMPLE OF A ROOM THAT WOULD BE VERY APPEALING TO A POTENTIAL BUYER, BUT I DO HAVE A QUESTION ABOUT THIS FAMILY PHOTO OVER THE MANTLE. IS THAT OK? >> IT'S NOT OK. >> OH, IT'S NOT. >> GOOD EYE. WHEN WE SAY DEPERSONALIZE, 100% DEPERSONALIZE. AS SOON AS-- YOU KNOW, IT'S HUMAN NATURE. AS SOON AS ANY OF US LOOK AT THAT PHOTOGRAPH, IF WE DID EYE TRACKING LIKE THEY DO FOR MARKETING, WE WOULD SEE EVERYBODY'S EYE VERY QUICKLY GOES TO THAT FAMILY PHOTO. WE'RE CURIOUS CREATURES, AND WE WANT TO KNOW WHO LIVES THERE, BUT AS SOON AS THAT HAPPENS, OTHER PEOPLE, POTENTIAL BUYERS, SAY, WELL, THIS IS THEIR HOME. >> OH, I SEE. YOU KNOW, I WOULD HAVE NEVER THOUGHT ABOUT THAT. >> SO IF ALL ELSE FAILS, WHERE YOU HAVE A FAMILY PHOTO, TAKE IT OUT, PUT IN A MIRROR. >> OH, A MIRROR. >> BECAUSE THEN LITERALLY, THEY'RE SEEING THEMSELVES MOVING IN. >> THAT'S A GREAT IDEA. SO YOU DO HAVE TO DO A LOT OF REPLACING. WE TALKED BRIEFLY ABOUT CLEAN, DECLUTTER, AND DEPERSONALIZE, AND I THINK MOST OF US, IF WE WERE POTENTIAL SELLERS, WOULD THINK THAT'S ALL YOU HAD TO DO, BUT WHAT DO YOU MEAN WHEN YOU SAY BRAND YOUR HOME? >> STEP NUMBER 6, BRAND YOUR HOME, IS REALLY JUST TAKING A LITTLE LESSON FROM ALL THE MARKETING THAT AFFECTS AND IMPACTS OUR DAILY DECISIONS AND HOW WE SPEND OUR MONEY. AND SO, FOR EXAMPLE, IF YOU'VE GOT A PRODUCT THAT YOU'RE SELLING--SINCE THIS IS THE BUSINESS--THEN YOU WANT TO BE ABLE TO HAVE A PERSON REMEMBER THAT, HAVE, LIKE, YOUR TAGLINE. SO, SHERYL, HAVE YOU EVER BEEN IN A HOME, LOOKING AT HOUSES, AND RECALLED IT LATER AND DESCRIBED IT TO SOMEONE? >> OH, UH-HUH. THE ONE WITH THE ARCHES THROUGHOUT OR THE BEAUTIFUL ENTRY. YEAH. SO THAT'S BRANDING. >> MM-HMM. AND SO, IF YOU CAN SET UP WHAT SOMEBODY ELSE WILL BE SAYING ABOUT YOUR HOME, YOU'RE GOING TO BE IN A MUCH BETTER SITUATION. BETTER THAT THEY SAY, "OH, IT'S THE HOME WITH THE BEAUTIFUL ENTRYWAY," THAN, "OH, YOU REMEMBER THE HOME. IT WAS REALLY CLUTTERED IN THE FAMILY ROOM. IT MIGHT HAVE POTENTIAL." >> UH-HUH. >> NO. BRAND IT. MAKE IT THE RED DOOR HOUSE, SOMETHING NICE. >> THAT'S A GOOD POINT. AND THEN ALSO, YOU SAY STAGE FOR LIKELY BUYERS, BUT WOULDN'T YOU HAVE TO THEN REDO EVERYTHING IF YOU HAD ONE TYPE OF PEOPLE COMING IN AND ANOTHER? HOW WOULD A HOMEOWNER DO THAT? >> WELL, WHEN I TALK ABOUT STAGE FOR THE "LIKELY BUYER," THAT IS INDEED PLAYING OFF OF YOUR REALTOR'S INFORMATION. SO THERE ARE CERTAINLY TIMES WHEN A HOUSE COULD BE APPEALING TO MANY DIFFERENT POTENTIAL BUYERS. IN THAT CASE, WE'RE PROBABLY GOING TO STICK WITH THE GOOD OLD BEIGE WHITE. YOU KNOW, A LITTLE BIT MORE MELLOW. >> UH-HUH. YEAH. >> AND APPEALING TO MORE. BUT IF, FOR EXAMPLE, THE HOUSE IS NEAR A UNIVERSITY, LET'S SAY. SO YOU KNOW MOST LIKELY THE BUYER WILL BE ACADEMICALLY MINDED. MAYBE THAT FAMILY ROOM THEN GETS MORE OF A LIBRARY LOOK. >> THE BOOKCASES ARE SORT OF A FOCAL POINT, MORE SO THAN PUTTING ALL KNICKKNACKS ON THEM. >> EXACTLY RIGHT. YEAH. >> I SEE. >> AND IF IT'S NEAR AN ARTSY DISTRICT, MAYBE THE WALLS ALL ARE WHITE AND YOU PUT UP MODERN ART FOR A GALLERY FEEL. >> I SEE. >> SO IT'S REALLY TO PLAY INTO THAT LIKELY BUYER. >> THAT'S INTERESTING. SO YOU DO HAVE TO PUT A LOT OF STUDY INTO THIS. I READ ONE OF YOUR STATISTICS, AND IT SAID A HOUSE IS--IS IT 80% MORE LIKELY TO SELL FASTER IF IT'S STAGED AND IF WE FOLLOW THESE 7 STEPS? >> WELL, BELIEVE IT OR NOT, THE STATISTIC FROM THE REAL ESTATE STAGING ASSOCIATION IS THAT A HOUSE WILL SELL APPROXIMATELY 80% FASTER. SO YOU CAN JUST IMAGINE, WOULD YOU LIKE TO HAVE YOUR HOME ON THE MARKET FOR 2 MONTHS OR FOR 8 OR 9 MONTHS? >> RIGHT. YOU'RE LOSING MONEY EVERY TIME THAT IT'S EXTENDED. >> EXACTLY. SO IT'S WORTH THE TRIALS AND TRIBULATIONS OF STARTING YOUR OWN BUSINESS. >> THAT'S RIGHT. WELL, THANK YOU FOR SHARING THESE 7 TIPS WITH US. THE EXAMPLES ARE GREAT, AND THEY REALLY DO MAKE US THINK. I APPRECIATE YOU BEING HERE, DIANE. >> THANK YOU, SHERYL. >> I HOPE YOU ENJOYED THE SHOW TODAY. NEXT TIME ON "CREATIVE LIVING," WE'LL LEARN HOW TO BECOME A BETTER LEADER. WE'LL ALSO SHOW HOW TO MAKE PERFECT PARTY FAVORS FOR THEMED PARTIES, AND WE'LL TALK ABOUT TAKING INDOOR DECOR OUTSIDE FOR A WHOLE NEW LOOK. ONE OF MY NEXT GUESTS IS A MOTIVATIONAL SPEAKER, AND SHE'S GOING TO TALK ABOUT THE NEED TO LEAD AND EXPLAIN EXACTLY WHAT LEADERSHIP ENTAILS. ANOTHER GUEST IS GOING TO SHOW HOW TO UNLEASH THE PARTY PLANNER IN YOU AND MAKE IT EASY AND FUN AT THE SAME TIME. SHE'LL SHOW HOW TO MAKE INVITATIONS, ENVELOPES, CUPCAKE LINERS, FAVOR TUBES, AND MUCH MORE. AND FINALLY, WE'LL TALK TO A CONSULTANT WHO WILL SHOW HOW TO BRING INDOOR DECOR OUTSIDE AND EXPLAIN HOW USING CANDLES CAN HELP CREATE A FENG SHUI ATMOSPHERE. ALL OF THESE TOPICS WILL BE FEATURED ON THE NEXT "CREATIVE LIVING" SHOW. IF YOU EVER HAVE COMMENTS OR SUGGESTIONS OR IDEAS FOR SHOWS, YOU CAN EMAIL ME AT SHERYL.BORDEN@ENMU.EDU. I'D ALSO LIKE TO ASK YOU TO BECOME A FAN OF "CREATIVE LIVING" ON FACEBOOK. JUST GO TO FACEBOOK.COM, AND IN THE SEARCH WINDOW, TYPE IN "CREATIVE LIVING WITH SHERYL BORDEN." THANKS SO MUCH. I HOPE YOU'LL PLAN TO JOIN ME NEXT TIME FOR "CREATIVE LIVING."
Now Playing As: Captioned (English) (change)
The guests in this episode show viewers how to stage home for sale and use an online room planner. Viewers also learn how to decorate cupcakes.
Media Details
Runtime: 27 minutes