Creative Living With Sheryl Borden #6612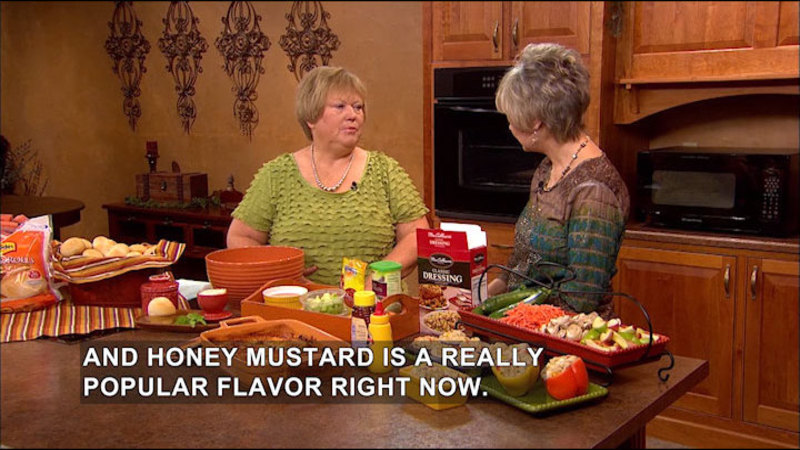 >> "CREATIVE LIVING," UTILIZING TODAY'S TECHNOLOGY WITH THE BEST OF THE PAST TO BRING YOU INNOVATIVE IDEAS AND UP-TO-DATE INFORMATION FOR CREATIVE LIFESTYLES IN TODAY'S ACTIVE WORLD, WITH YOUR HOST, SHERYL BORDEN. >> THANKS FOR JOINING ME TODAY FOR "CREATIVE LIVING." WE'RE GOING TO DEMONSTRATE A VARIETY OF FESTIVE FOODS AND SHOW YOU SOME BEAUTIFUL FINISHES FOR UNLINED JACKETS. ONE OF MY GUESTS IS CONNIE MOYERS, AND SHE'S WITH THE NEW MEXICO COOPERATIVE EXTENSION SERVICE, AND CONNIE WILL DEMONSTRATE SOME RECIPES FOR FESTIVE FAMILY GATHERINGS, INCLUDING FAMILY REUNIONS AND HOLIDAYS. HER EMPHASIS WILL BE ON CHICKEN RECIPES, BUT SHE'LL ALSO PREPARE SIDE DISHES, HOT ROLLS, AND EVEN DESSERT. SHE LIVES IN CLOVIS, NEW MEXICO. WE'LL BEGIN THE SHOW TODAY WITH RAE CUMBIE, AND SHE'S A CUSTOM DRESSMAKER, AN ARTIST, AND A DESIGNER, AND RAE WILL TALK ABOUT THE BENEFITS OF UNLINED JACKETS AND SHOW SOME BEAUTIFUL FINISHES FOR THESE JACKETS. SHE EXPLAINS THAT UNLINED JACKETS ARE SO EASY TO STITCH UP. THEY'RE PERFECT IN WARMER WEATHER TO WARD OFF EVENING CHILLS OR TO WEAR WHEN THERE'S EXCESSIVE AIR-CONDITIONING, AND BEST OF ALL, THEY'RE LIGHTWEIGHT AND VERY EASY TO PACK FOR TRAVELING. SHE'S THE PRESIDENT OF THE ASSOCIATION OF SEWING AND DESIGN PROFESSIONALS AND LIVES IN BALTIMORE, MARYLAND. RAE, THANK YOU SO MUCH FOR BEING WITH US TODAY. I KNOW YOU'VE BEEN SEWING A LONG TIME, AS I HAVE, AND SOMETIMES I THINK ABOUT THOSE POOR PEOPLE THAT ARE JUST LEARNING TO SEW, BECAUSE A PATTERN MAY SAY, "TAKE A 5/8-INCH SEAM "OR DO A HONG KONG FINISH OR A FLAT FELLED SEAM," AND I THINK THAT'S CONFUSING, IF YOU THINK YOU HAVE TO LEARN ALL OF THAT TO START WITH. SO HOW DO YOU APPROACH IT WHEN YOU'RE TEACHING? >> WELL, YOU KNOW, A SEAM IS AN INTEGRAL PART OF ANY GARMENT. SO YOU WANT TO MAKE SURE THAT EVERYONE KNOWS HOW TO DO A SEAM AND THAT YOU DO THE SEAM THAT'S REQUIRED IN THE PATTERN. SO IF IT SAYS 5/8", YOU REALLY NEED TO PUT IN 5/8", OR IT'S NOT GONNA FIT. AND YOU NEED TO READ, ESPECIALLY IF YOU'RE USING AN INDEPENDENT PATTERN, SOMETIMES THEY ACTUALLY USE A HALF-INCH SEAM OR A ONE-INCH SEAM. SO YOU NEED TO MAKE SURE YOU CHECK THE PATTERN AND USE THE SEAM THAT THEY TELL YOU TO USE. >> SO IN OTHER WORDS, WE SHOULD REALLY READ THAT GUIDE SHEET FIRST BEFORE WE START SEWING. >> THAT'S EXACTLY RIGHT. >> I DON'T ALWAYS DO THAT. YOU CAN TELL. >> I UNDERSTAND. I KNOW. SO, ESPECIALLY WHEN YOU'VE BEEN SEWING A WHILE. BUT WHEN I LEARNED TO SEW, THERE WEREN'T SERGERS, AND THERE WEREN'T A LOT OF SEAM FINISHES. YOU JUST MADE YOUR SEAMS AND PRESSED THEM OPEN AND WENT ON. BUT WE NOW FIND, AS THE INDUSTRY HAS MORE MACHINES AND THEY'RE AVAILABLE TO HOME SEWERS, THAT THEY DO MAKE A VERY NICE GARMENT, AND THEY ALLOW THE GARMENT TO LAST LONGER AND TO JUST LOOK A LITTLE MORE PROFESSIONAL OR ACCORDING TO WHAT WE CALL THE INDUSTRY STANDARD, WHICH REALLY IS A SERGED OR FINISHED SEAM PRETTY MUCH EVERYWHERE IN A GARMENT. >> THIS IS A GREAT SAMPLE THAT YOU BROUGHT, BECAUSE YOU SAID YOU USE THIS WHEN YOU'RE TEACHING SEWING... >> UH-HUH. >> BECAUSE IT HAS JUST ABOUT EVERY TYPE OF SEAM FINISH YOU COULD IMAGINE. >> YOU'RE EXACTLY RIGHT. AN UNLINED JACKET IS SO EASY TO MAKE AND FUN. A LINING JUST MAKES IT MUCH MORE COMPLICATED TO PUT TOGETHER. >> IT'S TWICE THE WORK. >> THAT'S EXACTLY RIGHT. BUT YOU WANT YOUR UNLINED JACKET TO LOOK NEAT ON THE INSIDE. AND I TALK ABOUT THIS A LOT WITH MY STUDENTS. SO, UM, THIS WOULD BE ACTUALLY A HONG KONG FINISH. IT'S A LITTLE BINDING, BUT IT HAS A RAW EDGE ON THE OTHER SIDE. SO IT'S NOT THAT HARD TO PUT ON. AND IT...IT JUST MAKES THAT FACING LOOK PERFECT, DOESN'T IT? IT'S JUST SO MUCH EASIER, SO MUCH PRETTIER. AND THIS IS ON THE BIAS, THAT HONG KONG FINISH. IT HAS TO BE, BECAUSE IT'S GOING AROUND A CURVE. >> I WAS GONNA SAY, AND IT LAYS NICE AND FLAT. >> IN ORDER TO DO THAT, YOU HAVE TO CUT THAT ON THE BIAS. THIS HONG KONG FINISH BACK HERE IS ON THE STRAIGHT OF GRAIN, BECAUSE IT IS, UM... BECAUSE THIS IS A STRAIGHT LINE, AND IT DOESN'T NEED TO BE ON THE BIAS. YOU'RE NOT CURVING ANYWHERE. AND I JUST WANTED TO USE THIS, UM...THIS SALVAGE OFF OF THE FABRIC. THIS IS A VINTAGE PIECE OF... VINTAGE 1980, HOME DECORATOR FABRIC. AND I JUST THOUGHT IT WAS SO FUN, AND IT'S FUN TO PUT THOSE LITTLE DETAILS IN YOUR GARMENTS, I THINK. >> ONLY IF YOU SEW DO YOU NOTICE THOSE THINGS. >> THAT'S EXACTLY RIGHT. THAT'S EXACTLY RIGHT. SO ON THE SLEEVE HERE, WE'VE ACTUALLY DONE A BINDING, AND THE REASON YOU DO A BINDING ON THE SLEEVE IS SO ON EITHER SIDE, IT LOOKS NEAT. SO A HONG KONG FINISH IS RAW ON ONE SIDE. A BINDING JUST HAS THAT... THAT SECOND SIDE ALSO TURNED UNDER, AND I HAVE SOME SAMPLES I CAN SHOW YOU LATER. UM, AND THEN THIS IS SORT OF A FAKE FLAT FELLED SEAM. WE'VE BOUND IT, AND THEN WE'VE JUST TOP-STITCHED DOWN, WHICH YOU CAN SEE ON THIS SIDE, FOR IT TO STAY IN PLACE. AND AGAIN, THIS JUST KEEPS THE GARMENT FROM, UM...FROM... THIS KEEPS THE SEAMS SAFE, AND WHEN YOU WASH IT, THEY DON'T GET ALL RUMPLY. >> RAVELY. >> YES, THAT'S EXACTLY RIGHT. THAT'S EXACTLY RIGHT. >> GOSH, YOU DO HAVE A LOT OF DIFFERENT SEAMS IN THIS. >> YES. THIS IS MY LITTLE SAMPLE FOR MY STUDENTS. THIS IS ANOTHER EXAMPLE OF A HONG KONG FINISH, ALTHOUGH THIS IS DONE IN SILK, A CHINA SILK, WHICH IS A, UM... VERY LIGHTWEIGHT, ALMOST LIKE AIR. AND IT JUST MAKES SUCH A BEAUTIFUL EDGE. IT DOESN'T ADD ANY BULK, AND IN THIS CASE, THE QUILTING WAS DONE WITH THE COTTON AND THEN THE CHINA SILK UNDERNEATH. SO THIS IS JUST A SERGED EDGE. >> SO IT WASN'T PRESSED OPEN. >> THAT'S EXACTLY RIGHT. IT'S SERGED TOGETHER. UM, AND THEN THIS IS YOUR, UM...HONG KONG FINISH HERE ON THE EDGES WHERE THE JACKET MIGHT FLY OPEN, AND YOU WANT IT TO LOOK PARTICULARLY BEAUTIFUL. >> AND I NOTICED YOU CARRIED THAT TO THE HEM. >> ALSO INTO THE HEM. THAT'S RIGHT. IT KEEPS THE HEM FROM GETTING BULKY WITH A TURN UNDER. BUT IT ALSO IS VERY, UM...YEAH. >> THEY'RE ALMOST DECORATIVE. >> THAT'S EXACTLY RIGHT. THAT'S THE WAY I LIKE TO THINK OF THEM. AND THEN THIS, IN A SHEER OR A LIGHTWEIGHT COTTON, IF YOU HAVE A SERGER, YOU CAN DO A ROLLED EDGE SEAM. AND I ACTUALLY STITCH THE SEAM FIRST AT WHATEVER SIZE IT'S REQUIRED TO BE. >> 5/8" OR 1/2". >> THAT'S RIGHT. AND THEN I SET MY MACHINE TO WHAT IS CALLED THE ROLLED EDGE, WHICH CREATES THIS THREAD EDGE THAT JUST TOTALLY ENCASES THE SEAM, OVERCASTS IT. >> AND CUTS THE EXCESS FABRIC. >> YES, THAT'S RIGHT. IT TRIMS THE EXCESS FABRIC, OVERCASTS IT, AND THEN IT ALSO, WHEN YOU'RE PIECING A LOT OF FABRICS TOGETHER, IT GIVES YOU, LIKE, AN OUTLINE. JUST LIKE THAT. THAT OUTLINE THAT YOU SEE WHEN YOU DRAW A SKETCH. AND IT JUST ALLOWS THE FABRICS TO BE SEPARATED IN A DECORATIVE SORT OF WAY. >> WELL, AND I NOTICE, TOO, HOW LIGHTWEIGHT IT IS. YOU DON'T HAVE ANY BULKY SEAMS IN THIS JACKET. >> RIGHT. RIGHT. BUT THE OTHER THING IT DOES IS IT BEEFS UP THE COTTON A LITTLE BIT, YOU KNOW. IT'S NOT...IT'S NOT QUITE AS DROOPY AS IT MIGHT BE, BECAUSE YOU HAVE THESE THREAD SEAMS THAT ARE GIVING IT A LITTLE BIT OF SUPPORT. >> OK. YOU'RE GONNA SHOW US NOW HOW TO DO A FEW OF THESE TECHNIQUES. >> I AM. SO THIS IS, OF COURSE, YOUR REGULAR 5/8" SEAM. AND I'VE SEWN YOU TWO OF THE EASIEST SEAM FINISHES. THIS IS A PINKED EDGE. YOU USE YOUR PINKING SHEARS. THIS IS A VERY OLD-FASHIONED WAY, AND IF YOU JUST RUN ONE LITTLE LINE OF STITCHING DOWN THERE, IT KIND OF SECURES IT. >> IT KEEPS IT FROM RAVELING ANY FURTHER. >> THAT'S EXACTLY RIGHT. AND THEN THIS IS WHAT WE'D CALL A STANDARD SERGED EDGE. THIS IS WHAT WE CALL THE INDUSTRY STANDARD, AND IT DOES LOOK VERY CLEAN AND NEAT. >> IT DOES. >> YES. THEN IN THIS CASE, THIS IS A SERGED EDGE, BUT THE SEAM HAS BEEN PRESSED, HAS BEEN SERGED TOGETHER AND PRESSED TO ONE SIDE. AND IF YOU WANTED IT TO LOOK LIKE A FAUX, UM... >> FLAT FELLED? >> FLAT FELLED. YOU WOULD JUST TOP-STITCH IT. YES. AND YOU WOULD GET THE LOOK OF A FLAT FELLED WITHOUT HAVING TO DO THAT WRAP STEP THAT IS SO COMPLICATED AND DIFFICULT. >> TIME-CONSUMING, TOO. >> RIGHT. >> NOW, THIS IS A ROLLED-EDGE SERGED FINISH. >> LIKE YOU SHOWED ON THE JACKET. >> THAT'S EXACTLY RIGHT. ALONE. AND THEN HERE YOU SEE IT WITH THE SEAM BEING SEWN AND THEN THE ROLLED EDGE OVER TOP OF IT. >> THIS IS ACTUALLY WHAT YOU DID ON THERE. >> THAT'S EXACTLY RIGHT. THAT'S EXACTLY RIGHT. YES. AND THEN YOU CAN SEE HOW IT LOOKS WHEN YOU OPEN IT OUT. IT'S JUST SUCH A FUN LITTLE... DECORATIVE STATEMENT. THAT'S RIGHT. SO HERE, IN THIS ONE NICE LONG SEAM, WE HAVE THE STEP BY STEP OF A FRENCH SEAM, AND A FRENCH SEAM IS ALSO A VERY OLD-FASHIONED SEAM AND VERY BEAUTIFUL AND PARTICULARLY BEAUTIFUL ON SHEERS, LIKE ORGANZA OR SOMETHING LIKE THAT, BECAUSE YOU DON'T WANT TO SEE THE SEAM AT ALL. SO YOU START BY MAKING YOUR REGULAR SEAM. IN THIS CASE, IT WAS ABOUT A HALF AN INCH. AND THEN YOU TRIM IT DOWN VERY SMALL TO ABOUT AN EIGHTH OR A QUARTER, DEPENDING ON HOW RAVELY THE FABRIC IS. AND THEN YOU GO TO YOUR IRON, AND YOU PRESS IT TO ONE SIDE PRETTY SECURELY. AND THEN YOU GO TO THE MACHINE, AND YOU ACTUALLY, ON THE FLIP SIDE, ENCASE THAT SEAM WITH ANOTHER ROW OF STITCHING. >> OH, YOU'RE JUST ENCLOSING THE WHOLE THING. >> THAT'S EXACTLY RIGHT. SO THE FIRST--YOU CAN'T REALLY TELL ON THIS LINEN BECAUSE IT LOOKS THE SAME FRONT OR BACK. BUT THIS IS ACTUALLY THE FRONT OF THE FABRIC. THE FIRST SEAM IS ON THE FRONT. YOU TRIM IT, AND THEN YOU FLIP IT TO THE BACK AND PUT THAT SECOND LINE OF STITCHING, AND THIS IS WHAT YOU END UP WITH, AND IT'S REALLY A BEAUTIFUL SEAM. >> AND LIKE YOU SAY, ESPECIALLY IF YOU DON'T WANT ANYTHING TO SHOW. >> THAT'S EXACTLY RIGHT. YES. A HONG KONG FINISH YOU MAKE. IN THIS I'VE DONE SOME STRAIGHT ONES AND SOME CURVED ONES. THE FIRST THING YOU DO IS YOU STITCH ON THIS BIAS STRIP, AND YOU STITCH IT AROUND. THEN YOU TRIM IT CLEANLY, FLIP IT AROUND, TOP-STITCH. AND THEN IF YOU WANTED TO ACTUALLY TO BE BOUND INSTEAD OF HONG KONG, YOU WOULD JUST FOLD THAT UNDERNEATH. >> FOLD IT UNDER. >> THAT'S EXACTLY RIGHT. >> WHICH IS WHAT YOU'VE DONE HERE. >> THAT'S RIGHT. >> OTHERWISE, YOU'D JUST TRIM THIS OFF. >> YES. RIGHT. AND HERE IS THE SAME ON A STRAIGHT. THIS IS NOT A BIAS PIECE. BECAUSE IT'S A STRAIGHT LINE, YOU DON'T HAVE TO DO THE BIAS. SO YOU PIN THAT ON. I HAVE A LITTLE SAMPLE HERE OF HOW YOU'D START. YOU PIN THAT STRIP ONTO THE FABRIC, AND THEN YOU'D STITCH. AND THEN YOU TURN-- THEN YOU PRESS IT AND TURN IT. IT'S REALLY IMPORTANT ON THESE SPECIAL SEAM FINISHES TO USE YOUR IRON AS YOUR FRIEND AND PRESS SO THAT IT LAYS REALLY NICE AND FLAT. THE LAST THING YOU WANT ON THE INSIDE OF A GARMENT IS A LUMPY SEAM. >> AND WHEN YOU'VE WORKED SO HARD ON SUCH A BEAUTIFUL FABRIC...UH-HUH. >> SO HERE YOU SEE A SAMPLE OF A HONG KONG FINISH SEAM ON AN OPEN SEAM, WHICH IS REALLY JUST SO PRETTY. AND THEN I ALSO MADE YOU SOME SAMPLES, BECAUSE YOU CAN BUY THIS BIAS TAPE THAT'S ALREADY MADE. IF YOU'RE AFRAID TO CUT, YOU KNOW, THE BIAS STRIPS OR YOU'RE NOT, UM... YOU DON'T HAVE A FABRIC YOU LOVE, YOU CAN BUY A COTTON BIAS, AND THEN AGAIN, YOU JUST... >> YOU JUST ENCASE IT. >> YOU JUST PUT IT ON AND THEN TRIM IT AND THEN ENCASE IT. AND IT'S A LITTLE... YOU GET A VERY SMALL EDGE THERE. BUT YOU DO GET, UM... YOU DO GET A PRETTY EDGE. AND THEN HERE I DID A LITTLE SAMPLE OF A FLAT FELLED USING THE BIAS TAPE. >> I JUST THINK IT'S SUCH A PRETTY FINISH. >> MM-HMM. YES. >> WELL, IT'S REALLY NICE TO KNOW THAT WE HAVE SO MANY OPTIONS WHEN WE'RE SEWING. AND IT'S FUN TO EXPERIMENT WITH DIFFERENT TYPES OF SEAM FINISHES. THANK YOU VERY MUCH, RAE. >> OH, MY PLEASURE. >> CONNIE, IT'S ALWAYS A PLEASURE TO HAVE YOU HERE, AND YOU USED TO, YEARS AGO, WHEN YOU WORKED FOR A UTILITY COMPANY, DO AN ANNUAL PROGRAM CALLED FESTIVE FOODS, AND OF COURSE, WE ALL LOVED IT, AND WE'VE USED THOSE RECIPES FOREVER, BUT WE'RE REALLY GOING TO TAKE THAT A LITTLE FURTHER TODAY BECAUSE FESTIVE FOODS CAN BE FOR ANY DAY, FOR AN ORDINARY DAY OR FOR A HOLIDAY. >> THAT'S RIGHT. YOU KNOW, JUST SOMETIMES WHEN YOU WANT TO DO SOMETHING SPECIAL FOR YOUR FAMILY ANY TIME OF THE YEAR. AND YOU KNOW, SOME OF THE TRADITIONAL THINGS THAT WE THINK ABOUT, LIKE STUFFING. OR DID YOUR FAMILY CALL IT DRESSING? >> WE CALLED IT DRESSING. >> THAT'S WHAT WE CALLED IT, TOO, BUT WE'RE GONNA USE MRS. CUBBISON'S STUFFING MIX TODAY. YOU KNOW, IN OUR FAMILY, THAT DRESSING MIXES OR RECIPE HAS BEEN PASSED DOWN AND PASSED DOWN, BUT SOMETIMES NOBODY KNOWS HOW TO MAKE IT. AND SO THIS IS NICE BECAUSE WE CAN JUST-- >> I'VE HAD GROWN KIDS CALL AND ASK HOW--"HOW DID YOU MAKE THAT DRESSING?" >> DID THIS STRAIGHT OUT OF THE BOX. THE SEASONINGS ARE ALREADY IN THERE. YOU DON'T HAVE TO DRY THE BREAD OR TOAST THE BREAD OR DO ANYTHING. IT'S ALREADY READY TO DO. SO TODAY I MADE SOME THINGS TO SHOW YOU THAT WE HAVEN'T COOKED YET, BUT, UM, WE CAN USE IT IN STUFFED BELL PEPPERS, AND THOSE PRETTY BELL PEPPERS-- >> THIS IS THE STUFFING ALREADY MIXED UP? >> THAT'S THE STUFFING ALREADY MIXED UP. AND THEN I JUST HAD TO ADD ONIONS, BUTTER, AND I ADDED SOME APPLE JUICE AND USED THE TOPS OFF OF THE PEPPERS AND CHOPPED THEM UP A LITTLE BIT. SO IT GIVES IT SOME COLOR AND TEXTURE. >> SO THIS WOULD BAKE JUST ON A PAN IN THE OVEN? >> MM-HMM. YEAH. >> AND MUFFINS. THIS IS CUTE. >> AND THEY COOK SO MUCH FASTER THAT WAY THAN A BIG PAN OF IT DOES. AND WE'RE ALWAYS IN A HURRY. SO THAT'S A WAY TO DO IT. ALSO, EVEN THOSE CUTE LITTLE CASSEROLE DISHES. I JUST BOUGHT THAT AT A DOLLAR STORE OR SOMEPLACE INEXPENSIVE, BUT IT'S KIND OF FUN TO HAVE INDIVIDUAL SERVINGS SOMETIMES, AND ALL OF THOSE LET US DO THAT. >> THAT'S A GREAT IDEA. THAT WOULD BE TWO SERVINGS EASILY, WOULDN'T IT? AND THEN THIS SHOWS LOTS OF EXTRAS THAT WE COULD ADD IN. >> WE JUST THINK WE HAVE TO ADD THE SAME OLD THINGS-- ONIONS, CELERY ALL THE TIME AND THAT. WE'VE GOT APPLES, UM, MUSHROOMS, CARROTS, ZUCCHINI. I MEAN, ANY OF THOSE WOULD BE GOOD ADDITIONS TO OUR STUFFING MIX. >> YEAH, I THINK WE DO SOMETIMES SORT OF GET IN A RUT AND PUT THE SAME THINGS IN ALL THE TIME. >> WE DO. AND SO TODAY I'M GONNA DO A FRUIT ONE. AND YOU KNOW, ESPECIALLY FOR FESTIVE THINGS, WE THINK ABOUT MORE FRUITY-TYPE DISHES. >> WHAT'S THAT? I SMELL SOMETHING. >> OH, THE CHICKEN. YES. I COOKED CHICKEN BECAUSE, UM, THAT'S SOMETHING THAT WE CAN DO EASILY, EVERYBODY LIKES, IT'S INEXPENSIVE. AND THOSE ARE JUST CHICKEN BREASTS, AND I MIXED THEM WITH, UM, HALF A CUP OF MUSTARD AND A HALF A CUP OF HONEY, A LITTLE BIT OF PAPRIKA, DRIED BASIL, AND DRIED PARSLEY AND BAKED IT IN THE OVEN. >> IT SMELLS WONDERFUL. WOULDN'T YOUR HOUSE SMELL GOOD? >> IT DID. YOU KNOW, IT REALLY SMELLED GOOD COOKING TODAY. >> WELL, THAT'S A NICE WAY TO CHANGE JUST THE ORDINARY CHICKEN BREAST TO MAKE IT-- >> JUST TO ADD SOMETHING WHERE IT'S NOT YOUR EVERYDAY THING, TO DO SOMETHING SPECIAL. AND HONEY MUSTARD IS A REALLY POPULAR FLAVOR RIGHT NOW. SO WE'VE ALREADY COOKED THAT, AND IT'S READY TO EAT. BUT WE CAN MAKE SOME FRUIT STUFFING TO GO WITH IT. AND WE'RE GONNA USE THIS MRS. CUBBISON'S STUFFING, AND WE'LL GO AHEAD AND MAKE A BIG PAN TODAY. THIS IS TWO PACKETS. >> SO TWO PACKETS COME IN HERE. >> UH-HUH. AND EACH ONE IS ABOUT 3 CUPS EACH. AND OF COURSE, IF YOU HAD A SMALLER FAMILY, YOU ONLY NEED ONE PACKET. BUT WE'RE GONNA DO THAT. AND WE JUST, YOU KNOW-- AND SOMETIMES WE DON'T HAVE TIME TO CHOP. YOU CAN GET EVERYTHING CHOPPED AT THE GROCERY STORE EVEN. >> OH, ISN'T IT EASY ANYMORE? >> WE HAVE CELERY AND ONIONS THAT I PURCHASED ALREADY CHOPPED. AND, UM, THESE SUNSWEET DRIED CHERRIES ARE SMALL AND ALREADY CHOPPED UP AND READY, SO... >> I HAVEN'T TRIED THOSE. I LOVE THE CRAISINS, AND OF COURSE, I LOVE RAISINS. >> CHERRIES ARE SUCH A GOOD, UM, FLAVOR AND A GOOD SOURCE OF NUTRIENTS FOR US, THAT THAT'S REALLY GOOD. AND THEN ANOTHER THING THAT WE DON'T THINK ABOUT A LOT OF TIMES-- HAVE YOU SEEN THESE? THEY'RE CALLING THEM AMAZINS. THEY'RE DRIED PLUMS OR PRUNES THAT SUNSWEET HAS THAT ARE CALLED AMAZINS. >> I'VE NEVER HEARD OF THAT. AND SO THEY'RE ALREADY-- THEY'RE REALLY JUST CHOPPED-UP PRUNES. >> UH-HUH. AS MANY OR AS FEW. >> YEAH. AND THERE'S A CUP IN HERE, SO THAT'S A GOOD THING. AND WHAT WE'RE DOING IS A CUP OF EVERYTHING ADDITIONAL IS WHAT WE'RE ADDING TO IT. >> OH, OK. TO THE TWO BAGS. SO WE'RE MAKING THE LARGE. >> SO FOR OUR LIQUID-- AND THIS IS APPLE JUICE, BUT YOU COULD USE CHICKEN BROTH. YOU COULD USE WATER IF YOU WANTED TO. AND I'M PUTTING TWO CUPS OF APPLE JUICE IN HERE AND... >> THAT'S WHAT MAKES IT NICE AND MOIST. >> WE ALL LIKE THE GOOD FLAVOR OF NUTS, OR YOU COULD TOAST THESE A LITTLE BIT IF YOU WANTED TO. AND WE DON'T HAVE TO WORRY ABOUT CHOPPING THOSE. AND SO WE, WITHOUT A LOT OF EXTRA PREPARATION, WE'VE REALLY GOTTEN THIS ALL PUT TOGETHER REALLY EASILY. >> AND IF YOU HAPPEN TO HAVE PECANS ON HAND INSTEAD OF WALNUTS, THAT WOULD PROBABLY BE JUST AS GOOD. >> SURE. ANY KIND. AND THEN I MELTED A CUP OF BUTTER TO GO IN WITH THIS. AND IF YOU WANTED TO MAKE A LIGHTER VERSION, YOU COULD JUST USE A LITTLE BIT LESS OF THE BUTTER. MAYBE YOU MIGHT HAVE TO ADD A LITTLE BIT MORE LIQUID TO IT. SO, YOU KNOW, YOU DO HAVE CHOICES THAT YOU CAN MAKE ABOUT WHAT YOU PUT IN HERE. >> AND THAT'S WHAT'S GOOD WHEN YOU MAKE IT AT HOME. YOU CAN ADJUST IT. IF YOUR FAMILY DOESN'T LIKE PRUNES, FOR INSTANCE, WELL, PUT SOME MORE RAISINS OR CRAISINS IN IT. >> AND YOU KNOW, IF YOU DON'T TELL THEM WHAT'S IN HERE, MOST OF THE TIME, THEY DON'T KNOW. YOU KNOW, THERE'S A LOT OF THINGS WE DON'T HAVE TO TELL PEOPLE. WE DON'T HAVE TO TELL THEM WHAT WE USED AND WHAT WE DID. SO THIS JUST MIXES UP REAL EASILY. AND WE'LL PUT IT INTO A CASSEROLE DISH AND BAKE IT. >> AND YOU SPRAYED THIS AHEAD OF TIME SO NOTHING STICKS. >> AND WE WOULD BAKE IT COVERED FOR ABOUT 30 MINUTES OR SO, AND THEN IF YOU LIKE THE CRUSTY PARTS, THEN UNCOVER IT FOR ABOUT 10, 20 MINUTES TILL IT'S ALL DONE. SO A BIG BOWL OF STUFF BECAUSE I CAN'T MAKE STUFFING WITHOUT IT BEING A BIG DISH. >> AND I LIKE IT FOR TWO OR THREE DAYS AFTER. >> OOH, I DO, TOO. >> SO I CAN ALWAYS JUSTIFY MAKING A LARGE RECIPE OF IT. >> IT KEEPS WELL. >> THAT IS PRETTY. AND THE APPLE JUICE-- I CAN SMELL THAT IN THE DRESSING. I BET AS THAT COOKS, THAT'LL REALLY BE GOOD. >> IT WILL. SO THAT'S AN EASY WAY TO DO THIS, AND SINCE THIS ONE DOESN'T HAVE A LID, ALL WE'D HAVE TO DO IS COVER IT WITH SOME FOIL AND LIKE I SAID, BAKE IT FOR ABOUT 30 MINUTES AT 350. >> ALL THE DIRECTIONS ARE ON HERE. >> IT IS, AND IT TELLS YOU EVEN HOW TO MAKE IT ON THE TOP OF THE STOVE OR IN THE OVEN OR IN THE MICROWAVE. AND SO IT'S-- >> AND LIKE YOU SAY, YOU DON'T HAVE TO HAVE THE BREAD ON HAND OR TOASTED OR WHATEVER. WE'RE READY TO GO. >> AND I JUST THINK IT'S SOMETHING THAT PEOPLE ARE HESITANT TO MAKE BECAUSE THEY DON'T KNOW HOW. SOMEBODY ELSE USED TO MAKE IT. AND THIS WAY, WE CAN JUST BE CREATIVE AND DO A LOT OF-- >> I REMEMBER THE FIRST TIME I HAD TO MAKE IT, I THOUGHT, "HOW IN THE WORLD WILL THIS WORK?" >> YOU KNOW, AND I KNOW A LOT OF PEOPLE THAT COOK IT IN A SLOW-COOKER, TOO, AS A WAY TO NOT TIE UP THEIR OVEN WHILE THEY'RE BAKING SOMETHING ELSE. SO THAT'S A GOOD DEAL. WE CAN'T HAVE A HOLIDAY OR ANY KIND OF FESTIVE MEAL WITHOUT BREAD. >> OF COURSE. >> AND, UM, YOU KNOW, NOTHING IS EASIER THAN USING, LIKE, THE RHODES ROLLS. IT'S BEEN AROUND FOR A LONG TIME. MY GRANDMOTHER USED TO MAKE TWO LOAVES OF THE BREAD, FROZEN BREAD, EVERY WEEK, YOU KNOW, 30, 40 YEARS AGO. >> OH, WOW. >> AND SO THAT WAS HOW SHE HAD HER HOMEMADE BREAD WITHOUT HAVING A LOT OF THE OTHER... YOU KNOW, WITHOUT HAVING TO DO IT HERSELF. >> BUT NOW ALL WE DO IS SET THAT OUT FOR WHAT, 2 OR 3 HOURS, LET IT THAW? >> BUT SHE USED THE RHODES. >> OH, REALLY? >> YEAH, SHE DID. AND THAT'S WHAT I ALWAYS USE FOR MY HOLIDAY MEALS. >> I SEE. >> IT'S SO EASY, BECAUSE YOU CAN SET IT OUT AND THAW IT IN THE REFRIGERATOR, LIKE, FOR OVERNIGHT OR SOMETHING AND THEN TAKE IT OUT THAT DAY AND LET IT RISE. YOU CAN SET IT FROM FROZEN, AND IT'LL TAKE 4 OR 5 HOURS, AND YOU'VE GOT FRESH BREAD. >> HAVE YOU EVER SORT OF FORGOTTEN IT AND LET IT OVER-RISE? >> MM-HMM. IT'S STILL FLUFFY. >> OH, OK. GOOD. I TEND TO DO THAT OCCASIONALLY. >> I DO, TOO. >> THEY'RE BEAUTIFUL. >> THE OTHER THING THAT I DID WITH THESE IS YOU CAN MAKE DIFFERENT SHAPES AND DIFFERENT THINGS, AND THESE BUTTER... CLOVERLEAF ROLLS, I JUST CUT THEM IN HALF, THE ROLL THAT WAS THAWED, IN HALF AND PUT 3 ROLLS, JUST ROLL THEM IN A BALL, PUT THEM IN A MUFFIN TIN. OR THESE ARE JUST THE SINGLE ROLLS. OR YOU CAN PUT--IF YOU WANT BIG, FLUFFY ROLLS LIKE THIS ONE, YOU CAN PUT TWO WHOLE ONES IN A MUFFIN TIN. >> THAT MAKES IT GO OUT OVER THE MUFFIN TIN. OH, HOW PRETTY. >> AND YOU KNOW, THE THING ABOUT WHEN YOU'RE EATING BUTTER--OR HOT ROLLS AND YOUR BUTTER IS COLD AND IT WON'T SPREAD-- >> LIKE A RESTAURANT SOMETIMES. UH-HUH. >> YOU HAVE TO WARM THAT UP. WELL, HERE'S A SOLUTION. THERE'S A BUTTERBELL CROCK. AND WHAT'S REALLY NEAT ABOUT THIS IS YOU JUST KEEP IT ON YOUR CABINET OR ON YOUR TABLE, AND, UM, THIS WILL HOLD A STICK OF BUTTER. >> SO...OH. SO DID YOU CUT IT, LIKE, IN SMALLER PIECES? >> NO. I JUST LET IT SOFTEN FOR A WHILE OUTSIDE, AND THEN I-- >> THEN FILLED IT. >> MM-HMM. THEN I FILLED IT. >> AND THEN IS THIS HOT WATER? >> JUST COLD WATER, BECAUSE COLD WATER IN THAT JUST HELPS SEAL IT AND KEEP IT FRESH. AND SO YOU CAN KEEP IT ON YOUR CABINET FOR SEVERAL DAYS, BUT BUTTER NEVER LASTS THAT LONG AT MY HOUSE. I DON'T KNOW ABOUT YOURS. >> WELL, I'VE NEVER THOUGHT ABOUT JUST KEEPING IT JUST OUT ON THE COUNTER ALL THE TIME. I THOUGHT IT HAD TO BE REFRIGERATED. >> NO, IT DOESN'T HAVE TO BE. AND THEN THAT WAY, IT'S ALREADY SOFT AND SPREADABLE. >> THAT'S WHAT YOU'VE ADDED SOME... >> AND I ADDED SOME BASIL OUT OF MY GARDEN FOR THIS, AND SO WE'VE GOT A GOOD HOT ROLL HERE, AND THIS BUTTER IS JUST SO EASY AND READY TO SPREAD. >> JUST THE RIGHT CONSISTENCY. >> AND WOULDN'T THAT BE GOOD ON CORN ON THE COB? >> OH, IT WOULD BE. >> SO...OR ANY KIND OF FRESH VEGETABLES. YOU CAN ADD WHATEVER... WHATEVER HERBS THAT YOU HAVE. >> WHATEVER YOU HAVE HANDY. OR EVEN USE THE DRY IF IT'S A TIME YOU DON'T HAVE SOME. YOU COULD ADD A LITTLE BIT OF THAT. >> SO, YOU KNOW, THE FRENCH HAVE DONE THIS FOR A LONG TIME. AND SO NOW THEY'RE AVAILABLE IN THE UNITED STATES ON WEBSITE www.butterbell.com. >> butterbell.com? >> MM-HMM. >> WELL, THAT'S NEW TO ME. >> OR IN SPECIALTY GOURMET KITCHEN STORES. >> WELL, I'D READ ON THERE THAT THIS WAS WHAT THEY'D USED IN FRANCE, BUT I NEVER THOUGHT ABOUT US HAVING IT. >> IT MAKES REALLY NICE GIFTS. IT COMES IN ALL COLORS AND STYLES, AND THIS IS KIND OF AN ANTIQUE COUNTRY STYLE THAT'S REAL POPULAR RIGHT NOW. >> OH, WELL, THANKS FOR SHARING THAT WITH US. >> THAT WAS KIND OF FUN. AND YOU KNOW, WE CAN'T HAVE A FESTIVE MEAL WITHOUT DESSERT EITHER. >> MY FAVORITE. >> AND YOU KNOW, WE'VE HAD ALL THIS GOOD FOOD, AND WE DON'T REALLY NEED SOMETHING HEAVY. SO WATERMELON IS A GOOD CHOICE. AND IT'S PRETTY WELL AVAILABLE YEAR-ROUND. AND SO YOU COULD SLICE IT. YOU COULD CUBE IT. YOU CAN DO ANYTHING. AND YOU KNOW, SOMETIMES I THINK YOU JUST GET A PRETTY BOWL, AND YOU KNOW, IT LOOKS LIKE AN ELEGANT DESSERT. >> WELL, IT DOES. I LOVE THE CONTAINER THAT YOU PUT THAT IN, AND IT'S EASY TO EAT AND PICK UP, AND PEOPLE CAN SERVE THEMSELVES. >> AND IT'S NUTRITIOUS. WATERMELON HAS A LOT OF-- THE MOST LYCOPENE, THE ANTIOXIDANT, OF ANY FRUIT OR VEGETABLE, EVEN MORE THAN TOMATOES, AND IT HAS A LOT OF VITAMINS A AND C. SO IT HAS A LOT OF CHOICES. THIS ONE IS A SEEDLESS WATERMELON, AND SOME PEOPLE SAY, "WELL, IT STILL HAS ALL THOSE LITTLE WHITE SEEDS IN THERE." THEY'RE NOT REALLY SEEDS. JUST THE DARK BROWN ONES OR THE BLACK ONES THAT WE'RE USED TO SEEING ARE THE REAL SEEDS. AND THESE HAVEN'T REALLY FORMED YET, SO YOU CAN EAT THEM. IT DOESN'T HURT YOU TO EAT THOSE, AND SO... BUT SEEDLESS WATERMELONS ARE EASY, AND ESPECIALLY KIDS, YOU KNOW, A LOT OF TIMES THINK, "WELL, IT'S GOT SEEDS IN IT. I CAN'T EAT IT." >> TOO MUCH TROUBLE OR MAKE TOO BIG A MESS. >> THAT'S RIGHT. SO THAT'S AN EASY, COOL, REFRESHING-- >> I USUALLY HAVE A TRAY OF PIES. I HADN'T THOUGHT ABOUT SOMETHING SO LIGHT AND NUTRITIOUS, BUT THAT'S-- AND I LIKE THE IDEA OF MAKING THE STUFFING OR HAVING IT ALMOST READY FOR US TO GO AND THEN JUST ADDING WHAT MY FAMILY LIKES. THIS IS A GREAT IDEA, CONNIE. >> AND LIKE I SAID, WE CAN REALLY VARY THINGS AND DO A LOT OF DIFFERENT THINGS. >> WELL, AS USUAL, I SURELY DO APPRECIATE YOU COMING, AND I CAN'T WAIT TO TRY THAT CHICKEN. IT SMELLS SO GOOD. >> THANK YOU. I HOPE YOU ENJOYED THE SHOW TODAY. NEXT TIME ON "CREATIVE LIVING," WE'LL LEARN HOW TO CREATE AN ALL-WHITE TROPICAL CENTERPIECE AND DEMONSTRATE USING DUCT TAPE TO MAKE ROSETTES WHICH CAN THEN BE USED ON PURSES, CLOTHING, JEWELRY, EVEN SHOES. ONE OF MY NEXT GUESTS IS A FLORAL DESIGNER, AND SHE'S GOING TO SHOW HOW TO USE ALL WHITE FLOWERS TO CREATE A CLEAN MONOCHROMATIC LOW CENTERPIECE. THIS CENTERPIECE IS GOOD ANY TIME OF THE YEAR OR AS A WINTER WHITE ARRANGEMENT. WE'LL ALSO MEET A CRAFTER AND DESIGNER WHO WILL SHOW HOW TO MAKE DUCT TAPE ROSETTES USING NONSTICK CUTTING TOOLS AND ROLLS AND SHEETS OF DUCT TAPE. THEN SHE'LL SHOW SOME USES FOR THESE ROSETTES, INCLUDING JEWELRY, POUCHES, CORSAGES, AND MUCH MORE. BOTH OF THESE TOPICS WILL BE FEATURED ON THE NEXT "CREATIVE LIVING" SHOW. IF YOU EVER HAVE COMMENTS OR SUGGESTIONS OR IDEAS FOR SHOWS, YOU CAN E-MAIL ME AT sheryl.borden@enmu.edu. I'D ALSO LIKE TO ASK YOU TO BECOME A FAN OF "CREATIVE LIVING" ON FACEBOOK. JUST GO TO facebook.com, AND IN THE SEARCH WINDOW, TYPE IN "CREATIVE LIVING WITH SHERYL BORDEN." THANKS SO MUCH. I HOPE YOU'LL PLAN TO JOIN ME NEXT TIME FOR "CREATIVE LIVING." >> WE ARE VERY PLEASED TO OFFER A NEW BOOKLET THAT ACCOMPANIES THIS SERIES OF "CREATIVE LIVING." THIS BOOKLET IS TITLED "THE 6600 SERIES," AND IT FEATURES A WONDERFUL COLLECTION OF IDEAS AND INFORMATION, AND IT'S AVAILABLE FREE OF CHARGE ON OUR WEBSITE. POSTED AS A "PDF" FILE, YOU CAN SIMPLY DOWNLOAD THE ENTIRE BOOKLET OR JUST THE SEGMENTS YOU'RE MOST INTERESTED IN. AS WITH ALL OF THE "CREATIVE LIVING" BOOKLETS, YOU'LL FIND INFORMATION ON FOODS AND NUTRITION, CLOTHING AND FASHION, HEALTH AND BEAUTY, HOME DECORATING, AND MUCH MORE. FOR YOUR COPY OF THIS BOOKLET, GO TO OUR WEBSITE AT kenw.org AND THEN CLICK ON "CREATIVE LIVING." SCROLL DOWN TO THE BOOKLETS SECTION, AND YOU CAN CLICK ON THIS BOOKLET OR ANY OF THE OTHER BOOKLETS WE HAVE AVAILABLE ONLINE. ONCE AGAIN, JUST GO TO kenw.org, CLICK ON "CREATIVE LIVING," AND DOWNLOAD THE BOOKLET TITLED "THE 6600 SERIES." WE ALSO WANT TO ENCOURAGE YOU TO SIGN UP FOR OUR FREE E-NEWSLETTER. JUST CLICK ON THE "SIGN UP NOW" BUTTON AND INPUT YOUR E-MAIL ADDRESS. THAT'S ALL THERE IS TO IT. YOU'LL ENJOY READING AN UP-TO-DATE NEWSLETTER FILLED WITH INTERESTING TOPICS AND INFORMATION. THANK YOU.
Now Playing As: Captioned (English) (change)
In this episode, guests reveal recipes for festive foods for family gatherings with an emphasis on chicken. In the crafting section, a custom dress maker demonstrates how to make unlined jackets.
Media Details
Runtime: 27 minutes