Creative Living With Sheryl Borden #6611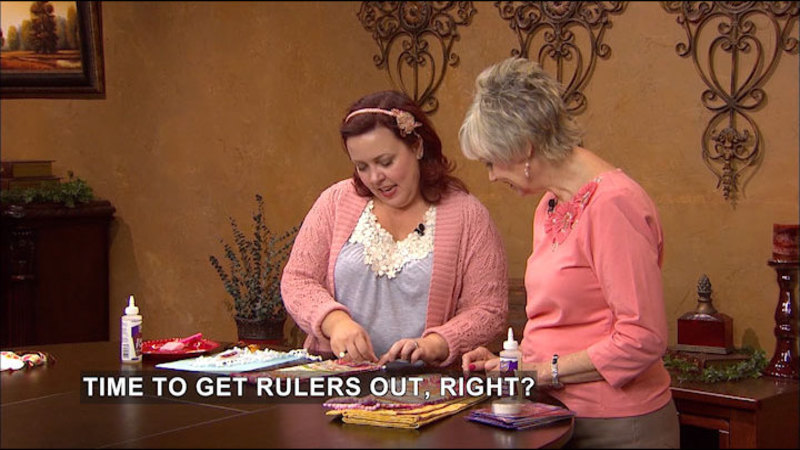 >> "CREATIVE LIVING," UTILIZING TODAY'S TECHNOLOGY WITH THE BEST OF THE PAST TO BRING YOU INNOVATIVE IDEAS AND UP-TO-DATE INFORMATION FOR CREATIVE LIFESTYLES IN TODAY'S ACTIVE WORLD WITH YOUR HOST SHERYL BORDEN. >> I'M SO GLAD YOU JOINED ME TODAY FOR "CREATIVE LIVING." WE'RE GOING TO LEARN HOW TO COOK DRIED BEANS, SHOW HOW TO MAKE BOUTIQUE TEA TOWELS, AND DEMONSTRATE MAKING AN EASY BUT FABULOUS FRAME. ONE OF MY GUESTS IS JEANE WHARTON, AND SHE'S WITH THE U.S. DRIED BEAN COUNCIL IN JACKSON, WYOMING. AND JEANE'S GOING TO TALK ABOUT HOW NUTRITIOUS AND DELICIOUS BEANS ARE. THEY'RE NOT ONLY VERSATILE, BUT A GOOD PROTEIN SUBSTITUTE IN CERTAIN DIETS SUCH AS GLUTEN FREE. ANOTHER GUEST IS LAURA BRAY, AND SHE'S A DESIGNER, AND SHE'S GOING TO SHOW HOW TO MAKE NO-SEW BOUTIQUE TEA TOWELS USING AN ADHESIVE FOR THE APPLIQUE TECHNIQUE. THESE CAN BE MADE AT A FRACTION OF THE COST OF THOSE THAT YOU FIND IN A BOUTIQUE STORE. LAURA REPRESENTS ILOVETOCREATE.COM, AND SHE LIVES IN ALISO VIEJO, CALIFORNIA. WE'LL BEGIN THE SHOW TODAY WITH SHANNON BIELKE, A DESIGNER AND CRAFTER FROM PAYSON, ARIZONA, AND SHANNON WILL SHOW HOW TO MAKE FABULOUS FRAMES USING SCRAPBOOKING PAPER AND LOTS OF EMBELLISHMENTS. HER COMPANY IS SHA & CO. SHANNON, IT'S ALWAYS NICE TO HAVE YOU HERE AND I FIND OUT WHAT YOU'RE DOING IN YOUR "SPARE TIME." AND AS A MIXED MEDIA ARTIST, YOU REALLY DO MAKE USE OF EVERY LITTLE BIT AND PIECE THAT YOU HAVE ON HAND, DON'T YOU? >> I DO. MAYBE I'M CHEAP OR A SPENDTHRIFT, BUT I FIND MY FAVORITE THINGS, AND I CAN'T GET RID OF THEM, AND SO I USE THEM EVENTUALLY FOR SOMETHING, AND PEOPLE MAKE FUN OF ME BECAUSE I HAVE A BIG STASH WITH LOTS OF DIFFERENT THINGS, BUT I ALWAYS END UP USING THEM. >> WELL, AND WE WERE TALKING ABOUT THOSE LITTLE, CHEAP FRAMES THAT YOU CAN FIND EITHER AT A FLEA MARKET OR SOMETHING LIKE THAT, OR EVEN GO PAY THE FULL PRICE OF A DOLLAR AT ONE OF THE DOLLAR STORES, AND TO FRAME SOMETHING, IN THIS CASE YOUR DAUGHTER AND-- >> MY NEW GRANDBABY. >> GRANNYBABY, BUT THIS WAS JUST A LITTLE CHEAP FRAME THAT YOU STARTED WITH. >> RIGHT. THAT WAS AN INEXPENSIVE FRAME, AND WHAT I FOUND WAS WHEN I TAKE MY FAVORITE PICTURES, I LIKE TO MAKE THEM MORE THAN JUST FRAMES, SO I LIKE TO MAKE A SPECIALIZED FRAME THAT ENDS UP MAKING PERSONALLY, I THINK, MY PICTURE A PIECE OF ARTWORK. >> WELL, IT CERTAINLY IS. >> THIS IS MY BEAUTIFUL DAUGHTER AND HER LITTLE BABY GIRL, FIONA MAY, AND I TOOK THE INEXPENSIVE FRAME. YOU TAKE A PIECE OF PAPER. YOU TURN IT OVER. AND IT'S EASIER TO USE THE LIGHTER WEIGHT PAPER. >> OH, RIGHT. SOME OF IT'S MORE OF A CARD STOCK. >> RIGHT. AND YOU CAN USE THAT, BUT YOU HAVE TO FOLD IT FIRST. BUT THIS YOU WOULD DRAW A LINE IN THE MIDDLE. YOU WOULD LEAVE THE SAME SIZE BORDER ALL THE WAY AROUND. AND WHAT YOU DO IS THEN YOU CUT A SMALL BOX OUT OF THE MIDDLE HERE, CUT DIAGONALS, AND MOD PODGE, MY GO-TO GLUE MEDIUM, YOU JUST FOLD IT UP, GLUE IT DOWN FROM SIDE TO SIDE FROM THE CENTER. THEN YOU DO THE OUTSIDE, AND TO MAKE THESE NICE CLEAN CORNERS BECAUSE YOU NEED NICE CLEAN CORNERS, YOU CUT IT DIAGONALLY ACROSS THE TOP HERE, AND YOU DO ONE SIDE, AND THEN YOU FOLD IT IN, AND-- >> IT'S NOT A MITERED CORNER, IS IT? >> NO. I DON'T MITER. I JUST-- THIS IS MITERED HERE JUST TO FOLD IT UP, BUT HERE IT ISN'T. I JUST CUT THIS OFF, AND THEN FOLD IT IN HERE, AND THEN THAT FLAP FOLDS OVER THE TOP THERE. >> AND THAT'S WHAT YOU DID. THIS IS ACTUALLY-- >> RIGHT, RIGHT. YEAH, THAT'S A REALLY INEXPENSIVE FRAME. IN FACT, IT WAS BROKEN, AND IT'S STAYING TOGETHER BECAUSE OF THE PAPER. >> AND THEN YOU WENT BACK AND ADDED SOME ANTIQUING. >> RIGHT, AND ORIGINALLY I WAS GONNA USE IT FOR THAT, BUT I DIDN'T THINK THIS COLORING WENT WITH THAT PICTURE, SO I DIDN'T USE IT. >> AND THEN DID YOU MAKE ALL OF THESE EMBELLISHMENTS? >> THAT WAS A PIECE OF PAPER. THAT WAS ONE OF THOSE PAPERS THAT I BOUGHT 'CAUSE IT WAS BEAUTIFUL AND I DIDN'T KNOW WHAT I WAS GONNA DO WITH IT. IN MY STASH THAT EVERYBODY LAUGHS AT, AND I FUSSY CUT ALL THE PIECES OUT. I FUSSY CUT THESE PIECES. THEN I BACKED THIS SET WITH THOSE LITTLE FOAM SQUARES THAT ARE ABOUT AN 1/8 OF AN INCH. AND THEN ADDED A FEW PRETTY LITTLE EMBELLISHMENT, AND I ALWAYS LOVED THE METAL PIECES, SO I PUT A LITTLE BIT OF A METAL PIECE, AND THAT WAS IN MY STASH. >> AND HAVING THAT 3-DIMENSIONAL ADDITION TO IT... >> RIGHT. >> TO A FRAME REALLY DOES CHANGE THE LOOKS OF IT COMPLETELY. >> AND THEN I THINK ONE LAST THING I MIGHT ADD IS A LITTLE BIT OF A SHEER SAGE GREEN RIBBON ON THERE, BUT THEN WHEN YOU HANG THAT ON THE WALL, IT LOOKS MORE LIKE A PIECE OF ART AND NOT JUST A PICTURE. >> WELL, AND WHAT A GREAT WAY TO, YOU KNOW, WE ALWAYS CHANGE OUT OUR KID'S SCHOOL PICTURES, YOU GO EACH GRADE, THEY CHANGE AND HOW THEY LOOK AND MAYBE THE COLOR THEY'RE WEARING OR WHATEVER. THIS WOULD BE A GREAT IDEA WITH JUST SOME INEXPENSIVE SCRAPBOOK PAPER. >> RIGHT. AND THEN YOU CAN TAKE THE PAPER AND FUSSY CUT. YOU TAKE THE PAPER, LOOP IT, AND THEN FUSSY CUT THE LITTLE PIECES OUT-- >> THE BIRDS, AND THE FLOWERS. >> AND THERE ARE EMBELLISHMENTS THAT YOU PUT ON YOUR FRAME. YOU CAN THEN INK THEM AND EMBELLISH THEM OR JUST EMBOSS THEM. YOU CAN DO A LOT WITH JUST CHANGING THEM OUT JUST A LITTLE TO MAKE EACH PIECE LOOK UNIQUE BUT ALL THE PIECES GO TOGETHER TO COMPLIMENT. THAT WAS WHAT I WAS TRYING TO DO WITH THE PICTURE OF THE BEAUTIFUL BABY. >> OF COURSE. >> AND MY DAUGHTER, OF COURSE. >> YES, AND THE DAUGHTER. WELL, AND SO MANY OF THE SCRAPBOOK PAPERS ARE TWO-SIDED, SO IT EVEN GIVES YOU--YOU COULD LET THIS BE THE FRAME, AND THEN-- >> AND THEN YOU HAVE ENOUGH ROOM TO FUSSY CUT THE LITTLE PIECES. >> GREAT IDEA. WELL, THANK YOU SO MUCH. I APPRECIATE YOU SHOWING US HOW EASY IT IS TO MAKE A FRAME. >> IT IS. IT'S A VERY SIMPLE CONCEPT THAT I HAVE DONE, GONNA BE TEACHING IT IN MY SCRAPBOOK STORE BECAUSE IT'S SUCH A SIMPLE CONCEPT. PEOPLE ARE GOING, "WHY DIDN'T I THINK OF THAT?" FIRST THING I'VE EVER THOUGHT OF THAT SOMEBODY ELSE SAID, "WHY DIDN'T I THINK OF THAT?" >> WELL, GOOD LUCK. I THINK IT WILL GO OVER WELL. AND CONGRATULATIONS ON THE BABY. >> OH, THANK YOU. >> LAURA, THANK YOU SO MUCH FOR BEING HERE. WHEN YOU COME, YOU ALWAYS HAVE SUCH NEW, CREATIVE IDEAS FOR US, AND THAT'S WHAT I LIKE. BUT I HAVE TO ADMIT WHEN I READ THE PAPERWORK YOU SENT AND IT SAID WE'RE GONNA MAKE TEA TOWELS, MY FIRST THOUGHT WAS, "WHY?" WHY WOULD WE WANT TO GO TO THE TROUBLE TO MAKE TEA TOWELS? >> WELL, THESE ARE REALLY UNIQUE TEA TOWELS AND THEY'RE REALLY BEAUTIFUL, AND I'VE SEEN THESE IN BOUTIQUE STORES FOR $15, $17, AND I WANTED TO CREATE SOMETHING AS BEAUTIFUL FOR A LOT LESS MONEY. >> A LOT LESS. >> THEY MAKE GREAT GIFTS, TOO, YOU KNOW. A COUPLE OF TEA TOWELS AND SOME BEAUTIFUL-SMELLING DISH SOAP AND IT'S GREAT FOR A LITTLE HOUSEWARMING GIFT. >> WELL, IT WOULD BE. >> SOMETHING LIKE THAT. >> AND THIS IS THE ONE THAT YOU'RE GOING TO SHOW US HOW TO DO. >> YEAH, I'LL SHOW YOU BOTH OF THEM. AND THE GREAT THING ABOUT THESE IS THEY'RE BOTH NO-SEW. >> OH. >> SO FOR MY CRAFTY FRIENDS WHO WISH THEY COULD SEW, WE'RE GONNA GET TO DO FABRIC WITHOUT ACTUALLY SEWING. >> OK, AND THIS ONE IS WASHABLE, AND YOU SAID THIS ONE IS THE ONE WE SAVE FOR COMPANY AND TELL THE KIDS AND HUSBANDS NOT TO USE BECAUSE YOU HAVE TO DRY CLEAN IT. OK. >> RIGHT, AND YOU KNOW, MY HUSBAND LOVES IT WHEN I SAY, "DON'T USE THAT TOWEL! IT'S JUST DECORATION." BUT HE'S USED TO IT. >> HE'S USED TO IT. OK. NOW, WE DO START WITH AN INEXPENSIVE TOWEL, TEAL TOWEL. >> RIGHT. I JUST BOUGHT THESE AT A DISCOUNT STORE, AND THEN I TOOK SOME EVEN SCRAP FABRIC THAT HAD A CUTE MOTIF ON IT, AND THEN I TAKE SOME OF I LOVE TO CREATE FABRIC FUSION PEEL & STICK. >> PEEL & STICK. AND THAT'S EXACTLY WHAT IT IS. >> IT IS EXACTLY THAT, AND YOU JUST PEEL IT OFF. >> UH-HUH. NO-SEW, PERMANENT, WASHABLE. >> AND YOU PUT YOUR FABRIC ONTO THE STICKY SIDE OF THE TAPE. AND I WILL TELL YOU FROM TRIAL AND ERROR THAT IT DOES GIVE YOU A LITTLE WIGGLE ROOM. BEFORE YOU REALLY START MASHING IT DOWN, MAKE SURE THAT YOU'RE ON THE TAPE. >> OR DON'T HAVE A WRINKLE OR SOMETHING. >> RIGHT. BUT IT GIVES YOU A LITTLE BIT. SO I PEELED IT OFF, ATTACH THE FABRIC, AND THEN I'M JUST GONNA CUT THE APPLIQUE. >> AND YOU DON'T EVEN HAVE TO FINISH THE EDGES, I NOTICED, IF YOU DON'T WANT TO. >> NO, YOU DON'T. IT'S LIKE, YOU KNOW, AN IRON-ON TYPE YOU USUALLY DON'T HAVE TO APPLIQUE-- FINISH THE EDGES FOR THE APPLIQUE. THE GREAT THING ABOUT THIS IS NOT ONLY DO YOU NOT NEED A SEWING MACHINE, YOU ALSO DO NOT NEED AN IRON. THIS IS ALL...SO YOU CAN SEE HOW EASY THAT WAS FOR ME TO CUT AS WELL. AND THEN ONCE YOU HAVE IT CUT OUT... >> SO IT'S A DOUBLE STICK BASICALLY. >> IT'S A DOUBLE STICK. >> UH-HUH. GOT TO GET YOUR FINGERNAIL UNDER THERE TO GET IT STARTED. >> YOU DO. TRY TO FIND A SPOT. THAT'S-- >> I GUESS THAT MEANS IT STUCK WELL, DIDN'T IT? >> THERE WE GO. >> UH-HUH. >> SEE, YOU CAN SEE HOW IT'S GOTTEN SHINY ON THE BACK AND TACKY. >> VERY STICKY. MM-HMM. NOW, ONCE WE LAY IT DOWN, DO WE HAVE ANY WIGGLE ROOM OR HAD WE BETTER-- >> YOU HAVE A LITTLE BIT AGAIN. DON'T PUSH TOO HARD. SEE, I CAN LAY IT LIKE THAT AND PICK IT UP. >> OK. >> THAT'S ABOUT WHERE I'D LIKE IT. >> NOW, IF YOU WANTED THE EDGE FINISHED, I SUPPOSE YOU COULD ZIGZAG AROUND THE EDGE BEFORE YOU PUT IT DOWN MAYBE? >> WELL, AFTER YOU PUT IT DOWN. >> IF YOU PUT IT DOWN AND THEN DO IT. OK. >> ...AFTER YOU PUT IT DOWN, IT MIGHT--I MEAN, IT'S REALLY-- IT'S GONNA STAY. AND BECAUSE I PUT IT DOWN AND THEN CUT IT OUT, THE PEEL-AND-STICK PRODUCT IS ALL THE WAY TO THE EDGE, AND THAT'LL KEEP IT FROM FRAYING. >> MM-HMM. AND THEN WE HAVE TO FINISH THE EDGES. THAT'S WHAT MAKES THEM ALL REALLY EXPENSIVE IS THE EMBELLISHMENT. >> RIGHT. SO I HAVE SOME RIBBON THAT I WANT TO APPLY, AND I USED THE I LOVE TO CREATE PEEL & STICK TAPE. >> UH-HUH. NOW, IF WE PERHAPS AT OUR STORE, WE COULDN'T FIND IT OR THEY WERE OUT, COULD WE USE THE STRIPS AND JUST CUT 'EM? >> YOU COULD. OFF STITCH. >> UH-HUH. OFF OF ONE OF THESE, COULD WE JUST CUT STRIPS? >> YEAH, YOU DEFINITELY COULD DO THAT. >> IT'S THE SAME BASICALLY, THE SAME PRODUCT. >> THE GREAT THING ABOUT THIS TAPE IS IF YOU'RE SHORT LIKE ME, YOU CAN USE IT TO HEM YOUR PANTS, TOO... >> GOOD IDEA. >> INSTEAD OF STAPLING. HA HA! NOT THAT I EVER DID THAT OR ANYTHING. >> RIGHT. AND ANOTHER THING YOU MENTIONED TO ME EARLIER, AND I REMEMBER SEWING ON BOY SCOUT PATCHES ON VESTS. THOSE THINGS ARE A MURDER TO SEW ON, AND YOU SAID YOU DO THIS FOR YOU KIDS. >> I DO. MY DAUGHTER'S A DAISY, AND I USE IT FOR HER PATCHES. I USE THE SHEETS, AND YOU JUST PEEL IT OFF, PUT THE PATCH ON, CUT AROUND IT. >> I WISH I'D KNOW ABOUT THAT THEN. >> AND BECAUSE THESE PRODUCTS ARE WASHABLE, IT'S GOOD FOR THE UNIFORM. >> SURE. >> THOSE ARE GONNA GET... >> YES, THEY DO. >> AND ALL KINDS OF PROJECTS. >> SO YOU DID THE SAME THING. YOU JUST PUT IT DOWN. >> I JUST PUT IT DOWN. WHEN YOU PEEL IT OFF THE ROLL, IT'S ALREADY STICKY ON ONE SIDE. YOU PUT THAT DOWN...WHERE YOU WOULD LIKE IT. AND THEN AGAIN YOU CAN SEE THERE'S A LITTLE BIT OF A SHINE WHERE IT BE STICKY PART IS AND I'M TERRIBLE ABOUT MEASURING OR ANYTHING. I DO THIS ALL ON THE FLY LIKE THIS. I REALLY DO. >> WELL, LOOKS LIKE IT'S GONNA WORK. AND YOU COULD DO THE WHOLE LENGTH, I SUPPOSE, IF YOU WANTED TO AS MOST TEA TOWELS ARE JUST DECORATED ON THE FRONT. >> RIGHT. I THINK I DID IT THE WHOLE LENGTH ON THIS ONE. >> OH, DID YOU? YEAH, I CAN SEE. UH-HUH. >> SO THAT, I MEAN, THAT TOOK 5 MINUTES, AND ALMOST NO MONEY. >> AND MOST OF US HAVE FABRIC LIKE THAT THAT HAS CUTE DESIGNS ON IT BUT IT'S NOT ENOUGH TO DO ANYTHING WITH. >> RIGHT. >> OK, SO WE HAVE THAT ONE DONE. NOW THIS ONE, SO THAT WE COULD SHOW PEOPLE UP FRONT, THESE ARE TWO SEPARATE THINGS. THIS IS THE APPLIQUE THAT YOU CUT OUT. >> I CAN SHOW YOU ON HERE THE DIFFERENT PIECES. I BOUGHT A KIND OF WILD PRINT. >> I LIKE THAT. >> AGAIN, DISCOUNT STORE. YOU CAN ALSO USE OLD DISH TOWELS AND COVER UP STAINS... >> THAT'S A GOOD IDEA. >> WITH THE APPLIQUES. MAYBE YOU'LL FIND SOMETHING AT THE FLEA MARKET. BUT IT'S STAINED OR HAS A HOLE, THIS WOULD BE A GOOD PROJECT. >> IT WOULD BE. >> AND AGAIN, I HAD SOME CUTE JAPANESE FABRIC THAT HAD A WHOLE BUNCH OF BUILDINGS ON IT, SO I CUT OUT ONE FOR THE APPLIQUE ON THIS PROJECT. >> HOW CUTE. UH-HUH. >> NOW, I'M GONNA USE THE FABRIC FUSION. >> AND IT COMES IN A BOTTLE. YOU COULD EITHER SQUIRT IT OUT, OR YOU'RE USING A LITTLE SPONGE BRUSH. >> I'M USING A SPONGE. WHEN YOU'RE USING A THIN OR FABRIC LIKE THIS ONE, YOU WANT TO LIGHTLY, YOU KNOW, DO A LIGHT BRUSHING. >> OH, UH-HUH. >> OTHERWISE, IT'LL KIND OF GOB UP UNDERNEATH THE FABRIC AND WON'T LOOK AS SMOOTH AND BEAUTIFUL. AND YOU WOULD WANT TO DO IT ALL THE WAY TO THE EDGE, SO PUT IT DOWN ON A PROTECTED SURFACE. >> MM-HMM. >> I'M JUST GONNA QUICKLY DO IT. AND PUT IT DOWN ON YOUR TOWEL. SMOOTH IT UP. >> MM-HMM. >> AGAIN, THIS IS DRY CLEAN SO YOU'RE GONNA LET IT DRY. >> NOW, WHAT MAKES THIS ONE REQUIRING DRY CLEANING? >> IT'S JUST THE PRODUCT. >> IT'S THE--OK. >> THE CHEMICAL MAKEUP OF THAT PRODUCT. >> OK. >> THEY ALSO MAKE THE SAME ADHESIVE IN A PEN. >> FABRIC. I SEE. UH-HUH. >> SO IF YOU HAVE LITTLE, TINY THINGS OR IN THIS CASE, I'M GONNA DO, AGAIN, A LITTLE END... >> AND THAT'S YOUR TRIM. HEY, AND ANOTHER GOOD WAY BECAUSE WE ALL SAVE EVERY LITTLE INCH OF EVERYTHING... >> MM-HMM. >> SO IT'S A GOOD WAY TO USE SOME OF THAT. >> YOU COULD EVEN DO A TRIM, LIKE, A WHOLE TOWEL WITH A BUNCH OF DIFFERENT TRIMS AND SKIP THE APPLIQUE PART AND GET THE SAME. DO MY FAMOUS COME IN LATER AFTER. >> HA HA! CHANGE OF MIND. >> HEY, WHEN YOU'RE THE MOM OF SMALL CHILDREN, YOU DON'T HAVE TIME TO GET RULERS OUT, RIGHT? AND JUST MAKE SURE IT'S PUSHED DOWN. >> THAT NEEDS TO LET DRY... >> RIGHT. >> FOR A WHILE. MM-HMM. HOW CUTE. AND WHAT I LIKE IS IF YOU WERE MAKING A PAIR OF THESE, THE TWO APPLIQUE PIECES ARE DIFFERENT SIZES AND YET THEY COORDINATE. >> MM-HMM. >> SO WHAT A NICE SET THIS WOULD BE TO GIVE SOMEONE, LIKE YOU SAY, MAYBE WITH SOME FRAGRANT SOAP OR SOMETHING LIKE THAT. >> WELL, THIS IS A LITTLE BAKERY, I'D MAYBE PUT A FRENCH LOAF IN A TOTE BAG WITH IT OR SOMETHING LIKE THAT. >> GREAT IDEA. WELL, THANKS FOR SHOWING US THE NEW PRODUCTS AND SOME DIFFERENT WAYS WE CAN USE SOME OF OUR OWN SCRAPS AND SAVE ALL THAT MONEY WE MIGHT SPEND ON THE TOWELS. THANK YOU. >> THANKS FOR HAVING ME. >> JEANE, THANK YOU SO MUCH FOR BEING WITH US. I'M ANXIOUS TO LEARN ABOUT RECIPES THAT FEATURE BEANS BECAUSE WHEN I GREW UP, WE ATE A LOT OF PINTO BEANS, BUT THEY WERE EITHER THE MAIN DISH BECAUSE WE DIDN'T HAVE A MEAT AND THEY'RE SUCH A GOOD SOURCE OF PROTEIN, BUT I HADN'T THOUGHT ABOUT PUTTING THEM IN SO MANY OTHER RECIPES, AND WE'RE GOING TO COVER THAT. >> I THINK YOU AND I HAD SIMILAR GROWING UP YEARS BECAUSE I KNEW BEANS AS PINTO BEANS IN A POT WHICH MOTHER WOULD PUT A HAM HOCK IN, AND THAT WAS BEANS. BUT I'M FINDING THAT BEANS ARE NUTRITIOUS AND THEY'RE VERY GOOD, BUT THEY'RE ALSO VERY VERSATILE, AND SOME OF THE THINGS THAT YOU'LL SEE HERE ON THE TABLE THAT WE'VE DONE WITH BEANS, VERY ELEGANT DIP, AN OLIVE TAPENADE IN OUR LITTLE RECIPE BROCHURE AND ON THE WEBSITE, AND IT'S MADE WITH 3 KINDS OF OLIVES AND TWO KINDS OF BEANS. IT TURNS OUT BEAUTIFULLY AND IT'S WONDERFUL DIPPING YOUR GARLIC CROSTINI INTO IT OR DIPPING VEGGIES INTO IT. >> AND WHAT KIND OF BEANS? >> IN THIS PARTICULAR ONE-- >> THEY'RE USED INTERCHANGEABLY I UNDERSTAND. >> YEAH, THEY CAN BE. IN THIS PARTICULAR ONE, WE'VE GOT DARK RED KIDNEYS AND NAVY BEANS, WHICH IS THE LITTLE TINY WHITE BEAN. AND THAT WORKS REALLY WELL IN THAT-- >> I KIND OF LIKE THE COLOR. >> IT ADDS COLOR AND A WONDERFUL TEXTURE, THERE'S A WONDERFUL MOUTH FEEL TO THAT PARTICULAR DIP. AND THEN ANOTHER WAY THAT WE'VE USED MASHED-UP BEANS, THIS TIME WE'VE USED MASHED-UP GREAT NORTHERN BEANS, WHICH ARE THE LITTLE WHITE ONES, IN THE MUFFINS, AND THAT-- >> OH, MUFFINS. >> DIETICIANS CALL THIS CLANDESTINE NUTRITION. >> WHAT DOES THAT MEAN? >> WHAT YOU'RE DOING, YOU'RE SNEAKING IN SOMETHING NUTRITIOUS TO SOMEBODY THAT MAYBE THINKS THEY DON'T LIKE BEANS OR THEY DON'T LIKE VEGETABLES. YOU MASH 'EM UP AND PUT 'EM IN THESE BANANA NUT MUFFINS, AND THEY'RE WONDERFUL, BUT THEY'RE ALSO HEALTHY. >> AND I THINK IT'S PROBABLY BECAUSE IT ALSO KEEPS THEM MOIST. >> YES, IT ADDS A LOT TO THE TEXTURE. >> AND IN COOKING WITH BEANS, IT'S GREAT. IF YOU'RE GOING TO COOK WITH THEM, WHY NOT JUST MAKE A HUGE BATCH? BECAUSE THEY FREEZE SO WELL. >> EXACTLY. YOU CAN FREEZE THEM IN THE LITTLE CONTAINERS OR IN LITTLE ZIPLOC AND USE THEM-- A LOT OF TIMES THERE'S JUST TWO OF US NOW. WE'RE AT EMPTY NEST. AND I FREEZE, OH, JUST ENOUGH FOR A SERVING FOR EACH OF US. AND THAT'S A WONDERFUL WAY TO TAKE THAT BIG POT OF BEANS AND MAKE IT GO FURTHER. HAVE THEM AVAILABLE FOR YOUR SOUPS AND FOR YOUR SALADS AND FOR RECIPES LIKE THIS. >> AND BEANS ARE SORT OF ODD IN THAT THEY FALL INTO TWO DIFFERENT CATEGORIES ON THE WHAT WE USED TO CALL THE FOOD PYRAMID OR MY PLATE NOW. >> IN 2010 THE DIETARY GUIDELINES FOR AMERICANS WERE REWRITTEN. THEY'RE WRITTEN ABOUT EVERY 5 YEARS, AND IN THIS PARTICULAR EDITION, BEANS WERE NOTED AS THE FOOD TO INCREASE. WE NEED TO EAT MORE BEANS. BUT YOU'RE RIGHT, THEY WERE IN TWO PLACES IN THAT BIG PLATE, IN THE VEGETABLE GROUP AND ALSO IN THE PROTEIN FOODS GROUP. AND I THINK WE'VE DONE SUCH A GOOD JOB FOCUSING ON HOW BEANS ARE GOOD PROTEIN, YET WE FORGET THEY'RE A WONDERFUL SIDE DISH. AND MANY OF THE MEMBERS OF THE U.S. DRIED BEAN COUNCIL THAT ARE PACKAGERS AND CANNERS HAVE COME UP WITH SOME GREAT IDEAS FOR A SIDE DISH KIND OF BEANS. >> UH-HUH, WELL, IN TALKING ABOUT THE HEALTH, WHICH YOU MENTIONED EARLIER, THEY CONTAIN LOTS OF GOOD VITAMINS AND MINERALS THAT WE NEED, BUT THERE'S BEEN SPECIAL STUDIES RECENTLY ABOUT HOW GOOD THEY ARE IF YOU TEND TO HAVE COLON CANCER OR, WELL, EVEN TO PREVENT, HELP PREVENT LOTS OF KINDS OF CANCERS, BUT THEY KEEP THOSE POLYPS FROM GROWING IN THE COLON, AND THAT'S SO IMPORTANT. >> I'M KIND OF AMUSED THAT MOVIE STARS THAT TOUT THIS YOGURT WITH THE FIBER ADDED, 'CAUSE WE HERE HAVE THIS WONDERFUL PRODUCT THAT HAS FIBER IN IT, AND SINCE STUDIES HAVE BEEN DONE RECENTLY, ONE IN PARTICULAR TWO YEARS AGO IN BRAZIL THAT SAID THE FIBER, PEOPLE WHO ATE A LOT OF FIBER FOUGHT THE COLON POLYPS MORE AGGRESSIVELY AND DIDN'T HAVE THEM IN A BIG PERCENTAGE, AND ALSO A DIET THAT'S REALLY POPULAR RIGHT NOW IS THE MEDITERRANEAN DIET, AND IT FOCUSES ON FISH AND BEANS AND VEGETABLES, FRUIT. >> UH-HUH. >> I LOVE MICHAEL POLLAN, THE AUTHOR, WHO SAYS THAT IF YOUR GRANDMOTHER DIDN'T RECOGNIZE IT AS FOOD, YOU PROBABLY SHOULDN'T EAT IT. >> HA HA! >> AND HE'S REALLY BIG ABOUT PLANT-BASED DIET, SO THERE'S ANOTHER GREAT BOOK BY SHERI PALMER, TALKING ABOUT THE PLANT-POWERED DIET, AND WE BELIEVE THAT, THAT, YOU KNOW, THESE ARE PRODUCTS OF THE EARTH AND HOW HEALTHY THAT CAN BE FOR YOU. AND IT DOES HAVE THE FIBER AND THE MANGANESE AND THE POTASSIUM AND MAGNESIUM AND OTHER VITAMINS AND MINERALS IN A SERVING OF BEANS. >> AND THE VEGANS, VEGETARIANS, HAVE ALWAYS KNOWN, I SUPPOSE, THAT BEANS ARE A GREAT ITEM TO INCLUDE IN A VEGAN DIET. >> ABSOLUTELY. >> WE SEE MORE GLUTEN-FREE DIETS. THAT SEEMS TO BE THE RAGE RIGHT NOW. >> YEAH. THERE IS A LOT MORE GLUTEN SENSITIVITY, AND WE'RE SEEING--A LOT OF PEOPLE ARE USING BEAN FLOUR AND PEA FLOUR AND RICE FLOUR TO MAKE THEIR BAKED GOODS OR TO MAKE THEIR BREAD, AND SO BEANS ARE BEING-- MORE AND MORE RESEARCH AND MORE AND MORE DEVELOPMENT IS BEING DONE ON BEAN FLOUR AND PEA FLOUR TO--CHIPS AND THINGS LIKE THAT THAT ARE BEING MADE OUT OF THEM, AND IT'S BECOMING MORE AND MORE POPULAR BECAUSE THEY ARE A HEALTHY CHOICE. >> MM-HMM. WELL, AND LIKE I SAY, GROWING UP, I HAD THE ONE KIND OF BEAN, AND YOU SAID THAT PROBABLY PINTO BEANS MIGHT BE THE MOST PREVALENT, BUT ALSO ABOUT 70% OF THE BEANS THAT ARE GROWN IN THE U.S. ARE EATEN HERE. >> YES. WE ALSO WORK WITH USDA PROGRAMS THAT HELP US EXPORT BEANS TO OTHER COUNTRIES. AND IN PARTICULAR WE'VE HAD SUCCESS THE LAST COUPLE OF YEARS IN TURKEY. THEY LOVE AMERICAN PINTO BEANS. AND THAT WAS A PROGRAM THAT WE DID, HELPING THE CANNERS, SHOW THEM THAT PINTO BEANS FROM THE U.S. COULD BE USED EFFECTIVELY IN THEIR CANNING APPLICATIONS, SO WE'RE REALLY EXCITED ABOUT WORKING WITH THE USDA's FOREIGN AG SERVICE TO DEVELOP PROGRAMS LIKE THAT AND HELP PEOPLE EAT THE HEALTHY, NUTRITIOUS BEAN. >> AND PART OF YOUR JOB WITH THE U.S. DRIED BEAN COUNCIL IS EDUCATION BECAUSE WE HAVE TO ADMIT, A LOT OF PEOPLE, PARTICULARLY IN THIS YOUNGER GENERATION, MAYBE HAVE HEARD SO MANY STORIES ABOUT ACCIDENTS HAPPENING WHEN THEIR MOTHER OR GRANDMOTHER COOKED BEANS IN THE PRESSURE COOKER, FOR INSTANCE, KIND OF THE "I LOVE LUCY" TYPE ACCIDENT, BUT WHY DON'T YOU GO THROUGH THE SOAKING AND THE COOKING. IT REALLY ISN'T NEARLY THAT COMPLICATED. >> WE'RE NOT DEALING WITH ROCKET SCIENCE. AND IT SEEMS DAUNTING WHEN YOU LOOK AT THIS LITTLE PACKAGE OF BEANS IN THE STORE, BUT TYPICALLY THE WAY I LIKE TO DO IT IS THE QUICK-SOAK METHOD WHERE YOU PUT 3 CUPS OF WATER PER CUP OF BEANS INTO A BIG POT. >> BECAUSE THEY EXPAND. >> YEAH. AND THEN YOU BRING IT TO A BOIL, AND THEN YOU LET IT SIT FOR AN HOUR, AND THEN AFTER THAT, I LIKE TO PUT THEM IN THE SLOW COOKER, BUT YOU CAN COOK THEM IN THE PRESSURE COOKER OR NOWADAYS THEY HAVE THESE NEW THINGS THAT ARE CALLED BEAN COOKERS, AND THOSE COOK THEM QUICKLY. AND DIFFERENT SIZE BEANS, OF COURSE, NEED DIFFERENT LENGTHS OF TIME TO COOK. A BIGGER BEAN IS GONNA NEED A LITTLE BIT LONGER OR BEAN SOUP MAYBE THAT HAS THE BIG LIMA BEANS IN IT WILL NEED A LITTLE BIT LONGER TO COOK, BUT THAT'S A GREAT WAY TO DO IT. AND THEN LIKE YOU SAID, THE BEANS FREEZE SO WELL THAT YOU CAN USE THEM IN RECIPES OR JUST PUT THEM IN THE MICROWAVE AND HAVE THEM FOR LUNCH. HA HA! >> WELL, AND WE TALKED ABOUT HOW BEANS GIVE YOU THAT FULL FEELING, AND WITH SO MUCH EMPHASIS NOW ON OBESITY WITH YOUNG PEOPLE AS WELL AS WITH ADULTS, BEANS PLAY A CERTAIN ROLE IN THAT, TOO. >> THEY ARE GOOD FOR SATIETY. THERE HAVE BEEN SOME STUDIES, PARTICULARLY ONE IN BRAZIL, SHOWING THAT IT HELPED PEOPLE STAVE OFF HUNGER BECAUSE THEY FELT FULLER. >> FULLER LONGER. >> YEAH, AND THEY CAN BE VERSATILE IN THE CAN, IN THE PACKAGE. YOU CAN BUY BEAN PRODUCTS LIKE THE GOOD BEAN CHIPS OR LITTLE THINGS OF BEAN DIP, AND WE'RE SEEING MORE AND MORE OF THAT. >> WHAT ABOUT--YOU MENTIONED ALL THE DIFFERENT VARIETIES OF BEANS. ARE THEY ALL GROWN ABOUT THE SAME TIME OF THE YEAR AND HARVESTED ABOUT THE SAME TIME? >> TYPICALLY THEY ARE PLANTING BEANS ABOUT THE END OF MAY, FIRST PART OF JUNE, HARVESTING THEM IN SEPTEMBER. LAST YEAR, OF COURSE, WE HAD HAIL AND A TERRIBLE DROUGHT, AND YOU KNOW HOW THAT GOES ON THE FARM, BUT BEANS ARE A VALUABLE CROP FOR MANY PEOPLE WHO ARE PRODUCERS BECAUSE THEY ALSO FIX THAT NITROGEN INTO THE SOIL, SO THEY'RE USED A LOT IN CROP ROTATION AND HAVE BEEN FOR A LONG TIME. NATIVE AMERICAN LORE CITES BEANS AS PART OF THE 3 SISTERS, AND THE 3 SISTERS BACK THEN WERE CONSIDERED CORN AND SQUASH AND BEANS. CORN MADE A WONDERFUL STALK FOR THE BEANS TO CLIMB UP, AND THEN THE SQUASH ROUNDED OUT THE DIET, AND IT ALSO HELPED THEM. THEY WERE VERY SOPHISTICATED IN THEIR USE OF THE BEANS, AND THEY DIDN'T KNOW ABOUT NITROGEN FIXATION, BUT THEY KNEW THAT THIS WAS HELPING THEIR SOIL AND HELPING THEIR CROPS BE SUSTAINABLE. >> I SEE, THE CROP ROTATION. MAKES SENSE. I DIDN'T KNOW WHAT THE 3 SISTERS ACTUALLY MEANT. >> IF YOU GO TO THE USDA BUILDING IN WASHINGTON, D.C., THERE'S A POT OUT IN FRONT OF THE BUILDING. IT HAS THE 3 SISTERS PLANTED. >> WELL, THAT'S WONDERFUL. WELL, IT'S REALLY INTERESTING. THERE'S LOTS OF GREAT INFORMATION ON YOUR WEBSITE, WHICH IS... >> WWW.BEANSFORHEALTH.COM. >> BEANSFORHEALTH.COM. WELL, I SURELY APPRECIATE YOU BEING HERE AND SHARING SOME OF THESE TIPS AND TRICKS WITH USING BEANS. >> OH, I'M SO HAPPY TO BE HERE, AND I ENCOURAGE EVERYBODY TO TRY A NEW VARIETY THIS WEEK. >> I HOPE YOU ENJOYED THE SHOW TODAY. NEXT TIME ON "CREATIVE LIVING," WE'LL DEMONSTRATE A VARIETY OF FESTIVE FOODS AND SHOW YOU SOME BEAUTIFUL FINISHES FOR UNLINED JACKETS. ONE OF MY NEXT GUESTS WILL DEMONSTRATE SOME RECIPES FOR FESTIVE FAMILY GATHERINGS INCLUDING FAMILY REUNIONS AND HOLIDAYS. HER EMPHASIS WILL BE ON CHICKEN RECIPES, BUT SHE'LL ALSO PREPARE SIDE DISHES, HOT ROLLS, AND EVEN DESSERT. ANOTHER GUEST IS A CUSTOM DRESSMAKER, ARTIST, AND DESIGNER, AND SHE'LL TALK ABOUT THE BENEFITS OF UNLINED JACKETS AND SHOW SOME BEAUTIFUL FINISHES. THESE INCLUDE A FRENCH SEAM, A ROBE EDGE SEAM, BIAS BINDING USING A HONG KONG FINISH. SHE EXPLAINS THAT UNLINED JACKETS ARE SO EASY TO STITCH UP, THEY'RE PERFECT IN WARMER WEATHER TO WARD OFF AN EVENING CHILL OR TO WEAR WHEN THERE'S EXCESSIVE AIR CONDITIONING, AND BEST OF ALL, THEY'RE LIGHTWEIGHT AND EASY TO PACK FOR TRAVELING. BOTH OF THESE TOPICS WILL BE FEATURED ON THE NEXT "CREATIVE LIVING" SHOW. IF YOU EVER HAVE COMMENTS OR SUGGESTIONS OR IDEAS FOR SHOWS, YOU CAN EMAIL ME AT SHERYL.BORDEN@ENMU.EDU. I'D ALSO LIKE TO ASK YOU TO BECOME A FAN OF "CREATIVE LIVING" ON FACEBOOK. JUST GO TO FACEBOOK.COM, AND IN THE SEARCH WINDOW, TYPE IN CREATIVE LIVING WITH SHERYL BORDEN. THANKS SO MUCH, AND I HOPE YOU'LL PLAN TO JOIN ME NEXT TIME FOR "CREATIVE LIVING." >> WE ARE VERY PLEASED TO OFFER A NEW BOOKLET THAT ACCOMPANIES THIS SERIES OF "CREATIVE LIVING." THIS BOOKLET IS TITLED THE 6600 SERIES, AND IT FEATURES A WONDERFUL COLLECTION OF IDEAS AND INFORMATION AND IT'S AVAILABLE FREE OF CHARGE ON OUR WEBSITE. POSTED AS A PDF FILE, YOU CAN SIMPLY DOWNLOAD THE ENTIRE BOOKLET OR JUST THE SEGMENTS YOU'RE MOST INTERESTED IN. AS WITH ALL THE "CREATIVE LIVING" BOOKLETS, YOU'LL FIND INFORMATION ON FOODS AND NUTRITION, CLOTHING AND FASHION, HEALTH AND BEAUTY, HOME DECORATING AND MUCH MORE. FOR YOUR COPY OF THIS BOOKLET, GO TO OUR WEBSITE AT KENW.ORG AND THEN CLICK ON "CREATIVE LIVING." SCROLL DOWN TO THE BOOKLET SECTION AND YOU CAN CLICK ON THIS BOOKLET OR ANY OF THE OTHER BOOKLETS WE HAVE AVAILABLE ONLINE. ONCE AGAIN, JUST GO TO KENW.ORG, CLICK ON "CREATIVE LIVING," AND DOWNLOAD THE BOOKLET, TITLED THE 6600 SERIES. WE ALSO WANT TO ENCOURAGE YOU TO SIGN UP FOR OUR FREE E-NEWSLETTER. JUST CLICK ON THE SIGN UP NOW BUTTON AND INPUT YOUR EMAIL ADDRESS. THAT'S ALL THERE IS TO IT. YOU'LL ENJOY READING AN UP-TO-DATE NEWSLETTER FILLED WITH INTERESTING TOPICS AND INFORMATION. THANK YOU.
Now Playing As: Captioned (English) (change)
A representative from the US Dry Bean Council discusses the nutritional value of dry beans and encourages more use of them when cooking. Viewers also learn how to create no sew boutique towels, and Shannon Bielke creates frames using scrapbooking materials.
Media Details
Runtime: 27 minutes