Creative Living With Sheryl Borden #6610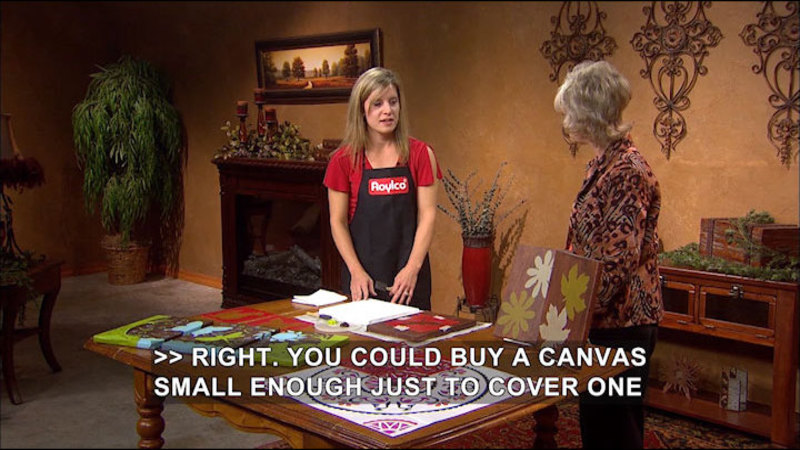 >> "CREATIVE LIVING," UTILIZING TODAY'S TECHNOLOGY WITH THE BEST OF THE PAST TO BRING YOU INNOVATIVE IDEAS AND UP-TO-DATE INFORMATION FOR CREATIVE LIFESTYLES IN TODAY'S ACTIVE WORLD, WITH YOUR HOST SHERYL BORDEN. >> WELCOME TO "CREATIVE LIVING" TODAY. WE'RE GOING TO LEARN HOW TO MAKE BEER BATTLER ARTICHOKE FRITTERS, TALK ABOUT ADOPTING HOMELESS ANIMALS, AND DEMONSTRATE USING ELABORATE STENCILS ON SOME PROJECTS. ONE OF MY GUESTS IS JOHN VOLLERTSEN, MORE COMMONLY KNOWN AS CHEF JOHNNY VEE. JOHN IS A COOKBOOK AUTHOR AND CHEF, AND HE'LL DEMONSTRATE HOW TO MAKE A SIMPLE BEER BATTER AND THEN COAT THE ARTICHOKE HEARTS TO SERVE WITH A DIPPING SAUCE. HE OWNS AND OPERATES LAS COSAS COOKING SCHOOL IN SANTA FE, NEW MEXICO. ANOTHER GUEST IS MATTHEW FESTA, AND HE'S WITH A GROUP CALLED GUARDIANS OF RESCUE. MATTHEW IS GOING TO EXPLAIN HOW TO ADOPT A PET, AND HE STRONGLY SUGGESTS GOING THROUGH A SHELTER TO HELP REDUCE THE 6 MILLION TO 8 MILLION ANIMALS THAT ARE KILLED EACH YEAR. HE LIVES IN SMITHTOWN, NEW YORK. WE'LL BEGIN THE SHOW TODAY WITH SARA MOWER, AND SHE'LL SHOW HOW TO EASILY CREATE BEAUTIFUL ARTWORK BY SIMPLY TRACING WITH STENCILS. YOU CAN EVEN USE THE EDGES TO CREATE COORDINATING FRAMES AND BORDERS. SARA REPRESENTS ROYLCO, INCORPORATED, IN ANDERSON, SOUTH CAROLINA. SARA, THANK YOU SO MUCH FOR BEING WITH US TODAY, AND YOU'RE GOING TO SHOW US A WAY TO USE STENCILS AND SOMETHING THAT I THOUGHT HAD SORT PASSED BY. I STILL SEE THE 123 AND THE ABC STENCILS. MY KIDS AND GRANDKIDS HAVE ALWAYS LIKED TO DO THAT, BUT STENCILING HAS COME A LONG WAY, HASN'T IT? >> IT SURE HAS. AS YOU KNOW, THE ABC STENCILS ARE STILL AROUND. OF COURSE, CHILDREN STILL LOVE TO USE THOSE, BUT WE HAVE SOME NEW STENCILS THAT ARE BASIC TO MORE COMPLEX DESIGNS. >> AND ONE THING, I HADN'T THOUGHT ABOUT USING THEM TO CREATE HOME DECOR ITEMS. >> YES. WE'VE JUST USED A SIMPLE CANVAS HERE, AND WE CREATED A BEAUTIFUL WALL COLLAGE BY GIVING A DIFFERENT LOOK AND USING 3 PIECES AND MAKING IT LOOK AS A CONTINUAL PATTERN. >> AND YOU ACTUALLY CONTINUED THE PAINT, SORT OF A FREEHAND. >> YES. CONTINUE YOUR PATTERN DOWN THE SIDES AND THEN WHEN YOU PLACE THIS ON YOUR WALL, YOU WANT TO LEAVE NO MORE THAN ONE INCH BETWEEN SO THAT LOOKS LIKE ONE PIECE. >> SO YOUR EYE JUST FLOWS, AND IT LOOKS LIKE ONE PIECE OF ART. >> YES. >> THAT'S BEAUTIFUL. IS THAT VERY HARD TO DO? >> NO, NOT WITH THE STENCILS. SO YOUR FRIENDS ARE ALL GONNA BE REALLY IMPRESSED WHEN THEY SEE SOMETHING LIKE THIS. >> OK, AND YOU SAID WE JUST START WITH A REGULAR CANVAS. A LOT OF PEOPLE, ESPECIALLY ARTISTS, WOULD HAVE THESE IN VARIOUS SIZES, AND YOU CAN GET THEM FROM LITTLE, TINY TO HUGE. >> RIGHT. YOU COULD BUY A CANVAS SMALL ENOUGH JUST TO COVER ONE STENCIL, BUT I JUST WANT TO SHOW YOU THE BASIC WAY WE STARTED OUT WITH THE BASE COLOR. >> AND WHAT TYPE OF PAINT ARE WE USING? >> THESE ARE JUST ACRYLIC PAINTS... >> UH-HUH, SO WATER-BASED. >> AND I'M USING A SPONGE. NOW, THIS IS JUST FOR OUR BACKGROUND. NOW, WE DIDN'T DO ANYTHING SPECIAL HERE. THIS KIND OF LOOKS TWO-TONE WHEN YOU LOOK AT THIS, BUT WE DID NOT PRIME THIS FIRST, SO WHATEVER KIND OF LOOK YOU WOULD LIKE. >> IT ALMOST LOOKS VARIEGATED OR WOOD-GRAINED, IF YOU WILL. >> RIGHT, AND SO WHATEVER LOOK YOUR GOING FOR, YOU CAN CREATE THAT. >> SO YOU CAN DO SOME LIGHTS, SOME DARKS, AND REALLY PULL THE PAINT IF YOU WANT IT TO BE THIN. >> RIGHT. SO THIS IS THE BASIC IDEA FOR OUR BACKGROUND. >> MM-HMM, AND ACRYLIC DRIES REAL FAST, DOESN'T IT? >> YES. THAT'S THE NICE THING ABOUT THAT. SO THEN THIS IS OUR NATURE STENCILS... >> MM-HMM. >> AND WE SIMPLY WANT TO TAPE IT DOWN AFTER THIS IS COMPLETELY DRY. TAPE IT DOWN SO IT WON'T MOVE AROUND ON YOU, AND WE'RE USING A SPONGE AGAIN, AND HOLD YOUR RUBBING PLATE DOWN, ALSO, TO PREVENT IT FROM SEEPING THROUGH YOUR EDGES. >> THAT WAS ALWAYS SOME TROUBLE THAT I HAD, WAS, I WOULD PUSH IT UP. SO I LIKE THE WAY YOU'RE HOLDING THAT AND KIND OF DABBING. >> KIND OF BLOTTING AND DABBING SO THAT IT WON'T GO UNDERNEATH THE RUBBING PLATE, BUT YOU CAN ALWAYS TOUCH IT UP IF THAT DOES HAPPEN. >> MM-HMM. >> SO THIS IS THE BASIC IDEA. >> AND WOULD YOU LEAVE THE STENCIL ON UNTIL IT'S COMPLETELY DRY OR TAKE IT OFF AS SOON AS YOU PAINTED IT? >> I WOULD TAKE IT OFF, REMOVE IT SO-- YOU CAN ALWAYS TOUCH UP LATER AFTER IT IS COMPLETELY DRY. >> AND WE MIGHT GO BACK AND LOOK AT THESE BECAUSE THE ARTIST JUST WENT AHEAD AND PUT IN SOME LITTLE CURLICUES, ADDED A LITTLE MORE COLOR. >> JUST EMBELLISHED IT. >> UH-HUH, JUST EMBELLISHED IT SO IT REALLY DOES MAKE A NICE PIECE OF ART. >> AND, AS YOU SEE HERE, WE HAVE SOME DECORATIVE EDGES AROUND THE STENCIL, AND... >> I'M GONNA LIFT THIS UP JUST A LITTLE BIT. >> THIS PARTICULAR STENCIL HAS 4 DIFFERENT EDGES AROUND IT SO YOU CAN USE THIS TO CREATE A BEAUTIFUL FRAME OR BORDER AROUND YOUR ARTWORK. >> MM-HMM. THAT MAKES IT VERY VERSATILE TO BUY THESE. >> THAT'S RIGHT. >> UH-HUH, AND THIS IS AN EXAMPLE. THIS IS VERY SIMPLE. >> YEAH, AND SOMETHING JUST SIMPLE IS SOMETIMES BETTER... >> UH-HUH. >> AND MAKES BEAUTIFUL ARTWORK. >> SO, AGAIN, WE COULD HANG THESE IN A GROUPING IF WE WANTED TO OR ONE SLIGHTLY ABOVE, DEPENDING ON WHERE WE'RE PUTTING THEM IN OUR HOUSE. >> THAT'S RIGHT. >> MM-HMM, AND THEN YOU SAID WE GO FROM SIMPLE TO COMPLEX, AND THIS IS REALLY COMPLEX. >> THIS IS A RANGOLI STENCIL... >> RANGOLI. >> AND THIS, IT LOOKS VERY COMPLEX, BUT THIS WAS ALL CREATED WITH THIS ONE STENCIL HERE, AND WHAT YOU WANT TO DO IS, YOU WANT TO START IN YOUR CORNER, AND TO GIVE IT THIS PATTERNED OR MIRRORED EFFECT, YOU SIMPLY FLIP YOUR RUBBING PLATE OVER AND FILL YOUR SPOTS IN, AND THEN YOU JUST CONTINUE FLIPPING IT OVER AND OVER, AND YOU HAVE A CONTINUAL PATTERN AND MAKE THIS LARGE ARTWORK HERE THAT YOU SEE. >> NOW, THIS ALMOST LOOKS LIKE IT'S DONE WITH INK. >> YEAH. WELL, THESE WERE JUST DONE WITH MARKERS. >> OH, MARKERS. >> YOU CAN USE MARKERS, CRAYONS, PAINT. SO THERE'S MANY DIFFERENT MEDIUMS YOU CAN USE WITH THIS. >> AND IS THIS PROBABLY ONE OF THE MOST COMPLEX ONES THAT YOU HAVE? >> YES. THIS IS A RANGOLI STENCIL. THIS IS POPULAR IN WESTERN INDIA, AND THEY USE THIS TO CELEBRATE THEIR FESTIVAL OF LIGHTS, AND THEY ADORN THEIR DOORWAYS AND THEIR HOME WITH THIS STENCIL. >> SO THAT'S WHY IT'S ABLE TO MAKE LARGE DESIGNS. >> YES. >> OH. I'D NEVER HEARD OF THAT. STENCILING HAS CERTAINLY COME A LONG WAY, AND I APPRECIATE YOU BEING HERE TO SHOW US SOME OF THE THINGS TO DO. IT'S STILL SIMPLE, BUT THERE'S A FEW THINGS YOU NEED TO KNOW, LIKE TAPING DOWN THE STENCIL. >> THAT'S RIGHT, AND YOU CAN ALWAYS EMBELLISH AND ADD TO IT AND CREATE YOUR ARTWORK WITH EXTRA THINGS. >> AND WHAT ABOUT YOUR WEBSITE IN CASE PEOPLE WANT TO GET MORE INFORMATION? >> FOR MORE DESIGNS THAT ARE AVAILABLE AND IDEAS, YOU CAN GO TO ROYLCO.COM FOR THAT. >> OK. WELL, THANK YOU SO MUCH FOR SHARING THIS WITH US TODAY. >> THANK YOU, SHERYL. >> MATTHEW, THANK YOU SO MUCH FOR BEING WITH US TODAY, AND I LIKE YOUR SHIRT, "THE GUARDIANS OF RESCUE," WHICH IS WHAT WE'RE GONNA TALK ABOUT. I THOUGHT WE'D START OUT BY TALKING ABOUT ADOPTING PETS. I THINK MOST OF US-- AT LEAST, I GREW UP ON A FARM AND ALWAYS HAD ANIMALS, MOSTLY OUTDOOR ANIMALS, BUT I HAVE HAD SOME PETS, AS WELL, BUT I GUESS I JUST ALWAYS THOUGHT YOU WENT TO A PET STORE AND ADOPTED A PET. HOW DOES YOUR GROUP REALLY PROMOTE THE ADOPTION OF PETS? >> WE FIND, A LOT OF ANIMALS, ESPECIALLY IN THESE ECONOMIC TIMES, WIND UP IN SHELTERS FOR REASONS OTHER THAN BEHAVIORAL ISSUES. FAMILIES CAN'T AFFORD TO STAY IN A PRIVATE DWELLING. SO THEY HAVE TO GIVE UP THEIR DOG. A LOT OF APARTMENTS DON'T ALLOW PETS. SO A LOT OF THE DOGS IN SHELTERS, THEY DON'T HAVE TEMPERAMENT ISSUES. THEY'RE HOUSEBROKEN. THEY KNOW HOW TO SIT, STAY. IT'S LIKE A TURNKEY DOG. WE DO OUR BEST TO GO IN THERE AND HIGHLIGHT THESE ANIMALS AND BRING THEM TO PEOPLE'S ATTENTION. WE BRING THEN TO EVENTS. BIG THING WITH ANIMAL SHELTERS IS, IT'S A VERY DEPRESSING PLACE FOR A LOT OF PEOPLE. YOU WALK THROUGH THERE, AND I LIKEN IT TO A MAXIMUM SECURITY PENITENTIARY FOR DISNEY CHARACTERS. >> OH, MY GOSH. >> YOU SEE ALL THESE BIG, BROWN EYES BEHIND THESE CAGES. THE WAY A LOT OF ANIMAL SHELTERS ARE SET UP IS, THE CAGES ARE FACING EACH OTHER, WHICH MEANS THE DOGS, THEY CAN'T INTERACT. SO THEY CAN'T DO THEIR NORMAL PACK DYNAMIC. SO THEY'RE CONSTANTLY YELLING AT EACH OTHER. >> OH, THAT'S WHY IT'S ALWAYS SO LOUD, NOISY, AND BARKING. >> IT'S NOT CONDUCIVE TO THE ANIMAL'S MENTAL HEALTH OR WELL-BEING. SO YOU DON'T GET A GOOD IDEA OF WHAT THE ANIMAL'S TRUE TEMPERAMENT IS WHEN THEY'RE IN THE SHELTER. SO WE BRING THEM OUT. WE TRY AND PUT THEM IN FOSTER HOMES AND JUST PROMOTE THEM, SHOW PEOPLE THAT THESE ANIMALS ARE HERE AND ARE DEFINITELY NOT PROBLEM ANIMALS. >> UH-HUH, AND YOU MENTIONED TAKING THEM TO SHOWS AND LETTING PEOPLE BECOME AWARE, BUT YOU ALSO HAVE A WEBSITE, THE GUARDIANSOFRESCUE.ORG, AND YOU CAN ACTUALLY GO ON THERE AND LOOK AND MEET A DOG OR A CAT AND SEE, AND THEN WHAT THE PROCESS IS, YOU ACTUALLY FILL OUT AN APPLICATION FORM? >> YEAH. FILL OUT AN APPLICATION. IF YOU ALREADY HAVE AN ANIMAL, LIST YOUR VET'S, AND ANY RESPONSIBLE PET OWNER WOULD KNOW THAT IF WE WERE TO CHECK YOUR VET'S, IT'S JUST TO KNOW THAT WE'RE NOT GONNA GIVE THE DOG TO A MONSTER, SO WE KNOW THAT YOU'RE A RESPONSIBLE PET OWNER. >> OH, I SEE. >> ALSO ON OUR WEBSITE, IF YOU HAVE A SPECIFIC NEED--A SPECIAL NEEDS CHILD OR A SPECIFIC CAT YOUR LOOKING FOR, WHATEVER--LET US KNOW. WE CAN FIND IT. WE'RE A NETWORK OF MANY RESCUES AND MANY SHELTERS. A LOT OF TIMES, YOU FIND WANT A PUREBRED DOG, I GOT A PUREBRED BOSTON TERRIER FROM A SHELTER. ACTUALLY, I DO BOSTON TERRIER RESCUE AS WELL AS REGULAR ANIMAL RESCUE. I'VE GOTTEN 12, 14 OF THEM OUT OF SHELTERS, AND WE REHAB THEM AND FIND HOMES FOR THEM. SO WHATEVER IT IS THAT YOU'RE LOOKING FOR-- IF YOU WANT A DOG REMINDS YOU OF WHEN YOU WERE A KID, YOU WANT A LITTLE YORKIE--WE'LL FIND YOU ONE. >> THAT'S AMAZING. I WAS SURPRISED BECAUSE I'D NEVER THOUGHT ABOUT IT, LIVING IN A RURAL AREA WHERE I LIVE, BUT WHEN THE STORM HIT THE NEW YORK AREA, WE, OF COURSE, WORRIED ABOUT ALL THE PEOPLE AND THE BUILDINGS THAT WERE DESTROYED AND ALL OF THAT. I DIDN'T THINK ABOUT ALL THOSE ANIMALS THAT WERE LEFT, AND YOU WORK A LOT WITH THAT. >> YEAH. IT WAS AN OVERSIGHT IN THAT THERE WERE SO MANY PEOPLE IN SUCH DIRE NEED, BUT SINCE WE DO ANIMAL RESCUE, IT'S WHERE WE HAVE OUR EYES, ANYWAY. WE ACTUALLY STARTED TO WORK WITH THE RED CROSS AND WITH FEMA, WITH THE OFFICE OF EMERGENCY MANAGEMENT, BRINGING JUST THOUSANDS AND THOUSANDS OF POUNDS OF PET FOOD. HUNDREDS OF ANIMALS WE BROUGHT TO THE VET'S. NOW, I REALIZE PEOPLE LOST EVERYTHING. WATER CAME UP OVER THEIR ROOFS IN SOME CASES. THEY'RE NOT GONNA BE ABLE TO AFFORD VETERINARY CARE. SO WE FOUND, ANIMALS WERE JUST LANGUISHING. WE HELPED THESE PEOPLE OUT. WE BRING THEM TO THE VET, AND WE CAN'T DO THIS-- WE'RE ALL-VOLUNTEER, SO WE CAN'T DO THIS WITHOUT SUPPORT. SO WE BASICALLY TELL OUR FANS AND OUR FRIENDS, "THIS IS WHAT WE WANT TO DO. PLEASE HELP US TO DO THIS," OR WE'LL HIGHLIGHT-- WE ACTUALLY SAVED 5 KITTENS FROM A-- THE WOMAN DIDN'T WANT TO LEAVE HER HOUSE. SHE DIDN'T WANT TO LEAVE HER PETS BEHIND. SHE NEEDED TO HAVE INOCULATION RECORDS TO BRING THE CATS TO THE SHELTER. WELL, THEY WERE KITTENS, SO SHE DIDN'T HAVE ANY OF THEM. SHE SAID SHE WOULD RATHER DIE THAN LEAVE HER PETS BEHIND, AND, UNFORTUNATELY, SHE DID. >> WELL, IN TALKING ABOUT ADOPTING EITHER THROUGH YOUR ORGANIZATION OR MOST OF US HAVE A LOCAL HUMANE SOCIETY THAT WE COULD ADOPT THROUGH, BUT THERE ARE LOTS AND LOTS OF PETS THAT ARE KILLED, EUTHANIZED, EVERY YEAR. >> UNFORTUNATELY, YEAH. THAT IS THE CASE, AND, LIKE I SAID, WITH THE UNFORTUNATE DYNAMIC IN A SHELTER, YOU TAKE A DOG THAT'S UNCERTAIN OF ITSELF WHO JUST LOST ITS FAMILY, AND NOW YOU PUT HIM IN A CAGE, AND HE CAN'T DO A PACK DYNAMIC, AND THEY COME UNSPOOLED, AND THEY START TO-- >> SO THEY LOOK LIKE THEY'RE NOT A GOOD ANIMAL TO ADOPT OUT. >> EXACTLY. SO THAT'S WHY WE TRY TO GET THEM INTO FOSTER HOMES. WE TRY AND GET THEM OUT OF THE SHELTER ENVIRONMENT. WE TRY TO GET THEM TO INTERACT WITH OTHER DOGS SO THEY CAN JUST BE THEMSELVES AND YOU CAN REALLY SEE THAT THIS IS A WONDERFUL, SWEET ANIMAL. IT'S NOT THIS SCARED ANIMAL TRYING TO FIGURE OUT ITS PLACE IN A SHELTER. IT'S REALLY A SAD THING. >> AND SO IT SORT OF MAKES ECONOMIC SENSE, TOO, THAT IF YOU WANTED, ESPECIALLY, A PUREBRED, IF YOU GO TO A PET STORE, YOU'RE GONNA PAY HUNDREDS UP TO THOUSANDS OF DOLLARS. IF YOU, ON THE OTHER HAND, ADOPT ONE FROM YOUR ANIMAL RESCUE, YOU'RE NOT ONLY HELPING SAVE A LIFE, THE DOG OR CAT'S LIFE, THERE'S ONLY A SMALL FEE--LIKE WHATEVER THEY CHARGE FOR MAYBE IF THEY'VE HAD SHOTS, $50, $75, $100 OR SO--AND IT'S SO COMPASSIONATE. WHAT A GREAT THING TO TEACH, I THINK, CHILDREN, TOO. >> AND, CONVERSELY, A LOT OF TIMES IN PET STORES, THEY'RE NOT VETTING RESPONSIBLE BREEDERS, AND IT LEAVES IT OPEN TO WHAT WE CALL PUPPY MILLS, WHICH ARE PEOPLE WHO JUST BREED ANIMALS EN MASSE IN VERY INHUMANE CONDITIONS. >> OH. >> YOU WIND UP WITH GENETIC PROBLEMS, INBREEDING. SO YOU BUY A CUTE, LITTLE, FLUFFY DOG FOR $1,000 FROM A PET STORE, THERE'S A GOOD CHANCE THAT IT WAS BORN OF TORTURE AND IT'S GONNA WIND UP WITH TERRIBLE MEDICAL PROBLEMS AS IT GROWS OLDER FROM POOR BREEDING. VERY FEW-- THERE ARE RESPONSIBLE BREEDERS OUT THERE, AND I COMMEND THEM FOR WHAT THEY'RE DOING, BUT THEY'RE VERY FEW AND FAR IN BETWEEN, AND WITH THE PET STORE, IT'S A RACKET. PEOPLE ARE JUST OUT TO MAKE MONEY. THEY'RE NOT OUT FOR THE BREED. >> WELL, AND WE'RE CONSIDERED A THROW-AWAY SOCIETY, AND, UNFORTUNATELY, THAT SOMETIMES APPLIES. IF YOU LIVE IN A RURAL AREA, MANY, MANY PEOPLE WILL JUST LEAVE AN ANIMAL OR TAKE IT TO TOWN SO THAT SOMEBODY WILL FEEL SORRY FOR IT, BUT NOT ALL OF THOSE ANIMALS GET PICKED UP OR SAVED OR PETTED OR CARED FOR OR LOVED. SO THEY'RE JUST PUT TO DEATH. >> YEAH. IT'S-- >> WELL, YOUR ORGANIZATION PEOPLE CAN GO TO ONLINE, BUT I THINK THE IMPORTANT POINT IS TO THINK ABOUT IF YOU DO WANT A PET AND YOU WANT TO TEACH YOUR CHILDREN ABOUT CARING FOR ANIMALS, CONSIDER THAT LOCAL RESCUE UNIT OR A GROUP LIKE YOURS. >> ABSOLUTELY. ABSOLUTELY, AND WE'RE BASED OUT OF LONG ISLAND, BUT WE DO WORK ALL AROUND THE NATION. WE ACTUALLY DO WORK INTERNATIONALLY. WE WORK WITH THE ANIMAL SHELTERS IN AFGHANISTAN AND BRING DOGS BACK FOR SOLDIERS... >> OH, REALLY? AND IF, IN YOUR AREA, YOU WANT TO FIND AN ANIMAL OR A SPECIFIC TYPE, CONTACT US. WE ARE CONNECTED WITH ALL SHELTERS AND ANIMAL RESCUES AROUND THE NATION. >> SO COULD I START AN ORGANIZATION? CAN SOMEBODY WATCHING? COULD THEY START A GUARDIANS OF RESCUE ORGANIZATION IN THEIR TOWN? >> ABSOLUTELY. ABSOLUTELY. WE ENCOURAGE IT. LIKE I SAID, NO COMPETITION IN ANIMAL RESCUE. >> NO. >> WE'RE NOT OUT SELLING A BRAND. WE'RE TRYING TO PROMOTE COMPASSION. THE MORE PEOPLE THAN BACK US UP, WE CAN BACK UP, AND THAT'S THE THING. LIKE I SAID, IT'S ALL-VOLUNTEER, SO IT'S ALL ON OUR FRIENDS AND OUR FANS. SOMEONE IN MISSOURI WANTS TO START A GUARDIANS OF RESCUE CHAPTER OR A JUNIOR GUARDIANS OF RESCUE, LET US KNOW. WE'LL BACK YOU UP, YEAH, AND WE'LL CONNECT WITH ALL THE LOCAL MUNICIPALITIES AND SHELTERS. AGAIN, IT'S ALL FOR THE BENEFIT OF THE ANIMALS. >> WELL, AND IT'S CERTAINLY IT'S NOT THAT YOU'D EVER RUN OUT OF PRODUCT BECAUSE THERE ARE SO MANY ANIMALS THAT DO NEED TO BE RESCUED. THIS IS REALLY INTERESTING, SOMETHING I KNEW NOTHING ABOUT. I APPRECIATE YOU COMING AND TALKING TO ME TODAY. >> WELL, THANK YOU FOR HAVING ME. >> JOHNNY, IT'S ALWAYS A PLEASURE TO HAVE YOU COME. I APPRECIATE IT. >> I LOVE COMING BACK AND SHOWING YOU SOME NEW LITTLE KITCHEN TRICKS. >> WELL, WHEN I WAS GROWING UP, MY MOTHER FRIED EVERYTHING. WE HAD FRIED PORK CHOPS, CHICKEN FRIED STEAK. >> OH, YEAH. THOSE WERE THE GOOD, OLD DAYS. >> EVERYTHING WAS FRIED, AND FRYING KIND OF GOT A BAD REPUTATION. SO TODAY WE'RE GOING TO KIND OF DISPEL THAT. >> AND IT REALLY DID, AND IF YOU FRY AT THE RIGHT TEMPERATURE, IDEALLY, THINGS SHOULD BE NICE AND CRISPY AND NOT GREASY, AND I THINK WHAT'S HAPPENED IS, HOME COOKS-- THERE ARE SOME HOME FRYING POTS THAT YOU CAN BUY THAT DON'T GET TO THE RIGHT TEMPERATURE... >> OH. >> AND IF YOUR OIL IS NOT AT THE RIGHT TEMPERATURE, THAT'S WHEN YOU HAVE GREASY FOOD. >> IT SOAKS UP ALL THAT GREASE. >> YEAH. IT SINKS TO THE BOTTOM. SO IN MY COOKBOOK "COOKING WITH JOHNNY VEE," I DID A WHOLE CHAPTER ON ARTICHOKES BECAUSE I LOVE ARTICHOKES AND I LOVE FRESH ARTICHOKES. I THINK ARTICHOKES ARE GREAT FROZEN. THEY'RE GREAT CANNED. SO I CAME UP WITH AN ARTICHOKE FRITTER WHICH WOULD BE GREAT FOR WATCHING FOOTBALL GAMES WITH AS A SNACK OR AN APPETIZER, AND WE'RE GONNA USE CANNED ARTICHOKES TODAY, AND WE'RE GONNA MAKE A SIMPLE BEER BATTER TO USE. >> AND YOU SAID WE COULD USE FRESH OR FROZEN OR CANNED WITH THIS. >> YEAH, AND JUST DRAIN THEM WELL, OR IF THEY ARE FROZEN, I USUALLY THAW THEM TO LET THAT EXTRA MOISTURE OUT. SO LET'S, FIRST OF ALL, TALK A LITTLE BIT ABOUT BEER BATTER. SO BEER BATTER IS A NICE, CRUNCHY BATTER. I DON'T LIKE A BATTER THAT'S TOO THICK. I LIKE TO SEE WHAT'S INSIDE THAT BATTER. SO IF YOU USE A VERY THICK FLOUR-BASED BATTER, YOU DON'T SEE ALL THAT. SO THIS IS A NICE, THIN BATTER WHICH IS GONNA ALLOW THE FLAVORS OF THE FOOD TO SHINE THROUGH, AND A COUPLE NOTES ABOUT THE BEER YOU USE. ANY FLAVOR BEER WILL WORK. JUST DON'T USE A DARK BEER BECAUSE IT TENDS TO MAKE YOUR BATTER TOO DARK... >> OH, IT WOULD. UH-HUH. >> AND THEN YOUR FOOD LOOKS OVERCOOKED, EVEN THOUGH IT ISN'T. SO WE'VE JUST GOT SOME FLOUR HERE. WE'RE GONNA ACTUALLY ADD SOME CORN STARCH. SO IT'S A MIXTURE OF FLOUR AND CORN STARCH, AND THEN I ACTUALLY LIKE TO ADD A LITTLE BIT OF-- THIS IS ACTUALLY TOASTED AND GROUND CUMIN AND A LITTLE BIT OF CAYENNE PEPPER. >> MM, FOR A LITTLE POP. >> JUST A LITTLE POP AND IS GONNA GIVE OUR BATTER A NICE, LITTLE EXTRA FLAVOR. >> AND YOU SAID THIS SAME BATTER CAN BE USED ON OTHER FOODS, TOO. >> OTHER THINGS. I ACTUALLY USE THIS ON FISH AND CHIPS AND ALSO ON MY CHILE RELLENOS SO YOU CAN REALLY GET THEM. NOW, WHEN YOU MEASURE YOUR BEER, SHERYL, YOU WANT TO TIP YOUR MEASURING CUP UP AND THEN POUR YOUR BEER SLOW ENOUGH SO THAT YOU DO GET A FULL CUP OF LIQUID. >> AND NOT SO MUCH FOAM TAKING UP THE SPACE. ALL RIGHT. >> NOT TOO MUCH FOAM. YOU CAN ADD THE FOAM SO WE'VE GOT A LITTLE BIT OF FOAM ABOVE IT, BUT MAKE SURE YOU'VE GOT A CUP OF LIQUID. IF YOU DON'T LIKE TO COOK WITH BEER, YOU CAN ABSOLUTE SUBSTITUTE JUST SODA WATER AND USE THE SAME AMOUNT. >> BECAUSE YOU WANT THAT EFFERVESCENT. >> YEAH. >> THAT'S WHAT'S GOING TO MAKE IT FLUFFY. >> THE LITTLE BIT OF BUBBLING IS GONNA MAKE THIS BATTER. SO WE'RE GONNA WHISK THIS, AND THAT BEER WAS COLD. IT DOESN'T EVEN NECESSARILY NEED TO BE. IF YOU'VE GOT A LITTLE BIT OF A LEFTOVER BEER, CAP IT SO THAT YOU STILL GOT THE SPARKLING, AND THEN WE'RE GONNA WHISK THAT. NOW, SOMETIMES, DEPENDING ON THE FLOUR YOU'RE USING AND EVEN THE CORN STARCH A LITTLE BIT, THAT STILL LOOKS A LITTLE BIT THICK. SO I'M GONNA GO AHEAD AND ADD A LITTLE MORE BEER TO THIS JUST TO THIN IT OUT A LITTLE MORE. >> AND THAT'S LIKE COOKING. YOU JUST SORT OF GET THE FEEL, LIKE MAKING GRAVY. >> EXACTLY, AND WHEN YOU'RE LOOKING AT YOUR PANCAKES, YOU'RE THINKING, "OH, THAT LOOKS TOO THICK." >> UH-HUH. >> SO THAT IS BETTER. THAT REALLY IS MORE LIKE A THIN PANCAKE BATTER. WHOOP. >> OK. >> OK. SO WE'RE GONNA LET THAT REST FOR A FEW MINUTES AND THEN TALKING ABOUT OUR FRYING. SO WHAT WE HAVE HERE IS JUST PLAIN VEGETABLE OIL. >> THAT'S, LIKE, IN A WOK? >> THAT'S IN A WOK, AND I ACTUALLY LIKE TO USE A WOK FOR FRYING BECAUSE IT'S NICE AND DEEP. WOKS TYPICALLY HEAT UP QUICKLY. SO IT WILL HEAT UP THE OIL QUICKLY, AND THIS IS REALLY AN IMPORTANT PIECE OF EQUIPMENT TO HAVE WHEN YOU'RE FRYING. THIS IS YOUR FRY THERMOMETER OR YOUR CANDY THERMOMETER, AND YOU CAN JUST LAY IT IN THERE. NOW, IN HIGH ALTITUDE--OR IN ANY ALTITUDE, REALLY--ANYTHING ABOVE 3,000 FEET, WE ACTUALLY LOWER THE TEMPERATURE WE FRY TO. SO IN SANTA FE, WHERE I LIVE, IT'S 7,000 FEET. >> OH. UH-HUH. >> SO WE FRY AT 350. TYPICALLY AT SEA LEVEL, YOU FRY WITH YOUR TEMPERATURE AT 375. SO I'M GONNA GET THIS UP TO 350, WHICH IT'S ALMOST THERE, AND THEN WHEN YOU THINK ABOUT FRYING, SHERYL, FRYING IS EVAPORATION OF MOISTURE. SO IF YOU'RE NOT SURE HOW LONG TO FRY SOMETHING FOR, BASICALLY, ONCE THE BUBBLES STOP, YOU'RE DONE FRYING BECAUSE THE MOISTURE EVAPORATION IS FINISHED. SO LET ME JUST MAKE A LITTLE PATH HERE. I'LL SAVE THAT FOR LATER--HEH HEH--AND WE ARE RIGHT AT 350. I'M GONNA GO LITTLE BIT HIGHER SINCE WE'RE NOT AT 7,000 FEET. >> AND YOU DO WANT TO WATCH BECAUSE AS YOU PUT FOOD IN, THE TEMPERATURE LOWERS. SO YOU WANT TO KEEP IT CONSISTENT. >> YEAH. YOU WANT TO TURN IT BACK UP TO MAKE SURE YOU GET BACK UP TO THAT TEMPERATURE. THAT'S CALLED RECOVERY TIME. YOU WANT TO MAKE SURE YOUR OIL RECOVERS. >> OH, I SEE. >> SO WE'VE GOT OUR ARTICHOKE HEARTS. THESE ARE SORT OF PARTIALLY QUARTERED. SOME ARE QUARTERED, AND BASICALLY, WHAT YOU'RE GONNA DO--I DON'T EVEN MIND DOING THE WHOLE ONES--YOU'RE JUST GONNA GIVE YOURSELF A LIGHT COATING... >> MM-HMM. >> AND THEN GET YOUR LITTLE BOWL CLOSE TO THE FRYER THERE, AND DON'T DO A BELLY FLOP. >> NO. DON'T FLOP IT IN THERE. >> DON'T DIVE INTO THE OIL BECAUSE YOU WILL-- >> YOU'LL SUFFER. >> YOU'LL GET SPLASHED, AND SEPARATE THEM A LITTLE BIT. OTHERWISE, YOU'RE GONNA HAVE ONE BIG ARTICHOKE... >> BLOB. >> FRITTER. YEAH... >> FRITTER. YEAH. >> AND YOU CAN SEE THAT THEY'RE BUBBLING NICELY. >> THAT'S ALWAYS A GOOD TEST, TOO, IF YOUR OIL IS AT THE RIGHT TEMPERATURE. >> EXACTLY. IF YOU DON'T HAVE THE THERMOMETER, YOU CAN THROW A LITTLE PIECE OF BREAD IN THERE. >> UH-HUH. >> ONE TIME, I HAD SOMEBODY TELL ME THEY'D THROW SOME WATER IN THE FRYER. THAT'S NOT A GOOD-- >> NO. HA HA HA! >> THAT'S NOT A GOOD THING. SO I'M JUST GONNA FRY A FEW OF THESE. NOW, ONCE THESE ARE DONE, WE COULD HOLD THEM IN A 200-DEGREE OVEN JUST TO KEEP THEM WARM, AND WE'RE GONNA LET THOSE GET NICE AND BROWN. >> AND YOU'RE RIGHT. WITH THE WOK BEING ANGLED ON THE SIDES, YOU CAN SEE IT. >> WE'RE GETTING AS LITTLE BIT OF A SHOWER HERE, BUT SO IT REALLY WILL DEPEND ON WHAT YOU'RE FRYING THAT WILL DETERMINE HOW LONG IT TAKES. SO MUSHROOMS ARE VERY SPONGY. THEY USUALLY COOK PRETTY QUICKLY. OF COURSE, FISH IS THICKER AND DEEPER. SO YOU WANT TO MAKE SURE THAT IT GETS COMPLETELY COOKED THROUGH. >> UH-HUH. >> SO, ONCE AGAIN, JUST DIP, LET THEN DRAIN A LITTLE BIT, AND THEN IN THEY GO, AND, AS YOU CAN SEE, THEY'RE STARTING TO GET NICE AND GOLD... >> THAT'S PRETTY. UH-HUH. >> WHICH YOU REALLY WANT THEM TO GET NICE AND GOLDEN. I ALSO USE THIS FOR ONION RINGS. >> IT WOULD BE GOOD ONION RINGS. >> SO SLICE YOUR ONIONS UP, DIP THEM IN THE BATTER, HOLD THEM UP, DRAIN THEM. I'VE FRIED SHRIMP WITH THIS. SO IT'S REALLY AN ALL-PURPOSE. >> NOW, DO YOU SAVE THE OIL WHEN YOU GET THROUGH? >> GOOD QUESTION. I DO SAVE THE OIL. I'LL STRAIN IT, GET RID OF ANY OF THE SOLIDS THAT ARE LEFT. AFTER IT'S COOLED, PUT IT BACK IN THE BOTTLE. THEN I REFRIGERATE IT AND THEN HEAT IT UP, AS LONG AS YOU HAVEN'T DONE SOMETHING REALLY STRONG IN THERE. IF YOU'VE DONE FISH, YOU MAY NOT WANT TO USE IT FOR A DESSERT. AND THEN OUR SAUCE HERE TODAY IS ACTUALLY HORSERADISH... >> MM. >> SOUR CREAM, LEMON JUICE, SALT, AND PEPPER, AND WE'RE GONNA USE THAT AS A DIP FOR OUR ARTICHOKES, AND WE'LL FINISH THESE AS SOON AS THEY COME OUT OF THE FRYER. WE'LL GIVE THEM A LITTLE KOSHER SALT JUST TO SEASON. SO YOU CAN SEE, SHERYL-- EVEN YOU CAN HEAR-- >> IT'S LIKE POPCORN. >> THE BUBBLES ARE SLOWING DOWN, AND THEY'RE JUST ABOUT DONE. IF YOU REMEMBER WHEN WE FIRST PUT THEM IN, THEY WERE BIG BUBBLES... >> UH-HUH. >> AND I ALWAYS SAY, ONCE YOU'VE GOT LITTLER BUBBLES WITH LESS... >> SPLATTERING? >> POPPING, YEAH, YOU'RE IN GOOD SHAPE. OK. >> IT'S NICE TO KNOW, THOUGH, THAT YOU COULD COOK THESE EARLIER AND KEEP THEM BECAUSE YOU DON'T NECESSARILY WANT TO SPEND YOUR TIME IN THE KITCHEN IF PEOPLE ARE WAITING ON YOU. >> YEAH, AND IT'S NICE WHEN YOU'RE GETTING DRESSED FOR DINNER, YOU CAN HAVE THESE ALL DONE. SO LET ME JUST DRAIN THOSE. DON'T THOSE LOOK BEAUTIFUL? >> MM-HMM. >> SO THEY'RE NICE AND GOLDEN BROWN. LET THAT DRIP A LITTLE BIT. >> YEAH. THAT'S ANOTHER KEY TO FRYING. >> YEAH. IT REALLY IS. DRAIN IT WELL JUST ON PAPER TOWELS. >> MM-HMM. >> QUICK, LITTLE SPRINKLE OF SALT, BOOM, AND THEN WE'RE GONNA PUT OUR SAUCE DOWN FIRST... >> OH. >> GIVE OURSELVES A LITTLE PUDDLE OF SAUCE, AND THEN WE'VE GOT OUR ARTICHOKES. BE CAREFUL. THESE ARE HOT... >> WOW, HOW PRETTY. >> AND WE WERE TALKING ABOUT HOW WE LOVE CILANTRO. >> MM-HMM. >> WE'LL JUST GARNISH THIS WITH A LITTLE FRESH CILANTRO HERE ON TOP. SO THAT'S OUR BEER BATTER ARTICHOKE FRITTERS... >> OOH, IT LOOKS GOOD ENOUGH TO EAT. >> WITH A HORSERADISH SAUCE. REALLY. SO LET'S TRY THOSE, SHERYL. JUST BE CAREFUL. THEY'RE GONNA BE HOT. >> ALL RIGHT. WELL, I SURE APPRECIATE YOU BEING HERE BECAUSE IT'S NICE TO KNOW THAT FRYING IS STILL OK IF YOU DO IT RIGHT. IT MAKES LIFE INTERESTING, AND COME VISIT ME AT MY COOKING SCHOOL IN SANTA FE. >> I SURELY WILL. THANK YOU, JOHNNY. >> THANK YOU. LET'S TRY THESE. >> I HOPE YOU ENJOYED THE SHOW TODAY. NEXT TIME ON "CREATIVE LIVING," WE'LL LEARN HOW TO COOK WITH DRIED BEANS, SHOW HOW TO MAKE BOUTIQUE TEA TOWELS, AND DEMONSTRATE MAKING AN EASY BY FABULOUS FRAME. ONE OF MY NEXT GUESTS IS GOING TO TALK ABOUT HOW NUTRITIOUS AND DELICIOUS BEANS ARE. THEY'RE NOT ONLY VERSATILE, BUT A GOOD PROTEIN SUBSTITUTE IN CERTAIN DIETS. ANOTHER GUEST IS A DESIGNER, AND SHE'S GOING TO SHOW HOW TO MAKE NO-SEW BOUTIQUE TEA TOWELS USING AN ADHESIVE FOR THE APPLIQUE TECHNIQUE. THESE CAN BE MADE AT A FRACTION OF THE COST OF THOSE YOU'LL FIND IN BOUTIQUE STORES, AND FINALLY, WE'LL MEET A DESIGNER AND CRAFTER WHO WILL SHOW HOW TO MAKE FABULOUS FRAMES USING SCRAPBOOKING PAPER AND EMBELLISHMENTS. ALL OF THESE TOPICS WILL BE FEATURED ON THE NEXT "CREATIVE LIVING" SHOW. IF YOU EVER HAVE COMMENTS OF SUGGESTIONS OR IDEAS FOR SHOWS, YOU CAN E-MAIL ME AT SHERYL.BORDEN@ENMU.EDU, AND I'D ALSO LIKE TO ASK YOU TO BECOME A FAN OF "CREATIVE LIVING" ON FACEBOOK. JUST GO TO FACEBOOK.COM AND IN THE SEARCH WINDOW, TYPE IN "CREATIVE LIVING WITH SHERYL BORDEN." THANKS SO MUCH. I HOPE YOU'LL PLAN TO JOIN ME NEXT TIME FOR "CREATIVE LIVING." >> WE ARE VERY PLEASED TO OFFER A NEW BOOKLET THAT ACCOMPANIES THIS SERIES OF "CREATIVE LIVING." THIS BOOKLET IS TITLED "THE 6600 SERIES," AND IT FEATURES A WONDERFUL COLLECTION OF IDEAS AND INFORMATION, AND IT'S AVAILABLE FREE OF CHARGE ON OUR WEBSITE. POSTED AS A .PDF FILE, YOU CAN SIMPLY DOWNLOAD THE ENTIRE BOOKLET OR JUST THE SEGMENTS YOU'RE MOST INTERESTED IN. AS WITH ALL OF THE "CREATIVE LIVING" BOOKLETS, YOU'LL FIND INFORMATION ON FOODS AND NUTRITION, CLOTHING AND FASHION, HEALTH AND BEAUTY, HOME DECORATING, AND MUCH MORE. FOR YOUR COPY OF THIS BOOKLET, GO TO OUR WEBSITE AT KENW.ORG AND THEN CLICK ON "CREATIVE LIVING." SCROLL DOWN TO THE BOOKLET SECTION, AND YOU CAN CLICK ON THIS BOOKLET OR ANY OF THE OTHER BOOKLETS WE HAVE AVAILABLE ONLINE. ONCE AGAIN, JUST GO TO KENW.ORG, CLICK ON "CREATIVE LIVING," AND DOWNLOAD THE BOOKLET TITLED "THE 6600 SERIES." WE ALSO WANT TO ENCOURAGE YOU TO SIGN UP FOR OUR FREE E-NEWSLETTER. JUST CLICK ON THE "SIGN UP NOW" BUTTON AND INPUT YOUR E-MAIL ADDRESS. THAT'S ALL THERE IS TO IT. YOU'LL ENJOY READING AN UP-TO-DATE NEWSLETTER FILLED WITH INTERESTING TOPICS AND INFORMATION. THANK YOU.
Now Playing As: Captioned (English) (change)
Chef Johnny Vee cooks beer battered artichoke hearts, and a representative from Guardians of Rescue discussing the importance of adopting pet from an animal shelter. In the crafting section, viewers learn how to create personal artwork using stencils.
Media Details
Runtime: 27 minutes