Creative Living With Sheryl Borden #6607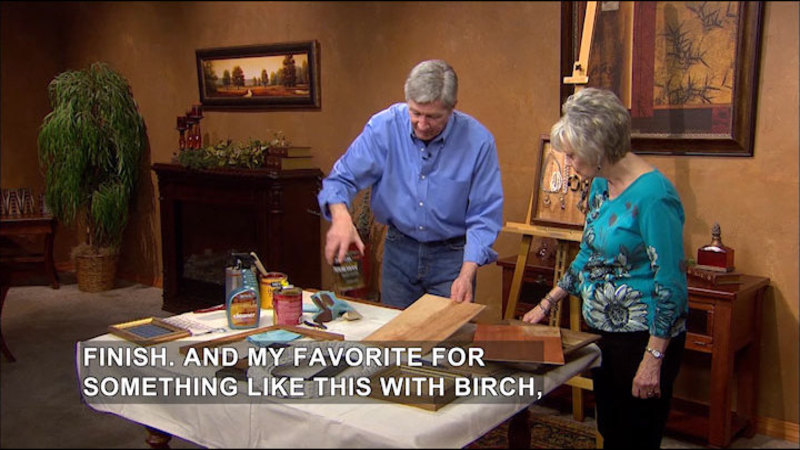 >> "CREATIVE LIVING," UTILIZING TODAY'S TECHNOLOGY WITH THE BEST OF THE PAST TO BRING YOU INNOVATIVE IDEAS AND UP-TO-DATE INFORMATION FOR CREATIVE LIFESTYLES IN TODAY'S ACTIVE WORLD, WITH YOUR HOST, SHERYL BORDEN. >> WELCOME TO "CREATIVE LIVING" TODAY. WE'RE GOING TO LEARN HOW TO SNEAK MORE WHOLE GRAINS INTO OUR RECIPES, WE'LL TALK ABOUT UPDATING WINDOW TREATMENTS WITH COLOR BLOCKING, AND LEARN TO CONVERT OLD PICTURE FRAMES INTO JEWELRY STORAGE UNITS. ONE OF MY GUESTS IS CINDY FALK AND SHE'S WITH THE KANSAS WHEAT COMMISSION IN MANHATTAN, KANSAS. CINDY'S GOING TO SHOW HOW SIMPLE IT IS TO SNEAK WHOLE GRAINS INTO YOUR FAVORITE RECIPES. ANOTHER GUEST IS BETH SECOSKY AND SHE'S AN INTERIOR DESIGNER IN CHERRY HILL, NEW JERSEY. BETH IS GOING TO SHOW HOW TO UPDATE WINDOW TREATMENTS USING A CURRENT
TREND: COLOR BLOCKING. SHE'LL ALSO TALK ABOUT FABRIC SELECTION, HANGING PANELS, AND COST INVOLVED. HER BUSINESS IS EASYDESIGNS, LLC. WE'LL BEGIN THE SHOW WITH BRUCE JOHNSON WHO REPRESENTS MINWAX, WHICH IS LOCATED IN UPPER SADDLE RIVER, NEW JERSEY. WE ALL KNOW THAT PICTURE FRAMES ARE ALWAYS IN ABUNDANCE AT FLEA MARKET OR YARD SALES. BRUCE HAS A CLEVER IDEA TO USE INEXPENSIVE FRAMES TO CREATE A PRETTY STORAGE UNIT. BRUCE, WE WERE TALKING EARLIER ABOUT HOW MANY TIMES YOU'VE BEEN ON THE SHOW AND ALL THE THINGS YOU'VE TAUGHT US THAT SOMETIMES I WONDER HOW YOU COME UP WITH NEW IDEAS. >> WELL, YOU KNOW, YOU LOOK AROUND AND YOU SEE SO MANY THINGS THAT HAVE SERVED A PURPOSE IN THE PAST BUT NOW ARE BEING DISCARDED... >> LIKE FRAMES. >> YOU KNOW, I REMEMBER GROWING UP IN MY PARENTS' HOUSE, AND UP IN THE ATTIC, WE HAD THIS BIG STACK OF FRAMES THAT, YOU KNOW, SOMETIMES THE GLASS WAS BROKEN ON THEM. AND YOU GO TO FLEA MARKETS AND GARAGE SALES, THERE'S ALWAYS FRAMES THERE. >> 10 CENTS A FRAME OR SOMETHING. >> AND SO I GOT TO THINKING, WE GOT TO BE ABLE TO REPURPOSE THESE FOR SOMETHING OTHER THAN JUST PUTTING A NEW PIECE OF ART IN THERE. AND ONE OF THE IDEAS I CAME UP WITH-- >> I LIKE THIS. >> YEAH, MAKING SOMETHING WITH AN ORNATE FRAME YOU CAN HANG IN YOUR ROOM TO DISPLAY JEWELRY ON, BECAUSE OTHERWISE YOUR JEWELRY-- >> GETS WADDED UP IN A DRAWER. >> EXACTLY. RIGHT. SO I WAS JUST LOOKING FOR WAYS, DIFFERENT THINGS WE COULD DO, AND THIS IDEA OF USING OLD FRAMES FOR JEWELRY DISPLAY OCCURRED TO ME. SO LET'S TAKE A LOOK AND SEE WHAT WE CAN DO. NOW, MANY TIMES THESE OLD FRAMES ARE GONNA BE DIRTY, SO THE FIRST THING WE'RE GONNA DO IS START WITH CLEANING THEM. I'VE GOT AN OAK FRAME HERE-- >> THAT'S A WOOD CLEANER FROM MINWAX. >> THIS IS A WOOD CABINET CLEANER BY MINWAX, AND IT'S SAFE TO USE ON ANY FINISH. AND IT'S JUST A GREAT WAY OF GETTING RID OF THE DIRT AND THE GRIME QUICKLY, EASILY. JUST THAT AND A PAPER TOWEL-- >> SO EVEN YOUR KITCHEN CABINETS WE COULD--BECAUSE THEY GET DIRTY, TOO. >> SPECIFICALLY, THAT'S WHAT THAT'S DESIGNED FOR, BUT YOU COULD USE IT ON ANY WOOD SURFACE THAT NEEDS TO BE CLEANED UP. NOW, HERE'S A TYPICAL OLD FRAME WE'VE GOT HERE, AND AS WE CAN TELL, WE HAVE NO GREAT WORK OF ART HERE. BUT WHAT YOU WANT TO DO IS TURN IT OVER, AND ON THE BACK, GENERALLY, ARE JUST A SERIES OF SMALL LITTLE NAILS HERE THAT WE CAN PULL OUT. TAKE THOSE OUT, AND THAT WILL THEN FREE UP OUR--OUR PIECE OF ARTWORK HERE, WHICH WE'LL DROP OUT. AND, YOU KNOW, YOU GOT TO BE CAREFUL WITH THESE. >> SOME OF THEM MIGHT BE VALUABLE. >> YOU MIGHT WANT TO HAVE IT CHECKED OUT, SO WE JUST TREAT IT WITH CARE. AND WHAT WE HAVE HERE IS A BEAUTIFUL WALNUT FRAME, BUT IT'S VERY DRIED OUT. SO THE FIRST THING I WANT TO DO IS MY OLD STANDBY. I LOVE THE WIPE-ON POLY BECAUSE I DON'T HAVE TO USE A BRUSH, ONE STEP, AND IT'S GREAT FOR, YOU KNOW, BRINGING OUT THE GRAIN OF THE WOOD. >> OH, WOW. >> YOU CAN SEE HOW QUICKLY THAT WORKS. BECAUSE WOOD IS BEAUTIFUL, BUT IT JUST DRIES OUT. >> SURE. >> AND I'LL JUST PUT SOME EXTRA ON HERE. AND YOU LET THAT SOAK IN, AND YOU CAN SEE THAT THAT'S GONNA TURN OUT JUST BEAUTIFUL. SO A LOT OF THOSE OLD FRAMES, THEY'VE GOT MORE CHARACTER THAN YOU THINK. >> NOW, WHAT DO YOU DO, I'M JUST CURIOUS, WHEN YOU HAVE THE GROVES LIKE THAT, HOW DO GET INTO THAT? >> YOU COULD ACTUALLY POUR THIS INTO A CONTAINER AND TAKE A BRUSH AND PUT IT IN THERE. >> OH, THAT'S A GOOD IDEA. >> A TOOTHBRUSH WORKS FINE FOR THAT, AS WELL. COTTON SWABS. ANYTHING TO GET IT IN THERE, AND THEN--LIKE I SAY, THEN YOU TAKE YOUR RAG AND WIPE OFF ANY EXCESS. BUT YOU CAN SEE IT'S GONNA BE BEAUTIFUL. >> IT IS PRETTY. >> ALL RIGHT, WE'LL SET THAT ONE ASIDE. NOW, ON OUR FRAME BACK HERE, WE HAD TO PUT A NEW BACKING IN THERE, SINCE WE TOOK OUT OUR PIECE OF ARTWORK. >> LIKE YOU DID HERE. >> YES. AND SO IN THIS CASE, WE'RE GONNA USE A PIECE OF BIRCH PLYWOOD... >> THAT'S A QUARTER INCH. >> AND JUST VERY THIN, VERY LIGHTWEIGHT. LIGHT SANDING, ALWAYS WITH THE GRAIN OF THE WOOD--WE DON'T WANT THOSE SCRATCHES. AND SINCE WE'RE GONNA STAIN THIS, WE'RE GONNA PUT ON OUR WOOD CONDITIONER. THIS IS OUR PRE-STAIN TREATMENT WE PUT ON BEFORE WE STAIN IT. >> AND IT'S ALWAYS THE RULE THAT IF IT'S A WATER-BASED STAIN, YOU USED A WATER-BASED CONDITIONER? >> ABSOLUTELY. YES, YEAH. IF YOU'RE GONNA GO WATER-BASED STAINS, YOU WANT TO GO WATER-BASED ALL THE WAY--THE PRE-STAIN CONDITIONER AS WELL AS THE FINISH AT THE END. BUT IN THIS CASE, THIS IS GONNA BE THE OIL-BASED VERSION. AND YOU BRUSH THIS ON, GIVE IT ABOUT 15 MINUTES TO TWO HOURS FOR THAT TO DRY, AND THEN YOU'RE READY, THEN, TO PUT YOUR STAIN ON THERE. >> THAT CERTAINLY ENHANCED THE WOOD GRAIN IN THAT. >> IT BRINGS IT OUT. AND SO I'VE GOT ONE HERE THAT I'VE ALREADY PUT THAT ON THERE, AND I'M NOT ONE TO PUT A HEAVY, DARK STAIN ON--ON BIRCH. I LIKE TO SEE THE GRAIN OF THE WOOD. SO THIS IS GUNSTOCK, AND IT'S GOT A LITTLE BIT OF A REDDISH HUE TO IT. IT'S GONNA KIND OF GIVE IT MORE OF A CHERRY LOOK, AND YOU CAN PICK WHATEVER COLOR OF STAIN THAT YOU LIKE. THAT'S THE WONDERFUL THING ABOUT STAINING, IS THAT IT'S JUST A PERSONAL PREFERENCE. >> NOW, I NOTICE YOU SOMETIMES GO WITH THE GRAIN, SOMETIMES YOU GO IN A CIRCLE. >> YEAH. I GENERALLY TEND--IF I'M USING A RAG, I'LL GO IN A CIRCLE TO WORK IT IN... >> TO START WITH, OK. >> BUT THEN I ALWAYS FINISH WITH THE GRAIN LIKE THIS. AND, AGAIN, THIS IS ONE OF THOSE SITUATIONS WHERE THE LONGER YOU LEAVE IT ON, THE DARKER, THE RICHER THE COLOR'S GONNA GET. BUT THE LAST THING YOU'RE GONNA DO IS ANYTHING THAT THE BOARD DOES NOT SOAK IN, YOU WANT TO WIPE OFF. SO YOU CAN SEE A NICE DIFFERENCE THERE BETWEEN HOW IT BRINGS OUT THE GRAIN OF THE WOOD. SO BIRCH GETS TO LOOK MORE LIKE CHERRY IN THIS CASE BECAUSE OF THE REDDISH STAIN WE PUT ON THERE, YEAH. AND THEN THE LAST STEP, OF COURSE, IS THEN TO PUT ON A PROTECTIVE FINISH. AND MY FAVORITE FOR SOMETHING LIKE THIS WITH BIRCH, I WOULD GO WITH THE--EITHER THE WIPE-ON POLY WOULD WORK WELL ON THIS IF YOU WANTED TO, OR-- >> THE ONE WE USED EARLIER? >> THE ONE WE USED EARLIER ON THE FRAME. OR IF YOU WANTED A LITTLE BIT MORE POP TO THE GRAIN, THIS IS THE MINWAX FAST-DRYING POLYURETHANE. AND AS YOU CAN SEE, IT'S GOT A LOT OF GLOSS TO IT. THIS REFLECTS THE LIGHT, SO IT'S REALLY A MATTER OF PERSONAL TASTE. THE WIPE-ON POLY IS GONNA BE MORE OF A SATIN SHEEN TYPICALLY, AND THEN THE FAST-DRYING POLYURETHANE IS GONNA GIVE YOU, LIKE I SAID, MORE OF A POP. >> OH. UH-HUH. >> YEAH. NOW, AS FAR AS HOLDING YOUR JEWELRY UP THERE--WE'LL FLIP THIS ONE BACK OVER--ALL I DID WAS USE ORDINARY CUP HOOKS, YEAH, AND HOW YOU WANT TO ARRANGE THEM IS JUST STRICTLY UP TO YOU. YOU CAN PLAY WITH SOME DIFFERENT ORIENTATIONS ON THERE. AND THEN SOMETIMES ALL IT TAKES--YOU DON'T NECESSARILY--IF YOU GOT AN ELECTRIC DRILL AND YOU WANT TO PRE-DRILL THE HOLES, YOU CAN. BUT THESE CUP HOOKS IN THE BIRCH ARE ACTUALLY SO EASY TO WORK WITH, YOU CAN ACTUALLY JUST TAKE A REGULAR NAIL AND DO A STARTER HOLE, AND THEN TURN THEM IN THERE AND PUSH THEM IN. AND SO THAT WAY, THEN, IT GIVES YOU A GREAT WAY, THEN, TO DISPLAY YOUR JEWELRY. >> AND YOU CAN ACTUALLY SEE WHAT'S THERE... >> YES, YEAH, YEAH. >> UNLIKE MY JEWELRY BOX DRAWER. >> AND YOU KNOW WHAT? I WANT TO SHOW YOU ANOTHER IDEA I HAD HERE REAL QUICKLY. THIS IS A SMALL GILT FRAME, AND WHAT I DID WAS I PUT A PIECE OF CORK BACK THERE. AND YOU CAN BUY CORK IN SHEETS AT THE HARDWARE STORE, AND IT'S VERY EASY TO CUT WITH A RAZORBLADE KNIFE. AND YOU JUST SIMPLY--I'LL SHOW THE BACK OF THIS. I PUT A BACKING, A PLYWOOD BACKING, BEHIND THE CORK SO THAT THE CORK IS GONNA BE HELD IN PLACE THERE. AND THEN YOU WOULDN'T USE THE CUP HOOKS ON THIS. I WOULD USE JUST AN ORDINARY PUSHPIN OR A T-PIN. AND AGAIN--AND THIS WOULD BE NICE-- LET'S SAY YOU'VE GOT A PIECE OF HEIRLOOM JEWELRY FROM YOUR GRANDMOTHER'S OR SOMETHING, MAYBE NOT SOMETHING YOU'RE WEARING ALL THE TIME, AND YOU CAN DISPLAY IT ON HERE. >> OH, THAT'S A GOOD IDEA, AND IT'S CERTAINLY MUCH EASIER TO DO, TOO. >> YEAH. AND THEN, YOU KNOW, ONCE I GOT GOING ON THIS, NOTHING COULD STOP ME. YEAH. THE IDEA HERE WAS I TOOK WHAT IS CALLED HARDWARE CLOTH--I'M NOT SURE WHY THEY CALL IT THAT OR NOT. >> THAT'S THIS? >> THERE'S NOTHING CLOTH ABOUT IT; IT'S THE WIRE. BUT THEY CALL THIS HARDWARE CLOTH IN THE STORE. AND I PUT THIS--I CUT THIS TO FIT IN THE FRAME, AND THEN PUT A PIECE OF PLYWOOD AS A BACKING... >> AND STAINED IT? >> AND I STAINED THIS ONE WITH THE INDIGO, WITH ONE OF THE EXPRESS COLORS WATER-BASED STAINS. AND THIS WOULD GIVE YOU A WAY TO HANG ON EARRINGS. >> I WAS GONNA SAY THIS WOULD BE PERFECT FOR EARRINGS, AND THEY DON'T TAKE UP MUCH ROOM. >> RIGHT. SO, LOTS OF DIFFERENT THINGS. AND THIS IS JUST, I THINK, SCRATCHING THE SURFACE IN TERMS OF DIFFERENT WAYS YOU CAN TAKE AN OLD FRAME AND REPURPOSE IT TO DISPLAY YOUR JEWELRY IN YOUR ROOM OR WHEREVER. >> RIGHT. IT COULD ALSO BE USED FOR BELTS. YOU COULD HANG BELTS OVER IT, TOO. >> AND THE BIGGER THE FRAME, THE MORE YOU COULD DISPLAY ON IT. BUT THE PLYWOOD BACKING WITH THE CUP HOOKS IS ONE WAY TO DO IT, OR THE PUSHPINS WITH THE BULLETIN BOARD, AND ALL INEXPENSIVE MATERIAL. YOU'RE NOT GONNA HAVE ANY MONEY WRAPPED UP IN THIS AT ALL, AND YOU GET TO REPURPOSE SOME REALLY GREAT, GREAT FRAMES. >> WELL, THAT'S GREAT. I'M ANXIOUS TO SEE THIS WHEN IT'S FINISHED. THIS IS BEAUTIFUL WOOD. >> THAT'S BEAUTIFUL. IT'S NICE, AND I HATE TO SEE IT GO TO WASTE. >> OK, WELL, THANK YOU SO MUCH FOR GIVING US ALL THESE IDEAS TO WORK WITH. >> OH, YOU'RE WELCOME. >> BETH, I'M SO GLAD YOU'RE HERE. IT'S JUST REALLY INTERESTING TO TALK TO PEOPLE IN THE INTERIOR DESIGN WORLD AND FIND OUT HOW YOU CREATE ALL THOSE BEAUTIFUL PICTURES THAT I SEE ON THE INTERNET OR IN MAGAZINES. IT MUST BE A VERY INTERESTING JOB. >> IT IS, INDEED. IT'S WONDERFUL. MY FAVORITE THINGS TO DO IS TO BE CREATIVE AND HELP PEOPLE CREATE BEAUTIFUL ROOMS THAT THEY LOVE LIVING IN. >> WELL, SEVERAL YEARS AGO, I HAD THE OPPORTUNITY TO MEET A LADY WHO WAS AN INTERIOR DECORATOR, AND NOT THAT WE HAVE A LOT OF CHOICE WHERE I LIVE, BUT I THINK THE ONE THING THAT REALLY IMPRESSED ME WAS WHEN SHE TOLD ME AFTER WE'D WALKED ROOM TO ROOM AND I TOLD HER THINGS I LIKED AND DIDN'T LIKE, WAS WHEN SHE SAID, "YOU DON'T HAVE TO THROW EVERYTHING OUT AND START ALL OVER." FIRST OF ALL, I COULDN'T AFFORD TO START ALL OVER. BUT MOST OF ALL, THERE WERE THINGS THAT I REALLY LIKE THAT I HAVE. NOW, IS THAT YOUR CONCEPT, OR WHICH WAY WOULD YOU RATHER WORK? >> IT'S MY FAVORITE WAY TO DECORATE. I REFER TO MYSELF AS A REFRESHER BECAUSE THAT'S EXACTLY WHAT I LOVE TO DO. I DON'T WANT TO ASK ANYONE TO THROW IT ALL OUT AND START ALL OVER--I MAY NOT EVEN KNOW WHERE TO START. HA HA HA! SO I LOVE TO FIND OUT WHAT IS IMPORTANT TO THEM, AND WE JUST TRY TO REUSE, REFRESH, AND CREATE A WOW FACTOR. >> AND YOU CAN DO THAT AND SAVE A LOT OF MONEY AND PUT THE MONEY THAT YOU'RE SAVING INTO EITHER NEW FURNISHINGS OR WINDOW TREATMENTS, WHICH CAN MAKE SUCH A HUGE IMPACT. SO IT REALLY IS-- I LIKE THAT WAY, TOO. I'M GLAD TO KNOW THAT. WELL, ONE OF THE THINGS THAT YOU SAID YOU LIKE TO DO IS WHAT'S CALLED COLOR BLOCKING, AND I NOTICED YOU HAVE AN OUTFIT ON THAT IS AN EXAMPLE OF COLOR BLOCKING USING--WILL YOU EXPLAIN WHAT IT ACTUALLY MEANS? >> SURE. COLOR BLOCKING REALLY IS SIMPLY USING OPPOSING COLORS OR BOLD COLORS TOGETHER TO CREATE A DRAMATIC STATEMENT. YOU SEE IT IN FASHION--AS YOU JUST POINTED OUT, MY DRESS IS COLOR-BLOCKED. YOU SEE IT IN HANDBAGS, IN CLOTHING TODAY. IT'S A VERY, VERY HOT TREND, SO WHY NOT USE IT IN INTERIOR DESIGN WORK, AND THAT'S WHAT WE'RE GOING TO TALK ABOUT TODAY. I USED IT IN REFRESHING WINDOW TREATMENTS FOR A CLIENT RECENTLY. >> OK, LET'S TAKE A LOOK AT THE BEFORE. I ALWAYS LIKE THE BEFORE-AND-AFTER PICTURES BECAUSE IT'S SO EASY, THEN, TO SEE WHAT WAS CHANGED. >> THIS ROOM, AS YOU CAN SEE, IS IN NEED OF A LOT OF REFRESHING. BUT THE WINDOW TREATMENTS ARE MISSING, BUT THEY WERE A BEAUTIFUL SILK MOURET, WHICH WE DO HAVE THE FABRIC--LET'S SHOW THAT. >> IT IS. IT'S A BEAUTIFUL PIECE OF FABRIC. >> IT'S A BEAUTIFUL COLOR, NICE CREAM COLOR, AND MY CLIENT REALLY, REALLY WANTED TO REUSE THE PANELS. NOW, WE HAD PANELS THAT RAN ON EITHER SIDE OF THE WINDOW, AND THEN A SWAGGED VALANCE, WHICH WAS VERY DATED. THE VALANCE WAS ACTUALLY RIGHT ACROSS, RIGHT BENEATH THAT ARCH WINDOW. AND SO IT DREW THE EYE DOWNWARD, AND YOU DIDN'T REALLY GET TO APPRECIATE THE BEAUTIFUL ARCH WINDOWS THAT EXISTED IN THIS LIVING ROOM. SO LET'S SHOW THE AFTER RESULT AND SEE WHAT WE DID. >> IN FACT, I HAD TO LOOK TWICE TO SEE. IF IT HADN'T HAVE BEEN FOR THE WINDOWS, I WOULDN'T HAVE KNOWN FOR SURE THIS WAS THE SAME PLACE. >> TRUE, IT'S A BEAUTIFUL, BEAUTIFUL ROOM NOW. WHAT WE DID WAS WE OBVIOUSLY USED MY CLIENT'S ORIGINAL PANELS, AND WE WANTED TO ADD AN ACCENT COLOR. AND IF YOU NOTICE, THE ACCENT COLOR THROUGHOUT THE ROOM IS TEAL, AND YOU CAN SEE THAT IN PILLOWS, IN THE AREA RUG. SO WE WERE ABLE TO FIND A BEAUTIFUL TEAL SILK MOURET THAT MATCHED THE FABRIC PERFECTLY. AND WE ADDED A BAND OF THAT COLOR THROUGHOUT THE BOTTOM OF ALL THE PANELS. >> NOW, ONE QUESTION: THE ORIGINAL DRAPES--DID THEY GO ALL THE WAY TO THE FLOOR ORIGINALLY OR JUST TO THE WINDOW SEAL? >> THEY WENT ALL THE WAY TO THE FLOOR. >> THEY DID GO ALL THE WAY? OK. >> AND SO--WHICH BRINGS A GOOD POINT. SOMETIMES YOU HAVE TO CUT THE PANEL SO THAT YOU CAN ADD THAT COLOR BLOCKING TO THE BOTTOM. SO YOU WANT TO MAKE SURE THAT YOU'RE MEASURING WHERE YOU WANT TO HANG THE PANELS. IN THIS INSTANCE, BECAUSE THE ROOM HAS HEIGHT--IT'S AN 11-FOOT CEILING--WE WERE ABLE TO RAISE THE PANELS ALL THE WAY TO THE CEILING AND CREATE A VERY DRAMATIC LOOK, WHICH ALLOWS THE EYE TO DRAW UPWARD AND SEE THOSE BEAUTIFUL ARCHED WINDOWS. >> YOU REALLY DO, AND ARCH WINDOWS ARE BEAUTIFUL, BUT THEY WERE SORT OF AN AFTERTHOUGHT IN THE OTHER PICTURE, WEREN'T THEY? >> THAT'S CORRECT, YEAH. >> AND YOU PUT THE ROD AT THE TOP, SO THAT REALLY DOES MAKE YOUR EYE GO UP. >> CORRECT. WE UPDATED THE RODS TO A MORE CURRENT ROD, AND WE ELEVATED THEM ALL THE WAY TO THE CEILING SO THAT IT REALLY DOES GIVE YOU A DRAMATIC LOOK. IT'S A BEAUTIFUL ROOM. >> HOW DO YOU KNOW HOW MUCH-- LIKE, WHY DID YOU NOT COME UP TO HERE, OR MAYBE JUST A FOOT UP? HOW DO YOU DECIDE HOW MUCH COLOR BLOCKING TO GO WITH? >> WELL, I'M NOT SURE THAT THERE'S A REAL RULE OF THUMB, BECAUSE YOU ACTUALLY COULD'VE COLOR-BLOCKED HIGHER IF YOU WANTED TO. YOU COULD EASILY HAVE GONE-- >> THIS IS ABOUT TABLE HEIGHTH, I NOTICED. >> IT IS, AND THAT'S WHAT WE DECIDED TO DO. WE DIDN'T WANT IT TO OVERWHELM THE ROOM--WE REALLY WANTED THE CREAM COLOR TO BE THE MORE DOMINANT IN THOSE PANELS-- BUT YOU SIMPLY COULD ELEVATE THAT TEAL TO THAT HALFWAY POINT, OR YOU COULD EVEN ADD A THIRD COLOR IF YOU WANTED TO. >> OH. USE MORE THAN TWO COLORS? >> YOU CERTAINLY COULD, YEAH. >> NOW, BESIDES CHANGING THE WINDOW TREATMENTS, WHAT OTHER THINGS DID YOU DO IN THIS ROOM TO UPDATE IT? >> WELL, AS YOU CAN SEE, WE ADDED CROWN MOLDING. WE CHANGED THE COLOR OF THE ROOM. WE PAINTED SOME OF THE ACCENT FURNITURE, ADDED DIFFERENT FURNISHINGS ALTOGETHER. SO A FEW THINGS ARE LEFT OVER FROM THE OLD ROOM, BUT WE DID ADD A FEW EXTRAS. >> WHAT ABOUT COST? HOW MUCH DID THIS SAVE BY DOING THINGS LIKE THIS? >> ONE OF THE MOST EXCITING PARTS OF THIS PARTICULAR JOB IS THAT IT COST ABOUT 25% OF WHAT A BRAND-NEW CUSTOM WINDOW TREATMENT WOULD'VE COST THE CLIENT. SO IT WAS GREAT SAVINGS AND A BEAUTIFUL RESULT. >> WELL, CERTAINLY. AND THEY CAN USE THAT, THEN, IN ANOTHER ROOM OR TO CHANGE OUT THINGS THROUGHOUT THE HOUSE. THAT'S WONDERFUL. WELL, THANK YOU SO MUCH. I'VE LEARNED A LOT. I APPRECIATE IT. >> YEAH, MY PLEASURE. >> CINDY, YOU'RE RIGHT FROM THE MIDDLE OF WHEAT COUNTRY, SO I'M SURE YOU GET ASKED LOTS AND LOTS OF QUESTIONS ABOUT WHEAT, BOTH FROM ADULTS AND YOUNG PEOPLE, BECAUSE YOUR JOB IS TO EDUCATE PEOPLE ABOUT WHEAT. HOW DID YOU GET STARTED REALIZING THAT THIS IS SOMETHING THAT WE DON'T ALL JUST KNOW AUTOMATICALLY? >> WHEN YOU TALK TO AUDIENCES OF ALL AGES, YOU KNOW, OF COURSE, YOU ALLOW TIME FOR QUESTIONS. SO--AND OVER THE YEARS, I'VE OFTEN HAD QUESTIONS ON THE PHONE ABOUT EVERY TYPE OF INGREDIENT AND APPLIANCE AND RECIPE. SO... >> WELL, WE WANTED TO THIS TIME TALK ABOUT HOW WE CAN SNEAK WHOLE WHEAT INTO LOTS OF RECIPES, MAYBE ALL OF OUR FAVORITE RECIPES, AND I WAS AMAZED THAT YOU EVEN HAVE IDEAS FOR SALADS. I WOULDN'T HAVE THOUGHT ABOUT THAT. BUT LET'S TALK ABOUT--MAYBE, FIRST OF ALL, EXPLAIN WHAT ARE THE PARTS OF A WHEAT BERRY. >> OK. THE WHEAT BERRY IS COMPOSED OF 3 DIFFERENT PARTS: THE BRAN, WHICH IS THE OUTSIDE LAYERS; THE GERM, WHICH IS A NICE GOLDEN COLOR--AND THIS IS A HEALTHY GERM, HAS A LOT OF VITAMINS. SOMETIMES I HAVE TO EXPLAIN THAT TO CHILDREN, THAT IT'S HEALTHY. >> GERM. MM-HMM. >> AND THEN THE LARGEST PART OF THE WHEAT KERNEL IS THE ENDOSPERM--OR THAT'S THE SOURCE OF WHITE FLOUR. SO THAT'S THE 3 MAIN PARTS--THE ENDOSPERM, THE BRAN, AND THE GERM--AND, OF COURSE WHEN YOU COMBINE ALL 3, YOU HAVE WHOLE WHEAT FLOUR. >> AND THAT'S WHAT WE'RE REALLY WANTING PEOPLE TO START THINKING ABOUT, IS HAVING WHOLE WHEAT, ALL PARTS OF IT. >> MM-HMM. SO THAT'S WHAT WE MEAN BY WHOLE WHEAT FLOUR. >> MAYBE LET'S TAKE A LOOK, THEN, AFTER IT'S MILLED. IT'S AMAZING, THE DIFFERENCE IT BECOMES. >> WE'VE BEEN GROWING HARD WHITE WINTER WHEAT IN KANSAS FOR PROBABLY ABOUT 15 OR 20 YEARS NOW. AND YOU CAN SEE ON--ON MY RIGHT HERE, THE GOLDEN BERRIES. AND THIS IS-- >> IT'S A LIGHTER COLOR. >> IT IS, ISN'T IT? AND THEN THE TRADITIONAL HARD RED WINTER WHEAT THAT WE WERE KNOWN FOR, AS WELL AS MANY OTHER STATES. SO YOU CAN SEE THE DIFFERENCE IN COLOR OF THE BRAN. SO ONCE THAT IS MILLED, THE FLOUR--THE WHITE WHOLE WHEAT FLOUR--IS THE NICE, LIGHT, GOLDEN COLOR, AND, OF COURSE, YOU CAN SEE THE RED WHOLE WHEAT FLOUR'S A LITTLE BIT DARKER IN COLOR. >> BUT EVEN WHEN IT'S MADE INTO LOAVES OR SOMETHING, YOU CAN SEE A DIFFERENCE IN THE DOUGH. >> IN THE DOUGH. AND WHAT I LIKE TO DO IS BRAID ROPES OF DOUGH TOGETHER. >> ONE OF EACH, EACH ONE, USE THEM TOGETHER. >> YES. AND YOU CAN SEE HERE BY THIS EXAMPLE, THE DIFFERENCE IN COLOR BETWEEN THE TRADITIONAL RED WHOLE WHEAT FLOUR AND THE WHITE WHOLE WHEAT FLOUR. AND WE'RE HOPING THAT MORE PEOPLE WILL ENJOY EATING WHOLE GRAINS IF IT'S A LITTLE BIT LIGHTER COLOR. THE WHITE WHOLE WHEAT FLOUR IS A LITTLE BIT SWEETER IN TASTE, BUT I THINK THE MAIN DIFFERENCE IS THE COLOR. YOU CAN SNEAK THAT FLOUR INTO ALL TYPES OF BAKED PRODUCTS, AND YOUR FAMILY AND FRIENDS--THEY DON'T EVEN KNOW THEY'RE EATING WHOLE WHEAT FLOUR. SO... >> AND BESIDES, WHEN IT'S CUT, I THINK IT'S VERY INTERESTING, BESIDES BEING TASTY. AND BRAIDING ROLLS IS A GOOD WAY TO INCORPORATE BOTH KINDS AT ONCE. >> YES. SO I'VE ALWAYS DONE THIS TO SHOW MY AUDIENCES REALLY THE DIFFERENCE IN THE WHITE AND THE RED WHOLE WHEAT. AND THEN I HAVE BEEN ACCUSED BY MY KIDS OF SNEAKING IN ALL TYPES OF GRAINS IN DISHES LIKE BULGUR AND CRACKED WHEAT. THIS IS AN EXAMPLE OF ONE OF THEM. THIS IS A PILAF THAT HAS THE BULGUR IN IT. NOW, THIS IS REALLY JUST LIKE CRACKED WHEAT, BUT IT'S BEEN PARTIALLY COOKED. >> THAT'S WHAT BULGUR IS? >> UH-HUH. IT'S BEEN PARTIALLY STEAMED, SO IT COOKS A LOT FASTER. ISN'T IT PRETTY? IT'S THE WHITE WHOLE WHEAT. AND WHEN YOU COOK IT, IT JUST COOKS IN A MATTER OF MINUTES. YOU CAN USE IT IN ALL TYPES OF CASSEROLES, SOUPS, BREADS. >> IT REMINDS ME OF COUSCOUS. IT'S ABOUT THE SAME SIZE. >> IT IS, AND IT'S BEAUTIFUL, ISN'T IT? >> AND THEN, LIKE I SAID, I WOULD'VE NEVER THOUGHT ABOUT SNEAKING WHOLE WHEATS INTO SALADS--A WALDORF SALAD, APPLES. >> I'VE TAKEN A SALAD THAT WE PROBABLY BOTH ATE WHEN WE WERE GROWING UP AND ADDED THE WHOLE WHEAT BERRY. YOU COOK THE BERRIES FOR ABOUT 2 OR 3 HOURS. BUT, REALLY, I LIKE TO JUST PUT THE BERRIES WITH WATER IN THE SLOW COOKER OVERNIGHT AND LET THEM COOK FOR ABOUT 8 HOURS, AND THEN YOU CAN DRAIN THEM, PACKAGE THEM, PUT THEM IN THE REFRIGERATOR OR FREEZER, AND USE THEM WHEN YOU NEED THEM IN SALADS AND BREADS. >> I WAS GOING TO ASK YOU IF YOU COULD MAKE UP A LARGE QUANTITY. THAT'S A GREAT IDEA: VERY GOOD TIMESAVER. >> AND THEN TO SNEAK IN MORE WHOLE GRAIN-- >> NOW, THIS WOULDN'T BE HARD. MUFFINS WOULD TASTE GREAT NO MATTER WHAT. >> AND THESE ARE MADE WITH ALL WHOLE WHEAT FLOUR. SO 100% WHOLE WHEAT, AS WELL AS THE COOKIES. >> AND THEY'RE NOT HEAVY. I THINK SOMETIMES WE THINK WHOLE WHEAT, WHOLE GRAIN WOULD MAKE IT A VERY HEAVY PRODUCT, BUT THEY'RE REALLY NOT. >> AND THE COOKIES ARE MADE WITH 100% WHOLE WHITE WHEAT FLOUR. >> THAT'S WHY THEY'RE SO LIGHT-COLORED? >> YES, THAT'S WHY THEY'RE LIGHT. AND I LIKE TO MAKE PIZZA CRUST USING HALF WHOLE WHEAT FLOUR, SO THAT'S A GOOD WAY OF INCORPORATING MORE WHOLE GRAINS IN YOUR PIZZA CRUST. THAT'S ACTUALLY A NEW RECIPE I TRIED, AND IT HAS OATS IN IT, AND THEN BULGUR AND WHITE WHOLE WHEAT FLOUR. >> BUT ANY OF OUR FAVORITE RECIPES, YEAST RECIPES OR QUICK BREADS, WE COULD AT LEAST ADD SOME? TABLESPOON, 1/2 A CUP, 1/4 OF A CUP OR SOMETHING? >> 1/3 TO 1/2. IF YOU DON'T WANT TO GO 100% LIKE THESE PRODUCTS HERE, TRY STARTING, YOU KNOW, 1/3 WHOLE WHEAT FLOUR, OR 1/2 WHOLE WHEAT FLOUR WILL STILL MAKE A NICE PRODUCT. ANOTHER TIP IS IN YOUR CANISTER AT HOME; PUT HALF WHOLE WHEAT FLOUR AND HALF WHITE FLOUR... >> SO YOU DON'T FORGET. >> THAT'S RIGHT. >> GOOD IDEA. >> SO YOU GRAB THE CONTAINER OUT OF YOUR PANTRY, AND YOU AUTOMATICALLY HAVE WHOLE WHEAT FLOUR IN YOUR FLOUR. AND THEN THIS IS ROLLED WHEAT, AND MAYBE YOU HAVEN'T SEEN ROLLED WHEAT BEFORE. >> I HAVEN'T. YOU CAN ACTUALLY SEE THE ROLLERS ON IT. >> THAT'S KIND OF LIKE ROLLED OATS OR OATMEAL, BUT THAT'S WHAT I'VE USED IN THIS GRANOLA HERE. >> OH, THAT'S ANOTHER RECIPE THAT WOULD BE VERY EASY TO START ADDING AND EXPERIMENTING WITH. >> YES, AND THIS GRANOLA NOT ONLY HAS A ROLLED WHEAT, BUT IT HAS THE WHEAT GERM AND THE WHEAT BRAN. AND, OF COURSE, YOU CAN SPRINKLE THAT ON TOP OF YOGURT, OR JUST ENJOY IT AS A BREAKFAST CEREAL. >> OH, THAT'S RIGHT. NOW, WE WERE TALKING A LITTLE BIT ABOUT SERVING SIZES. MAYBE YOU COULD GO INTO THAT JUST A LITTLE BIT. >> WELL, I THINK SOME OF MY AUDIENCES DON'T REALIZE WHAT A SERVING IS. SO WHEN WE TALK ABOUT SERVING SIZES, A SLICE OF BREAD IS A SERVING. SO IF YOU EAT A SANDWICH, YOU HAVE TWO SERVINGS. AND 1/2 A CUP OF COOKED PASTA--THIS IS WHOLE GRAIN PASTA--1/2 A CUP OF COOKED CEREAL OR RICE IS A SERVING, AND I THINK MOST OF US EAT MORE THAN JUST A HALF OF A CUP. >> I WAS GONNA SAY THAT WOULD NOT TAKE UP MUCH ROOM ON THE PLATE. >> AND THEN COLD CEREAL, ONE OUNCE OR--THAT'S USUALLY ABOUT 3/4ths TO ONE CUP, IS A SERVING OF CEREAL. BUT WE ARE SUPPOSED TO BE EATING HALF OF OUR SERVINGS AS WHOLE GRAINS. AND YOU'VE PROBABLY HEARD THAT LITTLE SLOGAN, "MAKE HALF WHOLE." >> NO, I HADN'T HEARD THAT. >> MAKE HALF OF YOUR SERVINGS WHOLE GRAINS. SO IF YOU CAN JUST REMEMBER THAT, MAKE HALF WHOLE. >> I LIKE THAT. OK. WELL, THANK YOU SO MUCH FOR SHARING THESE TIPS WITH US, AND CERTAINLY IT'D BE FUN TO EXPERIMENT WITH SOME OF OUR FAVORITE RECIPES. >> I HOPE YOU WILL. THANK YOU. >> I HOPE YOU ENJOYED THE SHOW TODAY. NEXT TIME ON "CREATIVE LIVING," WE'LL LEARN HOW TO PREPARE SOME ONE-POT MEALS ON A BUDGET, WE'LL DEMONSTRATE SOME BLENDING TECHNIQUES FOR NO-BAKE POLYMER CLAY, AND SHARE SOME RECIPES USING GRAPEFRUIT SECTIONS. ONE OF MY NEXT GUESTS IS THE CO-FOUNDER OF FREEKEH FOODS, AND SHE SAYS THAT ALL-NATURAL FREEKAH'S A GREAT WAY FOR BUSY AMERICANS TO EAT A NUTRITIOUS MEAL WITHOUT SPENDING TOO MUCH TIME COOKING OR WASHING DISHES. ANOTHER GUEST IS A DESIGNER AND CRAFTER, AND SHE'LL SHOW HOW TO USE A NO-BAKE POLYMER CLAY IN ASSORTED COLORS TO CREATE VARIEGATED CLAY SHEETS. THEN SHE'LL SHOW HOW TO CREATE POSTCARDS, BRACELETS, FRAMES, AND MUCH MORE. AND FINALLY, WE'LL FIND OUT LOTS OF DIFFERENT WAYS YOU CAN USE A GRAPEFRUIT SECTION. ALL OF THESE TOPICS WILL BE FEATURED ON THE NEXT "CREATIVE LIVING" SHOW. IF YOU EVER HAVE COMMENTS OR SUGGESTIONS OR IDEAS FOR SHOWS, YOU CAN E-MAIL ME AT SHERYL.BORDEN@ENMU.EDU. I'D ALSO LIKE TO ASK YOU TO BECOME A FAN OF "CREATIVE LIVING" ON FACEBOOK. JUST GO TO FACEBOOK.COM, AND IN THE SEARCH WINDOW, TYPE IN "CREATIVE LIVING WITH SHERYL BORDEN." THANKS SO MUCH. I HOPE YOU'LL PLAN TO JOIN ME NEXT TIME FOR "CREATIVE LIVING." >> WE ARE VERY PLEASED TO OFFER A NEW BOOKLET THAT ACCOMPANIES THIS SERIES OF "CREATIVE LIVING." THIS BOOKLET IS TITLED "THE 6600 SERIES," AND IT FEATURES A WONDERFUL COLLECTION OF IDEAS AND INFORMATION, AND IT'S AVAILABLE FREE OF CHARGE ON OUR WEB SITE. POSTED AS A .PDF FILE, YOU CAN SIMPLY DOWNLOAD THE ENTIRE BOOKLET OR JUST THE SEGMENTS YOU'RE MOST INTERESTED IN. AS WITH ALL OF THE "CREATIVE LIVING" BOOKLETS, YOU'LL FIND INFORMATION ON FOODS AND NUTRITION, CLOTHING AND FASHION, HEALTH AND BEAUTY, HOME DECORATING, AND MUCH MORE. FOR YOUR COPY OF THIS BOOKLET, GO TO OUR WEB SITE AT KENW.ORG, AND THEN CLICK ON "CREATIVE LIVING." SCROLL DOWN TO THE BOOKLET SECTION, AND YOU CAN CLICK ON THIS BOOKLET OR ANY OF THE OTHER BOOKLETS WE HAVE AVAILABLE ONLINE. ONCE AGAIN, JUST GO TO KENW.ORG, CLICK ON "CREATIVE LIVING," AND DOWNLOAD THE BOOKLET TITLED "THE 6600 SERIES." WE ALSO WANT TO ENCOURAGE YOU TO SIGN UP FOR OUR FREE E-NEWSLETTER. JUST CLICK ON THE "SIGN UP NOW!" BUTTON AND INPUT YOUR E-MAIL ADDRESS. THAT'S ALL THERE IS TO IT. YOU'LL ENJOY READING AN UP-TO-DATE NEWSLETTER FILLED WITH INTERESTING TOPICS AND INFORMATION. THANK YOU.
Now Playing As: Captioned (English) (change)
In this episode, Sheryl discusses ways for incorporating more whole grains in recipes and how to update window treatments with color blocking. Also, Bruce Johnson uses inexpensive frames to create a storage unit.
Media Details
Runtime: 27 minutes