Creative Living With Sheryl Borden #6606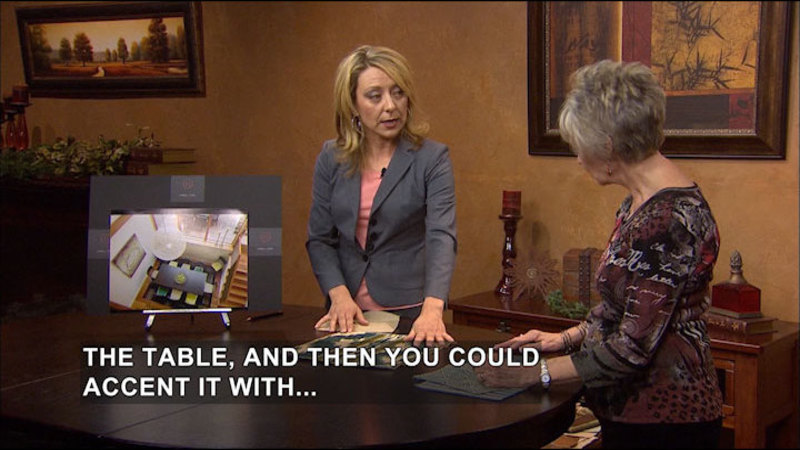 >> "CREATIVE LIVING," UTILIZING TODAY'S TECHNOLOGY WITH THE BEST OF THE PAST TO BRING YOU INNOVATIVE IDEAS AND UP-TO-DATE INFORMATION FOR CREATIVE LIFESTYLES IN TODAY'S ACTIVE WORLD, WITH YOUR HOST SHERYL BORDEN. >> THANKS FOR JOINING ME TODAY FOR "CREATIVE LIVING." WE'RE GOING TO LEARN TO STENCIL DESIGNS ON COOKIES AND TALK ABOUT WAYS TO INSPIRE YOUR HOME WITH PATTERN, COLOR, AND TEXTURE. ONE OF MY GUESTS IS JULIA USHER, AND SHE'S A PASTRY CHEF, AN AUTHOR, AND A FOOD STYLIST, AND JULIA IS GOING TO DEMONSTRATE HOW TO STENCIL ON COOKIES, WHICH IS NOT A DIFFICULT TECHNIQUE. IN FACT, SHE SAYS, IF YOU CAN STENCIL PAINT ON A WALL, THEN YOU CAN STENCIL ICING ON A COOKIE. JULIA ALSO SAYS THAT ALONG WITH MARBLING, WAFER PAPERING, AND RUBBER STAMPING, STENCILING IS ONE OF THE EASIEST WAYS TO ADD EYE-CATCHING DETAILS TO COOKIES. SHE'S FROM ST. LOUIS, MISSOURI. ANOTHER GUEST IS KIMBALL STARR, AND SHE'S AN INTERIOR DESIGNER FROM SAN FRANCISCO, CALIFORNIA. KIMBALL IS GOING TO EXPLAIN HOW TO INSPIRE YOUR HOME WITH PATTERN, COLOR, AND TEXTURE. SHE SUGGESTS THAT EACH ROOM SHOULD HAVE AN UNDERLYING THEME, OR CONCEPT, THAT TIES THE ROOM TOGETHER, AND SHE'LL SHOW EXAMPLES OF HOW TO DO THIS. SHE'LL ALSO DISCUSS THE VARIOUS TOOLS YOU NEED. HER BUSINESS IS KIMBALL STARR INTERIOR DESIGN. KIMBALL, THANK YOU SO MUCH OR BEING WITH US TODAY. I KNOW WHEN I HAVE QUILTERS ON, THEY'LL ALWAYS SAY THE QUESTION THEY ALWAYS GET ASKED THE MOST IS HOW DO THEY COMBINE TEXTURES AND COLORS AND STRIPES AND PATTERNS AND EVERYTHING IN A QUILT, AND I GUESS YOU WORK WITH A LOT OF THE SAME SITUATIONS WHEN YOU'RE DOING INTERIOR DESIGNING, DON'T YOU? >> ABSOLUTELY. IT'S JUST IN A BIGGER SPACE. >> UH-HUH, AND PROBABLY A BIT MORE EXPENSIVE, TOO. >> YES. >> SO YOU WANT TO THINK THIS ALL OUT AHEAD OF TIME. SO HOW DO YOU GO ABOUT IT? HOW DO YOU WORK WITH SOMEONE? >> WELL, THE FIRST THING, I THINK IT'S IMPORTANT TO HAVE SOME SORT OF UNDERLYING THEME, OR CONCEPT, FOR YOUR SPACE--WHETHER IT'S A BOTANICAL THEME OR YOU WANT A REALLY ROMANTIC, RICH-COLOR KIND OF MOOD--JUST SO THAT EVERYTHING THAT YOU PICK TIES TOGETHER, AND THEN YOU SHOULD THINK ABOUT THE ACTIVITIES YOU'RE DOING IN THE SPACE. ARE YOU GONNA BE WATCHING FOOTBALL? ARE THE DOGS GONNA BE RUNNING ALL OVER THE FURNITURE? ARE YOUR KIDS GONNA BE THROWING UP ON IT? >> IT'S EVERYTHING. >> RIGHT. SO THEN YOU NEED REALLY HARD-WEARING FABRICS, OR WOULD YOU LIKE TO ENTERTAIN AND HAVE REALLY FINE FABRICS AND REALLY FANCY COCKTAIL PARTIES? THEN YOU COULD USE SOMETHING LIKE SILKS. >> I SEE. OK. SO THOSE ARE ALL QUESTIONS YOU WOULD ASK THE HOMEOWNER, OR THEY WOULD TELL YOU WHEN THEY'RE READY TO DECIDE. >> THAT'S RIGHT, AND IN GENERAL, FOR ME, LINENS ARE GREAT. THEY CAN BE USED IN A RELAXED ENVIRONMENT, AND THEY CAN ALSO BE DRESSED UP FOR A FORMAL ENVIRONMENT. >> SO SOME WORK MULTIPLE TASKS. >> ABSOLUTELY. VELVETS ARE BEAUTIFUL FOR THEIR VERY CLASSIC LOOK TO THEM, AND IF YOU DO NEED THINGS THAT ARE VERY HARD-WEARING, THEN THAT WOULD BE SYNTHETICS--POLYESTER OR SOMETHING LIKE AN ULTRASUEDE, WHICH IS A POLYESTER, AND THEN FOR A LOT OF SUN EXPOSURE, SOLUTION-DYED ACRYLICS ARE EXCELLENT FOR OUTDOOR FABRICS. >> OH, BECAUSE BECAUSE YOU DON'T WANT SOMETHING THAT'S GONNA FADE THE FIRST 30 MINUTES IT'S OUT THERE. UH-HUH. >> AND SILKS ARE BEAUTIFUL, BUT THEY'RE VERY DELICATE, AND IF THEY'RE EXPOSED TO DIRECT SUNLIGHT, THEY WILL ROT, AND THEY'LL START TO DISINTEGRATE. >> YES, UH-HUH, JUST LIKE WITH CLOTHING. >> THAT'S RIGHT. THAT'S RIGHT. SO HERE, I HAVE A DINING ROOM WHERE I USE MULTIPLE COLORS FOR THE CHAIRS, AND THIS IS JUST TO SHOW-- >> IT'S KIND OF FUN. >> YEAH. IT IS, AND IT'S JUST TO SHOW YOU DON'T HAVE TO DO EVERYTHING THE SAME COLOR, AND IT'S OK, AND WITH THE RUG WE HAVE A BROWN, A CHOCOLATE BROWN, WITH A LIGHT-BLUE STRIPE AND THEN TEALS AND BLUES AND THEN A PATTERN. SO JUST TO KIND OF SHOW YOU THAT EXAMPLE, I BROUGHT SOME FUN COLORS. THIS IS VERY FUN TO LOOK AT. SO HERE WE HAVE A STRIPE WITH A TEAL COLOR AND A BROWN, AND WE HAVE MORE OF A CURVILINEAR PATTERN AND THEN A SOLID. SO THIS IS SOMETHING WITH A DINING AREA, YOU COULD MIX THESE 3, AND THE REASON THAT THESE WORK IS, IF YOU LOOK AT THE GROUND COLOR HERE, THE BACKGROUND COLOR, WHICH IS KIND OF A TAUPEY BROWN, IT'S THE SAME COLOR IN HERE, AND SO THAT'S WHY THESE COLORS-- >> THEY WORK. >> THAT'S RIGHT, AND THE PATTERNS WORK TOGETHER. >> SO YOU REPEAT A PORTION OF IT. >> IF YOU FIND FABRICS THAT HAVE A COMMON COLOR, THAT'S VERY HELPFUL, AND THEY'RE THE SAME SCALE. THEY FEEL LIKE THEY'RE ABOUT THE SAME PROPORTION IN THE SIZE. >> ONE IS NOT A BIG FLORAL OR SOMETHING... >> THAT'S RIGHT... >> AND THEN A TINY, LITTLE PRINT. >> AND THAT CAN WORK IN A ROOM, LIKE IF YOU HAVE A PILLOW AND THEN YOU HAVE THE SOFA FOR THE LARGE-SCALE PATTERN AND THE SMALL-SCALE PATTERN, BUT BECAUSE, IN THIS CASE, DINING CHAIRS THAT ARE RIGHT NEXT TO EACH OTHER AND IT'S THE SAME PIECE OF FURNITURE, I LIKE TO KEEP THEM SIMILAR SCALE. >> I SEE. THAT MAKES SENSE. >> SO YOU COULD DO THIS. YOU COULD HAVE TWO CHAIRS LIKE THIS. YOU COULD HAVE YOUR HEAD OF YOUR CHAIRS AND THE SIDE CHAIRS THIS COLOR, AND THEN HERE'S JUST ONE OTHER EXAMPLE ILLUSTRATING THE SAME THING. >> OOH, THAT'S GORGEOUS. >> THERE'S SO MANY AMAZING FABRICS THAT ARE COMING OUT NOW, THIS CUT VELVET AND VISCOSE, AND IF THIS IS A LITTLE FLASHY FOR YOU, YOU COULD JUST DO THIS FOR YOUR ARMCHAIRS AT THE HEAD OF THE TABLE, AND THEN YOU COULD ACCENT IT WITH... >> MORE SUBTLE. >> A REALLY BEAUTIFUL BEIGE LINEN... >> OH, I LOVE THOSE. >> AND I WOULD BE VERY ELEGANT. NOW, IF YOU'RE SOMEBODY LIKE ME WHO LIKES A LOT OF COLOR... >> I LIKE IT, TOO, THAT'S BEAUTIFUL. >> YOU CAN DO YOUR SIDE CHAIRS IN SOMETHING LIKE THIS BEAUTIFUL GREEN VELVET, AND YOU CAN EVEN MIX, OR IF YOU'RE NOT A FAN OF COLOR, THEN YOU COULD JUST DO TWO COLORS IN THAT. >> OH, THESE ARE GORGEOUS. OK. >> AREN'T THEY? >> SO YOU'RE REPEATING COLORS, AND THAT'S SORT OF WHAT THEY TALK ABOUT IN QUILTING, TOO. IT WORKS IF YOU REPEAT SOME OF THOSE. >> YEAH. SO I HAVE SOME MORE EXAMPLES HERE, AND THIS IS A LIVING AREA WHICH IT'S A MORE TRADITIONAL FEEL, AND GONNA PULL SOME OF THESE SAMPLES UP FOR YOU. SO I LIKE TO START WITH THE RUG FIRST... >> OH, THE BOTTOM. OK. >> BECAUSE THAT REALLY SETS THE FOUNDATION. THANK YOU. SO HERE, OUR MAIN COLORS ARE DARK REDS, RUST COLORS, AND GREENS, AND THE UNDERLYING CONCEPT, OR THEME, FOR THIS SPACE WAS A BOTANICAL FEEL. SO THE HOMEOWNER REALLY LIKES LEAVES AND FLOWERS AND THAT OUTDOOR NATURE FEEL, AND HE HAS SKYLIGHTS. >> AND IT BRINGS IT INSIDE. >> THAT'S RIGHT... >> I LIKE THAT. >> AND YOU ALSO WANT TO THINK ABOUT THE ACTUAL LIGHT. SO IN THIS SPACE, THERE'S A LOT OF NATURAL LIGHT, SO YOU DON'T WANT TO REALLY DO HEAVY, DARK COLORS BECAUSE IT FEELS COUNTERINTUITIVE TO THE NATURAL ARCHITECTURE OF THE SPACE. >> OH, OK. >> SO WE LIKE TO KEEP THINGS LIGHT BUT STILL ADD A LITTLE PUNCH OF COLOR HERE AND THERE. SO WE HAVE NEXT TO THEM-- HERE'S SOME CLOSE-UP SHOTS. SO HERE'S THE DINING AREA TO THE RIGHT, AND I'M GONNA SHOW YOU A LITTLE MORE CLOSE-UP OF THAT SO YOU CAN SEE. >> OH. UH-HUH. >> SO WE HAVE OUR... >> THAT'S THE CHAIR CUSHION. >> BEAUTIFUL DINING CHAIR FABRIC, AND NOW, THERE'S NO DRAPERIES IN THIS PARTICULAR SITUATION BECAUSE THE HOMEOWNER REALLY LOVED THE VIEW AND DIDN'T WANT TO COVER ANYTHING, BUT IF YOU WANTED TO DO SOMETHING, YOU COULD USE SOMETHING LIKE A REALLY THIN LINEN SHEER THAT HAS A REALLY SUBTLE BOTANICAL PRINT. >> AND IT'S GOT THAT BOTANICAL LOOK. IT'S GOT THE LEAVES. >> THAT'S RIGHT... >> SO YOU'RE CARRYING THAT OUT. >> AND WHEN THE SUN SHINES THROUGH THIS, IT'S REALLY GONNA WASH IT OUT. SO IT'S GONNA BE A VERY SUBTLE, FLOATY COLOR... >> MM. >> AND THE WALL COLOR THAT'S THERE ON THE WINDOW IS THIS COLOR RIGHT THERE. >> UH-HUH. >> SO YOU COULD DO THAT, OR IF YOU'RE NOT REALLY A SHEER PERSON, YOU COULD USE SOMETHING LIKE A WOVEN GRASS SHADE. NOTICE THE NICE TEXTURE IT GIVES. AGAIN, IT REALLY ADDS A BEAUTIFUL, NATURAL, OUTDOORSY FEEL. >> AND SOMETIMES IT'S NICE TO USE THIS, I WOULD THINK, SO THAT SOMETHING DOESN'T BECOME SO FEMININE. >> YES. >> IF THERE'S A COUPLE LIVING THERE, YOU WANT TO BRING IN SOME ELEMENTS SO THAT HE SORT OF FEELS LIKE HE'S SUPPOSED TO BE THERE. >> RIGHT. YOU'RE NOT GONNA MAKE IT ALL PINK. >> RIGHT. HA HA! >> SO THEN WE HAVE OUR TABLE THAT I PUT WITH A BURLAP COVERING BECAUSE IT'S MAHOGANY AND I FELT--WITH ALL THAT DARK MAHOGANY, THE CHAIRS AND THE DINING TABLE--IT WAS A LITTLE TOO HEAVY FOR THE SPACE. >> LIGHTEN IN UP. UH-HUH. >> RIGHT, BECAUSE WE TALKED ABOUT HOW IT'S A LIGHTER SPACE, AND THEN MOVING OVER TO OUR SOFA-- >> IS THAT A LEATHER OR SUEDE OR SOMETHING? >> YEAH. SO THE SOFA IS ACTUALLY WRAPPED IN LEATHER, AND THEN THERE'S-- >> OOH, IT'S GOT THE GREEN. I JUST NOW SEE THE CUSHIONS. UH-HUH. >> YEAH, AND THEN THE ACTUAL CUSHIONS HERE... >> UH-HUH. >> IT'S DONE IN A LINEN VELVET, AND A LINEN VELVET IS A REALLY DURABLE FABRIC. IT'S GONNA WEAR REALLY-- >> WEARS WELL. >> YES, AND IT STILL HAS A REALLY ELEGANT FEEL TO IT. >> ALL THESE COLORS ARE JUST LOOKING WONDERFUL TOGETHER. >> OH, GREAT. OH, WELL, GREEN IS MY FAVORITE COLOR. >> WELL, I KIND OF LIKE IT, TOO. HA HA! SO YOU'RE STARTING WITH THE FLOOR, AND YOU'RE BUILDING UP FROM THERE. >> THAT'S RIGHT. SO WE HAVE THIS COLOR, AND THEN THE COLOR BEHIND ON THE WALL THERE IS HERE. SO WE HAVE THIS SOFT GREEN WITH A CREAM COLOR, AND THEN WE HAVE THE SOFA WITH THE LEATHER. THEN WE HAVE OUR DRAPERY WITH OUR DINING CHAIR FABRIC, THE BURLAP, AND THEN NOW ALL THAT'S LEFT IS TO ADD SOME FUN ACCENTS. >> OH. >> OH, WE ALSO HAVE OUR SWIVEL CHAIR HERE, WHICH IS RIGHT HERE, THIS KIND OF TAN COLOR, AND I LIKE TO BRING IN-- AGAIN, WE HAVE KIND OF MORE LIGHT, AIRY FEEL WITH BOTANICALS, AND IT'S A LINEN. >> NOW, WHAT WOULD YOU USE THESE FOR? >> THESE YOU COULD DO FOR YOUR THROW PILLOWS. >> OH, OK. I WAS THINKING, "HOW IS THIS GOING TO--" I SEE NOW. UH-HUH. >> YEAH. SO THIS WOULD ACCENT ON TOP OF THE SWIVEL CHAIR. THESE WOULD BE YOUR THROW PILLOWS, AND THEN FOR YOUR SOFA--BECAUSE IT'S A BIGGER, BULKIER SOFA--YOU CAN AFFORD TO DO A FABRIC THAT FEELS A LITTLE HEAVIER, AND YOU CAN EITHER CHOOSE TO GO MORE IN THIS TONE FOR AN ACCENT, WHICH PICKS UP THE RED, OR THERE IS A LITTLE BIT OF BLUE IN THERE, OR YOU COULD EVEN DO BOTH... >> YEAH. IT REALLY PULLS THE BLUE OUT. I DIDN'T SEE ANY BLUE IN THERE, BUT I DO NOW THAT YOU PUT THAT WITH IT. UH-HUH. >> AND THEN IF YOU LIKE LITTLE TASSELS AND FRINGE, THIS COULD GO ON THE BURLAP TABLECLOTH. >> WHICH IT ALSO SOFTENED THAT UP A LITTLE BIT. >> IT DOES. IT ADD A LITTLE INTEREST, TOO, AND MOVEMENT INSTEAD OF JUST BEING A SHARP EDGE, AND THEN FOR ONE LAST ITEM IN THE SPACE, SOMETHING THAT PEOPLE DON'T THINK ABOUT FOR TEXTURE WHICH IS NOT NECESSARILY A FABRIC IS USING PLANTS. >> OH, YEAH. MM-HMM. I JUST THINK EVERY ROOM, ALMOST, NEEDS A PLANT. >> YEAH. >> MAYBE IT IS BECAUSE IT BRINGS THE OUTDOORS IN. >> YES. IT REALLY DOES... >> IT JUST LOOKS NICE. >> AND THEY'RE WALL-MOUNTED, AND YOU NEVER HAVE TO TAKE IT OFF, AND THEY JUST GROW RIGHT ON THE WALL. >> I SEE. VERY GOOD. >> SO THAT'S OUR LIVING AREA. >> MM-HMM. >> SO NOW WE HAVE A DINING-- A BEDROOM AREA, I SHOULD SAY. >> BEDROOM. OK. >> SO THIS IS A NEWLYWED COUPLE, AND THEY'RE VERY YOUNG, AND THEY WANTED SOMETHING REALLY FUN AND YOUTHFUL. >> UH-HUH. >> SO WE STILL WANTED TO KEEP IT ROMANTIC, BUT NOT TOO FEMININE. AS YOU WERE SAYING... >> RIGHT. >> THE HUSBAND FEELS ALIENATED AND FEELS LIKE HE'S LIVING IN GIRLY LAND. SO WE STARTED WITH THIS RUG THAT HAS A REALLY GEOMETRIC PRINT. SO IT'S A LITTLE BIT OF A MASCULINE FEEL BUT POPPED IT WITH SOME FUN COLOR, AND ON THIS, I HAVE A GRASSCLOTH. I'LL SHOW YOU THE OTHER. SO THAT'S OUR BED, AND THIS IS TO THE RIGHT OF THE BED, AND YOU CAN SEE THERE'S A GRASSCLOTH HERE. >> OH, ON THE WALL. UH-HUH. >> MM-HMM. IF YOU WERE FEELING A LITTLE ADVENTUROUS, YOU COULD DO SOMETHING LIKE THIS, REALLY ADD A LOT OF PATTERN AND TEXTURE. >> THIS IS THE GRASSCLOTH. IT'S JUST SO, SO MUCH LIKE THE-- I CAN'T BELIEVE HOW YOU FOUND THAT. >> IT'S NOT THE SAME MANUFACTURER. >> UH-HUH. THAT'S AMAZING. >> YEAH, AND SO THE DRAPES WERE DONE IN THIS FABRIC, AND THIS IS A BLACKOUT DRAPE SO IT DOESN'T LET ANY LIGHT THROUGH, AND BECAUSE IT WAS SO DARK, I REALLY WANTED TO BRING A SPLASH OF COLOR AND SOME BRIGHTNESS INTO THE ROOM... >> USING IT JUST AS A BORDER OR AN ACCENT. >> MM-HMM, BY USING THIS REALLY FUN ACCENT, THIS YELLOW ACCENT, AND OUR SIDE TABLES ARE DONE IN A LACQUER, AND WE ACTUALLY HAD THEN CUSTOM-PAINTED IN THIS REALLY BRIGHT YELLOW... >> MM-HMM. >> ON THE SIDES OF THE BED, AND THEN OUR LAMPS THAT WE PURCHASED WERE JUST SIMPLE, WHITE LAMPSHADES, BUT YOU CAN TAKE ANY SORT OF FABRIC AND COVER, AND SO THIS IS THE FLORAL FABRIC THAT WE TOOK TO COVER THE LAMPSHADES THAT SIT ON TOP OF THE NIGHTSTAND, AND THEN THAT LEAVES US WITH OUR WALL COVER. SO WE PICKED KIND OF THIS MAUVEY TONE, AND THEN FOR THE CEILING, WE JUST LIGHTENED IT UP A LITTLE, AND THEN ALL THAT'S LEFT-- OH, THERE'S ALSO SOME SITTING CHAIRS TO THE RIGHT OF THAT WHICH ARE WHITE LEATHER... >> OH, OK. >> AND ALL THAT'S LEFT IS THE BED. SO WE HAVE A HEADBOARD, WHICH WE USED A REALLY LUXURIOUS, KIND OF SEXY VELVET, WHICH IS GREAT FOR HONEYMOONERS AND NEWLYWEDS, AND HERE I HAVE A FLORAL PRINT FOR THE BEDSPREAD, BUT IF YOU'RE GONNA USE THIS SORT OF GRASSCLOTH FOR THE SPACE, I THINK THAT WOULD JUST START TO BE TOO MUCH PATTERN. SO, ASSUMING YOU USE SOMETHING LIKE THAT, THEN YOU TONE IT DOWN, AND YOU USE A SOLID COLOR LIKE THIS REALLY THIN WOOL, AND THEN YOU CAN ACCENT WITH PILLOWS, AND YOU CAN DO SOME LITTLE, SMALL-- >> THAT'S WHAT REALLY PULLS THINGS TOGETHER, IT SEEMS LIKE, WHEN YOU DO THE ACCENT PILLOWS. >> ABSOLUTELY, AND THEN THIS PULLS IN THE COLORS. IT'S A FUN, LITTLE PATTERN, AND IF YOU WANT TO DO SOMETHING A LITTLE BOLDER, YOU CAN USE SOMETHING LIKE THIS, ALSO, AS A... >> YEAH. THAT'S PRETTY WITH IT, TOO. >> ACCENT FOR THE PILLOWS ON THE BED, AND THE WHITE BRINGS IN THE WHITE LEATHER CHAIRS AND ALSO THE WHITE OF THE LAMPSHADE SO YOU HAVE A BALANCE OF LIGHT, MEDIUM, AND DARK TONES. >> AND THAT'S IMPORTANT, TOO. >> YEAH, AND THEN IF YOU REALLY WANT TO MAKE IT KIND OF MORE MOODY, THEN YOU COULD ALSO BRING IN SOMETHING LIKE THIS, WHICH IS A DARKER ACCENT PILLOW. >> OH, FOR A PILLOW. UH-HUH. >> YEAH. >> OH, I LOVE THE COLORS YOU WORK WITH. WHAT DO YOU DO WHEN SOMEONE WANTS COLORS YOU DON'T LIKE? IS THAT HARD TO WORK WITH? >> YOU KNOW WHAT? THERE'S NO COLORS I DON'T LIKE. >> OH, OK. >> SO THAT NEVER HAPPENS. >> WELL, YOU DO A WONDERFUL JOB. I'VE ENJOYED SEEING WHAT ALL YOU PULLED AND PUT TOGETHER. THANK YOU SO MUCH. >> THANK YOU SO MUCH, SHERYL. IT WAS FUN. >> JULIA, THANK YOU SO MUCH FOR BEING HERE. I LOVE TO DO SCRAPBOOKING, AND I'VE REALLY LEARNED TO INCORPORATE STENCILS AND STAMPING AND THINGS IN SCRAPBOOKING, BUT I NOTICED IN READING YOUR BOOK, YOU HAVE A WHOLE SECTION ON STENCILING COOKIES. >> YES, YES. YOU CAN STENCIL COOKIES, TOO, NOT JUST PAPER OR WALLS, AND IT'S A GREAT TECHNIQUE BECAUSE IT'S VERY EASY, QUICK, AND IT DOESN'T REQUIRE A LOT OF DECORATING ABILITY. YOU'RE WORKING WITH A STENCIL THAT'S ALREADY PREPARED FOR YOU. >> THAT SOUNDS EXCITING, AND YOU'RE GONNA SHOW US HOW TO DO THAT, BUT LET'S TAKE A LOOK AT SOME OF THE BEAUTIFUL CREATIONS YOU MADE THAT ARE EXAMPLES OF STENCILING. >> YEP. THESE COOKIES ARE ALL STENCILED. WE HAVE HEARTS, WHICH WE'LL SHOW TODAY FOR VALENTINE'S DAY, BUT YOU CAN CHANGE IT OUT AND JUST CHOOSE A DIFFERENT STENCIL AND DO SOMETHING FOR CHRISTMAS. WE'RE GONNA SHOW A SNOWFLAKE TURNED INTO AN ORNAMENT, AND WE'RE ALSO GONNA DO A BABY RATTLE. >> OH, GOSH, YOU CAN MAKE THESE FOR ANY OCCASION, THEN, COULDN'T YOU? >> SWAP OUT THE COLORS, SWAP OUT THE STENCILS, AND YOU'VE GOT A TOTALLY DIFFERENT LOOK AND FEEL AND SEASONS. >> AND IN THE BOOK, IT SHOWS ALL OF THESE DIFFERENT TECHNIQUES AND IDEAS. WE COULDN'T SHOW EVERYTHING, BUT IT'S WONDERFUL. >> YES. I'VE GOT 15 TECHNIQUES IN THE BOOK, AND WE'RE CONCENTRATING ON ONE TODAY. >> GOOD, GOOD. OK. WE'LL LET'S START WITH ICING. THAT'S THE MOST IMPORTANT PART. >> I WORK WITH ROYAL ICING, AS OPPOSED TO CONFECTIONERS ICING, WHICH IS THE OTHER COMMON ICING FOR DECORATING COOKIES. BOTH DRY UP CRISP AND HARD, WHICH IS GREAT AGAINST A COOKIE BECAUSE IF YOU WERE TO USE BUTTERCREAM, FOR INSTANCE, ON IT, WHICH IS MORE INTENDED FOR CAKES, THE COOKIE WOULD GET SOFT AND YICKY OVER TIME IF IT SITS OUT AT ROOM TEMPERATURE. SO CONFECTIONERS ICING IS PUT TOGETHER WITH POWER SUGAR AND MILK OR WATER OR SOME JUICE, WHEREAS ROYAL ICING, MY PREFERRED ICING, IS PUT TOGETHER WITH CONFECTIONERS ICING AND EGG WHITES, OR YOU CAN SUBSTITUTE MERINGUE POWDER, RECONSTITUTED OR PASTEURIZED WHITES, IF YOU'RE CONCERNED ABOUT THE RAW EGGS. I'VE GOT SUBSTITUTIONS FOR THAT IN THE BOOK. THE ADVANTAGE OF THE EGG WHITES IS, THE PROTEIN IN THE EGG WHITE CAUSES THE ICING TO SET EVEN FASTER, AND IT CREATES A VERY FINE LINE, WHEREAS CONFECTIONERS ICING TENDS TO SPREAD MORE. SO I LOVE TO WORK WITH THIS MEDIUM, AND THAT'S WHAT WE'RE USING TODAY. MY STANDARD RECIPE IN THE BOOK IS TWO POUNDS OF POWDERED SUGAR AND ABOUT 5 LARGE EGG WHITES, AND IT MIXES UP VERY THICK LIKE SO, AND I PREFER TO START WITH IT MIXED VERY THICK AND ADD THE COLOR WHEN IT'S THICK BECAUSE THE COLOR TENDS TO MIGRATE AND MOTTLE LESS WHEN IT DRIES. THEN I LOOSEN IT TO THE PROPER CONSISTENCY FOR TASK AT HAND. >> LET'S SHOW THIS BECAUSE THIS IS WHAT YOU'RE GOING TO DEMONSTRATE. THIS IS STENCILING. >> THIS IS STENCILING. SO THE FIRST STEP I DO WAS, I LAID A PURPLE TOPCOAT. >> MM-HMM, WITH THE ROYAL. >> YEAH, WITH ROYAL ICING, AND TOPCOATING IS A TECHNIQUE IN AND OF ITSELF--IT'S DISCUSSED IN THE BOOK--BUT FOR STENCILING, YOU NEED TO LET THOSE TOPCOATS DRY COMPLETELY. >> SO THAT'S WHY WE DID THIS AHEAD OF TIME. UH-HUH. >> YEAH. SO THEY WERE DONE AHEAD OF TIME. WE'VE GOT SOME ALREADY TOPCOATED WE'RE WORKING WITH. MINE IS LIGHT PINK, AND YOURS IS WHITE, AND YOU WANT TO DO THAT BECAUSE YOU'RE APPLYING THE PRESSURE TO THE TOP OF THE COOKIES YOU STENCIL AND, OTHERWISE, YOU'LL BREAK THROUGH THE ICING. SO I'M GONNA RECREATE A VERSION OF THIS COOKIE ON THE LIGHT PINK ONE WITH PURPLE TOPCOATING ICING... >> OH, OK. >> AND FOR TOPCOATING, I JUST THIN THE ICING SO ONCE IT'S SMOOTH AND SPREADABLE-- >> MM, IT'S CREAMY. >> IT'S CREAMY, AND I'VE GOT CONSISTENCY ADJUSTMENTS IN THE BOOK, BUT FOR ONE CUP OF ROYAL ICING, I GENERALLY ADD MAYBE 3/4 TO A TEASPOON OF WATER TO GET IT A LITTLE MORE FLUID. IF IT'S TOO THICK LIKE THAT, IT WILL JUST LEAVE A LOT OF TRACK MARKS, AND IT WON'T LOOK SMOOTH, AND IF IT'S TOO LOOSE-- >> AND YOU MENTIONED COLORING IT, TOO, CHANGES THE CONSISTENCY, AND YOU'RE VERY EXACT ABOUT HOW MANY DROPS OF LIQUID THERE. >> WELL, I AM WHEN I'M TRYING TO MATCH A COLOR MORE THAN ANYTHING, AND THAT WAS IMPORTANT WHEN I HAD MY WEDDING CAKE BUSINESS BECAUSE BRIDES WOULD OFTEN COME IN AND WANT ME TO MATCH A SWATCH OR SOMETHING. SO I'D MIX ICING UP IN LARGE QUANTITY AND LITERALLY MEASURE THE DROPS TO GET AN EXACT COLOR SO I COULD REPLICATE IT IF I RAN OUT, BUT YOU HAVE MORE CONTROL WITH THESE SQUEEZE-TOP LIDS BECAUSE OTHERWISE, YOU'RE DIGGING THE COLORING OUT OF A LIDDED CONTAINER, AND THAT GETS KIND OF MESSY. >> AND THESE ARE AVAILABLE AT CRAFT STORES OR AT CAKE DECORATING STORES. UH-HUH. >> THEY USED TO BE THE THING OF HOME DECOR STORES, BUT NOW YOU CAN GET THEM ONLINE ANYWHERE, AND STENCILS COME SIZED TO FIT DIFFERENT COOKIE SHAPES, CAKE TOPS, YOU NAME IT. >> YEAH. >> A COUPLE THINGS ON STENCIL CHOICE, I LIKE TO CHOOSE ONE THAT ACTUALLY LEAVES SOME ROOM TO SPARE ON THE COOKIE. I DON'T KNOW IF THE CAMERA CAN SEE THAT. >> DOESN'T FILL IT COMPLETELY UP. UH-HUH. >> YEAH, BECAUSE IF IT OVERFLOWS THE EDGE LIKE THIS ONE WOULD-- IT COMES VERY CLOSE TO THE EDGE OF THE ICING--WHEN YOU SPREAD IT, YOU'RE LIKELY TO GET SOME OVERFLOW OFF THE EDGE, AND IT'S NOT GONNA BE SO NEAT. SO YOU HAVE A LITTLE MORE CONTROL WITH THIS. THE OTHER THING IS, I DO THINK THERE'S SUCH A THING AS A BEGINNER VERSUS AN ADVANCED STENCIL. >> UH-HUH. >> SO I'D START WITH A BEGINNER ONE, AND THEY TEND TO BE ONES LIKE THIS WHERE THERE'S MORE SPACING BETWEEN THE OPENINGS AND THE OPENINGS ARE RELATIVELY BIG, AT LEAST OF AN EIGHTH OF AN INCH. >> OH, I SEE. >> THAT WAY, YOU HAVE MORE LATITUDE WITH YOUR ICING. IT DOESN'T HAVE TO BE EXACTLY THE RIGHT CONSISTENCY, WHEREAS A STENCIL LIKE THIS WHERE THE OPENINGS ARE PRETTY TIGHT AND VERY FINE, ESPECIALLY THROUGH HERE, IF THE ICING ISN'T JUST SO, IF IT'S AT ALL TOO LOOSE, IT'LL SPREAD UNDER THE STENCIL AND BE KIND OF BLURRY. >> MESS EVERYTHING UP. >> SO WE'RE GONNA TRY TO DO AN EASY STENCIL TODAY. >> OK. >> SO THE FIRST STEP--AND YOU CAN FOLLOW ALONG--IS TO CENTER IT WHERE YOU WANT IT, AND IF THERE'S HANDLING ROOM ON THE STENCIL, YOU HOLD IT IN PLACE. THE KEY THING WITH THIS TECHNIQUE IS, JUST HOLD IT STEADY... >> YEAH. >> BUT IF NOT, I OFTEN USE MY TRUSSING NEEDLE AGAIN WHICH I USE FOR THE MARBLING TECHNIQUE TO JUST HOLD THE STENCIL IN PLACE... >> HMM. >> AND I USE THE SMALL OFFSET SPATULA TO SPREAD THE ICING. THIS IS OFFSET BECAUSE THE HANDLE IS OFFSET TO THE BLADE AT AN ANGLE. I PREFER ONE THAT'S GOT EVEN MORE OF AN ANGLE SO I'M NOT RAPPING MY KNUCKLES AS MUCH, AND YOU JUST NEED A VERY THIN SCHMEAR, LIKE, NO MORE THAN THE THICKNESS OF THE STENCIL BECAUSE IF IT'S THICKER-- >> IT'LL OOZE UNDER IT... >> WELL, ACTUALLY, IF IT'S THICKER ON TOP, LIKE WERE WE TO LEAVE IT LIKE THAT AND LIFT IT UP, I GET THESE BIG PEAKS ON TOP OF THE STENCIL, WHICH JUST WOULDN'T LOOK VERY PRETTY. SO I'M GONNA SPREAD IT TO THE THICKNESS OF THE STENCIL EVENTUALLY. I'M GONNA GET IT ALL ON THERE, AND THEN I'M GONNA TRY TO GO OVER IT WITH ONE SWIPE... >> WOW. >> SO AS NOT TO LEAVE TRACK MARKS IN THE MIDDLE OF THE PATTERN. >> I SEE WHAT YOU'RE TALKING ABOUT, HOLDING THAT STENCIL EXACT. >> YEAH. IT HAS TO BE PRETTY STEADY, AND THIS ICING MIGHT BE A TAD THICK FOR WHAT I'M DOING. >> AND I NOTICE YOU COVER IT WITH PLASTIC WRAP. >> YES, BECAUSE IT DRIES OUT SO QUICKLY, IT'LL CRUST IN THE COURSE OF USING IT. THEN IT BECOMES REALLY DIFFICULT TO WORK WITH. SO I ALWAYS COVER IT FLUSH WITH PLASTIC WRAP, EVEN WHEN I'M USING IT. >> OH, HOW GORGEOUS. THAT WAS EASY. >> AND YOU CAN REUSE THE STENCIL AS LONG AS THERE'S NO ICING ON THE BACK BECAUSE IF YOU WERE TO LAY THAT DIRECTLY ON ANOTHER COOKIE, YOU'D SMUDGE IT. SO ABOUT EVERY TWO OR 3 APPLICATIONS, I'LL WASH IT OFF AND THEN PAT IT DRY BETWEEN PAPER TOWELS. YOU DON'T WANT TO SCRUB IT WITH THE PAPER TOWELSBECAUSE YOU'LL DESTROY THE STENCIL. >> UH-HUH. THAT WAS EASY. >> SO THAT'S A HEART. THAT'S EASY. I'M GONNA NEXT SHOW YOU HOW TO DO THE SNOWFLAKE, SAME CONCEPT. >> AND NOW YOU GOT TWO TOGETHER. >> I GOT TWO TOGETHER. >> UH-HUH. >> SO I STENCILED EITHER SIDE, LET THEM DRY COMPLETELY, AND I EMBELLISHED WITH SOME BEADS AND THINGS, AND THEN I GLUED WITH THE THICK ROYAL ICING A RIBBON IN BETWEEN THEM... >> AND THIS BECOMES AN ORNAMENT. >> AND IT BECOMES AN ORNAMENT, AND IT'S THE SAME BASIC TECHNIQUE. HERE I'VE GOT A SNOWFLAKE COOKIE THAT, AGAIN, SOLIDLY DRIED, AND I'VE GOT THIS STENCIL THAT JUST HAPPENS TO FIT IT PERFECTLY BECAUSE IT'S A 6-POINTED AND A LOT OF ROOM TO SPARE AGAIN. I DON'T REALLY HAVE A CHRISTMAS-APPROPRIATE COLOR, BUT MAYBE WE'LL USE PINK... >> OK. >> AND, AGAIN, THIS IS THE SAME SORT OF CONSISTENCY OF ICING, AND-- >> AND YOU LEARN THE MORE YOU DO. YOU LEARN THAT FEEL. >> I THINK I'M STARTING WITH TOO MUCH. REALLY, START WITH LESS, AND I'LL ANCHOR IT FIRST. YOU'LL SEE I PUT A FEW BLOBS ON. THAT KIND OF KEEPS THE STENCIL SECURE BEFORE I DO ONE BIG, LONG SWIPE. IF I WERE TO GO IN THERE OVERZEALOUSLY FIRST TO DO THE BIG, LONG SWIPE, I'D PROBABLY MOVE THE STENCIL. >> YEAH. LIKE, WHEN YOU STENCIL ON A WALL OR PAPER, YOU CAN PUT REMOVABLE TAPE OR SOMETHING, BUT YOU DON'T HAVE THAT OPTION WHEN YOU'RE DOING THESE. >> OK, AND SO I THINK THAT'S GONNA BE GOOD... >> VOILA. >> AND I LIFT IT UP. I GET AN EDGE HERE. THAT'S BEAUTIFUL. >> THAT IS JUST SO EASY TO DO. >> AND WOULD YOU LIKE TO SEE A BORDER? BECAUSE ONE THING I WOULD TYPICALLY DO IS NOT STOP HERE, BUT I WOULD ADD SOMETHING TO DRESS OUT THE EDGE, AND HERE, I'VE GOT ROYAL ICING AGAIN. IT'S IN A PARCHMENT PASTRY CONE WHICH I USE FOR APPLYING LINES AND BORDERS. YOU CAN USE A DISPOSABLE PLASTIC CONE OR A BAGGIE WITH THE TIP CUT OFF, BUT I PREFER THESE BECAUSE THERE'S A LITTLE MORE TENSION IN THE PAPER AND I GET MORE CONTROL... >> UH-HUH. >> AND SO I'VE GOT AM ICING ROUGHLY THE SAME CONSISTENCY FOR OUTLINING, AND I'M JUST GONNA GO AROUND THE EDGE HERE, AND YOU'LL NOTE AS I OUTLINE, I DON'T DRAG THE TIP ON THE COOKIE BECAUSE I'LL END UP WITH A VERY ROUGH-LOOKING OUTLINE. INSTEAD, I'M LETTING THE ICING... >> TAKES A STEADY HAND. >> KIND OF FALL. IT DOES, BUT YOU'LL SEE MY FOREFINGER ON THE TIP OF THE CONE. >> OH, YOU'RE KIND OF GUIDING IT, AREN'T YOU? >> YEAH. I'M ACTUALLY STEADYING THE TIP OF THE CONE, AM NOT APPLYING PRESSURE THERE. BEGINNERS WILL OFTEN, WHEN WORKING WITH CONES, APPLY PRESSURE RIGHT HERE, AND WHAT IT DOES IS, IT CAUSES A BACKFLOW AND A DISASTER, AND IT CONSTRICTS THE FLOW OUT THE END. SO YOU'RE ALWAYS APPLYING PRESSURE FROM THE TOP AND ROLLING DOWN FROM THE TOP AS YOU DEPLETE THE ICING. NOW WE JUST CONTINUE AROUND THE EDGE TO COMPLETE THAT COOKIE. >> NOW LET'S QUICKLY SHOW THE BABY. I THINK THAT'S JUST WONDERFUL FOR BABY SHOWERS. >> IT'S THE SAME CONCEPT OF SANDWICH COOKIES. I'VE GOT 4 HERE, AND I'VE STENCILED ONE SIDE WITH THE BABY CARRIAGE, AND I'VE GLUED THEM ALL TOGETHER. BASICALLY, I'VE GOT A COFFEE STIRRER, ACTUALLY, IN BETWEEN. SOMETIMES I'LL USE TWO BECAUSE ONE IS A LITTLE WOBBLY, OR YOU CAN USE A LOLLIPOP STICK CUT DOWN TO SIZE, SAME CONCEPT. >> UH-HUH. >> TIE A LITTLE RIBBON AROUND IT. HERE, IT'S A LITTLE BIT MORE OF A CHALLENGE TO CHOOSE THE RIGHT SIZE STENCIL BECAUSE THESE ARE SMALL COOKIES. I'M WORKING WITH A TWO-INCH COOKIE THERE. SO THESE JUST HAPPEN TO FIT. IF YOU WANT TO FOLLOW ALONG ON THIS GUY, I'M GONNA LET YOU TRY IT BECAUSE YOU HAVEN'T TRIED YET, OK, WITH THE PINK, AND I'M GONNA USE THE PURPLE HERE, AND JUST GIVE THAT A SHOT. THESE STENCILS, THESE ARE VERY SIMPLE STENCILS, THE ONE WE'RE WORKING WITH NOW--VERY SIMPLE, STRAIGHT LINES. THIS SHOULD BE PRETTY EASY TO DO. SO START WITH A LITTLE DAB TO ANCHOR AND THEN DO A BROADER SWIPE. >> AND LICK MY FINGER BECAUSE I GOT SOME ON IT. >> I THINK I MAY HAVE MESSED MINE UP. I WENT OVER IT A BUNCH OF TIMES HERE. >> OH! PERFECT. >> OH, YOURS IS PERFECT. >> GOSH, MY FIRST CREATION. >> OH, THAT'S NOT BAD, EITHER. >> NO. IT'S NOT BAD, EITHER. >> SO VERY EASY, AND, AGAIN, I COULD USE THIS ONE OVER AGAIN BECAUSE THE BACK SIDE IS NOT MESSY. IF YOU'RE DOING A LARGE QUANTITY OF THESE COOKIES FOR BRIDAL SHOWER OR BABY SHOWER, I WOULD SUGGEST GETTING MORE THAN ONE STENCIL OF THE SAME SHAPE SO YOU'RE NOT CONSTANTLY WASHING THEM AND CLEANING THEM. >> THAT MAKES SENSE. WELL, THANK YOU SO MUCH. THIS LOOKED A LOT HARDER THAN IT ACTUALLY TURNED OUT. THEY'RE BEAUTIFUL. >> OH, THANK YOU SO MUCH. >> I HOPE YOU ENJOYED THE SHOW TODAY. NEXT TIME ON "CREATIVE LIVING," WE'LL LEARN HOW TO SNEAK MORE WHOLE GRAINS INTO OUR RECIPES, TALK ABOUT UPDATING WINDOW TREATMENTS WITH COLOR BLOCKING, AND WE'LL LEARN TO CONVERT OLD PICTURE FRAMES INTO JEWELRY STORAGE UNITS. ONE OF MY NEXT GUESTS IS GOING TO SHOW HOW SIMPLE IT IS TO SNEAK MORE WHOLE GRAINS INTO YOUR FAVORITE RECIPES. ANOTHER GUEST IS AN INTERIOR DESIGNER, AND SHE'S GOING TO SHOW HOW TO UPDATE WINDOW TREATMENTS USING A CURRENT TREND--COLOR BLOCKING. SHE'LL TALK ABOUT FABRIC SELECTION, HANGING PANELS, AND COST INVOLVED. WE'LL ALSO LEARN HOW TO GIVE PICTURE FRAMES NEW LIFE BY CONVERTING THEM INTO STORAGE CASES FOR JEWELRY. ALL OF THESE TOPICS WILL BE FEATURED ON THE NEXT "CREATIVE LIVING" SHOW. IF YOU EVER HAVE COMMENTS OR SUGGESTIONS OR IDEAS FOR SHOWS, YOU CAN E-MAIL ME AT SHERYL.BORDEN@ENMU.EDU. I'D ALSO LIKE TO ASK YOU TO BECOME A FAN OF "CREATIVE LIVING" ON FACEBOOK. JUST GO TO FACEBOOK.COM AND IN THE SEARCH WINDOW, TYPE IN "CREATIVE LIVING WITH SHERYL BORDEN." THANKS SO MUCH, AND I HOPE YOU'LL PLAN TO JOIN ME NEXT TIME FOR "CREATIVE LIVING." >> WE ARE VERY PLEASED TO OFFER A NEW BOOKLET THAT ACCOMPANIES THIS SERIES OF "CREATIVE LIVING." THIS BOOKLET IS TITLED "THE 6600 SERIES," AND IT FEATURES A WONDERFUL COLLECTION OF IDEAS AND INFORMATION, AND IT'S AVAILABLE FREE OF CHARGE ON OUR WEBSITE. POSTED AS A .PDF FILE, YOU CAN SIMPLY DOWNLOAD THE ENTIRE BOOKLET OR JUST THE SEGMENTS YOU'RE MOST INTERESTED IN. AS WITH ALL OF THE "CREATIVE LIVING" BOOKLETS, YOU'LL FIND INFORMATION ON FOODS AND NUTRITION, CLOTHING AND FASHION, HEALTH AND BEAUTY, HOME DECORATING, AND MUCH MORE. FOR YOUR COPY OF THIS BOOKLET, GO TO OUR WEBSITE AT KENW.ORG AND THEN CLICK ON "CREATIVE LIVING." SCROLL DOWN TO THE BOOKLET SECTION, AND YOU CAN CLICK ON THIS BOOKLET OR ANY OF THE OTHER BOOKLETS WE HAVE AVAILABLE ONLINE. ONCE AGAIN, JUST GO TO KENW.ORG, CLICK ON "CREATIVE LIVING," AND DOWNLOAD THE BOOKLET TITLED "THE 6600 SERIES." WE ALSO WANT TO ENCOURAGE YOU TO SIGN UP FOR OUR FREE E-NEWSLETTER. JUST CLICK ON THE "SIGN UP NOW" BUTTON AND INPUT YOUR E-MAIL ADDRESS. THAT'S ALL THERE IS TO IT. YOU'LL ENJOY READING AN UP-TO-DATE NEWSLETTER FILLED WITH INTERESTING TOPICS AND INFORMATION. THANK YOU.
Now Playing As: Captioned (English) (change)
This episode provides time saving techniques for decorating homes with different fabrics, patterns, textures, and colors. Viewers also learn how to use stencils for decorating cookies.
Media Details
Runtime: 27 minutes