Creative Living With Sheryl Borden #6605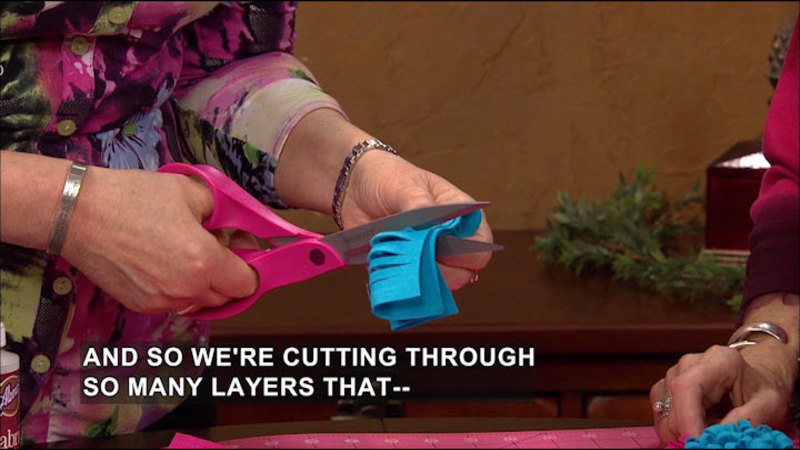 >> "CREATIVE LIVING," UTILIZING TODAY'S TECHNOLOGY WITH THE BEST OF THE PAST TO BRING YOU INNOVATIVE IDEAS AND UP-TO-DATE INFORMATION FOR CREATIVE LIFESTYLES IN TODAY'S ACTIVE WORLD, WITH YOUR HOST, SHERYL BORDEN. >> I'M SO GLAD YOU JOINED ME TODAY FOR "CREATIVE LIVING." WE'RE GOING TO LEARN HOW TO MAKE FRILLY FRINGED FLOWERS, TALK ABOUT TURKEY AS A BREAKFAST OPTION, AND DISCUSS MEDITATION. ONE OF MY GUESTS IS DEBRA QUARTERMAIN, AND SHE'S A DESIGNER AND CRAFTER. DEBRA IS GOING TO DEMONSTRATE MAKING FUN FLOWERS USING A COMBINATION OF FABRICS, WOOL FELT, AND A SPECIAL BRAND OF SCISSORS TO DO ALL THE FINE CUTTING. HER COMPANY IS DEBRA QUARTERMAIN DESIGN, AND SHE LIVES IN FREDERICTON, NEW BRUNSWICK, CANADA. ANOTHER GUEST IS JANET STAHL, AND SHE'S WITH BUTTERBALL, AND SHE'S GOING TO TALK ABOUT NEW TURKEY BREAKFAST OPTIONS. WITH ALL THE NEW TURKEY PRODUCTS ON THE MARKET, IT'S EASIER THAN EVER TO INCORPORATE IT INTO EVERY MEAL OF THE DAY. JANET IS FROM CHICAGO, ILLINOIS. AND TO BEGIN THE SHOW, WE'LL TALK TO LOUIX DOR DEMPRIEY, WHO IS A SPIRITUAL MASTER, ABOUT MEDITATION. HE'S GOING TO EXPLAIN WHAT MEDITATION REALLY IS, WHAT THE BENEFITS ARE, THE BEST TIME TO PRACTICE IT, AND HOW LONG WE SHOULD MEDITATE. LOUIX IS FROM LAGUNA HILLS, CALIFORNIA. LOUIX, THANK YOU SO MUCH FOR BEING HERE TODAY. AS A SPIRITUAL MASTER, I WOULD ASSUME THAT MEDITATION IS A BIG PART OF YOUR LIFE. IS THAT TRUE? >> YEAH. CORE. CORE. HA HA. >> AND WHEN I HEAR "MEDITATION," I THINK, I CAN'T HARDLY SIT STILL FOR 5 MINUTES. HOW DO YOU HELP PEOPLE LEARN AND WHY...WHAT IS MEDITATION? >> MEDITATION--I'LL ANSWER BOTH THOSE PARTS. MEDITATION IS, SIMPLY PUT, IT'S COMING TO A PLACE OF QUIET AND STILLNESS TO FIND YOUR CENTER AND JUST MOVING WITHIN, TO HEAR, UM...TO LISTEN, TO BE IN THE LISTENING IN COMMUNION WITH YOURSELF, WITH GOD, THE DIVINE, HOWEVER PEOPLE WANT TO SAY IT. SOME PEOPLE HAVE SPIRIT GUIDES, MASTERS. I MEAN, I LIKE TO GIVE PEOPLE THE PERMISSION AND BERTH TO HAVE WHATEVER RELATIONSHIP THEY WANT WITH THE SPIRIT WORLD. BUT REALLY IT'S ABOUT COMING TO QUIET AND CENTER SO YOU CAN JUST BE AT PEACE AND GET SOURCED. YOU GET FILLED AND SOURCED AND QUIET THAT MIND. AND HOW DO I... HOW DO I HELP PEOPLE WHO ARE FULL OF HUSTLE AND BUSTLE AND THEIR MIND NEVER SITS STILL? WELL, FIRST OF ALL, THAT'S THE EXACT TYPE OF PERSON WHO NEEDS TO MEDITATE, BECAUSE YOU'LL REALLY FEEL A HUGE DIFFERENCE IN YOUR LIFE IN TERMS OF FOCUS, CLARITY, GROUNDEDNESS, CENTEREDNESS, INNER PEACE, AND I OFTEN START PEOPLE WITH JUST SOMETHING VERY, VERY SIMPLE. THERE ARE MANY, MANY TYPES OF MEDITATIONS YOU CAN DO, AND I TEACH MANY TYPES. BUT THERE ARE VERY SIMPLE THINGS PEOPLE CAN DO, LIKE, UM... A CANDLE-FLAME MEDITATION-- JUST SIT IN A QUIET SPACE. I CALL IT CREATING YOUR SACRED SPACE. IT'S NICE TO HAVE SOME TYPE OF SACREDNESS ABOUT IT SO THAT IT MEANS SOMETHING TO YOU, RATHER THAN PEOPLE WAKE UP IN THE MORNING, AND THEY JUST LIE THERE WITH THEIR HEAD ON THE PILLOW AND SAY, "OK, I MEDITATED." IT'S GOOD TO, YOU KNOW, SIT UP, AND SOME PEOPLE EVEN HAVE A SPECIAL SHAW OR A SPECIAL SPOT OR THEIR FAVORITE TREE. SO YOU CREATE A SACRED CONTINUUM FOR IT. AND A CANDLE-FLAME MEDITATION IS ACTUALLY VERY POWERFUL. YOU JUST PUT A FLAME, A CANDLE FLAME, ABOUT 12 TO 15 INCHES IN FRONT OF YOU, RIGHT AT EYE LEVEL, AND JUST FOCUS ON THAT. AND HAVE EVERYTHING, ALL THE OTHER DISTRACTIONS SHUT OFF, YOU KNOW, PERHAPS LIGHTS, AND DON'T HAVE TV's AND RADIOS ON. AND JUST FOCUS ON THAT. AND THAT'S A VERY POWERFUL WAY TO GET CENTERED AND GET QUIET. ANOTHER THING IS A LOT OF PEOPLE IN BEGINNING MEDITATIONS WILL SAY JUST FOCUS ON YOUR BREATH WHEN YOUR MIND STARTS TO CHATTER. I USED TO CALL IT THE ROLODEX OR MY TO-DO LIST. I WOULD ALWAYS SEE MY TO-DO LIST. ONCE I'M UP 5 MINUTES, THE MIND GETS GOING, WHICH IS ANOTHER REASON WHY I ALWAYS TELL PEOPLE THE BEST TIME TO MEDITATE IS THE MOMENT YOU WAKE UP. >> OH, IT IS? >> AND IF YOU'RE REALLY-- IF YOU'RE ONE OF THOSE PEOPLE WHO DOESN'T WAKE UP SNAPPY AND YOU'RE REALLY DRAGGY, GET UP AND GO TO THE BATHROOM AND PUT ICE-COLD WATER ON YOUR FACE AND MAYBE ON YOUR HANDS AND RUB IT ON YOUR CHEST AND ARMS, AND YOU'LL BE SNAPPY. >> UH-HUH. >> SO YOU WANT TO HAVE SOME ALERTNESS, BUT DO IT AS CLOSE TO WAKING UP AS YOU CAN AND AS EARLY IN THE DAY AS YOU CAN, BECAUSE ALSO-- >> I GUESS YOUR WHOLE DAY IS BETTER THEN. IS THAT THE RATIONALE? >> WELL, YOU THINK ABOUT, LIKE, GOING OUT INTO THE WORLD IS LIKE GOING OUT INTO BATTLE, YOU KNOW, AND DOES THE SOLDIER PUT ON HIS ARMOR AND GET ALL DRESSED UP WHEN HE COMES HOME FROM BATTLE OR BEFORE HE GOES OUT? >> THEN YOU'RE TIRED. >> YEAH. SO-- WELL, YOU'RE ALSO DEAD. YOU'RE ALL STABBED AND SHOT. I MEAN, MEDITATION SOURCES YOU AND PROTECTS YOU. SO IT'S LIKE PUTTING YOUR ARMOR ON TO GO OUT INTO THE WORLD. SO THINK OF IT LIKE A SOLDIER GOING OUT INTO BATTLE. YOU GET SOURCED BEFORE YOU GO. YOU EAT, YOU PUT ON YOUR ARMOR, AND YOU GO OUT. SO WITH MEDITATION, YOU GET UP, YOU QUIET THE MIND, YOU GET SOURCED, YOU GET YOUR GUIDANCE AND INSPIRATION FOR THE DAY, AND THEN YOU GO OUT AND YOU FEEL SO MUCH BETTER. >> WELL, HOW LONG DO YOU MEDITATE? >> UM...AGAIN, THAT VARIES. >> SEE, I'D HAVE TO SET THE CLOCK SO I'D KNOW WHEN... HA HA HA! AND THAT'S NOT WHAT YOU WANT TO DO. >> A SIMPLE MEDITATION, YOU KNOW, YOU CAN... YOU CAN GET ENOUGH TO BE SOURCED AND FED IN 20 TO 30 MINUTES. A LOT OF PEOPLE DO ABOUT AN HOUR. EXCEPT FOR REALLY EXTREME CONDITIONS, LIKE CERTAIN TYPES OF MONKS OR PEOPLE IN VERY DEVOUT RELIGIOUS PRACTICES WHO MIGHT GO 4 AND 6 HOURS A DAY, BUT FOR THE AVERAGE PERSON WHO HAS A BUSY LIFE AND FAMILY AND THIS AND THAT, 20, 30 MINUTES IS GOOD. I USUALLY SAY 30. AND THEN FOR PEOPLE WHO HAVE BECOME MORE DEVELOPED WITH IT, AN HOUR-LONG MEDITATION PROGRAM IS ROCK-SOLID. ROCK-SOLID. I MEAN, THINK OF HOW MANY PEOPLE-- >> SO WOULD YOU SAY MAYBE SOMEBODY LIKE ME, START OUT WITH... AND JUST HAVE A GOAL OF 5 MINUTES? CAN YOU WORK INTO IT? >> YOU CAN, IF THAT'S WHAT YOU WANT. YOU CAN DO 5 MINUTES. AND ONE OF THE THINGS THAT'S REALLY POWERFUL FOR MEDITATION THAT ALSO QUIETS THE MIND IS CREATING A SACRED SPACE, HAVING QUIET AND STILLNESS, GOOD POSTURE, AND CHANGE YOUR BREATHING PATTERN, BECAUSE THE BREATH IS THE MOST POWERFUL TOOL WE HAVE, SPIRITUAL TOOL, AND... >> WHAT DO YOU MEAN? START BREATHING DEEPER? >> SLOWLY AND DEEPLY, AND BRING--EXCUSE ME-- MOST PEOPLE TAKE LITTLE GASPS OF AIR INTO THEIR MOUTH AND THE BACK OF THEIR THROAT, AND THEY LIFT THEIR SHOULDERS AND TIGHTEN THEIR CHEST. SO A DEEP PRANIC BREATH-- PRANA IS LIKE CHI. IT'S THE LIFE FORCE ENERGY. PRANA IS JUST THE SANSKRIT WORD FOR IT. IT'S THE SAME AS CHI. BUT TO TAKE IN PRANA, YOU JUST RELAX THE MOUTH, RELAX THE JAW, JUST LET IT HANG, AND RELAX THE SHOULDERS AND CHEST, AND TAKE THE BREATH DEEP DOWN IN THE ABDOMEN. AND I ALWAYS TELL PEOPLE TO IMAGINE A BALLOON INSIDE YOUR BELLY. LIKE, IF YOUR WHOLE ABDOMEN WERE EMPTY, PICTURE A BALLOON INFLATING ALL THE WAY AROUND, TOP, BOTTOM, AND ALL THE WAY AROUND, AND YOU'LL FEEL THE BREATH GO LIKE THAT. AND SO BREATHE IN TO ABOUT THE COUNT OF 5 OR 6. HOLD FOR ONE BEAT. EXHALE TO 5 OR 6. HOLD FOR ONE BEAT. AND THAT'S A DEEP PRANIC BREATH. AND SOME PEOPLE WILL FEEL BUZZING IN THEIR NOSE, TINGLING IN THEIR FINGERS, A LITTLE LIGHTHEADEDNESS BECAUSE THEY'RE NOT USED TO TAKING IN THAT MUCH ENERGY, THAT MUCH CURRENT INTO THEIR BODIES, BUT THAT... THE BREATH IS WHAT MOVES US PAST...BEYOND THE VEIL THE SEPARATES THE WORLD OF SPIRIT FROM THE WORLD OF MATTER, AND THAT'S WHAT MAKES IT VERY EASY TO CONNECT THE SPIRIT REALM. >> IT LOOKS LIKE YOU'D JUST BE CONCENTRATING ON BREATHING. >> THAT'S THE BASIS OF MEDITATION, IS TO CHANGE THAT BREATH, TO GET QUIET, BRING YOUR FOCUS WITHIN, AND FOCUS ON YOUR BREATH. THAT'S THE BEGINNING OF IT. THAT'S THE FOUNDATION OF IT. AND THEN FROM THERE, THERE ARE PRACTICES YOU CAN DO. THERE ARE MANTRAS, THERE ARE THINGS YOU CAN FOCUS ON. AGAIN, WE STARTED TALKING ABOUT THE CHATTER. A LOT OF PEOPLE SAY JUST FOCUS ON YOUR BREATH. INHALE, EXHALE. INHALATION, EXHALATION. BRING YOUR MIND, YOUR ATTENTION TO YOUR BREATH, AND THAT QUIETS THE CHATTER. I GIVE PEOPLE-- I CREATED A MANTRA, UM... TO SAY...TO HELP QUIET THE MIND AS WELL. AND I SAY INHALE. SILENTLY TO YOURSELF SAY, "I AM SO BLESSED" EVERY TIME YOU INHALE. AND THE REASON I SAY THAT IS BECAUSE TOMORROW IS PROMISED TO NO ONE. YOUR NEXT BREATH IS NOT EVEN PROMISED TO YOU. WE NEVER KNOW WHEN OUR NEXT BREATH IS OUR LAST, NO MATTER HOW YOUNG OR OLD OR HEALTHY YOU ARE. SO EVERY TIME, YOU KNOW, WE'RE BEING INHALED, WE'RE BEING BREATHED BY THE CREATOR, I'M BEING BLESSED. MY NEXT BREATH IS A BLESSING FROM THE CREATOR THAT I GET TO BE ALIVE ONE MORE BREATH, ONE MORE MOMENT. AND THEN YOU WOULD VERY NATURALLY EXHALE GRATEFULNESS. SO YOU EXHALE "I AM SO GRATEFUL." AND I CALL THAT THE DIVINE BREATH. INHALE--"I AM SO BLESSED." EXHALE--"I AM SO GRATEFUL." AND YOU FOCUS ON THAT SILENTLY WHILE YOU'RE DOING THE SLOW, DEEP BREATH, AND YOU'LL GET VERY QUIET, AND YOU'LL GET CENTERED, AND YOU'LL JUST REALLY GET FILLED UP. AND THEN THE NEXT PHASE, WHEN PEOPLE WANT TO DEVELOP INTO IT... IF YOU HAVE DIFFERENT-- PEOPLE HAVE DIFFERENT GURUS OR MASTERS OR TEACHERS. THEY MAY GIVE YOU A SPECIFIC PROGRAM FOR YOU OR FOR ALL THEIR STUDENTS. BUT SOMETHING GENERAL THAT EVERYONE CAN PRACTICE IS ONCE YOU'VE GONE QUIET AND YOU'VE DONE THE BREATHING FOR... IF YOU'RE DOING THIS DEEP, QUIET BREATH FOR, SAY, A GOOD 5 MINUTES, YOU'LL FEEL A HUGE DIFFERENCE IN EVEN JUST 5 MINUTES. AND THEN AT SOME POINT WHEN YOU'RE REALLY RELAXED AND QUIET, THEN YOU CAN JUST ASK QUIETLY WITHIN, YOU KNOW, FOR GUIDANCE OR INSPIRATION FOR THAT DAY. YOU KNOW, LIKE, WHAT... AND AGAIN, PEOPLE CAN COUCH THAT PHRASE, WHAT WORKS FOR THEM, BUT FOR MYSELF, IT'S "HOW MAY I SERVE YOU, LORD? "WHAT WOULD YOU HAVE ME-- "HOW MAY I SERVE YOUR WILL TODAY?" AND THEN YOU JUST LISTEN AND RECEIVE THE GUIDANCE, AND THEN YOU GO DO THAT. >> WOW. IS MEDITATION ALWAYS ALONE? >> UH...NOT NECESSARILY. FOR PEOPLE, YOU KNOW, IN THEIR DAY-TO-DAY LIVES, IT USUALLY IS ALONE, BUT SOMETIMES COUPLES OR PARTNERS WILL MEDITATE TOGETHER. AND SOME PREFER TO BE ALONE, EVEN IF THEY ARE MARRIED OR PARTNERED. BUT THEN AGAIN, IF YOU GO TO RETREATS OR GROUP EVENTS, THERE ARE GROUP MEDITATIONS THAT ARE REALLY, REALLY POWERFUL, TOO. AND I DO LEAD THOSE AT MY EVENTS. I LEAD GROUP MEDITATIONS, 30, 40, 50 PEOPLE. >> DO YOU FIND--HAVE YOU EVER FOUND ANYONE THAT JUST SIMPLY COULDN'T... >> UM... >> LET GO? >> YEAH. I WAS LIKE THAT IN THE BEGINNING. MY MIND WAS LIKE A LOCOMOTIVE. IT WOULD JUST--THE ROLODEX WOULD GO AND GO AND GO, AND, UM...AND MY MASTER TEACHERS WOULD GIVE ME TOOL AFTER TOOL AFTER TOOL TO KEEP QUIETING MY MIND. ONE WAS FOCUS ON THE BREATH. ANOTHER ONE WAS, UM... THE ONE THAT FINALLY CRACKED THE CODE FOR ME... THE MASTER SENT ME OUT OF THE ROOM-- I WAS IN A ROOM WITH 30 PEOPLE, AND I COULD NOT QUIET MY MIND, AND I WAS GETTING REALLY FRUSTRATED. AND THE MASTER SAID, "GO IN THE OTHER ROOM "BY YOURSELF AND START "THE PROCESS, CLOSE YOUR EYES, "KEEP YOUR BACK STRAIGHT, START YOUR DEEP BREATHING." >> SO DO YOU SIT, ALWAYS SIT? >> UM...I NORMALLY--I MOSTLY DO. >> SOMETIMES PEOPLE ARE ON THE FLOOR WITH THEIR LEGS CROSSED. >> YEAH, LEGS CROSSED IS NICE, AND HANDS OPEN, PALMS OPEN ON YOUR LEGS IS NICE. UM, I USUALLY RECOMMEND SOME FORM OF SEATED POSTURE. IF YOU LIE DOWN, PEOPLE WILL TEND TO FALL ASLEEP. >> OH, YEAH. >> SO I RECOMMEND IT. AND FOR PEOPLE WHO CAN'T SIT ON THE FLOOR OR CAN'T SIT IN THE LOTUS POSITION, THEY COULD SIT IN A CHAIR OR ON A PILLOW OR WITH THEIR BACK AGAINST A WALL IF IT... SOME PEOPLE HAVE A LOT OF BACK PROBLEMS. YOU HAVE TO HONOR THAT. IF YOU'RE TORTURING YOURSELF TO MEDITATE, YOU'RE NOT MEDITATING, BECAUSE NOW YOU'RE FOCUSING ON, "I'M IN SO MUCH PAIN." YOU'RE NOT MEDITATING. SO IF YOU NEED TO PUT YOUR BACK AGAINST SOMETHING, DO IT. BUT THE THING IS, HAVING YOUR CHAKRAS ALIGNED STRAIGHT HELPS THE ENERGY MOVE THROUGH THE SUSHUMNA, THE COLUMN THAT RUNS THROUGH YOUR SPINAL CORD WHERE THE KUNDALINI RUNS. THE LIFE FORCE ENERGY RUNS UP THROUGH THE SPINAL CORD. >> SO WHEN YOU WERE SENT TO THE OTHER ROOM, DID YOU MEDITATE? >> WELL, THEY GAVE ME A TOOL TO FINALLY BREAK THIS THING WITH MY MIND--AND THIS WAS AFTER MANY, MANY MONTHS INTO MY TRAINING-- AND WHAT THE MASTER FINALLY SAID TO ME WAS--[AHEM]-- "GO IN THE OTHER ROOM "AND START YOUR MEDITATION "PROCESS, AND AS SOON AS "YOUR MIND STARTS TO CHATTER, "TAKE OUT A PAD OF PAPER "AND WRITE EVERYTHING YOUR MIND IS SAYING." AND...AND, UM...[AHEM] AS SOON AS I DID THAT, IT STOPPED IMMEDIATELY, BECAUSE THE MIND WOULD JUST GO QUIET, WOULD JUST SHUT UP. AND THEN I WOULD JUST BE QUIET, AND I'D BE MEDITATING, AND THEN IT WOULD START TO CHATTER, AND I'D WRITE EVERY WORD DOWN, AND IT WOULD STOP. AND WITHIN A WEEK, I WAS CURED. IT WAS AMAZING. >> THAT WILL. AND I'VE FOUND WHEN I'M WORKING ON SOMETHING, I CAN'T SLEEP MANY TIMES BECAUSE I'LL WAKE UP AND THINK ABOUT EVERYTHING I NEED TO DO, AND I DO THE SAME THING--I KEEP A LITTLE NOTEBOOK BY THE BED, AND IF I'LL JUST WRITE IT DOWN, EVEN IF IT'S NOT READABLE. IF I JUST WRITE IT DOWN, IT GETS IT OUT OF MY MIND. SO I CAN SEE HOW THAT WOULD WORK WITH MEDITATION. VERY INTERESTING. >> YEAH. IT DOES. IT'S VERY POWERFUL. AND THEN, AS I SAID, THERE ARE OTHER PROGRAMS AND PRACTICES THAT PEOPLE CAN DO THAT GET A LITTLE MORE ELABORATE DEPENDING ON WHAT THEY'RE STUDYING OR WHAT THEIR TRAINING OR WHAT THEIR PARTICULAR DOGMA OR TRADITION IS, AND... YOU KNOW, AND I CAN GEAR THOSE TO PEOPLE, TOO. BUT AGAIN, I LIKE TO START WITH SOMETHING GENERAL AND SIMPLE THAT CAN HELP EVERYONE GET QUIET, GET CENTERED, AND FEEL A LITTLE MORE PEACE IN THEIR LIFE AND MORE GROUNDED AND SOURCED AS THEY GO THROUGH THEIR DAY RATHER THAN THAT RUNNING LIKE A CHICKEN WITH ITS HEAD CUT OFF OR SCRAMBLING OR FEELING STRESSED. MEDITATION WILL REDUCE PEOPLE'S STRESS, AND IT HELPS YOU BE ABLE TO JUST MOVE MORE METHODICALLY AND PEACEFULLY THROUGH YOUR WORLD. >> JUST HEARING YOU, I ALREADY FEEL MORE RELAXED THAN WHEN WE STARTED. HA HA! THANK YOU VERY MUCH FOR BEING WITH US TODAY. >> THANK YOU SO MUCH. >> JANET, THANK YOU SO MUCH FOR BEING HERE TODAY, AND I KNOW YOUR BUSIEST TIME WITH YOUR COMPANY HAS TO BE THANKSGIVING AND CHRISTMAS, BUT THOSE OF US WHO ENJOY TURKEY PRODUCTS KNOW THAT IT'S GOOD YEAR-ROUND. >> ABSOLUTELY. YOU KNOW, A LOT OF PEOPLE DON'T THINK ABOUT TURKEY FOR BREAKFAST. AND SO TODAY I'VE BROUGHT A LOT OF PRODUCTS WITH WHERE YOU CAN ENJOY TURKEY FOR BREAKFAST. YOU KNOW, WE ARE RUSHED PEOPLE. YOU KNOW, WE'RE TRYING TO GET OUR KIDS OUT THE DOOR, WE'RE TRYING TO GET OURSELVES OUT THE DOOR, AND WE HAVE NO TIME FOR BREAKFAST. AND BREAKFAST IS REALLY THE MOST IMPORTANT MEAL OF THE DAY. YOU KNOW, SO BUTTERBALL HAS COME UP WITH SOME GREAT PRODUCTS TO REALLY PUT SIMPLICITY BACK INTO BREAKFAST. >> WELL, AND I KNOW THE FIRST TIME I STARTED COOKING WITH THE TURKEY BACON, I REALLY HAVE TO ADMIT, I BURNED IT TO A CRISP BECAUSE IT COOKS SO QUICKLY. >> I KNOW. I KNOW. >> IT'S WONDERFUL. SO IF WE'RE ON THE GO, IT'S A GREAT PRODUCT TO USE. >> OH, ABSOLUTELY. AND THEN WE HAVE OUR FULLY COOKED BACON ALSO, WHERE YOU CAN JUST OPEN UP THE PACKAGE AND GO, AND IT'S WONDERFUL, YOU KNOW. SO REAL EASY. >> YOU COULD POP IT IN THE MICROWAVE JUST TO HEAT IT A LITTLE BIT? >> IF YOU WANTED TO HEAT IT A LITTLE BIT, ABSOLUTELY. >> BUT COLD BACON IS NOT BAD. >> COLD BACON'S NOT BAD. I LOVE MY BACON. BUT I'M ALSO-- I'M A SAUSAGE GIRL AT HEART. SO I LOVE SAUSAGE. AND WE OFFER SOME GREAT SAUSAGE PRODUCTS, AND THEY'RE FULLY COOKED, BOTH LINKS AND PATTIES, AND EASY TO USE. I MEAN, I MAKE AN OMELET IN THE MORNING. I TOSS IN THOSE SAUSAGES. >> THEY'RE ALREADY COOKED, SO YOU DON'T HAVE TO WAIT. >> EXACTLY. READY TO GO. SO REAL SIMPLE. >> WELL, THAT SOUNDS GOOD. AND YOU KNOW, AND SINCE WE CAN COOK EGGS IN THE MICROWAVE AND WHIP THOSE UP IN NO TIME, AND IF THE SAUSAGE OR BACON IS ALREADY COOKED, HOW FAST COULD THAT BE? >> RIGHT. RIGHT. EXACTLY. SECONDS. MINUTES. >> NOW, WHAT IS THIS DISH? >> WELL, THIS IS WONDERFUL. YOU KNOW, THIS IS A NEW TAKE ON AN OMELET. YOU KNOW, SO REAL, REAL SIMPLE. AND IT'S OUR OMEGAS WITH TURKEY BACON. SO ALL IT HAS IN IT IS SOME EGGS. IT HAS THE, YOU KNOW, READY-TO-GO BACON THAT YOU JUST CRUMBLE IN IT. IT'S GOT SOME CHILI POWDER, YOU KNOW, SOME PEPPERS. AND IT'S ANOTHER DISH-- THIS IS WHAT'S GREAT ABOUT THIS ONE--YOU CAN MAKE IT THE NIGHT BEFORE. YOU KNOW, MAKE IT UP. YOU KNOW, SPOON OUT A LITTLE ON A PLATE. YOU KNOW, HEAT IT IN THE MICROWAVE. PUT A LITTLE SALSA ON IT, AND YOU'RE GOOD TO GO. YOU'VE HAD, YOU KNOW, A NICE HEALTHY START TO YOUR DAY. THE REST OF YOUR DAY MAY FALL APART, BUT YOU HAD A GOOD BREAKFAST. >> AND IF YOU START YOUR DAY WITH BREAKFAST, THE WHOLE DAY WILL BE BETTER. >> ABSOLUTELY. >> OK. AND THEN WE HAVE TORTILLAS THAT COULD BE SERVED ALONG WITH IT. >> THIS IS SO FUN-- BREAKFAST FOR DINNER. AND ALL I HAVE TO SAY IS "BREAKFAST FOR DINNER" IN MY HOUSE, AND MY KIDS THINK WE'RE GOING TO DISNEYLAND. I MEAN, THIS IS HUGE. AND THIS IS SUCH A FUN TAKE ON A DINNER, AND WHAT I DO IS YOU WARM UP THE TORTILLAS, YOU MAKE YOUR EGGS, YOU WARM UP YOUR FULLY COOKED SAUSAGES. I PUT OUT SOME CHEESE. I PUT OUT SOME GUACAMOLE, SOME SALSA, AND WE DO IT ALL IN A LINE, KIND OF IN A BAR. >> A LITTLE BUFFET. >> YEAH, AND MY KIDS COME THROUGH, AND THEY TAKE, YOU KNOW, THE TORTILLA, AND THEY PUT EVERYTHING THAT THEY WANT IN IT, AND THEY ROLL IT, AND THEY GO. >> SO THEY CAN'T SAY, "OH, IT HAD SOMETHING IN IT THAT I DON'T LIKE." >> EXACTLY. THEY GOT TO PICK IT ALL. >> WELL, YOU KNOW, I WAS EVEN THINKING ABOUT, YOU KNOW, IF WE HAD A LITTLE BIT OF THIS LEFT OVER, WOULDN'T THAT BE GOOD IN THE WRAP? >> ABSOLUTELY. ABSOLUTELY. YEAH. YOU KNOW, THERE'S SO MANY INTERESTING TWISTS THAT YOU CAN DO WITH EGGS AND BACON AND SAUSAGES AND, YOU KNOW, REALLY HAVE A GOOD, HEALTHY START TO YOUR DAY. >> WELL, I THINK IT'S AMAZING, THE PRODUCTS THAT HAVE COME OUT. GO BACK TO TV DINNERS YEARS AGO. THAT WAS SUCH A DREADFUL THING TO EAT. BUT NOW THERE HAVE BEEN SO MANY IMPROVEMENTS IN THE FAST-FOOD BUSINESS, JUST LIKE HAVING THE PRE-COOKED OR THE FULLY COOKED TURKEY AND SAUSAGE. >> AND IT'S HEALTHY, YOU KNOW, AND THAT'S THE KEY. YOU KNOW, THOSE TV DINNERS THAT WE WERE EATING YEARS AGO, NOT SO HEALTHY, YOU KNOW. THIS IS SUCH A GREAT, HEALTHY THING. AND ALL THESE RECIPES THAT WE'RE SHOWING YOU, YOU CAN FIND THEM OUT ON OUR SITE AT butterball.com. SO, YOU KNOW, SO TONS OF GREAT IDEAS. >> WELL, THANK YOU SO MUCH, JANET. >> WELL, THANK YOU. >> DEBRA, THANK YOU SO MUCH FOR BEING WITH US TODAY. AND I'VE WORKED WITH FELT FOR YEARS AND YEARS AND YEARS, BUT EVERY TIME, THERE SORT OF SEEMS A RESURGENCE OF CRAFTS INVOLVING FELT, DO YOU THINK? >> YES, AND OF COURSE NOW THERE ARE SO MANY WONDERFUL COLORS THAT IT COMES IN. AND NATIONAL NONWOVEN HAS THIS BEAUTIFUL SELECTION OF THESE SUCH BRIGHT COLORS. AND OF COURSE, WE ALREADY KNOW-- >> THAT'S WHAT WE LIKE. >> YES. WE LOVE PINK, BOTH OF US. SO THIS COLLECTION IS GORGEOUS. IT'S CALLED ESCAPE, AND IT HAS SOME BEAUTIFUL COLORS IN IT. IT COMES IN WOOL AND ALSO A... EXOTIC FELT, WHICH IS 50% BAMBOO, WHICH IS VERY SOFT AND VERY EASY TO WORK WITH, AND OF COURSE, THE TRADITIONAL WOOL FELT. SO WITH THESE BRIGHT COLORS, I THOUGHT, WELL, WE SHOULD BE MAKING, LIKE, GARDEN FLOWERS. SO THIS IS WHAT I'M GOING TO SHOW YOU-- A COMBINATION OF FABRIC AND FELT FLOWERS. >> THIS IS A PURSE THAT WAS A SWEATER. >> YEAH. AND THEN I JUST EMBELLISHED IT, A LITTLE NEEDLE FELTING. BUT I'VE ADORNED IT REALLY WITH THESE REALLY BRIGHT FUN FELT FLOWERS. >> AND ON BLACK, THE COLORED FELT JUST REALLY DOES POP. >> AND THEN I HAVE, OF COURSE-- MY FAVORITE COLOR AGAIN-- THESE BEAUTIFUL SCISSORS, WHICH ARE SO SHARP, AND THEY'RE TITANIUM STEEL FROM WESTCOTT. >> AND THEY'LL CUT ANYTHING. >> THEY CUT THROUGH SEVERAL LAYERS, SO IT MAKES THE FLOWER-MAKING VERY FAST. >> OK. >> SO I'M GOING TO START ACTUALLY, AND I'LL SHOW YOU-- >> WE'RE GONNA SHOW SEVERAL FLOWERS, KIND OF LIKE WHAT WE HAVE IN THIS VASE. >> AND I'LL SHOW YOU THE ONES THAT ARE ON THE PURSE. WE HAVE MUMS, AND I GUESS YOU CALL THEM GERBER DAISIES. AND THIS IS ONE WHERE I PUT THE COMBINATION CUTS TOGETHER. SO WHAT I REALLY LIKE IS THAT YOU CAN TAKE... FOR THE CENTER, I TAKE, LIKE, A WIDE PIECE LIKE THIS, AND YOU FOLD IT IN HALF. >> IS THAT ABOUT 3... >> IT'S ABOUT...YEAH, 4 INCHES. AND THEN IT'S ABOUT 9 INCHES OR 12 INCHES LONG. AND YOU CAN FOLD IT SEVERAL TIMES. >> BECAUSE THE SCISSORS WILL CUT THROUGH IT? >> YES. YES, THEY WILL. AND THERE'S DIFFERENT SIZES. THEY HAVE THIS EXTREME EDGE, WHICH I LOVE, BECAUSE YOU CAN GO THROUGH SO MANY LAYERS, AND IT DOESN'T HURT YOUR HAND. NOW, THE ONLY THING YOU HAVE TO BE CAREFUL OF WHEN YOU'RE DOING THIS IS YOU'RE GOING TO CUT FROM THE FOLD IN. AND YOU DON'T WANT TO CUT ALL THE WAY THROUGH, BECAUSE OTHERWISE YOU'LL... SO YOU'RE JUST GONNA DO RIGHT ALONG LIKE THIS. AND SO WE'RE CUTTING THROUGH SO MANY LAYERS THAT-- >> WHAT A TIMESAVER, THOUGH. >> WELL, EXACTLY. BECAUSE OTHERWISE IT'S GONNA TAKE YOU A LITTLE WHILE. SO THEN YOU JUST... RIGHT LIKE THAT. AND SOMETIMES I HAVE A LITTLE WIDER ONE IN THE MIDDLE. SO I JUST GO LIKE THIS. AND THIS IS ALL YOU HAVE TO DO. NOW YOU HAVE THIS BEAUTIFUL STRIP. AND YOU START ROLLING AND GLUING. >> I THOUGHT MAYBE WE'D HAVE TO SEW IT, BUT WE DON'T. >> NO, YOU CAN JUST ROLL AND GLUE, AND LOOK. ALL OF A SUDDEN, YOU HAVE THIS-- >> SO EVERY SO OFTEN, JUST PUT A LITTLE BIT OF FABRIC GLUE? >> YES, IT WORKS PERFECTLY. >> OH, HOW EASY IS THAT. >> AND THAT'S ALL. AND SEE WHAT A CUTE LITTLE-- IT JUST ROLLS RIGHT UP. AND THEN WHAT I'VE DONE WITH THE PINK IS I'VE TAKEN JUST A SINGLE STRIP AND FOLDED IT AGAIN SEVERAL TIMES LIKE THIS. EVERYTHING STICKS TO FELT. >> BUT YOU CUT FROM THE... >> THIS ONE, YOU JUST CUT STRAIGHT. >> THE OPPOSITE END. >> YES. EXACTLY. SO THEN YOU GET JUST A FRINGE. AND THEN YOU CAN EITHER-- LIKE ON HERE, I USED THEM SEPARATE, OR YOU CAN COMBINE THE FRINGE IN THE CENTER AND THE LOOP ON THE OUTSIDE. >> JUST THE REVERSE. >> AND THEN YOU JUST START. AND IF YOU WANT TO MAKE A BIGGER FLOWER, JUST MAKE YOUR FELT STRIPS WIDER. >> OH, SURE. AND AGAIN, YOU'RE JUST WRAPPING. GLUE PERIODICALLY. >> SO WHAT I DID WITH THESE REALLY FUN FRINGED FLOWERS IS YOU CAN USE THIS AS YOUR CENTER. I LOVE FELT. IT STICKS TO ITSELF. >> THAT'S NICE. >> YEAH. AND YOU TAKE THE FABRIC STRIPS. >> NOW, THIS IS JUST COTTON FABRIC? >> YES, COTTON FABRIC. AND THE NICE THING, TOO, IS YOU CAN JUST FOLD IT, YOU KNOW, SO MANY WAYS, AND AGAIN WITH THE SCISSORS IS JUST START, YOU KNOW, SNIPPING THROUGH LIKE THAT, AND THAT'S FOR-- >> THIS IS THE LOOPED-- >> AND THIS IS THE FRINGED ONE. SO WE CAN DO THE FRINGED ONE. YES, AND YOU JUST-- ACTUALLY, YOU CAN DO TWO COLORS TOGETHER. >> WHY, SURE. >> YEAH. AND THEN ALL YOU'RE GOING TO DO, YOU HAVE YOUR FRINGE. >> AFTER YOU CUT IT. >> YEAH. AND SO YOU UNFOLD YOUR FABRIC, AND YOU HAVE THIS LONG STRIP. >> THAT'S WHEN YOU COMBINED THE TWO. I SEE. >> AND SO I'VE DONE MY LOOP CENTER, AND THEN I JUST START WRAPPING THIS AROUND. AND AGAIN, YOU JUST PUT A TOUCH OF GLUE EVERY SO OFTEN. >> A TOUCH OF GLUE AS YOU GO. THIS IS WIRE, GARDEN WIRE. AND YOU CAN DO THESE ACTUALLY IN SO MANY DIFFERENT COLORS AND SO MANY DIFFERENT FABRICS. AND AS YOU ROLL, YOU GET THIS FUNKY KIND OF FRINGED FLOWER. AND THEN IT LOOKS LIKE THIS. >> I LOVE THE COLORS. >> YEAH, THE COLORS ARE REALLY BRIGHT. AND THEN YOU CAN REVERSE IT AND DO THE FRINGE CENTER AND DO A LOOPY OUTSIDE. AND YOU CAN FOLD YOUR FABRIC IN SO MANY LAYERS. AND YOU GET THE SAME LOOK. AND YOU MAKE THE FLOWER EXACTLY THE SAME WAY. >> UH-HUH. >> NOW, THIS OTHER FUN FLOWER I HAVE HERE, THE CIRCLE ONE, THAT'S JUST SO EASY. >> IT IS AFTER YOU SHOW US. >> WELL...SO I'VE TAKEN JUST CIRCLES. AND SO THE OUTER LAYER IS 5 INCH, AND THIS IS 4 LAYERS OF FABRIC. SO THAT MAKES KIND OF THIS FUN FRINGE. AND THEN I LAYER A 4-INCH PINK FELT, A 3-INCH FABRIC, ANOTHER 2-INCH FABRIC-- THIS ONE IS FOR THE BACK. >> OH. UH-HUH. >> AND SO YOU CAN USE A LOT OF FABRIC SCRAPS. >> THAT'S TRUE, TOO. UH-HUH. >> NOW, THIS ISN'T AS MANY LAYERS, SO I LOVE THESE LITTLE SCISSORS. SO WHAT THEN YOU'RE GOING TO DO IS JUST FRINGE THE SAME WAY. GO ALL THE WAY AROUND. >> YOU'RE GOING UP THROUGH THE PINK. >> YES, JUST A LITTLE. SO WHEN I FIRST STARTED DOING THEM, I SEWED AROUND FIRST, BUT THEN I FOUND IT ACTUALLY IS EASIER TO FRINGE, BECAUSE I CUT THROUGH THE STITCHES A COUPLE OF TIMES. >> OK. >> I WILL ADMIT TO MAKING MISTAKES. THAT'S HOW I FIGURE OUT IT'S THE BEST WAY TO DO IT. SO THEN THIS IS HOW IT LOOKS. >> THESE PIECES, THEN, ARE GLUED? >> NO. A LITTLE STITCH. >> OH, YOU DID SEW. I SEE. >> AND WHEN YOU SEW IT, IT STARTS TO TAKE-- IT JUST AUTOMATICALLY STARTS TO SHAPE. >> UH-HUH. >> AND THEN YOU JUST TAKE... >> SOME MORE OF THE WIRE. >> WIRE. AND YOU GLUE IT RIGHT ON THE BACK. >> OH, AND THAT'S WHAT THAT LITTLE CIRCLE WAS. >> AND YOU'RE GONNA GLUE A LITTLE CIRCLE OF FELT RIGHT ON HERE, RIGHT THERE. >> THAT JUST COVERS IT UP. >> EXACTLY. AND THEN THERE'S ALL KINDS OF FUN BUTTONS, AND YOU CAN ADD DIFFERENT COLORS, AND YOU CAN DO A WHOLE BOUQUET. AND THEN I JUST KIND OF WENT CRAZY WITH THE VASE AND ADDED BUTTONS AND RICKRACK. SO, I AM A SEWER, SO I LOVE SEWING. WELL, IT'S A GREAT WAY-- THIS IS A GREAT WAY TO USE UP SCRAPS. AND YOU COULD DO SOMETHING ALSO. I DID REALLY FUN COLORS HERE. BUT SAY BLACK AND WHITE. VERY STRIKING. USE BLACK AND WHITE BUTTONS, BEAUTIFUL BLACK AND WHITE FABRICS. IF YOU VARY YOUR FABRICS AND YOUR COLORS, YOU'LL GET SO MANY DIFFERENT LOOKS. SO THIS IS A FUN SPRING KIND OF LOOK, AND AGAINST THE BLACK, IT REALLY POPS. >> IT REALLY DOES. >> SO THAT'S A WAY TO MAKE SEVERAL DIFFERENT KINDS OF FLOWERS JUST USING, YOU KNOW, A COUPLE OF TECHNIQUES. >> UH-HUH. AND THEN BEING ABLE TO CUT THROUGH THESE REALLY MAKES IT A LOT FASTER. >> YES, IT DOES, ESPECIALLY IF YOU'RE CUTTING 45 INCHES OF FABRIC AND YOU CAN PUT IT UP TO 6 INCHES AND GO ALL THE WAY THROUGH. IT CERTAINLY IS MUCH QUICKER, AND IT'S JUST FUN. YOU CAN DO A WHOLE BOUQUET. >> WELL, IT LOOKS LIKE IT WOULD BE. THIS WILL BE FUN TO TRY. THANK YOU VERY MUCH. I APPRECIATE YOUR INSTRUCTIONS ON DOING THIS. >> WELL, THANK YOU FOR HAVING ME, SHERYL. IT'S BEEN A PLEASURE. >> I HOPE YOU ENJOYED THE SHOW TODAY. NEXT TIME ON "CREATIVE LIVING," WE'LL LEARN HOW TO STENCIL DESIGNS ON COOKIES AND TALK ABOUT WAYS TO INSPIRE YOUR HOME WITH PATTERN, COLOR, AND TEXTURE. ONE OF MY NEXT GUESTS IS A PASTRY CHEF AND AUTHOR AND A FOOD STYLIST, AND SHE'S GOING TO DEMONSTRATE HOW TO STENCIL ON COOKIES, WHICH IS NOT A DIFFICULT TECHNIQUE. IN FACT, SHE SAYS IF YOU CAN STENCIL PAINT ON A WALL, THEN YOU CAN STENCIL ICING ON A COOKIE. ANOTHER GUEST IS AN INTERIOR DESIGNER, AND SHE'S GOING TO EXPLAIN HOW TO INSPIRE YOUR HOME WITH PATTERN, COLOR, AND TEXTURE. SHE SUGGESTS THAT EACH ROOM SHOULD HAVE AN UNDERLYING THEME OR CONCEPT THAT TIES THE ROOM TOGETHER, AND SHE'LL SHOW EXAMPLES OF HOW TO DO THIS. SHE'LL ALSO DISCUSS THE VARIOUS TOOLS YOU NEED. BOTH OF THESE TOPICS WILL BE FEATURED ON THE NEXT "CREATIVE LIVING" SHOW. IF YOU EVER HAVE COMMENTS OR SUGGESTIONS OR IDEAS FOR SHOWS, YOU CAN E-MAIL ME AT sheryl.borden@enmu.edu. I'D ALSO LIKE TO ASK YOU TO BECOME A FAN OF "CREATIVE LIVING" ON FACEBOOK. JUST GO TO facebook.com AND IN THE SEARCH WINDOW, TYPE IN "CREATIVE LIVING WITH SHERYL BORDEN." THANKS SO MUCH. I HOPE YOU'LL PLAN TO JOIN ME AGAIN NEXT TIME FOR "CREATIVE LIVING." >> WE ARE VERY PLEASED TO OFFER A NEW BOOKLET THAT ACCOMPANIES THIS SERIES OF "CREATIVE LIVING." THIS BOOKLET IS TITLED THE 6600 SERIES, AND IT FEATURES A WONDERFUL COLLECTION OF IDEAS AND INFORMATION, AND IT'S AVAILABLE FREE OF CHARGE ON OUR WEBSITE. POSTED AS A "PDF" FILE, YOU CAN SIMPLY DOWNLOAD THE ENTIRE BOOKLET OR JUST THE SEGMENTS YOU'RE MOST INTERESTED IN. AS WITH ALL OF THE "CREATIVE LIVING" BOOKLETS, YOU'LL FIND INFORMATION ON FOODS AND NUTRITION, CLOTHING AND FASHION, HEALTH AND BEAUTY, HOME DECORATING, AND MUCH MORE. FOR YOUR COPY OF THIS BOOKLET, GO TO OUR WEBSITE AT kenw.org AND THEN CLICK ON "CREATIVE LIVING." SCROLL DOWN TO THE BOOKLETS SECTION, AND YOU CAN CLICK ON THIS BOOKLET OR ANY OF THE OTHER BOOKLETS WE HAVE AVAILABLE ONLINE. ONCE AGAIN, JUST GO TO kenw.org, CLICK ON "CREATIVE LIVING," AND DOWNLOAD THE BOOKLET TITLED "THE 6600 SERIES." WE ALSO WANT TO ENCOURAGE YOU TO SIGN UP FOR OUR FREE E-NEWSLETTER. JUST CLICK ON THE "SIGN UP NOW" BUTTON AND INPUT YOUR E-MAIL ADDRESS. THAT'S ALL THERE IS TO IT. YOU'LL ENJOY READING AN UP-TO-DATE NEWSLETTER FILLED WITH INTERESTING TOPICS AND INFORMATION. THANK YOU.
Now Playing As: Captioned (English) (change)
In this episode, viewers learn how to make frilly fringed flowers with different fabrics, wool felt, and special scissors for fine-tune cutting. A representative from Butterball stops by to discuss turkey as an option for breakfast recipes. And a spiritual master explains the benefits of meditation.
Media Details
Runtime: 27 minutes