Creative Living With Sheryl Borden #6604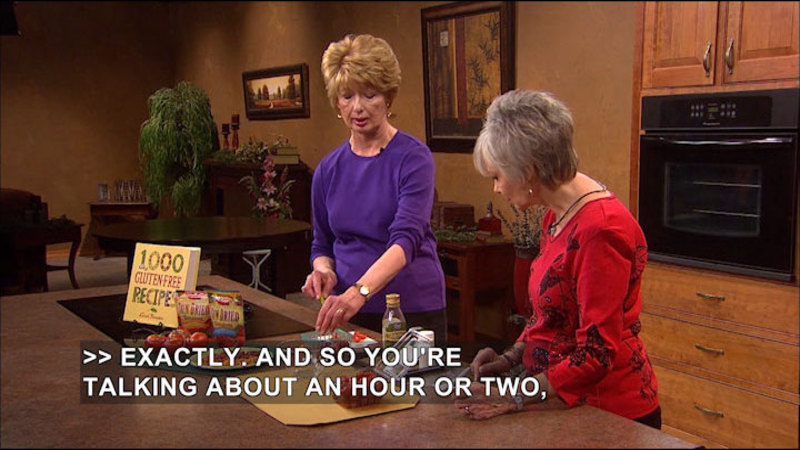 >> "CREATIVE LIVING," UTILIZING TODAY'S TECHNOLOGY WITH THE BEST OF THE PAST TO BRING YOU INNOVATIVE IDEAS AND UP-TO-DATE INFORMATION FOR CREATIVE LIFESTYLES IN TODAY'S ACTIVE WORLD, WITH YOUR HOST, SHERYL BORDEN. >> WELCOME TO "CREATIVE LIVING" TODAY. WE'RE GOING TO LEARN HOW TO MAKE SOME VINTAGE PAPER CRAFTS, WE'LL LEARN HOW TO OVEN-DRY TOMATOES, AND SHOW HOW TO TINT FABRIC BY USING CRAYONS. ONE OF MY GUESTS IS SHANNON WOOTON, AND SHE'S WITH THE NEW MEXICO COOPERATIVE EXTENSION SERVICE. SHANNON'S GOING TO DEMONSTRATE MAKING SOME VINTAGE PAPER CRAFTS, INCLUDING PAPER WHEELS, POMPOM WREATHS, SUBWAY ART, AND MUCH MORE. SHE'S FROM ROSWELL, NEW MEXICO. ANOTHER GUEST IS CAROL FENSTER, AND SHE'S A COOKBOOK AUTHOR AND DIETICIAN, AND SHE'LL SHOW SEVERAL WAYS TO PRESERVE TOMATOES TO PROLONG THEIR TASTE AND GOOD NUTRITION. TOMATOES ARE AN IMPORTANT PART OF A HEALTHY DIET, WHETHER IT'S A PALEO DIET, THE MEDITERRANEAN DIET, OR SOME OF THE OTHERS. CAROL'S COMPANY IS SAVORY PALATE, INCORPORATED, AND SHE LIVES IN CENTENNIAL, COLORADO. AND WE'LL ALSO TALK TO EVELYN TERHUNE, A CRAFTER WHO'S GOING TO DEMONSTRATE FABRIC TINTING WITH CRAYONS, WHICH IS A GREAT TECHNIQUE THAT EVEN YOUNGER CHILDREN WILL ENJOY AS MUCH AS THE OLDER ONES WILL. HER COMPANY IS OZARK CRAFTS, AND SHE'S FROM GILBERT, ARKANSAS. EVELYN, IT'S NICE TO HAVE YOU HERE. I KNOW YOU'VE BEEN SEWING AND TEACHING FOR MANY, MANY YEARS AND YOU HAVE LOTS OF THE NEW GADGETRY--MACHINES AND THINGS. BUT YOU WERE TELLING ME EARLIER ABOUT WHEN YOU WERE GROWING UP, HOW YOU LEARNED TO REALLY GET INVOLVED IN CRAFTS AND HANDS-ON PROJECTS. >> YES, I WAS. AND THIS IS A PROJECT I'M GONNA SHOW YOU TODAY THAT IS BOTH RETRO AND CURRENT. I ACTUALLY GOT INTO CRAFTING WITH MY GRANDMOTHER AND GREAT-GRANDMOTHER. THEY WOULD HAND-EMBROIDER THEIR DISHTOWELS AND PILLOWCASES, AND THEN LET US GRANDKIDS COLOR THEM WITH JUST OLD-FASHIONED CRAYOLA CRAYONS. IT STILL WORKS. AND YOU CAN CREATE A PERMANENT DYE WITH THOSE CRAYONS. >> AND NO FANCY MACHINES, DOESN'T COST ANYTHING-- THAT'S AMAZING. >> THAT'S RIGHT. AND MOST PEOPLE HAVE SOMETHING ON HAND. >> EVEN BROKEN ONES WILL WORK. >> THAT'S TRUE. >> THIS IS A LITTLE APRON. ARE THESE YOUR GRANDKIDS THAT DID THIS? >> THEY ARE. >> THIS IS SO NEAT. >> WHAT I DID WAS TRACE AROUND THEIR HANDS. AND ON THIS, I JUST USED A SHARPIE PEN BECAUSE IT'S A PERMANENT INK, AND THEN LET EACH ONE CHOOSE WHATEVER COLOR THEY WANTED TO TO COLOR IN. I DID WRITE THE LETTERS OF THEIR NAMES SO THEY'D BE ROUGHLY THE SAME SIZE AND LET THEM COLOR THAT. AND EACH YEAR, WHAT THEY'LL DO IS PUT THEIR HANDS OVER THEIR HANDS, TRACE AROUND IT AGAIN, AND THEN THEY'LL HAVE RAINBOW HANDS AS THEY'RE GROWING. >> THAT'S NEAT. >> YOU CAN DO THE SAME CONCEPT FOR BIRTHDAY PARTIES, WHATEVER. >> OH, IT WOULD BE A GOOD ACTIVITY, WOULDN'T IT? WELL, THAT'S REALLY NEAT. AND THIS IS JUST A LITTLE APRON THAT THEY CAN USE FOR LOTS OF THINGS. >> RIGHT. NOW, THIS RIGHT HERE IS A PLACEMAT THAT I MADE TO GO WITH MY DISHES, THE COLORS THAT ARE IN THOSE, BUT I WANTED SOME SUBTLETIES ON MY FLOWERS. WHAT I DID ON THAT WAS JUST TINT MY FABRIC WITH CRAYONS SO THAT I COULD GET THAT SUBTLETY. I KNEW I WAS GOING TO OUTLINE IT WITH MY SEWING MACHINE, JUST STITCHING IT DOWN, SO I DIDN'T WORRY ABOUT EDGES TOO MUCH, AND I'M GONNA SHOW YOU HOW I ACCOMPLISHED THAT. I TEND TO LIKE PRINTS BECAUSE IT GIVES ME A LITTLE TEXTURE. AND I'LL JUST MAKE A TULIP BECAUSE THEY'RE VERY SIMPLE. >> AND, YOU KNOW, FOR THOSE OF US WHO AREN'T ARTISTIC--I KNOW YOU ARE--BUT KIDS' COLORING BOOKS, COOKIE CUTTERS, THINGS LIKE THAT ARE SO GOOD TO USE AS PATTERNS. >> ABSOLUTELY. NOW, YOU CAN SEE I'VE DRAWN ON THERE, AND I TEND TO, IN THE CORNER, TEST MY CRAYONS THAT I'M GONNA USE JUST TO SEE WHAT THE COLORS DO. IF I WANT LIGHT, I'LL GET A WHITE, PUT SOME LIGHT IN THE MIDDLE, AND THEN I'LL GO AHEAD AND PUT SOME OTHER COLORS AROUND THE EDGES. I LIKE THE MAIN COLOR TO SHOW THROUGH PRETTY WELL.
>> AND I SEE WHAT YOU MEAN ABOUT USING A SMALL PRINT: IT GIVES IT DIMENSION. >> IT DOES. >> IT'S NOT FLAT COLORING. >> AND THEN I PUT MAYBE A LITTLE BIT DARKER IN THERE. SEE HOW MUCH ROUNDER IT'S GETTING ALREADY? >> MM-HMM. >> I CAN PUT SOME PROBABLY DARKER DOWN HERE BECAUSE, NEAR THE STEM, YOU TEND TO HAVE DARKER COLORS. OK. AND THEN BACK BEHIND, I WOULD COME IN WITH A PURPLE. I HOPE I'M NOT DRAWING IN FRONT OF WHAT WE NEED TO SHOW HERE, BUT CAN YOU TELL WHAT I'M DOING THERE? THAT'S ALL I'M GONNA DO RIGHT NOW. YOU GET THE EFFECT. I DON'T THINK I NEED TO DO THE OTHER TWO LEAVES, BUT THE IMPORTANT TRICK HERE IS NOW WE NEED TO HEAT-SET THIS. AND TO DO THAT, I NEED TO GRAB A COUPLE OF PAPER TOWELS. THE REASON WE USE PAPER TOWELS IS THERE IS WAX WITH THE COLOR IN HERE. YOU WANT TO KEEP THE DYE ON THE FABRIC BUT NOT THE WAX. >> GOOD POINT. >> SO I'VE GOT A HOT IRON HERE. >> NOW, ARE YOU USING STEAM OR DRY, OR DOES IT MATTER? >> IT DOESN'T REALLY MATTER. BUT I PUT IT DOWN FOR ABOUT 10 SECONDS. AND I DON'T WANT TO IRON IT LIKE THIS. IF I HAD A BIG SPACE, I'D JUST MOVE IT AND PRESS AGAIN. AND ANY EXCESS WOULD COME OFF ON MY PAPER TOWEL. YOU CAN SEE THERE'S A LITTLE BIT, A LITTLE HINT OF IT RIGHT THERE, BUT I'VE GOT MY NICE PERMANENT COLOR RIGHT THERE. >> IT IS WASHABLE, THEN, AFTER YOU SET IT? >> WHEN I HAD THIS HEAT-SET, I WOULD FUSE IT TO MY FUSIBLE, PUT IT ON MY PROJECT, AND THEN PROCEED LIKE YOU NORMALLY WOULD. AND IT HAS A LOT MORE TEXTURE THAN IF I'D JUST DRAWN THE FLOWER ITSELF, AND THEN PUT IT ON JUST WITH THREAD. >> AND I CAN SEE THIS LITTLE BIT. THIS IS THE SAME PATTERN RIGHT HERE. >> IT IS EXACTLY THE SAME PATTERN, SAME FABRIC. >> WELL, IT'S FUN. AND I STILL THINK IT'S FUN TO GO BACK AND DO SOME OF THESE CRAFTS THAT WE DID LEARN WHEN WE WERE KIDS AND PASS IT ON TO OUR KIDS AND GRANDKIDS. >> YES, AND THIS IS ONE OF THOSE PROJECTS THAT KIDS CAN BE REALLY PROUD OF. THEY CAN TAKE SOMETHING THAT THEY'VE DONE. THEY CAN DRAW. LET THEM DRAW A DINOSAUR OR WHATEVER THEY WANT TO DRAW, AND TAKE IT IN AS A GIFT TO GRANNY OR TO THEIR HOMEROOM TEACHER, WHOEVER, AND THEY FEEL ACCOMPLISHMENT. >> FEEL PROUD OF IT. WELL, I THINK THIS IS GREAT. THANK YOU SO MUCH FOR SHOWING US THIS EASY CRAFT. >> THANKS FOR HAVING ME TODAY. I APPRECIATE IT. >> CAROL, THANK YOU SO MUCH FOR BEING WITH US TODAY. I HAVE ONE OF YOUR COOKBOOKS, AND I LOVE GOING THROUGH IT AND LOOKING FOR RECIPES BECAUSE YOU DON'T HAVE TO BE A CELIAC. YOU DON'T HAVE TO BE ON A SPECIFIC DIET-- IN FACT, IT'S FOR EVERYONE. AND SOME OF THE THINGS CALL FOR TOMATOES BECAUSE WE USE TOMATOES--TOMATO SAUCE, TOMATO PASTE--IN SO MANY RECIPES, BUT YOU KNOW THEY'RE PRETTY EXPENSIVE... OUT OF SEASON ESPECIALLY. >> OUT OF SEASON ESPECIALLY, OR IF YOU BUY ORGANIC. YOU CAN SPEND ABOUT 3 BUCKS FOR JUST A TUB OF LITTLE GRAPE TOMATOES LIKE THAT. BUT TOMATOES ARE A WONDERFUL VEGETABLE, AND WE ALL WANT TO EAT MORE VEGETABLES, SO WHAT I THOUGHT I'D TALK ABOUT TODAY IS HOW TO DRY THEM SO YOU CAN PRESERVE THEM. >> AND THEY'RE SO FULL OF NUTRIENTS THAT WE NEED. >> OH, THEY ARE. THESE BEAUTIFUL RED LUSCIOUS LITTLE ORBS THERE ARE FULL OF LYCOPENE AND VITAMIN C, AND THE RED COLOR LET'S YOU KNOW THERE'S BETA CAROTENE THERE. I ALSO KNOW THAT THE TOMATOES ARE BETTER FOR YOU WHEN THEY ARE COOKED. SOMEHOW THAT RELEASES THE... >> RELEASES IT. >> SO I WOULD HOPE THAT OVEN-DRYING THEM, AS I'M GONNA TALK ABOUT, WILL QUALIFY AS COOKING. I DON'T KNOW. >> AND I GUESS WE MIGHT AS WELL JUST SAY UPFRONT, BECAUSE I'VE HEARD THAT YOU'RE SUPPOSED TO NOT REFRIGERATE--REFRIGERATE TOMATOES, BUT I VERY SELDOM LEAVE THEM ON THE COUNTER. >> IT'S A LITTLE-KNOWN FACT THAT PEOPLE EITHER DON'T KNOW OR DON'T WANT TO BELIEVE, BECAUSE WE'RE SCHOOLED TO PUT THINGS IN THE REFRIGERATOR TO PROLONG THEM. >> PRODUCE. UH-HUH. >> AS IT TURNS OUT, TOMATOES ARE ONE OF THOSE RARE VEGETABLES THAT ACTUALLY RELEASE AN ENZYME THAT IRREVERSIBLY DAMAGES THE-- IT MAKES THEM MEALY. IT DAMAGES THE TEXTURE. THAT'S WHY YOUR TOMATOES WILL BE MEALY IF THEY'RE IN THE FRIDGE, AND IT SOMEHOW DEPRESSES, OR DIMINISHES, THE WONDERFUL FLAVOR. >> OH, I KNOW THAT. UH-HUH. >> BUT HERE'S THE CATCH 22: WHEN YOU DON'T REFRIGERATE STUFF AND YOU LEAVE IT ON THE COUNTERTOP, IT DETERIORATES MORE QUICKLY. SO WHAT ARE YOU SUPPOSED TO DO? WELL, WHAT I'VE COME UP WITH-- AND THIS IS NOT ANYTHING NEW, IT'S JUST MY WAY OF SAVING A FEW BUCKS BECAUSE I HATE THROWING AWAY HALF A TUB OF TOMATOES. SO YOU CAN BUY WHAT WE CALL SUN DRIED TOMATOES HERE. THIS IS A COMMON BRAND. THIS IS WHAT THEY LOOK LIKE, BUT YOU CAN DRY THEM AT HOME. AND SO THESE ARE MY DRIED VERSIONS OF TOMATOES. ON THE RIGHT ARE LITTLE RED GRAPE, AND ON THE LEFT ARE YELLOW GRAPE TOMATOES. >> AND THESE ARE DONE IN THE OVEN. >> THEY ARE DONE IN THE OVEN. IT IS SO SIMPLE. YOU CAN ACTUALLY ALSO USE TOMATOES THAT ARE KIND OF PAST THEIR PRIME. IF YOU LOOK AT THE-- >> THIS LOOKS LIKE THE ONES I ALWAYS HAVE. >> RIGHT. WE ALL HAVE THOSE. YOU KNOW, THE ENDS--AND THESE ARE ACTUALLY-- >> THEY'RE KIND OF SHRIVELDY. >> THEY GET SHRIVELY. YOU CAN STILL USE THEM, AND I'VE USED THEM WHEN THEY'RE ALL SHRIVELY ALL OVER, AS LONG AS--AND I'M GONNA SHOW YOU HOW I DO IT--WHEN YOU CUT IN, THERE'S NO MOLD INSIDE. >> OH. SO YOU DO HAVE TO WATCH FOR THAT? >> YOU DO HAVE TO WATCH FOR THAT BECAUSE THAT CAN HAPPEN. SO WHAT I DO, ON A COUNTERTOP WITH A CUTTING--THESE ARE FINE. AND THEN I'LL CUT JUST A FEW MORE OF THESE. >> OH, SO IT'S BETTER TO CUT THEM IN HALF? >> I THINK SO BECAUSE THEY DRY A LITTLE MORE QUICKLY. AND THE REASON I LIKE GRAPE TOMATOES IS BECAUSE--AND THESE ARE FAIRLY LARGE, BUT YOU CAN USE ROMA OR CHERRY. YOU CAN ALSO USE THOSE PRETTY--THOUGH I'M NOT SURE WHAT THOSE ARE. EARLY BIRD OR AMERICAN--I'M NOT SURE. YOU HAVE TO CUT THEM IN CIRCLES. >> OH, CIRCLES? >> YEAH. BUT THE THING I LIKE ABOUT THESE IS THAT THERE ISN'T AS MUCH SEED OR AS MUCH JUICE IN THESE. >> WHICH ALSO MAKES THEM DRY FASTER. >> EXACTLY. AND SO YOU'RE TALKING ABOUT AN HOUR OR TWO, MAYBE, IN THE OVEN. >> NOW, IF PEOPLE HAVE DEHYDRATORS, MAYBE WE CAN JUST SUGGEST THEY USE THEM. BUT MOST OF US DON'T HAVE THOSE. >> MOST OF US DON'T HAVE THOSE-- AND SO WE'RE THROUGH WITH THAT. I USED TO HAVE A DEHYDRATOR. IT'S A ROUND DEVICE AND IT'S GOT LAYERS, AND YOU HAVE TO PLUG IT IN, AND THAT'S OK. BUT I GOT RID OF IT WHEN I FOUND OUT I COULD DO IT IN MY OVEN, AND IT'S SO MUCH EASIER. NOW, YOU CAN'T USE YOUR OVEN WHILE THAT'S GOING ON, BUT THAT'S OK. SO YOU CAN DO AS MUCH AS YOU WANT. AND WHAT I LIKE TO DO--AND I'M JUST DOING A FEW TO SHOW YOU HOW IT WORKS. I THEN TOSS THEM WITH A LITTLE BIT OF OLIVE OIL, AND--JUST A LITTLE BIT, AND YOU DON'T EVEN HAVE TO DO THAT IF YOU DON'T WANT TO. IF YOU DECIDE YOU JUST WANT THEM PLAIN, THAT'S OK. I THINK IT MAKES THEM LOOK A LITTLE PRETTIER AND GLOSSIER, AS YOU CAN SEE. SO I TOSS THEM LIKE THAT. >> A LITTLE SEASONING. >> AND A LITTLE SEASONING. I'LL SPREAD THEM OUT HERE JUST SO THEY'RE NOT TOUCHING. THAT'S ALL YOU WANT TO WORRY ABOUT, BECAUSE THEY'LL DRY BETTER IF THEY'RE NOT TOUCHING SOMETHING. >> SO A BIGGER PAN-- >> A BIGGER PAN, RIGHT. I'VE DONE A HUGE 18 x 13 PAN. AS LONG AS IT FITS IN YOUR OVEN, IT'LL WORK. AND THEN A LITTLE SALT; AND YOU DON'T HAVE TO SALT THEM. YOU DON'T HAVE TO. A LITTLE PEPPER IF YOU WANT. YOU DON'T HAVE TO. YOU COULD ALSO SPRINKLE YOUR FAVORITE HERBS, MAYBE A LITTLE OREGANO OR ITALIAN, IF YOU WANTED A FLAVOR-- >> A LITTLE CHILI POWDER-- THAT MIGHT BE GOOD. >> A LITTLE SMOKED PAPRIKA WOULD BE REALLY, REALLY GOOD, TOO, WHATEVER YOU WANT. AND THEN POP THEM IN THE OVEN. >> AT WHAT TEMP? >> IF YOU WERE USING YOUR REGULAR OVEN, I WOULD USE ABOUT 200. IF, ON YOUR OVEN--AND MANY OF THEM DO NOW--HAVE A CONVECTION SETTING, I WOULD USE 180. BUT SOMEWHERE BETWEEN 180 AND 200 YOU'RE GONNA BE FINE. AND THEN DON'T GO AWAY. DON'T LEAVE THE KITCHEN. >> AND WE DON'T COVER THEM AT ALL? >> YOU DON'T COVER THEM. AND THEN THE AIR WILL SLOWLY--THE HOT OVEN AIR WILL SLOWLY DRY THEM OUT, AND THIS IS WHAT THEY WILL LOOK LIKE HERE. AND THEN WHEN THEY'RE DONE, WHAT I DO IS JUST POP A FEW--YOU CAN FILL THIS--THESE ARE LITTLE SNACK BAGS AND THEY WORK JUST FINE. PUT THEM IN THE BAG, SEAL IT UP, AND LABEL IT SO YOU KNOW WHAT YOU'VE GOT. AND THEN YOU ARE ALL SET FOR SNACKING--PEOPLE EAT THEM AS SNACKS. YOU CAN USE THEM IN SOUPS AND STEWS. YOU CAN TOSS THEM INTO DIPS. I LIKE USING THEM IN QUICHE. I JUST THINK THEY-- >> OH, YEAH. IF YOU COOK THEM, THEY'RE GOING TO BE EXACTLY LIKE YOU WOULD FRESH. >> EXACTLY. THEY ARE SO MUCH MORE FLAVORFUL BECAUSE YOU HAVE GOTTEN RID OF ALL THE MOISTURE. AND SO ALL YOU HAVE LEFT-- >> CONCENTRATED. >> CONCENTRATED. IT'S LIKE DRIED FRUIT; THEY'RE JUST MORE INTENSELY FLAVORED. AND IN A QUICHE, THEY ADD JUST A LITTLE BIT OF COLOR. AND I'VE USED THEM IN STEWS, DIPS. CASSEROLES ARE PERFECT. WHATEVER YOU USE TOMATOES IN NORMALLY, USE THE DRIED TOMATOES. AND YOU'RE SAVING A TON OF MONEY, BECAUSE AT ABOUT $2.00 A WASTED CARTON, THAT ADDS UP. >> WELL, IT CERTAINLY DOES. I'M REALLY GLAD TO KNOW THAT I CAN EVEN USE THE ONES THAT ARE SLIGHTLY SHRIVELED. >> JUST DON'T TAKE ANY THAT HAVE ANY LITTLE ROTTED PARTS. JUST TOSS THOSE RIGHT AWAY, BUT THESE LOOK BEAUTIFUL. >> THEY DO. OK, WELL, THANK YOU VERY MUCH, CAROL. >> THANK YOU. >> SHANNON, THANK YOU SO MUCH FOR BEING WITH US AND YOU'RE GOING TO SHOW US LOTS OF THINGS THAT ARE QUICK AND EASY TO MAKE. AND I'M SURE YOU LOOK ALL YEAR LONG FOR NEW AND EXCITING IDEAS, DON'T YOU? >> THAT'S RIGHT. WE HAVE AN ANNUAL CHRISTMAS SHOW, SO I'M ALWAYS LOOKING FOR CRAFTS THAT PEOPLE CAN DO--EVERYBODY CAN DO. THEY'RE NOT VERY HARD TO PUT TOGETHER, THEY'RE SUPPLIES THAT WE HAVE AT HOME, AND THEY CAN JUST GET STARTED. >> AND WE WERE TALKING, TOO, ABOUT HOW CRAFTS SORT OF GO IN CYCLES. YOU MAY HAVE MADE IT 20, 30 YEARS AGO, BUT THERE'S A NEW TWIST NOW. >> THERE IS A NEW TWIST TO IT, ESPECIALLY WITH THE SUPPLIES THAT ARE OUT THERE NOW. WE'VE GOT SOME RECYCLED ONES, OLD CRAFTS, AND THEN SOME NEW CRAFTS. YES. >> WELL, LET'S START OUT WITH THESE COFFEE FILTER WREATHS, AND I HAVE TO TELL YOU I COULDN'T REALLY PICTURE THAT THESE WERE GOING TO BE THIS PRETTY. >> THAT'S RIGHT! THAT'S RIGHT! WE WONDERED THAT IF, YOU KNOW-- WHEN YOU THOUGHT OF COFFEE FILTER WREATHS, YOU THOUGHT, "OH, THAT'S A CRAFT THAT LOOKS LIKE A CRAFT," MAYBE, AND THIS ONE DOESN'T. >> IT'S VERY ELEGANT. >> VERY ELEGANT. THIS IS THE COFFEE FILTERS. THAT'S THE TAN COFFEE FILTERS, AND THEN WE HAVE THE WHITE OR THE KIND OF OFF-WHITE COFFEE FILTERS. AND THEY'RE JUST EMBELLISHED WITH RIBBON AND MAYBE A FEW FLOWERS, ORNAMENTS. >> I LIKE THIS. I JUST NOW REALIZED--UH-HUH. SO PRETTY. OK, SO YOU'RE GONNA SHOW US HOW. >> RIGHT, RIGHT. WHAT YOU'RE GONNA DO, YOU'RE GONNA START WITH SOME TYPE OF FRAME. AND THIS IS JUST AN EXAMPLE OF MAYBE-- >> PAPER PLATE. >> PAPER PLATE. I PROBABLY WOULDN'T SUGGEST THE STYROFOAM, BUT THIS IS WHAT I HAD AT THE HOUSE. SO A PAPER PLATE. YOU'RE GONNA CUT A CIRCLE, AND THAT'S YOUR BACK OF YOUR FRAME. OR YOU CAN USE A HOOP, SOMETHING THAT YOU HAVE THAT MAYBE YOU'RE NOT EMBROIDERING ANYMORE AND YOU'RE JUST GONNA USE A HOOP. OR YOU CAN START WITH A GRAPEVINE WREATH OR A STYROFOAM WREATH, SOMETHING LIKE THAT. >> THIS IS THE BASE? >> THIS IS THE BASE. THEN YOU'RE GONNA TAKE THE COFFEE FILTERS-- >> NOW, EVEN A BIG ONE LIKE THIS STARTS ON SOMETHING THIS SIZE? >> YES, YES. I WILL SHOW YOU THIS ONE. THIS ONE IS ACTUALLY KIND OF ONE OF THE GRAPEVINE ONES. >> AND IT'D BE A GOOD WAY TO RECYCLE SOME OF THOSE WREATHS THAT DON'T LOOK TOO GOOD RIGHT NOW AND-- >> THAT YOU'RE TAKING APART AND WANT TO DO SOMETHING DIFFERENT. SO WHAT YOU'RE GONNA START WITH, YOU'VE GOT YOUR BASE, AND THEN YOU'RE GONNA HAVE COFFEE FILTERS, AND PROBABLY THE HARDEST PART IS GETTING THE COFFEE FILTERS APART. SO YOU'RE GONNA TAKE THEM, AND THERE'S TWO WAYS YOU CAN DO THIS. YOU'RE GOING TO FOLD THE COFFEE FILTER IN HALF, FOLD IT AGAIN, AND THEN KIND OF MAKE A LITTLE FLOWER OUT OF IT. OR ANOTHER WAY THAT YOU CAN DO THIS IS YOU CAN--SOME TYPE OF PEN, AND YOU'RE GONNA POKE IN THE MIDDLE, AND YOU JUST WRAP AROUND, AND THEN YOU HAVE A FLOWER THERE. >> THAT'S FAST. >> AND YOU ATTACH IT TO YOUR BASE WITH HOT GLUE. AND IF YOU'RE USING STYROFOAM, YOU DEFINITELY WANT TO USE A LOW-TEMP GLUE GUN. BUT YOU'RE GONNA GO IN ROWS, AND THERE YOU HAVE A COFFEE FILTER WREATH. >> AND SO HOW MANY TIMES DID YOU GO AROUND IT? >> WELL, IT DEPENDS ON THE SIZE OF THE BASE, BUT IT'S GONNA TAKE ABOUT 300 COFFEE FILTERS. 200-300 COFFEE FILTERS. >> SO YOU CAN'T DRINK COFFEE DURING THAT TIME BECAUSE YOU'RE USING. OK. ALL RIGHT, WELL, THAT'S INTERESTING. AND--NOW, SHOW US THIS ORNAMENT. >> THIS NEXT ONE IS THE ORNAMENT. IT'S CALLED THE PAPER WHEEL, AND THEY CAN BE HUNG ON THE TREE. YOU CAN MAKE THEM ANY SIZE. AND I HAVE TO TELL YOU, I SAW THESE PAPER WHEELS, AND MY DAUGHTER GOT MARRIED A COUPLE YEARS AGO AND I HUNG CHINESE LANTERNS DOWN FROM THE CANDY BAR... >> THAT'S WHAT IT LOOKS LIKE. >> WHY DIDN'T I DO THE PAPER WHEELS? THEY WOULD'VE BEEN IN THE COLORS I WANTED. I WOULDN'T HAVE HAD TO SPRAY-PAINT THEM. BUT WHAT YOU'RE GONNA DO, YOU'RE GONNA TAKE SCRAPBOOKING PAPER AND-- >> ARE THESE 12-INCH? >> THIS IS 12 INCHES, AND YOU'RE GOING TO FOLD IT IN ACCORDION STYLE JUST LIKE WE DID WHEN WE MADE THOSE FANS. AND SO YOU HAVE THAT. AND THEN ONCE YOU'RE-- >> AND HOW MANY SHEETS WILL IT TAKE? >> IT'S GONNA TAKE 3. IT'S GONNA TAKE 3. >> AND YOU DON'T NEED TO ATTACH THEM TO START WITH. YOU'LL FOLD ALL 3 SHEETS SEPARATELY. >> YOU'RE GONNA FOLD ALL 3 SHEETS SEPARATELY, AND I'LL GO AHEAD AND JUST KIND OF FINISH THIS ONE. >> OH, OK. >> AND THEN YOU'RE GONNA FOLD IT IN HALF. OK? AND THEN YOU HAVE 3 OF THESE, AND YOU START STAPLING THE ENDS TOGETHER. LIKE, THIS WILL STAPLE HERE, AND THERE-- >> DO ALL 3 OF THEM? >> DO ALL 3, RIGHT. >> IT'S SO SNEAKY, I CAN'T SEE WHERE YOU STAPLED--OH, HERE IT IS. YEAH, IT'S HARD TO TELL. >> AND YOU CAN PUNCH A HOLE AT THE TOP, ATTACH IT WITH SOME RIBBON. AND I THINK-- >> I LIKE WHEN YOU PUT SOMETHING-- >> THAT'S RIGHT, SOMETHING IN THE MIDDLE TO COVER YOUR-- >> YOU COULD EVEN STACK TWO OF THESE TOGETHER. >> YOU COULD STACK TWO TOGETHER. AND THEY COULD GO ON PACKAGES. THEY COULD GO ON THE TREE. YOU COULD DECORATE A WEDDING FOR THAT. SO--AND I THINK IT'S ENDLESS. >> AND I NOTICED THIS WAS LIKE MUSIC SHEETS, AND YOU SAID IT WAS JUST OLD MUSIC SHEETS. >> RIGHT, IT WAS OLD MUSIC SHEETS. AND IF YOU HAVE ANY OF YOUR STAMPS THAT DO THE BORDERS, PUNCH THE EDGES ON THEM, YOU CAN DO THAT. YOU CAN USE YOUR DECORATIVE SCISSORS TO GIVE YOU A DIFFERENT LOOK. YOU COULD ALSO--WHEN YOU HAVE THIS TOGETHER, YOU CAN TAKE YOUR SCISSORS AND JUST ROUND THIS ALSO. >> A LITTLE SCALLOPED TYPE OF-- OH, THAT WOULD BE EASY TO DO. OK. AND THEN--PUT THESE DOWN HERE--I CAN REMEMBER MAKING THESE TYPES OF BOOK CRAFTS YEARS AGO, BUT THIS LOOKS SO MUCH PRETTIER THAN WHAT WE MADE. >> YES, THESE ARE THE MAGAZINE TREES. OK? AND ALL IT TAKES IS... >> A MAGAZINE. >> A MAGAZINE. SO--AND THESE ARE EMBELLISHED WITH A LITTLE SPRAY ADHESIVE AND SOME GLITTER. AND THEN WE JUST ADDED A LITTLE FLOWER TOP--OR I TOOK 3 PIECES OF PAPER AND SNIPPED THEM INSIDE AND KIND OF CURLED THEM. >> AND I LIKE YOU PUT THEM ON LITTLE CANDLE HOLDERS JUST-- >> YES, I THINK THE PEDESTALS WORK KIND OF NICE JUST TO LIFT THEM UP AND GIVE THEM A LITTLE ELEGANT LOOK TO THEM. BUT YOU COULD SPRAY-PAINT THESE GREEN OR IF YOU HAD ANOTHER CERTAIN COLOR THAT YOU WANTED. BUT WHAT YOU'RE GONNA DO, YOU'RE GOING TO TAKE A MAGAZINE, AND THE FIRST THING YOU'RE GONNA DO IS YOU'RE GONNA BEND IT BACK, KIND OF BREAK THAT SPINE RIGHT THERE. AND YOU'RE GONNA WANT TO DO THAT SEVERAL THINGS THROUGHOUT JUST TO KIND OF-- >> SO START WITH THAT? >> BREAK THAT SPINE. AND THE FIRST THING YOU'RE GONNA DO, THE FIRST FOLD IS TAKE THE RIGHT-HAND CORNER AND FOLD IT TO THE SPINE. >> NOW, YOU DO TAKE THE COVERS OFF, OR CAN YOU USE THE COVER? >> YOU CAN USE THE COVERS. YOU CAN USE THE COVERS. AND THAT'S YOUR FIRST FOLD. AND YOU'RE GONNA DO THAT THROUGHOUT THE MAGAZINE. >> WHEN YOU'RE WATCHING TELEVISION, YOU CAN SIT THERE AND FOLD A MAG. GOT IT. >> BECAUSE A LOT OF US JUST CAN'T SIT THERE; I THINK WE HAVE TO BE DOING SOMETHING. SO THEN THE SECOND FOLD IS THE BOTTOM RIGHT-HAND CORNER, AND YOU FOLD IT IN TO MAKE THAT LITTLE POINT. >> OH, OK. I DIDN'T REMEMBER THAT PART. >> OK. AND THEN WHAT YOU'RE GOING TO DO, YOUR LAST FOLD IS TO FOLD IT TOWARDS THE SPINE AGAIN...AND YOU JUST KEEP DOING THAT. >> THOSE 3 FOLDS ARE ALL YOU DO FOR THE WHOLE MAGAZINE? >> THAT'S ALL IT TAKES. YOUR FIRST FOLD IS TOWARDS THE MAGAZINE, THEN YOUR SECOND FOLD IS THE BOTTOM UP, AND THEN FOLDED TOWARDS THE CENTER. >> OK, LET ME LOOK AT THAT ONE MORE TIME. I SEE NOW WHY YOU DO THAT SECOND ONE. SO FOLD IT TOWARD THE SPINE, THEN FOLD THE BOTTOM UP, THEN FOLD THE WHOLE THING OVER, AND THEN THAT MAKES IT STAND UP. I SEE. WOW! >> AND YOU WOULD JUST KEEP CONTINUING THIS. THIS IS THE SECOND FOLD RIGHT HERE. SO IF YOU WANTED A LOOK LIKE THAT, YOU COULD GO WITH THAT. BUT BY FOLDING IT UP, THAT GIVES YOU AN EVEN EDGE AT THE BOTTOM. >> YEAH. AND THEN YOU JUST SPRAY-PAINTED THESE? >> SPRAY-PAINTED IT. ONE THING I MIGHT ADD, THAT YOU WANT TO ADD SOME TYPE OF BASE. EITHER A SQUARE PIECE OF SCRAPBOOKING PAPER OR A LITTLE LIGHTWEIGHT CARDBOARD OR SOMETHING LIKE THAT-- >> AND YOU JUST GLUED IT? JUST HOT-GLUED IT? >> RIGHT. >> AND THEN--YOU KNOW, WE ALL HAVE A WHOLE BOX, PROBABLY, OF ONE ORNAMENT OF ONE STYLE OR A LITTLE LEFTOVER RIBBON. >> A LITTLE, SMALL CHRISTMAS ORNAMENT. >> THESE ARE SO CUTE, MUCH PRETTIER THAN WHAT I REMEMBER DOING. >> THAT'S RIGHT. THAT'S RIGHT. BECAUSE I DON'T EVEN THINK WE SPRAY-PAINTED THEM BACK THEN; WE JUST LEFT THEM. >> AND I'VE GOT TO ASK YOU, YOU SAID THIS IS CALLED SUBWAY ART. >> THIS IS CALLED SUBWAY ART. >> WHY? >> WELL, YOU ASK WHAT SUBWAY ART IS. IT'S KIND OF THOSE SIGNS MAYBE AS, IF YOU'RE IN A SUBWAY--I'VE NEVER BEEN IN A SUBWAY--OR IF YOU'RE DRIVING BY, YOU HAVE TO SEE A SIGN, BUT YOU HAVE TO READ IT RATHER QUICKLY. SO THESE ARE JUST WORDS PUT TOGETHER, AND IT'S THE HOTTEST THING OUT THERE NOW. SO WHAT YOU'RE GOING TO DO--YOU CAN DO THIS ON YOUR COMPUTER. ALL YOU NEED IS A COMPUTER, A PRINTER, AND SOME TYPE OF PROGRAM-- A WORD PROGRAM OR A PUBLISHER OR SOMETHING--SOMETHING LIKE THAT. BUT WHAT YOU DO IS YOU USE TEXT BOXES. I DON'T IF YOU'RE-- >> UH-HUH, YES. >> YOU INSERT ALL KINDS OF TEXT BOXES INTO YOUR PAGE, AND YOU'RE GONNA--ONE THING I FORGOT TO TELL YOU IS YOU'RE GONNA WANT TO MOVE YOUR MARGINS IN BECAUSE YOUR PAPER IS 8.5 x 11, AND YOUR FRAMES ARE 8 x 10. SO MAKE SURE YOU MOVE YOUR MARGINS IN, THEN YOU'RE GONNA INSERT THE TEXT BOXES, AND YOU START ADDING WORDS. >> JUST WORDS? >> I WANT TO SHOW YOU THIS ONE. THIS ONE IS A CHRISTMAS ONE. AND SO THIS IS THE MAIN FOCUS, THE CHRISTMAS, AND THEN YOU START THINKING OF WORDS--MANGER, PEACE, ELVES, TREES, HOT CHOCOLATE, FAITH, JOY, WISE MEN--AND YOU PUT THOSE INTO THOSE TEXT BOXES. YOU CHANGE THE FONT, YOU CHANGE THE SIZE, THE COLOR, AND YOU CAN MOVE THEM AROUND. AND-- >> AND I BET YOU THIS IS AN OLD FRAME YOU HAVE HAD, BECAUSE I HAVE ONE JUST LIKE IT. >> THAT'S RIGHT. THIS IS A NEAT WAY, ALSO, FOR A--A BABY SHOWER GIFT. YOU COULD START WITH MAYBE THE BABY'S NAME IN THE MIDDLE, AND THEN ADD "SUGAR--" LIKE, KATHERINE, YOU COULD ADD "SUGAR AND SPICE" AND "EVERYTHING NICE," AND JUST-- >> WELL, FOR A WEDDING SHOWER-- >> A WEDDING SHOWER, WITH THEIR LAST NAME AND THE VALUES AND THINGS THEY LIKE TO DO. >> WHAT A NEAT IDEA! >> AND VERY INEXPENSIVE. YOU JUST PRINT IT ON SOME CARD STOCK PAPER, OR YOU COULD PUT IT ON SCRAPBOOKING PAPER AND FRAME IT UP, AND YOU HAVE A NICE ORIGINAL GIFT. >> THAT IS JUST AMAZING.
SUBWAY ART: I JUST LIKE THE NAME OF IT. >> SUBWAY ART. >> THANK YOU VERY MUCH, SHANNON. I SURE APPRECIATE IT. I HOPE YOU ENJOYED THE SHOW TODAY. NEXT TIME ON "CREATIVE LIVING," WE'LL LEARN HOW TO MAKE FRILLY FRINGE FLOWERS, TALK ABOUT TURKEY AS A BREAKFAST OPTION, AND DISCUSS MEDITATION. ONE OF MY NEXT GUESTS IS A DESIGNER AND CRAFTER, AND SHE'S GOING TO DEMONSTRATE MAKING FUN FLOWERS USING A COMBINATION OF FABRICS, WOOL FELT, AND A SPECIAL BRAND OF SCISSORS TO DO ALL THE FINE CUTTING. ANOTHER GUEST IS WITH BUTTERBALL, AND SHE'S GOING TO TALK ABOUT NEW TURKEY BREAKFAST OPTIONS. THIS WILL INCLUDE SOME QUICK AND EASY MORNING RECIPES AND TIPS ON HOW TO MAKE BREAKFAST FUN WITH AND FOR THE KIDS. AND LASTLY, WE'LL
TALK TO A SPIRITUAL MASTER ABOUT MEDITATION: WHAT IT IS, THE BENEFITS, THE BEST TIME TO PRACTICE IT, AND HOW LONG WE SHOULD MEDITATE. ALL OF THESE TOPICS WILL BE FEATURED ON THE NEXT "CREATIVE LIVING" SHOW. IF YOU EVER HAVE COMMENTS OR SUGGESTIONS OR IDEAS FOR SHOWS, YOU CAN E-MAIL ME AT SHERYL.BORDEN@ENMU.EDU. I'D ALSO LIKE TO ASK YOU TO BECOME A FAN OF "CREATIVE LIVING" ON FACEBOOK. JUST GO TO FACEBOOK.COM, AND IN THE SEARCH WINDOW, TYPE IN "CREATIVE LIVING WITH SHERYL BORDEN." THANKS SO MUCH, AND I HOPE YOU'LL PLAN TO JOIN ME NEXT TIME FOR "CREATIVE LIVING." >> WE ARE VERY PLEASED TO OFFER A NEW BOOKLET THAT ACCOMPANIES THIS SERIES OF "CREATIVE LIVING." THIS BOOKLET IS TITLED "THE 6600 SERIES," AND IT FEATURES A WONDERFUL COLLECTION OF IDEAS AND INFORMATION, AND IT'S AVAILABLE FREE OF CHARGE ON OUR WEB SITE. POSTED AS A .PDF FILE, YOU CAN SIMPLY DOWNLOAD THE ENTIRE BOOKLET OR JUST THE SEGMENTS YOU'RE MOST INTERESTED IN. AS WITH ALL OF THE "CREATIVE LIVING" BOOKLETS, YOU'LL FIND INFORMATION ON FOODS AND NUTRITION, CLOTHING AND FASHION, HEALTH AND BEAUTY, HOME DECORATING, AND MUCH MORE. FOR YOUR COPY OF THIS BOOKLET, GO TO OUR WEB SITE AT KENW.ORG, AND THEN CLICK ON "CREATIVE LIVING." SCROLL DOWN TO THE BOOKLET SECTION, AND YOU CAN CLICK ON THIS BOOKLET OR ANY OF THE OTHER BOOKLETS WE HAVE AVAILABLE ONLINE. ONCE AGAIN, JUST GO TO KENW.ORG, CLICK ON "CREATIVE LIVING," AND DOWNLOAD THE BOOKLET TITLED "THE 6600 SERIES." WE ALSO WANT TO ENCOURAGE YOU TO SIGN UP FOR OUR FREE E-NEWSLETTER. JUST CLICK ON THE "SIGN UP NOW!" BUTTON AND INPUT YOUR E-MAIL ADDRESS. THAT'S ALL THERE IS TO IT. YOU'LL ENJOY READING AN UP-TO-DATE NEWSLETTER FILLED WITH INTERESTING TOPICS AND INFORMATION. THANK YOU.
Now Playing As: Captioned (English) (change)
In this episode, viewers will learn how to make vintage paper crafts, while Evelyn Terhune uses crayons to tint fabric. And Carol Fenster shows viewers various ways to preserve tomatoes.
Media Details
Runtime: 27 minutes