Creative Living With Sheryl Borden #6603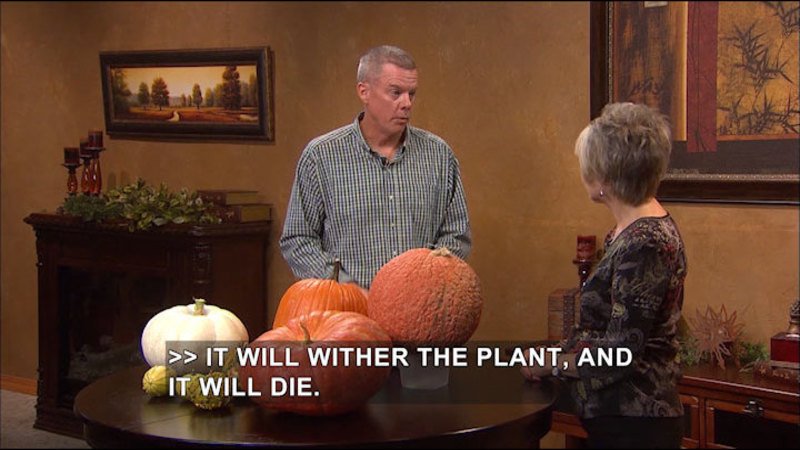 >> "CREATIVE LIVING," UTILIZING TODAY'S TECHNOLOGY WITH THE BEST OF THE PAST TO BRING YOU INNOVATIVE IDEAS AND UP-TO-DATE INFORMATION FOR CREATIVE LIFESTYLES IN TODAY'S ACTIVE WORLD, WITH YOUR HOST, SHERYL BORDEN. >> THANKS FOR JOINING ME TODAY FOR "CREATIVE LIVING." WE'RE GOING TO LEARN HOW TO MAKE OTTOMANS AND TUFFETS, TALK ABOUT THE ORGANIC SKIN CARE MOVEMENT, AND DISCUSS GROWING PUMPKINS AND GOURDS. ONE OF MY GUESTS IS REBECCA PACK, AND SHE REPRESENTS THE UPHOLSTERY STUDIO. REBECCA'S GOING TO DEMONSTRATE MAKING EASY OTTOMANS AND TUFFETS. SHE'S FROM PHOENIXVILLE, PENNSYLVANIA. ANOTHER GUEST IS VINCENE PARINELLO, AND SHE'S THE FOUNDER AND CEO OF WAI HOPE ORGANIC SKIN CARE IN SAN DIEGO, CALIFORNIA. VINNIE'S GOING TO TALK ABOUT WHY MORE WOMEN AND MEN ARE TURNING TO ORGANIC SKIN CARE PRODUCTS, WHICH MAY BE A SAFER ROUTE IN TERMS OF CARING FOR THE SKIN. AND WE'LL BEGIN THE SHOW WITH CURT JAYNES, WHO WILL EXPLAIN HOW TO GROW PUMPKINS AND GOURDS, AND HE'LL SHARE SOME USAGE TIPS AS WELL AS TELL HOW TO IDENTIFY THE VARIOUS PRODUCTS. CURT'S BUSINESS IS GARDEN SOURCE NURSERY AND LANDSCAPING IN PORTALES, NEW MEXICO. CURT, IT'S REALLY NICE TO HAVE YOU HERE. EVERY YEAR, WHEN IT GETS HOLIDAY OR FALL TIME, I JUST LOVE TO DECORATE THE FRONT PORCH WITH LITTLE GOURDS AND SOME PUMPKINS AND THINGS, BUT I'VE NEVER GROWN THEM MYSELF. SO, YOU'RE GONNA TELL US HOW EASY THEY ARE TO GROW, AREN'T YOU? >> YES, WE ARE, SHERYL. THEY ARE, ACTUALLY, EASY TO GROW. AND ANYBODY CAN DO IT IF THEY JUST HAVE ENOUGH SPACE. >> OH, LOT OF SPACE, THAT'S RIGHT. WELL, SINCE I DON'T KNOW THE DIFFERENCE IN MOST OF THESE, LET'S START WITH THIS ONE, WHICH LOOKS LIKE YOUR--WELL, I GUESS THIS ONE LOOKS LIKE THE JACK O' LANTERN, BUT THIS ONE WOULD MAKE A GREAT JACK O' LANTERN. >> YES, IT WOULD. SHERYL, THAT ONE IS CALLED THE CINDERELLA PUMPKIN. >> OH, OK. >> IF YOU LOOK AT IT, IT KIND OF LOOKS LIKE CINDERELLA'S CARRIAGE. >> CARRIAGE, UH-HUH. >> AND IT'S ALSO KNOWN AS A STACKING PUMPKIN, BECAUSE YOU SEE HOW FLAT IT IS. >> MM-HMM. >> YOU CAN STACK THOSE PROBABLY 2 OR 3 HIGH TO MAKE YOUR DISPLAY ON YOUR FRONT PORCH OR FRONT AUTUMN DISPLAY OF ANY SORT. >> YEAH, IT IS FLAT. >> AND THAT ONE WILL NOT MAKE AS GOOD A CARVING PUMPKIN AS YOUR STANDARD VARIETY, SO IT'S MORE FOR DISPLAY. >> DISPLAY, OK. NOW, THIS ONE IS KIND OF WARTY-LOOKING. >> HA HA HA! WELL, THAT'S A PERFECT WAY TO DESCRIBE IT, BECAUSE IT'S A RED WHORTY. >> OH, IT IS? >> W-H-O-R-T-Y IS THE NAME OF THAT PUMPKIN, AND THAT ONE WOULD BE EASY TO CARVE. >> MM-HMM. OK. >> HAS ALL THE DIFFERENT LINES AND TEXTURES ON IT THAT MAKES IT REALLY INTERESTING. >> VERY INTERESTING. >> YOU COULD PROBABLY TAKE AND STACK IT ON TOP OF ONE OF THE CINDERELLAS IF YOU REALLY WANTED TO. >> OH, YOU COULD, UH-HUH. AND THEN GO--UH-HUH, DIFFERENT SIZES. NOW, THIS LOOKS LIKE THE JACK O'LANTERN ONE, DOESN'T IT? >> IT IS. THAT'S THE STANDARD VARIETY THAT YOU CAN FIND AT ANY STORE OR FARMER'S MARKET THAT YOU GO OUT AND LOOK FOR. AND THAT ONE IS KNOWN AS THE HOWDEN--H-O-W-D-E-N. THAT'S YOUR STANDARD JACK O' LANTERN. OBVIOUSLY, WE KNOW THEY'RE EASY TO CARVE AND ALSO TO MAKE PIES. >> OH, YEAH, UH-HUH, AND THE SEEDS AND THINGS THAT ARE IN 'EM THAT IT'S FUN TO PUT THOSE IN THE OVEN. >> YOU CAN USE PRETTY MUCH EVERY BIT OF IT. >> NOW, THE WHITE ONE IS MY FAVORITE. IT'S JUST BEAUTIFUL. >> IT IS, AND IT'S DIFFERENT AND UNIQUE, JUST LIKE SOME OF THE OTHER ONES THAT YOU CAN FIND OUT THERE, ALSO. AND THAT ONE IS KNOWN AS THE WHITE GHOST. >> UH-HUH. >> AND I'LL TELL YOU, IF YOU WENT TO CARVE THAT, YOU WOULD ALMOST NEED AN AX TO GET INTO IT, BECAUSE IT HAS VERY HARD FLESH ON IT. SO, IT'S NOT A CARVING PUMPKIN. HOWEVER, IT MAKES EXCELLENT PIES. NOW, I'LL TELL YOU, IT HAS YELLOW FLESH INSIDE-- >> OH, IT DOES? >> WHEREAS THESE OTHERS HAVE ORANGE. >> UH-HUH. SO, IT IS STILL THE FLESH AND SEEDS WOULD BE EDIBLE, IT'S JUST THAT IT'S A VERY THICK SKIN? >> VERY THICK SKIN. SO, I DON'T THINK I'D LET ANY OF THE KIDS TRY TO CARVE IT. STICK WITH THE STANDARD VARIETY. >> AND I DON'T KNOW IF THOSE ARE JUST CALLED ORNAMENTAL GOURDS OR... >> I HAVE LOOKED HIGH AND LOW TO TRY TO FIND THE NAMES OF EACH OF THESE. AND WHEN YOU GO TO BUY THESE AT A MARKET, YOU'LL NOTICE THAT THERE'S SO MANY DIFFERENT VARIETIES. THESE ARE JUST KNOWN AS ORNAMENTAL GOURDS. >> OK. >> SO, YOU JUST, IN MOST CASES, JUST PICK OUT YOUR FAVORITES WHENEVER YOU ARE-- >> SO, ARE GOURDS JUST BABY PUMPKINS, OR IS IT A TOTALLY DIFFERENT TYPE? >> THEY'RE OF THE SAME FAMILY. AND THEY'RE JUST A DIFFERENT TYPE, YES. >> OK. >> THEY'LL HAVE THE SEEDS IN 'EM JUST LIKE THIS. OBVIOUSLY, THE SEEDS WILL BE SMALLER. >> OK, AND YOU CAN EAT THE FLESH INSIDE? >> YES, YOU CAN IN MOST OF 'EM, MOST CASES, YES, 'CAUSE THEY'RE RELATED TO THE BUTTERNUT SQUASH AND YOUR ACORN SQUASH AND THOSE TYPE OF THINGS. >> WELL, WE WERE TALKING EARLIER ABOUT HOW HARD IT IS TO GROW. YOU'VE GOT A GREAT STORY ABOUT HOW MOST OF THESE WERE GROWN. >> WELL, THESE 3 RIGHT HERE, SHERYL, I ACTUALLY HAD BOUGHT THEM AT A MARKET LAST YEAR, AND AFTER THE SEASON, I PUT 'EM IN MY GARDEN SO I COULD COMPOST THEM FOR NEXT YEAR. AND LO AND BEHOLD, THIS SPRING THEY CAME UP. AND I HAD MULTIPLE VINES AND I JUST LET 'EM GO, NOT KNOWING WHAT TO EXPECT, AND THIS IS WHAT I CAME UP WITH. SO, IT SHOWS YOU-- >> YOU DIDN'T SHOW ANY TENDER LOVING CARE TO THEM AT ALL. >> I DIDN'T. THEY JUST SAT ON TOP OF THE GROUND AND DECOMPOSED, AND UP CAME THE SEEDS. BUT PUMPKINS ARE EASY TO GROW. YOU DO NEED A LOT OF SPACE FOR THEM, 'CAUSE THEY ARE A VINE. ACTUALLY, I'M GONNA TELL YOU THIS BECAUSE I WENT THROUGH THIS THIS YEAR. THEY ARE SUSCEPTIBLE TO SOME DISEASES THAT CAN LIMIT THE AMOUNT OF PUMPKINS THAT YOUR VINE WILL YIELD. ONE THING IS THE POWDERY MILDEW. PRETTY MUCH EVERY TIME YOU PLANT A PUMPKIN, YOU'RE GOING TO HAVE POWDERY MILDEW. ONCE YOU HAVE IT, IT IS HARD TO GET RID OF. SO, HOW YOU DO THAT WHENEVER YOU'RE GROWING-- >> SO YOU WANT TO PREVENT IT INSTEAD OF... >> YOU WANT TO PREVENT IT. >> DEALING WITH IT. >> EXACTLY. THAT IS CORRECT. AND I USE THIS PRODUCT HERE CALLED NATURAL GARDEN. IT IS AN ORGANIC-- >> SAYS IT'S A--OH, SOAP. LIQUID FUNGICIDE. >> IT'S A FUNGICIDE, AND YOU CAN ALSO GET THEM TO COME WITH THE INSECTICIDES, ALSO. SO, THAT WAY YOU CAN GET RID OF BUGS SUCH AS SQUASH BUGS, CUCUMBER BEETLES. THINGS LIKE THAT WILL ATTACK YOUR VINES. >> WHEN DO YOU PUT THIS OUT? >> YOU WOULD NEED TO DO THAT ABOUT THE 1st OF JUNE. AND IT DEPENDS ON WHAT PART OF THE COUNTRY AND WHAT ZONE YOU'RE IN, BUT AROUND THE 1st OF JUNE IS WHEN YOU SHOULD START BEING PREVENTATIVE. >> I SEE. OK. >> AND THEN ALWAYS WATCH THEM FOR BUGS. >> AND DO YOU WANT TO KIND OF TILT THEM OFF THE VINE SO YOU CAN SEE? IS THAT WHERE THE FUNGUS OR THE BUGS WOULD BE? >> THE BUGS WILL BE UNDERNEATH THE LEAVES. THE FUNGUS WILL BE ON THE LEAVES. THE POWDERY MILDEW, WHICH IS YOUR MOST COMMON FUNGUS THAT GETS ON THE LEAVES, IT LOOKS LIKE YOU'VE DUSTED IT WITH FLOUR. >> OH, OK. >> SO, YOU WANT TO PREVENT THAT. >> WANT TO WATCH FOR THAT. >> IT WILL WITHER THE PLANT, AND IT WILL DIE. >> AND OBVIOUSLY, THEY DON'T TAKE A LOT OF RAIN--WATER, BECAUSE WE HAVEN'T HAD MUCH RAIN. >> WELL, I HAVE A DRIP SYSTEM IN MY GARDEN, AND THAT'S ACTUALLY A GOOD POINT THERE, BECAUSE TO HELP MINIMIZE THE EFFECTS OF POWDERY MILDEW AND VIRUSES AND THINGS LIKE THAT ON YOUR PLANTS, IT WOULD BE BEST IF YOU COULD DRIP-IRRIGATE THEM OR WATER THEM ON THE GROUND, NOT WITH A SPRINKLER SPRAYING ON TOP. >> NOT A SPRINKLER. UH-HUH. >> THAT'S VERY IMPORTANT. A DRIP WILL DEFINITELY HELP. FERTILIZER'S VERY IMPORTANT, ALSO, BECAUSE IF YOU ARE TRYING TO GROW THE BIGGEST PUMPKIN ON THE BLOCK, YOU'LL WANT TO MAKE SURE THAT YOU ARE FERTILIZING THEM PROBABLY EVERY 2 WEEKS TO ONCE A MONTH AT LEAST. >> EVERY 2 WEEKS TO ONCE A MONTH. THAT'S QUITE A LOT. >> IT IS, BUT A LOT OF TIMES, WE GROW THESE PUMPKINS JUST FOR THE FACT THAT WHEN EVERYTHING ELSE IS STARTING TO WANE IN THE FALL, YOU HAVE YOUR PUMPKINS TO DISPLAY. PLANTING TIME IS ALSO IMPORTANT. YOU KNOW, THERE'S MANY COMPETITIONS WHERE THEY GROW THE LARGEST PUMPKINS. AND TO GET THOSE UP AND GROWING, YOU WOULD WANT TO START THOSE ANYWHERE FROM APRIL 25th TO MAY 15th SO THAT YOU COULD HAVE THEM GET THAT LARGE FOR COMPETITION. >> AND GET MATURE AND BE READY TO TAKE OFF-- >> THAT'S CORRECT. AND THOSE ARE CALLED YOUR GIANT PUMPKINS. >> AND ARE PUMPKINS LIKE CANTALOUPES IN THAT ON A VINE YOU'LL HAVE 4 OR 5, LIKE WHEN YOU GROW CANTALOUPES? >> THAT IS CORRECT. AND YOU'LL KNOW YOU HAVE A FEMALE FLOWER WHEN THE BLOOM OPENS. UNDERNEATH, IT'LL BE A LITTLE ALMOST THE SIZE OF A MARBLE. AND THEN THE MALE BLOOM WILL NOT. SO THE BEES THEN COME IN AND POLLINATE THEM, AND THAT'S HOW THEY WILL GROW A PUMPKIN. >> WELL, IT'S KIND OF NICE TO KNOW HOW YOU GREW YOURS, BECAUSE THAT GIVES ALL OF US HOPE. >> THAT'S CORRECT. THAT'S CORRECT. >> WELL, IT'S REALLY INTERESTING, AND THEY'RE MORE FUN TO DECORATE WITH THAN ANYTHING ELSE AND TO SIT OUT AT HALLOWEEN AND TO LET YOUR KIDS HELP CARVE, BUT I REALLY DIDN'T REALIZE THERE WAS SO MUCH TO KNOW ABOUT A PUMPKIN. >> WELL, THERE'S A LOT TO KNOW ABOUT THEM. AND IF YOU JUST STAY ON TOP OF MAKING SURE THAT YOU DON'T GET ANY DISEASES OFF THE BAT, I THINK YOU'RE GONNA HAVE GOOD LUCK. AND PLUS, IT'S EXCELLENT TO GROW THOSE WITH YOUR CHILDREN... >> OH, YEAH. >> AND GRANDCHILDREN. >> WELL, THANK YOU VERY MUCH, CURT. THIS IS INTERESTING. >> YOU'RE VERY WELCOME. >> VINNIE, THANK YOU SO MUCH FOR BEING WITH US. WE'RE GOING TO TALK ABOUT SKIN CARE PRODUCTS. WE KNOW THAT BEAUTY CARE IS A BIG BUSINESS. I'VE ALWAYS SAID I COULD OPEN MY DRAWERS AND CABINETS, AND I COULD PROBABLY OPEN MY OWN SKIN CARE PRODUCT BUSINESS, BUT HOW DID YOU GET INVOLVED IN THIS? >> IN A VERY STRANGE WAY. I ACTUALLY WAS A PEDIATRIC NURSE IN A DOCTOR'S OFFICE BY TRADE. BUT I ACTUALLY STARTED DEVELOPING SKIN CARE WHEN I WAS GOING THROUGH CHEMOTHERAPY. >> OH, AND WHAT MADE YOU--DID IT REVIVE YOU? DID IT JUST GIVE YOU A PURPOSE, OR WHY? >> YOU KNOW, IT WAS KIND OF WEIRD. I HAD PRETTY DECENT SKIN, AND I WAS 31 AT THE TIME. AND THERE WERE CHANGES THAT WENT ON THAT I NEVER EXPERIENCED BEFORE. I HAD DRYNESS. I HAD DARK SPOTS THAT SHOWED UP, DARK CIRCLES. I WAS 31 BUT STARTED LOOKING MORE LIKE I WAS IN MY LATE 50s. >> UH-HUH. >> SO, WHY MY SKIN CARE LINES THAT I HAD TRIED WEREN'T WORKING, I REALLY DIDN'T UNDERSTAND, NOT UNTIL WE STARTED TO EXPLORE WHY THEY DIDN'T WORK. SO IT REALLY WASN'T SO MUCH ME THAT HAD THE PROBLEM AS MUCH AS IT WAS THESE FORMULAS JUST-- THEY FAILED ME. WHEN YOU GET TO A CERTAIN STAGE IN LIFE OR WITH YOUR HEALTH, THEY WILL FAIL YOU. >> THAT'S INTERESTING. >> KIND OF LIKE WE'RE SET UP. >> AND IT'S LIKE NOW WE'RE GOING TO ORGANIC FOOD. WE'RE GOING TO MORE ORGANIC AND GREEN PRODUCTS. >> RIGHT. >> AND SO THE SKIN CARE BUSINESS IS HEADED THIS DIRECTION, TOO, AND THAT'S WHAT YOU'VE COME UP WITH. >> RIGHT. YOU KNOW, WHEN I STARTED, ORGANIC DIDN'T EXIST IN SKIN CARE, REALLY. I WAS LIKE A PIONEER, AND PEOPLE ARE ALMOST KIND OF SHUNNED TO THE SIDE, BECAUSE THE FDA SAID, "IF YOU DON'T USE THESE CHEMICALS"-- WE USE AN FDA LICENSED MANUFACTURER. SO, THEY SET AND MANDATE THESE DIFFERENT CATEGORIES AND RULES AND REGULATIONS TO THE MANUFACTURERS. "WELL, IF YOU'RE NOT GONNA USE THESE PRESERVATIVES IN YOUR PRODUCT, WE WON'T SAY THAT YOU'RE AN FDA-APPROVED FACILITY." SO, THAT ALSO MAKES IT VERY DIFFICULT ON GETTING YOUR LIABILITY INSURANCE, WHICH IS SOMETHING PEOPLE REALLY NEED TO BE AWARE OF WHEN YOU'RE BUYING PRODUCTS LIKE AT A FARMER'S MARKET. MOST OF THOSE LINES DON'T EVEN KNOW WHAT LIABILITY INSURANCE IS. AND THAT'S SCARY TO ME BECAUSE WHEN YOU'RE USING NATURAL OR ORGANIC INGREDIENTS, THESE ARE FRUITS AND VEGETABLES AND SEAWEEDS. WELL, THEY LOVE BUGS. SO, IF I'M MAKING A SKIN CARE CREAM, AND I'M USING THINGS LIKE MILK AND THESE NATURAL INGREDIENTS, WHAT'S PRESERVING 'EM? THAT CAN GO RANCID ON YOUR SKIN. SO, THAT'S A CONCERN, TOO. >> AND YOU FOUND OUT THAT A LOT OF THE MAINSTREAM SKIN CARE COMPANIES WERE USING A LOT OF TOXIC PRODUCTS. >> RIGHT. AND THE THING THAT INTRIGUED ME THE MOST IS WHEN I PUT ALL THESE BOTTLES ON MY KITCHEN TABLE--IT'S A LONG KIND OF A DINING ROOM TABLE SIZE--AND I LOOKED AT THE INGREDIENTS ON ALL THESE DIFFERENT BOTTLES OF SKIN CARE, AND I WENT, "THE COMMON DENOMINATOR THEY SHARED WAS WATER." >> RIGHT. THAT'S ALWAYS THE FIRST THING THAT'S LISTED. >> ALWAYS. I MEAN, SOME SKIN CARE LINES NOW PUT APPLE JUICE, PUT ALOE VERA, BUT PREDOMINANTLY IT'S WATER. AND AS A COSMETIC CHEMIST, THAT'S HOW THEY START FORMULATING IS USING WATER. BUT SEE, I WASN'T A COSMETIC CHEMIST. I WAS TRYING TO MAKE SENSE OF WHATEVER I PUT ON MY SKIN TO DO SOMETHING TO HELP MY SKIN. SO IN MY MIND, I CAME UP WITH THIS BROTH CONCEPT. AND I TOOK FRUITS AND VEGETABLES AND THINGS FROM MY GARDEN AT THE TIME AND BREWED IT UP AND USED THAT BROTH TO MAKE MY PRODUCT. >> OH! >> WELL, THAT'S WHAT THE PATENT'S ON. NO ONE HAS EVER DONE THAT. >> RIGHT. AND YOU SAID--OF COURSE, THIS IS TAP WATER. >> THAT'S JUST REGULAR WATER. >> AND THIS IS YOUR SPRITZ WATER. >> RIGHT. >> AND IT'S MADE FROM... >> THESE DIFFERENT SEAWEEDS, FRUITS, AND VEGETABLES. >> WOW. >> AND TEAS. >> AND TEAS. >> SO, NOW WHEN YOU SPRAY THIS ON YOUR SKIN BEFORE YOU PUT ANY OF THE MOISTURIZERS ON, YOU'VE ALREADY PUT A LOT OF NOT ONLY HYDRATION ON YOUR SKIN, BUT ALL THESE NUTRIENTS. >> REJUVENATING YOUR SKIN. >> YEAH, EXACTLY. >> WELL, AND I THINK OUR SKIN IS A PLACE WHERE WE SOMETIMES TRY TO SKIMP. WE THINK, "OH, WELL, ONE PRODUCT'S ABOUT AS GOOD AS ANOTHER. I'LL JUST PUT SOME MOISTURIZER ON AND THEN PUT OUR MAKEUP," WHATEVER. >> YEAH. >> SO, I GUESS READING LABELS IS ALSO IMPORTANT. >> VERY IMPORTANT. THE THING ABOUT YOUR SKIN THAT PEOPLE DON'T UNDERSTAND AND THEY NEED TO, IT'S THE SCREEN DOOR TO YOUR IMMUNE SYSTEM. >> OH. >> IT'S A PART OF YOUR IMMUNE SYSTEM. SO, IF IT'S DRY OR IT'S OILY AND YOU HAVE BLEMISHES, OR YOU HAVE REALLY DRY PATCHES, THAT'S LIKE A HOLE IN A SCREEN DOOR. >> UH-HUH. >> THE FLIES WILL COME IN. >> THE FLIES IN THIS CASE ARE HARMFUL CHEMICALS, RADIATION. THINGS LIKE THAT THAT YOUR SKIN IS DESIGNED TO PROTECT YOU FROM ARE NOW GONNA INVADE YOUR SPACE, YOUR BODY. SO, I WAS VERY CONCERNED THAT WHEN I PUT SKIN CARE ON OUR SKIN, ON YOUR FACE, BUT THEN, TOO, ON YOUR BODY, THAT IT WAS GOOD FOR YOU. IT WASN'T GOING TO JEOPARDIZE US IN ANY WAY. SO, WHEN WE BUY ORGANIC, DOES THAT MEAN THE INGREDIENTS ARE ORGANIC, OR IS IT THE FORMULA THAT'S ORGANIC? >> THAT'S TWO-FOLDED. AND WHAT'S INTERESTING IS, I WENT AND SHOPPED IN A LOT OF NATURAL FOOD STORES AND BOUGHT WHAT THEY SAID WERE NATURAL SKIN CARE PRODUCTS OR ORGANIC SKIN CARE PRODUCTS. AND ALL OF A SUDDEN, I SEE PARABENS LISTED. I SEE YOUR POLYETHYLENE GLYCOLS LISTED, AND I THOUGHT--FORMALDEHYDE PRESERVATIVES WERE LISTED. AND I WENT, "WELL, HOW NATURAL AND ORGANIC IS THIS?" THIS IS A JOKE, WHICH THEN MAKES PEOPLE SAY, "AH, THAT ORGANIC STUFF--" >> IT'S NO DIFFERENT. >> "IT'S NO DIFFERENT. I'M JUST GONNA KEEP USING WHATEVER IT IS THAT I AM USING," WHETHER IT'S BOUGHT IN THE DRUGSTORE, THE DEPARTMENT STORE, WHEREVER YOU GET IT. THEN YOU'VE DESTROYED THEIR TRUST. AND THAT'S WHAT REALLY ANNOYS ME IS IT'S A BIG DEAL WHEN SOMEONE TRUSTS YOU AND THEY WANT TO COME OVER AND TRY YOUR PRODUCT 'CAUSE THEY THINK IT'S REALLY SPECIAL. SO, WHEN WE ADVERTISE THAT AND THEN WE MISLEAD THEM, WE'VE ALSO THEN CANCELED THEIR ABILITY TO TRUST, AND THAT'S DANGEROUS. >> AND IS IT TRUE, AS IT IS SOMETIMES IN FOOD PRODUCTS, THAT ORGANIC IS MORE EXPENSIVE? >> WELL, THERE'S THE OTHER TRUTH. MAKING SKIN CARE WITH WATER AND CHARGING SOMEBODY $60 A BOTTLE. >> YEAH! >> MAKING SKIN CARE THAT'S A BROTH, THAT'S ORGANICALLY BASED, FOR $60 A BOTTLE. 60% OF THE FORMULA IS THE WATER PORTION, SO... >> 60%? >> 50% TO 60%. THE HEAVIER THE CREAM, THE LESS THE WATER. >> OH, UH-HUH. >> THE OTHER THING THAT'S INTERESTING IS WHEN YOU USE NATURAL BUTTERS AND NOT PETROLEUM DERIVATIVES IN YOUR PRODUCTS, YOU DON'T HAVE THE INGREDIENTS FIGHTING IN THE WATER. >> OH. >> WHEN I PUT NATURAL ESSENTIAL OILS AND BOTANICALS IN WATER, THE CHEMISTRY OF THE WATER FIGHTS WITH THE BOTANICALS. WHEN I PUT IT IN A BROTH THAT'S ALREADY OF THEM, THEY SEE THEM AS A FAMILY, SO I DON'T HAVE TO USE-- >> SO, IT BLENDS. >> EXACTLY. >> I SEE. >> RIGHT. >> IT'S AMAZING HOW IT MAKES SENSE WHEN YOU THINK ABOUT IT THAT WAY. >> I TRY TELLING EVERYBODY THAT ALL THE TIME. "YOU HAVE A BRAIN. YOU CAN USE IT." >> AND ANOTHER ONE OF YOUR MISSIONS WITH YOUR COMPANY WAI HOPE IS TO USE INGREDIENTS THAT WILL NOT HARM THE ENVIRONMENT. >> RIGHT. >> AND THAT'S IMPORTANT, TOO. >> VERY IMPORTANT. I MEAN, WHEN WE TAKE SOMETHING FROM THE EARTH, WE DON'T WANT TO DEPLETE IT. EVERYONE'S GONE ON THE BANDWAGON AND GONE INTO BRAZIL AND NOW THEY'RE RAIDING THE RAINFORESTS FOR THINGS TO PUT IN SKIN CARE TO GET RID OF WRINKLES AND THINGS LIKE THAT. AND IT'S OK TO A POINT, BUT IF YOU'RE GOING TO DAMAGE ALL THOSE RESOURCES, THERE'S ALSO A LOT OF GREAT PHARMACEUTICAL RESEARCH TO GO ON THERE. I FOUND A LOT OF THESE DIFFERENT FRUITS AND EXTRACTS HAVE PRECIOUS MINERALS AND NUTRIENTS IN IT THAT COULD ACTUALLY FIGHT AGAINST CANCER. SO, WHAT'S MORE IMPORTANT, A WRINKLE OR FIGHTING CANCER? >> WELL, IT'S CERTAINLY A DIFFERENT WAY TO LOOK AT IT. WELL, I REALLY HAVE ENJOYED TALKING TO YOU ABOUT THIS. THANK YOU FOR BRINGING US UP TO DATE ON WHAT'S EVEN INVOLVED IN SKIN CARE PRODUCTS. >> THANK YOU. >> REBECCA, IT'S SO NICE TO HAVE YOU HERE, AND I WAS SO GLAD WE WERE GOING TO TALK ABOUT NOT JUST OTTOMANS BUT TUFFETS, BECAUSE I'VE ALWAYS WONDERED-- YOU KNOW, LITTLE MISS MUFFET AND HER TUFFET. WHAT'S THE DIFFERENCE? >> GENERALLY, IT'S SIZE. >> OH, SIZE. >> TUFFETS ARE SMALLER. OTTOMANS CAN GET PRETTY BIG. WE'VE GOT A NICE SIZE ONE HERE, AND WE'VE GOT SOME REALLY LARGE ONES AS WELL. >> OK, SO, PRIMARILY THE SIZE THEN. >> PRIMARILY SIZE, YES. >> AND I'VE DONE A LITTLE BIT OF UPHOLSTERY WORK, BUT I NEVER KNOW WHERE TO START ON A NEW PROJECT. SO, YOU, WITH YOUR KITS, REALLY MAKE THIS EASY FOR THOSE OF US WHO ARE NOVICES. >> YES. THEY'RE VERY EASY. ALL OF THE INSTRUCTIONS-- >> THIS IS A TUFFET. >> COME WITH A DVD, SO YOU CAN ACTUALLY SEE THE EXPERTS DOING IT AND FOLLOW ALONG. >> AND I LOVE THE CHOICES THAT YOU HAVE. >> YES. >> AND IT GIVES YOU LOTS OF IDEAS. OF COURSE, THESE ARE THE INDIVIDUAL PARTS. AND WE'LL GO THROUGH MOST OF THESE THINGS IN JUST A LITTLE BIT. BUT ONCE YOU HAVE THAT, MY QUESTION WOULD BE, "OK, I WATCHED THE DVD, AND I DON'T REALLY HAVE A GOOD PLACE TO GO BUY FABRIC, BUT I HAVE SOME ON HAND, BUT WHERE DO I FIND ALL OF THE OTHER COMPONENTS?" >> YOU CAN GENERALLY GO TO ANY OF THE FABRIC STORES. BUT WE ALSO HAVE AVAILABLE KITS-- >> THAT HAVE EVERYTHING. THAT'S WHAT I REALLY LIKE. >> YES. >> AND THEY COME IN A BIG BOX, BECAUSE YOU SENT SEVERAL TO US HERE FOR TODAY. AND EVERYTHING IS INCLUDED. >> EVERYTHING IS IN THERE. WE'VE GOT THE FOAM, THE DACRON, ALL OF THE STRUCTURAL SUPPORTS. WE'VE EVEN GOT THE BENDABLE PLYWOOD FOR THE ROUND OTTOMANS. >> AND THIS ONE, THE ONE ON MY LEFT, IS FOR THE OTTOMAN, ROUND. AND THEN THE SMALL ONE, OBVIOUSLY IS FOR A TUFFET. >> YES. EXACTLY RIGHT. >> OK, AND THERE'S ALSO A FEW OTHER TOOLS YOU WOULD SUGGEST THAT WE HAVE ON HAND--BUY, BORROW, RENT, OR SOMETHING. >> YES, EXACTLY. IF YOU'RE GOING TO BE DOING AN OTTOMAN, THEY HAVE WEBBING UNDERNEATH. SO, INSTEAD OF A BOARD UNDER THE FOAM, IT'S A NICE SOFT-- >> SOFT. >> A LITTLE SOFTER, NICER TO SIT ON. SO WE WOULD RECOMMEND THAT YOU GET A WEBBING STRETCHER. >> THAT'S THIS. >> AND THESE ARE ALL FROM DOUBLE ROCK. AND THEN IF YOU WANTED TO DO A TUFTED OTTOMAN-- >> LIKE WE'RE GOING TO SHOW. >> YES, WE'VE GOT THE DRILL HEAD TO CUT THE HOLES OUT FOR THE TUFTING. >> OH. >> AND THEN WE'VE ALSO GOT TWO TOOLS WHICH I THINK ARE REALLY GREAT. WE'VE GOT THE STAPLE REMOVER, IN CASE YOU MAKE A MISTAKE. >> WHICH WE DO. >> YEAH, YOU KNOW, SCREWDRIVER AND THE PLIERS DON'T ALWAYS WORK, SO THAT IS A GREAT TOOL. AND THEN WE HAVE THE STAPLE SETTER. SO, IF YOU DON'T GET IT IN QUITE ALL THE WAY, JUST HIT IT WITH THE HAMMER AND THAT TOOL-- >> AND YOU MENTIONED THE TUFTED BUTTONS. THIS OTTOMAN IS A VERY LARGE ONE--LARGE, ROUND, IT'S BEAUTIFUL. AND THE TUFTED BUTTONS ARE REALLY WHAT'S SO BEAUTIFUL ABOUT THE TOP. >> YES, EXACTLY, AND WITH ALL OF THE INSTRUCTIONS, IT'S EASY. IT'S MUCH EASIER THAN-- >> THAN IT LOOKS. >> YES. >> GOOD. OK. AND THEN YOU HAVE A VERY BEAUTIFUL OTTOMAN ON YOUR SIDE, AND IT'S KIND OF UNIQUE IN ITSELF. >> YEAH, THIS IS ONE OF OUR STORAGE OTTOMANS. >> OH, THE TOP COMES COMPLETELY OFF. >> GOT LOTS OF SPACE TO PUT STUFF IN. AND FITS NICELY ON THERE. >> SO YOU CAN MAKE 'EM AS MAYBE FRIVOLOUS, WHIMSICAL, OR YOU CAN MAKE THEM VERY ELEGANT. IT'S YOUR CHOICE. THAT'S THE BEAUTY ABOUT MAKING THEM, ISN'T IT? >> THAT'S RIGHT, 'CAUSE SO MANY PEOPLE WANT TO CUSTOMIZE EVERYTHING IN THEIR HOUSE. SO, THIS IS A GREAT WAY. YOU CAN PICK OUT YOUR OWN FABRIC, THE SIZE THAT YOU WANT, WHETHER OR NOT YOU WANT STORAGE, AND THERE ARE SOME OTHER--WHEN YOU GET REALLY CREATIVE... >> BETTER. >> THERE ARE SOME MORE FUN THINGS YOU CAN DO. >> OK. YOU'RE GOING TO SHOW US KIND OF HOW TO BUILD--WE'RE GOING TO MAKE A SMALL OTTOMAN HERE. AND THIS WAS THAT BENDABLE PLYWOOD. SHOW ME HOW THAT WORKS. >> THAT'S JUST--SO, THAT GIVES YOU THE NICE CURVE-- >> I SEE. >> ON YOUR OTTOMAN. >> SO, WHEN WE'RE MAKING ROUND, AND THAT COMES IN THE KIT. >> THAT COMES IN THE KIT, YES. >> THAT'S INTERESTING. OK. >> SO, ONCE YOU GET ALL OF YOUR PIECES TOGETHER, THIS IS WHAT A TUFFET'S GONNA LOOK LIKE. AND THEN ALL YOU'RE GOING TO DO IS YOU'RE GOING TO PUT YOUR FABRIC ON. AND IF YOU'RE DOING A STRIPE OR SOMETHING THAT YOU KIND OF WANT TO MAKE SURE... LIKE, FOR THIS FABRIC, I WOULD WANT TO MAKE SURE THAT... >> WITH THE GRAIN. >> MY PATTERN'S KIND OF EVEN, YEAH. >> AND STRIPES, OBVIOUSLY, YOU DON'T WANT 'EM GOING CROOKED. >> DON'T WANT 'EM GOING CRAZY. AND THEN YOU JUST FLIP IT OVER. >> UH-HUH. >> WE'D RECOMMEND A GOOD STAPLE GUN. >> UH-HUH. >> AND YOU JUST KIND OF START IN THE MIDDLE...ON EACH SIDE. >> THOSE INITIAL PLACES TO HOLD IT. >> MAKE SURE THIS IS GOOD AND TIGHT. >> UH-HUH. >> AND THEN YOU'RE GONNA DO THE OTHER SIDE. AND I DIDN'T CENTER THAT ENOUGH. >> THAT'S WHY WE NEED THE STAPLE REMOVER. >> THAT'S WHY WE NEED THE STAPLE REMOVER. >> SO WE WOULD STAPLE ON EACH END. >> YEAH, STAPLE EACH SIDE. >> NOW, YOU'VE DONE SO MANY OF THESE, SO I KNOW YOU'RE A PROFESSIONAL. BUT HOW LONG FROM START TO FINISH IF A PERSON MADE A SMALL TUFFET? HOW LONG WOULD IT TAKE--A SIMPLE, NOT MAYBE THE TUFTED BUTTONS? >> UM...I WOULD SAY IF THEY'RE STARTING FROM THE KIT WITH EVERYTHING ALREADY CUT-- >> RIGHT, YEAH. >> JUST A FEW HOURS. >> THAT'S AMAZING! OK. AND THEN YOU SAID, TOO, THIS IS KIND OF UNIQUE, TOO. LET ME MOVE THIS SO WE CAN SEE. WE CAN PUT THINGS LIKE SKIRTS--OH, AND THIS IS THE TOP YOU WERE TALKING ABOUT. >> YEAH, AND THIS ONE, I USED A CHARM PACK, WHICH IS A PACK OF PRECUT SQUARES OF FABRIC. THEY'RE ALREADY ALL PICKED OUT FOR YOU. >> PRE-CUT? OH, I LOVE IT. >> SO, JUST SEW 'EM ALL TOGETHER IN WHATEVER PATTERN YOU WANT. AND THEN YOU COULD PUT A LITTLE SKIRT ON THERE IF YOU WANTED TO GET REALLY... >> WOULDN'T THESE BE CUTE IN THE SAME ROOM? OH, I LOVE THIS. THIS LOOKS LIKE A LITTLE GIRL'S ROOM OR A SUNROOM TO ME. >> YEAH, IT'S BRIGHT AND CHEERY. SO, THERE'S A LOT OF THINGS YOU CAN DO ONCE YOU GET THE HANG OF IT. YOU CAN REALLY... >> GET FANCY. >> GET FANCY. >> OK. AND THIS ONE, WE WANTED TO SHOW KIND OF A SURPRISE THING THAT YOU COULD DO, ESPECIALLY IF YOU'RE SEMI-ARTISTIC. BUT IT HAS A STENCIL THAT--AND THAT'S WHAT YOU DID THIS WITH. >> YEAH, I JUST USED SOME FABRIC PAINT AND STENCIL-BRUSHED STENCIL. DID MY STENCILING, AND THEN I ADDED SOME DIMENSIONAL PAINT JUST FOR SOME LITTLE ACCENTS ON HERE. >> OH. >> AND THEN I WOULD MAYBE DO SOMETHING IN THE CORNERS... >> SOME MORE STENCIL, YOU MEAN? >> YEAH, REALLY JAZZ IT UP. MM-HMM. >> OK. WOULD YOU SUGGEST, SINCE PEOPLE'S FEET GO ON THESE--ARE ALL THE FABRICS STAIN-TREATED, STAIN-RESISTANT? >> IF YOU'RE GONNA PICK OUT SOME QUILTING FABRIC, I WOULD MAYBE SCOTCHGUARD IT ONCE YOU WERE DONE. >> GOOD POINT. >> UPHOLSTERY FABRIC, YOU'RE PROBABLY PRETTY SAFE. >> OK. >> SOME OF THE COTTONS, SOMETHING LIKE THIS, DEFINITELY SOME SCOTCHGUARD. >> IT WOULD WORK. OK. WE JUST COULDN'T SHOW EVERYTHING. WE WISH WE COULD HAVE THEM ALL UP HERE, BUT TALK ABOUT THE DIFFERENT TYPES OF FABRICS THAT YOU'VE CHOSEN. >> WELL, WE'VE JUST GOT SOME BRIGHT, FUN FABRIC ON THIS ONE. WE'VE GOT ACTUALLY AN EMBROIDERED PIECE-- >> OH, THAT'S BEAUTIFUL. >> ON THAT TUFFET. SOMETHING FUN FOR THE KIDS. HERE, WE'VE ACTUALLY GOT A KNITTED COVER ON ONE. >> LOOKS LIKE A LITTLE SWEATER. >> YEAH, AND THIS ONE JUST ANOTHER BRIGHT, CHEERY ONE. SO, YOU CAN REALLY LET YOUR IMAGINATION GO. THINK OF SOME REALLY FUN THINGS TO DO WITH THEM. LIKE YOU SAID, IF YOU'RE ARTISTIC, YOU COULD-- >> PAINT. >> PAINT, PAINT IT ALL. >> AND YOU COULD DO FREEHAND PAINTING, IF YOU CHOSE TO DO THAT. >> YEAH, YOU COULD EVEN DO THAT. >> AND WHAT'S YOUR WEBSITE? >> IT'S UPHOLSTERYSTUDIO.COM >> OK, AND I KNOW LOOKING THROUGH THE BROCHURES AND THINGS YOU'VE SENT ME, I JUST COULDN'T BELIEVE ALL THE DIFFERENT PATTERNS AND SIZES AND SHAPES THAT ARE AVAILABLE TO US. AND I LOVE THE FACT IT COMES IN A KIT AND I DON'T HAVE TO GO ANYWHERE ELSE. >> YEAH. >> THANK YOU VERY MUCH, REBECCA. >> THANK YOU, SHERYL. >> I HOPE YOU ENJOYED THE SHOW TODAY. NEXT TIME ON "CREATIVE LIVING," WE'LL LEARN HOW TO MAKE SOME VINTAGE PAPER CRAFTS, DRY TOMATOES IN THE OVEN, AND SHOW HOW TO TINT FABRIC BY USING CRAYONS. ONE OF MY NEXT GUESTS IS GOING TO DEMONSTRATE MAKING SOME VINTAGE PAPER CRAFTS, INCLUDING PAPER WHEELS, POMPOM WREATHS, SUBWAY ART, AND MUCH MORE. ANOTHER GUEST IS A COOKBOOK AUTHOR AND DIETICIAN, AND SHE'LL SHOW SEVERAL WAYS TO PRESERVE TOMATOES TO PROLONG THEIR TASTE AND GOOD NUTRITION. TOMATOES ARE AN IMPORTANT PART OF A HEALTHY DIET, WHETHER IT'S A PALEO DIET, MEDITERRANEAN DIET, OR SOME OF THE OTHERS. AND WE'LL ALSO TALK TO A CRAFTER, WHO'S GOING TO DEMONSTRATE FABRIC TINTING WITH CRAYONS, WHICH IS A GREAT TECHNIQUE THAT EVEN YOUNGER CHILDREN WILL ENJOY AS MUCH AS THE OLDER ONES WILL. ALL OF THESE TOPICS WILL BE FEATURED ON THE NEXT "CREATIVE LIVING" SHOW. IF YOU EVER HAVE COMMENTS OR SUGGESTIONS OR IDEAS FOR SHOWS, YOU CAN E-MAIL ME AT SHERYL.BORDEN@ENMU.EDU. I'D ALSO LIKE TO ASK YOU TO BECOME A FAN OF "CREATIVE LIVING" ON FACEBOOK. JUST GO TO FACEBOOK.COM AND IN THE SEARCH WINDOW, TYPE IN "CREATIVE LIVING WITH SHERYL BORDEN." THANKS SO MUCH. I HOPE YOU'LL PLAN TO JOIN ME NEXT TIME FOR "CREATIVE LIVING." >> WE ARE VERY PLEASED TO OFFER A NEW BOOKLET THAT ACCOMPANIES THIS SERIES OF "CREATIVE LIVING." THIS BOOKLET IS TITLED "THE 6600 SERIES," AND IT FEATURES A WONDERFUL COLLECTION OF IDEAS AND INFORMATION, AND IT'S AVAILABLE FREE OF CHARGE ON OUR WEB SITE. POSTED AS A PDF FILE, YOU CAN SIMPLY DOWNLOAD THE ENTIRE BOOKLET OR JUST THE SEGMENTS YOU'RE MOST INTERESTED IN. AS WITH ALL OF THE "CREATIVE LIVING" BOOKLETS, YOU'LL FIND INFORMATION ON FOODS & NUTRITION, CLOTHING & FASHION, HEALTH & BEAUTY, HOME DECORATING, AND MUCH MORE. FOR YOUR COPY OF THIS BOOKLET, GO TO OUR WEB SITE AT KENW.ORG AND THEN CLICK ON "CREATIVE LIVING." SCROLL DOWN TO THE BOOKLET SECTION, AND YOU CAN CLICK ON THIS BOOKLET OR ANY OF THE OTHER BOOKLETS WE HAVE AVAILABLE ONLINE. ONCE AGAIN, JUST GO TO KENW.ORG, CLICK ON "CREATIVE LIVING," AND DOWNLOAD THE BOOKLET TITLED "THE 6600 SERIES." WE ALSO WANT TO ENCOURAGE YOU TO SIGN UP FOR OUR FREE E-NEWSLETTER. JUST CLICK ON THE "SIGN UP NOW!" BUTTON AND INPUT YOUR E-MAIL ADDRESS. THAT'S ALL THERE IS TO IT. YOU'LL ENJOY READING AN UP-TO-DATE NEWSLETTER FILLED WITH INTERESTING TOPICS AND INFORMATION. THANK YOU.
Now Playing As: Captioned (English) (change)
In this episode, Rebecca Peck from Upholstery Studios demonstrates how to make custom ottomans and tuffets. Also a representative from Wai Hope discusses organic skin care options, and Kurt James shares tips for growing pumpkins and gourdes.
Media Details
Runtime: 27 minutes