Creative Living With Sheryl Borden #6602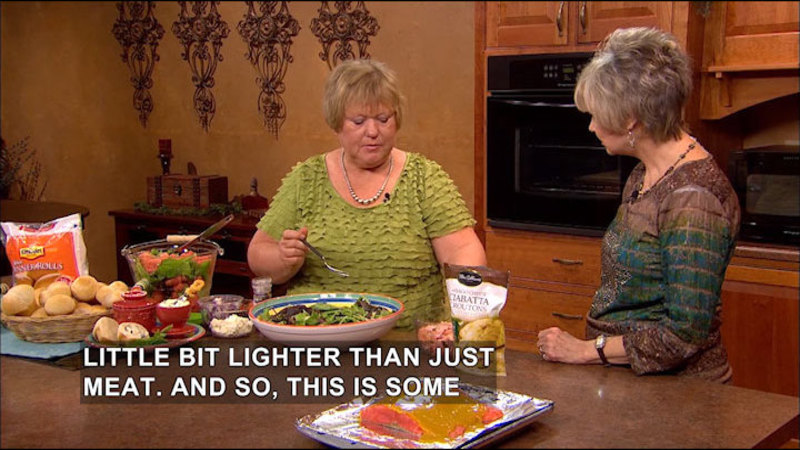 >> "CREATIVE LIVING," UTILIZING TODAY'S TECHNOLOGY WITH THE BEST OF THE PAST TO BRING YOU INNOVATIVE IDEAS AND UP-TO-DATE INFORMATION FOR CREATIVE LIFESTYLES IN TODAY'S ACTIVE WORLD, WITH YOUR HOST, SHERYL BORDEN. >> I'M SO GLAD YOU JOINED ME TODAY FOR "CREATIVE LIVING." WE'RE GOING TO LEARN TO MAKE AN ORANGE-KISSED CHOCOLATE CAKE, TALK ABOUT HOW TO LIVE WITH LESS SO YOU CAN HAVE MORE, AND DEMONSTRATE COOKING WITH SALMON AND WATERMELON. ONE OF MY GUESTS IS NANCY SILER, AND SHE REPRESENTS WILTON BRANDS IN WOODRIDGE, ILLINOIS. NANCY'S GOING TO SHOW HOW TO USE ICING DOTS, ZIGZAGS, AND LINES TO TURN A SIMPLE CHOCOLATE CAKE INTO AN EXTRAORDINARY TREAT. ANOTHER GUEST TODAY IS KATHRYN PORTER, AND SHE'S A BOOK AUTHOR AND HAS COINED A PHRASE SHE CALLS "CLUTTERNOMICS." IT MEANS MAKING THE ECONOMY OF CLUTTER WORK FOR YOU. SHE'LL EXPLAIN HOW TO DECLUTTER OUR HOMES AND LIVES SO THAT WE CAN HAVE MORE ROOM AND MORE TIME FOR THE THINGS THAT ARE TRULY IMPORTANT TO US. KATHRYN LIVES IN COLORADO SPRINGS, COLORADO. MY FIRST GUEST IS MY GOOD FRIEND CONNIE MOYERS, AND SHE'S GOING TO TALK ABOUT WILD-CAUGHT CALIFORNIA KING SALMON, WHICH IS TASTY AND CONTAINS OMEGA-3 FATTY ACIDS, AND IT'S EASY TO PREPARE. CONNIE'S GOING TO PAIR THIS WITH WATERMELON, WHICH IS DELICIOUS, ALSO EASY TO PREPARE, AND EXTREMELY HEALTHY. SHE LIVES IN CLOVIS, NEW MEXICO. CONNIE, THANK YOU SO MUCH FOR BEING WITH US. YOU ALWAYS BRING SOME RECIPES OR IDEAS THAT ARE USUALLY VERY SIMPLE, BUT I'M ALWAYS AMAZED. I JUST HADN'T THOUGHT ABOUT DOING THAT. AND WHEN YOU'RE GOING TO SHOW USING SALMON IN THE WAY YOU'RE GOING TO SHOW IT, I'M SO EXCITED TO TRY THIS RECIPE. >> YOU KNOW, REALLY, SALMON IS AN EASY MEAL TO FIX, BECAUSE YOU CAN BROIL IT, BAKE IT, POACH IT, GRILL IT, ANY OF THOSE WAYS, AND YOU DON'T REALLY HAVE TO DO MUCH TENDING TO IT. >> AND IT COOKS IN WHAT--WHAT DO THEY SAY--10--10 MINUTES PER INCH? >> OF THICKNESS. >> OF THICKNESS. GOSH, THAT'S FAST. >> SO--IT IS, AND THIS IS FRESH WILD-CAUGHT SALMON FROM THE PACIFIC. YOU KNOW, IT DOESN'T HAVE A FISHY SMELL. IT'S JUST-- AND LOOK AT THE BEAUTIFUL, RED COLOR ON IT. THAT'S REALLY GOOD. >> THE WILD-CAUGHT IS GOOD, IN CASE PEOPLE ARE SEEING THAT CONTAINER OR THAT PACKAGE. THAT'S WHAT THEY NEED TO LOOK FOR. >> AND THE SEASON FOR THE FRESH IS FROM, LIKE, MAY TO SEPTEMBER. AND THEN AT THE END OF THE SEASON, THEN YOU CAN JUST FREEZE AND TAKE IT OUT AND THAW IT IN THE REFRIGERATOR, AND IT'S EASY THEN TO-- >> SO, YEAR-ROUND AVAILABILITY. >> AND, YOU KNOW, THEY CATCH IT BY TRAWLING, NOT BY NETS OR SOMETHING, SO--AND IT'S PART OF THE SUSTAINABLE FISHING PROGRAM. SO, IT'S A GOOD PRODUCT, IT'S A GOOD LIVELIHOOD FOR PEOPLE, AND IT'S A GOOD, SAFE PRODUCT. >> AND IS SALMON ONE OF THE FISH THAT IS HIGH IN OMEGA-3? >> THAT'S RIGHT. SO, THE OMEGA-3 IS REALLY GOOD FOR US. IT'S GOOD FOR OUR HEART, IT'S GOOD FOR OUR BRAIN FUNCTION, AND WE ALL SHOULD EAT MORE. YOU KNOW, THE DOCTORS WILL TELL YOU YOU REALLY SHOULD BE EATING THIS ABOUT 5 TIMES A WEEK. >> WOW. I WOULD LIKE TO. HA HA! >> BUT IT'S--THIS IS JUST A PIECE THAT I HAVE THAWED OUT, AND I'M GOING TO JUST KIND OF PAT SOME OF THE MOISTURE OFF THE TOP OF IT, JUST SO OUR DRESSING WILL STICK ONTO IT. AND IT'S REALLY SIMPLE. YOU KNOW, AND HONEY MUSTARD IS A REAL POPULAR THING RIGHT NOW, AND SO, WHAT WE'RE GONNA DO IS I'M GOING TO DO 3 TABLESPOONS OF MUSTARD AND... >> MAKE OUR OWN. >> YEAH. WE'LL JUST MAKE OUR OWN OR YOU COULD DO, YOU KNOW, OF COURSE, YOU COULD BUY STUFF, TOO, BUT THIS IS SO EASY, YOU MIGHT AS WELL JUST MAKE YOUR OWN. >> MM-HMM. AND IF YOU WANT A LITTLE MORE HONEY OR A LITTLE MORE MUSTARD, THAT'S... >> THAT'S RIGHT, AND, YOU KNOW, SOME PEOPLE LOVE THE TASTE OF MUSTARD, AND SO, BE A LITTLE HEAVY ON THE MUSTARD'S FINE FOR THAT PROGRAM. THEN I'M GONNA PUT TWO TABLESPOONS OF HONEY IN THERE TO GO ALONG WITH IT. AND I CHEATED AND BOUGHT SOME GARLIC PASTE ALREADY, AND THAT'S KIND OF NICE, BECAUSE YOU DON'T HAVE TO, YOU KNOW, PEEL THE GARLIC OR DO ANYTHING. BUT I HAVE DONE THIS JUST WITH CHUNKS OF GARLIC AS WELL, AND IT WORKS FINE TO DO THAT, SO, WE'RE GONNA JUST SQUEEZE. >> THIS IS GARLIC PASTE. >> GARLIC PASTE OUT OF THE REFRIGERATOR. IT'S REALLY IN THE PRODUCE SECTION, YOU KNOW. >> THAT'S WHERE WE FIND IT IN THE STORE. OH, OK. I'M GONNA LOOK FOR THAT. >> SO, THAT WAS EASY. AND SOME CIDER VINEGAR TO JUST GIVE THIS A LITTLE BIT MORE TANG TO IT. >> MM-HMM. >> AND WHAT WE'LL DO IS WE'LL JUST ADD THIS TO OUR BEAUTIFUL PIECE OF SALMON HERE. NOW, THE SKIN IS ON THE BOTTOM, AND I LINED THE BROILER PAN WITH FOIL JUST SO IT DOESN'T STICK, BECAUSE IT'LL STICK TO IT, AND YOU COULD SPRAY THAT WITH SOME SPRAY IF YOU WANTED TO. BUT THEN WHEN WE EAT IT, YOU KNOW, YOU JUST TAKE IT OFF OF THE TOP AND IT'S JUST SO--SO EASY TO DO THAT. SO, WE'RE [INDISTINCT]. >> DO YOU HAVE ANY OTHER SPECIAL SUGGESTIONS ONCE YOU MAKE THIS MUSTARD--HONEY MUSTARD RECIPE? WHAT ELSE HAVE YOU TRIED... >> YOU KNOW, I'VE DONE THIS WITH CHICKEN. YOU KNOW, PORK IT WOULD EVEN BE GOOD AND KIND OF DIFFERENT. PORK TENDERLOIN OR SOMETHING. THAT WOULD BE GOOD. SO, HONEY MUSTARD, LIKE I SAY, CAN GO ON A LOT OF DIFFERENT THINGS THAT WE WOULD PUT THIS ON. AND IF WE WERE GOING TO PUT THIS UNDER THE BROILER, WE WOULD WANT TO MAKE SURE WE LOWERED THE RACK SO THAT IT'S NOT SO CLOSE THAT THIS PART BURNS, AND THEN--BEFORE IT GETS COOKED, BECAUSE THIS IS A PRETTY THICK CHUNK OF SALMON. OR WE COULD JUST BAKE IT, AND IT WOULD WORK, TOO. >> WE DON'T COVER IT OR ANYTHING. JUST BAKE IT JUST AS IS. >> NO COVERING OR WE COULD PUT IT ON THE GRILL. BUT I WOULD PUT IT ON A PIECE OF FOIL IF I DID THAT, SO, THAT WOULD BE EASY. AND YOU KNOW, SOMETIMES, IT'S KIND OF HARD, BUT YOU MIGHT HAVE SOME LEFTOVER SALMON, AND SALADS ARE A REALLY GOOD CHOICE OF THINGS TO FIX, AND WE HAVE A LOT OF TIMES THAT WE DO HAVE LEFTOVER THINGS, AND WE WANT A MAIN DISH SALAD, SOMETHING A LITTLE BIT LIGHTER THAN JUST MEAT. AND SO, THIS IS SOME SALMON THAT I HAD LEFT OVER, AND I JUST CHUNKED IT UP. >> YOU KNOW, I DO THIS WITH CHICKEN ALL THE TIME. >> SURE. ANY MEAT... >> BUT I'VE NOT THOUGHT ABOUT USING SALMON. I THINK BECAUSE I'VE NEVER HAD LEFTOVERS. HA HA! >> MY HOUSE, IF WE HAVE LEFTOVERS, IT'S BECAUSE I'VE SAVED PART OF IT BACK. BUT IF YOU PUT IT AT THE TABLE, IT'S PROBABLY GONNA ALL BE GONE. BUT, YOU KNOW, THAT MAKES A BEAUTIFUL SALAD THERE TO GO WITH THAT. AND, YOU KNOW, RESEARCH HAS SHOWN THAT KIDS AREN'T REALLY GOOD ABOUT EATING VEGETABLES, BUT THEY LIKE THINGS LIKE CROUTONS AND THE CRUNCHY STUFF TO GO WITH IT, AND THIS IS A NEW--THERE'S SUCH A VARIETY ON THE MARKET. JUST LOOK AT ALL THE DIFFERENT ONES. MRS. CUBBISON'S IS THE ASIAGO CHEESE CIABATTA CROUTONS, SO, HAVE A LITTLE BIT OF, YOU KNOW, GOOD FLAVOR TO IT. AND WE CAN ADD THIS AND, YOU KNOW, PEOPLE CAN JUST CHOOSE THEIR OWN DRESSINGS, WHATEVER THEY WANT TO. SOMETHING REAL LIGHT-- VINEGAR AND OIL OR SOMETHING TO GO OVER THE TOP OF THAT. AND THAT'S ALL IT WOULD TAKE TO FIX THAT. >> AND WITH EVERYTHING ALREADY PRE-PACKAGED, IT REALLY DOES MAKE PREPARING ANY MEAL SO MUCH EASIER. >> AND, YOU KNOW, THERE ARE SOME STUDIES THAT--OR PEOPLE USED TO SAY WE SHOULDN'T--YOU KNOW, WE NEED TO PRE-WASH THOSE SALADS THAT WERE ALREADY PREPACKAGED, BUT THEY ARE PRE-WASHED FOR US AND THEY'RE SAFE TO EAT. SO, WE DON'T NEED TO DO THAT AT ALL. AND, YOU KNOW, THIS WATERMELON IS SO GOOD. WE GET IT ALL TIMES OF THE YEAR. AND THIS IS JUST A BEAUTIFUL FRUIT SALAD WITH GREENS AND WATERMELON, AND WE'RE GOING TO ADD SOME ONION TO IT. JUST A LITTLE BIT OF ONION THAT WE GOT ALREADY PRE-CHOPPED. I THOUGHT THE RED WOULD BE KIND OF PRETTY IN THERE. SOME FETA CHEESE. >> I LIKE YOUR BOWL. IT LOOKS LIKE A BASKET. >> IT DOES. I'VE HAD THIS BOWL FOR A LONG TIME, AND A LOT OF PEOPLE HAVE WONDERED WHERE I GOT IT. THIS IS JUST A LITTLE BIT OF OLIVE OIL, AND WE'LL JUST DRIZZLE IT OVER THE TOP OF IT TO GIVE IT SOME FLAVOR. LOOK HOW EASY IT IS. AND THE WATERMELON IS REALLY GOOD FOR US, PLUS THE VEGETABLES. ANY VEGETABLE THAT WE WANT TO PUT IN THERE. BUT THE WATERMELON HAS LOTS OF LYCOPENE IN IT. THE MOST OF ANY FRUIT OR VEGETABLE. AND THAT'S-- >> EVEN MORE THAN TOMATOES? >> EVEN MORE THAN TOMATOES. THAT'S A REALLY GOOD ANTIOXIDANT FOR OUR BODY. AND IT HAS A LOT OF VITAMIN A AND C, AND IT'S REAL LIGHT AND REFRESHING... >> ISN'T IT GREAT WHEN WE FIND THOSE RECIPES THAT ARE DELICIOUS, EASY TO MAKE, BUT THEY'RE ACTUALLY GOOD FOR YOU, TOO? >> YEAH, THAT'S KINDA HANDY, ISN'T IT? >> IT SURELY IS. >> AND TO TOP OFF OUR MEAL, THEN WE CAN ALWAYS USE ROLLS, HOT ROLLS. WE ALL LOVE THOSE. AND THESE ARE RHODES ROLLS, THE FROZEN ONES. HAVE YOU EVER USED THOSE? >> YES, I HAVE, AND IT'S SO EASY. >> IT IS. YOU KNOW, YOU CAN JUST TAKE THEM OUT OF YOUR FREEZER AND SET THEM OUT FOR 4 TO 5 HOURS. THEY'RE READY TO EAT. OR YOU CAN PRE-THAW THEM IN YOUR REFRIGERATOR. AND THEN IT JUST TAKES ABOUT AN HOUR AND A HALF FOR THEM TO RISE, AND THEN YOU BAKE THEM 20 MINUTES... >> AND THEY JUST HAVE TO RISE UP THE ONE TIME LIKE THAT. >> AND YOU COULD SPRINKLE SOMETHING ON THEM IF YOU WANTED THEM FANCIER, YOU KNOW. >> CARAWAY. >> CARAWAY OR SOME POPPY SEEDS OR EVEN SOME PARMESAN CHEESE. >> UH-HUH. >> FOR SOMETHING A LITTLE BIT DIFFERENT. >> HAVE TO HAVE HOT ROLLS WITH ANY MEAL. >> WE HAVE TO HAVE BUTTER TO GO WITH OUR HOT ROLLS. AND I'M USING THESE BUTTER BELL CROCKS, AND THEY'RE REALLY HANDY BECAUSE WHEN WE CAN STORE OUR BUTTER IN IT ON THE TABLE OR ON THE CABINET, AND IT'S SOFT. IT'S READY TO SPREAD. >> AND THERE'S NOTHING WORSE THAN HOT ROLLS AND THEN YOU'VE GOT FROZEN, PRACTICALLY FROZEN, REALLY COLD BUTTER. >> SO, THIS IS JUST GONNA SPREAD REAL EASY. WE HAVE ABOUT 1/3 A CUP OF WATER IN THE BOTTOM OF THE CROCK. >> JUST TAP WATER OR-- >> COLD WATER. >> JUST COLD WATER. >> AND YOU WOULDN'T PUT HOT, BECAUSE IT WOULD START MELTING YOUR BUTTER. YEAH. BUT JUST SOME COLD WATER OUT OF THE TAP, AND THEN SPREAD A STICK OF BUTTER. ONE WHOLE STICK OF BUTTER. AND IT'LL KEEP FOR WEEKS. DOESN'T LAST THAT LONG AT MY HOUSE, BUT IT'S READY TO GO, AND THIS IS OUT OF ANOTHER ONE, BUT I'VE ADDED SOME HERBS TO IT. AND SO WE SPREAD THIS ONTO THE BUTTER--OR ONTO OUR HOT ROLLS, AND YOU CAN JUST SEE HOW EASY THAT SPREADS, AND IT'S READY TO GO. >> AND YOU DON'T DESTROY THE SHAPE OF THE BREAD CHISELING OFF THE BUTTER. I REALLY LIKE THAT IDEA. >> SO, A REALLY QUICK SEVERAL MEALS HERE THAT WE HAVE. >> AND SEVERAL IDEAS THAT YOU'VE GIVEN US FOR THAT LEFTOVER SALMON OR--THAT WE PUT BACK ASIDE TO MAKE IT. IT'S SO EASY TO PREPARE. >> AND THEN THE CROUTONS JUST TOP IT OFF. >> WELL, THAT'S A GREAT--THESE ARE GREAT IDEAS. GREAT RECIPES. THANK YOU VERY MUCH, CONNIE. KATHRYN, THANK YOU SO MUCH FOR BEING HERE TODAY. YOUR BOOK ON DECLUTTERING--I STARTED TO SAY "CLUTTER." YOU DEAL WITH CLUTTER AND TEACH US HOW TO GET RID OF A LOT OF CLUTTER. KEEPING THE MOST IMPORTANT THINGS, BUT GETTING RID OF THE OTHER. BUT I LIKED THE WORD YOU CAME UP WITH CALLED "CLUTTERNOMICS." WHAT DO YOU MEAN BY THAT? >> THERE'S AN ECONOMY ASSOCIATED WITH CLUTTER. IT COSTS MORE FOR EVERYTHING YOU OWN, JUST IN WHAT YOU PAY AT THE REGISTER. EVEN IF SOMEONE GIVES YOU SOMETHING FOR FREE AS A GIFT, IT STILL COSTS YOU MONEY. IT COSTS YOU MONEY IN THE REAL ESTATE IN YOUR HOME. ARE YOU GETTING A BIGGER HOME TO STORE MORE STUFF? IT COSTS YOU NOT JUST MONEY--WELL, IT COSTS YOU IN INSURANCE AND OTHER WAYS IN MONEY AS WELL, BUT IT COSTS YOU IN STRESS, BECAUSE EVERYTHING YOU OWN IS ALWAYS IN THE BACK OF YOUR MIND. YOU'RE THINKING ABOUT IT. DID YOU PUT IT AWAY? WHERE DID YOU PUT IT? >> HAVE TO CLEAN IT. >> HAVE TO CLEAN IT. EXACTLY. SO, THERE'S AN ECONOMY TO CLUTTER BEYOND WHAT WE PAY AT THE REGISTER. >> I NEVER THOUGHT ABOUT THAT. I GUESS I THOUGHT ESPECIALLY IF IT WAS GIVEN TO ME, IT WAS FREE. >> RIGHT. AND OF COURSE, RELATIONSHIPS. I CAN'T TELL YOU HOW MANY PEOPLE COME UP TO ME OVER THE YEARS SINCE I WROTE THE BOOK AND SAID, "YOU KNOW, MY WIFE JUST KEEPS TOO MUCH STUFF. I CAN'T HANDLE THIS ANYMORE. I'M THINKING ABOUT LEAVING. WHAT SHOULD I DO?" AND IT'S SUCH A HORRIBLE THING TO HEAR, AND I FEEL SO BAD FOR THESE PEOPLE, BUT, YOU KNOW, REALLY, THEY GOTTA GET RID OF THE STUFF. >> WELL, AND ONE OF THE THINGS THAT YOU TALK ABOUT THAT'S SORT OF A PLUS, IF WE DO HAPPEN TO BE A PACK RAT AND WE HAVE LOTS OF THINGS, MAYBE IT'S TIME TO SELL THOSE. >> ABSOLUTELY. TURNING YOUR CLUTTER INTO CASH. >> I LIKE THAT. >> YEAH. HA HA! >> AND SO, TELL US SOME OF THE IDEAS. OF COURSE, WE ALL KNOW ABOUT eBAY AND HOW THAT COULD BE-- >> WITH eBAY, I THINK SOMETIMES WE GET A LITTLE OVERZEALOUS WITH eBAY AND WE'LL SELL ANY LITTLE THING ON eBAY. AND MY RULE OF THUMB IS IF YOU CAN'T MAKE AT LEAST $50 PROFIT, THEN IT'S NOT WORTH YOUR TIME. BECAUSE NOT ONLY ARE YOU PAYING eBAY A SMALL COMMISSION, YOU HAVE TO DRIVE YOUR CAR TO THE GAS STATION. IT COSTS YOUR TIME. YOUR TIME IS WORTH SOMETHING. SO, UNLESS IT'S A BIG-TICKET ITEM, I REALLY RECOMMEND GETTING ALL YOUR LITTLE STUFF TOGETHER AND DOING A FLEA MARKET OR GARAGE SALE. >> WELL, THAT'S WHAT I WAS GONNA SAY. THAT'S KIND OF MY FAVORITE WAY. ABOUT EVERY TWO YEARS, I THINK, "I'VE GOT ENOUGH STUFF. I JUST WANT TO GET RID OF IT." >> WE DO IT EVERY YEAR. OUR ANNUAL CLEANING. WE JUST GET IT OUT. >> SPRING CLEANING BECOMES THE GARAGE SALE. WELL, IN TALKING ABOUT OUR TIME, WHICH IS, OF COURSE, VERY VALUABLE, AND I DON'T KNOW OF TOO MANY THINGS THAT ARE MORE WORK TO GET READY FOR THAN A GARAGE SALE OR A FLEA MARKET, WHICHEVER, BUT IF THERE'S WAYS TO SAVE TIME, THAT'S WHAT WE WERE GONNA TALK ABOUT IN SOME OF THE PRICING. >> MM-HMM. I JUST BROUGHT SOME SAMPLES, WAYS TO PRICE THINGS. AS A CONSUMER, I STILL SHOP GARAGE SALES LOOKING FOR DEALS, AND WHAT IS SO FRUSTRATING FOR ME SOMETIMES IS THERE'S NO PRICES. I LIKE TO KNOW HOW MUCH THEY WANT FOR IT. >> AND ON THE OTHER END, I THINK THAT'S THE MOST TIME-CONSUMING THING, IS DO PRICES. >> ABSOLUTELY. SO, THESE ARE SOME SAMPLES OF WAYS THAT YOU CAN PRICE THINGS. THIS IS MY LEAST FAVORITE, BECAUSE YOU CAN SEE THE STRING ATTACHED. IT REQUIRES THE MOST WORK, AND YOU HAVE TO WRITE THE PRICE IN THERE. SO, I LIKE LOW-MAINTENANCE, AND THAT'S A LITTLE BIT MORE HIGH-MAINTENANCE. BUT IT WORKS FOR THINGS LIKE CLOTHES. THESE ARE SOME PRICE TAGS WHERE YOU JUST PLUG IN THE PRICE. >> STICK-ON. >> LITTLE BIT EASIER. YOU STICK THEM ON. >> AND SOMETIMES THEY STICK WELL AND SOMETIMES I SEE THEM ON THE FLOOR OF THE GARAGE. >> NOW, WHAT I LIKE ABOUT THESE IS THERE'S NO PRICE ON THEM, AND YOU CAN JUST DECIDE ALL THE PINK DOTS WILL BE 50 CENTS. AND THEN AS THE SALE GOES ON, YOU CAN CHANGE THE PRICE ON IT. SO, YOU JUST--YOU JUST USE A DOT TO DECIDE HOW MUCH THAT YOU WANT TO SELL THEM FOR. SO, THAT'S WHAT'S NICE ABOUT THAT. AND THEN WE HAVE THESE, AND THESE ARE JUST SIMPLE ONES WITH 10 CENTS, 25 CENTS, A DOLLAR, WHATEVER. AND THOSE ARE EASY, TOO. SO, THOSE ARE MY TWO FAVORITES. >> WELL, AND IT'S ONE OF THOSE-- I USED TO USE MAKING TAPE, SO I'D HAVE TO WRITE ON IT. TEAR IT OFF. HALF THE TIME, THE TAG--IT TORE RIGHT IN THE MIDDLE, AND I'D HAVE TO REMAKE IT. AND AGAIN, THOSE DON'T STAY ON, THE TAPE DOESN'T STAY ON, SAY, SWEATER KNITS IF YOU'RE SELLING SOME OF YOUR CLOTHES, WHICH TENDS TO BE WHAT I COLLECT THE MOST AND NEED TO GET RID OF. >> RIGHT. AND THAT'S, AGAIN, WHERE THESE STRINGS COME IN HANDY IS WHEN YOU'RE DOING THE CLOTHES. SO, THEY DO HAVE A PURPOSE, BUT THEY'RE MY LEAST FAVORITE TO USE. >> RIGHT. AND DECIDING WHICH ONES WORK BEST ON WHICH PRODUCT, THAT ALSO SAVES TIME, INSTEAD OF HAVING TO GO BACK AND REDO ALL THE ONES THAT FELL OFF THE SWEATERS. >> AND YOU COULD DECIDE, "I'M NOT GONNA USE ANY." YOU COULD JUST DECIDE, "WELL, THEY CAN OFFER," AND THAT'S OK, TOO. >> AND BESIDES GARAGE SALES AND eBAY, HOW ELSE DO YOU THINK THAT WE SHOULD--COULD POSSIBLY MAKE SOME MONEY? >> NOW, YOU CAN MAKE MONEY WITHOUT MAKING MONEY, AND THAT'S--SOUNDS A LITTLE ODD, DOESN'T IT? I CALL IT A FREE SALE. YOU'RE MAKING MONEY WITHOUT MAKING MONEY. IT COSTS US TO KEEP THINGS. SO, WE'RE MAKING THE MONEY BACK. THE OPPORTUNITY COSTS. DOES THAT MAKE SENSE? WHERE HOW MUCH TIME WE PUT INTO IT, HOW MUCH MONEY WE PAY FOR IT FOR INSURANCE, OR THE ADDITIONAL MONEY WE USE TO BUY ACCESSORIES TO GO WITH IT. WE'RE SAVING THAT MONEY BY GIVING IT AWAY. I CALL THAT A FREE SALE. >> WELL, AND YOUR IDEA ABOUT REAL ESTATE, SAVING THE REAL ESTATE, THE SPACE IN OUR HOUSE, BECAUSE WE MAY OR MAY NOT NEED THAT SPACE FOR OTHER THINGS. >> SO, THE FREE SALE--SOME PEOPLE CALL IT A CURB SALE, WHERE THEY JUST THROW EVERYTHING ON THE CURB AND PEOPLE COME PICK IT UP. I LIKE TO HAVE A FREE SALE IN CONJUNCTION WITH A GARAGE SALE, BECAUSE THEN IT GETS MORE PEOPLE IN. SO, THEN YOU HAVE BOXES OF FREE STUFF AND THE STUFF THAT YOU-- THAT YOU WANT TO SELL. >> THAT'S A GOOD POINT. WELL, I ENJOYED READING THE BOOK, AND I THINK EVERYONE CAN BENEFIT FROM FINDING WAYS TO GET RID OF SOME OF THOSE THINGS THAT WE EITHER FELT MOTIVATED TO GET, OR THEY WERE GIFTS. THAT'S THE HARDEST THING FOR ME TO GET RID OF SOMETIMES. OR FINDING THINGS THAT WERE SENTIMENTAL, EITHER AT THE TIME, AND MAYBE WE DON'T NEED TO KEEP, THAT WE CAN USE THAT SPACE FOR SOMETHING ELSE. THANK YOU VERY MUCH FOR BEING WITH US TODAY. NANCY, EVERY TIME YOU COME, YOU BRING THE MOST ELEGANT-LOOKING CAKE, AND I THINK, "OK, WE'VE DONE ALL THERE IS TO DO." BUT EVERY TIME, YOU BRING SOMETHING NEW TO SHOW US, AND THIS ONE LOOKS REALLY PRETTY. >> WELL, AND IT'S QUITE EASY. AND IF YOU HAVE A TECHNIQUE THAT YOU'RE BETTER AT THAN OTHERS, JUST USE THAT TECHNIQUE. BUT I'M GONNA SHOW YOU A COUPLE OF CAKE DECORATING TECHNIQUES THAT YOU CAN USE. YOU COULD USE DIFFERENT SHADES OF CHOCOLATE ICING, AND MAKE IT LOOK QUITE DIFFERENT. IT COULD BE YOUR SIGNATURE DISH. >> OH, IT COULD. LET'S TAKE A LOOK AT THE FINISHED ONE, AND I SEE WHAT YOU MEAN ABOUT THE DIFFERENT COLORS OF ICING, BECAUSE YOU HAVE THE LIGHTER CHOCOLATE, THE DARKER. I CAN SEE WHICH CAKE TIPS YOU'VE USED, BUT THAT TOP, IS WHAT I CAN'T WAIT FOR YOU TO SHOW HOW TO MAKE THOSE BEAUTIFUL CHOCOLATE CURLS. >> THE CHOCOLATE CURLS--I HAVE A CONFESSION. I USED TO BE CHOCOLATE--CHOCOLATE CURL- IMPAIRED.
[LAUGHTER] BUT NOT ANY LONGER. I FIGURED
OUT HOW I CAN DO IT. THERE'S TWO DIFFERENT TECHNIQUES. ONE I'LL SHOW YOU. ONE I'LL JUST TALK ABOUT. BUT LET'S GO AHEAD AND GET THE DECORATIONS, BECAUSE WE'VE GOT CHOCOLATE HERE. NOW, THIS PARTICULAR CAKE, WHAT YOU COULD DO IS MAKE IT ORANGE-FLAVORED BY USING SOME ORANGE ZEST, LIKE A COUPLE TABLESPOONS OF ORANGE ZEST AND A CHOCOLATE CAKE. YOU COULD PUT SOME ORANGE EXTRACT IN THERE AND KIND OF ZIP IT UP. AND THEN IT KIND OF GOES ALONG WITH THE GOLD, BUT YOU DON'T HAVE TO, EITHER. YOU CAN-- >> WE'LL SHOW THE GOLD IN JUST A MINUTE, TOO. >> SO, I'VE GOT A ROUND TIP. IT'S TIP NUMBER 6. AND WHAT I'M GONNA DO IS I'VE GOT A TILTING TURNTABLE, AND THIS MAKES IT SO MUCH EASIER TO WORK WITH. SO, I, YOU KNOW, YOU CAN ANGLE, AND THEN I'LL TURN IT AROUND SO YOU CAN SEE WHAT I'M DOING. WHAT I'M GONNA DO IS I'M JUST GONNA PUT DOTS AND MAKE DOTS GOING DOWN. AND I JUST LIKE TO DO IT UNIFORM, AND WHAT HAPPENS IS YOU'LL SEE, BECAUSE MY ICING'S A LITTLE SOFT, IS I'VE GOT SOME TIPS ON THEM. BUT AS THE ICING DRIES, THEN I'LL JUST TAKE MY FINGER AND PAT IT DOWN. >> NOW, DO YOU USE CORNSTARCH ON YOUR FINGER OR CAN YOU... >> YOU CAN USE CORNSTARCH. YOU CAN USE CONFECTIONER'S SUGAR IF YOU WANT TO. BUT YEAH. SO, I'M GONNA TURN THAT AROUND. AND YOU'LL SEE, LIKE I SAID, THE ICING'S A LITTLE SOFT, SO IT POKES OUT, BUT ALL YOU NEED TO DO IS JUST LET IT AIR-DRY FOR A LITTLE BIT, AND THEN YOU CAN JUST PAT IT RIGHT DOWN. IT'LL BE AS FLAT AS CAN BE. >> UH-HUH. >> OK, NOW, ANOTHER THING YOU COULD DO WITH YOUR ROUND TIP IS A ZIGZAG. ON THAT CAKE, I'VE DONE IT WITH THE-- >> OH, YOU'RE USING THAT SAME TIP. OH, I SEE. YOU'RE JUST DOING KIND OF LITTLE FILIGREE. >> AND I'M JUST GOING BACK AND FORTH... IN ABOUT THE SAME UNIFORMITY. AND THEN I JUST--I'M GONNA STOP, BECAUSE I'LL HAVE A SHELL AT THE BOTTOM. SO, THAT'S ANOTHER THING YOU COULD DO. THAT'S NOT ON THAT CAKE, BUT I THOUGHT, "WELL, LET'S JUST PUT IT ON THIS ONE." NOW, IF YOU WANTED TO SEE HOW THAT LOOKED WITH A ZIGZAG TIP... >> AND THIS ONE IS LARGER. >> MM-HMM. THIS IS, LIKE, A 16. AND SO, YOU'LL SEE THE SAME TECHNIQUE. SO, I'M JUST GOING BACK AND FORTH WITH MY ARM. AND THEN I'M JUST GONNA DO A COUPLE OF THESE, WHICH IS STAR, SQUEEZE, DOT, SQUEEZE AND LIFT, SQUEEZE, DOT, SQUEEZE AND LIFT. SO, IT'S LIKE YOUR DOTS. WELL, I CAN'T HELP MYSELF. I HAVE TO GO ALL THE WAY DOWN.
[LAUGHTER] OK, SEE, HERE'S THE ZIGZAG
WITH THE STAR. HERE'S THE ZIGZAG WITH THE ROUND. AND THEN HERE'S THE STAR JUST GOING DOWN WITH THE STARS. >> SO, WE'VE USED TWO TIPS SO FAR, AND MADE... >> AND THEN I'VE GOT A BASKET WEAVE TIP HERE, AND THAT'S GOT--YOU CAN HAVE A SERRATED OR YOU CAN HAVE A FLAT. AND I'M GONNA USE THE SERRATED, BECAUSE I THINK THAT GIVES SOME ADDITIONAL TEXTURE. LET ME ANGLE MYSELF... >> THAT TILT REALLY IS HELPFUL. >> OH, YEAH. I MEAN, AND YOU CAN DO IT WITHOUT IT, BUT IT JUST MAKES LIFE SO MUCH EASIER. SO, I'M TOUCHING, AND THEN I'M JUST DRAGGING. I'M NOT ACTUALLY TOUCHING MY CAKE. I'M KIND OF WALKING IT DOWN. AND THEN I TOUCH DOWN AT THE BOTTOM. AND THEN THERE YOU HAVE THE LINE, AND YOU COULD DO IT EITHER WITH THE SERRATED EDGE OR THE FLAT EDGE. NOW, LET ME JUST SHOW YOU WHAT ELSE YOU COULD DO. YOU COULD DO SHELLS. AND I'M JUST GONNA DO THAT TOP FOR THE SHELLS. AND SO, YOU HOLD IT AT AN ANGLE. YOU SQUEEZE, LET IT BUILD UP, AND THEN YOU PULL IT TOWARDS YOU. AND THAT'S GONNA BE YOUR BORDER, BOTH TOP AND BOTTOM. YOU COULD ACTUALLY DO THAT DOWN THE SIDE OF THE CAKE IF YOU WANT. SO, TRY SOME OF THESE DIFFERENT TECHNIQUES, AND WHICHEVER ONE YOU'RE REALLY GOOD AT, USE THAT ONE. >> WELL, AND I HAVE, THANKS TO YOU BEING HERE SEVERAL TIMES, I HAVE A COLLECTION OF DIFFERENT TIPS, BUT I HAVE TO ADMIT I TEND TO USE THE SAME ONES ALL THE TIME. THIS WOULD BE A GREAT CAKE TO DO TO TRY SOME OF THOSE THAT I'VE NEVER USED BEFORE. >> I THINK YOU KIND OF GET THE IDEA HERE. YOU'RE JUST LETTING IT BUILD UP AND THEN YOU'RE PULLING IT TOWARDS YOU. THE OTHER THING YOU COULD DO IS YOU COULD PUT SOME CHOCOLATE DISKS IN BETWEEN THEM. I COULD SEE THIS CAKE ALSO HAPPENING IN COLOR. SO, IF YOU WANTED TO USE A CHOCOLATE BASE AND THEN ADD SOME COLOR TO IT. BUT NOW THE CHOCOLATE CURLS. >> NOW, THIS IS WHAT I WANT TO SEE HOW TO DO. THIS IS WHAT YOU'VE ALREADY MADE, AND-- >> AND YOU WANT TO USE A POTATO PEELER OR A VEGETABLE PEELER, IS WHAT YOU CALL. THESE ARE TWO DIFFERENT ONES THAT WORK FAIRLY WELL FOR ME. I'M GONNA SHOW YOU THAT AND THEN I'M GONNA TELL YOU ABOUT ANOTHER TECHNIQUE WHILE WE PAINT THEM GOLD. AND WHAT I'VE DONE HERE IS THIS IS, LIKE, THE MINI LOAF PAN, AND I'VE TAKEN A BAG OF CANDY MELTS, WHICH IS 14 OUNCES, BUT YOU COULD USE 14 TO 16 OUNCES OF CHOCOLATE IF YOU WANTED TO, AND ADDED TWO TABLESPOONS OF SHORTENING. SO, THAT GIVES IT A SOFT ENOUGH CONSISTENCY THAT IT CURLS. NOW, THIS--AND THE REASON I ADD THE SHORTENING TO IT IS BECAUSE IT MAKES IT A LITTLE MORE FORGIVING WHEN YOU GET READY TO MAKE THEM. BECAUSE IF YOU DON'T HAVE IT A LITTLE BIT MORE FORGIVING, IF YOU PUT IT IN THE REFRIGERATOR, LIKE, THE OTHER WAY IS YOU HAVE PARCHMENT PAPER OR WAX PAPER ON TOP OF A COOKIE SHEET, AND THEN THAT SOMETIMES RIPS THE PAPER, OR YOU HAVE, LIKE, A MARBLE SURFACE, AND YOU HAVE A COOKIE SPATULA, AND YOU COME AT A 45-DEGREE ANGLE. YOU CAN DO THAT. YOU DON'T WANT TO DO IT ON YOUR BAKEWARE, BECAUSE YOU WILL SCRAPE YOUR BAKEWARE. SO, THAT'S A LITTLE BIT MORE TECHNICAL, AND YOU HAVE TO WORRY ABOUT IT A LITTLE BIT MORE. BUT THIS, YOU DON'T HAVE TO WORRY ABOUT IT BEING THE RIGHT TEMPERATURE, BECAUSE IT'LL CRACK AND BREAK IF IT'S TOO COLD, AND THEN IT WILL JUST MELT IF IT'S TOO HOT. SO, THESE ARE JUST CANDY MELTS WITH SOME SHORTENING, AND I'M GONNA GO DOWN THE SIDE, AND YOU COULD SEE...YOU JUST--I'M GOING SLOW SO THAT YOU CAN CATCH IT, AND YOU SEE YOU GET A CURL LIKE THAT. AND YOU DON'T HAVE TO WORRY IF THEY'RE NOT PERFECT, BECAUSE SOMETIMES YOU CAN GO BACK IN. LIKE, I'M GONNA STOP THERE, AND I'M JUST GONNA GO AHEAD AND TAP IT DOWN. YOU CAN RESHAPE IT. SO, SEE, I GOT AN EVEN TIGHTER CURL. IF YOU WANT TO. BUT-- MY HANDS ARE HOT. >> AND YOU CAN MAKE DIFFERENT WIDTHS. I MEAN, THESE ARE FAIRLY SMALL, AND YOU CAN MAKE THE LONG ONES. >> OOPS. OK. AND THEN I'LL TAKE THAT AND I CAN PUT IT BACK TOGETHER. AND YOU CAN DO IT ON THE LONG SIDE, TOO, BUT I JUST THOUGHT FOR THE CAMERA IT'D BE EASIER TO SHOW ON THAT
[INDISTINCT] PRE-MADE. YOU MIGHT WANT TO WEAR A DISPOSABLE GLOVE,
BECAUSE YOU CAN SEE--I HAVE VERY HOT HANDS. SO, IT'S A LITTLE BIT HARDER FOR ME TO DO IT BECAUSE MY HANDS ARE SO HOT. BUT THEN WHAT YOU CAN DO, YOU CAN LEAVE IT LIKE THAT IF YOU WANT TO. YOU COULD USE DARK CHOCOLATE, YOU COULD USE THE LIGHT COCOA IF YOU WANTED TO. AND THEN THIS IS JUST SOME POWDER--PEARL DUST. >> EDIBLE. >> ABSOLUTELY FOOD-SAFE. AND YOU CAN SEE--I'M PAINTING IT ON WITH FOOD-SAFE BRUSHES. YOU COULD STREAK IT IF YOU WANTED TO. YOU COULD JUST DUST IT. YOU COULD JUST SPRINKLE IT ON TOP IF YOU WANTED TO, TOO. >> LIKE WITH A STRAINER. JUST SPRINKLE IT. >> MM-HMM. IF YOU WANTED TO PUT IT ON WITH, YOU KNOW, SOMETHING THAT, YOU KNOW, LIKE ON FONDANT, YOU COULD DUST IT ON LIKE THIS OR YOU COULD ACTUALLY MIX IT WITH SOME LEMON EXTRACT OR SOME VODKA AND THEN PUT IT ON AND ACTUALLY PAINT WITH IT. >> AND THIS COMES IN ALL DIFFERENT COLORS, BECAUSE I HAVE SOME PINK THAT'S AWFULLY PRETTY. >> MM-HMM. SO, THAT'S BASICALLY IT. >> SO, THEN AFTER, DO ALL THE CAKE DECORATING ON THE CAKE FIRST, AND THEN TOP IT WITH-- AND YOU DON'T HAVE TO PUT THESE DOWN OR ADHERE THEM WITH ANYTHING, DO YOU? >> NO. YOU CAN JUST LAY THEM ON TOP. >> UH-HUH. OK. THIS IS SUCH AN ELEGANT CAKE. I KNOW WE COULD IMPRESS EVERYBODY. >> HA HA! WELL, I JUST LINE THESE UP IN A ROW, BUT YOU COULD JUST TAKE THAT WHOLE PLATE AND JUST KIND OF SCOOP IT RIGHT ONTO THE CAKE, AND YOU'D BE DONE. >> OK. I'M READY TO DO THE PAINTING. THAT LOOKS LIKE FUN TO ME. THANK YOU VERY MUCH, NANCY. I HOPE YOU ENJOYED THE SHOW TODAY. NEXT TIME ON "CREATIVE LIVING," WE'LL LEARN HOW TO MAKE OTTOMANS AND TUFFETS, WE'LL TALK ABOUT THE ORGANIC SKIN CARE MOVEMENT, AND DISCUSS GROWING PUMPKINS AND GOURDS. ONE OF MY NEXT GUESTS IS GOING TO DEMONSTRATE MAKING EASY OTTOMANS AND TUFFETS, OR, IF YOU DON'T WANT TO MAKE THEM YOURSELF, SHE'LL SHARE SOME TIPS ON WHERE TO GO AND HOW TO CHOOSE READY-MADE ONES. ANOTHER GUEST IS GOING TO TALK ABOUT WHY MORE WOMEN AND MEN ARE TURNING TO ORGANIC SKIN CARE PRODUCTS, WHICH MAY BE A SAFER ROUTE IN CARING FOR OUR SKIN. AND FINALLY, WE'LL TALK TO A GUEST WHO WILL EXPLAIN HOW TO GROW PUMPKINS AND GOURDS, AND HE'LL SHARE SOME USAGE TIPS AS WELL AS TELL HOW TO IDENTIFY THE VARIOUS PRODUCTS. ALL OF THESE TOPICS WILL BE FEATURED ON THE NEXT "CREATIVE LIVING" SHOW. IF YOU EVER HAVE COMMENTS OR SUGGESTIONS OR IDEAS FOR SHOWS, YOU CAN E-MAIL ME AT SHERYL.BORDEN@ENMU.EDU. I'D ALSO LIKE TO ASK YOU TO BECOME A FAN OF "CREATIVE LIVING" ON FACEBOOK. JUST GO TO FACEBOOK.COM AND IN THE SEARCH WINDOW, TYPE IN "CREATIVE LIVING WITH SHERYL BORDEN." THANKS SO MUCH, AND I HOPE YOU'LL PLAN TO JOIN ME AGAIN NEXT TIME FOR "CREATIVE LIVING." >> WE ARE VERY PLEASED TO OFFER A NEW BOOKLET THAT ACCOMPANIES THIS SERIES OF "CREATIVE LIVING." THIS BOOKLET IS TITLED "THE 6600 SERIES," AND IT FEATURES A WONDERFUL COLLECTION OF IDEAS AND INFORMATION, AND IT'S AVAILABLE FREE OF CHARGE ON OUR WEB SITE. POSTED AS A PDF FILE, YOU CAN SIMPLY DOWNLOAD THE ENTIRE BOOKLET OR JUST THE SEGMENTS YOU'RE MOST INTERESTED IN. AS WITH ALL OF THE "CREATIVE LIVING" BOOKLETS, YOU'LL FIND INFORMATION ON FOODS & NUTRITION, CLOTHING & FASHION, HEALTH & BEAUTY, HOME DECORATING, AND MUCH MORE. FOR YOUR COPY OF THIS BOOKLET, GO TO OUR WEB SITE AT KENW.ORG AND THEN CLICK ON "CREATIVE LIVING." SCROLL DOWN TO THE BOOKLET SECTION, AND YOU CAN CLICK ON THIS BOOKLET OR ANY OF THE OTHER BOOKLETS WE HAVE AVAILABLE ONLINE. ONCE AGAIN, JUST GO TO KENW.ORG, CLICK ON "CREATIVE LIVING," AND DOWNLOAD THE BOOKLET TITLED "THE 6600 SERIES." WE ALSO WANT TO ENCOURAGE YOU TO SIGN UP FOR OUR FREE E-NEWSLETTER. JUST CLICK ON THE "SIGN UP NOW!" BUTTON AND INPUT YOUR E-MAIL ADDRESS. THAT'S ALL THERE IS TO IT. YOU'LL ENJOY READING AN UP-TO-DATE NEWSLETTER FILLED WITH INTERESTING TOPICS AND INFORMATION. THANK YOU.
Now Playing As: Captioned (English) (change)
In this episode, viewers will learn how to decorate an orange kiss chocolate cake, while Connie Moyers presents a recipe for a salmon watermelon salad. And author Kathryn Porter provides tips on how to declutter one's life.
Media Details
Runtime: 27 minutes