Creative Living With Sheryl Borden #6601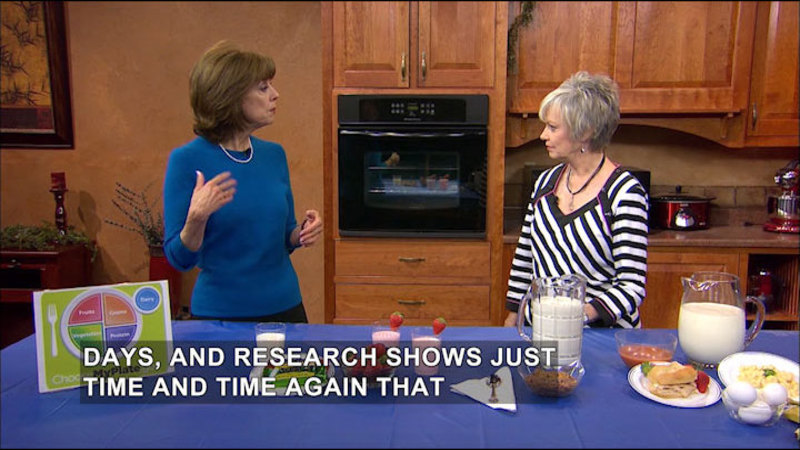 >> "CREATIVE LIVING," UTILIZING TODAY'S TECHNOLOGY WITH THE BEST OF THE PAST TO BRING YOU INNOVATIVE IDEAS AND UP-TO-DATE INFORMATION FOR CREATIVE LIFESTYLES IN TODAY'S ACTIVE WORLD, WITH YOUR HOST, SHERYL BORDEN. >> WELCOME TO "CREATIVE LIVING" TODAY. WE'RE BEGINNING A NEW SERIES OF SHOWS, AND I HOPE YOU'LL WATCH AS OFTEN AS POSSIBLE. TODAY WE'RE GOING TO LEARN TO MAKE VICTORIAN POSIES, DEMONSTRATE SOME QUICK AND EASY BREAKFAST RECIPES, AND TALK ABOUT STRESS-FREE LIVING. ONE OF MY GUESTS IS CASEY SCHWARTZ, AND SHE'S A FLORAL DESIGNER AND CO-OWNER OF FLOWER DUET. CASEY'S GOING TO SHOW HOW TO MAKE A TUSSIE MUSSIE OR WHAT IS SOMETIMES REFERRED TO AS VICTORIAN POSIES. THE VICTORIANS BELIEVED FLOWERS HAD SPECIAL MEANING, SO THE IDEA IS TO SELECT FLOWERS TO CONVEY YOUR SPECIAL MEANING TO SOMEONE. SHE LIVES IN REDONDO BEACH, CALIFORNIA. ANOTHER GUEST ON TODAY'S SHOW IS REGISTERED DIETITIAN AND AUTHOR PAT BAIRD, AND SHE'S GOING TO EXPLAIN WHY BREAKFAST IS THE BEST MEAL OF THE DAY. SHE'LL TALK ABOUT HOW TO USE MY PLATE TO DETERMINE WHAT TO EAT AT EVERY MEAL. PAT REPRESENTS THE NATIONAL GOT MILK CAMPAIGN AND LIVES IN GREENWICH, CONNECTICUT. MY FIRST GUEST IS LAURA DELLUTRI, AND SHE'S A LIFESTYLE EXPERT WITH HEALTHY HOUSEKEEPER, INCORPORATED. LAURA'S GOING TO SHOW SOME NEW PRODUCTS ON THE MARKET THAT JUST MIGHT MAKE YOUR LIFE MORE STRESS-FREE. SHE'S FROM OVERLAND PARK, KANSAS. LAURA, IT SEEMS LIKE EVERY MAGAZINE YOU PICK UP OR LISTEN ON THE RADIO OR THE NEWSPAPER, YOU'RE HEARING ABOUT ALL THESE STRESSFUL THINGS THAT ARE GOING ON IN OUR WORLD, FROM IDENTITY THEFT TO, YOU KNOW, WE'RE TOO TIRED AT THE END OF THE DAY TO EVEN ENJOY BEING HOME WITH THE FAMILY. YOU'VE GOT SOME SOLUTIONS, DON'T YOU? >> OH, I DO, SHERYL, AND THEY ARE GREAT, NEW SOLUTIONS, SOME OF THE OLD PRODUCTS THAT THEY'VE HAD IN THE OLD DAYS TO KIND OF SOOTHE US HAVE JUST BEEN UPGRADED, UPDATED, AND THE TECHNOLOGY IS FANTASTIC, SO-- >> AND WHAT I'VE NOTICED IS THE PRICES HAVEN'T GONE UP. THEY'RE STILL VERY REASONABLE. >> THEY ARE, THEY ARE, AND, YOU KNOW, SOMETIMES WE'RE DOING OUR BILLS OR, YOU KNOW, LIKE YOU SAID, THAT CAN BE STRESSFUL. YOU GET ALL THE JUNK MAIL, YOU WORRY ABOUT IDENTITY THEFT, SO I'VE GOT A COUPLE OF SOLUTIONS FOR THAT TODAY. >> OK. >> ALL RIGHT, FIRST OF ALL IS THE SLIMLINE SHREDDER. THAT'S MADE BY BLACK & DECKER, AND WHAT'S NICE ABOUT THIS, IT'S A CROSSCUT PAPER SHREDDER. IT'S NOT LIKE THE BIG, BULKY ONES THAT GET IN THE WAY AND-- >> OFFICES USUALLY HAVE THOSE. >> YEAH, AND THE PAPER'S FALLING ALL OVER THE PLACE. THIS HAS A REALLY NICE LITTLE BIN THAT CATCHES EVERYTHING, AND IT SITS RIGHT UNDERNEATH YOUR DESK. IT ALMOST LOOKS LIKE A LITTLE COMPUTER. >> THAT'S WHAT I THOUGHT IT WAS. >> YOU SAID, YEAH, AND THAT I REALLY, REALLY LIKE. IT'S ONLY $49, SO YOU CAN FIND THEM FROM $49 TO $79, BUT IT'S JUST SUCH A SPACE-SAVER BECAUSE SPACE CAN BE IMPORTANT. THE OTHER THING IS THE IDENTITY THEFT BUSTER. AGAIN, THIS IS MADE BY BLACK & DECKER, AND I LOVE IT BECAUSE IT CAN HANDLE UP TO 20 SHEETS OF PAPER. IT CAN EVEN SHRED CDs, IT CAN SHRED-- >> CREDIT CARDS, YOU SAID. >> YEAH, CREDIT CARDS, STAPLES. I MEAN, THERE'S OVER 4 MILLION TONS OF JUNK MAIL A YEAR OUT THERE, AND NOTHING STRESSES YOU OUT MORE THAN INDIVIDUALLY TRYING TO PUT EACH ONE IN, SO I SAY GO WITH SOMETHING LIKE THAT. IT'S ONLY $79, AND BOTH OF THOSE ARE AVAILABLE, LIKE, AT WALMARTS AND PLACES LIKE THAT. >> AND COULD PAY FOR THEMSELVES IN A MONTH, DEPENDING. >> ABSOLUTELY. WORK THE STRESS BUSTER OF IT ALL. AND THE OTHER THING THAT A LOT OF PEOPLE CAN STRESS OUT ABOUT IS THEIR ELECTRIC BILLS. >> MM-HMM. GET HIGH. >> THEY GET HIGH, AND A LOT OF PEOPLE DO NOT REALIZE THAT THERE'S VAMPIRE POWER GOING ON IN THEIR HOME. AND VAMPIRE POWER ACTUALLY IS WHEN THE ENERGY IS STILL BEING PUMPED INTO THE ACTUAL PLUG OR IN THE OUTLET, BUT THE APPLIANCE OR THE ELECTRONIC IS OFF. SO, ACTUALLY, ALL THESE LITTLE OUTLETS THAT YOU PLUG IN AND TURN OFF THE UNIT, THEY'RE STILL SUCKING OUT VAMPIRE POWER. >> I DIDN'T KNOW THAT. >> YEAH, AND ACTUALLY IT'S VERY EXPENSIVE, TO THE TUNE OF $10 BILLION A YEAR WASTED IN ELECTRICITY, SO-- >> AND WE THINK WE'VE DONE THE RIGHT THING BY TURNING OFF ALL THE IRONS AND THE COMPUTERS AND ALL THE TOYS AND THINGS. >> RIGHT, AND SOME THINGS, YOU KNOW, THE KIDS LEAVE IN. IT'S LIKE, OK, I NEED TO--THAT'S A LITTLE COMMON THING THAT YOU WOULD THINK, OK, UNPLUG. BUT IT'S THE THINGS FOR MEDICAL; MAYBE YOU HAVE CERTAIN THINGS THAT HAVE TO KEEP RUNNING ALL THE TIME. YOU DON'T WANT TO EVER UNPLUG ALARM CLOCKS, AND FOR THAT, THEY HAVE A NEW PRODUCT THAT I LOVE. IT'S CALLED THE iGO POWER TOWER, AND WHAT'S NICE ABOUT THIS IS IT ACTUALLY--YOU CAN PLUG UP TO 4 ITEMS IN HERE, AND THEY ARE GOING TO REDUCE THAT DRAIN OF THE VAMPIRE POWER IN YOUR HOME. AND WHAT'S REALLY NEAT ABOUT THIS IS IT'S ONLY $79, SO CAN YOU IMAGINE WHAT YOU SAVE IN ELECTRIC BILLS OVER THE COURSE OF A FEW YEARS? AND, AGAIN, IT'S GOOD. IT'S GOOD FOR THE ENVIRONMENT BECAUSE YOU'RE USING LESS POWER, BEING GOOD ABOUT THAT. >> GOOD, ON THOSE POWER, UTILITY BILLS THAT ARE SO DARNED HIGH THAT WE'RE STRESSED OUT OVER. >> EXACTLY, EXACTLY. >> NOW, THIS LOOKS LIKE SOMETHING WONDERFUL TO HAVE. I'D LOVE THAT. >> OH, THIS IS. THIS IS THE SHIATSU PILLOW. IT'S A ROTATING MASSAGER, AND WHAT'S SO NICE ABOUT THIS--YOU CAN JUST PUT IT BEHIND YOUR NECK AND, YOU KNOW, YOU'RE LEANING OVER THE COMPUTER ALL DAY AND YOU SEEM TO GET-- >> OR PAYING BILLS. >> YEAH, PAYING BILLS CAN BE A PAIN IN THE NECK. AND YOU ACTUALLY START TO GET ALL THAT TENSION BUILT UP. SO THIS IS ONE OF THE NICEST MASSAGERS THAT I HAVE FOUND BECAUSE IT WORKS ON, OF COURSE, THE NECK, THE SHOULDERS. YOU CAN PUT IT ON THE LOWER BACK. YOU CAN MOVE IT AROUND, AND IT'S A PILLOW, IT'S NOT BULKY, IT DOESN'T GET IN THE WAY, AND I LIKE IT BECAUSE IT'S ONLY $39.99. >> OH, THAT IS NICE. >> AND IT DOES FEEL LIKE YOU'RE GETTING, YOU KNOW, ACTUAL MASSEUSE BACK THERE IN THE LITTLE BALLS THAT ARE ROTATING BACK THERE, SO I REALLY, REALLY LIKE IT, AND IT'S MADE BY HOMEDICS. >> UH-HUH. >> OK, NEXT, GETTING A GOOD NIGHT'S SLEEP. THAT CAN BE A PROBLEM FOR SOME OF US. WE WORRY, WE HEAR BACKGROUND NOISE, SO I LOVE THIS. IT'S THE SOUNDSPA PREMIER, AND WHAT'S NICE ABOUT THIS--THIS IS AN AM/FM CLOCK RADIO, BUT IT ALSO HAS 6 SOOTHING SOUNDS LIKE RAINFOREST RAIN, THE OCEAN. IT HAS THUNDER, EVEN, AND IT DOES, AGAIN, FILTER OUT ALL THAT BACKGROUND NOISE. AND WHAT I REALLY LIKE ABOUT IT, IT HAS A BLUE LIGHT, AND THIS BLUE LIGHT ACTUALLY PROJECTS THE TEMPERATURE IN THE ROOM. >> OH, ON YOUR CEILING? >> ON YOUR CEILING OR YOUR WALL. WHEREVER YOU WANT TO POINT IT, IT PROJECTS IT AND THE TIME. SO YOU KNOW HOW YOU WAKE UP IN THE MIDDLE OF THE NIGHT AND YOU'RE LIKE--YOU HAVE TO BEND OVER TO LOOK AT THE ALARM CLOCK OR--NOW YOU COULD JUST LOOK UP AT THE CEILING AND SAY, "OH, IT'S 1:45. I NEED TO GET BACK TO BED." AND THAT'S $39. >> OK. NOW, MY NIECE HAS ONE OF THESE TYPES OF COFFEE MAKERS, AND SHE LOVES IT. BUT IS IT REALLY WORTH HAVING ONE? >> OH, I THINK SO BECAUSE I HAVE WASTED SO MUCH MONEY MAKING A BIG POT OF GOURMET COFFEE. I THINK I'M GOING TO GET TIME TO DRINK, AND I RUN OUT OF THE HOUSE. WHAT AM I DOING? DUMPING IT DOWN THE SINK. SO I LOVE THIS. IT HAS 40 DIFFERENT BEVERAGE OPTIONS. YOU JUST POP THE DISC IN THERE, PUSH IT DOWN, AND PUSH THE BUTTON. AND IT'LL HEAT UP, AND IN ONE MINUTE, YOU COULD HAVE CHAI TEA LATTE, YOU COULD HAVE HOT CHOCOLATE, YOU COULD HAVE ESPRESSO, COFFEE, YOU NAME IT. >> UH-HUH, AND NOT HAVE TO WASTE ANYTHING. >> YEAH, AND WE'LL LET THAT GO AHEAD AND COOK. >> NOW, THIS LOOKS LIKE MY ALL-TIME FAVORITE. I'M READY FOR THE COFFEE, AND NOW WE'RE READY TO SOAK. >> OH, AND AT THE END OF THE DAY, YEAH, YOU GOT TO PAMPER YOUR FEET. THIS IS THE HOMEDICS PEDICURE SPA. WHAT I--I JUST LOVE THIS, AND FOR SO MANY REASONS. IT HAS THE LITTLE TOOL THAT WILL GET THE PUMICE AND SCRUB EVERYTHING FOR YOU, WHICH IS AN EXTRA ADDED BONUS. IT HAS THE LITTLE SEA FOAM REST. IT HAS A HANDY TOTE-- >> TO CARRY IT AROUND. >> YEAH, BECAUSE, YOU KNOW, WE ALWAYS SPILL IT WHEN WE'RE EMPTYING IT OUT AND THINGS LIKE THAT, SO I REALLY LIKE THAT. IT ALSO HAS A LITTLE SOFT-GEL FOOT REST, AND THEY RUN FOR RIGHT AROUND $49. >> OH, REALLY? >> AND SO THEY'RE NOT THAT EXPENSIVE, AND AGAIN, IT'S ANOTHER THING YOU CAN DO TO PAMPER YOURSELF AND JUST RELIEVE SOME OF THAT STRESS. >> OK, SO WE'VE TALKED ABOUT SHREDDERS SO WE CAN GET RID OF ALL THAT PROBLEM; THE ALARM CLOCK, WHICH IS GREAT; THE PILLOW JUST SEEMS WONDERFUL; AND WE'VE GOT OUR COFFEE ABOUT READY AND WE CAN ENJOY IT. WELL, LAURA, THANK YOU SO MUCH FOR BEING HERE TODAY. >> OH, IT'S A PLEASURE. LET'S GET YOUR COFFEE, SHERYL. >> PAT, THANK YOU SO MUCH FOR BEING HERE TODAY. WHEN I WAS GROWING UP, MY MOTHER INSISTED THAT WE HAVE A GOOD BREAKFAST EVERY MORNING BEFORE WE LEFT FOR SCHOOL, AND THEN SOMETIMES NOT AS MUCH ON SATURDAY, BUT THEN SUNDAY WAS THE BIG COUNTRY BREAKFAST, WHICH I ALWAYS LOOKED FORWARD TO. AND SO I'VE HEARD ALL MY LIFE HOW IMPORTANT BREAKFAST IS. >> YOU KNOW, I'M SO HAPPY TO HEAR THAT BECAUSE WHEN PEOPLE ASK ME WHAT MY NUMBER-ONE NUTRITION TIP IS, IT'S TO EAT BREAKFAST. UNFORTUNATELY, SO MANY PEOPLE ARE SKIPPING BREAKFAST THESE DAYS, AND RESEARCH SHOWS JUST TIME AND TIME AGAIN THAT BREAKFAST-EATERS WEIGH LESS, THEY HAVE BETTER FOCUS AND CONCENTRATION. THEY TEND TO HAVE BETTER OVERALL DIETS, AND THEY ACTUALLY TEND TO BE LESS LIKELY TO MISS WHAT WE CALL SHORTFALL NUTRIENTS. THESE ARE NUTRIENTS THAT, AS A POPULATION, WE DON'T EAT ENOUGH OF. THEY'RE CALCIUM, VITAMIN D, POTASSIUM, AND FIBER. SO BREAKFAST IS THAT PERFECT WAY TO FUEL UP FOR THE DAY, AS WELL AS TO GET A JUMP START ON GOOD NUTRITION. >> WELL, AND I CAN TELL, TOO, IF I HAVE SKIPPED BREAKFAST. ABOUT MID-MORNING, I'M REALLY HUNGRY, SO IF I TEND TO OVEREAT THEN, IT JUST CONTINUES THROUGHOUT THE DAY. BUT IF YOU EAT BREAKFAST AND THEN LUNCH AND THEN YOUR DINNER AT NIGHT, YOU BALANCE IT OUT, YOUR ENERGY LEVEL STAYS UP. >> AND, YOU KNOW, A LOT OF PEOPLE HAVE TROUBLE--THE BREAKFAST SKIPPERS, ESPECIALLY-- OF "WHAT SHOULD I EAT" AND "I DON'T HAVE TIME," AND I ALWAYS REFER PEOPLE BACK TO MY PLATE. AND WHAT A LOT OF PEOPLE DON'T REALIZE IS MY PLATE IS ACTUALLY THE VISUAL REPRESENTATION OF THE DIETARY GUIDELINES. AND THE DIETARY GUIDELINES SPECIFICALLY CALL OUT BREAKFAST, AND THEY SAY THAT SKIPPING BREAKFAST IS ONE OF THE SELECTED BEHAVIORS THAT LEADS TO WEIGHT GAIN. >> UH-HUH, AND WE KNOW THAT THE WHOLE COUNTRY IS FACING THAT PROBLEM NOW, THE OBESITY. >> ABSOLUTELY, AND, YOU KNOW, MY PLATE WORKS FOR ALL MEALS. PEOPLE THINK IT'S JUST FOR DINNER BECAUSE IT IS A PLATE, CLEARLY. HALF THE PLATE SHOULD BE FRUITS AND VEGETABLES, SOME WHOLE GRAIN, SMALLER AMOUNTS OF PROTEIN, BUT THE MISSING MESSAGE OF MY PLATE IS THIS LITTLE GLASS OF MILK, THAT WE SHOULD BE HAVING DAIRY, MILK, AT EVERY SINGLE MEAL. I-- >> GO AHEAD. YOU PROBABLY WERE LIKE ME WHEN I GREW UP. WE HAD MILK TO DRINK AT EVERY MEAL, AND I DID WITH MY KIDS, BUT I'VE NOTICED THAT WITH MY GRANDKIDS AND THE YOUNGER GENERATION, THEY AREN'T SERVING MILK. THEY'RE SERVING WATER WITH THE MEALS. >> AND IT'S SO IMPORTANT BECAUSE, TO ME, MILK IS A REAL SUPER FOOD. IT'S GOT 9 ESSENTIAL NUTRIENTS. IT'S GOT 8 GRAMS OF HIGH-QUALITY PROTEIN. PROTEIN ADDS SATIETY. IT MAKES US FEEL FULLER LONGER, AND UNFORTUNATELY, PROTEIN IS OFTEN OVERLOOKED AT BREAKFAST. >> SO LET'S SEE WHAT ARE SOME-- >> I WANT TO SHOW YOU SOMETHING VERY SIMPLE. IF YOU'RE ONE OF THOSE PEOPLE WHO'S RUNNING OUT WITH A CEREAL BAR, GREAT. KEEP DOING IT, BUT ADD A GLASS OF MILK TO IT. IF YOU HAVE SOME FRUIT IN THE MORNING-- STRAWBERRIES, A BANANA--PUT THEM IN A BLENDER WITH MILK AND MAKE A--THIS, TO ME, IS THE ULTIMATE EASY, NUTRITIOUS BREAKFAST. >> OR SOME YOGURT. YOU CAN EVEN ADD SOME YOGURT WITH YOUR MEAL. >> YOU CAN. YOU KNOW, EVERYBODY ALWAYS HAS MILK IN THE HOUSE, SO THIS IS AN EASY WAY TO DO IT. >> NOW, THIS LOOKS VERY FAMILIAR. I EAT THAT TYPE OF CEREAL, ACTUALLY, EVERY SINGLE MORNING. >> A LOT OF PEOPLE HAVE CEREAL AND MILK FOR BREAKFAST, AND I HAVE TO TELL YOU, THEY'RE ON THE BONUS TRACK. >> OH, GOOD. >> THE REASON THAT THEY'RE ON THE BONUS TRACK IS THE PROTEIN THAT'S IN MILK IS A COMPLETE, HIGH-QUALITY PROTEIN. IT ACTUALLY ENHANCES THE PLANT PROTEIN, SO YOU'RE REALLY BOOSTING UP YOUR WHOLE PROTEIN INTAKE BY COMBINING CEREAL AND MILK. >> NOW, I HATE TO ASK THIS BECAUSE IT'LL LET YOU KNOW WHAT I REALLY LIKE TO DO, IS TO ADD A BIT OF SUGAR, EITHER BROWN SUGAR OR WHITE SUGAR. NOW, THAT'S PROBABLY A NO-NO. >> YOU KNOW WHAT? IT'S A QUESTION OF QUANTITY, SO YOU WANT TO HAVE A SMALL AMOUNT. AND WHEN YOU SHOP FOR CEREAL, YOU REALLY SHOULD BE SHOPPING FOR A CEREAL THAT IS HIGH IN FIBER AND LOW IN SUGAR. AND IF YOU ARE BUYING ONE OF THOSE HIGH-FIBER CEREALS THAT IS ONLY BRAN, YOU NEED TO ADD A LITTLE BIT OF SUGAR TO IT. AND THEN YOU'LL GET THE SWEETNESS OF THE MILK THAT WILL ENHANCE IT. >> BUT I DO LIKE THE RAISINS BECAUSE THAT ADDS SOME SWEETNESS AND SOME MORE IRON AND PROTEIN. THAT'S GOOD. >> AND MORE FIBER, SO-- >> NOW, THIS DOESN'T LOOK LIKE BREAKFAST TO ME. >> NO, IT DOESN'T, BUT YOU KNOW WHAT? I HAPPEN TO BE A FAN OF NON-TRADITIONAL BREAKFAST, AND AGAIN, WE'RE THINKING EASY, WE'RE THINKING QUICK. SO YOU CAN POP SOME SOUP IN THE MICROWAVE, PUT IT IN A THERMOS. I LIKE TO MAKE TOMATO SOUP WITH MILK. AGAIN, BOOST UP THE PROTEIN. YOU CAN HAVE A TURKEY SANDWICH. A HALF A TURKEY SANDWICH, A LITTLE BIT OF FRUIT, LEFTOVER BAKED MACARONI. >> FOR BREAKFAST? THAT'S INTERESTING. >> WELL, I HAPPEN TO LOVE PASTA, SO THIS IS HIGH ON MY LIST. IT'S REALLY IMPORTANT FOR FOLKS TO MAKE THEIR OWN BAKED MACARONI. THIS IS THE BEST WAY. YOU CONTROL THE FAT, YOU CONTROL THE SODIUM. YOU MAKE IT WITH LOW-FAT MILK, CHEESE, MAYBE-- I LIKE TO ADD SOME JALAPENO PEPPERS. GRAB A HARD-COOKED EGG, SOME FRUIT. AGAIN, IT'S PROTEIN. >> AND I LIKE TO COOK 6 OR 7 EGGS AT ONCE. >> THAT'S EXACTLY WHAT I DO, AND I PUT THEM IN THE FRIDGE JUST LIKE THAT, AND YOU GRAB IT AND GO. YOU KNOW, WHAT PEOPLE OFTEN FORGET ABOUT PROTEIN IS--WE'RE SO FOCUSED ON PROTEIN AND MUSCLE--IS THAT IT'S AN ESSENTIAL NUTRIENT. WE NEED PROTEIN. HAIR, SKIN, NAILS. YES, TO BUILD STRONGER MUSCLE. WE ALSO NEED IT FOR HORMONES, ENZYMES, ANTIBODIES, YOU KNOW, SO PROTEIN--THIS IS THE WAY TO GO, ESPECIALLY IN THE MORNING. >> AND I THINK A BANANA IS THE BEST THING. IT'S, LIKE, IN ITS OWN CONTAINER, AND HOW EASY IS THAT? THERE'S REALLY NO EXCUSE FOR SKIPPING BREAKFAST. >> I DON'T THINK SO, EITHER, YOU KNOW? SO, YOU KNOW, ON A FINAL NOTE, I JUST WANT TO REMIND EVERYBODY TO USE MY PLATE FOR ALL MEALS, INCLUDING BREAKFAST, AND TO TEAM UP EASY THINGS LIKE A CEREAL BAR AND A GLASS OF MILK, LIKE A HARD-COOKED EGG WITH A BANANA. KEEP IT SIMPLE, BUT GET ALL THOSE BENEFITS OF BREAKFAST. >> AND I THINK THAT'S IT-- KEEPING IT SIMPLE--BECAUSE PEOPLE ARE IN A HURRY. THEY'RE RUSHED, THEY'RE TRYING TO GET THE KIDS OUT THE DOOR AND EVERYONE OFF TO WORK ANYMORE. BUT IF IT IS SIMPLE AND IF YOU DO HAVE THINGS ALREADY MADE UP, I MEAN, YOU CAN MAKE THE MACARONI AND CHEESE-- >> POP IT IN THE MICROWAVE. >> AND JUST PUT A SERVING OUT. AND SERVING SIZES ARE VERY IMPORTANT. >> IT REALLY IS. YOU KNOW, YOU WANT TO HAVE ABOUT 2/3 OF A CUP OF BAKED MACARONI. THAT'S WHY I SAY HAVE A HALF OF TURKEY SANDWICH. IT'S JUST ENOUGH. IT'LL GET YOUR PROTEIN UP. HAVE A SMALL BOWL OF CEREAL. SERVING SIZES ARE REALLY IMPORTANT. MODERATION. >> MODERATION. WELL, THANK YOU SO MUCH FOR REMINDING US, AND ALSO, I KNOW LOTS OF PEOPLE WHO LIKE LEFTOVER PIZZA, AND I HEAR THAT THAT'S A VERY GOOD... >> OK, THERE YOU GO. >> DISH TO HAVE. >> YES. >> THANK YOU VERY MUCH, PAT. CASEY, IT'S NICE TO HAVE YOU HERE. WHEN I READ THE PAPERWORK THAT YOU SENT ME, I WAS AMAZED THAT FLOWERS GO BY SO MANY DIFFERENT NAMES. AND I HAVE HEARD OF TUSSIE MUSSIE BECAUSE OF A SHOWER THAT I--A WEDDING, A DINNER SHOWER THAT I HAD GONE TO. BUT THEN I UNDERSTAND THERE'S A NOSEGAY THAT'S BASICALLY THE SAME THING? >> MM-HMM, AND THEY'RE BASICALLY ALL LITTLE COMBINATIONS OF FLOWERS PUT TOGETHER. LITTLE MINI-BOUQUETS. PETITE, YEAH. TUSSIE MUSSIE IS USUALLY HELD IN A LOVELY LITTLE ORNATE HOLDER, AND THEN THERE'S THE NOSEGAY, AS YOU MENTIONED, AND THEN THE POSEY. AND A POSEY IS ANOTHER WORD FOR IT, BUT IT'S BASICALLY A SMALL BOUQUET THAT YOU'VE GATHERED TOGETHER WITHOUT REALLY MUCH TECHNIQUE, JUST TO PUT IT TOGETHER. >> OH, GOOD. >> BUT WHAT THERE HAS BEEN A LONG HISTORY OF IS MAKING THESE NOSEGAYS AND POSIES TO SEND MESSAGES TO PEOPLE. SO, BACK IN THE VICTORIAN ERA, IN FACT, WOMEN STUDIED FLORIOGRAPHY, WHERE THEY LEARNED-- >> FLORIOGRAPHY. THAT'S A NEW WORD FOR ME. >> YES, THEY LEARN THE MEANING OF FLOWERS, AND YOU WOULD COMBINE CERTAIN FLOWERS TO LET SOMEONE KNOW SOMETHING. SO IF YOU HAD A SUITOR THAT WAS PURSUING YOU, AND YOU WANTED THEM TO CONTINUE TO PURSUE YOU, THEN YOU COULD MAKE A LITTLE POSEY OF MAYBE RED ROSES SAYING THAT "I'M STILL INTERESTED" AND, YEAH, AND KEEP--COME ALONG. AND THEN, BUT IF YOU WERE TO DO SOMETHING WITH WHITE CARNATIONS, APPARENTLY, BACK IN THE DAY, THAT MEANT "I HAVE DISDAIN FOR YOU," SO "DON'T--LET'S NOT DO THIS ANYMORE." SO THESE WERE ALL MESSAGES THAT YOU WOULD BE MAKING, YEAH. SO THIS HAS BEEN A REALLY FUN CLASS. WE'VE TAUGHT IT TO CHILDREN, AND WE'VE LAID OUT ALL THE THINGS AND WE'VE TOLD THEM THE MEANINGS, AND THEN THEY'VE BEEN ABLE TO PULL TOGETHER AN ARRANGEMENT-- >> TO SAY WHAT THEY WANT TO SAY. >> SAY WHAT THEY FEEL. >> THAT'S A GREAT IDEA. >> IT'S REALLY FUN. SO SOME OF THE MEANINGS MAY HAVE CHANGED A BIT SINCE THE OLD DAYS, BUT-- >> IT'S A GREAT STORY. >> SOME OF THEM HAVE STAYED TRUE, SO I PICKED SOME FLOWERS TODAY WHICH I THOUGHT WOULD BE REALLY FUN TO PULL TOGETHER. SO I'M GOING TO PULL TOGETHER A LITTLE BOUQUET FOR YOU, AND WE'RE GOING TO USE SOME DIFFERENT ELEMENTS AND I PREPPED SOME OF THE FLOWERS. I WANT TO SHOW YOU HOW WE DID THAT. SO THE ROSES, SPRAY ROSES ARE A GREAT ELEMENT HERE BECAUSE THEY'RE PETITE, WHICH THESE BOUQUETS SHOULD BE ANYWAY. AND I CUT AWAY SOME OF THE STEMS THAT WERE GROWING ALONG THE MAIN PART OF THE STEM AND CUT THEM AWAY. AND THEY'RE LONG ENOUGH BECAUSE WE'RE GOING TO MAKE A TEENY BOUQUET, AND WE'RE ACTUALLY-- >> AND WE'RE USING THESE? >> YES, WE'RE GOING TO PUT THEM IN THESE LITTLE BOUQUET HOLDERS, WHICH REMIND ME, REALLY, OF THE TUSSIE MUSSIE HOLDER. AND THEY'RE KIND OF SILVERY, SO THEY'RE KIND OF VICTORIAN, SO THIS SHOULD BE REALLY PRETTY. SO I'VE TRIMMED AWAY SOME OF THE ROSE STEMS, AND THEN THIS FLOWER IS A MUM, AND MUMS HAVE LOTS OF MEANING AND THEY'VE BEEN AROUND FOREVER. IN FACT, THE JAPANESE-- ONE ARTIST IN JAPAN WILL SPEND HIS WHOLE LIFETIME TRYING TO PAINT A PERFECT CHRYSANTHEMUM BECAUSE IT IS A VERY HIGHLY ESTEEMED FLOWER IN ASIA AND VERY BEAUTIFUL. SO NOT MAYBE THIS ONE; THERE ARE SOME THAT ARE MUCH MORE ORNATE, BUT THE MUM HAS BEEN AROUND A LONG TIME. AND THEN IT COMES WITH ALL OF THESE GREAT, LONG INDIVIDUAL STEMS ATTACHED, SO I CUT A WHOLE BUNCH OF THOSE OFF SO WE HAVE THOSE TO MAKE A LITTLE ARRANGEMENT. >> AND YOU DON'T WANT THE LEAVES OR ANYTHING TO BE BENEATH THE WATER. >> RIGHT, EXACTLY. ALL OF THE GREENERY BELOW THE WATER LINE JUST STARTS TO SPEED UP THAT BREAKING-DOWN ELEMENT OF FLOWERS. AND THEN I FOUND SOME ROSEMARY, WHICH IS FUN BECAUSE IT HAS A GREAT SMELL. AND NOSEGAYS WERE MADE, ACTUALLY, TO WEAR NEAR YOUR--TO HOLD AND SMELL HERE AND TO WEAR BECAUSE PEOPLE DIDN'T SMELL THAT GREAT BACK THEN, AND SO YOU HAD A NOSEGAY TO MAKE YOUR NOSE HAPPIER BECAUSE OF THE SMELLS AROUND TOWN, SO THAT'S WITH THE COMBINATION. SO YOU ALWAYS WANTED TO HAVE SOMETHING THAT WAS SCENTED, SO BY USING ROSEMARY, YOU'RE GOING TO HAVE THIS GREAT SCENT GOING ALL THE TIME WITH SOME OF THE ROSE. ROSES MAY NOT HAVE IT. AND THEN CARNATIONS, WHICH HAVE BEEN AROUND FOR JUST EONS-- >> CAN'T BEAT CARNATIONS. >> CAN'T BEAT THEM, AND THEY HAVE A GREAT SMELL, ALMOST A LITTLE BIT OF A SPICY SMELL. SO THEY'RE REALLY FUN TO HAVE, TOO, SO THAT--AND THESE ARE VERY FUN TO PUT IN, MAYBE IN THE MIDDLE OF THE ARRANGEMENT BECAUSE WE'RE GOING TO--THIS IS SUCH A BIG FLOWER, SO WE'LL HAVE THAT AS OUR ELEMENT, TOO. AND THEN LASTLY, JUST TO ADD A LITTLE BIT OF FLUFF, AND THESE HAVE A LITTLE SMELL. THESE ARE WAXFLOWER, AND I MUST SAY, I HAVEN'T FOUND A MEANING ON THESE, BUT THEY BRING ME JOY, I KNOW THAT, BECAUSE THEY'RE ALWAYS THE PERFECT ADD-ON FOR A BOUTONNIERE OR A FILLING-IN FOR A CENTERPIECE, AND I THINK THEY'RE GREAT IN A LITTLE NOSEGAY. >> THEY'RE JUST SO DELICATE. YEAH, THEY LOOK PERFECT FOR A NOSEGAY. >> THEY ARE, AND THEY HAVE A LITTLE BEESWAX SMELL, SO THE COMBINATION ACTUALLY WORKS REALLY WELL. >> MM-HMM. >> SO I WOULD SIMPLY ORGANIZE THIS ARRANGEMENT WITH-- >> THIS IS HOW YOU WOULD START, MAYBE-- >> THIS IS HOW I WOULD START EVERYTHING OUT. SO I WOULD TAKE, THINK, "OK, I WANT TO HAVE A PINK CARNATION, THEN I'M GOING TO PULL IN A ROSE, AND THEN I'M GOING TO PULL IN MAYBE SOME MUMS." AND I'M ONLY JUST GOING TO KEEP GATHERING THEM INTO MY LEFT HAND AND TRIMMING AWAY SOME OF THE GREENERY AS I-- >> AS YOU GO. >> THEY'RE ALREADY LOOKING VERY, VERY SWEET, AND THEN PULL-- LET ME GIVE YOU SOME ROSES OVER THERE, TOO. >> AND YOU'RE JUST RIGHT NOW PUTTING THEM ON ONE SIDE. >> I'M JUST SORT OF ADDING, GOING TO BE JUST SORT OF ADDING TO THE COLLECTION HERE, MAYBE ONLY ONE ROSEMARY, AND THEY DON'T HAVE TO BE BIG, AND THAT'S THE FUN THING ABOUT THEM. THEY DON'T HAVE TO BE BIG AT ALL, SO THEY'RE JUST THESE LITTLE, PETITE BOUQUETS. IT'S ALREADY LOOKING VERY SWEET, LIKE THAT. >> I JUST LOVE THESE LITTLE TEENY TINY FLOWERS. >> I DO, TOO. I THINK THEY'RE GREAT. SO...ISN'T THAT CUTE? >> IT IS. IT'S REALLY-- >> WE MIGHT AS WELL USE ALL THE ONES THAT WE CUT, SO IF YOU WANT TO, YOU'VE GOT A NICE, CUT SELECTION OF YOUR YELLOW ROSES THERE... >> AND I LOVE THOSE. >> WHICH ARE WONDERFUL. AND ADD THOSE LITTLE EXTRA... >> I'M GOING TO PUT THIS IN. >> HAVE ANY ROSEMARY? >> OH, I FORGOT ABOUT THE ROSEMARY. UH-HUH. >> A COUPLE MORE OF THESE. >> SO YOU'RE JUST GATHERING IT IN ONE HAND. >> I'M GATHERING IT ALL TOGETHER AND I'M KEEPING EVERYTHING LONG BECAUSE STEMS CLOSE UP IN ABOUT 10 SECONDS AFTER THEY'RE OUT OF WATER. SO I'M NOT GOING TO DO ANY CUTTING TILL THE VERY LAST MINUTE, AND I'M GOING TO CUT ALL MY STEMS A LITTLE BIT, JUST GIVE THEM SOME--A CHANCE TO DRINK IN, AND THEN WE'RE GOING TO POP THEM IN OUR VASES RIGHT BEFORE. >> OK. >> RIGHT AFTER WE CUT THEM, SO I'M GOING TO TAKE ALL THESE, SO I'VE GOT THEM ALL GATHERED. ISN'T THIS A DARLING COLLECTION? AND THEN I'M JUST GOING TO GIVE EVERYBODY A TRIM AND HAVE THEM ALL ABOUT THE SAME LENGTH, SO JUST TRIM EVERYBODY AT AN ANGLE, IF YOU CAN. THE ROSEMARY MIGHT BE A LITTLE BIT HEFTY. GIVE IT A GOOD CUT. THERE YOU GO. AND JUST AS YOU GOT THEM ALL IN THERE AND THEN YOU GATHER THEM TOGETHER, AND POP THAT IN. >> SO THIS IS A NOSEGAY. >> THIS IS A NOSEGAY, POSEY, BUT IT HAS MEANING. SO WE'VE CREATED THEM VERY SIMILARLY, BUT WHAT MINE REPRESENTS TO YOU IS YELLOW FOR FRIENDSHIP. >> OH, MM-HMM. >> ROSEMARY IS FOR REMEMBRANCE, SO I'LL ALWAYS REMEMBER WE'RE GOOD FRIENDS, AND THEN CHRYSANTHEMUMS ARE FOR HOPE, SO I HOPE THE BEST FOR YOU... >> MM-HMM. >> AND THEN, ALSO, THE PINK CARNATION IS ALSO UNFORGETTABLE. >> WOW. >> SO YOU ARE AN UNFORGETTABLE FRIEND WHO I HOPE MANY GOOD THINGS FOR. >> WONDERFUL! OH, AND I BET THE KIDS HAVE MORE FUN PICKING OUT THEIR MESSAGE TO SEND TO GRANDMOTHER OR A FRIEND OR WHO-- THAT'S WONDERFUL. WELL, THANK YOU SO MUCH. I'VE ENJOYED LEARNING MORE ABOUT WHAT I'D ALWAYS HEARD OF--TUSSIE MUSSIES AND NOSEGAYS AND POSIES--BUT NOW I KNOW WHAT THEY ARE. THANK YOU. >> YOU'RE WELCOME. >> I HOPE YOU ENJOYED THE SHOW TODAY. NEXT TIME ON "CREATIVE LIVING," WE'LL LEARN HOW TO MAKE AN ORANGE KISS CHOCOLATE CAKE, EXPLAIN HOW TO LIVE WITH LESS SO YOU CAN HAVE MORE, AND DEMONSTRATE COOKING WITH SALMON AND WATERMELON. ONE OF MY NEXT GUESTS WILL SHOW HOW TO TURN A SIMPLE CHOCOLATE CAKE INTO AN EXTRAORDINARY TREAT. ANOTHER GUEST IS A BOOK AUTHOR, AND SHE'LL EXPLAIN HOW TO DE-CLUTTER OUR HOMES AND LIVES SO THAT WE CAN HAVE MORE TIME FOR THE THINGS THAT ARE TRULY IMPORTANT TO US. AND FINALLY, ANOTHER GUEST WILL TALK ABOUT WILD-CAUGHT CALIFORNIA KING SALMON, WHICH IS NUTRITIOUS AND VERY EASY TO PREPARE. SHE'S GOING TO PAIR THIS WITH WATERMELON, WHICH IS DELICIOUS, ALSO EASY TO PREPARE, AND VERY GOOD FOR US. ALL OF THESE TOPICS WILL BE FEATURED ON THE NEXT "CREATIVE LIVING" SHOW. IF YOU EVER HAVE COMMENTS OR SUGGESTIONS OR IDEAS FOR SHOWS, YOU CAN EMAIL ME AT SHERYL.BORDEN@ENMU.EDU. I'D ALSO LIKE TO ASK YOU TO BECOME A FAN OF "CREATIVE LIVING" ON FACEBOOK. JUST GO TO FACEBOOK.COM, AND IN THE SEARCH WINDOW, TYPE IN "CREATIVE LIVING WITH SHERYL BORDEN." THANKS SO MUCH, AND I HOPE YOU'LL PLAN TO JOIN ME NEXT TIME FOR "CREATIVE LIVING." >> WE ARE VERY PLEASED TO OFFER A NEW BOOKLET THAT ACCOMPANIES THIS SERIES OF "CREATIVE LIVING." THIS BOOKLET IS TITLED "THE 6600 SERIES," AND IT FEATURES A WONDERFUL COLLECTION OF IDEAS AND INFORMATION, AND IT'S AVAILABLE FREE OF CHARGE ON OUR WEBSITE. POSTED AS A PDF FILE, YOU CAN SIMPLY DOWNLOAD THE ENTIRE BOOKLET OR JUST THE SEGMENTS YOU'RE MOST INTERESTED IN. AS WITH ALL OF THE "CREATIVE LIVING" BOOKLETS, YOU'LL FIND INFORMATION ON FOODS & NUTRITION, CLOTHING & FASHION, HEALTH & BEAUTY, HOME DECORATING, AND MUCH MORE. FOR YOUR COPY OF THIS BOOKLET, GO TO OUR WEBSITE AT KENW.ORG AND THEN CLICK ON "CREATIVE LIVING." SCROLL DOWN TO THE BOOKLET SECTION, AND YOU CAN CLICK ON THIS BOOKLET OR ANY OF THE OTHER BOOKLETS WE HAVE AVAILABLE ONLINE. ONCE AGAIN, JUST GO TO KENW.ORG, CLICK ON "CREATIVE LIVING," AND DOWNLOAD THE BOOKLET TITLED "THE 6600 SERIES." WE ALSO WANT TO ENCOURAGE YOU TO SIGN UP FOR OUR FREE E-NEWSLETTER. JUST CLICK ON THE "SIGN UP NOW!" BUTTON AND INPUT YOUR EMAIL ADDRESS. THAT'S ALL THERE IS TO IT. YOU'LL ENJOY READING AN UP-TO-DATE NEWSLETTER FILLED WITH INTERESTING TOPICS AND INFORMATION. THANK YOU.
Now Playing As: Captioned (English) (change)
In this episode, floral designer Casey Schwartz demonstrates how to make Victorian posies. Also two guests provide ideas for a stress free lifestyle as they provide quick and easy breakfast recipes as well as tips for housekeeping.
Media Details
Runtime: 27 minutes