Creative Living With Sheryl Borden #6524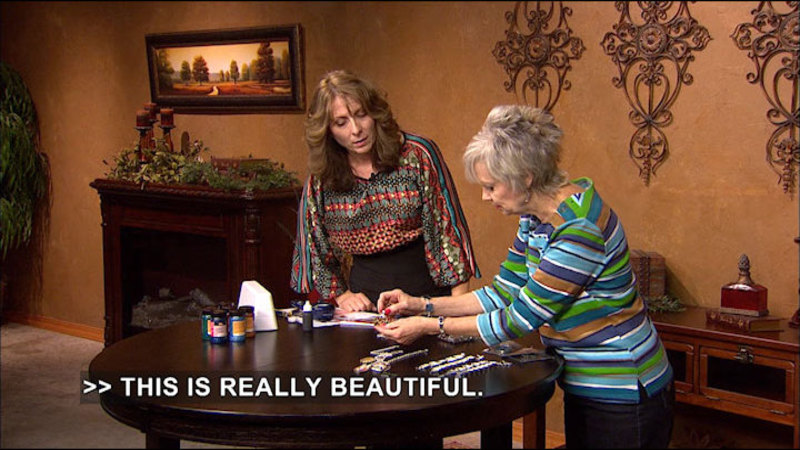 >> "CREATIVE LIVING," UTILIZING TODAY'S TECHNOLOGY WITH THE BEST OF THE PAST TO BRING YOU INNOVATIVE IDEAS AND UP-TO-DATE INFORMATION FOR CREATIVE LIFESTYLES IN TODAY'S ACTIVE WORLD, WITH YOUR HOST, SHERYL BORDEN. >> THANKS SO MUCH FOR JOINING ME TODAY FOR "CREATIVE LIVING." WE'RE GOING TO LEARN TO CREATE SOME EASY CUSTOM FABRIC DESIGNS, SHOW HOW TO MAKE DESIGNER JEWELRY, AND ALSO A WINDOW VALANCE. ONE OF MY GUESTS IS LAURA BRAY, AND SHE'S A DESIGNER WITH ILOVETOCREATE.COM. LAURA'S GOING TO SHOW HOW TO CREATE YOUR OWN FABRIC DESIGNS USING AN ASSORTMENT OF TULIP FASHION PAINTS AND DYES. SHE SAYS THIS WILL ELEVATE YOUR CRAFT AND SEWING PROJECTS TO NEW LEVELS. SHE LIVES IN ALISO VIEJO, CALIFORNIA. ANOTHER GUEST IS REBECCA PECK AND SHE REPRESENTS AMATE STUDIOS, AND SHE'S GOING TO SHOW SOME DIFFERENT STYLES OF JEWELRY BLANKS AND THEN SHOW HOW TO MAKE CUSTOM PHOTO JEWELRY WITH U.V. RESINS, WHICH IMITATE THE LOOK OF MORE EXPENSIVE JEWELRY. REBECCA'S FROM PHOENIXVILLE, PENNSYLVANIA. AND MY FIRST GUEST IS TERRELL SUNDERMANN, AND SHE'S GOING TO DEMONSTRATE MAKING AN ATTRACTIVE WINDOW VALANCE. THIS VALANCE CAN BE USED TO DRESS UP AN UNCOVERED WINDOW OR TO ADD COLOR AND SOFTNESS TO AN EXISTING WINDOW TREATMENT, SUCH AS MINI-BLINDS. TERRELL WILL SHOW US STEP BY STEP HOW TO MEASURE THE WINDOW, SELECT THE FABRIC, AND THEN HOW TO CREATE A VALANCE THAT WILL LOOK VERY PROFESSIONAL WHEN YOU'RE THROUGH. HER BUSINESS IS TERRELL DESIGNS, AND SHE'S FROM CASTLE ROCK, COLORADO. TERRELL, IT'S NICE TO HAVE YOU HERE. WHEN WE FIRST BUILT OUR HOME, THE HEAVY DRAPES, THE PULL DRAPES WERE IN STYLE AND, YOU KNOW, LOTS AND LOTS OF FABRIC. AND THEN, WHEN I REMODELED, I WENT WITH MORE OF THE TOPPERS AND THE LIGHTER WINDOWS AND ROMAN SHADES AND THINGS. AND DO YOU SEE THAT AS BEING A PATTERN THAT'S GOING TO STAY WITH US FOR A WHILE? >> WELL, ROMAN SHADES HAVE BEEN AROUND FOR A LONG TIME, AND THEY SEEM TO HAVE--RIGHT NOW THEY'RE VERY POPULAR, BUT I THINK THEY'LL ALWAYS BE. THEY'RE GREAT WINDOW TREATMENTS AND VERY EASY TO MAKE IN THIS DAY AND AGE. >> WELL, AND ON TOP OF WINDOW TREATMENTS, WE USUALLY WANT A TOPPER OR A VALANCE, I GUESS IS WHAT IT'S CALLED. AND YOU'RE GOING TO SHOW US SOME THINGS TO DO AND THINGS THAT YOU'VE LEARNED FROM PRACTICE THAT WE DON'T WANT TO DO. SO LET'S GO AHEAD AND TAKE A LOOK AT THE FIRST ONE. >> THIS IS A VALANCE, AND IT'S PARTIALLY ON A BOARD HERE. AND YOU DON'T HAVE TO MAKE IT--THIS HAPPENS TO BE A PIECED PATTERN, SO IT LOOKS--YOU KNOW, IT'S A QUILTING PATTERN WITH A BORDER ON IT. AND IF YOU NOTICE THAT IT IS AN OUTSIDE MOUNT. WE'LL TURN THIS AROUND. SO THIS WOULD BE PUT UP ABOVE. IT COULD BE ABOVE A MINI-BLINDS OR SHUTTERS OR EXISTING WINDOW TREATMENTS WITH AN ANGLE IRON, AND SO THE VALANCE WRAPS ALL THE WAY AROUND THE TOP. >> THIS IS WITH VELCRO. >> RIGHT. AND SO YOU VELCRO IT ON. IT'S VERY SIMPLE TO MAKE. WHAT I DIDN'T LIKE WAS, WHEN THIS TURNS THE CORNER, IT DOESN'T MAKE A NICE, CRISP FOLD. IT'S A LITTLE BIT TOO SOFT, SO I CAME UP WITH A WAY TO MAKE THAT. WE'LL PUT THIS OUT OF THE WAY. AND THIS IS A MUCH SMALLER VALANCE, AND YOU SAY, "WELL WHAT'S THAT FOR?" WELL, THIS IS ACTUALLY FOR A TOP-DOWN SHADE. SO A SHADE IS DEFINED BY HOW IT OPENS, SO IN THIS CASE, THE SHADE IS THERE AND YOU LET IT GO AND IT DROPS DOWN. SO IF YOU TAKE THAT AWAY, YOU CAN SEE THAT WHEN THE SHADE DROPS DOWN, YOU'RE GOING TO BE ABLE TO SEE THE HARDWARE THAT'S USED TO OPERATE THE SHADE. SO YOU ALWAYS FINISH OFF A TOP-DOWN SHADE USING A VALANCE. >> NOW, THIS HANGS NICE. >> YES. NOW, YOU SEE, ON THIS THING, THERE'S A LITTLE TUCK. SO I HAVE NOTHING HARD. IT'S A SOFT VALANCE, BUT IT STAYS REAL NICE AND CRISP, AND IT'S VERY SIMPLE TO MAKE. >> OK, LET'S SEE HOW TO DO THAT. >> FIRST, YOU START OUT WITH A LOT MORE FABRIC THAN IT LOOKS LENGTHWISE. SO HERE IS WHAT'S GOING TO BE THE SHADE WHEN IT'S FINISHED. IT'S ONLY GOING TO BE 4 INCHES LONG, BUT I HAVE ADDED TWO PLUS TWO INCHES ON THE BOTTOM FOR THE HEM. >> THAT'S FOR THE HEM. >> AND I'VE ADDED ONE INCH AT THE TOP TO BE ABLE TO WRAP IT AROUND. >> SO DOUBLE. THAT WOULD BE TWO INCHES. >> AND I HAVE A ONE-INCH SEAM ON EACH SIDE. MY LINING, WHICH-- I STILL USE A DRAPERY LINING BECAUSE IT'S GOING TO HAVE SOME EXPOSURE FROM THE SUN. IT'S CUT THE SAME SIZE, BUT IT'S ONE INCH NARROWER. >> ONE INCH NARROWER. >> OK. SO THE FIRST THING I DO IS I'M GOING TO HEM THE FABRIC AND I'M GOING TO HEM THE LINING. AND IT LOOKS REALLY FUNNY WHEN YOU START WITH IT, AND THEN YOU'RE GOING TO SEW THE SIDE SEAMS, AND YOU SEE THAT WHEN I PRESS IT OPEN THAT I DO HAVE THIS QUARTER-INCH ON EACH SIDE. >> BECAUSE YOU CUT IT AN INCH SHORTER, NARROWER. >> AND NOW I'M GOING TO VERY CAREFULLY LINE THE FABRICS UP, AND I'M GOING TO COVER--I'M GOING TO PUT VELCRO ON THE TOP JUST TO COVER THOSE RAW EDGES. >> AND YOU STITCH THE VELCRO ON, DON'T YOU? >> I STITCH THE VELCRO DOWN, RIGHT. NOW, I'VE DONE THIS ALL THE WAY THROUGH, BUT IF I WANT TO USE A WRAP-AROUND, OK, WHAT I'VE DONE IS THAT I HAVE PUT A PIN WHERE THE CORNER'S GOING TO BE, AND THAT'S THE RETURN PLUS 3/4-INCH, PUT IT IN THE MIDDLE. AND THEN I HAD LEFT--I HAD JUST LEFT A GAP HERE WHEN I-- >> BECAUSE THE VELCRO WOULD BE SO THICK AND BULKY. >> THAT'S RIGHT, AND ON THIS ONE, YOU CAN SEE WHERE I'VE SEWN IT, SO I JUST TOP-STITCHED THAT. >> MM-HMM. >> AND IT DOESN'T MATTER THAT THAT'S NOT QUITE-- >> OH, YEAH. IT WRAPS AROUND. >> OK, NOW IF THE VALANCE IS REALLY, REALLY LONG, AND I'VE MADE SOME THAT ARE 14 FEET LONG TO GO AROUND A ROOM, YOU MIGHT WANT TO PUT A PLASTIC BATTEN OR SOMETHING IN THE BOTTOM, JUST TO STIFFEN IT SO THAT IT DOESN'T WAD UP. OK. AND YOU CAN ALSO MAKE AN INSIDE MOUNT VALANCE. THIS ONE IS NOT SUPPOSED TO TURN AROUND THE CORNER, SO I'M JUST GOING TO TAKE A PIECE OF WOOD AND VELCRO IT TO THAT, OR YOU CAN ACTUALLY VELCRO THAT RIGHT TO THE WINDOW. SO, IF YOU DON'T HAVE TO TURN THE CORNER, THEN YOU DON'T HAVE TO DO THIS TUCKING. >> SO WHAT YOU'RE SAYING--WE PUT THE OTHER SIDE, THE LOOP PART OF THE VELCRO ON THE WINDOW, AND IT COULD BE STAPLED ON. >> YES. >> AND THEN THIS WOULD JUST ATTACH TO IT INSIDE. >> SO THEY'RE REAL SIMPLE. >> OH, THEY REALLY DO ADD A NICE DIMENSION, I THINK, AND PLUS IT COVERS UP THE HARDWARE. I KNOW THAT'S THE MAIN REASON, BUT THEY'RE ACTUALLY WORKS OF ART IN THEMSELVES, I THINK. WELL, THANK YOU VERY MUCH. I APPRECIATE YOU SHOWING US HOW TO DO THESE. >> THANK YOU. >> REBECCA, THANK YOU SO MUCH FOR BEING WITH US TODAY. I KNOW YOU LOVE TO MAKE BEAUTIFUL JEWELRY, AND WHAT WE'RE GOING TO SHOW IS CERTAINLY REPRESENTATIVE OF THAT. BUT WHY DO YOU THINK MAKING JEWELRY HAS BECOME SO POPULAR? >> YOU KNOW, I THINK PEOPLE SEE SOMETHING THAT THEY REALLY LIKE BUT IT'S MAYBE TOO EXPENSIVE. SO THEN, IF THEY CAN GET ALL THE STUFF TO DO IT THEMSELVES, THEY CAN DO THAT. THERE'S BEEN A LOT OF FOCUS ON SCRAPBOOKING IN THE LAST FEW YEARS, AND NOW PEOPLE ARE INCORPORATING PICTURES INTO THEIR JEWELRY-MAKING, SO A LOT OF FUN, DIFFERENT THINGS GOING ON. >> I HADN'T THOUGHT ABOUT THAT. AND, OF COURSE, YOU START WITH FINDINGS. THAT'S WHAT YOU CALL THE THINGS THAT YOU MAKE, LIKE, FOR INSTANCE, THIS BRACELET. THIS COMES JUST LIKE THIS. IT'S LIKE LITTLE TRAYS. >> JUST LIKE THAT, YES. >> UH-HUH, AND SMALLER SIZE AND RECTANGLES. >> MM-HMM, AND WE'VE GOT TWO DIFFERENT KINDS. THESE ARE FROM AMATE STUDIOS, AND THEY'VE GOT A BASE ELEMENTS COLLECTION AND A DESIGNERS COLLECTION, SO THIS IS ALL STAMPED. THEY'RE ALL SILVER-PLATED. THESE ARE ALL BUILT BY HAND. >> OH, UH-HUH. >> SO SOMEONE HAS ACTUALLY SOLDERED THE SIDES ON, GONE BACK AND CUT AROUND THEM, ALL POLISHED BY HAND, SO THESE ARE A LITTLE--IF YOU WANTED TO MAKE A REALLY SPECIAL GIFT FOR SOMEONE-- >> THAT'S WHAT THIS IS, UH-HUH. AND THEY ALSO HAVE THEM FOR EARRINGS. >> EARRINGS. >> AND THEN MY BRACELET, WHICH I THINK'S JUST GORGEOUS THAT YOU MADE. >> THANK YOU. AND THAT'S VERY EASY, SHERYL. YOU CAN MAKE THAT. >> OH, I COULD? WELL, I'M GLAD BECAUSE I SURE LIKE THIS ONE. HA HA HA! OK, THANK YOU. AND THEN THIS WOULD BE A FINDING FOR A BRACELET. >> MM-HMM. >> OH, A PENDANT, UH-HUH, AND EARRINGS. YEAH. SO ONCE YOU GET ALL THOSE THINGS, YOU'RE OBVIOUSLY READY TO START CREATING. THIS IS ONE THAT YOU MADE. THIS ONE FOCUSES--OR HAS THE PICTURE ON THE FRONT. >> THAT ONE IS ACTUALLY JUST AN IMAGE FROM AN OLD CATALOG THAT I XEROXED A COUPLE OF TIMES, AND ACTUALLY--DO YOU REMEMBER THE OLD SHADOW BOXES, WHERE YOU CUT OUT SMALLER PIECES OF THE PICTURE? >> YOU CAN SEE BACK BEHIND THERE. UH-HUH. >> YEAH, SO I LAYERED HER IN THERE, AND THEN I JUST USED AN OLD PIECE OF JEWELRY ON THE FRONT. >> BEAUTIFUL. >> AND THAT ONE IS ACTUALLY-- THAT'S A STICKER INSIDE OF THERE THAT I CUT TO THE SHAPE OF THE PENDANT TRAY, AND THEN I FILLED IT WITH RESIN, ADDED THE LITTLE BEE CHARM... >> AND THEN THE LITTLE-- >> CURED IT UNDER U.V. LIGHT AND THEN JUST ADDED THE LITTLE BIRD ONTO THE TOP. >> WHAT A GOOD IDEA. >> THIS IS OUR STEAMPUNK PENDANT, SO STEAMPUNK'S VERY POPULAR RIGHT NOW, ALL THE GEARS AND THE MECHANICAL STUFF, SO THAT'S ACTUALLY AN OLD STAMP IN THE BACK WITH SOME GEARS AND JUST THE U.V. RESIN AGAIN. >> THIS IS REALLY BEAUTIFUL. >> AND THOSE ARE ACTUALLY MICA FLAKES. >> AND WHAT IS THAT? >> THEY'RE LITTLE PIECES OF MICA. THEY COME IN DIFFERENT COLORS, AND I JUST MIX THAT IN WITH THE RESIN AND CURED IT. >> OH, UH-HUH. KIND OF LIKE GLITTER, BIG GLITTER, MAYBE? HEH! OK. NOW, YOU'RE GOING TO SHOW US HOW TO ACTUALLY MAKE SOMETHING LIKE THIS BRACELET THAT YOU MADE FOR ME. >> YES, WE CAN DO THIS. LIKE I SAID, IT'S REALLY EASY TO DO. >> UH-HUH. >> ALL WE'RE DOING IS WE'RE TAKING ONE OF THE FINDINGS, AND WE ARE FILLING IT WITH A PRODUCT CALLED GLITTER PASTE. >> OK, I'M NOT FAMILIAR WITH THAT, BUT IT'S A PASTE. >> IT'S THE COMPANY VIVA DECOR. THEY'VE ONLY BEEN IN THE U.S. FOR A COUPLE OF YEARS, BUT THIS PRODUCT IS FABULOUS. >> UH-HUH. >> COMES IN A LOT OF DIFFERENT COLORS. >> UH-HUH, AND IT'S ALL METALLIC-LOOKING. IT'S ALL GLITTERY. >> YES, IT HAS GLITTER, IT HAS CAVIAR BEADS IN IT TO GIVE IT DIMENSION. AND ALL WE DO IS WE TAKE A PALETTE KNIFE, WE SCOOP SOME OUT, AND WE FILL OUR TRAYS. >> NOW, YOU'VE ALREADY DONE THAT? >> I'VE DONE THAT ON THIS ONE, AND YOU HAVE TO LET IT DRY BECAUSE AS THE WATER EVAPORATES, IT'S GOING TO SHRINK. >> I SEE, YEAH, AND IT DOESN'T LOOK FULL, LIKE-- >> IT DOESN'T LOOK FULL LIKE THAT ONE. SO NOW WE'RE JUST GOING TO GO BACK AFTER IT'S DRY THE FIRST TIME, AND WE'RE JUST GOING TO FILL IT UP AGAIN. >> ALMOST LIKE CAKE-DECORATING. >> YEAH, EXACTLY. >> AND THIS TIME YOU'LL JUST MAKE IT EVEN BECAUSE IT WON'T SHRINK THAT MUCH. >> YEAH. IT SHOULDN'T SHRINK THAT MUCH, DEPENDING ON HOW DRY IT IS, THEN I WOULD JUST CLEAN OFF THE SIDES A LITTLE BIT AND THEN JUST SET THAT ASIDE TO DRY. >> AND DO EACH OF THE OTHER COLORS. >> DO EACH OF THE COLORS, AND THEN YOU'LL END UP WITH SOMETHING LIKE THAT. >> AND THESE ARE JUST SMOOTH ALL THE WAY ACROSS. >> UH-HUH. AND SO YOU DON'T HAVE TO PUT THIS IN A KILN, YOU DON'T HAVE TO DO ANYTHING LIKE THAT. IT'S JUST FINISHED ONCE YOU-- >> JUST DONE ONCE IT'S DRY. >> YEAH, THAT'S AMAZING. AND HOW LONG DOES IT TAKE TO DRY? >> IT DEPENDS. DOWN HERE-- >> DEPENDING ON THE HUMIDITY. >> YES, BUT IF YOU'RE IN A REALLY HUMID AREA, IT MIGHT TAKE A LITTLE LONGER. I DO THE FIRST FILL AND THEN I JUST LET IT SIT OVERNIGHT, THEN I GO BACK THE NEXT DAY AND FILL IT IN. >> A GOOD THING TO DO, JUST LET IT SET OVERNIGHT. YOU KNOW IT'S GOING TO BE OK. THIS IS JUST DARLING. THIS, AGAIN, WOULD BE A PENDANT FINDING WITH A LITTLE TRAY. >> AND THE NICE THING ABOUT A LOT OF OUR TRAYS IS THEY ARE SIZED TO FIT SOME OF THE PUNCHES THAT ARE AVAILABLE NOW. >> UH-HUH. WOULD WE FIND THESE IN SCRAPBOOKING-- >> YOU'LL FIND THESE, YES, AT ANY CRAFT STORE. >> OK. >> SO I JUST TOOK A PICTURE OF MY MOM FROM A LONG TIME AGO, AND I PUNCHED IT OUT WITH THE PUNCH. >> UH-HUH. >> AND THEN I USED SOME MOD PODGE. I PUT SOME IN THE TRAY, THEN I PUT MY PICTURE IN, AND THEN I PUT MOD PODGE OVER IT. >> UH-HUH, SO YOU DIDN'T HAVE TO USE ANY OF THE-- >> I DIDN'T USE THE RESIN ON THIS, BUT WE'RE GOING TO FILL THIS WITH RESIN IN A MINUTE. >> OH, NOW WE WILL. OK. >> BUT WE WANT TO SEAL THE PHOTO BECAUSE IT'S PAPER, SO IT'S GOING TO ABSORB THE RESIN AND IT'LL GET SEE-THROUGH-LOOKING, AND IF YOU'RE USING AN INKJET PRINTER, IT'S ALSO GOING TO RUN. >> OH, THAT'S A BIT--YEAH. >> IF YOU'RE USING A LASER PRINTER, IT WON'T RUN, BUT YOU STILL WANT TO SEAL IT BECAUSE YOU DON'T WANT IT TO GET THAT KIND OF TRANSLUCENT LOOK. SO WHAT WE CAN DO IS WE CAN FILL THIS. >> THIS IS THE SEALER? >> THIS IS THE U.V. RESIN-- OH, THAT CAME OUT FAST, AND I DRIPPED SOME. >> OH, THIS IS THE RESIN. >> YEAH. AND WE CAN TAKE A LITTLE PIECE OF-- >> THAT'S HOW YOU ATTACH THE-- >> VINTAGE JEWELRY. YEAH, IT ACTS LIKE A GLUE, TOO. PUT THAT RIGHT ON THE CORNER. >> UH-HUH. >> AND THEN I'M GOING TO PUT A LITTLE PIECE OF CLAY UNDER HERE BECAUSE WE WANT TO MAKE SURE THAT THIS IS LEVEL BEFORE WE PUT IT IN THE LIGHT. AND THEN I PUT THIS IN MY LIGHT, TURN MY U.V. LIGHT ON, AND LET THAT SIT FOR ABOUT 20 MINUTES AND IT'S DONE. >> OH. LIKE A LITTLE OVEN. >> YES. VERY DIFFERENT THAN THE TWO-PART RESIN THAT YOU HAVE TO MIX AND THEN LET IT SET OVERNIGHT. SO THIS IS QUICK, FAST. >> QUICK AND EASY. >> INSTANT GRATIFICATION. >> IS THIS JUST CLEAR? I MEAN, DOES IT ALWAYS JUST COME CLEAR? >> YEAH, THAT JUST COMES CLEAR. >> OK. SO THAT PROTECTS YOUR PHOTO. I MEAN, IT'S GOING TO BE SAFE AND NOT-- >> YEAH, IT'S A NICE, HARD-- >> YEAH, IT REALLY IS, UH-HUH. AND THIS IS A DIFFERENT TYPE OF PRODUCT. >> THIS IS ONE OF OUR RING BLANKS WITH EPOXY CLAY IN IT. IT'S VERY HOT RIGHT NOW. THAT'S WHAT YOU'RE SEEING AT ALL THE BEAD SHOWS. >> BLING? >> YES, LOTS OF BLING. IT'S A TWO-PART CLAY. YOU MIX IT TOGETHER TO START THE CHEMICAL REACTION. YOU FILL YOUR JEWELRY BLANK WITH IT, AND THEN YOU JUST EMBED YOUR RHINESTONES. >> ALL OF THOSE THAT WE'VE SAVED OR HAVE BROKEN NECKLACES OR-- >> EXACTLY. I GOT THIS FOR A DOLLAR AT ONE OF THE LOCAL ANTIQUE STORES. >> I SEE. OK. THIS IS WHAT THE CLAY LOOKS LIKE, YOU SAID. >> THAT'S THE CLAY, AND IT'S TWO-PART, SO IT COMES IN... THIS IS ACTUALLY WHITE, EVEN THOUGH IT'S GREEN. THIS ONE'S GREEN. IT'LL-- >> WHEN YOU WORK IT TOGETHER. >> WHEN YOU WORK IT TOGETHER, IT'LL END UP BEING WHITE. IT'LL END UP BEING THIS COLOR. >> WELL, GOSH. I JUST NEVER REALIZED THERE WERE SO MANY BEAUTIFUL FINDINGS THAT YOU COULD MAKE SO MANY THINGS WITH. THIS IS GOING TO BE FUN. I'M GOING TO TRY IT. THANK YOU VERY MUCH, REBECCA. LAURA, THANK YOU SO MUCH FOR BEING HERE. I KNOW, AS A DESIGNER AND A CRAFTER, YOU'RE ALWAYS TRYING NEW THINGS AND EXPERIMENTING WITH THINGS, BUT YOU WERE TELLING ME EARLIER ABOUT WHY SO MANY OF YOU HAVE DECIDED YOU WANT TO CREATE YOUR OWN FABRIC TO WORK WITH. >> WELL, YOU KNOW, IF YOU'RE USING ANOTHER DESIGNER'S FABRIC, YOU COULD DO IT ORIGINAL PATTERN, AND IT WILL LOOK LIKE THE OTHER DESIGNER'S WORK. IF YOU'RE DOING SOMETHING THAT YOU CREATED ORIGINALLY AND USING RAW MATERIALS THAT ARE YOUR DESIGN, IT KIND OF UPS THE FACTOR AND IT PERSONALIZES IT MORE, EVEN IF YOU'RE NOT A PROFESSIONAL. IT KIND OF GIVES YOU--"I MADE THIS FROM START TO FINISH." >> UH-HUH. >> NOT TO MENTION IT'S REALLY COST-EFFECTIVE BECAUSE YOU CAN BUY PLAIN, WHITE FABRIC FOR VERY LITTLE COST. >> WELL, THAT'S, I THINK, A REALLY GOOD POINT, AND YOU'RE GOING TO SHOW US ON JUST SOME LITTLE SCRAPS, AND THEN WE'LL SHOW HOW THESE COULD BE TURNED INTO A PROJECT THAT, LIKE YOU SAID, IS JUST YOURS FROM START TO FINISH. >> RIGHT. THESE ARE ALL FROM I LOVE TO CREATE, AND FOR THIS FIRST TECHNIQUE, I DID SOME DYEING, SOME FABRIC-DYEING. THE GREAT THING ABOUT THEIR DYE PRODUCT IS THAT IT COMES ALREADY IN THIS BOTTLE. THE POWDER'S IN THE BOTTLE. YOU JUST ADD COLD WATER. >> OH, THERE IT IS IN THERE. I SEE. >> BECAUSE SOMETIMES, YOU KNOW, WHEN YOU'RE USING THE POWDERS, IT'S NOT THE GREATEST TO BREATHE IN, AND SO THE LESS STEPS YOU HAVE TO DO POURING, THE BETTER. SO THAT'S SOMETHING I REALLY LIKE ABOUT IT. IT'S JUST COLD WATER, AND IT COMES WITH THAT NICE APPLICATOR, SO YOU CAN DO TIE-DYE TECHNIQUES EASILY-- >> THERE'S EVEN RUBBER BANDS IN HERE, IF YOU WANT TO DO-- >> THERE'S RUBBER BANDS, THERE'S GLOVES--EVERYTHING YOU NEED TO PROTECT YOURSELF TO DO THE DYEING AND KEEP YOURSELF CLEAN. >> AND THESE ARE WASHABLE? I MEAN, AFTER YOU MAKE SOMETHING? >> THEY ARE. AGAIN, YOU WANT TO--FOR THE FABRIC DYE, YOU WANT TO WASH IT SO YOU CAN GET ALL-- >> AHEAD OF TIME. MM-HMM. >> NO FABRIC SOFTENER. AND THEN IT'S UP TO YOU IF YOU WANT TO DRY IT BEFORE YOU DYE OR NOT. YOU'LL GET DIFFERENT LOOKS ON DRY FABRIC VERSUS WET FABRIC. >> BECAUSE THE WET FABRIC-- I GUESS IT BLEEDS. >> IT BLEEDS OUT, SO FOR THIS PARTICULAR ONE, I WANTED KIND OF A POLKA DOT, SO I DID IT ON DRY TO PREVENT THE BLEED. IF I WANTED SOMETHING THAT REALLY KIND OF STARBURSTS OUT, I WOULD HAVE DONE IT ON SOME DAMP FABRIC. >> SO DID YOU JUST--AFTER YOU MIX THIS, JUST SQUIRT THESE OUT? YOU DIDN'T USE A SPRAY BOTTLE OR ANYTHING? >> NO. >> OK. >> I ALWAYS--YOU CAN DRAW WITH THAT TIP AND EVERYTHING. >> UH-HUH. >> SO, ONCE EVERYTHING DRIES AND YOU FOLLOW THE DIRECTIONS ON COMPLETING YOUR FABRIC, YOU CAN TAKE SOME TULIP FABRIC MARKERS AND GO IN AND FURTHER-- >> I THOUGHT THESE WERE REALLY LIKE CRAYONS FOR SCHOOL. THEY'RE SO COLORFUL AND PRETTY, AND THEY LOOK LIKE THE SAME THING. >> AND THEY DON'T HAVE TO BE SET WITH AN IRON OR ANYTHING. YOU CAN JUST DO IT, LET IT DRY, AND GO. AND, AGAIN, IT'S WASHABLE. SO YOU JUST DRAW, YOU KNOW. I LIKE TO DO FLOWERS. >> WELL, AND FOR THOSE OF US WHO LIKE TO DOODLE, I THINK THIS WOULD BE A LOT OF FUN. >> EXACTLY. YOU CAN USE THESE FOR A MILLION THINGS. >> AND YOU CAN--WE WERE TALKING EARLIER, TOO. I ASKED YOU ABOUT OVER-SPRAYING OR MIXING COLORS TOGETHER. YOU CAN ALSO DO THAT IF YOU WANT TO. >> YOU CAN. YOU CAN GO CRAZY, PRETTY MUCH. SO I JUST WENT THROUGH AND DREW--YOU CAN DRAW FLOWERS, YOU COULD DO... >> MM-HMM. >> SPIRALS, IF YOU'RE MORE MODERN. YOU CAN MAKE IT LIKE-- YOU COULD WRITE NAMES, WHATEVER YOU WANT TO DO. THEN, FOR THIS ONE, YOU CAN ALSO USE A TULIP 3D PAINT TO FURTHER EMBELLISH YOUR DRAWING. >> OH, YOU KNOW, I WAS LOOKING AT THIS. I THOUGHT YOU'D GLUED DOWN PEARLS. >> NO, THOSE ARE--IT'S 3-DIMENSIONAL, AND, AGAIN, IT'S WASHABLE, SO--I MEAN, I DID IT FOR A JOURNAL IN THIS CASE, BUT YOU COULD DO THIS TECHNIQUE FOR CLOTHING. >> OH, SURE. >> AGAIN, YOU'LL WANT TO--IN ALL OF THESE, YOU'LL WANT A PREWASHED FABRIC. IT OFTEN HAS CHEMICALS ON IT THAT DON'T WORK WELL FOR THE PRODUCT. >> OK, NOW, I REALLY LIKE THIS BECAUSE, AGAIN, I LIKE THE FREEHAND, THE KIND OF THE LOOSE TECHNIQUE THAT YOU USE. AND HERE IN THE FRONT, WE HAVE STENCILS, LIKE YOU WERE TALKING WE COULD USE. UH-HUH. >> AND YOU CAN JUST--THIS IS A SOFT PAINT, FABRIC PAINT. AND THE GREAT THING ABOUT THIS IS THAT WHEN IT'S DRY, IT'S NOT CRUNCHY. A LOT OF FABRIC PAINTS GET STIFF, AND THIS IS-- >> I CAN TELL. THIS IS NICE AND SOFT. >> AND SO THERE'S A NUMBER OF TECHNIQUES. YOU CAN JUST GO FREEHAND AND DO SOME PAINTING STROKES AND, YOU KNOW, GO JACKSON POLLOCK ON YOUR FABRIC. HA HA HA! >> REALLY WILD. >> SPLATTER--HA HA! OR YOU CAN USE A STENCIL. THEY HAVE SOME NICE STICKY STENCILS THAT I'LL SHOW YOU FOR THE NEXT TECHNIQUE. OR JUST USE--I'M USING A FOAM STAMP, AND I'M DIPPING IT IN AND...YOU CAN GET STAMPED. I LIKE TO USE THE STAMP A COUPLE OF TIMES SO THAT YOU GET VARYING DEGREES OF HOW MUCH PAINT IS ON THERE. >> AND YOU CAN ALSO--I MEAN, I GUESS WE COULD USE OUR SCRAPBOOKING STAMPS AND THEN JUST WASH THEM OFF? >> YEAH. YOU'LL WANT TO BE SURE YOU WASH, AND YOU WANT ONES THAT DON'T HAVE TOO INTRICATE OF DESIGNS WHENEVER YOU'RE USING PAINT. >> OH, SURE. I THINK THAT'S RIGHT. >> I EVEN HAVE GOT-- >> I RECOGNIZE THAT. >> A TOILET PAPER ROLL AND... AND, AGAIN, I THINK THE KEY, WHEN YOU'RE DOING YOUR OWN FABRICS, TO REMEMBER IS IT DOESN'T HAVE TO BE PERFECT. THAT'S PART OF THE BEAUTY OF THE FINISHED PRODUCT, IS THAT IT HAS THOSE LITTLE IMPERFECTIONS THAT GIVE IT MORE PERSONALITY THAN IF YOU HAD PURCHASED A FABRIC. >> AND WE COULD ALSO, THEN, GO BACK AND USE THE FABRIC MARKERS AND USE ON THIS, TOO. >> EXACTLY, WHICH IS WHAT I DID ON THIS. I JUST DID THE FREEHAND BRUSH STROKES, AND THEN I WENT IN AND DREW SOME FLOWERS WITH THE FABRIC MARKERS AND THEN ADDED SOME OF THE-- >> THE BEADS UP HERE, UH-HUH. >> THE 3D PAINT, AGAIN. >> THAT LOOK LIKE BEADS, RATHER. HA HA! REALLY PRETTY. >> FOR THIS, THIS IS A TULIP FABRIC SPRAY PAINT... >> MM-HMM. >> WHICH IS A LITTLE MESSIER, I WILL TELL YOU. >> OK. >> SO YOU DON'T WANT TO DO THIS WITH YOUR COUCH RIGHT THERE. >> OH, OK. THAT MAKES SENSE. AND COVER YOUR TABLE. >> BECAUSE THERE'S GOING TO BE A LITTLE OVER-SPRAY. >> NOW, BEFORE YOU START WITH-- THESE ARE THE SAME STENCILS. YOU'RE NOT GOING TO-- >> RIGHT. I'M GOING TO SHOW YOU THAT--FIRST YOU CAN JUST DO A SPLATTER TECHNIQUE... >> MM-HMM. >> AGAIN, AND THAT COULD BE OVER YOUR DYED FABRIC OR AFTER YOU HAVE DONE SOME OF THOSE PAINTING TECHNIQUES IF YOU JUST WANTED TO SPLATTER, OR YOU CAN DO THE STENCIL, LAY DOWN A STENCIL. THESE ARE A STICKY FABRIC STENCIL. >> SO THEY STAY. >> THEY COME OFF THE--YOU JUST PEEL THEM OFF THE BACKING AND THEY'LL STAY, AND THEY ALSO DON'T--I DON'T KNOW. I'M A LITTLE MESSY, AND SO SOMETIMES I WON'T PUSH DOWN ENOUGH AND THEN IT'LL SEEP UNDER THE STENCIL AND IT'LL RUIN YOUR DESIGN. BUT YOU JUST, THEN-- >> NOW, SHOULD YOU START WITH A LIGHT COAT, LET IT DRY, COME BACK-- >> YOU CAN DO A COUPLE COATS. YOU DON'T WANT TO DO TOO MUCH OR IT'LL START TO PULL. >> AND I WOULD ASSUME THAT IF YOU'RE GOING TO, SAY, MAKE THE CROWN IN A DIFFERENT COLOR, YOU MIGHT--WOULD LAY A PIECE OF CARDBOARD OVER THE PART YOU DON'T WANT. >> RIGHT. >> SO LET'S SEE HOW THAT WOULD LOOK. OF COURSE, WE'D LET IT DRY, NORMALLY. WE'RE IN A HURRY TO SEE THE RESULTS. OH, HOW PRETTY. >> AND IF YOU DIDN'T WANT THE SQUARE, WHAT I DO IS I LAY PAPER TOWELS AROUND IT, SO ANY OVER-SPRAY--IT PROTECTS THE REST OF THE FABRIC. YOU CAN DO THIS, ALL OF THESE TECHNIQUES, EVEN ON ALREADY PRINTED FABRICS. >> JUST MAYBE EMBELLISH THEM-- >> MAYBE THERE'S SOMETHING THAT, YOU KNOW, HAS WRITING ON IT THAT'S A PRE-MADE FABRIC AND YOU WANT TO ADD SOME HEARTS AND CROWNS ALL OVER THE FRONT OF IT. YOU COULD USE ANY OF THESE TECHNIQUES, TOO. >> AND ALL OF THE STENCILS CAN BE CLEANED OFF AND USED MULTIPLE TIMES. >> THEY CAN BE USED UP TO 3 TIMES. >> IF THEY GET A LITTLE BIT LESS STICKY THAN YOU WANT, COULD YOU SPRAY ON WITH AN ADHESIVE ON THE BACK? >> I THINK YOU CAN PROBABLY DO THAT, YEAH. WITH THE SPRAY, YOU'RE GOING TO GET A BUILD-UP OF PAINTS AND THINGS. YOU WANT TO WIPE THEM OFF A LITTLE BIT AFTER. >> QUICKLY AFTER YOU DO IT. OK. NOW, THIS IS INTERESTING, WHY YOU--YOU SAID THE TWO END PIECES WERE PURCHASED FABRICS YOU FOUND. >> AND THEY WERE JUST SCRAPS I HAD, AND I WANTED TO MAKE THIS COFFEE CUP COZY, AND I DIDN'T HAVE ANOTHER FABRIC TO MATCH THAT FABRIC. IT'S A LITTLE WILD, SO I WENT IN AND STENCILED AND MADE A LITTLE BLUE BIRD. SO WHEN YOU HAVE FABRICS THAT--MAYBE YOU'RE MAKING A QUILT AND YOU HAVE A LIMITED AMOUNT OF YOUR FAVORITE FABRIC, YOU CAN USE PAINTS OR THE SPRAY PAINTS AND REALLY MATCH WHAT YOU HAVE IN STOCK AND THEN NOT WORRY ABOUT IT. >> I THOUGHT THIS WAS LIKE THE COMPLEMENTARY FABRIC THAT CAME WITH THEM, YOU KNOW. SOMETIMES IN QUILTING, YOU CAN BUY 2 OR 3 THAT GO TOGETHER. >> RIGHT, BUT SOMETIMES THOSE GO OUT OF DATE AND YOU CAN'T FIND WHAT YOU WANT, SO YOU CAN MAKE YOUR OWN. >> WELL, WHAT A NEAT WAY TO USE UP SCRAPS. I'M ALWAYS FOR THAT. SO THIS IS A COFFEE COZY. >> MM-HMM, FOR A COFFEE CUP. >> THANK YOU VERY MUCH, LAURA. THESE ARE REALLY INTERESTING TECHNIQUES, AND EASY TO DO, IT LOOKS LIKE. >> THEY SURE ARE. >> I HOPE YOU ENJOYED THE SHOW TODAY. NEXT TIME ON "CREATIVE LIVING," WE'LL LEARN HOW TO MAKE SOME BEAUTIFUL THROW PILLOWS, TALK ABOUT AN INTERESTING FITNESS AND NUTRITION PROGRAM FOR CHILDREN, AND DEMONSTRATE HOW TO COMBINE QUILTING AND EMBROIDERY MACHINES TO CREATE VARIOUS HOME DECOR ITEMS. ONE OF THE GUESTS IS GOING TO SHOW HOW TO USE FUSI-BOO FUSABLE BATTING AND A PILLOW INSERT FILLED WITH POLYESTER FIBER FILL TO CREATE THE DECORATIVE TABS ON A FAST, FUN, FANTABULOUS PILLOW. THERE'S A NEW PROGRAM CALLED 5210 MAYOR'S CHALLENGE THAT PROMOTES HEALTHY EATING AND PHYSICAL ACTIVITY IN SCHOOLS AND AT HOME. ONE OF MY GUESTS ON THE NEXT SHOW WILL EXPLAIN WHAT THIS IS AND WHY IT'S IMPORTANT. IT'S AVAILABLE FOR ANY COMMUNITY, SO YOU MAY WANT TO CHECK INTO STARTING THIS PROGRAM IN YOUR AREA. AND FINALLY, WE'LL MEET A TEACHER, AUTHOR, AND DESIGNER, AND SHE'S GOING TO SHOW HOW TO COMBINE A QUILTING AND AN EMBROIDERY MACHINE TO MAKE PILLOWS, WALL HANGINGS, GARMENTS, AND, OF COURSE, QUILTS. ALL OF THESE TOPICS WILL BE FEATURED ON THE NEXT "CREATIVE LIVING" SHOW. IF YOU EVER HAVE COMMENTS OR SUGGESTIONS OR IDEAS FOR SHOWS, YOU CAN EMAIL ME AT SHERYL.BORDEN@ENMU.EDU. I'D ALSO LIKE TO ASK YOU TO BECOME A FAN OF "CREATIVE LIVING" ON FACEBOOK. JUST GO TO FACEBOOK.COM, AND IN THE SEARCH WINDOW, TYPE IN "CREATIVE LIVING WITH SHERYL BORDEN." THANKS SO MUCH. I HOPE YOU'LL PLAN TO JOIN ME NEXT TIME FOR "CREATIVE LIVING." >> WE ARE VERY PLEASED TO OFFER A NEW BOOKLET THAT ACCOMPANIES THIS SERIES OF "CREATIVE LIVING." THIS BOOKLET IS TITLED "THE 6500 SERIES," AND IT FEATURES A WONDERFUL COLLECTION OF IDEAS AND INFORMATION, AND IT'S AVAILABLE FREE OF CHARGE ON OUR WEBSITE. POSTED AS A PDF FILE, YOU CAN SIMPLY DOWNLOAD THE ENTIRE BOOKLET OR JUST THE SEGMENTS YOU'RE MOST INTERESTED IN. AS WITH ALL OF THE "CREATIVE LIVING" BOOKLETS, YOU'LL FIND INFORMATION ON FOODS & NUTRITION, CLOTHING & FASHION, HEALTH & BEAUTY, HOME DECORATING, AND MUCH MORE. FOR YOUR COPY OF THIS BOOKLET, GO TO OUR WEBSITE AT KENW.ORG AND THEN CLICK ON "CREATIVE LIVING." SCROLL DOWN TO THE BOOKLET SECTION, AND YOU CAN CLICK ON THIS BOOKLET OR ANY OF THE OTHER BOOKLETS WE HAVE AVAILABLE ONLINE. ONCE AGAIN, JUST GO TO KENW.ORG, CLICK ON "CREATIVE LIVING," AND DOWNLOAD THE BOOKLET TITLED "THE 6500 SERIES." WE ALSO WANT TO ENCOURAGE YOU TO SIGN UP FOR OUR FREE E-NEWSLETTER. JUST CLICK ON THE "SIGN UP NOW!" BUTTON AND INPUT YOUR EMAIL ADDRESS. THAT'S ALL THERE IS TO IT. YOU'LL ENJOY READING AN UP-TO-DATE NEWSLETTER FILLED WITH INTERESTING TOPICS AND INFORMATION. THANK YOU.
Now Playing As: Captioned (English) (change)
The focus of this episode is on creating custom pieces. Sheryl's guests show viewers how to create custom fabric designs, photo jewelry, and window valences.
Media Details
Runtime: 27 minutes
Topic:

Arts

Grade/Interest Level:

7 - 12

Standards:

Release Year:

2013

Producer/Distributor:

KENW-TV