Creative Living With Sheryl Borden #6523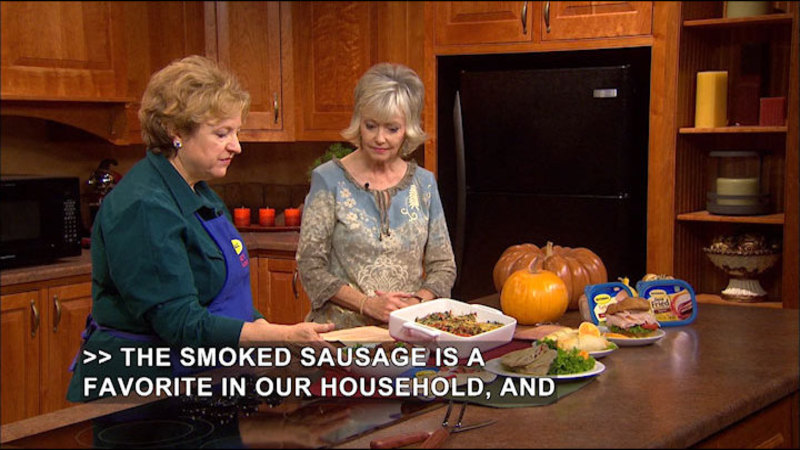 >> "CREATIVE LIVING," UTILIZING TODAY'S TECHNOLOGY WITH THE BEST OF THE PAST TO BRING YOU INNOVATIVE IDEAS AND UP-TO-DATE INFORMATION FOR CREATIVE LIFESTYLES IN TODAY'S ACTIVE WORLD, WITH YOUR HOST SHERYL BORDEN. >> I'M SO GLAD YOU JOINED ME TODAY FOR "CREATIVE LIVING." WE'RE GOING TO LEARN TO DECORATE COOKIES WITH A WATERCOLOR TECHNIQUE, WE'LL SHOW HOW TO MAKE A WALL HANGING USING AN OLD VINYL RECORD, AND THEN WE'LL DEMONSTRATE SOME TURKEY RECIPES FOR FAMILY CELEBRATIONS. ONE OF MY GUESTS IS NANCY SILER AND SHE'S WITH WILTON BRANDS IN WOODRIDGE, ILLINOIS. NANCY'S GOING TO SHOW HOW TO GIVE A BUTTERFLY COOKIE A PAINTED EFFECT USING THIN ROYAL OR COOKIE ICING TO CREATE A KALEIDOSCOPE PATTERN. THEN SHE ADDS OTHER ITEMS FOR ADDED FLAIR. ANOTHER GUEST IS LISA ROJAS AND SHE'S A MIXED-MEDIA ARTIST AND DESIGNER FROM VICTORVILLE, CALIFORNIA. LISA'S GOING TO BE USING GRAPHIC 45 PAPERS, A VINYL RECORD, AND EMBELLISHMENTS TO CREATE A BEAUTIFUL WALL HANGING. HER BUSINESS IS STAMPIN' QUEEN CREATIONS. AND FINALLY, WE'LL TALK TO MARTY VAN NESS AND SHE'S A HOME ECONOMIST FOR BUTTERBALL. MARTY'S GOING TO TALK ABOUT GO-TO RECIPES FOR FAMILY CELEBRATIONS, INCLUDING SNACK IDEAS FOR KIDS, HEALTHY LUNCH IDEAS, AND EVEN IDEAS FOR USING LEFTOVER TURKEY. SHE ALSO HAS INNOVATIVE TURKEY RECIPES FOR DINNERTIME THAT SHE'LL SHARE WITH US. MARTY, THANK YOU SO MUCH FOR BEING WITH US TODAY. EVER SINCE MY HUSBAND HAD HEART SURGERY SEVERAL YEARS AGO, WE HAVE USED TURKEY IN SOME OF THE MOST INVENTIVE WAYS. AND WHAT I LOVE, THOUGH, IS THAT I FOUND THAT ALL OF THE RECIPES I USED BEFORE THAT CALLED FOR BEEF CAN ALMOST ALL BE SUBSTITUTED WITH ONE TYPE OF TURKEY. >> ABSOLUTELY, SHERYL. TURKEY IS A GREAT LEAN PROTEIN. I'VE ADDED IT MORE TO MY DIET AND MY HUSBAND'S DIET, AND IT'S JUST GREAT TO EVEN START THE KIDS ON, YOU KNOW, A LITTLE MORE TURKEY PRODUCT ALL THROUGH THE YEAR. >> AND AS ONE OF MY KIDS SAID, "YOU CAN'T EVEN TELL THE DIFFERENCE, MOM," AND THAT'S TRUE. SO IF WE WANT TO MAKE SPAGHETTI, YOU CAN MAKE IT WITH THE GROUND TURKEY, FOR INSTANCE. THESE ARE SOME GO-TO RECIPES. WHY DO YOU CALL THEM "GO-TO"? >> "GO-TO," IT MEANS IT'S AN EASY ALTERNATIVE. USUALLY YOU HAVE THINGS ON THE SHELF--WE LIKE TO DEVELOP RECIPES SO THAT YOU CAN GET PRODUCT RIGHT OUT OF YOUR PANTRY, RIGHT ON THE KITCHEN SHELF, AND THEY'RE NOT UNUSUAL. THEY'RE VERY ADAPTABLE FOR FAMILIES. SMALL CHILDREN WILL LOVE THE FLAVORS, AND IT'S JUST A GREAT LEAN SOURCE OF PROTEIN. AND THEN YOU PUNCH IT UP WITH THE VEGETABLES AND THE OTHER PRODUCTS THAT YOU ALREADY KNOW. YEAH. >> OK, LET'S TALK ABOUT THIS FIRST ONE. THIS IS A FRITTATA, WHICH I LOVE. >> OH, THE TURKEY FRITTATA. NOW, THIS IS GREAT FOR BRUNCH, BUT YOU CAN DO IT FOR DINNER. YOU CAN DO FOR LUNCH. >> IT CAN BE A MAIN DISH. >> ABSOLUTELY. IT'S A BASIC FRITTATA WITH THE EGGS AND THE MILK, BUT THEN YOU ADD ANGEL HAIR PASTA, WHICH IS A VERY THIN PASTA, AND THESE ARE INGREDIENTS THAT YOU CAN COOK AHEAD OF TIME. AND I LIKE TO SAVE TIME, MAYBE DO A FEW THINGS THE DAY BEFORE, CHOPPING UP THE RED PEPPER-- RED BELL PEPPER. ALSO, THE MAIN TURKEY PRODUCT IN HERE IS THE TURKEY BACON. AND SOMETIMES I USE TURKEY BACON. SOMETIMES I'LL USE THE SMOKED BUTTERBALL TURKEY AND CHOP THAT UP... >> INSTEAD OF BACON? >> INSTEAD OF THE BACON--EITHER ONE, SURE--AND THEN A PACKAGE OF SPINACH. SO WITH ALL THOSE FLAVORS IN THERE, YOU GET A GOOD GREEN SPINACH VEGETABLE IN FOR CHILDREN AND FOR OURSELVES, TOO. IT'S A GREAT HEART-HEALTHY. >> IT IS, AND IT'S VERY FILLING, SO IT'S GREAT TO SERVE. WHAT ABOUT THIS WITH THE SAUSAGE? NOW, I LIKE THE SAUSAGES. >> THE SMOKED SAUSAGE IS A FAVORITE IN OUR HOUSEHOLD, AND THIS IS REALLY EASY BECAUSE YOU USE THE GRILL. AND THE SAUSAGE AND THE ZUCCHINI AND THE RED PEPPERS AND ONIONS ARE PUT INTO A LARGE SHEET OF FOIL. YOU ROLL IT UP AROUND THE EDGES AND MAKE IT A FOIL PACKET. ADD A LITTLE BIT OF BUTTER, OR YOU CAN SPRAY IT WITH OLIVE OIL--ANY KIND OF AN OIL--BECAUSE IT'S GONNA GO RIGHT ON THE GRILL. AND USE-- FOLLOW THE DIRECTIONS AT BUTTERBALL.COM, AND YOU'LL HAVE A GREAT, YOU KNOW, WEEKDAY MEAL. >> AND SOMETIMES WE THINK ABOUT USING TURKEY PRODUCTS ONLY AT THE HOLIDAY SEASON, BUT THESE ARE GREAT RECIPES FOR YEAR-ROUND, AREN'T THEY? >> ALL YEAR-ROUND. FAMILY FRIENDLY, AND LEFTOVERS ARE GREAT TO TAKE TO LUNCH. >> IN FACT, THAT'S WHY I LIKE TO COOK A BIG TURKEY, BIGGER THAN I'LL NEED, BECAUSE I LIKE THE LEFTOVERS JUST AS WELL. >> I DO THE SAME THING, SHERYL. >> OK, LET'S TALK ABOUT THIS ONE. >> OK, THIS IS OUR TURKEY QUESADILLAS. >> OH, QUESADILLAS. >> AND THAT HAS A LUNCHMEAT IN THERE AND SOME RED BELL PEPPER, AND IT'S JUST ON TWO LARGE 10-INCH TORTILLAS. AND AFTER YOU ASSEMBLE THE TORTILLA FOR THE QUESADILLAS, YOU LIFT IT INTO A SKILLET THAT'S BEEN WARM, PREHEATED WITH A LITTLE BIT OF SPRAY OIL OR ANY KIND OF FAT IN THE PAN. AND THEN COOK IT ON ONE SIDE FOR ABOUT 3 MINUTES, JUST TURN IT OVER, AND COOK IT--AND FINISH UNTIL EVERYTHING MELTS. AND THEN YOU CAN CUT IT INTO QUARTERS IF YOU WANT LUNCH OR SANDWICHES. SOMETIMES I'LL CUT THEM INTO THIRDS, LIKE, SMALLER PIECES FOR HORS D'OEUVRES AND REHEAT THEM IN THE OVEN. >> THESE ARE GREAT TO GO IN A LUNCHBOX, TOO, FOR KIDS THAT TAKE THEIR LUNCHES. THE QUESADILLAS ARE ALWAYS A POPULAR TREAT. >> THEY ARE. THEY ARE. >> OK, WE HAVE A CROISSANT SANDWICH I RECOGNIZE. WHAT ELSE IS INSIDE THE CROISSANT? >> WELL, WE CALL THESE ARE TURKEY TURNOVERS. AND IT'S THE REFRIGERATED CROISSANTS THAT YOU MAKE INTO A SQUARE AND PRESS THE LITTLE PERFORATIONS TOGETHER, AND THEN PUT IN A MIXTURE OF SAUTEED ONION AND MUSHROOM, A LITTLE BIT OF CHOPPED MUSHROOM, AND A LITTLE BIT OF WHIPPING CREAM JUST TO ADD THAT RICHNESS. PER SERVING, YOU ONLY HAVE ABOUT A TABLESPOON AND A HALF OF WHIPPING CREAM, SO IT'S NOT... >> IT'S NOT SINFUL. >> NOT TOO BAD. AND THEN YOU ROLL THAT UP OR TURN IT OVER INTO A TRIANGLE OR ROLL IT THIS WAY, AND THEN BAKE IT UNTIL IT GETS NICE AND GOLDEN BROWN. YOUR INGREDIENTS IN THERE ARE ALREADY COOKED. >> EVERYTHING YOU'VE MENTIONED, I HAVE EITHER IN THE PANTRY OR IN THE REFRIGERATOR. IT'S PERFECT. >> EASY TO FIND ON THE SHELVES AT THE GROCERY STORE, TOO. >> AND THIS IS CALLED "THE ULTIMATE," HUH? >> THE ULTIMATE T.L.T.: TURKEY, LETTUCE, AND TOMATO. AND THIS FEATURES OUR EASY-USE LUNCHMEAT, THE LUNCH SLICES OF TURKEY OR DEEP-FRIED TURKEY. THE DEEP-FRIED HAS A WONDERFUL FLAVOR TO IT... >> I BET IT IS. >> IF YOU FIND THAT, BUT EITHER PRODUCT WORKS JUST AS WELL. >> SORT OF A PLAY ON THE FRYING OF THE TURKEY THAT PEOPLE ARE REALLY ENJOYING. >> BUT INSTEAD OF B.L.T.-- WE COULD USE TURKEY BACON-- BUT THE TURKEY SLICES ARE JUST DELICIOUS AND THEY'RE GREAT FOR A LUNCHTIME MEAL. >> SO "GO-TO," MEANING THAT EVERYTHING'S PRETTY MUCH AVAILABLE. OF COURSE, CHECK YOUR RECIPE AHEAD OF TIME. I'VE BEEN KNOWN TO NEED SOMETHING RIGHT IN THE MIDDLE OF IT. >> YOU CAN ALWAYS SUBSTITUTE. >> I THINK THAT'S GOOD, TOO. AND YOU MENTIONED GOING TO THE WEBSITE, THE BUTTERBALL.COM-- WE CAN DO THAT YEAR-ROUND. >> ABSOLUTELY. AND ALL THESE RECIPES ARE FOUND AT BUTTERBALL.COM. >> GREAT. WELL, THANK YOU VERY MUCH. I APPRECIATE YOU BEING HERE, AND THIS LOOKS DELICIOUS. >> OH, IT IS. THANKS FOR INVITING ME. >> IT'S SO NICE TO HAVE YOU WITH US, LISA, AND YOU SAID THIS WHOLE SEGMENT WAS GOING TO BE ON GLUING. >> BASIC GLUING, YES. >> I THINK I CAN FOLLOW YOU ON THIS. BUT HOW DID YOU DESIGN THIS PROJECT USING A VINYL RECORD? >> YOU KNOW, I STARTED OFF WITH THE PAPER. THE PAPER IS WHAT INSPIRED ME, BECAUSE THE PAPER IS--IT'S, YOU KNOW, MUSICAL NOTES AND--YOU KNOW, YOU CAN SEE ON THE SAMPLE THAT'S GOT THE KEYBOARD AND STUFF ON IT. SO I STARTED FROM THERE AND I THOUGHT, "OH, WOULDN'T THAT BE A BEAUTIFUL WALL HANGING, AND TO DO IT ON AN ALBUM, OR A VINYL RECORD?" >> AND ANY OF US THAT ARE OLD ENOUGH PROBABLY HAVE SOME OF THESE. NOW, SOME OF THE YOUNG KIDS, IF THEY'RE WATCHING, HAVE NO IDEA WHAT THESE THINGS-- THEY'RE NOT PLATES. THEY'RE NOT CHARGERS. THESE ARE VINYL RECORDS. >> PLAIN OLD VINYL RECORDS, YES. I HAD TO BEG MY HUSBAND FOR SOME OLD ONES BECAUSE HE WASN'T GIVING HIS UP. >> I DON'T BLAME HIM, WITH THE FEW THAT I HAVE, BUT SOME OF THEM WE COULD PART WITH. AND THIS IS AN EXAMPLE OF WHAT YOU'VE DONE WITH THIS PLAIN VINYL RECORD, AND YOU'VE BASICALLY GLUED ALL THIS STUFF ON THERE. >> THAT'S BASICALLY IT. IT'S THE BEAUTIFUL GRAPHIC 45 PAPERS. THEY COME IN ALL DIFFERENT THEMES AND THEY'RE JUST ABSOLUTELY GORGEOUS AND THEY JUST INSPIRE ME SO MUCH. >> I'M GLAD THERE'S PEOPLE LIKE YOU WHO GET INSPIRED. I CAN COPY, BUT I HAVE TO SEE SOMEBODY ELSE'S WORK. AND I JUST THINK THIS IS SO CUTE. THIS IS A LITTLE BOOK THAT YOU ACTUALLY BOUGHT THAT WAS SHAPED LIKE THIS. >> RIGHT, A GEAR. IT'S THE STEAMPUNK THEME, IS WHAT THAT I WAS GOING FOR WITH THE GEARS AND THINGS LIKE THAT. THAT'S WHAT THAT CAME FROM. >> BUT YOU'VE ADDED ALL OF THE EMBELLISHMENTS. IT WAS JUST A FLAT BOARD. >> IT WAS JUST A FLAT BOARD, AND THEN, YES, THEN I ADDED EVERYTHING. AND THEN ON EACH PIECE, ON EACH PAGE, YOU CAN PULL... >> OH, I DIDN'T SEE THAT. >> YEAH, YOU CAN PULL THOSE LITTLE TAGS OUT THERE... >> AND WRITE OR PUT A PICTURE. >> EXACTLY. >> OH, I HADN'T EVEN NOTICED THAT. >> YEAH. >> BECAUSE I THOUGHT, WELL, MAYBE YOU COULD PUT YOUR PICTURE HERE, BUT THAT--AND I GUESS YOU COULD. BUT THEN IF YOU HAVE THE LITTLE TAGS IN HERE, YOU COULD DO YOUR JOURNALING ON THAT. >> THERE YOU GO, AND PUT YOUR PICTURES UP THERE. THAT WOULD BE PERFECT. >> YEAH. OH, I JUST LOVE THAT. BUT I SAVED THE BEST FOR LAST. AND YOU SAID YOU LOVED "WIZARD OF OZ"--WELL, I DO NOW FOR SURE. >> YES, MA'AM. >> AND YOU JUST BOUGHT THE BOOK, FIRST OF ALL? >> YES. IT'S JUST A CARDBOARD BOOK. >> AND THESE ARE PAPERS, AND YOU'VE MADE IT THREE-DIMENSIONAL BECAUSE YOU PUT FOAM ADHESIVE BEHIND THEM. I DON'T KNOW IF WE CAN SEE--YEAH, YOU CAN SEE THE LITTLE FOAM PEEKING BACK BEHIND THERE. >> YEP. >> AND, AGAIN, LIKE, THINGS COULD GO IN HERE. >> AND THOSE ARE ALSO TAGS. THESE ARE ALSO TAGS. THEY'RE ALSO TAGS AND EMBELLISHMENTS BY GRAPHIC 45. THEY HAVE--THEY USUALLY HAVE A LINE OF EMBELLISHMENTS THAT GO WITH THEIR PAPERS, YES. SO THEY'VE GOT SOME VERY GORGEOUS STUFF. >> AND THIS IS ONE OF THOSE YOU'D NEVER GET TIRED OF LOOKING AT BECAUSE I'M SEEING SOMETHING DIFFERENT EACH TIME I'VE OPENED THIS. >> YES. AND IT'S NOT--THIS IS NOT SOMETHING THAT YOU CAN DO, YOU KNOW, IN AN HOUR'S TIME. THIS TAKES SOME WORK. IT'S A LOT OF WORK, BUT, OH, IT'S FUN. >> I WILL LOOK AT THIS IN DETAIL LATER, BUT LET'S SHOW EVERYONE HOW TO MAKE THE VINYL RECORD WALL HANGING. >> OK, THE VERY FIRST THING THAT YOU'RE GONNA DO IS PICK OUT YOUR PAPERS THAT YOU WANT TO USE. >> AND THESE COME, WHAT, 12... >> THEY COME IN 12 x 12s, 12 x 12 SHEETS, AND THEN YOU CAN ALSO BUY THEM IN A 6 x 6. >> OH, WITH THE LITTLE SCRAPBOOKS. >> RIGHT, SO YOU CAN DO THEM IN BOTH. I'VE USED BOTH SIZES. BUT THE FIRST THING THAT YOU'RE GONNA DO, THEN, IS PICK OUT YOUR PAPERS. OK? AND SO WHAT I'M GONNA DO... >> OH, YOU USE HOT GLUE, TOO? >> WELL, YEAH, YOU CAN. I WOULD USE--I'M USING HOT GLUE BECAUSE WE'RE HERE. >> UH-HUH. BUT YOU COULD USE THE RUNNER OR ANYTHING? >> YEAH. AT HOME, I WOULD PROBABLY USE A ZIP DRY-- BEACON ADHESIVES ZIP DRY GLUE. THAT'S MY VERY FAVORITE. >> THAT'S YOUR FAVORITE? >> YES. OK. AND THEN FOR THESE, YOU LAY THEM DOWN. OK, YOU'RE GONNA LAY THEM DOWN LIKE THIS, AND YOU CAN GO AHEAD AND ADHERE THEM. AND THEN FLIP THEM OVER, AND THEN YOU'RE GONNA TRACE. YOU'RE GONNA TAKE A PENCIL AND THEN TRACE IT AND THEN TRIM IT. OK? SO THEN YOU'RE GOING TO GET--WE'LL MOVE ALL THESE ASIDE. AND THEN WE'RE GONNA HAVE--YEAH, I'VE ALREADY KIND OF DONE THAT. OK? SO THEN WE'RE JUST GONNA GO FROM HERE. AND THEN THE NEXT THING WE'RE GONNA DO IS JUST PUT SOME GLUE ON THERE. >> YOU'RE JUST GLUING? >> JUST GLUING. >> THERE'S NO RIGHT OR WRONG WAY TO PUT THESE EITHER, IS THERE? >> NO. IT'S JUST--IT'S HOWEVER-- YOU KNOW, IT'S USUALLY WHATEVER MOVES ME. I KNOW THAT SOUNDS SILLY, BUT A LOT OF TIMES I HAVE TO SIT BACK AND LOOK AND SEE IF I'M GONNA LIKE IT OR NOT. BECAUSE SOMETIMES I'LL GO, "HMM, THAT DOESN'T LOOK..." >> DO YOU PLAY MUSIC WHEN YOU DO THIS ONE? >> NO. I SHOULD, THOUGH, HUH? >> MIGHT INSPIRE SOMETHING DIFFERENT. >> THERE YOU GO. OK. AND THE SAME THING WITH THESE. YOU'RE JUST GONNA GLUE THESE ON DOWN HERE. >> NOW, ARE THESE ALL IN A SHEET, OR WERE THESE SOME OF THE EMBELLISHMENTS? >> NO, THESE ARE ALL IN A SHEET, AND I JUST CUT THEM OUT SEPARATE, YES. >> SEE, I LOVE TO CUT, AND I LOVED--LIKE PAPER DOLLS, I NEVER LIKED TO PLAY WITH THEM, BUT I LOVED TO CUT THEM OUT. >> YES, I DO, TOO. AND THE SAME THING WITH THE FILMSTRIP. AND THEN WHAT I DID WITH THIS IS I JUST BENT IT, JUST KIND OF ROUNDED AROUND MY FINGER... >> TO GIVE IT THREE-DIMENSION. >> RIGHT. JUST TO GIVE IT THAT-- THAT LOOK. >> AND SO DO YOU JUST GLUE IT? >> AND THEN YOU'RE JUST GONNA DO THE SAME THING... >> ON THE VALLEY FOLDS, I THINK THAT'S CALLED. >> AND JUST GLUE THAT LITTLE PUPPY DOWN THERE. >> THAT IS JUST SO CUTE. >> OK? AND THEN YOU'RE GONNA COME TO ANOTHER SPOT. WE'RE NOT GONNA GLUE THESE ALL ON BECAUSE I DON'T WANT TO BORE EVERYBODY. BUT THEN YOU'RE GONNA COME TO THIS STEP. >> OH. NOW, HOW DID YOU GET THIS ON? >> NOW, THIS IS A BLING. THIS IS WHAT I CALL A BLING, YES. AND THIS IS--I DIDN'T DO THIS ON TV BECAUSE IT IS EXTREMELY HARD... >> TO HOLD EACH ONE SEPARATELY? >> IT'S ALL TOGETHER, BUT IT'LL STICK TO YOUR FINGERS. YOU HAVE TO WORK WITH IT A LITTLE BIT. SO YOU LAY IT DOWN--YOU KNOW, JUST LAY YOUR ADHESIVE DOWN. IT'S ALREADY STUCK. YOU KNOW, THE ADHESIVE IS ALREADY ON THE BLING, AND YOU JUST KIND OF LAY IT DOWN, BUT YOU HAVE TO WORK WITH IT A LITTLE BIT. >> BUT WE COULD EVEN USE GLUE, AND THEN PUT GLITTER AND SHAKE THAT OFF. >> YEAH, IF YOU WANT TO DO IT THAT WAY. YEAH, IF YOU WANT TO DO IT THAT WAY. AND THEN THE LAST THINGS THAT I'M GONNA DO IS JUST ADD THE LITTLE PRETTIES. >> SO EVERY LITTLE TINY SCRAP THAT YOU MIGHT HAVE IN THAT DRAWER THAT YOU THOUGHT WOULDN'T GO WITH--UH-HUH. WHAT'S THAT, ABOUT 6 INCHES OF THAT? >> YEAH, JUST ABOUT. NOTHING-- YOU KNOW...JUST--YOU KNOW, THIS IS REALLY GOOD FOR, YOU KNOW, WHEN YOU HAVE LEFTOVER SCRAPS FROM YOUR OTHER PROJECTS. THIS IS A GREAT WAY TO DO THIS. AND THEN THIS IS A LITTLE DOILY THAT I HAVE. AND I'LL GLUE THAT ON THERE. >> AND THAT WOULD BE A WAY--I HAVE LOTS OF OLD, OLD LINENS, BUT SOME OF THEM, UNFORTUNATELY, HAVE STAINS AND SPOTS ON THEM. BUT IT WOULD BE GOOD TO USE THOSE, AND THEN YOU COULD PUT SOMETHING ON TOP OF WHERE THE SPOTTED PLACE IS. >> AND THEN YOU COULD USE REUSE THEM BECAUSE NOBODY'S GONNA SEE THEM ONCE YOU COVER THEM. >> OH, I LOVE THAT LITTLE TREE THING. >> ISN'T THAT BEAUTIFUL? NOW, THAT IS JUST--THAT'S JUST, YOU KNOW, SOMETHING THAT I FOUND AT MY LOCAL CRAFT STORE. YOU KNOW. AND THEN, OF COURSE, BECAUSE I'M A RUBBER STAMPER... >> YES, UH-HUH. >> I ALWAYS HAVE TO, YOU KNOW, ADD SOME INK SOMEWHERE. SO ON THIS ONE, I HAVE MY LITTLE TAGS, AND I'M JUST GONNA ADD A LITTLE INK AROUND THEM. >> IT KIND OF GIVES IT AN ANTIQUE OR AN HEIRLOOM LOOK, DOESN'T IT, AND THAT'S WHAT THIS IS REMINISCENT OF ANYWAY. >> BECAUSE IF YOU LOOK AT IT LIKE THIS, IT'S JUST KIND OF PLAIN. THIS JUST KIND OF GIVES IT A LITTLE BIT, YOU KNOW, MORE OOMPH. AND THEN THE LAST THINGS THAT YOU DO... >> OH, THAT BOW. JUST SOME... >> JUST ADD SOME... >> RIBBON. >> YEP. >> OR IS THAT ORGANZA? IT'S WIRE-EDGED, SO YOU CAN REALLY SHAPE IT NICELY. >> AND THEN ALL'S I DID ON THE BACK OF IT IS I JUST GLUED SOME PEARLS. >> COULD BE AN OLD NECKLACE THAT FELL APART. >> OLD NECKLACE THAT YOU DON'T WANT. YES, THAT WOULD BE PERFECT. AND JUST PUT THAT ON THERE. AND THEN THE LAST THING THAT YOU'RE GONNA DO IS JUST ADHERE ALL OF YOUR FLOWERS. AND I'VE GOT A LITTLE TASSEL HERE THAT I'VE PUT ON... >> OH, ON A TAG? >> YEP. PUT IT ON MY TAG HERE. >> I'M SEEING NEW THINGS EVERY TIME I LOOK AT THIS, NOW THAT I'M WATCHING YOU MAKE IT. >> I KNOW. IT'S PRETTY AMAZING BECAUSE YOU DON'T THINK THAT THERE'S A LOT OF PRODUCT ON THERE UNTIL YOU START WORKING WITH IT, AND THEN YOU REALIZE THAT THERE'S REALLY A LOT. >> WE'LL TAKE ANOTHER LOOK AT THIS, AND I BET EVERYBODY ELSE CAN SEE NEW THINGS ON IT, TOO. AND, LISA, THANK YOU SO MUCH. YOU ARE SO TALENTED. >> YOU'RE WELCOME. THANK YOU SO MUCH. >> NANCY, I'M SO GLAD YOU'RE HERE TODAY. I APPRECIATE YOU COMING, AND YOU ALWAYS BRING SUCH PRETTY TECHNIQUES WITH YOU. AND WE'RE GOING TO DECORATE COOKIES, SUGAR COOKIES--HOW PLAIN CAN THAT BE?--AND YOU SAID WE CAN USE LOTS OF DIFFERENT RECIPES. >> YOU CAN. I HAVE A FAVORITE ONE THAT BAKES OUT SMOOTH. BUT IF YOU WANTED TO USE REFRIGERATED COOKIE DOUGH BECAUSE YOU WERE SHORT ON TIME, YOU DO WANT TO ADD SOME FLOUR TO IT. AND USUALLY IF I'M GONNA DO THAT, I WILL ALSO ADD SOME ALMOND EXTRACT SO IT GIVES IT A LITTLE BIT OF A DIFFERENT FLAVOR SO NOBODY KIND OF SUSPECTS THAT YOU'VE USED REFRIGERATED DOUGH. >> GOOD IDEA. WAY TO TRICK EVERYBODY. WELL, LET'S TAKE A LOOK. WE'RE GOING TO DO BUTTERFLIES. EVERYTHING'S COMING UP BUTTERFLIES. >> AND, REMEMBER, THE TECHNIQUES THAT WE'RE SHOWING, YOU COULD USE THEM FOR FLOWERS OR BEARS OR, YOU KNOW, BASICALLY ANY SHAPE. I JUST THOUGHT THIS LENT ITSELF SPECIFICALLY TO BUTTERFLIES. >> MM-HMM. AND THE WAY YOU'RE GOING TO SHOW US ABOUT PULLING THE ICING--THAT JUST IS KIND OF THE WAY BUTTERFLY WINGS ARE. >> IT'S REALLY IMPRESSIVE, AND PEOPLE DON'T REALIZE HOW SIMPLE IT IS TO DO. AND, YOU KNOW, THIS SAME TECHNIQUE YOU CAN ACTUALLY USE ON YOUR CHEESECAKE WITH SOUR CREAM AND, YOU KNOW, LIKE, CARAMEL OR CHOCOLATE SAUCE AND PULL IT THROUGH SO IT HAS THAT SPIDER WEB LOOK. SO THE TECHNIQUES THAT WE'RE DOING, DON'T BE AFRAID TO APPLY THEM TO SOME OTHER DESSERT. >> GOOD IDEA. WELL, WE'RE GOING TO WORK ON BUTTERFLIES TODAY. >> YEAH, THERE'S TWO WAYS THAT YOU CAN DO THIS. THIS IS A COOKIE ICING THAT'S PREMADE, AND I'M GOING TO OUTLINE THE BODY OF THE BUTTERFLY, AND I HAVEN'T HEATED IT. IF YOU READ THE PACKAGE INSTRUCTIONS, IT WILL TELL YOU TO PUT IT IN THE MICROWAVE FOR, LIKE, 10 SECONDS ON 50% POWER. BUT I'M GONNA USE IT, JUST STRAIGHT THICK, TO OUTLINE. AND THEN YOU NOTICED I KEPT DRAGGING IT, BECAUSE IT'S A LITTLE BIT HARDER TO CONTROL THAN IF YOU USE A BAG AND TIP. I'M A BAG-AND-TIP GIRL, BUT THIS ONE WORKS REALLY WELL. AND YOU'LL SEE IT'S KIND OF SELF-LEVELING, SO YOU DO HAVE TO BE A LITTLE BIT CAREFUL AND NOT OVERDO IT. NOW, I SEE THERE'S A LITTLE BIT OF A SECTION THERE THAT DIDN'T TAKE, SO I'LL JUST TAKE A TOOTHPICK AND FILL THAT IN. THEN WHAT I WOULD NORMALLY DO IS PUT THIS IN THE MICROWAVE, BUT I'M JUST--LIKE TO LIVE DANGEROUSLY, SO I'M JUST GONNA GO AHEAD. >> OH, NOW YOU'RE GOING TO FILL IN THE BODY? >> AND I'M GONNA FILL IN THE BODY HERE. >> BUT IT DOES KIND OF FLOW TOGETHER, SO THIS IS ACTUALLY WORKING REAL WELL. IT GIVES IT THAT 3-D BECAUSE IT'S RAISED. >> AND YOU SEE I KIND OF DRIPPED A LITTLE BIT, SO IT'S KIND OF LIKE, "DO I LET IT DRIP IT AGAIN OR DO I PULL IT?" AND I'LL PULL IT REAL QUICK. OK. SO, YOU KNOW, IF YOU HAVE A DRIP, THEN JUST PRETEND THAT THAT'S PART OF THE DESIGN THAT YOU WERE GONNA DO. SO YOU'VE GOT THE COOKIE ICING. YOU CAN ALSO USE ROYAL ICING. YOU CAN USE COLOR FLOW. AND ROYAL ICING IS THE ICING THAT YOU USE THAT ACTUALLY HAS MERINGUE POWDER IN IT, SO IT DRIES HARD. SO WHAT I'M GONNA DO HERE IS I'M JUST GONNA OUTLINE. >> IS THIS ROYAL? >> YES, THIS IS--I'M USING ROYAL NOW. I USED COOKIE ICING BEFORE. ROYAL ICING DOESN'T HAVE THAT MUCH OF A FLAVOR TO ME. IT'S JUST KIND OF PLAIN. >> NOW, COULD YOU USE THE BUTTER CREAM? I USE THAT FOR CAKE DECORATING. >> YOU COULD. YOU CAN THIN DOWN BUTTER CREAM IF YOU WANT TO. IT DOESN'T DRY HARD, SO IF YOU'RE GONNA TRY TO STACK THEM OR ANYTHING LIKE THAT...IF YOU HAVE ANY LITTLE TIPS, YOU CAN SEE I JUST TAKE A TOOTHPICK AND KIND OF STRAIGHTEN THEM OUT. AND MOST OF THE TIME WHEN YOU'RE DOING A BUNCH OF COOKIES, YOU REALLY DON'T HAVE TO WORRY ABOUT IT BECAUSE IT DOESN'T MAKE ANY DIFFERENCE. THE OTHER THING I WANT TO SHOW YOU IS I DID HAVE A LITTLE MOIST PIECE OF PAPER HERE, PAPER TOWEL, BECAUSE IT DOES DRY OUT. SO IF YOU ARE GOING TO DO A WHOLE BUNCH, DO ALL YOUR OUTLINING, AND THEN IF YOU'RE NOT GONNA OUTLINE, PUT SOMETHING MOIST OVER IT BECAUSE IT DOES DRY FAIRLY QUICKLY. >> THAT'S A GOOD TIP. >> SO, THEN, TO FILL IN, I'VE GIVEN YOU ONE THAT WE'VE DONE, AND YOU CAN JUST FILL IN WITH THE COOKIE ICING. >> OK. AND I CAN USE ANY COLOR I WANT, RIGHT? >> YOU CAN USE ANY COLOR YOU WANT. YOU CAN DOT IT IN. YOU CAN MAKE LINES, WHATEVER YOU WANT TO DO. I'VE GOT THE ROYAL, SO I'M JUST GONNA SNIP A SMALL AMOUNT DOWN AT THE END OF MY DISPOSABLE DECORATING BAG, AND I'M GONNA JUST FILL IN. >> OOH, THIS DOES FILL NICE. IN FACT, I THINK I WAS PRESSING A LITTLE HARDER THAN I NEEDED TO, BUT IT'S SO PRETTY. >> WELL, THE OTHER THING IS, IS WHEN YOU'RE GETTING YOUR ROYAL ICING TO THE THICKNESS--AND, SEE, THAT'S THE THING THAT MAKES IT A LITTLE BIT EASIER TO USE THE COOKIE ICING. YOU DON'T HAVE TO WORRY ABOUT THE CONSISTENCY BECAUSE THAT'S ALREADY DONE FOR YOU. IF YOU'RE DOING A ROYAL, WHAT YOU WANT TO DO IS YOU WANT IT TO FLOW IN AND BASICALLY SELF-FILL ON A COUNT OF 10. SO IF I WERE GONNA HOLD THIS OVER A BOWL AND I WOULD SQUEEZE IT IN THERE, I WOULD COUNT TO 10 AND YOU COULDN'T SEE ANY LINES AT ALL. >> THAT'S GETTING KIND OF TECHNICAL. >> THAT'S WHY IT'S EASIER SOMETIMES TO JUST USE THE PREPARED PRODUCT. BUT, AGAIN, YOU KNOW, SOME PEOPLE DON'T WANT TO AND THAT'S FINE. >> YEAH. >> NOW, I'M DOING A BUNCH OF DIFFERENT COLORS, SO IT'S TAKING ME A LITTLE BIT LONGER. >> I AM, TOO. I THINK THAT'S THE FUN PART OF DECORATING. WHY MAKE IT BLAH? WOW. THAT ORANGE IS A PRETTY COLOR. YOU SHOULD BE USING THIS ORANGE--IT WOULD MATCH YOUR BLOUSE. >> HA HA HA! SO MAKE SURE YOU GET ENOUGH IN THERE, AND THEN YOU CAN PULL IT THROUGH, OR YOU CAN DO DOTS. AGAIN, DOING A WHOLE BUNCH OF COLORS AT ONE TIME IS KIND OF COOL. AND I'M JUST GONNA DO THIS ONE WING, FINISH HIM OUT HERE. >> OH, YOU'RE DOING IT ACROSS, AND I DID IT UP AND DOWN. >> AND THEN I'M GONNA GO BACK IN AND, SEE, I'M GONNA PUT A DOT IN THERE SO THAT HE HAS LITTLE ACCENTS. NOW, YOU CAN ALSO USE SUGAR PEARLS IF YOU WANT TO. YOU CAN SEE HOW IT'S BEGINNING TO GO DOWN. SEE? IF YOU COUNTED TO 10, IT WOULD LEVEL. AND THEN I'LL SHOW YOU PULLING THROUGH. >> OK. >> IT'S HARD TO TALK SOMETIMES BECAUSE YOU'RE... >> I KNOW IT. I'M JUST REALLY CONCENTRATING ON THIS. >> OK, NOW, HERE'S THE TECHNIQUE THAT MAKES IT LOOK FEATHERED. I JUST TAKE THE TOOTHPICK... AND THIS IS A LITTLE BIT THICK, BUT... >> SO IN MINE, WOULD I GO UP AND DOWN, OR WOULD I GO ACROSS? >> WHATEVER YOU WANT. >> OH, OK. SO IT DOESN'T MATTER? >> MM-HMM. AND, SEE, YOU'LL HAVE A DIFFERENT LOOK. YOU CAN SEE-- I'M GONNA PULL THROUGH HERE SOME MORE. >> YOU KNOW, AND THERE'S SOME PLACES THAT THERE'S NOTHING, BUT I KIND OF LIKE THAT. IS THAT OK? >> YEAH, THAT'S FINE, TOO. SO, YOU KNOW, WE CAN FINISH OFF WITH YOURS, AND YOU CAN SEE THE FEATHERED TECHNIQUE. YOURS IS A LITTLE BIT THINNER, MINE'S A LITTLE THICKER. >> YEAH, THIS IS VERY... >> SO IT'S PERFECT. YOU KNOW, YOU'VE GOT THAT FEATHERED LOOK WHERE YOU GOT THE COLORS MIXED, BUT YOU'VE ALSO GOT THE FEATHERED LOOK OF ACTUALLY JUST PULLING IT THROUGH. >> YOU KNOW, I'M GONNA PUT IT RIGHT HERE BECAUSE IT LOOKS PRETTY AGAINST THIS BLUE. >> AND YOU CAN SEE IT'S BEGINNING TO DRY. WITHIN ABOUT AN HOUR, YOU'LL HAVE IT FAIRLY DRY, SO YOU DON'T HAVE TO, YOU KNOW, WORRY ABOUT IT TOO LONG. BUT BEFORE YOU'D STACK THEM, YOU'D OBVIOUSLY WANT TO WAIT A LITTLE BIT LONGER. >> YEAH, YOU'RE RIGHT. I HADN'T THOUGHT ABOUT THAT WITH THE BUTTER CREAM. BECAUSE I KNOW EVEN TRANSPORTING CAKES OR SOMETHING, YOU'VE GOT TO BE CAREFUL BECAUSE IT'S STILL--
OF COURSE, THAT'S WHY I LIKE BUTTER CREAM: IT'S SO SOFT AND CREAMY. >> WELL, PEOPLE LIKE BUTTER CREAM. IT'S JUST THE AMERICAN FAVORITE. PEOPLE ARE USED TO A MUCH SWEETER ICING. SO IT'S A SIMPLE TECHNIQUE, AND LIKE I SAID, IF YOU'RE GONNA DO A CHEESECAKE, YOU CAN PUT, LIKE, A SOUR CREAM ON TOP. AND THEN YOU COULD PUT, LIKE, CARAMEL OR CHOCOLATE OR, YOU KNOW, ANY OTHER KIND OF FLAVORING, AND THEN PULL IT TOWARD THE CENTER IF YOU WANTED TO. >> AND I'VE SEEN THAT IN RESTAURANTS. I JUST DIDN'T KNOW HOW THEY DID IT. >> YOU CAN DO IT ON TOP OF A CUPCAKE, A COOKIE, A BROWNIE, AND IT JUST GIVES A REALLY NICE LOOK, FINISHED LOOK LIKE YOU DID IT AT A BAKERY, BUT THEN YOU CAN SAY, "I DID THIS." >> MYSELF. WELL, THANK YOU, NANCY. THIS IS REALLY FUN TO DO. THANK YOU. I HOPE YOU ENJOYED THE SHOW TODAY. NEXT TIME ON "CREATIVE LIVING," WE'LL LEARN HOW TO CREATE SOME EASY CUSTOM-FABRIC DESIGNS, MAKE DESIGNER JEWELRY, AND SHOW HOW TO MAKE A WINDOW VALANCE. ONE OF MY NEXT GUESTS IS GOING TO SHOW HOW TO CREATE YOUR OWN FABRIC DESIGNS USING AN ASSORTMENT OF TULIP FASHION PAINTS AND DYES. SHE SAYS THIS WILL ELEVATE YOUR CRAFT AND SEWING PROJECTS TO A NEW LEVEL. ANOTHER GUEST IS GOING TO SHOW SOME DIFFERENT STYLES OF JEWELRY BLANKS AND SHOW HOW TO MAKE CUSTOM PHOTO JEWELRY WITH U.V. RESINS WHICH IMITATES THE LOOK OF MORE EXPENSIVE JEWELRY. AND FINALLY, ANOTHER GUEST IS GOING TO DEMONSTRATE MAKING AN ATTRACTIVE WINDOW VALANCE TO DRESS UP AN UNCOVERED WINDOW OR TO ADD COLOR AND SOFTNESS TO AN EXISTING WINDOW TREATMENT SUCH AS MINI BLINDS. THIS TECHNIQUE WORKS FOR EITHER AN INSIDE MOUNT OR AN OUTSIDE MOUNT. AND MY GUEST WILL SHOW US STEP-BY-STEP HOW TO MEASURE THE WINDOW, SELECT THE FABRIC TOOLS AND NOTIONS, AND THEN SHOW HOW TO CREATE A VALANCE THAT WILL LOOK VERY PROFESSIONAL WHEN YOU'RE THROUGH. ALL OF THESE TOPICS WILL BE FEATURED ON THE NEXT "CREATIVE LIVING" SHOW. IF YOU EVER HAVE COMMENTS OR SUGGESTIONS OR IDEAS FOR SHOWS, YOU CAN E-MAIL ME AT SHERYL.BORDEN@ENMU.EDU. AND I'D ALSO LIKE TO ASK YOU TO BECOME A FAN OF "CREATIVE LIVING" ON FACEBOOK. JUST GO TO FACEBOOK.COM, AND IN THE SEARCH WINDOW, TYPE IN "CREATIVE LIVING WITH SHERYL BORDEN." THANKS SO MUCH, AND I HOPE YOU'LL PLAN TO JOIN ME NEXT TIME FOR "CREATIVE LIVING." >> WE ARE VERY PLEASED TO OFFER A NEW BOOKLET THAT ACCOMPANIES THIS SERIES OF "CREATIVE LIVING." THIS BOOKLET IS TITLED "THE 6500 SERIES," AND IT FEATURES A WONDERFUL COLLECTION OF IDEAS AND INFORMATION, AND IT'S AVAILABLE FREE OF CHARGE ON OUR WEBSITE. POSTED AS A .PDF FILE, YOU CAN SIMPLY DOWNLOAD THE ENTIRE BOOKLET OR JUST THE SEGMENTS YOU'RE MOST INTERESTED IN. AS WITH ALL OF THE "CREATIVE LIVING" BOOKLETS, YOU'LL FIND INFORMATION ON FOODS AND NUTRITION, CLOTHING AND FASHION, HEALTH AND BEAUTY, HOME DECORATING, AND MUCH MORE. FOR YOUR COPY OF THIS BOOKLET, GO TO OUR WEBSITE AT KENW.ORG, AND THEN CLICK ON "CREATIVE LIVING." SCROLL DOWN TO THE BOOKLETS SECTION, AND YOU CAN CLICK ON THIS BOOKLET OR ANY OF THE OTHER BOOKLETS WE HAVE AVAILABLE ONLINE. ONCE AGAIN, JUST GO TO KENW.ORG, CLICK ON "CREATIVE LIVING," AND DOWNLOAD THE BOOKLET TITLED "THE 6500 SERIES." WE ALSO WANT TO ENCOURAGE YOU TO SIGN UP FOR OUR FREE E-NEWSLETTER. JUST CLICK ON THE "SIGN UP NOW" BUTTON AND INPUT YOUR E-MAIL ADDRESS. THAT'S ALL THERE IS TO IT. YOU'LL ENJOY READING AN UP-TO-DATE NEWSLETTER FILLED WITH INTERESTING TOPICS AND INFORMATION. THANK YOU.
Now Playing As: Captioned (English) (change)
In this episode, viewers learn how to decorate cookies with water color techniques and how to turn a vinyl record into a decorative wall hanging. Viewers also get helpful hints on how to use turkey in their meal planning.
Media Details
Runtime: 27 minutes